Scroll to bottom for printable recipe card.

Mint Chocolate Chip Ice Cream is the bowl that will keep you going back for more until every nibble is gone. Creamy mint ice cream filled with lots of decadent chocolate chips.
Mint Chocolate Chip Ice Cream
The first recipe that I brought to you was Roast Chicken with Balsamic Bell Peppers. The picture is terrible, but since it was the very first recipe, I shared I don't have the heart to redo the picture. If you have tried any of my recipes, I would love to hear how they turn out for you! Drop me a comment and let me know how it turned out, or you can even upload a picture over on the Facebook Fan Page for Sweet Pea's Kitchen!
Since many of us in the United States have been in the middle of a heatwave, I thought I would bring you a recipe that is guaranteed to cool you off this summer. Mint chocolate chip ice cream! Mint and chocolate are a marriage of flavors made in heaven. It is one of my favorite combos right after chocolate and peanut butter.
This is actually the second time that I have made Mint Chocolate Chip Ice Cream, the first recipe I did not share with you because nobody in my house liked it. It was a recipe by David Lebovitz, which, if you follow my blog, you know how much I love his ice cream cookbook, The Perfect Scoop. I picked the recipe because it used fresh mint, and I thought, what better way to make Mint Chocolate Chip Ice Cream then to use fresh mint instead of extract. Well, boy, was I wrong! They took one bite, and the response was, "well, that is interesting!" Not exactly what I was looking for. I actually ended up throwing the entire batch out! It was too "woody" and "herby" for my family. They wanted the Mint Chocolate ice cream that we are all used to, so I went on the search again for the perfect recipe.
I finally decided on this recipe from Michelle over at Brown Eyed Baker. I have never tried a recipe from her blog that I have not absolutely loved, so I knew it would be a hit with my family. In fact, as soon as it was done churning it, my husband was right there waiting for a taste. Needless to say, it was a hit! 🙂 Rich and creamy mint ice cream packed with ribbons of dark chocolate…need I say more?
Homemade Ice Cream Tips
Always follow the manufacturer instructions on your ice cream maker. It's vital to ensure you are making it the right way.
Add in extra ingredients if you want, like milk chocolate or white chocolate chips if you want.
It's very important to chill the custard for at least 3 hours before going to the next step. It really needs a chance to cool properly.
What Is The Best Chocolate To Add Into Mint Chip Ice Cream
We prefer using semi-sweet or bittersweet chocolate more than anything. You can use milk or white chocolate if you want to. There really isn't any wrong chocolate you can add to the ice cream.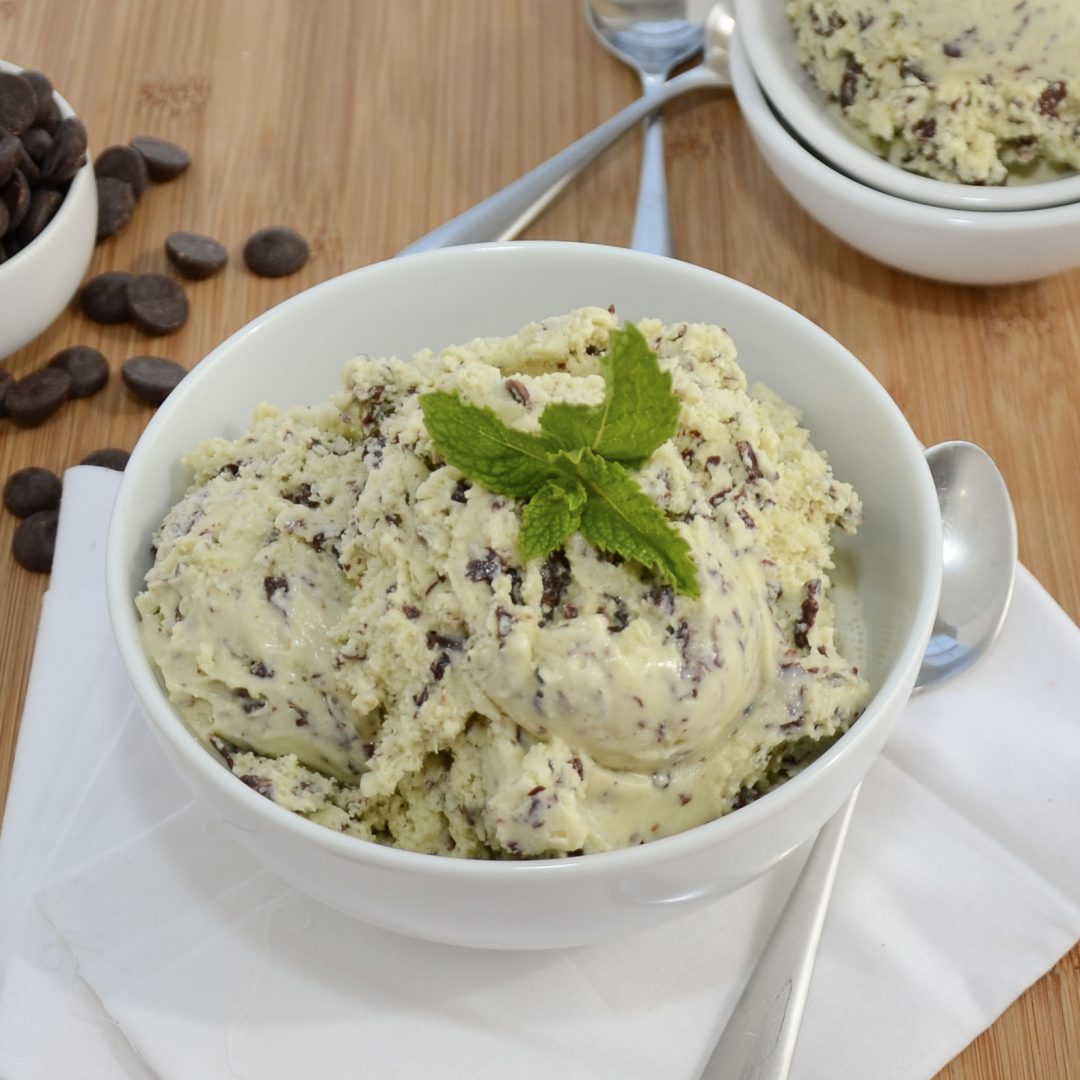 How Long Does Homemade Ice Cream Store For
This homemade mint chocolate chip ice cream will last in the freezer for up to 2 weeks. It's just super important to keep it in the coldest area of the freezer and keep them airtight.
Ingredients
Heavy cream
Whole milk
Sugar
Pinch of salt
Egg yolks
Vanilla extract
Mint extract
Green food coloring
Bittersweet or semisweet chocolate, finely chopped
Canola oil
How to Make Homemade Ice Cream
First Step: Put a mesh strainer on top of a medium bowl. Then put the bowl in a container that has ice water.
Second Step: Then heat up the cream, milk, granulated sugar, and salt together with medium heat using a medium saucepan. Heat until the temperature reaches 175 degrees.
Third Step: During the time that the milk is warming up, go ahead and whisk together the sugar and the egg yolks together. Blend until smooth, then add in 1 cup of the hot milk mixture. This will temper the egg yolks. Slowly whisk it and add it back into the hot milk mixture. Keep cooking the mixture until it reaches 180-185 degrees.
Fourth Step: Slowly pour the custard mixture into the strainer bowl with the ice bath. Allow it to sit and cool for 10 minutes. Then remove it and put a piece of plastic wrap on top of it. Refrigerate for 3 hours to allow it time to cool down all the way.
Fifth Step: Melt the chocolate over a bowl of simmering water. Once it's melted, then add it to a plastic Ziploc bag and set aside.
Sixth Step: Put the mixture into the ice cream machine. Churn it, and once it looks like thick whipped cream, adds in the melted chocolate. Continue to churn until it looks like soft serve.
Seventh Step: Put the ice cream in an airtight container and freeze for 3 hours.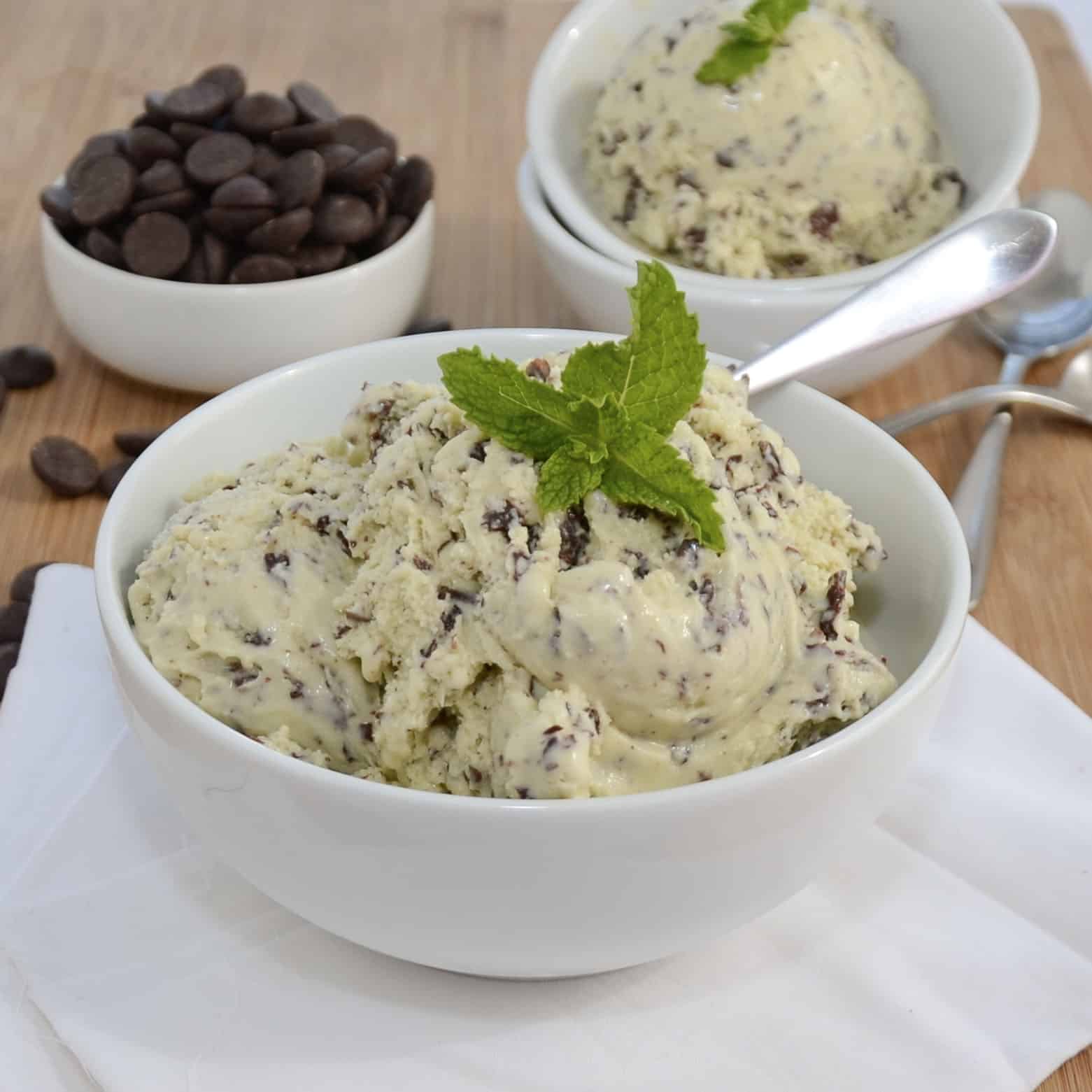 I'm sure you are licking your lips and are ready to get busy making a batch or two of some incredible ice cream. Here are some of our favorite homemade ice cream recipes. Take a look, and you'll be sure to be inspired.
Pin this recipe now to remember it later
Mint Chocolate Chip Ice Cream
Ingredients
1

teaspoon

vanilla extract

1 to 1½

teaspoons

mint extract

3

drops green food coloring

,

optional

3

ounces

bittersweet or semisweet chocolate

,

finely chopped
Want to save this recipe? Enter your email below and we'll send the recipe straight to your inbox!
NOTE: By saving this recipe, you agree to join our weekly recipes newsletter.
Instructions
Set a fine mesh strainer over a medium sized bowl and set the bowl over a large container of ice water.

In a medium saucepan over medium heat, heat the cream, milk, 3/4 cup sugar, and salt stirring occasionally, until steam appears and the liquid is hot (175 degrees) about 5 minutes.

While the milk mixture is warming, in a separate bowl, whisk the yolks and 1/4 cup of sugar together until smooth. Slowly whisk about 1 cup of the hot milk mixture into the yolks to temper them. Then slowly whisk the tempered yolk mixture back into the remaining hot milk mixture. Continue to cook the custard mixture over medium heat until it is very hot but not simmering (180-185 degrees).

Pour the custard mixture into the strainer bowl set in the ice bath and let cool, stirring occasionally, for about 10 minutes. Remove the custard mixture from the ice bath, cover tightly with plastic wrap and refrigerate until very cold (40 degrees), about 3 hours.

A few minutes before you plan to churn the ice cream, place chocolate in a medium heatproof bowl. Set bowl over saucepan containing barely simmering water; heat mixture until chocolate is melted and whisk until smooth. Stir in oil and transfer to a ziploc bag; set aside.

Pour the mixture into the ice cream canister and churn following the manufacturer's instructions until the mixture resembles the consistency of thick whipped cream. Snip the corner of the ziploc bag that the chocolate is in, and while the machine is running, slowly drizzle the chocolate into the ice cream. After chocolate is added, continue churning until the mixture resembles soft served ice cream.

Transfer the ice cream to an airtight container. Cover the container and freeze the ice cream until it is firm, about 3 hours.
Follow me on Pinterest for daily delicious recipes!
Get new recipes weekly plus our FREE ebook!