This indulgent Mocha Chip Ice Cream is screaming your name. This homemade mocha ice cream is a coffee fan's dream. It's creamy, decadent, and packed with the best ingredients to give you a burst of coffee-flavor. Serve this coffee ice cream at parties, events, or summer get-togethers.
Scroll to bottom for printable recipe card.
Mocha Chip Ice Cream
It's that time of the year again, folks! Time for homemade ice cream and long summer nights! This ice cream is inspired by yet another Graeter's Ice Cream flavor. I know I have said it before, and I'll say it again, Graeter's Ice Cream is my absolute favorite! It has been almost seven years since we moved from Columbus, Ohio, but I still have yet to find an ice cream that rivals Graeter's. So until they decide to bring it to Illinois, or I move back to Ohio, I have to make my own Graeter's inspired flavors! 😉
A coffee-lover's dream, this rich and creamy ice cream is packed with chocolate chunks and promises to delight even the most die-hard coffee lover in your family. One of the many great things about making your own ice cream is that you can customize it however you like. Want more chocolate chunks? Pieces of toffee? No problem! You can even make this ice cream with decaffeinated beans if that's how you roll!
What Is The Best Coffee To Use For Mocha Ice Cream
You can seriously use any variety of your favorite coffee. The key is to use coarsely ground coffee to get the right flavor and texture from the ice cream. You can use a regular coffee or something that is flavored depending on your preference. I think it's fun to play around with it and use various coffee to see how I can change the way it tastes.
Can I Make This With Decaf Coffee
Yep! Using decaf coffee is a wonderful idea if you are trying to cut back on your caffeine intake. Plus, if you are feeding it to kiddos or later in the evening, you might want to use decaf to prevent everyone from being wide awake all night. 😉
Storing Ice Cream
Storing homemade ice cream is pretty easy as long as you keep it in a shallow, airtight container. It will typically last 2-3 weeks in the freezer. Just keep it out of the door because it is much more likely to end up with a bunch of ice crystals that aren't appetizing at all.
How Long Will Mocha Ice Cream Freeze For
Typically this mocha chip ice cream will last in the freezer for 2-3 weeks. It's just super important that it's kept in a container that is sealed properly and air can't get to it. It's equally as important to keep them in the coldest part of the freezer and out of the door.
Variations To Recipe
I love adding lots of fun ingredients to my homemade espresso chip ice cream. Here are a few ideas for you to try out to see what you enjoy the most.
White chocolate chips – I always enjoy some good old white chocolate. Put it in when you add the semi-sweet chocolate. You can do both varieties or skip the semi-sweet and go with white all the way.
Nuts – Chop up some pecans, walnuts, or any other nut that you enjoy. They give the ice cream a fun crunch that's unbeatable.
Caramel – I love going to my local coffee shop and getting a drink with caramel. I use that same concept for the ice cream. Drizzle some warm caramel sauce on top before serving, or mix it into the batter.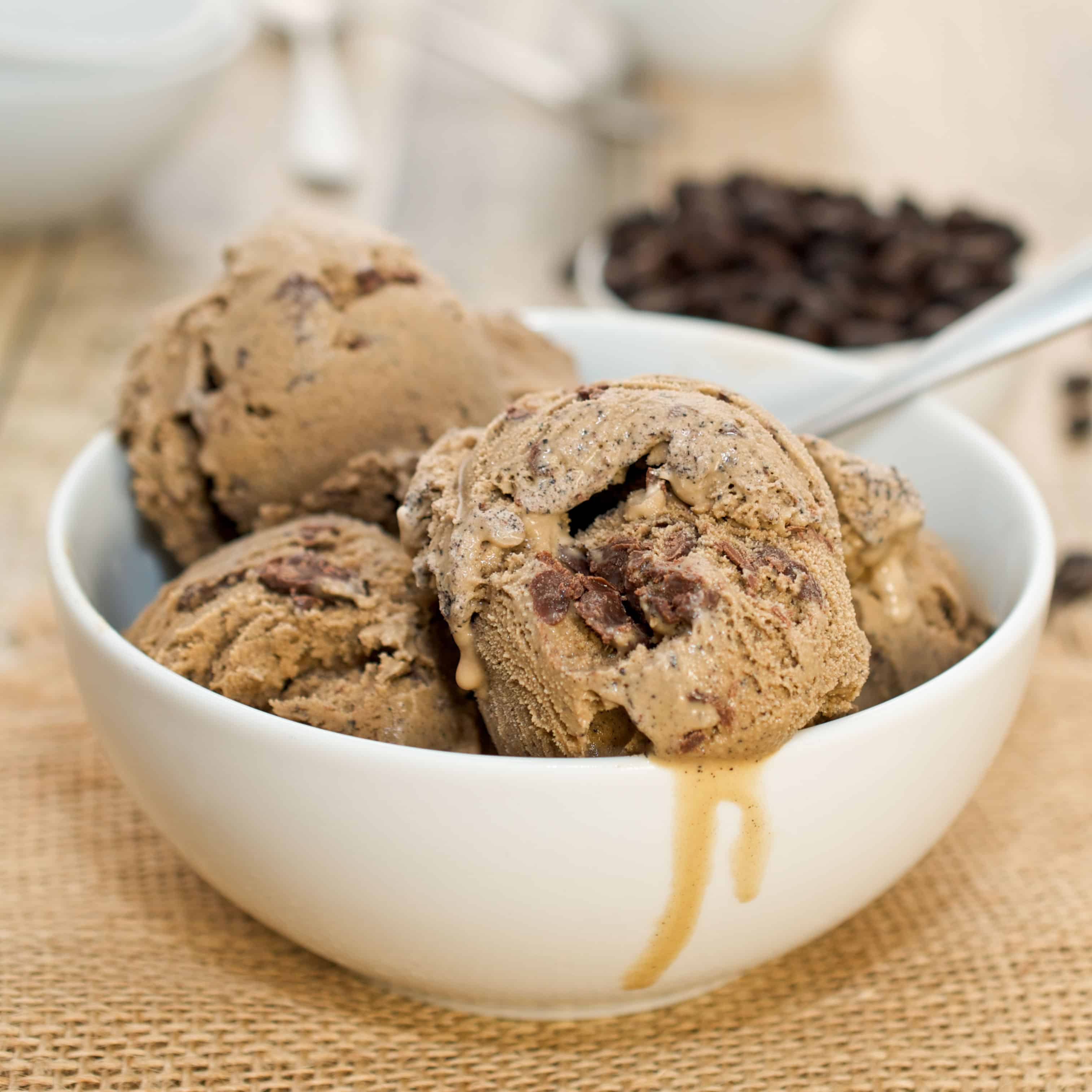 Ingredients
Coarsely ground coffee
Whole milk
Heavy cream
Granulated sugar, divided
Salt
Pure vanilla extract
Egg yolks
Semisweet chocolate
Canola oil
How to Make Mocha Chip Ice Cream
First Step: First, put some ice water in a large container. Then set a medium bowl over the container.
Second Step: Put the ground coffee, milk, cream, 1/2 cup of sugar, salt, and the vanilla extract in a medium saucepan. Stir occasionally over medium heat until it's hot and reaches 175 degrees.
Third Step: During the time the milk is cooking, whisk together the egg yolks and 1/4 cup of the white sugar in a separate bowl. After the milk mixture is done cooking, take one cup and slowly pour it into the egg yolks to temper it. Then you will need to slowly whisk that mixture into the rest of the hot milk mixture. Continue to cook until it reaches 180-185 degrees.
Fourth Step: Pour the fresh custard into the bowl that is in the iced water. Let it cool and stir occasionally. Let it sit for 10 minutes stirring once in a while. Then take the custard and cover it with a piece of plastic wrap. Cool in the fridge until it reaches 40 degrees. Let it chill for 4 hours all the way up to 24 hours.
Fifth Step: Melt the chocolate over a bowl of simmering water by putting it inside of another bowl and placing it on top of the saucepan. Let it heat until the chocolate melts. Whisk it until it's smooth, then pour it into a Ziploc bag.
Sixth Step: Take the custard and run it through a fine-mesh strainer that has a cheesecloth in it. Press on it so you can get plenty of coffee flavor. Discard the coffee grounds.
Seventh Step: Put the mocha chip ice cream in the ice cream canister and turn it on according to the manufacturer's directions. Run the machine and drizzle in the melted chocolate. Churn until it's the texture of a soft serve. Put in an ice cream container and let it sit in the freezer for 3 hours.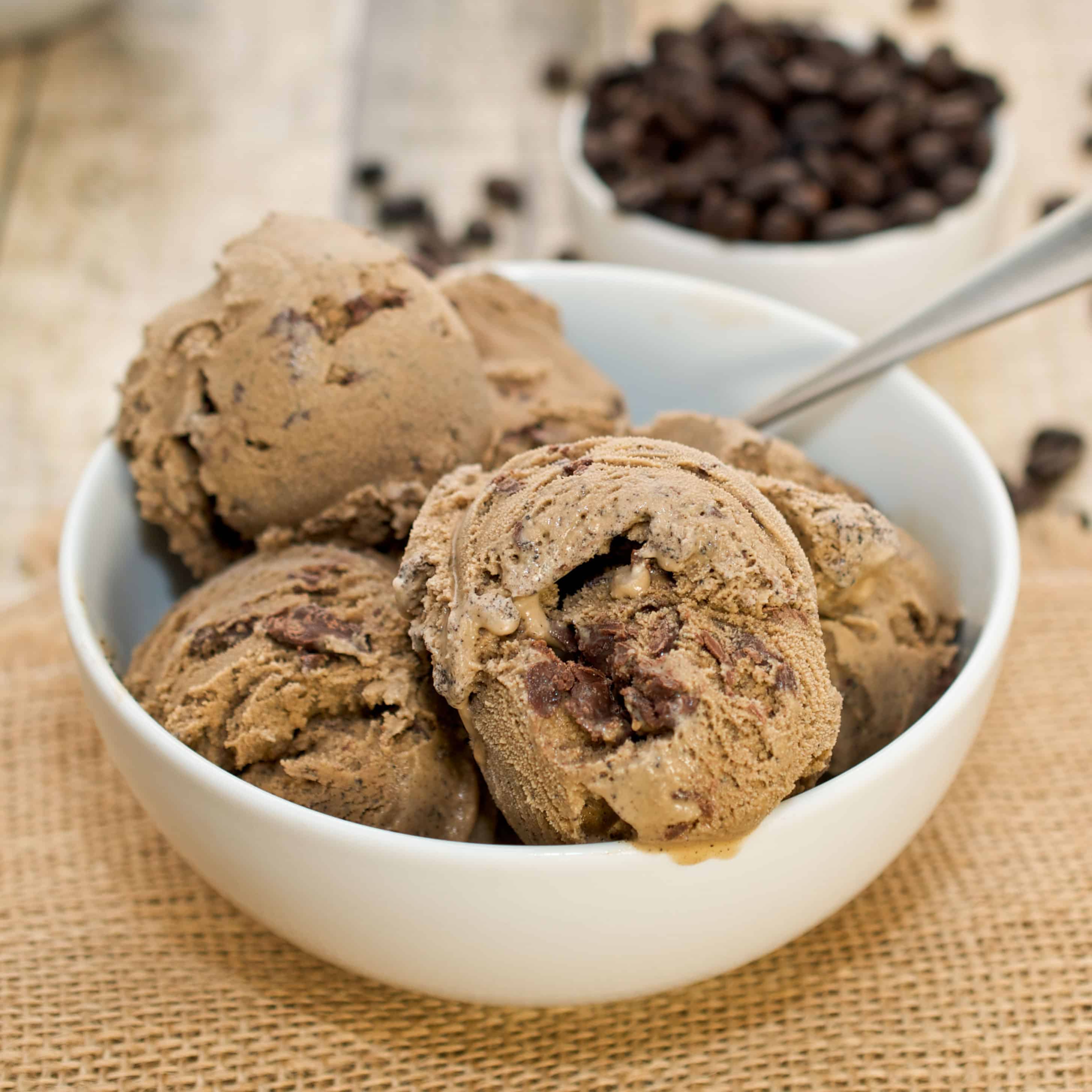 I have lots and lots of yummy ice cream recipes for you. Check these out, and you will have even more inspiration.
Pin this recipe now to remember it later
Mocha Chip Ice Cream
Rich and creamy coffee ice cream packed with chocolate chunks in every bite!
Ingredients
1/2

cup

cup coarsely ground coffee

3/4

cup

granulated sugar

,

divided

1/4

teaspoon

vanilla extract

3

ounces

semisweet chocolate

,

finely chopped
Want to save this recipe? Enter your email below and we'll send the recipe straight to your inbox!
NOTE: By saving this recipe, you agree to join our weekly recipes newsletter.
Instructions
Set a medium sized bowl over a large container of ice water.
In a medium saucepan over medium heat, heat the ground coffee, milk, cream, 1/2 cup sugar, salt and the vanilla, stirring occasionally, until steam appears and the liquid is hot (175 degrees) about 5 minutes.
When the milk mixture is cooking, in a separate bowl, whisk the yolks and 1/4 cup of sugar together until smooth. Slowly whisk about 1 cup of the hot milk mixture into the yolks to temper them. Then slowly whisk the tempered yolk mixture back into the remaining hot milk mixture. Continue to cook the custard mixture over medium heat until it is very hot but not simmering (180-185 degrees). Immediately pour custard into bowl set in the ice bath and let cool, stirring occasionally, for about 10 minutes. Remove the custard mixture from the ice bath. Cover tightly with plastic wrap and refrigerate until very cold (40 degrees), at least 4 hours and up to 24 hours.
A few minutes before you plan to churn the ice cream, place semisweet chocolate in a medium heatproof bowl. Set bowl over saucepan containing barely simmering water; heat mixture until chocolate is melted and whisk until smooth. Stir in oil and transfer to a ziploc bag; set aside.
Strain custard through fine-mesh strainer lined with a cheesecloth into another medium bowl. Press on the coffee grounds in the strainer to extract as much of the coffee flavor as possible. Then discard the grounds.
Pour the mixture into the ice cream canister and churn following the manufacturer's instructions until the mixture resembles the consistency of thick whipped cream. Snip the corner of the ziploc bag that the chocolate is in, and while the machine is running, slowly drizzle the chocolate into the ice cream. After chocolate is added, continue churning until the mixture resembles soft served ice cream.
Transfer the ice cream to an airtight container. Cover the container and freeze the ice cream until it is firm, about 3 hours.
Follow me on Pinterest for daily delicious recipes!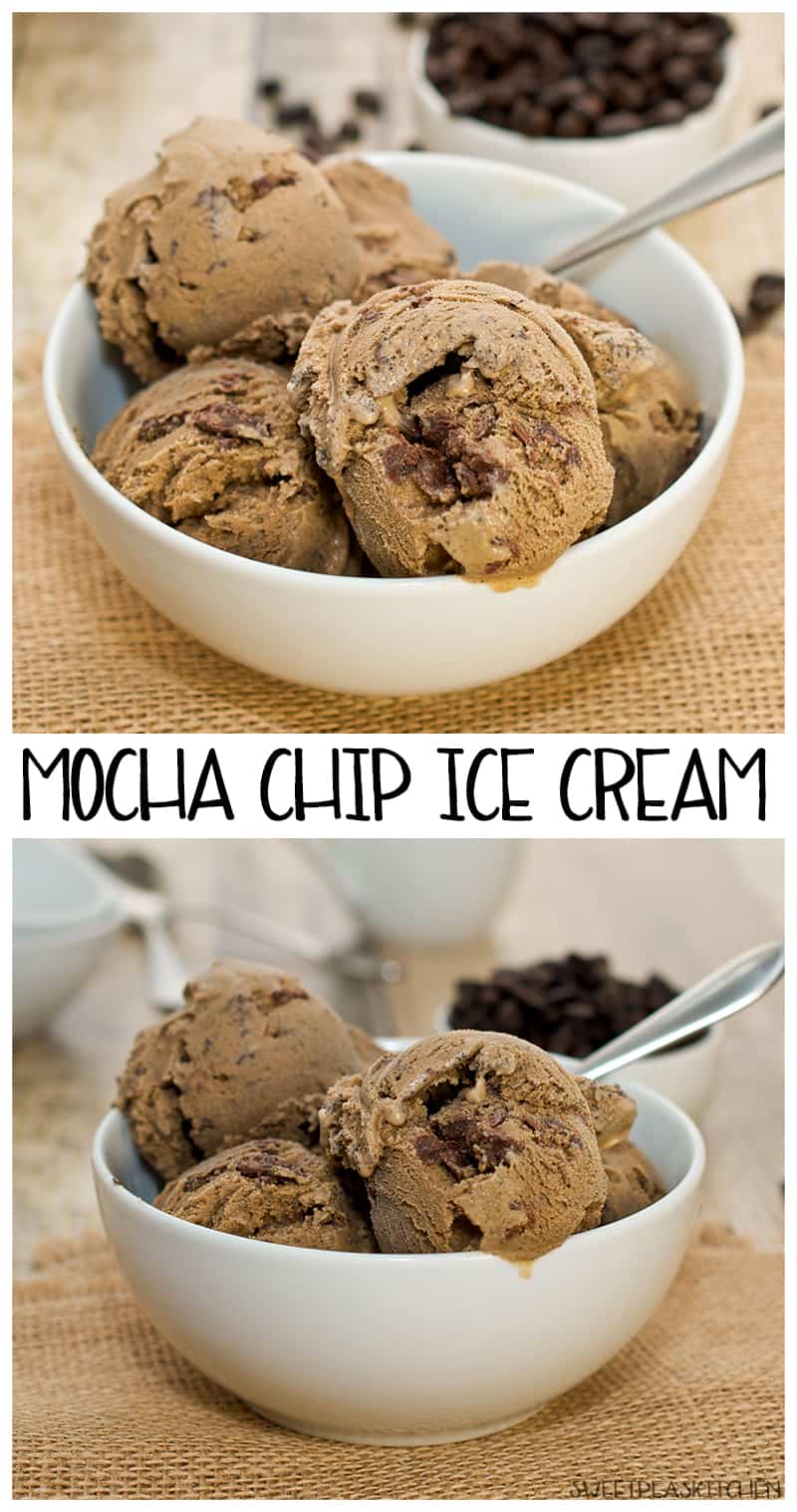 Get new recipes weekly plus our FREE ebook!