This no-bake oreo pie is out of this world amazing!
Decandant, creamy, sweet, and a perfect dessert to end a meal with. You can never go wrong with an oreo pie recipe no bake because you don't even have to heat the house. Just whip it up, let it set up, and devour every bite of its sweet goodness.
No-bake pies are always a hit at dinner parties, barbecues, and potlucks. Next time you are going to an event, whip up this oreo cookie pie, and I promise you won't have leftovers.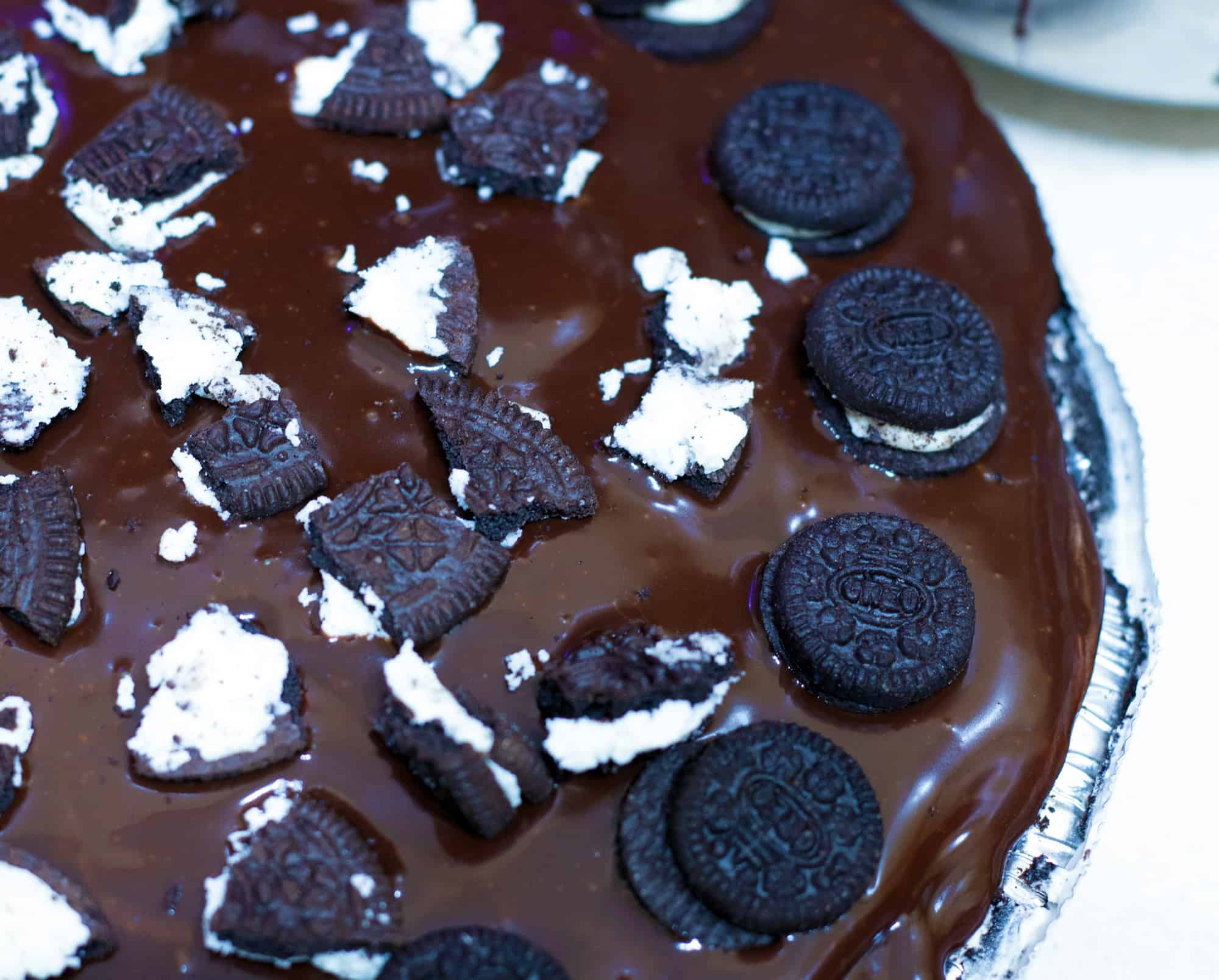 How To Make Oreo Pie
The hardest part of making this no-bake pie is that you have to wait for it to set up. It is totally worth the wait, though. Now it's time to give you all the details on making this Oreo cookie pie.
First Step: Over low heat, place the cream in a saucepan and cook until it's bubbling.
Second Step: Add chocolate chips to a heat-friendly bowl. Add the hot cream over the chocolate chips.
Third Step: Continue to stir the cream and chocolate mixture until the chips have melted, and it's mixed well. Allow to cool.
Fourth Step: Add pudding mix and really cold milk to a large mixing bowl. Mix for 1 minute or so until it is well stirred.
Fifth Step: Let the pudding rest for around 3 minutes to give it time to solidify.
Sixth Step: Toss in whipped topping and stir.
Seventh Step: Add mini Oreos to the mixture and combine.
Eighth Step: Pour mixture into the Oreo pie crust, making sure not to overfill.
Ninth Step: Place the no bake pie in the freezer for around 10 minutes to cool it off.
Tenth Step: Take the pie out of the freezer and spread the cooled ganache over the top.
Eleventh Step: Add some Oreos and crushed Oreos as a garnish to the top of the pie.
Twelfth Step: Refrigerate the delicious easy pie for 4 hours up to overnight before serving.
Thirteenth Step: Let the pie thaw on the counter for 10 minutes before cutting and serving.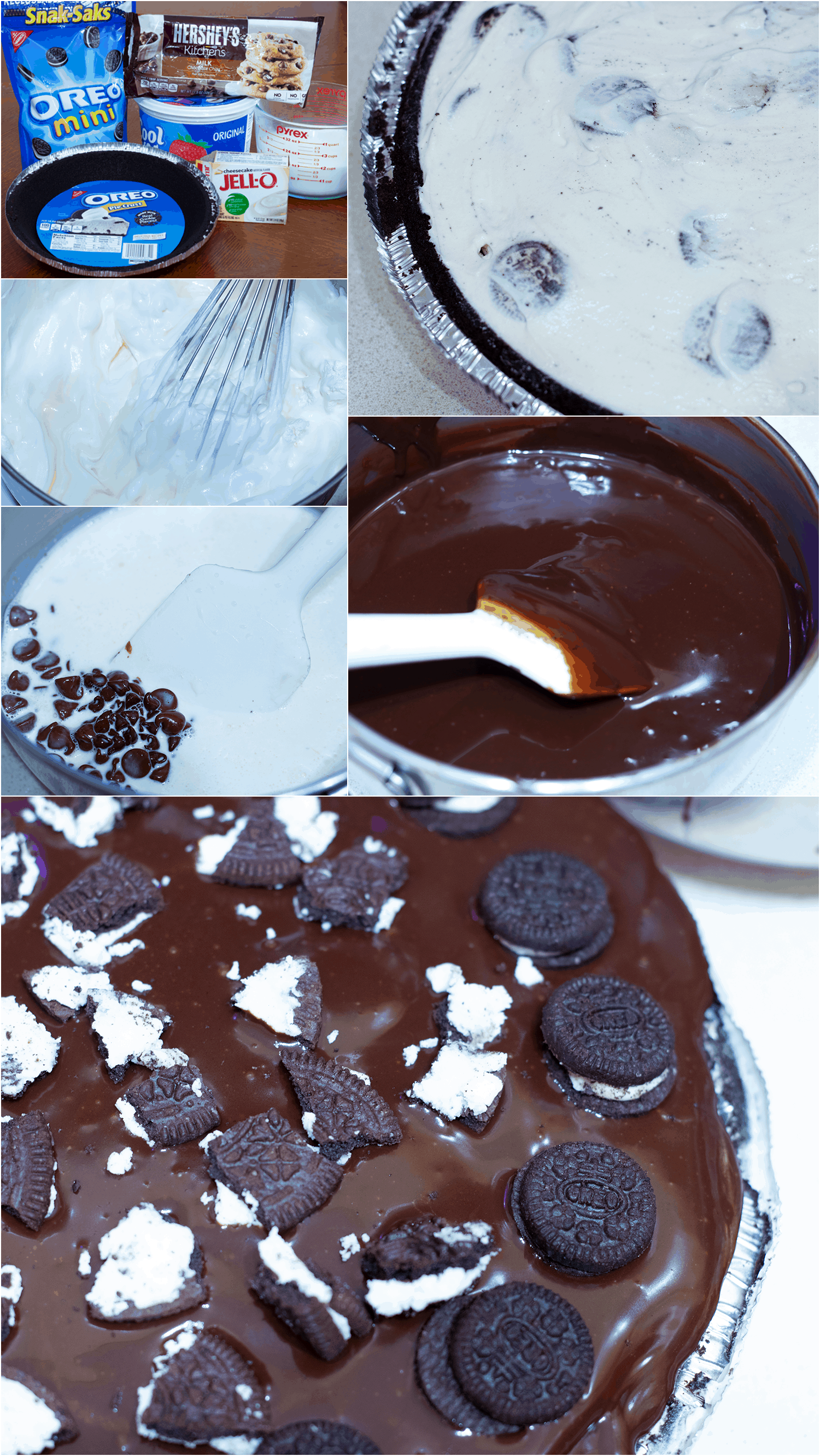 Oreo Pie Recipe No Bake Variations
This recipe has the traditional flavors of an Oreo no bake pie, but there are still many things you could try with it. I love adding different flavors, colors, and textures, depending on my mood and what I have on hand. Here are some fun ideas to try out:
Sprinkles – If you are making this easy pie for a birthday party or another fun event, add some bright and colorful sprinkles. Who can resist that?
Oreo Varieties – Try this with some Mint Oreos, Peanut Butter Oreos or Chocolate Cream Oreos for an excellent flavor spin! Each one has its own uniqueness that will make the pie even better!
White Chocolate – Drizzle melted white chocolate on top of the cream pie. It will add some depth while being the perfect decoration.
Peanut Butter Chips – Toss in some peanut butter chips to the cream mixture. Not only does it taste terrific, but it also looks nice too.
Pudding Varieties – If you don't have the cheesecake pudding on hand, you can switch it out for plain vanilla, chocolate, or even butterscotch.
M&M's – You can add different colored M&M's depending on the season to add some color to the cream pie.
What Makes This The Best No Bake Oreo Pie?
I feel like this is the best easy no bake pie because you don't have to put in a ton of effort. The ingredients are super versatile and can easily be switched out for something different when the craving hit. It's also perfect for all occasions! You will never take one of these pies to an event, and no see people smiling as they eat it. Plus, with the decadent chocolate, it can keep any chocolate fanatic happy!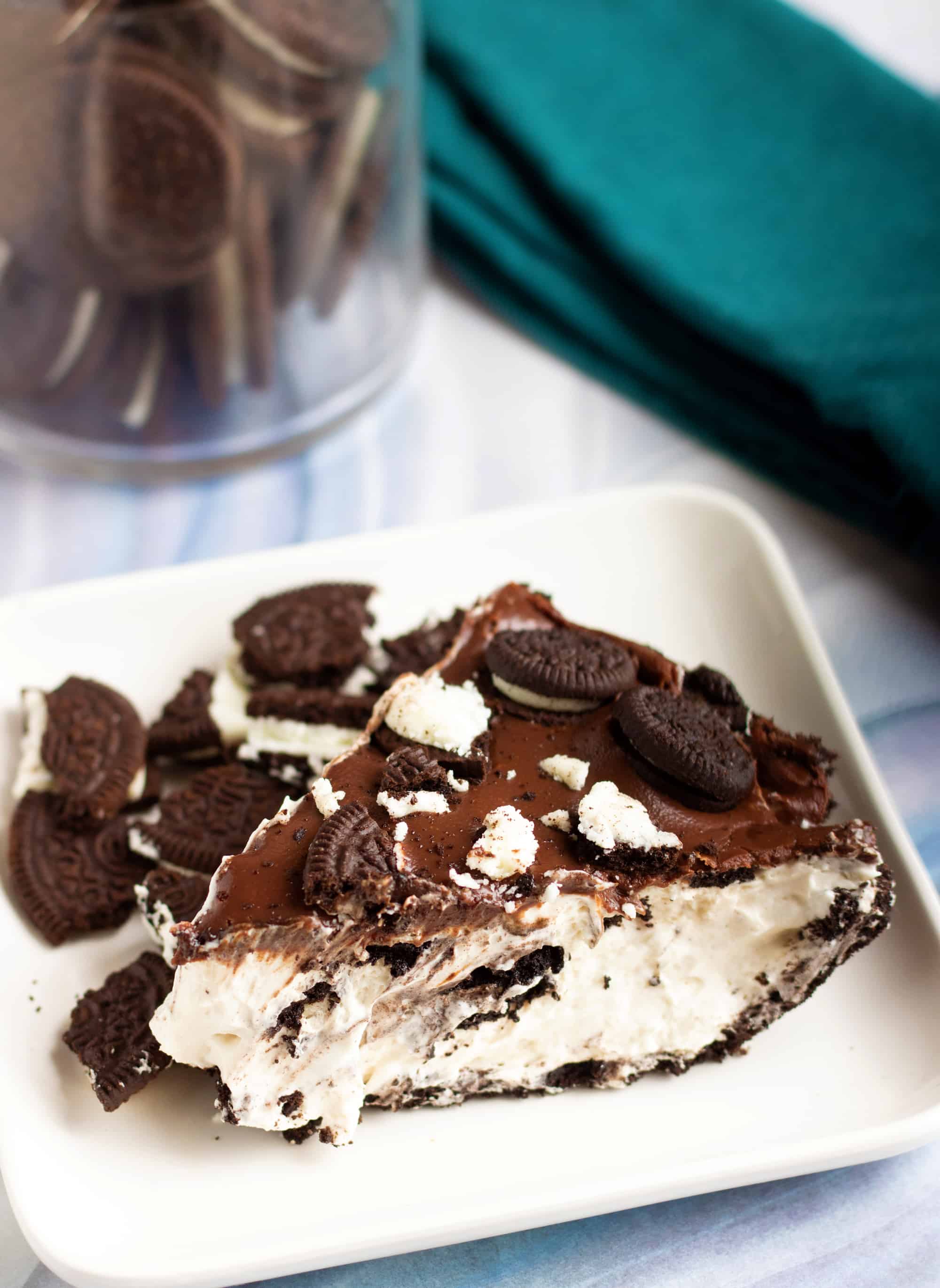 When Should I Serve This Oreo Cookie Pie?
You can literally serve this pie for all occasions, not even joking! Some people think of cold no bake pies as a summer dessert, but you can actually eat it any time of year. Here are some occasions when I have served it:
Birthday Parties – Forget regular cakes, try something new and exciting. Your guests will rave!
Christmas – Add some red & green sprinkles, candies, or M&M's to give it a Christmas flair.
Reunions – Every bite will be gobbled up!
Dinner Party – This no-bake cream pie is elegant enough for a dinner party too.
Barbecue – It's cool, refreshing, and mouthwatering good.
Potluck – Let's face it; the desserts are always the best part of any potluck!
How To Store This No Bake Pie Recipe
Always make sure this pie is tightly covered and keep it cold in the refrigerator. If it sets out longer than 2 hours, it isn't going to be good anymore. If you know it is going to be sitting out for longer than 2 hours, you can fill a bowl or dish with ice and place the pan in the dish. This will keep it nice and cold and prevent it from spoiling a little bit longer.
If you notice that the crust seems super mushy or watery, then it's not at it's prime anymore. You may also see condensation or water build up on top when it's aging. Mold is a sure sign that it needs tossed too.
Otherwise, the cream pie will last around 3-4 days in the fridge. If you know you aren't going to be able to eat it in that time, you can also wrap it up with tin foil or plastic wrap and place it in the freezer. I always double protect it by placing it in a freezer-safe airtight container too. It will last 2-3 months in the freezer. Set it on the counter for a few minutes before serving, but you can eat it frozen. It will taste like ice cream. Another option is to freeze the easy no-bake pie in single-serving pieces. Then it's quick to grab a slice.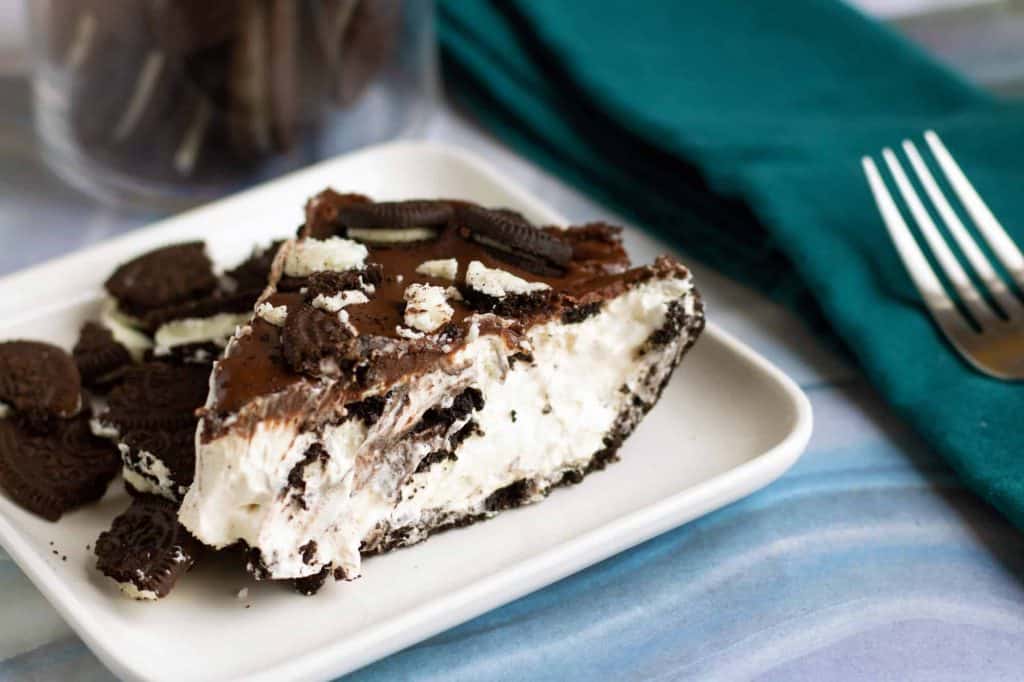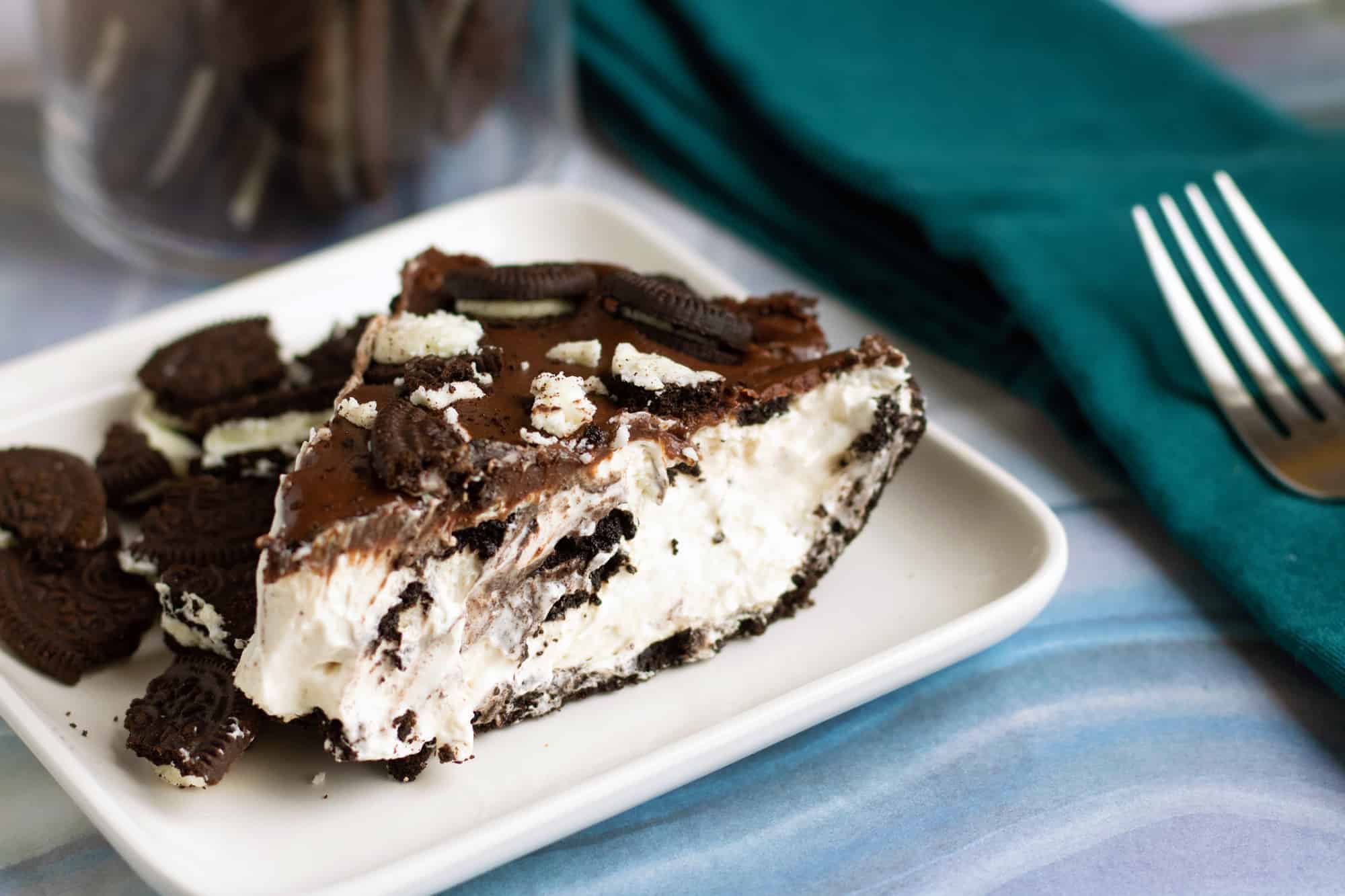 Craving More Sweet Recipes
Pin this recipe now to remember it later
No Bake Oreo Pie with Chocolate Ganache
No-bake pies are always a hit at dinner parties, barbecues, and potlucks. Next time you are going to an event, whip up this oreo cookie pie, and I promise you won't have leftovers.
Ingredients
3

ounce

cheesecake pudding mix

8

ounce

whipped topping

,

thawed

½

cup

heavy whipping cream
Instructions
In a saucepan, over low heat, heat the cream until just starting to bubble.

In a heat-friendly bowl, add the chips, and pour the heated cream over the top.

Stir with spatula until melted. Allow to cool.

In a large mixing bowl, add pudding mix and cold milk. Whisk for about a minute.

Allow pudding mixture to sit and solidify, about 3 mins.

Whisk in whipped topping.

Mix in 1 ½ cups mini Oreos.

Pour into pie crust, trying not to over-fill.

Freeze for about 10 minutes.

Take out of the freezer and spread cooled ganache over the top.

Decorate top with remaining Oreos.

Refrigerate for 4 hours or overnight.

Thaw for 10 minutes before cutting.
Follow me on Pinterest for daily delicious recipes!
Now, save this pie on Pinterest for later 🙂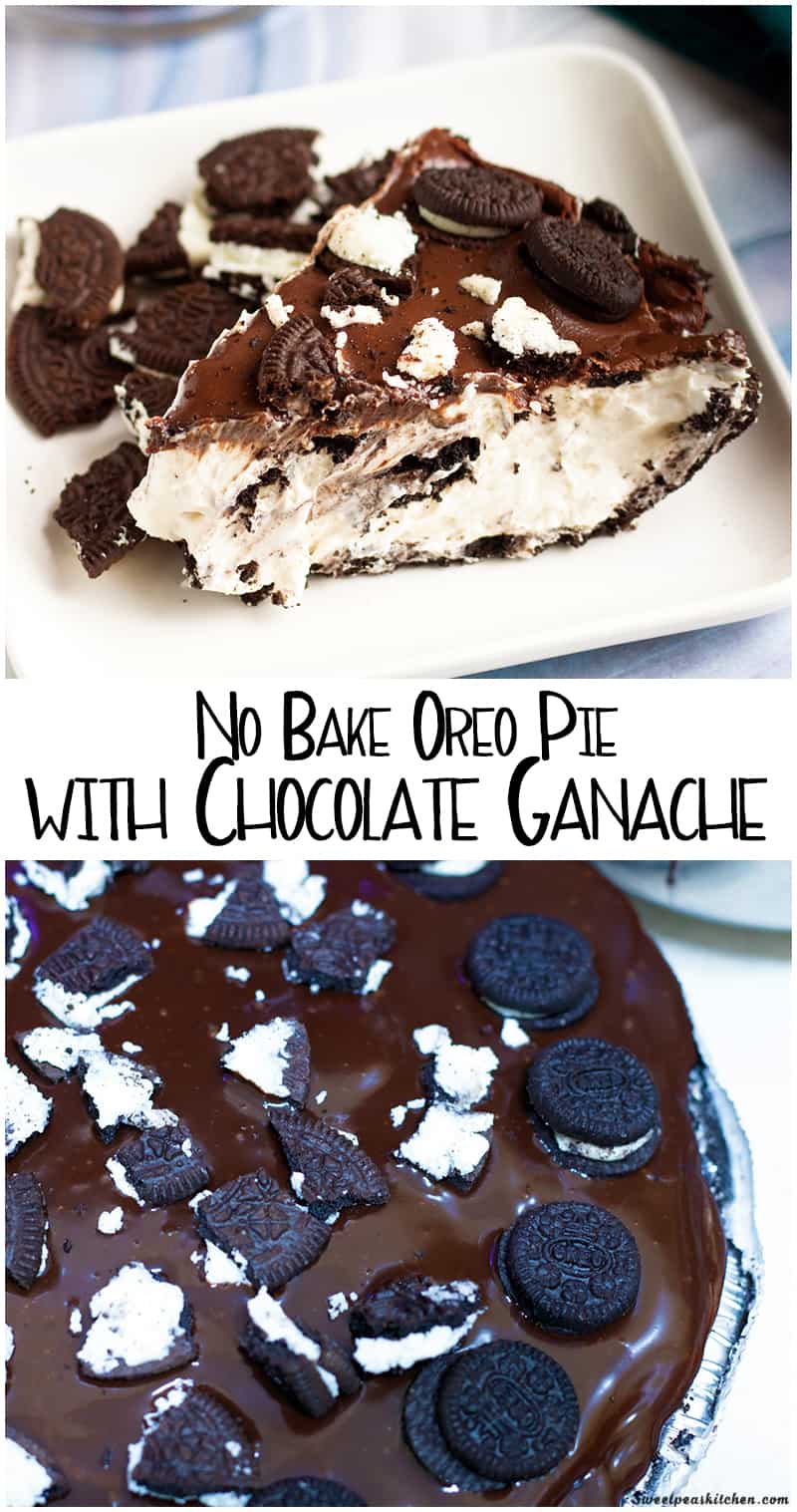 Get new recipes weekly plus our FREE ebook!