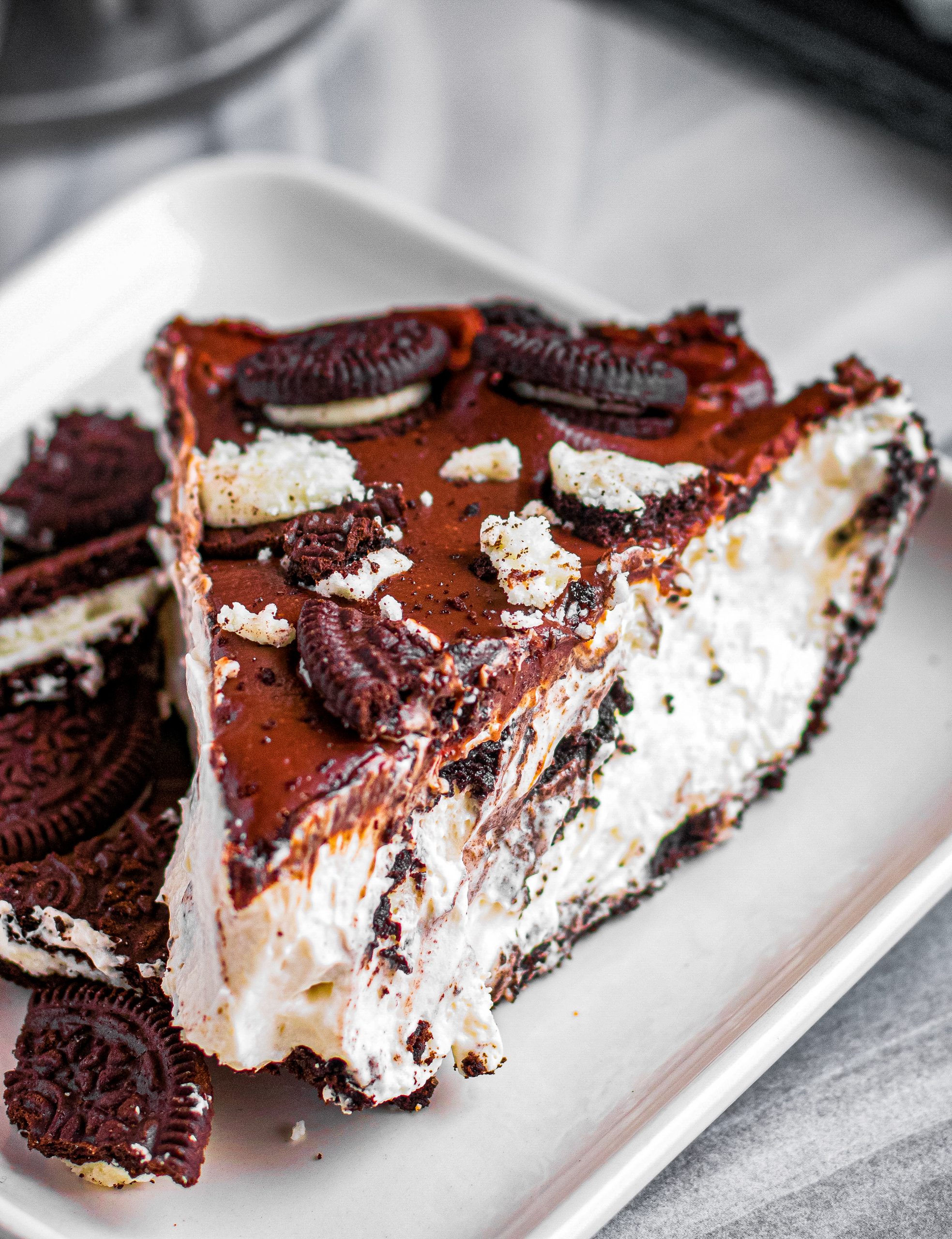 Rich, creamy, and sweet – there's no way an Oreo pie isn't going to be delicious!
But, this No-Bake Oreo Pie with Chocolate Ganache? It is mind-bogglingly good!
Want to save this recipe? Enter your email below and we'll send the recipe straight to your inbox!
NOTE: By saving this recipe, you agree to join our weekly recipes newsletter.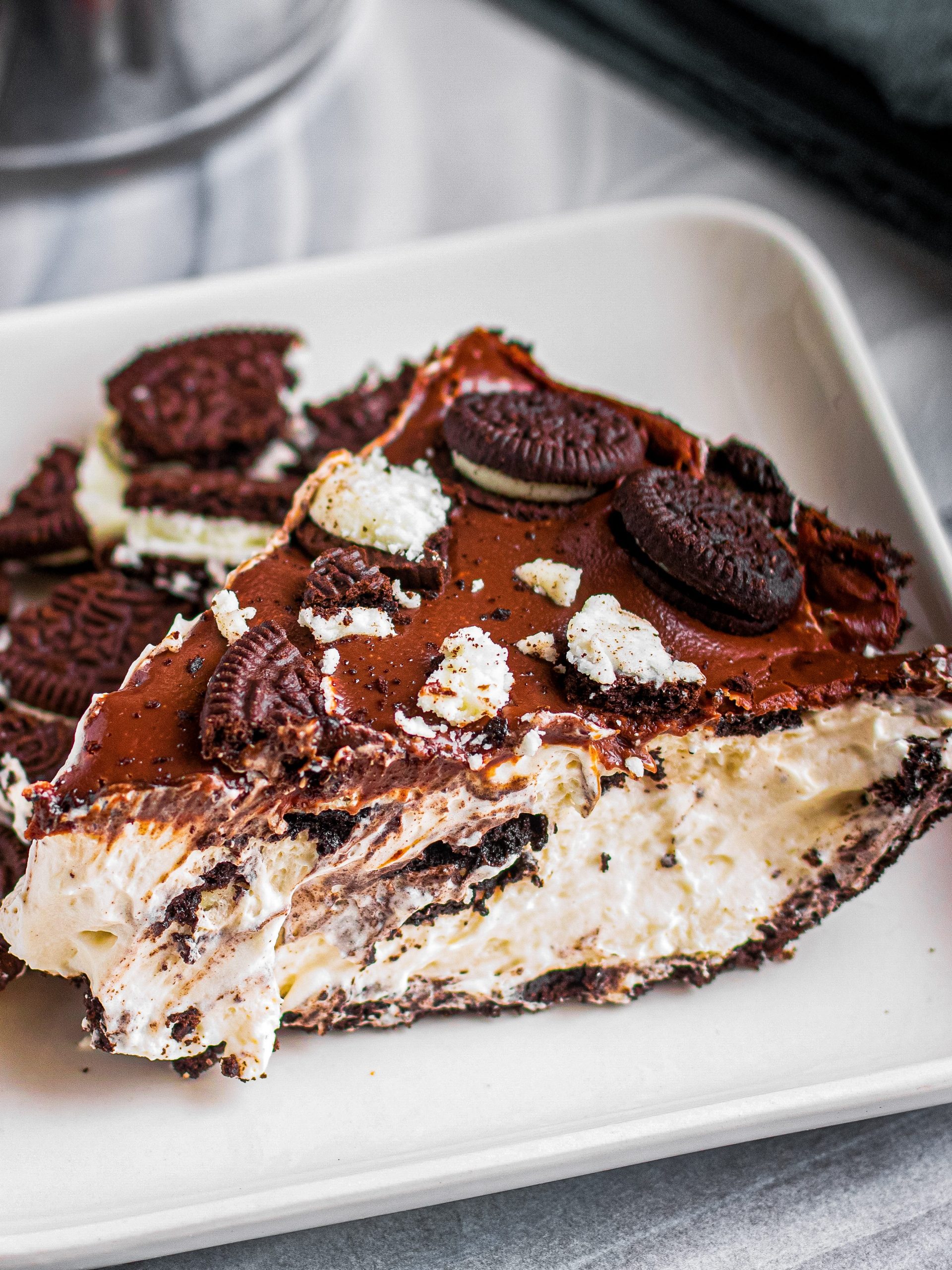 The crunchy Oreo crust is a perfect base for the creamy, chocolatey filling. And then the extra-special layer of chocolate ganache on top makes it unbelievably decadent. It's like a dream come true for all Oreo fans!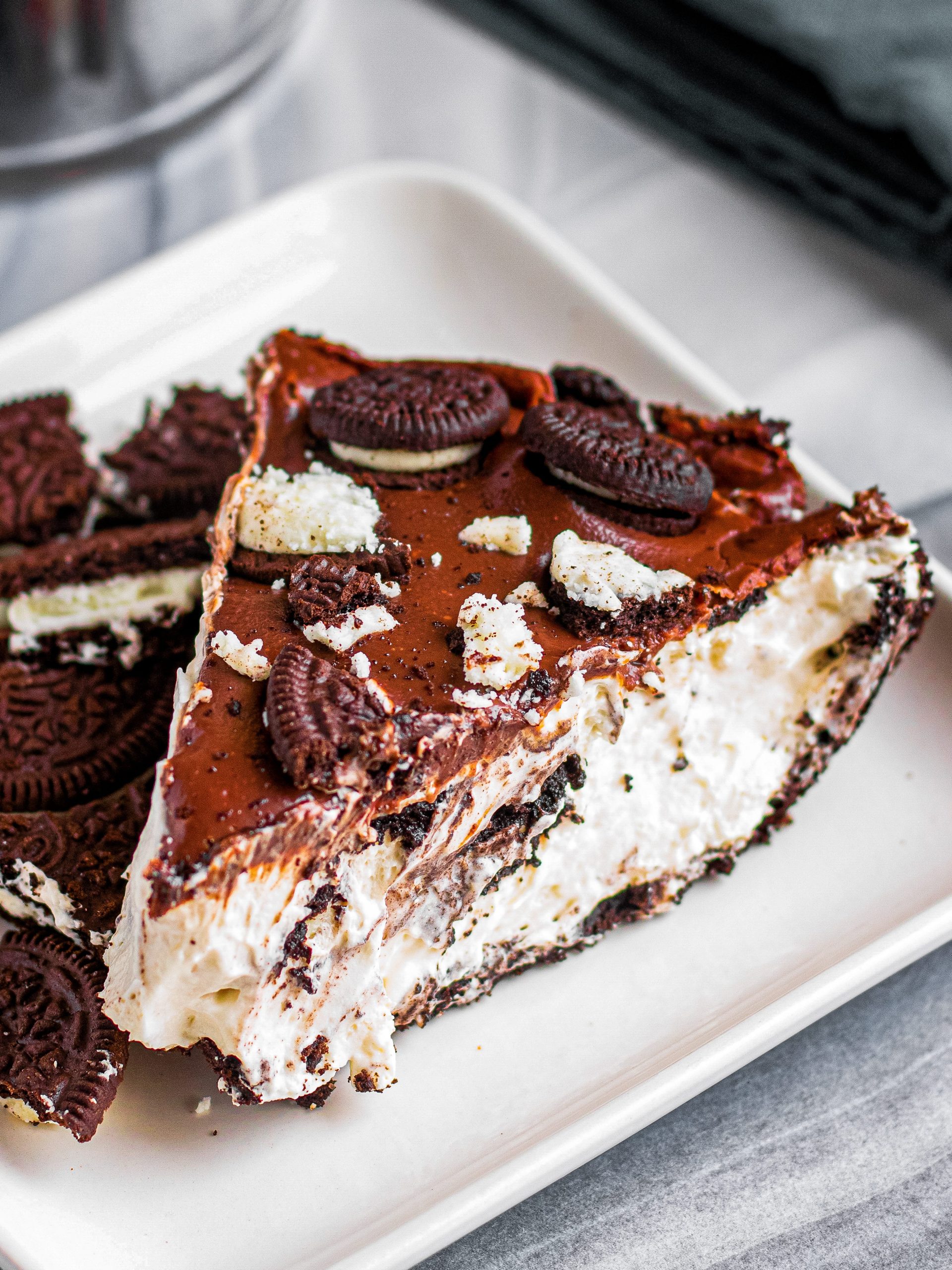 Just whip it up, let it set up, and devour every bite of its sweet goodness.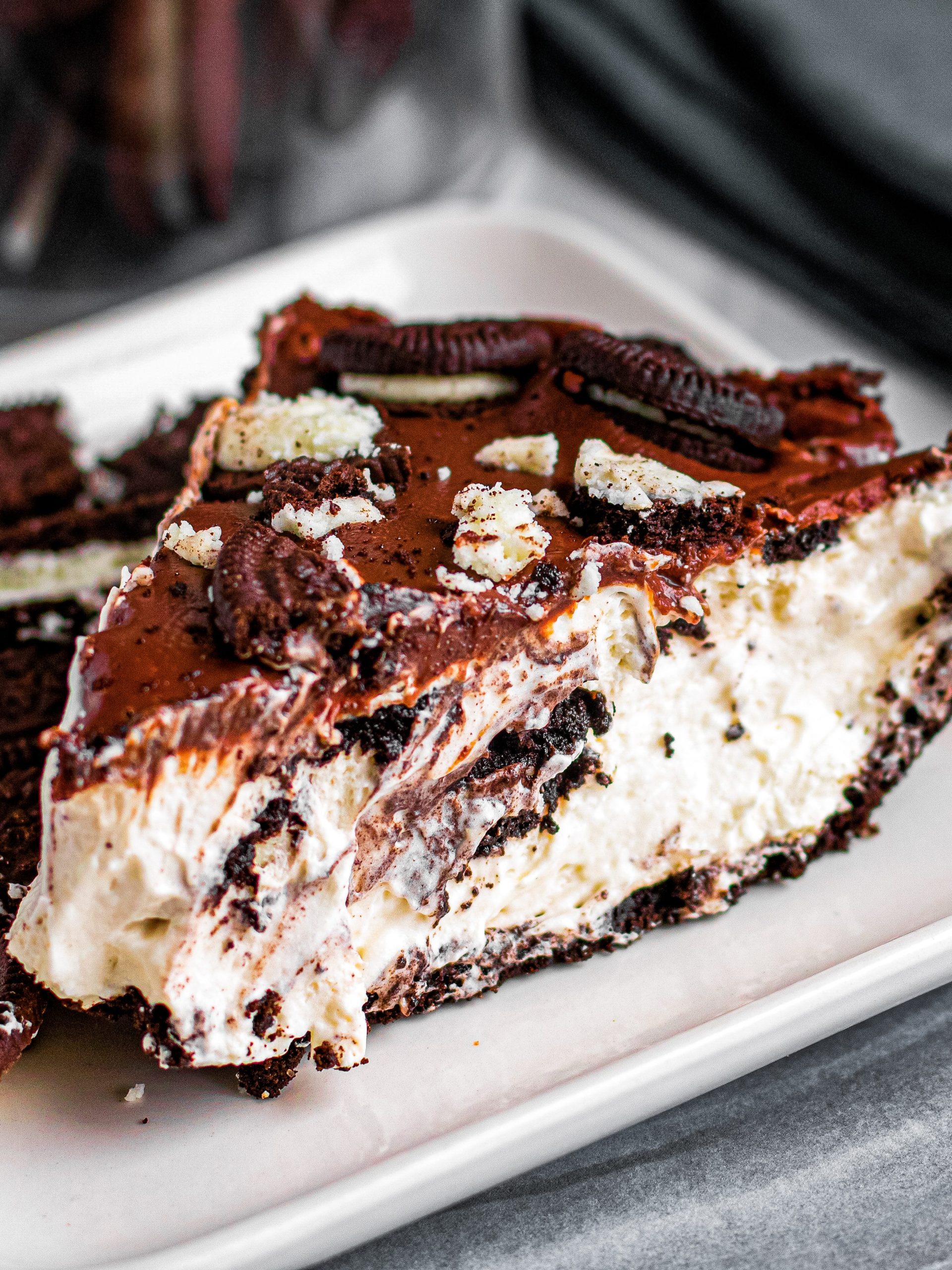 Scroll to bottom for printable recipe card.
Why I Love No-Bake Oreo Pie?
I just love it. Everyone in the family loves it. Everyone I've fed it to at the parties loves it too. Why? Because it's just so good. But as the one cooking it, I love that there's no need for an oven. It doesn't heat my kitchen like a pizza oven.
Also, there aren't a lot of ingredients involved, so no special grocery visits for it. The only catch is the time it takes to set. Ah, that really tests my patience.
But overall, it's an easy-to-follow recipe, and it turns out good EVERY TIME! No ifs, no buts!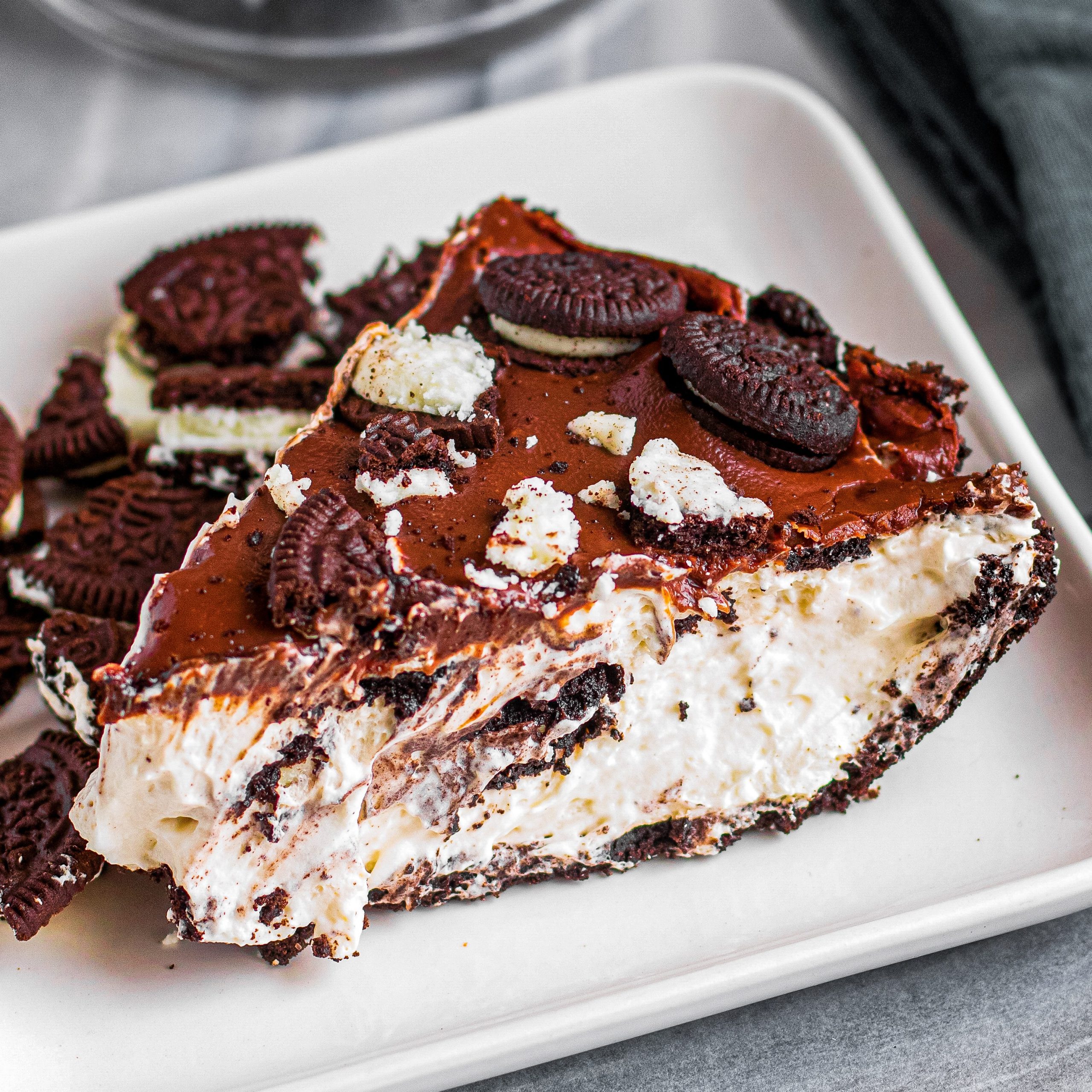 Oreo Pie No Bake Variations
The original recipe is a traditional delight. But it's also highly versatile. I can play with it a lot, depending on my mood (LOL).
I've added different colors, slightly changed the texture, and flavored it with some extra goodies. Wanna know more? Here's what you can try from my adventures with this Oreo no-bake pie:
Add the bright and colorful sprinkles if you're making it for a birthday party. They look perfect against the dark brown chocolate layer.
Use a different Oreo flavor. I've tried all, I think. Mint Oreos, Peanut Butter Oreos, and Chocolate Cream Oreos. Each of these turned out pretty well.
Drizzle melted white chocolate to add more depth. And it's a perfect decoration too.
Toss some peanut butter chips into the cream mixture. It tastes and looks fantastic.
Switch the cheesecake pudding with vanilla, chocolate, or even butterscotch pudding for a different taste.
M&M's make it more fun and appealing. So, throw in some for fun.
When Can I Serve This Oreo No-Bake Pie?
It's perfect for every occasion. I'm not even kidding. It doesn't matter that it's served chilled. It's ideal for those outdoor summer BBQs, fun game nights, and festive holiday parties. I've also taken it to potlucks. It took such little effort but looked so presentable. Everyone was stunned!
I've also ditched birthday cakes for this recipe. The kids were just as delighted. So, I'm guessing it went well.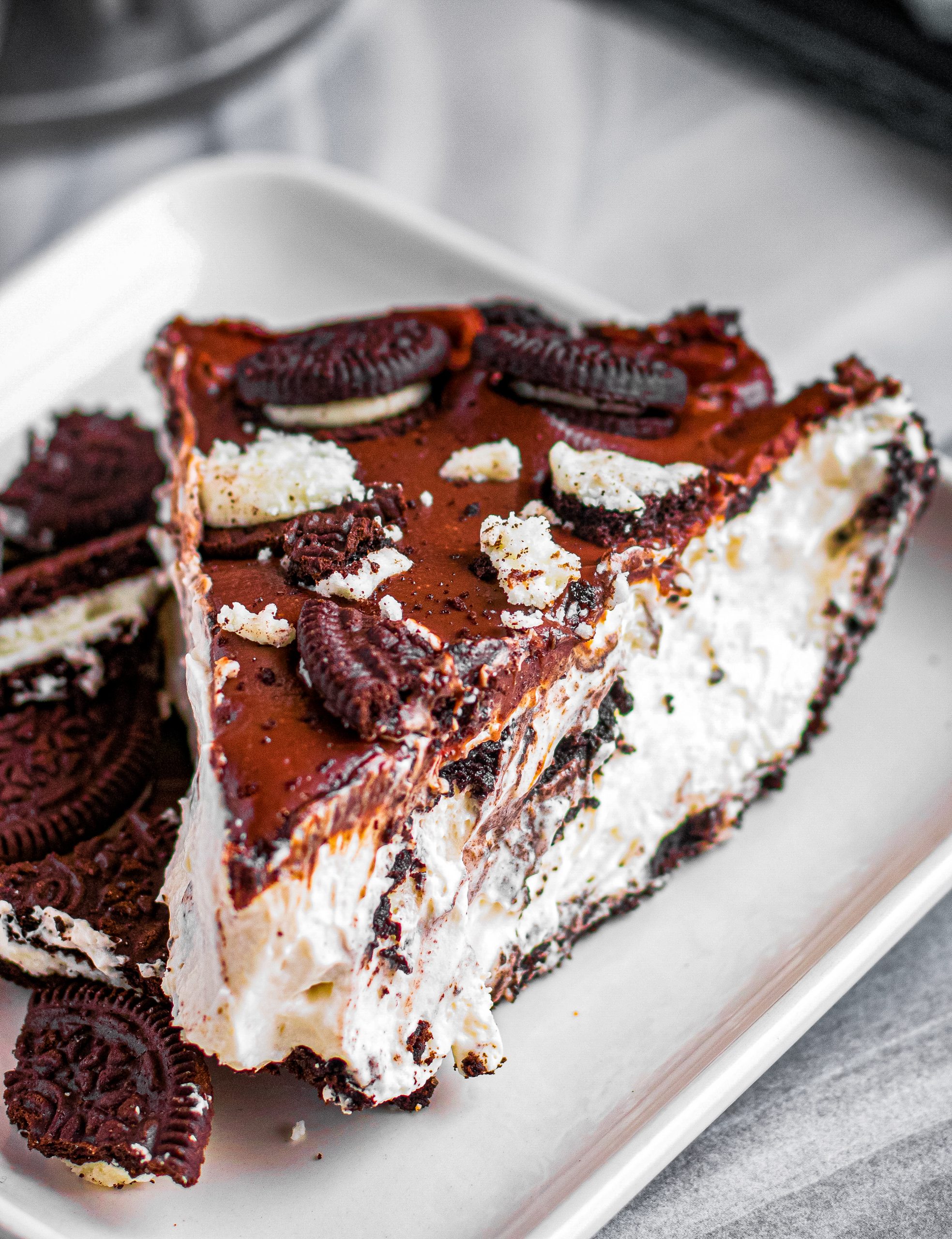 How To Make Oreo Pie
The hardest part of making this no-bake pie is that you have to wait for it to set up. It is totally worth the wait, though. Now it's time to give you all the details on making this Oreo cookie pie.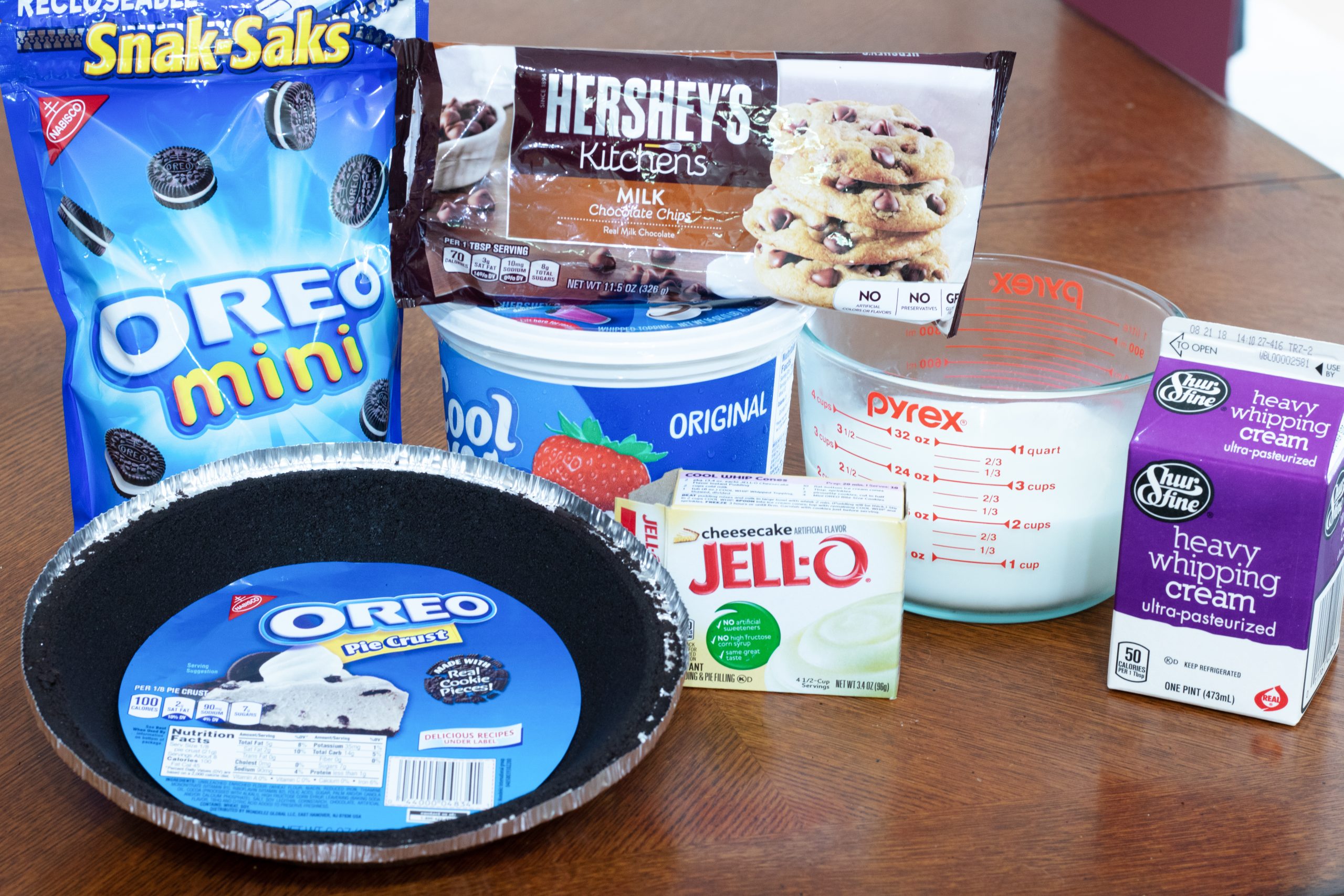 First Step: Over low heat, place the cream in a saucepan and cook until it's bubbling.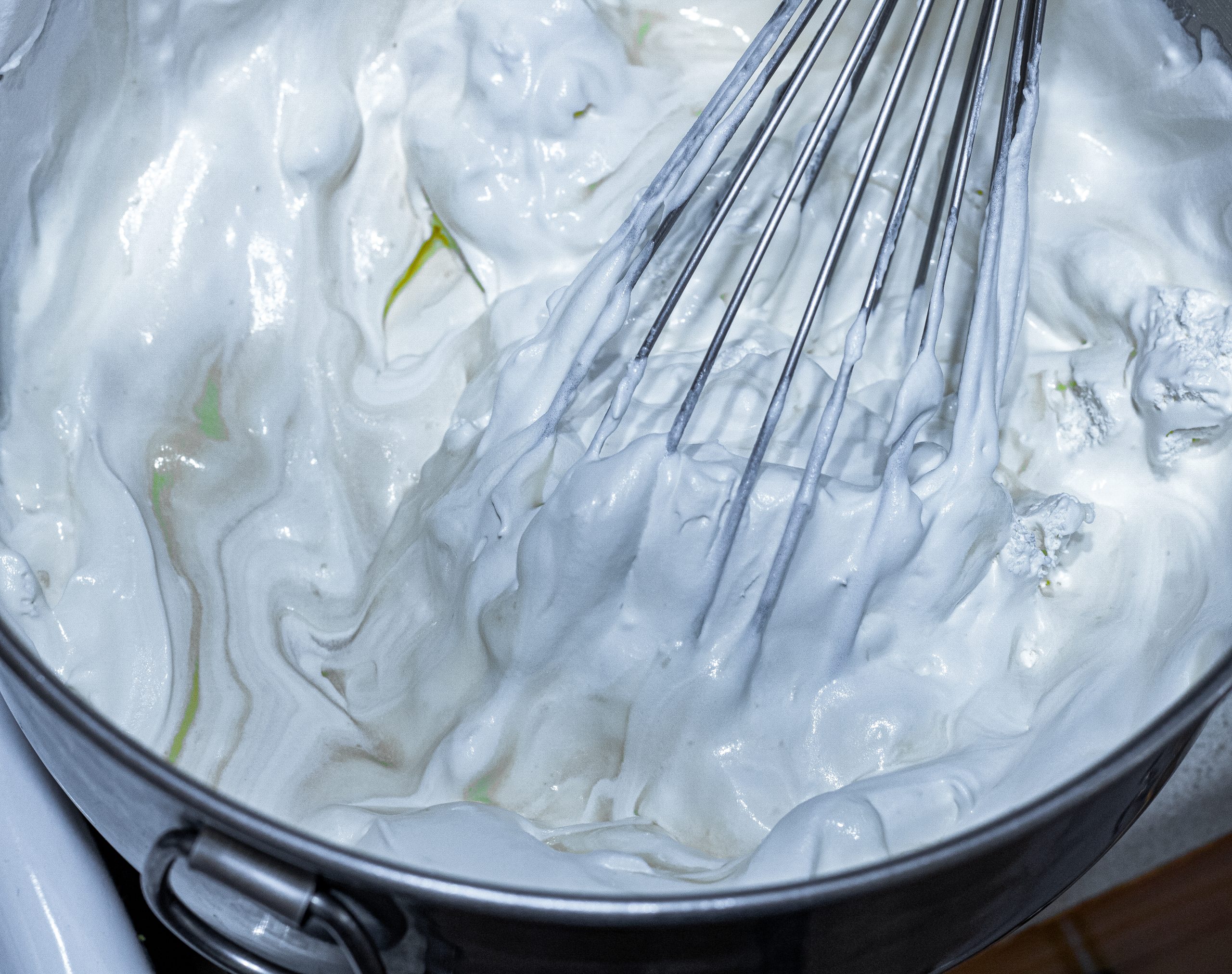 Second Step: Add chocolate chips to a heat-friendly bowl. Add the hot cream over the chocolate chips.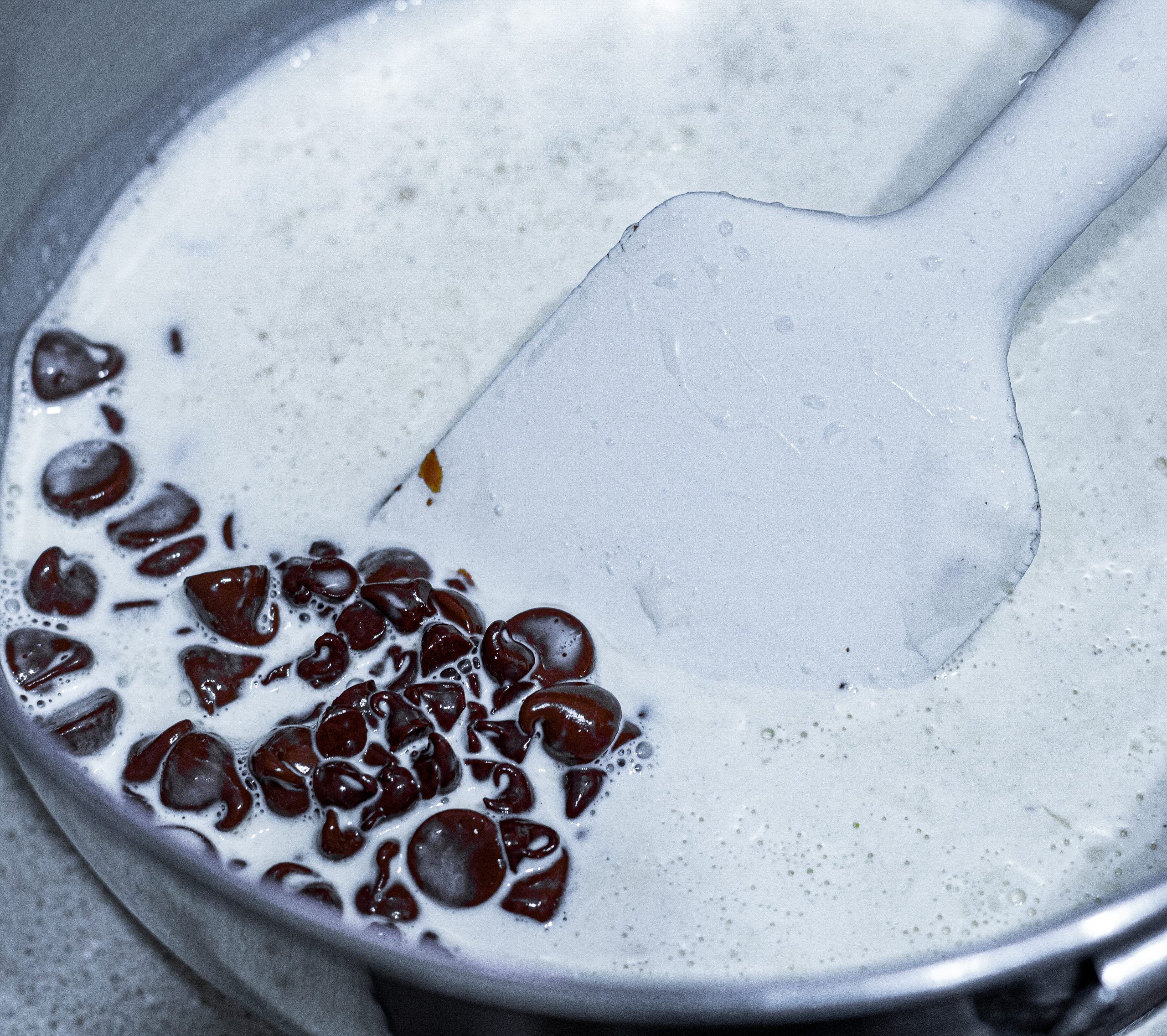 Third Step: Continue to stir the cream and chocolate mixture until the chips have melted, and it's mixed well. Allow to cool.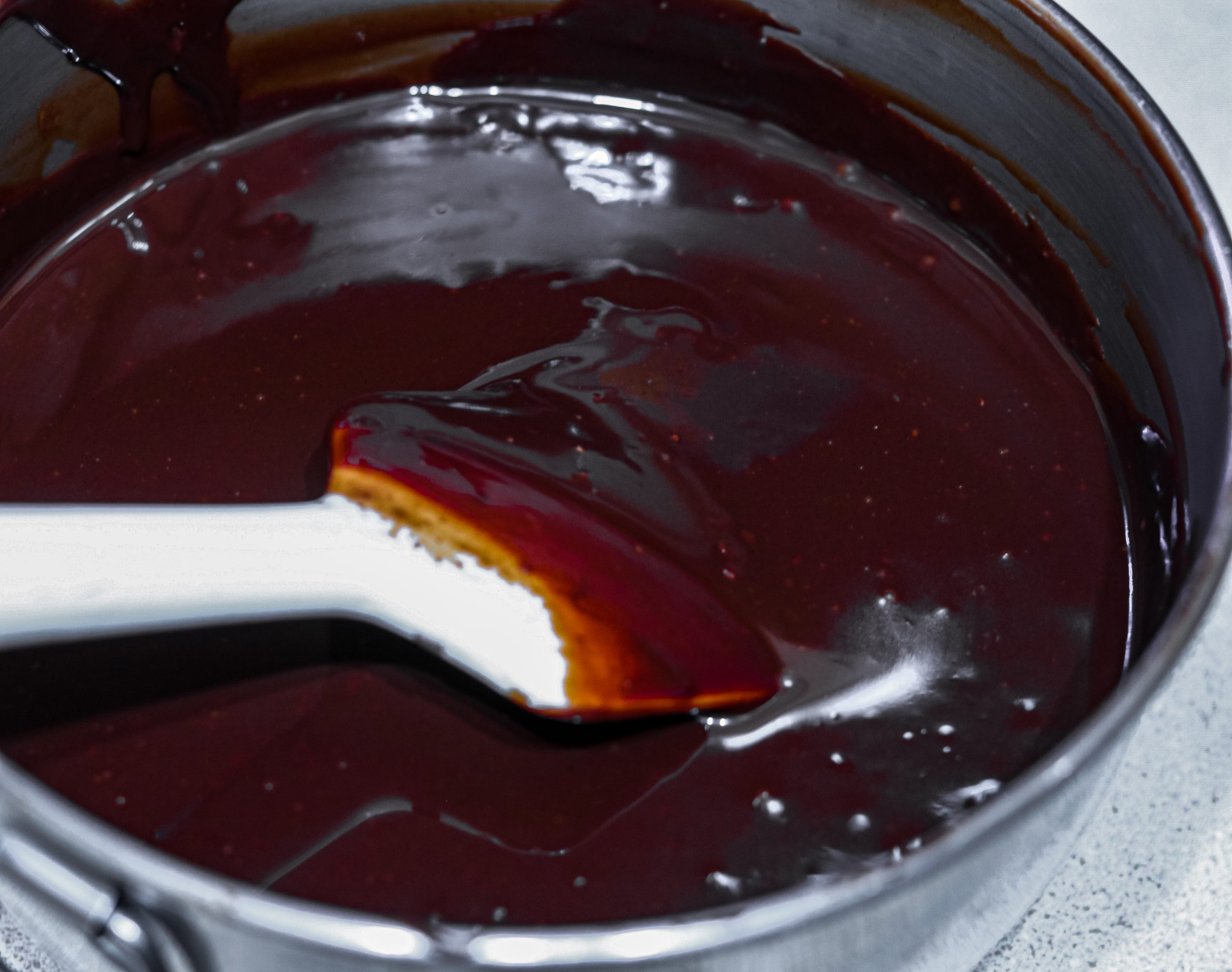 Fourth Step: Add pudding mix and really cold milk to a large mixing bowl. Mix for 1 minute or so until it is well stirred.
Fifth Step: Let the pudding rest for around 3 minutes to give it time to solidify.
Sixth Step: Toss in whipped topping and stir.
Seventh Step: Add mini Oreos to the mixture and combine.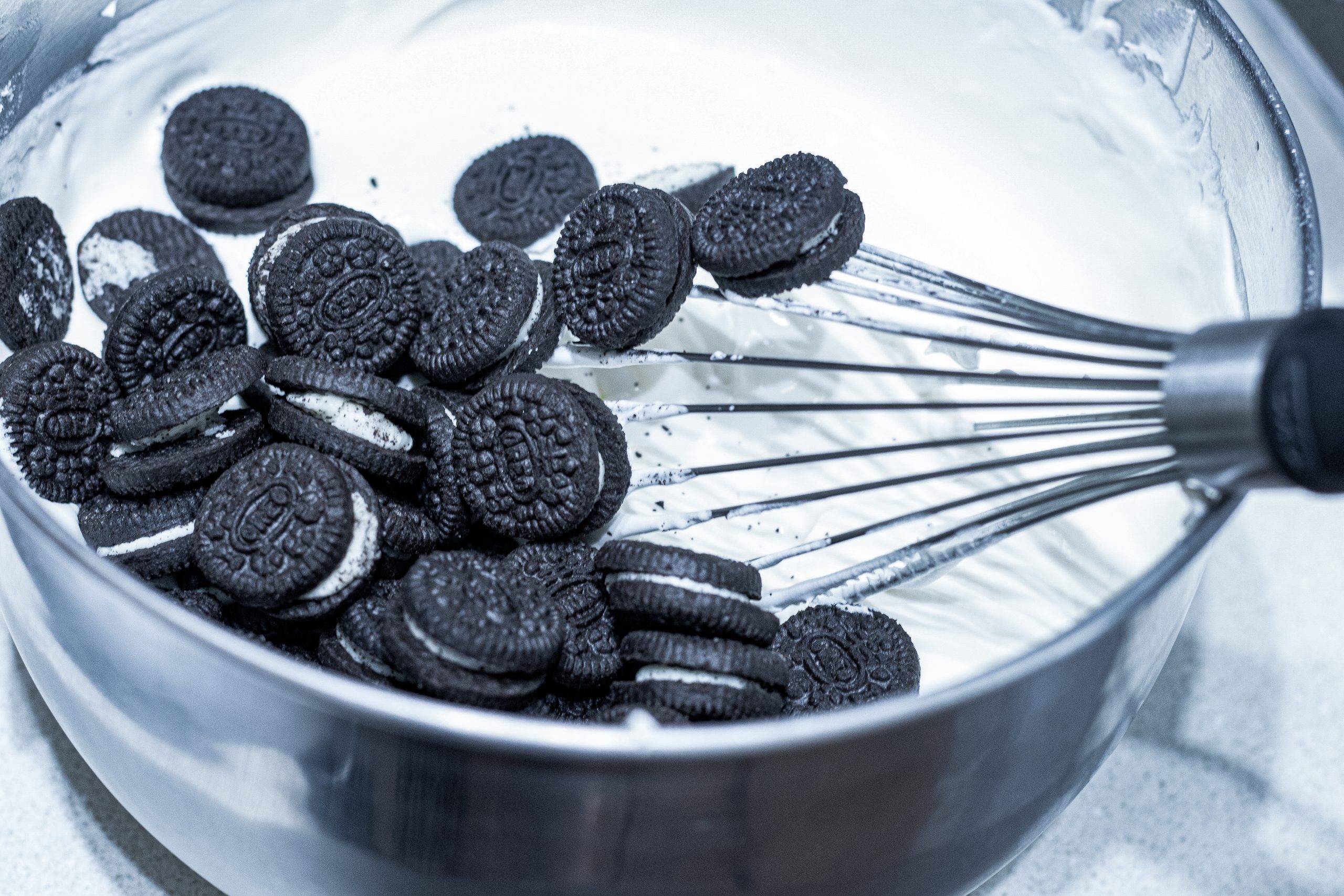 Eighth Step: Pour mixture into the Oreo pie crust, making sure not to overfill.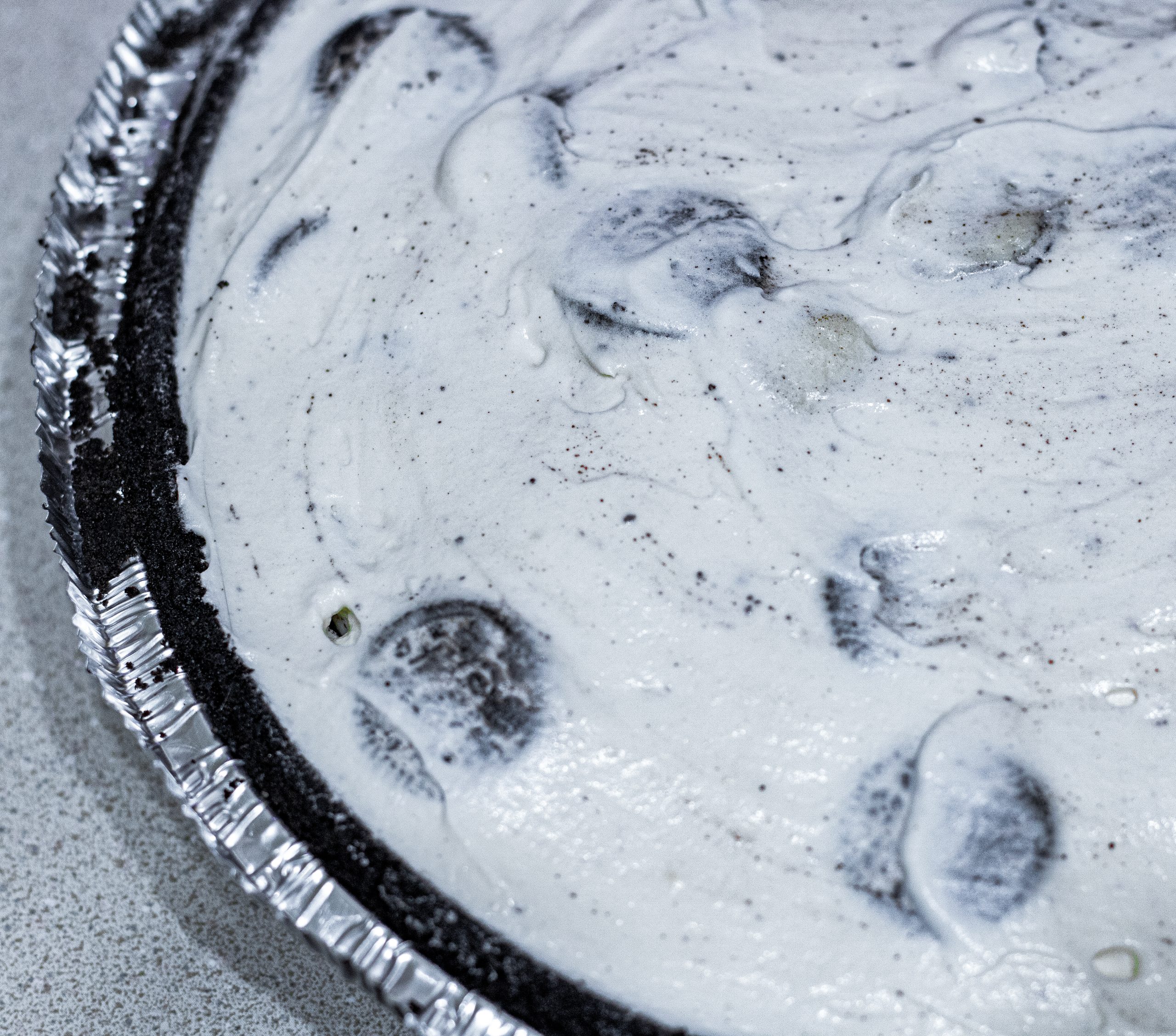 Ninth Step: Place the no bake pie in the freezer for around 10 minutes to cool it off.
Tenth Step: Take the pie out of the freezer and spread the cooled ganache over the top.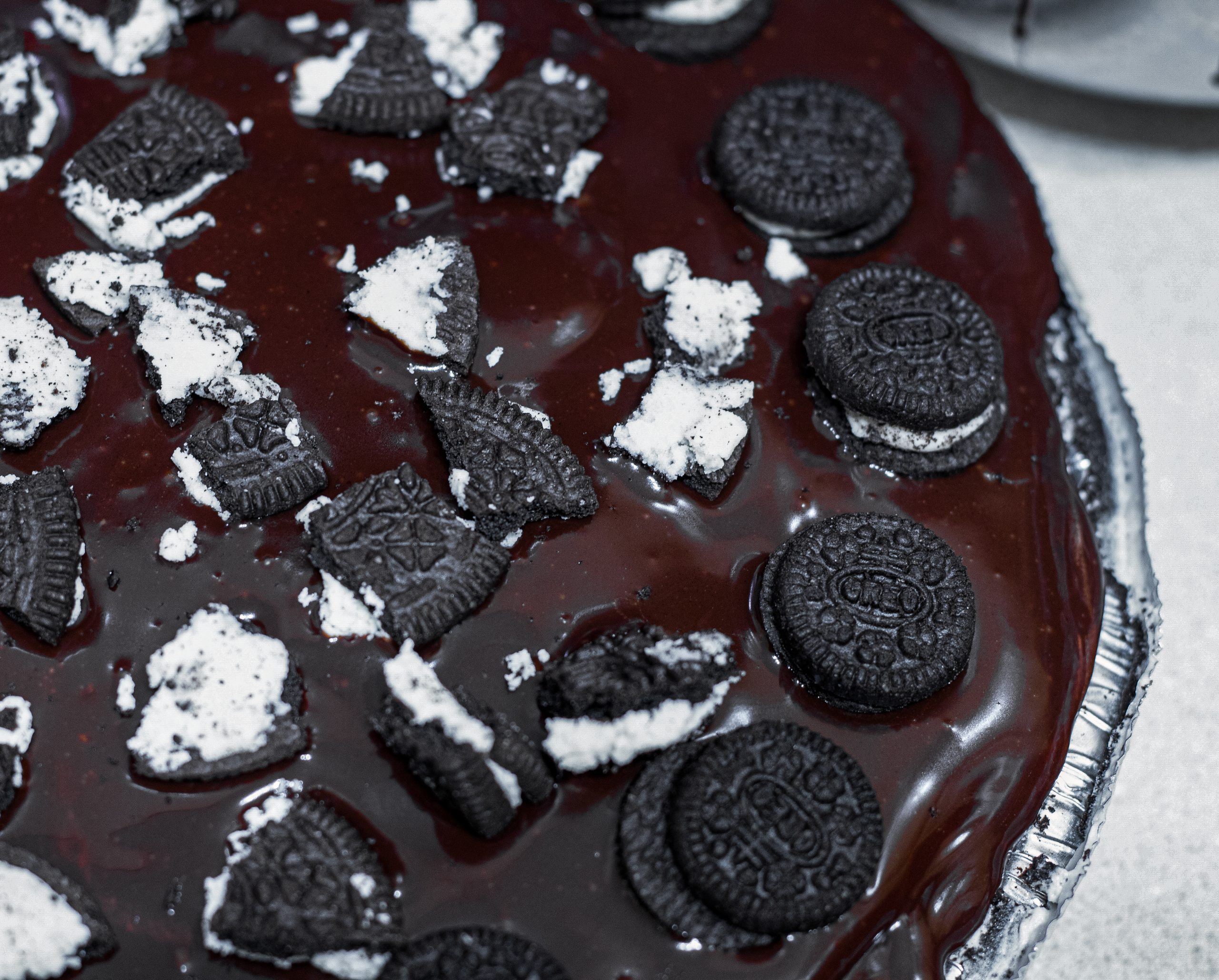 Eleventh Step: Add some Oreos and crushed Oreos as a garnish to the top of the pie.
Twelfth Step: Refrigerate the delicious easy pie for 4 hours up to overnight before serving.
Thirteenth Step: Let the pie thaw on the counter for 10 minutes before cutting and serving.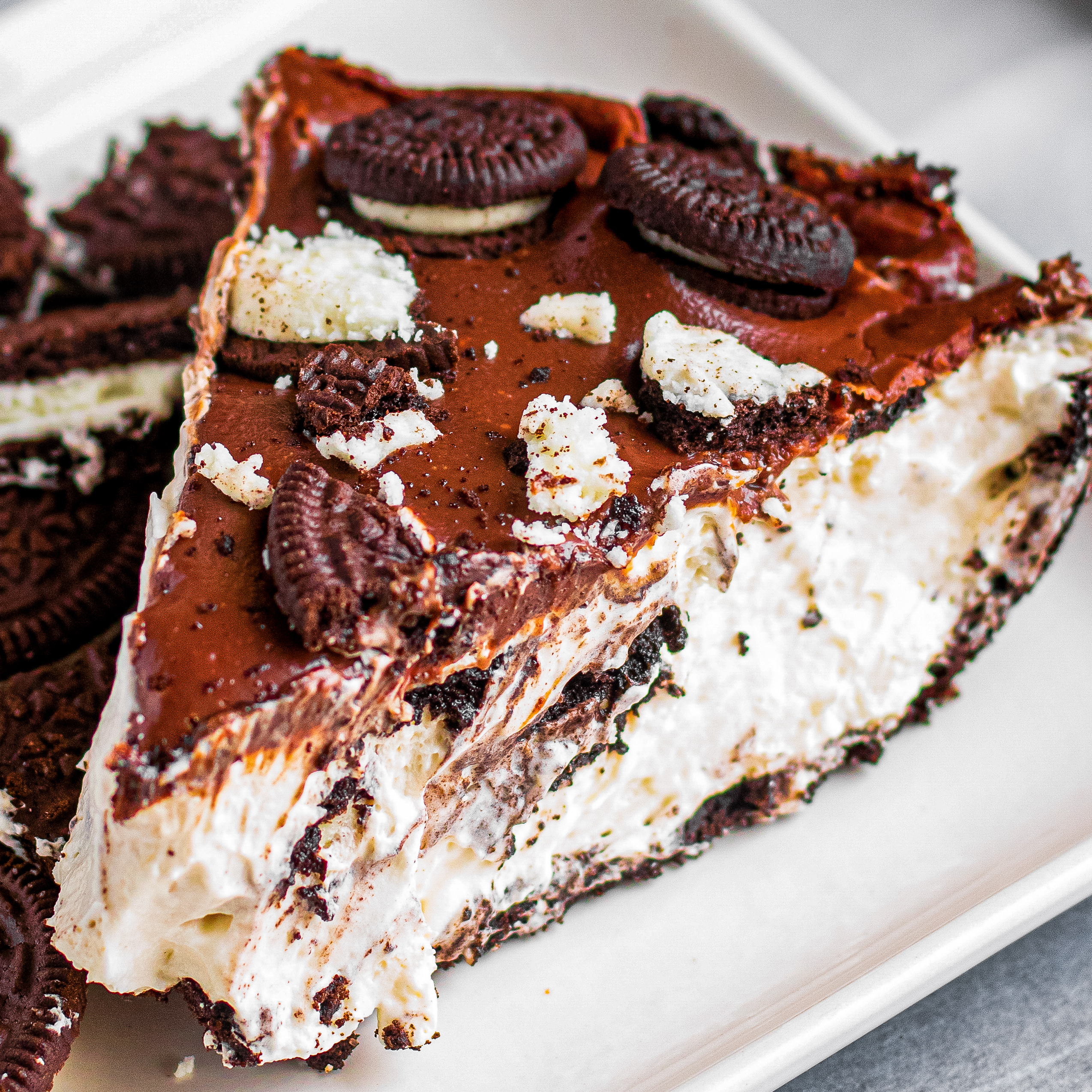 Pin this recipe now to remember it later
No Bake Oreo Pie with Chocolate Ganache
No-bake pies are always a hit at dinner parties, barbecues, and potlucks. Next time you are going to an event, whip up this oreo cookie pie, and I promise you won't have leftovers.
Ingredients
3

ounce

cheesecake pudding mix

8

ounce

whipped topping

,

thawed

½

cup

heavy whipping cream
Want to save this recipe? Enter your email below and we'll send the recipe straight to your inbox!
NOTE: By saving this recipe, you agree to join our weekly recipes newsletter.
Instructions
In a saucepan, over low heat, heat the cream until just starting to bubble.

In a heat-friendly bowl, add the chips, and pour the heated cream over the top.

Stir with spatula until melted. Allow to cool.

In a large mixing bowl, add pudding mix and cold milk. Whisk for about a minute.

Allow pudding mixture to sit and solidify, about 3 mins.

Whisk in whipped topping.

Mix in 1 ½ cups mini Oreos.

Pour into pie crust, trying not to over-fill.

Freeze for about 10 minutes.

Take out of the freezer and spread cooled ganache over the top.

Decorate top with remaining Oreos.

Refrigerate for 4 hours or overnight.

Thaw for 10 minutes before cutting.
Follow me on Pinterest for daily delicious recipes!
Now, save this pie on Pinterest for later 🙂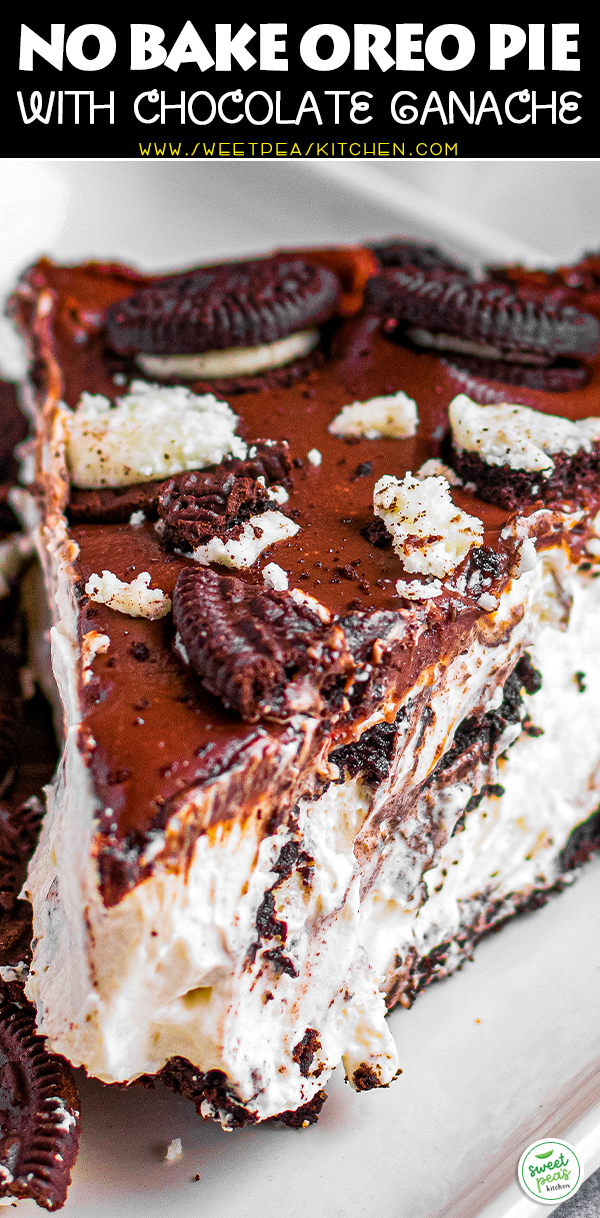 How to Store No-Bake Oreo Pie?
You can keep your dessert safe if you store it in an airtight box in the fridge. That's the only way. If you leave it for longer than two hours, it will go bad. So, don't risk it. If you think your party will last longer, fill a dish with ice and place your pan in the dish. You have to keep it cold!
Your Oreo pie will easily last 3-4 days in the fridge. If you still have leftovers by day 2, don't take risks. Freeze them.
How to Freeze Oreo Pie?
Wrap your dish with aluminum foil or plastic wrap. Tightly. And place it in the freezer. Since I'm crazy about this dessert, I always double-protect it and put the wrapped dish in a freezer-safe bag. It stays good for 2-3 months. I store mine in single servings, so it's easy to grab and eat.
When you want it again, just pull it out and eat it frozen. It tastes like ice cream.
How to Tell if the No-Bake Pie Has Gone Bad?
If the crust is too mushy or watery, that's your cue. Condensation and water buildup are also signs. And if there's mold, just toss it out.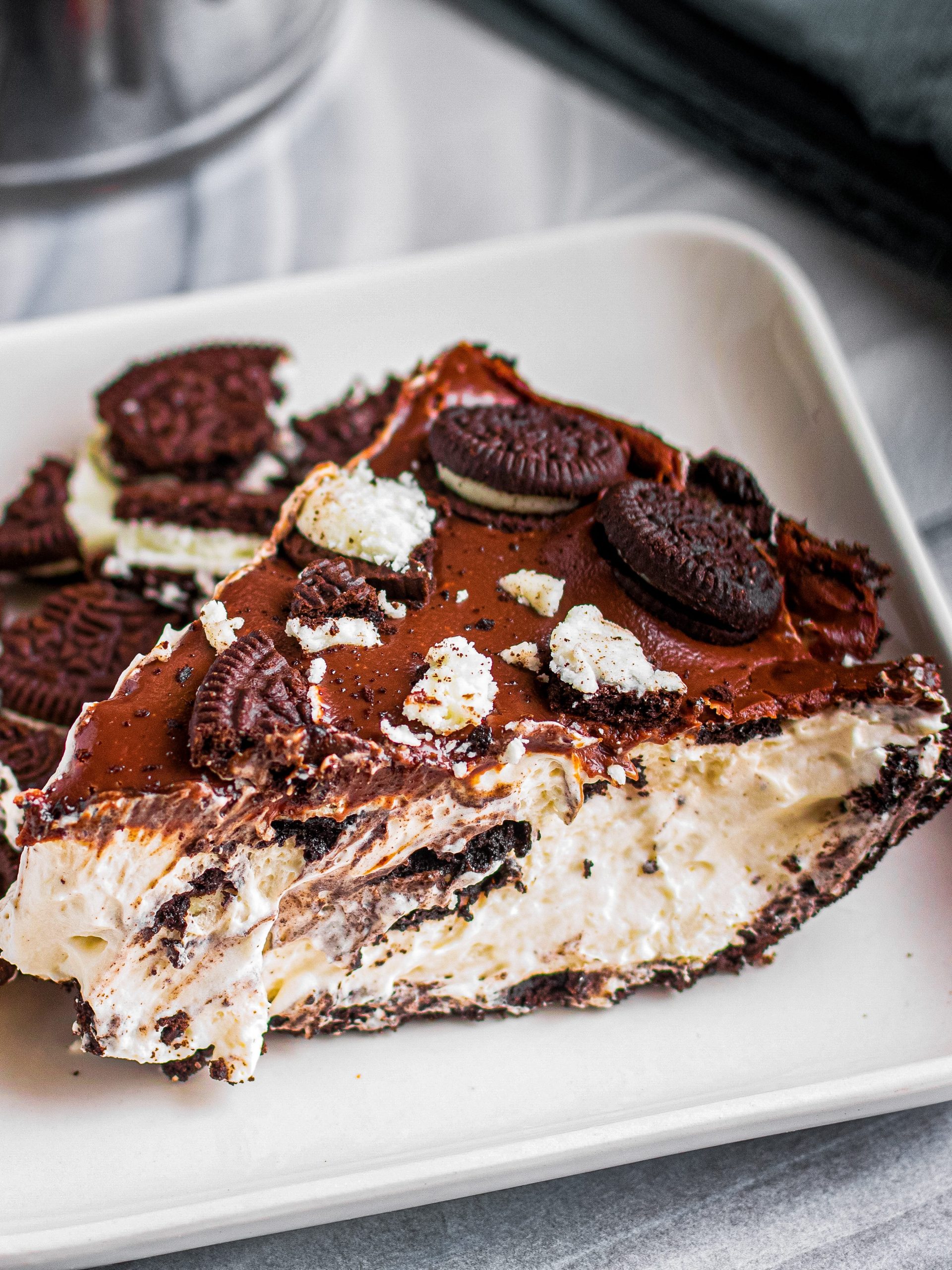 Craving More Sweet Recipes?
Cherry Dr. Pepper Cake – This Cherry Dr. Pepper Cake is a sweet but tart cake with delicious cherry frosting and a splash of Dr. Pepper flavor.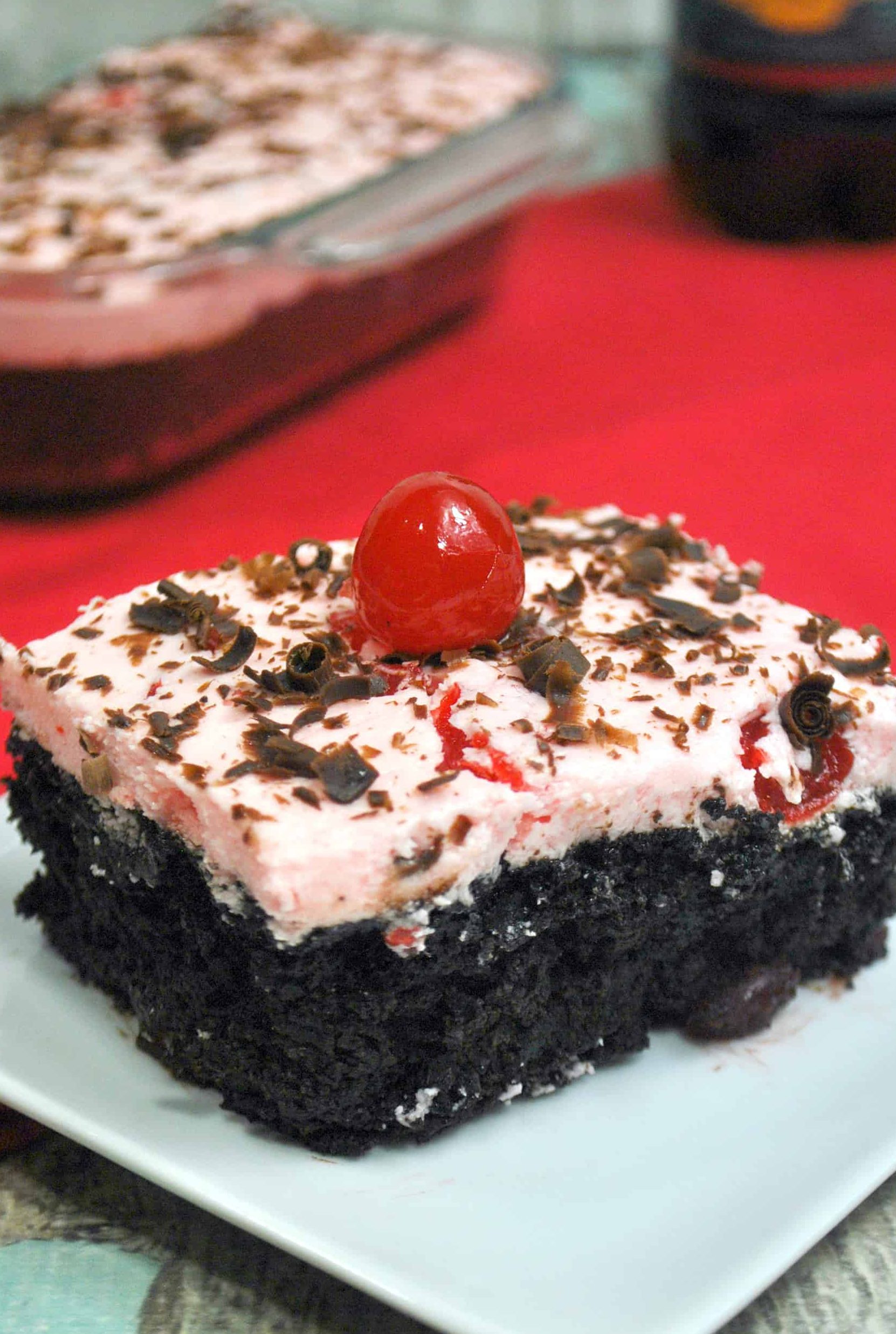 Blueberry Pie – Everyone is going to go wild for this blueberry pie with a flaky homemade crust!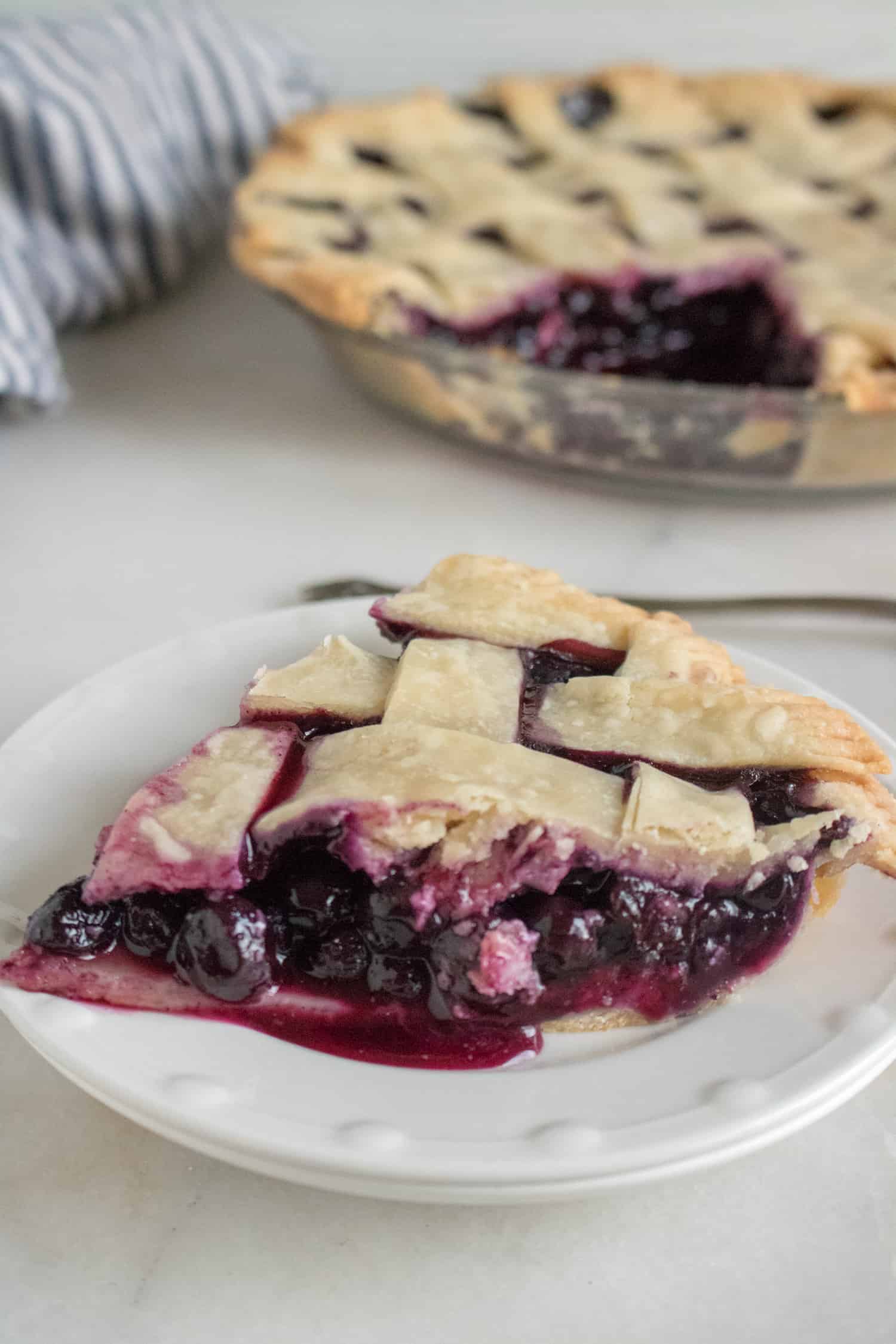 Pina Colada Pie – This Pina Colada Pie is beyond amazing!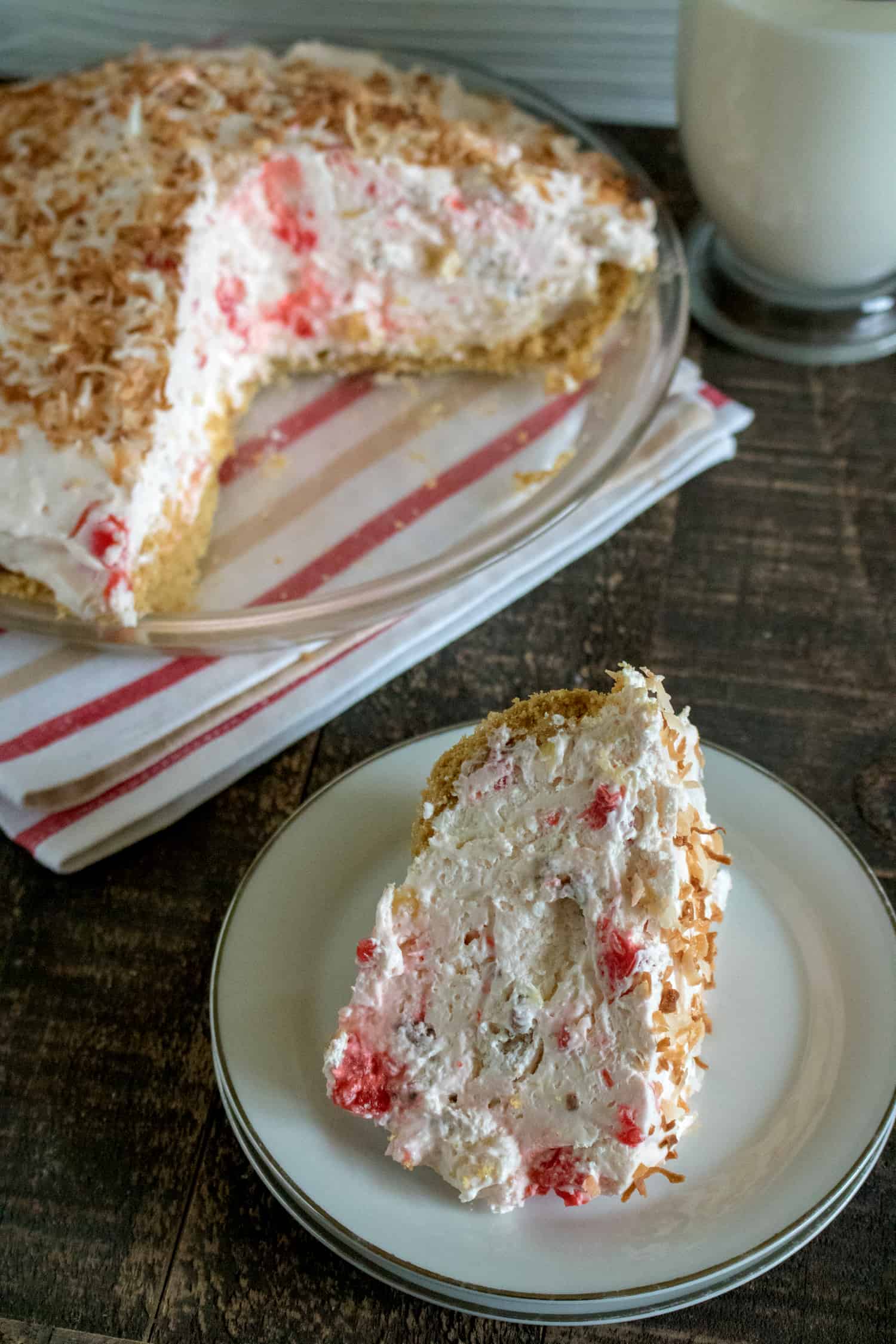 Get new recipes weekly plus our FREE ebook!