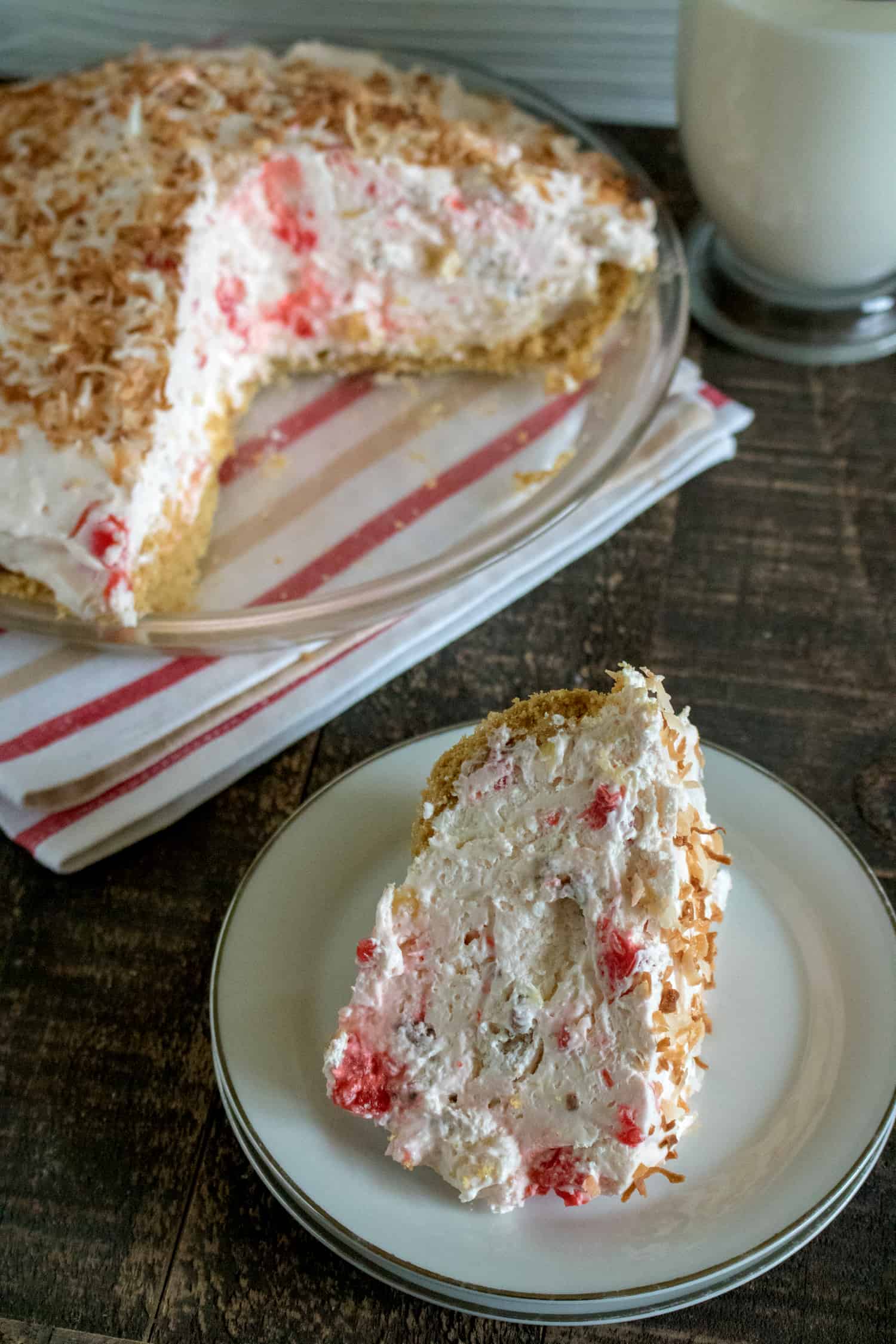 This Pina Colada Pie is beyond amazing! Every bite is filled with toasted coconut with a graham cracker crust and a creamy coconut filling with crushed pineapple, crunchy pecans, and maraschino cherries. You can't go wrong with this coconut and pineapple dessert.
It has been super HOT lately, and I was planning on going to a barbecue. I didn't want to take the same old veggie tray and was on the hunt for something different and fun. Let's just say that this Pina Colada dessert recipe was the right choice.
When I placed the Hawaiian Pina Colada pie on the dessert table, it disappeared right before my eyes. The best part is you can add extra flavors to the pie too. So no matter who you are feeding, they will love it!
How To Make Pina Colada Pie
You can whip this million-dollar pie in no time at all. I'm not even kidding! It takes more time to get out the ingredients than it takes to make the pie. Here are the ridiculously easy steps:
First Step: Begin by preheating the oven to 350 degrees F. Sprinkle coconut flakes on a baking sheet and place in the oven for 5 minutes. This is the only baking you do with this cream pie. 🙂
Second Step: Prepare the crust by placing the crushed graham crackers in a bowl. Then pour the melted butter on top and stir until the crumbs are mostly moist. Press the crust into a 9-inch pie pan with your fingers or the bottom of a measuring cup.
Third Step: Next, we are going to make the Pina Colada filling by beating the cream cheese and coconut cream together until they are smooth and fluffy. Then add the rum extract.
Fourth Step: Add the whipped topping, pineapple, cherries, and nuts into the cream cheese mixture. Spread Pina Colada filling into the pie pan. Top with toasted coconut and refrigerate for several hours.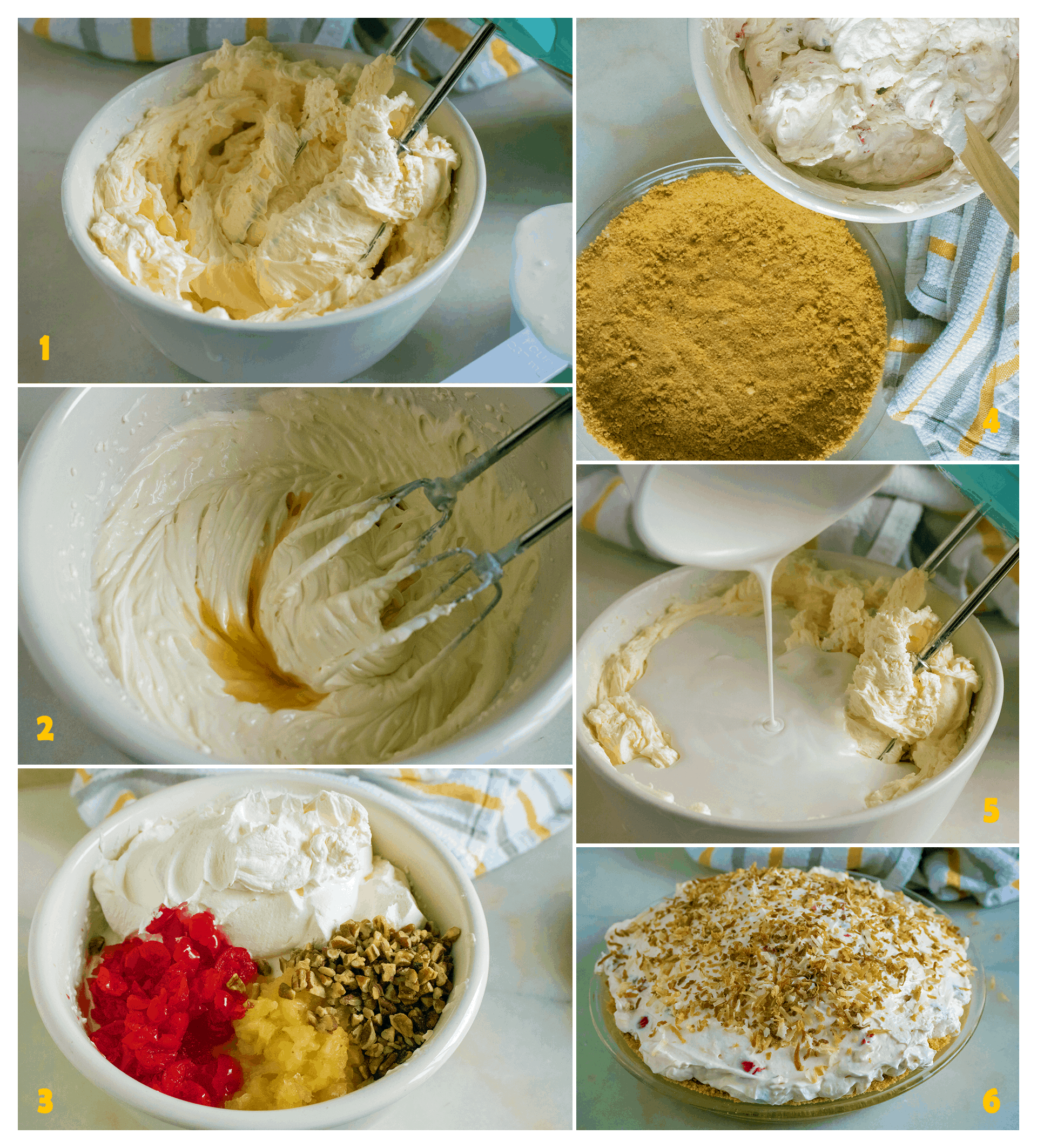 Coconut And Pineapple Dessert Variations
As soon as this easy Pina Colada pie recipe hits your tongue, you might think I am crazy for suggesting other options. I understand how amazing the recipe is, but I like to always include other ideas in case you ever want to try something new. Okay, here we go!
Chocolate Graham Crackers – Go wild and crazy, by using chocolate graham crackers for the crust instead of the traditional flavor. You are going to be blown away by the flavor it adds.
Crushed Cookies – Out of graham crackers? No problem, use any type of wafer or sandwich cookie instead. Make sure the cookies are crushed fine, and you will be all set.
Strawberries – Either omit the cherries completely or add in a few chopped strawberries. They add even more color to the pie and enhance the flavor.
Almonds – I love adding extra nuts to the pie. The slight crunch the nuts provide is splendid. Give it a try!
Lemon Juice – Add in 4-5 tablespoons of lemon juice. It will give the pie a little bit of a tangy flavor and makes it last a little longer.
Raspberries – Another different spin on flavors! I love anything that has to do with raspberries, and they pair nicely with the tropical flavors in this pie.
Why Is It Called Million Dollar Pie?
You won't ask that question after you taste all the amazing flavors, but there is a reason they call this a million dollar pie. This is the nickname because it tastes like it should be super expensive to make, but in reality, it's inexpensive and effortless. Plus, when you bring that forkful of delicious pie to your mouth, you can't help but feel fancy.
Not to mention the fact that because of the tropical flavors in the pie, you can't help but feel like you are in the tropics on vacation. So good!
Can I Make Miniature Pina Colada Pies?
Yes, absolutely! Use ramekins or muffin tin and follow the instructions as directed. I love this idea because you will have individual serving sizes ready to go. Not only will they look classy, but they would also be perfect for any of these events:
Weddings
Picnics
Barbecues
Pool Parties
Baby Shower
Bridal Shower
Graduation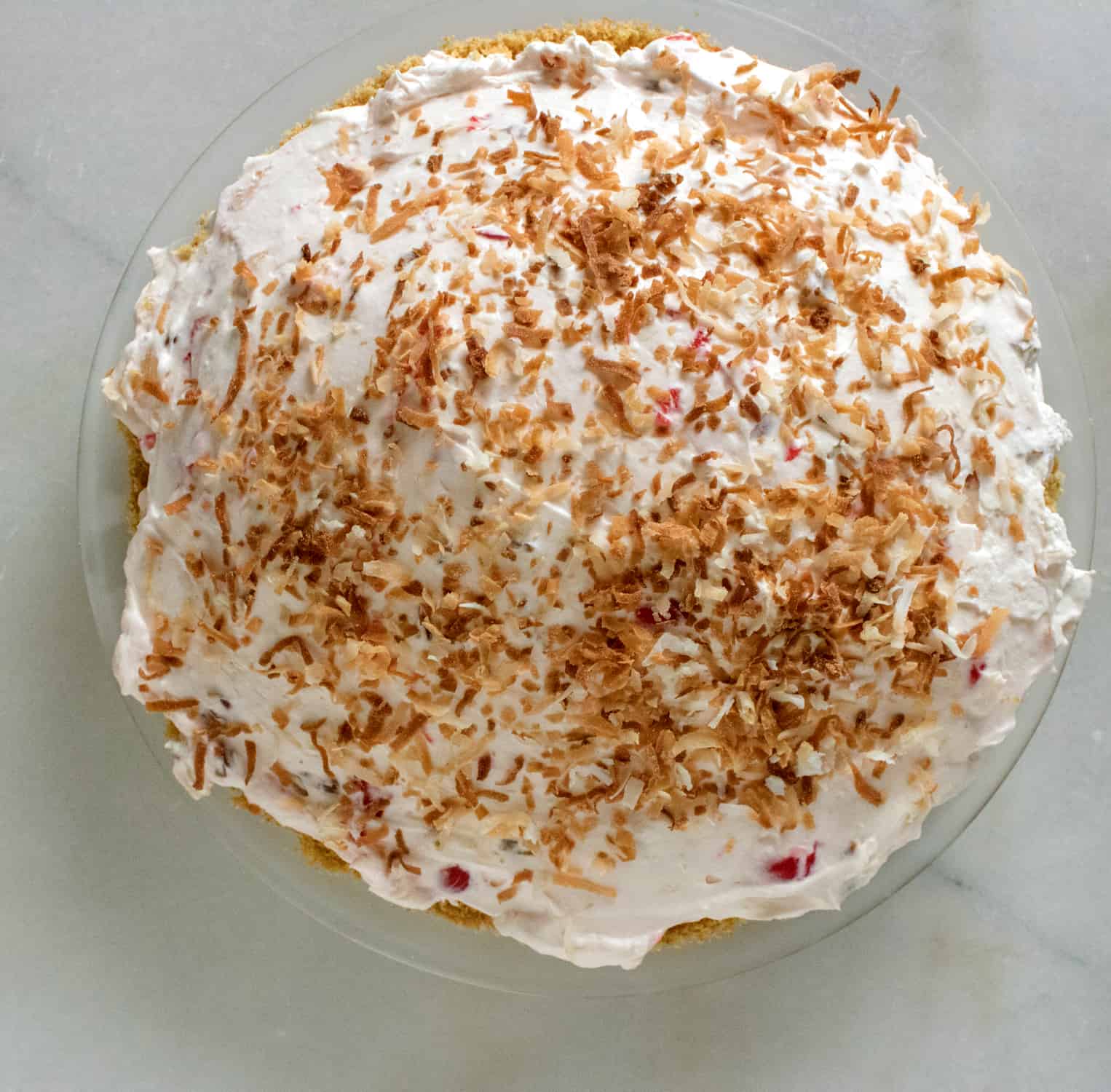 How Do You Store This Pina Colada Dessert Recipe?
You should always store this pina colada cream pie in the refrigerator. It is best if you can add in some toothpicks that stick out above the topping. This will allow you to cover the pie with aluminum foil or plastic wrap loosely. Then place the entire pie in an airtight storage container. The pina colada pie will last 3-4 days in the fridge.
Unfortunately, you can't freeze this pie because it will not age well. Most creamy filled pies break down when placed in the freezer. So just make what you need, and if you can't eat it within 3-4 days, it should be thrown out.
No matter what, the cream pie should never be left out longer than 2 hours at a time. If you do leave it out that long, then it won't be safe to eat any longer. If you are hosting a party and you know it will be sitting out a while, one idea is to fill a tub or small kids pool with ice. Then you can place the pina colada cream pie in the ice and keep it cold. This idea works with all kinds of cold food.
How Do You Know When Pina Colada Pie Has Gone Bad
There will be several ways to tell when this coconut and pineapple dessert has started to go bad. First, the pina colada filling may become extra water or liquidy. If that happens, then the crust will turn to mush and will no longer be firm and crispy. When you take the cover off the top of the pie, you may be hit with a sour odor. If this happens, then it's safe to say the pie isn't edible any longer.
Lastly, this pina colada dessert recipe may develop a layer of mold growing on it once it goes bad. Always toss it if you see any indication of mold growth.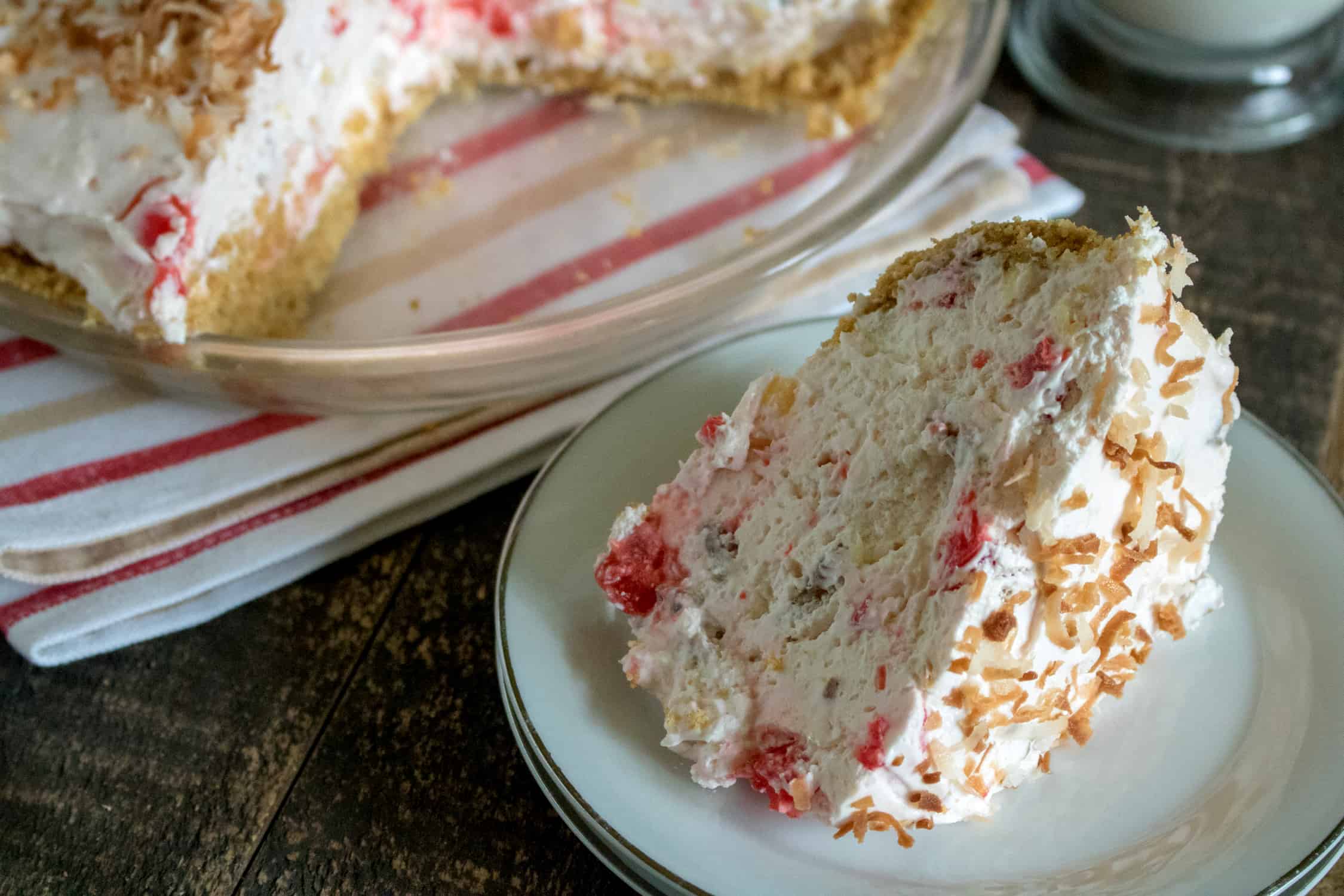 Now, remember to save this recipe on Pinterest for later 🙂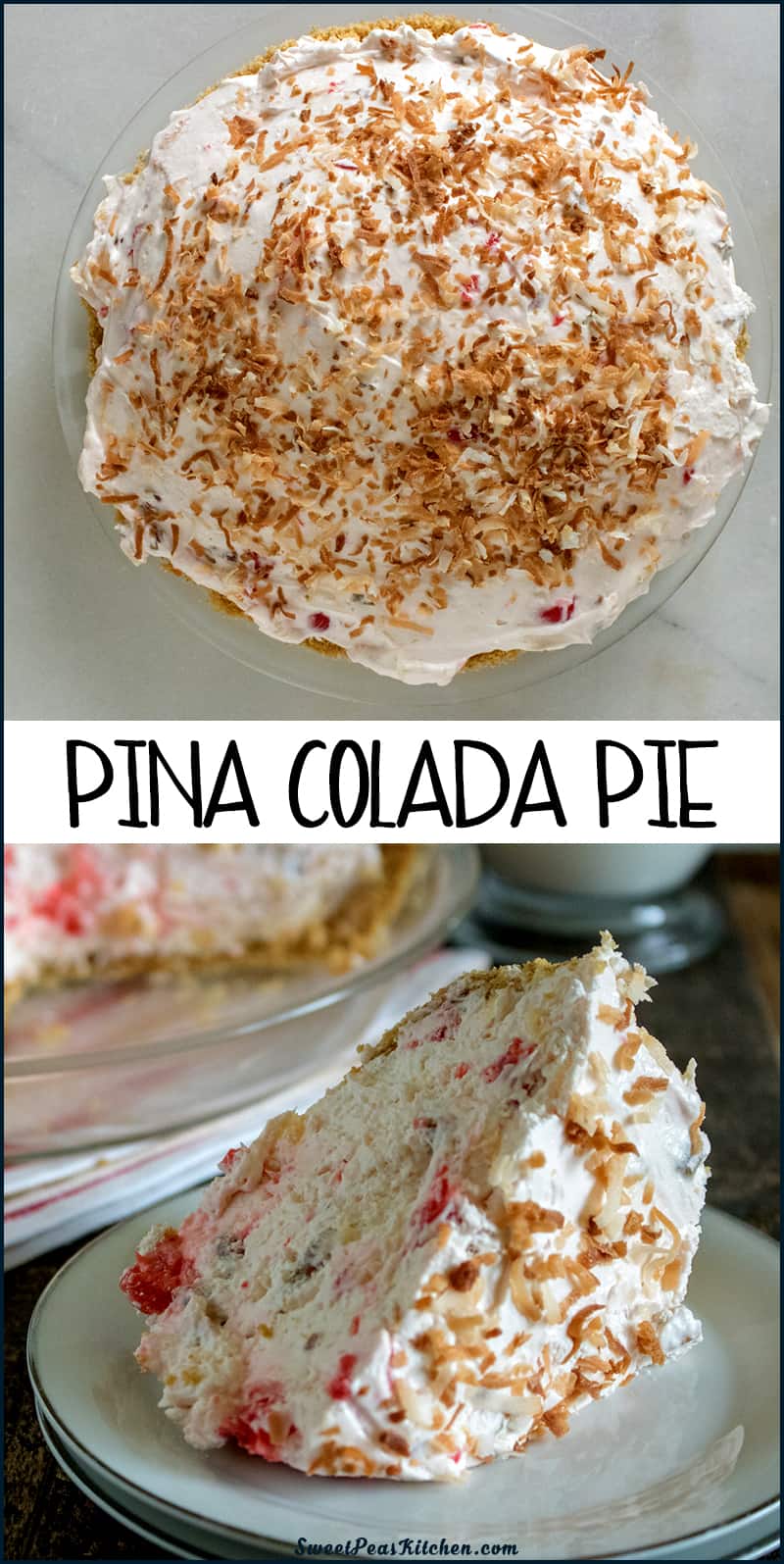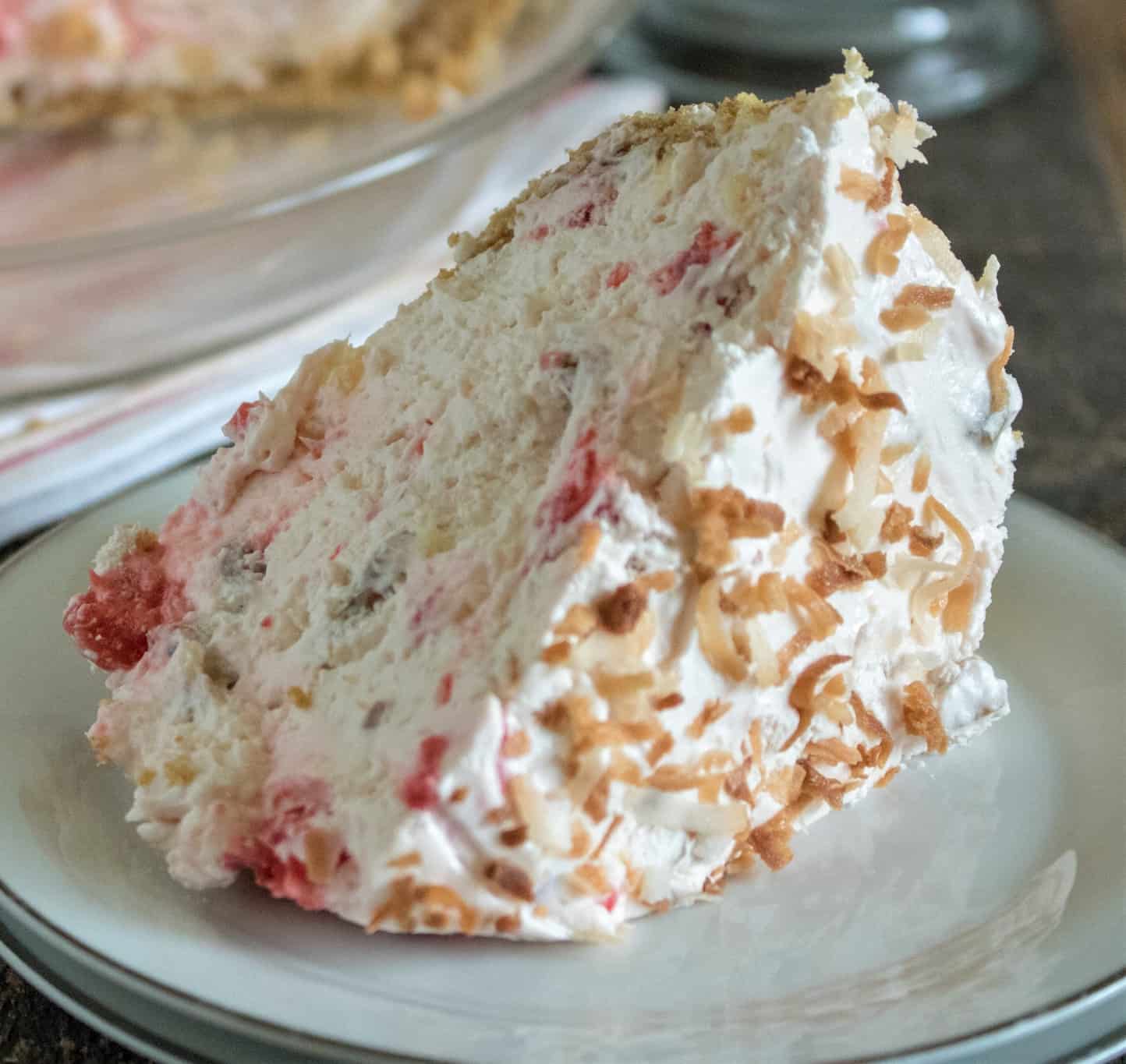 Pina Colada Pie
This Pina Colada Pie is beyond amazing! Every bite is filled with toasted coconut with a graham cracker crust and a creamy coconut filling with crushed pineapple, crunchy pecans, and maraschino cherries. You can't go wrong with this coconut and pineapple dessert.
Ingredients
1/2 cup shredded coconut
2 cups crushed graham crackers 1/3 cup butter, melted
2 (8 ounce) packages cream cheese, softened
1 cup cream of coconut
1 teaspoon rum flavored extract 1 (8 ounce) container frozen whipped topping, thawed
1 (8 ounce) can crushed pineapple, drained
1/2 cup maraschino cherries, chopped
1/2 cup chopped pecans
Instructions
Preheat oven to 350 degrees F (175 degrees C).
Spread coconut evenly onto a baking sheet and toast in preheated oven 5 minutes, until golden brown. Remove and set aside.
In a medium bowl, mix together graham cracker crumbs and melted butter or margarine. Press firmly into bottom and sides of a 9 inch pie pan.
In a large mixing bowl, beat together cream cheese and coconut cream until fluffy. Mix in rum extract. Fold in whipped topping, pineapple, cherries, and nuts. Spread mixture into crust. Sprinkle with toasted coconut. Chill several hours before serving.
On the hunt for more desserts:
Cherry Almond Bundt Cake – This is one bundt cake recipe you will want to make.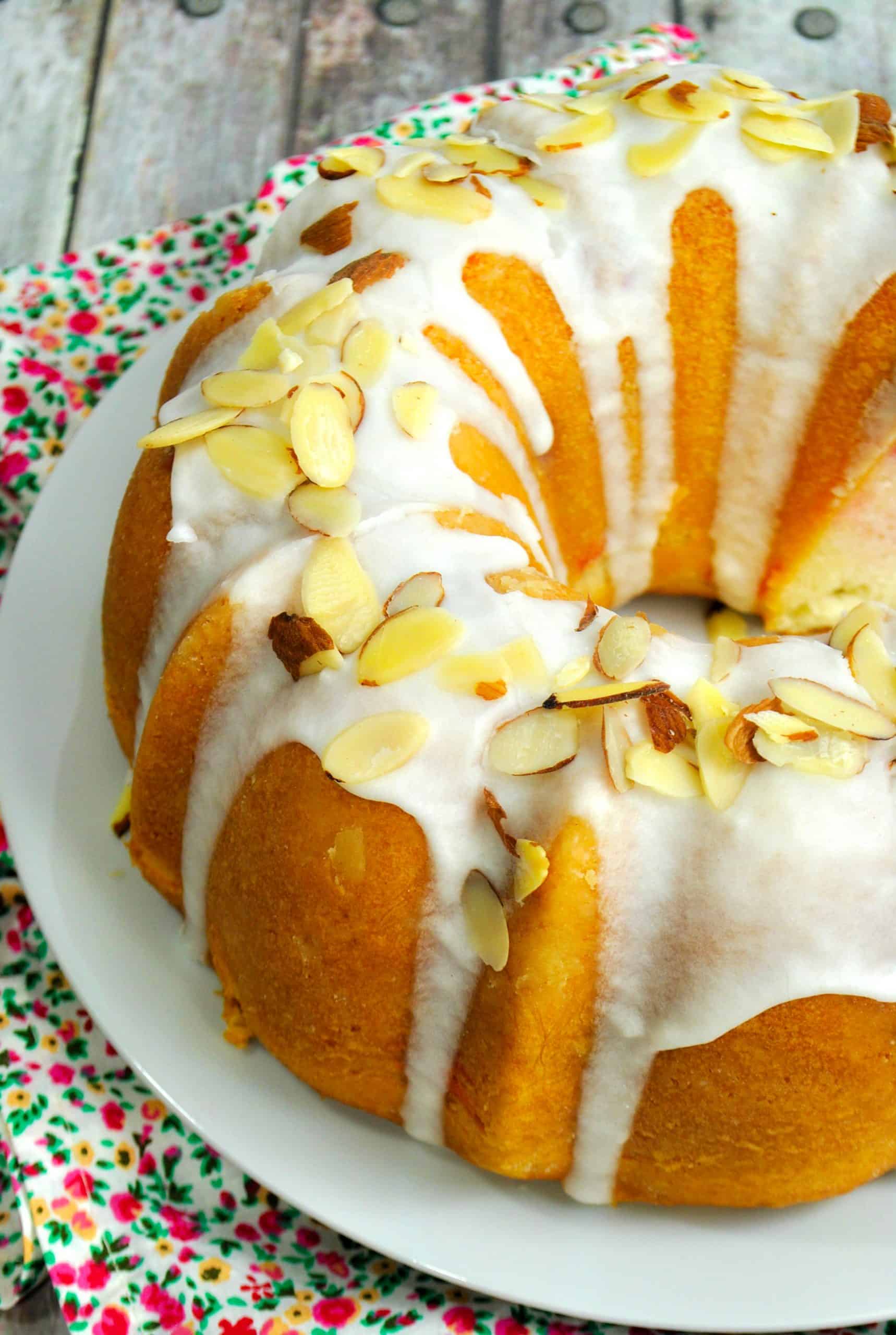 White Chocolate Coconut Pecan Cupcakes – You've definitely never had cupcakes like these before!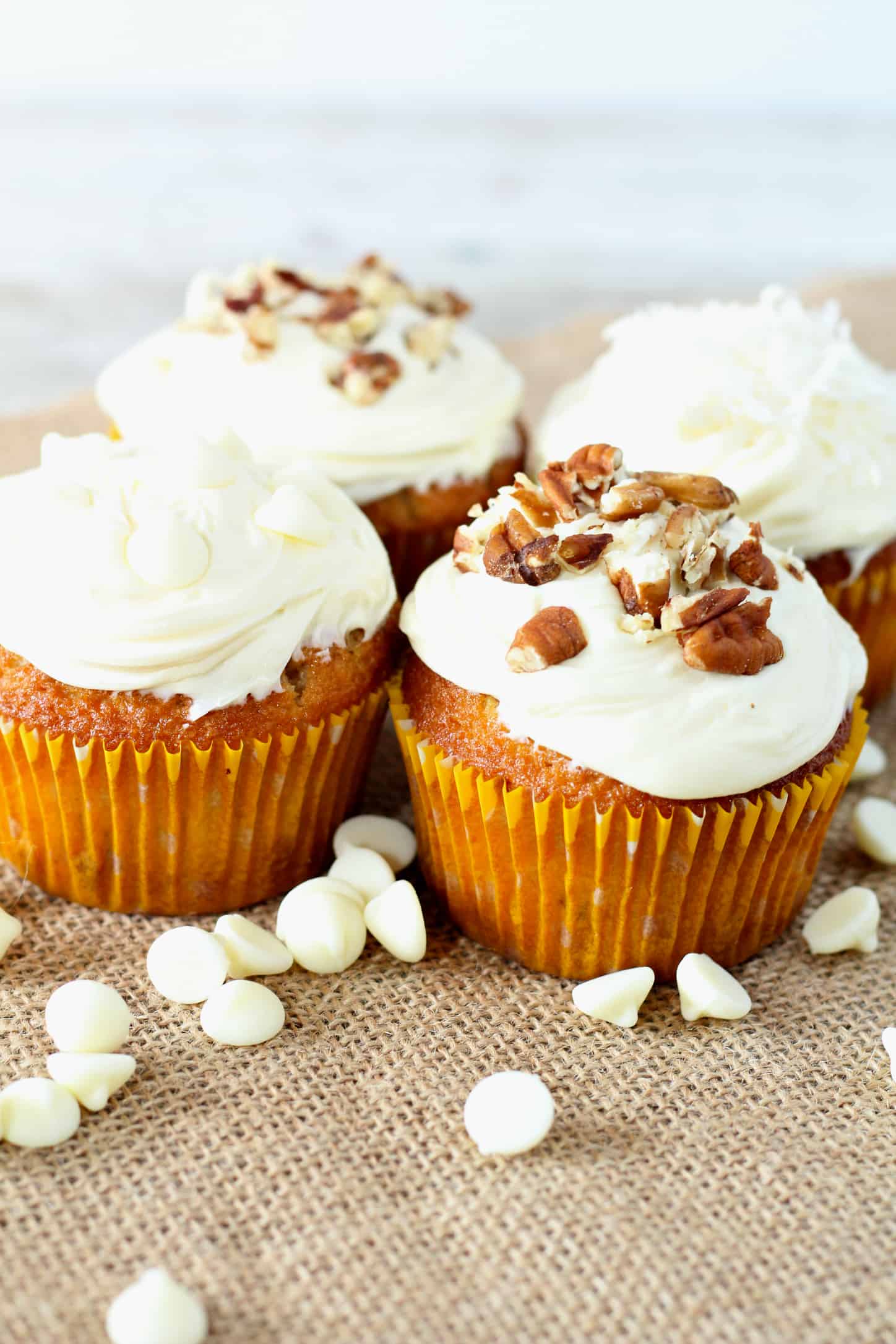 Cherry Cheesecake Brownies – Cherry brownies are a tasty twist on a classic brownie.