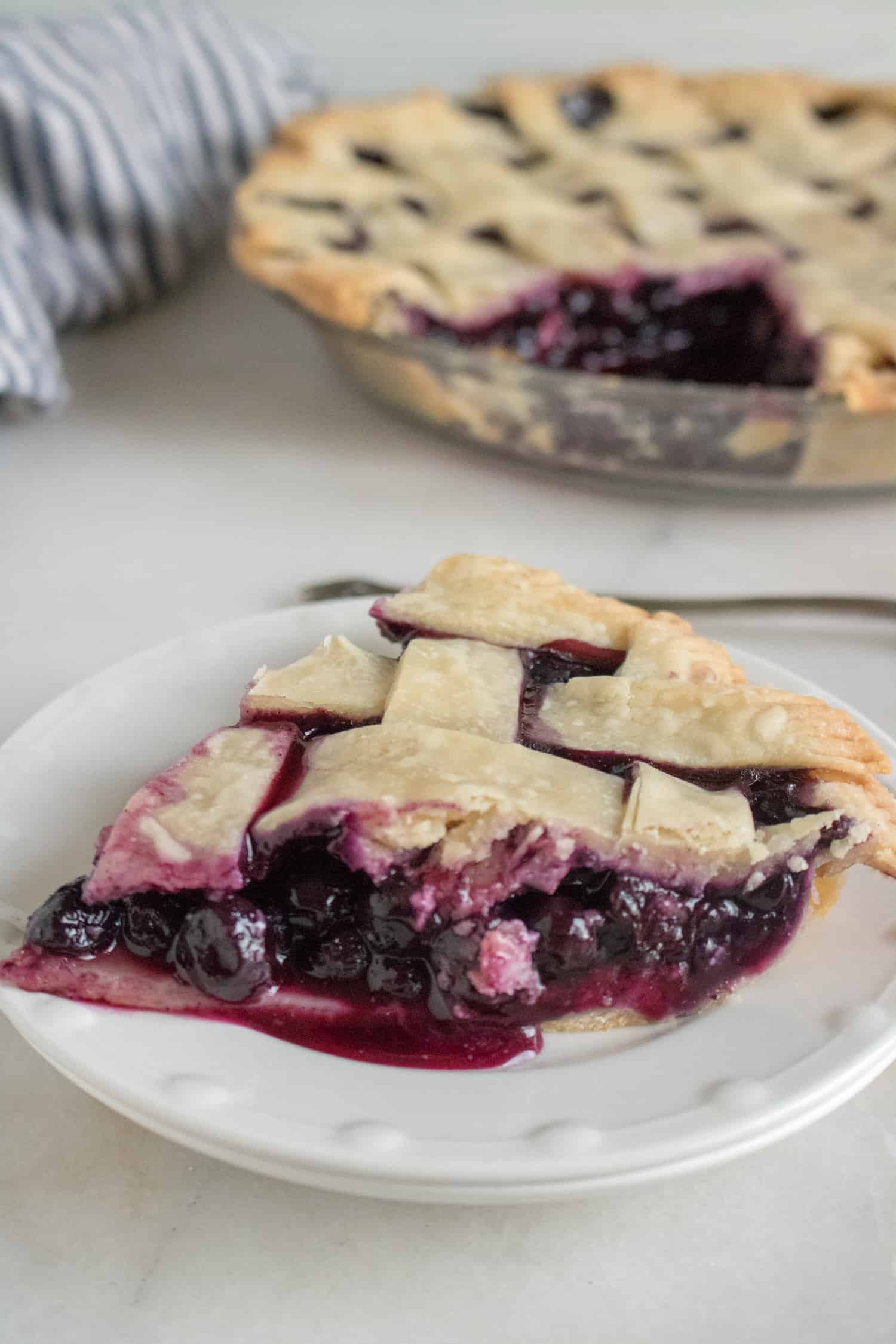 Everyone is going to go wild for this blueberry pie with a flaky homemade crust! The flavor is out of this world amazing, and it takes a fresh blueberry pie to the next level.
There is no doubt that this is going to become one of your favorite blueberry desserts because it's so scrumptious and easy!
We found a great deal on berries and was trying to figure out what to make with fresh blueberries. I knew that I wanted to make something that was sweet as well as being so good everyone would love it.
That is how this homemade blueberry pie was born!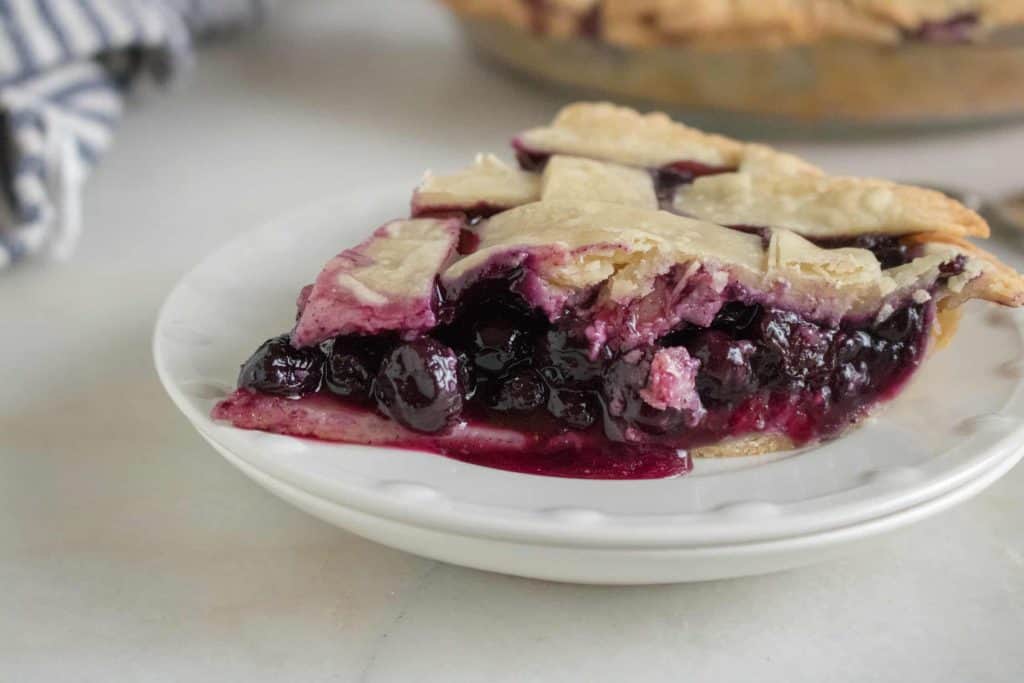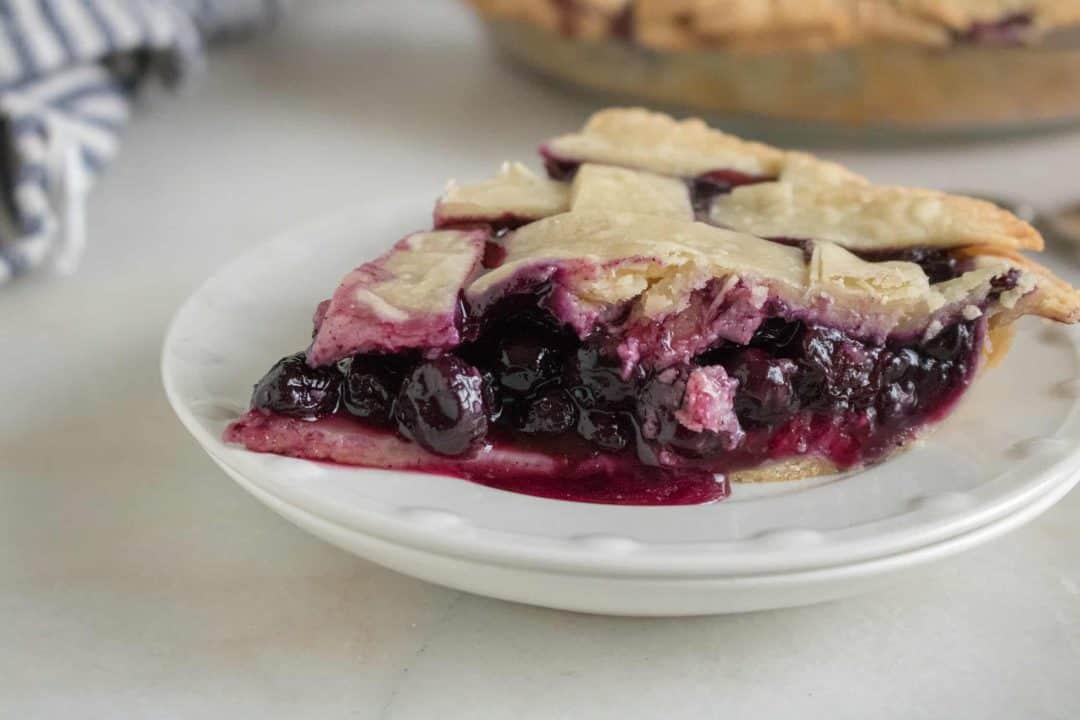 There is no doubt that this was the best idea I had had in a long time because when I served it, it was devoured in no time flat! I can't put my finger on if it's the blueberry pie filling or the homemade crust that makes it so amazing, but I know it will be a new go-to recipe.
Scroll to bottom for printable recipe card.
How To Make Blueberry Pie
I hate making desserts that take forever, and there are many parts to it. That is what I love about this recipe because it's super EASY and mostly hands-off. This way, I can focus more on the rest of the meal instead of the pie itself. I am sure you are drooling by now, so let me get to the directions for you!
First Step: Begin making the crust by placing flour, sugar, and salt in a food processor and pulse to mix together.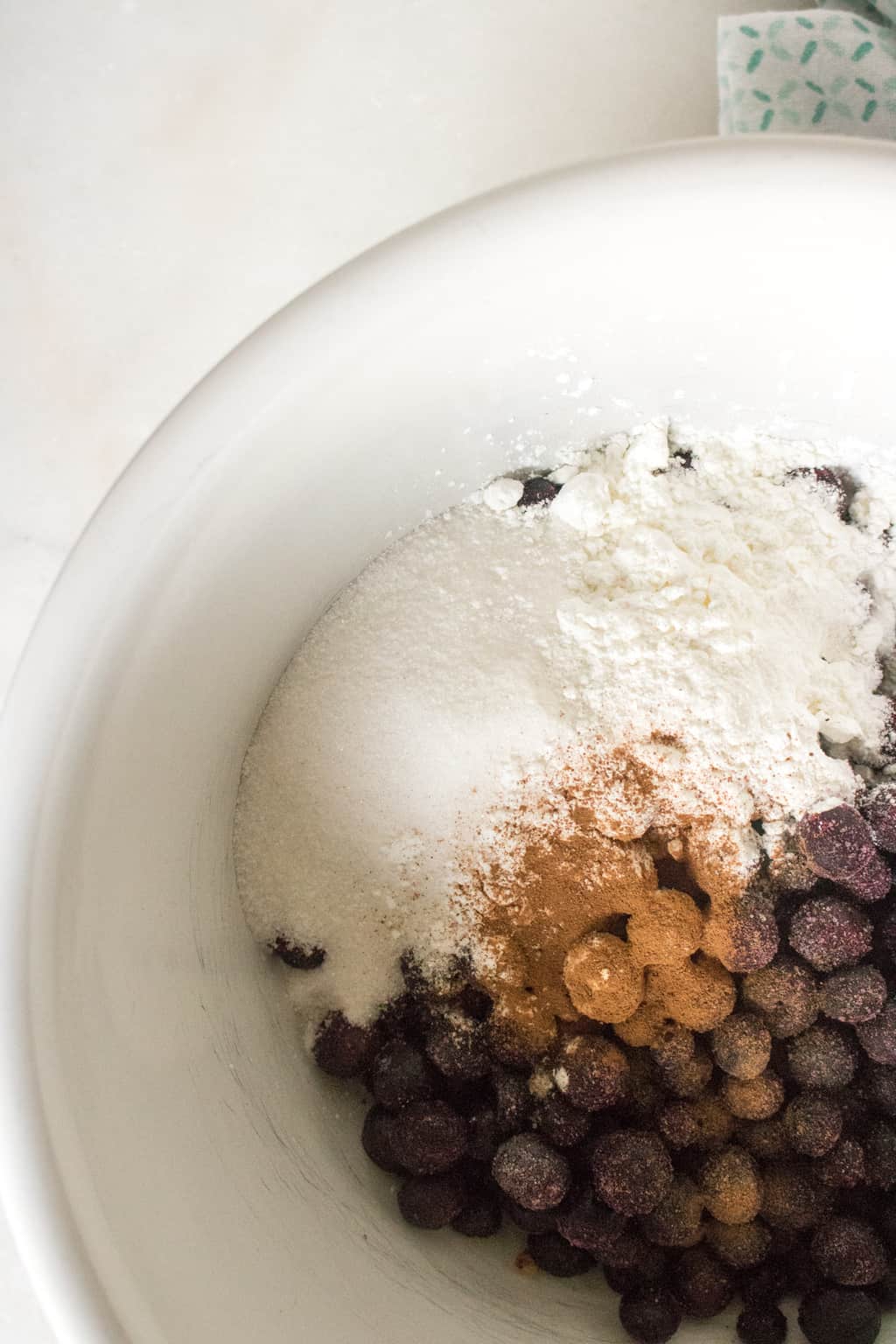 Second Step: Cut really cold butter into small chunks and add it to the flour mixture. Continue to pulse until the butter is about the size of a pea.
Third Step: Sprinkle in a little water at a time and continue to pulse.
Fourth Step: Take the dough out of the food processor and knead it together. Shape the dough into two 4-5 inch discs. Wrap it in plastic wrap and refrigerate for 1-hour up to overnight.
Fifth Step: Right before you are ready to bake the pie, preheat the oven to 375 degrees F.
Sixth Step: Take the crust dough balls and roll them out flat. Place one crust in the pie pan and then prepare the other into strips for a lattice topping.
Seventh Step: Add the sugar, cornstarch, salt, and blueberries in a bowl together. Toss gently to coat the blueberries.
Eighth Step: Place the blueberry mixture into the prepared pie crust. Place some chunks of cold butter on top of the pie filling. Then top with the lattice crust.
a.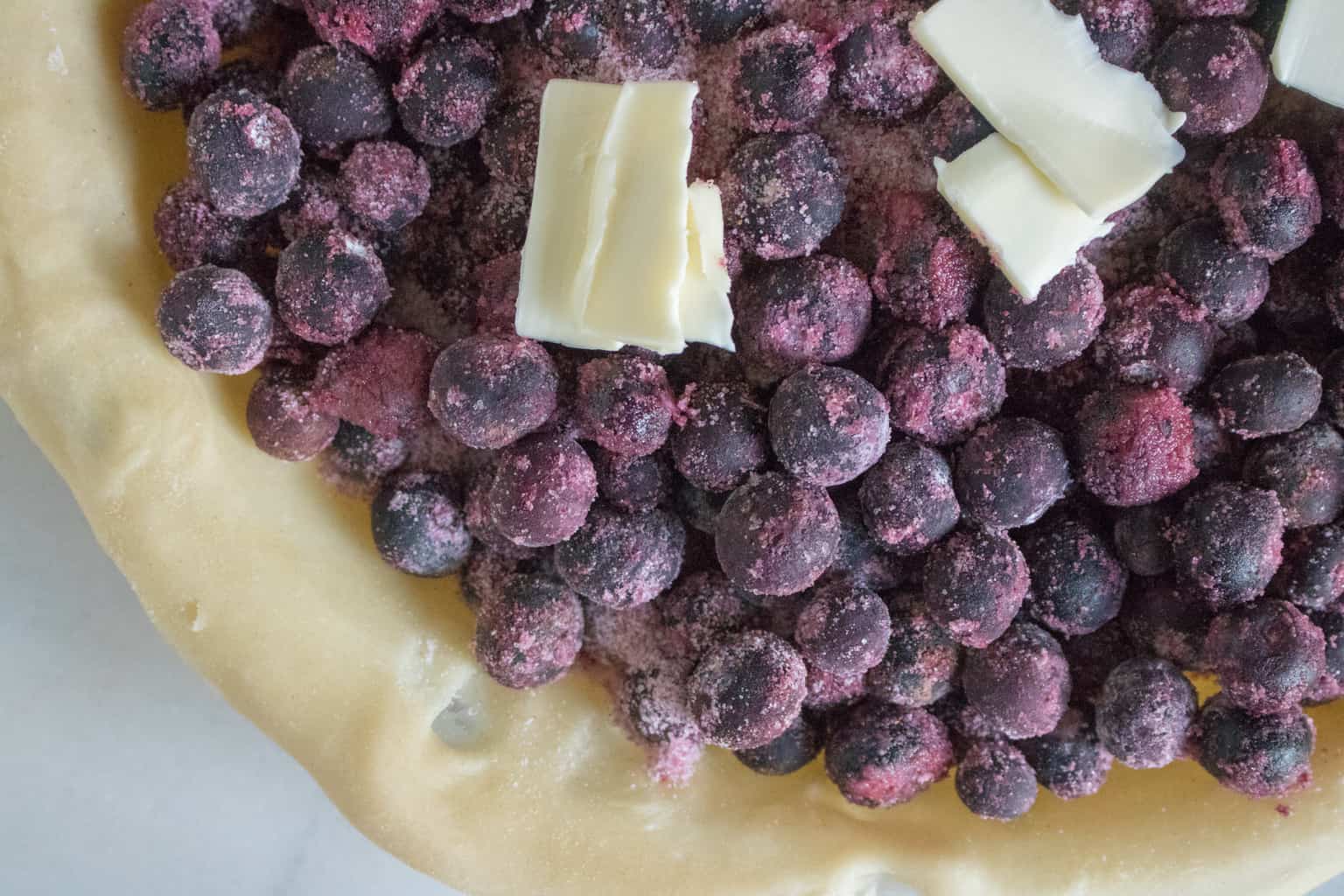 b.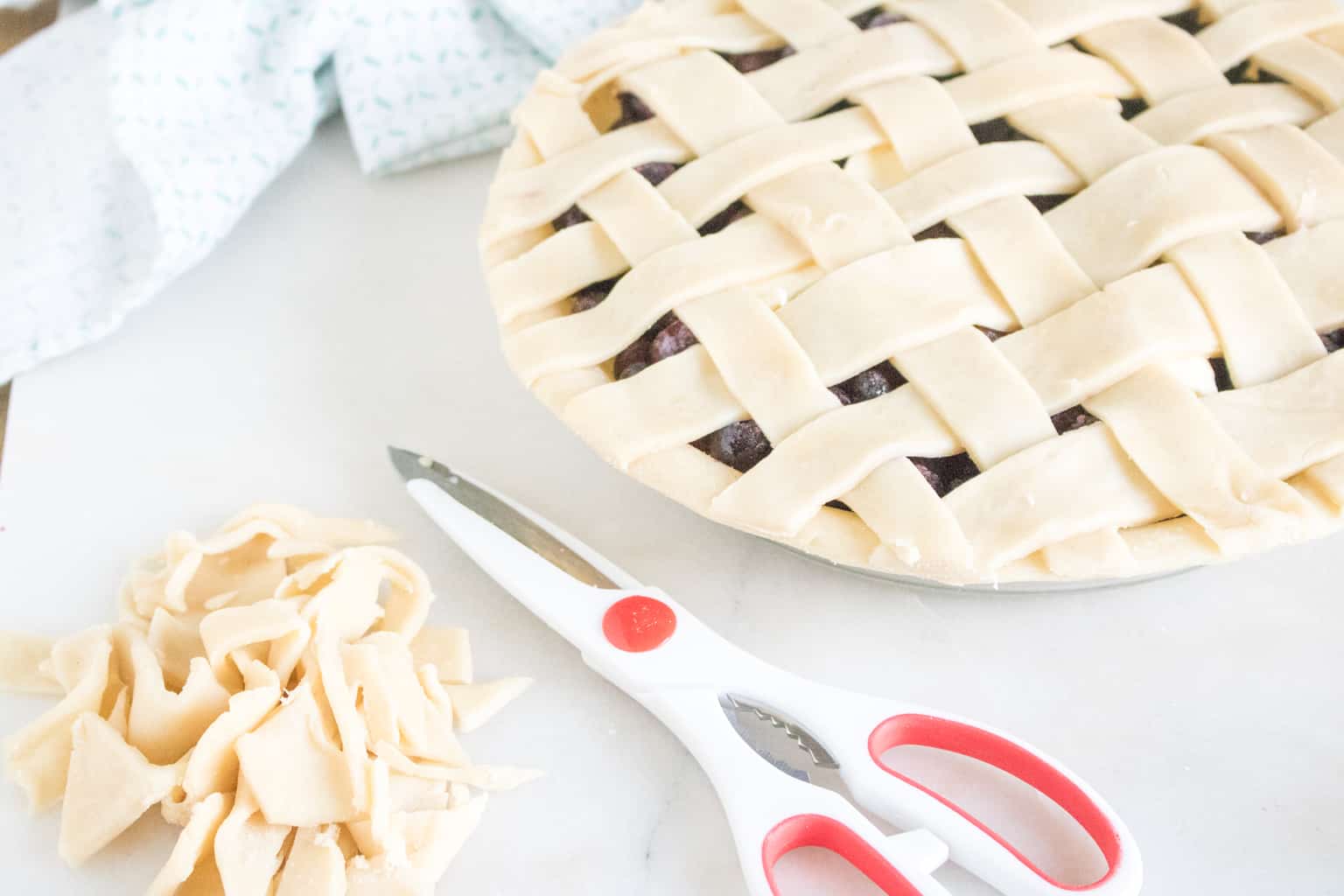 Ninth Step: Finally, bake for 50-minutes up to 1 hour.
Yay! That is all you need to do to make this easy blueberry pie. The hardest part is waiting for it to bake and smelling the aroma of this beautiful dessert.
Blueberry Pie Variations
Because this pie is so easy, I don't add a ton of extra ingredients. However, there many options to add other fruits or flavors. Either way, now you know what to make with fresh blueberries and will even have some fun ideas to try as well. I wanted to take the time to share with you some of my thoughts:
Apples – If you haven't had the combination of apples and blueberries you have been missing out. Dice them up and toss them in the pie filling mix!
Strawberries – We all know that strawberries and blueberries go hand in hand. And our taste buds will be forever thankful!
Peaches – Add a little bit of variety to the easy blueberry pie by adding some fresh or frozen peaches.
Rhubarb – Holy yum! If you are a fan of rhubarb, you are going to go crazy for this pie. Dice up some rhubarb and add it to the pie filling.
Raspberries – Let's face it, berries just go well together. Raspberries are such a unique and fun flavor it makes sense to add them to this recipe.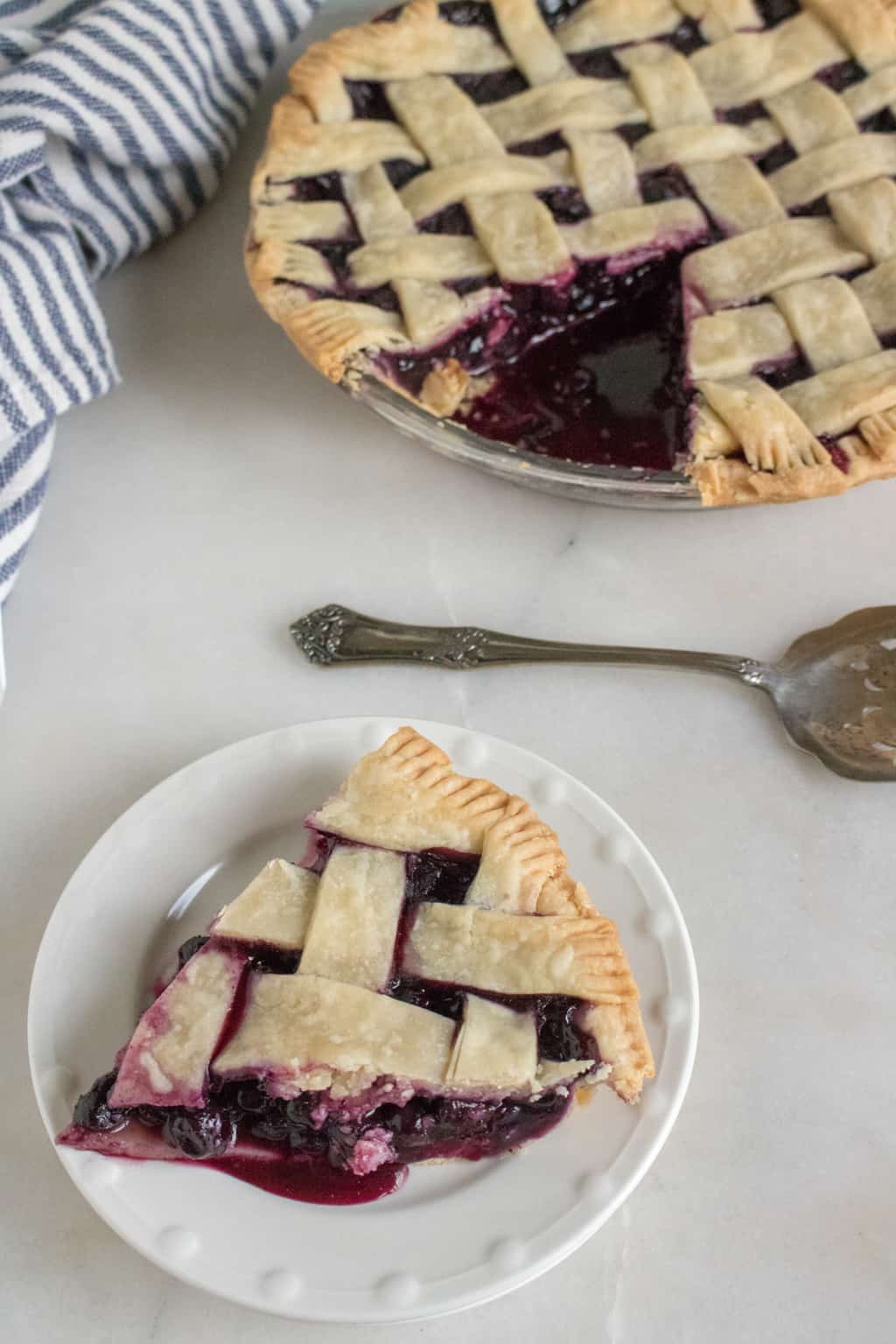 How To Decorate Pie Crust
Part of the fun of making a fresh blueberry pie is having a crust that looks as gorgeous as it tastes. Keep in mind that pie decorating gets easier with time. Everyone will have days when the pie crust looks like it was made by a preschooler and days when it seems like a professional baker made it. Don't get discouraged and keep trying new things until you find what works. This homemade crust recipe calls for a decorative lattice crust, but I wanted to share a few other ideas/tips too:
Cut Out Shapes – You can cut anything like stars, hearts, leaves or flowers and place them all over the top of the pie. They make all sorts of decorative cutters to help you.
Braids – Take long pieces of the pie crust and braid it together, for example, like you would someone's hair. Next place just on the outer edge of the pie. It gives it a really classy look that will impress!
Flat Crust With Cut Outs – Roll out the top crust into a circle. Cut the circle edges so it will fit perfectly on top of the pie. Then cut shapes out of the center of it. You can do lines, shapes, or anything else you want to try.
Egg Wash – To make the top layer of pie crust beautifully golden brown, many people decide to add an egg wash. Just beat an egg or egg white with one teaspoon of water. Then using a pastry brush, paint it on the crust.
Add Toppings – Sprinkle the top of the pie with cinnamon, sugar, or a combination of both. It adds flavor while enhancing the appearance.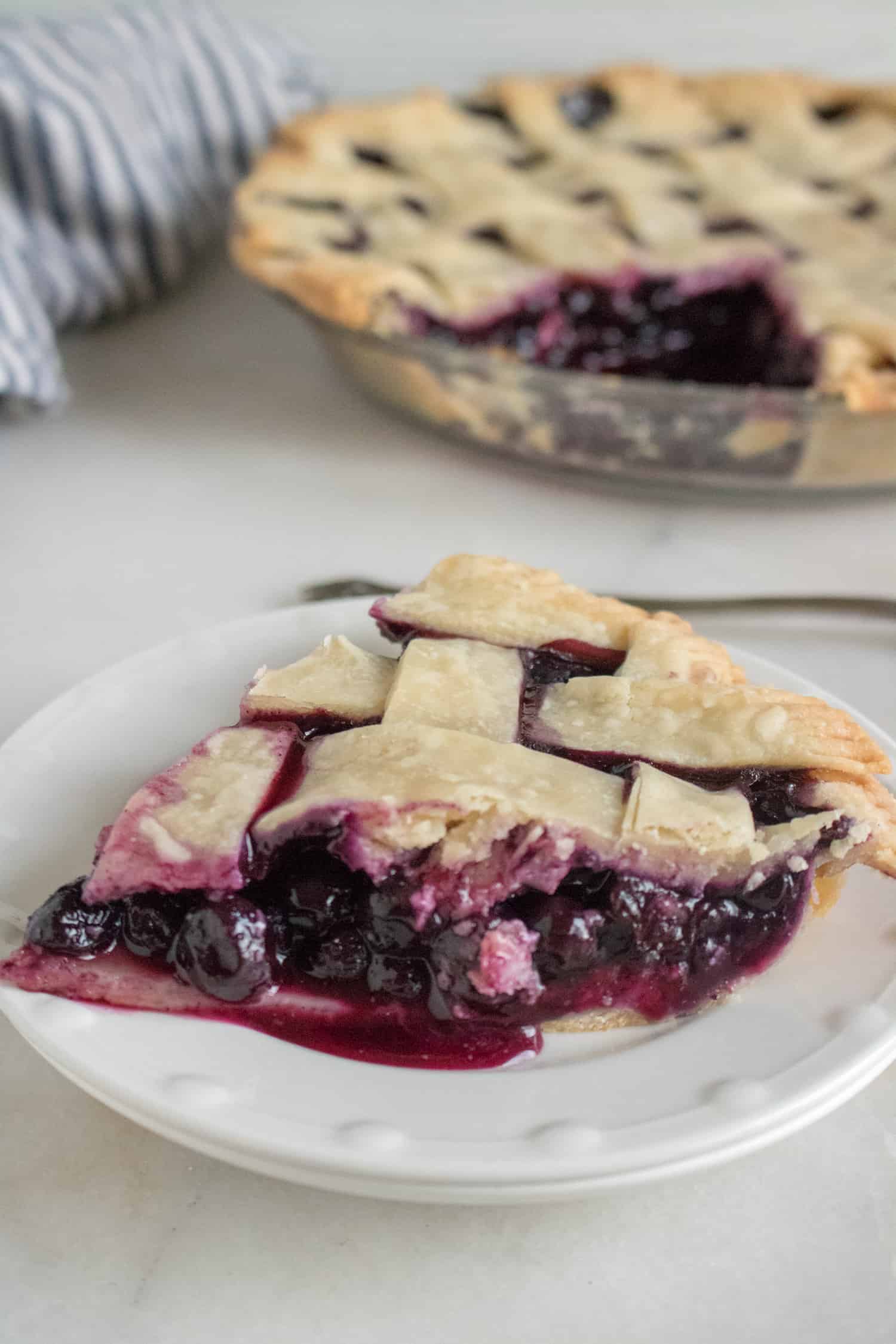 What Can I Use To Thicken Pie Filling?
The cornstarch in this recipe should be enough to thicken the pie filling if you prefer super thick fillings and add an extra tablespoon to the mixture. As a result, the pie filling will be extra, thick, and delicious.
Can I Use Fresh Or Frozen Blueberries For This Pie?
As if you needed another reason to have this become one of your favorite blueberry desserts, you will be happy to know you can use fresh or frozen blueberries! Being able to use fresh or frozen makes your life so much easier because you can use what you have on hand. You do not need to thaw frozen blueberries because otherwise, the pie may be too watery. So just add them to the pie filling frozen, and you will be all set.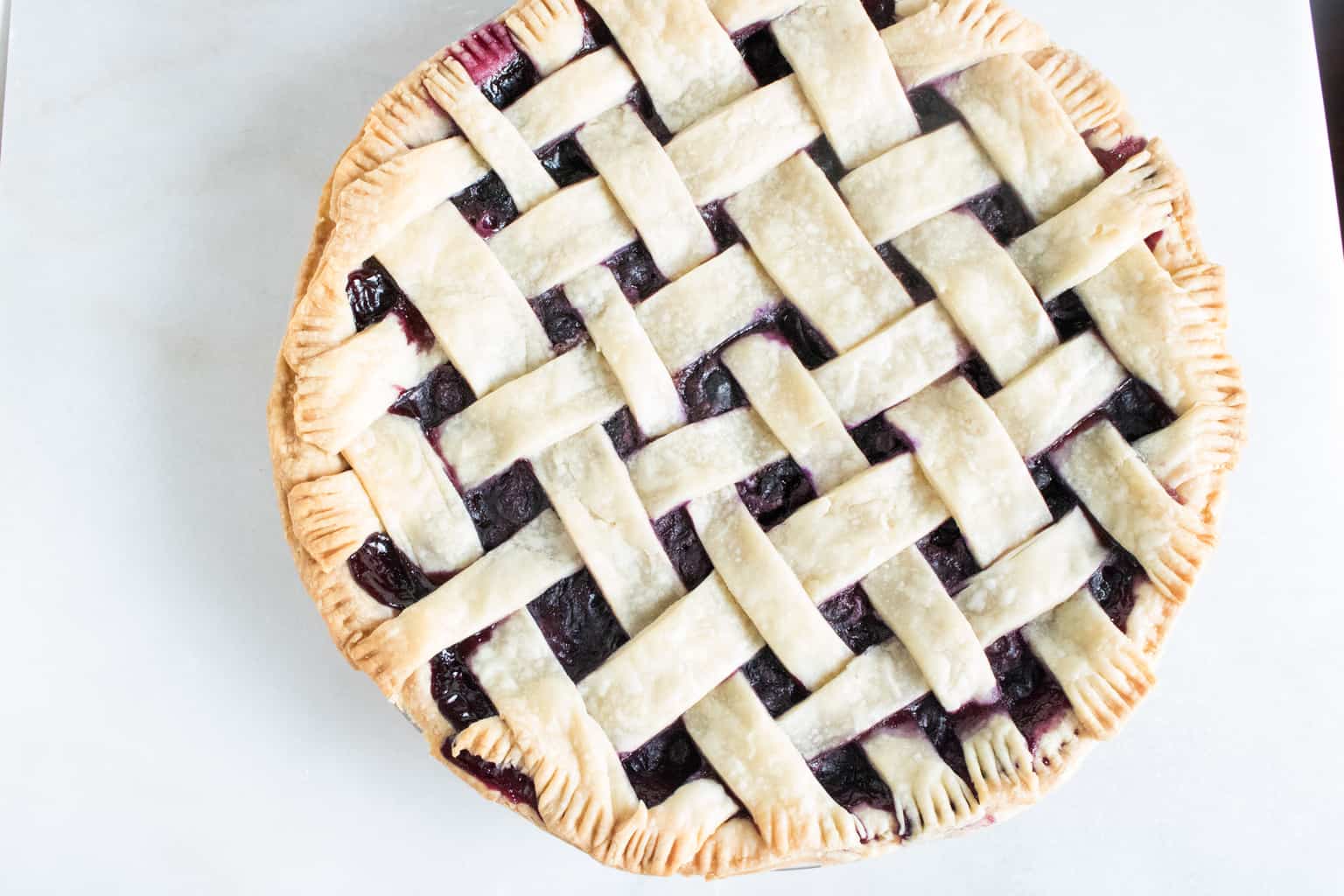 How To Store Fresh Blueberry Pie
You can store the pie in the refrigerator for 4-5 days or on the counter for 2 days. Make sure you tightly cover it with plastic wrap or place it inside an airtight container because the pie will last longer and taste better.
Another option is to freeze the homemade blueberry pie. Wrap it in aluminum foil or plastic wrap then place it in a freezer-safe bag or container. It will last around 6-8 months in the freezer.
When Should I Serve Homemade Blueberry Pie?
You can serve this flavorful pie for all occasions and seasons! For example, it's perfect for the summer months when blueberries are in season as well as in the winter for the holidays! As a result, you can have blueberry desserts year-round! Here are a few of my favorite times to whip up one of my fresh blueberry pies.
Patriotic Holidays
Birthdays (for those who aren't fans of cake!)
Bake Sales
Community Events
Picnics
Barbecues
Baby Showers
Brunch
Now, remember to save this recipe on Pinterest for later 🙂

Pin this recipe now to remember it later
Blueberry Pie Recipe
Everyone is going to go wild for this blueberry pie with a flaky homemade crust! The flavor is out of this world amazing, and it takes a fresh blueberry pie to the next level.
Ingredients
Crust:
2 ½

cups

all-purpose flour

,

plus extra for rolling

6-8

tablespoons

ice water
Filling:
4

cups

fresh or frozen blueberries

½

teaspoon

ground cinnamon

1

tablespoon

butter

,

cut in thin slices
Want to save this recipe? Enter your email below and we'll send the recipe straight to your inbox!
NOTE: By saving this recipe, you agree to join our weekly recipes newsletter.
Instructions
To make the crust, pulse flour, sugar and salt in a food processor and pulse to mix together. Add in the butter, cut into small chunks, and pulse until the butter is no larger than pea size. Add water in a little at a time and pulse. Remove the dough from the food processor and knead together, forming two 4-5 inch disc shape with the dough. Wrap the dough in plastic wrap and refrigerate for an hour or overnight.

When you're ready to make the pie, preheat oven to 375.

Roll out both of the pie Line pie dish with one of the pie crusts. Slice the other pie crust into strips to make a lattice pie topping.

Mix the sugar, cornstarch, salt, and Toss with blueberries.

Pour blueberry mixture into crust in the pie dish. Add dabs of butter, and then cover with the lattice crust.

Bake at 375 for 50 minutes to 1 hour. Lattice crust will be a light golden brown.
Follow me on Pinterest for daily delicious recipes!
Check Out These Other Refreshing Desserts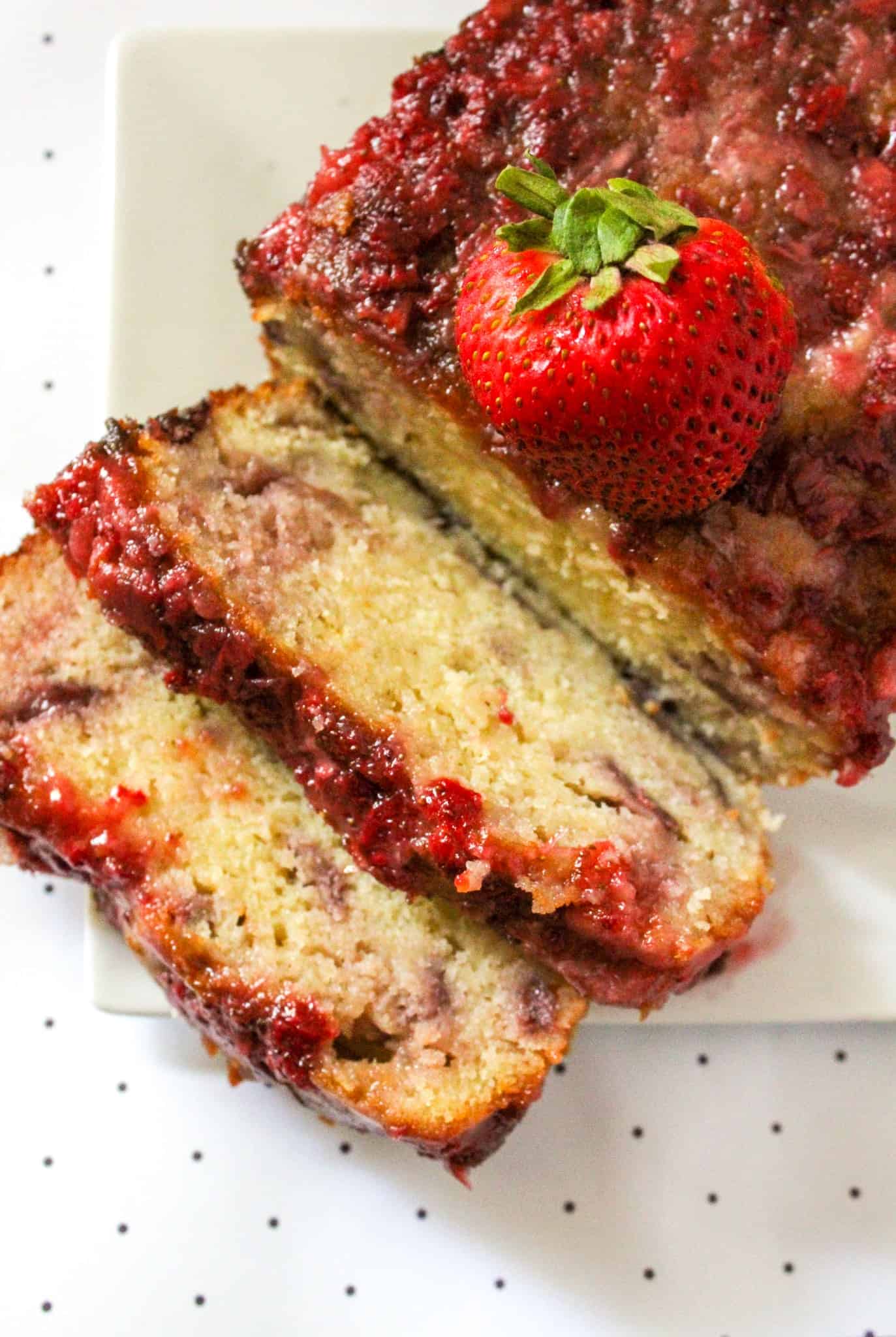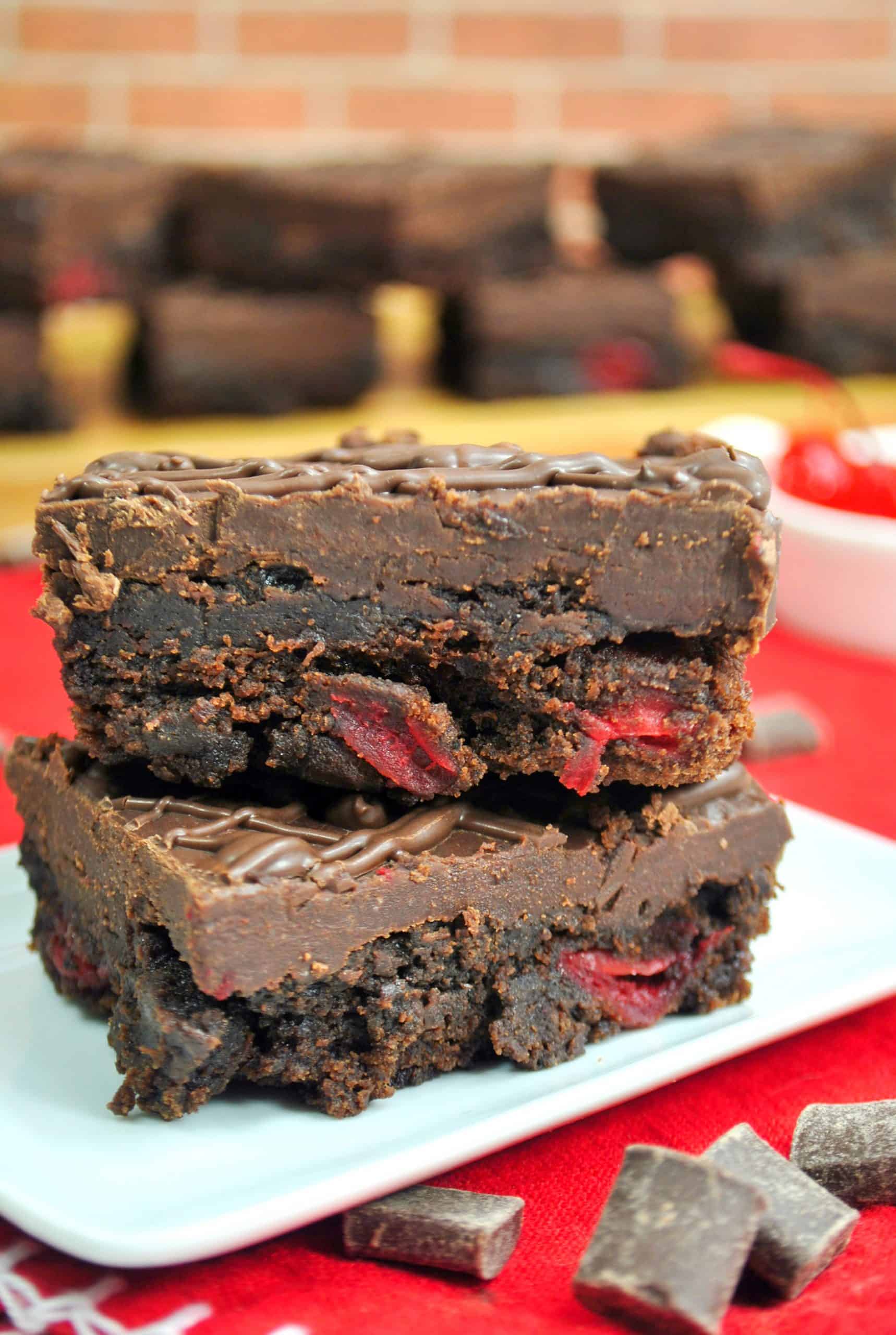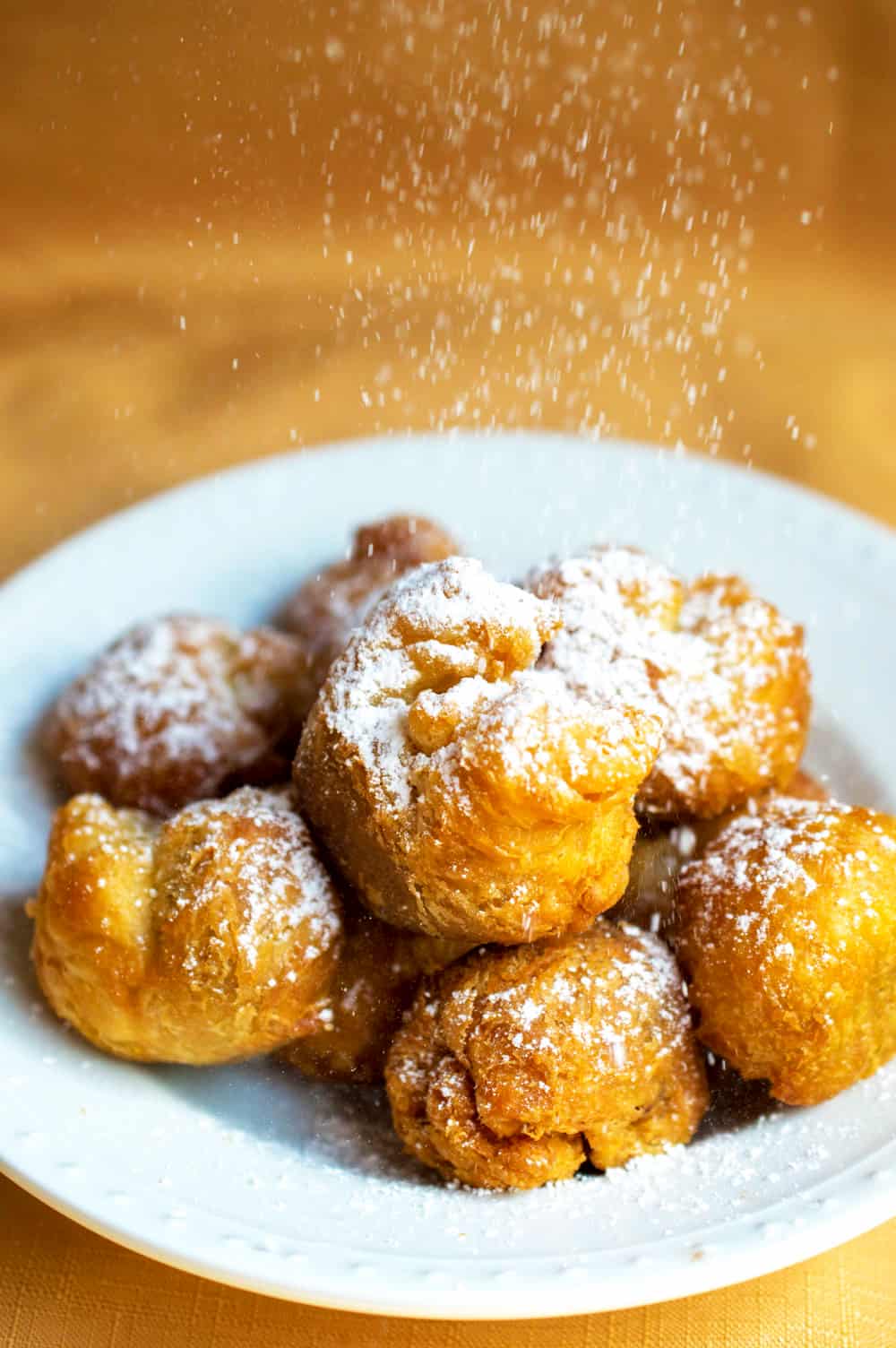 Get new recipes weekly plus our FREE ebook!