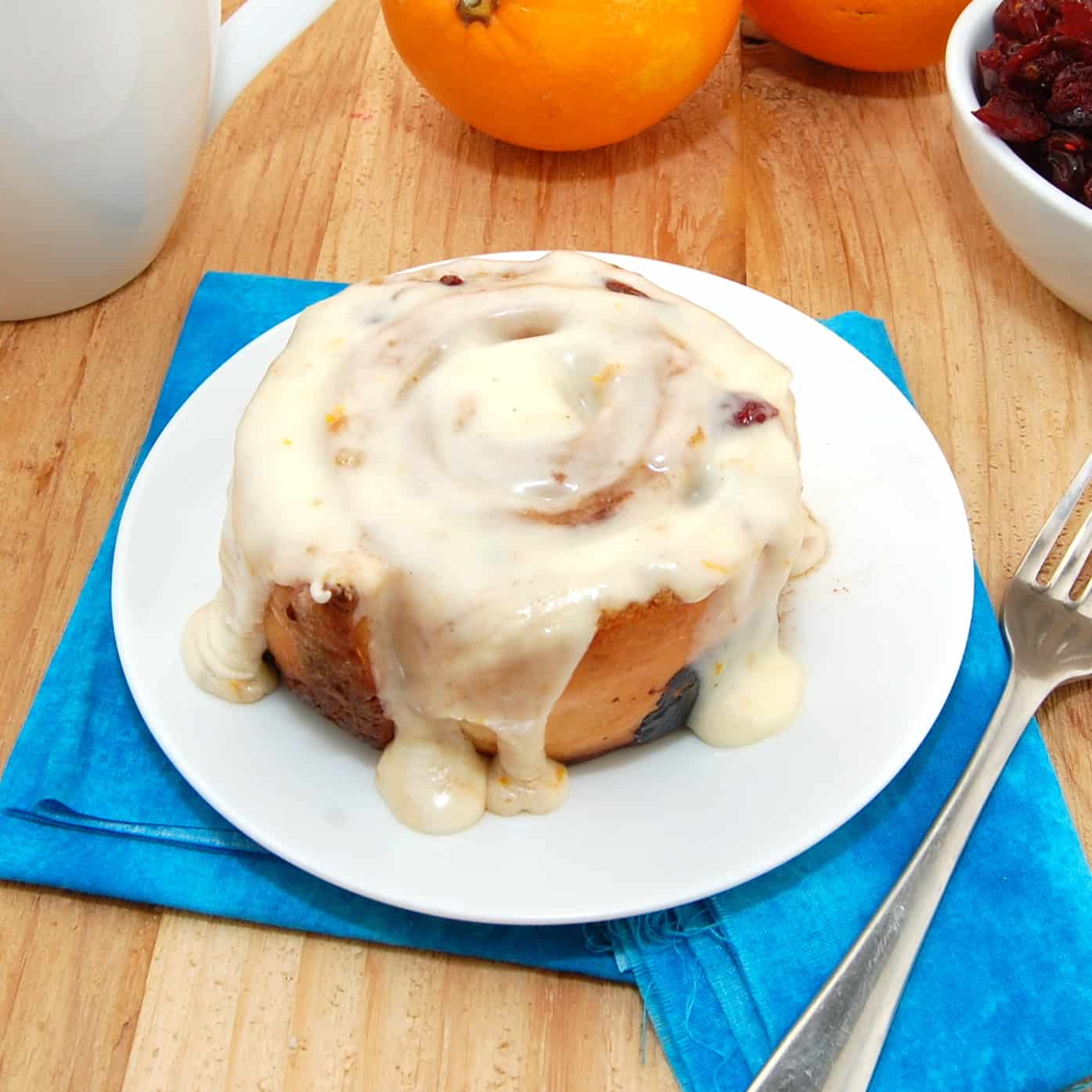 Why not add a little sunshine to your morning with these orange cranberry cinnamon rolls?
There is something about this time of year when I start to crave warm and comforting dishes. With the snow falling and temperatures barely making it above 20 degrees, these cinnamon rolls will always make you feel warm and toasty. This recipe is exactly what we all love about cinnamon rolls– they're tender, gooey, and shamelessly large!
Every christmas morning since I can remember cinnamon rolls have made an appearance, so I knew I had to choose a great recipe to surprise my family with. Let me tell you these cinnamon rolls didn't disappoint! 🙂
Bursting with plump cranberries and topped with a an orange icing, these cinnamon rolls are destined to become a family favorite in your kitchen too!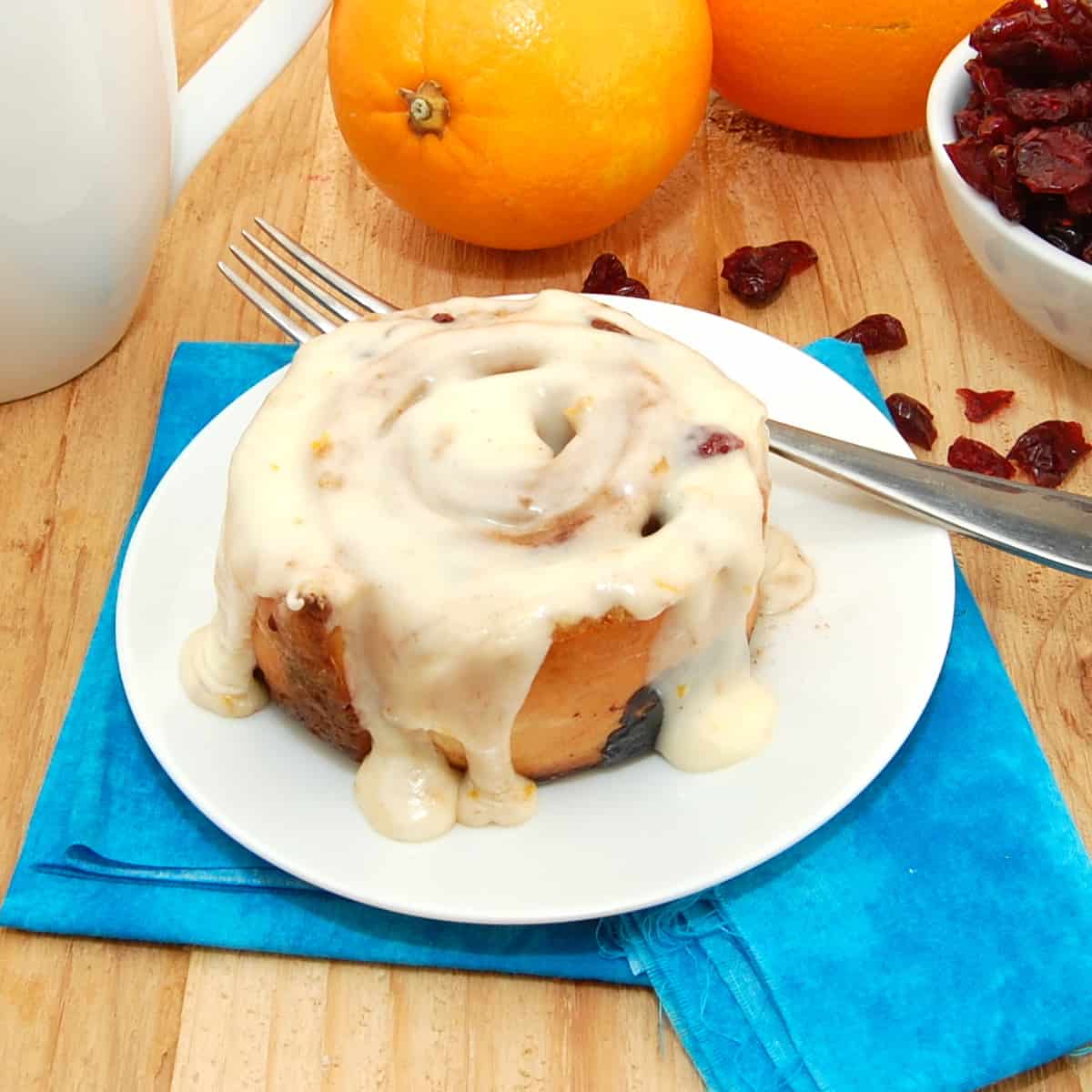 Orange Cranberry Cinnamon Rolls
Prep Time:
2 hours
30 minutes
Total Time:
2 hours
52 minutes
Ingredients
For the Cinnamon Rolls:
1 cup warm milk (110 degrees F)
1/2 cup white sugar plus 1 tablespoon sugar
2½ teaspoons (1 envelope) active dry yeast
1/3 cup butter, melted
2 eggs, room temperature
4½ cups bread flour
1 teaspoon salt
For the Filling:
1 cup brown sugar, packed
1 1/2 tablespoons ground cinnamon
Zest of two oranges
1/3 cup butter, softened
3/4 cup dried cranberries
For the Orange Sugar Topping:
Zest of 1 large orange
1/3 cup granulated sugar
For the Frosting:
1 (6 ounce) package cream cheese, softened
1/2 cup butter, softened
3 cups confectioners' sugar
1 teaspoon fresh orange juice
1/4 teaspoon salt
1 1/2 tablespoons orange zest
Instructions
Adjust oven rack to middle position and heat oven to 200 degrees. When oven reaches 200 degrees, shut off.
In the bowl of a stand mixer combine the milk and 1 tablespoon of sugar; add yeast and let rest 10 minutes until foamy.
Add butter, eggs, flour, remaining sugar and salt to the yeast mixture and mix with the dough hook on medium-low until thoroughly combined, about 5 minutes
Transfer the dough to a lightly oiled bowl, cover with plastic wrap and place in warm oven. Let rise until doubled in size, about 1 hour.
After the dough has doubled in size turn it out onto a lightly floured surface, cover and let rest for 10 minutes. In a small bowl, combine brown sugar, cinnamon and orange zest. Line 9×13 inch baking pan with parchment paper, allowing excess to hang over pan edges. Butter the parchment.
To make the orange zest topping, In a small bowl rub together zest of one orange and sugar; set aside.
Roll dough into a 16×21 inch rectangle. Spread dough with ⅓ cup butter, leaving a 1/4″ margin at the long side of dough. Sprinkle evenly with sugar/cinnamon mixture and cranberries. Use the rolling pin to roll over the sugar/cinnamon mixture a few times. Roll up the dough tightly, under-tucking after each completed rollover. Cut into 12 rolls. Dip and twist the rolls into the orange sugar topping. Place rolls into prepared 9×13 inch baking pan. Cover and let rise until nearly doubled, about 30 minutes. Meanwhile, preheat oven to 350 degrees F.
To make the frosting, in the bowl of a stand mixer fitted with the paddle attachment, beat together cream cheese, ½ cup butter, confectioners' sugar, orange juice, salt and orange zest; set aside,
Bake rolls in preheated oven until golden brown, about 20-22 minutes. Once finished baking flip the pan over to allow all of the cinnamon drippings to recoat the rolls, let sit 1-2 minutes. Turn rolls back over and spread with half of the frosting, let sit 2-3 minutes and then spread with remaining frosting.