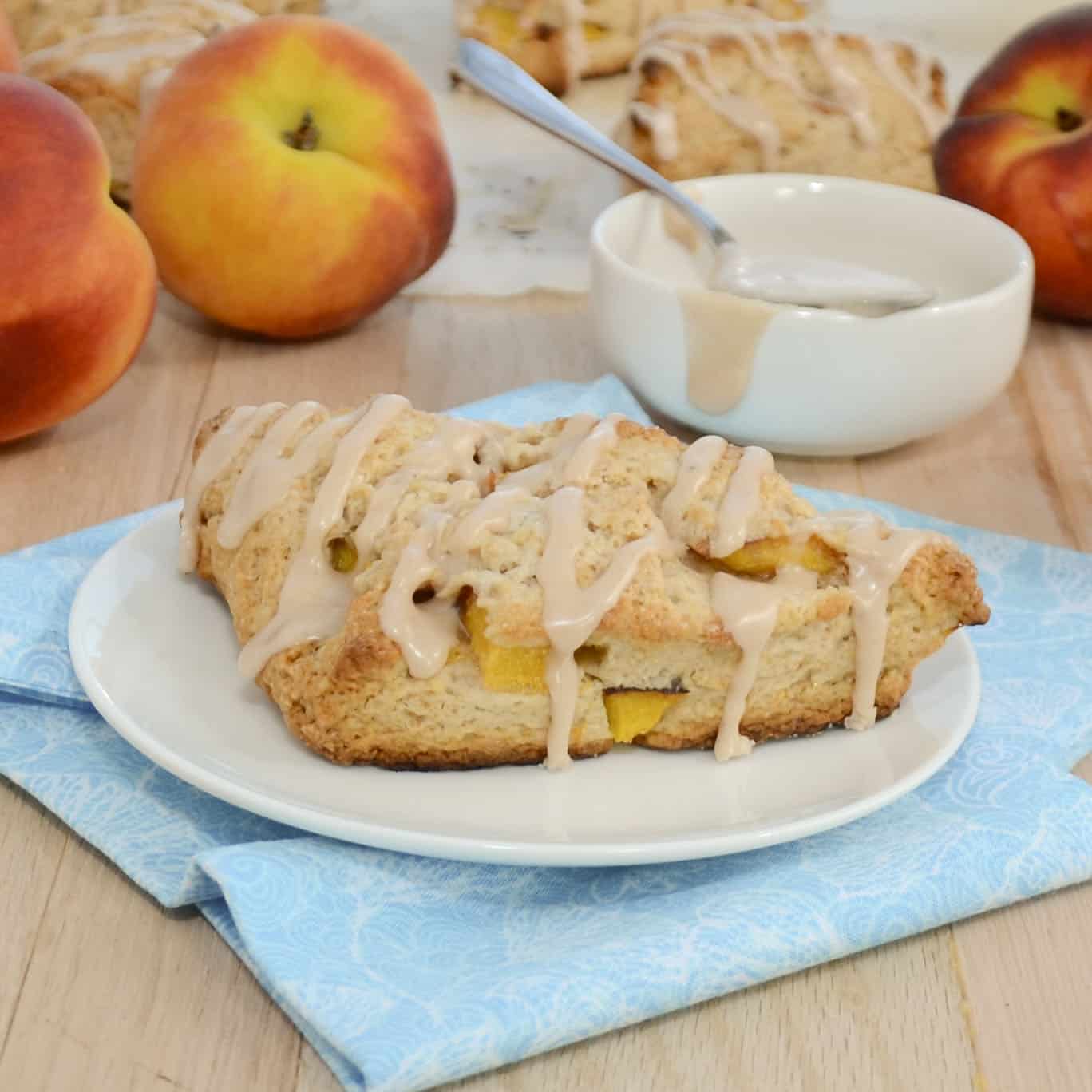 Peaches and Cream Scones are the luscious and comforting breakfast food you have been hunting for. Brilliant and vibrant peaches are the star of the show when it comes to these homemade peach scones.
This scone recipe is filled with cinnamon, nutmeg, fresh peaches in a flaky scone, and topped with a spiced glaze that will rock your world.
Peaches and Cream Scones
With fresh peaches in plentiful supply at the local farmer's markets and grocery stores, these delicious scones can't be beaten. Sweet, succulent peaches and cinnamon are the stars in these tender melt in your mouth scones. Peaches are definitely one of my favorite fruits. Every summer, I anxiously await for peach season to arrive.
Biting into that first juicy peach of the season is absolutely heavenly! As a kid, I loved it when we would drive to Alabama every summer to visit my mom's family.
As we would get closer and closer to the state line, I would begin searching for roadside stands selling Georgia peaches. I absolutely loved stopping at those roadside stands! Nothing was better than stocking the car with juicy peaches, boiled peanuts, and sweet iced tea for the rest of our drive.
Even today, every time I see the first peaches of the season, I always think back to the incredible joy I felt when we would stop at those roadside stands. 😀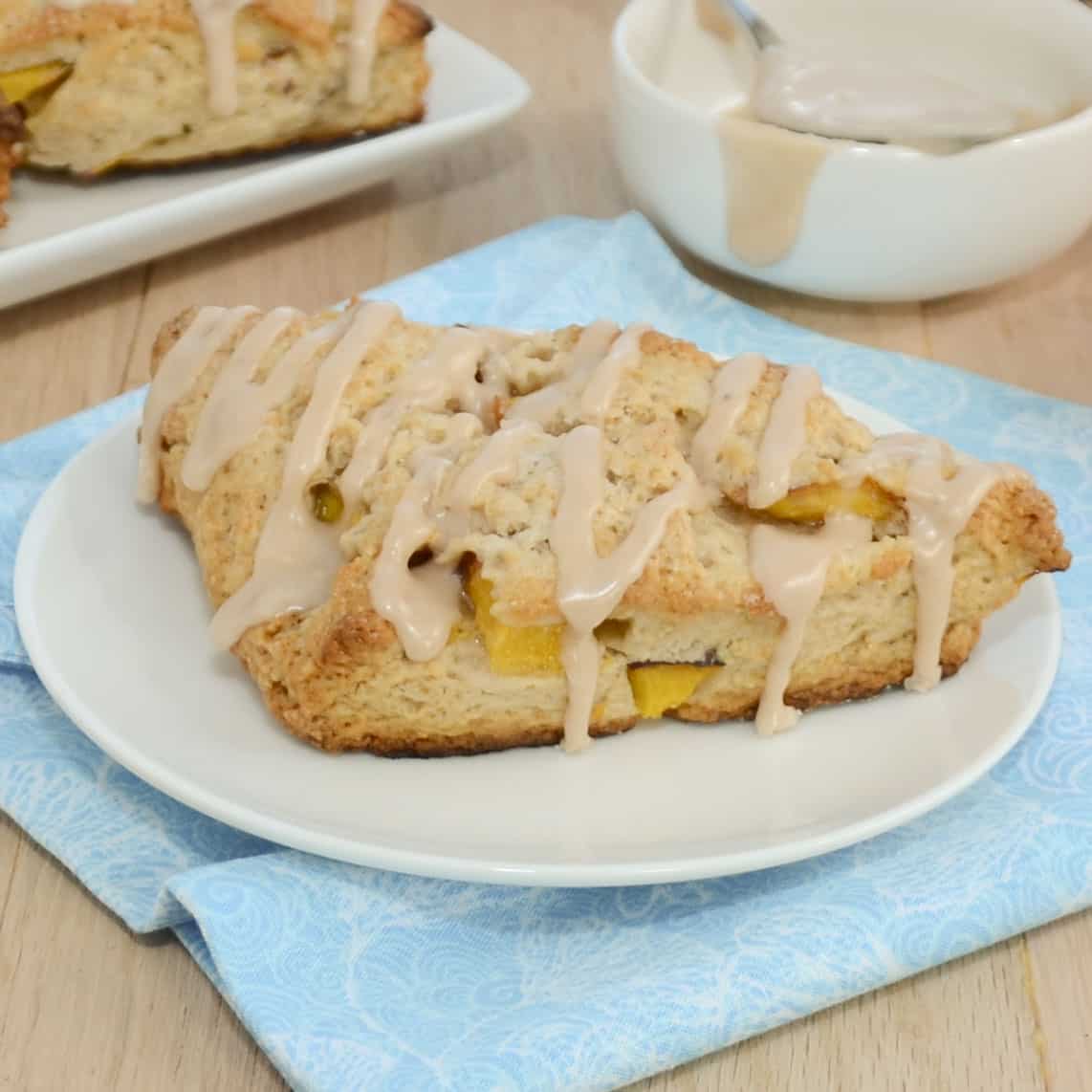 Can I Use Canned or Frozen Peaches
When it comes to these breakfast scones, I don't think there is much better than fresh peaches. However, I realize that you can't get big, fat, juicy fresh peaches any time of year. So using frozen or canned peaches is the very next best thing. Just make sure for canned peaches you drain off any juice, and for the frozen, you let them thaw over a colander and drain that juice off too. You will need to put them back in the freezer when you first start making them to stiffen them back up a little bit.
What Glaze To Drizzle Over Scones
You can use any glaze that you like for these peaches and cream scones. I, however, am head over heels in love with my homemade spiced glaze. It's made with powdered sugar, cinnamon, milk, and nutmeg. The flavor is insane, and I don't feel like it can be beaten.
Can You Overmix Scone Batter
Yes, just like most baked goods, you don't want to mix the batter too long. It can make whatever you are baking extra dense and not as good. You need to whip the batter until the ingredients are incorporated and according to the directions. Don't go any longer, or you may have trouble later.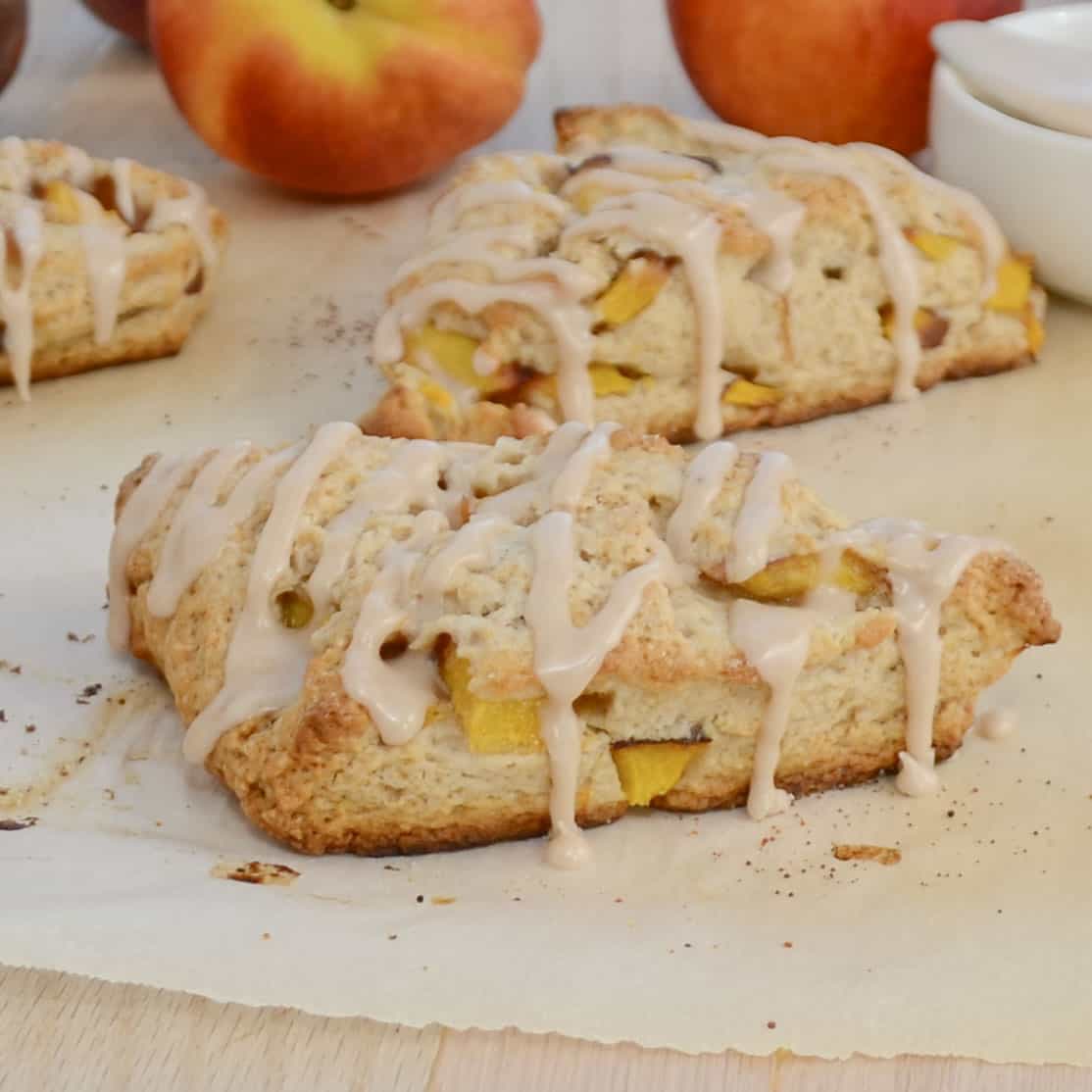 Tips for Shaping Scones
I prefer to make this peach scone recipe with triangles. It's important to use a sharp knife or a pizza cutter to ensure that it gets through the dough properly. You can also use a biscuit cutter if you would rather have round breakfast scones instead.
How To Store Scones
Scones are best when served fresh, but you can save them for later too. I find that they typically last 1-2 days at room temperature or in the fridge. Be sure to keep them airtight, and you can toss them in the microwave for 10-15 seconds if you need to warm them up.
Ingredients
For the Scones:
Heavy cream
Sour cream
Unbleached all-purpose flour
Sugar
Cinnamon
Nutmeg
Baking powder
Baking soda
Table salt
Unsalted butter
Diced fresh peaches
For the Spiced Glaze:
Powdered sugar
Ground cinnamon
Nutmeg
Milk
How to Make Peach Scones
First Step: Put the oven rack in the middle of your oven and preheat it to 425 degrees. Put the peaches in the freezer until you are ready to use them.
Second Step: Combine the 1/2 cup of the heavy cream and the sour cream together in a medium bowl. Place in the fridge until needed.
Third Step: Using your food processor, you will need to pulse together the flour, cinnamon, nutmeg, sugar, baking powder, baking soda, and salt until they are well combined. Then add in the butter and gently toss it with a fork to cover it. Pulse the butter until it looks like cornmeal and is about pea-sized. Put the mixture into a large bowl.
Fourth Step: Combine the cream to the flour mixture and fold using a spatula until it's combined. Take the spatula and put the dough on a surface that has been coated with flour. Using floured hands, you will need to knead the dough by hand 6-8 times until it seems to hold together similar to a ball. Add flour if needed to prevent any sticking.
Fifth Step: You will need to shape the dough into a 12-inch square using a rolling pin. Then fold the dough into thirds like you would a letter. If needed you may need a bench scraper to help release any stuck dough from your work surface. You will need to fold it again into a 4 inch square. Then put a little bit of flour on the dough and place it in the freezer for 5 minutes.
Sixth Step: Put the dough onto a surface that has been floured and roll the dough into a 12 inch square. Add the peaches over the top of the dough and lightly press on them, so they go into the dough. Roll the dough into a tight log. Put the log seam side down and press it into a 12×4 inch rectangle. Using a floured knife, begins to cut crosswise into 4 equal sized rectangles. Cut each one so it's diagonal and form 2 triangles, then put it on a baking sheet that has been lined with parchment paper.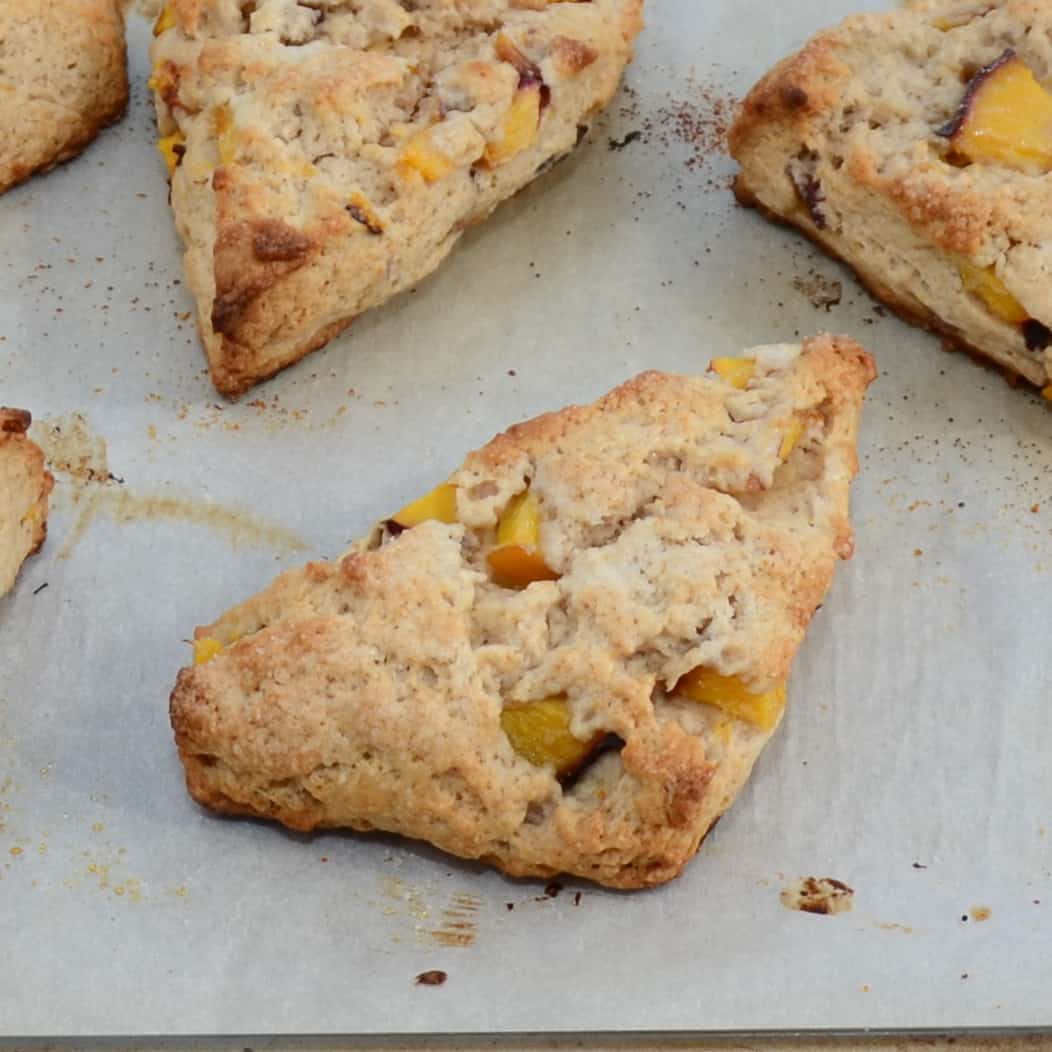 Seventh Step: Take the two tablespoons of heavy cream and brush it onto the peaches and cream scones. Then add a sprinkle of sugar on top. Bake them for 18-25 minutes or until they are golden brown and cooled all the way. Let them cool on a wire rack.
Eighth Step: When the scones are cooling, go ahead and prepare the spiced glaze. Combine the powdered sugar, cinnamon, nutmeg, and milk together using a whisk. Drizzle over the top of each scone.
Serve and enjoy!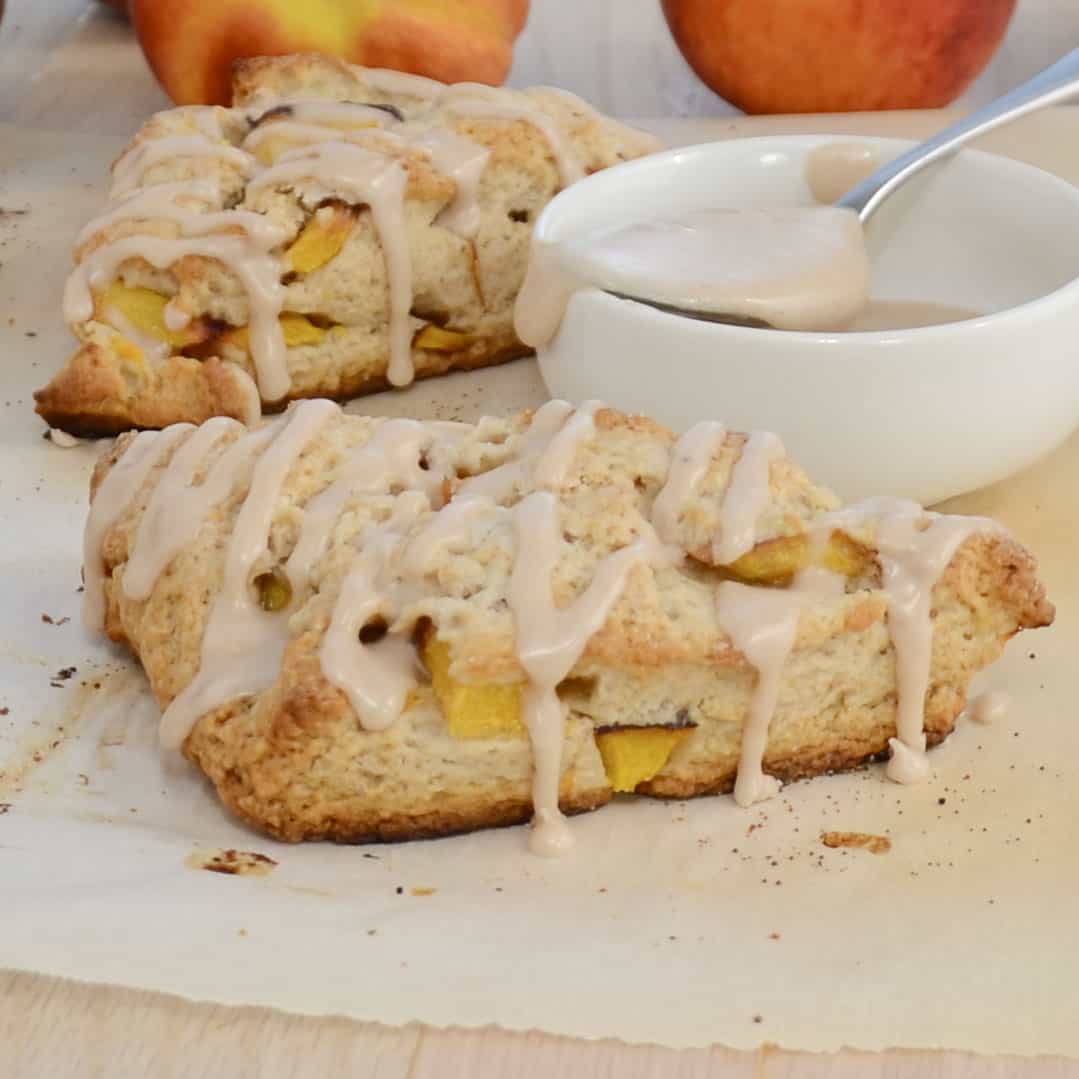 Now, remember to save this recipe on Pinterest for later 🙂
Pin this recipe now to remember it later
Ingredients
For the Scones:
1/2

cup

plus 2 tablespoons heavy cream

,

divided

2

cups

unbleached all-purpose flour

,

10 ounces, plus additional for work surface

1/2

cup

sugar

,

3 ½ ounces, plus 1 tablespoon for sprinkling

2

teaspoons

baking powder

8

tablespoons

unsalted butter

,

frozen, cut into ½ inch pieces

1 ¼

cups

diced fresh peaches
For the Spiced Glaze:
1/2

cup

plus 1 ½ tablespoons powdered sugar

1/8

teaspoon

ground cinnamon
Instructions
Adjust oven rack to middle position and heat oven to 425 degrees. Place peaches in freezer until needed.

Whisk together 1/2 cup heavy cream and sour cream in a medium bowl; refrigerate until needed.

In the bowl of a food processor fitted with the metal blade, pulse flour, ½ cup sugar, cinnamon, nutmeg, baking powder, baking soda, and salt until combined, about five 1-second pulses. Add butter and toss with a fork to cover in flour mixture. Pulse until mixture looks like coarse cornmeal flecked with pea-sized bits of butter, about 10 to 12 pulses. Transfer mixture to a large mixing bowl.

Add cream mixture to flour mixture; fold with spatula until just combined. With rubber spatula, transfer dough to liberally floured work surface. Dust surface of dough with flour; with floured hands, knead dough 6 to 8 times, until it just holds together in ragged ball, adding flour as needed to prevent sticking.

Roll dough into an approximate 12-inch square. Fold dough into thirds like a business letter, using bench scraper to release dough if it sticks to countertop. Lift short ends of dough and fold into thirds again to form approximate 4-inch square. Transfer dough to plate lightly dusted with flour and chill in freezer 5 minutes.

Transfer dough to floured work surface and roll into approximate 12-inch square again. Sprinkle peaches evenly over surface of dough, then press down so they are slightly embedded in dough. Using bench scraper, loosen dough from work surface. Roll dough, pressing to form tight log. Lay seam-side down and press log into 12 by 4-inch rectangle. Using sharp, floured knife, cut rectangle crosswise into 4 equal rectangles. Cut each rectangle diagonally to form 2 triangles and transfer to parchment-lined baking sheet.

Brush tops with 2 tablespoons of heavy cream and sprinkle with remaining tablespoon sugar. Bake until tops and bottoms are golden brown, 18 to 25 minutes. Transfer to a wire rack to cool slightly.

While the scones are cooling, make the spiced glaze by mixing the powdered sugar, cinnamon, nutmeg and milk together until smooth. Drizzle over each scone and allow the icing to dry before serving.
Follow me on Pinterest for daily delicious recipes!
Now that I have you craving scones be sure to check out these lovely recipes too.
Pumpkin Scones – Another fall favorite recipe of mine. It's so yummy and has the perfect amount of pumpkin flavor.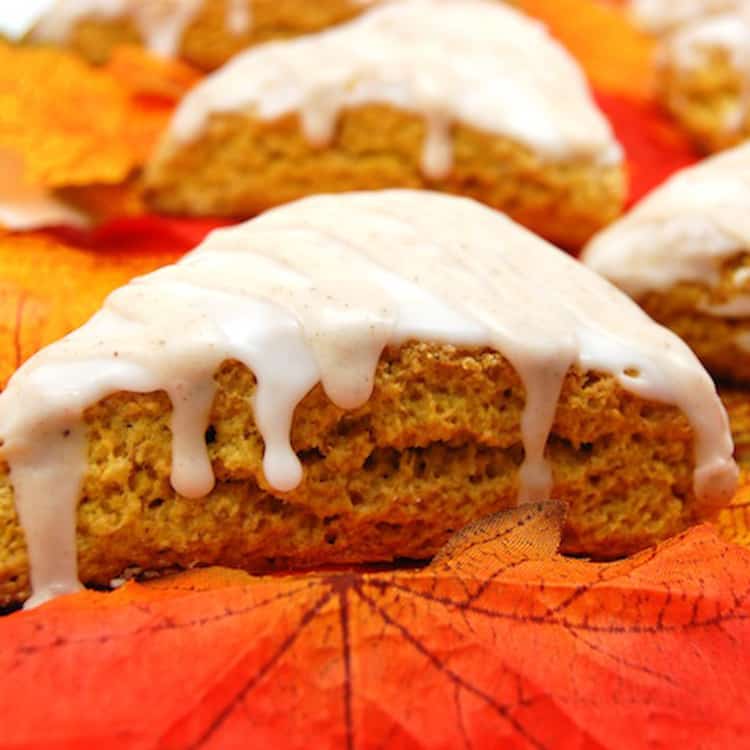 Fresh Strawberry Scones – There is nothing better than scones with fresh fruit. These are awesome.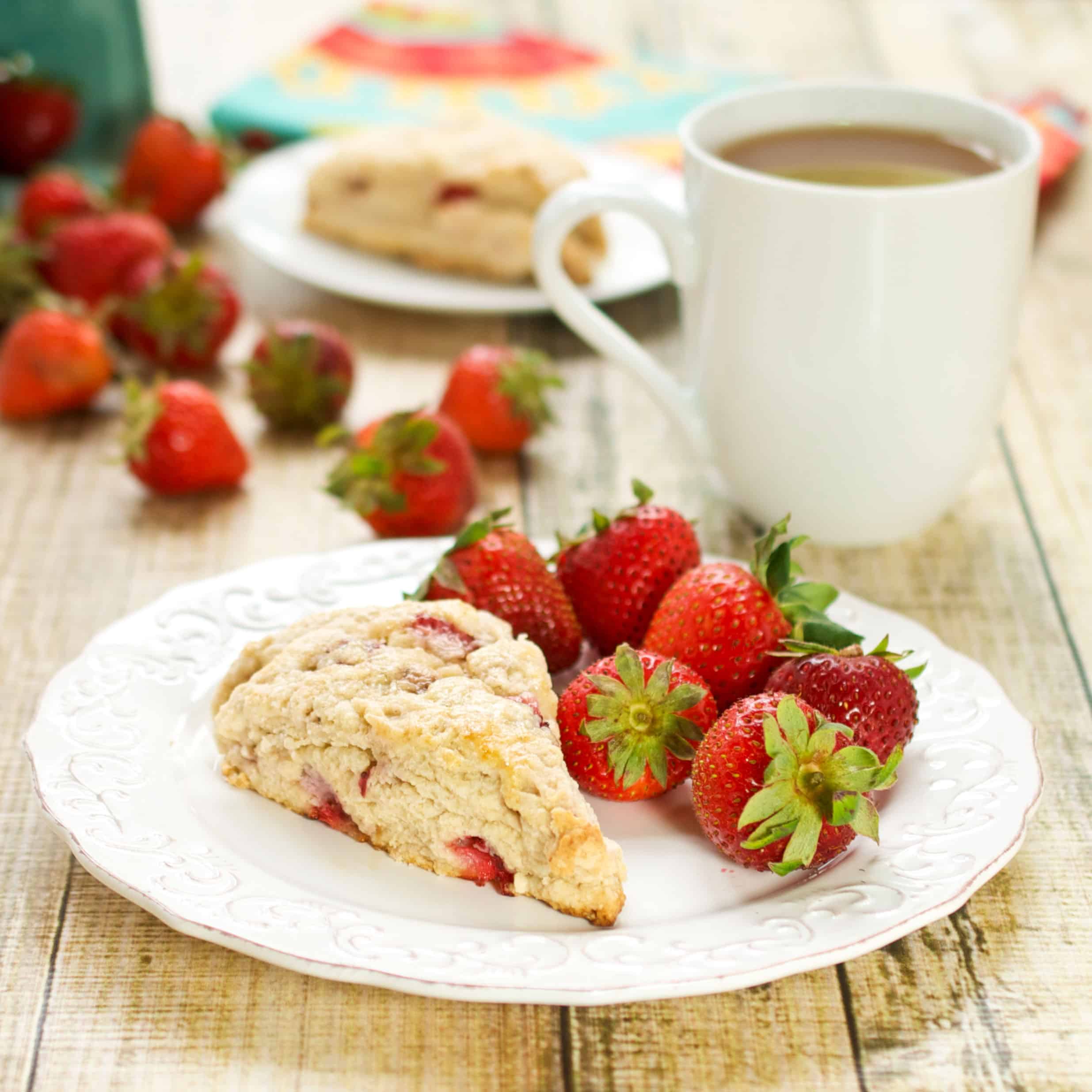 Gingerbread Scones with Orange Glaze – Get ready for the holidays with this incredible gingerbread scone recipe. Yummy!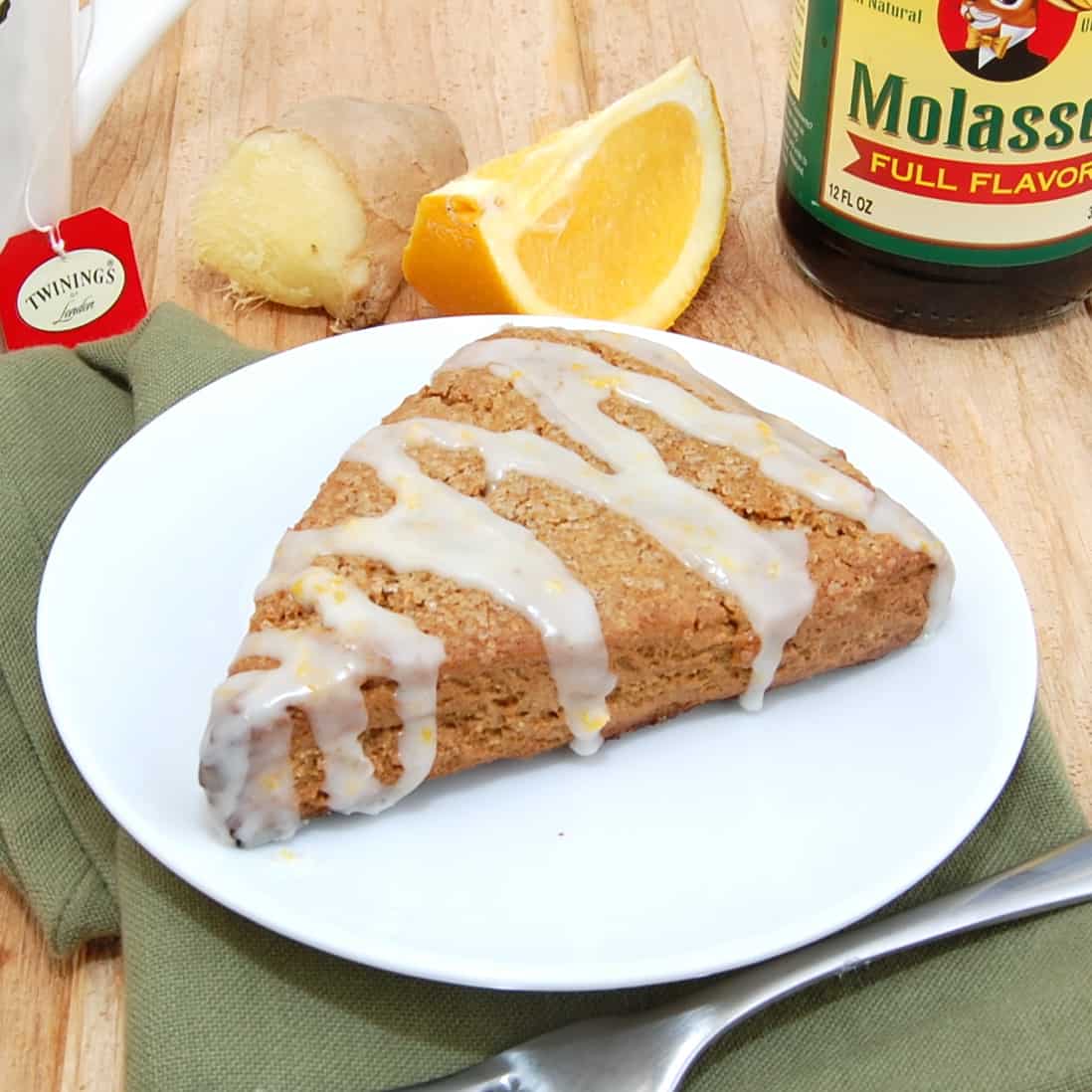 Apple Cinnamon Oatmeal Scones – You will be smacking your lips when you taste these wonderful scones.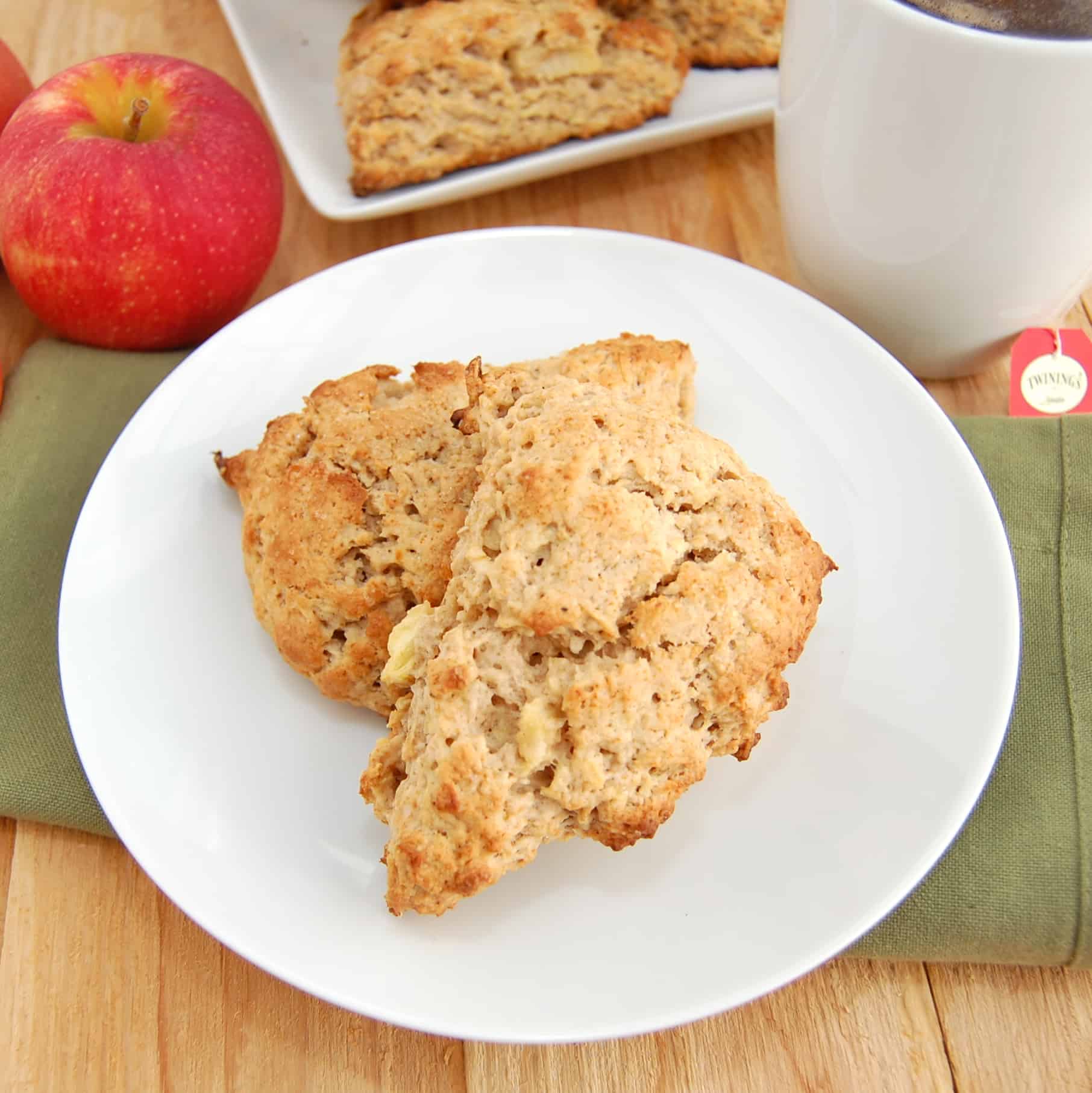 Get new recipes weekly plus our FREE ebook!