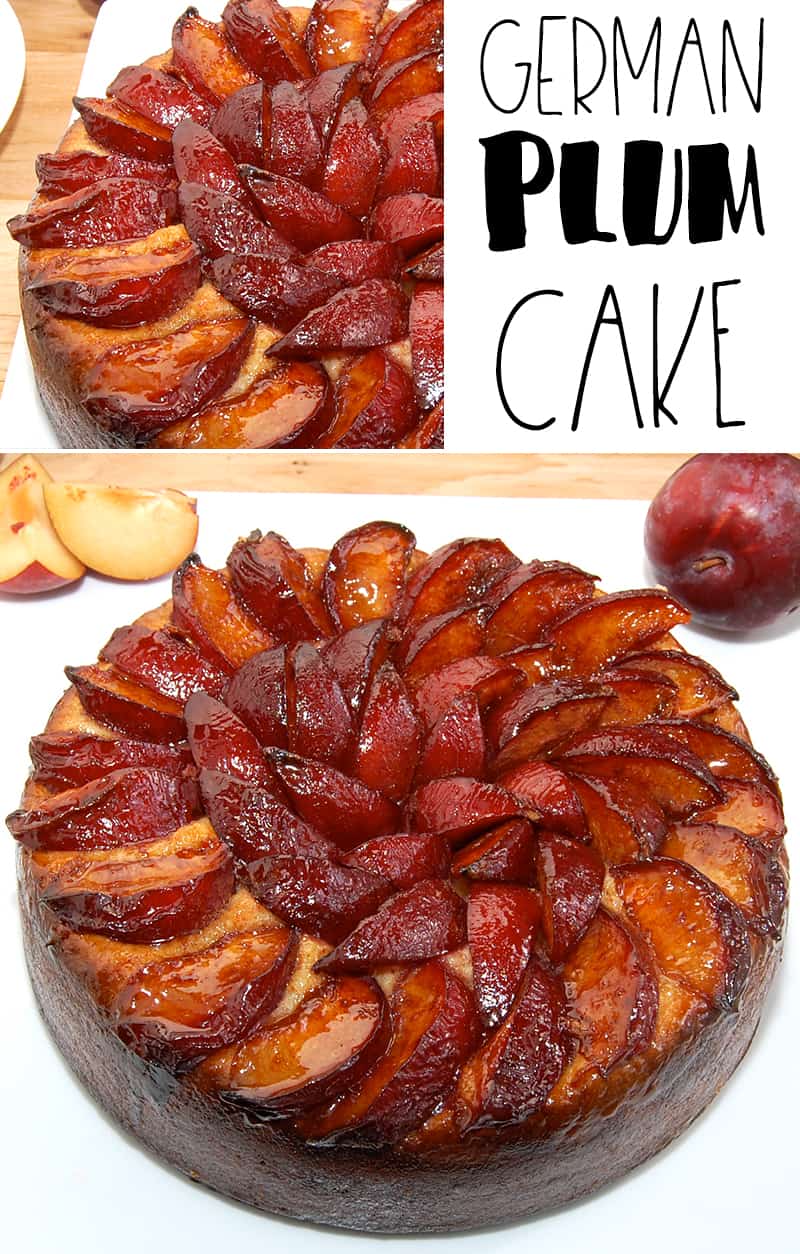 Pflaumenkuchen has been a family recipe for years and years. The cake is similar to shortcake, and it's topped with sweet and delicious ripe plums. This plum cake recipe packs tons of flavor into every single bite. Enjoy a slice of this yummy cake for dessert, or you can even eat it for breakfast. No matter what time of day you eat it, it NEEDS to be tasted!
Scroll to bottom for printable recipe card.
Pflaumenkuchen (German Plum Cake Recipe)
Whenever I get a bunch of plums on sale, I excitedly head home knowing that I am going to make this amazing pflaumenkuchen. Everyone in the family knows that is is one of my favorite recipes I've ever made. They get just as excited as I do when I tell them it's the dessert for that day. If you could put a dessert into the category of pure happiness, this one is it for me. It takes me back to being a kid, and the flavors are undeniably delicious.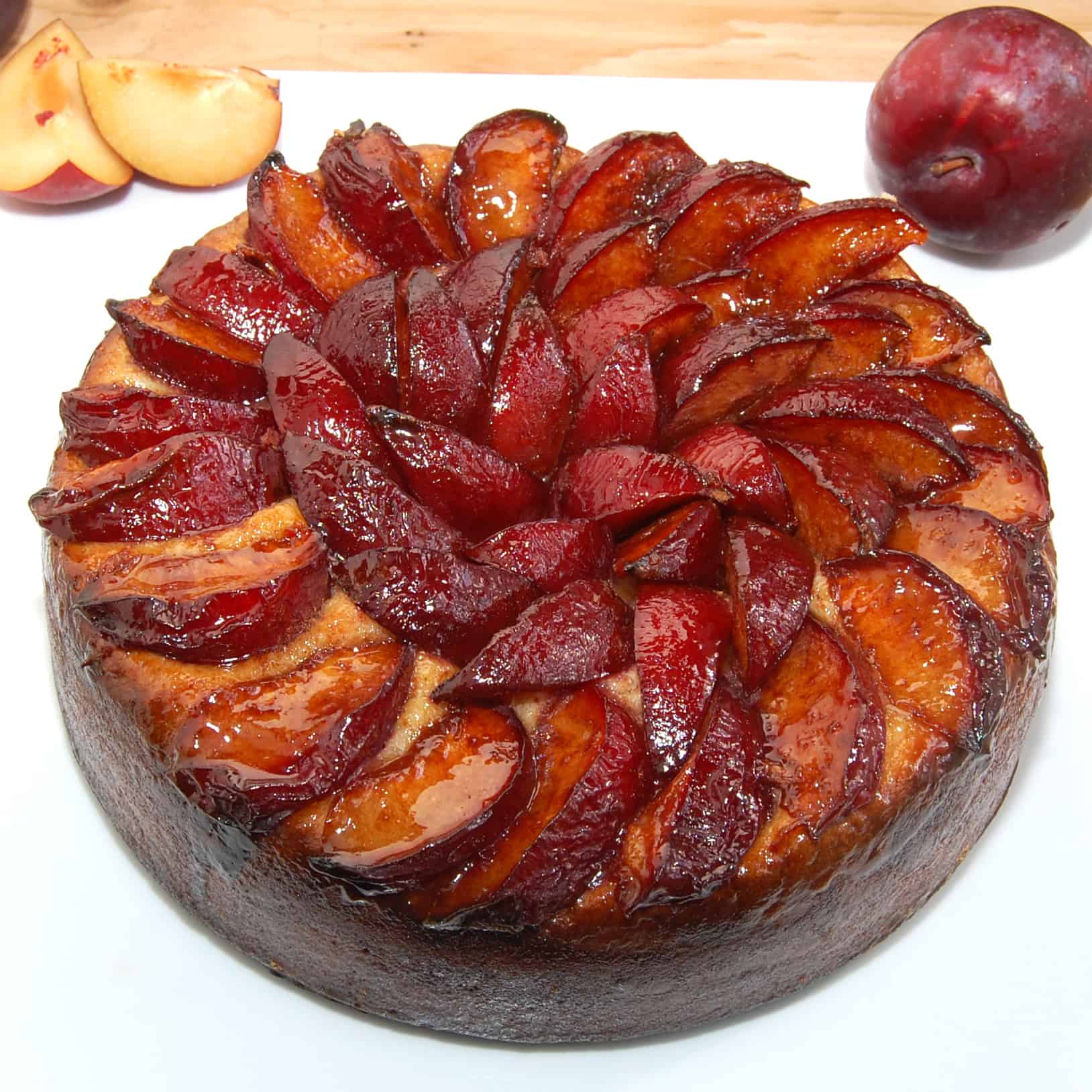 What Is Pflaumenkuchen?
Pflaumenkuchen is a cake that is also known as a German plum cake. It's made with a cake that has shortcake texture and feel to it, and it's topped with fresh ripe plum slices. It has spices like cinnamon that give it a terrific flavor. This plum cake is very well known in Germany, and the recipe is usually passed down from generation to generation.
Pflaumenkuchen Ingredients
There are 13 ingredients in this plum cake recipe, and they magically come together to form this scrumptious dessert. Additionally, you will need a springform pan to get it to turn out correctly. Here are the ingredients required for this unforgettable cake.
Warm milk (110 degrees F)
Granulated sugar
Active dry yeast
Melted butter
Egg
All-purpose flour
Superfine sugar
Pure vanilla extract
Zest of a lemon
Salt
Firm and ripped plums
Cinnamon
Apricot jelly
Liqueur (Grand Marnier, Brandy, Kirsch)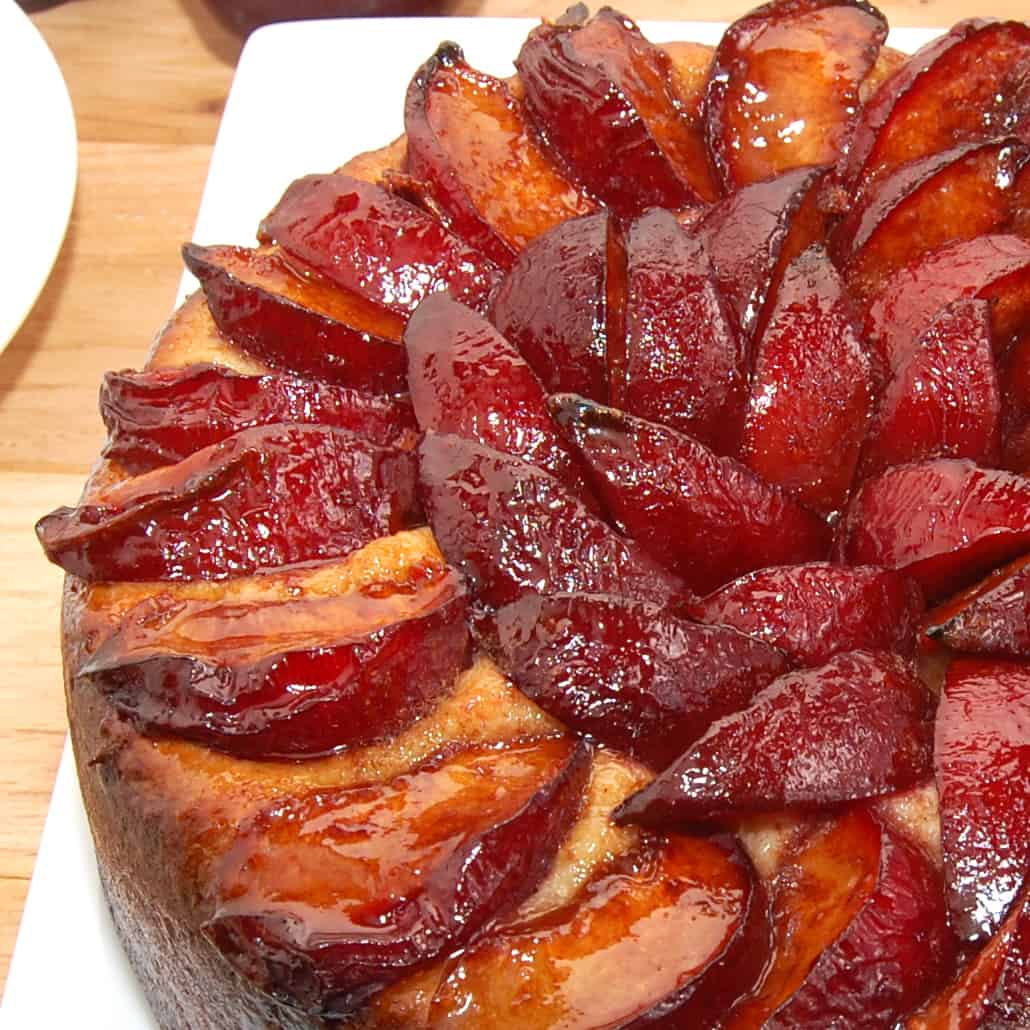 How Do You Make Plum Cake
This pflaumenkuchen does have several steps, but they are all really simple. When you raise your fork with a bite of cake, you will forget the effort you put into it because it's that good. Trust me! You really need to make this recipe and try it for yourself.
First Step: Place the oven rack to the middle position and preheat oven to 200 degrees F. As soon as the oven reaches 200 degrees F, turn it off.
Second Step: Using a stand mixer bowl, mix the milk, 1 tablespoon of the granulated sugar, and yeast together. Let rest for around 10 minutes or until it's foamy.
Third Step: Mix together the melted butter, eggs, flour, superfine sugar, vanilla extract, lemon zest, and salt with the yeast and milk mixture. Use a dough hook and mix on medium-low for 10 minutes or until thoroughly combined.
Fourth Step: Place the dough in a bowl that has been lightly oiled. Cover it with plastic wrap and put it in the warmed oven. Let the dough rise for 1 hour or until it's doubled in size.
Fifth Step: Get the plums and cut them in half, then quarter each half, so you are getting 8 slices per plum. Place them in a bowl with 2 tablespoons of sugar and cinnamon and let them rest for around 10 minutes.
Sixth Step: Once the dough has risen and doubled in size, place it on a lightly floured surface. Cover it with a towel and let rest for 10-minutes.
Seventh Step: Grease the bottom and sides of a 9-inch springform pan and sprinkle with flour too. Place a piece of parchment paper on the bottom of the pan. Warm the oven up to 350 degrees.
Eighth Step: Carefully press the dough into the springform pan. Place the plumbs on top of the dough, skin side down, and form a flower pattern. Start at the outside and work your way towards the middle until it's covered entirely. Allow the cake to rest for 20 minutes then sprinkle the rest of the granulated sugar on top.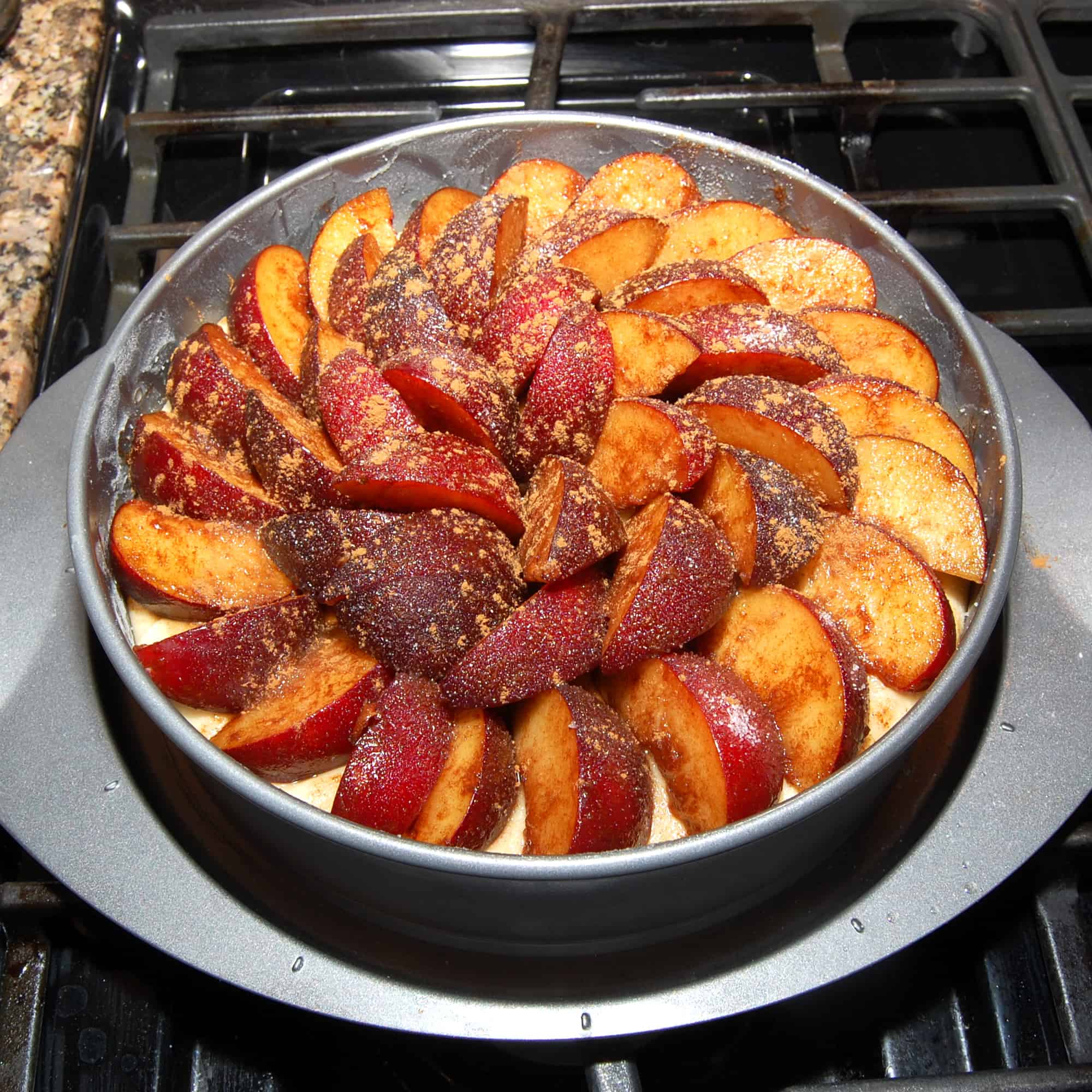 Ninth Step: Bake the plum cake in the preheated oven for 55 – 60 minutes. The top will be golden brown, and a toothpick should come out clean when it's done. Allow the cake to cool for 15 minutes, then remove the sides of the pan. Use a metal spatula underneath the cake and loosen it, then slide the cake onto a cooling rack so it can finish cooling down.
Tenth Step: While the cake is cooling down, but still warm, heat up the apricot preserves in a saucepan over medium heat until it melts. Then remove it from the heat and pour in the liqueur and stir. Use a strainer and pour the mixture through it to remove any pieces of apricot. Allow it to cool until it's barely warm, then lightly brush the plums with it. Once the plum cake has cooled all the way, add a dollop of whipped cream and serve.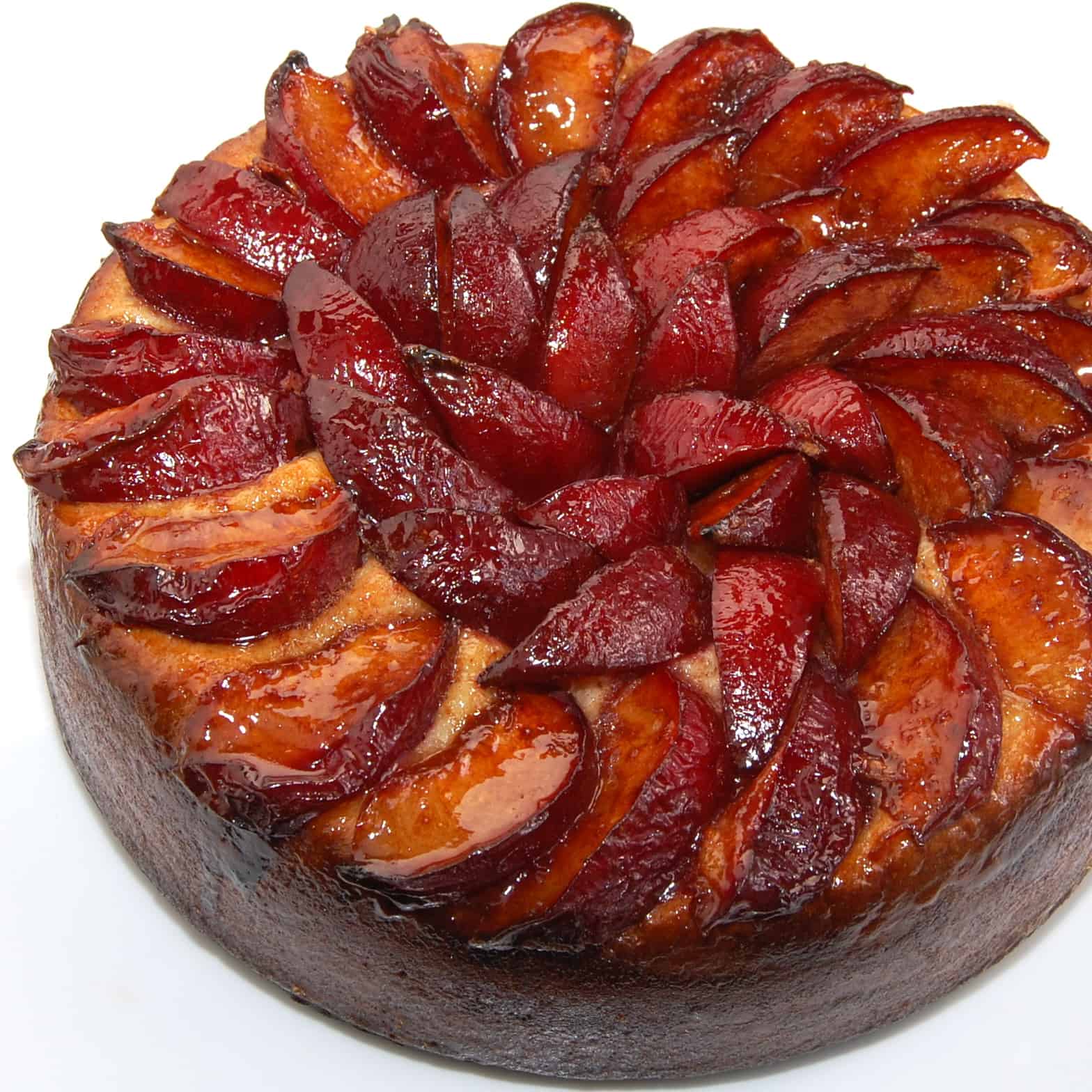 Can I Use Something Besides Plums To Make This Cake?
Technically, you can use another fruit to make this cake if you want to, but it won't be a traditional German plum cake if you do. You could use peaches or apricots if you wanted to try something else. I love the flavor of the classic plum cake recipe, but if you have allergies or don't have access to them, you can still make it with something else.
How Do You Store German Plum Cake?
It's vital to keep this plum cake recipe cool and away from heat like the sun, stove, or even your dishwasher. Otherwise, it's going to age very quickly and not be edible. For best results, place the cooled cake into a container and put it in the refrigerator for up to 4 days.
You can also freeze this cake for up to 1 year if you keep it in an airtight container. Just defrost it and eat it whenever you are ready to serve. It's best served cool or cold.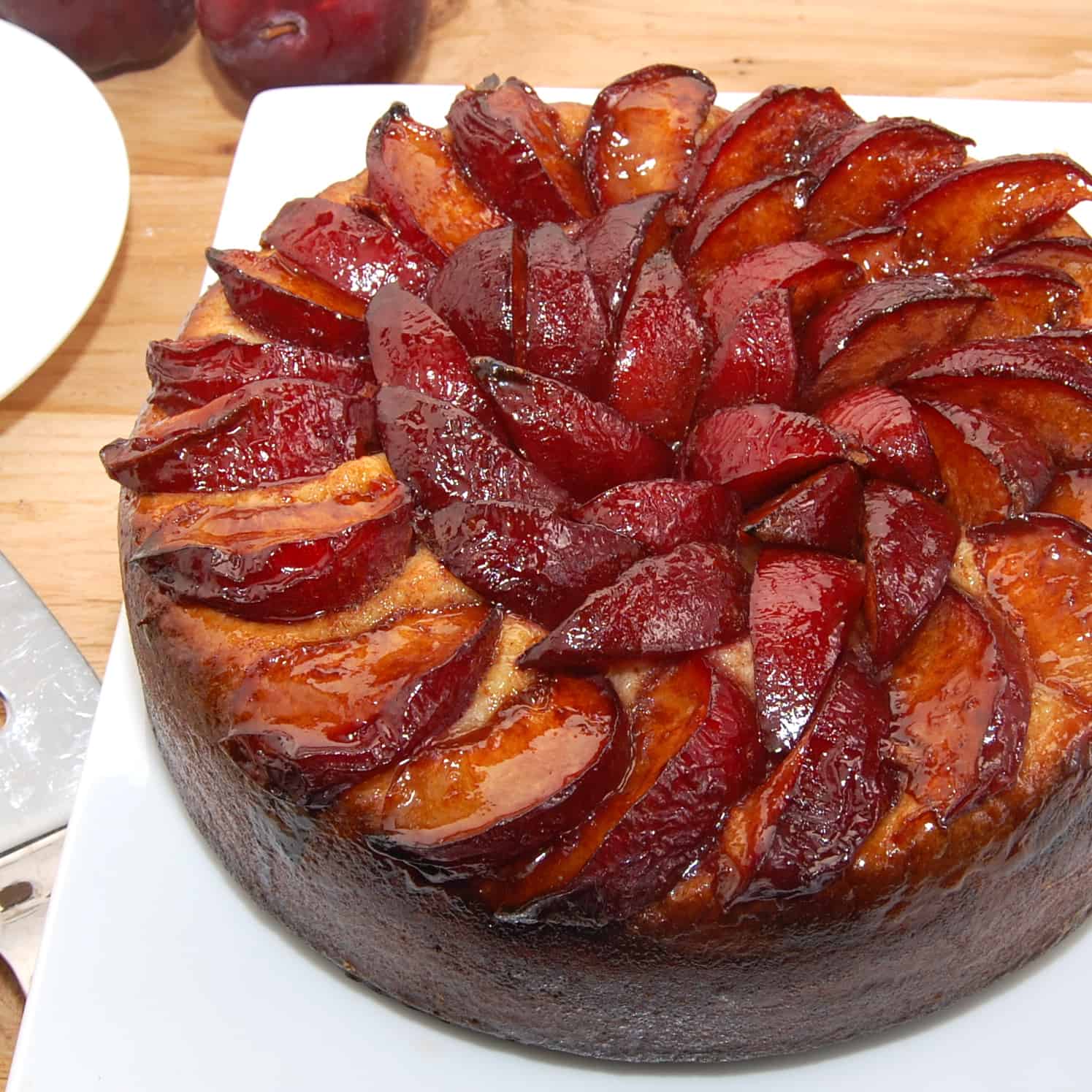 Now, remember to save this recipe on Pinterest for later 🙂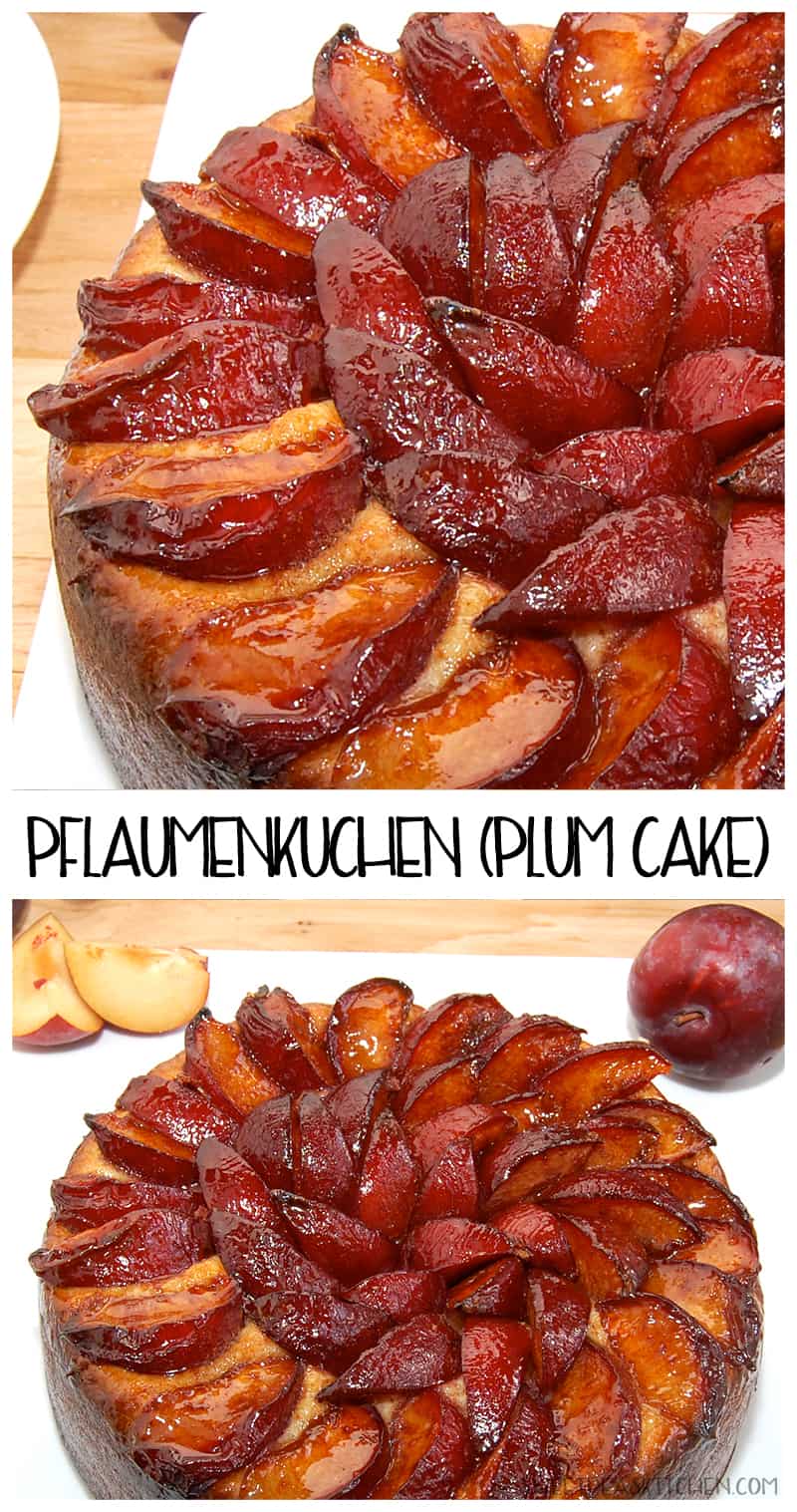 Pin this recipe now to remember it later
Pflaumenkuchen (German Plum Cake Recipe)
Ingredients
1/2

cup

warm milk

,

110 degrees F

4

tablespoon

granulated sugar

,

divided

1

and ½ packets of active dry yeast

,

10 grams

4

tablespoons

butter

,

melted

2

cups

plus 2 tablespoons flour

1/8

teaspoon

vanilla extract

2

pounds

firm

,

ripe plums, pitted (6-7 plums)

2

tablespoons

apricot jelly

1

tablespoon

liqueur

,

Grand Marnier, Brandy, Kirsch
Want to save this recipe? Enter your email below and we'll send the recipe straight to your inbox!
NOTE: By saving this recipe, you agree to join our weekly recipes newsletter.
Instructions
Adjust oven rack to middle position and heat oven to 200 degrees. When oven reaches 200 degrees F, shut off.

In the bowl of a stand mixer combine the milk and 1 tablespoon of granulated sugar; add yeast and let rest 10 minutes until foamy.

Add melted butter, eggs, flour, superfine sugar, vanilla, lemon zest and salt to the yeast mixture and mix with the dough hook on medium-low until thoroughly combined, about 10 minutes

Transfer the dough to a lightly oiled bowl, cover with plastic wrap and place in warm oven. Let rise until doubled in size, about 1 hour.

Cut the plums in half and quarter each half (getting a total of 8 slices per plum). Transfer to a large bowl and sprinkle with 2 tablespoons of granulated sugar and cinnamon. Stir and let rest for about 10 minutes.

After the dough has doubled in size turn it out onto a lightly floured surface, cover and let rest for 10 minutes.

Lightly grease and flour the bottom and sides of a 9-inch spring-form pan; line bottom with a 9-inch circle of parchment paper. Preheat oven to 350 degrees F.

Press dough into the prepared 9-inch spring-form pan. Arrange the plums in the pan, skin side down, to form a flower pattern; begin at the outside and work your way in to cover it completely. Let the cake rest for 20 minutes, then sprinkle with remaining 1 tablespoon granulated sugar.

Bake in a preheated oven at 350 degrees for 55 to 60 minutes, or until golden brown and toothpick inserted into the center of the cake comes out clean. Cool for 15 minutes, then unmold the cake by removing the sides of the pan. Slide a thin metal spatula under the cake to loosen, then slide the cake onto a wire rack to cool completely.

While the cake is still warm, heat the apricot preserves in a small saucepan over medium heat until completely melted. Remove from heat and add liqueur and stir until combined. Strain mixture through a fine strainer to remove any fruit lumps. Let cool until it is only slightly warm. Brush a light coat on the plums. Let cool completely before serving. Serve with a dollop of whipped cream.
Follow me on Pinterest for daily delicious recipes!
Cake is one of the best desserts because it usually feeds a lot of people, and there is so much variety. Here are some of our favorite cake recipes for you to try:
Texas Chocolate Peanut Butter Cake – This simple cake has big flavors of chocolate and peanut butter. It's so easy and perfect for your chocolate cravings.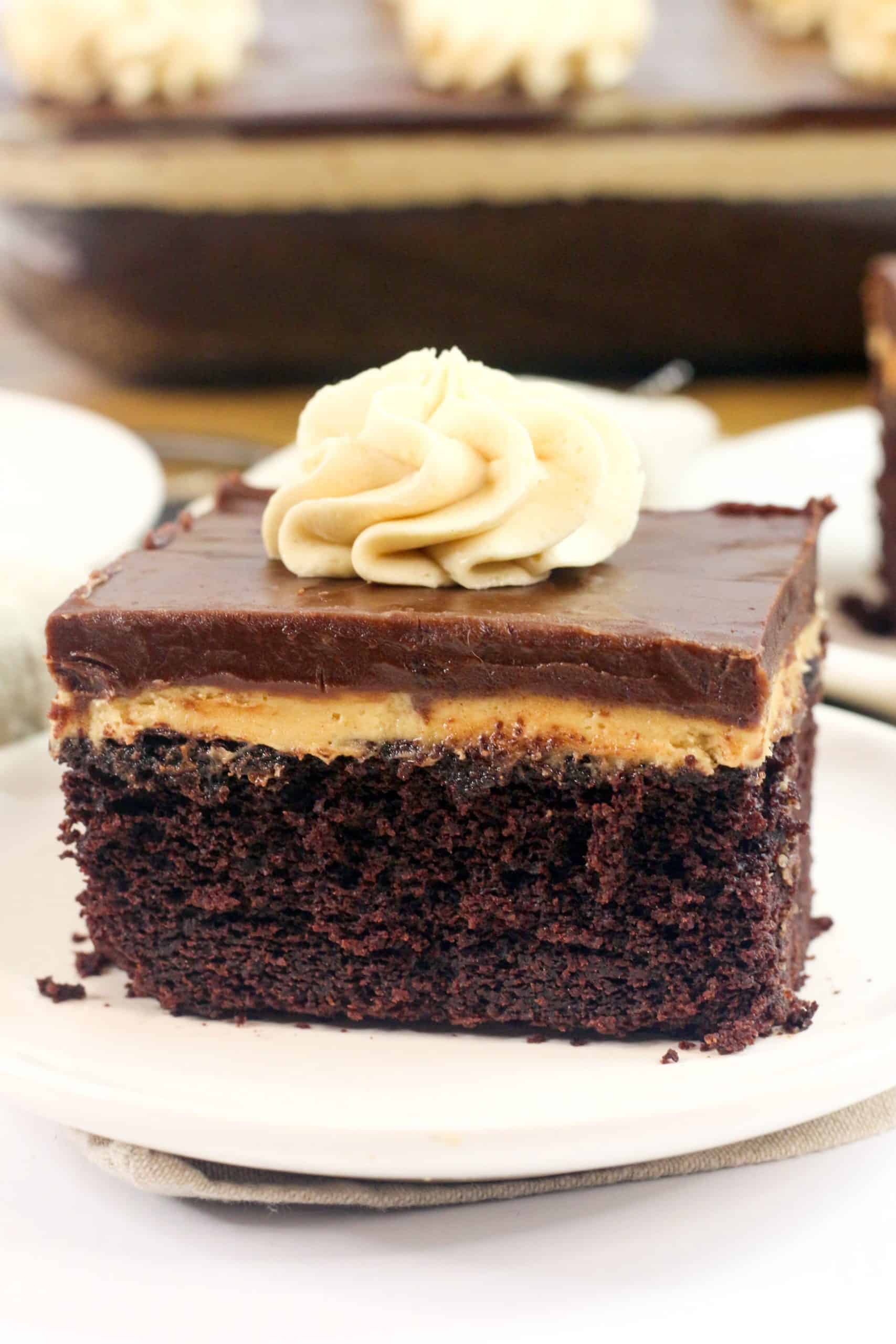 Decadent Chocolate Fudge Cake – This amazing fudgy cake is so good you are going to be in chocolate heaven!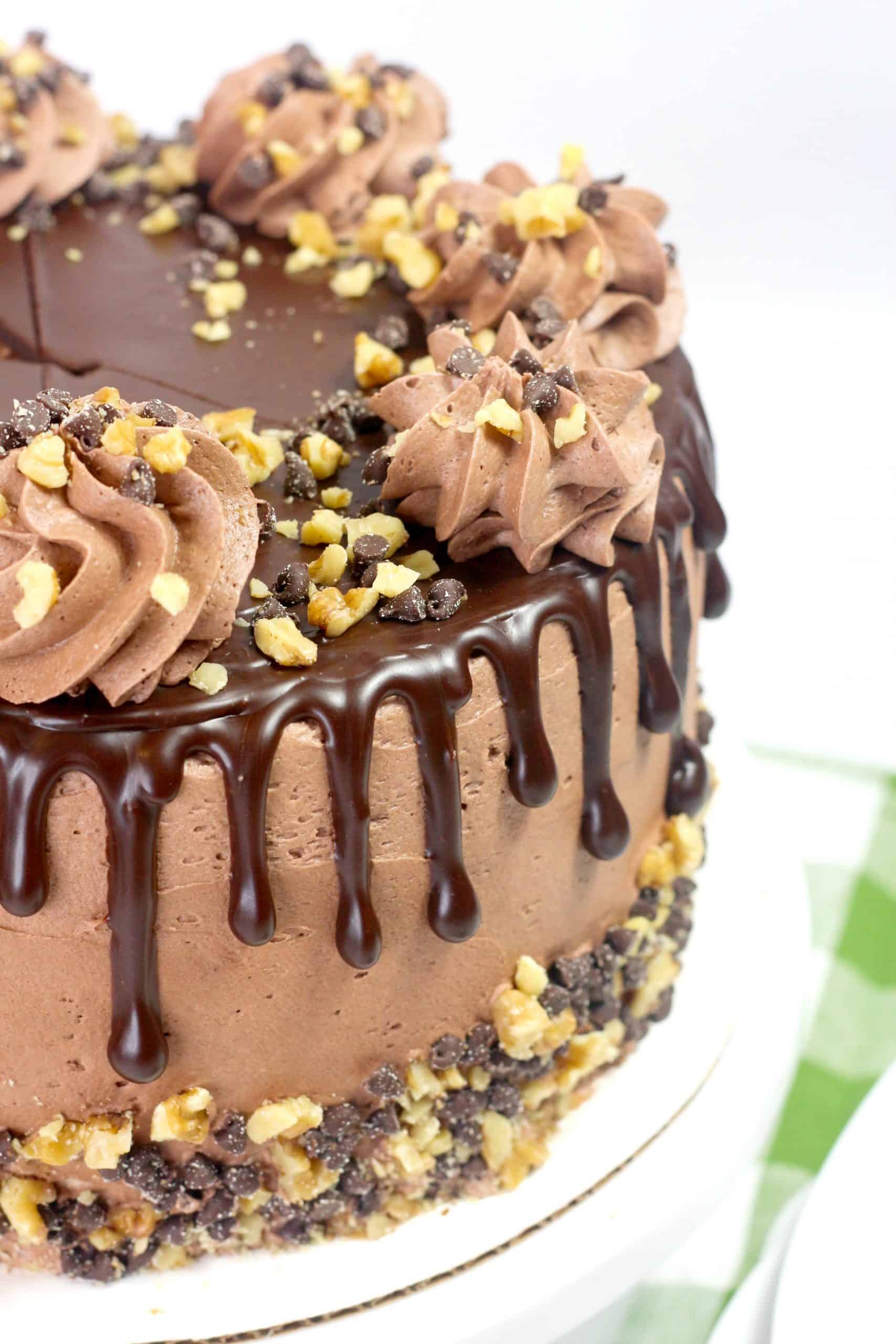 Best Easy Italian Cream Cake – One taste of this incredible cake and you will have a friend for life. It's so soft and delicious.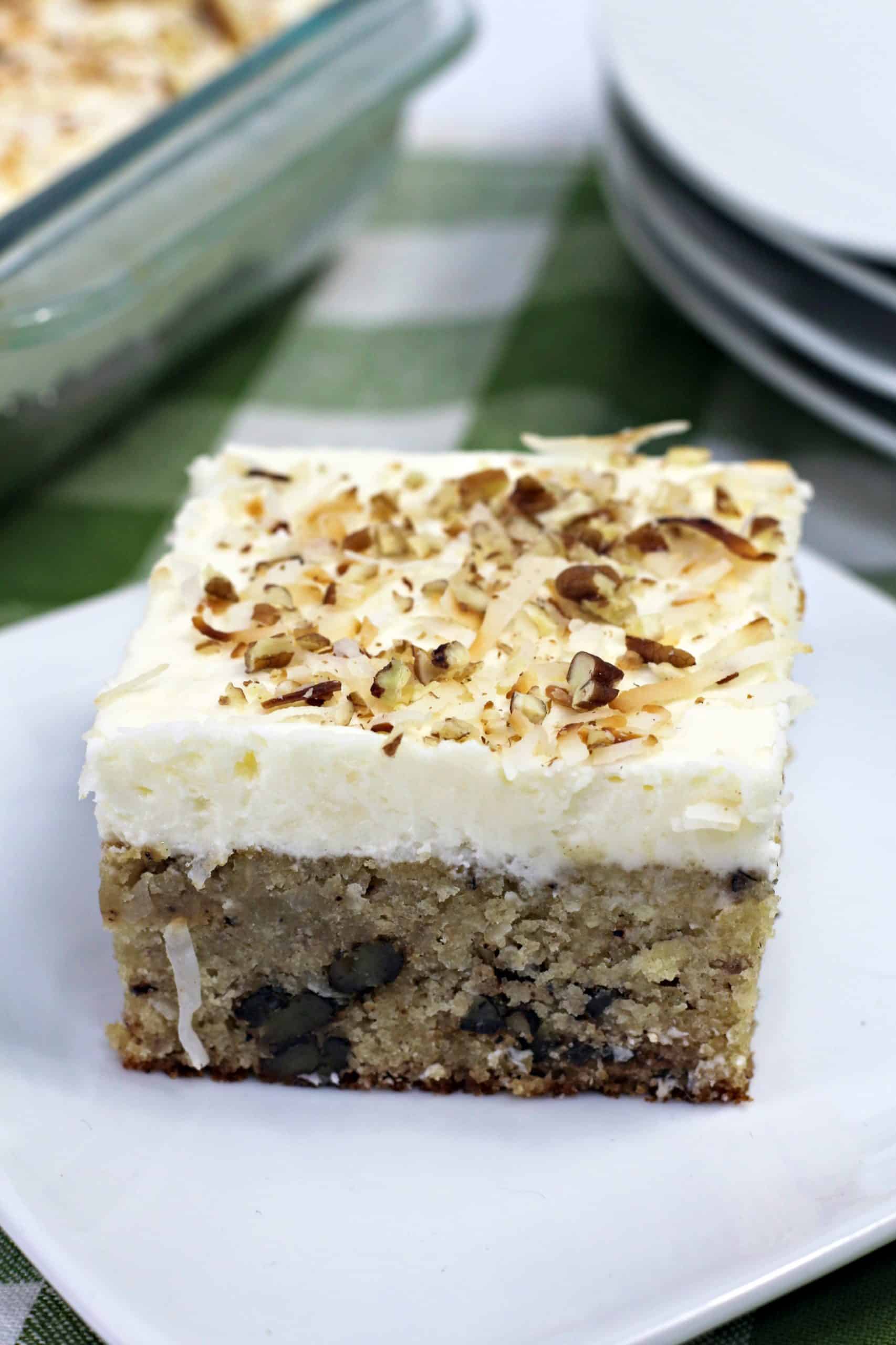 Red Velvet Poke Cake – Seriously, what's better than Red Velvet?? Nothing! This cake has everything you could want in a dessert. So good.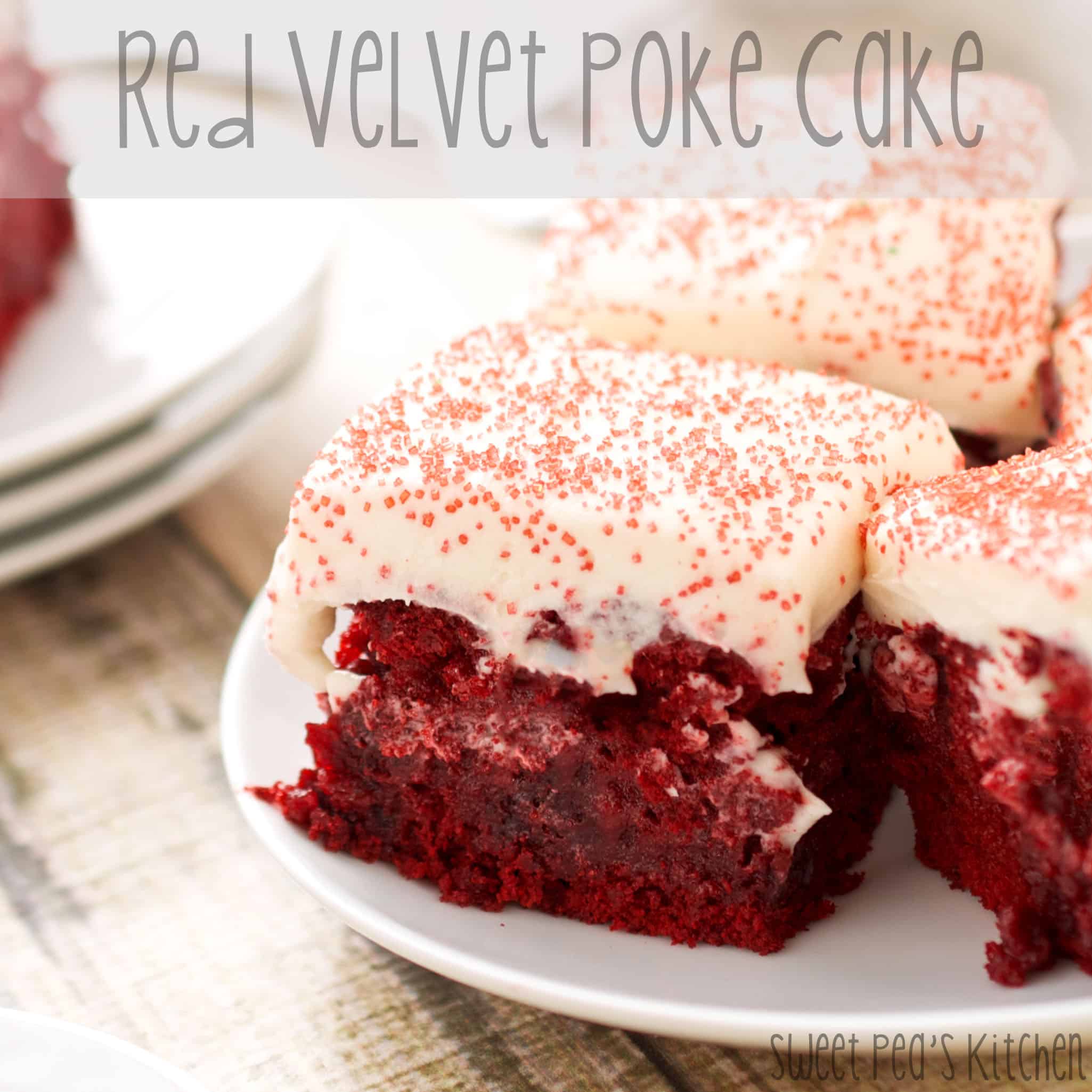 Get new recipes weekly plus our FREE ebook!