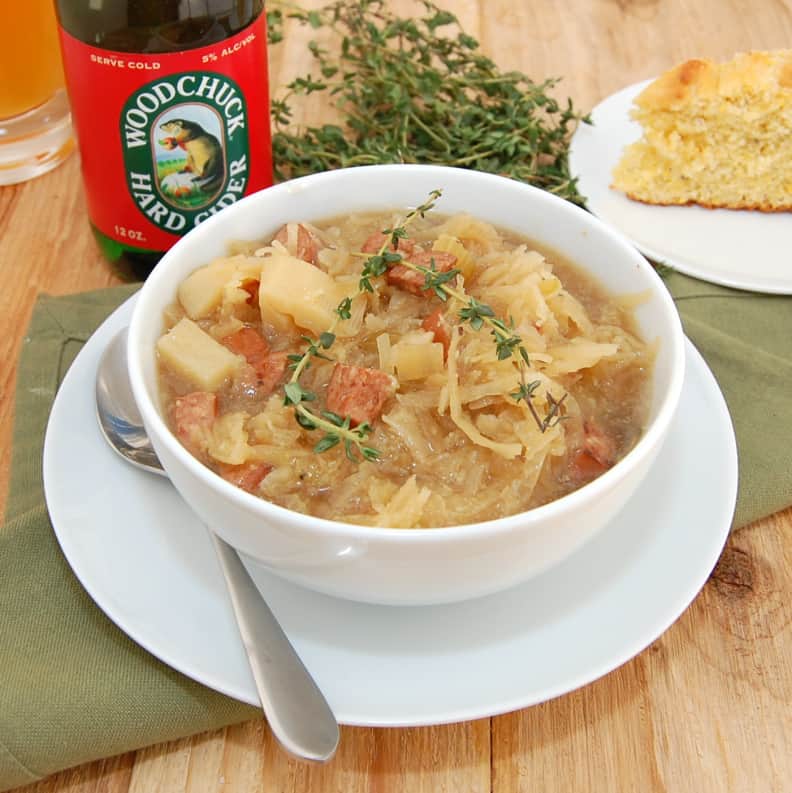 With New Year's Day finally here, people around the world are eager to start the year off right! Many people will make "good luck" meals hoping to gain good fortune throughout the new year. It is a German tradition to eat pork and sauerkraut on New Year's Day. Pigs are considered a good luck symbol and symbolize moving forward into the new year.
The cabbage leaves are symbolic of money, making you prosperous in the new year. When you're born on January 1st like me, your birthday meal is always pork and sauerkraut whether you like it or not. Growing up I dreaded eating pork and sauerkraut on my birthday, but as I have gotten older I actually kind of enjoy it.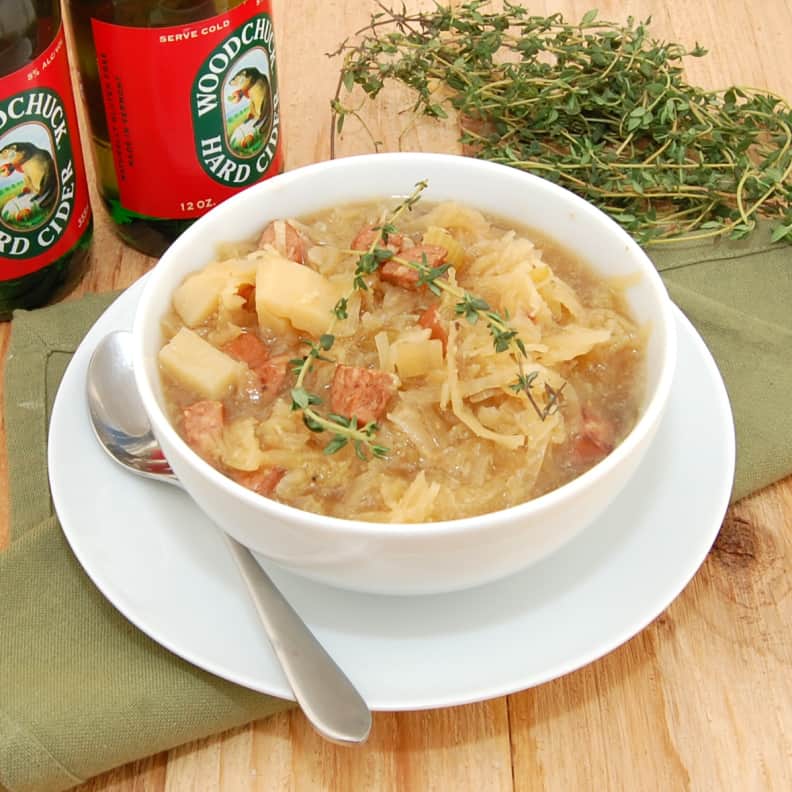 This soup is great not only for New Years Day, but any cold evening when you are craving something warm and comforting. Here's to a New Year and sticking to all of our resolutions! 😀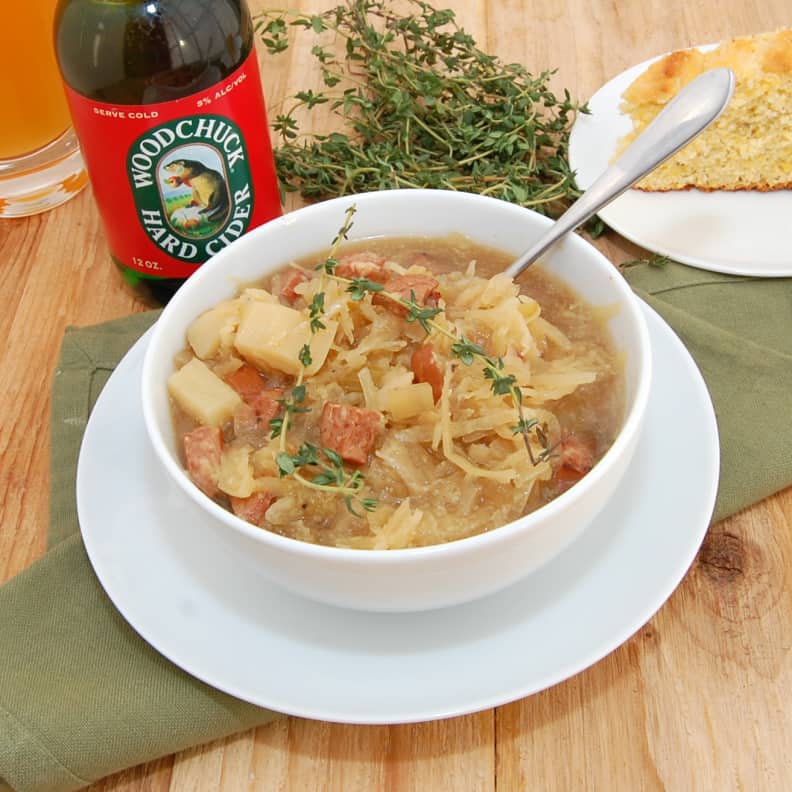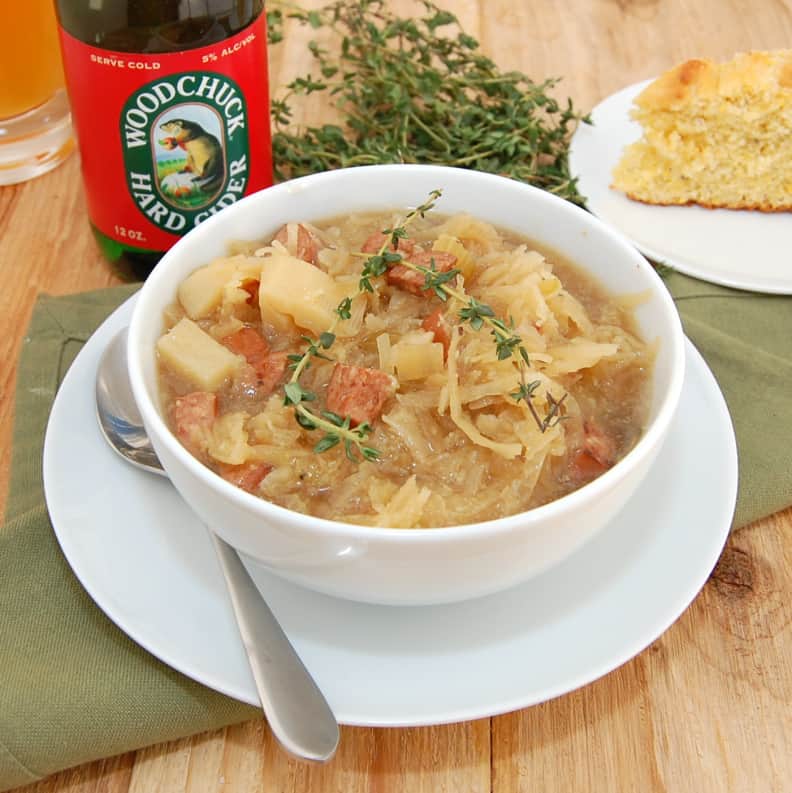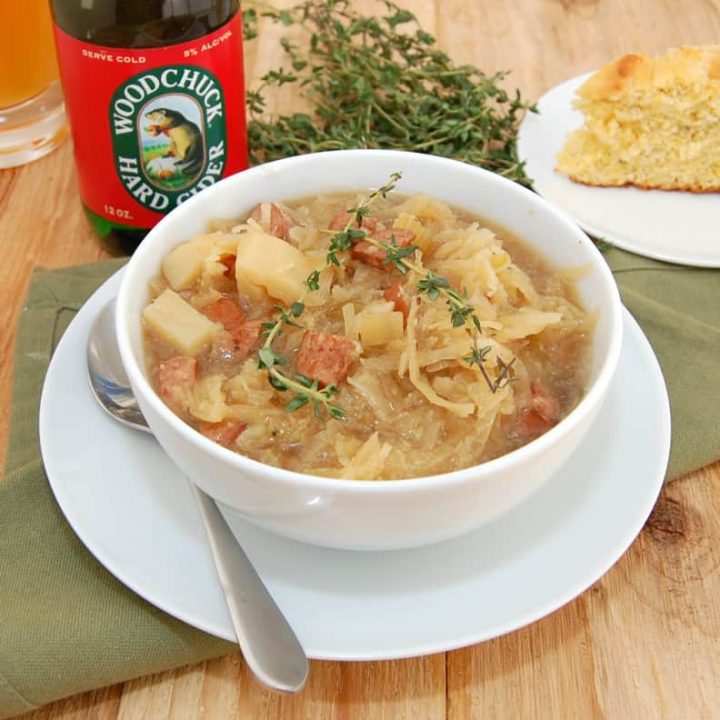 Sauerkraut Soup
Cook Time:
1 hour
10 minutes
Total Time:
1 hour
20 minutes
Ingredients
1 pound smoked sausage, such as kielbasa, diced
1 large onion, finely chopped
1 rib celery, finely chopped
1 tablespoon minced garlic
1 cup hard cider
1 (32-ounce) jar sauerkraut, drained and rinsed briefly
8 cups canned low-sodium chicken broth
1 ½ cups peeled and cubed potatoes
3 sprigs fresh thyme
1/2 teaspoon freshly ground black pepper
Instructions
Heat a large Dutch oven over medium-high heat and add the sausage. Cook, stirring occasionally until the sausage is caramelized and the fat is rendered, 4 to 6 minutes.
Add the onions and celery and cook, stirring occasionally, until vegetables are soft and lightly browned, about 4 minutes. Add the garlic and cook, stirring, for 1 minute. Add the cider and cook until almost completely reduced. Add the sauerkraut, broth, potatoes, thyme and pepper and bring to a boil.
Reduce the heat to a low simmer and cook, stirring occasionally, until potatoes and sauerkraut are very tender and the broth is flavorful, about 1 hour. Taste and adjust the seasoning, if necessary.