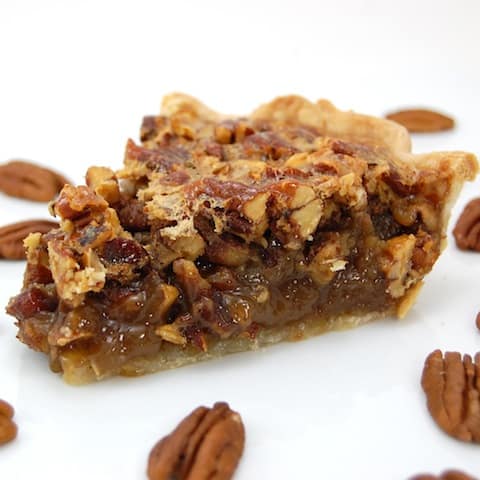 What are the holidays without a homemade pecan pie? Pecan pie is one of my favorite desserts to make this time of year. Rich and sweet pecan pie exploding with toasted pecans and a hint of bourbon. My mom was born and raised in the South and pecan pie was always on the table at Thanksgiving. My Great Aunt Exia would make a pecan pie every year especially for my mom.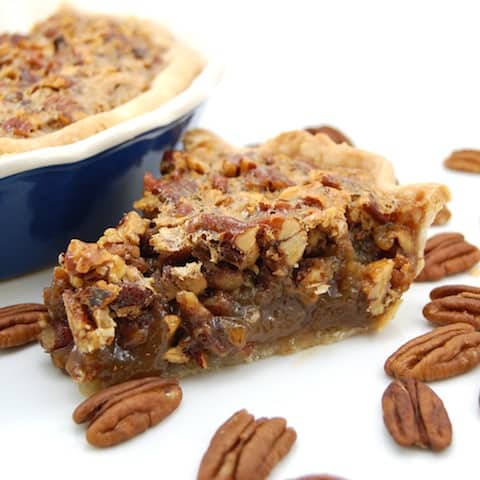 Ever since my Great Aunt Exia passed away years ago we have never made a pecan pie for the holidays. I wanted to recreate this special memory for my mom and the rest of the family by making this pecan pie. It was the perfect dessert for a wonderful Thanksgiving feast.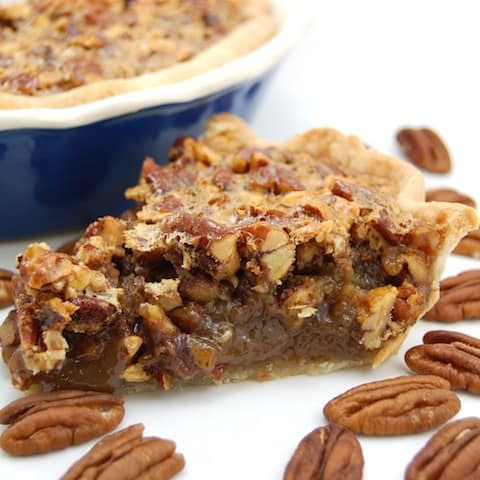 Pin this recipe now to remember it later
Ingredients
For Pie Dough:
1 1/4

cups

all purpose flour

,

plus extra for dusting dough and work surface

3

tablespoons

vegetable shortening

,

chilled

4

tablespoons

unsalted butter

,

chilled, cut into ¼ inch pieces

4-5

tablespoons

ice water
For the Pecan Filling:
6

tablespoons

unsalted butter

,

cut into 1 inch pieces

1

cup

packed dark brown sugar

1

tablespoon

vanilla extract
Want to save this recipe? Enter your email below and we'll send the recipe straight to your inbox!
NOTE: By saving this recipe, you agree to join our weekly recipes newsletter.
Instructions
To make the pie dough: In the work-bowl of a food processor, pulse flour, salt and sugar until combined. Add shortening and pulse for 10 seconds. Scatter butter pieces over flour mixture and pulse until flour is pale yellow and resembles coarse cornmeal, with butter bits no larger than small peas, about ten 1 second pulses. Turn mixture into medium bowl.

Sprinkle 4 tablespoon ice water over mixture. With blade of rubber spatula, use folding motion to mix. Press down on mixture with broad side of spatula until dough sticks together, adding up to 1 tablespoon more ice water if it will not come together. Flatten dough into a 4 inch wide disk and wrap in plastic wrap. Refrigerate at least one hour, or up to 2 days, before rolling.

Remove dough from refrigerator (if dough has chilled for more then one hour, let stand until mailable). Roll dough on lightly floured work surface to a 12-inch circle. Transfer to a 9 inch pie pan by rolling the dough around the rolling pin and unrolling it over the pan.

Working around circumference of pan, press dough carefully into pan by gently lifting dough edges with one hand while pressing around pan bottom with other hand. Trim edge to ½-inch beyond rim of pan. Rolled the trimmed overhang under the dough so that it is even with the lip of the pan. Use the index finger of one hand and the thumb and index finger of the other to create a fluted edge. The edge of the dough should be perpendicular to the edge of the pie plate. Refrigerate pie shell for 40 minutes and then freeze for 20 minutes.

Adjust oven rack to middle position and heat oven to 375 degrees F. Remove pie shell from freezer and press a doubled 12-inch piece of aluminum foil inside the pie shell, and fold the edges of the foil to shield the fluted edges. Evenly distribute 2 cups of ceramic or metal pie weights over foil. (you can also use dried beans or pennies if you have no pie weights). Bake, leaving foil and weights in place until dough looks dry and light in color, about 25 to 30 minutes. Carefully, remove foil and weights by gathering sides of soil and pulling up and out. Place pie shell back into the oven and continue baking until lightly golden brown, about 5 to 6 minutes more.

For the pecan filling: While the pie shell is baking, melt butter in medium heatproof bowl set in skillet of water maintained at just below simmer. Remove bowl from skillet; mix in sugar and salt with wooden spoon until butter is absorbed. Beat in eggs, then corn syrup, vanilla, and bourbon. Return bowl to hot water; stir until mixture is shiny and warm to the touch, about 130F. Remove from heat; stir in pecans.

As soon as the pie shell comes out of the oven, decrease oven temperature to 275 degrees F and pour pecan mixture into warm shell.

Bake until center feels set yet soft, like gelatin, when gently pressed with the back of a spoon, 50 to 60 minutes. Transfer pie to rack; let cool completely, at least 4 hours. Serve pie at room temperature or warm.
Follow me on Pinterest for daily delicious recipes!
Source:
adapted from
The New Best Recipe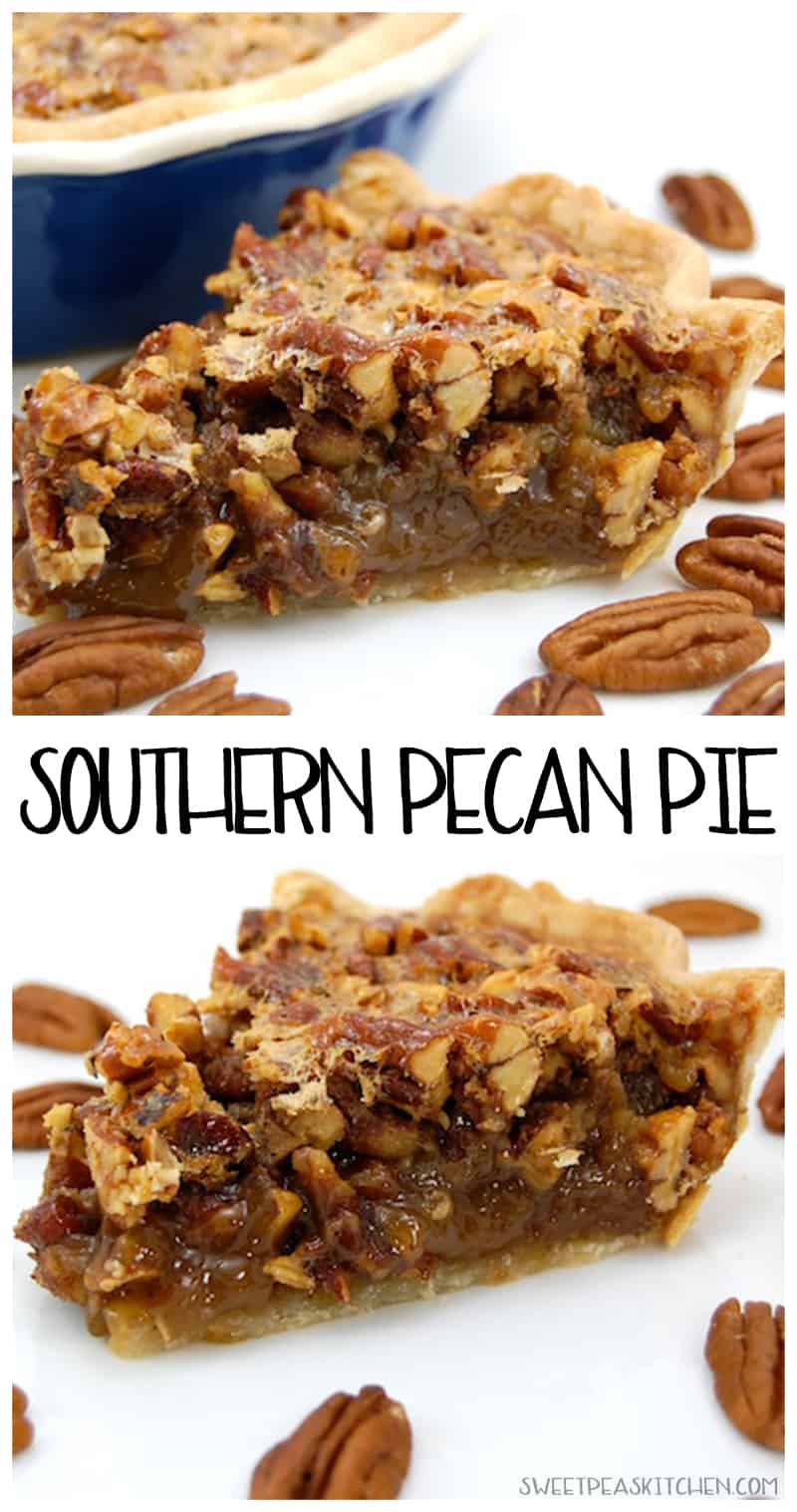 Get new recipes weekly plus our FREE ebook!