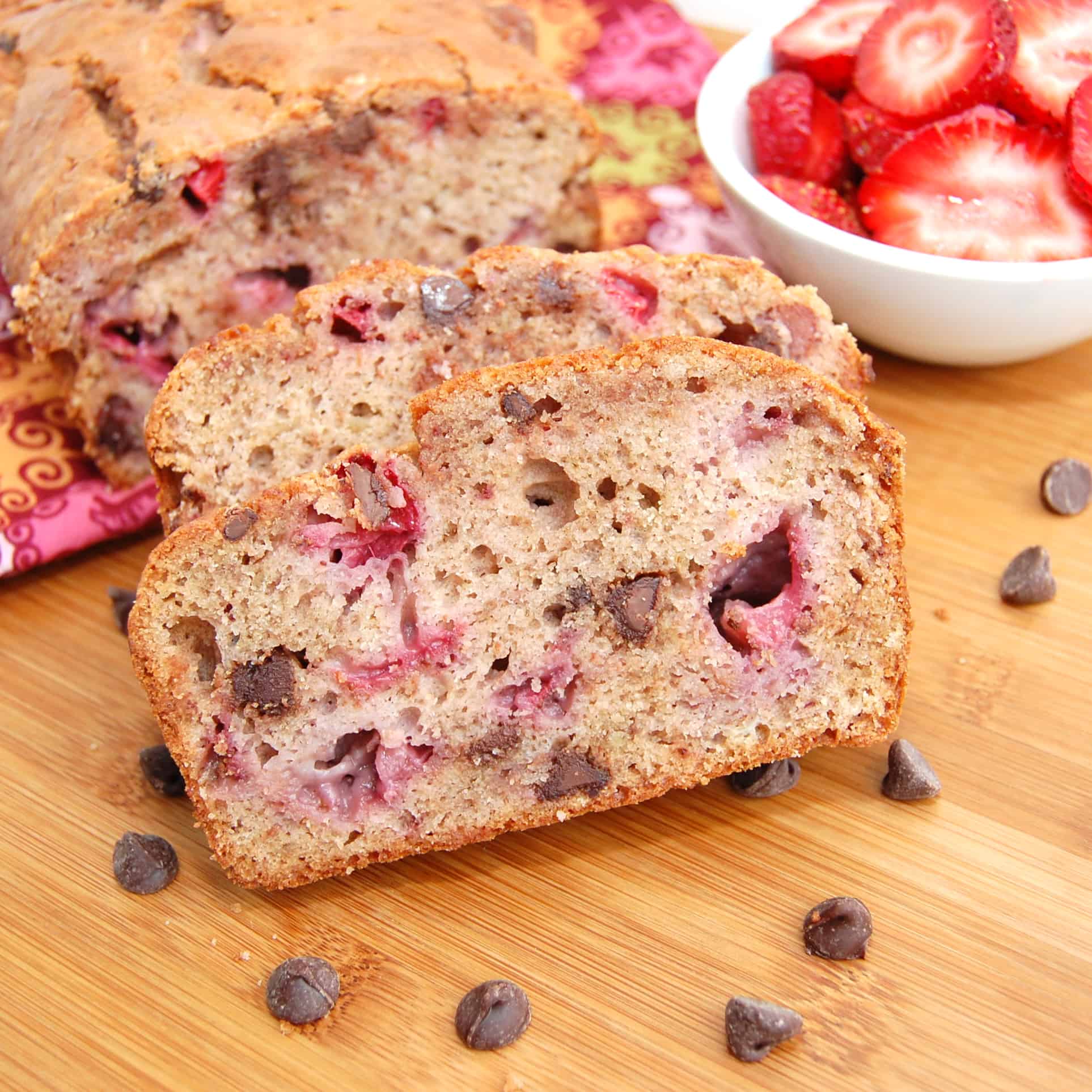 Rich and delicious Strawberry Chocolate Chip Bread dotted with chunks of luscious strawberries and chocolate chips. Move over banana bread, there is a new favorite in my house! One slice is hardly enough, this indulgent bread tastes just like a chocolate-covered strawberry! This bread come together in minutes.
No waiting for butter to soften-just mix and bake! Perfect for a lazy Sunday or busy morning.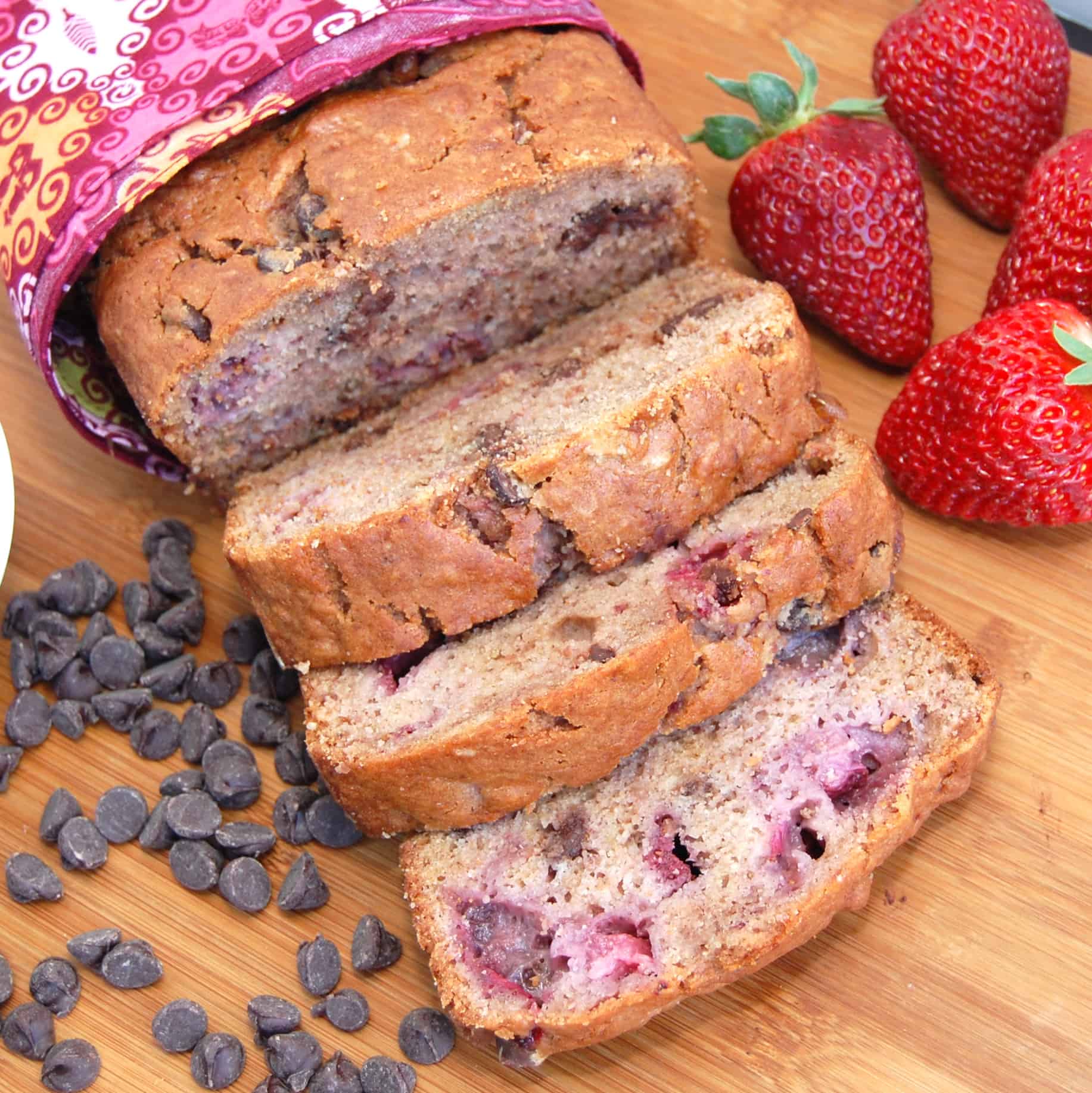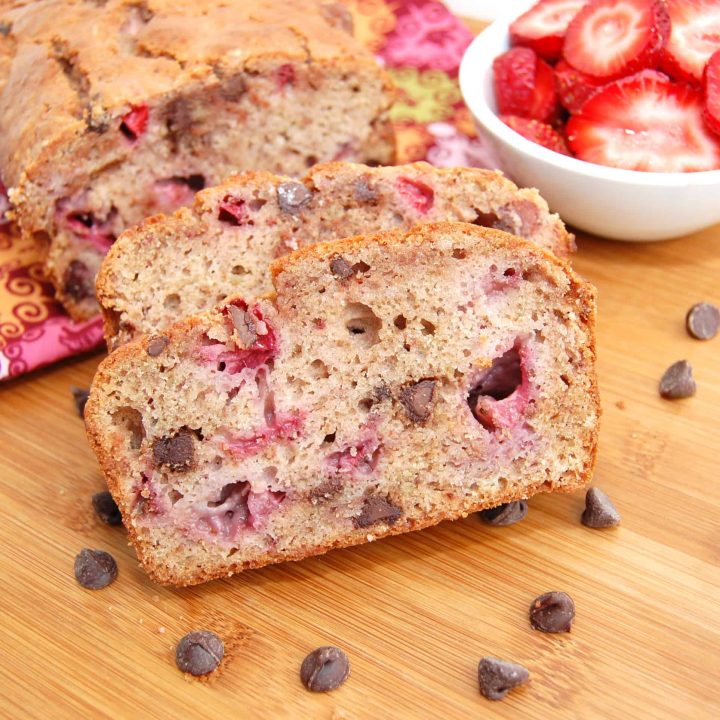 Strawberry Chocolate Chip Bread
Yield:
1 – 9 x 5-inch loaf
Ingredients
2 cups fresh strawberries, divided
3/4 cup white sugar
1-1/2 cups all purpose flour
3/4 teaspoon ground cinnamon
1/2 teaspoon salt
1/2 teaspoon baking soda
1/2 cup vegetable oil
2 eggs, beaten
1/2 teaspoon vanilla extract
1/2 cup semi sweet chocolate chips

Instructions
Preheat oven to 350 degrees F. Grease bottom and sides of a 9 x 5-inch loaf pan; dust with flour, tapping out excess.
Puree 1 cup of strawberries in a blender. Transfer to a medium bowl. Slice remaining 1 cup of strawberries and place in the medium bowl with the strawberry puree. Sprinkle with 3/4 cup sugar; set aside.
In a large bowl, whisk together flour, cinnamon, salt and baking soda. Add oil, eggs and vanilla extract to the strawberry mixture, stir to combine. Add strawberry mixture to flour mixture, blending until dry ingredients are just moistened. Fold in chocolate chips. Scrape batter into prepared loaf pan and smooth surface with a rubber spatula.
Bake until top is golden and toothpick inserted into center comes out clean, about 45 to 50 minutes. Let cool in pan on wire rack for 10 minutes. Turn out onto the wire rack, and cool completely.
Source:
adapted from
Allrecipes.com