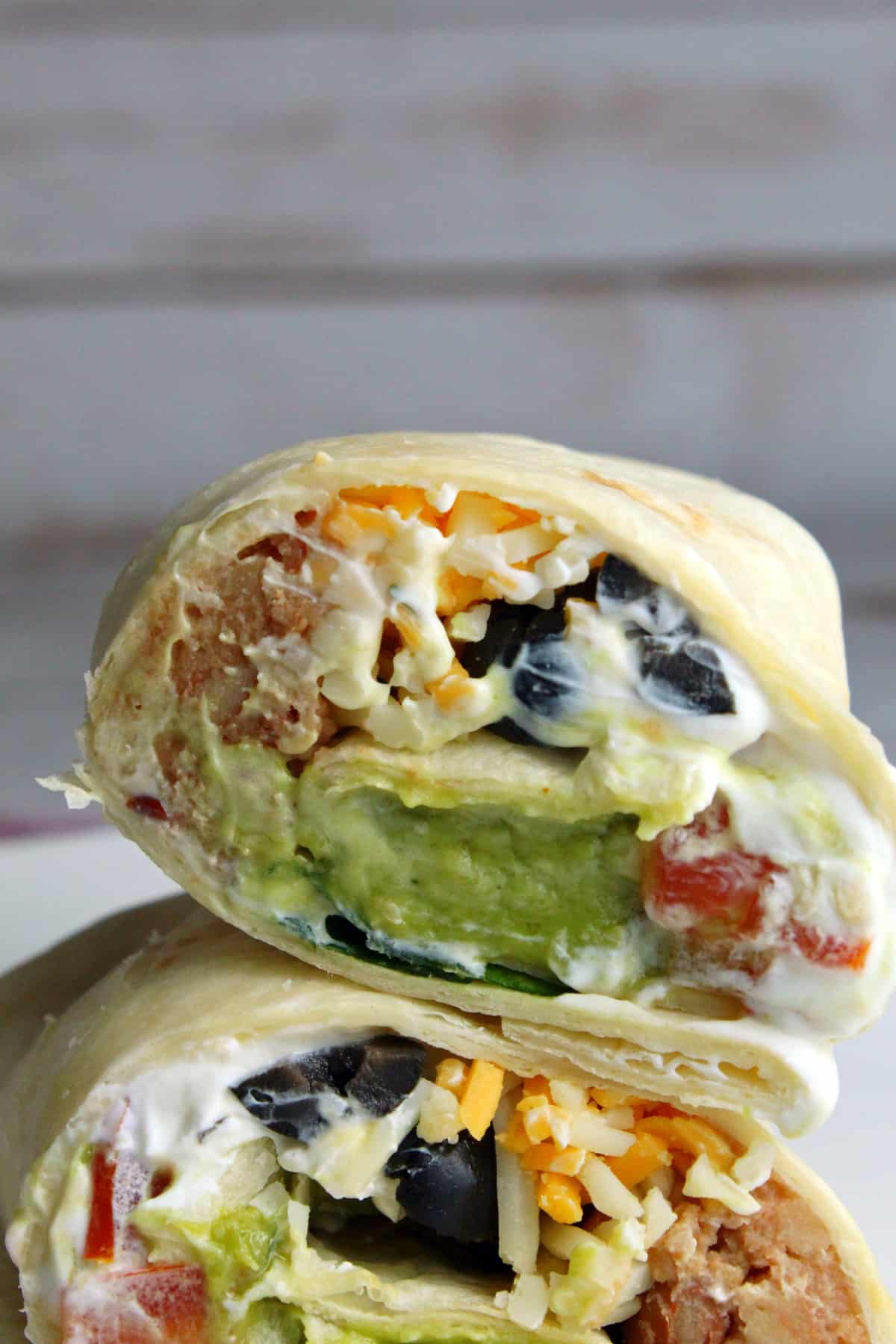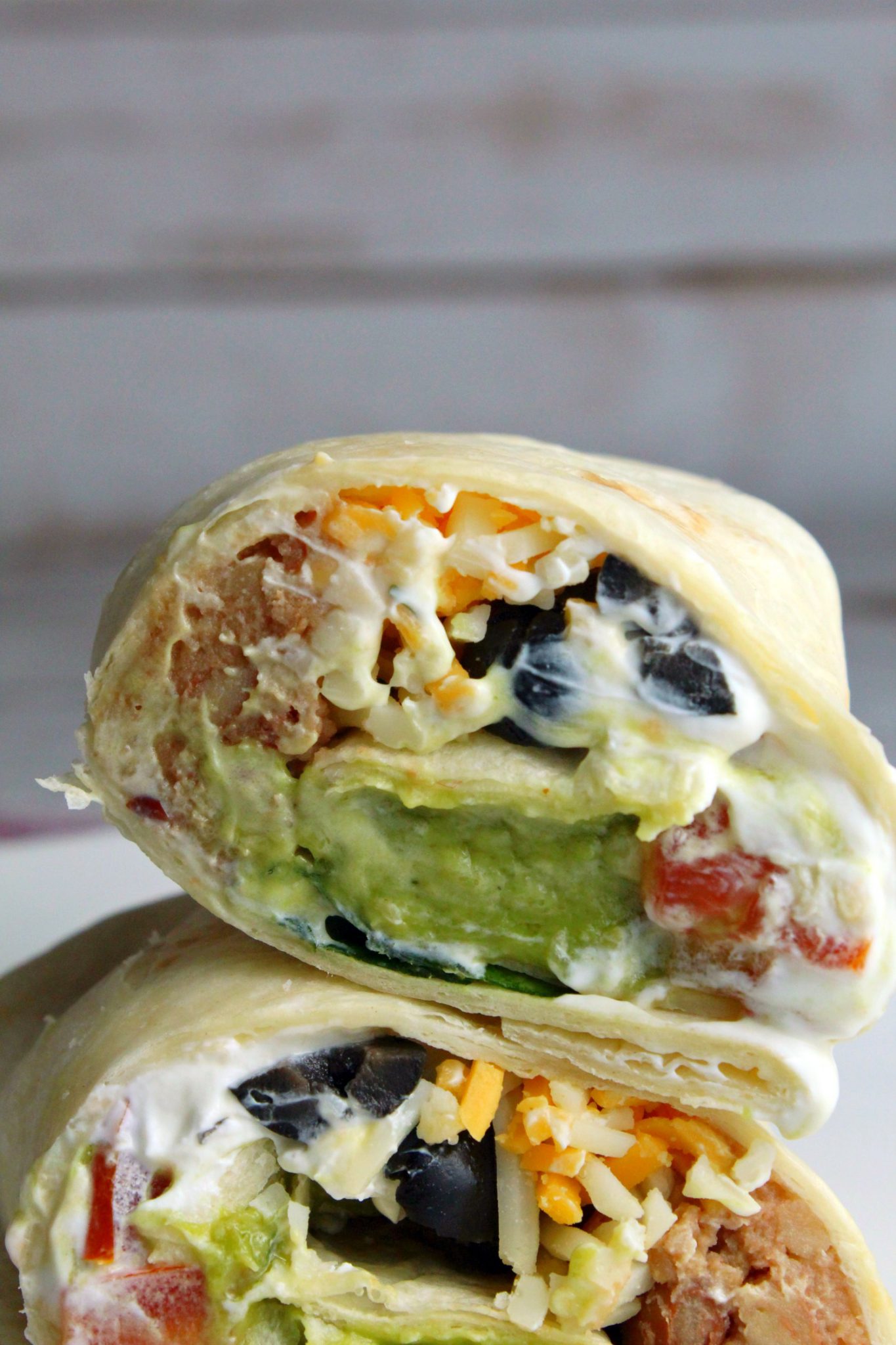 This Easy 7 Layer Burrito Recipe is made for a king! The layered burrito is quick, easy, and practically effortless to make. Filled with beans, fresh veggies, and cheese, you are going to fall in love with this easy burrito recipe.
Plus, this meatless burrito is perfect for meal prep, light lunches, or serving to friends.
Easy 7 Layer Burrito Recipe
It's safe to say that burritos just might be my very favorite food ever. I want a loaded burrito that is filled to the brim of beans, lettuce, tomatoes, and more. The entire family begs me to make this seven-layer burrito all the time. It's so simple and delicious; I can't refuse their request.
While I do spend a lot of time in the kitchen, I always prefer simple recipes that are both filling and not difficult to make. These refried bean burrito checks all the boxes and tastes like food heaven.
It's satisfying flavors leave me happy to make this easy burrito recipe anytime any of my family wants it. After you taste the burritos, I am sure you will feel the same way.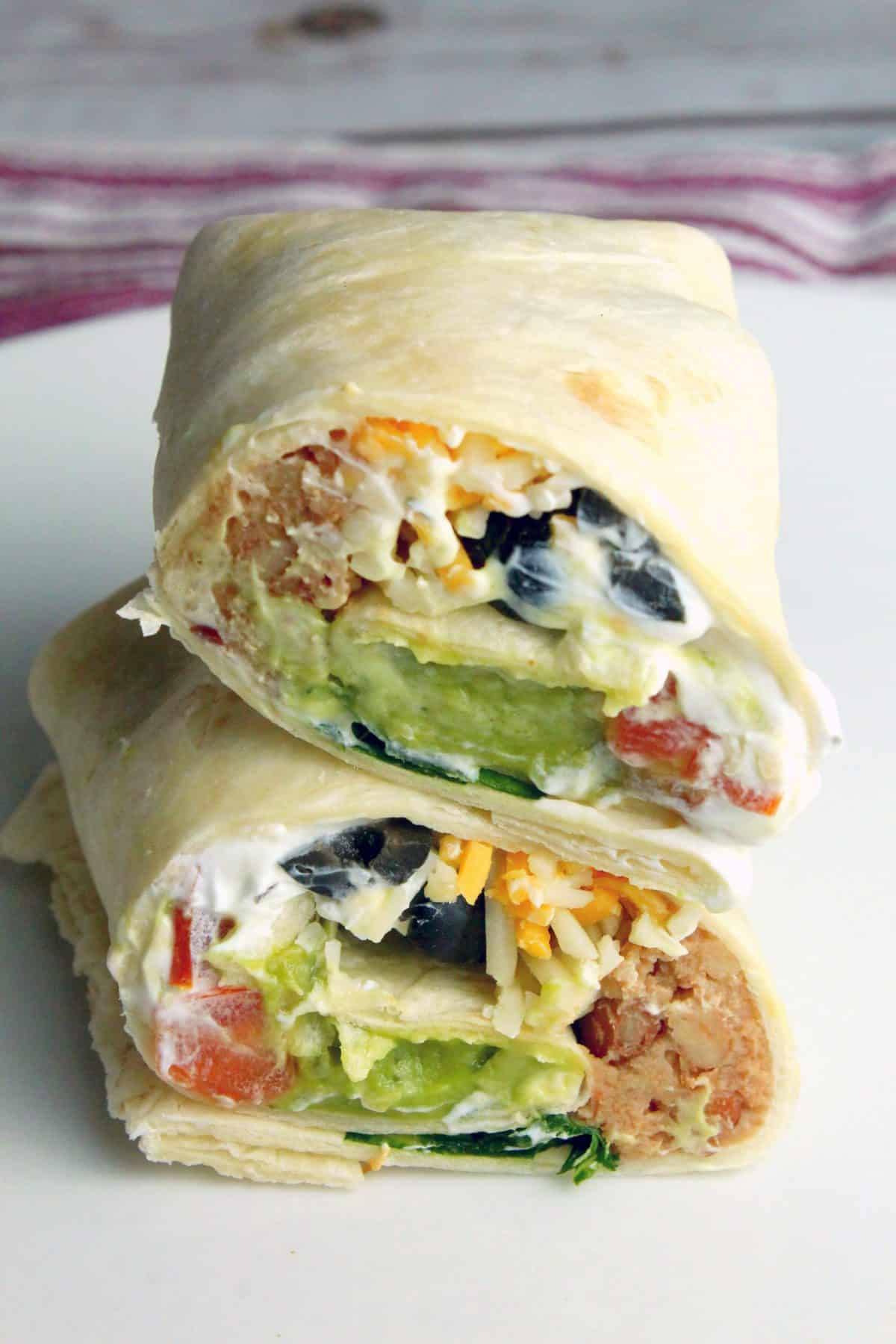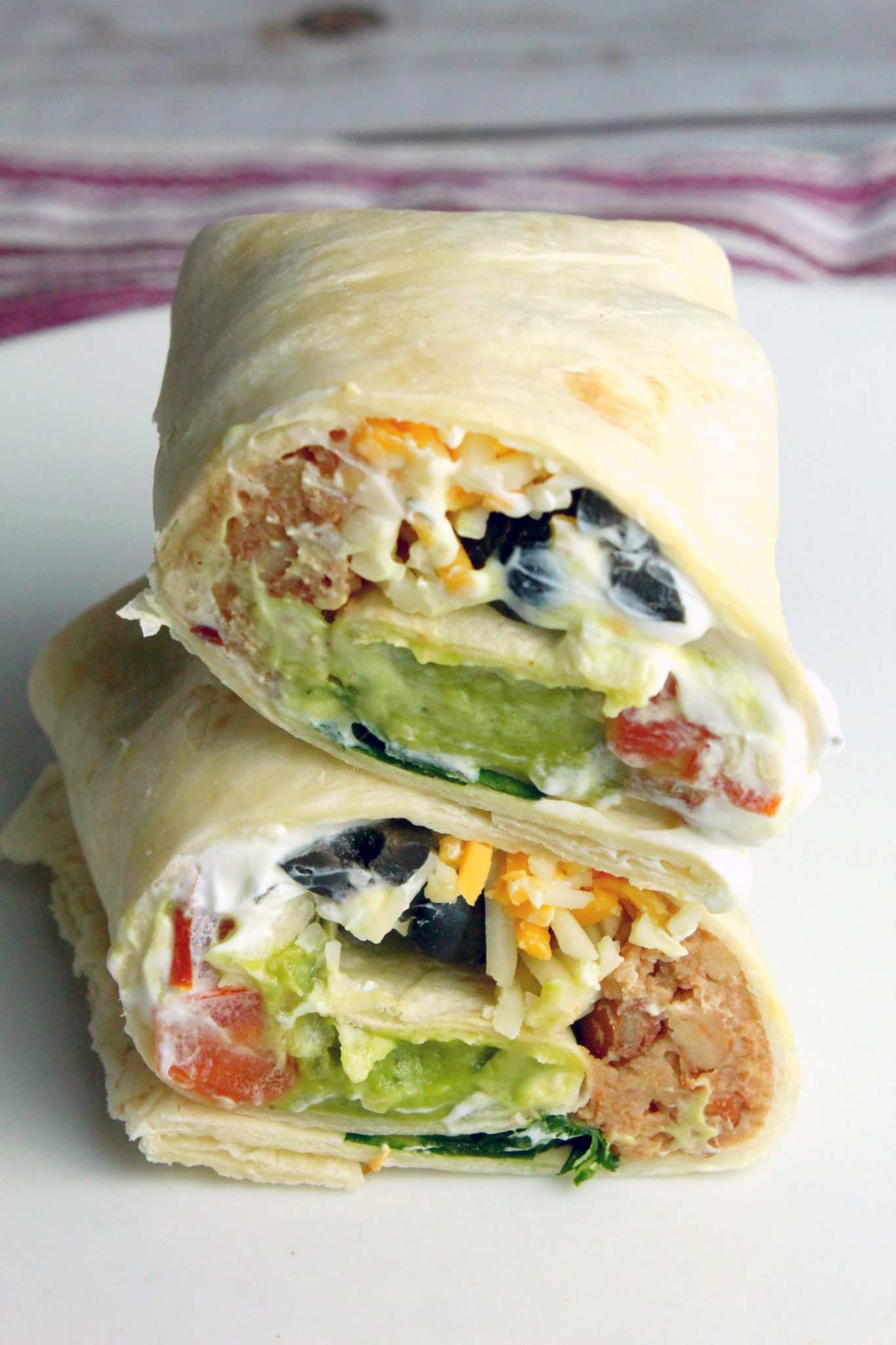 What is on a 7 Layer Burrito
Every 7-layer burrito recipe is a bit different, but each one has seven different layers of food. The seven layers in my stuffed burritos are refried beans, cheddar cheese, sour cream, lettuce, black olives, tomatoes, and guacamole. All the ingredients are stuffed in a large flour tortilla.
It's so packed with the good stuff you almost need to eat it with a fork! That's a sign of a good burrito.
Variations to Recipe
You can always add more ingredients to have even more layers in these stuffed burritos. It's all about choice and preferences. If you don't like olives, no problem, you can totally leave them out. Love cilantro? That's great, add some in. There are no wrong answers when it comes to these burritos. Let's take a look at a few tasty options:
Black Beans – Instead of using just refried beans, add in some protein-packed black beans. They look great and taste even better.
Pico de Gallo – Add a little bit of flair to your burritos by adding some fresh pico de Gallo. It's insanely good and hard to resist.
Chicken – If you want to add a little bit of meat in, go ahead! Cook some chicken and shred it up or dice it to add even more protein.
Ground Beef – Burritos are known for having lots of meats like ground beef. Season it with taco seasoning and enjoy!
Rice – Another fantastic choice is cooked rice. You could opt for traditional white rice or go for more of Mexican style rice. Both are great and will keep you satisfied.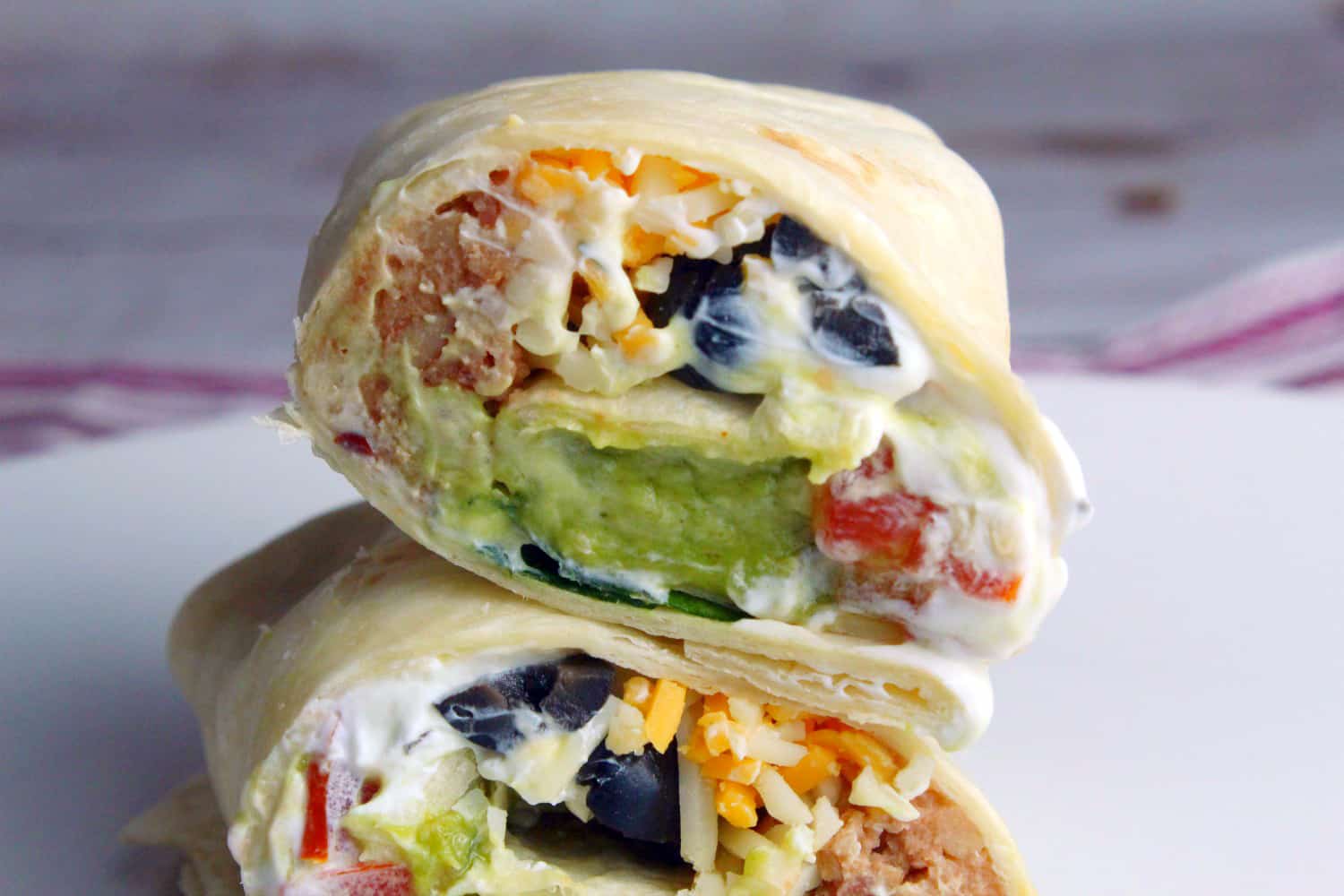 Can You Add Meat To This Burrito
Yes, of course, you can add meat to this 7 Layer burrito recipe. It's easy and adds even more pizzazz to the already fantastic dish. Just make sure to cook the meat before adding it. I also recommend seasoning with your favorite taco seasoning too. This will bring out the flavors and be a great combination to everything else.
How To Make These Burritos Into Pinwheels
Yes, you can transform these burritos into pinwheels pretty easily. Put about half the filling you would for a typical burrito. Then fold in the edges and roll it up tightly. Put it in the fridge for 1-2 hours so it can set up, then remove it from the fridge and cut them into pinwheels.
Do These Store Well
Yes, these burritos store very well. Wrap each one in plastic wrap very tightly, then put them all in a storage container in the fridge. They will last 3-5 days and are great for meal prepping. Then you can quickly grab one, toss it in the microwave, and chow down. Or eat it cold if that's your preference.
Can I Double The Recipe
Yes, you can double or even triple this 7 layer burrito recipe. Make as many as you need and keep them in the fridge until you are ready to serve. Warm in the microwave if you want them hot.
How Do You Wrap A Burrito
To wrap a burrito, you will need to fold each edge in towards the center. Then roll it. Keep the seam side down and wrap it in plastic wrap for storage or eat right away.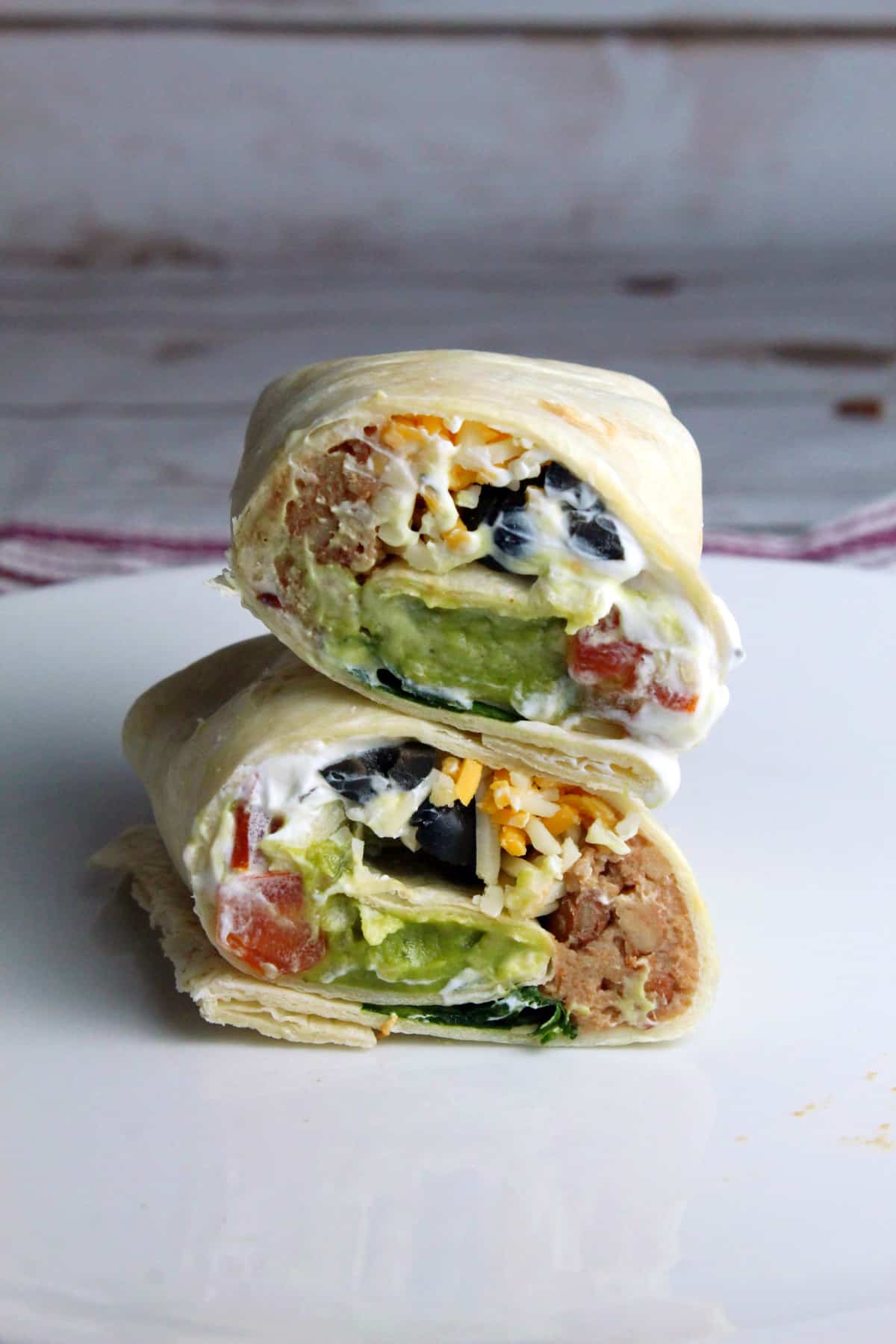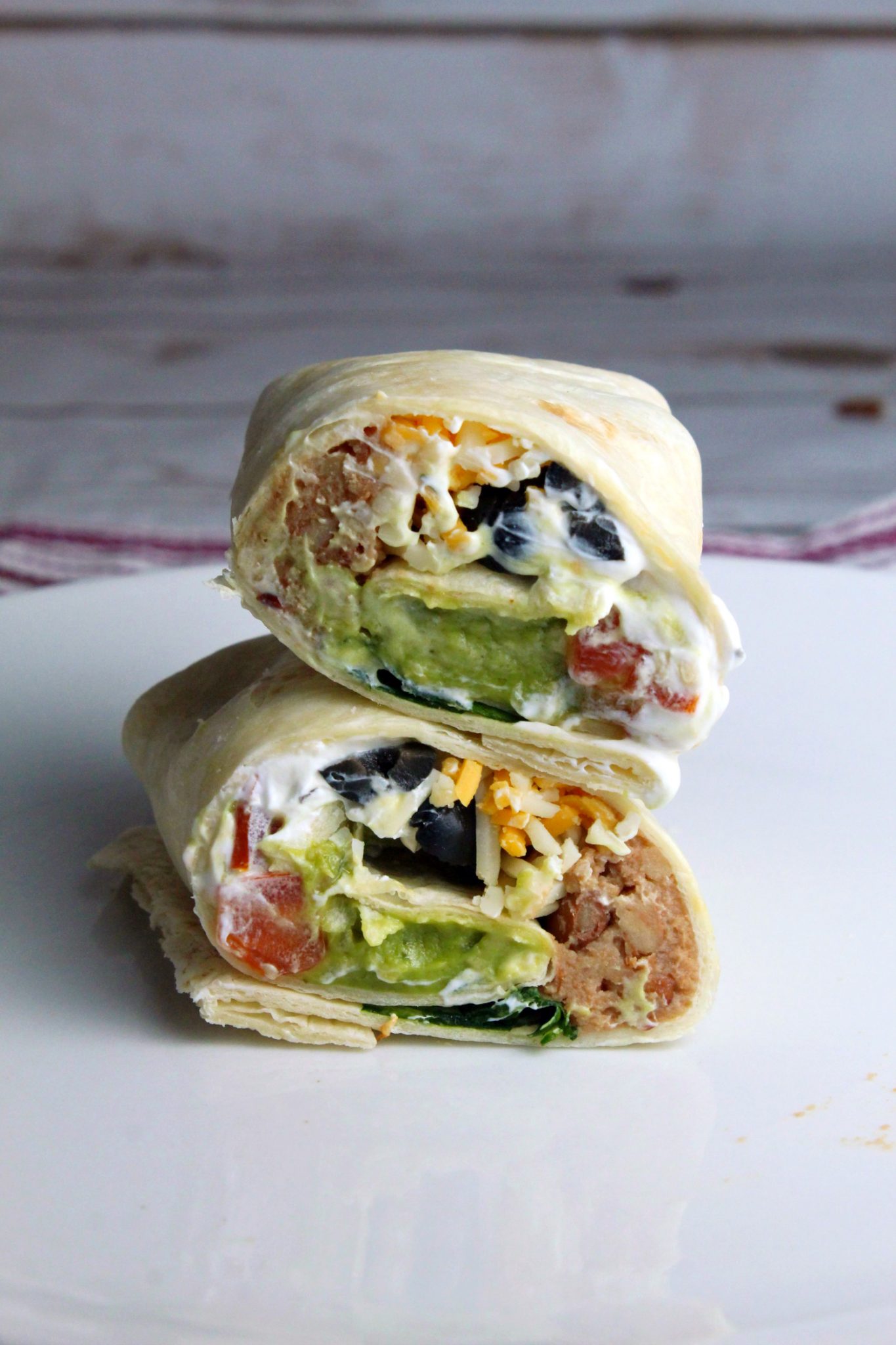 Ingredients
As you can see, you only need 7 ingredients plus the tortilla shells to make these incredible 7 layer burritos. Remember, you can adjust any of the ingredients to fit your needs, so don't be afraid to try out new things.
Refried beans
Shredded cheddar cheese
Sour cream
Shredded lettuce
Sliced black olives
Tomatoes, diced
Guacamole (homemade or storebought)
Large flour tortillas
How To Make A 7 Layer Burrito
Step 1. Begin by warming the refried beans up on the stovetop or in the microwave until warm.
Step 2. Place the tortilla flat, and spread a small line of refried beans, sour cream, shredded cheese, lettuce, olives, diced tomatoes, and guacamole.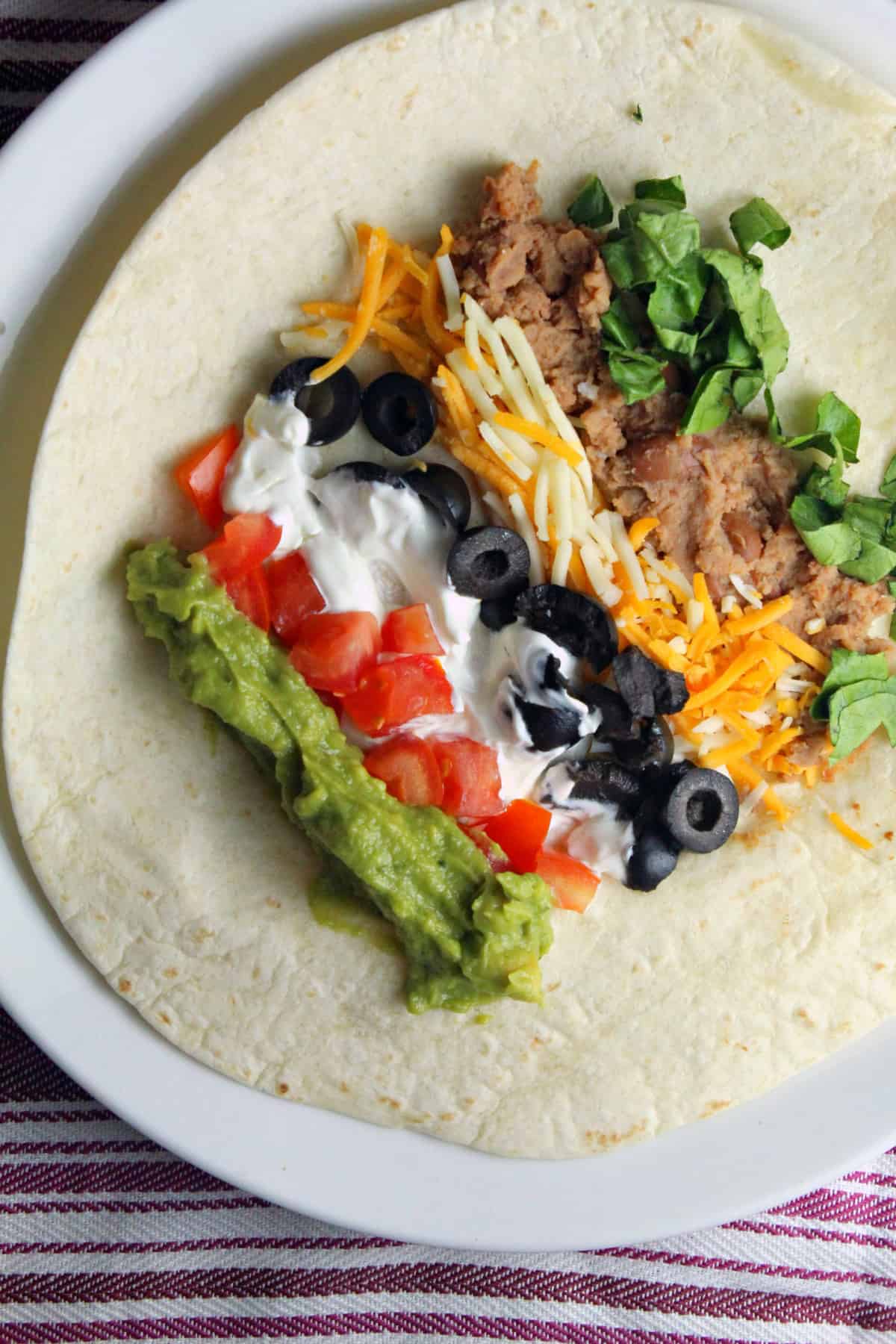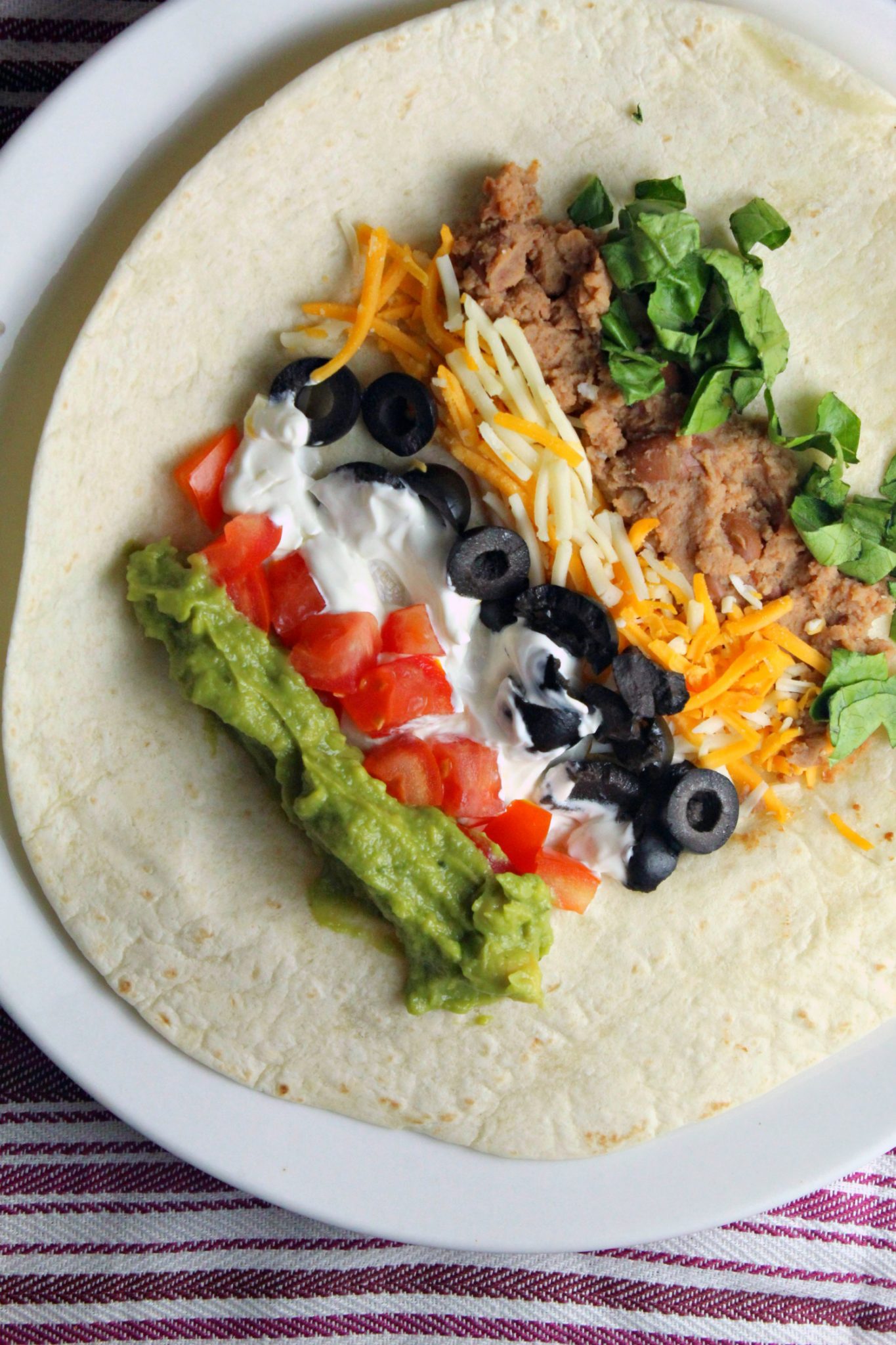 Step 3. Then you'll need to roll up the burrito and slice in half and serve with fresh salsa.
Step 4. Serve up these 7 layer burritos for lunch, dinner, or whenever you are in the mood for a tasty snack!
Enjoy!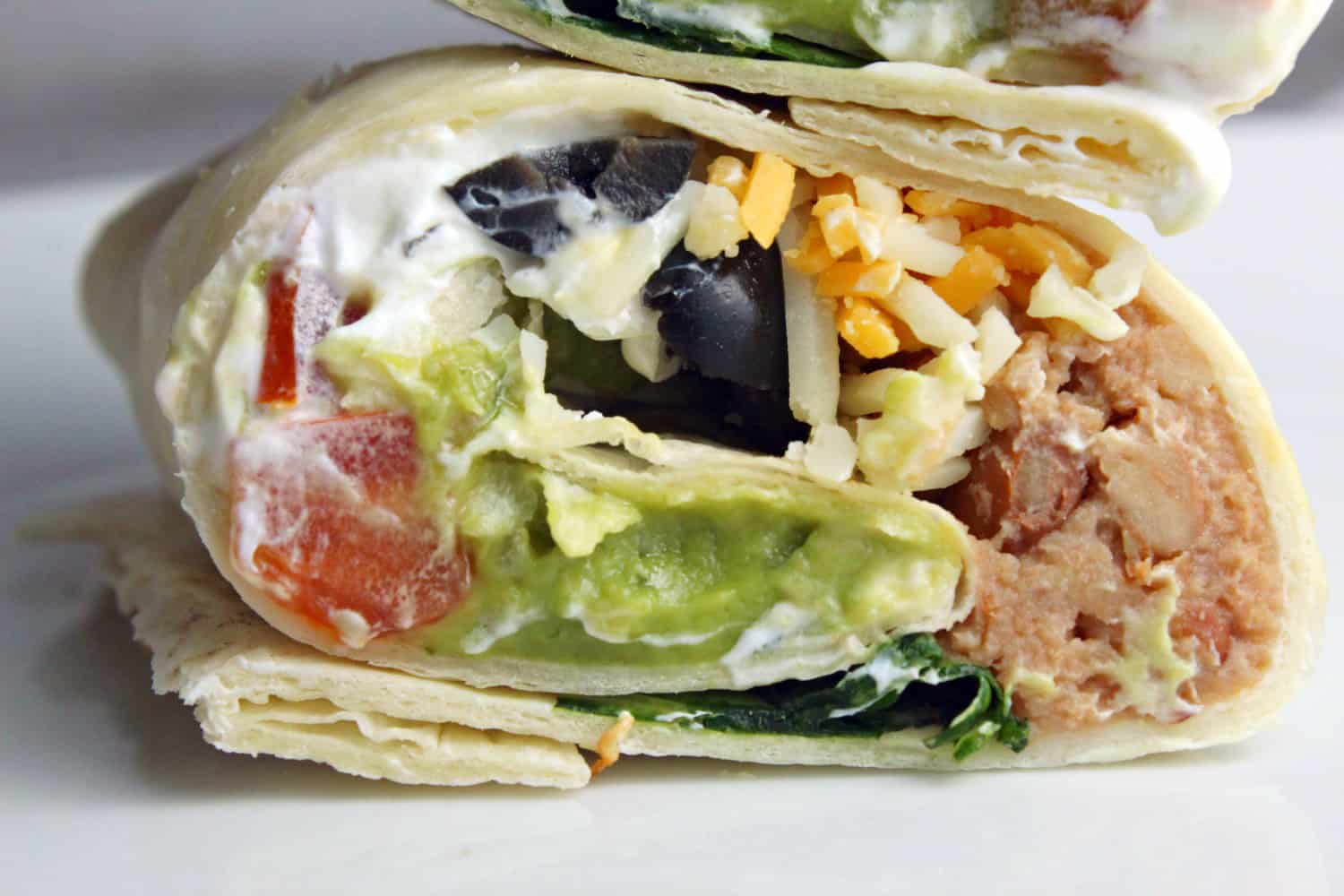 Now, remember to save this recipe on Pinterest for later 🙂
Pin this recipe now to remember it later
7 Layer Mexican Dip Burritos
Easy 7 Layer Burrito that gives you all the flavors from a classic 7 layer dip but in a burrito form. A super easy burrito for lunch.
Ingredients
2

15.5 oz. cans refried beans

2

cups

shredded cheddar cheese

1/2

cup

sliced black olives

1

cup

guacamole

,

homemade or storebought
Instructions
Start by warming your refried beans up on the stove or in the microwave until warm.

Now lay out a tortilla, and lay out a small line of refried beans, sour cream, shredded cheese, lettuce, olives, diced tomatoes, and guacamole.

Roll up your burrito and slice in half and serve with fresh salsa.

Serve up these 7 layer burritos for lunch or dinner!
Follow me on Pinterest for daily delicious recipes!
I am infatuated with tacos, burritos, and other Mexican foods. If you are like me, then you really should try out these delectable dishes. Your entire family will enjoy the variety of flavors and textures.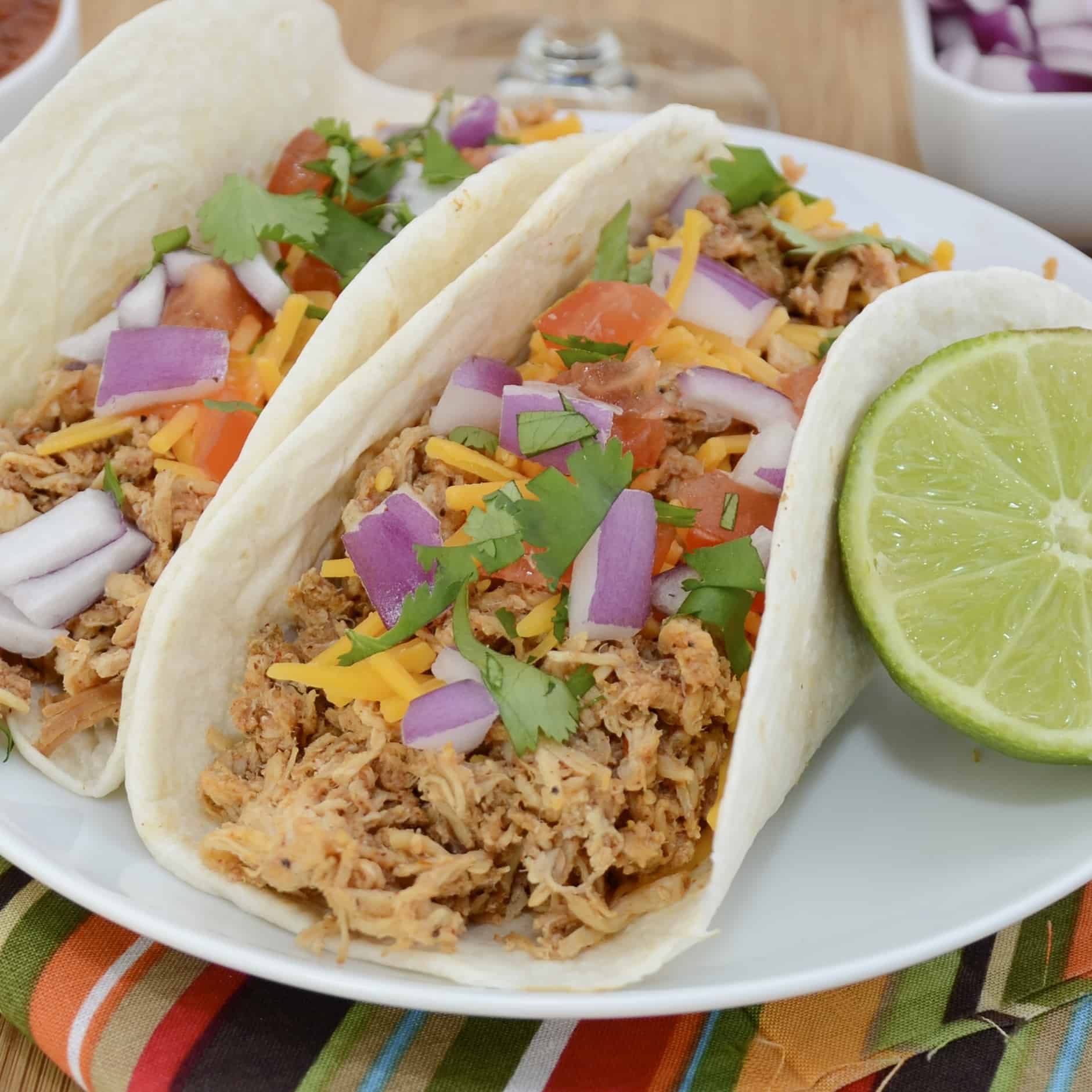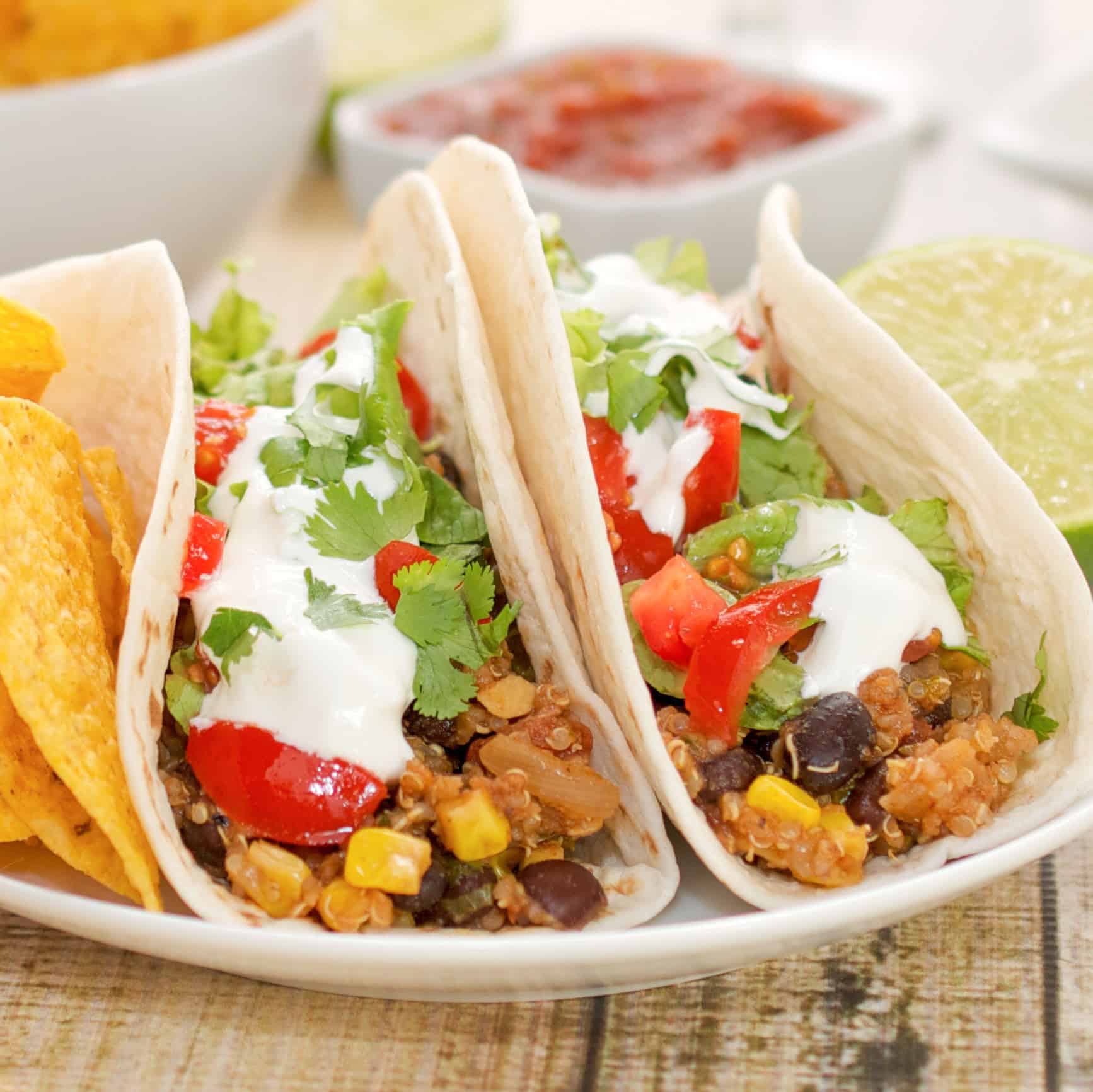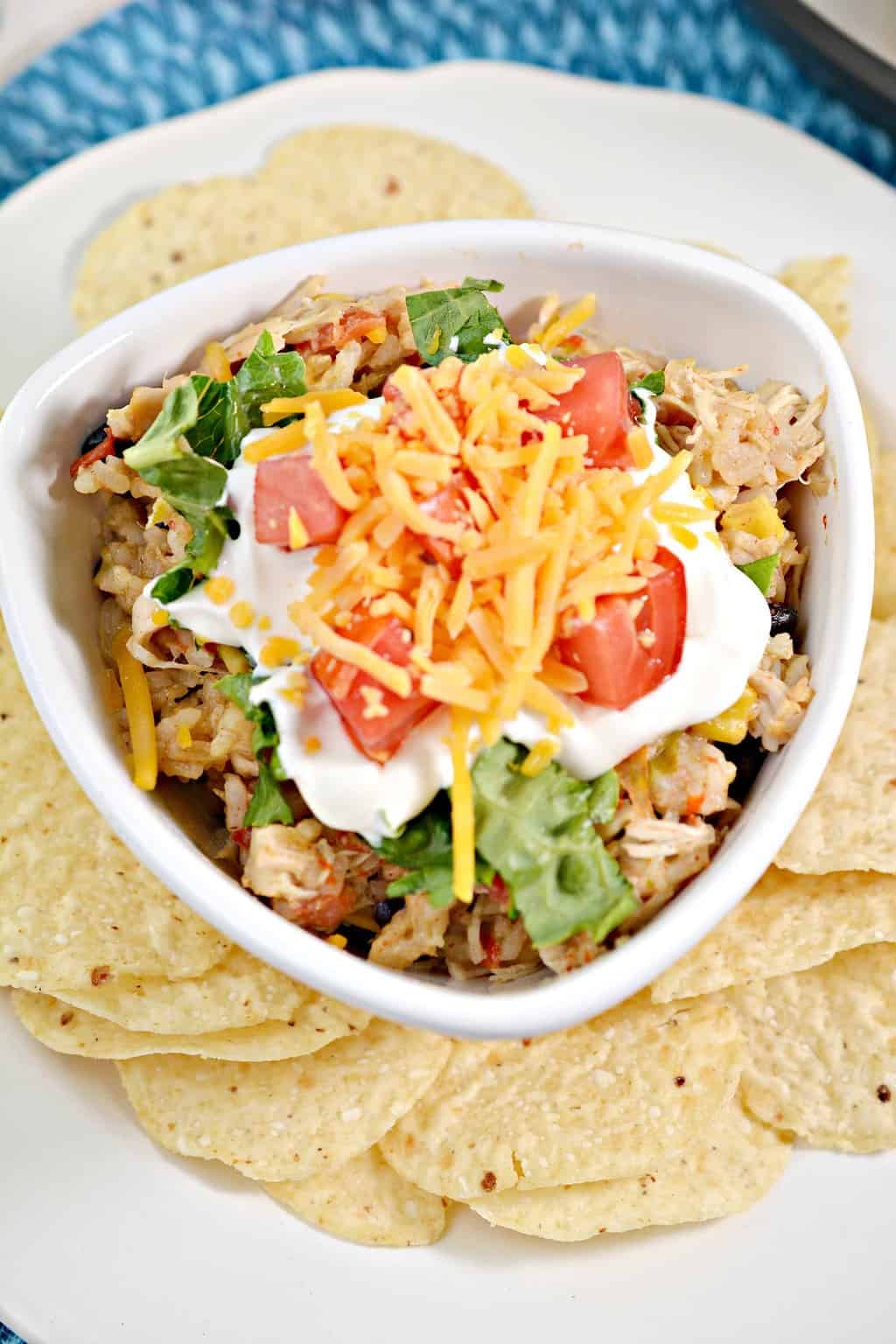 Get new recipes weekly plus our FREE ebook!