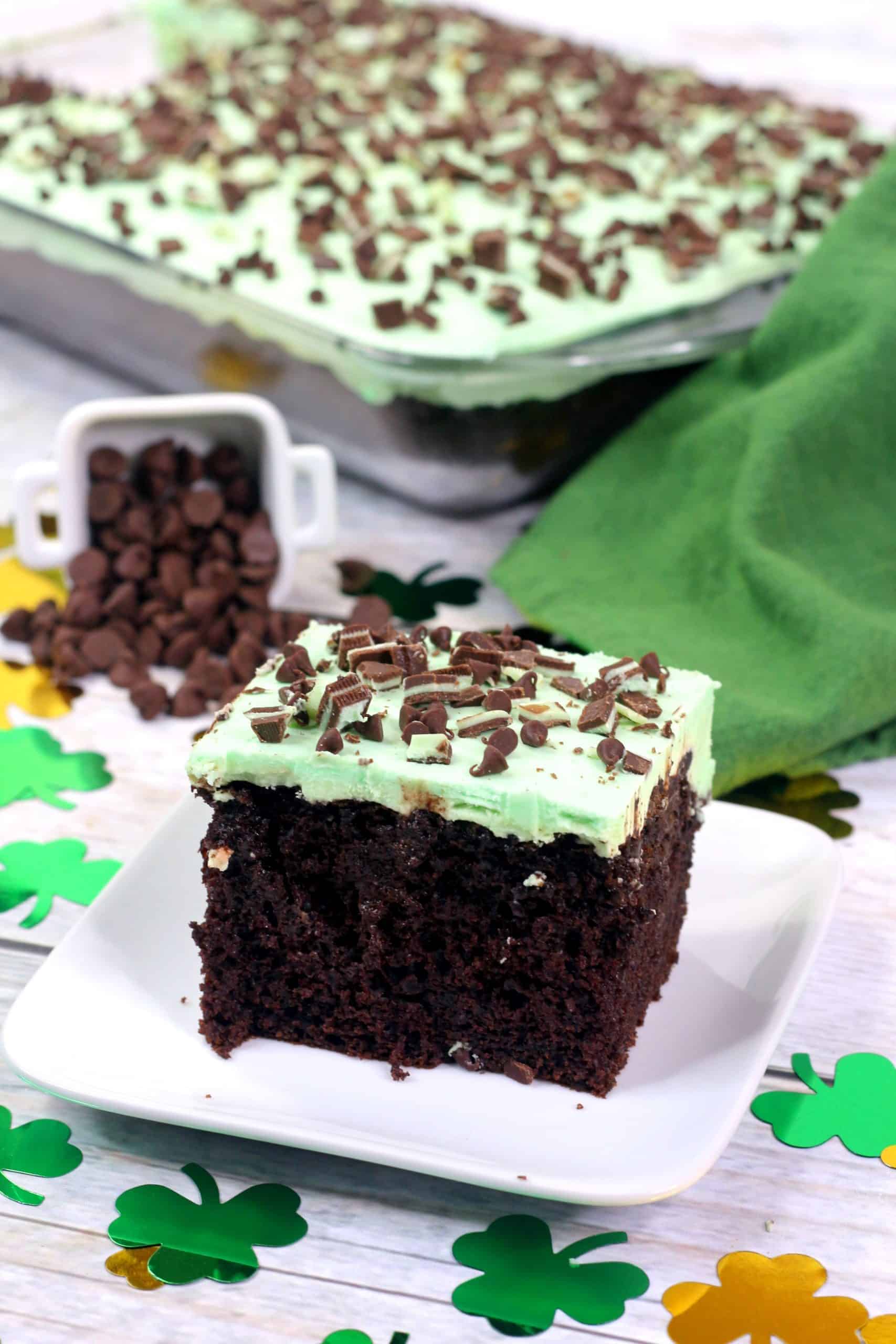 Indulge in this rich and refreshing Andes Mint Chocolate Poke Cake Recipe. It's so amazing, and the flavors are the perfect combination of mint and chocolate ever! You may have heard of this style of poke cake being called a Grasshopper Cake. The truth is, it doesn't matter what you call it because it's so incredible you won't care what it's called.
Scroll to bottom for printable recipe card.
Andes Mint Chocolate Poke Cake Recipe
Whether you've been searching the internet for a cake for St. Patrick's Day or just have a craving for something sweet, this Andes Mint cake is for you. I've always been a huge fan of chocolate and mint together. Andes Mints are my go-to dessert when I need just a little bit of a treat after dinner. That's why I knew that I had to come up with a cake that had the best of both worlds, chocolate, and mint.
Because this poke cake is so moist and has a ton of flavor, it's usually the first thing to go at the dessert table. I love bringing this to parties and potlucks because everyone who tries it immediately falls in love. I can't blame them a bit because I am in the same boat!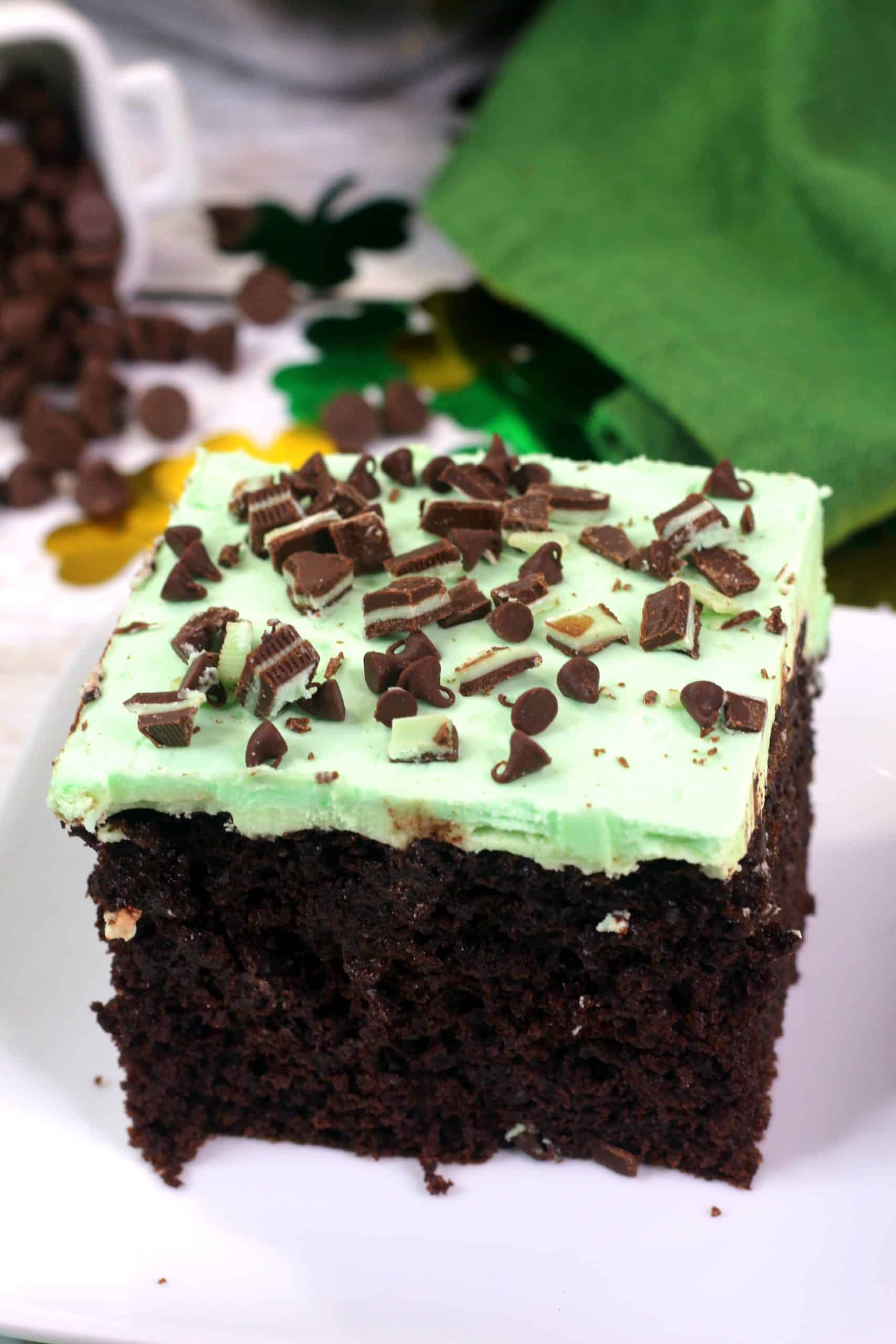 Can I Use Homemade Pudding for This Pudding Poke Cake?
Yes, absolutely, you can use homemade pudding when making this pudding poke cake. If you have a favorite pudding recipe, feel free to include it in the poke cake instead of using boxed instant pudding. Whichever way you decide, the cake is going to be flavorful and delicious. This cake is actually pretty versatile, and you can make adjustments easily to fit your likes and dislikes.
Does a Poke Cake Have to Be Refrigerated?
Yes, you should refrigerate this poke cake due to the cold ingredients. Whenever you are making desserts with milk and whipping cream, you will find that they last better in the fridge. Plus, when you chill the poke cake, it also happens to taste heavenly when it's cold too. So, it's always better to refrigerate the poke cake for the best results. You really shouldn't let the Andes Mint poke cake sit out for longer than 2 hours at a time, so it doesn't spoil too quickly.
What Can I Use in Place of Andes Mints?
If you don't have Andes Mints on hand, it's okay! You can still make this delectable poke cake. Simply replace the Andes mints with any other minty candy that you like. Peppermint Patties would be great! Or, if you would rather, you could opt to use Keebler Mint Cookies and crush them, or if Thin Mints are in season, you could use them too. The options are really endless. Another idea would be to use plain Hershey bars or mint chocolate chips instead. Feel free to try it a variety of ways to see what works best for you.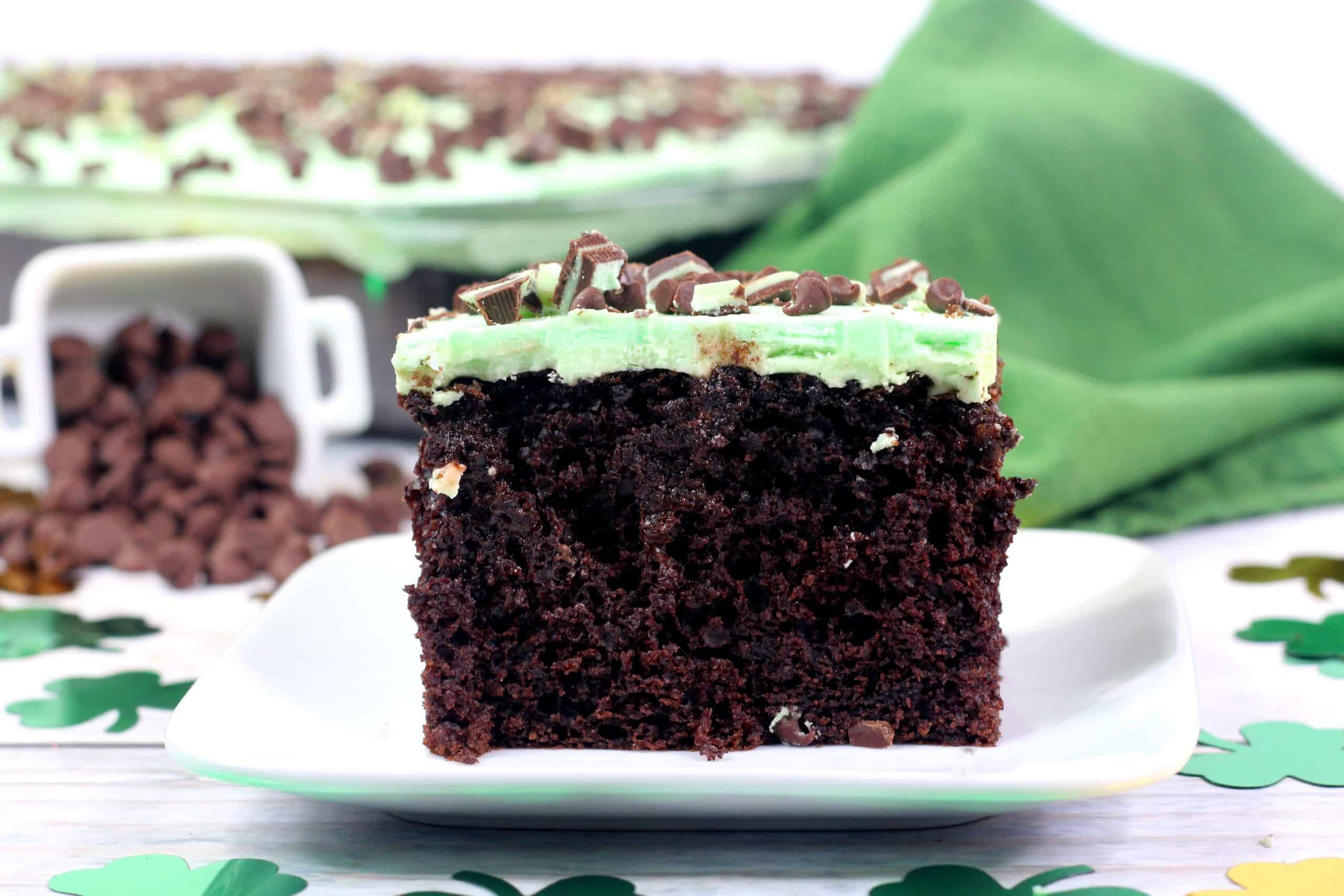 Ingredients For Andes Mint Poke Cake
These ingredients are super easy to find and go together perfectly to create such a fantastic dessert idea. Plus, none of the ingredients are overly expensive either, so it's a frugal treat too.
Chocolate cake mix – You'll need to bake the cake as directed on the packaging.
Hot fudge
Instant chocolate pudding mix – You can also use homemade pudding if you'd rather.
Milk
Heavy whipping cream
Sugar
Mint extract
Green food coloring
Andes mint chopped candies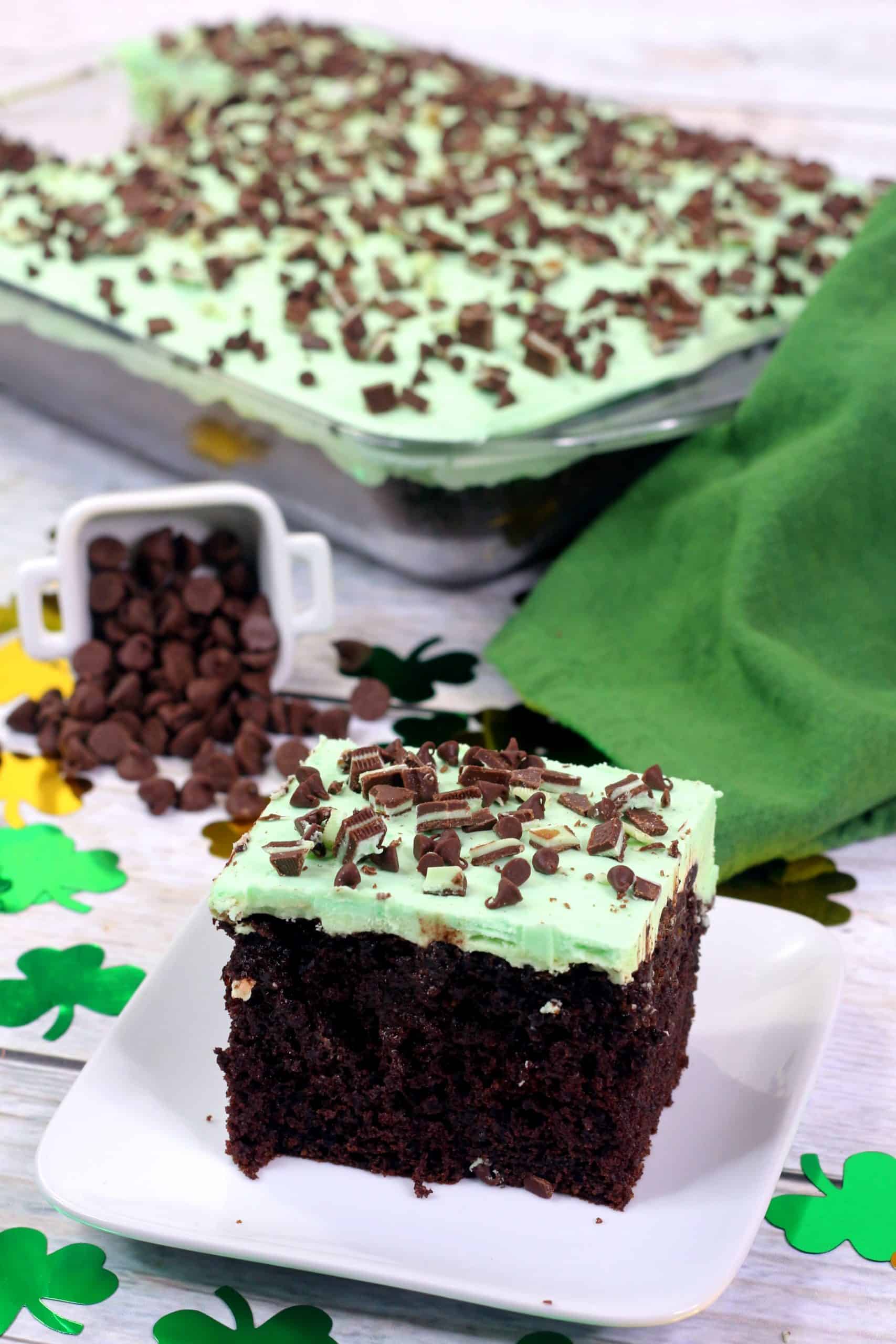 How to Make Mint Chocolate Poke Cake
Poke cakes are actually so simple to make, and I don't think everyone realizes that. If you can bake a boxed cake mix, poke holes in it and add some other drool-worthy ingredients, you can make one! It's genuinely that easy. Check out these step-by-step instructions to get started.
First Step: Preheat the oven to 350 degrees F. Prepare the baking dish by greasing it and giving it a dusting of flour.
Second Step: Bake the cake according to the directions given on the box by adding it to the baking pan. Then cook for 20-25 minutes or until the toothpick can be inserted and come out clean.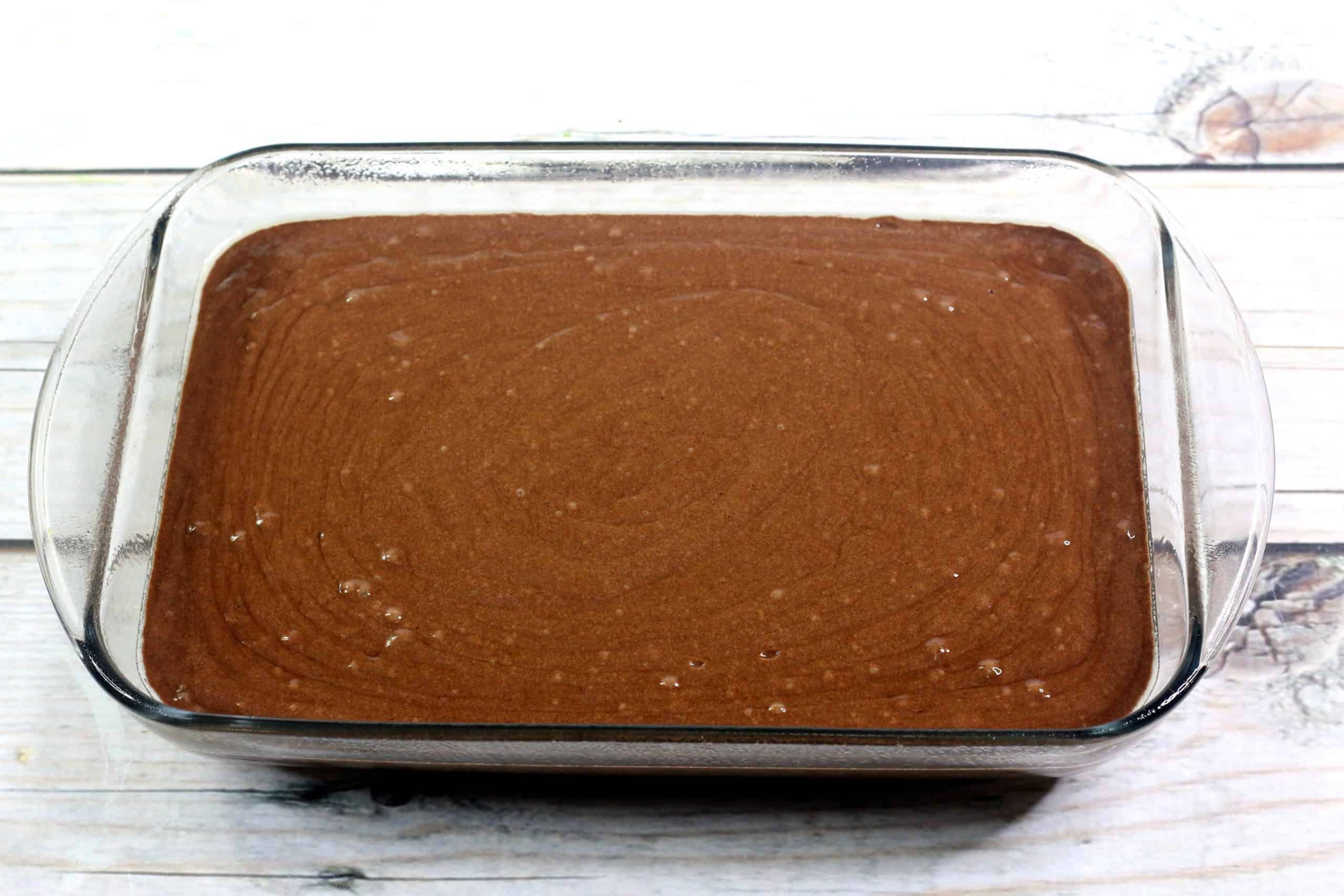 Third Step: When the cake has finished baking, remove it from the oven and poke holes all over the top of the cake. You can use a fork or a wooden spoon.
Fourth Step: Warm the hot fudge in the microwave for 30 seconds or until it's relatively warm. Then drizzle the hot fudge all over the top of the cake while it's still hot. Allow the poke cake to cool down completely.
Fifth Step: Using a medium-sized bowl, blend the pudding mix and 2 cups of cold milk for approximately 2 minutes.
Sixth Step: Pour the mixture over the cake once it's cool.
Seventh Step: Put the cake in the refrigerator and let it rest for 1 hour.
Eighth Step: Blend the heavy cream until soft peaks form, then add in the sugar and mint extract slowly. Continue beating until there are stiff peaks. Fold in the food coloring and mix until it's well combined.
Ninth Step: Add the whipped cream frosting to the top of the cake and sprinkle with chopped Andes mints. Keep the cake in the refrigerator for up to 5 days.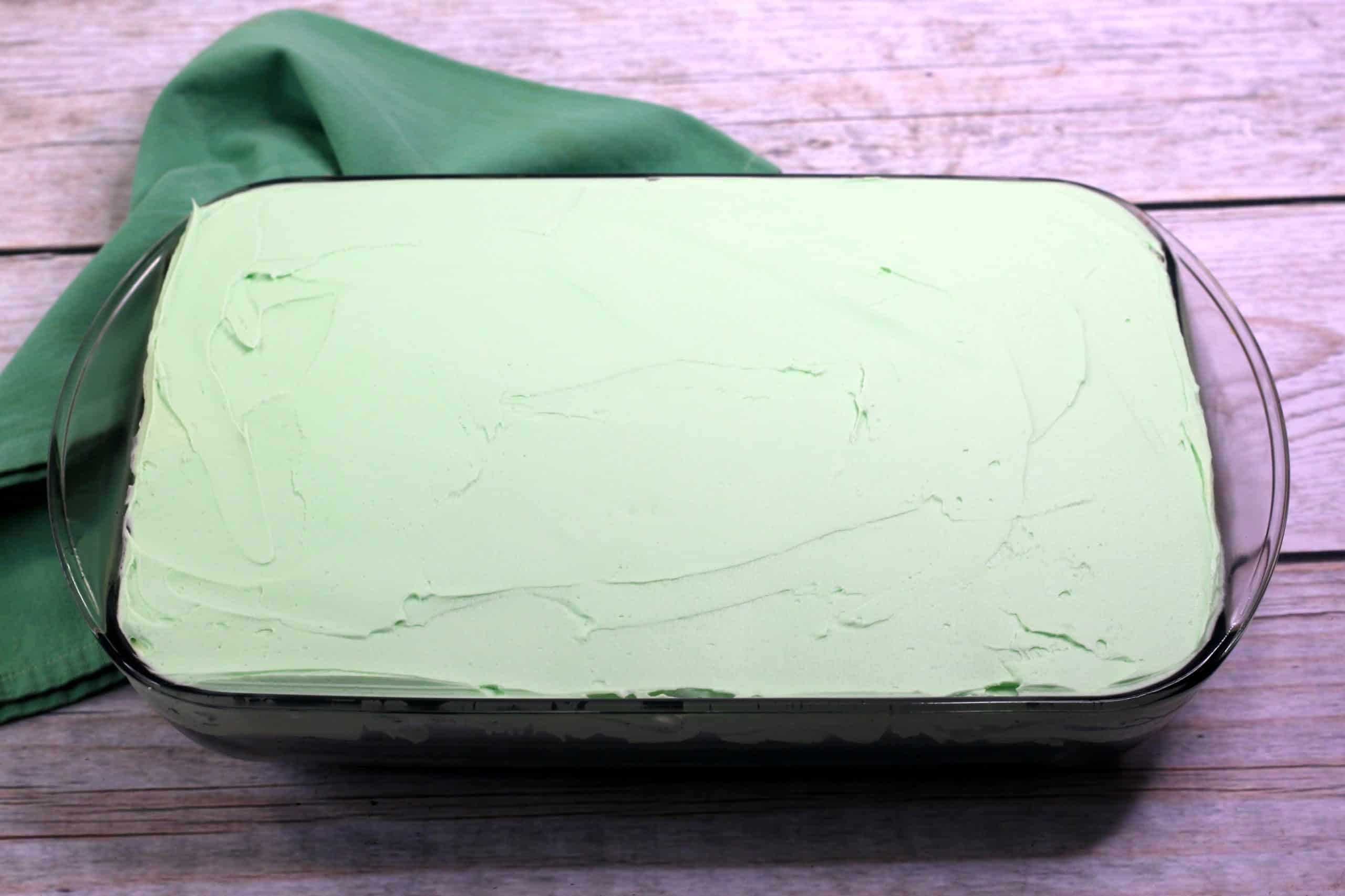 Enjoy!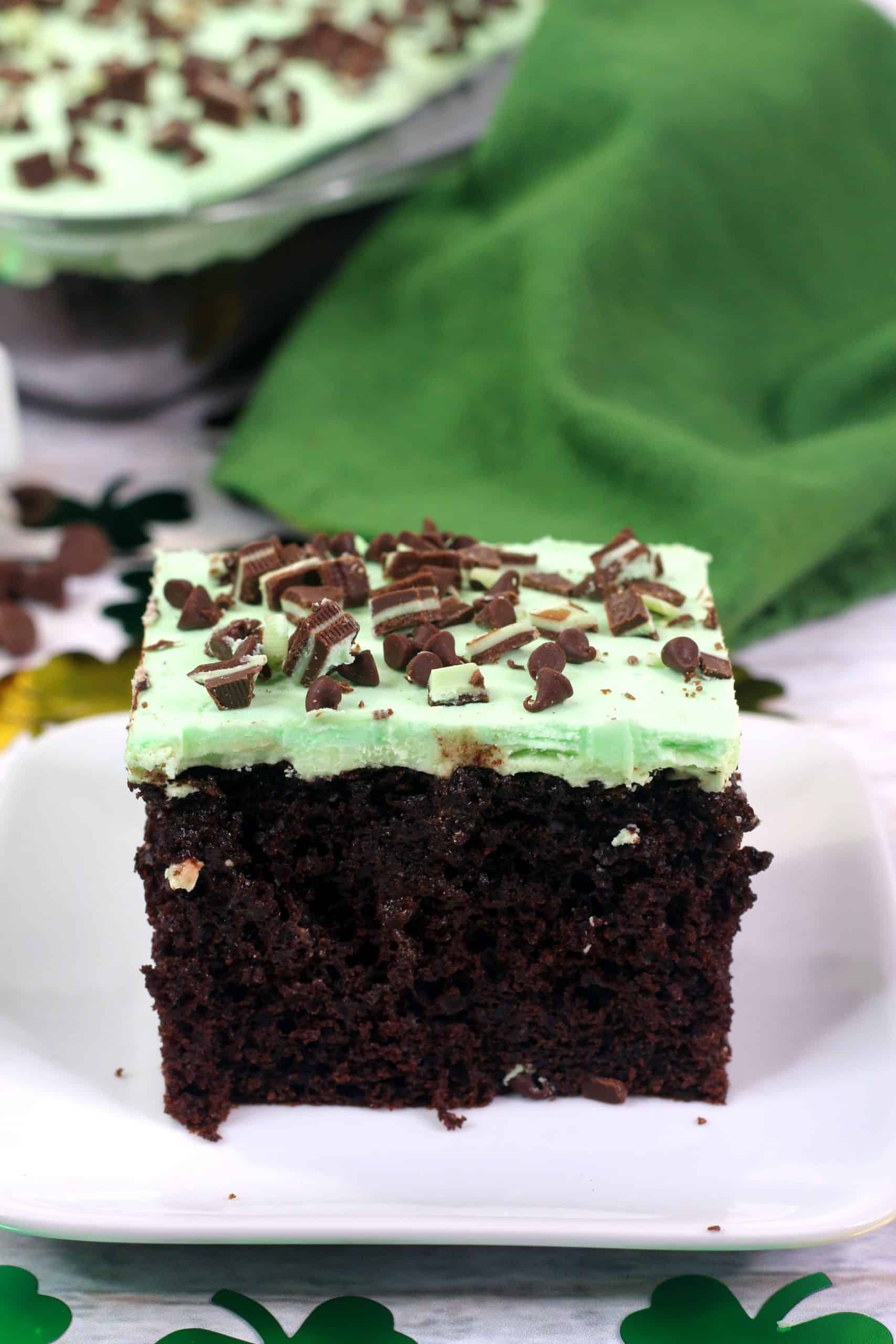 Now, remember to save this recipe on Pinterest for later 🙂

Pin this recipe now to remember it later
Andes Mint Chocolate Poke Cake Recipe
Indulge in this rich and refreshing Andes Mint Chocolate Poke Cake Recipe. It's so amazing, and the flavors are the perfect combination of mint and chocolate ever!
Ingredients
1

chocolate cake mix

,

including the ingredients on the box

1 12.8

oz

jar of hot fudge

1

package instant chocolate pudding mix

1

C

andes mint chopped candies
Want to save this recipe? Enter your email below and we'll send the recipe straight to your inbox!
NOTE: By saving this recipe, you agree to join our weekly recipes newsletter.
Instructions
Preheat oven to 350 degrees.

Grease and flour a 13x9 inch baking dish.

Prepare cake per the package instructions.

Pour into prepared dish and bake for 20-25 minutes, until a tester
comes out clean.

Remove from the oven and poke holes all over the top of the cake.

Heat the hot fudge for 30 seconds, until it is relatively smooth.

Pour over the cake while hot.

Let cool completely.

In a bowl mix together pudding mix and 2 cups of milk for 2 minutes.

Pour over cooled cake.

Place in the fridge and let stand for about an hour.

Whip heavy cream to soft peaks.

Slowly add sugar and mint extract.

Beat until stiff peaks.

Add food coloring and stir until combined.

Spread whipped topping over the top of the cake.

Sprinkle with chopped candies.

Store in the fridge.
Follow me on Pinterest for daily delicious recipes!
If you are like me, then you are always on the hunt for new and exciting cake recipes. Here are a few of my ultimate favorite cakes that I am sure you will enjoy. Take a look:
Easy Layered Red Velvet Cake Recipe – Red velvet anything is always a massive hit at my house. Not only does this layered red velvet cake taste great, but it also looks stunning too.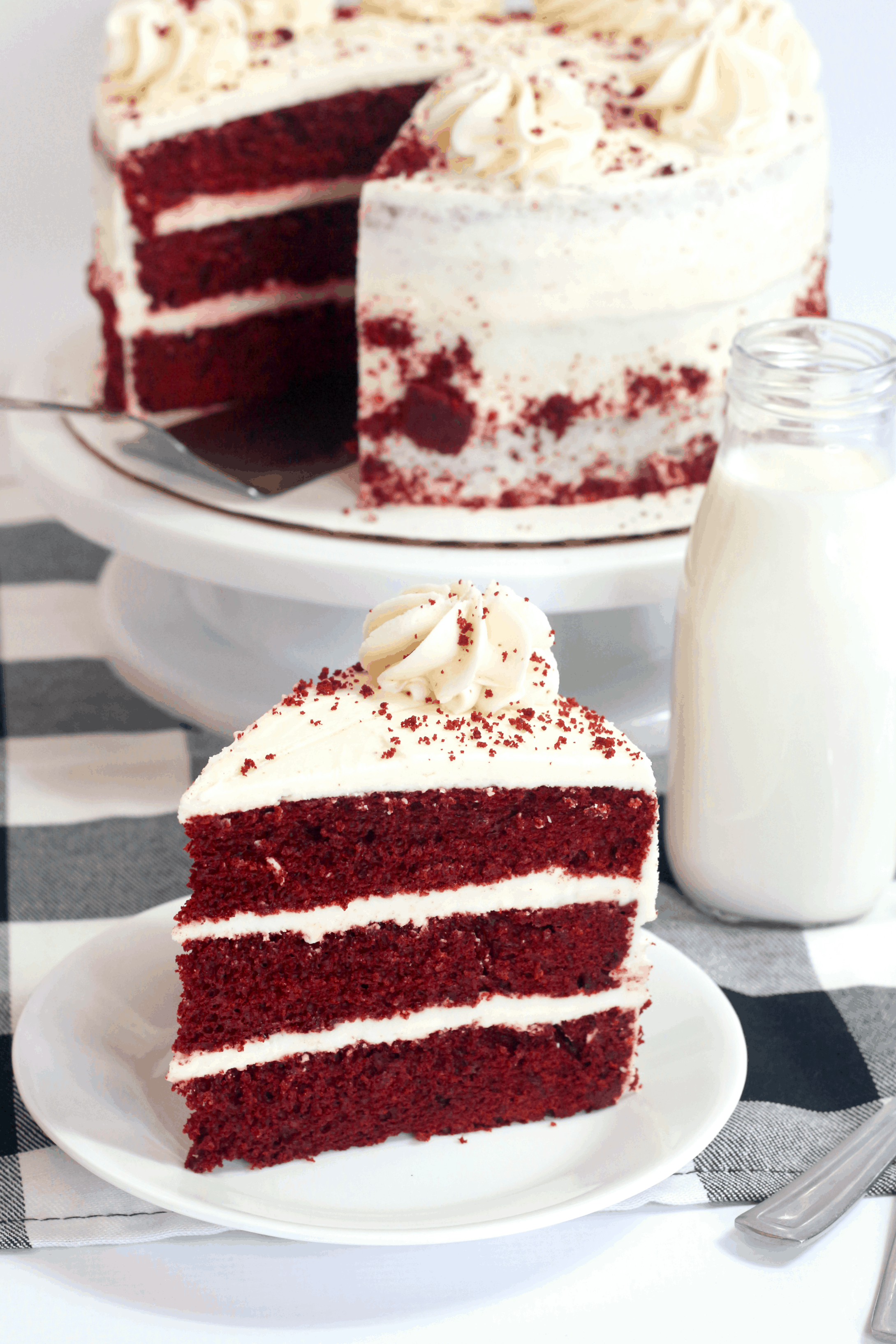 Triple Chocolate Instant Pot Cheesecake Recipe – You are missing out if you haven't tried this triple chocolate cake yet. The best part is that your Instant Pot does all the dirty work!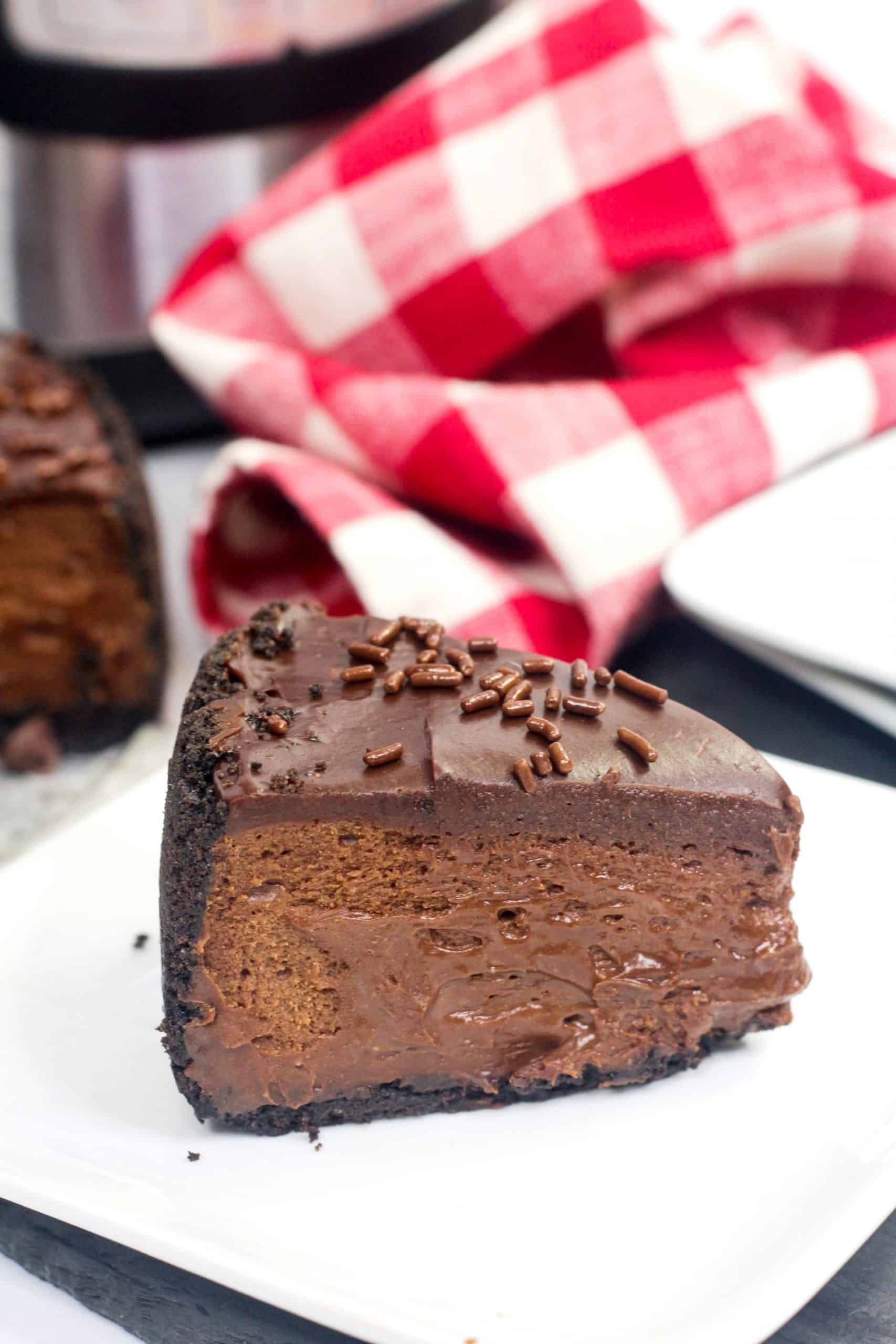 Southern Butter Pecan Praline Cake Recipe – Whenever I think of this cake, it makes me drool. Yes! It's seriously that amazing!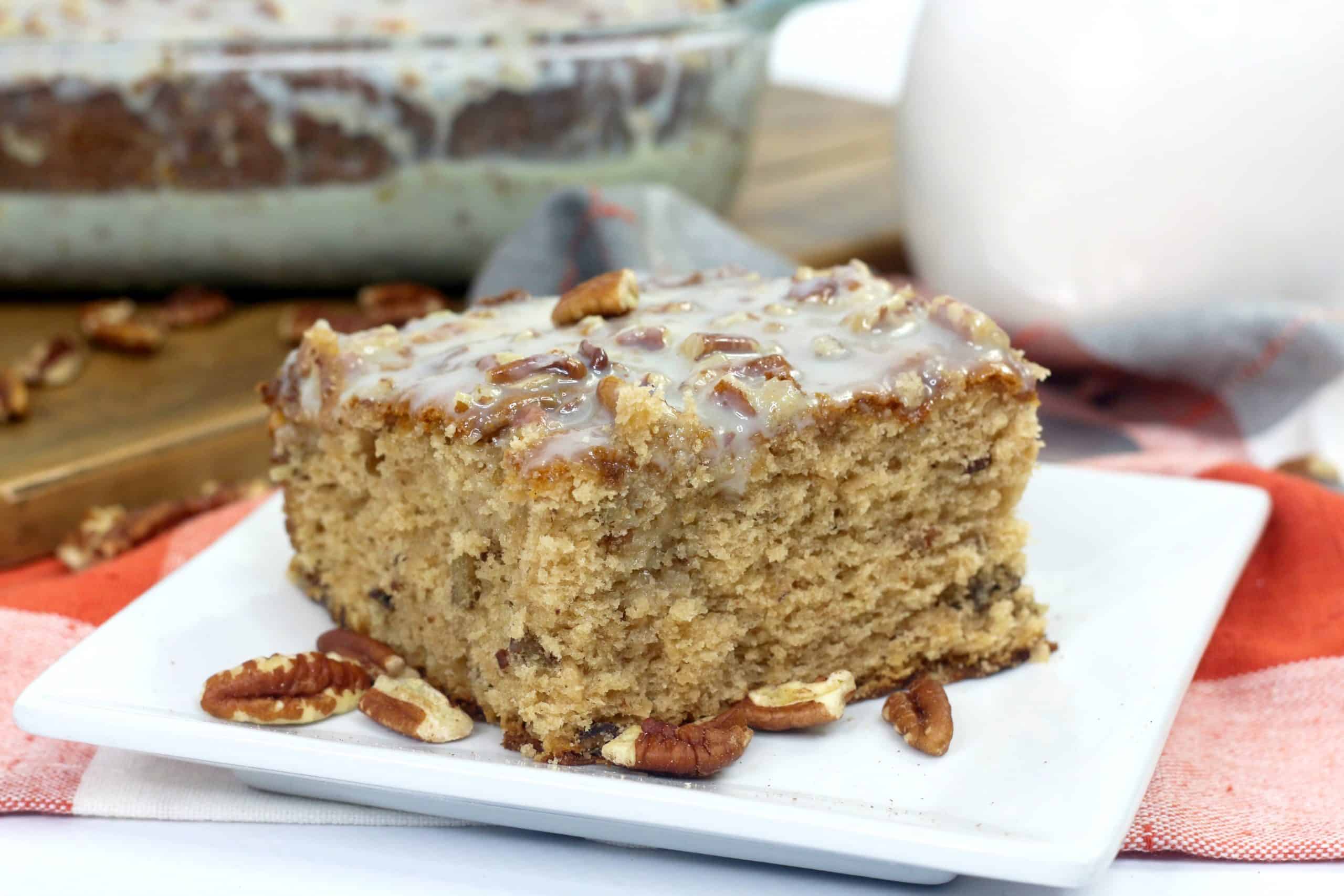 Texas Chocolate Peanut Butter Cake Recipe – One thing that Texas does great is cook and bake! This cake is what your taste buds crave. Try it for yourself and see.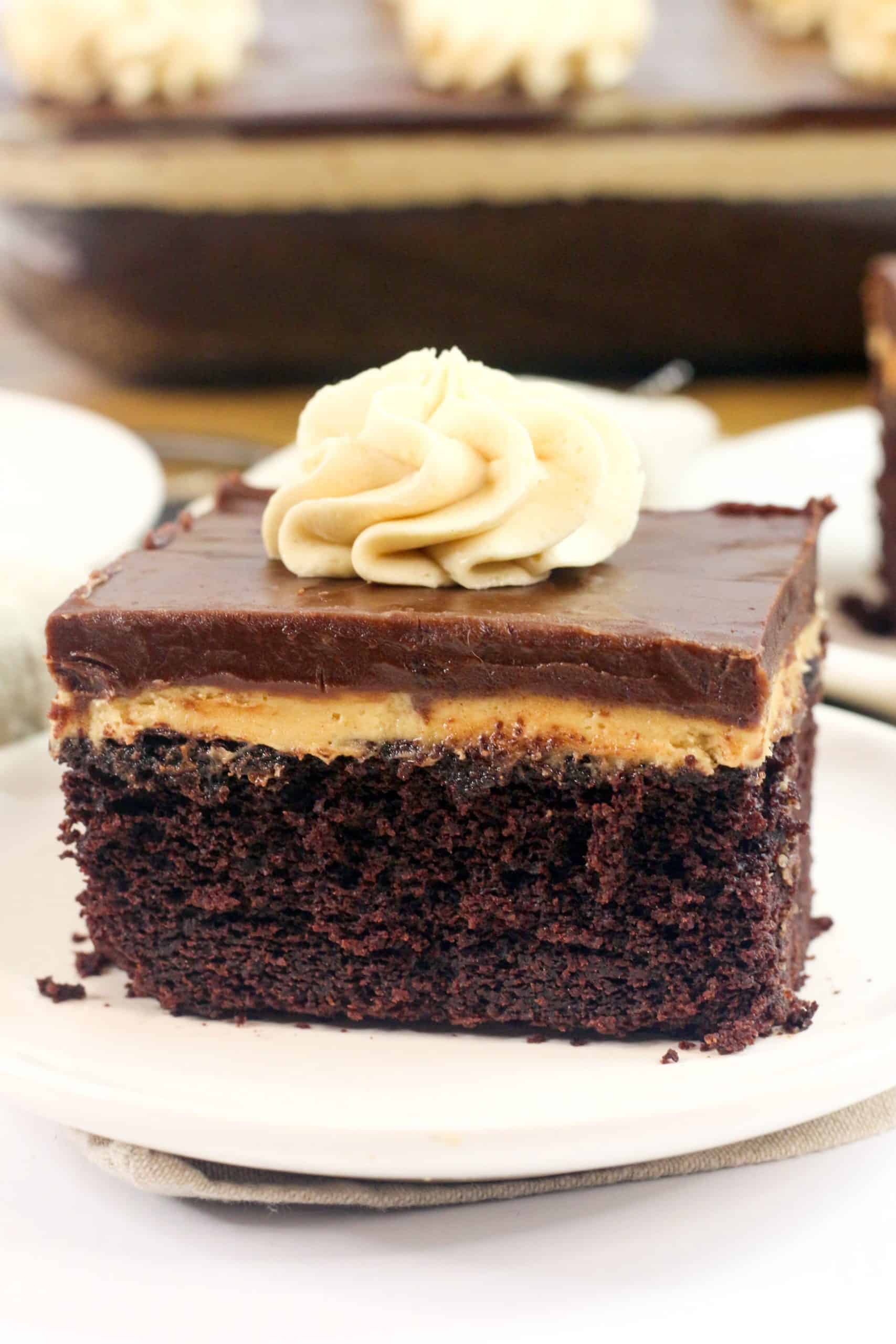 Get new recipes weekly plus our FREE ebook!