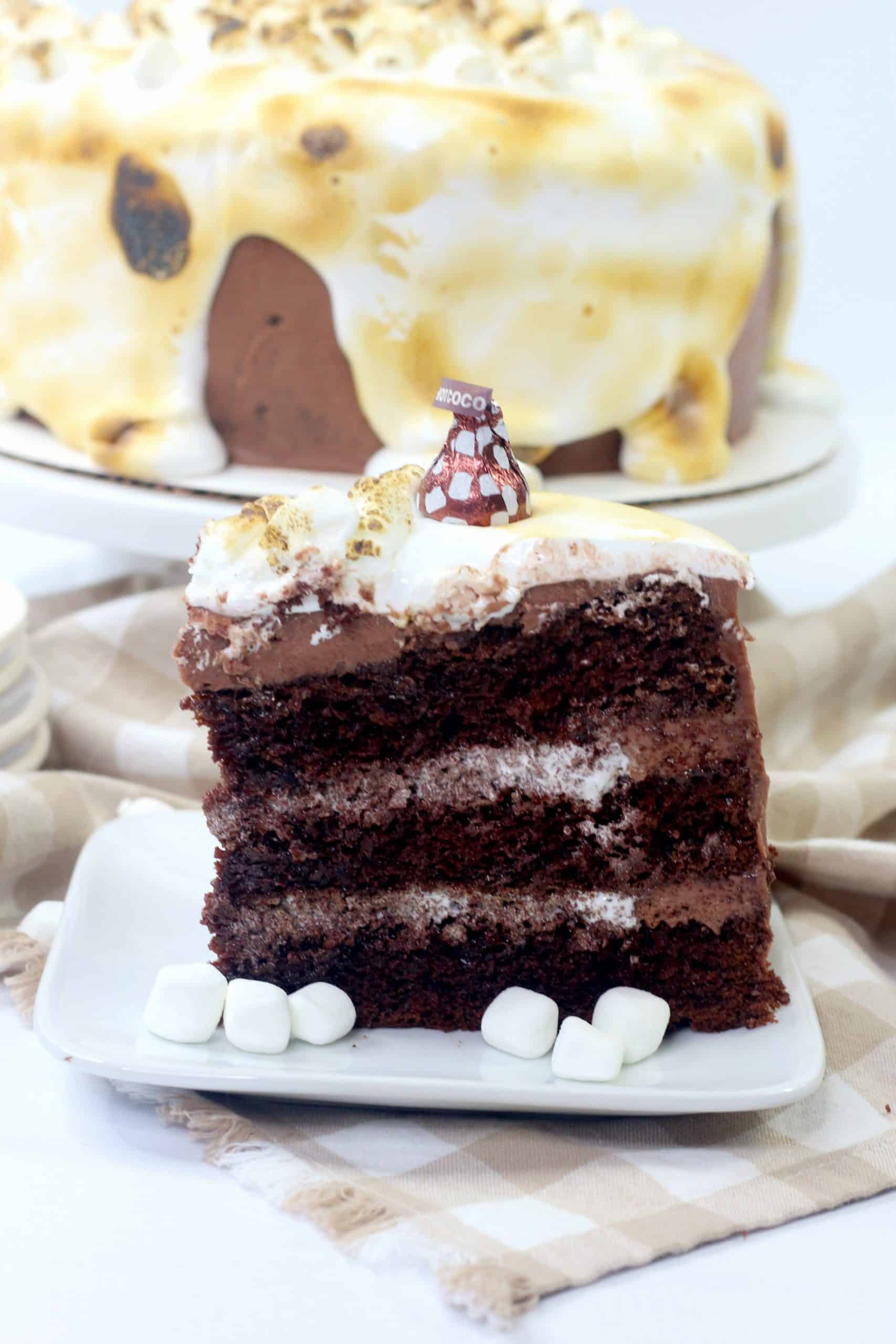 This dreamy hot chocolate cake has everything to love! It has three layers of fluffy chocolate cake that are super moist, and it's filled with dark rich chocolate. The frosting is a cream cheese hot chocolate frosting with marshmallow cream.
On top of the hot cocoa cake is melted marshmallow cream that's been roasted and mini marshmallows. Every bite of this magnificent chocolate marshmallow cake is mind-blowing good.
I've had and made a lot of cakes in my time, and this one is one of the best and most incredible cakes I've ever tried.
Scroll to bottom for printable recipe card.
Three Layer Hot Chocolate Cake Recipe
If you've been on the hunt for a pretty chocolate cake that's perfect for all occasions, you have hit the lottery. This chocolate marshmallow cake impresses anyone who eats it, and it's positively gorgeous! A few years ago, I was going to Valentine's dinner that everyone needed to bring something.
I was in charge of the dessert. I was craving something super chocolatey and everyone except chocolate on Valentine's Day, so I had the perfect solution. That's where my chocolate layer cake got an upgrade. I added in dark chocolate and played with the frosting until I got it perfect.
Needless to say, by the end of the night, I didn't have any leftover cake, and everyone raved about how amazing my hot chocolate dessert was. You have to try it to believe it!
Chocolate Marshmallow Cake Ingredients
Odds are, you probably have most of the ingredients for this hot chocolate cake recipe in your kitchen already. The only thing I forget to keep on hand is the marshmallow cream, and other than that, I almost always have the rest of it.
Take a peek at what you need for this sweet dessert.
Flour
Cocoa
Baking powder
Baking soda
Kosher salt
Water
Sugar
Dark chocolate
Unsalted butter
Canola oil
Pure vanilla extract
Eggs
Chocolate Frosting Ingredients:
Unsalted sweet cream butter
Cream cheese, soften
Hershey's special cocoa powder
Kosher salt
Powder sugar
Heavy whipping cream
Marshmallow creme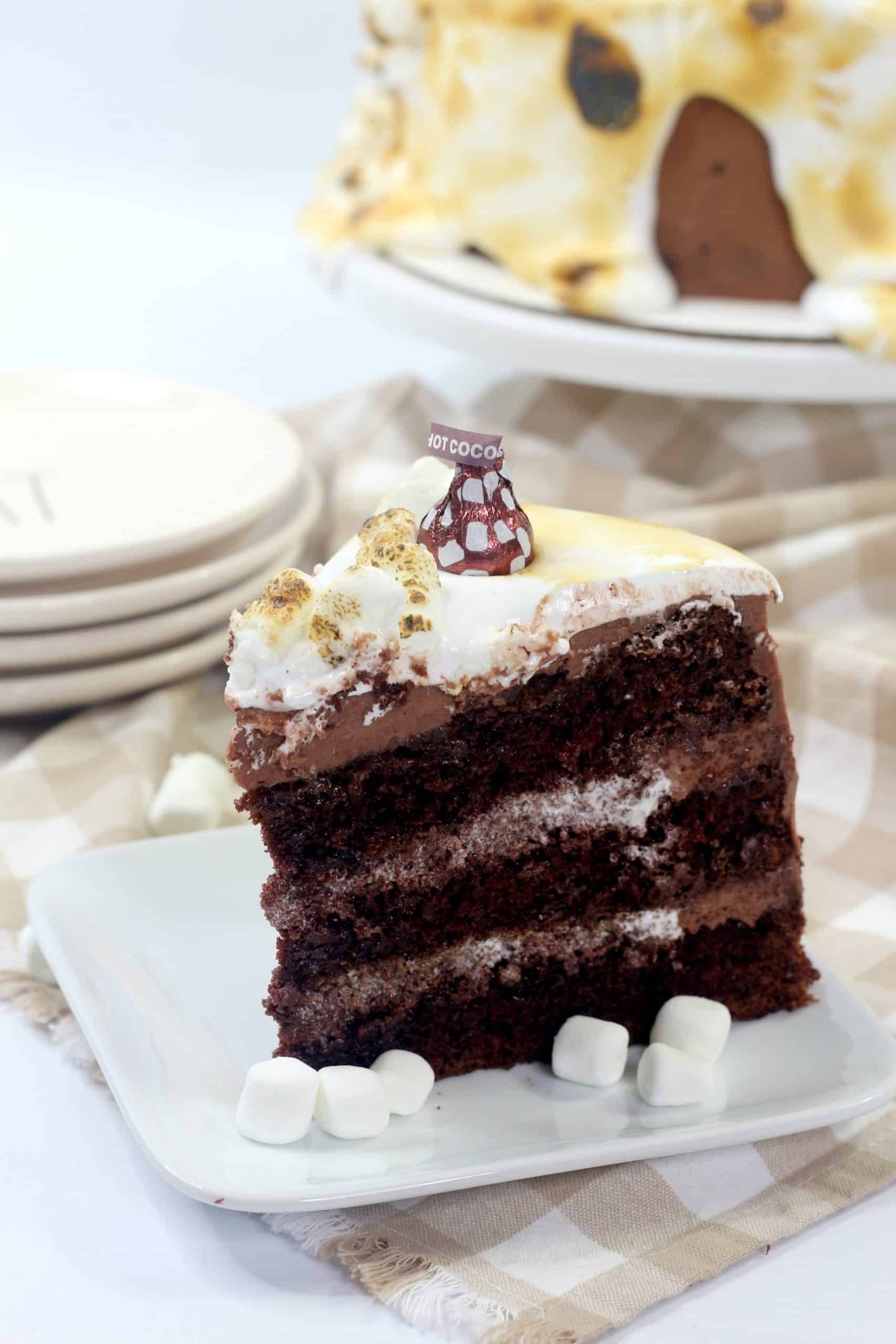 How To Make Hot Cocoa Cake
If you've never made a 3 layer cake before, don't worry, it's pretty simple. It looks like it would be hard, but it's actually easy. I'm so excited for you to try this hot cocoa cake because I think you're going to become obsessed with its terrific flavor. Take a look at how to make a hot chocolate cake.
Chocolate Cake Instructions
First Step: Prepare three 9-inch round cake pans with some cooking spray and preheat the oven to 350 degrees F.
Second Step: Whisk together the flour, cocoa, baking powder, baking soda, and salt in a medium-sized bowl.
Third Step: Heat the water and sugar in a medium-sized saucepan over medium-high heat until the sugar has dissolved and it's boiling.
Fourth Step: Remove the sugar and water mixture from the heat and add in the chocolate and butter until it's melted.
Fifth Step: Slowly add in the canola oil and pure vanilla extract.
Sixth Step: Next, add in the eggs rather quickly, whisking them the entire time. Be careful because the hot chocolate mixture can cook the eggs if you don't do this fast enough.
Seventh Step: Mix in the dry ingredients gradually until they are all combined.
Eighth Step: Pour the chocolate cake batter into the three cake pans and bake them for 30-35 minutes.
Chocolate Frosting Instructions
First Step: Beat the cream cheese and butter in a stand mixer until they are creamy and smooth.
Second Step: Pour in the cocoa powder, vanilla, and kosher salt and combine.
Third Step: Beat in the powdered sugar very slowly. If you put it in too fast, you will have a mess on your hands.
Fourth Step: Pour in the heavy whipping cream and mix until the frosting is creamy, smooth, and fluffy.
Building The Cake Directions
First Step: After the cakes have cooled, remove them from the pans and cut off the domes on top.
Second Step: Put the bottom layer of cake on a cake board. Put one cup of the frosting in a piping bag and pipe a ring of filling along the edge of the first layer of cake.
Third Step: Put 1/2 of marshmallow cream in the middle of the cake and spread it out, so it's even.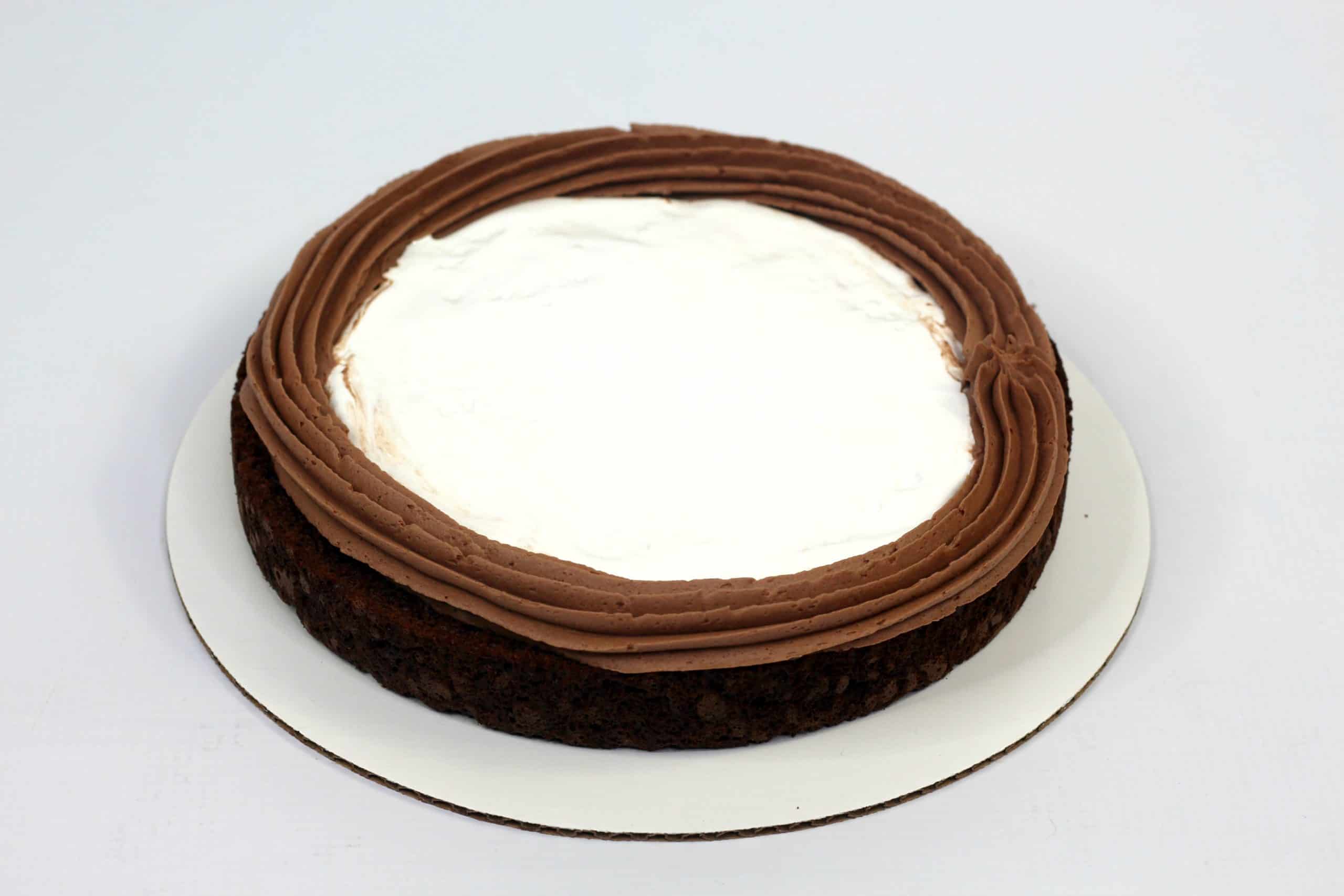 Fourth Step: Add the second layer of cake. Then add another ring of frosting on top and add some marshmallow cream to the center.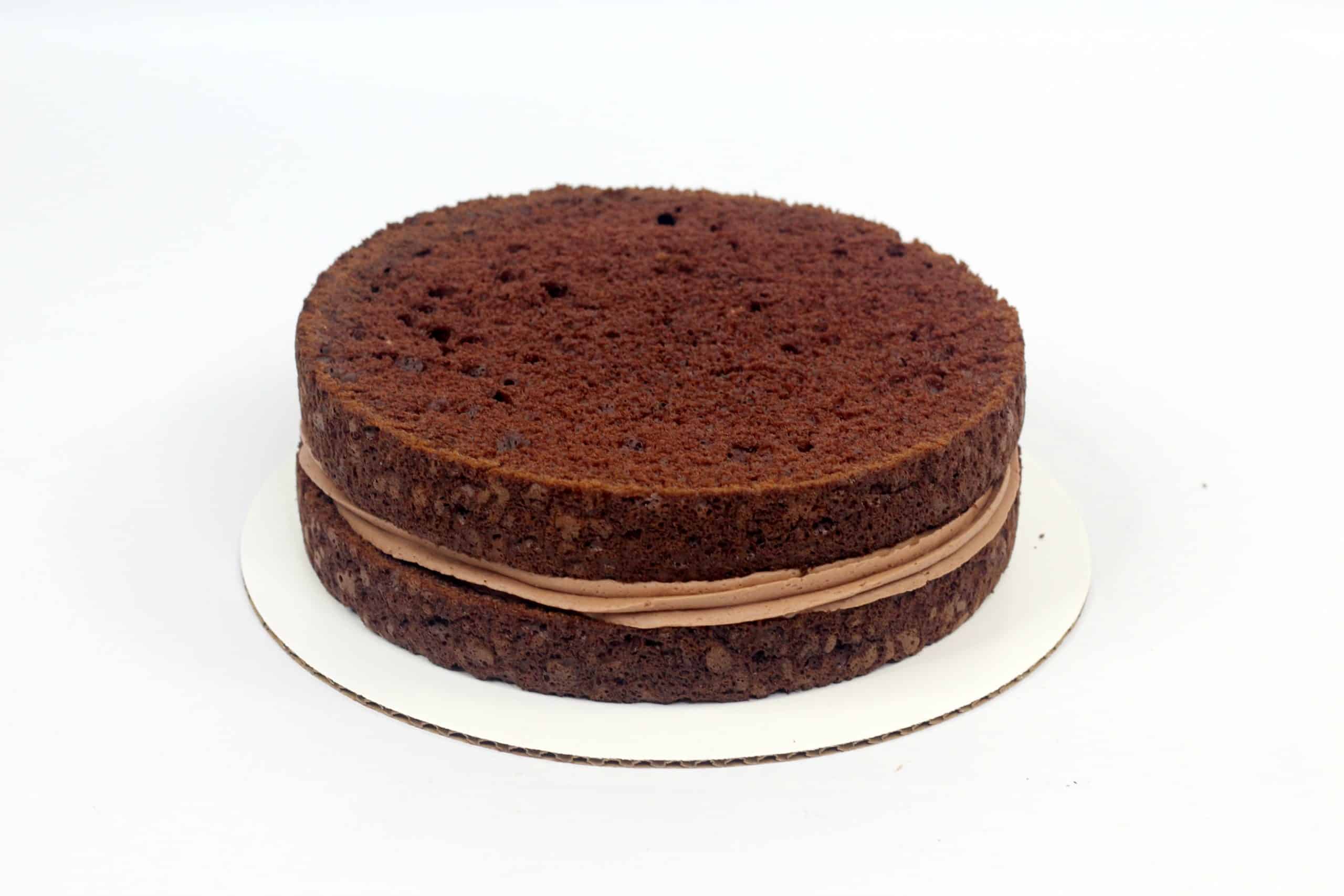 Fifth Step: Add the top layer to the cake and finish by frosting the entire cake.
Sixth Step: Melt the rest of the marshmallow cream in a microwave-safe bowl for 15 seconds in your microwave. Give it a stir and pour over the cake. Carefully, use a blow torch and toast the marshmallow topping. Slice the cake and enjoy!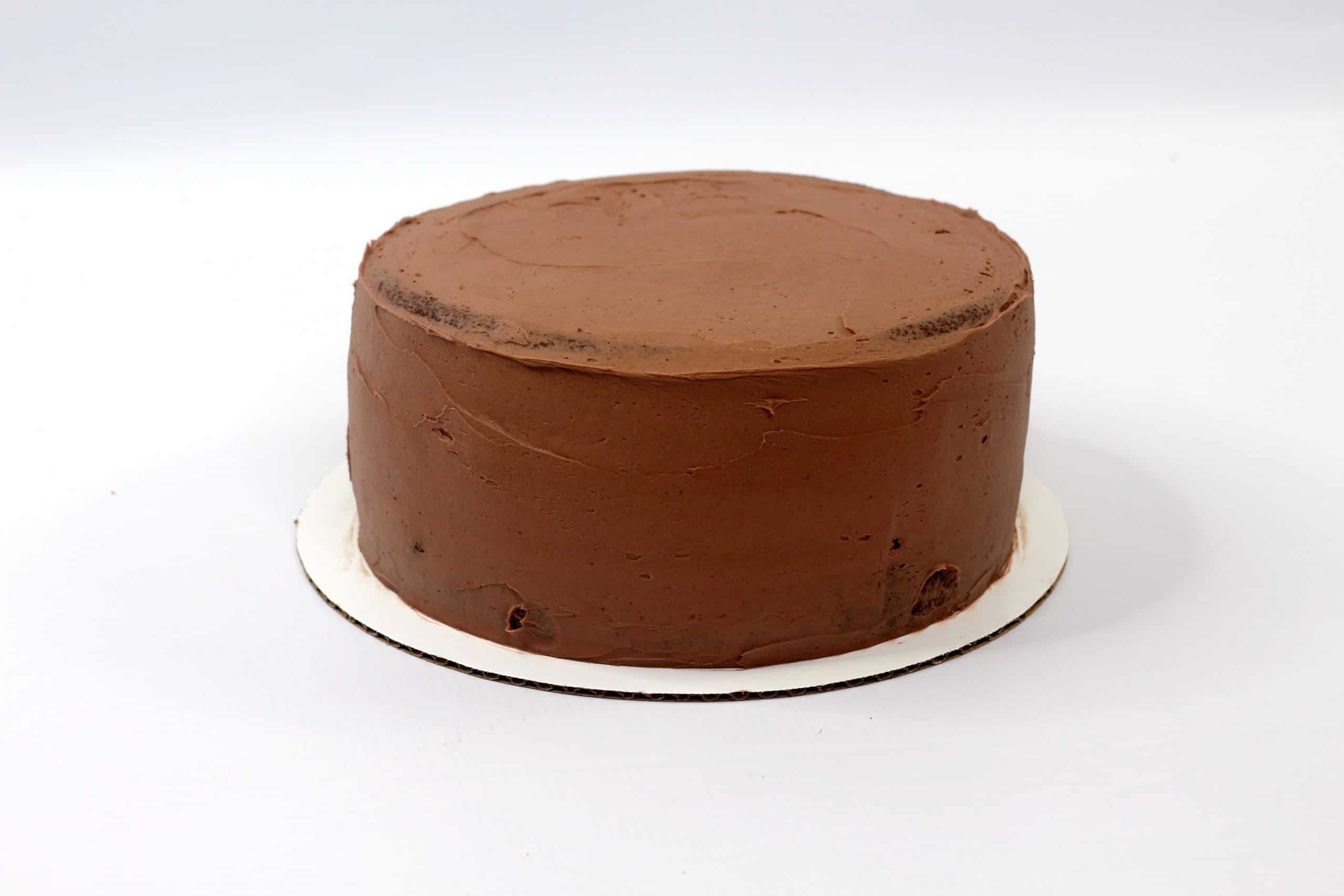 Hot Cocoa Cake Variations
I know this seems like a pretty straightforward recipe, and it is! However, there are some additional things you can do to this 3 layer cake to change the flavors. If you are making several cakes, it's fun to try out some new things for each one. Take a peek at these ideas:
Mint Chocolate – Instead of using dark chocolate in the cake, chop of mint chocolate like Andes Mints! It's a fun and refreshing flavor.
White Chocolate – Use white chocolate chips in the batter, and not only will it look amazing, but it will also taste heavenly.
Chocolate Chips – If you don't want to chop up dark chocolate, that's okay! Just use chocolate chips instead. It will taste just as amazing and save you a couple of minutes.
How Do You Store Chocolate Marshmallow Cake?
You should store this hot cocoa cake in an airtight container. I prefer to keep it in the fridge, but you could also leave it on the counter. It's only going to last one day on the counter, but up to three days in the fridge. It's just essential to keep it away from hot things like your stove, dishwasher, or other appliances that get warm, so you don't melt it.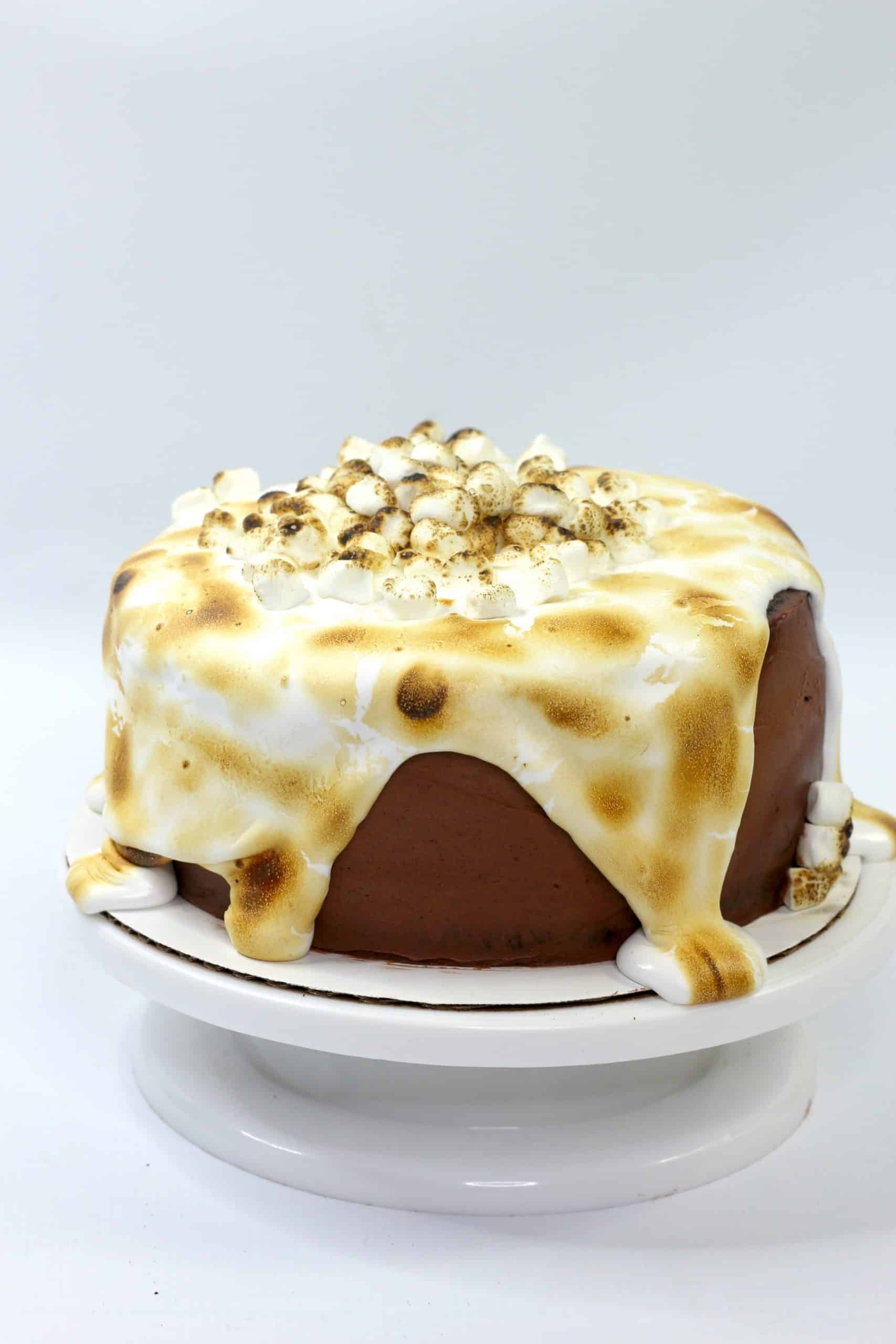 Still craving chocolate? I'm excited to share some of these other delicious chocolate desserts.
Now, remember to save this recipe on Pinterest for later 🙂

Pin this recipe now to remember it later
Three Layer Hot Chocolate Cake Recipe
This Decadent Three Layer Hot Chocolate Cake Recipe is dreamy and incredible. Moist chocolate cake with marshmallow hot chocolate frosting topped with roasted marshmallows.
Ingredients
Chocolate Cake Ingredients:
10

oz

dark chocolate

,

chopped

2

TSP

pure vanilla extract
Chocolate Frosting Ingredients:
1 1/2

C

unsalted sweet cream butter

,

softened

1 - 8

oz

cream cheese

,

soften

1 1/2

C

Hershey's special cocoa powder

1/4

C

heavy whipping cream

2

containers of marshmallow creme
Want to save this recipe? Enter your email below and we'll send the recipe straight to your inbox!
NOTE: By saving this recipe, you agree to join our weekly recipes newsletter.
Instructions
Chocolate Cake Instructions:
Preheat your oven to 350 and using pam baking spray, spray 3 each of 9 inch round cake pans

Using a medium whisk together the flour, cocoa powder, baking powder, baking soda, and salt

Using a medium saucepan over medium to high heat, combine the water and sugar.

Bring to a boil and stir until the sugar is dissolved. About 1 minute

Remove from heat and whisk in the chocolate and butter until melted

Whisk in the canola oil and vanilla extract

Quickly whisk in the eggs to avoid them cooking into the chocolate mixture.

Gradually whisk in the dry ingredients until combined

Divide the batter between the three round cake pans

Bake cakes for 30-35 minutes or until a toothpick comes out clean
Chocolate Frosting Instructions:
Using the standing mixer again, beat the cream cheese and butter until combined and smooth

Gradually mix in the cocoa powder, vanilla and salt

Very slowly, beat in the powdered sugar until combined

Whisk in the heavy whipping cream until the ice cream is smooth and fluffy
Building The Cake Directions:
Remove the cakes from the pans

Cut the domes off the tops of the cakes

Place the first cake layer down onto a cake board

Scoop 1 C of frosting into the piping bag

Pipe a ring of frosting around the edge of the cake layer

Scoop ½ C of the Marshmallow creme into the middle and spread evenly

Place the second layer of cake on top

Pipe another ring of frosting on top and scoop another scoop of marshmallow creme in the middle

Place the last cake on top

Frost entire cake in the frosting

Scoop remaining marshmallow creme into a microwave safe bowl and heat up for 15 seconds

Mix until smooth

Pour over the top of the cake

Use a blowtorch and toast parts of the marshmallow

Cut and enjoy!
Follow me on Pinterest for daily delicious recipes!
Want More Cake Recipes?
Best Easy Red Velvet Poke Cake – This red velvet poke cake is delectable and irresistible.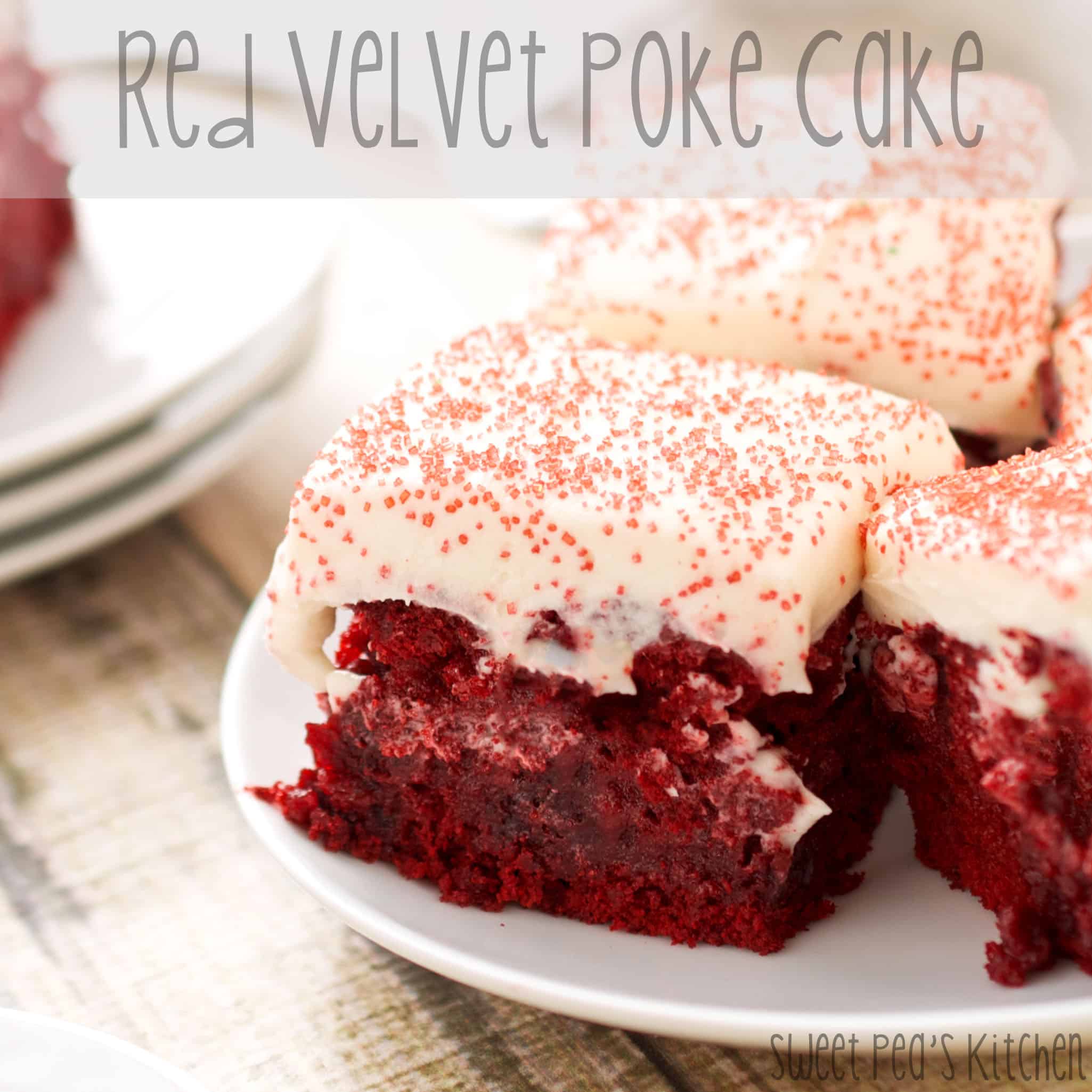 Yule Log Chocolate Roll Cake Recipe – Don't let the name fool you, make this cake all year long.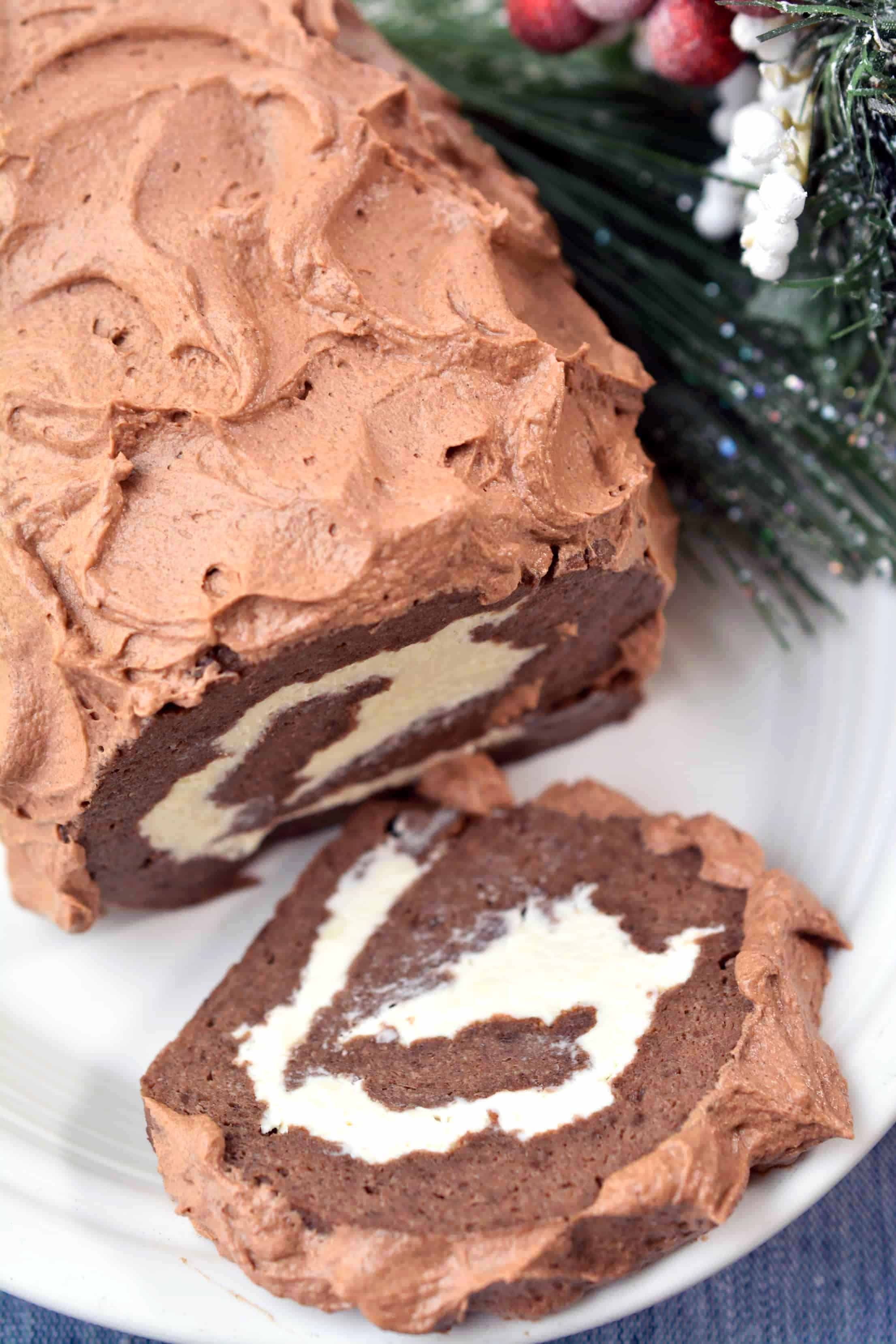 German Chocolate Layer Cake with Coconut Pecan Frosting – One bite and you will think you are in heaven.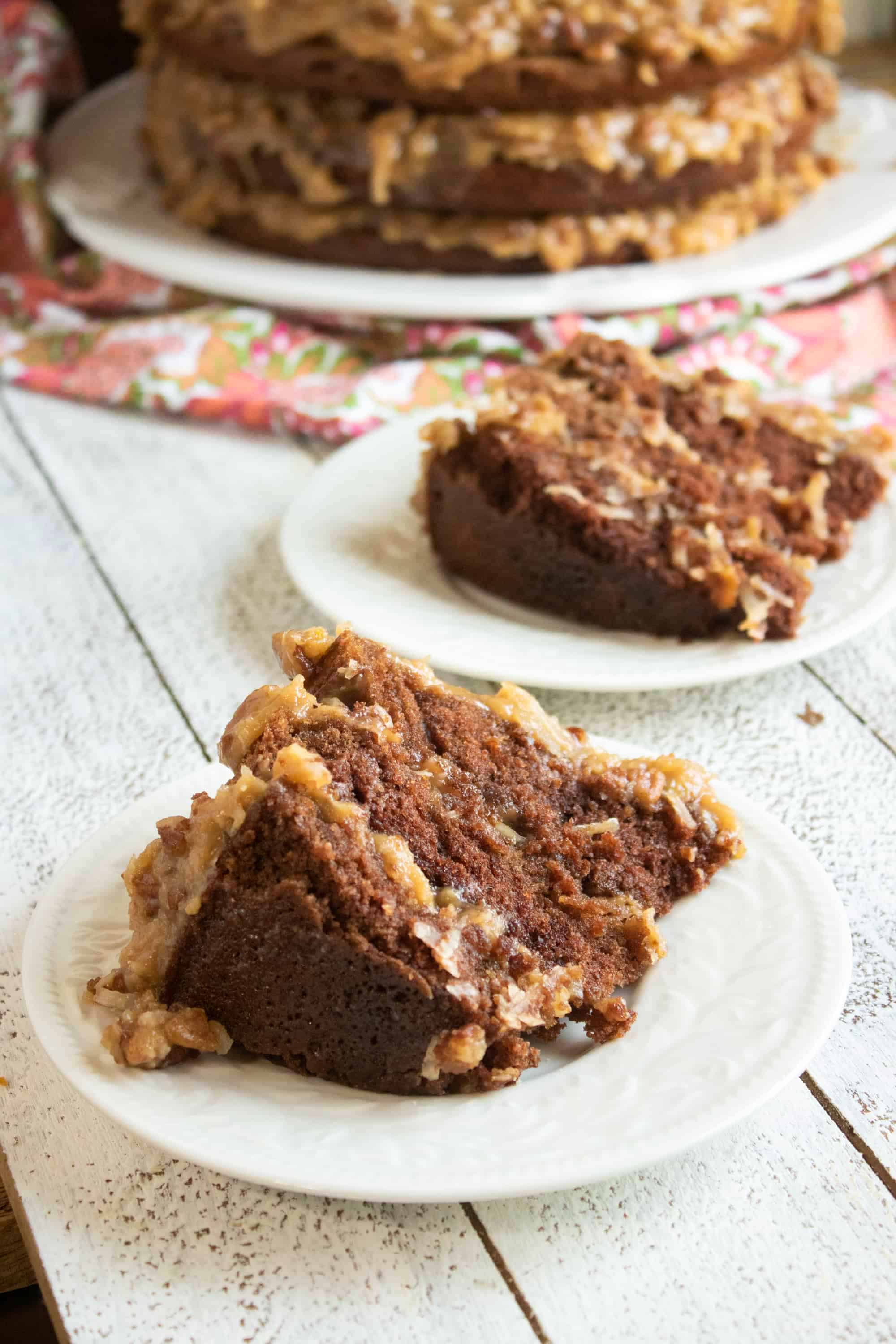 Caramel Cream Cheese Pumpkin Poke Cake Recipe – If you are craving pumpkin and cream cheese, take your poke cake to a new level with Caramel Cream Cheese Pumpkin Poke Cake Recipe.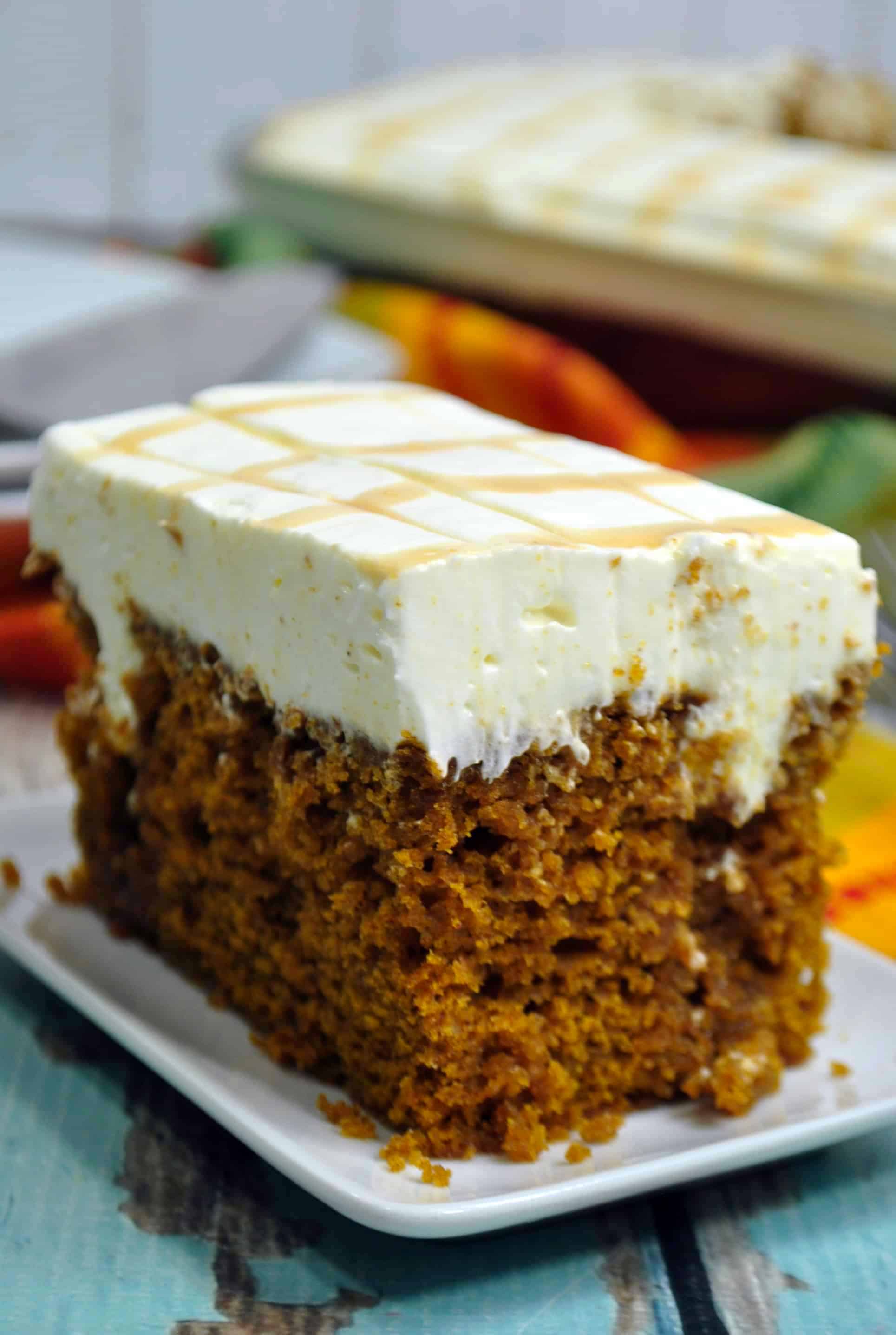 Buttermilk Lemon Sheet Cake Recipe – Looking for the perfect lemon sheet cake recipe? Look no further.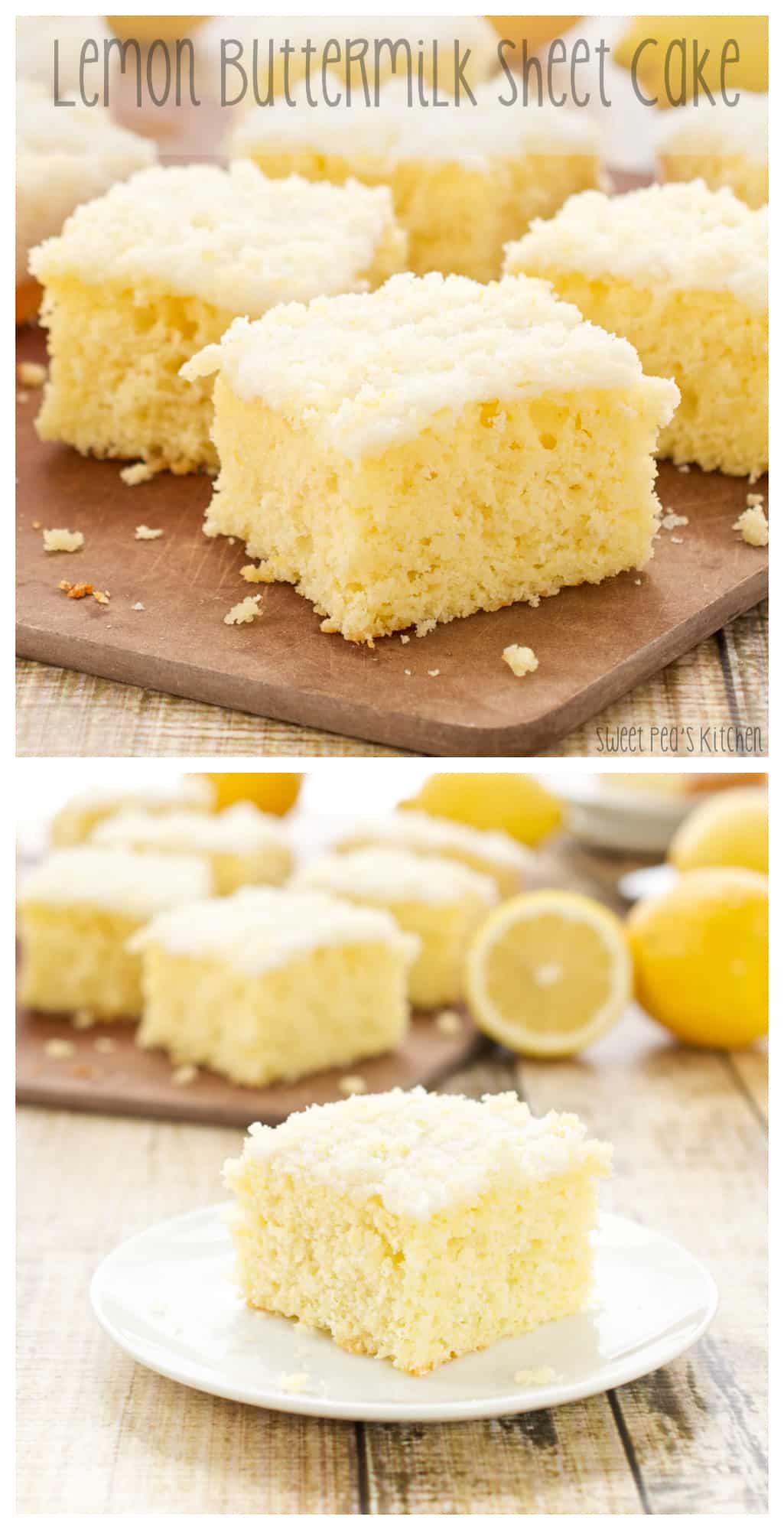 Get new recipes weekly plus our FREE ebook!