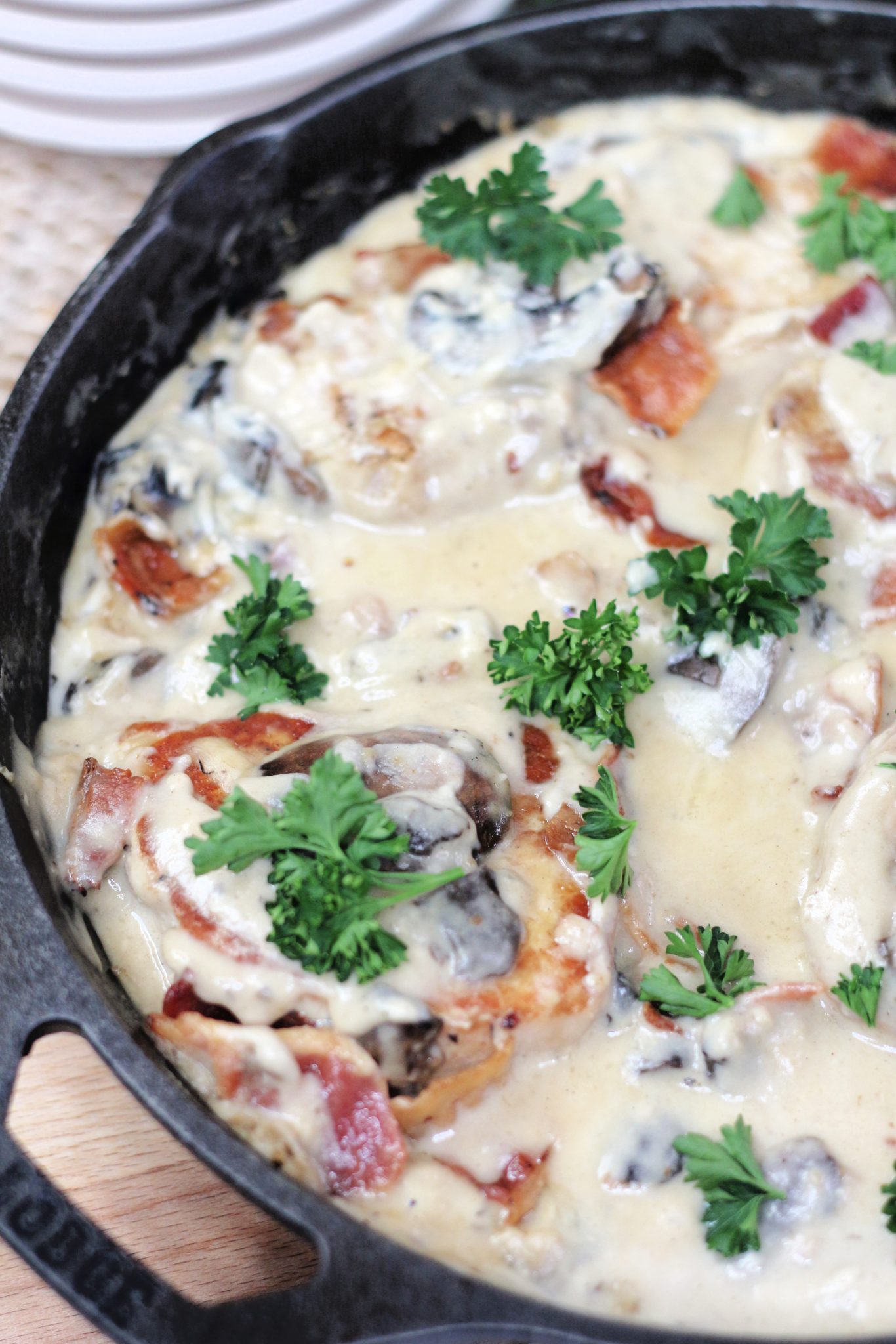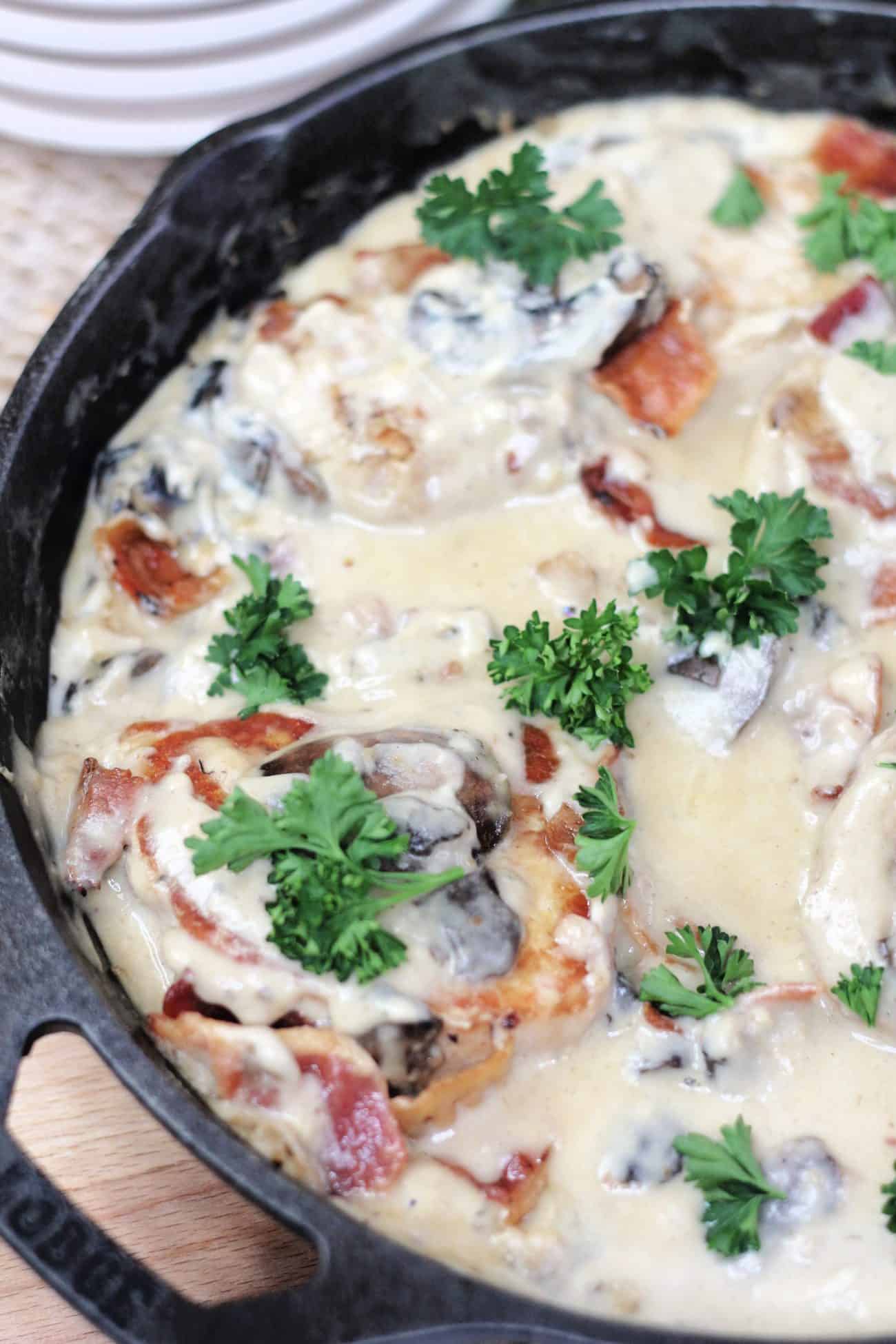 Hands down the best pork chops ever!!! Bacon Mushroom Smothered Pork Chops in a creamy sauce of bacon and mushrooms.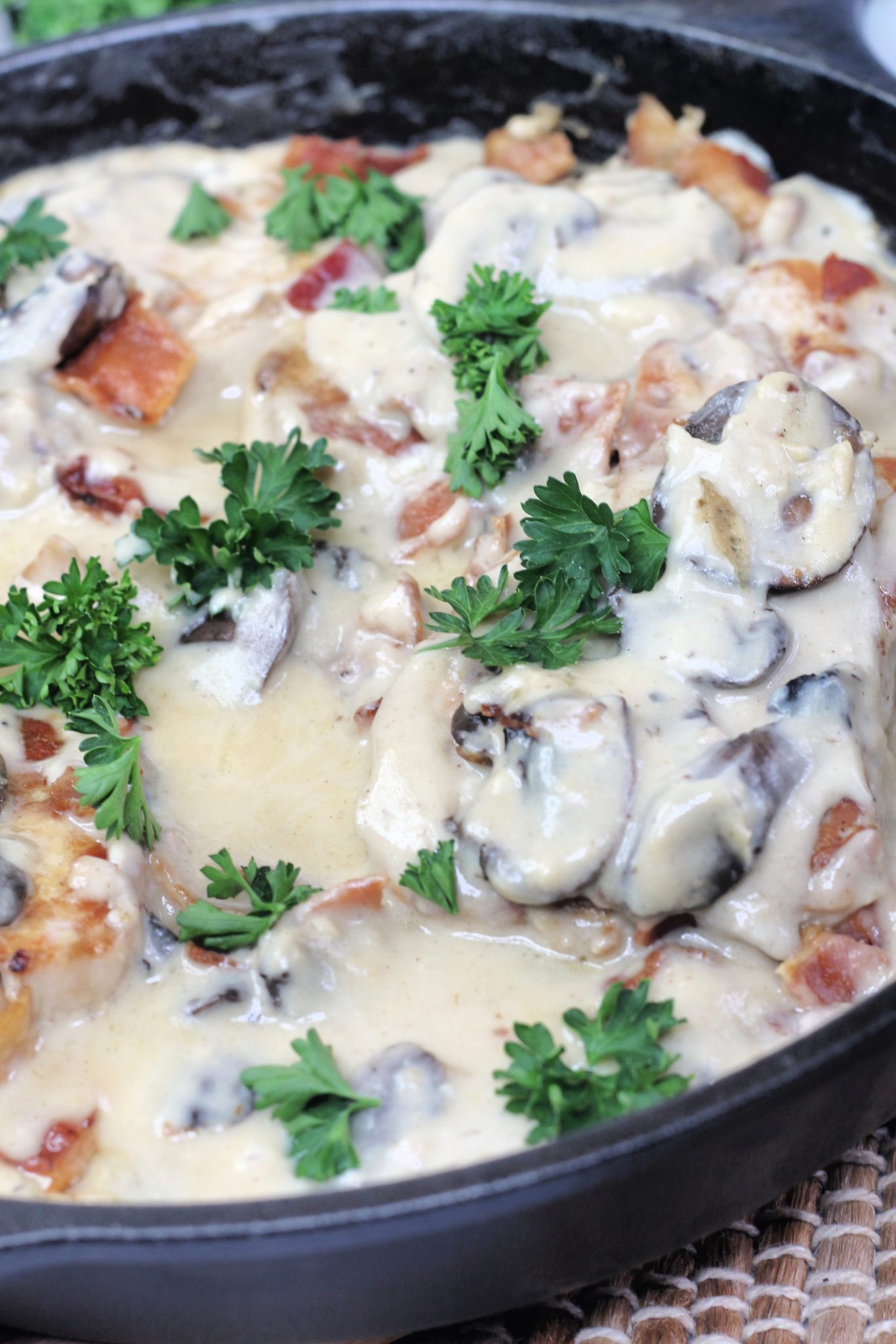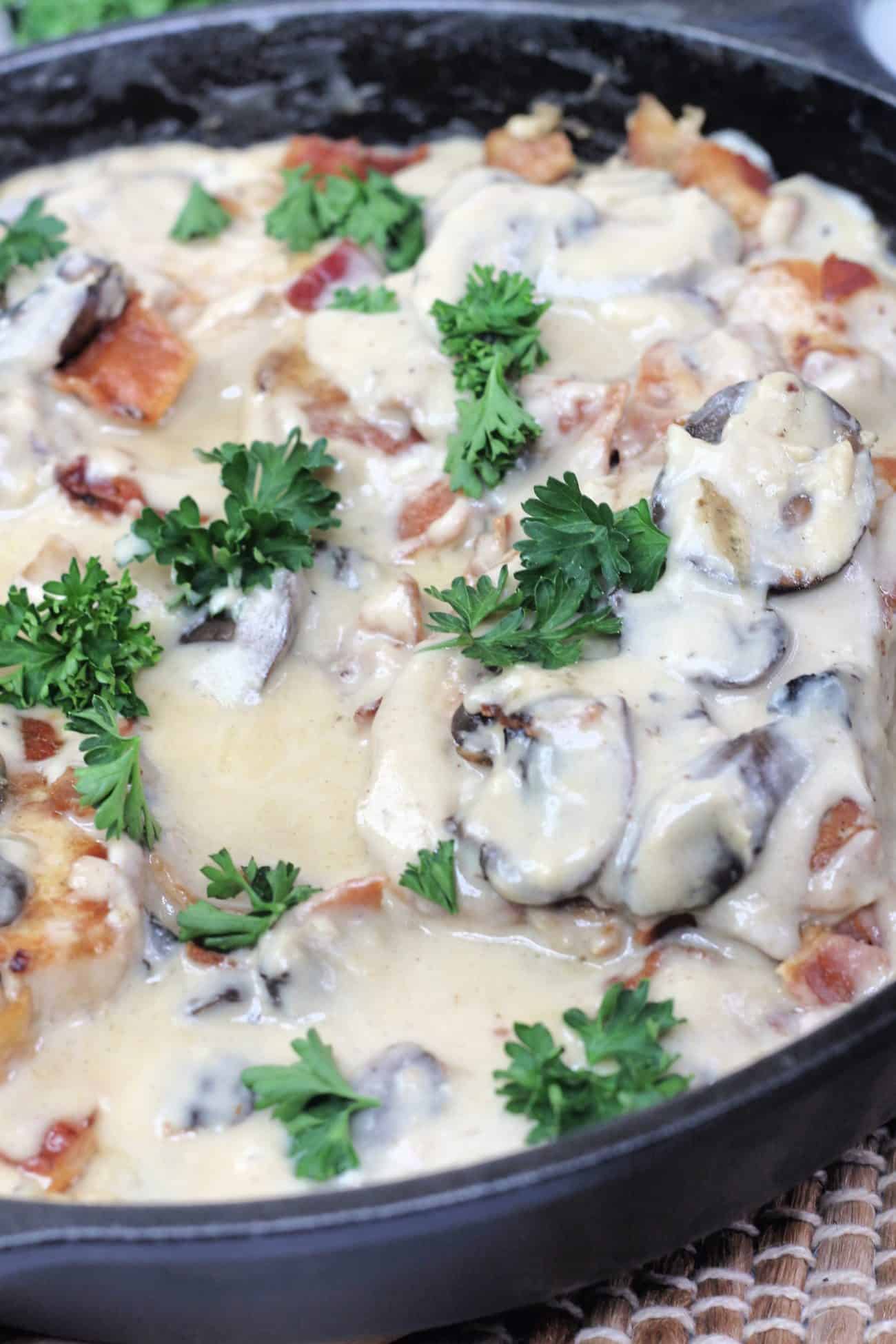 Smothered Pork Chops with a creamy mushroom, bacon, and fresh thyme sauce. Everything is cooked in one large skillet. Easy recipe. Minimal cleanup.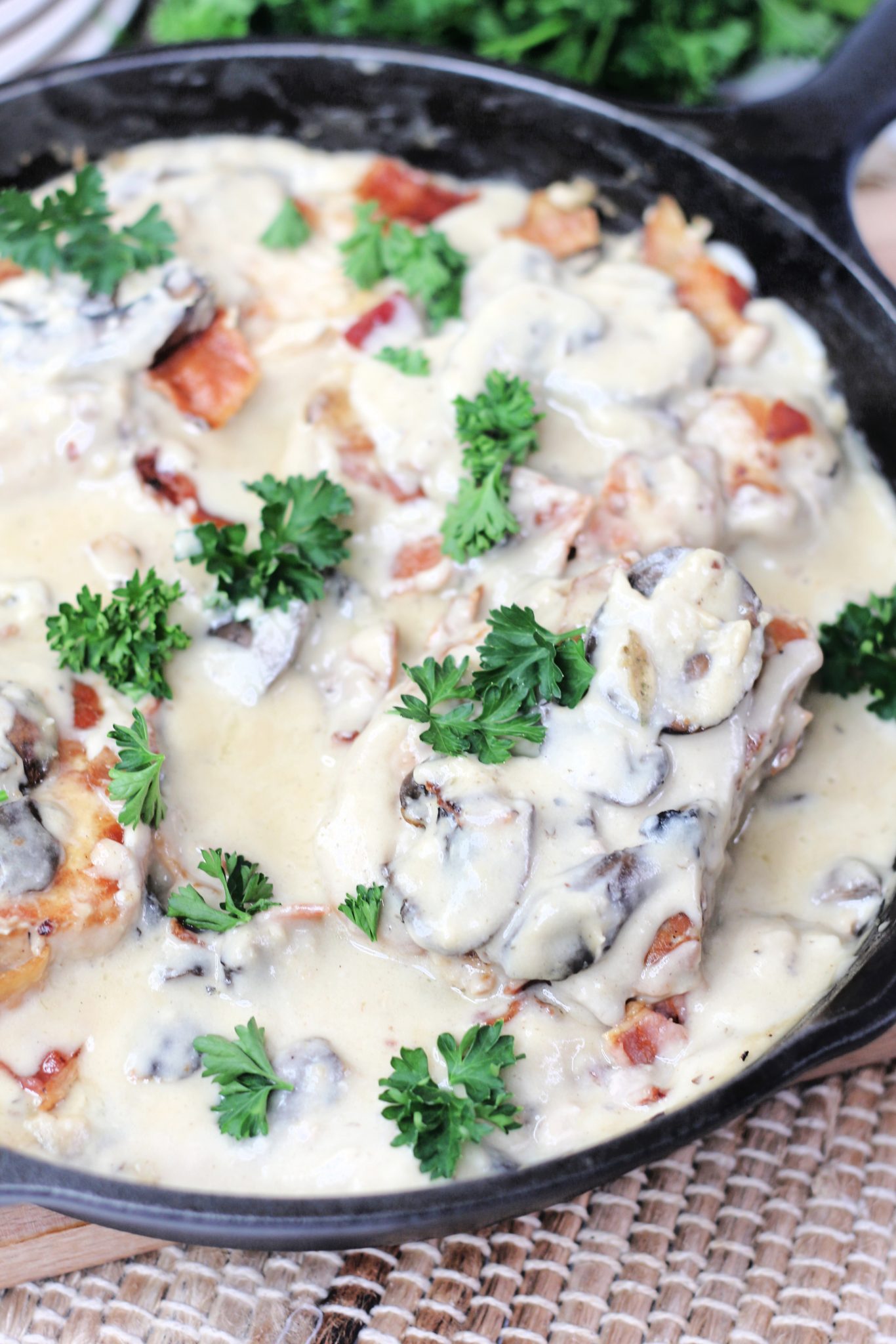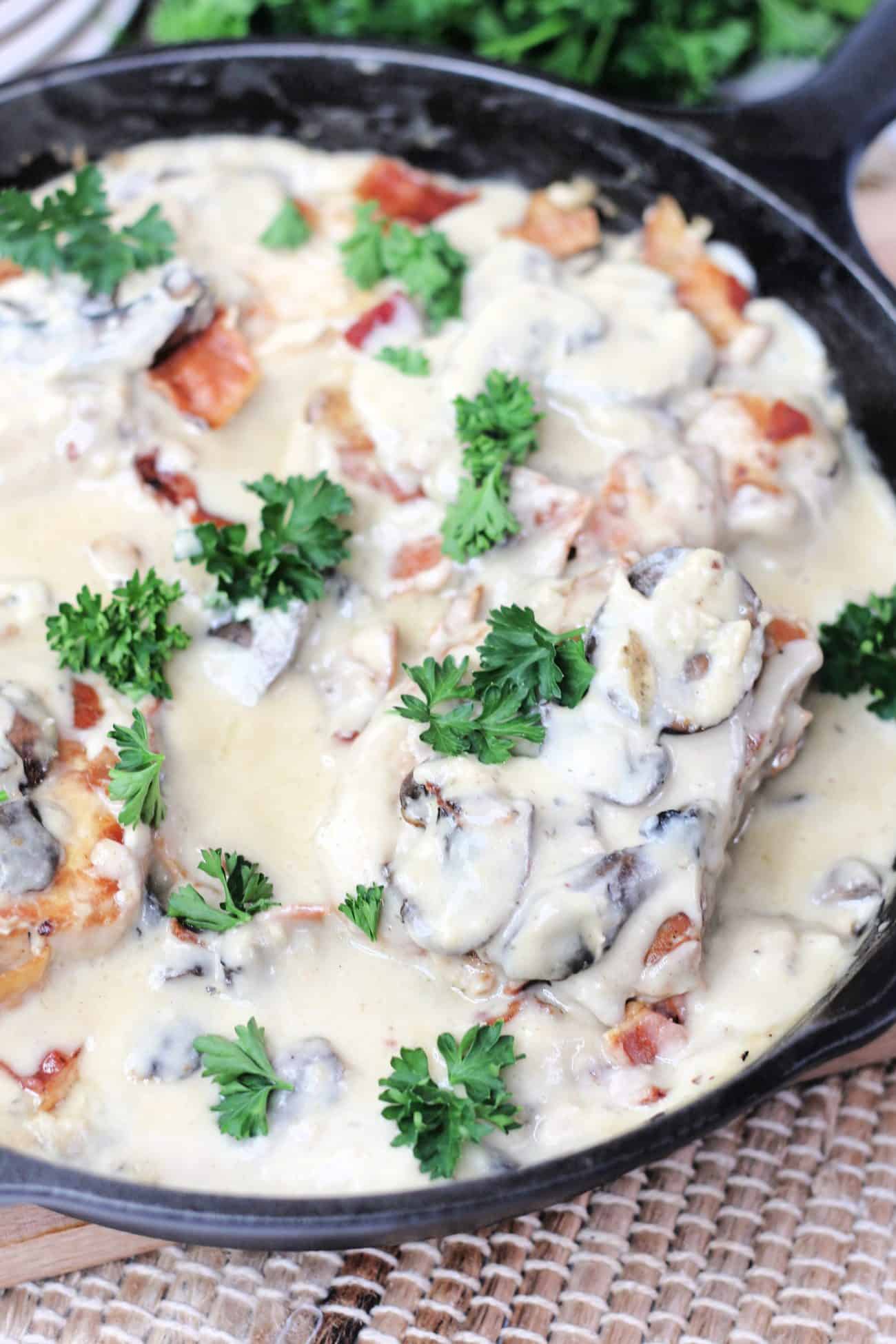 SO GOOD! Absolutely good my husband enjoyed it!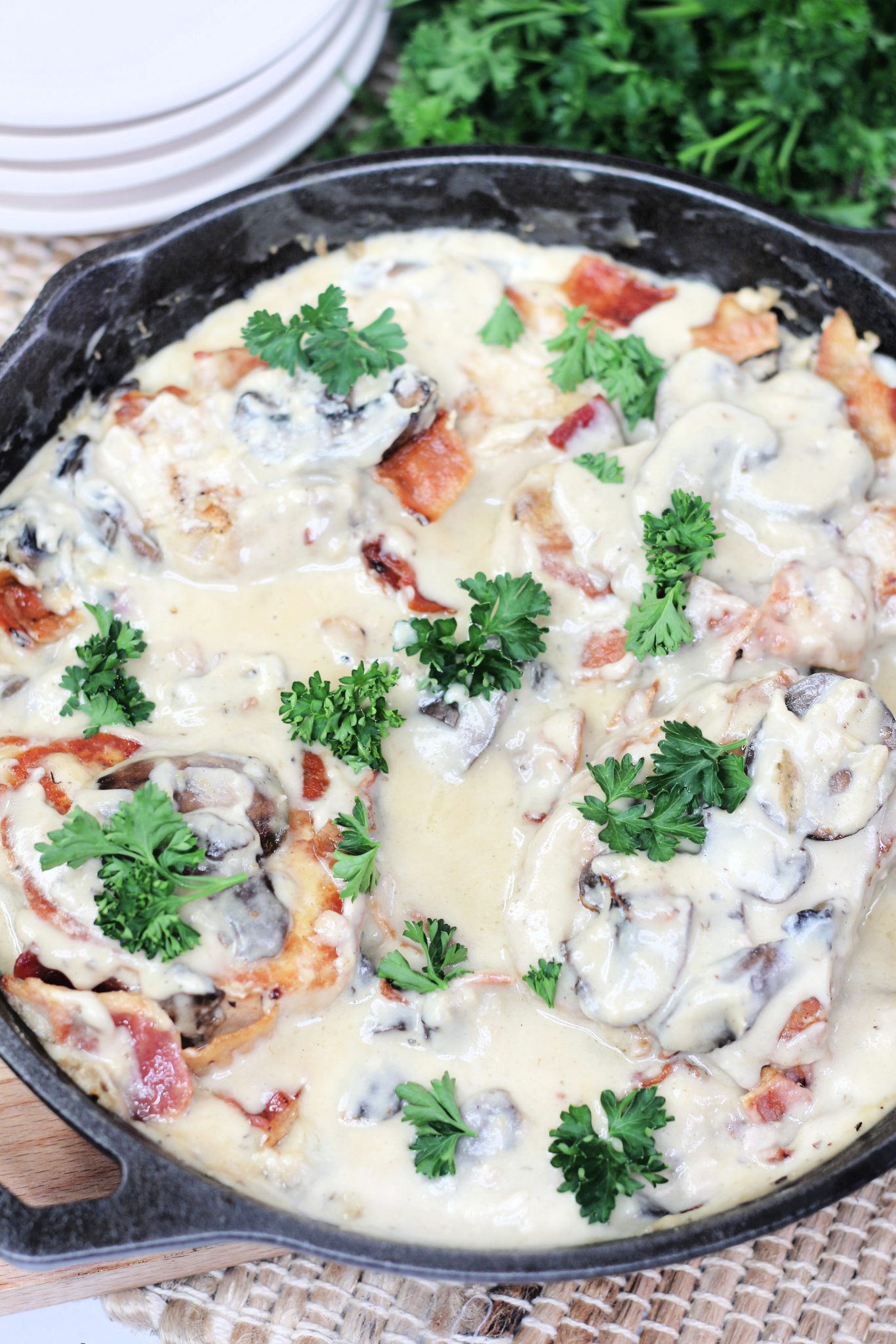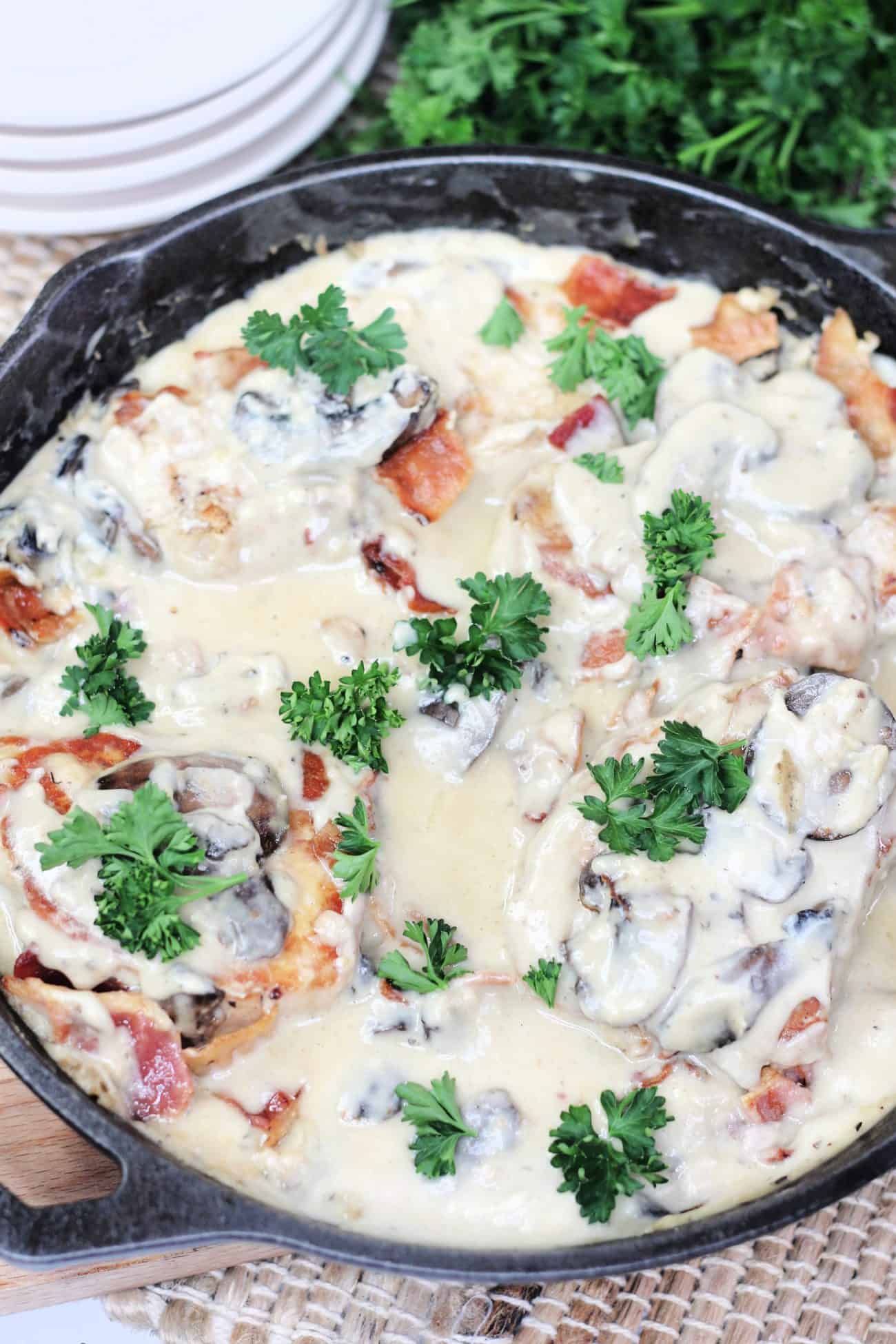 Ingredients:
6 strips of bacon, chopped
2 lb pork chops
1 – 8oz Sliced Mushrooms
3 tbsp minced garlic
2 tbsp dried thyme
1 tbsp olive oil
2 tbsp flour
⅔ C chicken broth
½ C heavy whipping cream
Salt and Pepper
Bechamel Sauce Ingredients
4 tbsp unsalted butter
4 tbsp flour
2 C whole milk
1 tsp nutmeg
How to make Bacon Mushroom Smothered Pork Chops:
Step 1. Using a large pan over medium heat, cook the bacon until crispy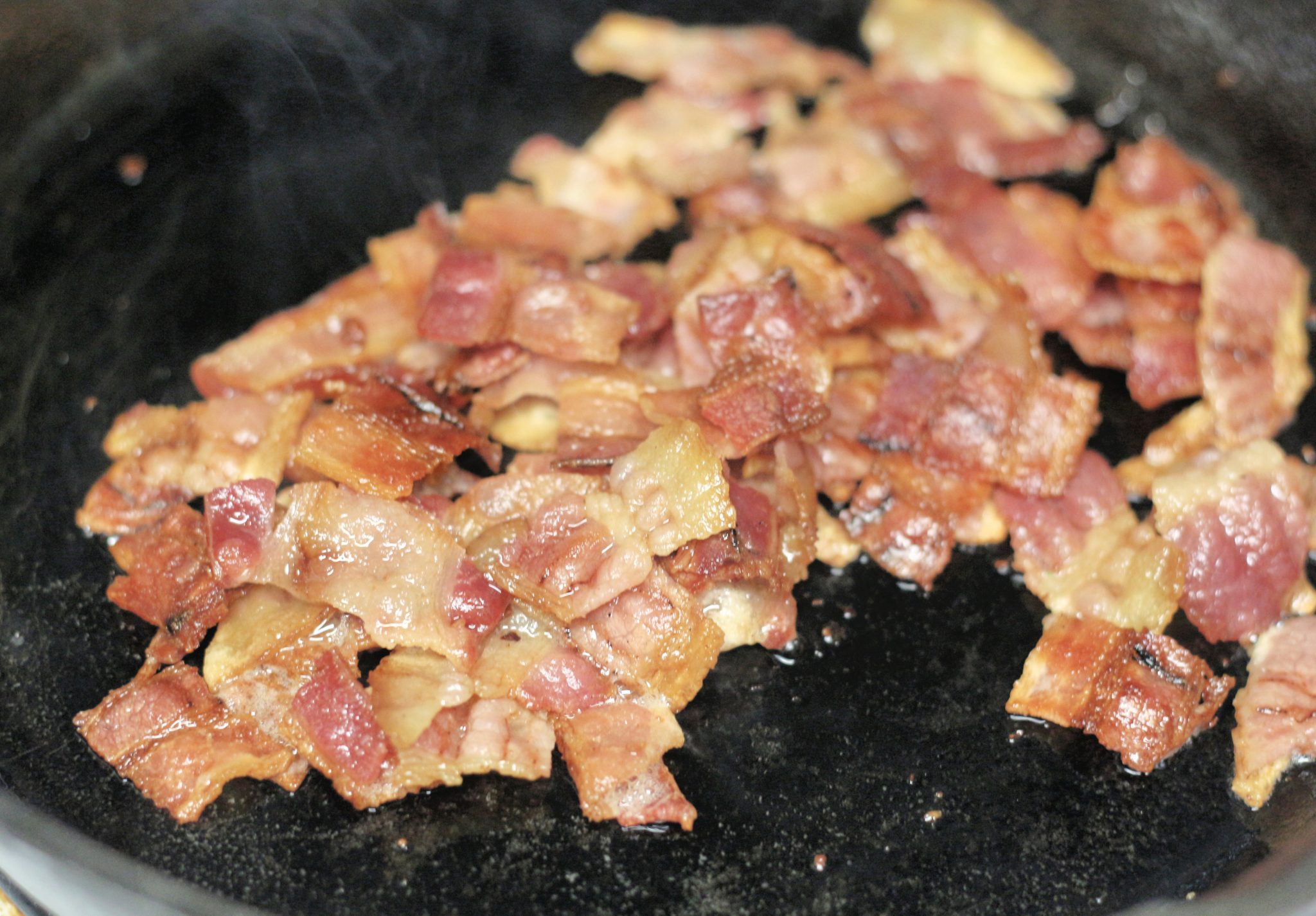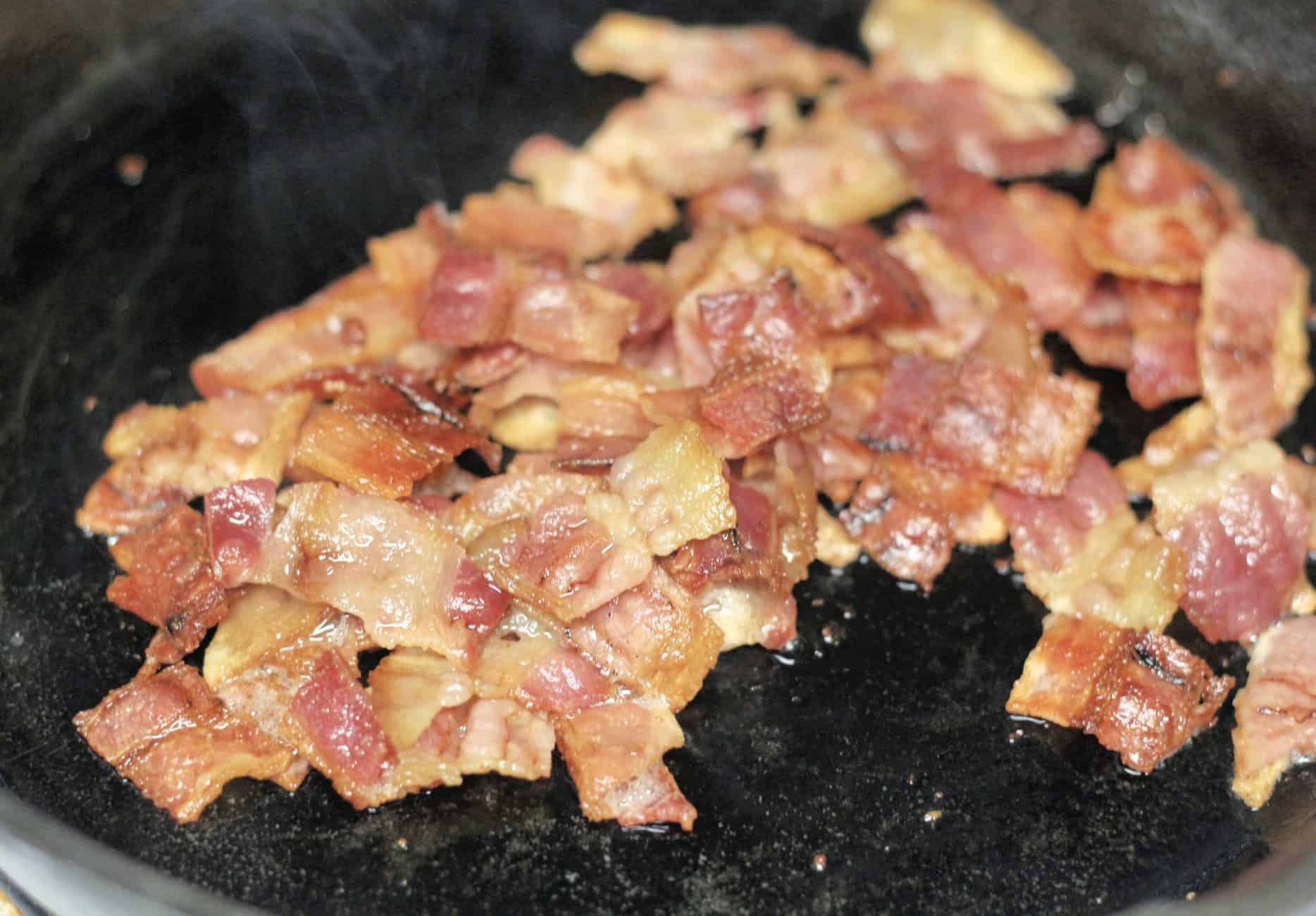 Step 2. Remove the bacon and place it onto a plate and set it aside
Step 3. Season the pork chops with salt and pepper
Step 4. Using the same pan, cook the pork chops over medium heat until cooked all the way through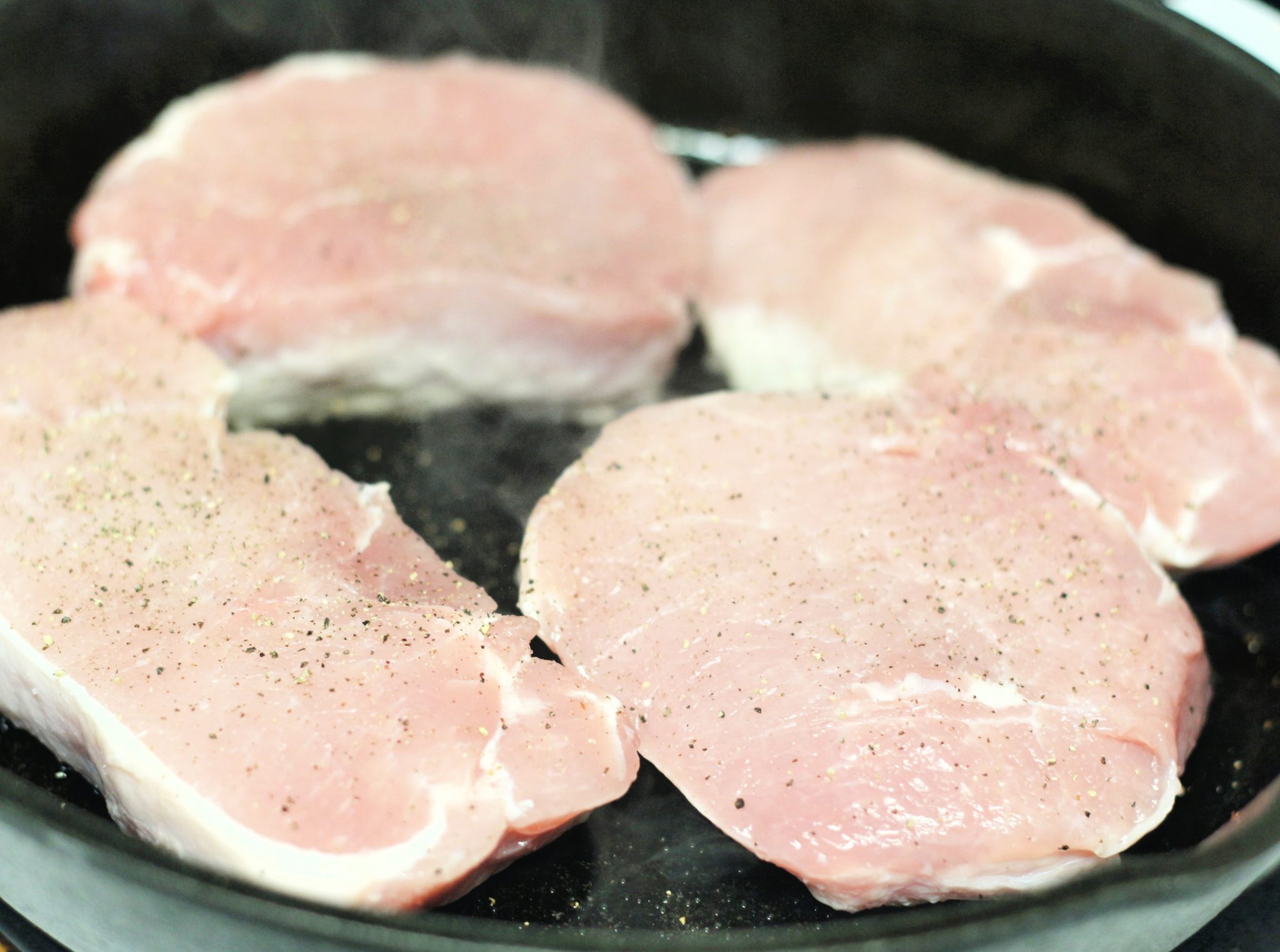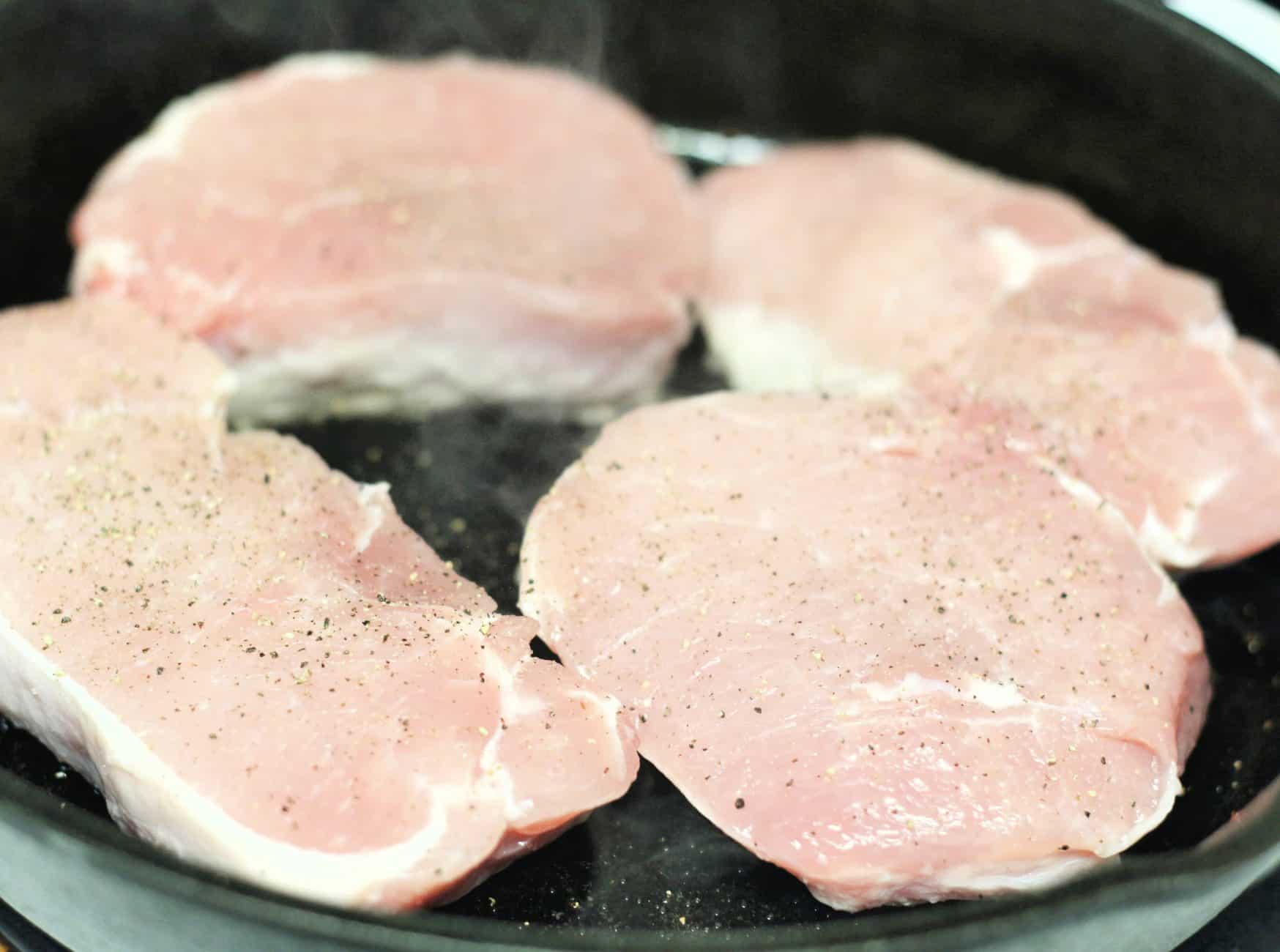 Step 5. Place onto another plate and set aside
Step 6. Using the same pan, add the mushrooms, minced garlic, and olive oil over medium to high heat
Step 7. Mix in the dried thyme and flour
Step 8. Add the chicken broth and bring the mixture to a boil, stir consistently until smooth
Step 9. Mix in the heavy whipping cream and stir until combined
Step 10. Your mixture should become thick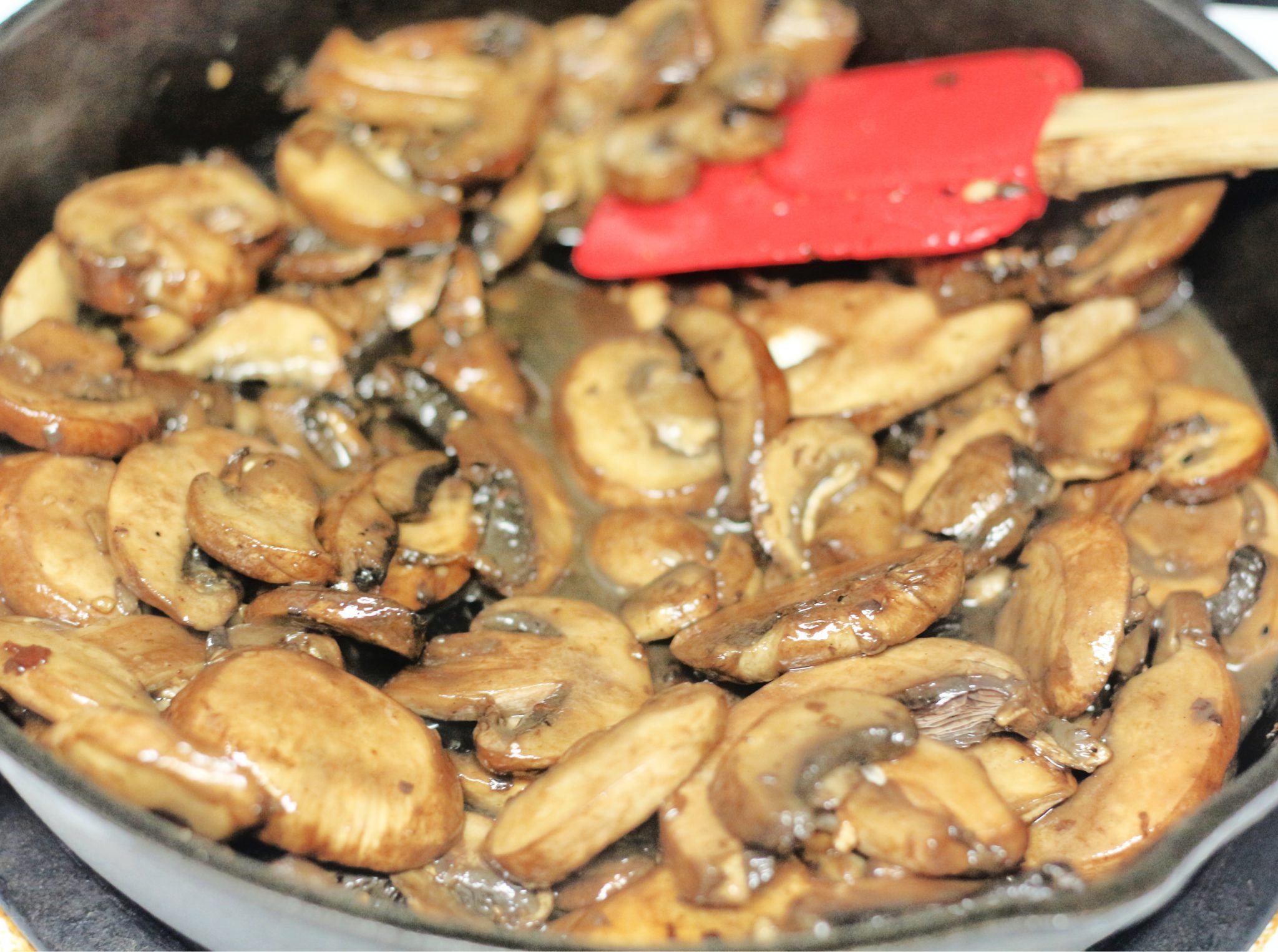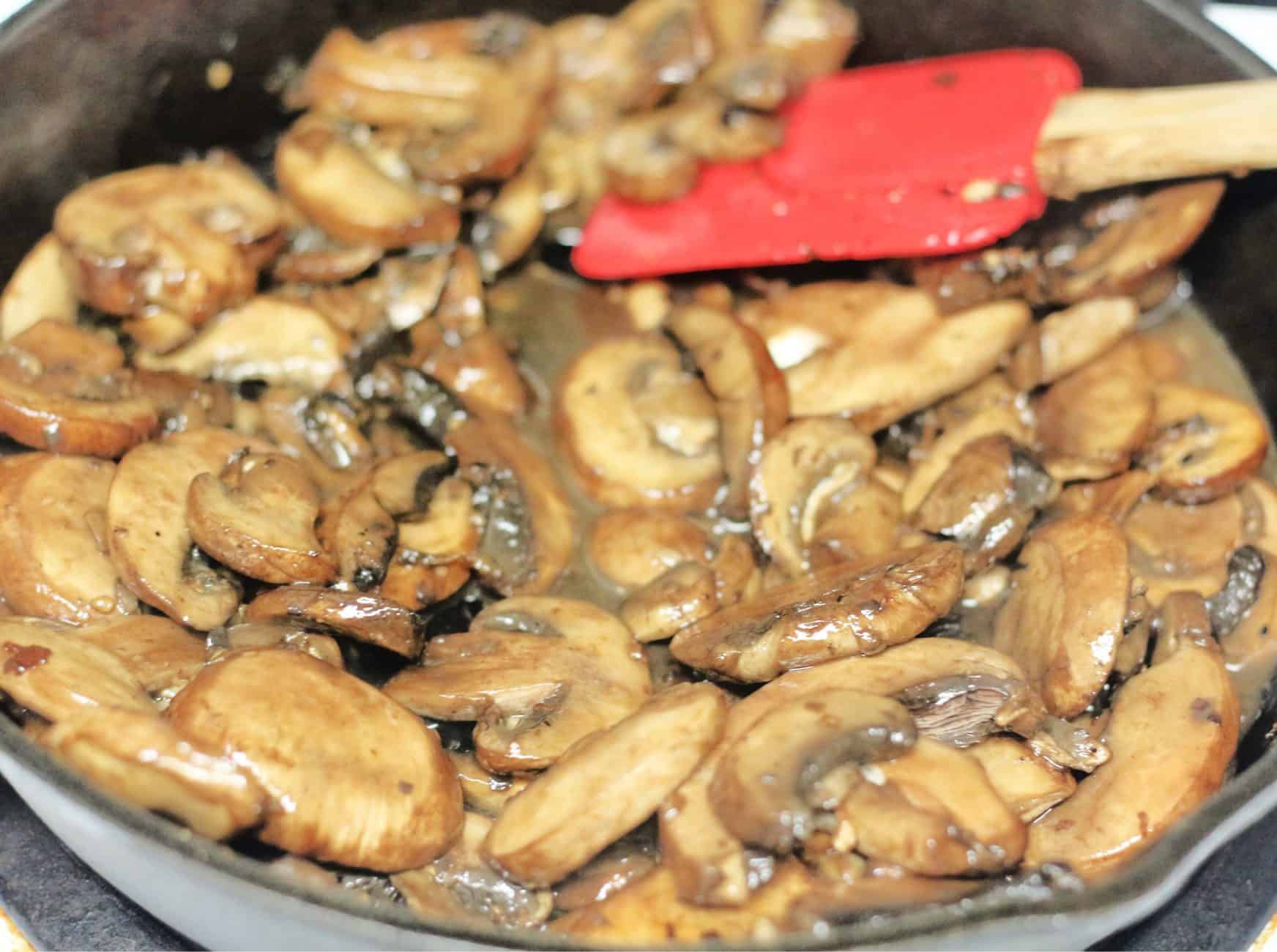 Step 11. Set aside
Directions Bechamel Sauce:
Step 1. Using a small pot, melt the butter
Step 2. Once the butter is melted, whisk in the flour
Step 3. Whisk in the milk until combined and thick
Step 4. Remove from pot and side aside
Step 5. Remove the mushroom mixture from the castiron pan
Step 6. Place the pork chops, chopped bacon, and half of the mushroom mixture into the castiron
Step 7. Gently fold in the remaining mushroom mixture into the bechamel sauce
Step 8. Pour the sauce over the pork chops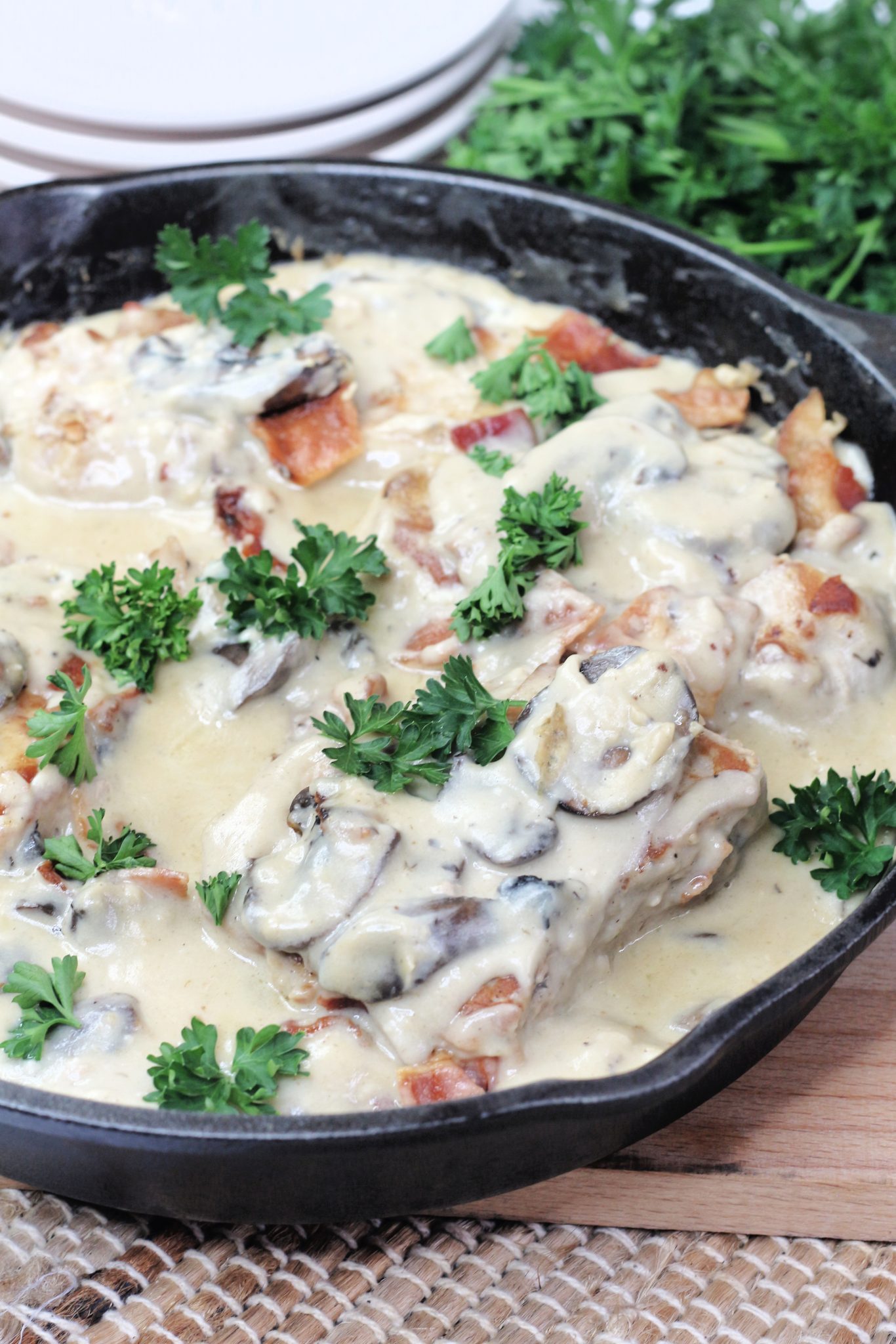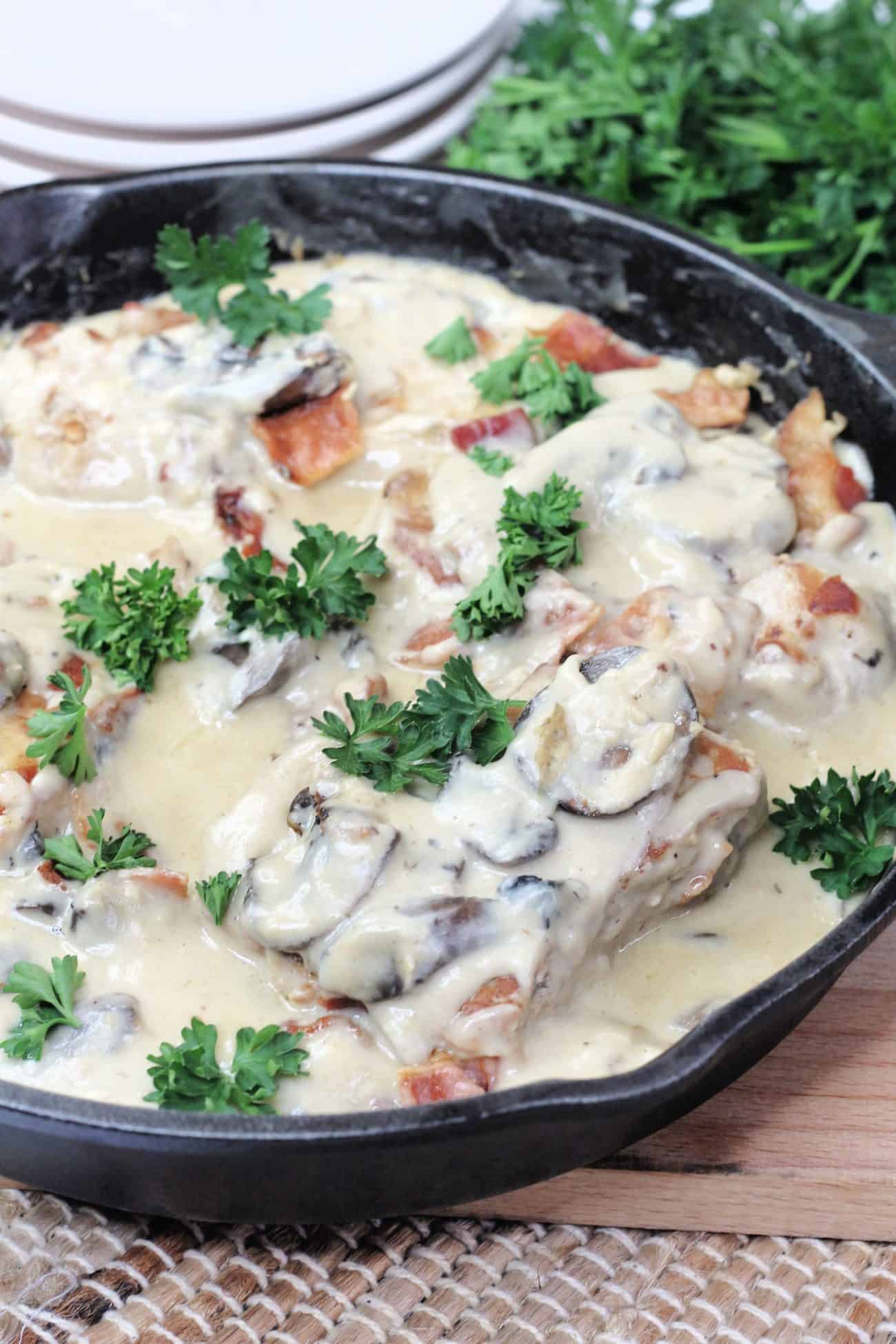 Step 10. Serve and enjoy!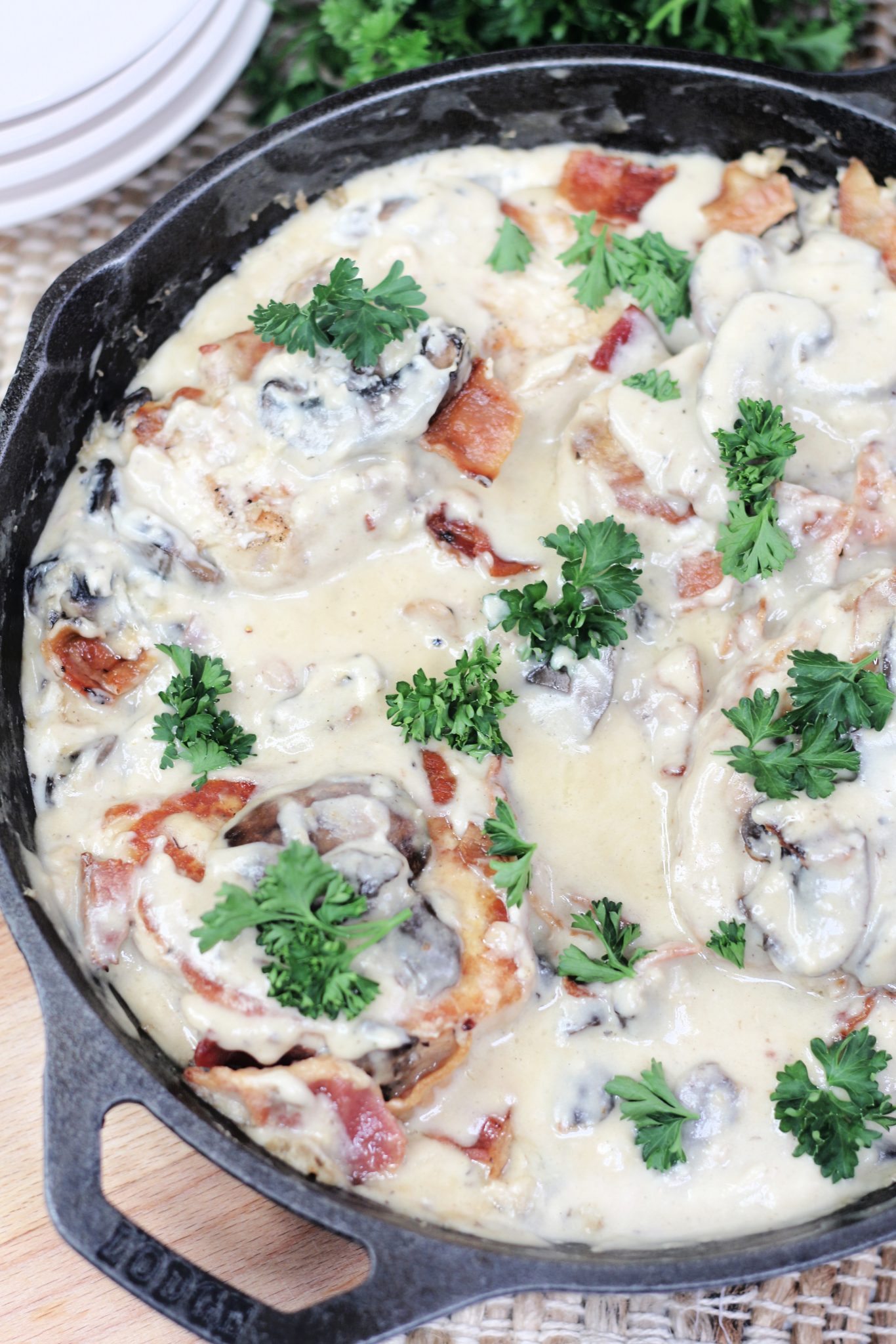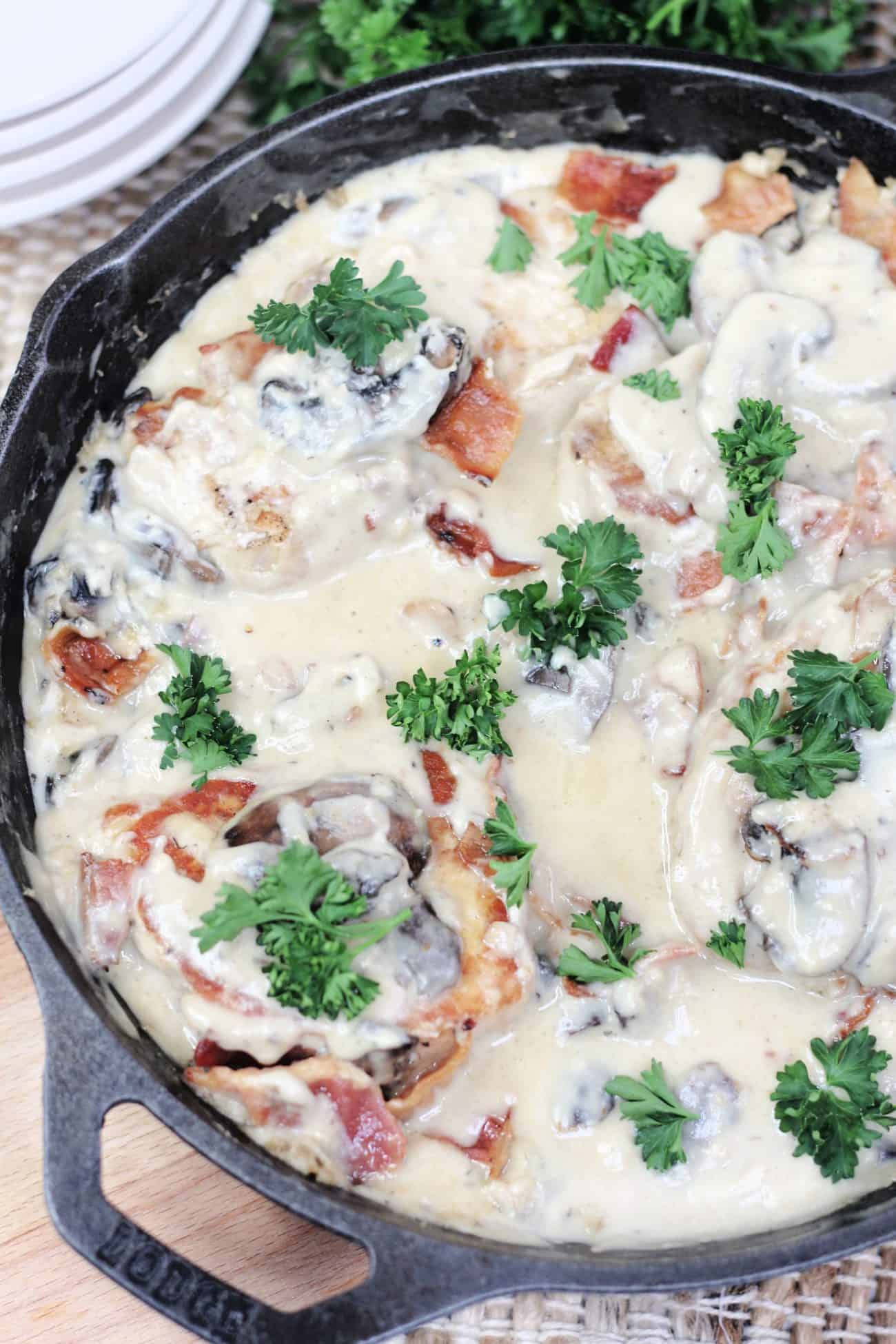 Now, remember to save this recipe on Pinterest for later 🙂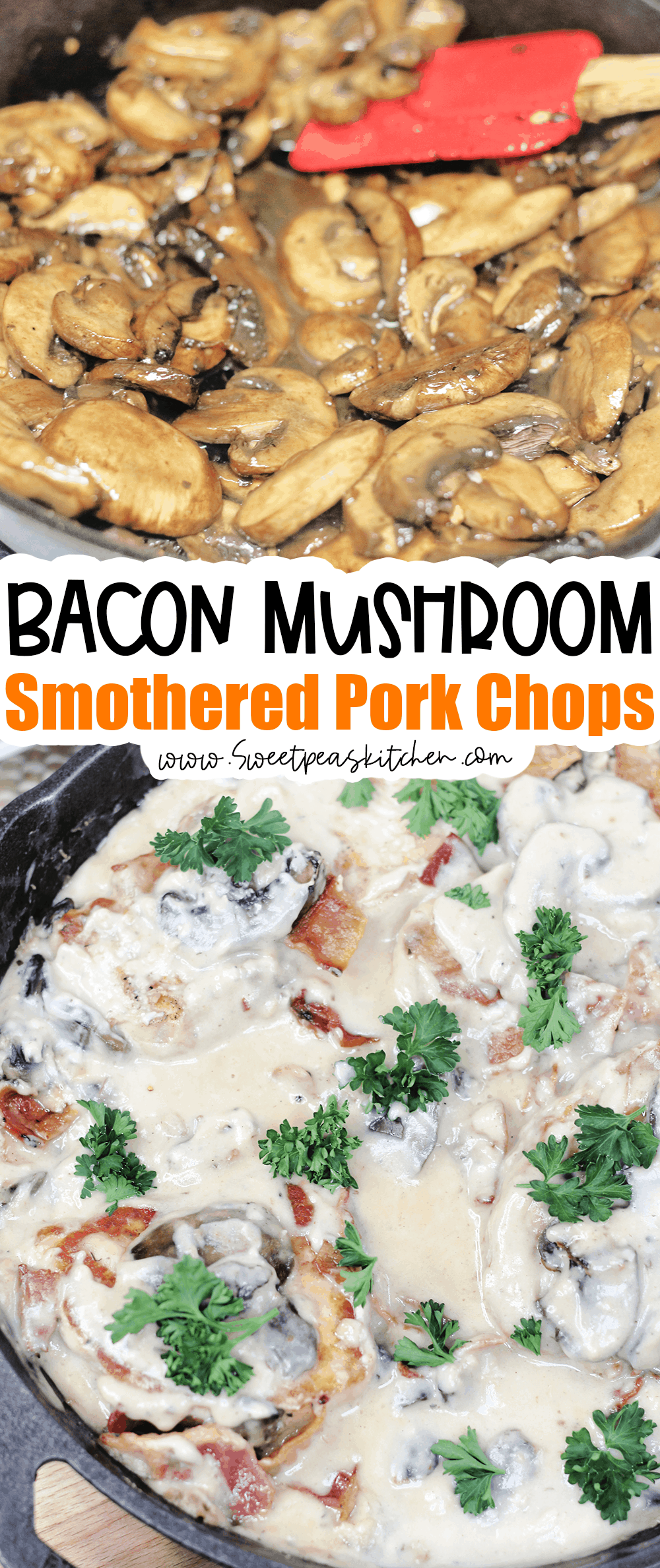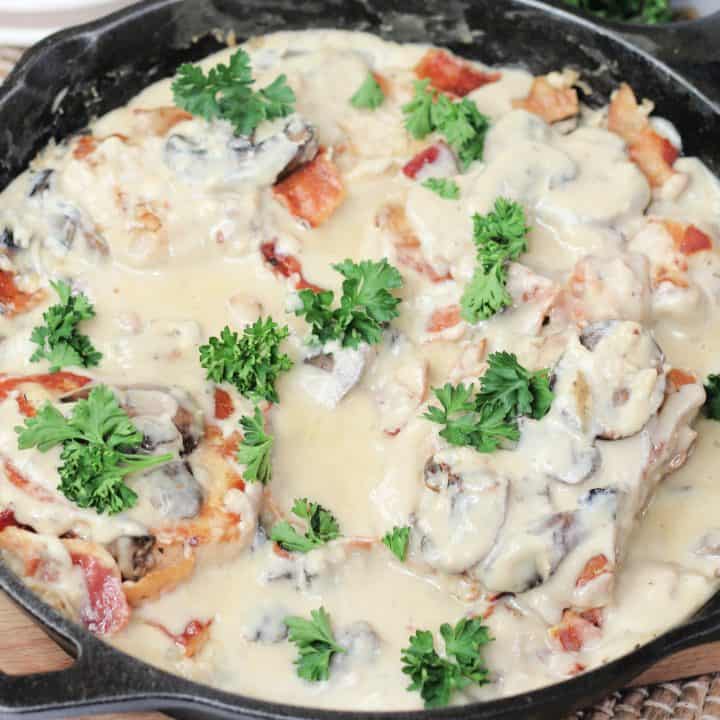 Bacon Mushroom Smothered Pork Chops
Ingredients
6 strips of bacon, chopped
2 lb pork chops
1 - 8oz Sliced Mushrooms
3 tbsp minced garlic
2 tbsp dried thyme
1 tbsp olive oil
2 tbsp flour
⅔ C chicken broth
½ C heavy whipping cream
Salt and Pepper
Bechamel Sauce Ingredients
4 tbsp unsalted butter
4 tbsp flour
2 C whole milk
1 tsp nutmeg

Instructions
Using a large pan over medium heat, cook the bacon until crispy
Remove the bacon and place onto a plate and set aside
Season the pork chops with salt and pepper
Using the same pan, cook the pork chops over medium heat until cooked all the way through
Place onto another plate and set aside
Using the same pan, add the mushrooms, minced garlic and olive oil over medium to high heat
Mix in the dried thyme and flour
Add the chicken broth and bring the mixture to a boil, stir consistently until smooth
Mix in the heavy whipping cream and stir until combined
Your mixture should become thick
Set aside
Bechamel Sauce Directions:
Using a small pot, melt the butter
Once the butter is melted, whisk in the flour
Whisk in the milk until combined and thick
Remove from pot and side aside
Remove the mushroom mixture from the castiron pan
Place the pork chops, chopped bacon and half of the mushroom mixture into the castiron
Gently fold in the remaining mushroom mixture into the buschamel sauce
Pour the sauce over the pork chops
Serve and enjoy
Check some of my best recipes below: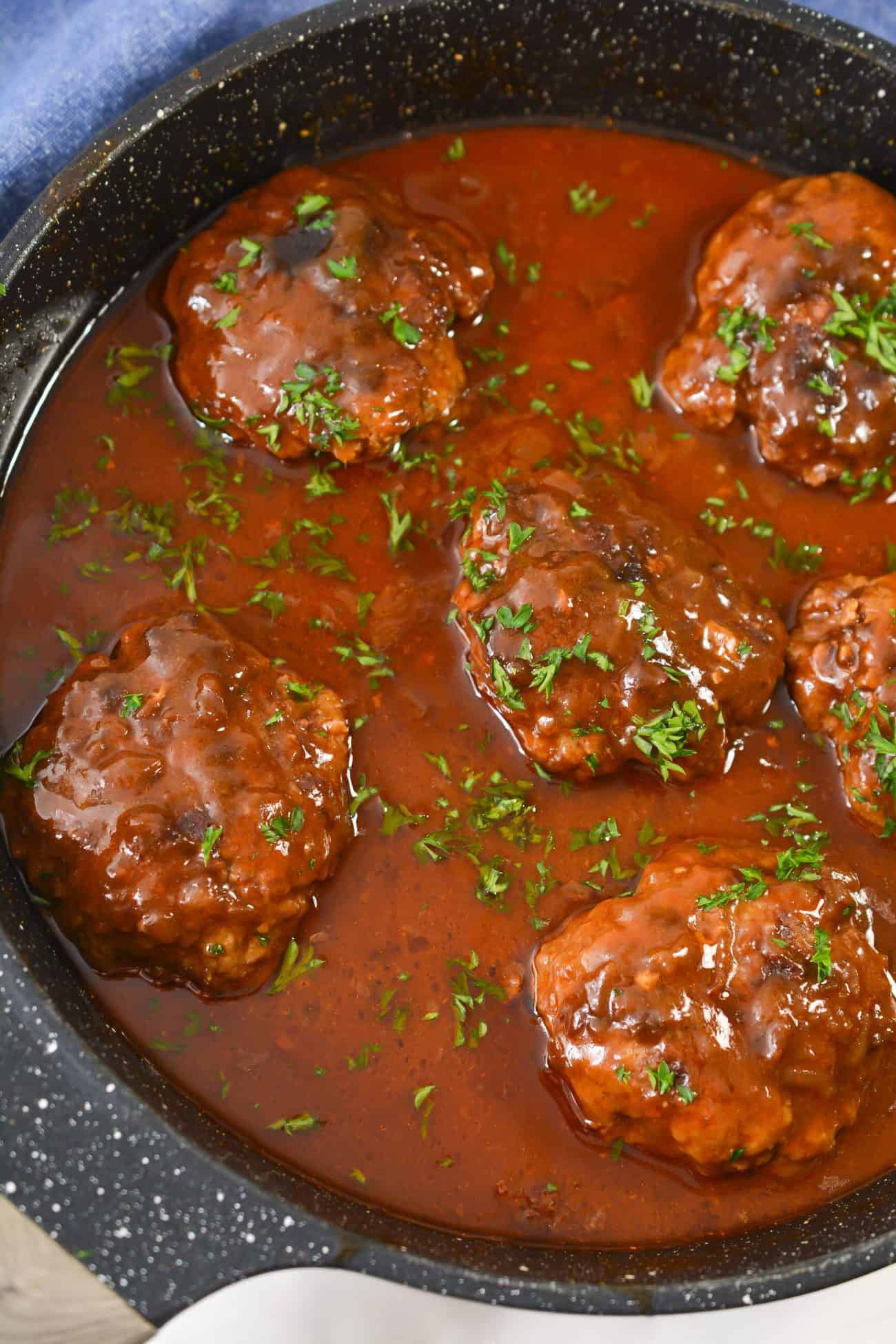 Honey Garlic Slow Cooker Chicken Thighs