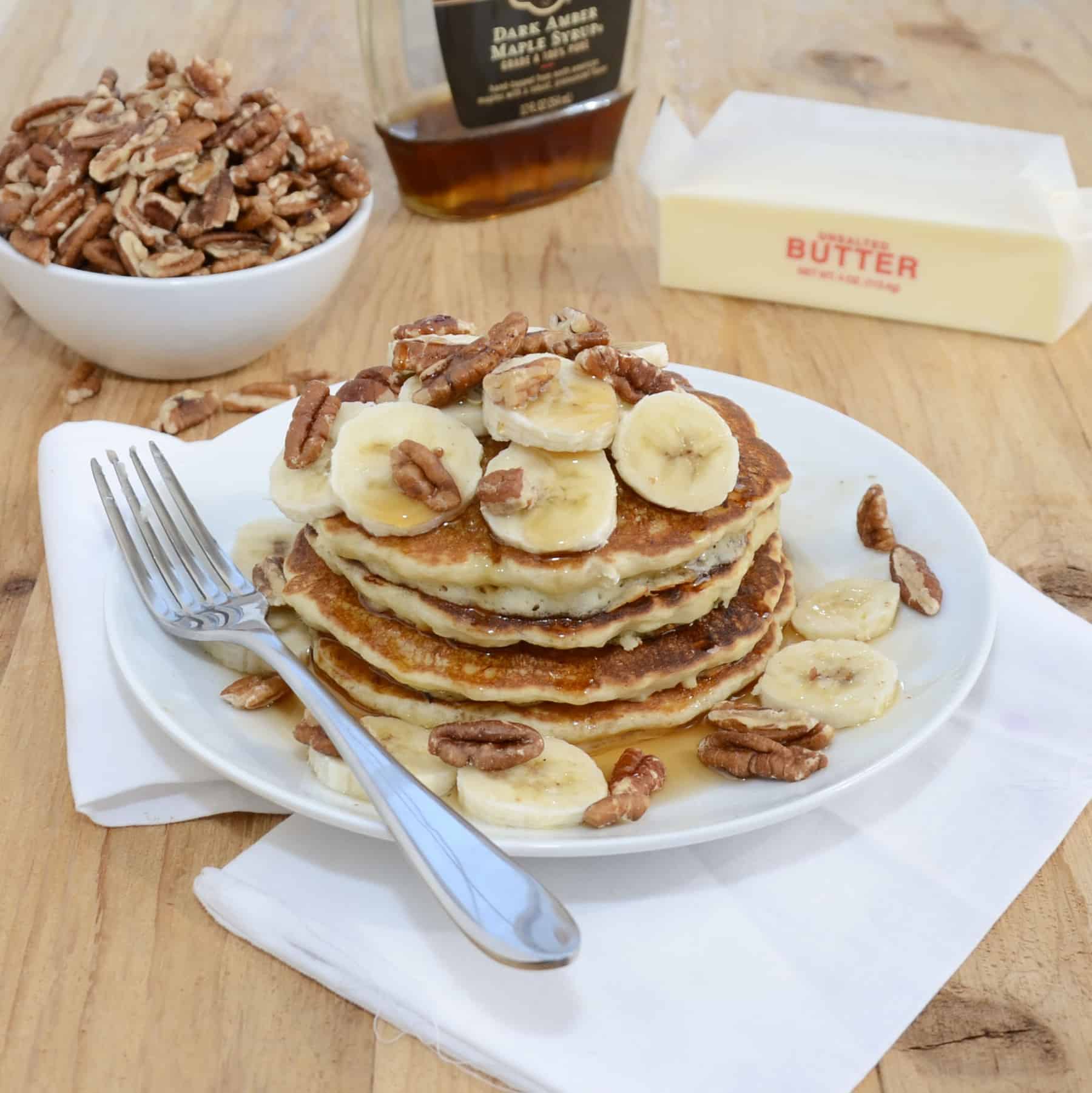 Fluffy Banana Pancakes are light, delicious, and very easy to make. When you cook these pancakes from scratch, you will find that the insides are soft, and the exterior is perfectly crispy. Make this banana pancake recipe for an easy breakfast or make a big production and serve it for a fancy brunch. Everyone will love it!
Scroll to bottom for printable recipe card.
Banana Pancakes
Fluffy banana pancakes packed with mashed banana and topped with toasted pecans and sliced bananas. Pancakes are one of those breakfast foods that I am constantly craving but only make when we have company. Otherwise, it could get ugly! 😉 Luckily for me, my parents are visiting us from Columbus, Ohio, and it seemed like the perfect opportunity to indulge in my pancake cravings.
Lately, my pregnancy cravings for pancakes have been a little out of control (along with cravings for everything under the sun!)! So when I found out my parents were coming to visit, I pulled out this recipe for banana pancakes that I had been holding onto forever, it seems. These pancakes turned out super delicious and were the perfect way to start our day!
Having several easy pancake recipes is a must. W eat them all the time, and even the kids will devour them in seconds. Adding in fruit and nuts will give us all some valuable nutrients too. So it's not just an incredibly sweet treat.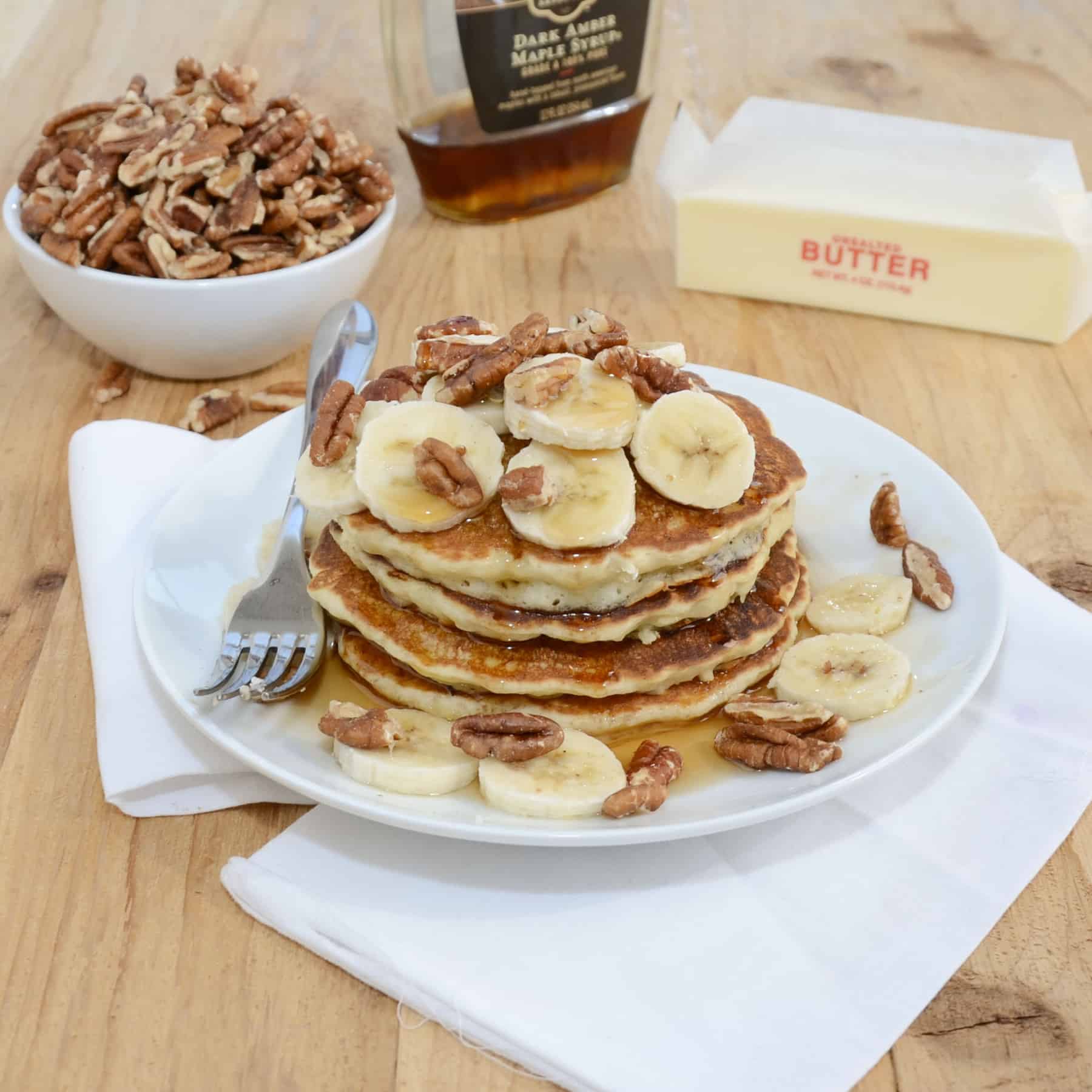 Toppings For Banana Pancakes
Toppings are pretty much endless! You can add just about anything you like on top. Here are some of my go-to toppings.
Chocolate Chips
Peanut Butter
Strawberries
Whipped Cream
Syrup
How to Know When to Flip Pancakes
While the pancakes are cooking, you will see little bubbles form all over the batter. Once those bubbles pop, then it's time to flip them over. If you flip them too soon, they will be undercooked on the one side and won't be that gorgeous golden brown color. Be sure to use a wide spatula to ensure that you can easily flip the pancake.
Tips For Storing Leftover Pancakes
Leftover pancakes from scratch can easily be saved for a later day. I recommend keeping them chilled in the fridge for up to 3 days. Of course, you need to keep them airtight. Then when you are ready to serve them, reheat in the microwave for 15-30 seconds or until they are hot all the way through. Add your toppings and enjoy!
Do Bananas Need To Be Ripe For Making Pancakes
Yes, if you use bananas that aren't very ripe, these easy banana pancakes aren't going to taste too great. Bananas get much sweeter as they ripen up. If you need to ripen the bananas quickly, go ahead and put them in the microwave for a minute or so, and that will soften them up. They won't become sweeter, though.
Can You Freeze Leftover Banana Pancakes
Yes, freezing banana pancakes are a wonderful way to plan your meals ahead of time. Go ahead and make and cook the pancakes. Let them cool off completely. Then you will need to flash freeze them on a baking sheet. Once they are frozen, go ahead and put them in a freezer bag or plastic container. They will last for several months in the freezer. When you are ready to heat them, you don't even have to thaw them. Simply heat them up for 1 minute or so and enjoy!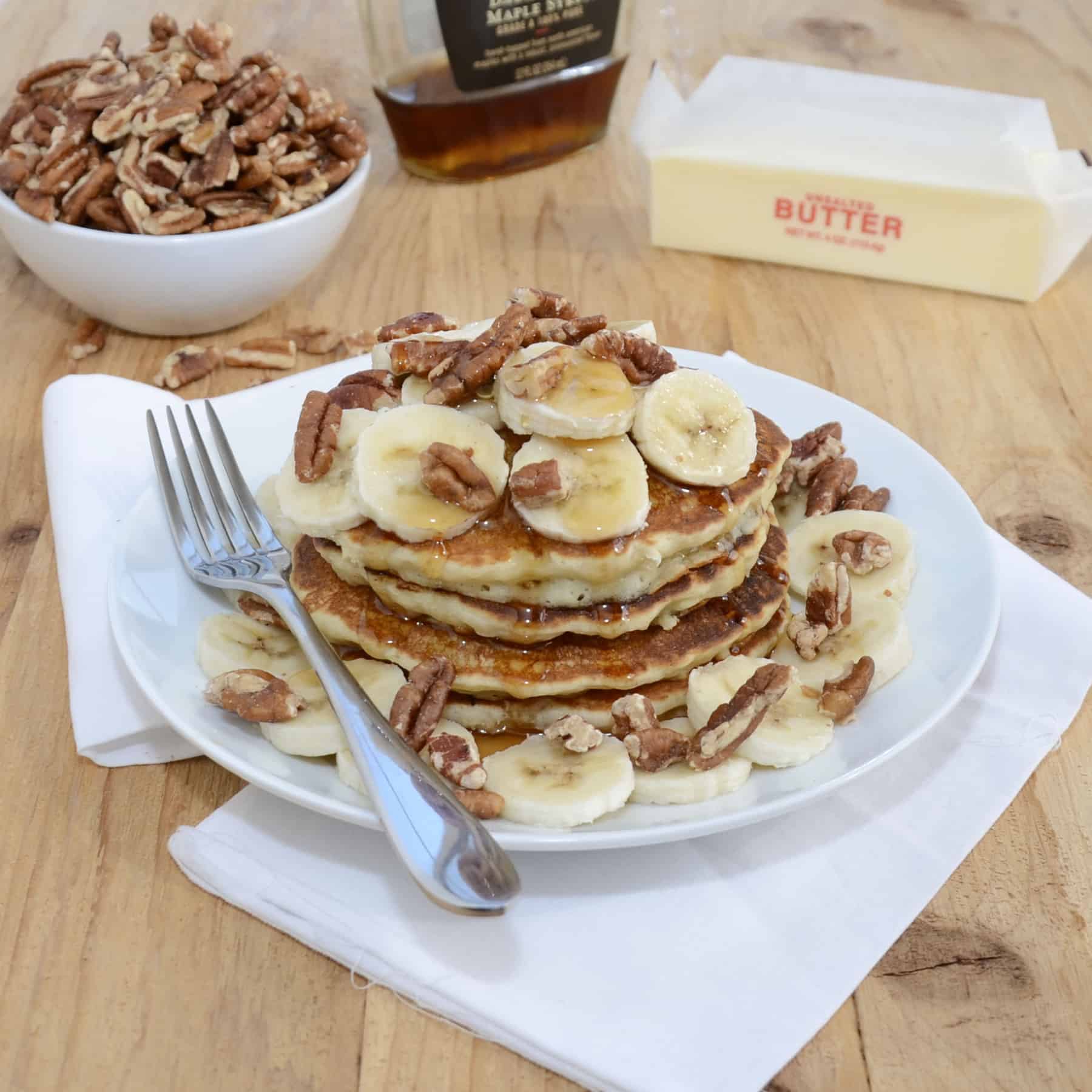 Ingredients
With just a few ingredients, you can quickly make these pancakes from scratch. I love this because you can say goodbye to all the boxed stuff. Making your own easy banana pancakes is so worth it. It only takes a few minutes, and they are the best ever.
All-purpose flour
Granulated white sugar
Baking powder
Salt
Cinnamon
Large egg, beaten
Milk
Pure vanilla extract
Vegetable oil
Mashed ripe bananas
Chopped toasted pecans
Sliced banana
How to Make Banana Pancakes
Okay, now it's time to get busy in the kitchen and get these banana pancakes made for you. I'm so excited for you to sink your teeth into these pancakes. Let's take a look at the directions.
First Step: Mix together the cinnamon, salt, baking powder, sugar, and all purpose flour in a medium bowl. Use a whisk to combine.
Second Step: Using a small bowl, combine two tablespoons of vegetable oil, banana, egg, milk, and vanilla together. Set them aside for later.
Third Step: Grab the bowl of the flour mixture and make a well in the center. Gently pour in the egg mixture and whisk it until it is just barely combined. There will be a few lumps, and that is more than fine. It's vital not to overmix.
Fourth Step: Next, you'll need to heat up your nonstick skillet using medium heat. Let it warm for 3-5 minutes until it's hot. Then add in one teaspoon of vegetable oil and brush it, so it covers the entire bottom of the skillet. Add in 1/4 cup of the batter to form a pancake. Make three pancakes and cook them. Once the bubbles appear and start to pop, go ahead and flip them. Repeat the process until all of the pancakes have been made. You may need to add more oil, so the pancakes don't stick. Add toasted pecans, sliced bananas, and serve.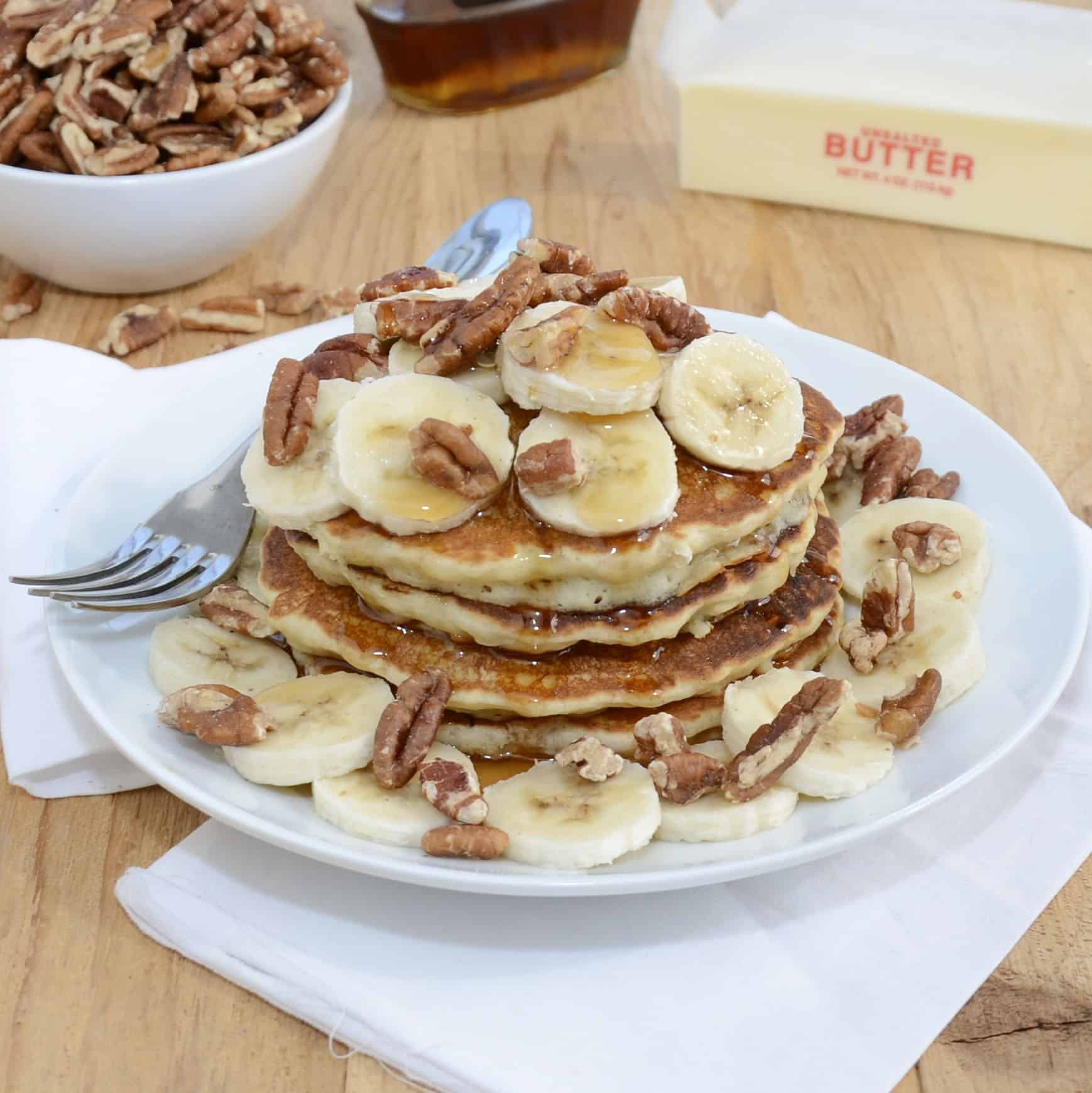 There is a good reason why we all love pancakes so much…they are incredible! Here are some of our favorite pancake recipes that you are sure to enjoy.
Pin this recipe now to remember it later
Ingredients
2

teaspoons

baking powder

1/2

teaspoon

vanilla extract

2

tablespoons

plus 2 teaspoons vegetable oil

,

divided

1/4

cup

chopped pecans

,

toasted
Want to save this recipe? Enter your email below and we'll send the recipe straight to your inbox!
NOTE: By saving this recipe, you agree to join our weekly recipes newsletter.
Instructions
In medium bowl, whisk together the flour, sugar, baking powder, salt and cinnamon.

In a small bowl, whisk together the egg, milk, vanilla extract, 2 tablespoons vegetable oil and banana; set aside.

Make a well in center of the dry ingredients; pour in milk mixture and whisk very gently until just combined (a few lumps should remain). Do not over mix.

Heat a 12-inch nonstick skillet over medium heat for 3 to 5 minutes; add 1 teaspoon oil and brush to coat skillet bottom evenly. Pour 1/4 cup batter onto 3 spots on skillet. Cook pancakes until large bubbles begin to appear, 1 1/2 to 2 minutes. Using thin, wide spatula, flip pancakes and cook until golden brown on second side, 1 to 1 1/2 minutes longer. Serve immediately, and repeat with remaining batter, using remaining vegetable oil only if necessary. Top with toasted pecans and sliced bananas.
Follow me on Pinterest for daily delicious recipes!
Source: adapted from Allrecipes
Get new recipes weekly plus our FREE ebook!