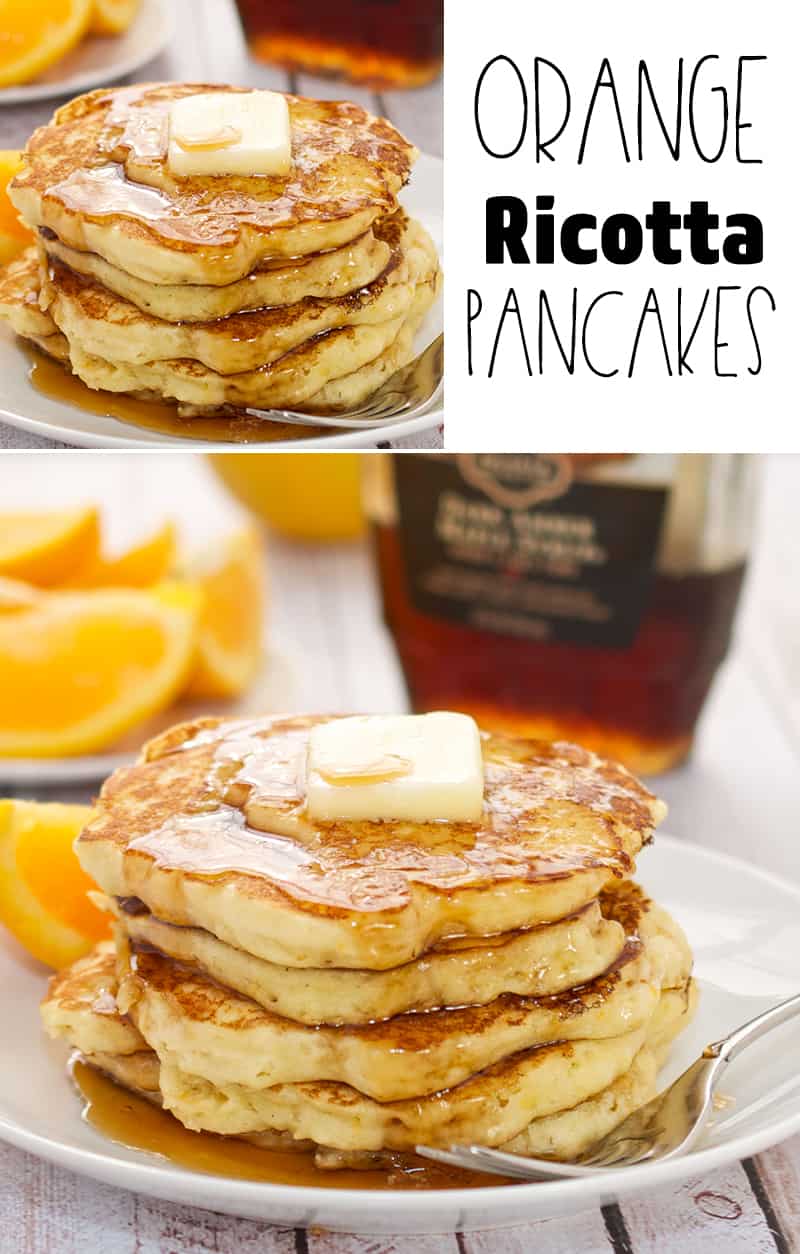 Orange Ricotta Pancakes are a fun and zesty way to enjoy your favorite breakfast food. These easy pancakes are so delicious, and I know you are going to end up hooked on them, just like me. You only need a few ingredients and a little bit of time, and you can sit down to a gorgeous breakfast with lots of incredible flavors.
Scroll to bottom for printable recipe card.
Orange Ricotta Pancakes Recipe
There's something about pancakes that always reminds me of my childhood. Growing up, every weekend started with my mom making a big stack of them. My brother and I loved watching her cook them, eagerly waiting for that first fluffy bite. Who cared if it was the recipe on the back of the Bisquick box, we loved them anyway. 🙂
I found this recipe while browsing Pinterest a while ago and immediately pinned it to make on a lazy Saturday morning. I was intrigued that the recipe called for ricotta cheese and couldn't wait to give them a try. They involve a little extra effort, but are definitely worth it! Thick, fluffy, melt-in-your-mouth deliciousness! What are you waiting for? Get into the kitchen and whip up a batch of these Orange Ricotta Pancakes. There's no better way to start the day!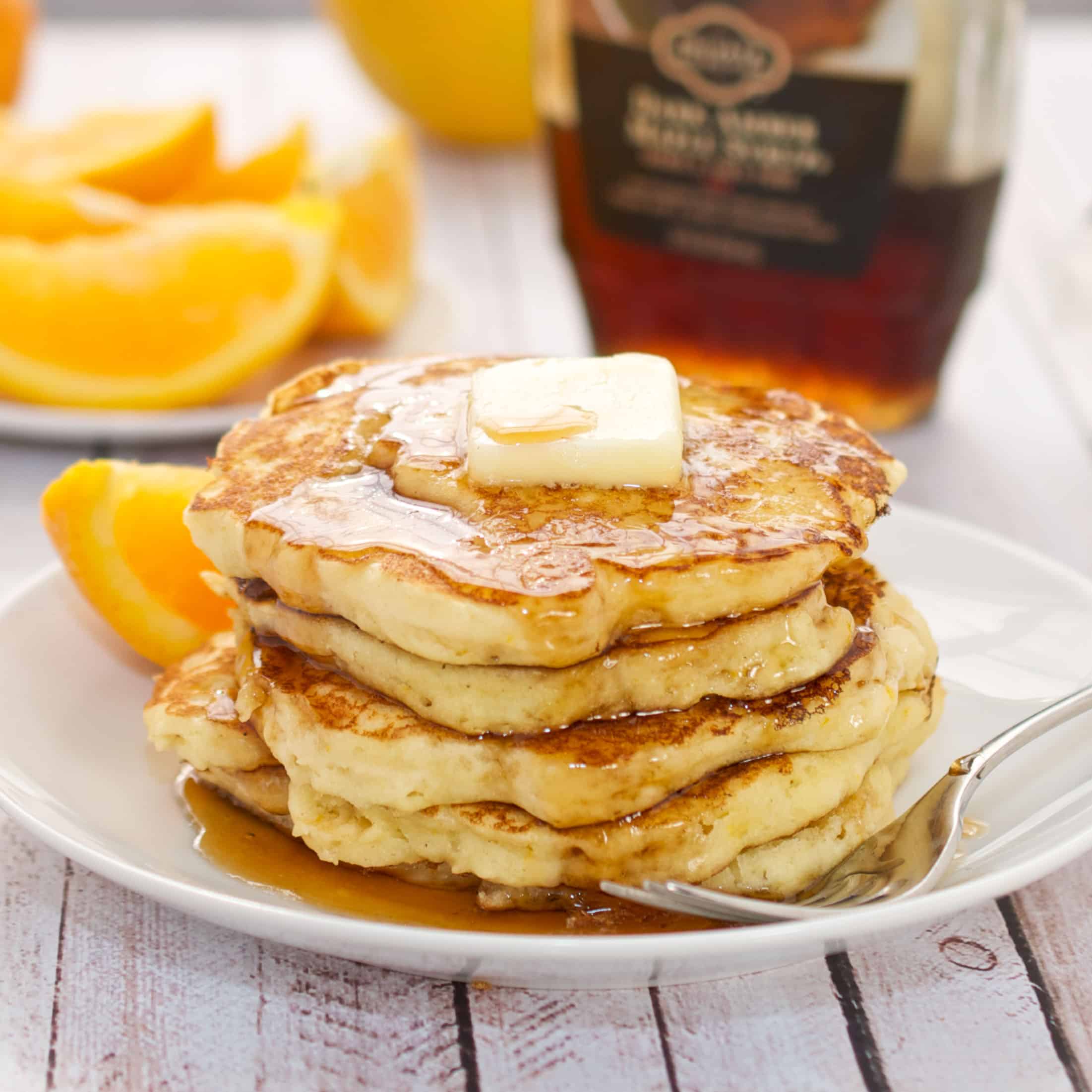 If you are hosting a brunch for a baby shower or bridal shower, these ricotta orange pancakes are a must-have. They are elegant and would be perfect at a fancy breakfast or brunch. Plus, they are amazing to make for holidays such as Easter or Mother's Day too.
Why Use Ricotta in Pancakes?
If you've never had ricotta cheese in your pancakes or other baked goods, you have been missing out. Ricotta takes ordinary pancakes and makes them creamy, rich, and have a milky texture that is out of this world. Ricotta cheese is a fantastic asset to pancake recipes, and I am sure once you try it the first time, you are going to be craving these beauties all the time.
Another fantastic aspect of adding ricotta to your pancake mix is that it pairs so well with lots of fruits. Strawberries, lemon, blueberries, and raspberries are just a few that I can think of off the top of my head. Of course, it tastes fantastic with these orange ricotta pancakes. So, try this recipe for orange ricotta pancakes, and I am certain you will have a new favorite way of making them.
Do Ricotta Pancakes Taste Cheesy?
No, ricotta pancakes do not taste cheesy. I know it would make sense for them to taste cheesy after adding ricotta, but they truly don't. They are rich and creamy, but you don't notice a cheese flavor at all. Due to the fact that you add in other ingredients, especially the tangy orange, it makes it, so there isn't any cheese flavor at all. If you feed the pancakes to someone who has no idea you added ricotta, they aren't going to be able to pick out that flavor. They will know that they are extraordinary pancakes, but won't be able to put their finger on what exactly is causing it.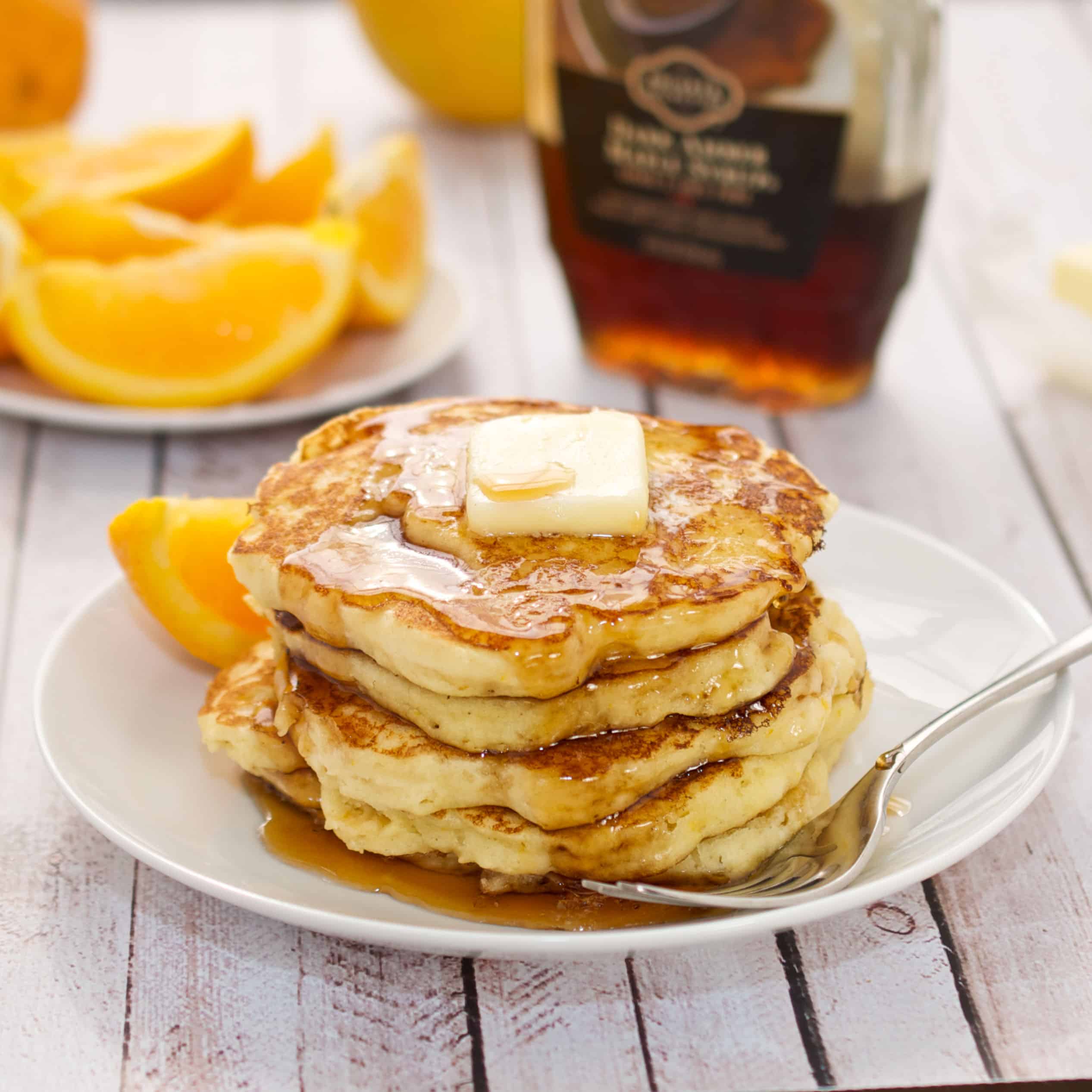 Ingredients
To make these orange ricotta pancakes, you just need 12 ingredients plus your favorite syrup. We always use maple syrup because it tastes like perfection when coupled with the fluffy ricotta pancakes.
How to Make Orange Ricotta Pancakes
Pancakes will always be one of my most favorite breakfast foods. They are just so incredible, vibrant, and easy to make. I can't wait for you to taste them and see for yourself. Here are the easy directions on how to make these irresistible orange pancakes.
First Step: Whisk the all-purpose flour, white sugar, baking powder, baking soda, and salt into a medium bowl until combined.
Second Step: Place the egg, ricotta cheese, milk, orange juice, butter, and orange zest in a small bowl and whisk, then set aside.
Third Step: In the bowl with the flour mixture, make a well in the center of the ingredients. Carefully pour the milk and egg mixture into the well, then whisk until combined. There will be a few lumps, and that is completely fine. Make sure not to overmix, or they will become dense and not as fluffy.
Fourth Step: Use a nonstick skillet and heat it up over medium heat for 3-5 minutes. Add one teaspoon of oil to coat the entire bottom of the skillet evenly. Add 1/4 cup of pancake batter into three spots in the skillet.
Fifth Step: Cook all the pancakes until you notice large bubbles appearing, which usually takes 1 1/2 – 2 minutes. Then use a wide spatula that is thin and carefully flip the pancakes. Cook the second side for 1 – 1 1/2 minutes longer or until they are a beautiful golden brown color.
Sixth Step: Continue working in batches until all the batter has been used, and you have freshly cooked pancakes. Serve warm with some maple syrup. Enjoy!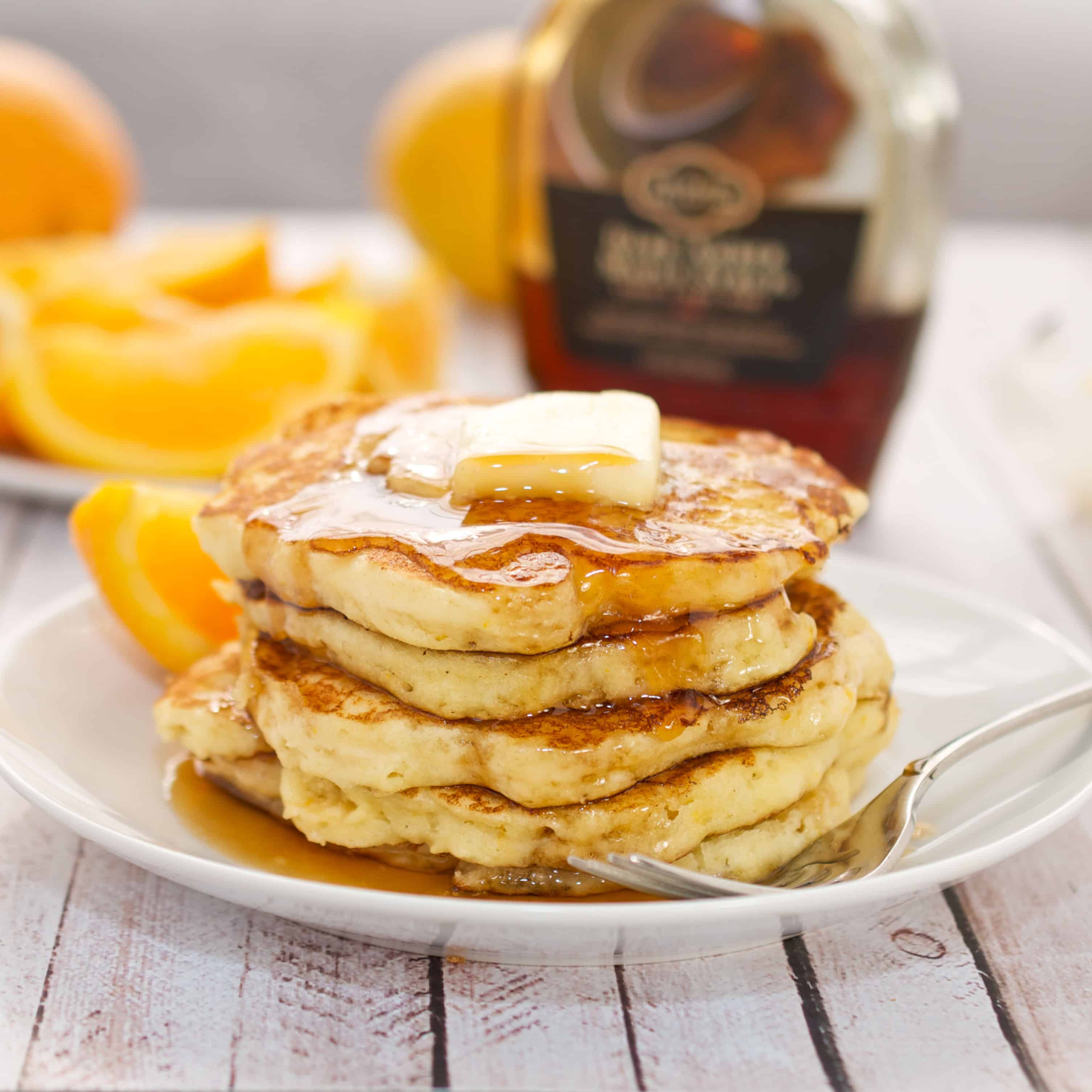 Now, remember to save this recipe on Pinterest for later 🙂

Pin this recipe now to remember it later
Orange Ricotta Pancakes
Thick, fluffy pancakes made with ricotta cheese and oranges. This Orange Ricotta Pancakes is AMAZING!
Ingredients
1 1/2

cups

all-purpose flour

1 1/2

teaspoons

baking powder

1/2

teaspoon

grated orange zest

1/2

teaspoon

vanilla extract
Want to save this recipe? Enter your email below and we'll send the recipe straight to your inbox!
NOTE: By saving this recipe, you agree to join our weekly recipes newsletter.
Instructions
In medium bowl, whisk together the flour, sugar, baking powder, baking soda, and salt.

In a small bowl, whisk together the egg, ricotta cheese, milk, orange juice, butter, and orange zest; set aside.

Make a well in center of the dry ingredients; pour in milk mixture and whisk very gently until just combined (a few lumps should remain). Do not over mix.

Heat a 12-inch nonstick skillet over medium heat for 3 to 5 minutes; add 1 teaspoon oil and brush to coat skillet bottom evenly. Pour 1/4 cup batter onto 3 spots on skillet. Cook pancakes until large bubbles begin to appear, 1 1/2 to 2 minutes. Using a thin, wide spatula, flip pancakes and cook until golden brown on second side, 1 to 1 1/2 minutes longer. Serve immediately, and repeat with remaining batter, using remaining vegetable oil only if necessary. Serve warm with maple syrup.
Follow me on Pinterest for daily delicious recipes!
More amazing pancake recipes you are going to want to try. Take a look at these mouthwatering pancake recipes: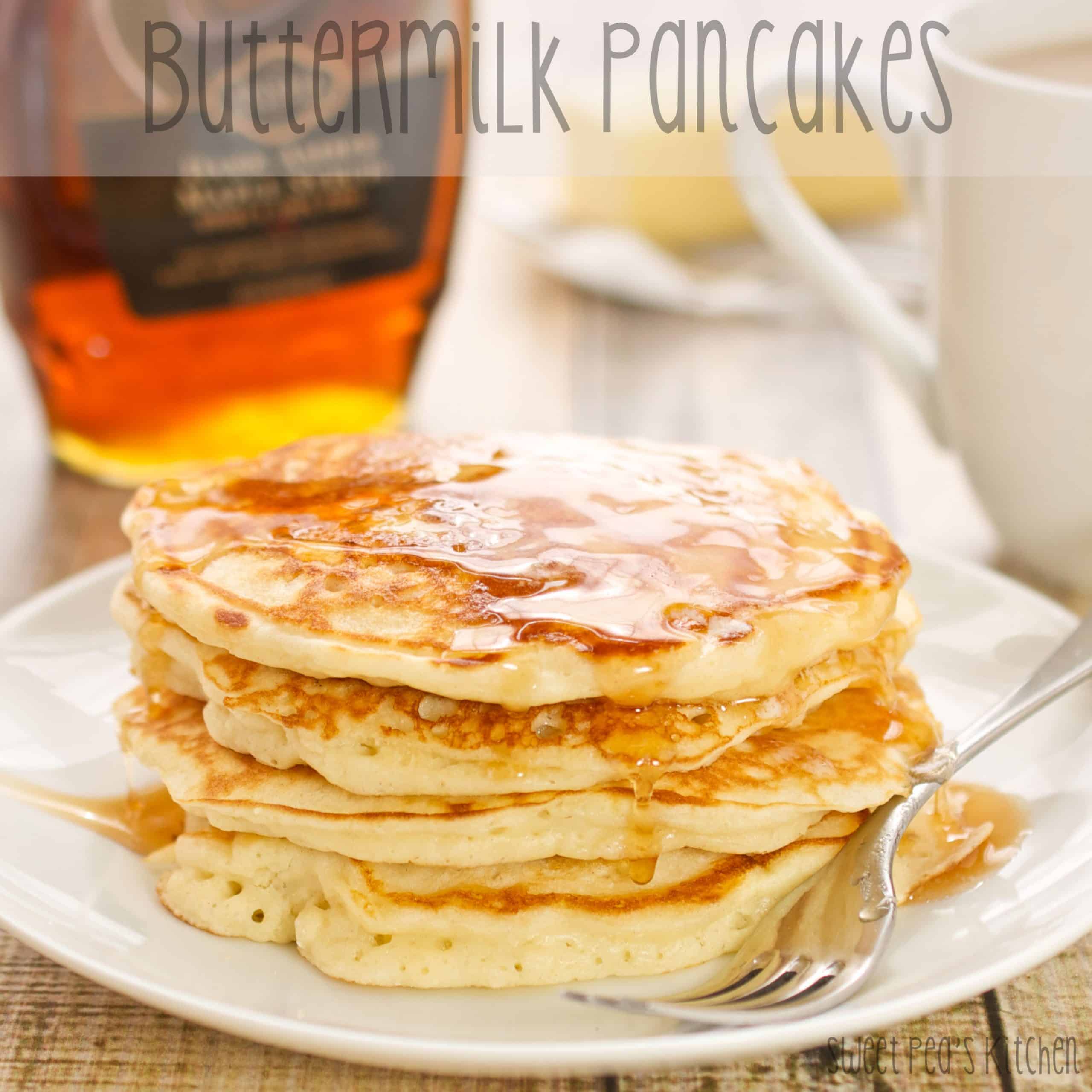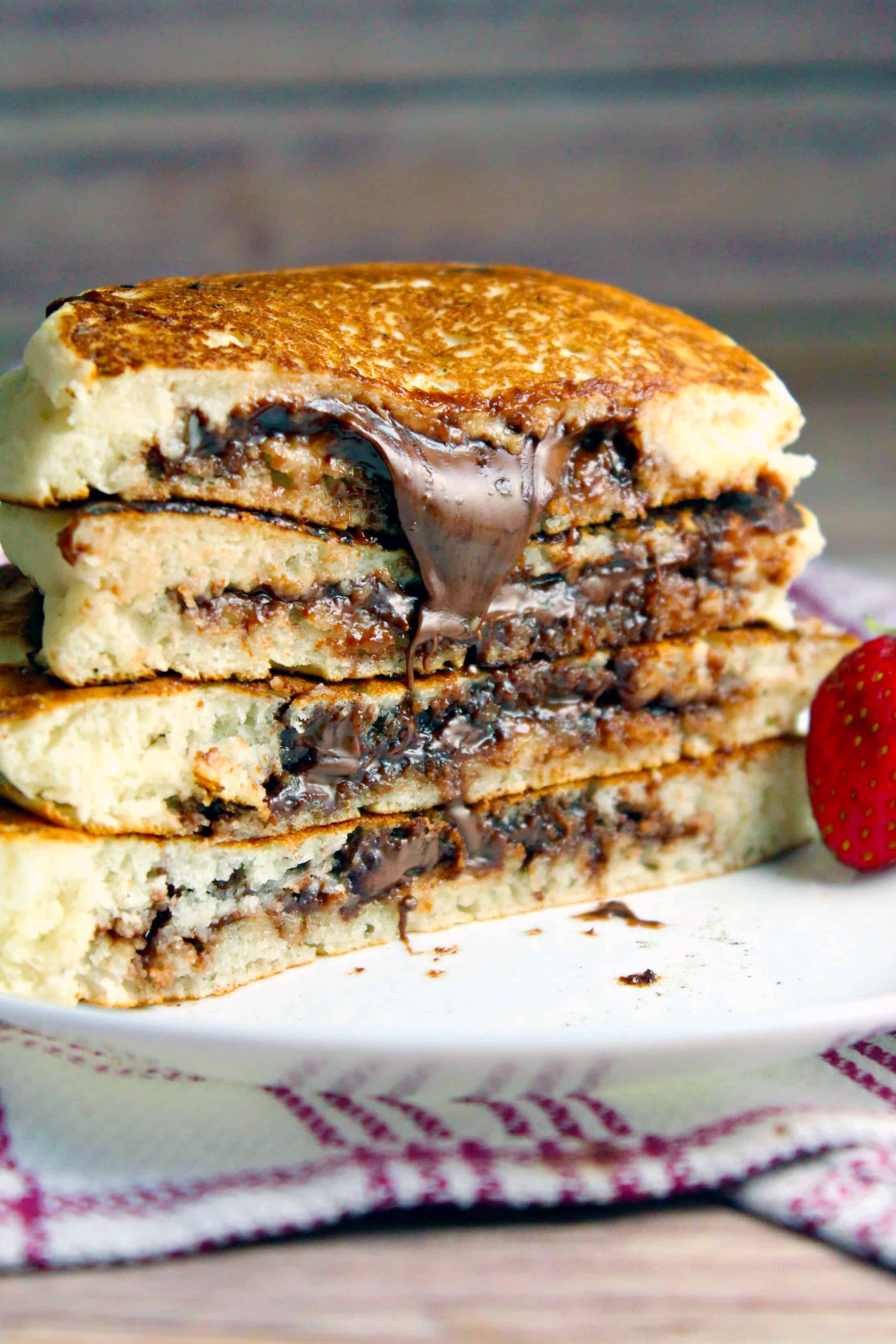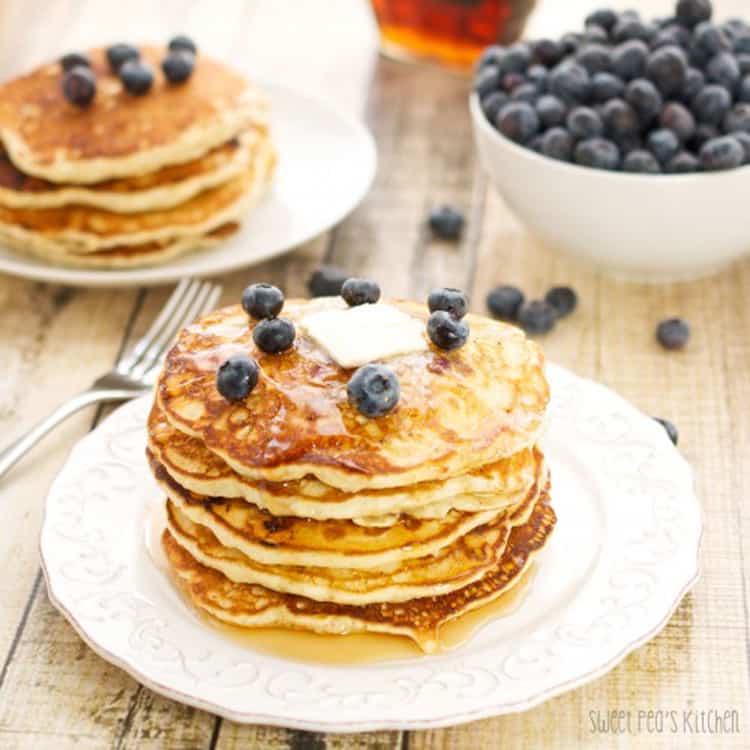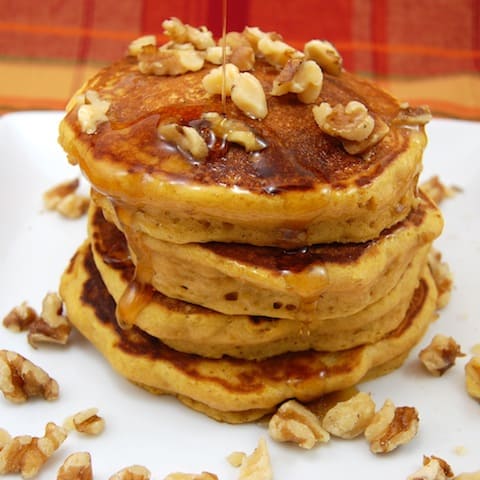 Get new recipes weekly plus our FREE ebook!