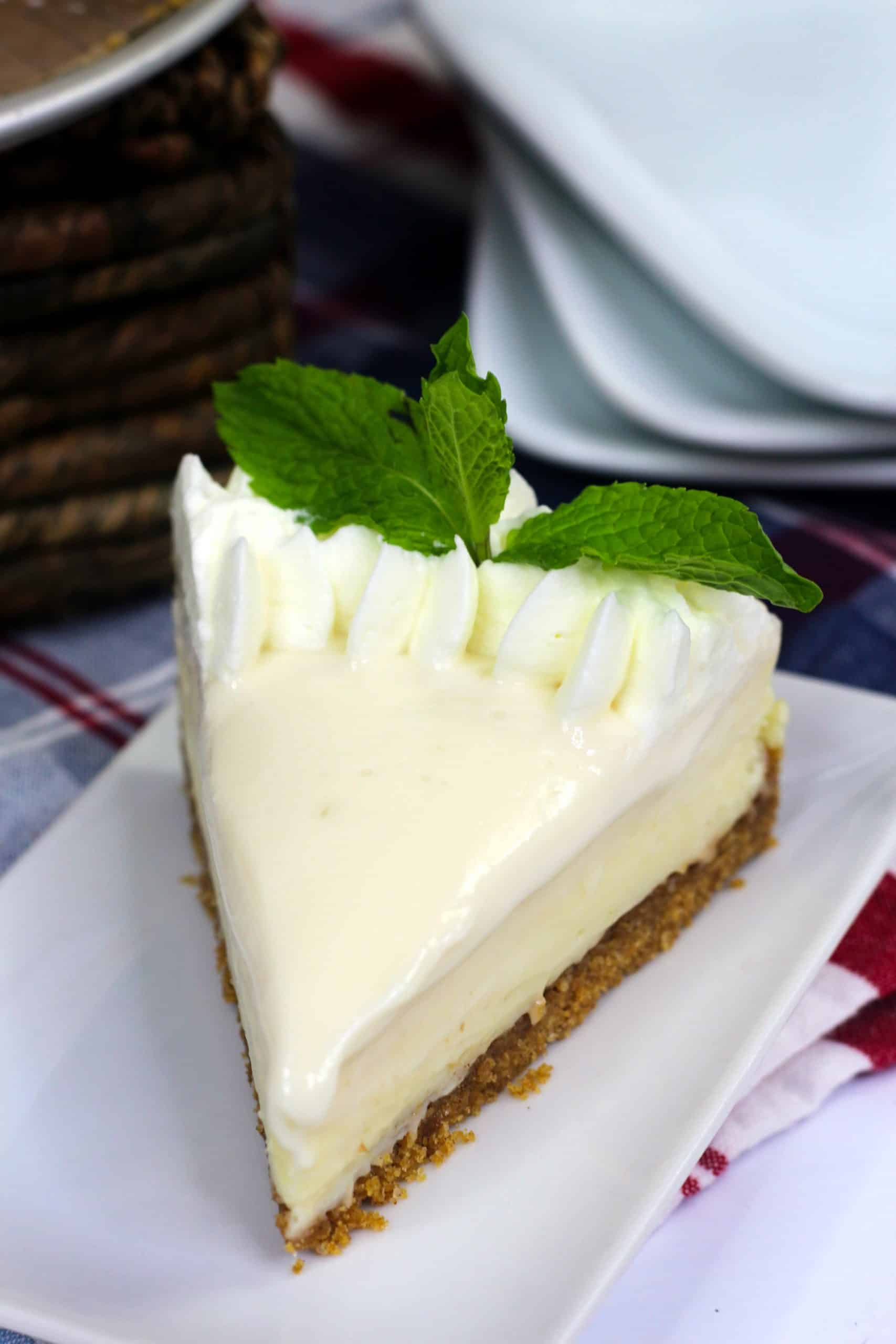 This Instant Pot Cheesecake Recipe is out of this world amazing! It's a creamy classic cheesecake recipe that can easily be made with just 7 ingredients! You won't find an easier pressure cooker cheesecake recipe than this one either.
Scroll to bottom for printable recipe card.
Best Classic Instant Pot Cheesecake Recipe
I love all sorts of cheesecake recipes! But this is by far the best Instant Pot Cheesecake I've had. I love that I can easily use my pressure cooker, and it doesn't take forever to prepare or cook it. Don't get me wrong; I love being in the kitchen. It's my comfort, and I'm happy to spend time making and preparing all sorts of recipes. However, I also love dishes that I can make that aren't hard like this cheesecake in Instant Pot. I think of it as fuss-free cooking. Doesn't that sound amazing?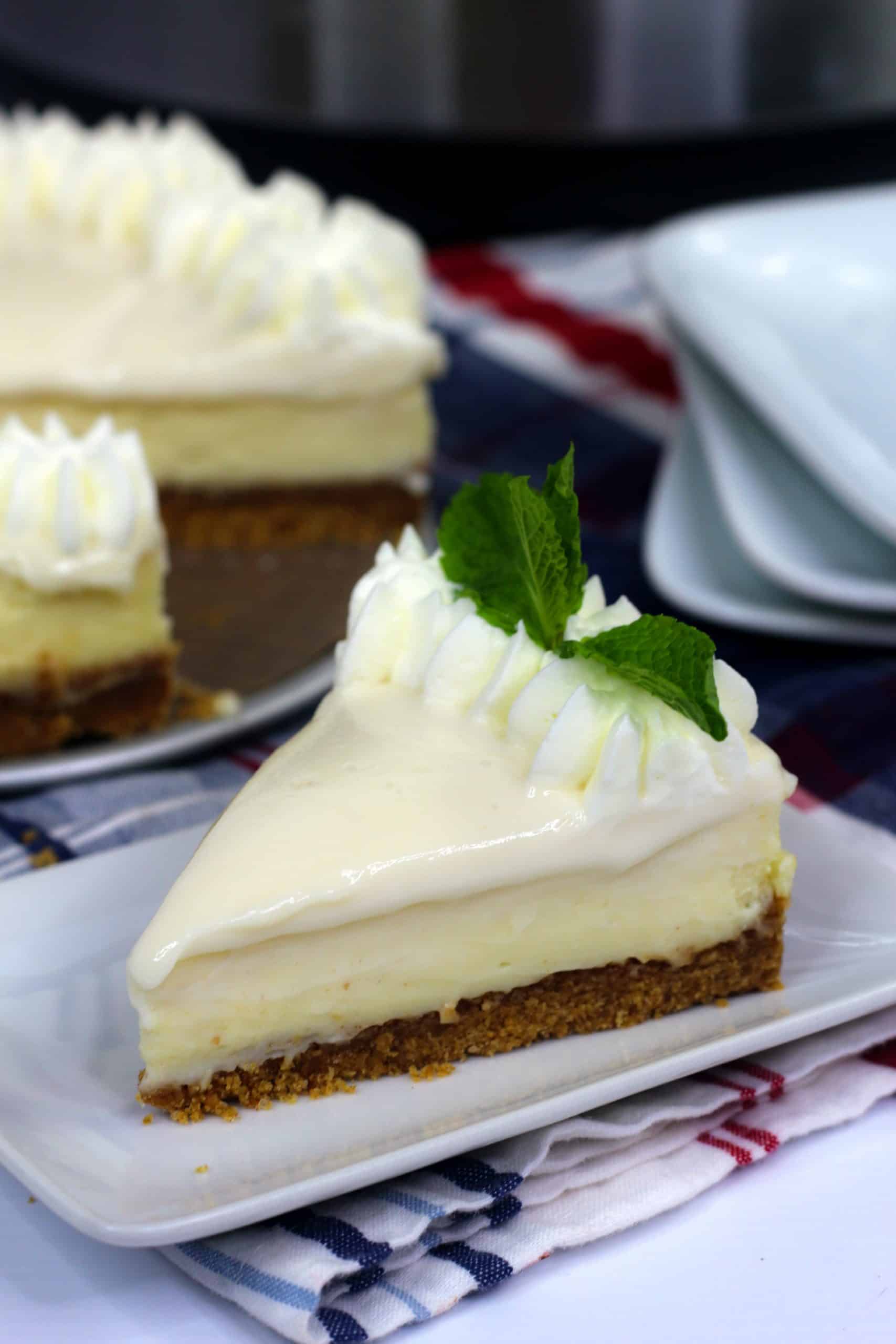 Instant Pot Cheesecake Recipe Ingredients
Can you believe you only need 7 ingredients to make this easy Instant Pot cheesecake? I love recipes that don't require tons of ingredients. It helps you save some money too.
Graham crackers
Sugar
Melted butter
Cream cheese
Vanilla extract
Eggs
Water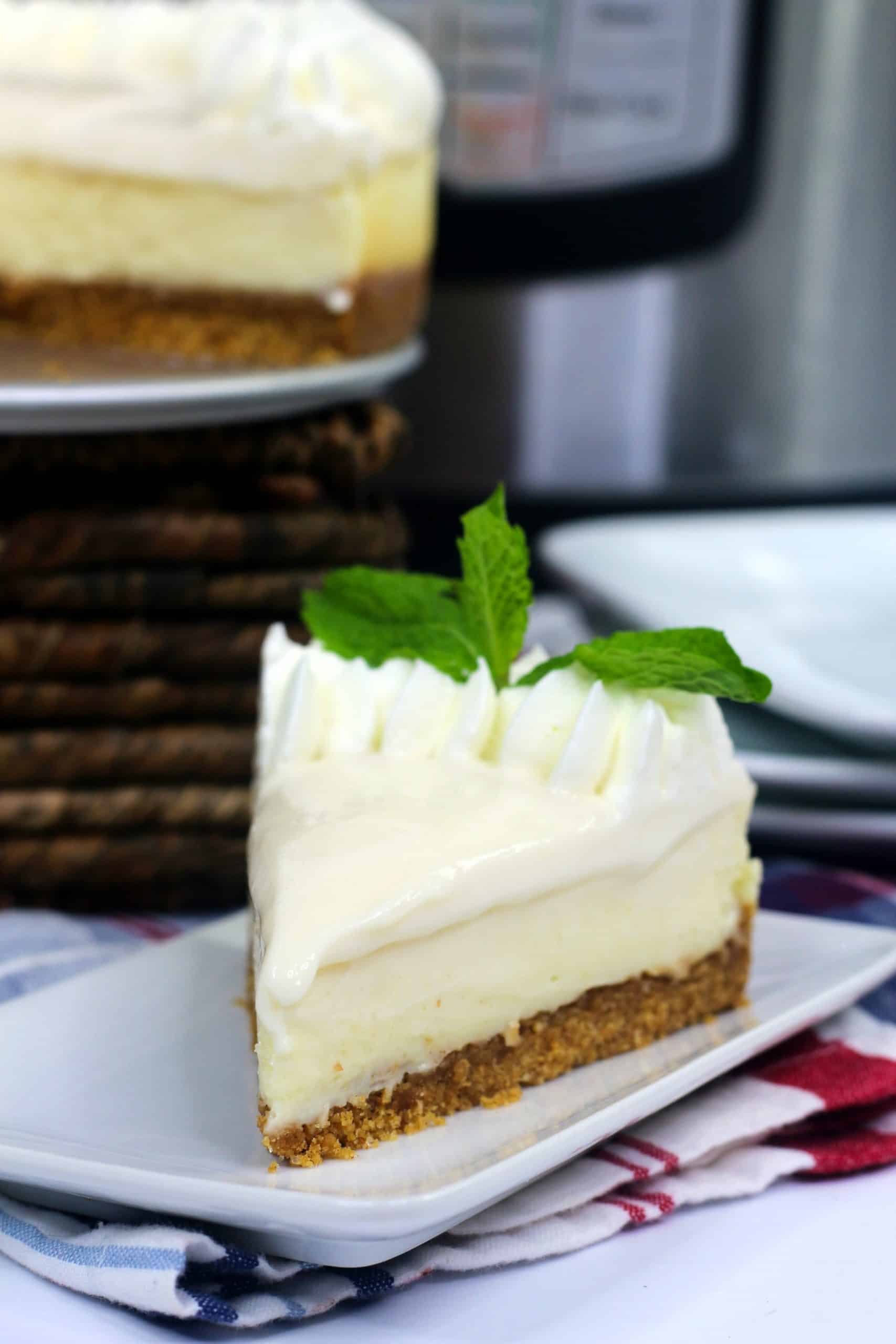 How To Make Cheesecake In Instant Pot
Pressure cooker cheesecake is so quick and easy to make. No one will believe that you made this sweet cheesecake in your Instant Pot, either. I love surprising people with it when I go to dinner parties too.
First Step: Mix the crushed graham crackers, sugar, and melted butter together in a medium-sized bowl. Mix until everything is thoroughly combined.
Second Step: Make a crust by pressing the graham mixture into the bottom of a 6-inch springform pan and place it in the refrigerator.
Third Step: Blend the cream cheese and sugar in a stand mixture until it's combined and creamy.
Fourth Step: Put in one egg at a time with the cream cheese mixture and beat until incorporated.
Fifth Step: Remove the cheesecake crust from the fridge and pour in the cream cheese mixture.
Sixth Step: Loosely wrap the cheesecake pan with foil. Place a long piece of foil that's been folded in half underneath the cheesecake pan. Use the ends to form a sling.
Seventh Step: Put a rack into the bottom of the Instant Pot and add water to the pot.
Eighth Step: Put the cheesecake and sling from the foil into the Instant Pot.
Ninth Step: Close the Instant Pot and make sure the pressure release valve is closed.
Tenth Step: Put the pressure cooker to the manual position and cook for 30 minutes.
Eleventh Step: After 30 minutes, allow the steam to naturally release for 15 minutes then remove the cheesecake very carefully.
Twelfth Step: Let the cheesecake cool for 1 hour then serve!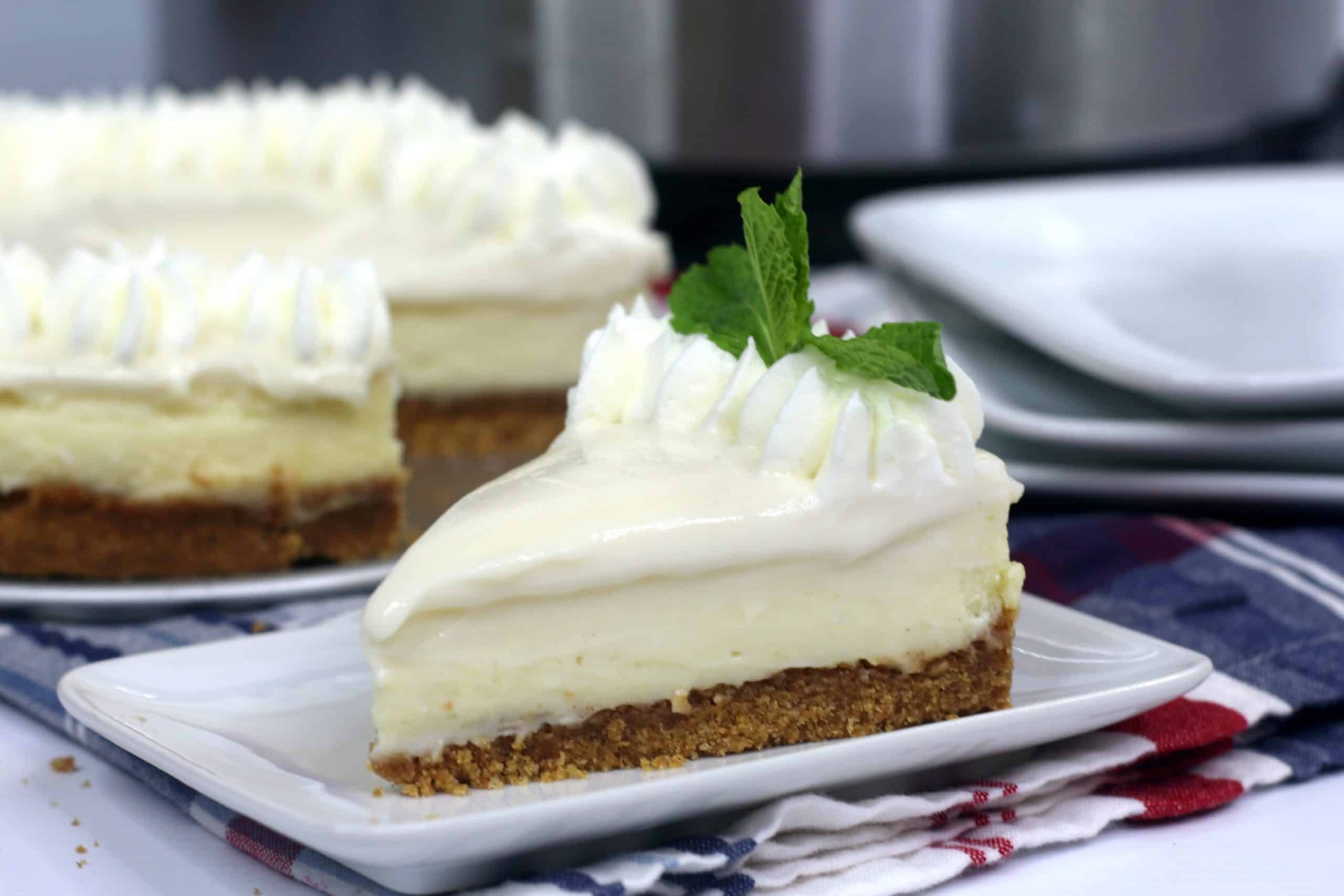 What Is The Best Way To Crush Graham Crackers?
It's important to make sure that the graham crackers are crushed all the way, so you don't end up with any large chunks. It should be the texture of dust or sand. I have found the best way to crush the graham crackers is my putting them in a ziplock bag and removing all the air. Then close it up and put it on the counter and begin going over it with a rolling pin. It just takes a few minutes to crush them, and they are the perfect texture every time.
Another option is to toss them into a food processor and give it a few whirs. It will turn into a excellent crumb texture in no time, and it's a pretty user-friendly method.
Best Instant Pot Cheesecake Variations
Because this is a classic cheesecake recipe, it doesn't have all the extra toppings and fillings. I LOVE a classic cheesecake more than anything. However, if I am craving chocolate or fruit, I will add in some extra fun stuff to make it even better. Here are some ideas to try:
Oreos – Chop up some Oreo cookies and sprinkle them into the cheesecake filling. Then garnish with crushed Oreos on top after cooking. Yum!
Chocolate Chips – I can never get enough chocolate chips! Use white, milk, semi-sweet, or bittersweet chocolate chips. Add them to the cheesecake mixture and stir it in.
Fudge Topping – Melt some hot fudge and drizzle it over the top of the cake. It's seriously one of the best flavors ever.
Jelly – Add some strawberry, raspberry, or peach jelly or jam to the cheesecake mix. Make sure to blend it all the way, and it's scrumptious.
Flavored Graham Crackers – Use cinnamon or chocolate graham crackers instead of the traditional honey-flavored for the crust. It's so tasty and adds some extra pizzazz.
How Do You Store Pressure Cooker Cheesecake?
Store this pressure cooker cheesecake in the refrigerator in a sealed container with a lid. It's a good idea to keep the cheesecake away from any food that happens to have a strong odor. Otherwise, the classic cheesecake may take on some of those flavors and not taste as good. The cheesecake will last 5-7 days in the fridge, so it's perfect if you want to make it ahead of time.
You can also store the easy cheesecake in the freezer for 2-3 months. Again, you want to keep it completely airtight and covered. When you are ready to serve, just put it in the refrigerator for a few hours and serve it.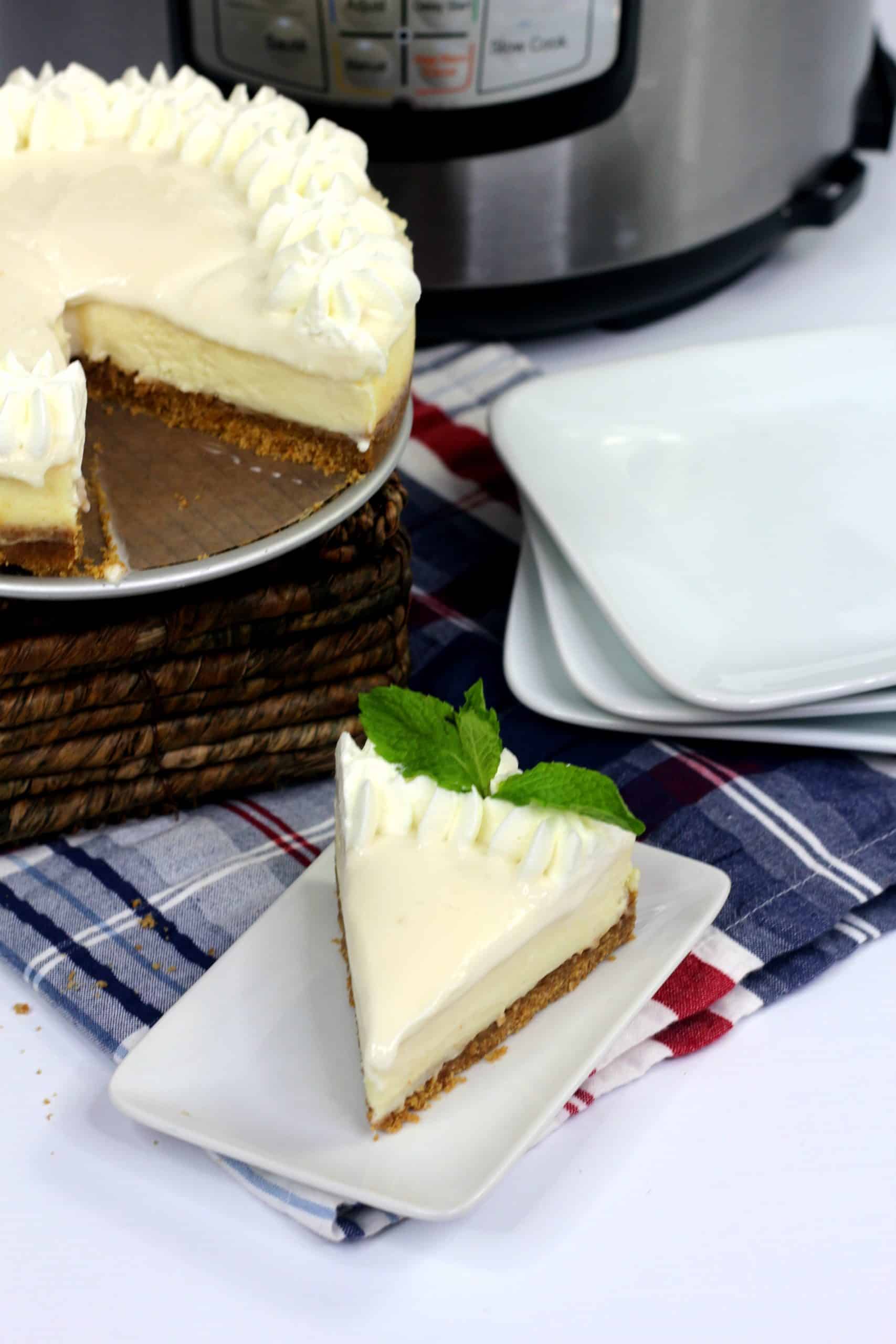 Now, remember to save this recipe on Pinterest for later 🙂

Pin this recipe now to remember it later
Best Classic Instant Pot Cheesecake Recipe
This insanely delicious Instant Pot Cheesecake Recipe is drool-worthy! You won't be able to get enough of this classic cheesecake recipe! It's so good!
Ingredients
9-11

graham crackers

,

finely crushed

2 8

oz

cream cheese bars

,

softened

2

eggs plus 1 yolk

,

room temp
Want to save this recipe? Enter your email below and we'll send the recipe straight to your inbox!
NOTE: By saving this recipe, you agree to join our weekly recipes newsletter.
Instructions
In a medium bowl add the graham crackers, sugar and melted butter.

Mix together until fully combined.

Press the mixture firmly into the bottom of a 6" springform pan.

Place into the refrigerator.

Add the cream cheese in the bowl of a stand mixer.

Add the sugar and mix until combined.

Add vanilla and egg, one at a time beating well after each addition.

Pour into prepared crust.

Cover the cheesecake with foil and loosely wrap the pan.

Fold a long piece of foil in half and place under the cheesecake pan.

Fold up the ends to form a sling.

Place the rack into the bottom of the instant pot and pour water into the pot.

Place the cheesecake and sling into the instant pot.

Close the instant pot and the pressure release valve.

Set the instant pot to manual, high pressure for 30 minutes.

Let steam release naturally for 15 minutes.

Carefully remove the cheesecake.

Allow to cool for 1 hour.
Follow me on Pinterest for daily delicious recipes!
I am pretty much fascinated with all things cheesecake! If you are the same way and always on the hunt for exciting cheesecake recipes, check these out:
Spice Cake Cheesecake Bars – Okay, so these aren't actual cheesecakes, but they are cheesecake bars! So they can easily be transported when you are on the go.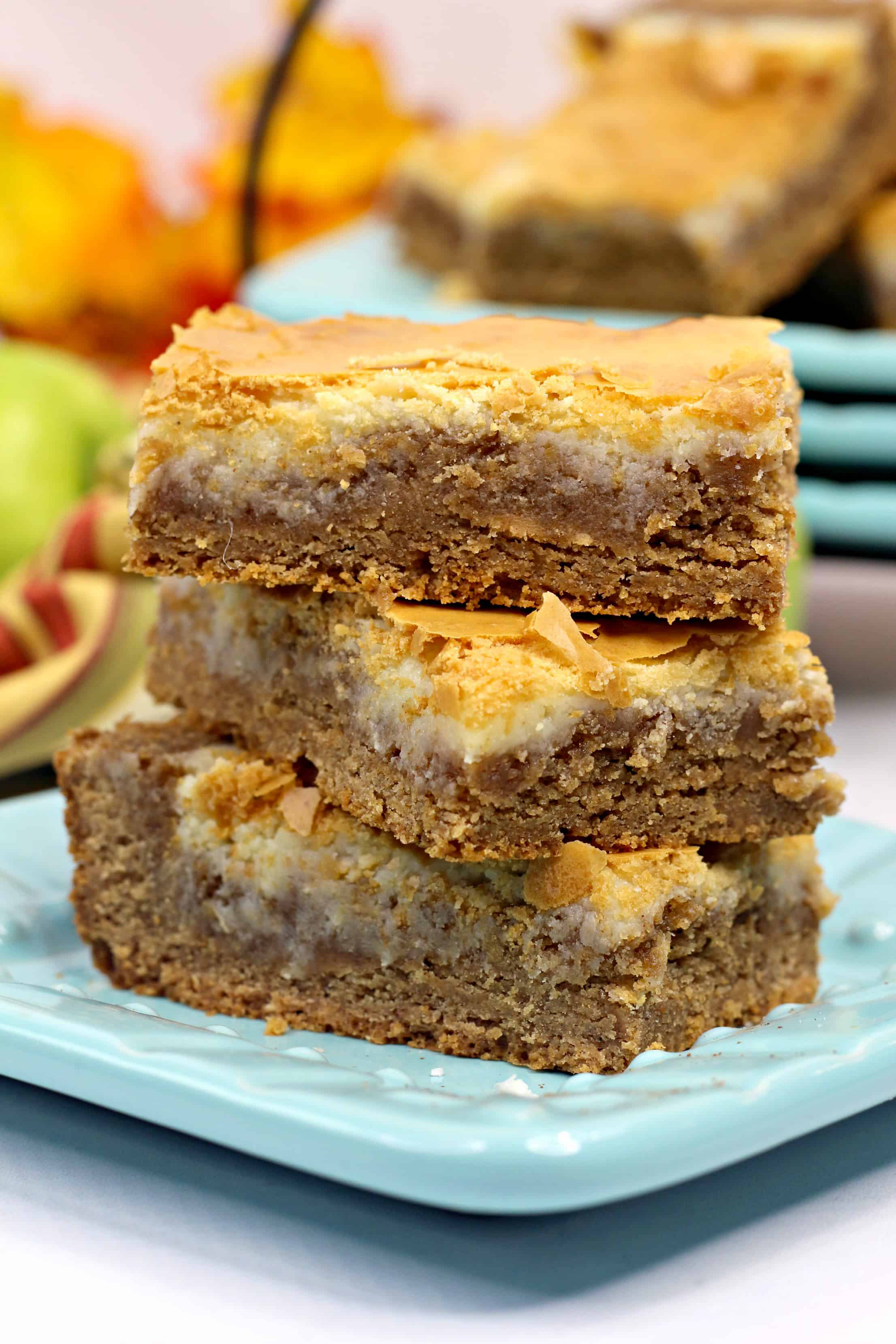 Cookie Monster No Bake Cookie Cheesecake – Oh, if you love cookies and cheesecake, this is a must. It's an explosion of yumminess that is hard to beat.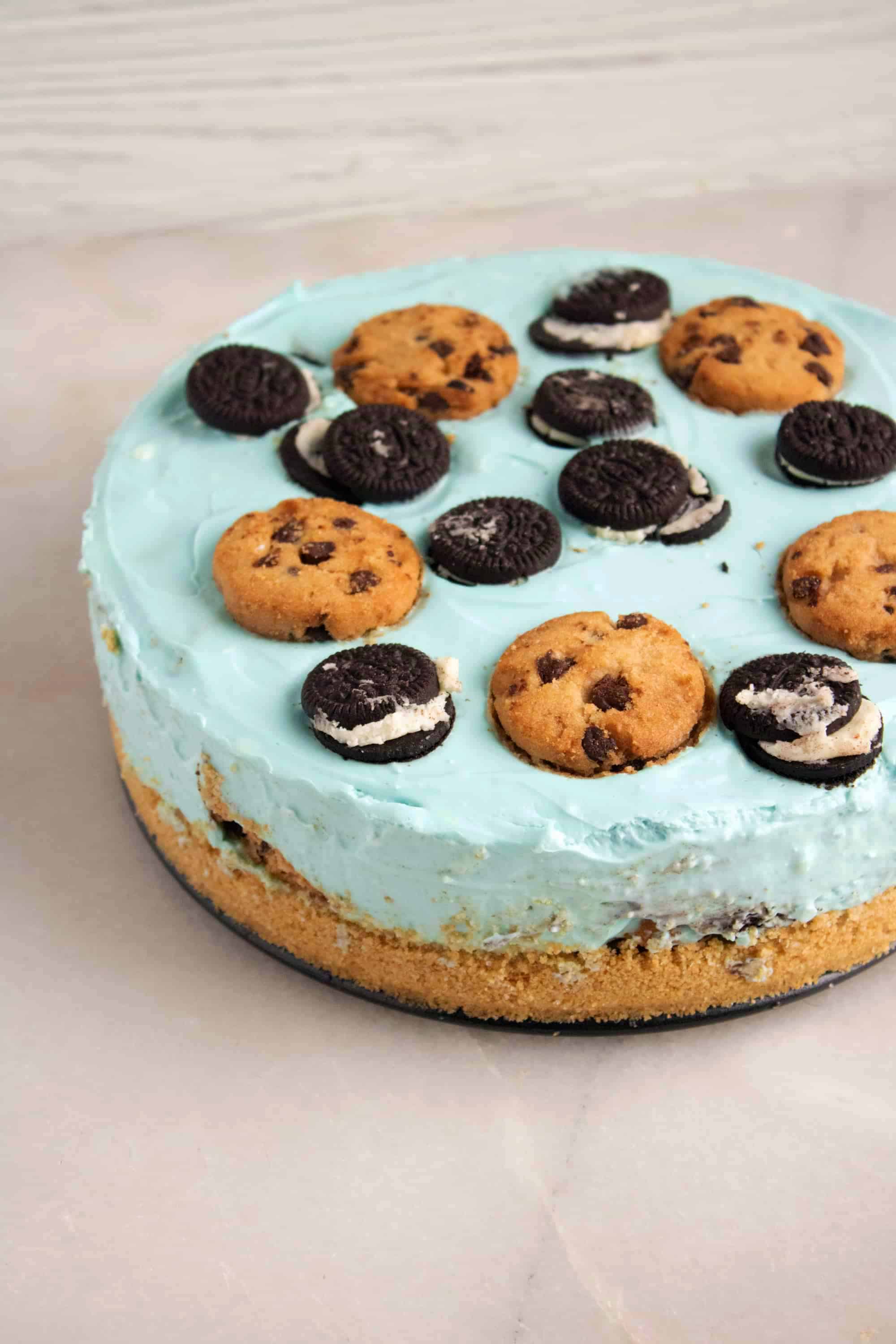 Buckeye Peanut Butter Cheesecake Layer Cake – Holy cow! If you love peanut butter and chocolate together, then you are going to be wild over this amazing combination. The flavors are sinfully delicious.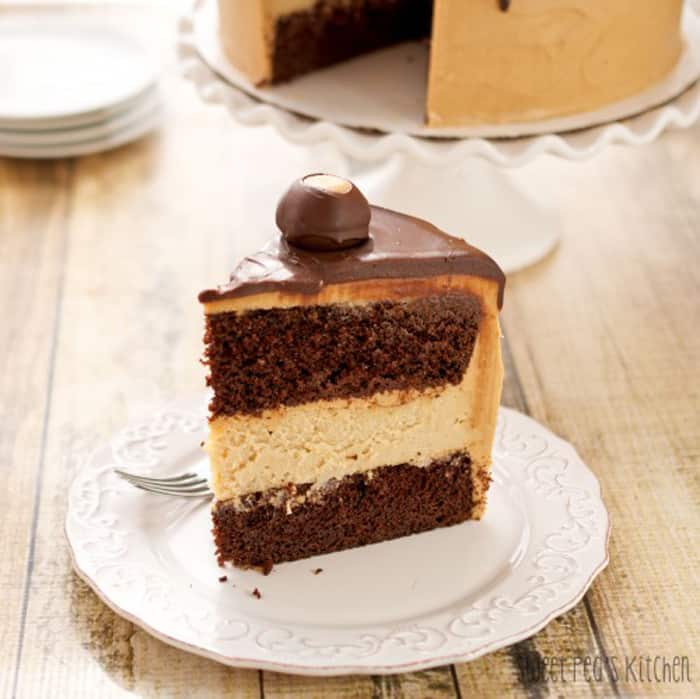 No Bake Nutella Cheesecake With Banana – Nutella is one of those addicting flavors on its own. Imagine how amazing it is when it's a cheesecake and paired with banana. Yum!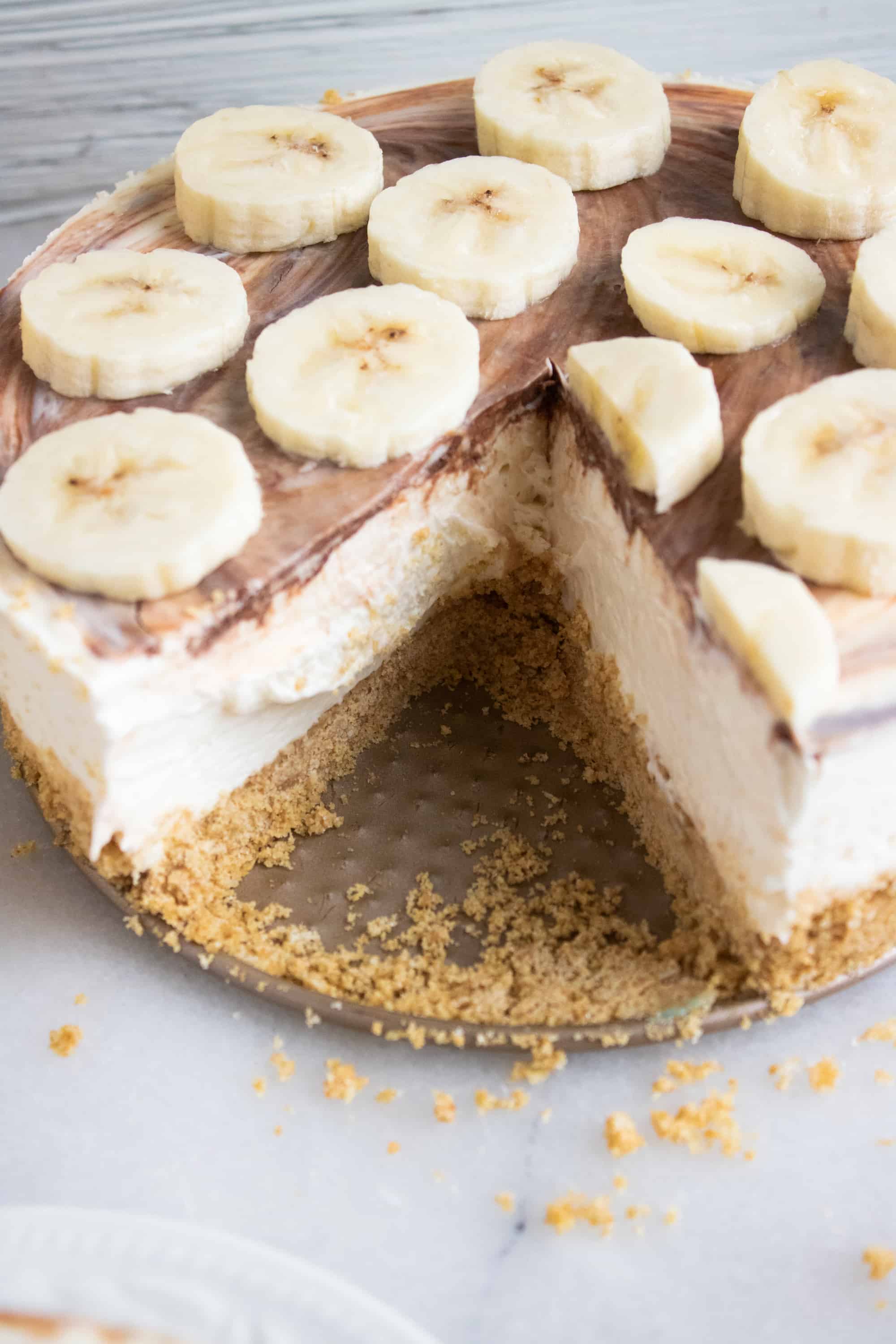 Get new recipes weekly plus our FREE ebook!