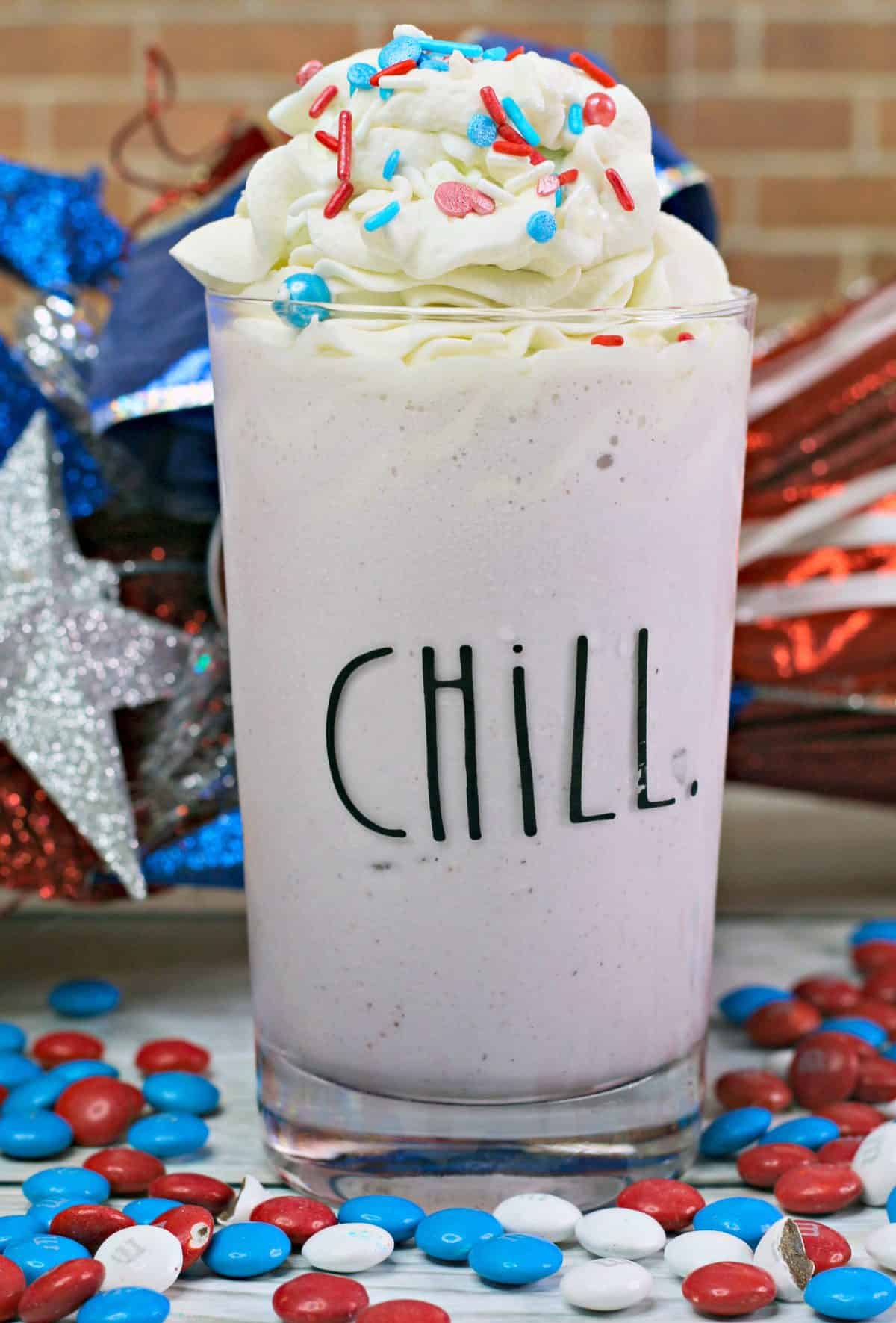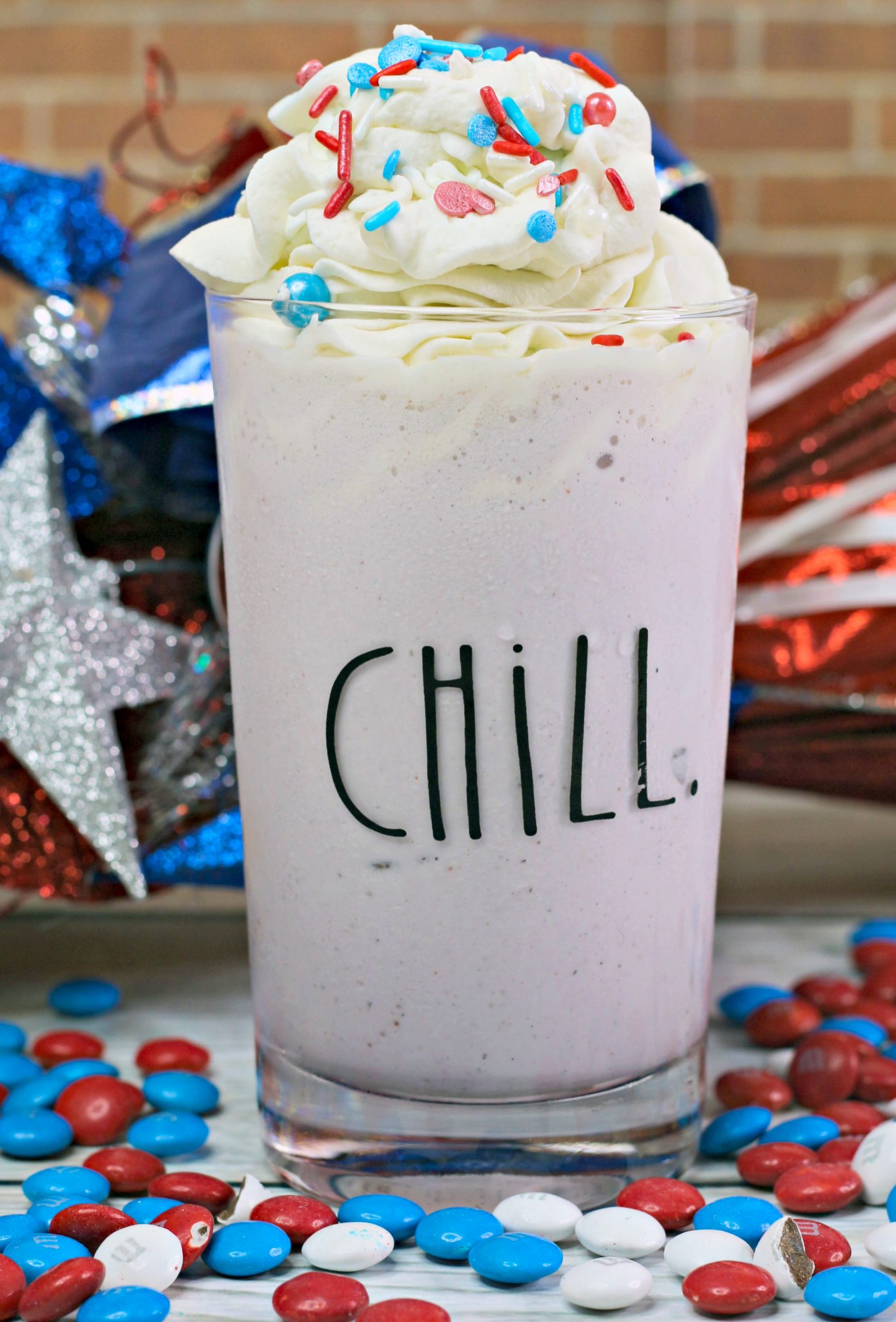 This is The Best M&M Boozy Milkshake Recipe ever, and I can't wait to share it with you. It's an easy alcoholic milkshake that is perfect for an adult beverage. Serve this patriotic alcoholic drink for the 4th of July, Memorial Day, Labor Day, or any other event when you are looking for something red, white, and blue.
Scroll to bottom for printable recipe card.
The Best M&M Boozy Milkshake Recipe
We seriously love to entertain for pretty much all the holidays. Our friends and families know that they can count on us to serve them some fantastic snacks and treats when we do. Recently, everyone has gone wild for this patriotic alcoholic drink. It's refreshing, frozen, and quick to make, so it's always a winner for me too.
We served this 4th of July Drink recently, and it was the BOMB! Godiva chocolate liquor paired with white rum and ice cream creates the best frozen alcoholic drink I have had in a long time. The red, white, and blue candies make it an adorable patriotic milkshake for any occasion too. I often turn to this summer drink on those extra sultry days when you just want to cool down.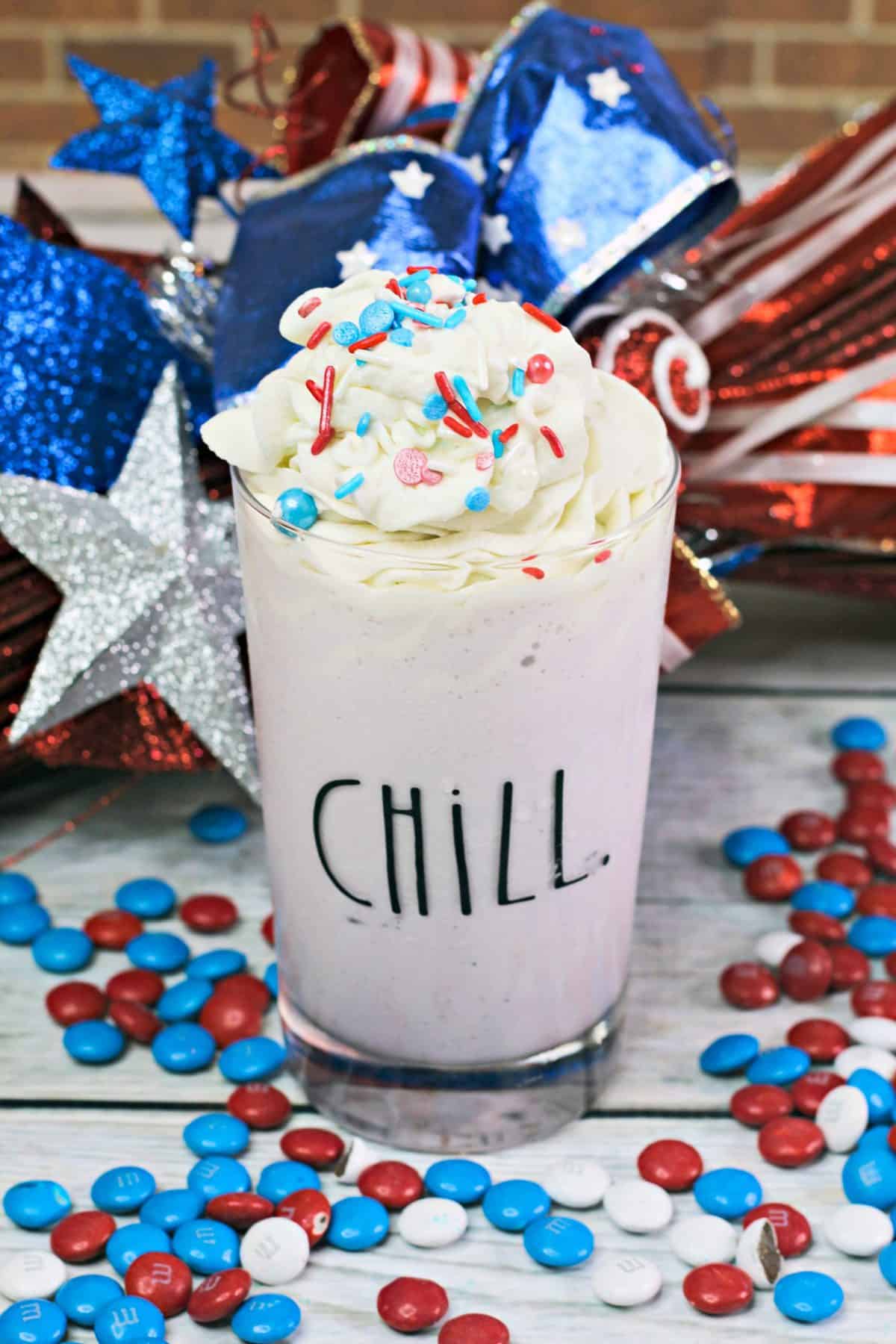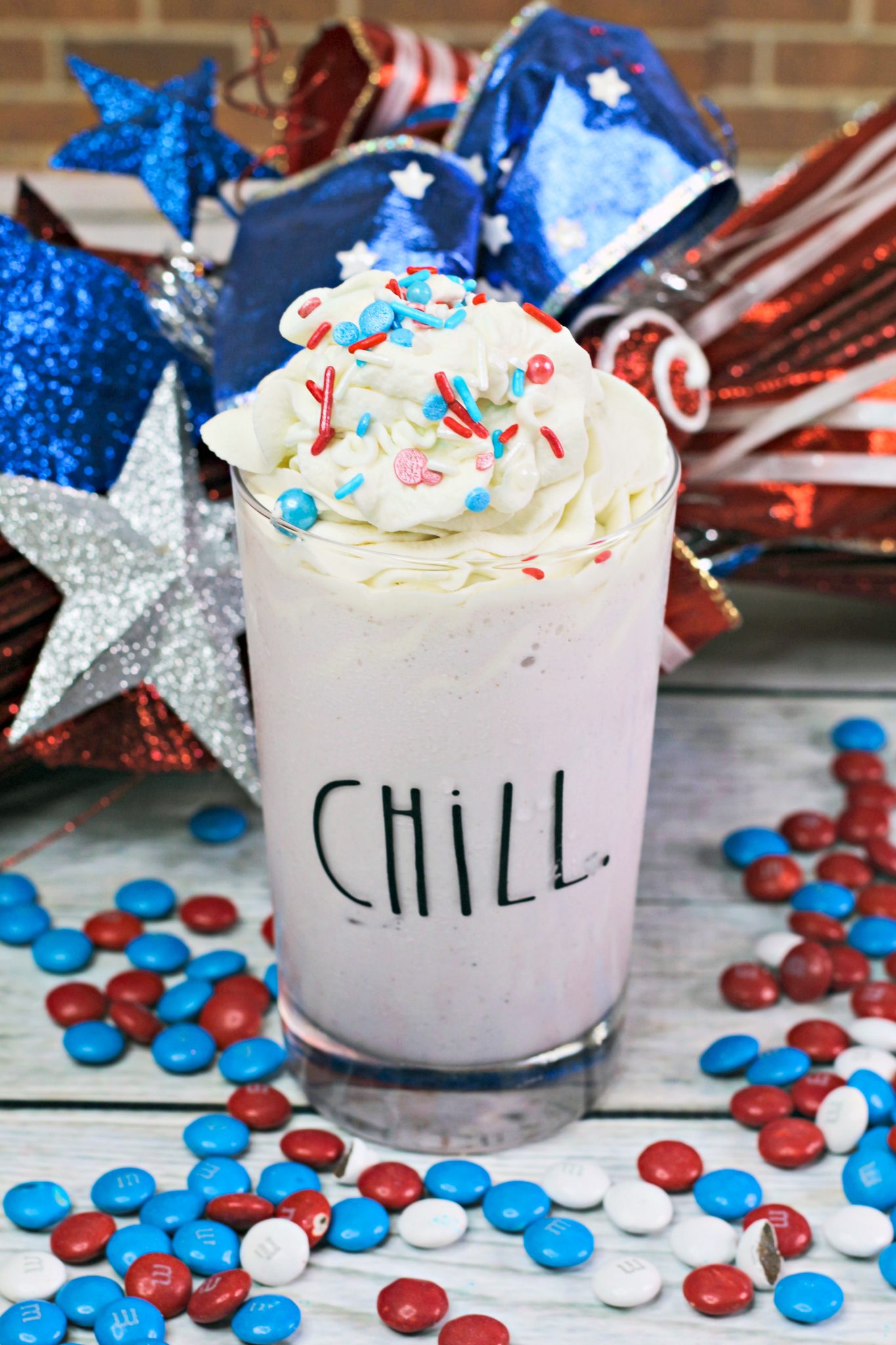 Can I Swap Out The Ice Cream For A Different Flavor
Yes, of course, you can swap out the ice cream for a different variety. Chocolate, strawberry, cookies and cream, cookie dough, etc. would all be lovely choices. Anything that goes well with chocolate liquor would be a great treat.
Variations to Alcohol Used In Milkshake
While I always love the combination of Godiva liquor and White Rum, you can undoubtedly switch them out. Just make sure you like the combination that you choose, and you can't go wrong. Some of the other alcohols I have tried are:
Kaluha
Amaretto
Rum Chata
Durham Distillery Damn Fine Mocha Liqueur
Those are just a few ideas, but you can try other liquors too. This boozy milkshake is pretty versatile and can easily be adjusted.
Can I Make This Drink Ahead of Time
It's best to make the summer drink right when you are ready to drink it. However, if you can't finish it all or need to make it in advance, you can freeze it until you are ready to serve. I find it's best to pour the milkshake into the serving glasses and place them into the freezer. Then take out as many as you need 10 minutes prior so they can thaw a bit.
Can You Make A Milkshake without Blender
Yes, you can make a milkshake without a blender. If you have a food processor, you can use that. Or you can combine everything into a container with a tightly fitted lid. Then you will need to shake it by hand until it's mixed well. Another option would be to use a whisk or spoon and mix all the ingredients in a bowl. Once it reaches the texture you want, then you are good to go.
Note: If the ingredients are too thick and don't want to combine, add a little bit more creamer.
How do you thicken a milkshake?
Adding a few ice cubes will help thicken up your milkshake. Just don't add too many, or it will become watered down. Another easy option would be to exchange the coffee creamer with heavy whipping cream. That way, as you are blending it, the whipping cream with fluff up and give you a super thick and tasty milkshake. It's also a good idea to use ice cream that is full of fat. You don't want to go for a variety that's fat free, or your alcoholic milkshake may be thinner and more watered down as you blend it.
Can I Use Dairy Free Ice Cream?
Yes, it's more than fine to use a dairy free ice cream if you want. It's just best to use something that has a decent amount of fat like coconut milk. This will give you the texture that is similar to a regular milkshake.
Ingredients
The ingredients are so simple, it's no wonder you can make this boozy drink in just a few quick minutes. The ingredients can easily be swapped and exchanged without any trouble. You can even leave out the liquor and rum to make a kid-friendly version. Take a look at what you need:
Vanilla ice cream
Chocolate coffee/cocoa syrup
White Chocolate creamer
USA M&M's ( red, white and blue )
Godiva Chocolate Liquor
White Rum
M&M's candies for garnish
Whip Cream for Garnish
How To Make A Boozy Milkshake
Thankfully, throwing together these milkshakes couldn't be any easier. It's just a few steps, and you will be well on your way sipping on your tasty summer drink that everyone will enjoy.
First Step: Begin with adding the vanilla ice cream, chocolate coffee or syrup, creamer, and candies into the blender.
Second Step: Turn the blender to high and combine the milkshake ingredients for 1 minute.
Third Step: Pour in the liquor and rum. Continue blending until it reaches your desired consistency. If you want the shake to be thinner, add in more liquid or for a thicker milkshake toss in a bit more ice cream.
Fourth Step: Pour the boozy milkshake into a glass. Then top it with whipped cream and M&Ms and serve up a refreshing alcoholic milkshake.
Enjoy!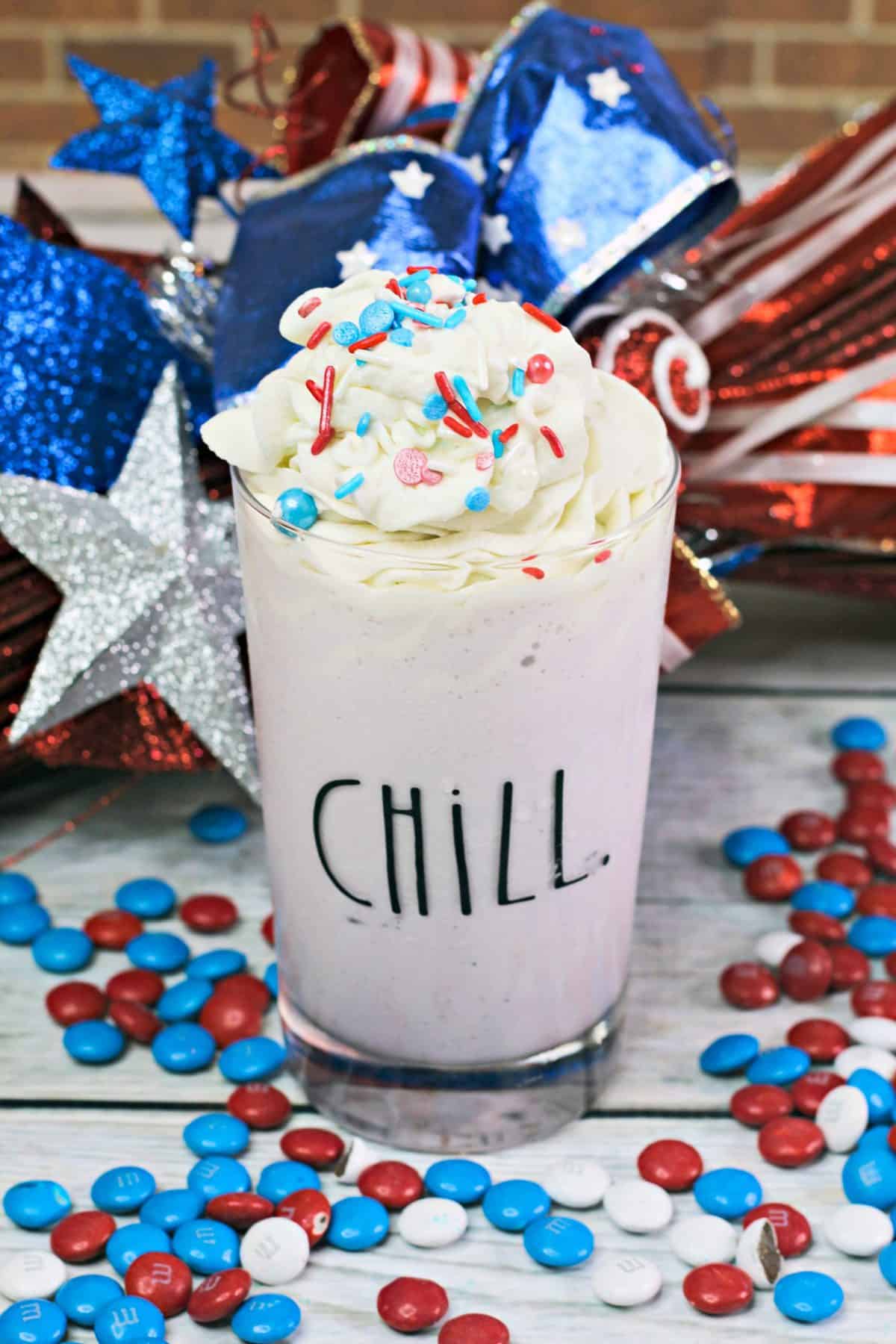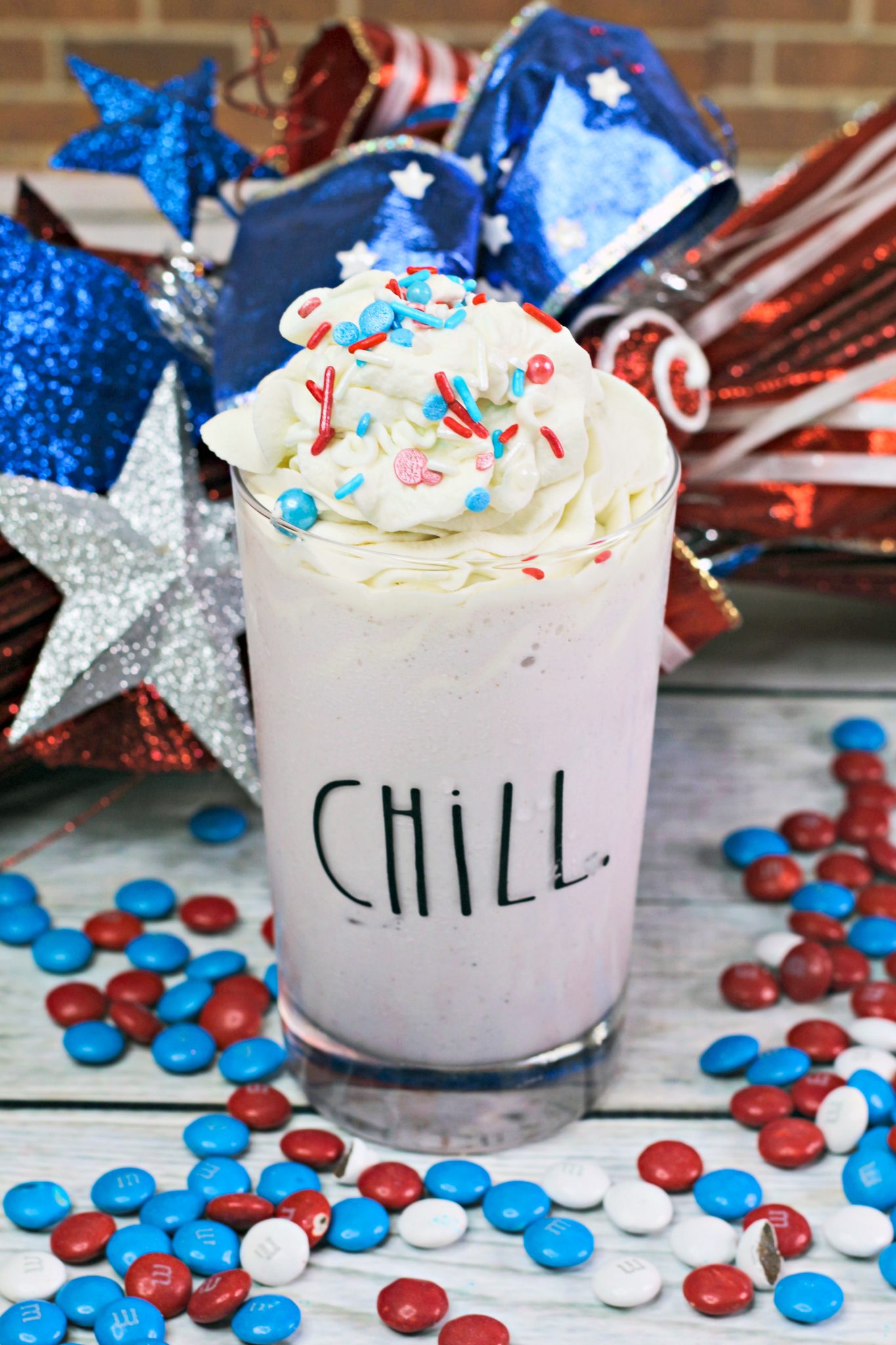 Now, remember to save this recipe on Pinterest for later 🙂
Pin this recipe now to remember it later
M&M's Cocktail Shake
Serve up this M&M Boozy Milkshake! A boozy milkshake that has chocolate coffee, white rum, and of course M&M's in every bite. This is the perfect summer drink recipe to cool down with.
Ingredients
2

large scoops of vanilla ice cream

1

tbsp

Chocolate coffee / cocoa syrup

3/4

cup

White Chocolate creamer

10-14

USA M&M's

,

red, white and blue

1

oz

Godiva Chocolate Liquor

M&M's candies for garnish
Want to save this recipe? Enter your email below and we'll send the recipe straight to your inbox!
NOTE: By saving this recipe, you agree to join our weekly recipes newsletter.
Instructions
Start by adding your vanilla ice cream, chocolate coffee or syrup, creamer, and candies in a blender.

Turn your blender to high and mix this milkshake for 1 minute.

Now you will pour in your liquor and rum. Blend until it reaches your desired consistency. If you want it thinner add more liquid, or thicker toss in a bit more ice cream.

Pour your boozy milkshake into a glass. Top with whipped cream and M&M's and serve up a refreshing alcoholic milkshake.
Follow me on Pinterest for daily delicious recipes!
If you love this boozy milkshake recipe, be sure to try out some of these other cool and refreshing treats and drinks.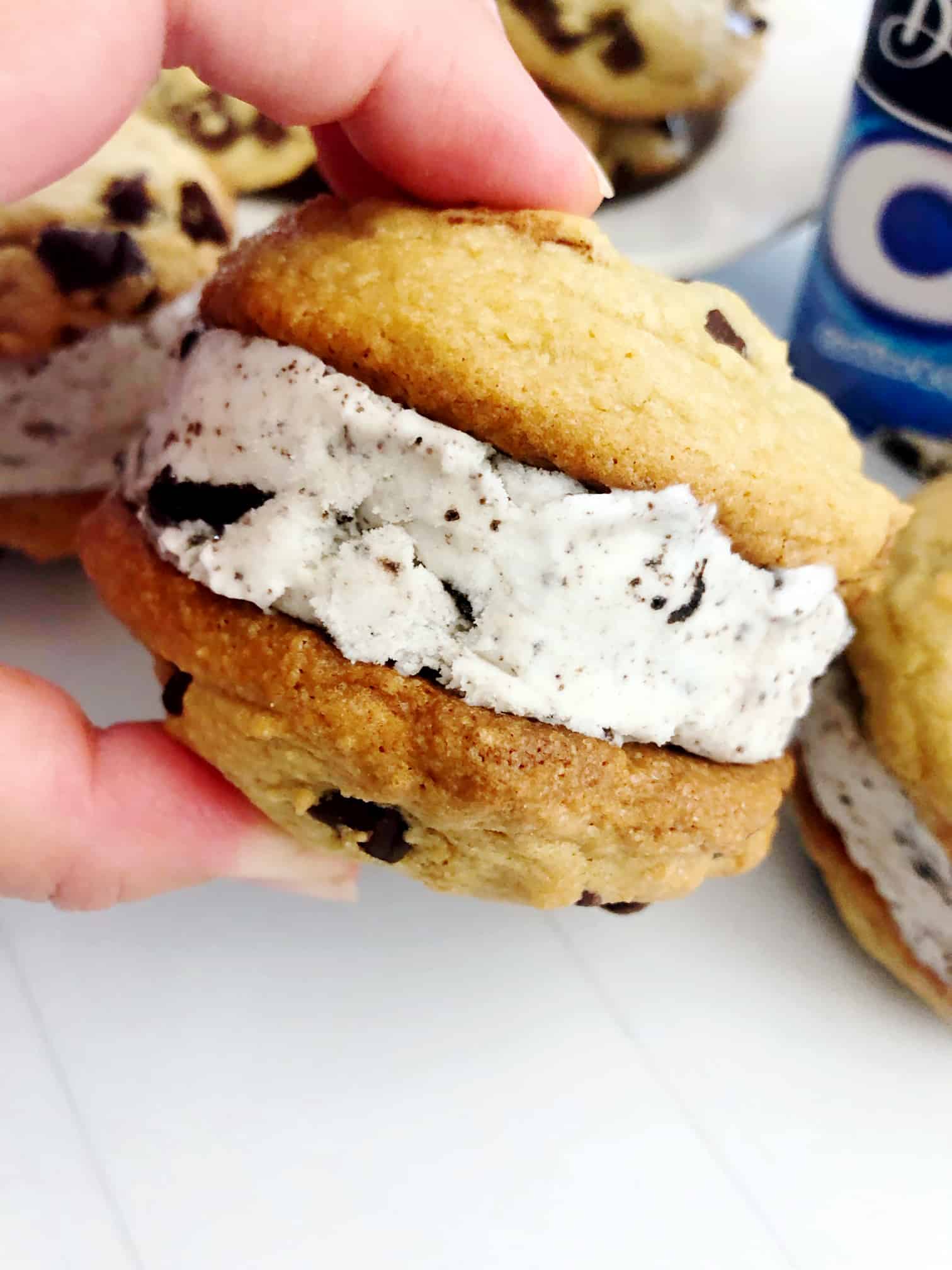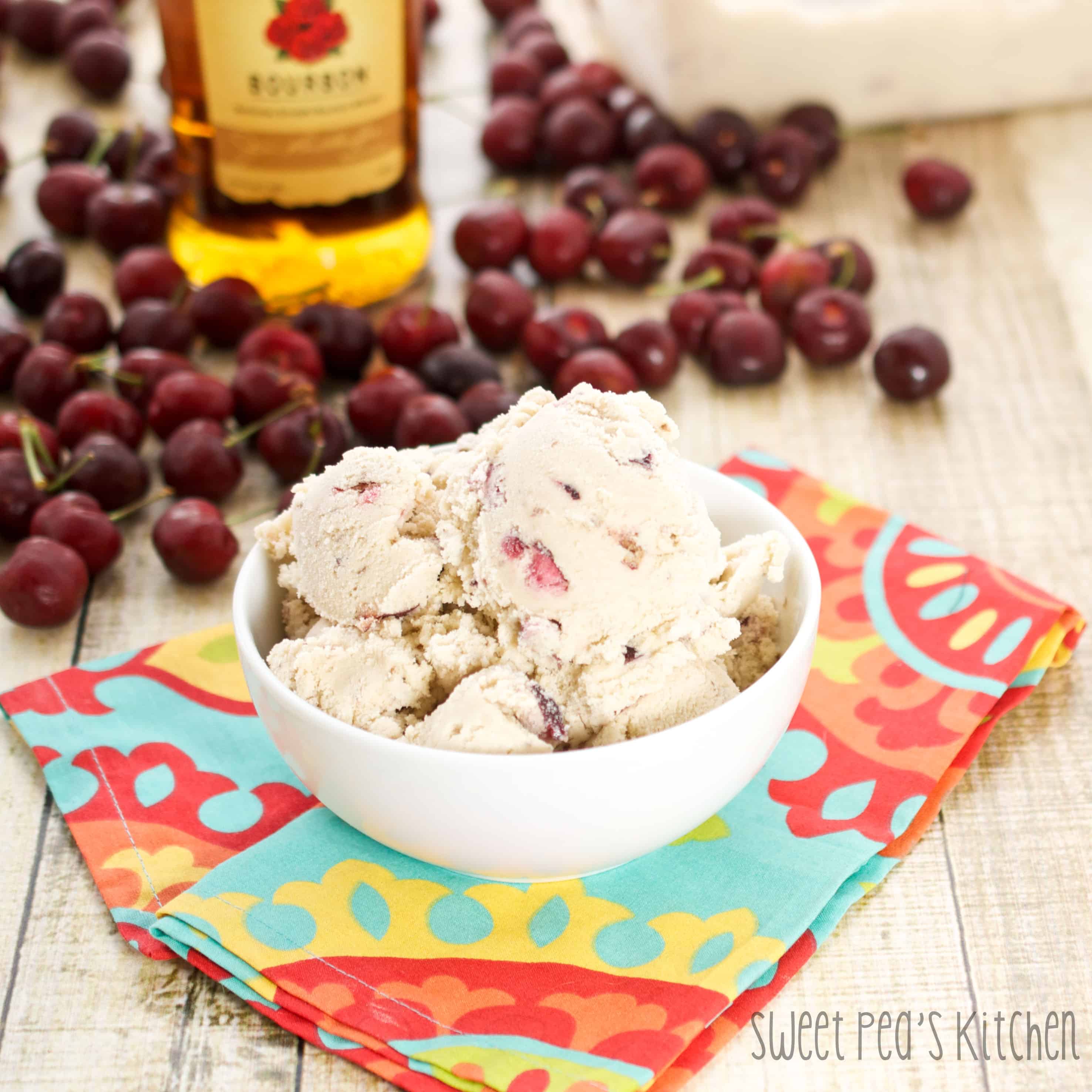 Slushy Pineapple Rum Drink – This is a boozy drink that is slushy, creamy, and simple to make. Everyone will slurp every last drop of this fun cocktail.
Sea Salt Caramel Truffle Ice Cream – I have had a lot of enjoyable treats over the years, but this ice cream recipe is one of my ultimate favorites. Try it and see how insanely good it is.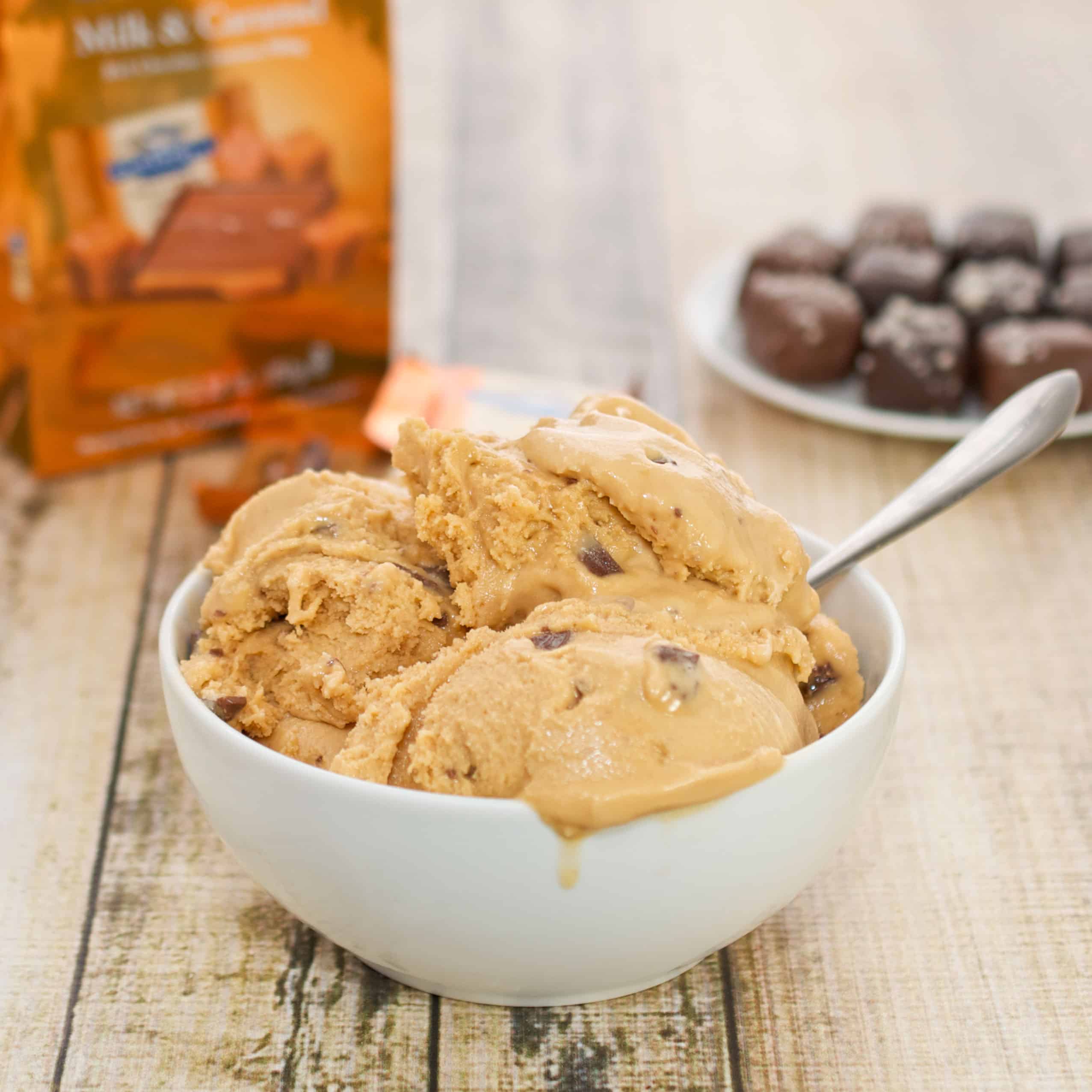 Get new recipes weekly plus our FREE ebook!