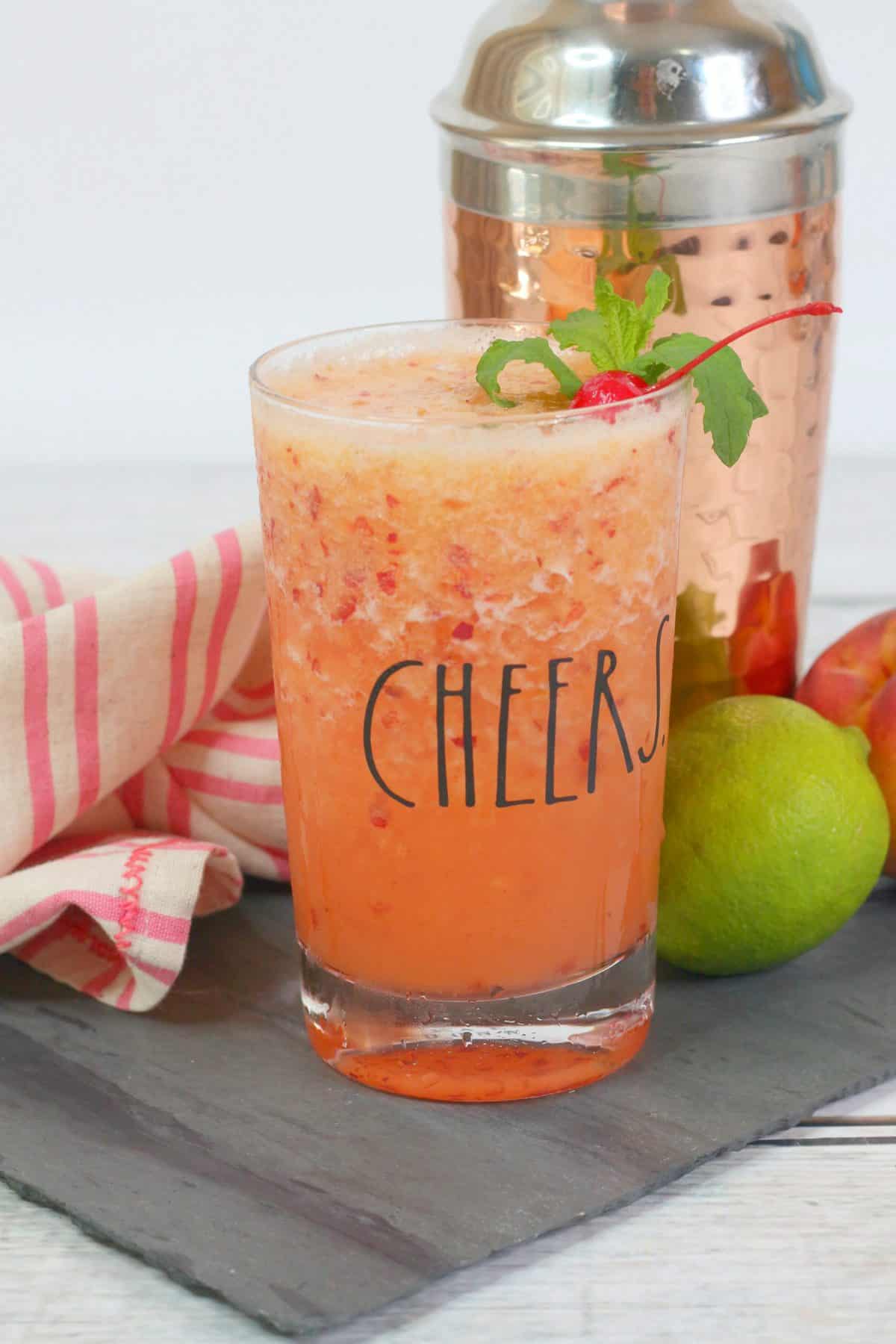 This easy Fresh Frozen Peach Margarita Recipe is the perfect cool-down drink and is made with fresh peaches. Sip on this frozen peach drink on a hot summer day or in the dead of winter!
There is no wrong time to enjoy this quick and refreshing cocktail. This peach alcoholic drink is the life of any party, and it's flavors are out of this world.
Scroll to bottom for printable recipe card.
Fresh Frozen Peach Margarita Recipe
I will admit that I am pretty much in love with anything that has anything to do with peaches. I honestly can't resist their sweet flavor and how easy they are to work with. Last fall, I bought a HUGE box of peaches from one of those little farm stands on the side of the road. I know it sounds a little crazy to buy an entire box, but I was pretty confident that I could easily transform them into a multitude of recipes. After making the normal cakes, pies, and pastries, I decided it was time to move onto drinks.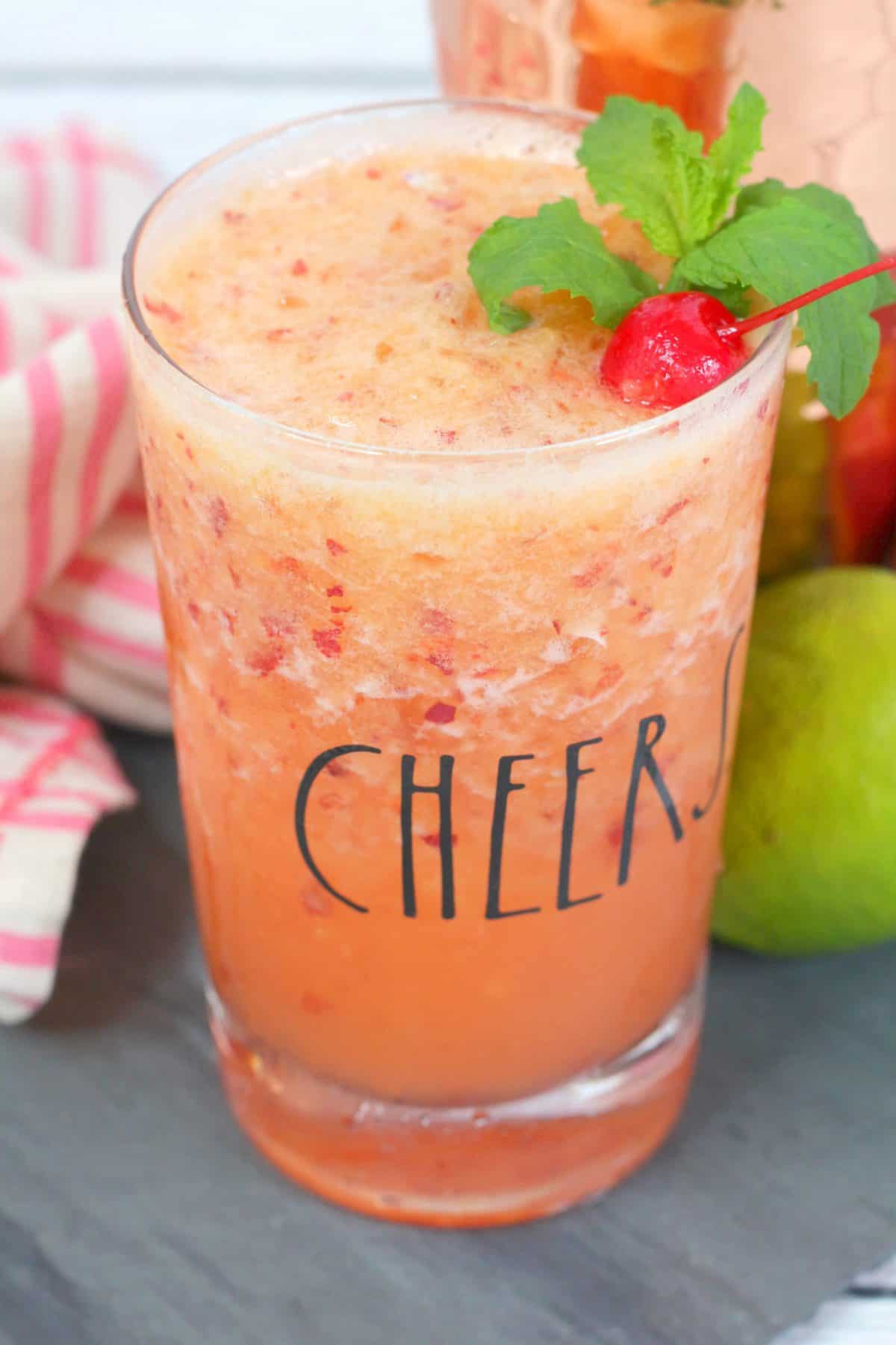 This is where I came up with my beloved frozen peach margarita! You guys…it's seriously one of the best peach flavored treats to ever touch my lips. It's cold, refreshing, quick, and absolutely delicious. I will admit since I had so many peaches, I made one of these frozen margaritas every day for almost a week. Of course, I didn't want to waste any peaches! 😉
The best part is that when you make this frozen peach drink, you only need six ingredients and some ice. I pretty much had all the ingredients in my house, and you may too. These frozen margaritas go over very well at parties or even when you have friends over for a quiet dinner. Unless you just hate peaches, odds are you are going to love this drink so much. You can add all sorts of fun garnishes too! Sliced peaches, cherries, or fresh mint leaves are some of our favorites. But you do whatever works for you! It's your new favorite drink, after all.
How Many Margaritas Does This Peach Alcoholic Drink Make?
Each batch of frozen peach margaritas makes two drinks that are 8 ounces each. So, you can keep them both to yourself or share them with a guest or friend!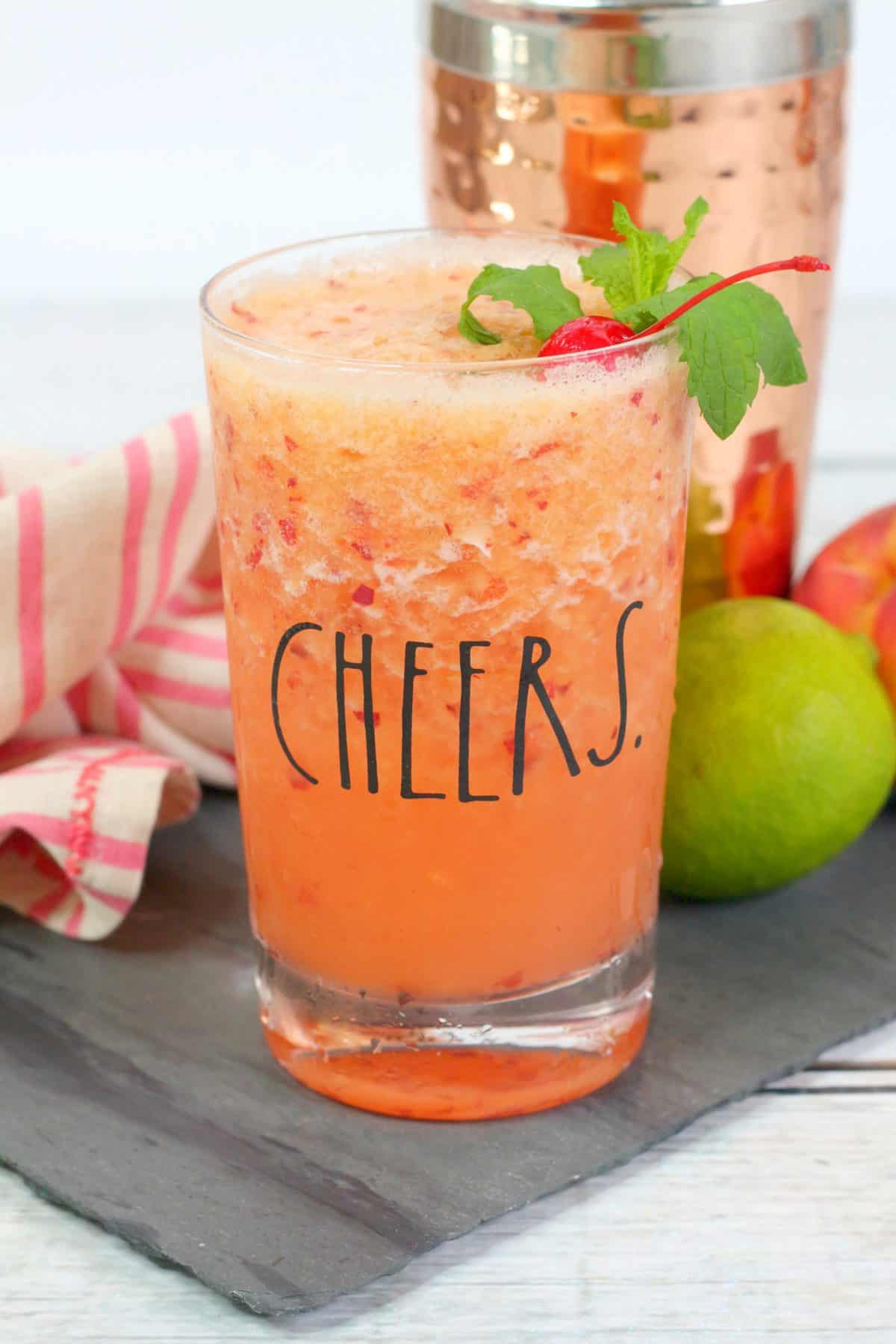 Can I Make This Margarita Recipe For A Crowd?
This peach margarita recipe is excellent for a crowd. You will just need to make as many servings as you think you'll need in batches. I usually prepare everything, except I don't add the ice until I am ready to serve it. That way, they don't get watered down while everyone is sipping on their drinks. If you do prepare them completely ahead of time, keep them in the freezer, so the ice doesn't melt. Sit them on the counter for a few minutes before serving so they can thaw slightly. Otherwise, you might have to eat them with a spoon.
Can I Make This Frozen Margarita Without A Blender
Yes, you can make this frozen margarita without a blender. What you'll need to do is use a large Ziploc bag and add pieces of ice to it along with some kosher salt. Then take a smaller bag and add the ingredients for the frozen peach margarita. Place the bag of the margarita ingredients inside the large bag with ice and salt. Then you need to shake the bag until it is completely cold and begins to slush. This usually takes around three to five minutes, but it could take a little longer. Then you will pour out the margarita and into a glass and serve right away. This is an easy and fun way to make margaritas without having a blender. Keep in mind the margarita mix is going to get very cold as you're shaking it. You might want to wear gloves, so your hands don't get too cold.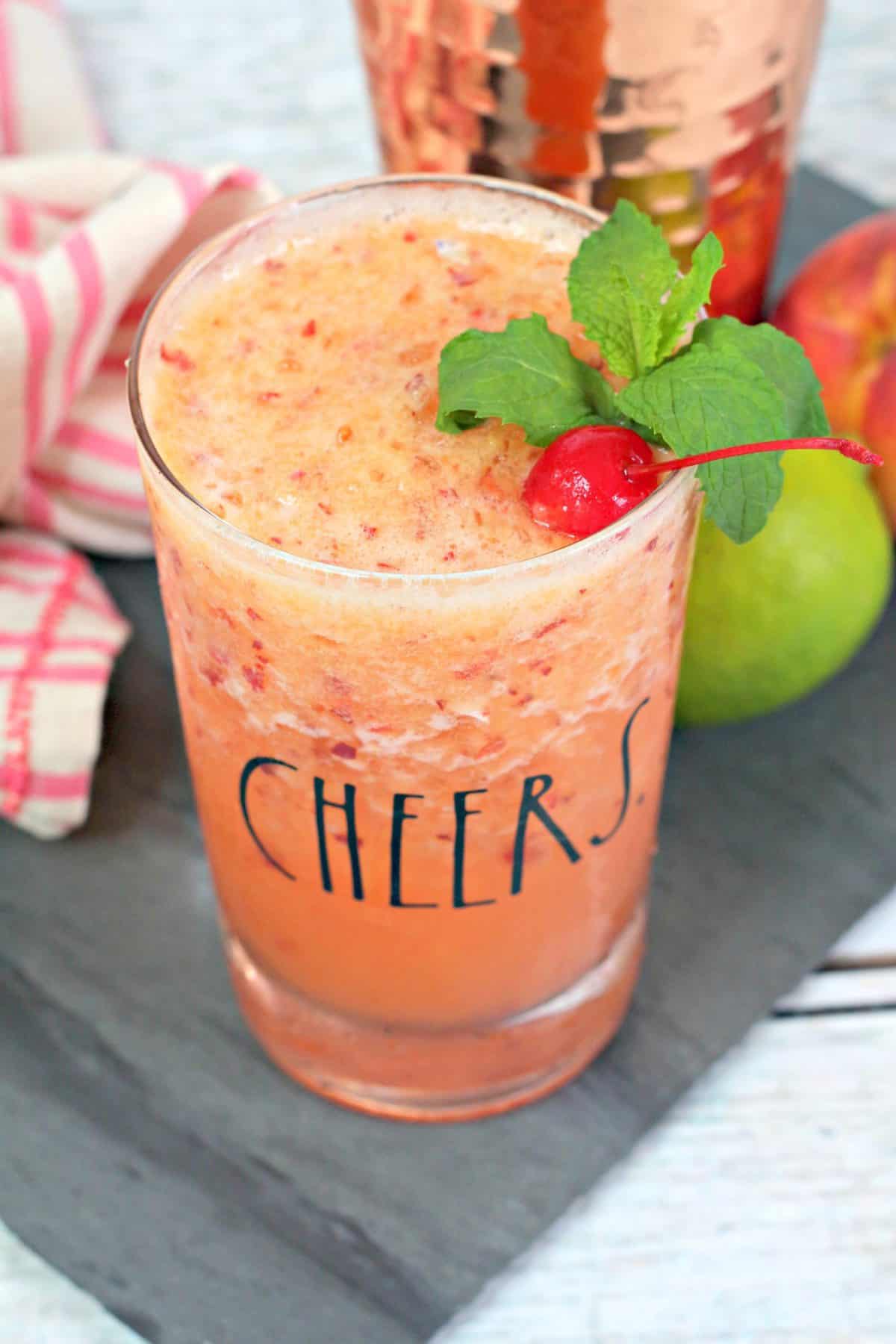 Can I Leave Ice Out To Make It A non-frozen Margarita?
Yes, absolutely, you can leave the ice out and make it a nonfrozen margarita. I recommend combining all the ingredients and keeping them in the refrigerator until you're ready to serve. That way, you won't need ice for the drink.
How to Know Peaches Are Ripe
When peaches are ripe, you should be able to touch them lightly with your fingers and feel them give underneath your finger. If it leaves a deep indent, than they are overripe. If the peach is solid or hard, then you know it needs to continue ripening a little bit longer.
Ingredients
The ingredients for the frozen peach margaritas or super simple to work with. You shouldn't have any trouble making this amazing drink to serve to all your friends and family. You could even leave out the alcohol to make a non-alcoholic version for the kiddos. Just make sure you keep them in a different style of glass, so nobody makes them up.
Three large peaches, chopped, skin on
2 Tbsp freshly squeezed lime juice
1 cup gold tequila
1/2 cup Cointreau
2 Tbsp. simple syrup
½ cup Peach nectar
3 cups ice
How to Make Frozen Peach Margarita
Step 1: Add the fresh peaches, lime juice, tequila, triple sec, simple syrup, peach nectar, and ice in a blender and pulse on high until smooth, and there are no ice chunks.
Step 2: After the margarita has been blended, pour your peach frozen margaritas into glasses and garnish!
Step 3: Serve right away, or the frozen margaritas will begin to melt.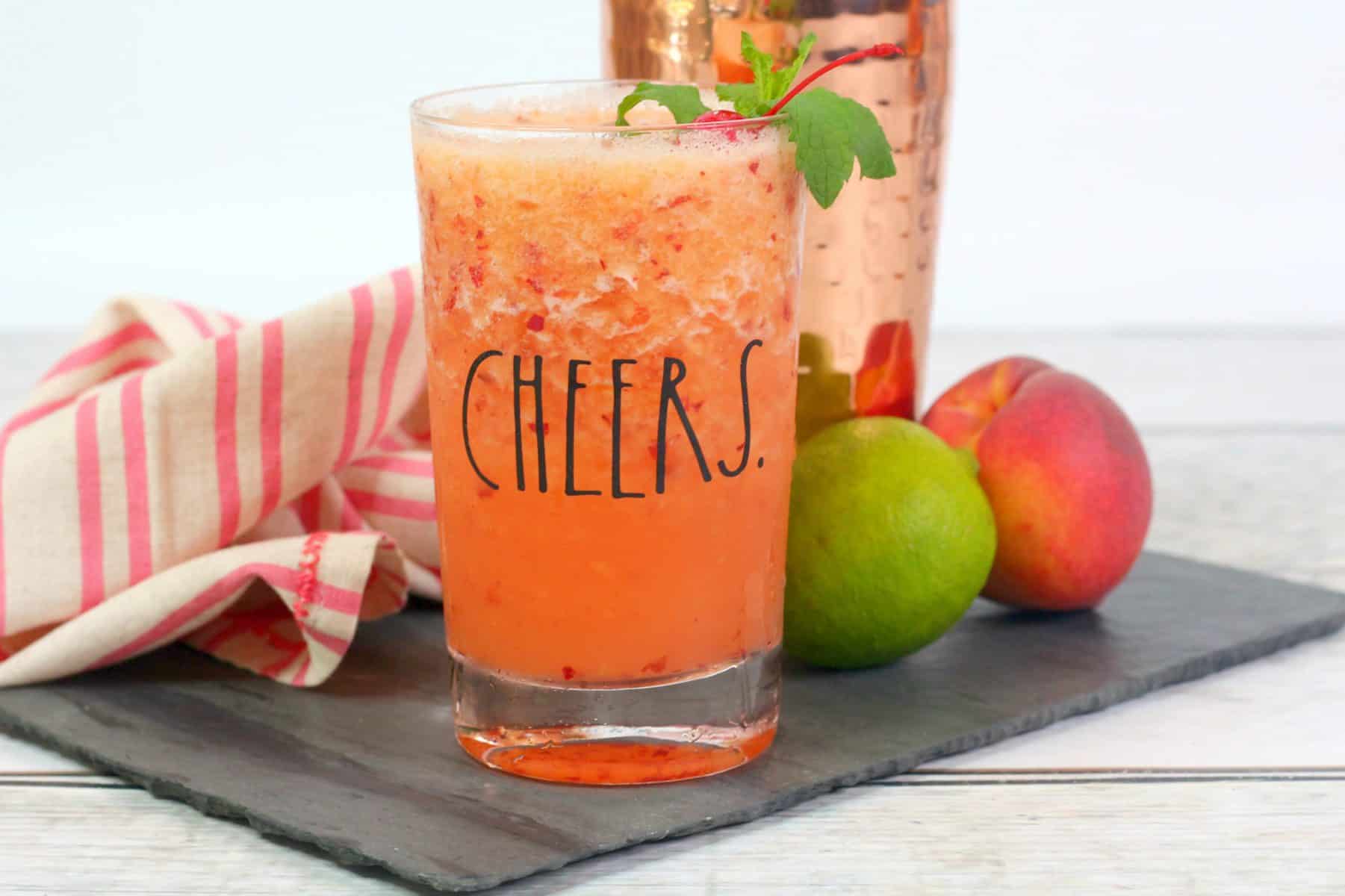 Now, remember to save this recipe on Pinterest for later 🙂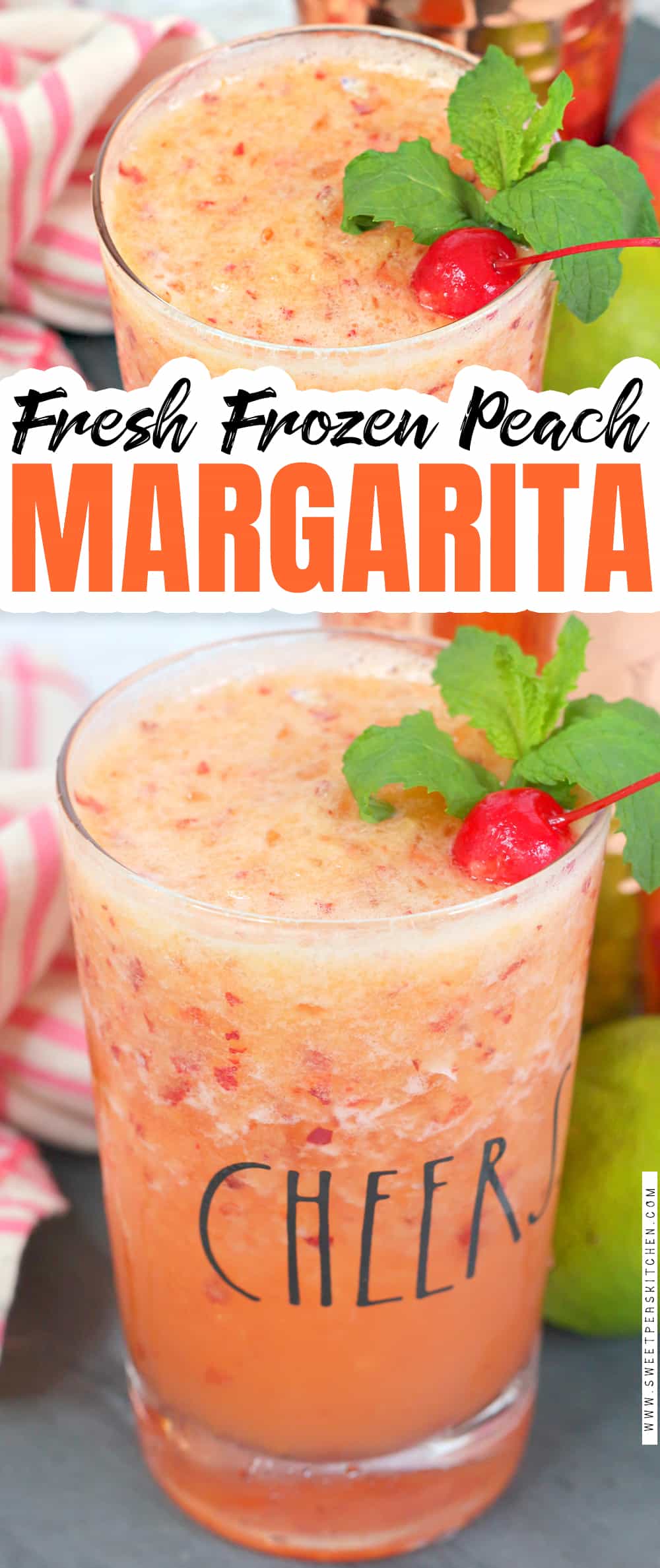 Pin this recipe now to remember it later
Fresh Frozen Peach Margarita
Fresh Frozen Peach Margarita is going to become your favorite margarita recipe. Fresh peaches, alcohol, and crushed ice join forces for the best frozen peach drink you will ever taste.
Ingredients
3

large peaches

,

chopped, skin on

2

Tbsp

freshly squeezed lime juice
Want to save this recipe? Enter your email below and we'll send the recipe straight to your inbox!
NOTE: By saving this recipe, you agree to join our weekly recipes newsletter.
Instructions
Put fresh peaches, lime juice, tequila, triple sec, simple syrup, peach nectar, and ice in a blender and blend on high until smooth.

Once blended pour your peach frozen margaritas into glasses and garnish!

Serve right away or the frozen margaritas will begin to melt.
Follow me on Pinterest for daily delicious recipes!
I think you're going to love these other drinks that I'm excited to share with you as well.
Blackberry Bramble – this cocktail is super easy to make and is perfect for anybody who loves blackberries. Not only doesn't look gorgeous, but it also tastes fantastic as well.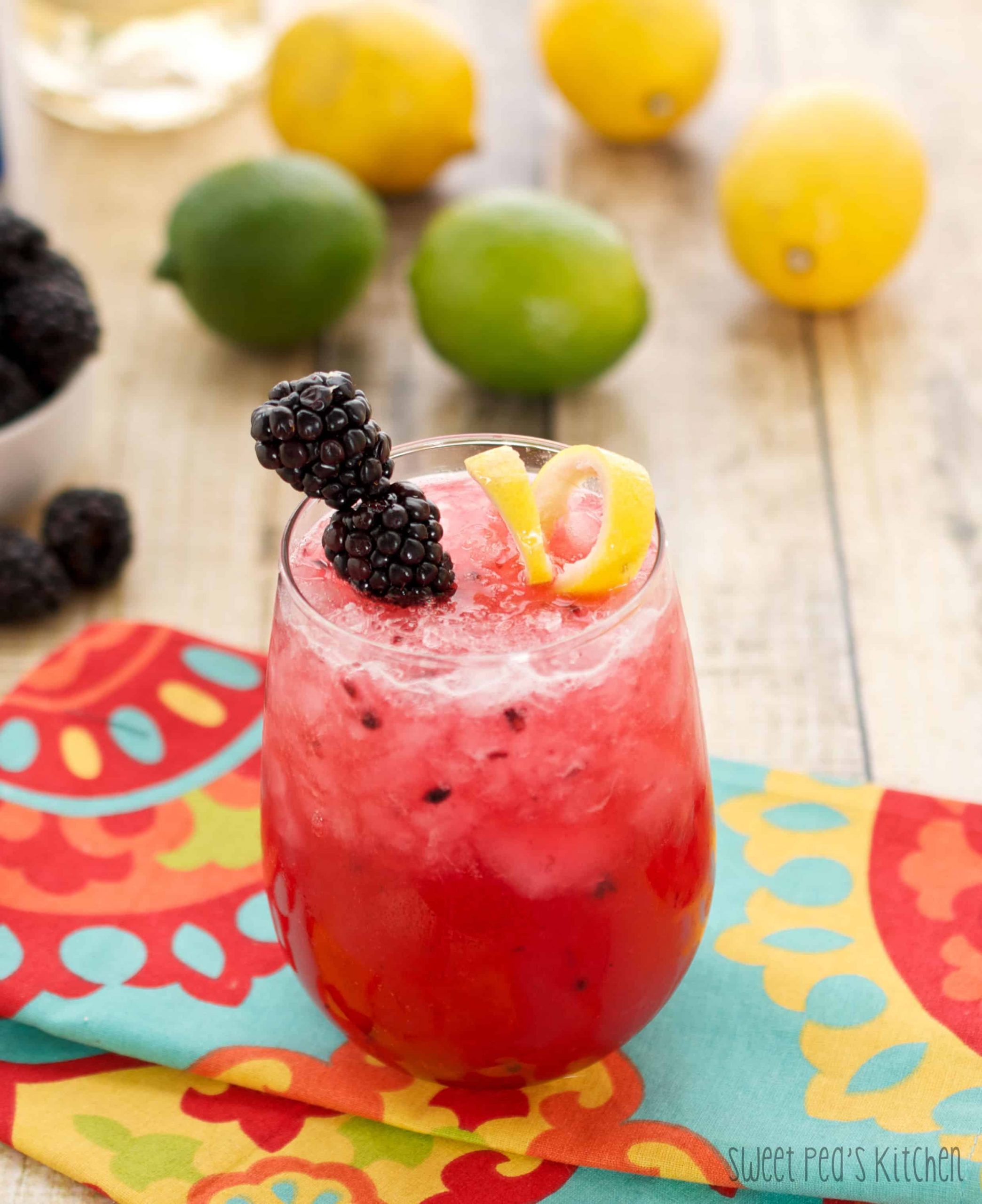 The Best M&M Boozy Milkshake – Enjoy a yummy milkshake complete with M&Ms and booze. Talk about a unique and fun treat!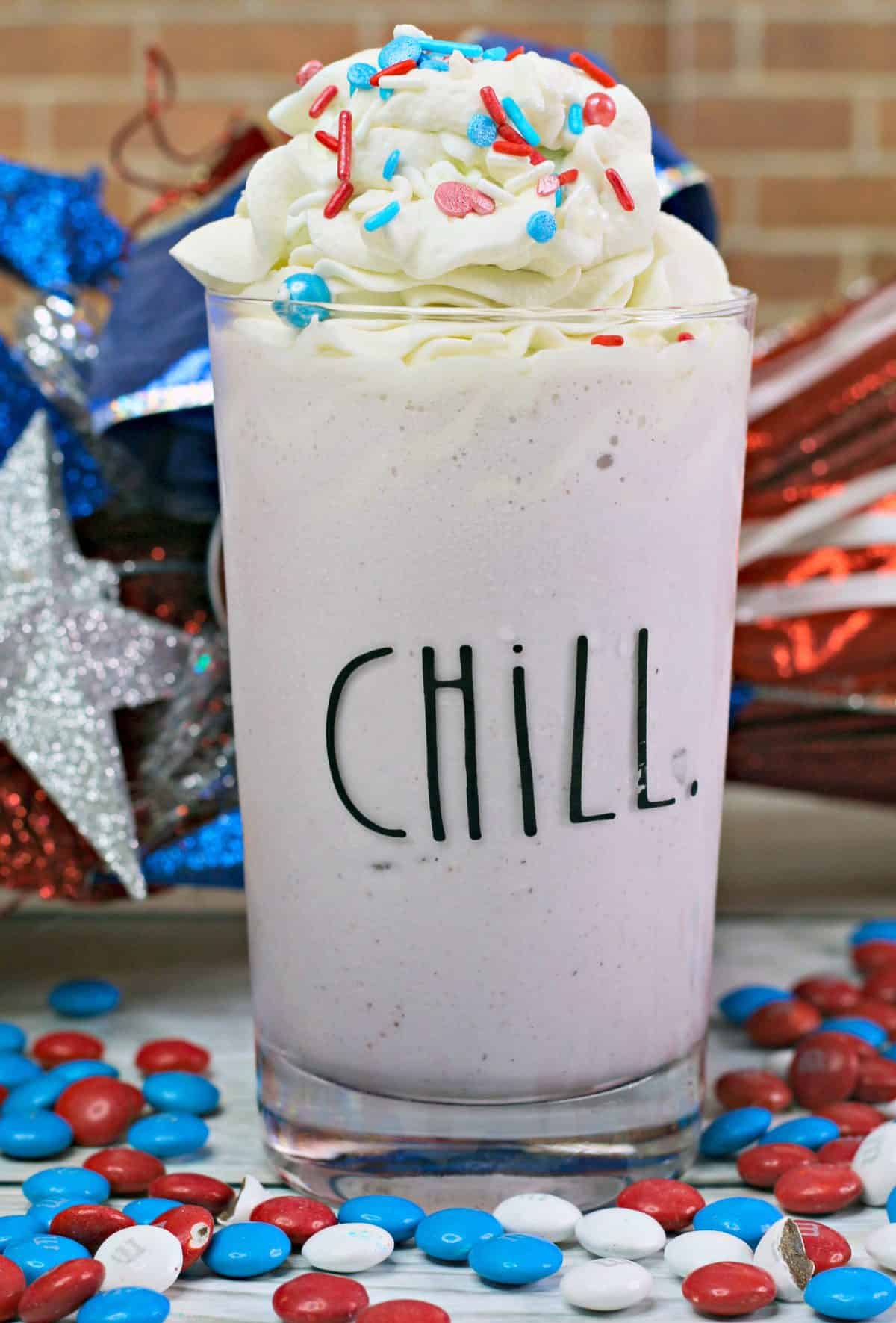 Easy Blackberry Vodka Smash – This is another one of my favorite Blackberry drinks. It's vibrant, and fun flavors are perfect for all occasions.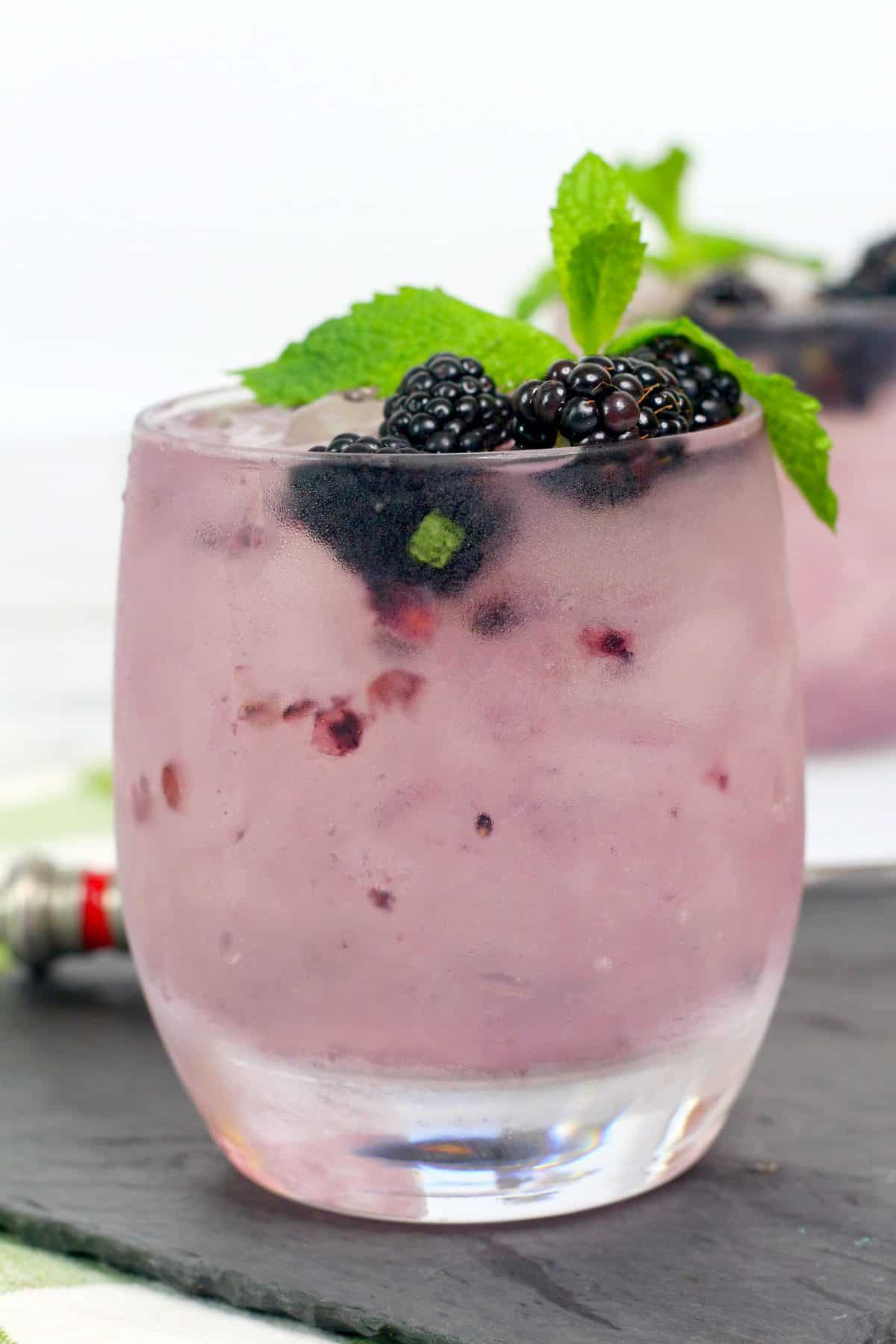 Mango margarita with Habanero Pepper – Add a little sweet and spice to your dinner party with this mango margarita with habanero pepper. It's full of unique flavors that I think you're going to love.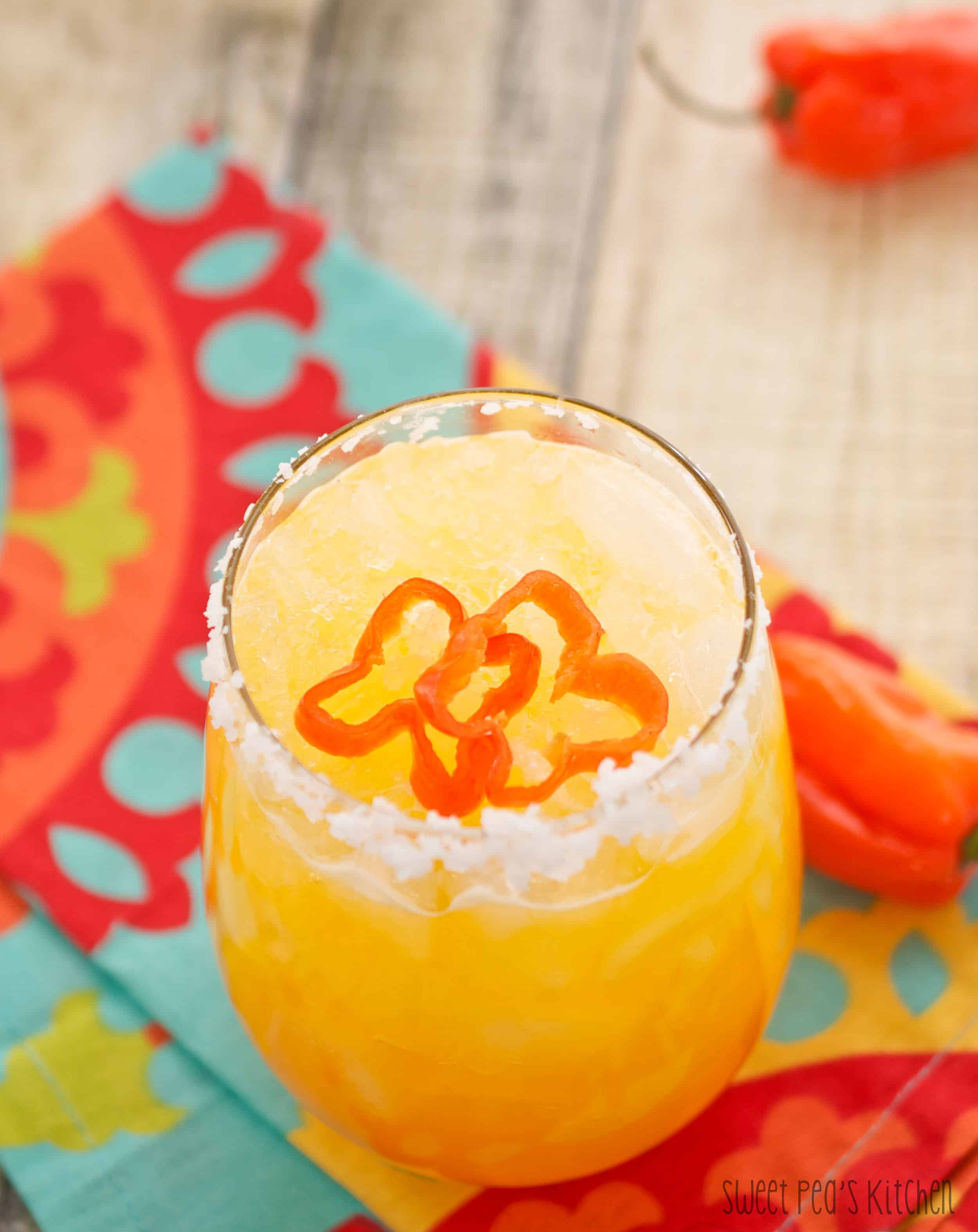 Get new recipes weekly plus our FREE ebook!