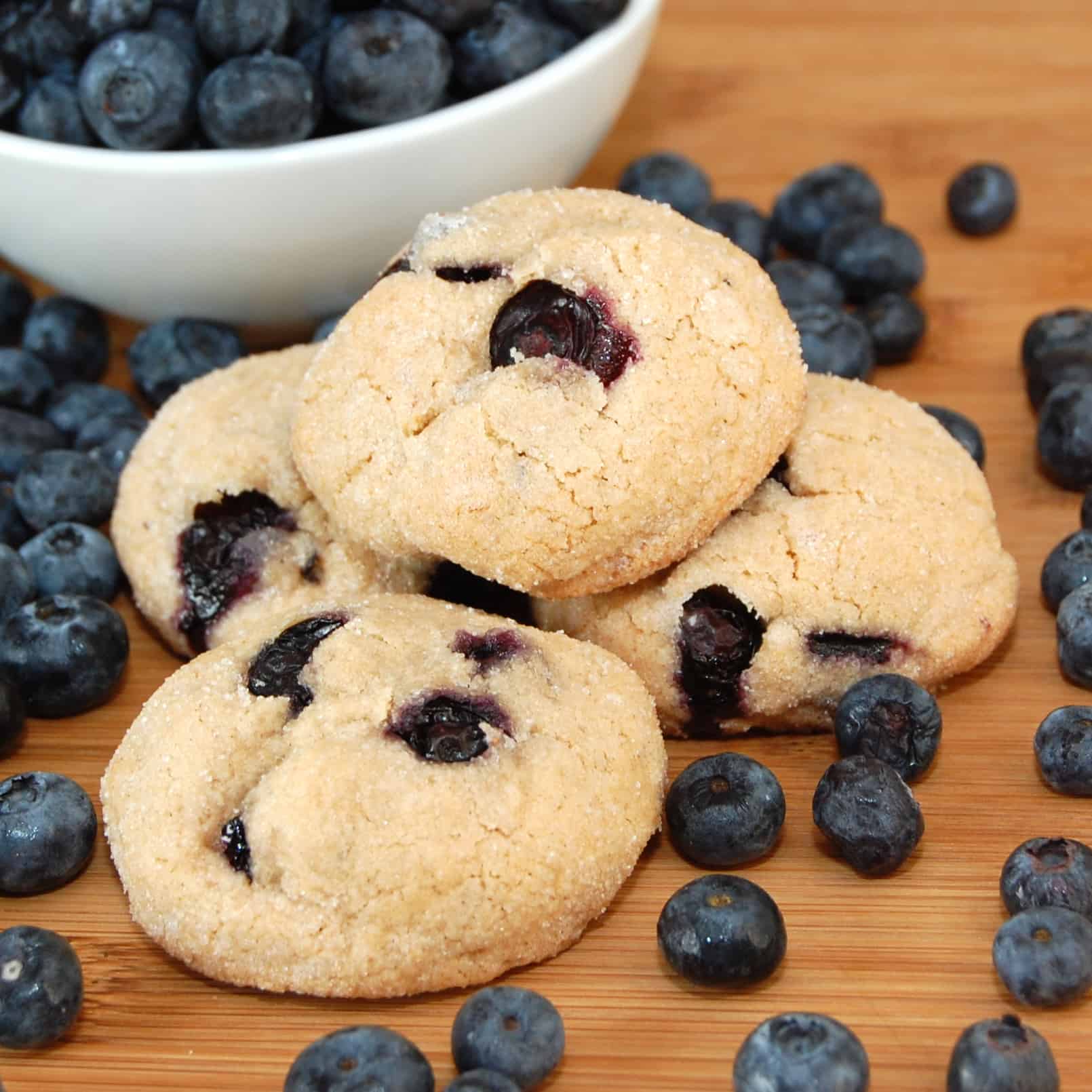 Brown Sugar Blueberry Cookies-yes, you read that right. Actual plump and juicy blueberries baked right inside of the cookies. No dried blueberries, no blueberry jam-no people this is the real deal! With the abundant fresh summer fruit available right now I want to take full advantage of their delicious flavors. Unfortunately, after searching for recipes to use up my refrigerator full of blueberries that I have, all I could find were muffins, breads, pancakes and scones. Although all of those sounded delicious, I wanted something new.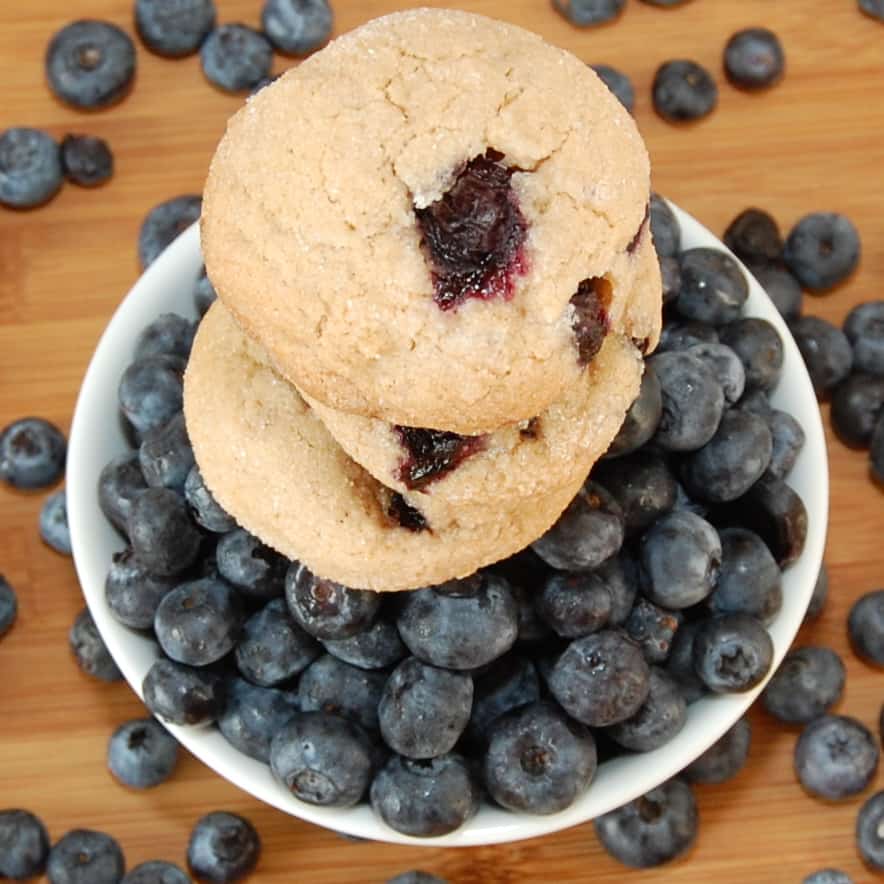 Blueberry cookies-that was it!! That is what I was craving! 😀 After searching for a good recipe, I was a bit discouraged after all I found were cookies with dried blueberries. Come on people, it is summer! Maybe if I were craving these in the middle of winter dried blueberries would work. But not now, not in the middle of summer when I have an embarrassing amount of blueberries just waiting to be used.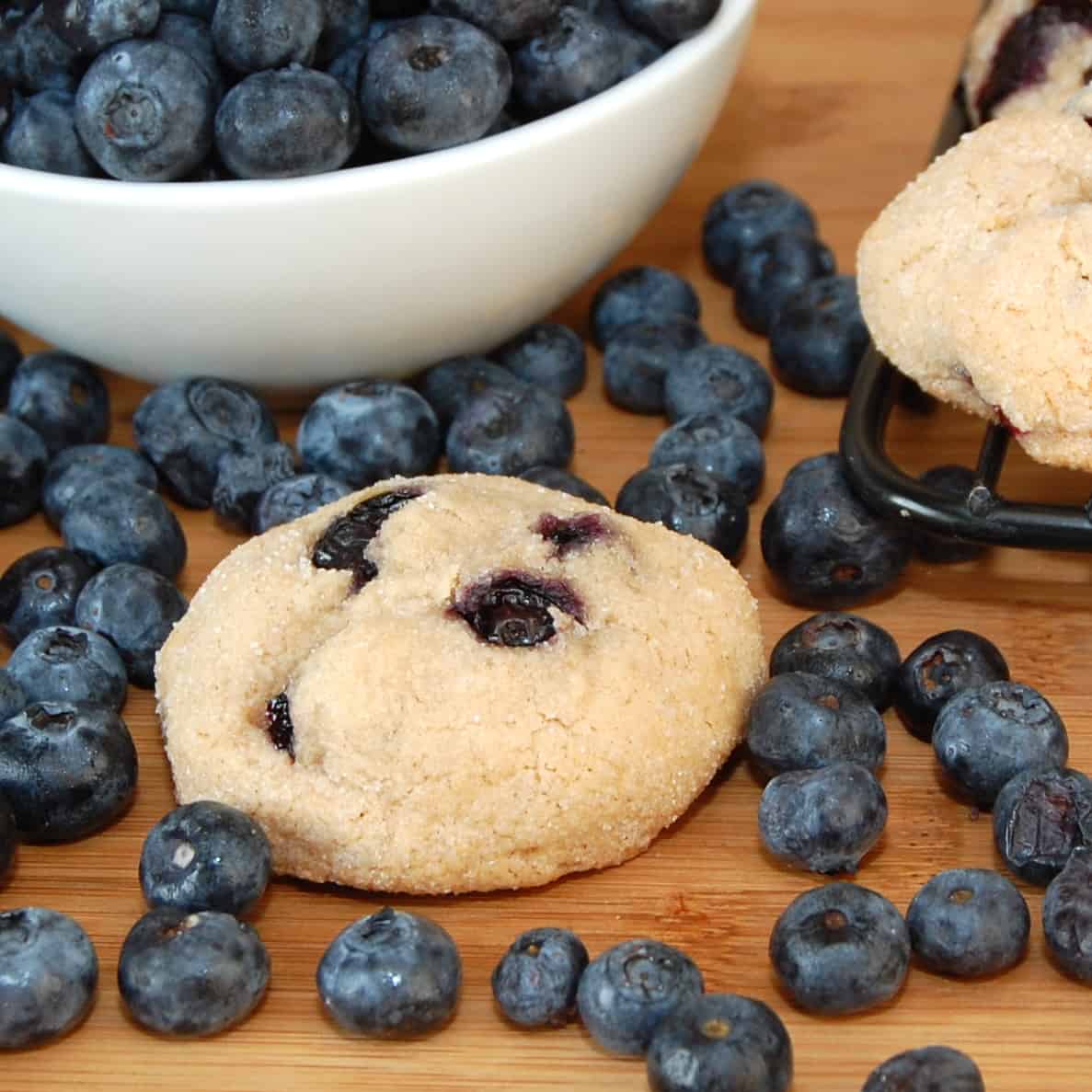 When I stumbled onto this recipe I was super excited! Were those fresh blueberries peaking through the cookies? Oh yeah! I ran to the kitchen and got to work. I could barely wait for the cookies to come out of the oven they smelled so good. Sugar crusted, melt in your mouth, tender and light, these blueberry cookies are the stuff dreams are made of! 😉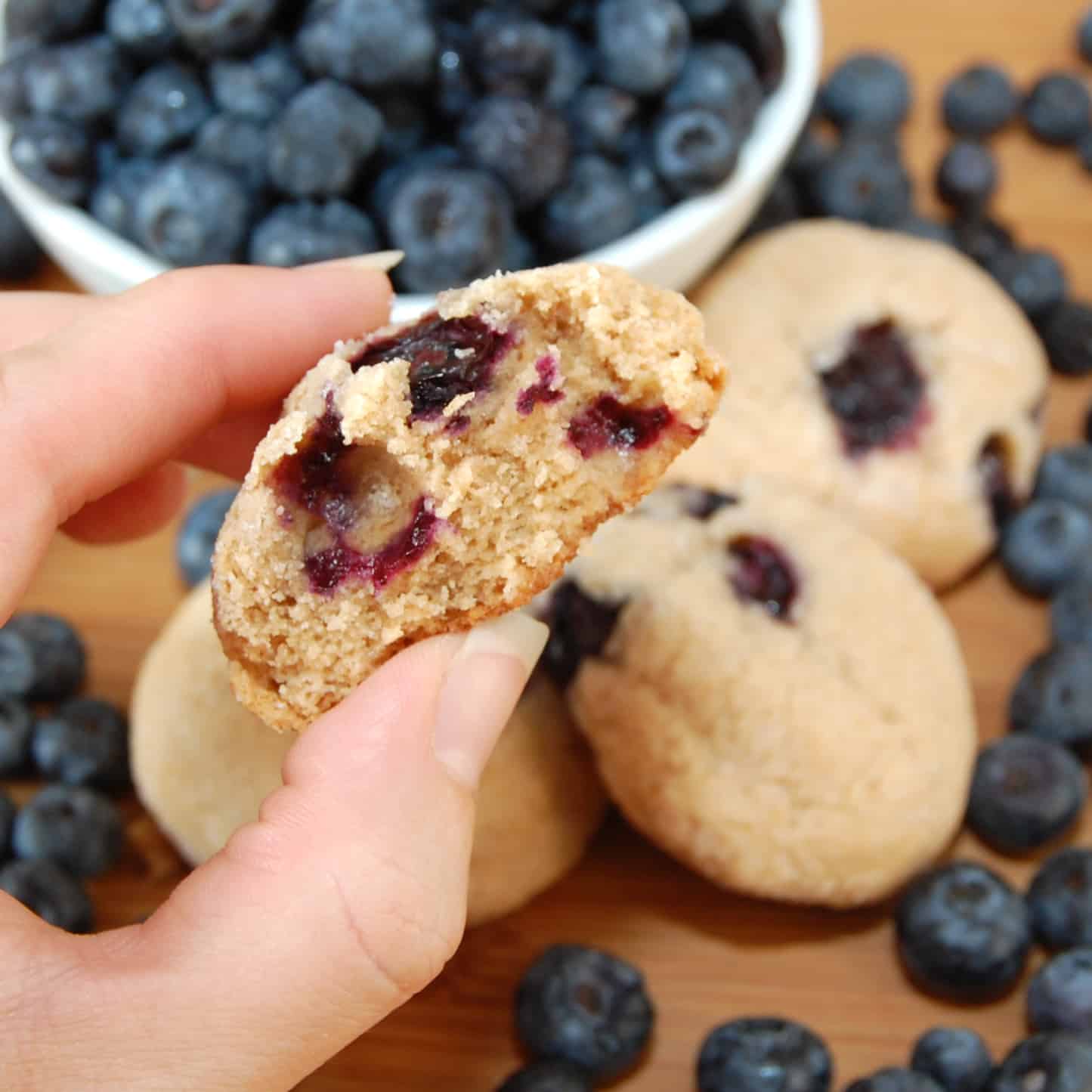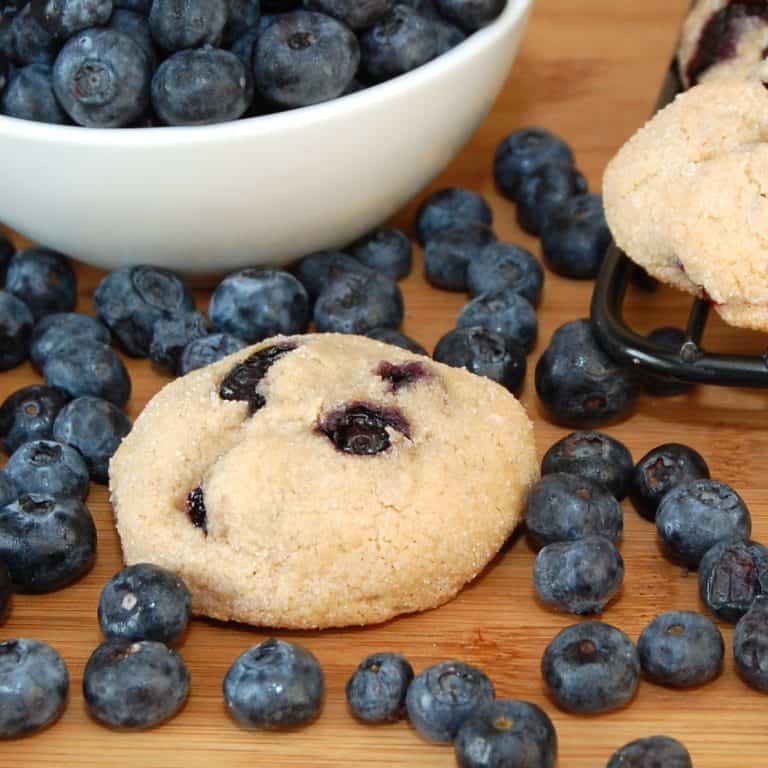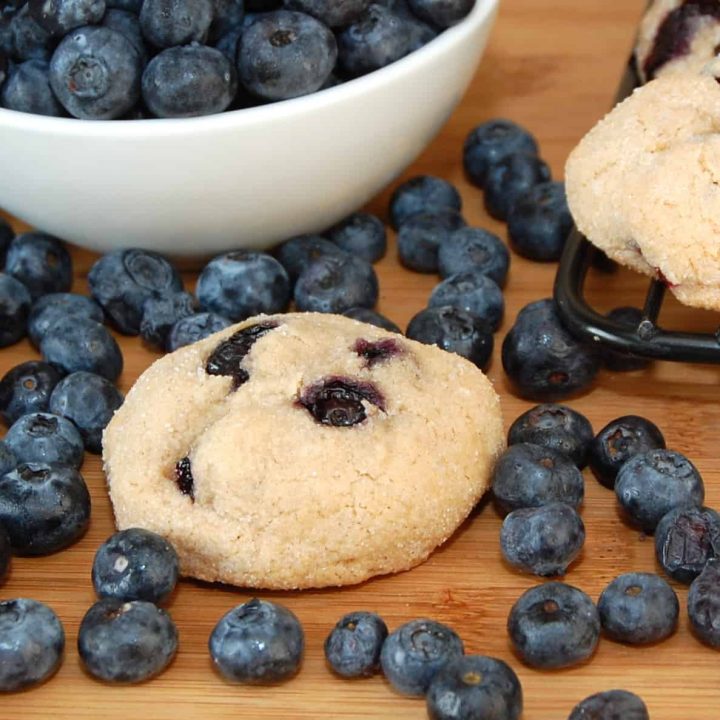 Brown Sugar Blueberry Cookies
Ingredients
1 3/4 cups all-purpose flour
1/4 teaspoon salt
1/2 teaspoon baking powder
1 1/2 teaspoons cinnamon
1 stick butter, at room temperature
3/4 cup packed brown sugar
1 egg
1 teaspoon vanilla extract
1 tablespoon milk
3/4 cup fresh blueberries
1/2 cup granulated sugar, for rolling dough
Instructions
Adjust the oven racks to the upper-and lower-middle positions and heat the oven to 375 degrees F. Line 2 large baking sheets with parchment paper or spray them with nonstick cooking spray.
In a medium bowl, whisk the flour, salt, baking powder and cinnamon; set aside.
In the bowl of a stand mixer with the flat beater attached, cream the butter and brown sugar at medium speed until light and fluffy, about 3 minutes. Scrape down the sides of the bowl with a rubber spatula as needed. Add the egg and vanilla; beat at medium speed until combined, about 30 seconds. Add the dry ingredients and beat at low-speed until just dough comes together, about 30 seconds. Add in milk. If dough is still crumbly, add milk 1 tablespoon at a time until it comes together. Fold in blueberries gently with a spatula.
Place the ½ cup sugar for rolling in a shallow bowl. Fill a medium bowl halfway with cold tap water. Dip your hands in the water and shake off any excess (this will prevent the dough from sticking to your hands and ensure that the sugar sticks to the dough). Roll a heaping tablespoon of dough into a 1½-inch ball between moistened palms, roll the ball in the sugar, and then place it on the prepared baking sheet. Repeat with the remaining dough, moistening your hands as necessary and spacing the balls about 2 inches apart (you should be able to fit 12 cookies on each sheet).
Bake until the cookies centers are just set and very lightly colored, 15 to 18 minutes, rotating the baking sheets front to back and top to bottom halfway through the baking time. Cool the cookies on the baking sheets about 3 minutes; using a wide metal spatula, transfer the cookies to a wire rack and cool to room temperature. Store in an airtight container at room temperature.
Source: adapted from How Sweet It Is