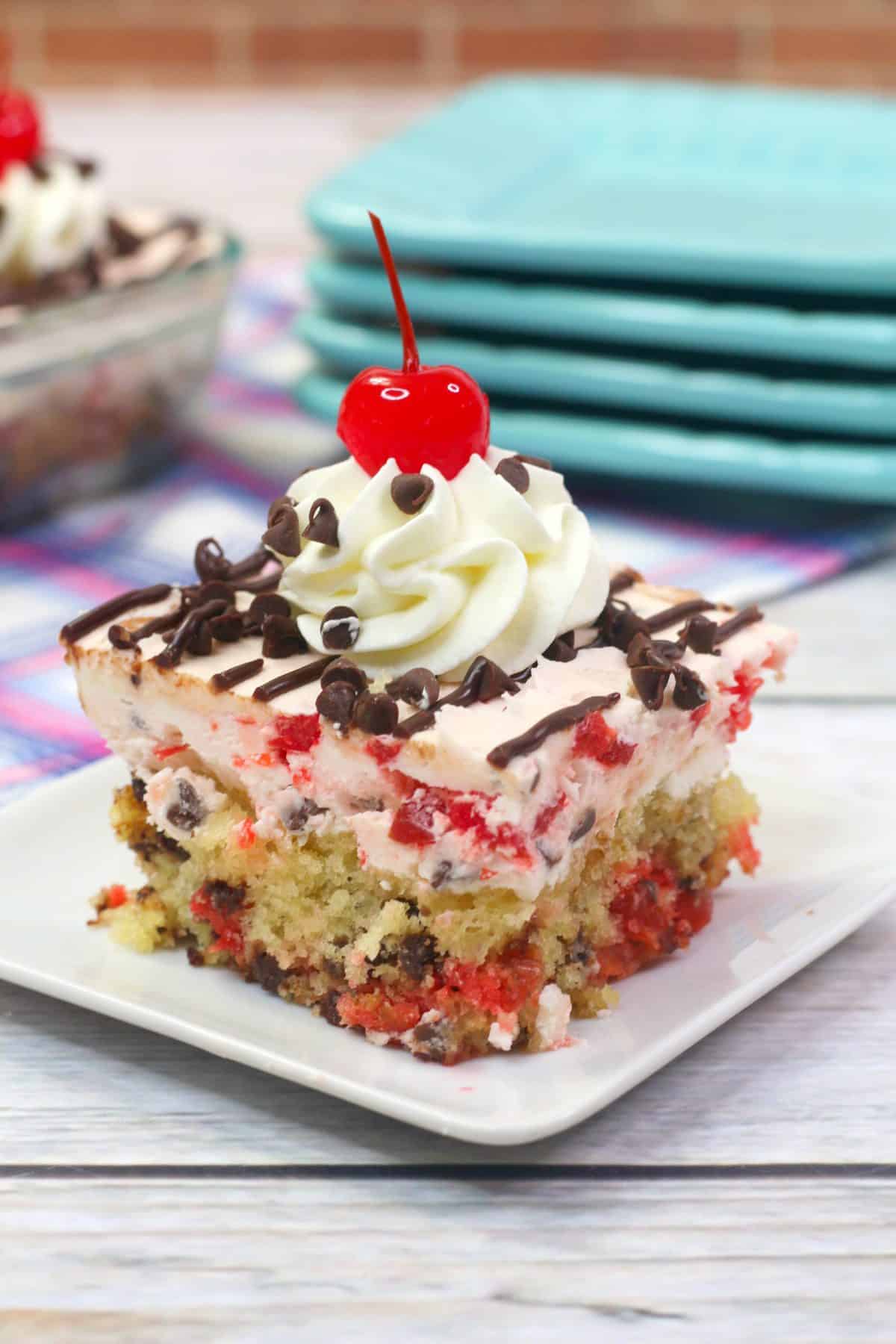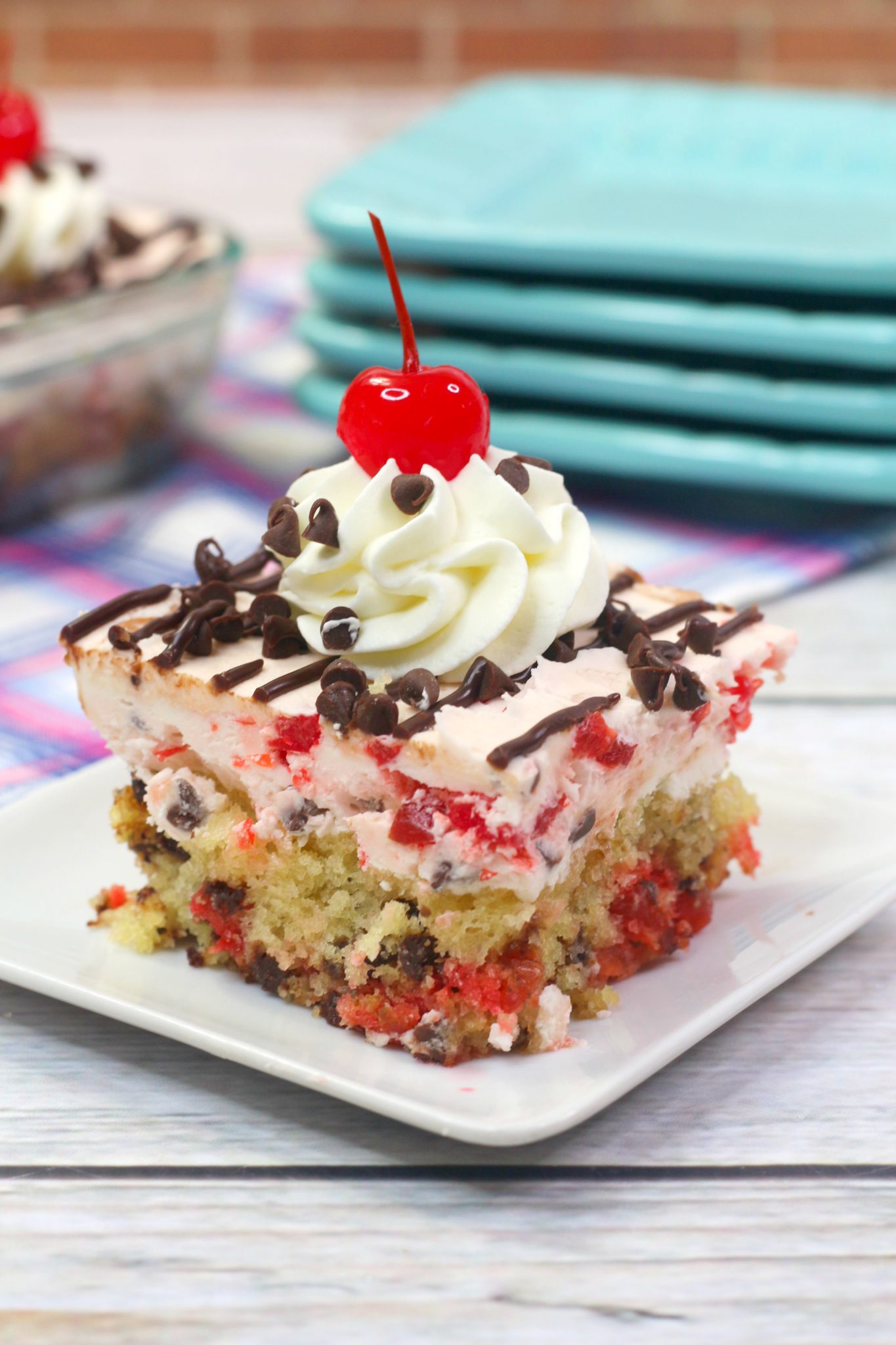 This Easy Cherry Garcia Cake Recipe is pure heaven! It's insanely good, and you won't believe it starts with a boxed cake mix. Every bite of this easy dessert is filled with sweet cherries and chocolate. Next time you need a summer dessert or potluck dessert, consider making this amazing maraschino cherry cake. Everyone will devour it!
Scroll to bottom for printable recipe card.
Easy Cherry Garcia Cake Recipe
I was hosting an anniversary dinner for some family friends a while back and new that I wanted to make several tasty desserts. This Cherry Garcia Cake was at the top of my list because it's a huge crowd pleaser. Plus, this chocolate cherry cake is simple to make too. When you are serving a bunch of people, it's so much better when you pick something that is easy to make.
This maraschino cherry cake is also lovely if you are hosting a bake sale or need a dessert for a funeral or other community function.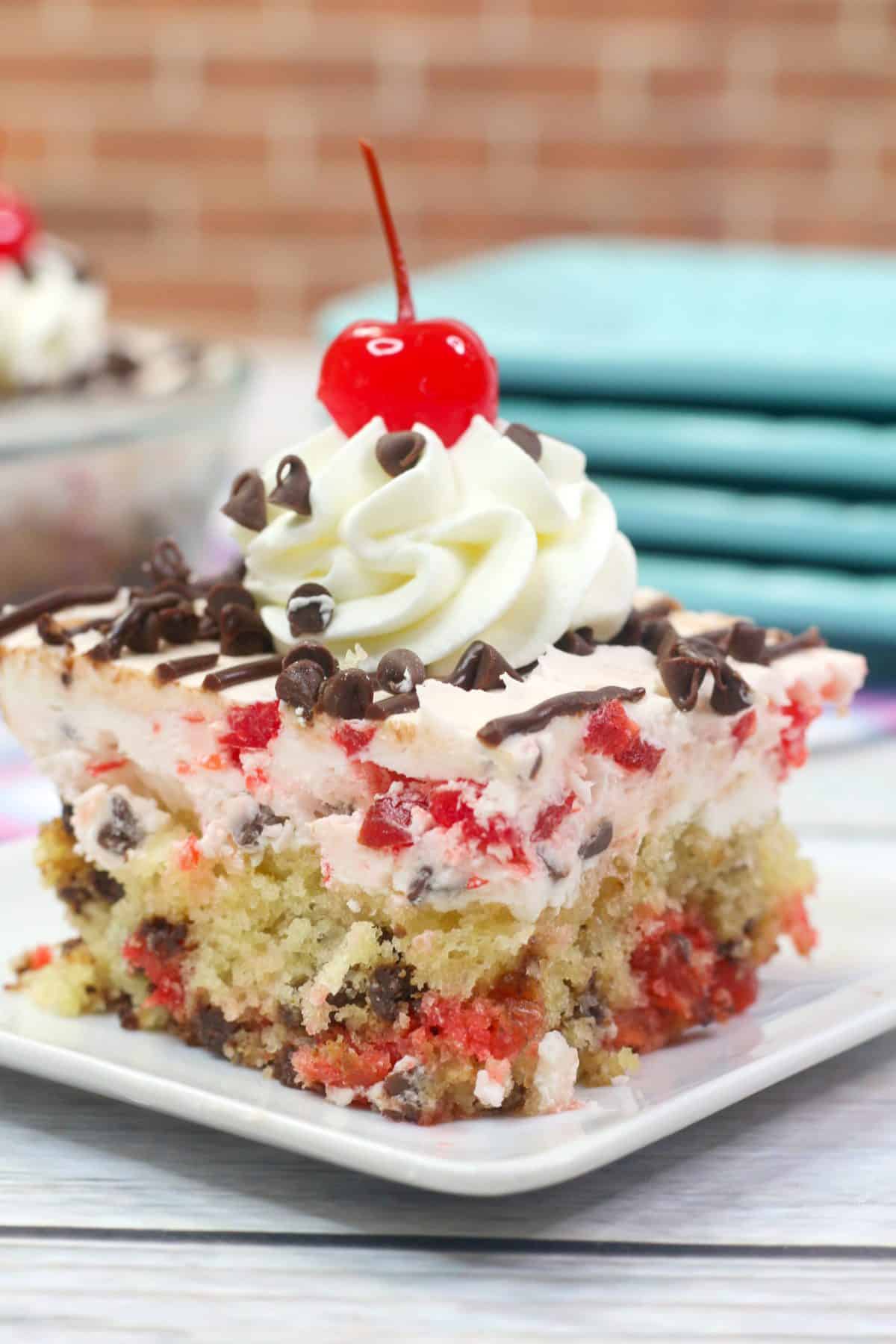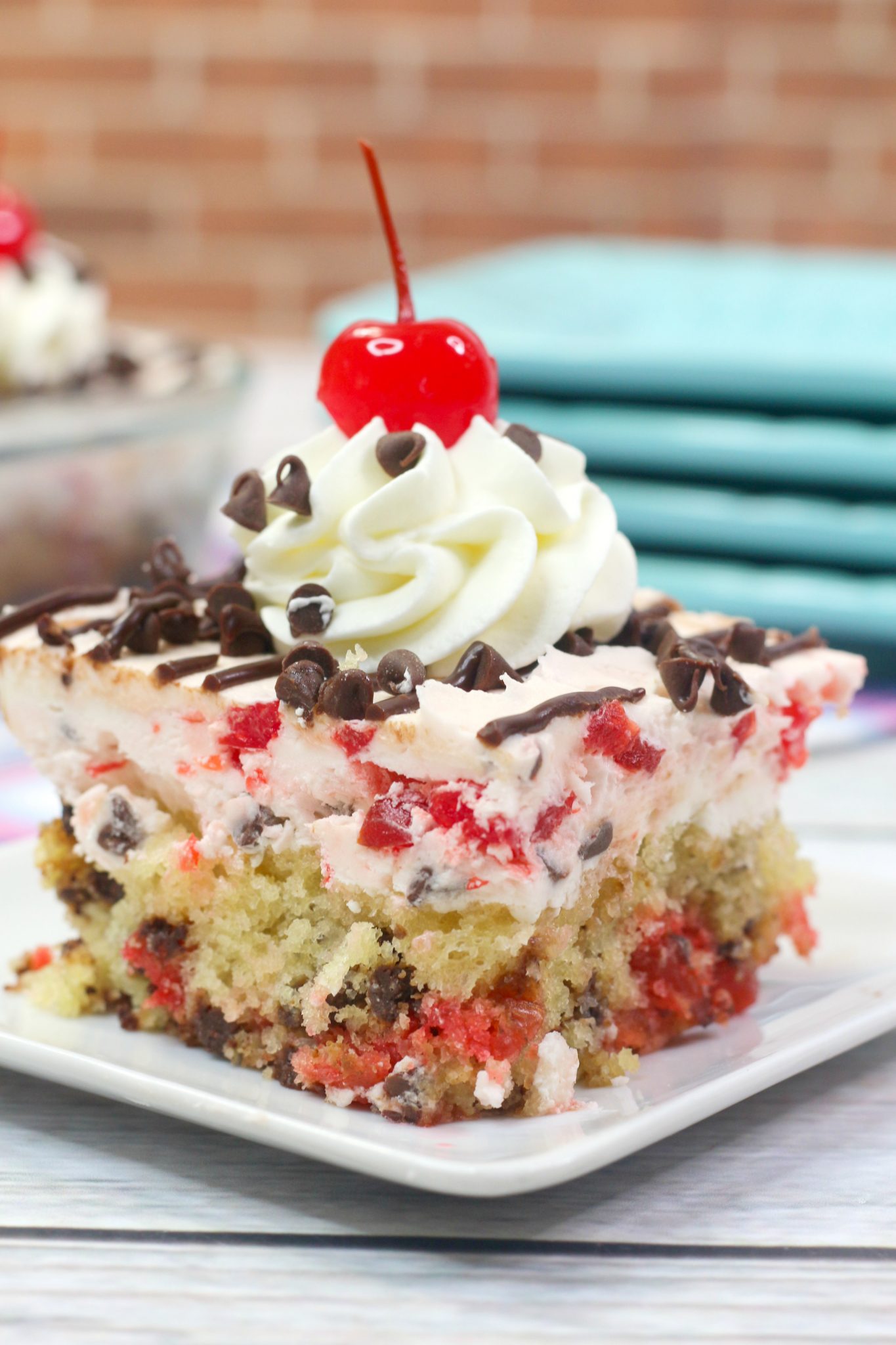 Can I Use Yellow Cake Instead of White Cake
Yes, yellow cake is a more than acceptable substitute for white cake. It will taste just as yummy, and everything will turn out the same. You can even try this Cherry Garcia cake with other cake mixes too. Strawberry, chocolate, and French vanilla would all be attractive options as well.
Can I Swap Recipe With Real Cherries
Yes, you can use regular cherries instead of maraschinos if you want. You need to be sure to use fresh cherries that don't have seeds. The last thing you want is for someone to take a bite of this amazing cake and break a tooth because there was a seed in the cherry. So don't skip this step! You can put full cherries with stems on top for decoration, and that will be fine. Just warn everyone that there are seeds in them.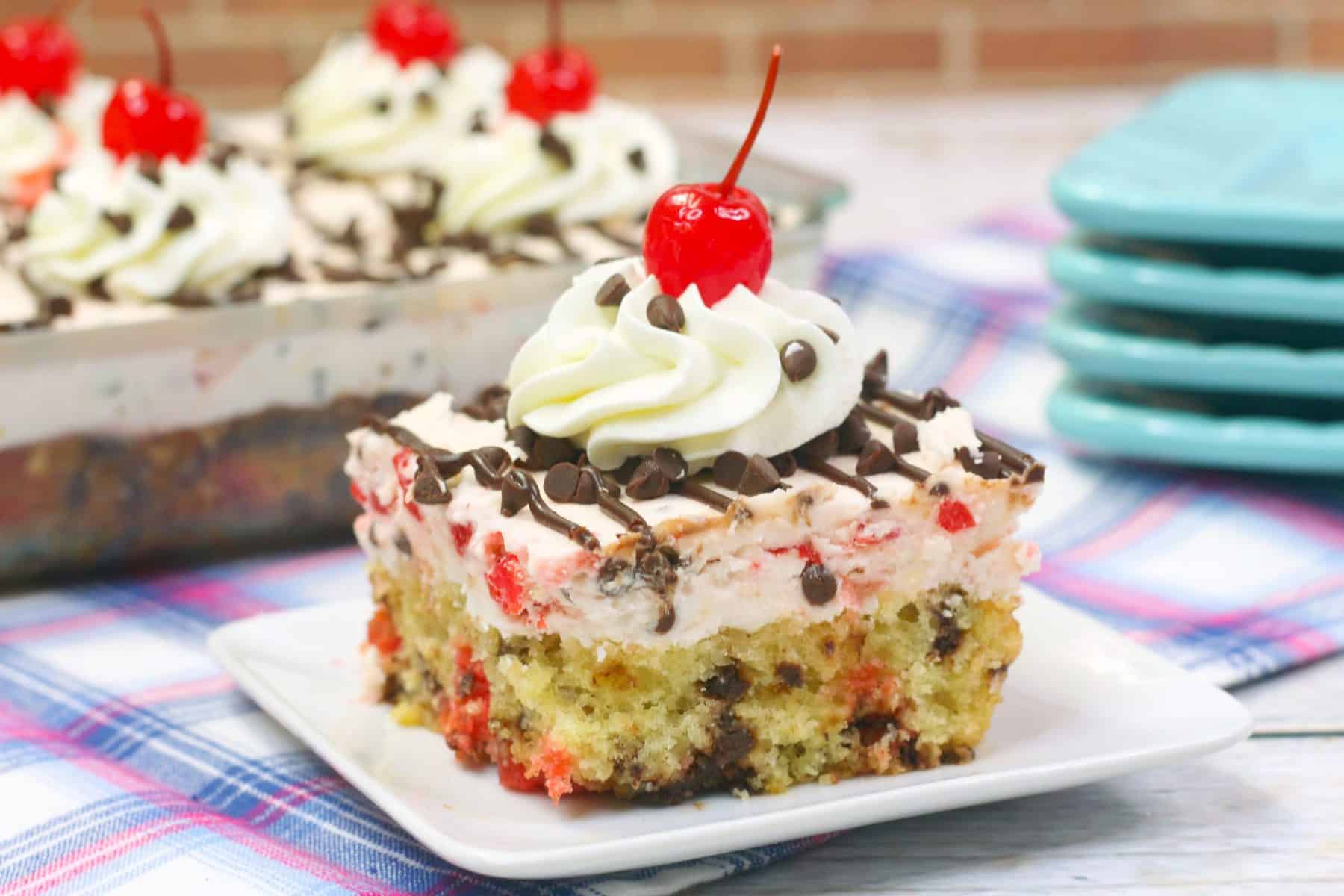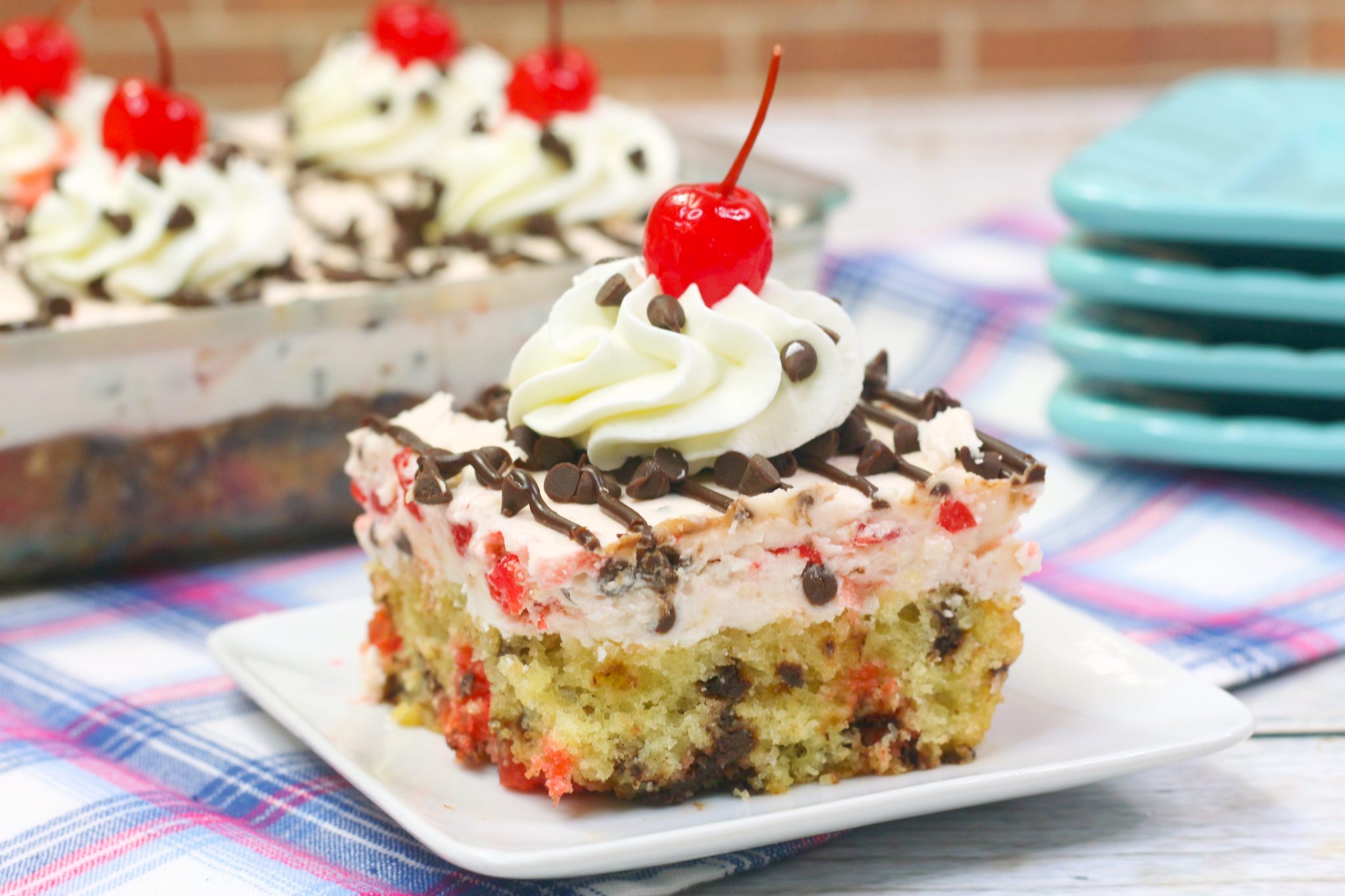 Can I Make This Cake Into Cupcakes
Absolutely you can turn this cherry Garcia cake into cupcakes. You will divide the batter among greased muffin tins and bake them for 20-25 minutes or until they are cooked all the way through. The best way to tell is by inserting a toothpick in the center of the cupcakes. If it comes out clean, they are done. If not, bake a few more minutes.
Does This Recipe Need To Be Refrigerated
I personally think the cherry Garcia cake tastes better when it's cold. However, it's not required to refrigerate it. As long as it's covered tightly, it can sit on the counter for up to 2 days. Or you can refrigerate it, and it will last up to 4 days.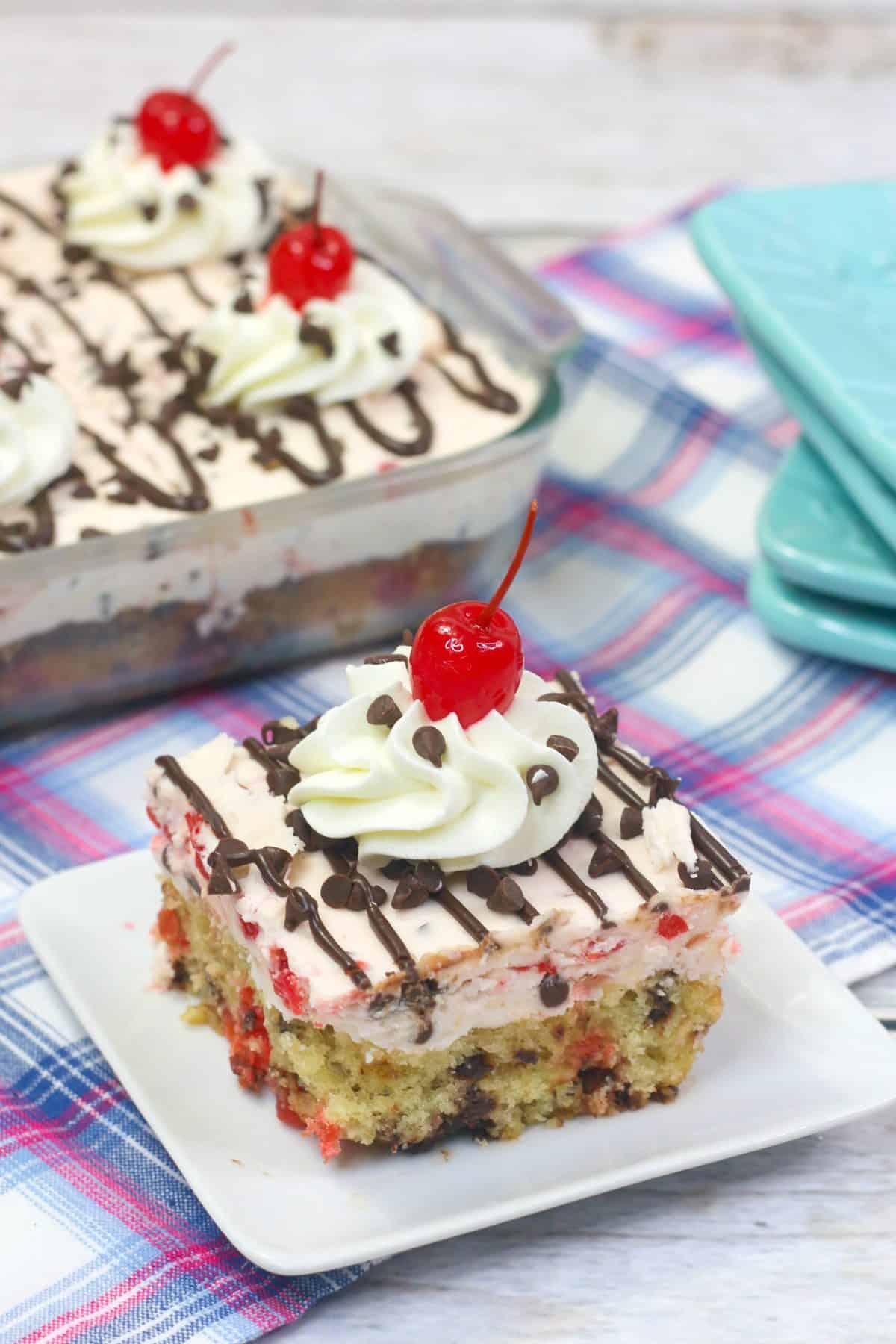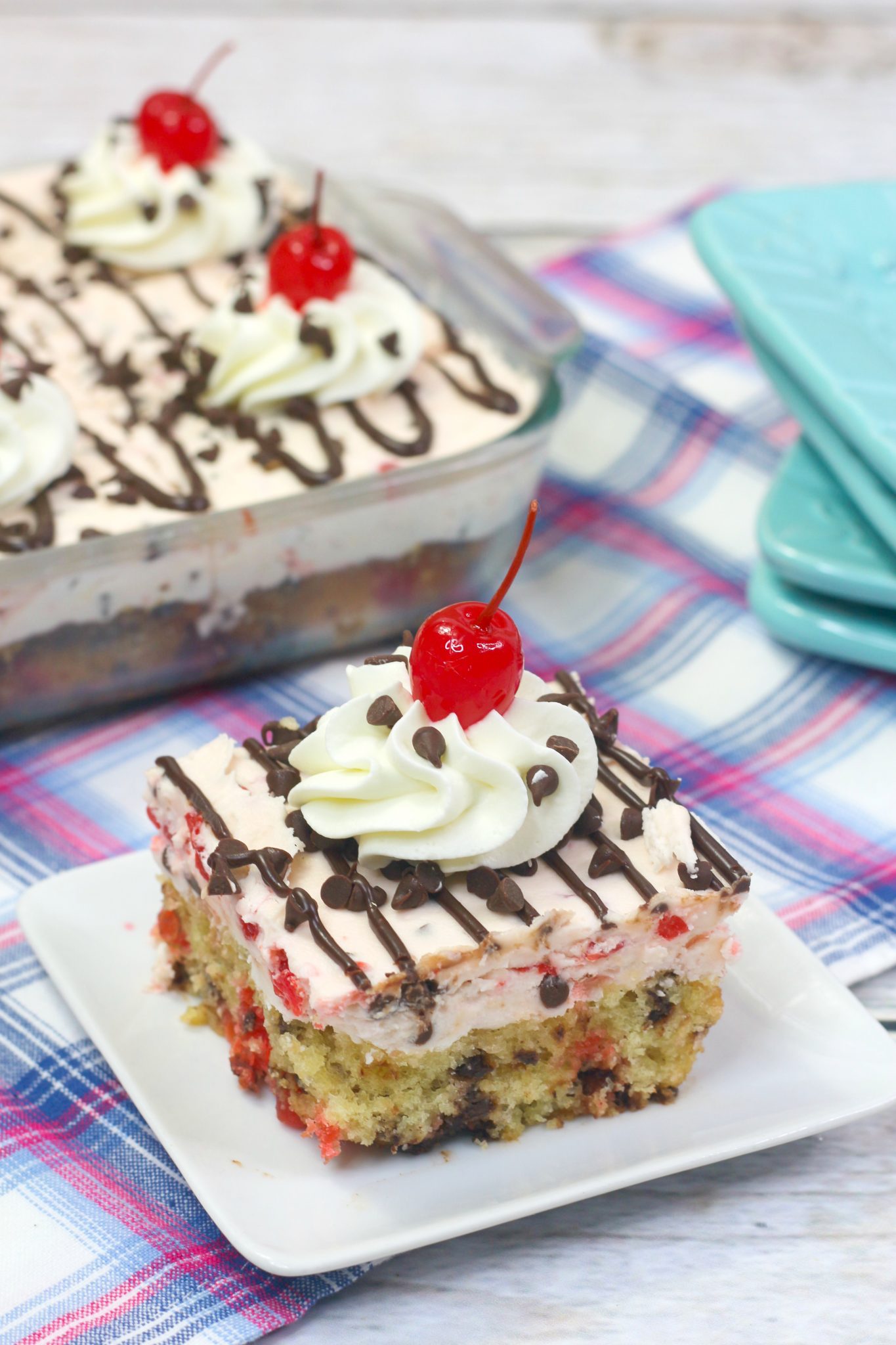 Can You Freeze
Yes, you can easily freeze this cake. Simply wrap it up with plastic wrap or aluminum foil. Then put the pieces of cake in a freezer-safe container. Freeze for up to 1 month. It will need to be defrosted for a few minutes before eating. You can just put the cake in the fridge or on the counter until it's defrosted.
When To Make This Cake
This is a one of a kind cherry chocolate cake that is lovely for all sorts of events and occasions. Here are a few ideas to consider making this cherry Garcia cake for:
Birthdays
Anniversaries
Dinner Parties
Potlucks
Pool Parties
Backyard Barbecues
Fundraisers
Bake Sales
Community Events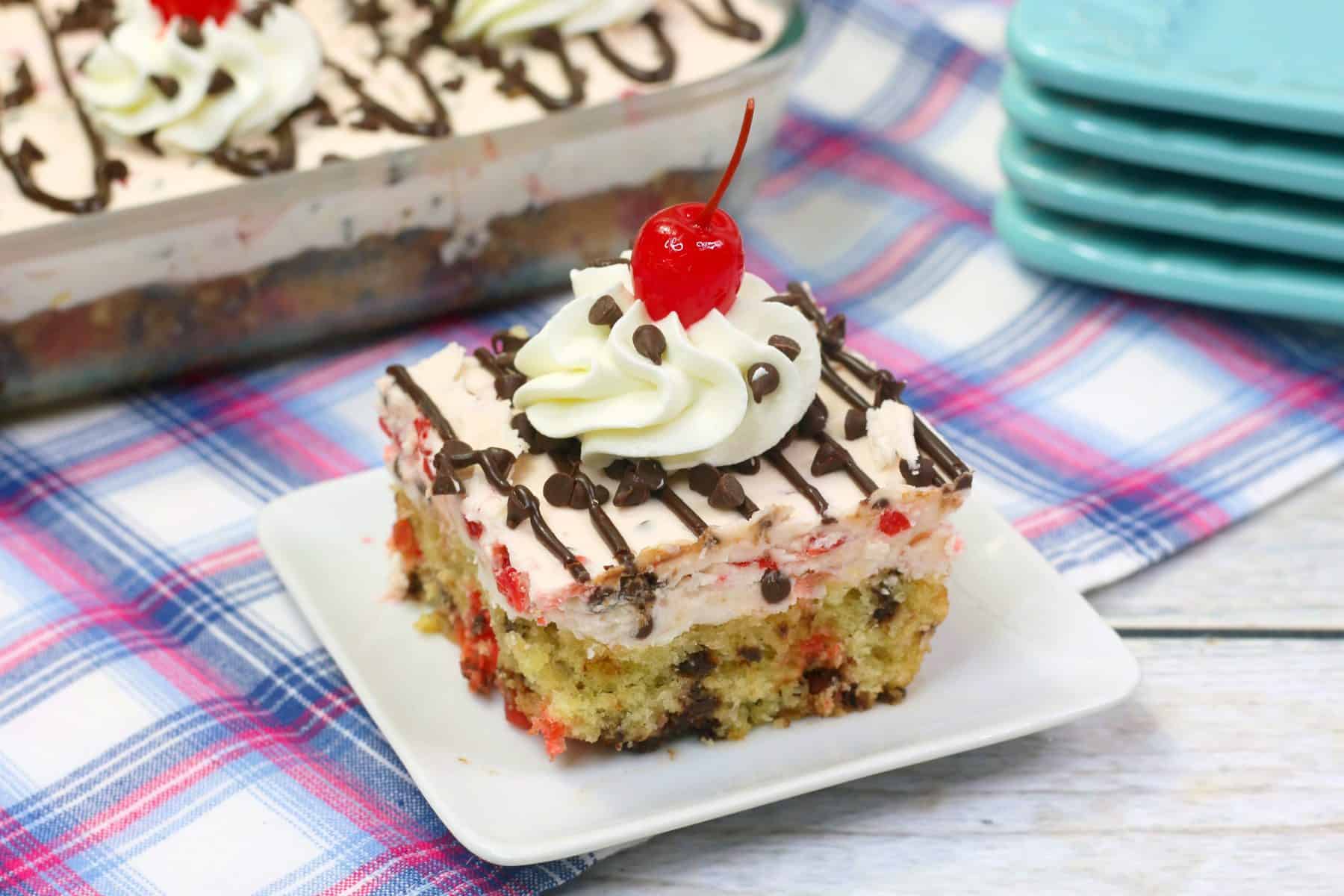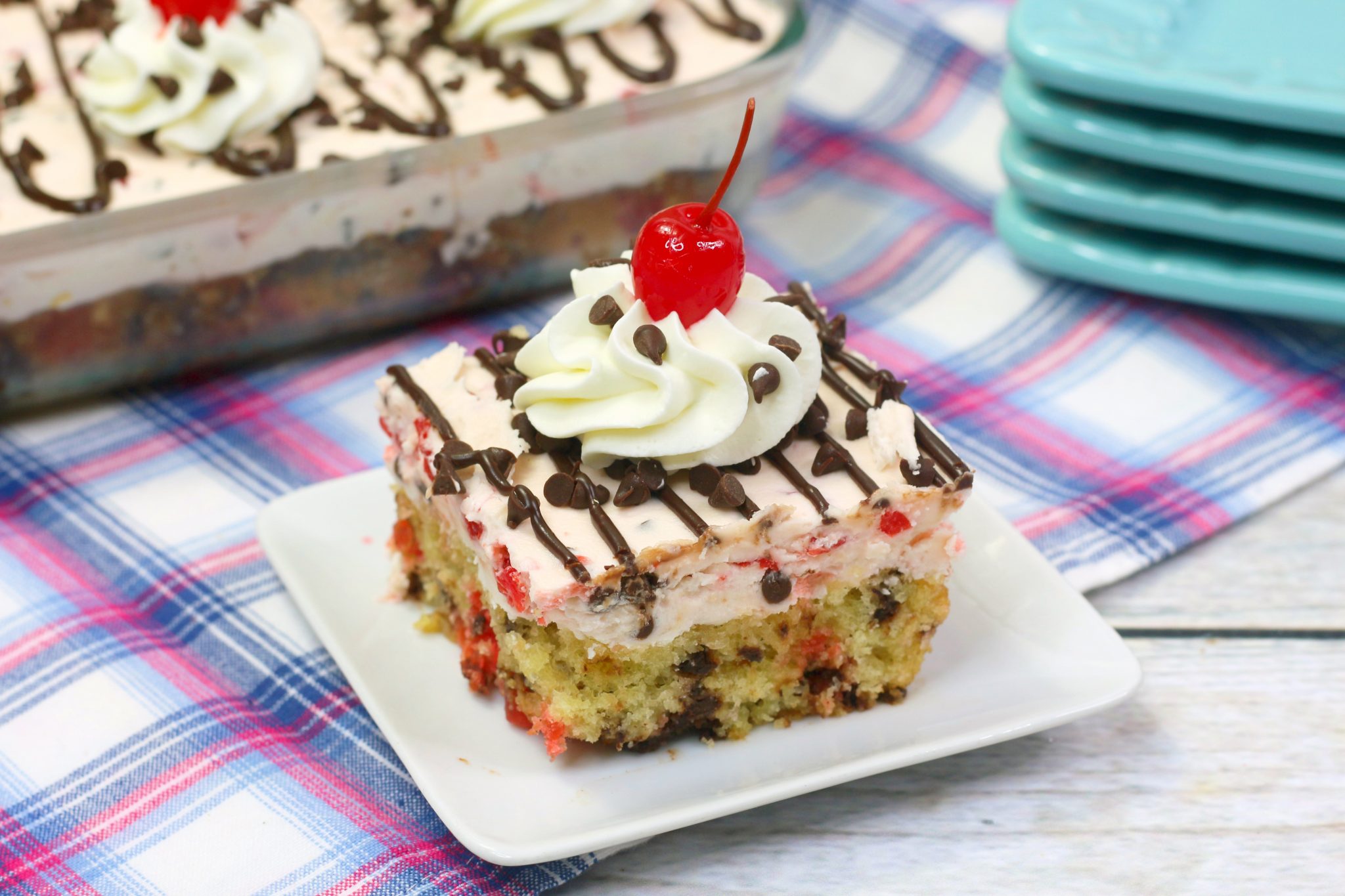 How to Know When Cake Is Done
There are a few ways to tell if this chocolate cherry cake is done. First, stick a toothpick or wooden skewer in the center of the cake. If you pull it out and it comes out clean, then the cake is done. Another thing you should notice when the cake is done is that the sides begin to pull away from the baking pan. Lastly, you should be able to lightly touch the done cake, and it will pop right back up. If it leaves an indent, it needs to bake a little bit longer.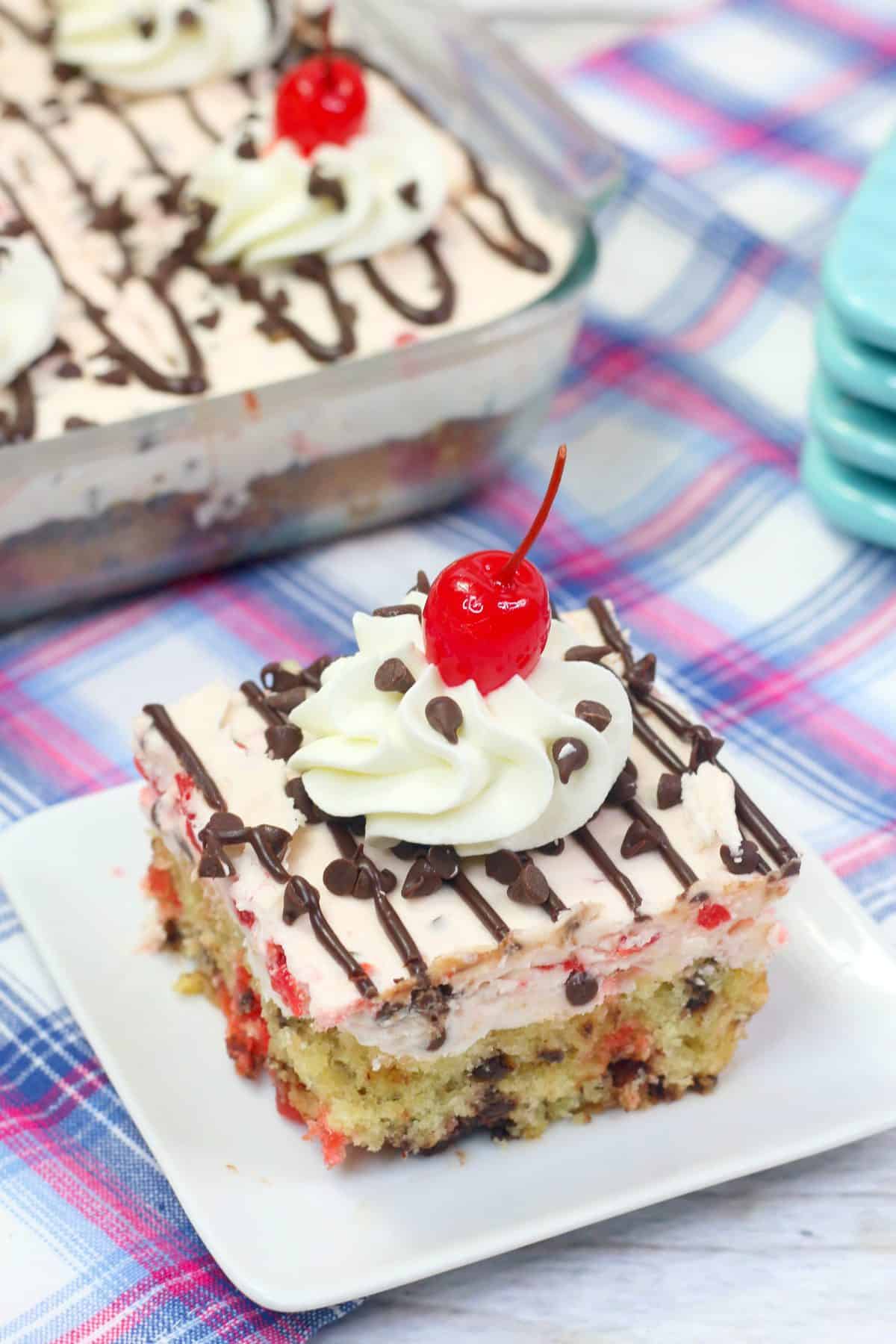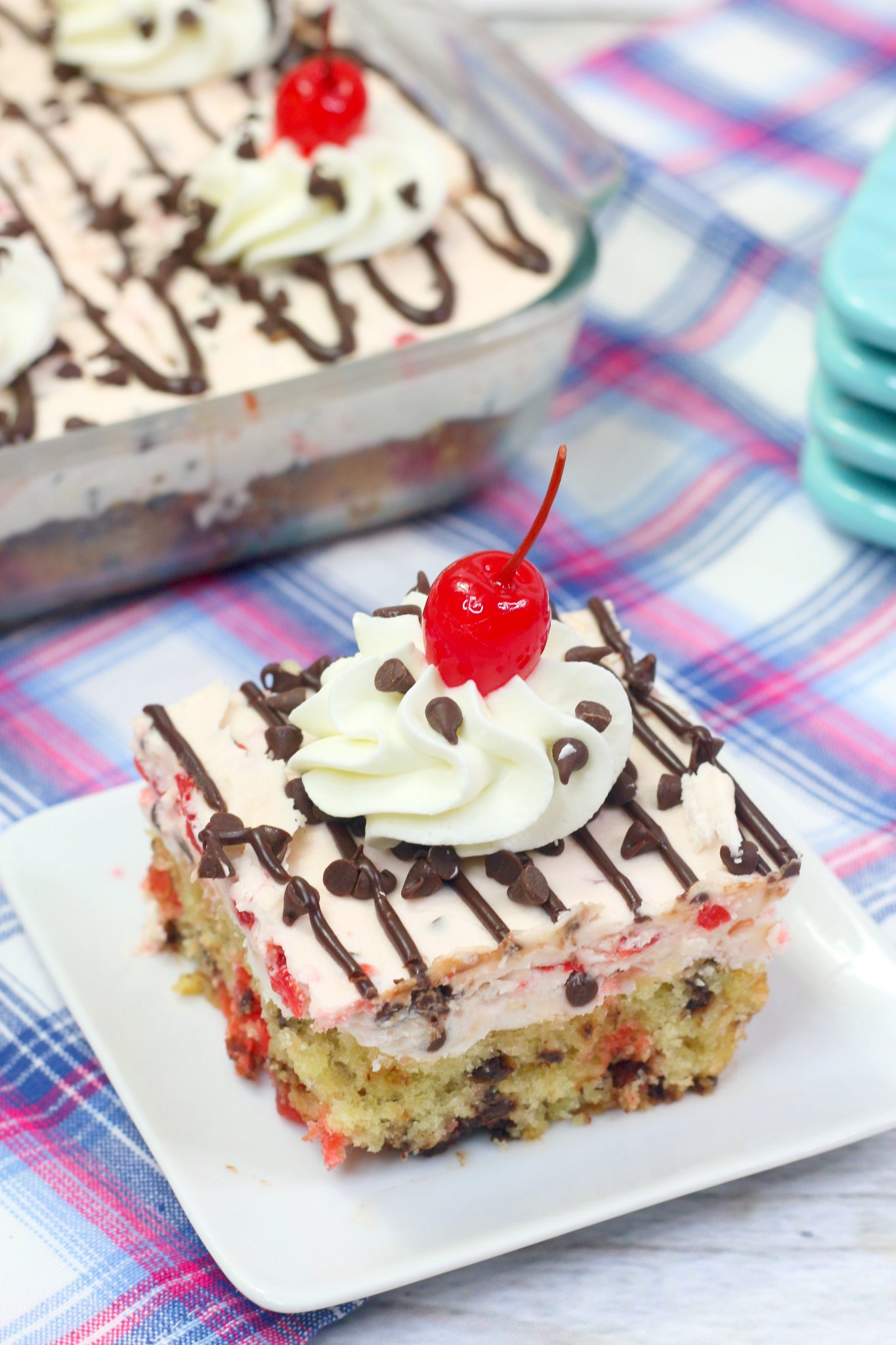 Ingredients
The ingredients are impressive and simple to work with. You won't believe how delicious it's going to be either!
Semi sweet chocolate chips
White cake mix; divided
Water
Sour cream
Vegetable oil
Almond extract
Egg whites
Maraschino cherries
Frosting:
Butter (softened to room temp)
Powdered sugar
Almond extract
How to Make
Let's get started with these easy to follow directions.
ٍstep 1. Warm up the oven to 350 degrees F. Then spray a 9 x 13 inch baking dish with cooking spray.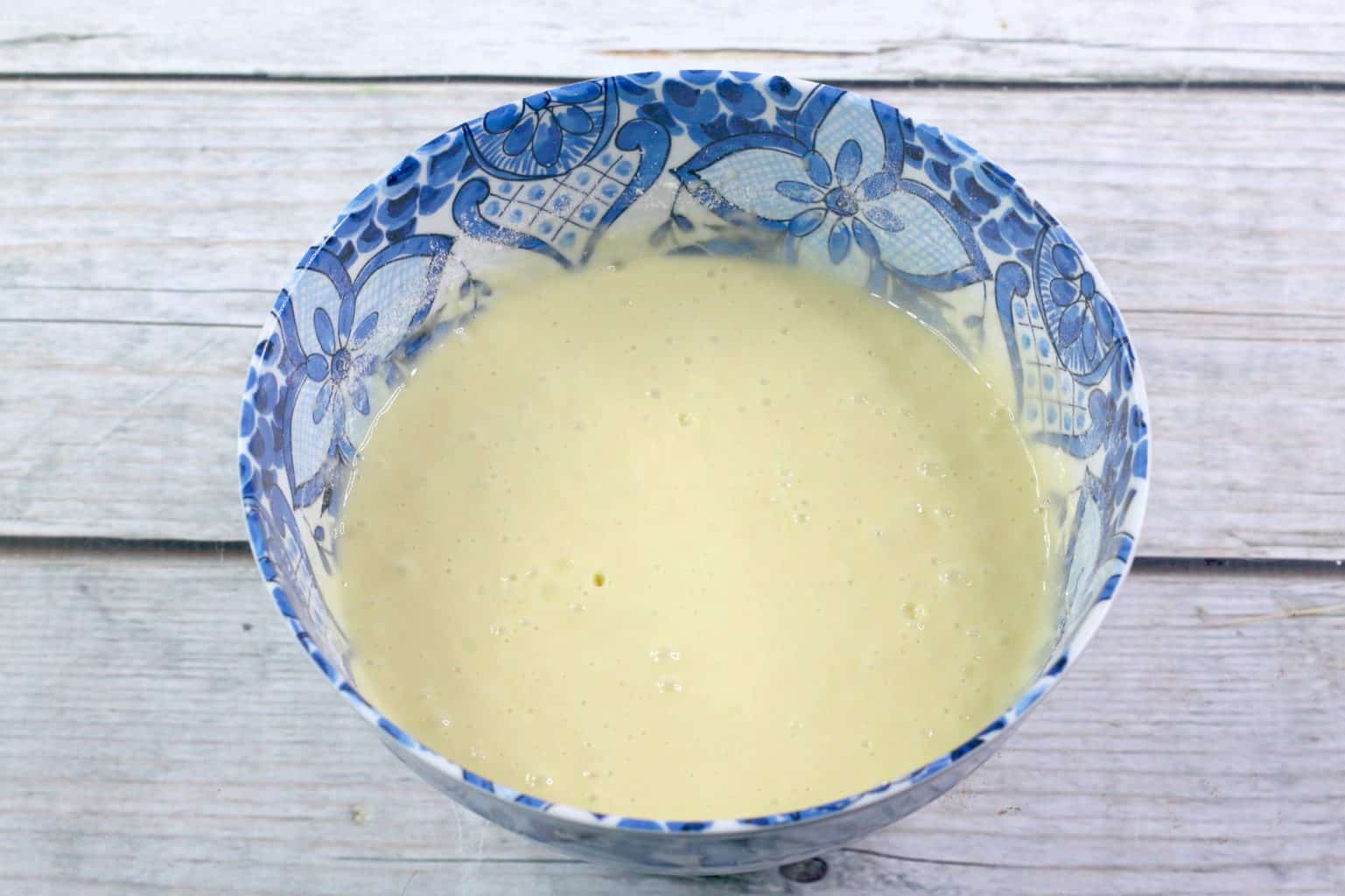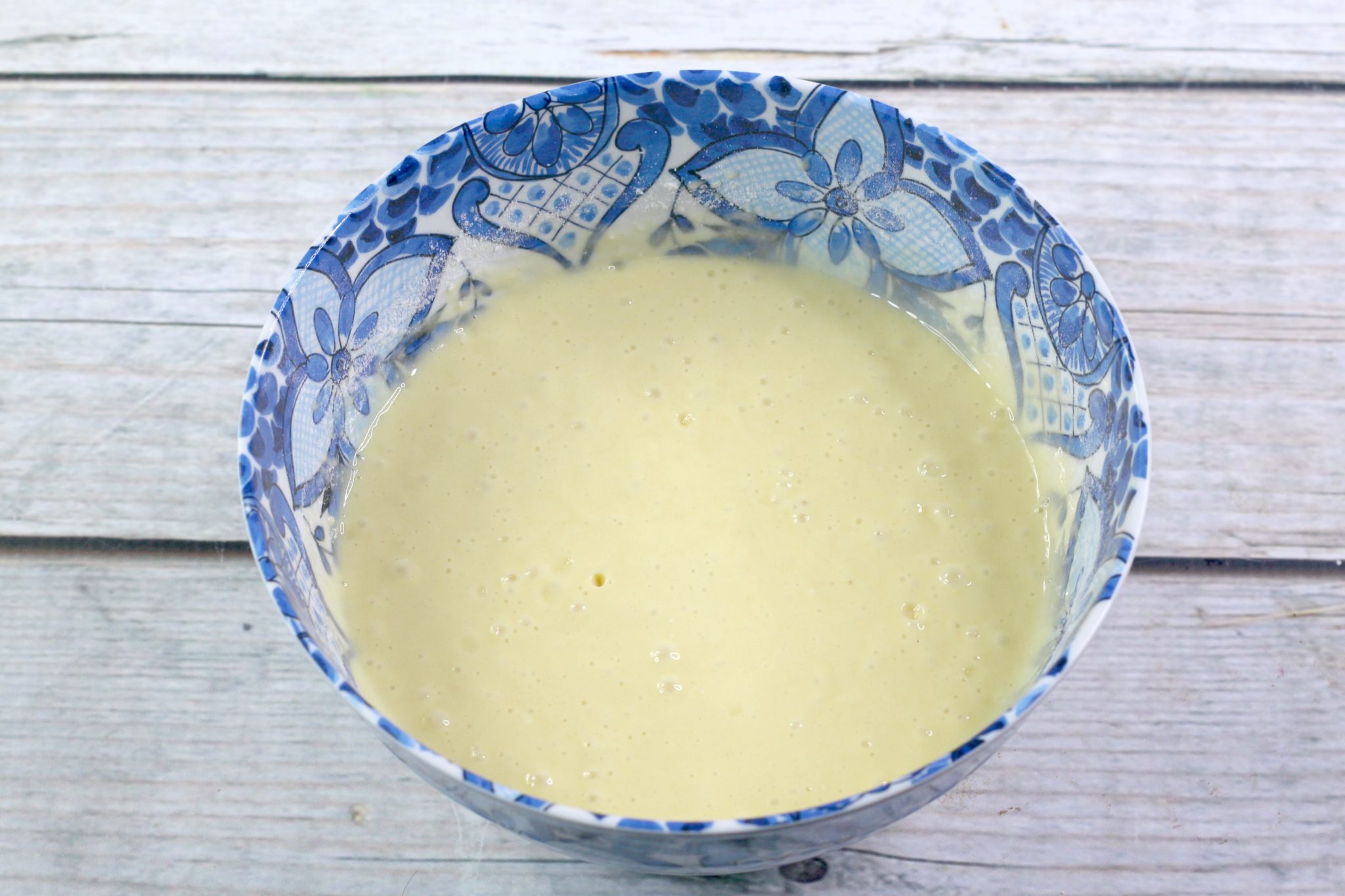 step 2. Combine the chocolate chips along with one tablespoon of the dry cake mix. Mix until the chocolate chips have all been coated.
step 3. Beat the rest of the cake mix, sour cream, water, vegetable oil, almond extract, and egg whites in a large bowl. Mix on low speed for 30 seconds or until incorporated. Continue to mix for 2 additional minutes at medium speed.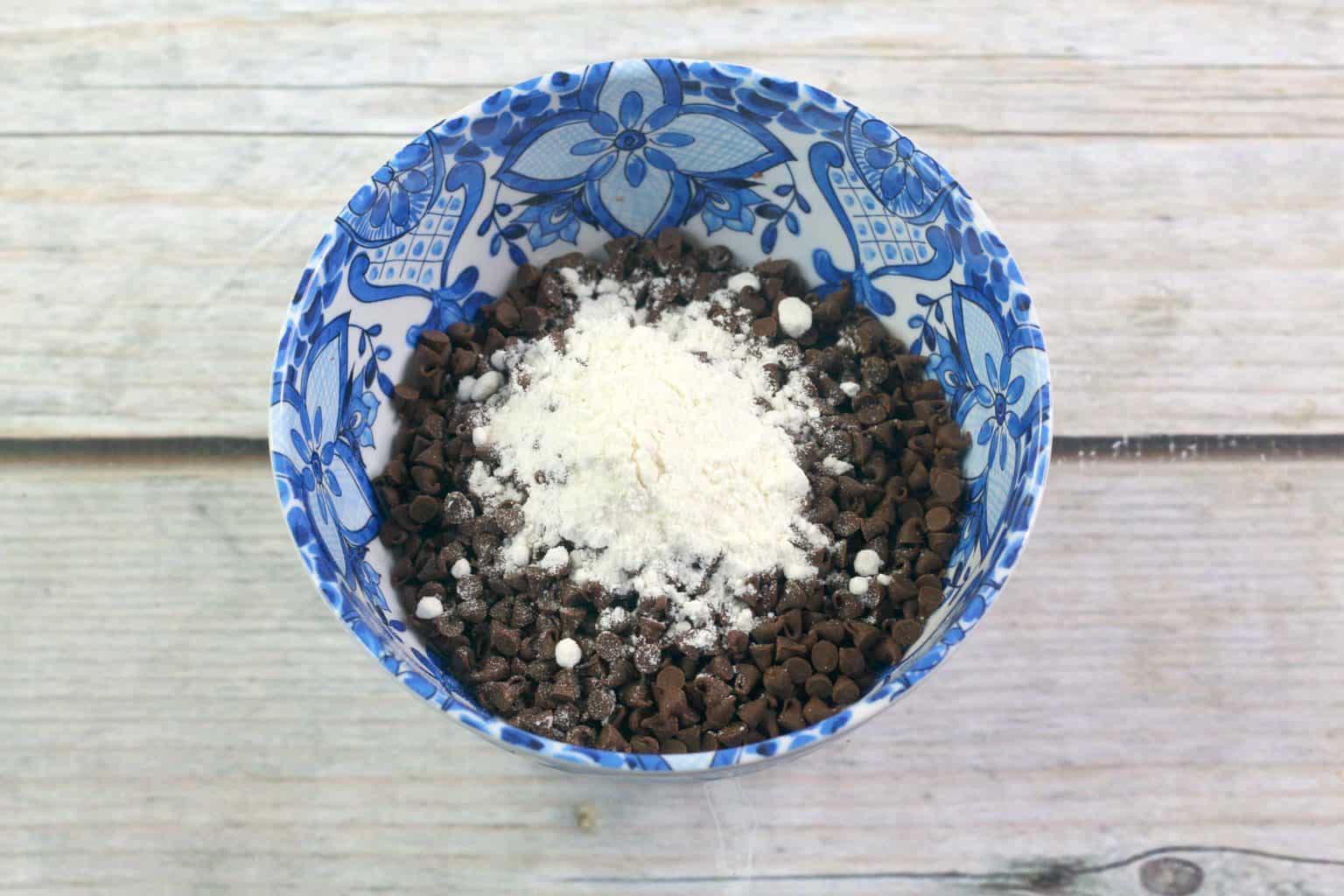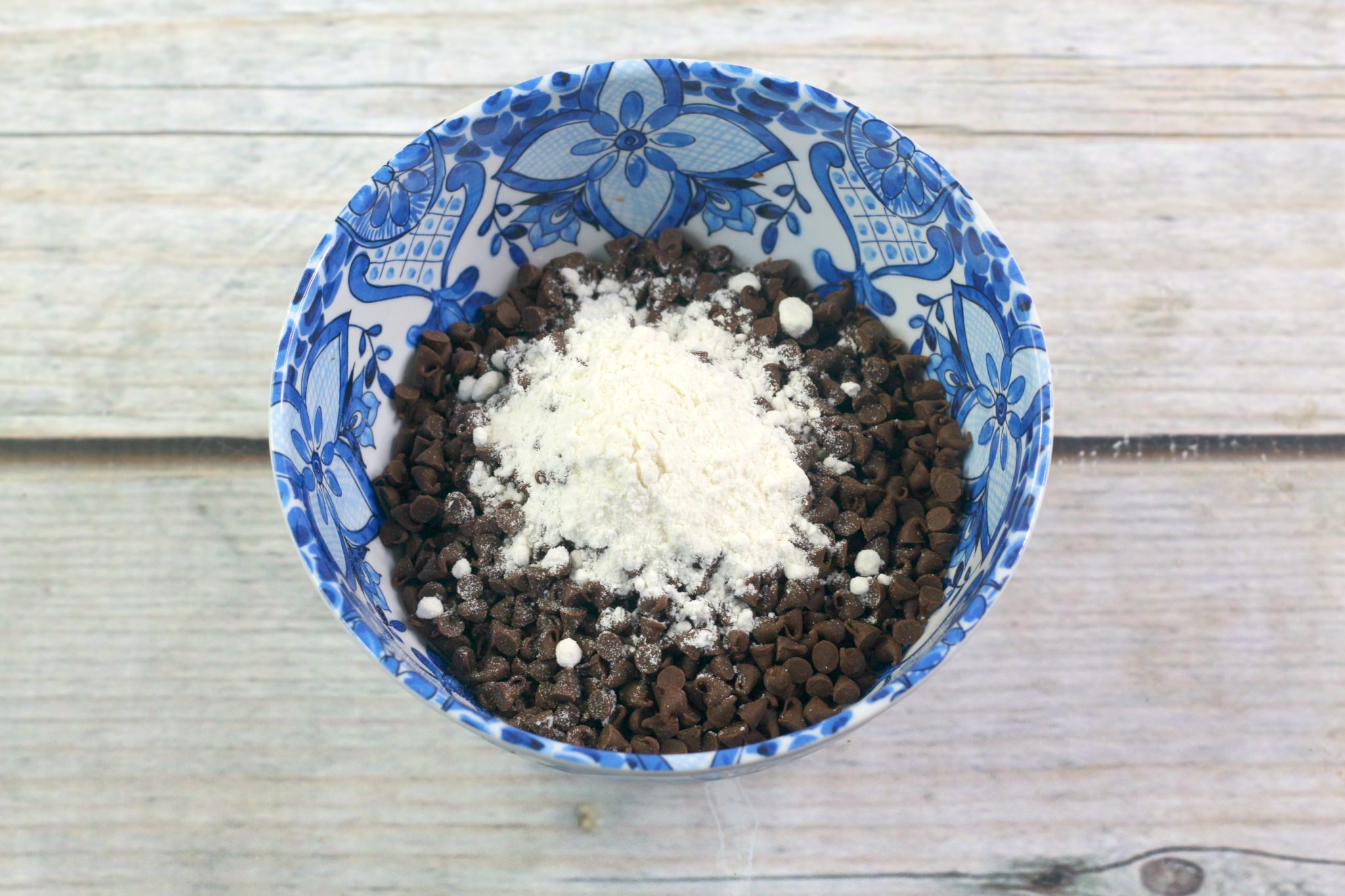 step 5. Carefully chop all the cherries and use a paper towel to pat them dry. Stir in one cup of cherries and the chocolate chips into the batter. Then pour the cake into the prepared pan. Save the cherry juice as well as 15 cherries for the finishing touches.
step 6. Bake the cake for 32 – 35 minutes. Then cool completely.
step 7. Prepare the frosting by beating the softened butter and powdered sugar in a bowl. Add in the almond extract and 1/3 cup of cherry juice. Mix the frosting until blended and add in more cherry juice if needed. Add in the chopped cherries and frost the cooled cake. Enjoy!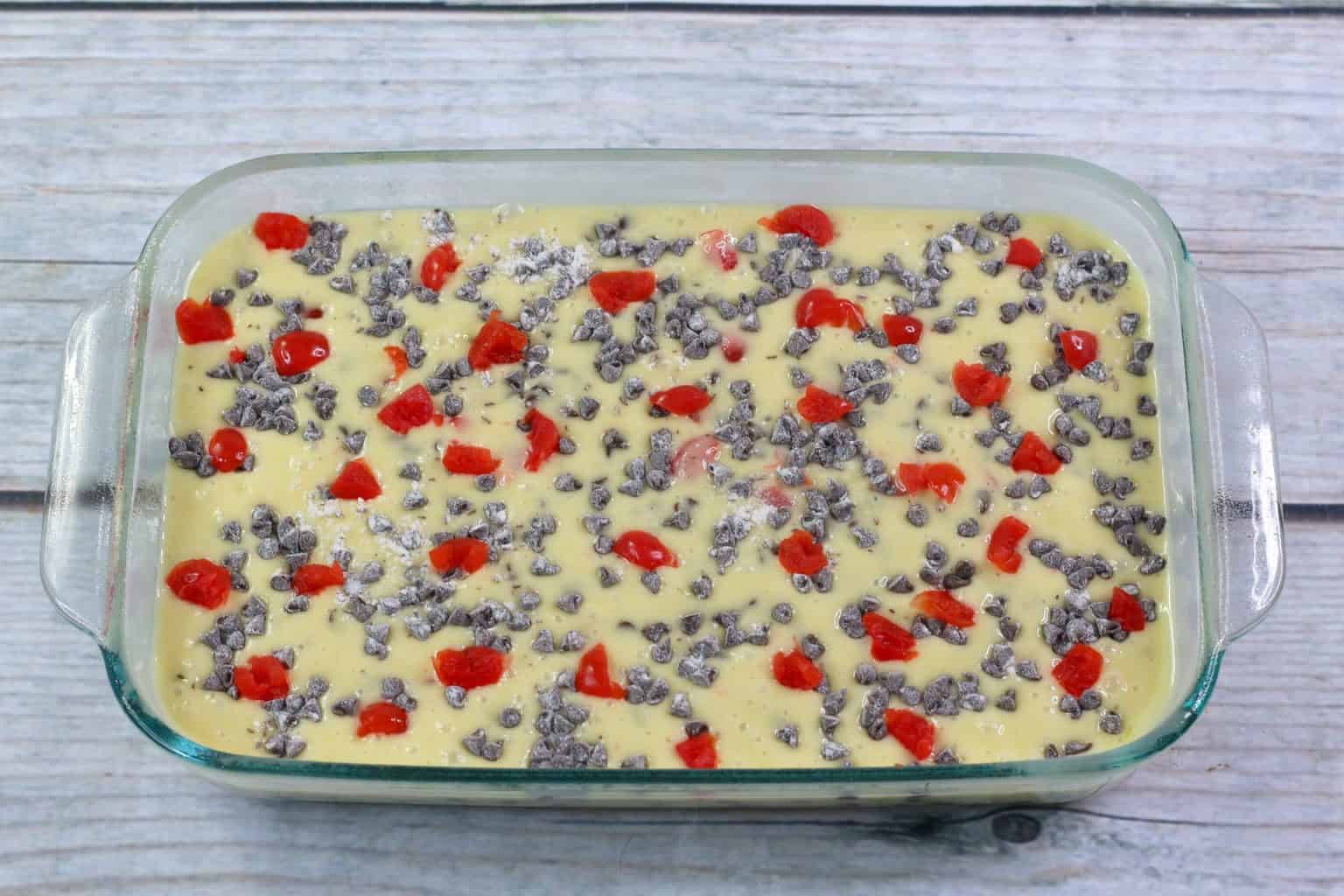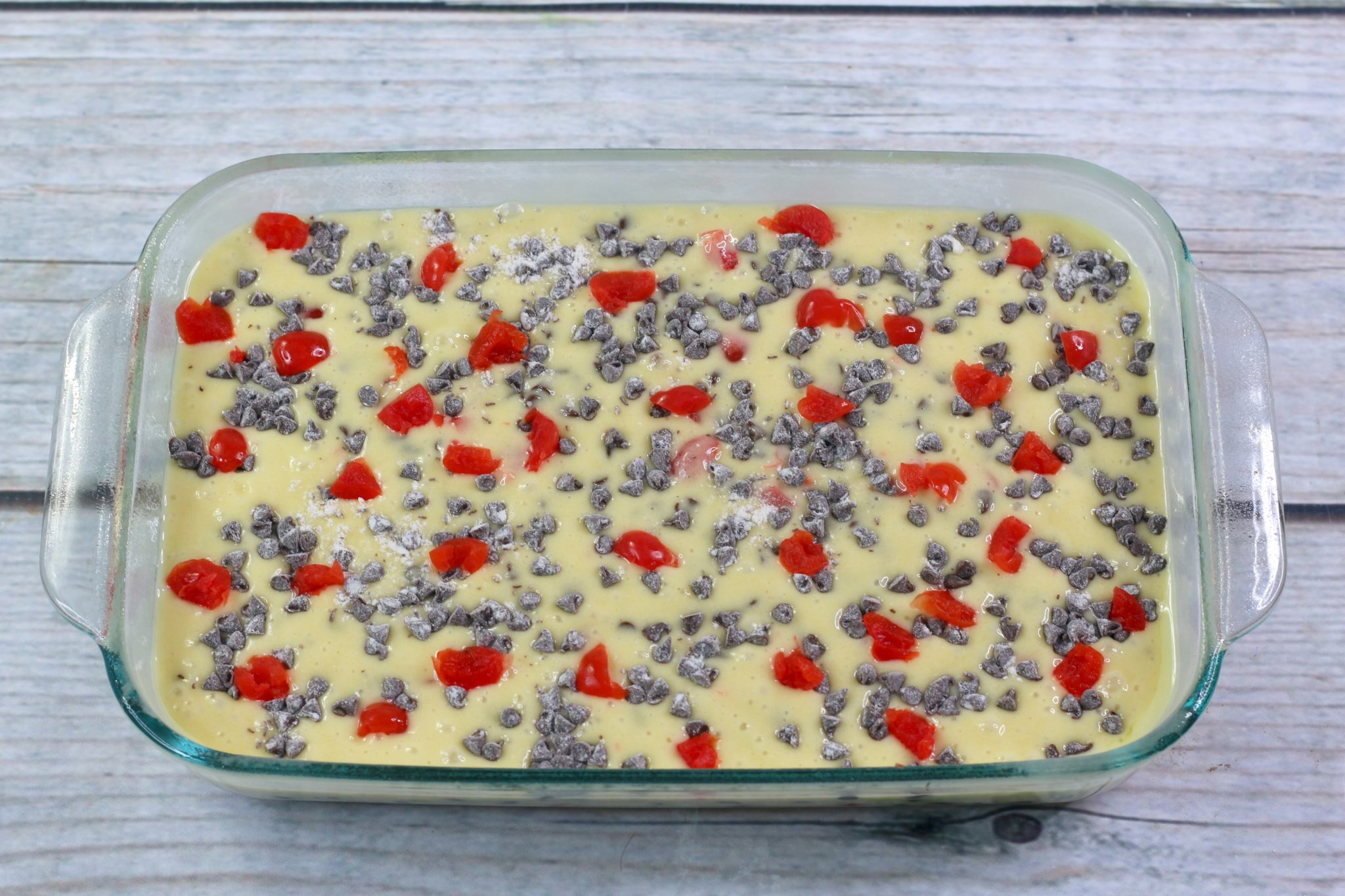 Now, remember to save this recipe on Pinterest for later 🙂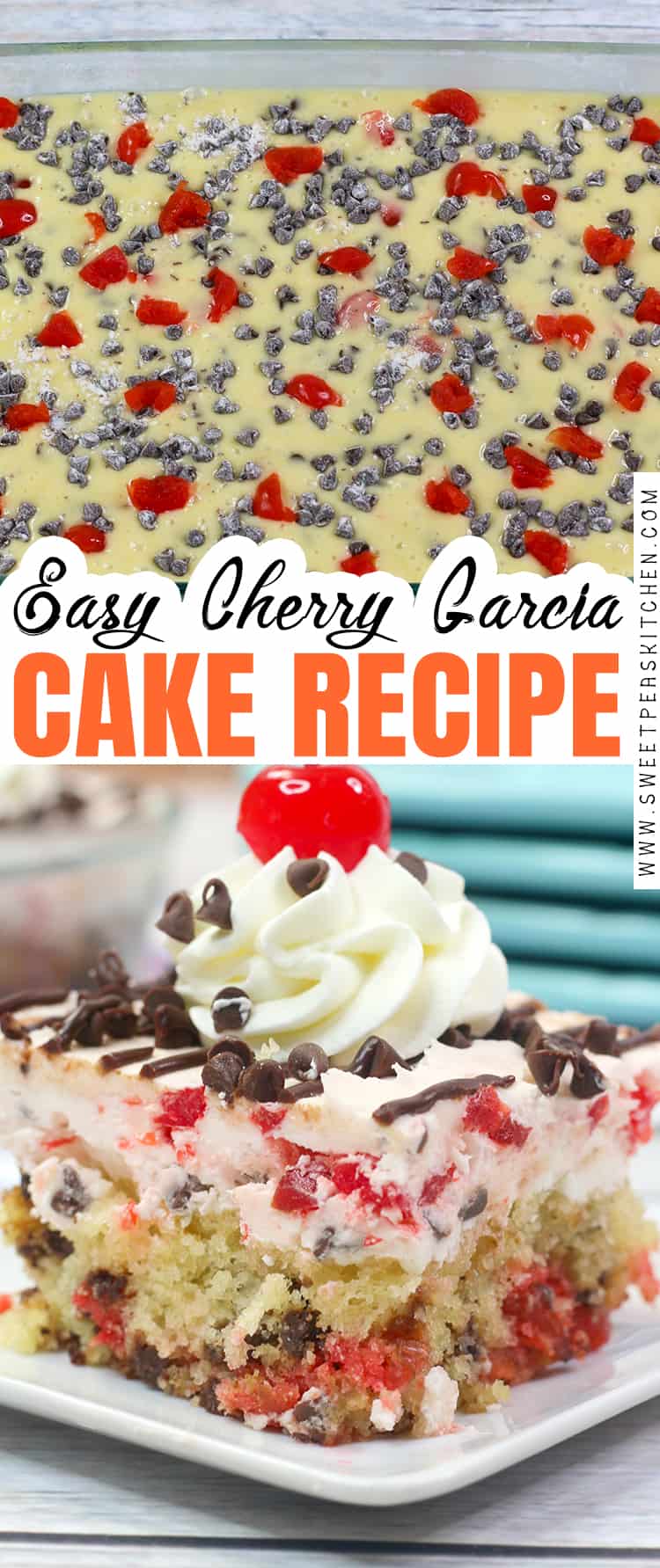 Pin this recipe now to remember it later
Cherry Garcia Sheet Cake
Easy Cherry Garcia Cake that is loaded with sweet chocolate morsels, moist cake, and sweet maraschino cherries. Serve up this maraschino cherry cake today and watch your family ask for seconds.
Ingredients
1

C

mini semi sweet chocolate chips

1

white cake mix; divided

4

eggs; just use egg whites

2

10 ounce jars maraschino cherries; divided, drain and reserve juice and chop cherries
Frosting:
1

C

butter

,

softened to room temp
Want to save this recipe? Enter your email below and we'll send the recipe straight to your inbox!
NOTE: By saving this recipe, you agree to join our weekly recipes newsletter.
Instructions
Heat oven to 350 degrees.

Spray a 9 x 13 inch baking dish with a flour based cooking spray.

In a small bowl; combine the chocolate chips with 1 TBSP of the dry cake mix.

Mix until all of the chocolate chips are covered.

In a large mixing bowl; beat together the remaining cake mix, water, sour cream, vegetable oil, almond extract, and egg whites on low speed for about 30 seconds.

Then at medium speed for about 2 minutes.

Chop the cherries and be sure to pat them dry with a paper towel..

Stir in 1 cup of the cherries and the chocolate chips into the cake
batter; then pour into the prepared pan.

(Remember to reserve the juice and 15 cherries for the frosting!)

Bake for about 32-35 minutes.

Cool completely before frosting.
Frosting:
Beat the softened butter and powdered sugar together until smooth; then add in the almond extract and 1/3 cup cherry juice.

Mix until well blended, adjust as needed until desired consistency is reached.

When you get to the desired consistency, stir in 15 chopped cherries that have been patted dry with a paper towel.

Spread frosting over the cooled cake.

Enjoy!!!
Follow me on Pinterest for daily delicious recipes!
I will never grow tired of cherry-flavored desserts. If you are like me, then you are going to fall in love with these beautiful desserts. Let's take a look:
Mini Cherry Pies – These are the most adorable and delicious little pies you can ever have. They are easily transported to all your favorite events.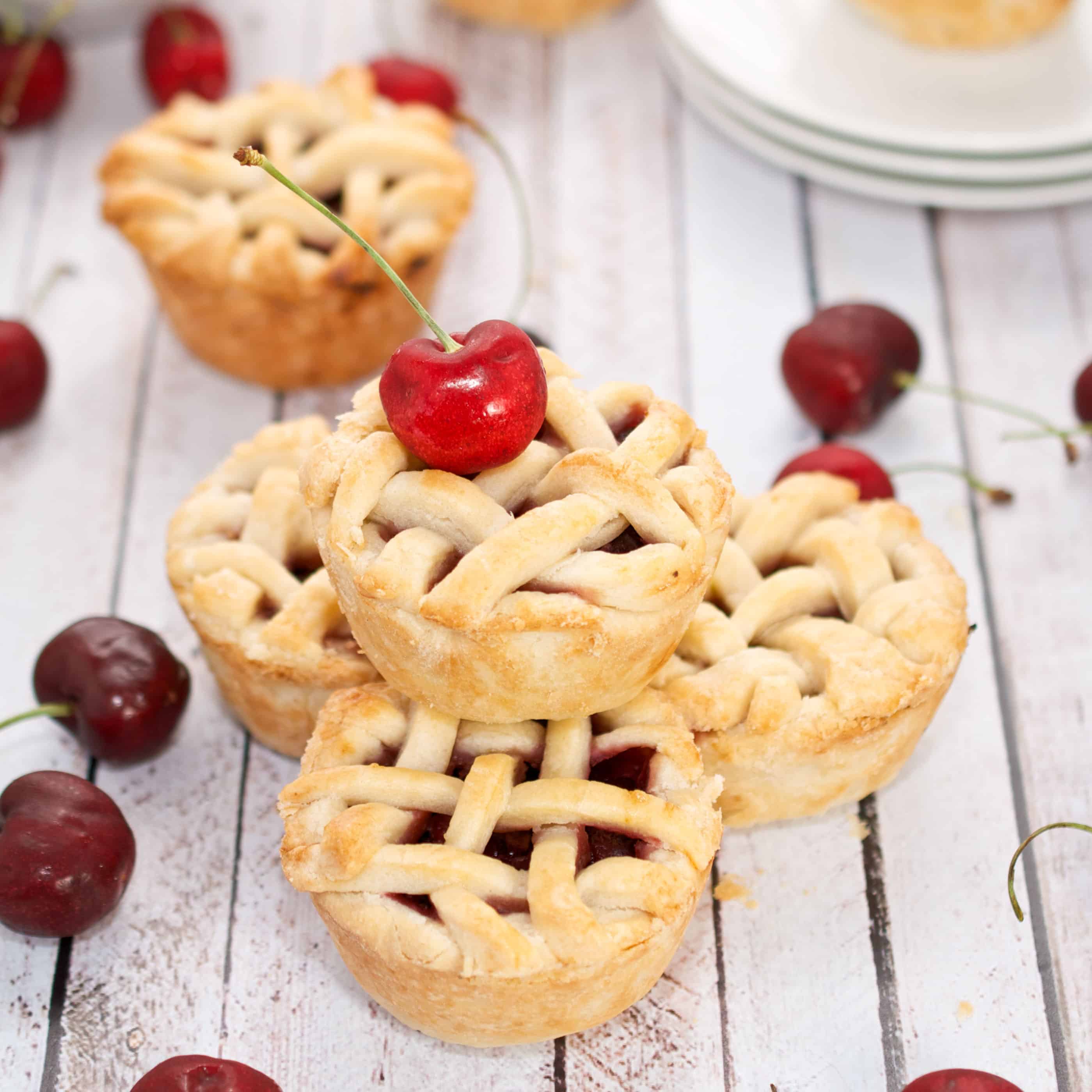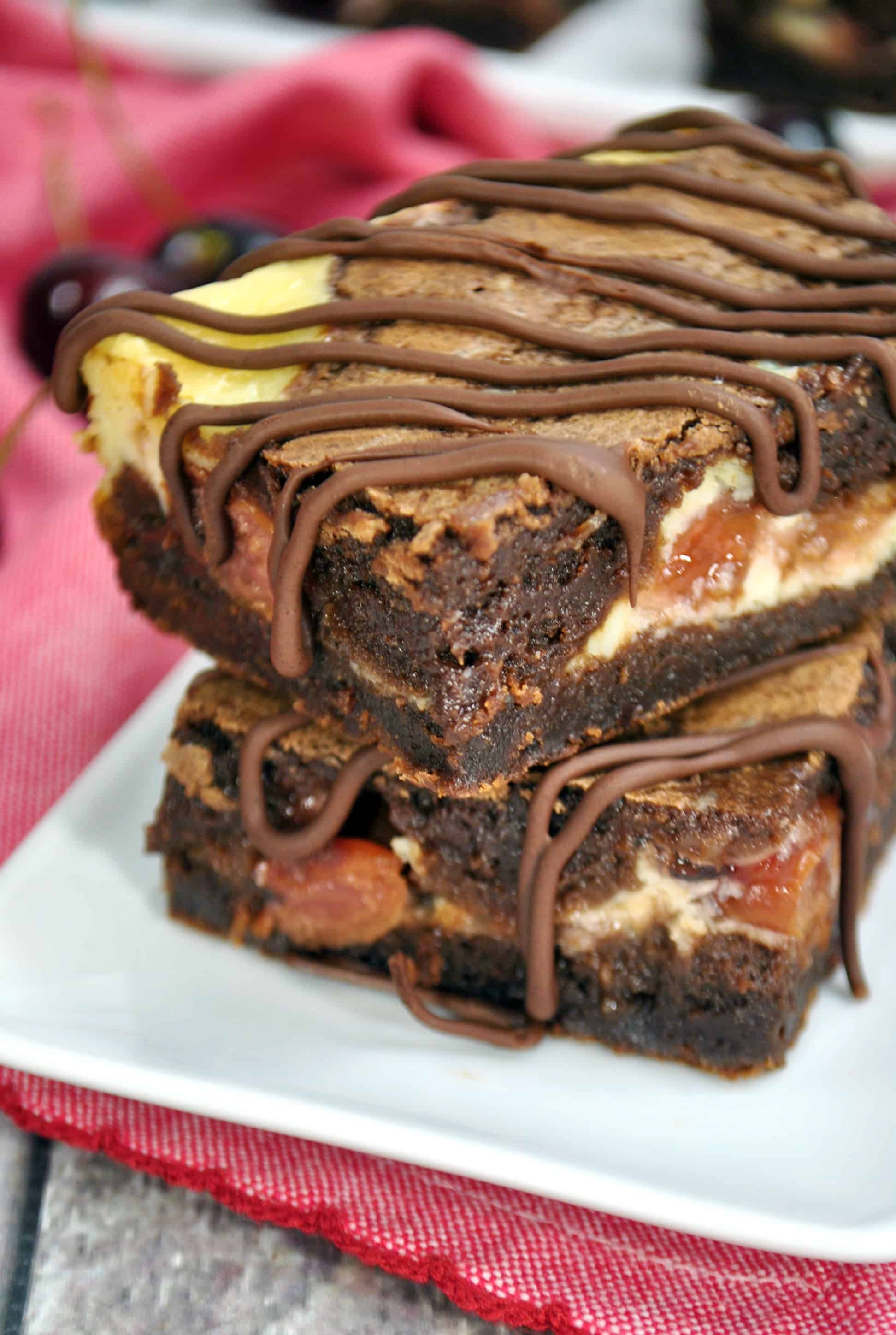 Cherry Crumble Bars – Next time you need to take a dessert to a party or potluck, consider these crumble bars. They are great for all occasions and seasons too.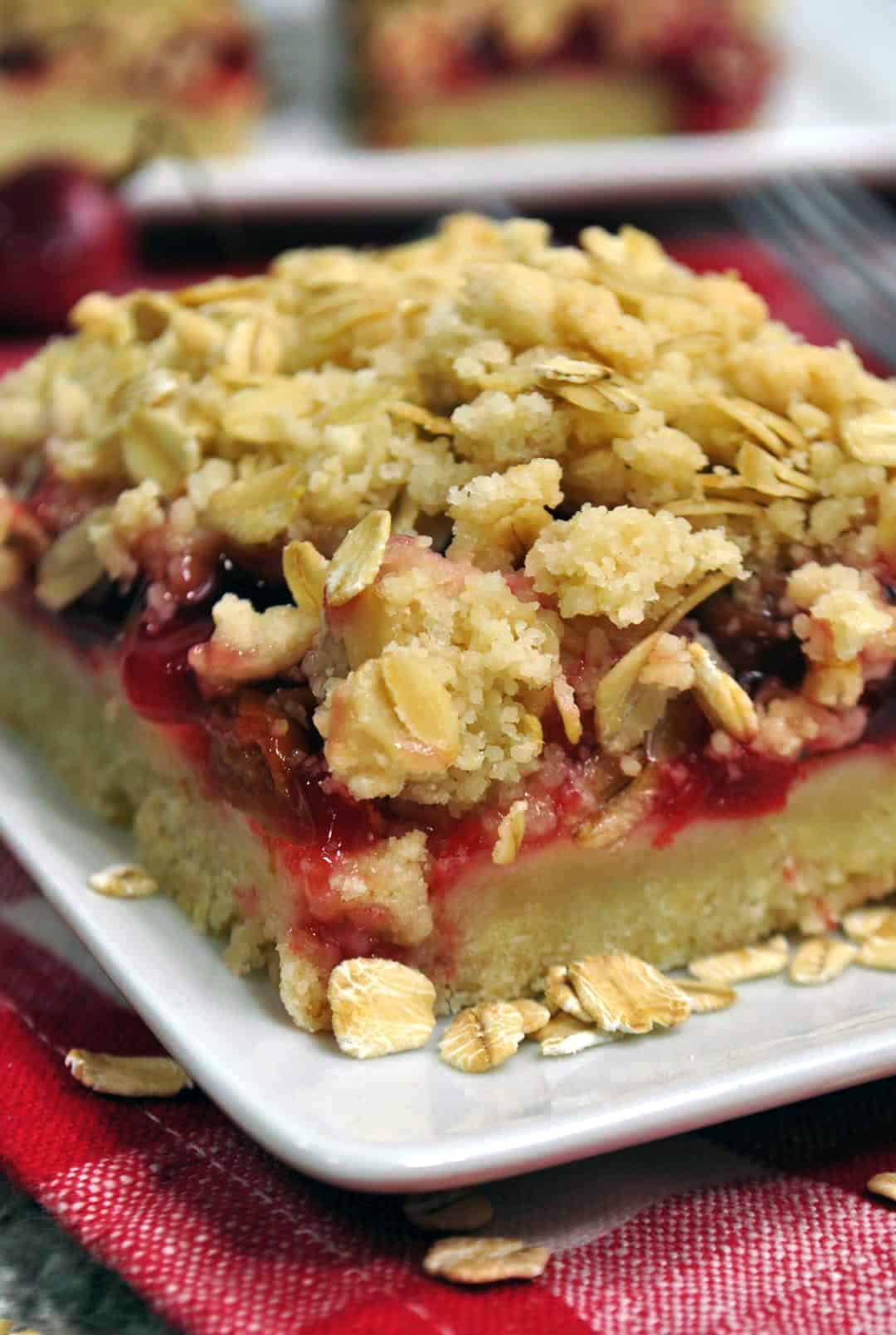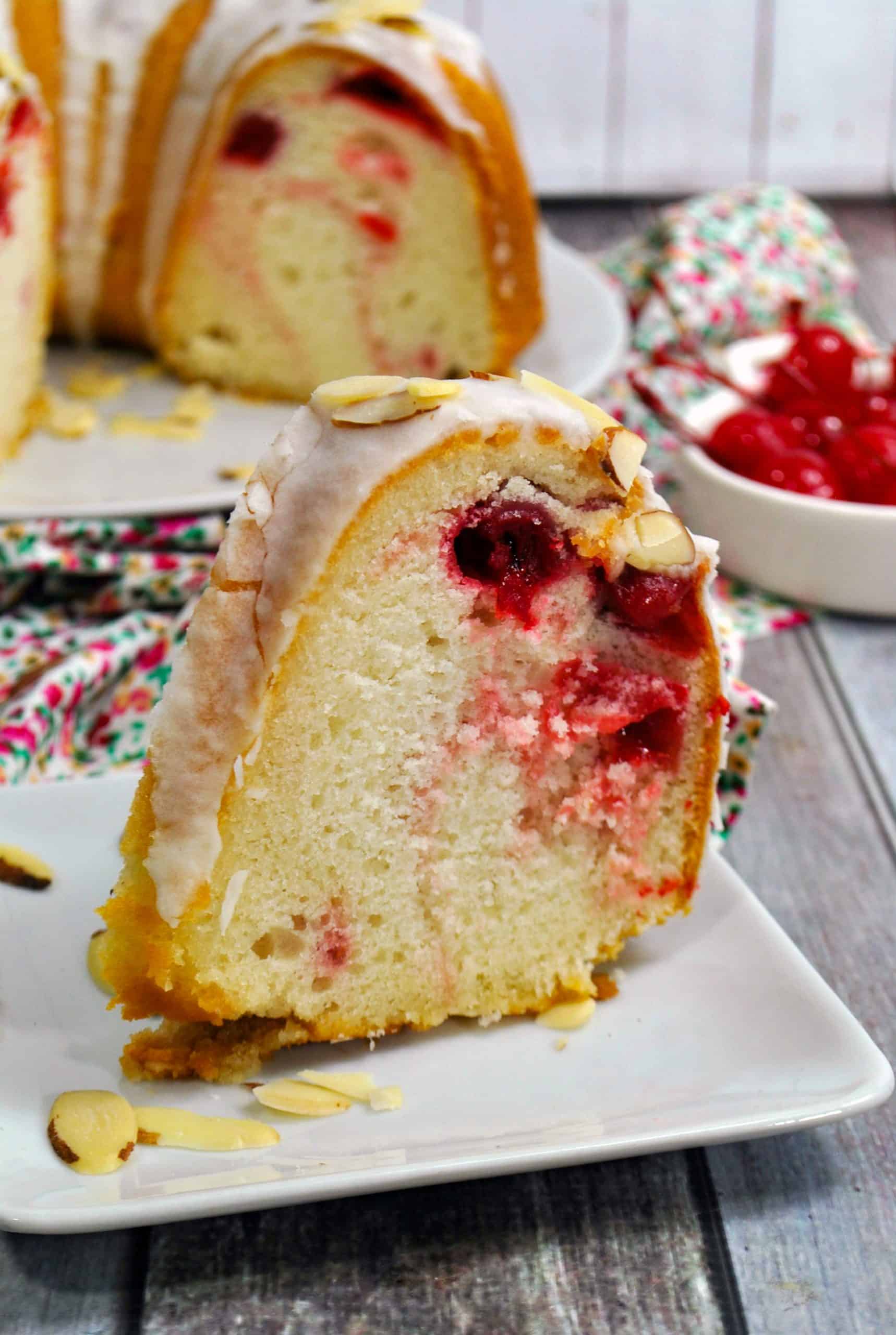 Get new recipes weekly plus our FREE ebook!