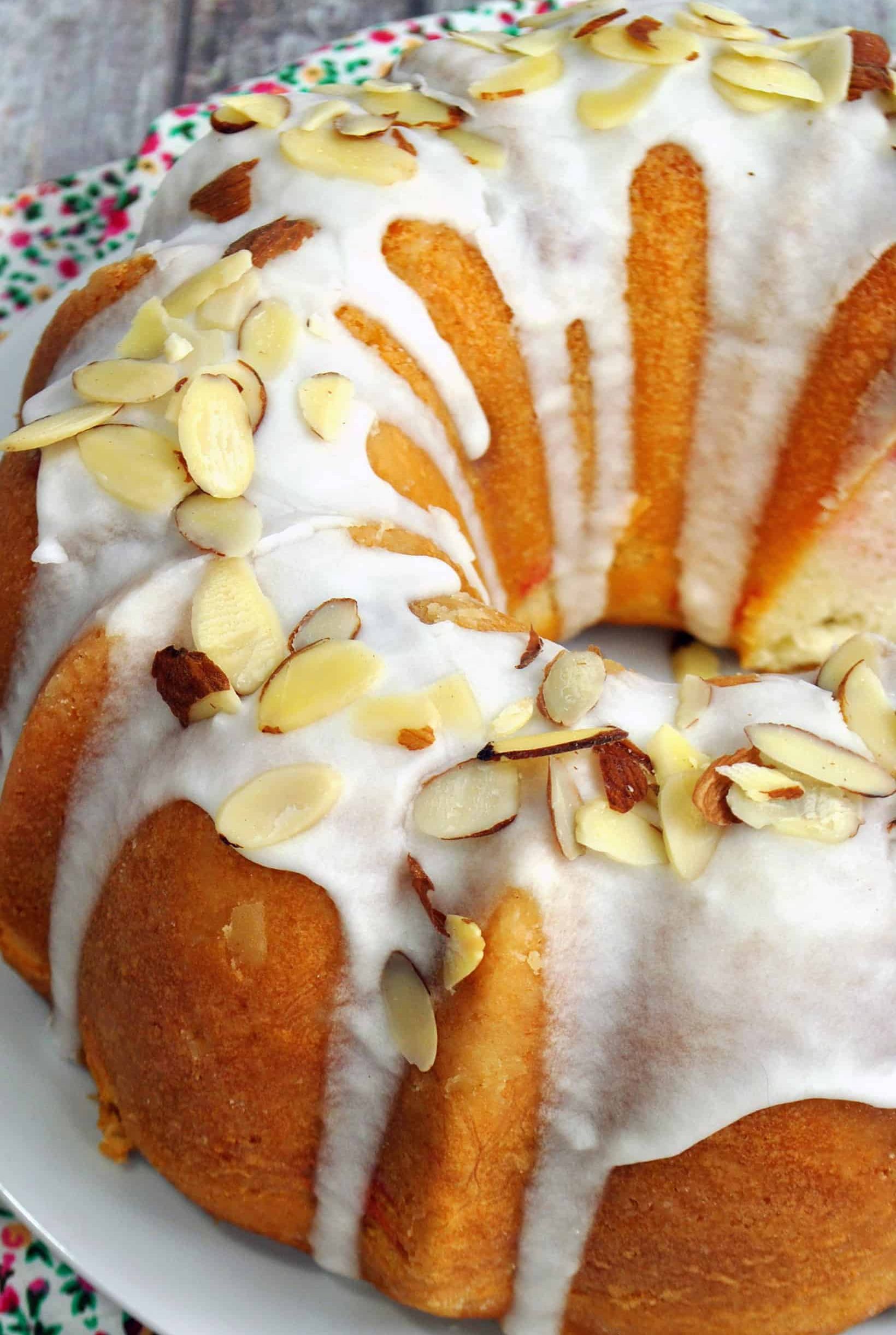 This Cherry Almond Bundt Cake is a light and delicious dessert cake, full of flavor and topped with a sweet and tasty cream cheese glaze. A great cake any time of the year, whether served at a summer potluck or holiday party.
This is one bundt cake recipe you will want to make.
Dessert is my weakness, and while I love crazy, over-the-top indulgent desserts, sometimes I want something that's just…lighter. Not overly sweet but enough to satisfy my sweet tooth with a lighter texture and flavor than some of my favorite desserts. And, sometimes, especially in the summer, I find myself on the search for desserts topped with fruit.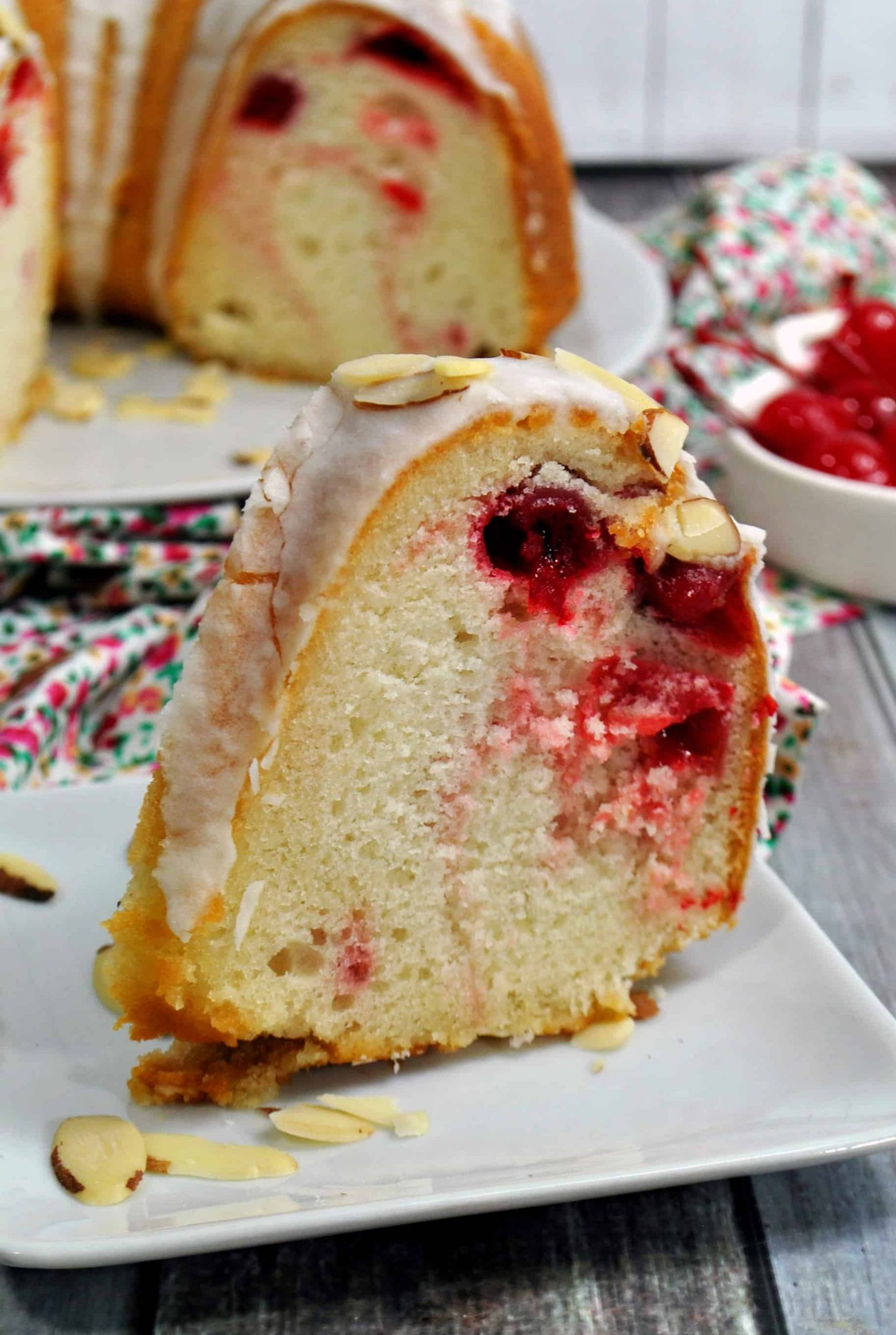 Want to save this recipe? Enter your email below and we'll send the recipe straight to your inbox!
NOTE: By saving this recipe, you agree to join our weekly recipes newsletter.
Scroll to bottom for printable recipe card.
Cherry Almond Bundt Cake
This Cherry Almond Bundt Cake is one of those desserts that I can't get enough of.
By no means is it light in the sense that it's healthy but the flavor of it is just light and refreshing, while still making my sweet tooth happy.
While cherry and almond are two flavors you may not typically put together; they work so well in this recipe. The sweet, savory flavor of the almond perfectly complements the sour cherry, and both give what would otherwise be a bland and boring cake a whole lot of character.
With the light flavor, this cherry almond cake is super versatile. It works great as a refreshing potluck dessert during the summer months, but it's also excellent during the holiday season when many desserts tend to be overly sweet and indulgent. The red cherries also give it a cheerful and festive look.
Try my Pumpkin Cream Cheese Bundt Cake for Fall!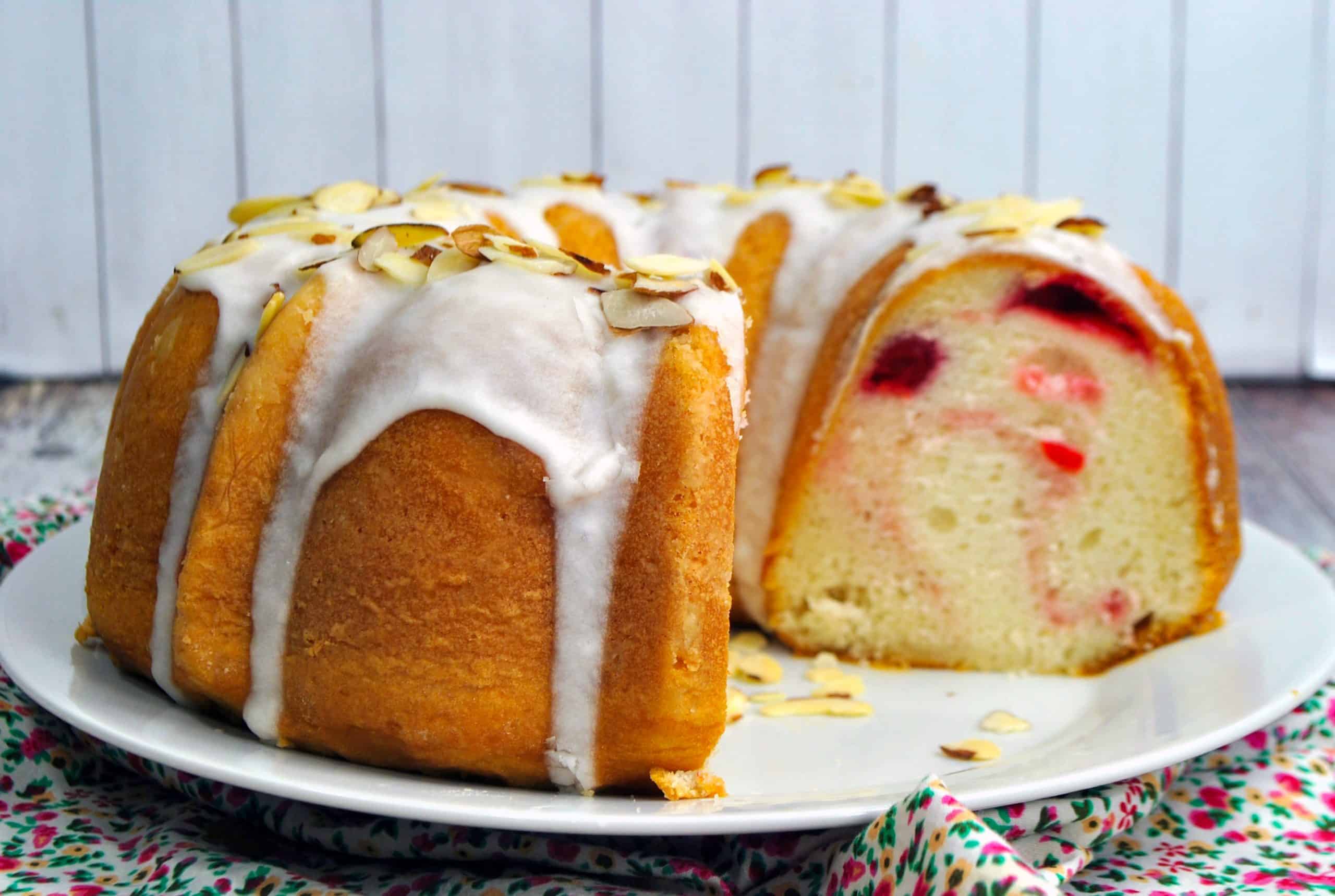 Can I Use Fresh Cherries To Make This Homemade Bundt Cake?
I love fresh cherries, but canned cherries definitely work best in this recipe. Why? The juice! The cherry juice is vital in the flavor and texture of this recipe, and with frozen or fresh cherries, that's something you might miss out on. This might be one of the only instances that I recommend canned over fresh fruit.
How To Make The Perfect Cherry Almond Bundt Cake
Though there are quite a few steps, baking this Cherry Almond Bundt Cake is still reasonably easy! Just be sure to take your time in adding and mixing all ingredients. For the proper bundt cake consistency, you don't want to rush! And be sure you're making this in a bundt cake pan as opposed to a regular cake pan.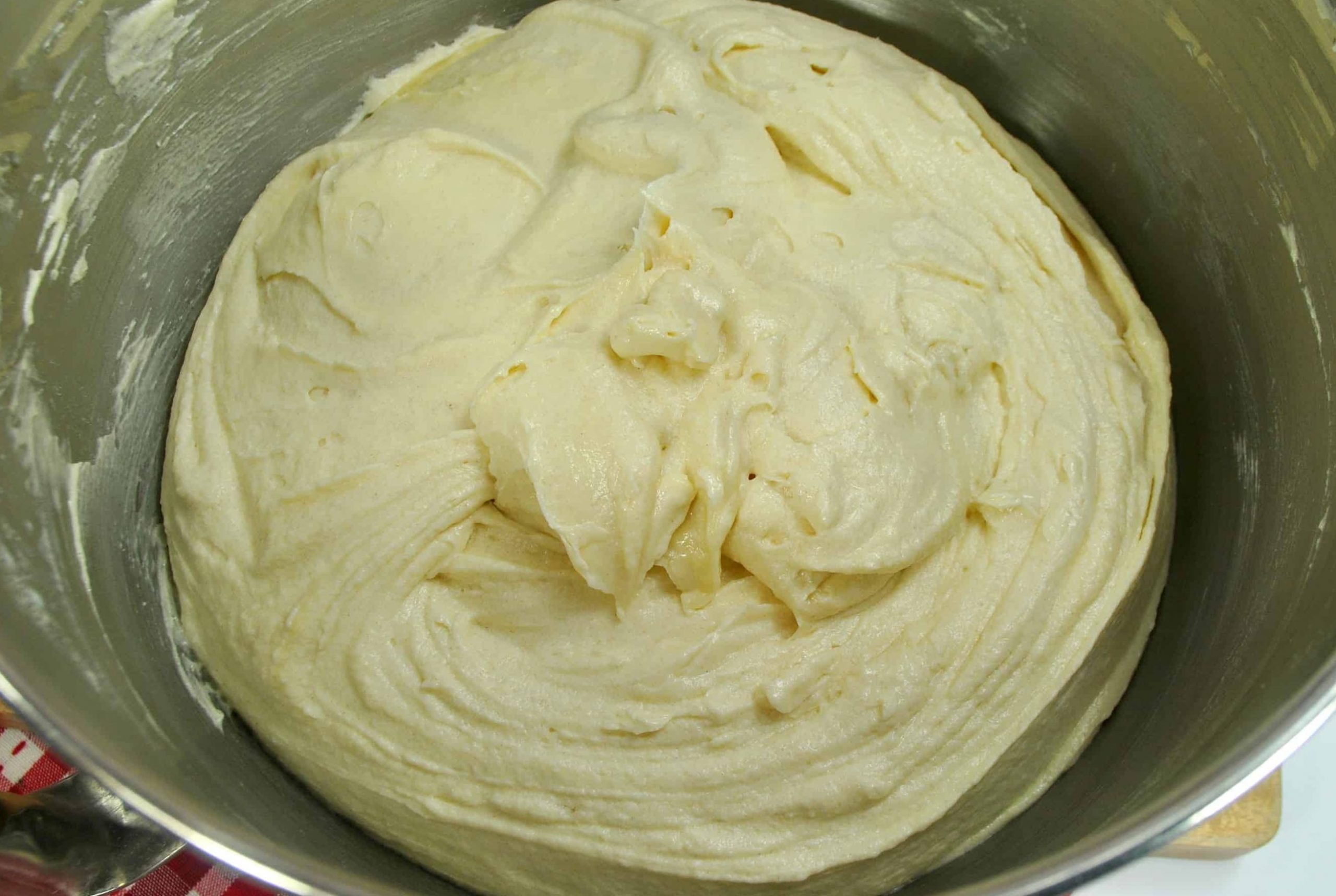 In a bowl, cream butter and add in sugar until the mixture is fluffy.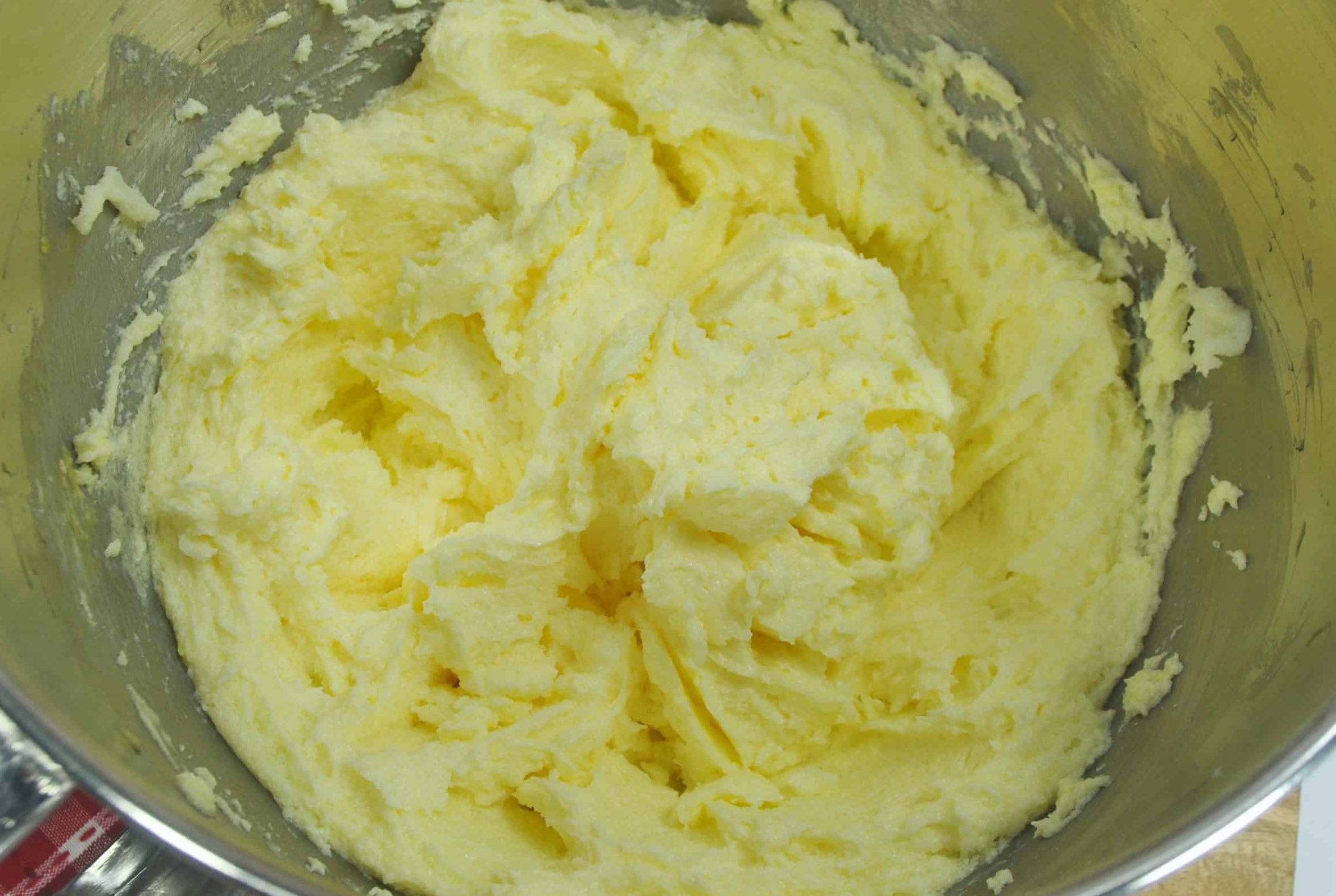 Add almond extract and eggs, one at a time. Begin adding dry ingredients to the mixture, as well as the milk.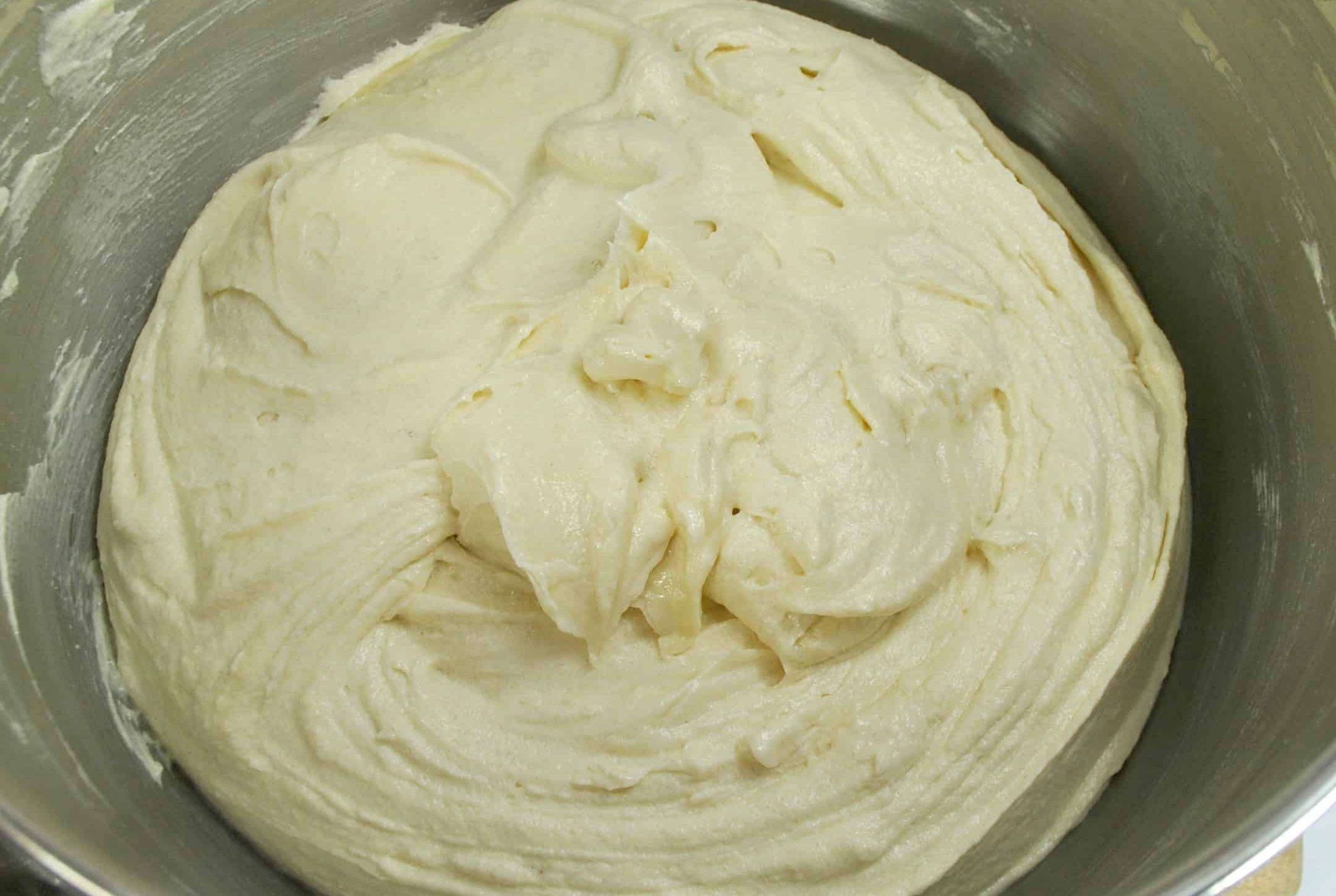 Place half of the batter into a well-greased bundt pan. It is essential to spoon it in, so the air doesn't get trapped. Also, gently tap the bottom of the bundt pan on the countertop. This will allow any excess air to escape.
Pro Tip
Preparing the bundt pan for the batter is one of the most critical steps. Otherwise, you will end up with a disaster when you are trying to remove the cake from the pan. After greasing the bundt pan, sprinkle with a little bit of flour to prevent sticking.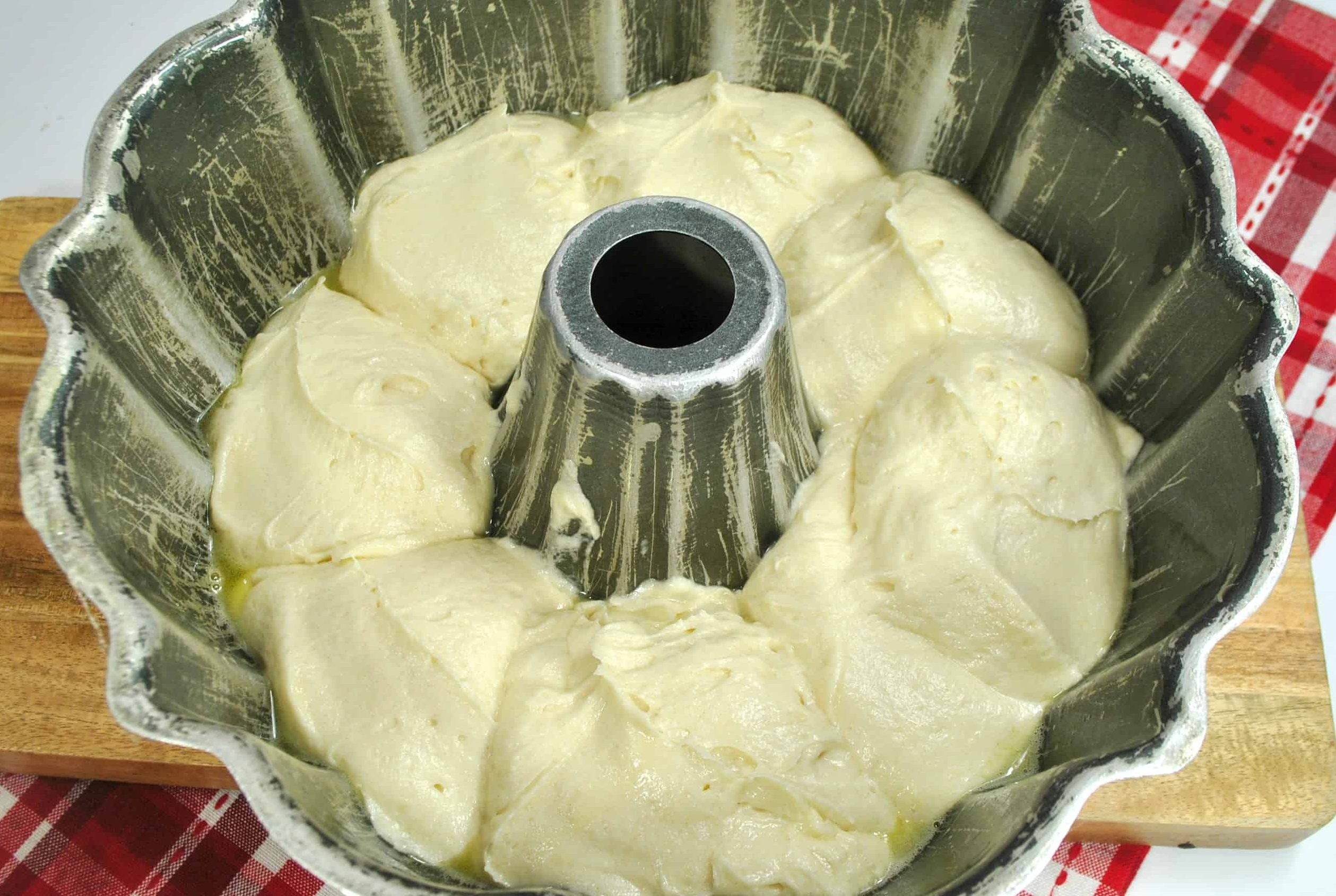 Drain cherries and use them to top the batter in the pan.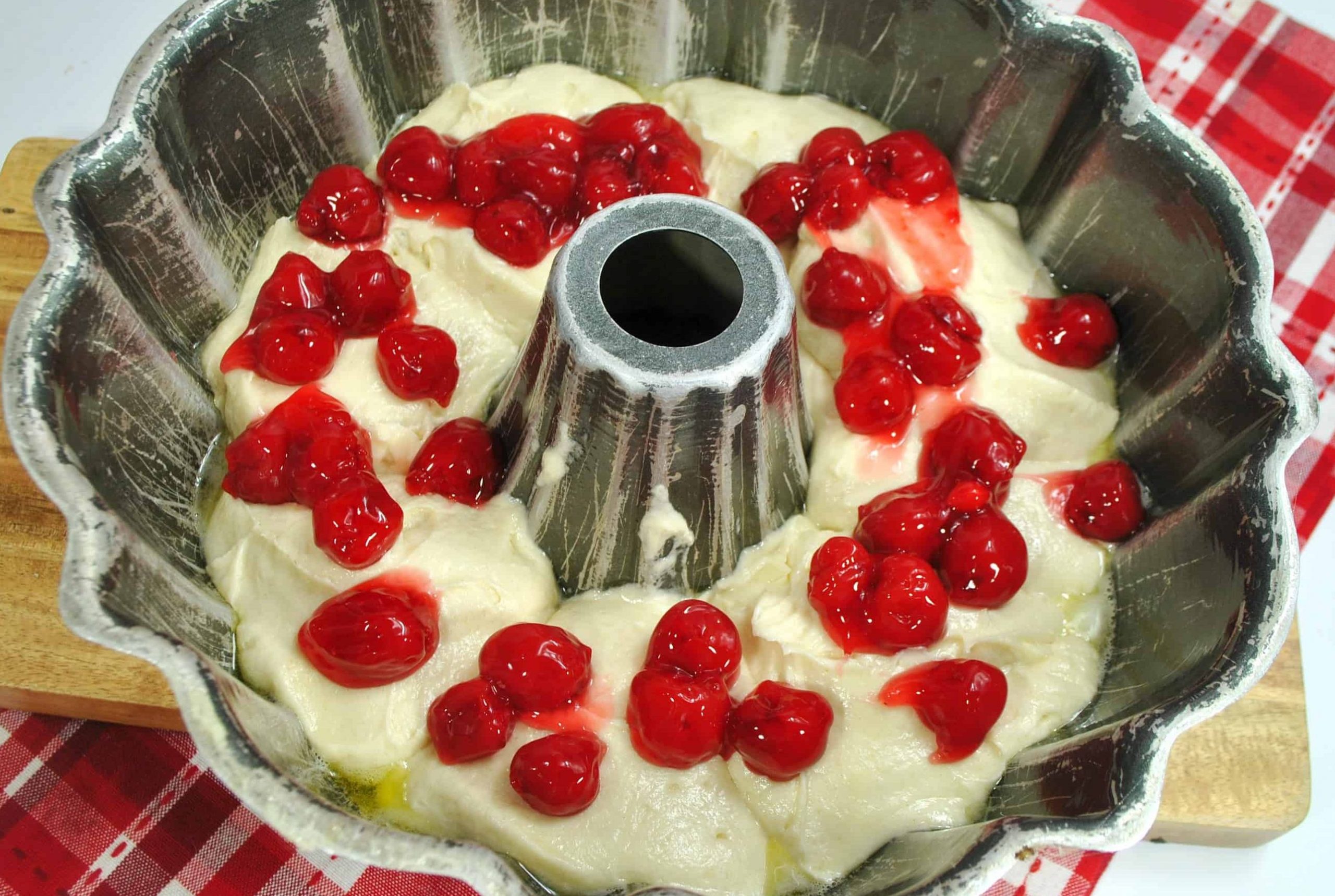 Add the remaining half of the batter. Bake.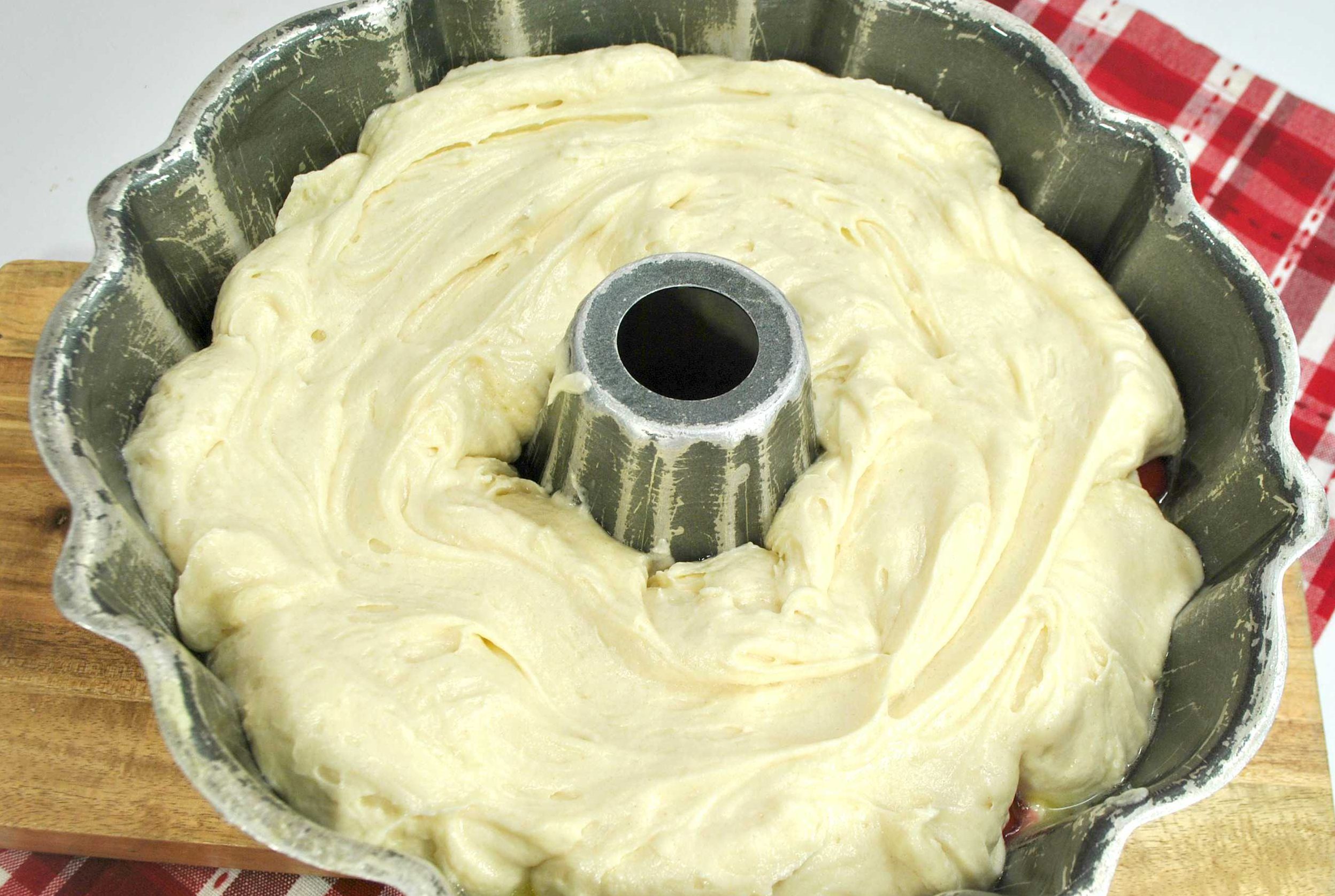 Prepare the glaze by adding softened cream cheese, powdered sugar, heavy cream, and almond extract and mix in a medium-sized bowl. Once it is as thick as you like, then it's ready.
When cooled, carefully drizzle glaze and top with sliced almonds. So delicious!
NOTE: The cream cheese glaze provides an extra bit of sweetness to this Cherry Almond Bundt Cake, without being overly sweet or heavy. The almonds are, naturally, the perfect topping for the cherry almond cake.
I want to take the time to answer some of the questions my readers have asked me. If there are other ideas or questions you have, give me a shout out because I am always happy to help.
Enjoy!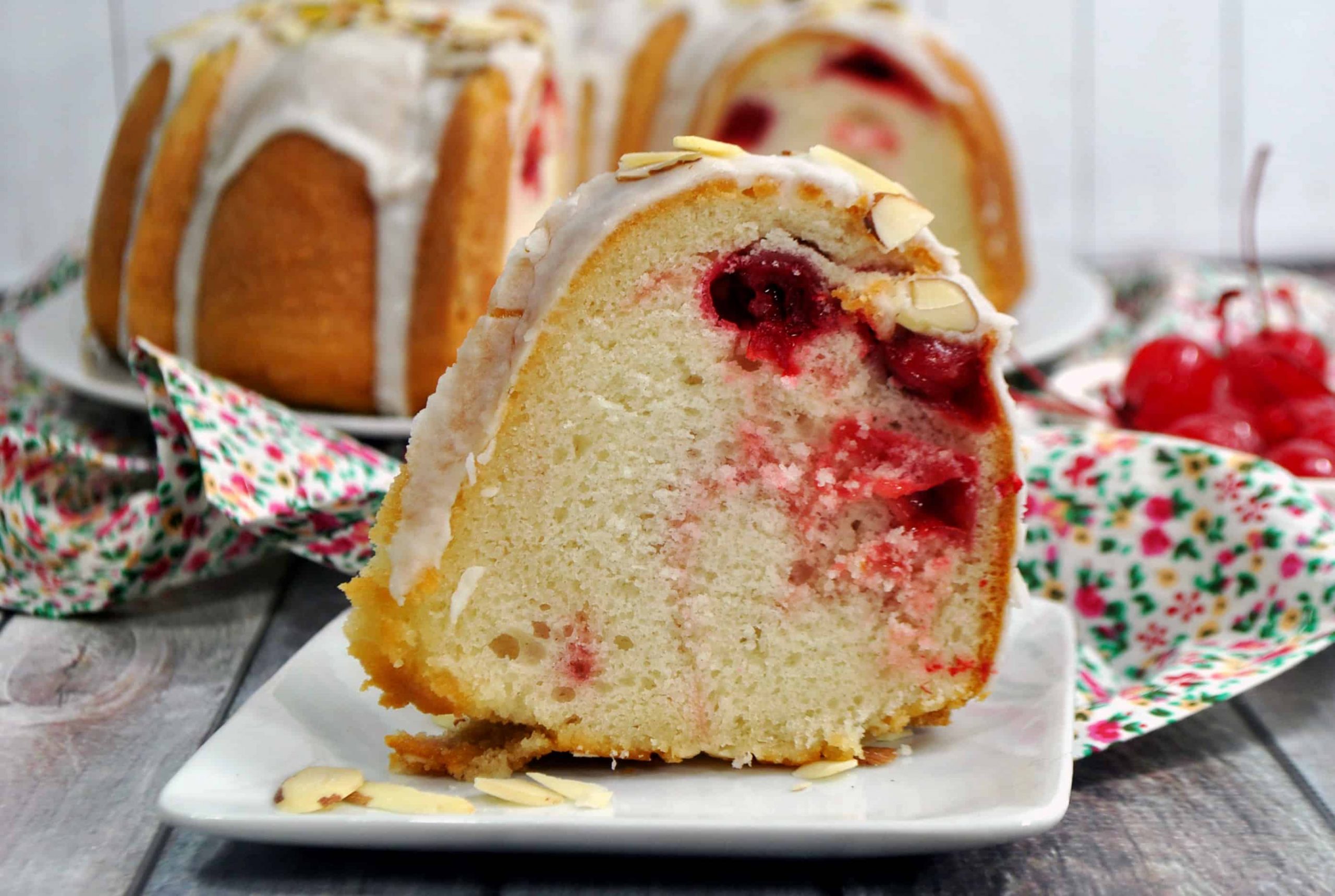 How Do I Know When The Homemade Bundt Cake Is Done?
When you check the homemade bundt cake for doneness, you should notice that sides of the cake have begun pulling away. I recommend sticking a toothpick in the center and see if it comes out clean or not. If there is still wet batter when you take out the toothpick, it will need some additional baking time.
How Long Do You Let Bundt Cake Cool Before Removing It From Pan?
There is a fine line between letting the bundt cake cook long enough and allowing it to cool for too long. Over the years, I have figured the best way to get the bundt cake out of the pan without damaging it is to place it on a wire rack when you take it out of the oven. Allow it to sit between 15-20 minutes. This will cool it down enough that it should come out in one beautiful piece.
After the easy bundt cake has cooled, then you can flip it over and lightly tap the outside of the pan. Then slowly remove the pan while leaving the cake on the wire rack. If you greased the bundt pan properly, the cake should slide right out with minimal problems.
What Makes Bundt Cake Different From Other Cakes?
There are actually several differences between bundt cake and other cakes. This cherry almond bundt cake is going to be a lot denser than regular cake. Typically, most bundt cakes are super moist, and that is part of what makes them so popular. Naturally, not only is the texture and flavor a little different, but the appearance is also very unique.
Why Did My Maraschino Cherry Almond Bundt Cake Turn Out So Heavy?
If the maraschino cherry almond bundt cake turned out heavy (or any bundt cake for that matter), then it could very well be from your ingredients. Often, we cut corners on spending when it comes to food and end up with store brand ingredients. That is usually not a problem, and I am all for it, but when it comes to baking, you want the best ingredients you can find. If you use store brand sugar for example, because the granules are typically smaller, you actually end up with sugar overall. That can make the homemade bundt cake fall. Store brand butter and margarine can be full of extra liquid fat which results in a heavy cake.
Can I Use Mini Bundt Pans When Making This Cherry Almond Bundt Cake Recipe?
Yes, absolutely! Serving this cherry almond bundt cake in mini bundt pans is not only adorable, but it allows you to have single serving cakes. Perfect for baby showers, brunches, or parties!
TIP: While this easy bundt cake typically takes 65-70 minutes to bake, mini bundt cupcakes will take a much shorter time. Allow them to bake for 13-15 minutes and check them.
Cherry Almond Bundt Cake Variations
Seriously, when you bite into this decadent and dreamy bundt cake, you are going to fall in love! Often times, I like to change my recipes, so I don't get bored if I want to use a particular ingredient. Try some of these ideas if you're going to change things up a little:
White Chocolate – Either add in a few white chocolate chips to the batter or drizzle melted chocolate on top of the cake after you put on the icing. It will pair nicely with the flavors!
Strawberries – Use them as a garnish, or buy canned strawberries and use in place of the cherries. So good!
Pineapple – Make it with crushed canned pineapple instead. It is an entirely different flavor that is scrumptious.
Chocolate Covered Cherries – Dip some fresh cherries in your favorite chocolate then place them around the homemade bundt cake as a unique garnish.
Amaretto – Pour in about 1/4 – 1/2 cups of Amaretto into the batter for a pleasant surprise!
Coconut – Sprinkle toasted coconut on top of the cherry bundt cake. To toast coconut simply toss into a skillet and stir until the edges have browned some. Goes brilliantly with almonds and cherries!
How Long Do Bundt Cakes Stay Fresh?
Most homemade bundt cakes will stay fresh for approximately five days. Make sure to keep any leftover bundt cake in an airtight container. It doesn't matter if you use glass or plastic as long as the air can't get to the cake and ruin it. If you notice that the easy bundt cake has become dry, extra watery or moist or if there is mold, then it is time to toss it out.
Can I Freeze Leftover Maraschino Cherry Almond Bundt Cake?
Yes, and the cherry almond bundt cake will freeze beautifully. If you like to meal plan and want to have dessert on hand to grab quickly, this simple bundt cake is perfect! Take special care to wrap it tightly to prevent freezer burn and the bundt cake from taking on other flavors. I like to use two large pieces of plastic wrap and then wrap it pretty tight. Then toss it into a freezer-safe bag or container, and you are all set.
Thaw the homemade bundt cake in the fridge overnight or on the counter. It will taste just as great as it did the day you made it.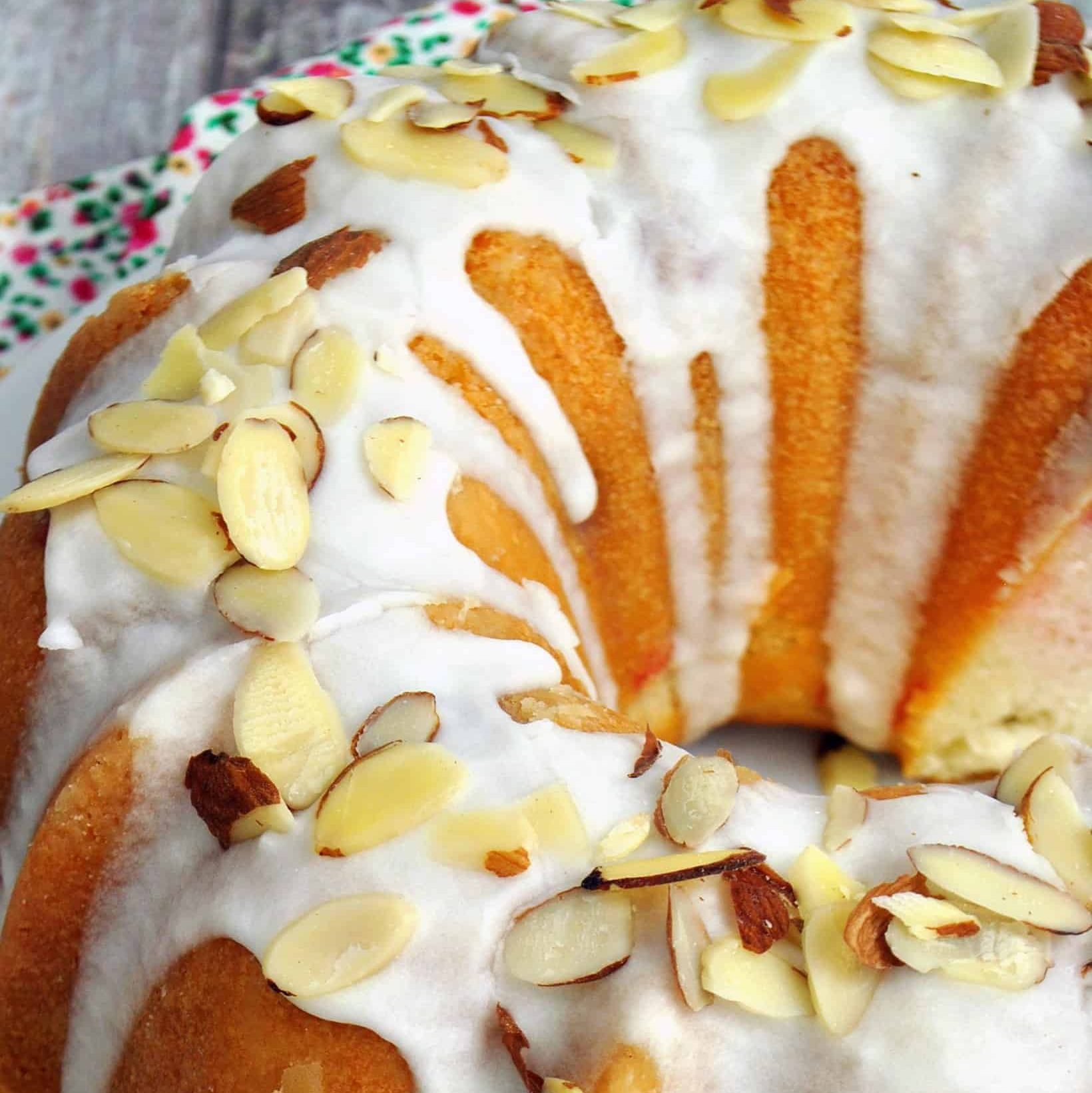 Want to save this recipe? Enter your email below and we'll send the recipe straight to your inbox!
NOTE: By saving this recipe, you agree to join our weekly recipes newsletter.
Pin this recipe now to remember it later
Cherry Almond Bundt Cake
This Cherry Almond Bundt Cake is a light and delicious dessert cake, full of flavor and topped with sweet and tasty cream cheese glaze. A great cake any time of the year, whether served at a summer potluck or holiday party.
Ingredients
1 ½

cups

unsalted butter

,

room temperature

5

large eggs

,

room temperature

1 1/2

cups

whole milk

,

room temp

1

cup

maraschino cherries
Glaze:
4

z cream cheese

,

softened

6

tsp.heavy whipping cream or milk
Want to save this recipe? Enter your email below and we'll send the recipe straight to your inbox!
NOTE: By saving this recipe, you agree to join our weekly recipes newsletter.
Instructions
Preheat the oven to 325°.

Take your bundt pan and grease and flour it completely to ensure proper cooking and non-sticking.

In a large bowl or stand mixer cream the butter until smooth.

Now add the sugar and continue beating it until it's light and fluffy.

Add the almond extract and mix.

Slowly add the eggs one at a time.Making sure each one is mixed, then add the next egg.
Repeat steps.

In a separate bowl, sift the flour, baking powder and salt.

Begin to add parts of the dry ingredients and milk, beat until combined.

Repeat steps until all ingredients are well combined.

Pour the cherries into a strainer to rinse the juice from the cherries into a large bowl.

Keep the juice.

Pour 1/2 of your batter into the bundt cake pan.

Add your 3/4 of the cherries to the batter and lightly stir.

Lightly drizzle some of the juice into the bundt pan.

Lightly stir to combine.

Add the rest of the batter and repeat the steps with cherries and juice.

Cover the bundt pan with aluminum foil.

Bake at 325° for 65-70 minutes.

Remove from bundt pan and let cool.
For the glaze:
Place the cream cheese in the microwave for 20-30 seconds, to soften.

In a medium-sized bowl, add the cream cheese, and powdered sugar, stir to combine.

Add the heavy cream, almond extract and salt and continue to stir until it thickens.

Drizzle the glaze over the cake.

Garnish with sliced almonds

ENJOY!!
Nutrition
Follow me on Pinterest for daily delicious recipes!
THANKS FOR PINING

Craving More Sweets?
Fried Nutella Dumplings – Made with only 3 ingredients, these dessert dumplings are guaranteed to be a hit!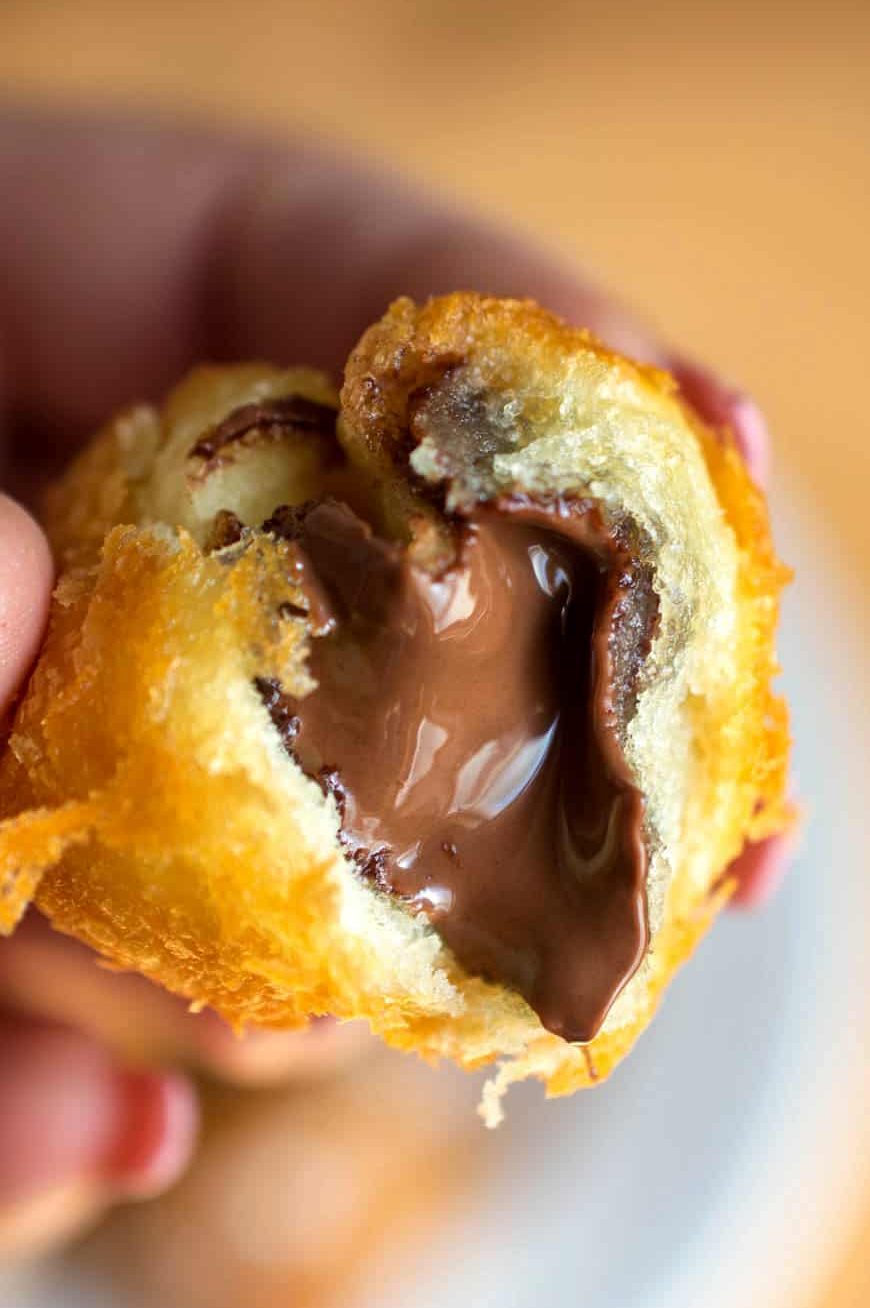 Pumpkin Caramel Latte Cupcakes – These Pumpkin Caramel Latte Cupcakes combine two of fall's most popular flavors in easy pumpkin cupcakes.
Nutella Stuffed Pancakes – Served with fresh strawberries, they're perfect for a romantic or holiday brunch too!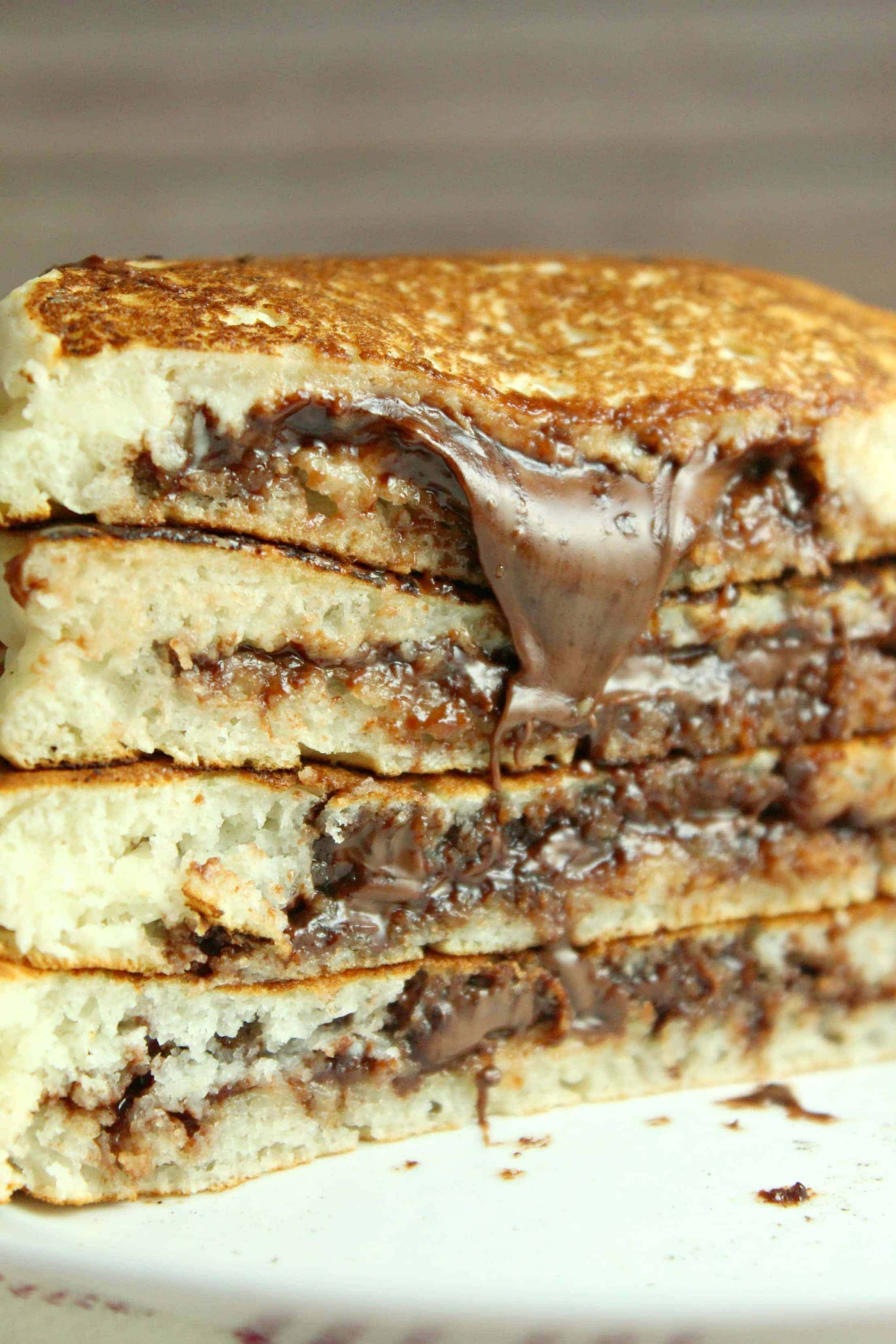 Get new recipes weekly plus our FREE ebook!