Fresh Cherry Sconesare the perfect breakfast or brunch food. They are made with yummy cherries and is sure to be your new favorite homemade scone recipe. This fresh fruit scone has a tender crust, sweet cherries, and tons of flavor.
Scroll to bottom for printable recipe card.
Fresh Cherry Scones
I just love when summer finally arrives! Long sun-filled days that just beckon you to get outside and play, the farmer's markets brimming with summer berries and fresh sweet corn, and warm summer nights that seem to last forever-I just love it!
Although I absolutely love when the cherry season finally rolls around, I hate pitting cherries. It's so messy! You inevitably will have red-stained hands, flying pits, and cherry juice everywhere. I always have to tell myself that the result will be worth the mess…and it usually is! Especially for these tender little scones.
Of course, you can always take the easy route and buy a bag of pre-pitted frozen cherries, but that's just cheating. 😉 Embrace the mess, enjoy the short cherry season and bake up a batch of these fresh cherry scones for your loved ones.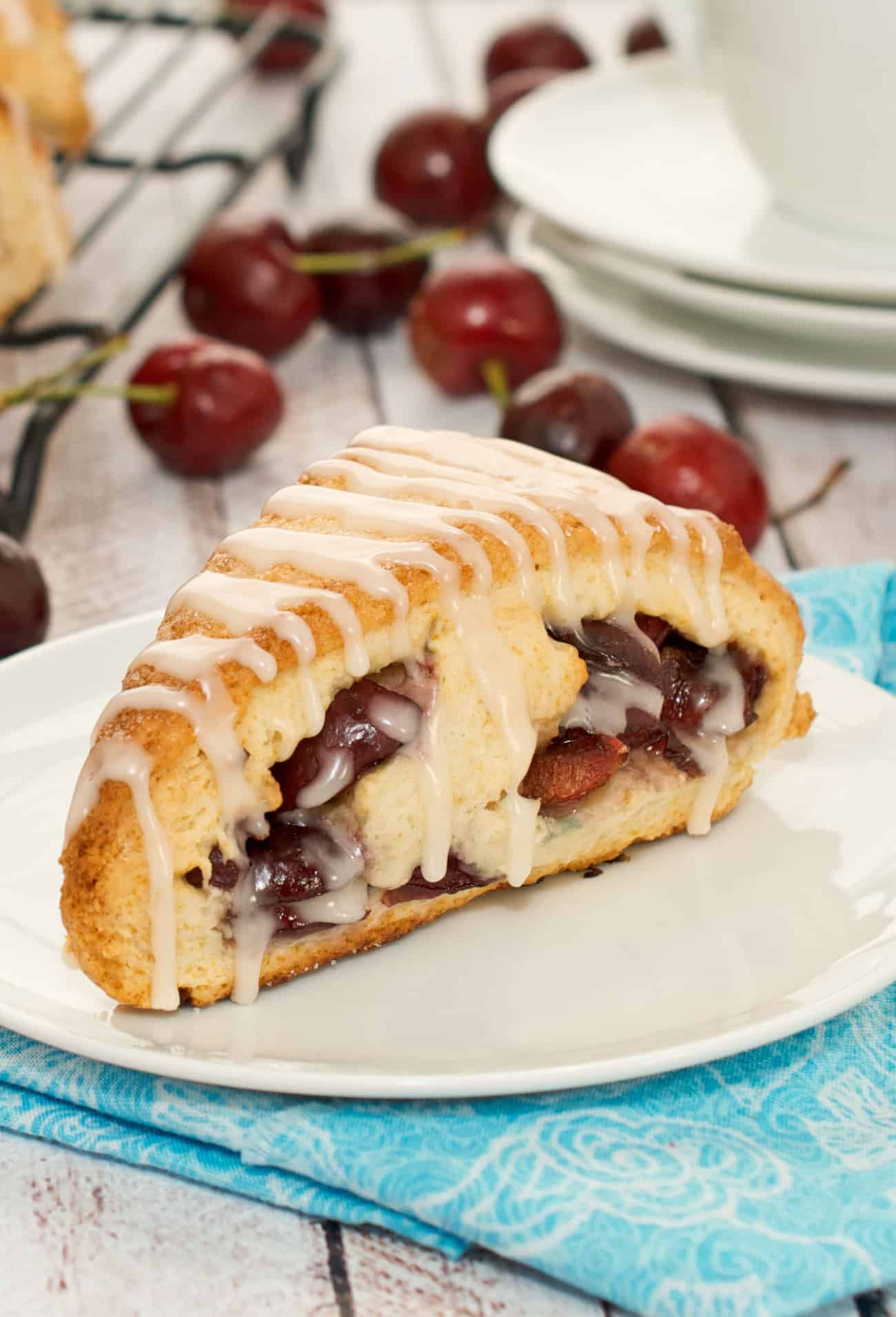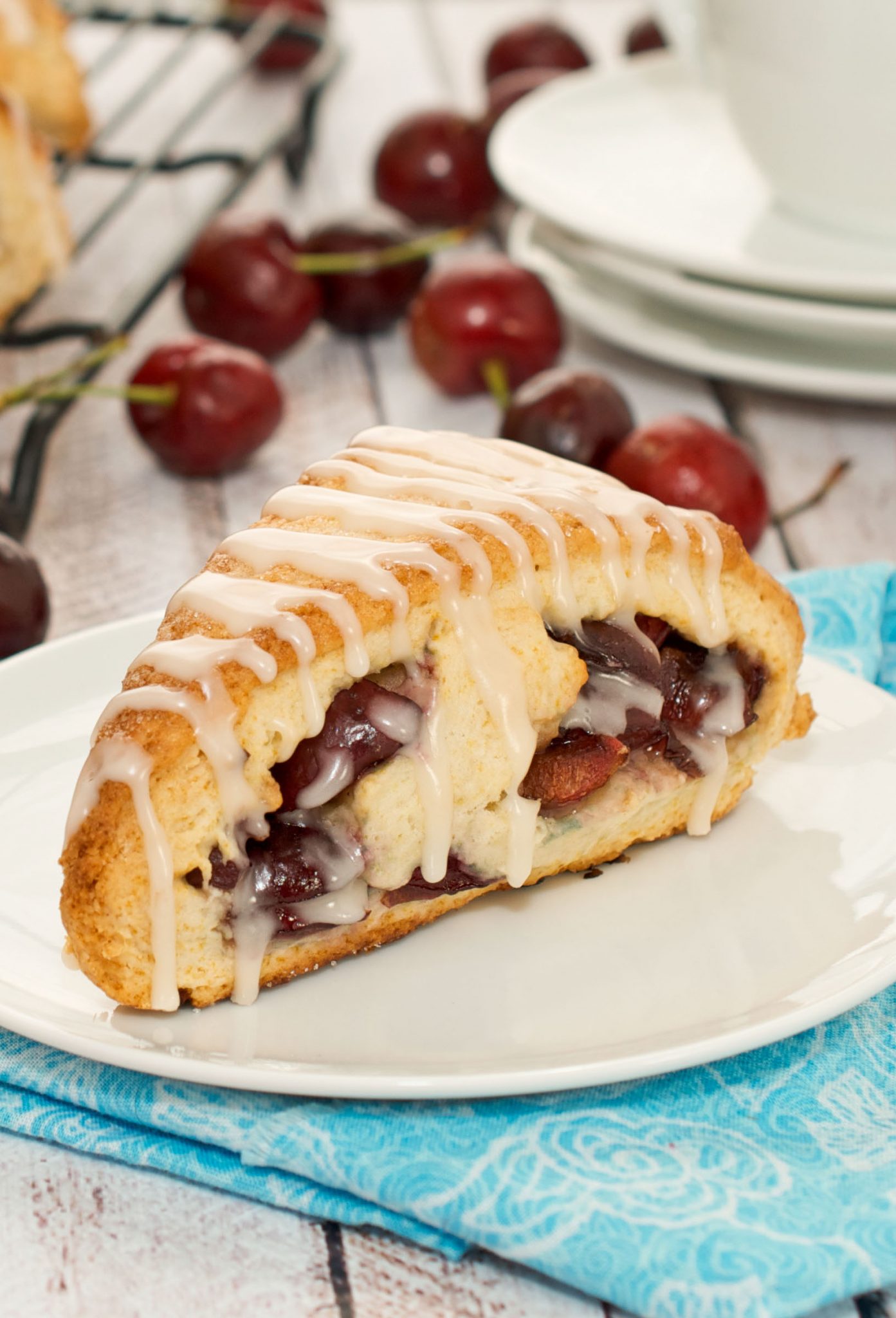 How to Know if Cherries Are Ripe
It can be frustrating to bring home cherries only to figure out that they aren't ripe. When you are hunting for cherries, look for fruit that is completely colored and feels firm to the touch. It's important to know that once you take the cherries off the tree, they will not continue to ripen like some fruit.
When looking, pick cherries that have shiny skin. Ripe cherries come off the tree pretty easily, and you shouldn't have to tug too hard.
If possible, it's best to taste one of the cherries to see if it's the flavor and texture you are looking for. You want it to be sweet and taste good.
Can I Use Frozen Cherries Instead of Fresh
Yep, of course, you can swap the fresh cherries for frozen. They will work just as well when you are making this homemade scone recipe. I recommend thawing out the cherries in a colander and drain off any juice, so it doesn't mess with the texture of the scone.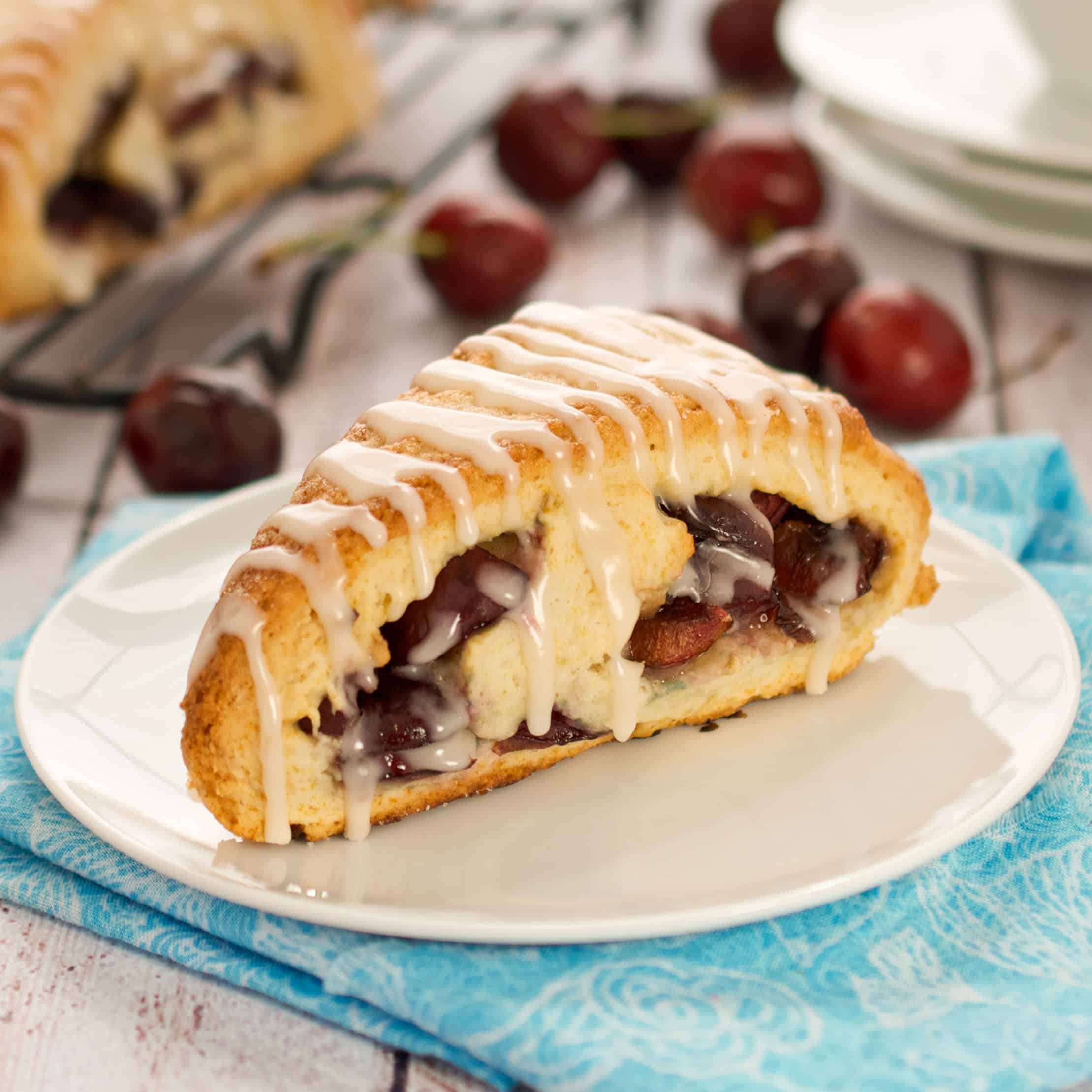 How to Drizzle Glaze On Scones
Adding drizzle to the scones not only gives them some sweetness they also make them look extra gorgeous too. Here are some tips to consider when adding the glaze.
First, make sure that the glaze is thin enough that you can drizzle it. If it's not thin enough, you may need to add a little bit more milk to it until it's the right consistency.
Place the icing in a pastry bag with a super small tip, plastic bottle with a small opening, or buy a glazing tool that's made specifically for that. Having the right tools makes your life a lot easier.
Only add thin drizzles of icing. You don't want it to be big and thick like other recipes. It should be dainty and delicate looking.
Do Scones Freeze Well
Yes, you can easily freeze scones. Lay them out on a baking sheet and flash freeze for 1-2 hours. Once frozen, put them into a bag or container.
They will last in the freezer for 2 months—Thaw before eating.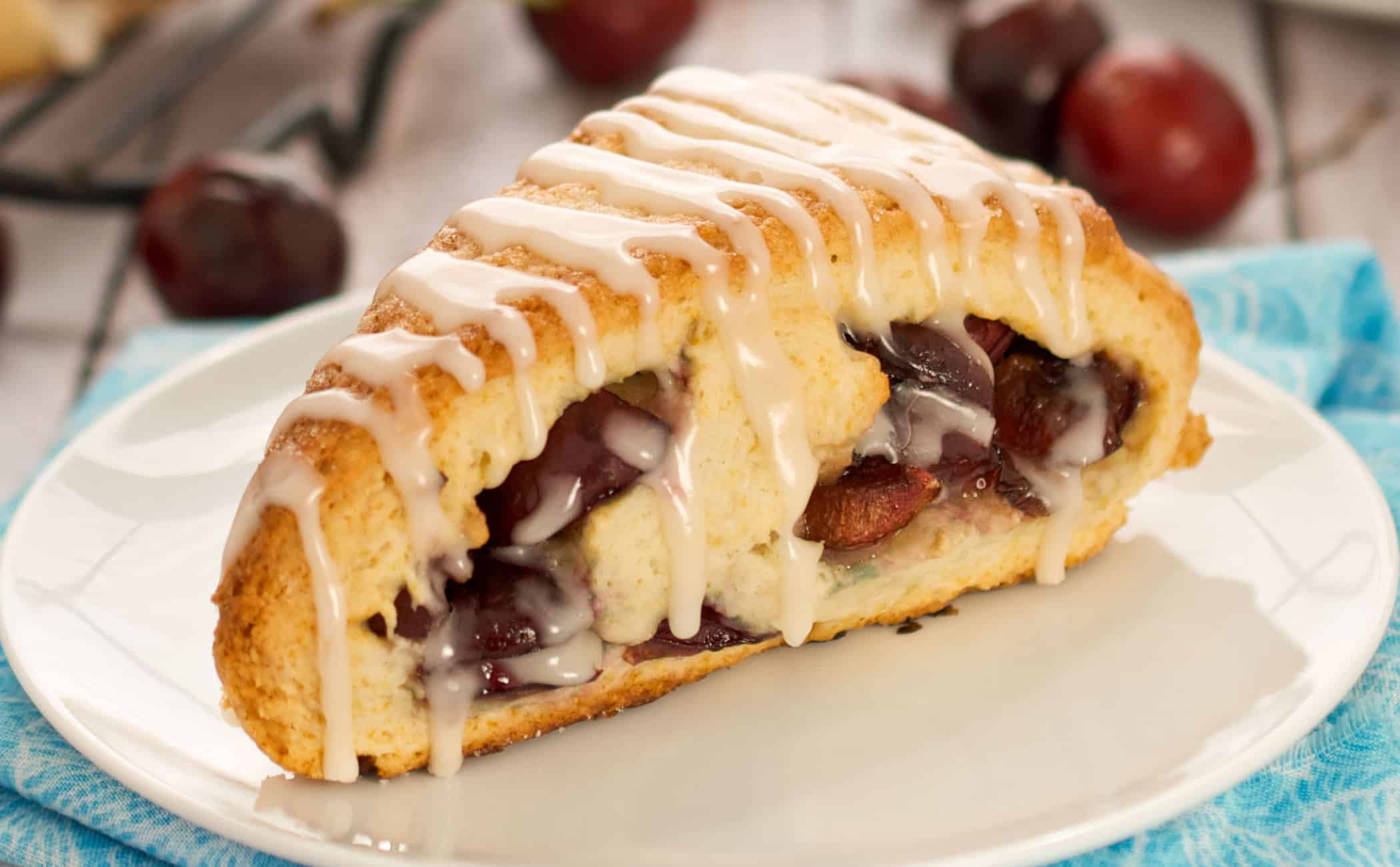 Ingredients
Unbleached all-purpose flour
Baking powder
Sugar
Salt
Cold unsalted butter
Diced cherries
Heavy cream
Almond extract
For the Glaze:
Powdered sugar
Milk
Almond extract
How to Make Cherry Scones
First Step: Heat up the oven to 425 degrees F.
Second Step: Add the baking powder, three tablespoons of sugar, salt, and flour in a food processor. Use the metal blade and process for 6 pulses.
Third Step: Sprinkle the butter over the dry ingredients in the food processor. Add the lid back on and pulse 12 times until processed.
Fourth Step: Place the mixture in a large mixing bowl.
Fifth Step: Pour in one cup of heavy cream and the almond extract into the bowl with the flour mixture. Just use a spatula to fold it in, so it mixes well. Using a rubber spatula, place the dough on a surface that has been lightly floured. Add a little more flour to your hands and knead the dough by hand six to eight times. It should hold together and look like a ragged ball. Add any extra flour needed to prevent the dough from sticking.
Sixth Step: Use a rolling pin to roll the dough into a 12 inch square. Then fold the dough like you would a letter, so it's in thirds. If needed, use a bench scraper to prevent the dough from sticking to the countertop. Take the short ends of the dough and fold it again into thirds. You should end up with a four inch square. Place the dough on a plate that has been dusted lightly with flour and place in the freezer for 5 minutes.
Seventh Step: After the dough has chilled, you will need to place it on a floured surface and roll it back into a 12 inch square. Sprinkle the cherries on the surface of the dough and press them down into the dough slightly. Roll the dough into a tight log and use the bench scraper to help loosen the dough from the work surface. Place the log seam side down and roll out into a 12 x 4 inch rectangle. Using a sharp knife that has been coated in flour, cut the rectangle into four equal rectangles. Cut each rectangle diagonally, so you end up with 2 triangles, and place on a baking sheet that has been lined with parchment paper.
Eighth Step: Take the tablespoons of heavy cream and to brush the tops of the scones. Sprinkle with the rest of the sugar.
Ninth Step: Bake for 18-25 minutes or until it's golden brown. Place the scones on a wire rack to cool.
Tenth Step: During the time the scones are cooling, prepare the glaze. Mix together the powdered sugar, almond extract, and milk together in a bowl until it's smooth. Then drizzle over each scone and let it dry before eating.
Enjoy!
Now, remember to save this recipe on Pinterest for later 🙂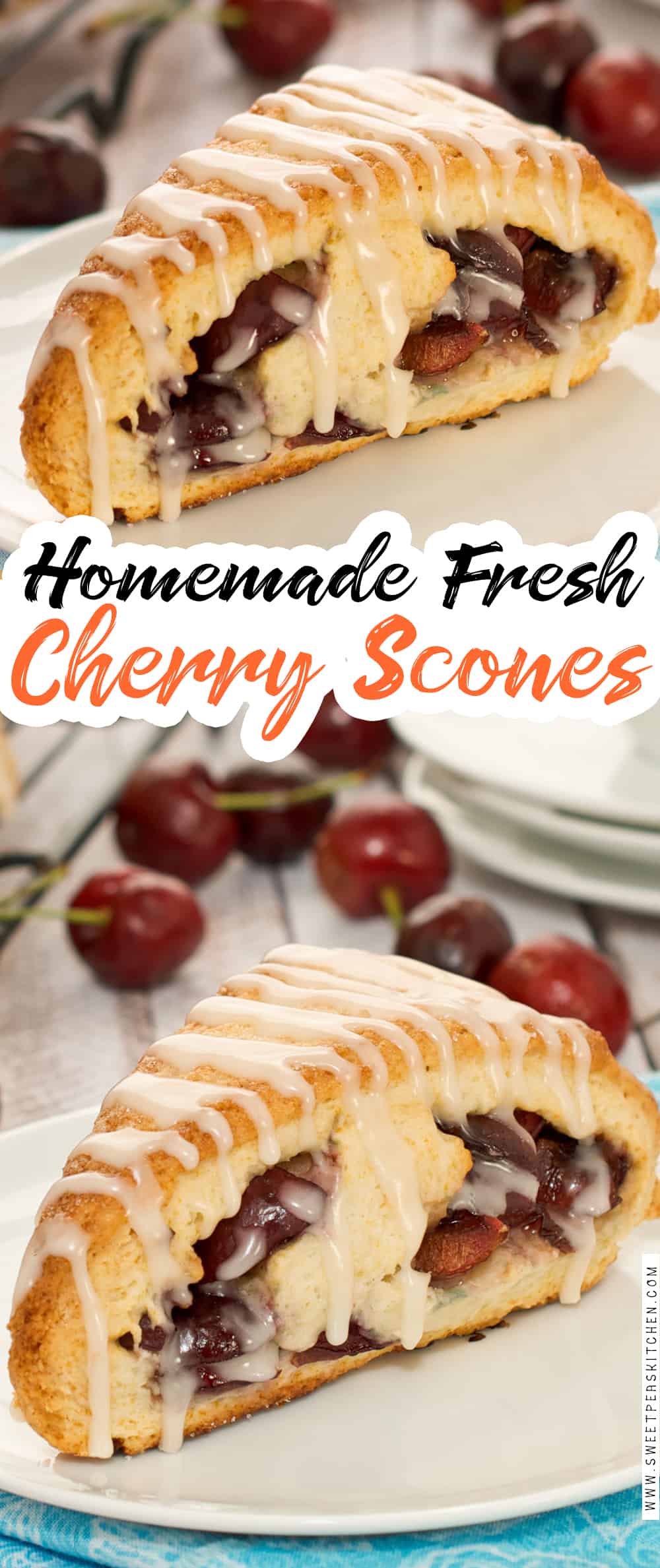 Pin this recipe now to remember it later
Fresh Cherry Scones
Fresh Cherry Sconesare the perfect breakfast or brunch food. They are made with yummy cherries and is sure to be your new favorite homemade scone recipe. This fresh fruit scone has a tender crust, sweet cherries, and tons of flavor.
Ingredients
2

cups

unbleached all-purpose flour

1

tablespoon

baking powder

5

tablespoons

cold unsalted butter

,

cut into 1/4-inch cubes

1

cup

plus 2 tablespoons heavy cream

,

divided

1

teaspoon

almond extract
For the Glaze:
1/2

cup

plus 2 tablespoons powdered sugar

1/2

teaspoon

almond extract
Want to save this recipe? Enter your email below and we'll send the recipe straight to your inbox!
NOTE: By saving this recipe, you agree to join our weekly recipes newsletter.
Instructions
Preheat oven to 425 degrees F.

Place flour, baking powder, 3 tablespoons sugar, and salt in the bowl of a food processor fitted with a metal blade. Process with six 1-second pulses.

Remove cover of food processor and sprinkle the butter evenly over the dry ingredients. Cover and process with 12 1-second pulses.

Transfer mixture to a large mixing bowl.

Add 1 cup heavy cream and almond extract to flour mixture; fold with spatula until just combined. With rubber spatula, transfer dough to lightly floured work surface. With floured hands, knead dough 6 to 8 times, until it just holds together in ragged ball, adding flour as needed to prevent sticking.

Roll dough into an approximate 12-inch square. Fold dough into thirds like a business letter, using bench scraper to release dough if it sticks to countertop. Lift short ends of dough and fold into thirds again to form approximate 4-inch square.

Transfer dough to plate lightly dusted with flour and chill in freezer 5 minutes.

Transfer dough to floured work surface and roll into approximate 12-inch square again. Sprinkle cherries evenly over surface of dough, then press down so they are slightly embedded in dough. Using bench scraper, loosen dough from work surface.

Roll dough, pressing to form tight log. Lay seam-side down and press log into 12 by 4-inch rectangle. Using sharp, floured knife, cut rectangle crosswise into 4 equal rectangles. Cut each rectangle diagonally to form 2 triangles and transfer to parchment-lined baking sheet.

Brush tops with 2 tablespoons of heavy cream and sprinkle with remaining tablespoon sugar. Bake until tops and bottoms are golden brown, 18 to 25 minutes.

Transfer to a wire rack to cool slightly.

While the scones are cooling, make the glaze by mixing the confectioners sugar, milk and almond extract together until smooth. Drizzle over each scone and allow the icing to dry before serving.
Nutrition
Serving:
1
g
|
Calories:
237
kcal
|
Carbohydrates:
36
g
|
Protein:
4
g
|
Fat:
9
g
|
Saturated Fat:
5
g
|
Polyunsaturated Fat:
3
g
|
Cholesterol:
23
mg
|
Sodium:
319
mg
|
Fiber:
1
g
|
Sugar:
11
g
Follow me on Pinterest for daily delicious recipes!
I'm sure you are drooling by now thinking of these incredible scones. Here are a few more to tantalize your taste buds.
Pumpkin Scones – There is nothing more delicious than homemade pumpkin scones. They are subtle but incredible.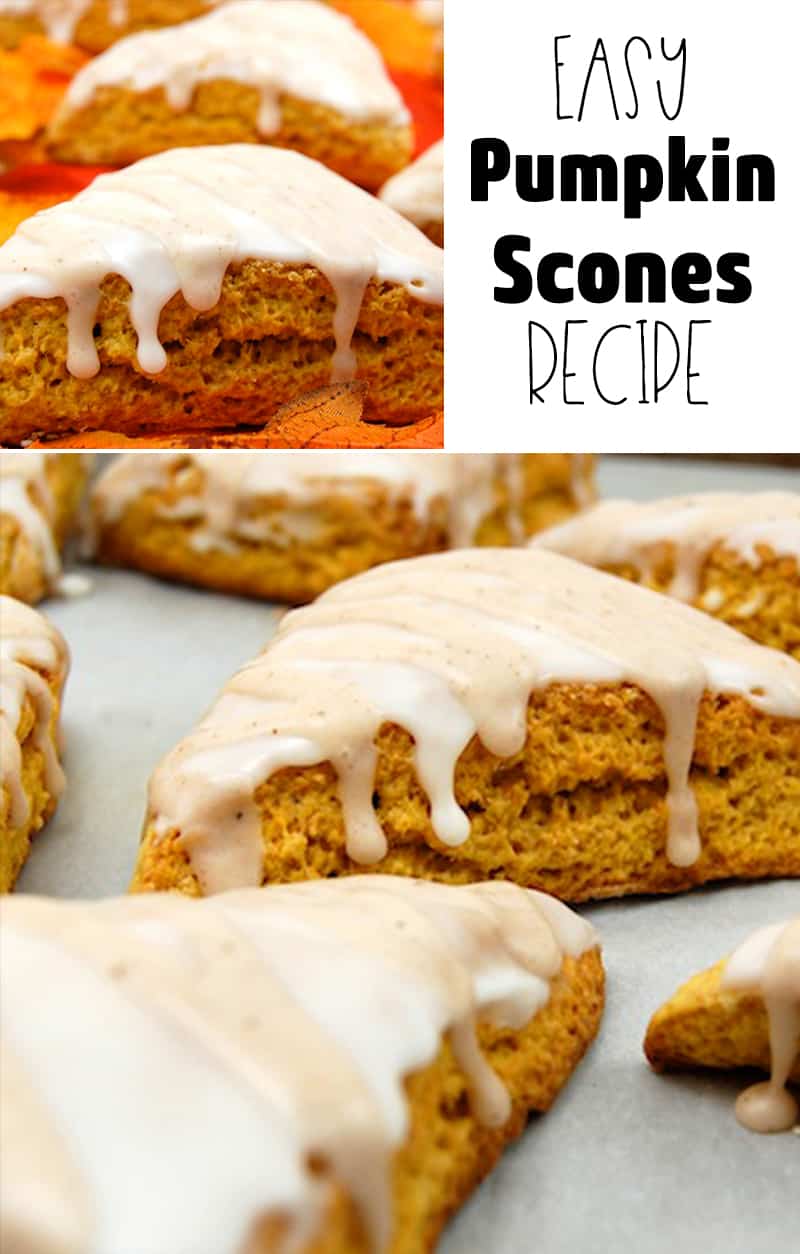 Simple Fresh Cranberry Scones – These beauties are wonderful for the fall and winter holidays. Eat them for breakfast or brunch!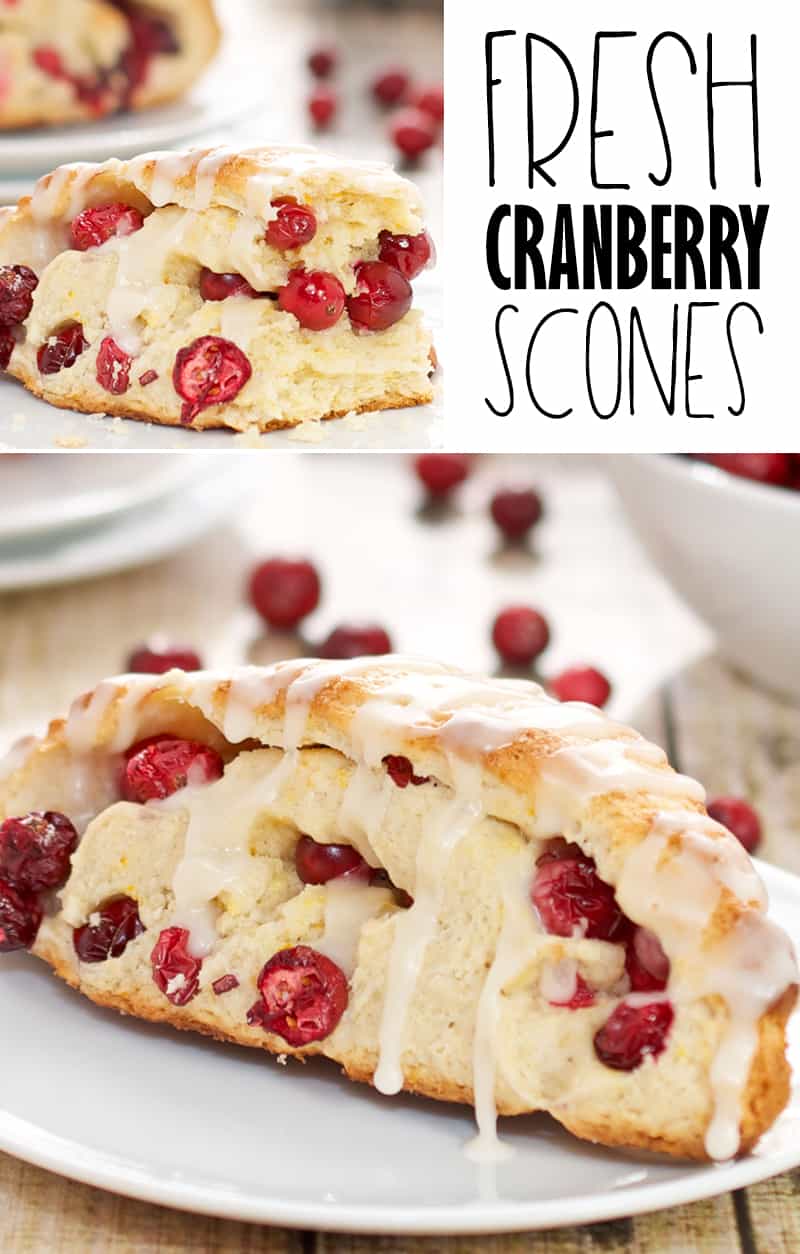 Dark Chocolate Raspberry Scones – The combination of raspberries and chocolate are mindblowing! The burst of sweetness is going to rock your world.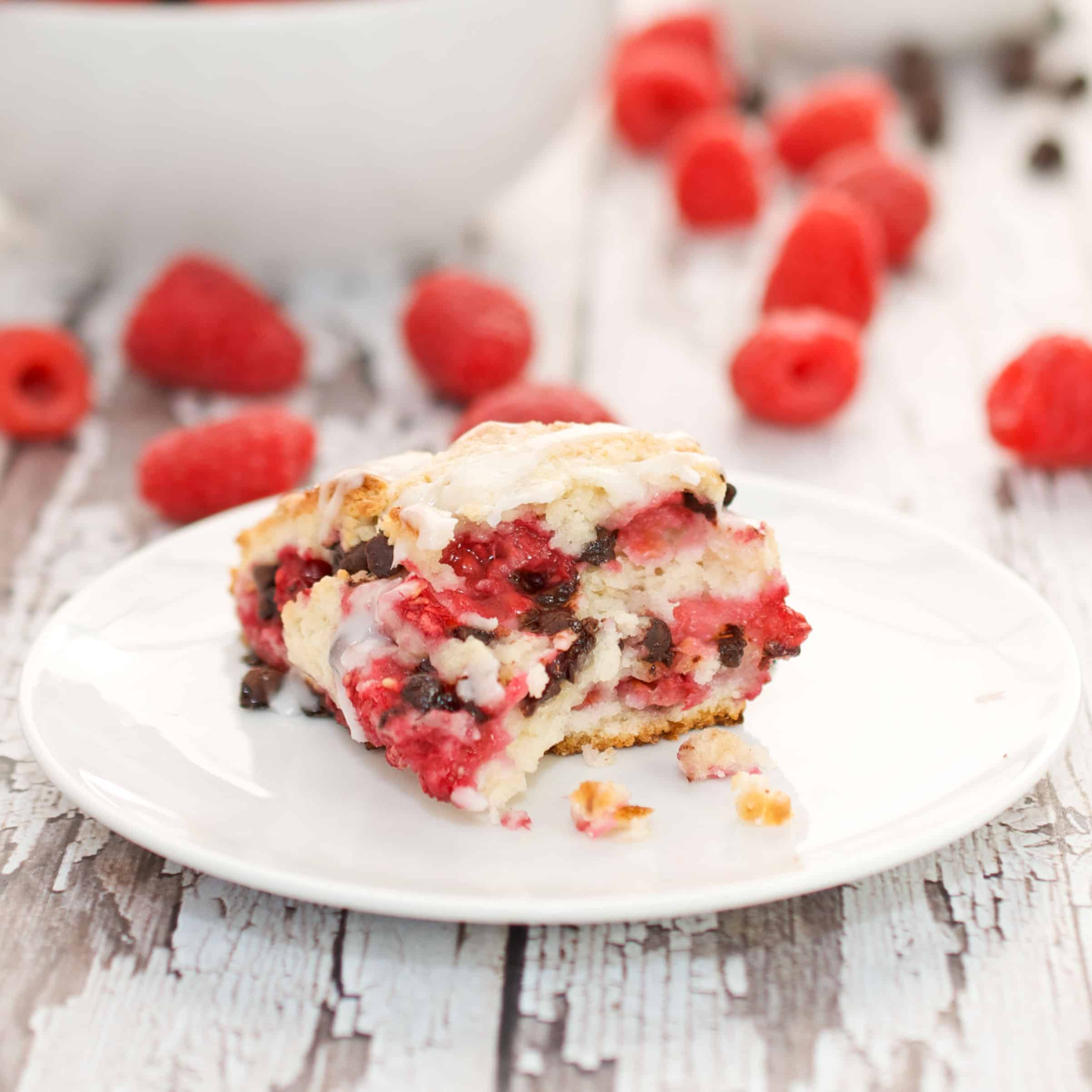 Simple Scone Recipe with Peanut Butter Chips – You are going to fall in love with these scones. Peanut butter is an amazing addition. Yum!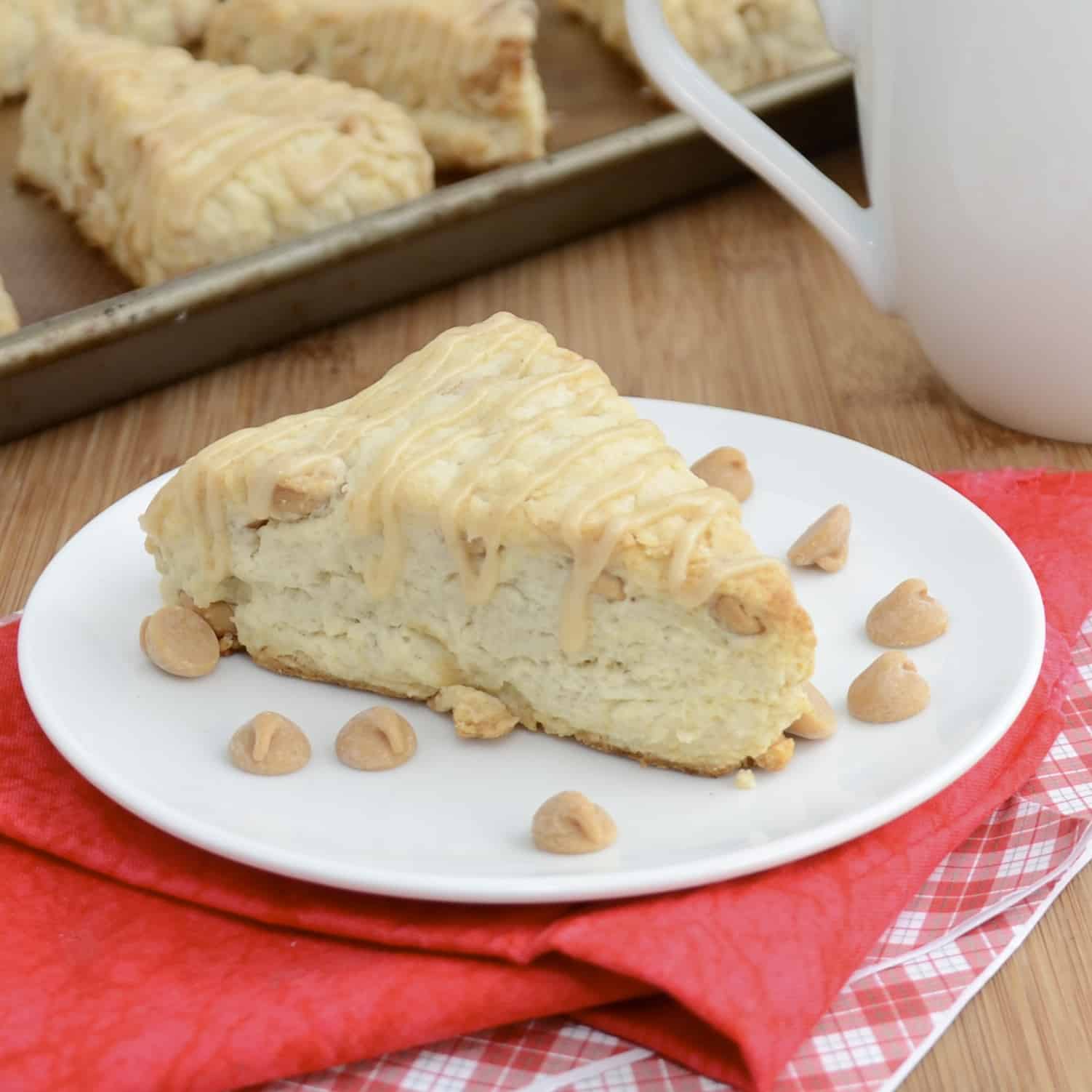 Get new recipes weekly plus our FREE ebook!