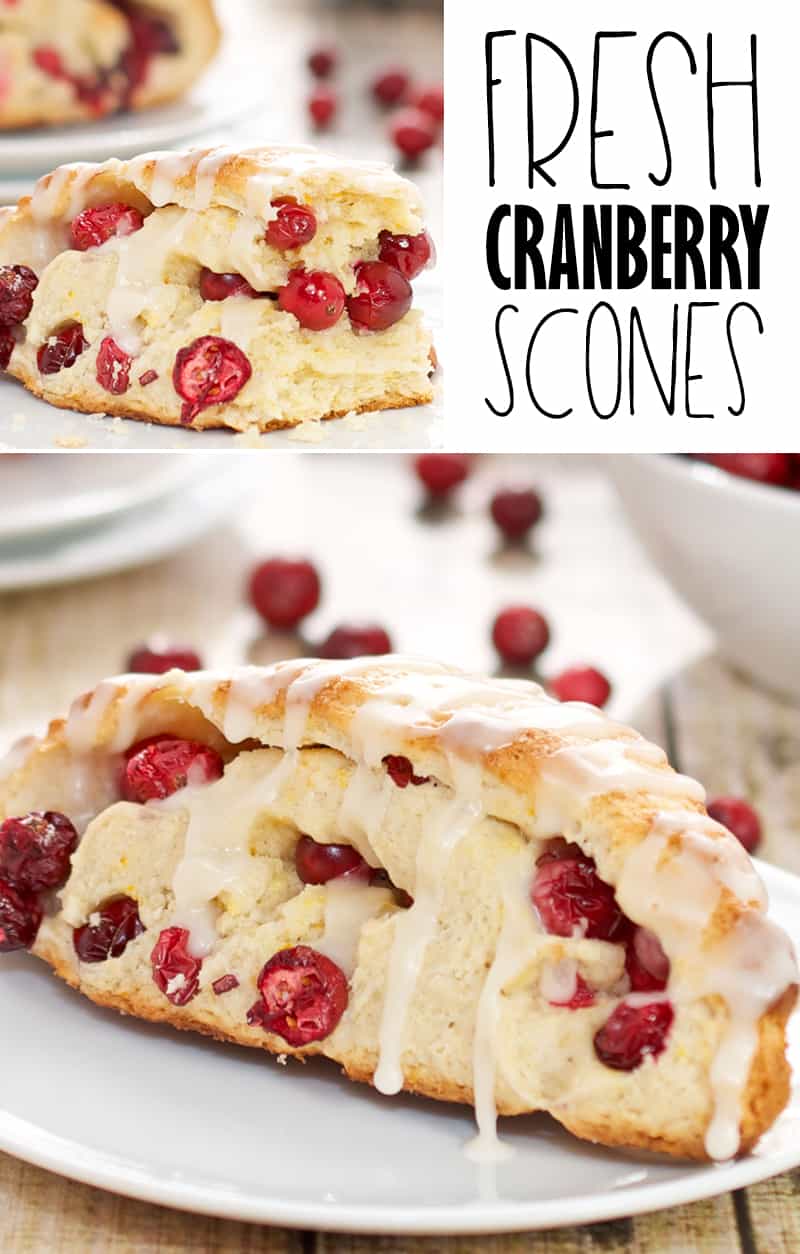 There is nothing more enjoyable than waking up to enjoy some of my homemade cranberry scones.
They are soft, slightly sweet, and have the perfect touch of orange flavors. When I get a craving for scones, I have many favorites, but this cranberry scone recipe is one of my go-to's because it's just so good. There is just something about the combination of orange and fresh cranberries that is out of this world. Kids will go crazy for these fresh cranberry scones too. I recommend making a batch of cranberry orange scones for breakfast on Christmas morning or having some for brunch.
This simple scone recipe is relatively hands-off, so you don't worry about spending all day in the kitchen, and that's a winner in my eyes!
Scroll to bottom for printable recipe card.
Simple Fresh Cranberry Scones Recipe
Don't you get tired of eating the same thing all the time? I know I do, and being in a food rut is a pain and boring. That's why I like to add some pizzazz to my recipes like with these cranberry and orange scones. Cranberries paired with orange juice and orange zest are a fantastic compliment to each other. The citrus and tartness are also sweet and something you won't soon forget.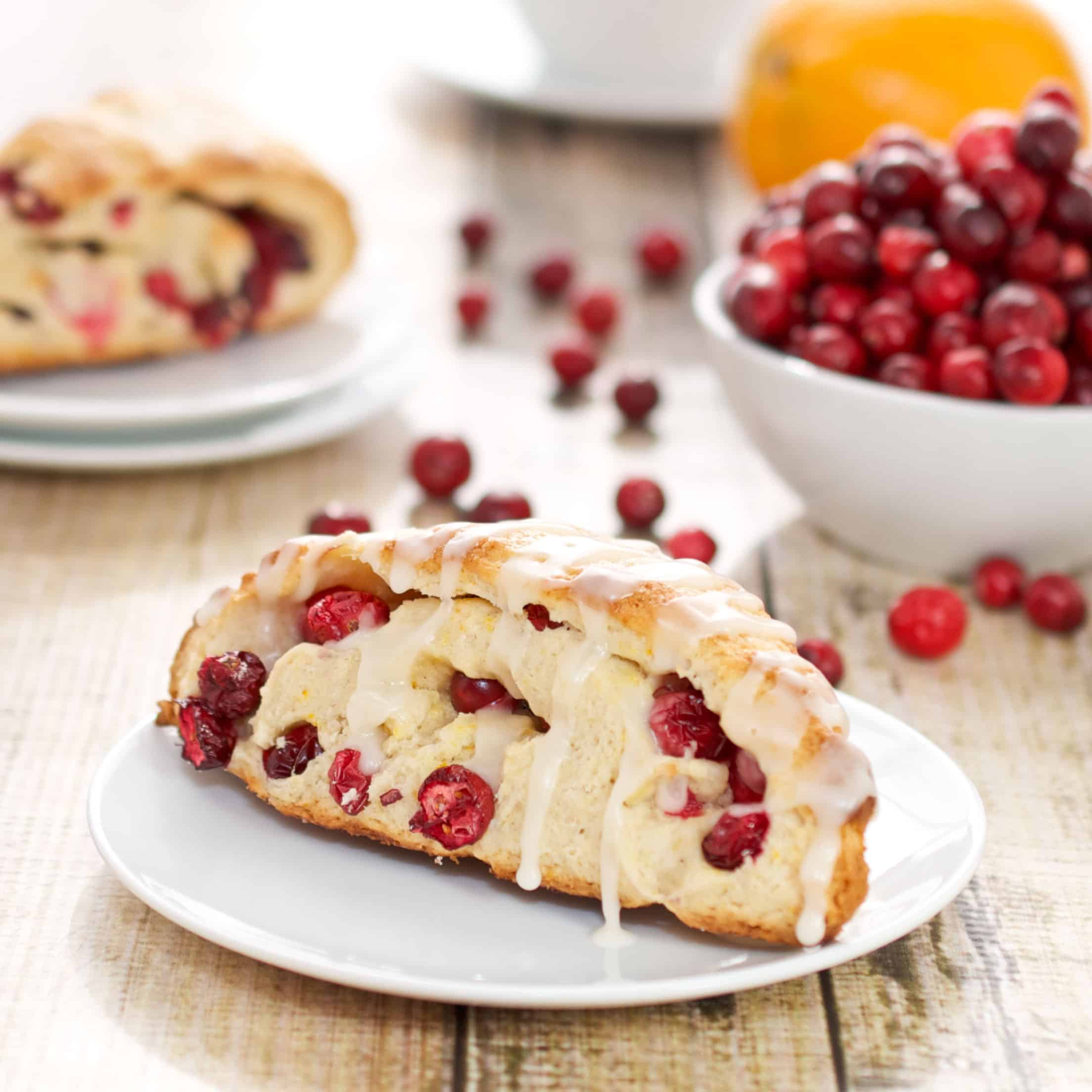 Whether you are making them for yourself, a baby shower, holiday, or another event, they will win over any crowd. Sometimes I like to make them and sell for local bake sales and events too. They go over perfectly, and there are never any leftovers.
What Is A Scone?
A scone is a pastry that has been baked and typically has fruit or other ingredients that are savory. Most of them are lightly sweetened, and some are made with savory ingredients like cheese and meats. They usually have a glaze on top from an egg wash too. They are a staple when it's brunch and breakfast, but they can really be eaten any time of day. Serve them with coffee or tea for a special treat.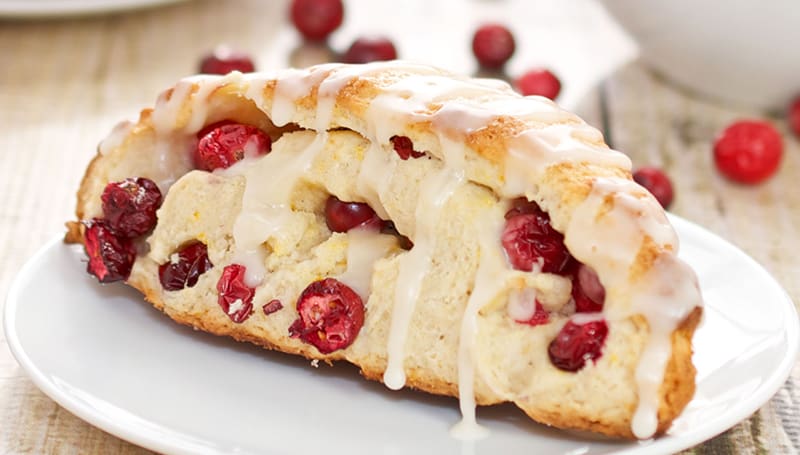 What Ingredients Are In Scones?
There are tons of recipes for homemade scones out there. These are the ingredients for my cranberry orange scones. Take a look:
Unbleached all-purpose flour – Stick with all-purpose flour for best results. Self-rising will make the texture a little denser.
Baking powder – Notice it's baking powder, not baking soda. It's an important ingredient for leavening these easy scones.
Sugar – White sugar will give them a delicious light sweetness that's amazing!
Salt – You don't need a lot of salt, but it adds a nice flavor to this cranberry scone recipe.
Unsalted butter – If you end up using salted butter, make sure to omit the salt from the recipe.
Fresh cranberries – Your mouth will be watering when you bite into these fresh cranberry scones. Yum!
Heavy cream– It gives the scones a creamy and smooth texture on top. Some recipes call for buttermilk, but I love the heavy cream a lot too.
Orange zest – Adding some zest gives them a lovely citrusy flavor that's so good! You're going to love them.
Vanilla extract – Can you ever make baked goods without some vanilla? It's a must!
For the Glaze:
Powdered sugar – This glaze is so good you'll want to eat it with a spoon! So good!
Orange juice – The orange juice in the glaze is seriously one of the best flavors ever. If you haven't tried this glaze, you should it go good on other pastries too.
How To Make Scones
Since you only need 9 ingredients for the cranberry and orange scones + 2 ingredients for the glaze, they are so easy to make. Take a look at these simple steps:
First Step: Preheat your oven to 425 degrees F.
Second Step: Using a food processor with a metal blade, add the flour, baking powder, 3 tablespoons of sugar, and the salt together. Pulse everything with six 1-second pulses.
Third Step: Sprinkle in the chopped cold butter and process for twelve 1-second pulses.
Fourth Step: Pour the ingredients to a large mixing bowl.
Fifth Step: Put the heavy cream, orange zest, and vanilla with the flour mixture by using a rubber spatula. Place the dough on a lightly floured surface. Add a little bit of flour to your hands and knead the dough 6 to 8 times. The dough should hold together and look like a ragged ball. Add a little bit of flour if needed, so it doesn't stick.
Sixth Step: Using a rolling pin, roll the dough into a 12-inch square. Fold the dough into thirds. Use a scraper to release the dough from the countertop if needed. Fold the dough into thirds again, and it should be approximately a 4-inch square. Place the dough on a plate that has a dusting of flour. Chill it in the freezer for 5 minutes.
Seventh Step: Lightly flour a surface and roll the dough out to a 12-inch square again. Add cranberries evenly and press them down, so they are pushed into the dough.
Eighth Step: Loosen dough from work surface with a bench scraper. Continue rolling dough and pressing to form into a tight log. Place the seam side down and form the log into a 12-inch by 4-inch rectangle. Take a sharp knife and coat it with flour. Cut rectangle crosswise into 4 rectangles. Then cut each rectangle to form 2 triangles. Place the triangles on a baking sheet that has been lined with parchment paper.
Ninth Step: Lightly brush the tops of the scones with heavy cream and sprinkle with sugar. Bake for 18-25 minutes until they are golden brown. Cool slightly on a wire rack.
Tenth Step: Make the glaze by adding the confectioner's sugar and orange juice together. Drizzle the glaze over each scone and let it dry. Then enjoy!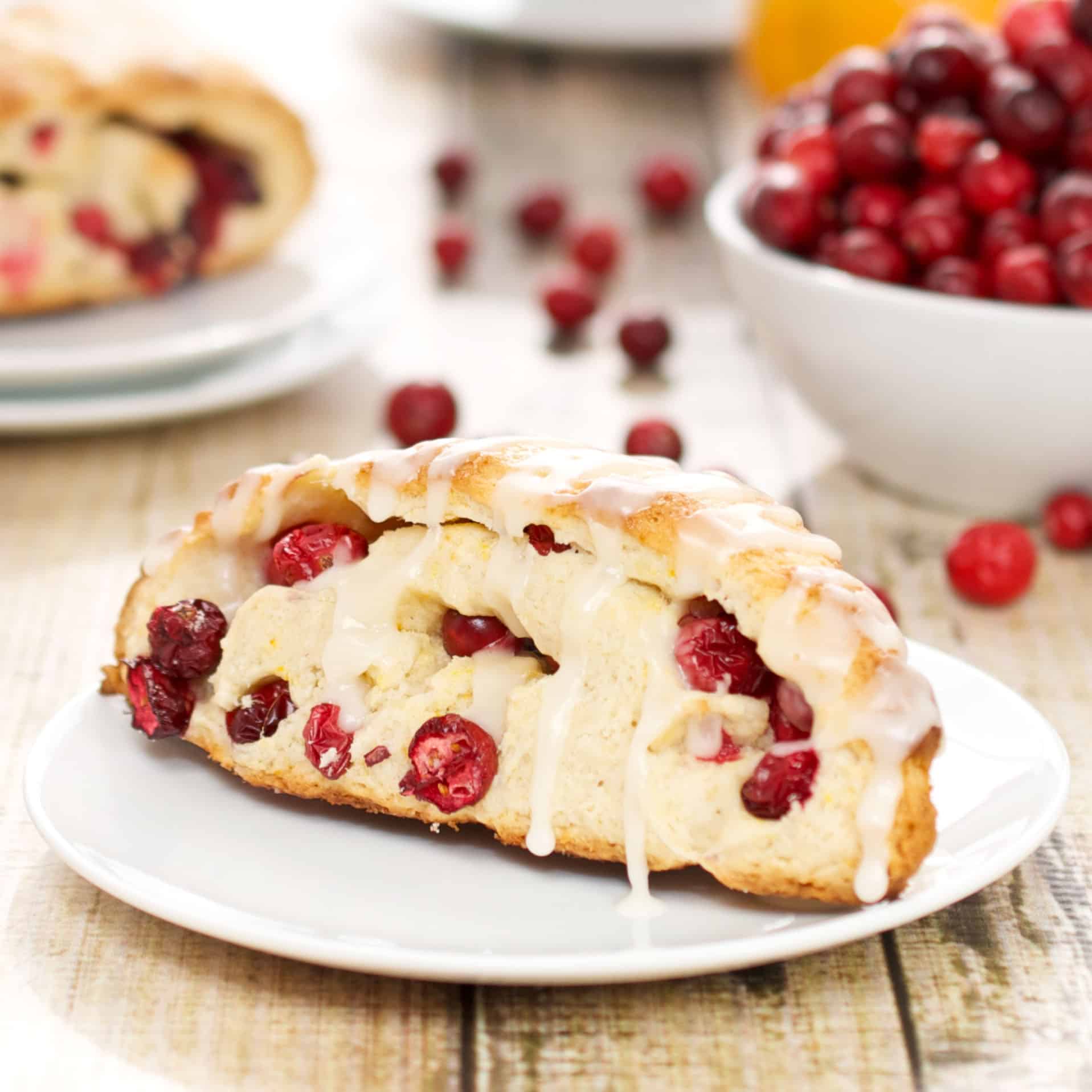 Can I Use Different Fruit For These Easy Scones?
Yes, absolutely! You can switch out the cranberries with several different fruits if you want. Blueberries, strawberries, and apricots are a few of my favorites. If you use fruits like strawberries, it's best to cut them into small pieces that are no bigger than a blueberry or cranberry for best results.
How Do You Store Cranberry Orange Scones?
The best way to store cranberry orange scones is by placing them in an airtight container after they have cooled to room temperature. Line the container with paper towels, add the scones and place another paper towel on top. This allows them to stay moist and not dry out. They will last 3-4 days on the counter or in the refrigerator.
Can You Freeze Scones?
Yes, you can freeze scones to serve them at a later time. Prepare the dough and wrap them in plastic. Store them in a freezer-safe bag in the freezer. When you are ready to serve them, take the scones out of the freezer and place them on a parchment paper-lined baking sheet. Then bake as directed but add 5 extra minutes. Add extra time as needed until they are all the way cooked.
Enjoy!!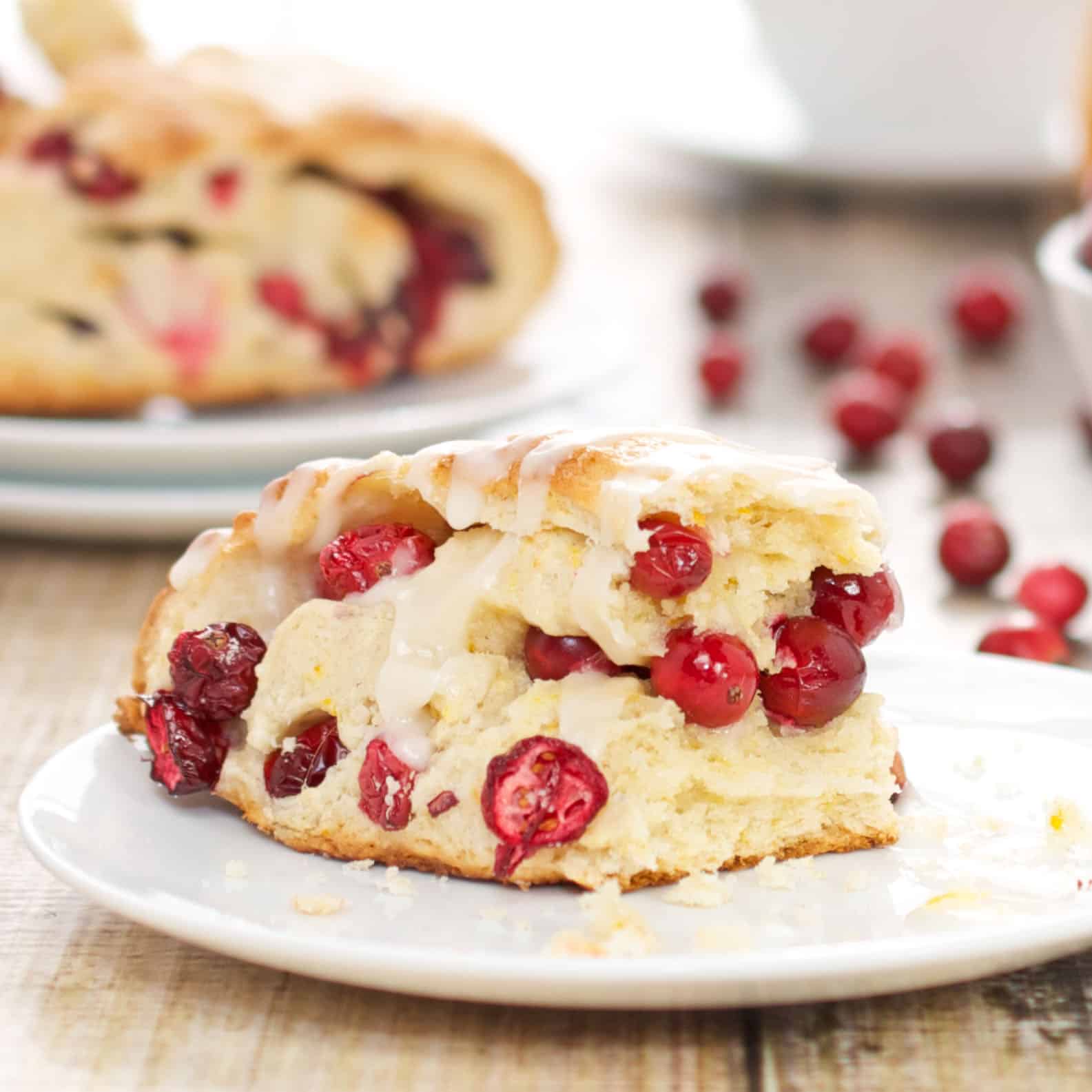 Remember to save this recipe on Pinterest for later 🙂

Pin this recipe now to remember it later
Simple Fresh Cranberry Scones
Sink your teeth into these delicious Simple Fresh Cranberry Scones Recipe and you'll be in food heaven. These fresh cranberry scones are easy to make too.
Ingredients
2

cups

unbleached all-purpose flour

1

tablespoon

baking powder

4

tablespoons

sugar

,

divided

5

tablespoons

cold unsalted butter

,

cut into 1/4-inch cubes

1 1/2

cups

fresh cranberries

1

cup

plus 2 tablespoons heavy cream

,

divided

1/2

teaspoon

vanilla extract
For the Glaze:
1/2

cup

plus 2 tablespoons powdered sugar

1

tablespoon

orange juice
Want to save this recipe? Enter your email below and we'll send the recipe straight to your inbox!
NOTE: By saving this recipe, you agree to join our weekly recipes newsletter.
Instructions
Preheat oven to 425 degrees F.

Place flour, baking powder, 3 tablespoons sugar, and salt in the bowl of a food processor fitted with a metal blade. Process with six 1-second pulses.

Remove cover of food processor and sprinkle the butter evenly over the dry ingredients. Cover and process with 12 1-second pulses.

Transfer mixture to a large mixing bowl.

Add 1 cup heavy cream, orange zest and vanilla extract to flour mixture; fold with spatula until just combined. With rubber spatula, transfer dough to lightly floured work surface. With floured hands, knead dough 6 to 8 times, until it just holds together in ragged ball, adding flour as needed to prevent sticking.

Roll dough into a 12-inch square. Fold dough into thirds like a business letter, using bench scraper to release dough if it sticks to countertop. Lift short ends of dough and fold into thirds again to form approximate 4-inch square. Transfer dough to plate lightly dusted with flour and chill in freezer 5 minutes.

Transfer dough to floured work surface and roll into approximate 12-inch square again. Sprinkle cranberries evenly over surface of dough, then press down so they are slightly embedded in dough.

Using bench scraper, loosen dough from work surface. Roll dough, pressing to form tight log. Lay seam-side down and press log into 12 by 4-inch rectangle. Using sharp, floured knife, cut rectangle crosswise into 4 equal rectangles. Cut each rectangle diagonally to form 2 triangles and transfer to parchment-lined baking sheet.

Brush tops with 2 tablespoons of heavy cream and sprinkle with remaining tablespoon sugar. Bake until tops and bottoms are golden brown, 18 to 25 minutes. Transfer to a wire rack to cool slightly.

While the scones are cooling, make the glaze by mixing the confectioners sugar and orange juice together until smooth. Drizzle over each scone and allow the icing to dry before serving.
Notes
To Make Ahead: Freeze the unbaked scones on a baking sheet until firm, tightly wrap in plastic wrap and place in a ziploc freezer bag. When ready to bake just pop into the oven straight from the freezer, no need to thaw….just add a few more minutes to the baking time.
Follow me on Pinterest for daily delicious recipes!
If you love this cranberry scone recipe, you should try some of my other amazing breakfast ideas. These are my reader's favorite dishes:
Strawberry Croissant Sandwich With Almond Whipped Cream – This is one of the most heavenly foods I have ever made! Seriously, you need to try it.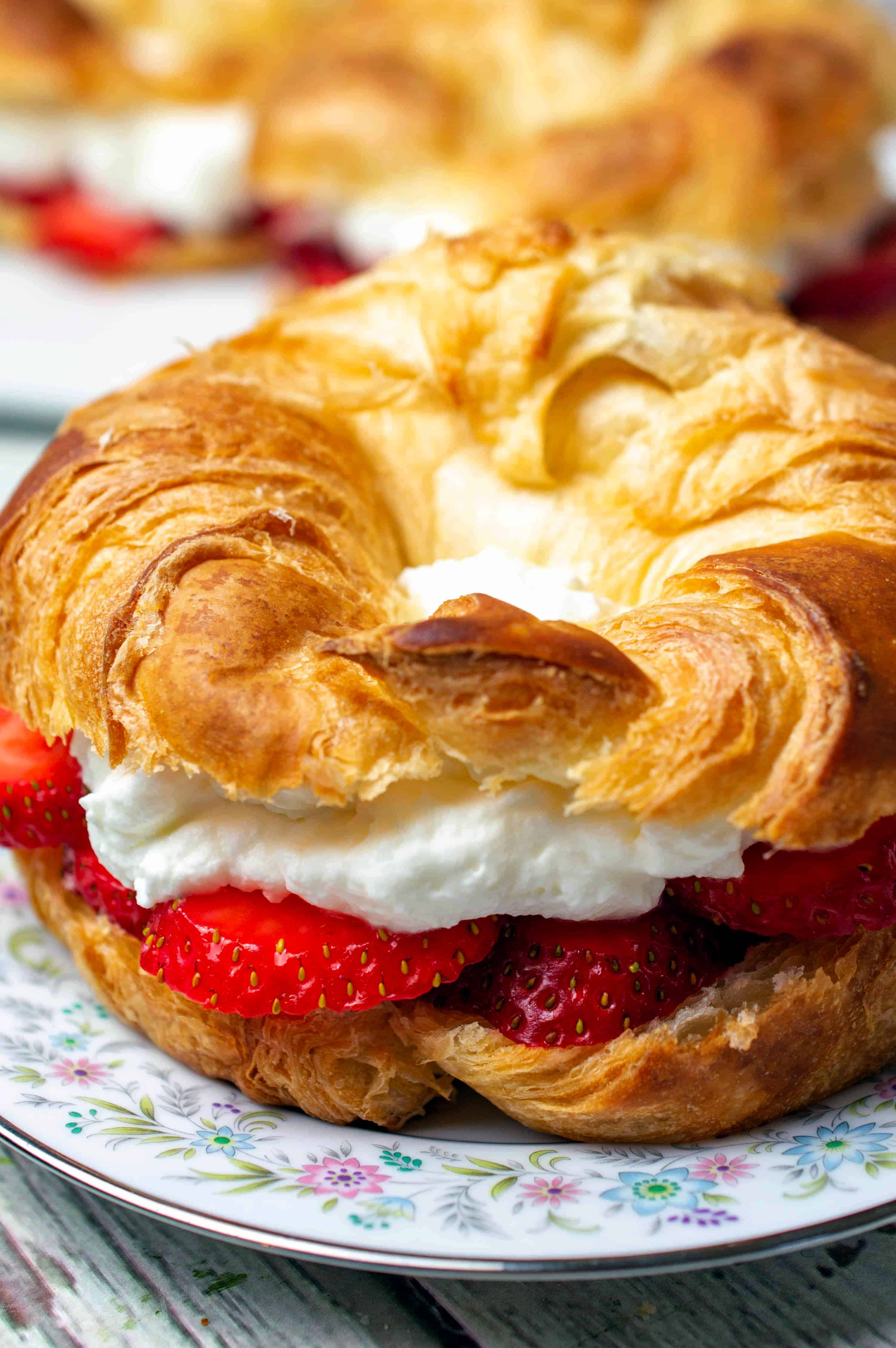 Chocolate Chip Apple Donuts – These are some of the best and moist donuts. Plus, they are perfect if you have been craving chocolate too.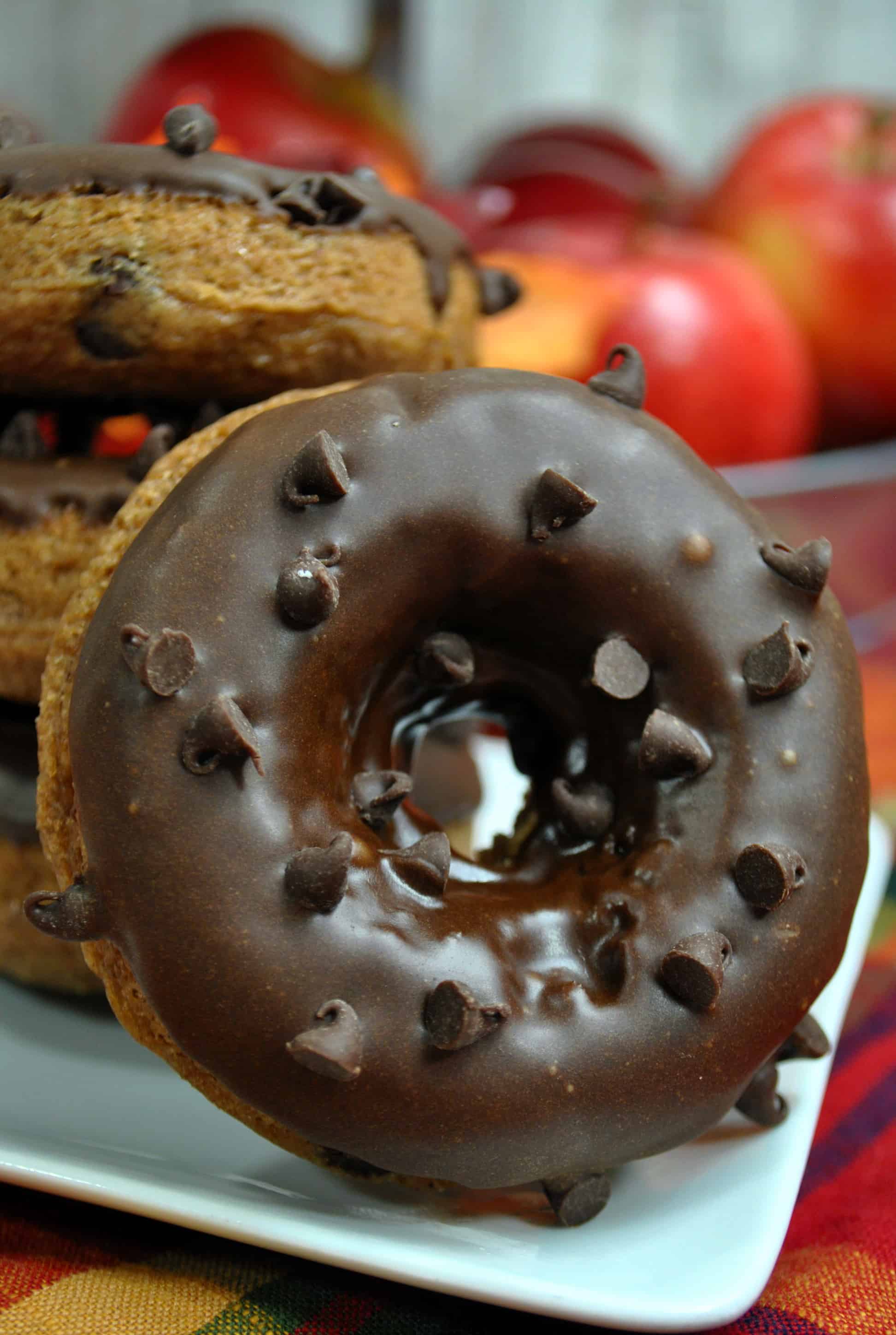 Chocolate Peanut Butter Smoothie – Start your day off right with a delectable smoothie. You can even enjoy one as a snack too.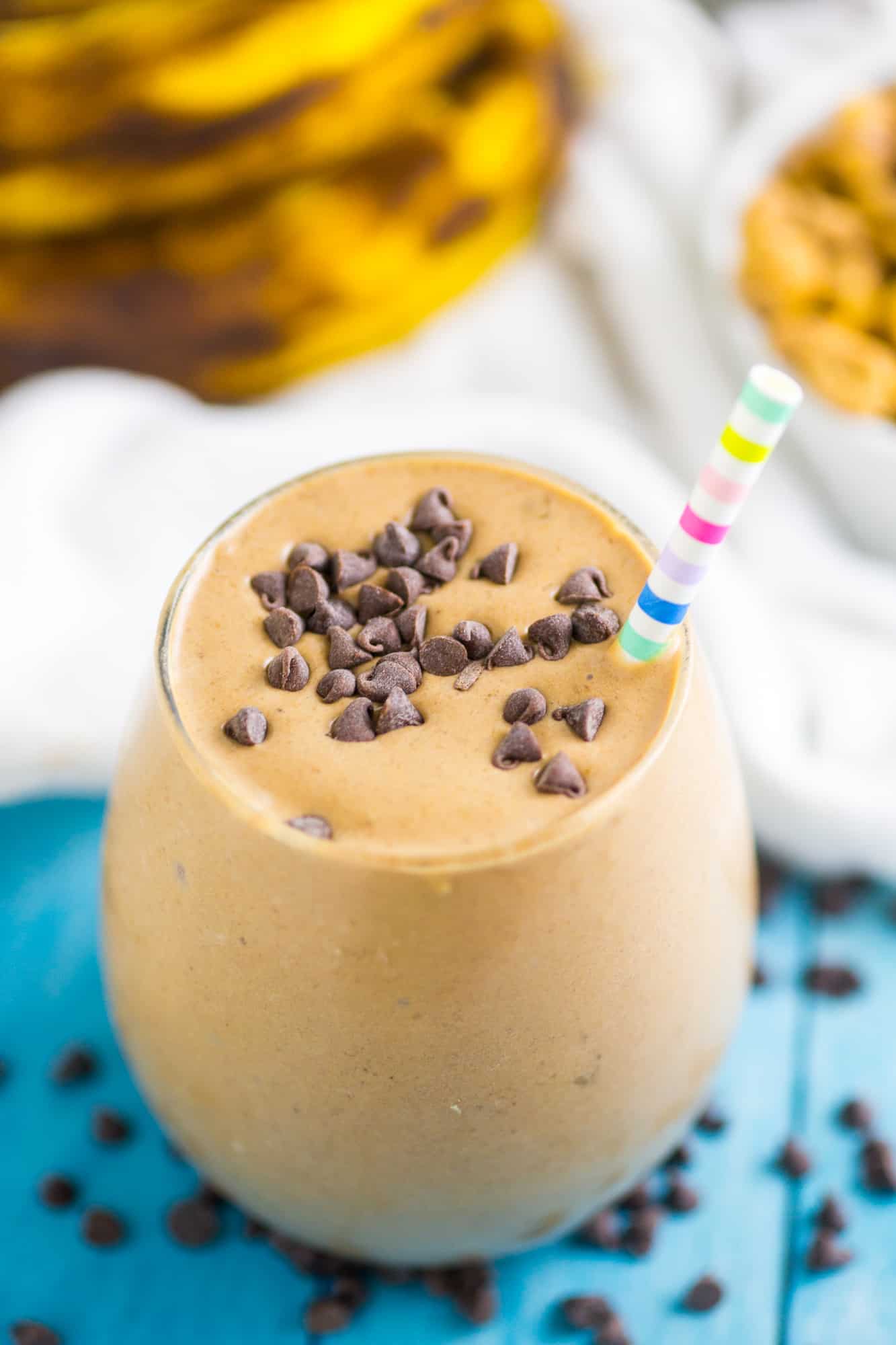 Cinnamon Roll Oven French Toast Casserole – This will be your new favorite way to enjoy french toast after you try it. YUM!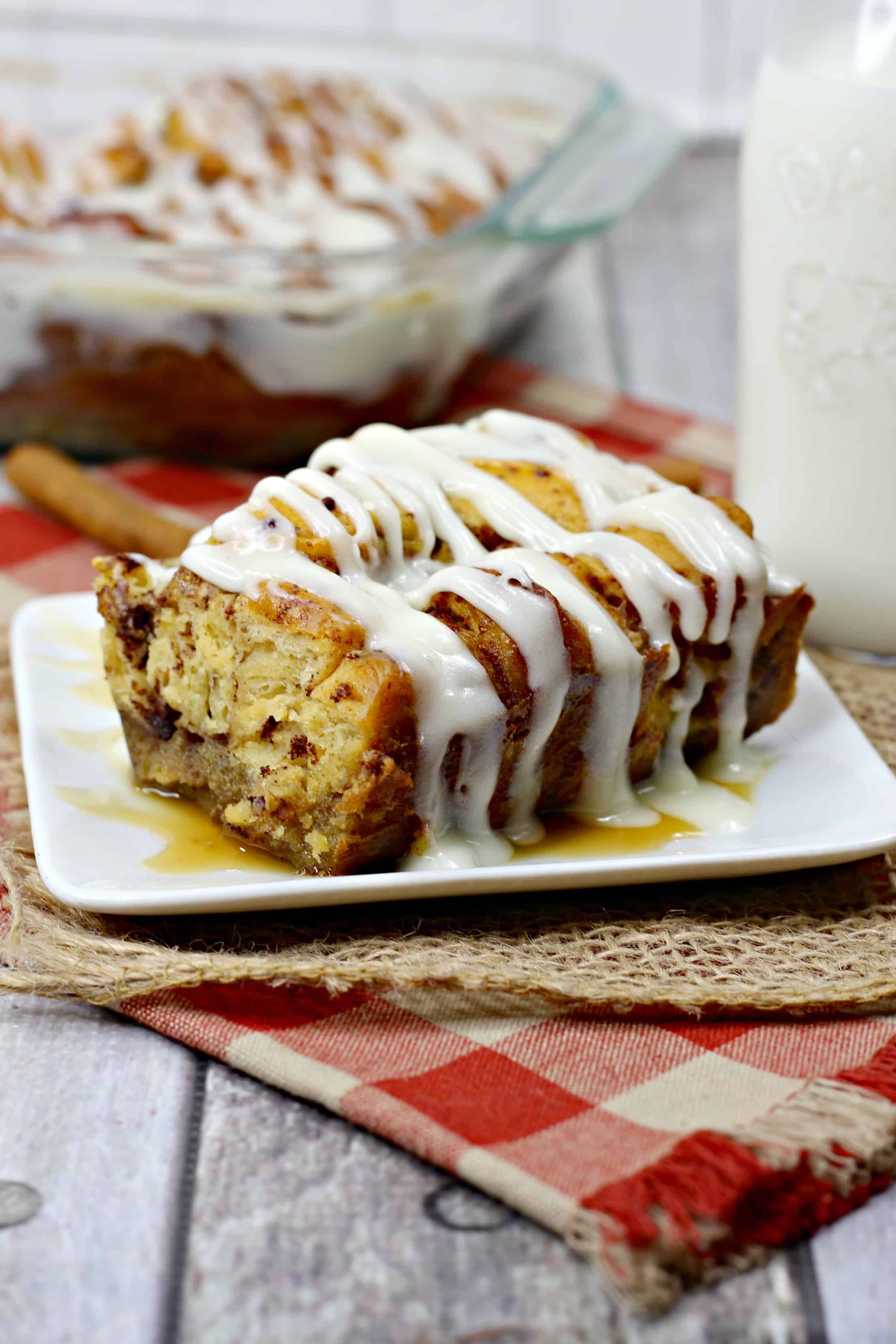 Get new recipes weekly plus our FREE ebook!