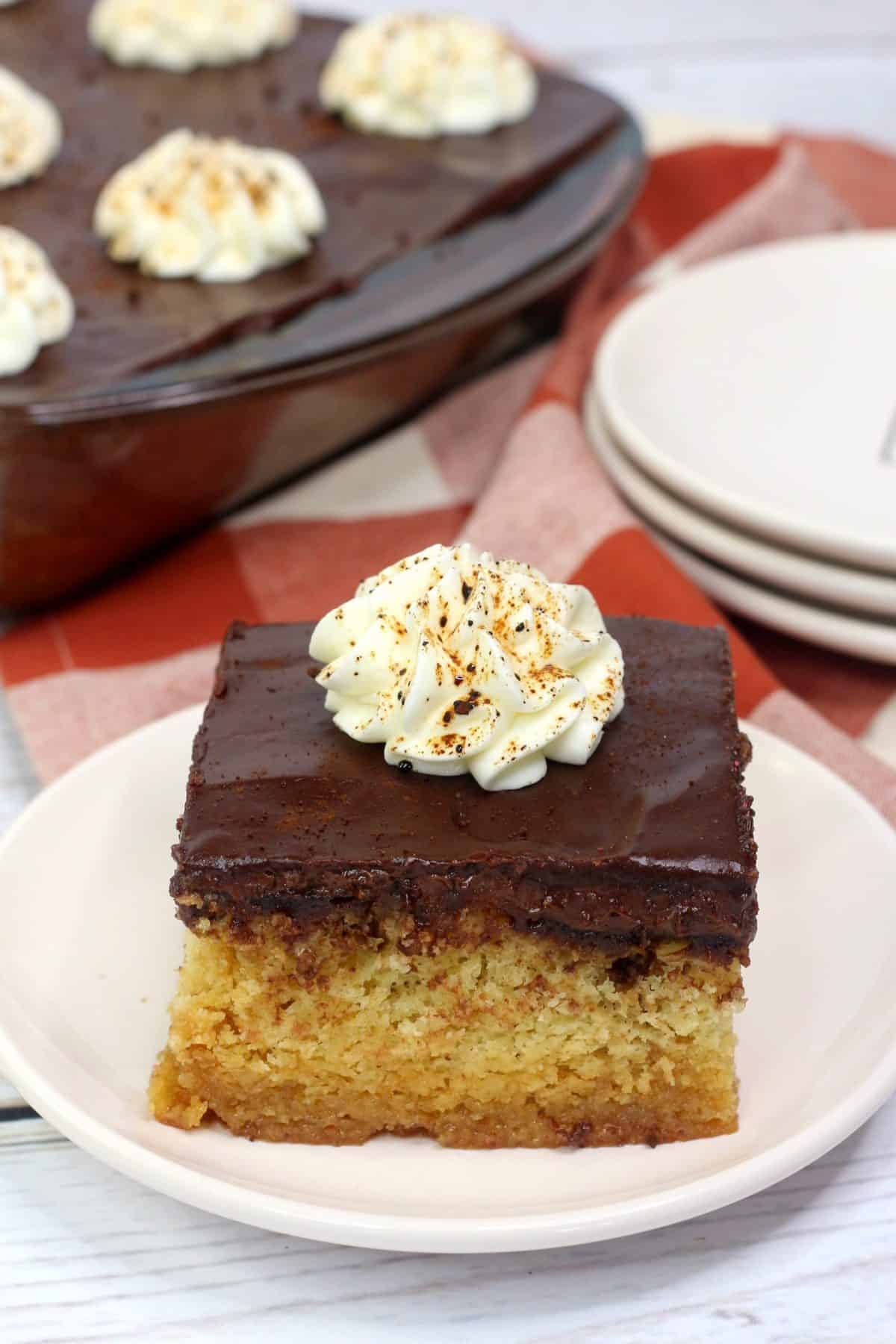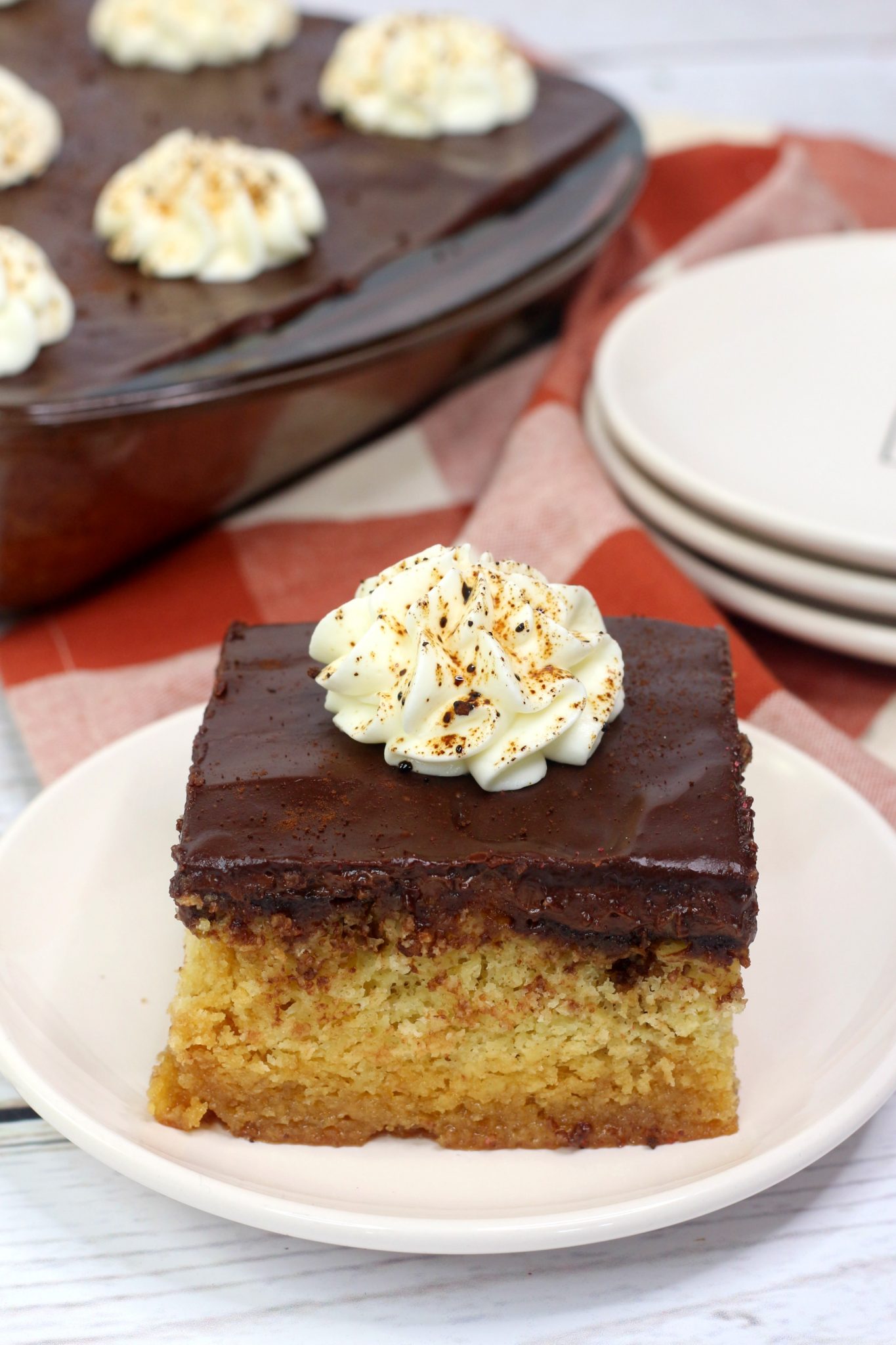 This moist Cuppa Joe Caramel Cake Recipe is rich, easy, and has the best homemade frosting you've ever tasted. When you first bite into this homemade buttermilk cake, you are blown away by the excellent coffee flavor and the richness of each bite. This mocha poke cake is bound to be a new favorite recipe of yours, be sure to keep it nearby so you can make it over and over again.
Cuppa Joe Caramel Cake Recipe
I absolutely love coffee! I drink coffee in the morning, and often you'll find me at our local coffee shop sipping away on an iced cold coffee beverage. Or in the winter months, I am always sipping on a hot cup of coffee with lots of mocha goodness and every taste.
This Coffee caramel cake reminds me of the iced coffees that I normally drink only it's better because it lasts longer. If you love coffee as much as I do, then you really need to try this amazing coffee poke cake. You won't believe how easy it is and how decadent and rich every bite is.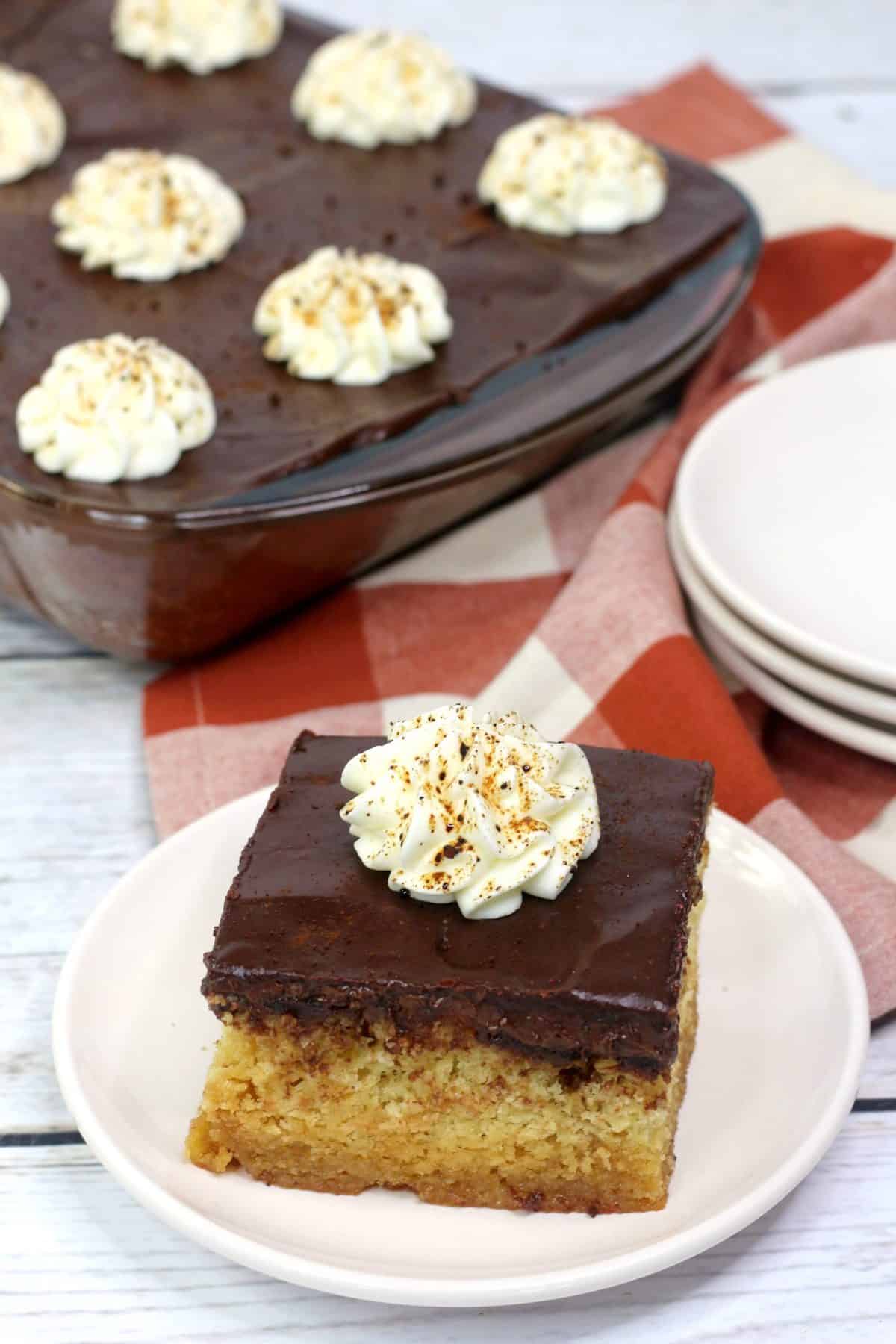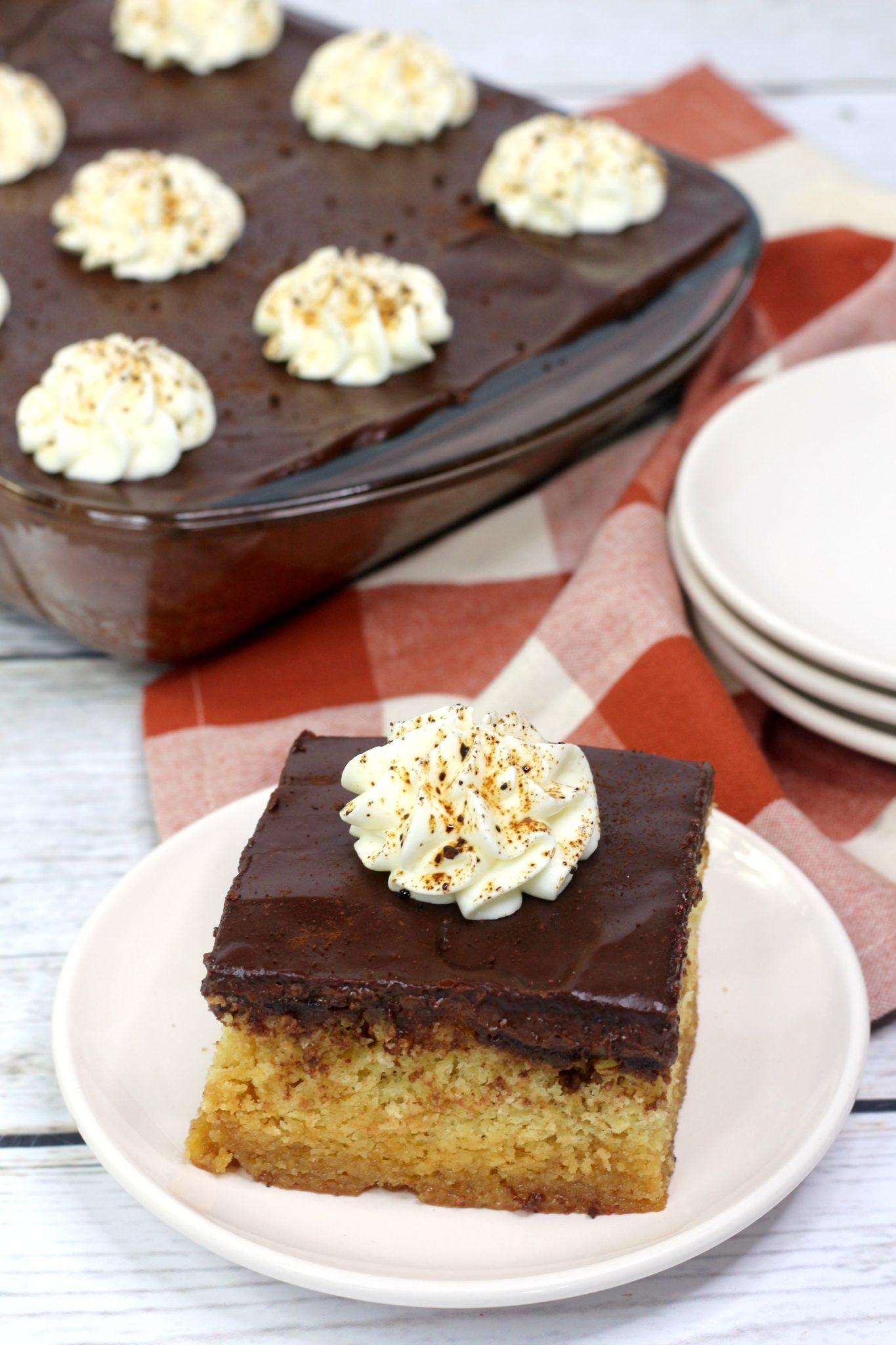 Oh, and the best part is the homemade frosting is so good you could eat it with a spoon.
Variations to Recipe
There are so many great things you can do with this mocha poke cake. Adding some chocolate chips, white chocolate pieces, pecans, walnuts, or drizzle it with hot fudge sauce. Go wild and do all sorts of fun things with this delicious cake.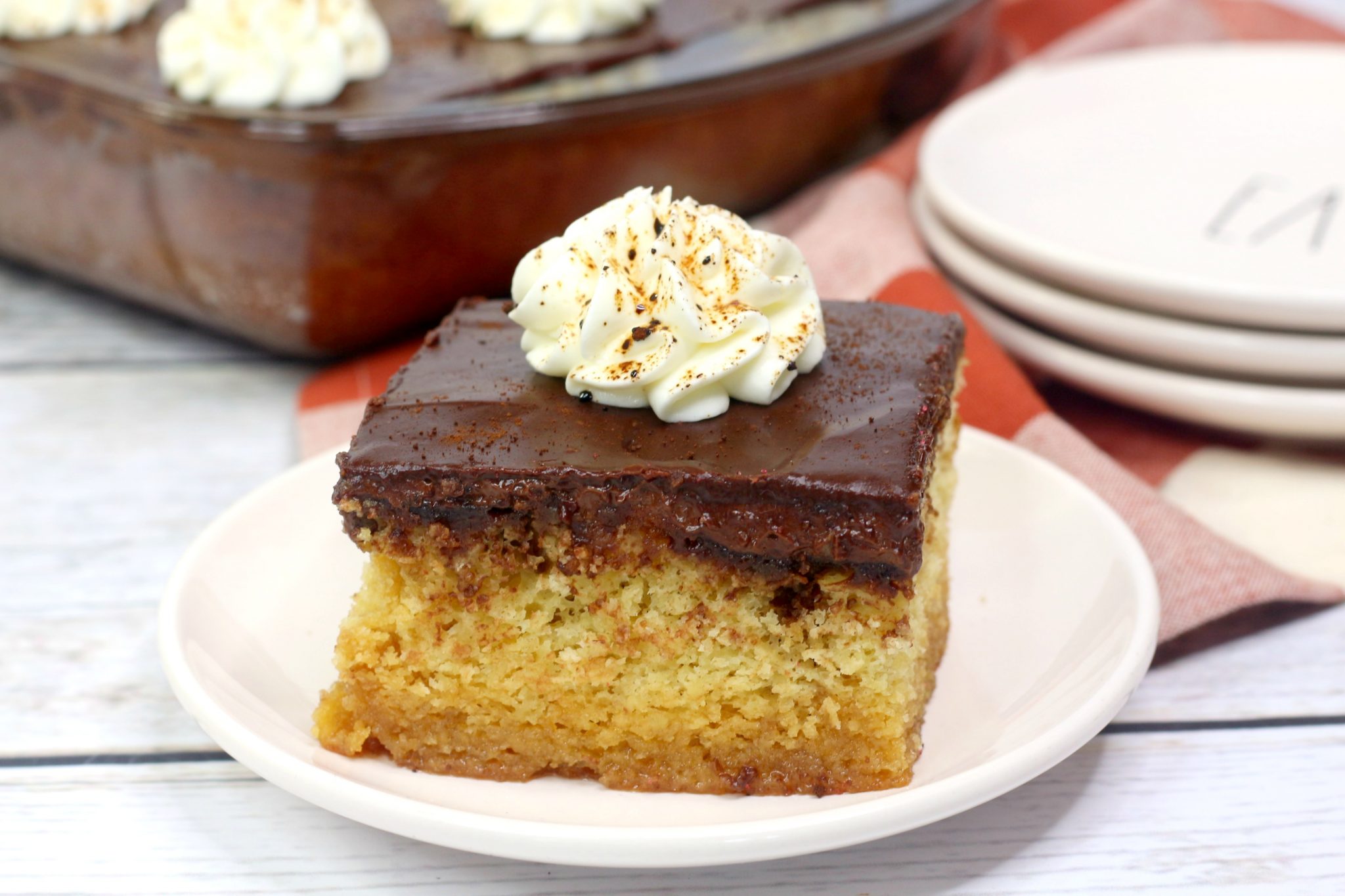 Topping Ideas For Decorating Cake
For the topping, I like to drizzle a little bit of caramel sauce or hot fudge sauce on top. You don't need a lot just a little bit to add some extra pizzazz and charm to the already amazing Cuppa Joe caramel cake.
Another great idea would be to add dollops of whipped cream on each piece as you serve it. Sprinkle some chocolate chips, add some nuts, or eat it plain. No matter how you serve this coffee caramel cake, it is going to win over a crowd.
Can I Make This Into A Layered Cake
Yes, you can make this Coffee caramel cake into a layer cake if you want to. You would need to divide the batter into three 9in baking pans. Spray each one with cooking spray and add parchment paper. The baking time on the cake will be 15 to 20 minutes. Keep an eye on the cake, so they do not burn, and if they need a little extra time, that's okay too. You will follow the rest of the directions, except you will be adding layers of cake on top of each other instead of leaving it all in the pan.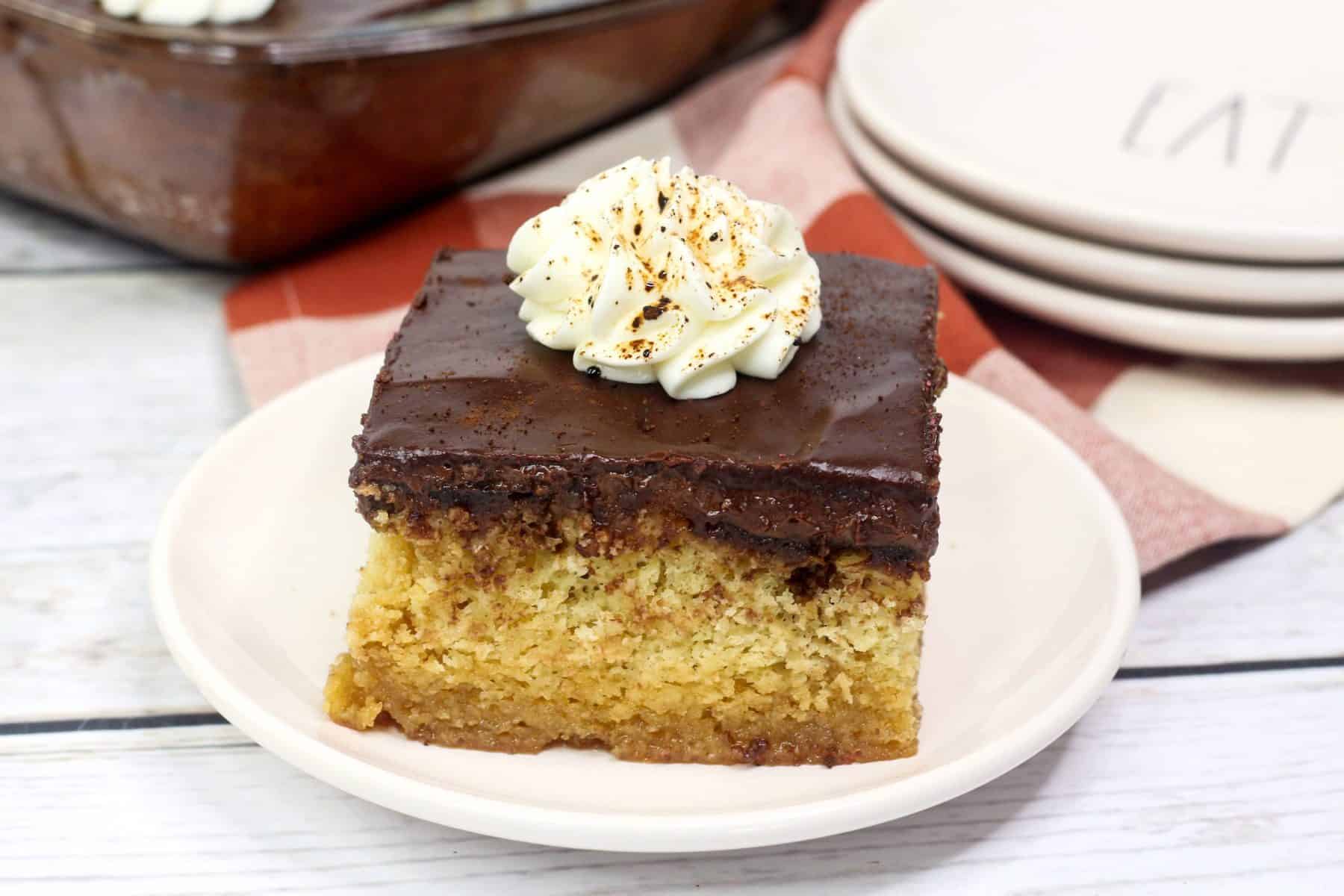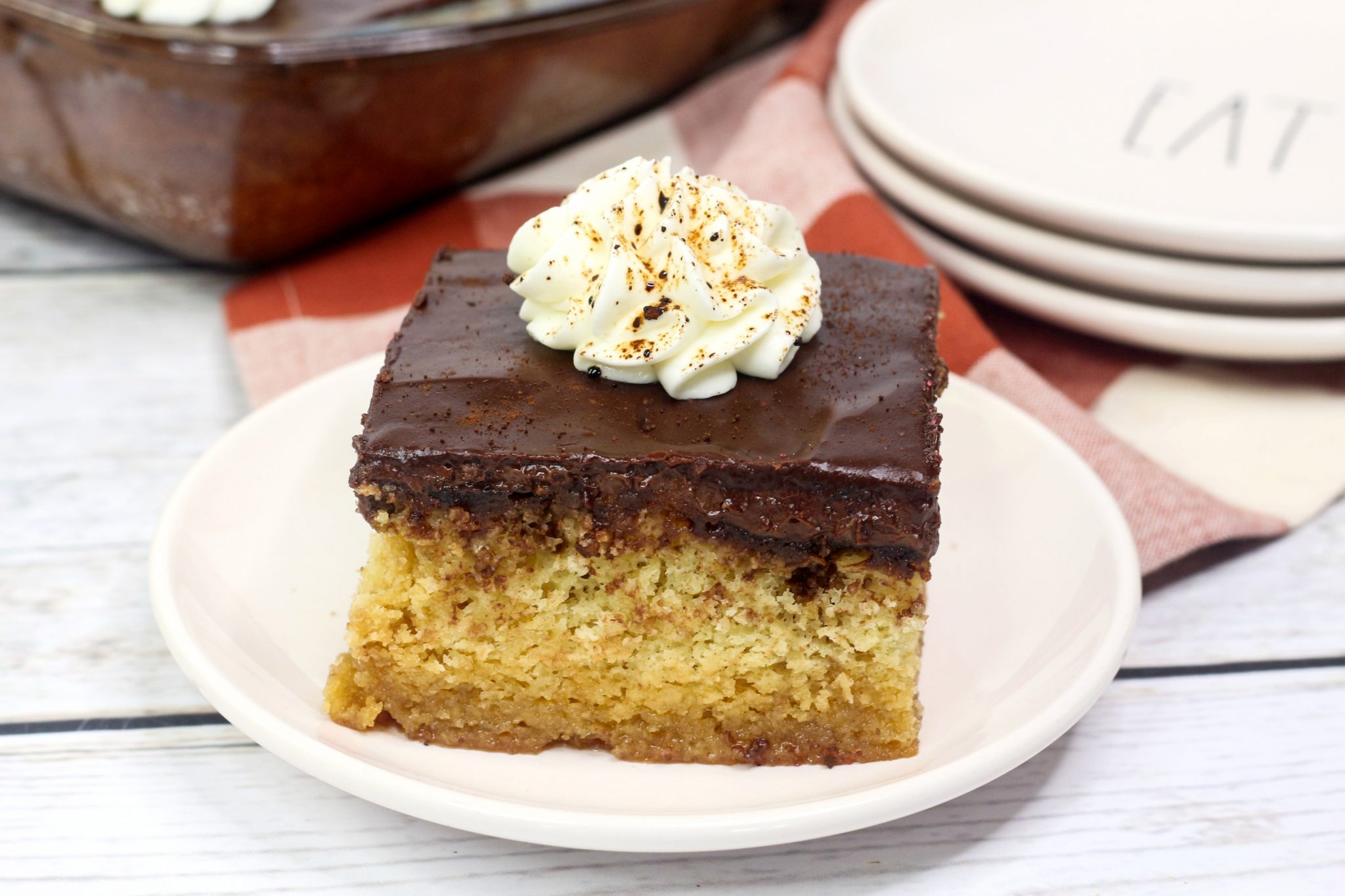 Best Thing To Use For Poking Holes In Cake
The best way to poke holes into this cup of joe caramel cake is by taking a wooden skewer and poking holes all over the top of the cake. If you don't have a wooden skewer, you could also use a fork or the back handle of a wooden spoon.
Storing Cake
The best way to save this mocha poke cake is to keep it refrigerated. The cake will last four to five days if kept in the refrigerator. Plus, it tastes especially good when it is cold.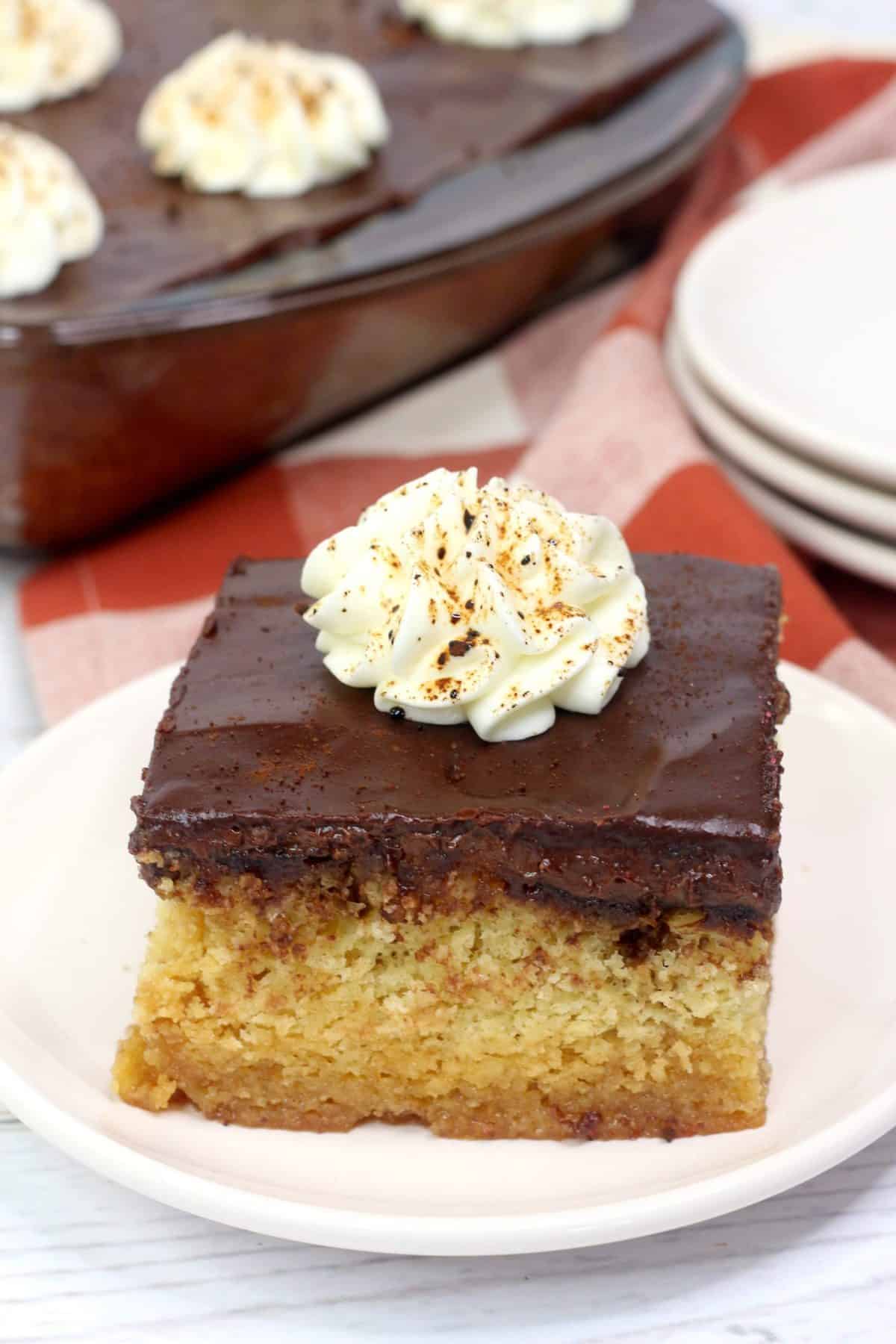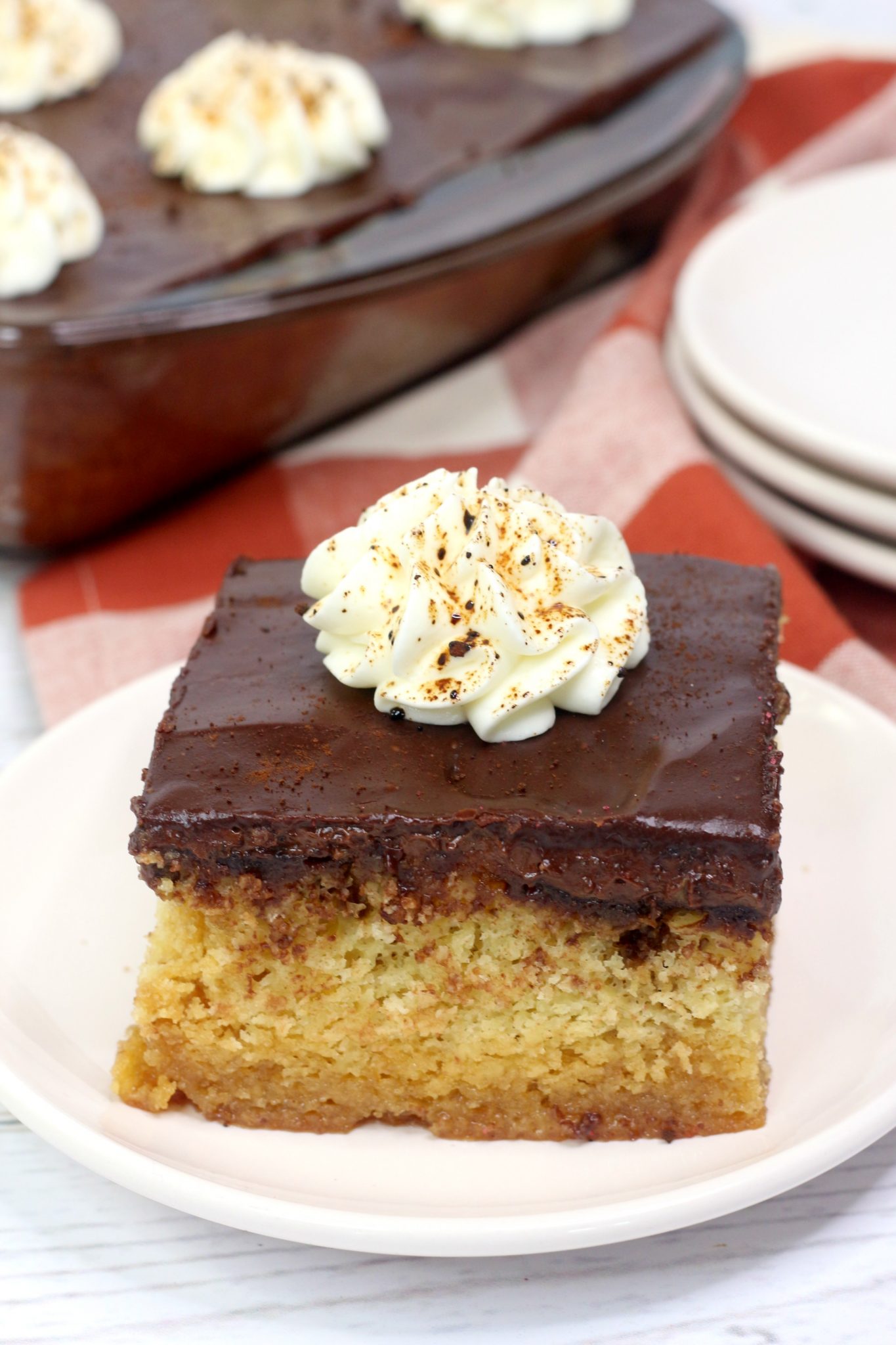 Ingredients
You will find two different sets of ingredients for this mocha cake recipe. The first set of ingredients is for the cake itself. The second set is for the homemade mocha frosting. Don't worry; all the ingredients are super simple to work with.
Buttermilk
Instant coffee granules
Butter, softened
Packed brown sugar
Large eggs
Vanilla extract
All-purpose flour
Cornstarch
Baking powder
Baking soda
Salt
Ground nutmeg
Caramel ice cream topping
Frosting:
Baking cocoa
Instant coffee granules
Boiling water
Butter, softened
Confectioners' sugar
Semisweet chocolate chips
How To Make Mocha Poke Cake
Step 1: Begin by microwaving the buttermilk for 30 to 45 seconds or until it is warm.
Step 2: Add in the coffee granules in the mix until all of the coffee has dissolved.
Step 3: Using a stand mixer cream together the brown sugar and butter until they are light, fluffy, and creamy.
Step 4: Carefully, add the eggs one at a time. Be sure to beat them after each addition. Add in the pure vanilla extract.
Step 5: In a separate bowl, mix together the flour, cornstarch, baking powder, baking soda, salt, and nutmeg. Use a whisk to stir the ingredients.
Step 6: Slowly add the dry ingredients into the bowl of wet ingredients. Add in the warm buttermilk and beat the batter until everything is incorporated.
Step 7: Pour the batter into a 13 x 9 greased baking pan.
Step 8: Bake cake at 350 degrees for 20 to 25 minutes. To check doneness, insert a toothpick into the center and make sure it comes out clean.
Step 9: Allow a cuppa joe caramel cake to cool on a wire rack for 5 minutes.
Step 10: Take a wooden spoon handle or wooden skewer and poke holes in the cake all over.
Step 11: Drizzle half of the caramel topping into the holes.
Step 12: Add the remaining caramel topping over the top of the cake and let it cool completely.
How to Make Homemade Frosting
Step 1: Prepare the homemade frosting by combining the cocoa and coffee granules into the boiling water until they have dissolved. Allow the cocoa mixture to cool to room temperature.
Step 2: Combine these butter and powdered sugar in a small bowl until they are light and fluffy.
Step 3: Add and the melted chocolate as well as the cocoa mixture and stir well. Add to the frosting to the cake.
Slice, and enjoy!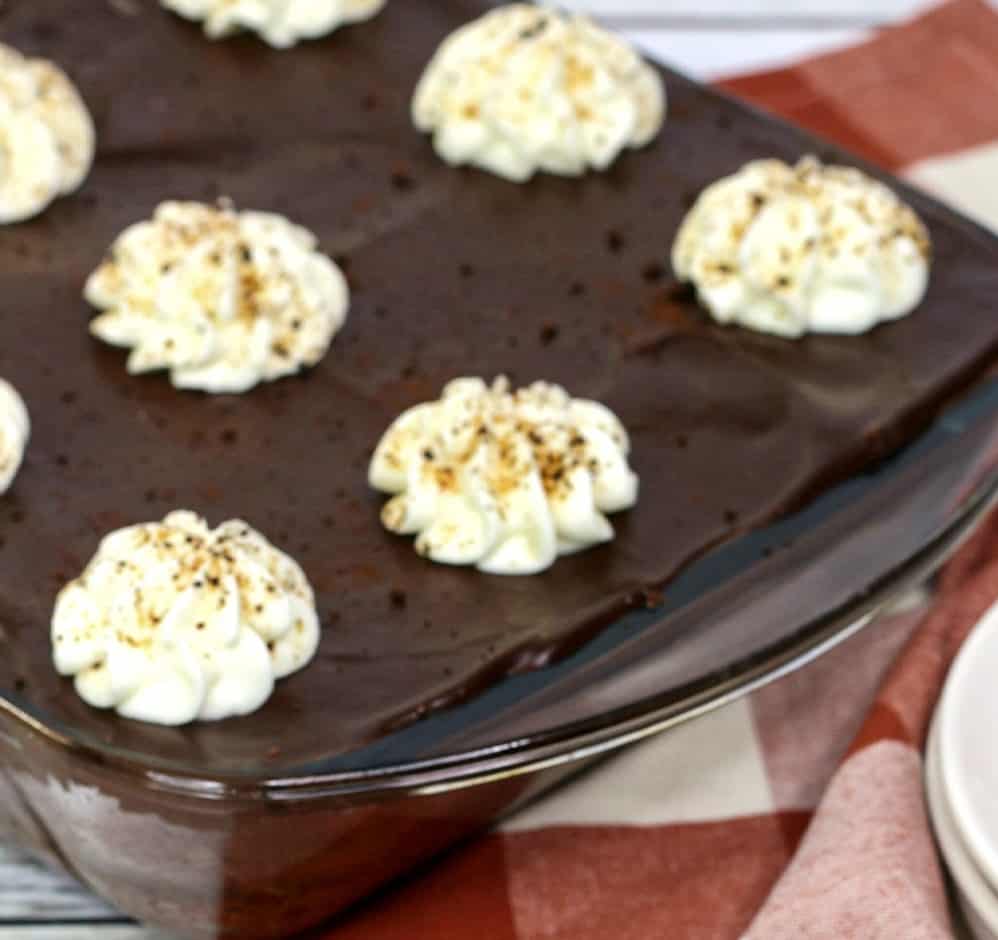 Now, remember to save this recipe on Pinterest for later 🙂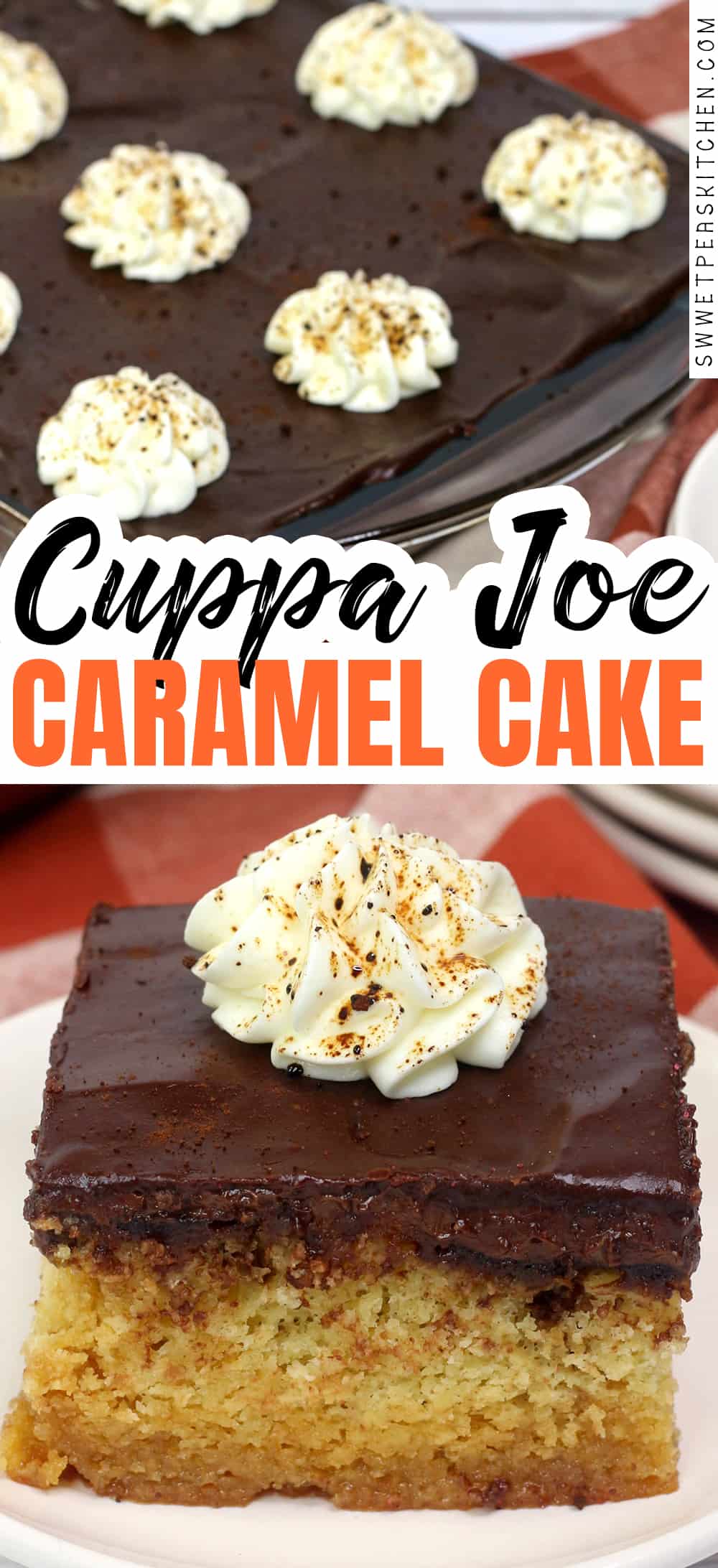 Pin this recipe now to remember it later
Cuppa Joe Caramel Cake
Cuppa Joe Caramel Cake is a mocha poke cake with a twist of caramel in every bite. A refreshing, sweet and coffee packed cake that will win you over with your first bite.
Ingredients
4

TSP

instant coffee granules

3/4

C

caramel ice cream topping

,

divided
Frosting:
2

TSP

instant coffee granules

1/4

C

confectioners' sugar

3/4

C

semisweet chocolate chips

,

melted
Instructions
Start by microwaving the buttermilk for 30-45 seconds or just until warmed.

Stir in coffee granules and mix until all the granules have dissolved.

In a stand mixer or bowl, cream butter and brown sugar until light and fluffy.

Add eggs, one at a time, beating well after each addition. Followed by your vanilla.

Combine the flour, cornstarch, baking powder, baking soda, salt and nutmeg into a small bowl and mix.

Incorporate the dry ingredients to the wet. Add to creamed mixture alternately with buttermilk mixture, beating well after each addition.

Transfer to a greased 13x9-in. baking pan.

Bake at 350 degrees for 20-25 minutes or until a toothpick inserted in the center comes out clean.

Cool the cuppa joe caramel cake on a wire rack for 5 minutes.

Using the end of a wooden spoon handle, poke holes in the cake all over.

Pour 1/2 cup caramel topping into holes.

Spoon remaining caramel topping over cake, cool completely.

For frosting, in a small bowl, stir cocoa and coffee granules into boiling water until dissolved; cool to room temperature.

In a small bowl, cream butter and confectioners' sugar until light and fluffy.

Stir in melted chocolate and cocoa mixture until well combined.

Frost cake.

Serve and enjoy!
Follow me on Pinterest for daily delicious recipes!
I'm excited to share these additional delightful cake recipes with you!
Easy rainbow poke cake – this bright and cheery cake is sure to bring a smile to everyone's face. It's adorable, easy to make, and terrific!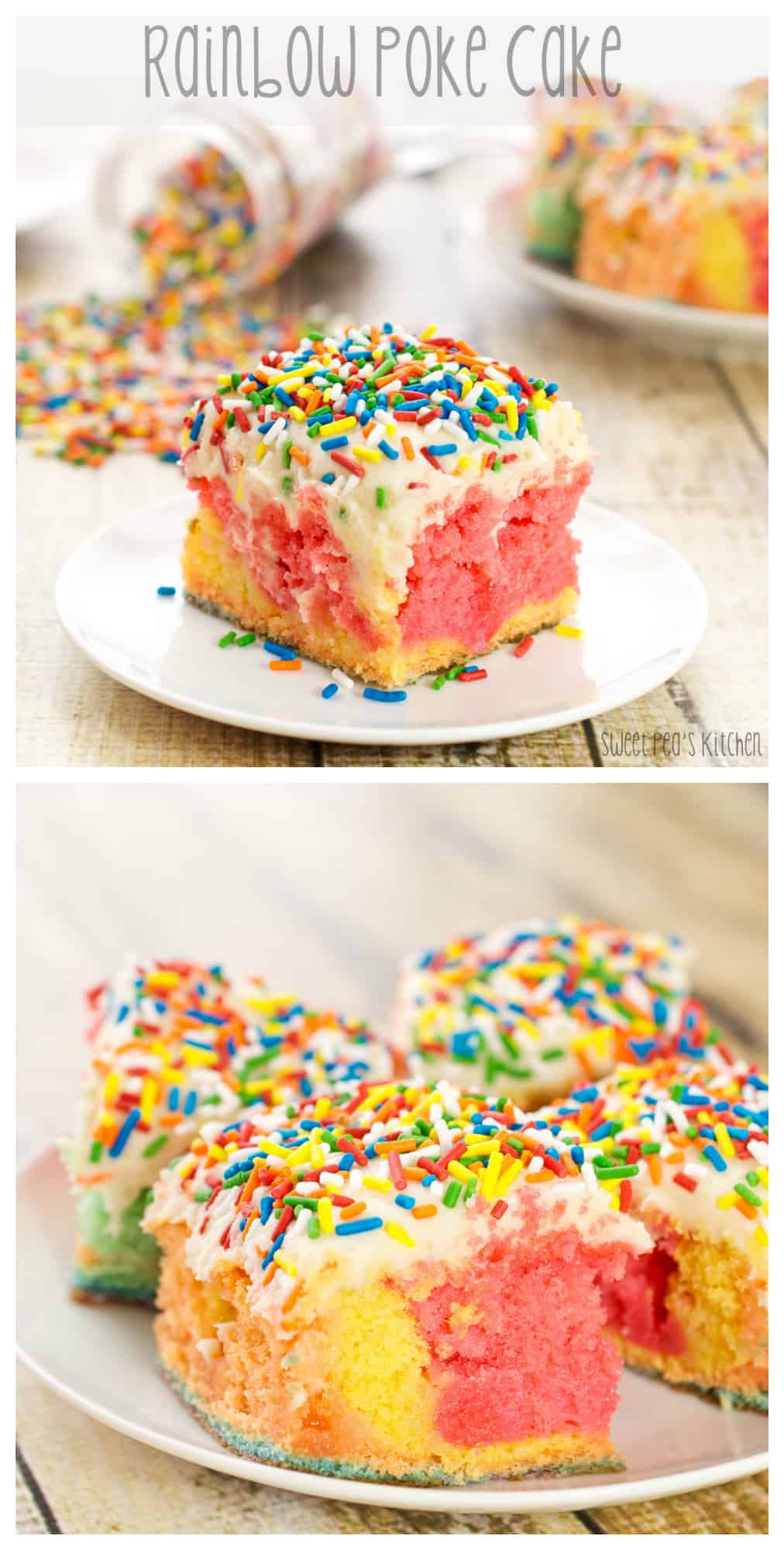 Blackout dark chocolate cake – when you were in the mood for something extra chocolatey, this cake is there to save the day.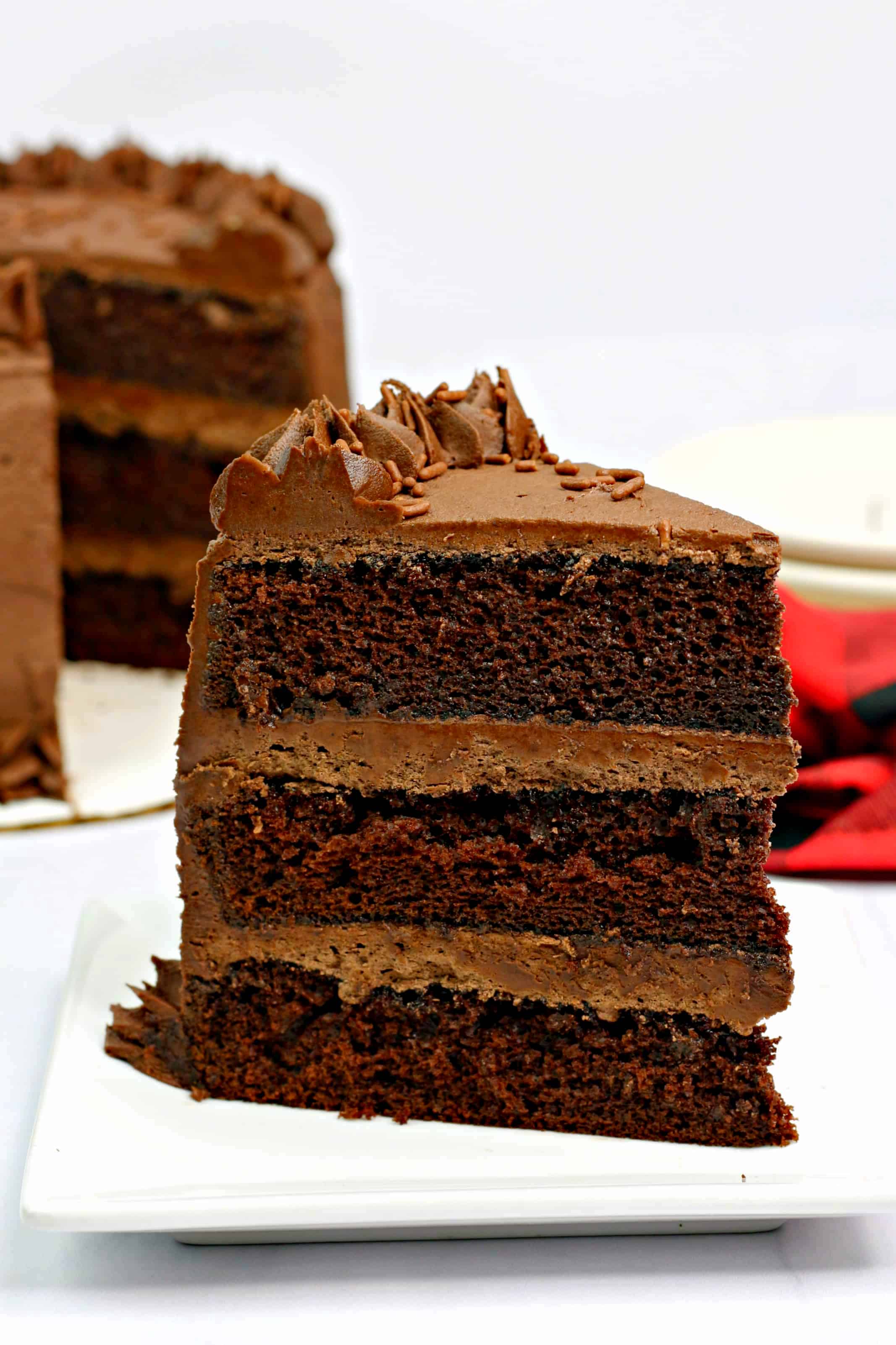 Instant pot pumpkin cake – there is nothing better than the combination of pumpkin and chocolate. You are going to go crazy for this terrific cake recipe.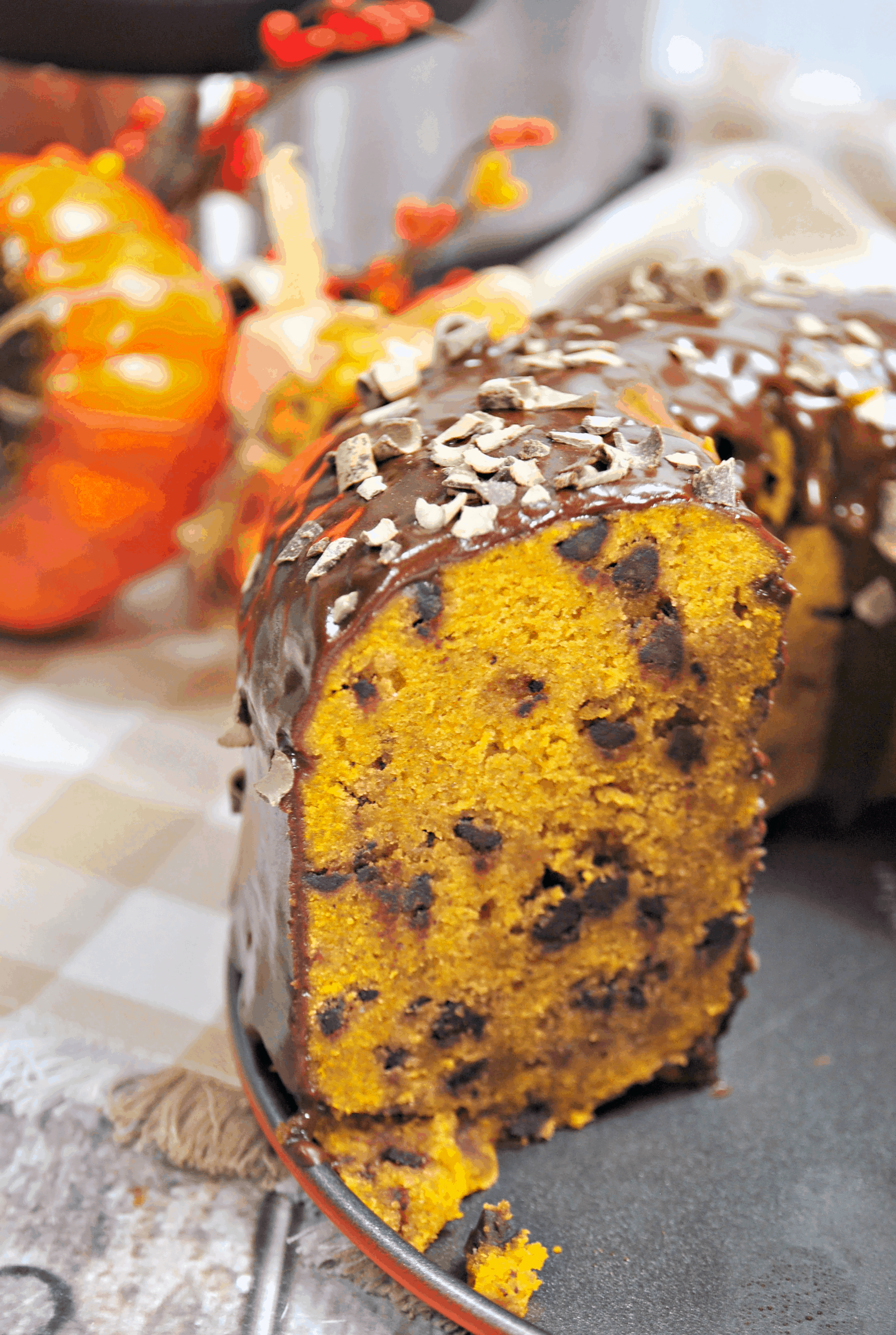 Buttermilk lemon sheet cake – if you're looking to add a little zip to your life, this zesty lemon cake is screaming your name.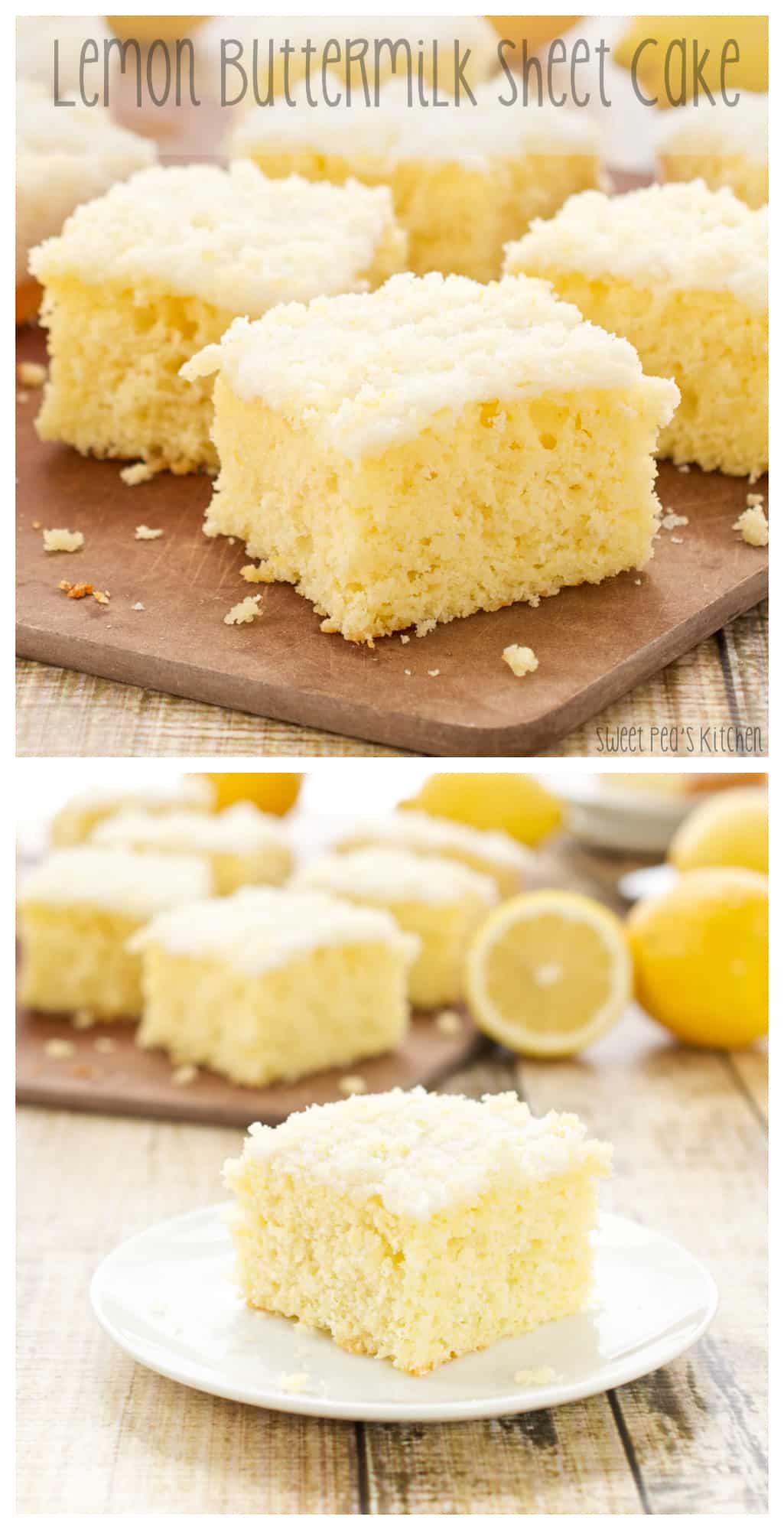 Get new recipes weekly plus our FREE ebook!