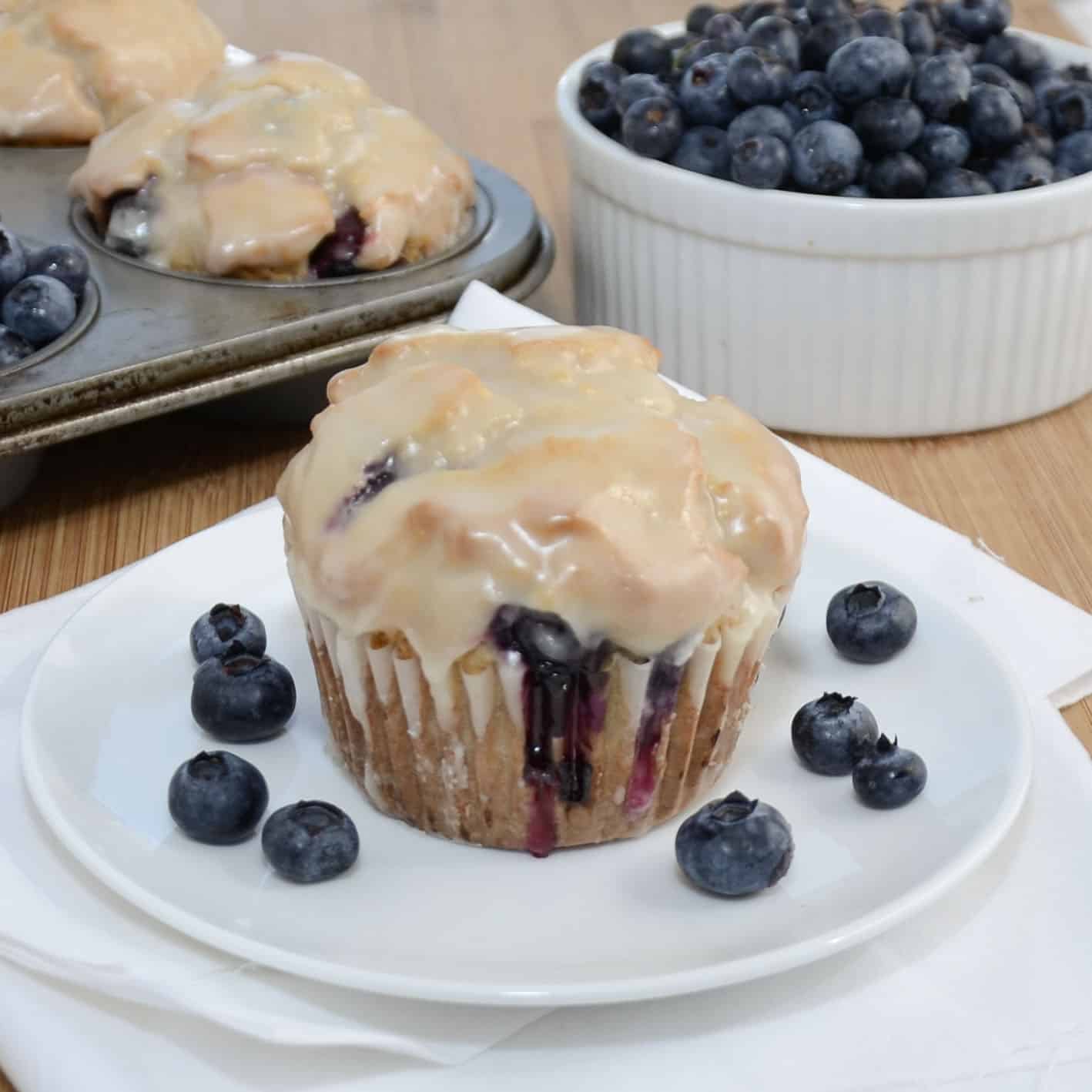 Lemon Blueberry Donut Muffins are lovely in the morning to start the day with. You can easily grab one of these donut muffins on the way out the door. These fluffy breakfast blueberry lemon muffins are soft, tasty, and have the best lemon glaze on top that you will ever taste.
Scroll to bottom for printable recipe card.
Lemon Blueberry Donut Muffins
I make blueberry muffins a lot during the summer months. Usually, I make my favorite recipe, but sometimes a recipe comes along that just makes me want to run into the kitchen and bake. That is exactly what happened with I saw the recipe for Blueberry Doughnut Muffins over on My Baking Addiction. Just the name itself made my mouth water! Tender muffins bursting with plump blueberries and double dipped in a sugary lemon glaze goodness. I can't wait to try these with raspberries or blackberries…who knows, maybe I will get crazy and try a triple berry blend! 😉 These rich muffins were such a hit with my family; I know I will be making them over and over again.
How to Make Glaze For Topping
This lemon glaze is seriously so simple to make. All you need to do is combine the sugar, vanilla, lemon juice, melted butter, and water together. Whisk and drizzle on the donut muffins. It's that easy, can you believe it?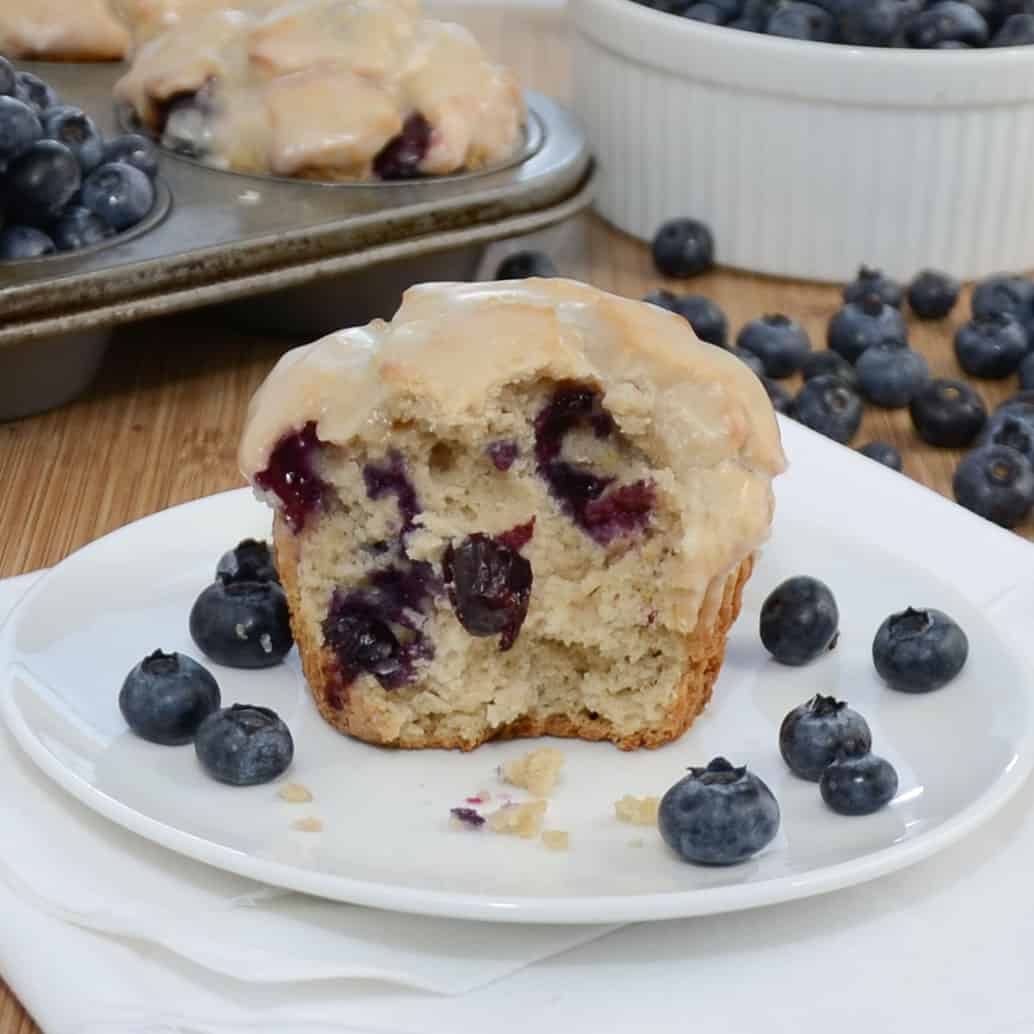 Variations To Recipe
Try out some new fun flavors in these donut muffins. They are easy to adjust and add in other goodness! Check out these ideas.
White chocolate – I love white chocolate with blueberries. So it just makes sense to add in some to the batter. Fold in 1/4 cup or 1/2 cup depending on how much you want.
Nuts – Sprinkle in some pecans, walnuts, or chopped almonds to the batter. I enjoy a nice crunch in the muffins every once in a while.
Strawberries – Turn these lemon blueberry donut muffins into an easy double berry muffin. Using strawberries with blueberries and lemon is a flavor you aren't going to want to miss.
Can I use Frozen Blueberries?
Yep, frozen blueberries will be wonderful to use. I usually use fresh, but that's because our market has them on sale frequently. I have used frozen blueberries in a pinch from time to time, and they turn out just as incredible.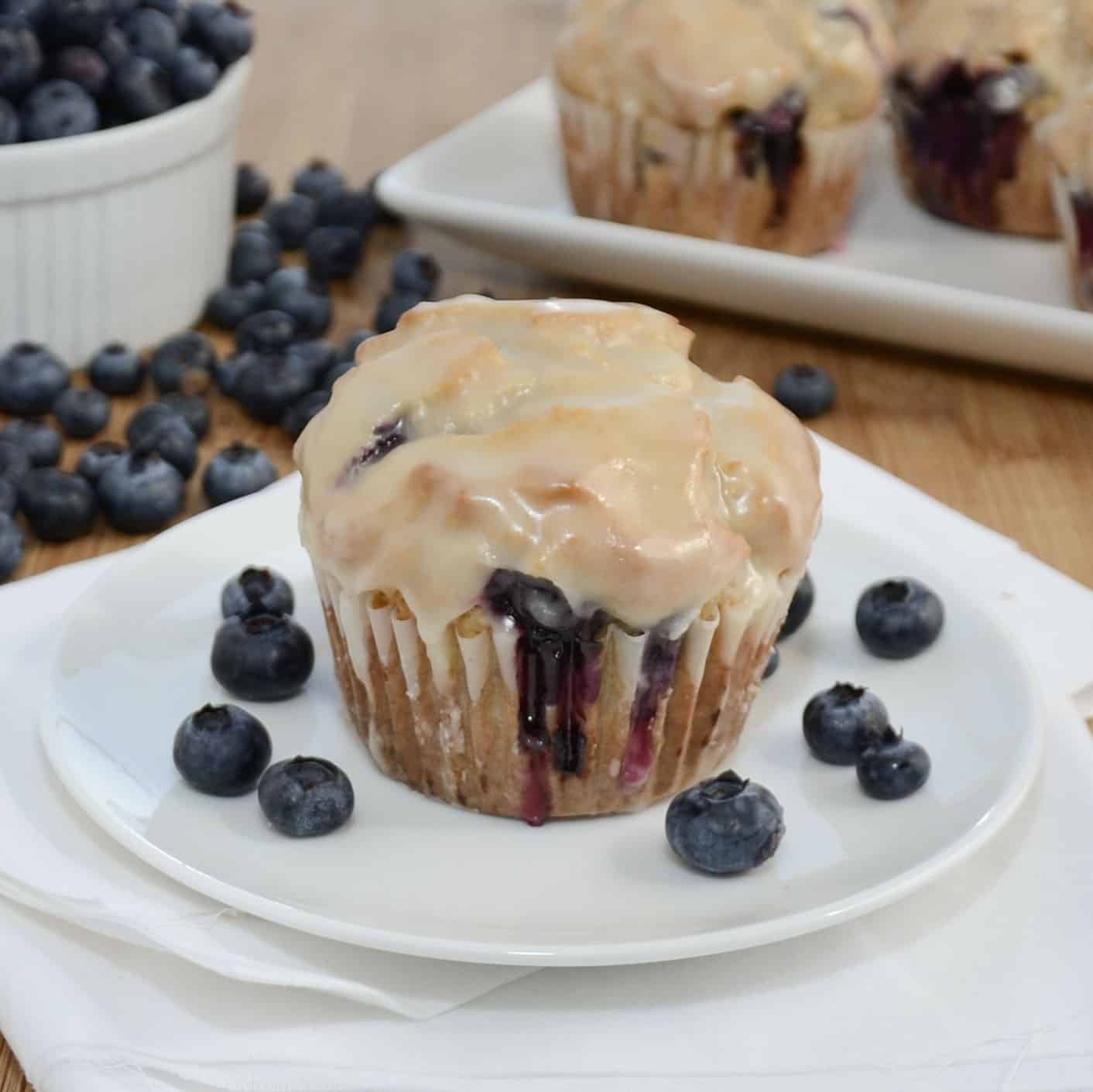 Could I Swap Blueberries For Raspberries
Oh, of course! Blueberries are awesome in these breakfast blueberry lemon muffins, but raspberries would also be a great addition too. Give them a try, and you are bound to enjoy them too.
Storing Donut Muffins
You'll need to store the donut muffins in an airtight container for the best results. They won't last long at all if you leave them sitting out or refrigerate them. Room temperature is the way to go. They will last around 3-4 days at room temperature. You will find that as the muffins sit, they will get some extra condensation on them. This is totally normal, and they are safe to eat as long as there isn't any mold or anything.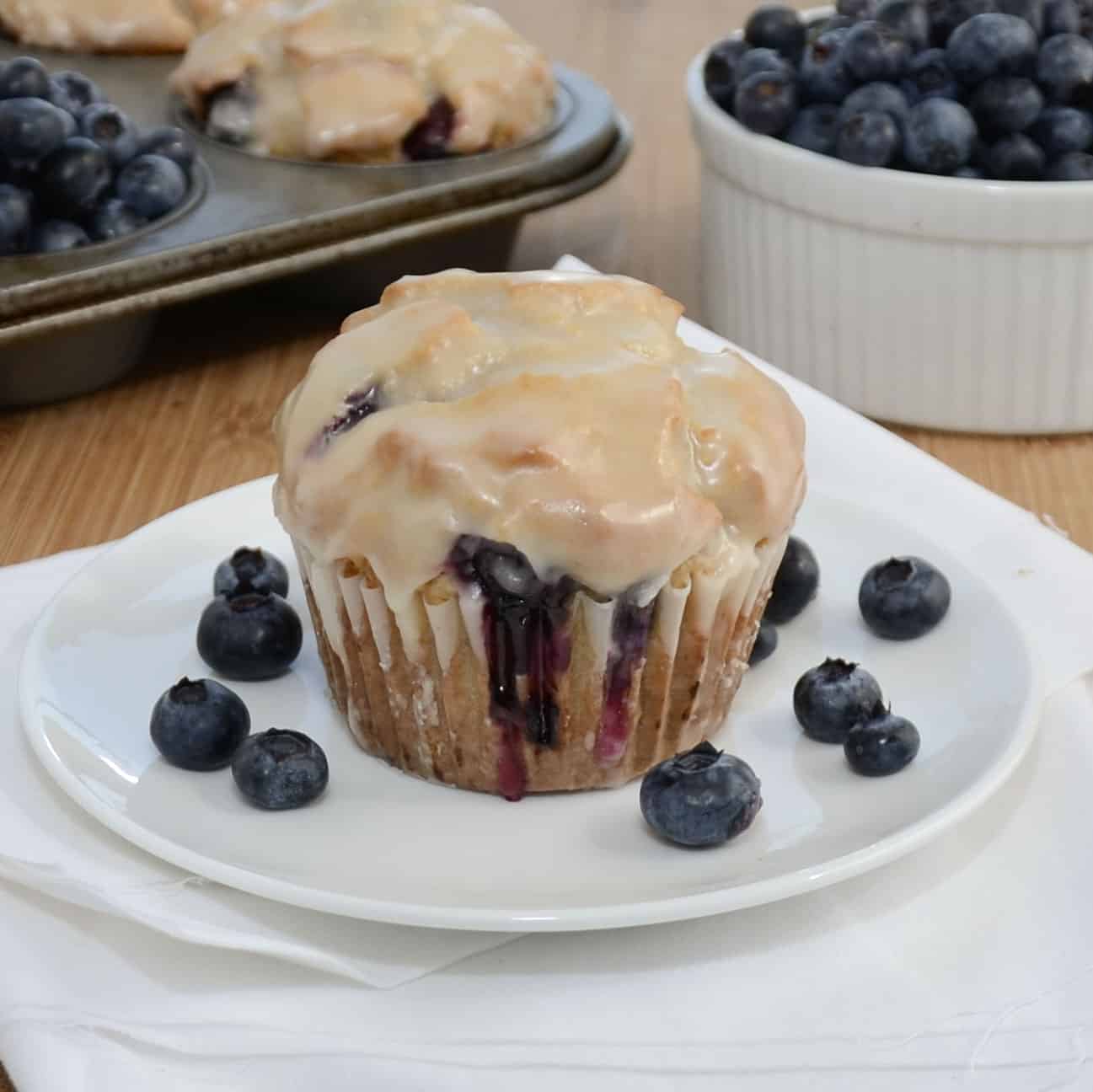 Can You Freeze These Donut Muffins
Yep, these lemon blueberry donut muffins are great for meal planning and freezing. Whip up a batch and let them cool down all the way. Once they are cooled, then you can put them in a container and freeze for up to three months. Place on the counter to defrost right before eating.
Ingredients
Zest of 2 lemons
Granulated sugar
Baking powder
Baking soda
Cinnamon
Salt
All-purpose flour
Butter softened
1Vegetable oil
Light brown sugar
Large eggs
Pure vanilla extract
Milk
Fresh blueberries
For the Glaze:
Butter, melted
Confectioners' sugar; sifted
Vanilla
Lemon juice
Hot water
How to Make Lemon Blueberry Donut Muffins
First Step: Heat up the oven to 425 degrees and line a muffin tin with 12 muffin liners. Or if you would rather use non-stick cooking spray, that is fine as well.
Second Step: Mix together the lemon zest and granulated sugar in a small bowl. Take your fingertips to help incorporate the lemon zest into the sugar. Mix until it's moist and fragrant.
Third Step: Combine the baking powder, cinnamon, baking soda, flour, and salt in a small bowl. Set it aside.
Fourth Step: Use a stand mixer that has a paddle attachment. Combine the butter, lemon sugar mixture, and brown sugar together using medium high speed. Beat the mixture until it becomes light and fluffy. Then add in one egg at a time and mix. Pour in the vanilla and the vegetable oil until they are combined. Slowly mix in the flour and milk. Alternate back and forth between the two until they have all been mixed in. Gently fold in the blueberries.
Fifth Step: Add the blueberry donut muffin batter to the 12 muffin cups. Smooth out the tops and bake for 15-17 minutes or until the top are pale and starting to brown and seem springy to the touch. Rotate the muffins halfway through the baking time. Let them cool in the muffin tin for 5 minutes, then place them on a wire rack to cool for an additional 10 minutes.
Sixth Step: Prepare the lemon glaze by mixing the butter, sugar, vanilla, water, and lemon juice together. Whisk until there aren't any lumps.
Seventh Step: After the muffins are cool, go ahead and dip the top of the muffin into the glaze and let it sit to harden. After it's hard to go ahead and dip one more time, let them sit for a few minutes to let it harden again, then serve.
Enjoy!
Now, remember to save this recipe on Pinterest for later 🙂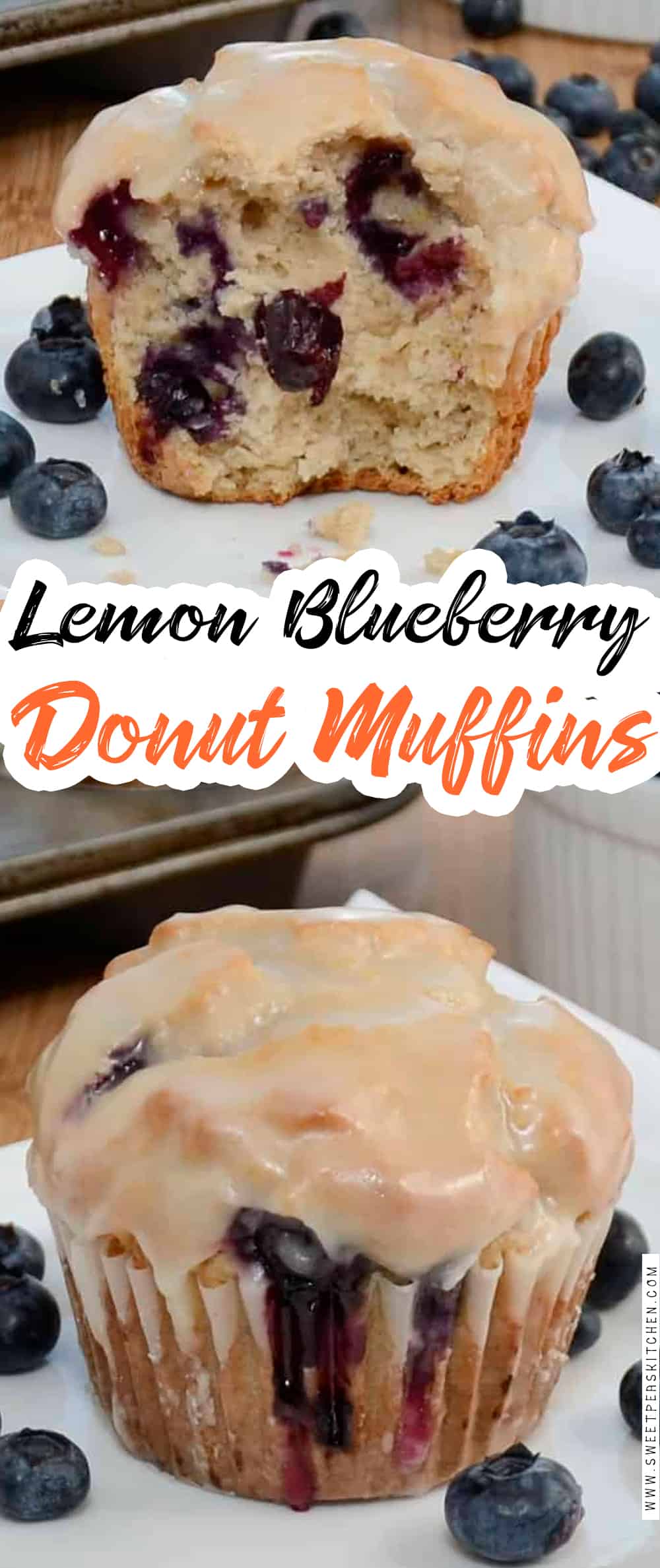 Pin this recipe now to remember it later
Lemon Blueberry Doughnut Muffins
Lemon Blueberry Donut Muffins are lovely in the morning to start the day with. These fluffy breakfast blueberry lemon muffins are soft, tasty, and have the best lemon glaze on top that you will ever taste.
Ingredients
Zest of 2 lemons
1 ½

teaspoons

baking powder

2 ⅔

cups

all-purpose flour

1/3

cup

light brown sugar

1

teaspoon

vanilla extract

1 ⅓

cup

fresh blueberries
For the Glaze:
3

tablespoons

butter

,

melted

1

cup

confectioners' sugar; sifted
Want to save this recipe? Enter your email below and we'll send the recipe straight to your inbox!
NOTE: By saving this recipe, you agree to join our weekly recipes newsletter.
Instructions
Preheat oven to 425 degrees F. Line 12 muffin cups with muffin liners or spray with nonstick cooking spray.

In a small bowl, combine the lemon zest and granulated sugar. Use your fingertips to incorporate the zest into the sugar until it is moist and fragrant.

In a small bowl, whisk together the baking powder, baking soda, cinnamon, salt and flour; set aside.

In the bowl of a stand mixer fitted with the paddle attachment, beat butter, lemon sugar and brown sugar on medium-high speed until light and fluffy, about 2 minutes. Beat in eggs, one at a time, vanilla and vegetable oil until just combined. Stir in the flour mixture into the butter mixture alternately with the milk, beginning and ending with the flour until just combined (do not overmix or muffins will be tough). Fold in the blueberries.

Divide batter equally among prepared muffin cups, smoothing the tops. Bake until muffin tops are a pale golden and springy to the touch, 15 to 17 minutes, rotating halfway through baking time. Cool muffins in muffin tin for 5 minutes, then transfer to wire rack and cool 10 minutes before glazing.

To make the glaze, In a medium bowl mix together the melted butter, confectioners' sugar, vanilla lemon juice and water. Whisk until smooth.

When muffins have cooled slightly, dip the muffin crown into the glaze and allow the glaze to harden. Once hardened, dip a second time and allow to harden then serve.
Nutrition
Serving:
1
g
|
Calories:
322
kcal
|
Carbohydrates:
48
g
|
Protein:
5
g
|
Fat:
13
g
|
Saturated Fat:
5
g
|
Polyunsaturated Fat:
7
g
|
Cholesterol:
50
mg
|
Sodium:
298
mg
|
Fiber:
1
g
|
Sugar:
24
g
Follow me on Pinterest for daily delicious recipes!
I feel like muffins are all around the best breakfast ever. Here are a few of our favorite muffin recipes.
Banana Nutella Muffins – The combo of Nutella and banana is mindblowing good. They are so tasty and quick to make up too.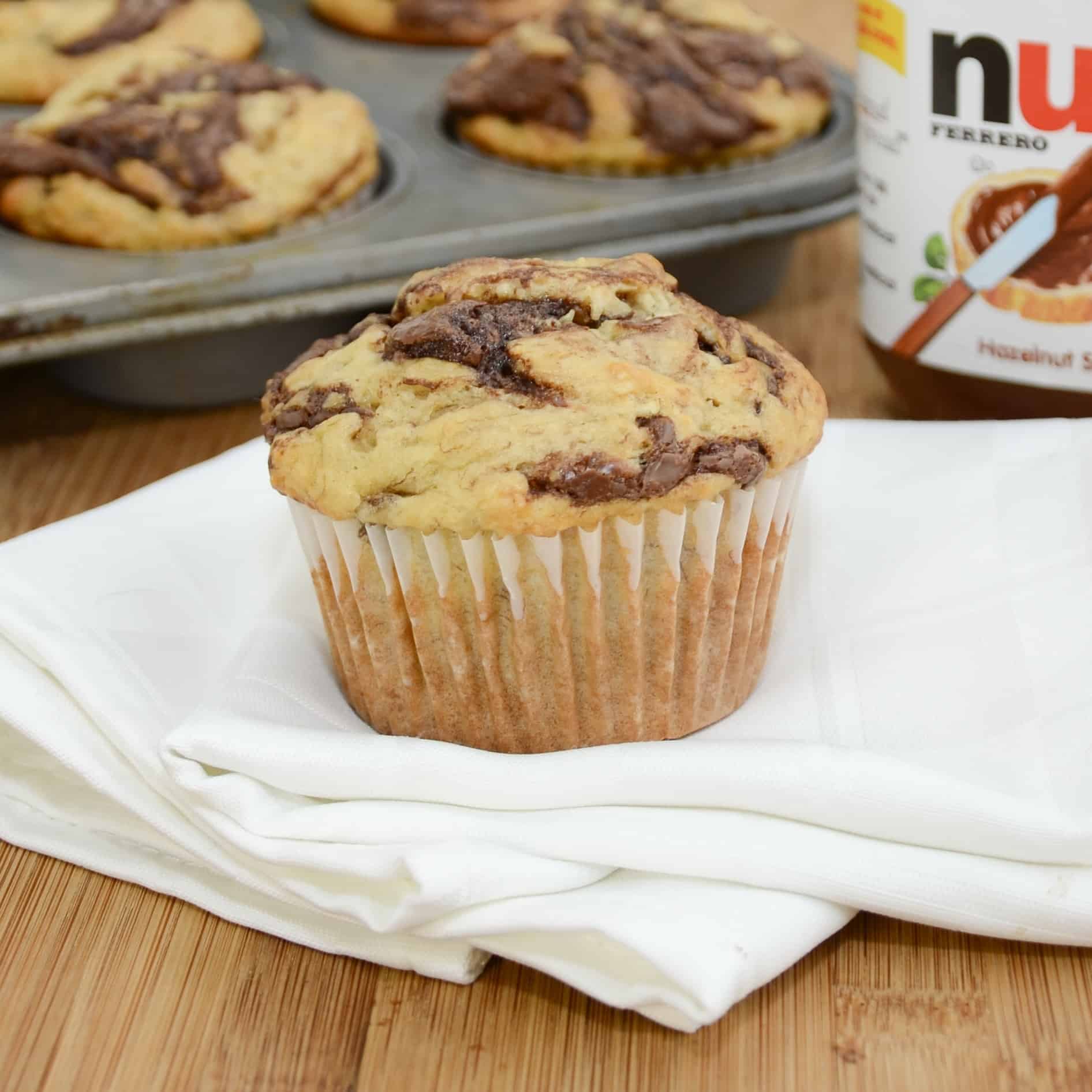 Glazed Donut Muffins – Donuts and muffins combined together to create an explosion of flavors in your mouth. Check them out!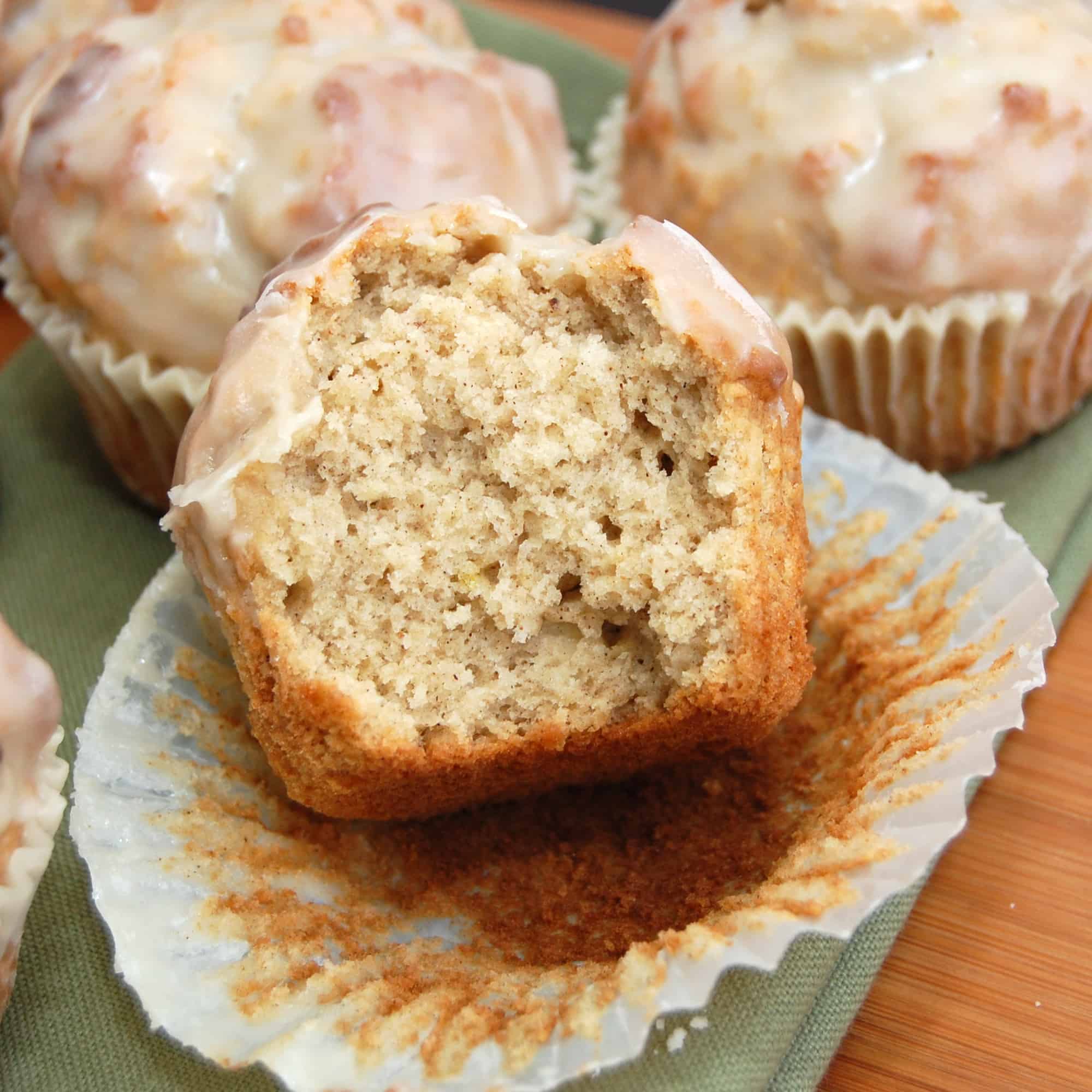 Double Chocolate Cherry Muffins – If you are a fan of all things chocolate and cherry, you should really make a batch of these double chocolate cherry muffins.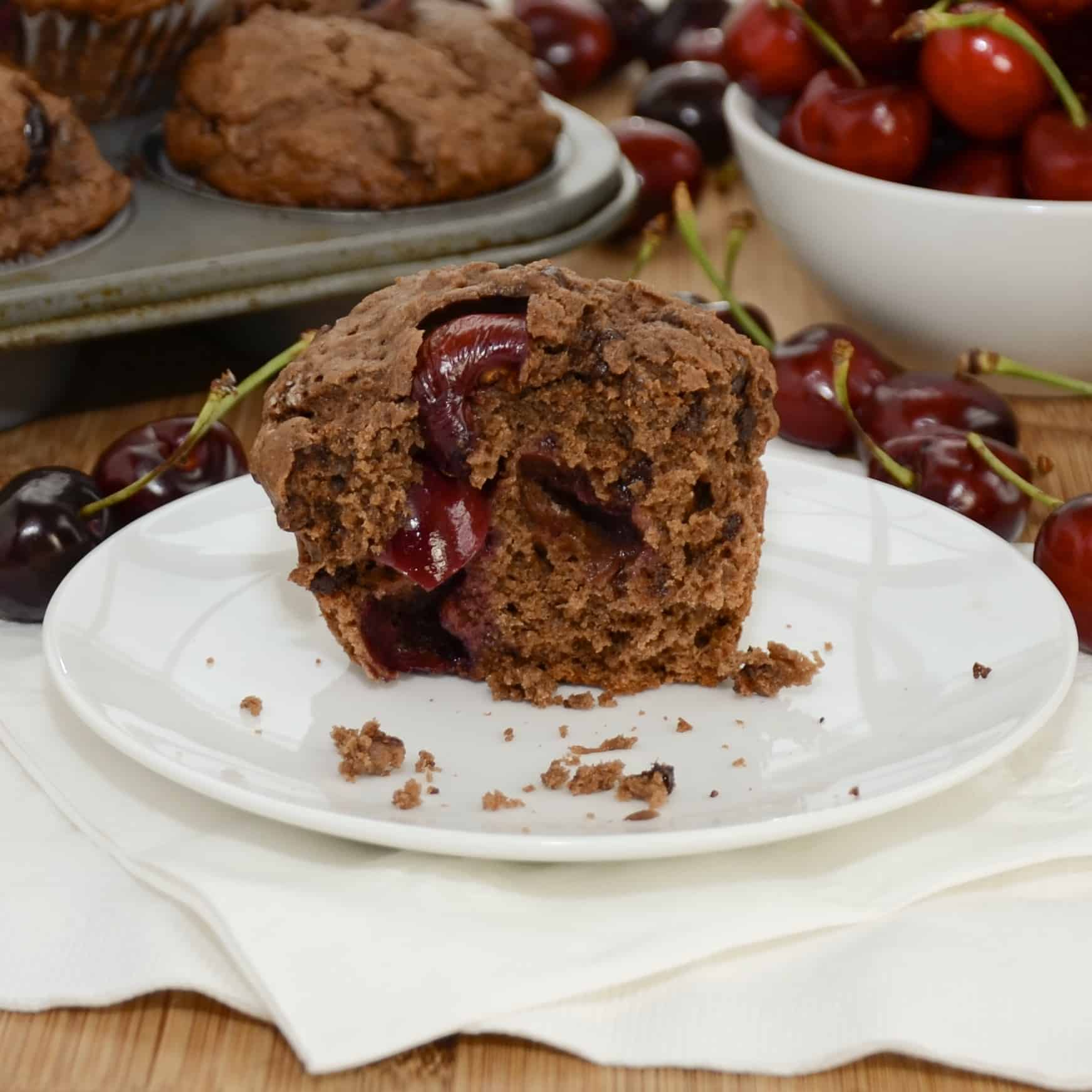 Maple Syrup Pancake Muffins – You will get the best of both worlds in these breakfast muffins. Pancakes and muffins are the perfect combinations together.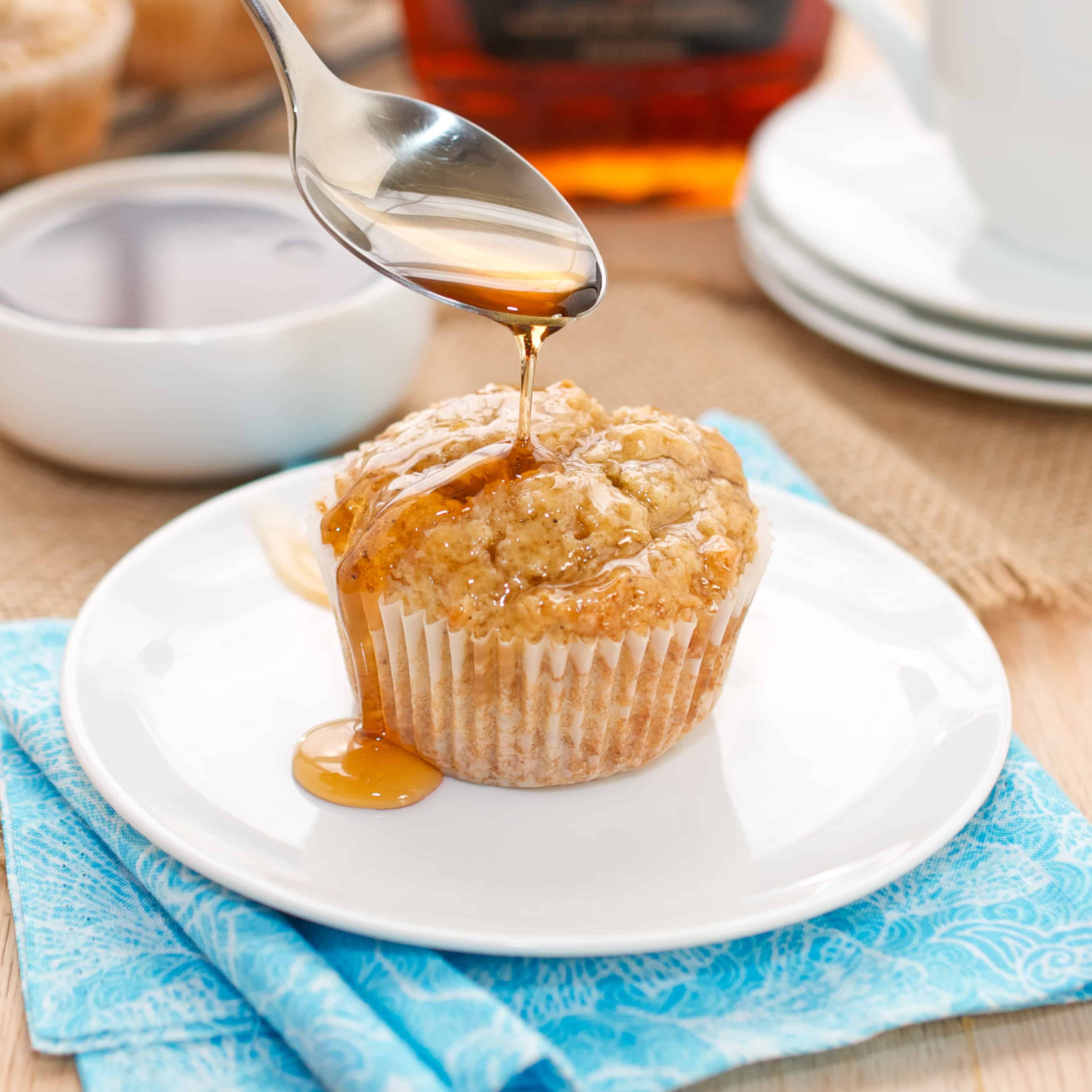 Get new recipes weekly plus our FREE ebook!