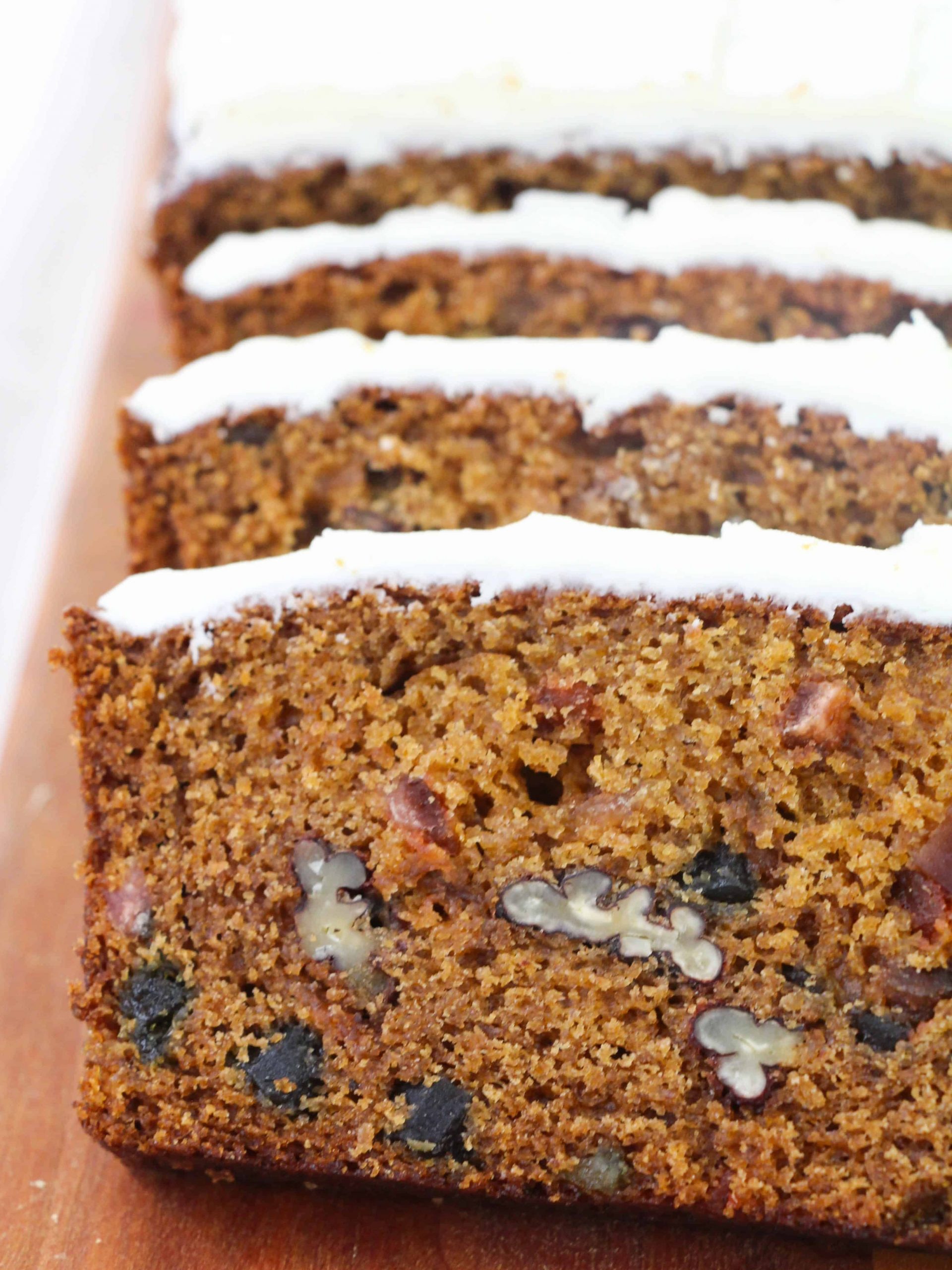 This Easy Fruit Cake Recipe is just like what you grew up eating! It's so simple to make, and you'll feel like a kid again visiting grandma when you bite into it.
It's filled with nuts, and spices, and is topped with a flavorful cream cheese icing that's a show stopper. Not only is this fruit cake recipe perfect for making for yourself, but it's also a lovely gift idea around the holidays too.
Easy Fruit Cake Recipe
When I talk about delicious fruitcakes growing up, I don't mean that boxed stuff that the grown-ups tried to make you eat as a kid. I'm talking about homemade fruit cake that's moist, flavorful, and has the perfect amount of spices. That is what you are going to get with this fruit cake recipe.
Whether you are feeding this dessert to kids or adults, they will all want seconds. I often make a second fruit cake when I take them to events or gatherings because I know it's going to get gobbled up so fast. The cream cheese icing is so good you could eat it by itself, and it's the perfect topping for this moist fruit cake.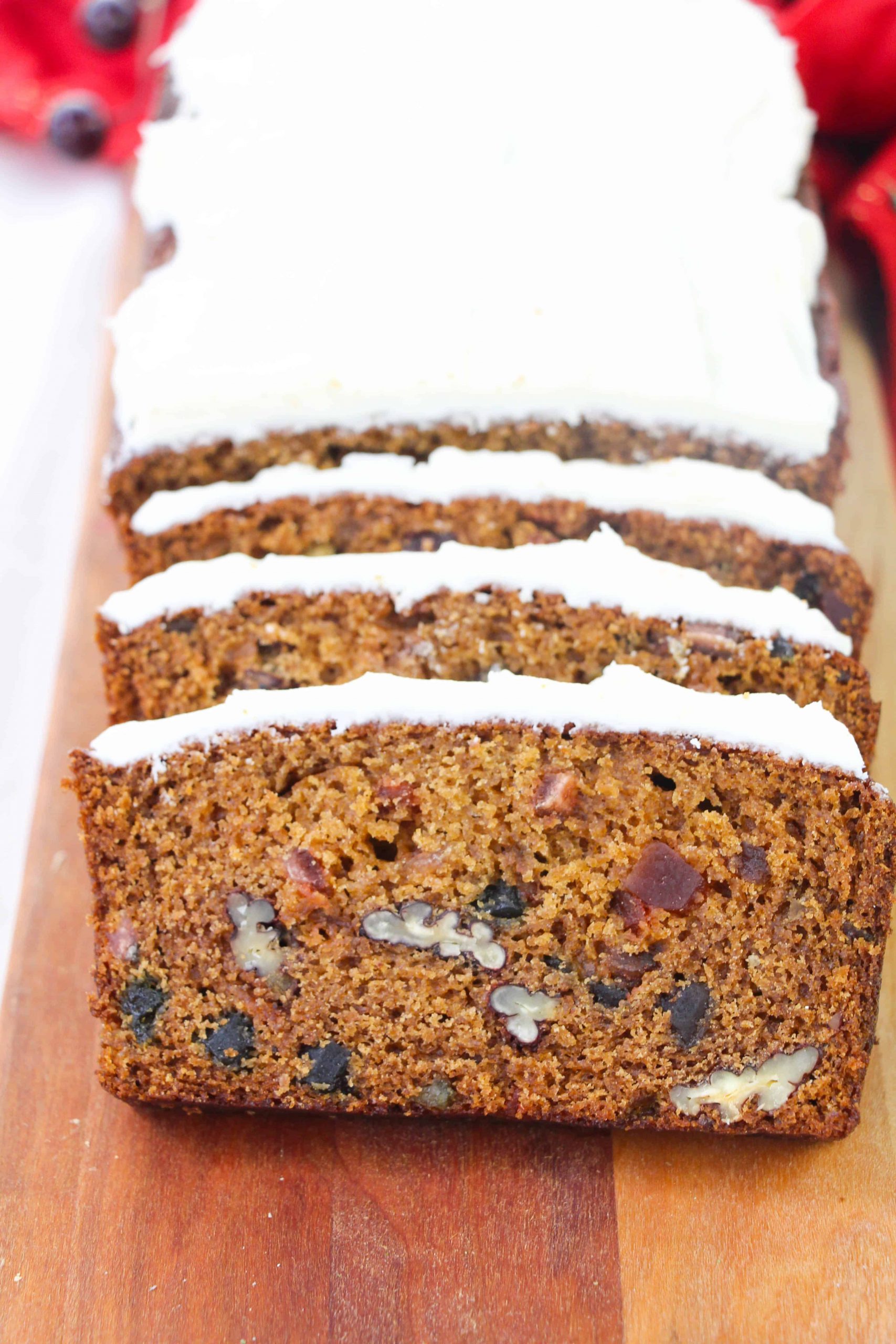 Can I Add Rum to This Fruit Cake?
Yes, you can add rum to this fruit cake recipe, and it tastes amazing! For years, people have been adding rum to their desserts, especially fruit cake. It's best to use a dark rum when making this easy fruit cake dessert. It will bring you the most flavor and also brings out the sweetness in the fruit even more.
To add rum to the fruit cake, you can do it a couple of ways. You can soak the candied peel in a bowl with rum and let it sit for 24 hours. This will allow it to soak up lots of the yummy rum flavor and add depth to the cake. Another option is as soon as you take the freshly baked fruit cake out of the oven, you brush the top with rum. It will soak down into the cake and be irresistible. You can do a combination of both methods as well.
Do I Have to Add Icing to My Homemade Fruitcake?
No, you do not have to add icing to this homemade fruitcake. It's completely fine to skip making the cream cheese icing altogether. It's your cake, so you can feel free to make any adjustments you see fit to match your needs. Leave the fruitcake without icing, or make half the icing and drizzle a little bit on top. Either way, it's entirely up to you.
Do You Have to Use Candied Fruit in Fruitcake?
No, you do not have to use candied fruit in this fruitcake recipe. I use the candied peel in this fruitcake because I love the flavor and texture it gives the cake. You may find you prefer it without any candied peel, and if that's the case, that's more than fine. You could make a couple of cakes and try it both ways to see which you prefer.
Thankfully, this moist cake has TONS of flavor, whether you add candied peel or fruits to it. The nuts that you use will add a fantastic crunch that's not overwhelming. And the spices make it something you won't forget. So, it's entirely your decision if you want to add fruit or skip it.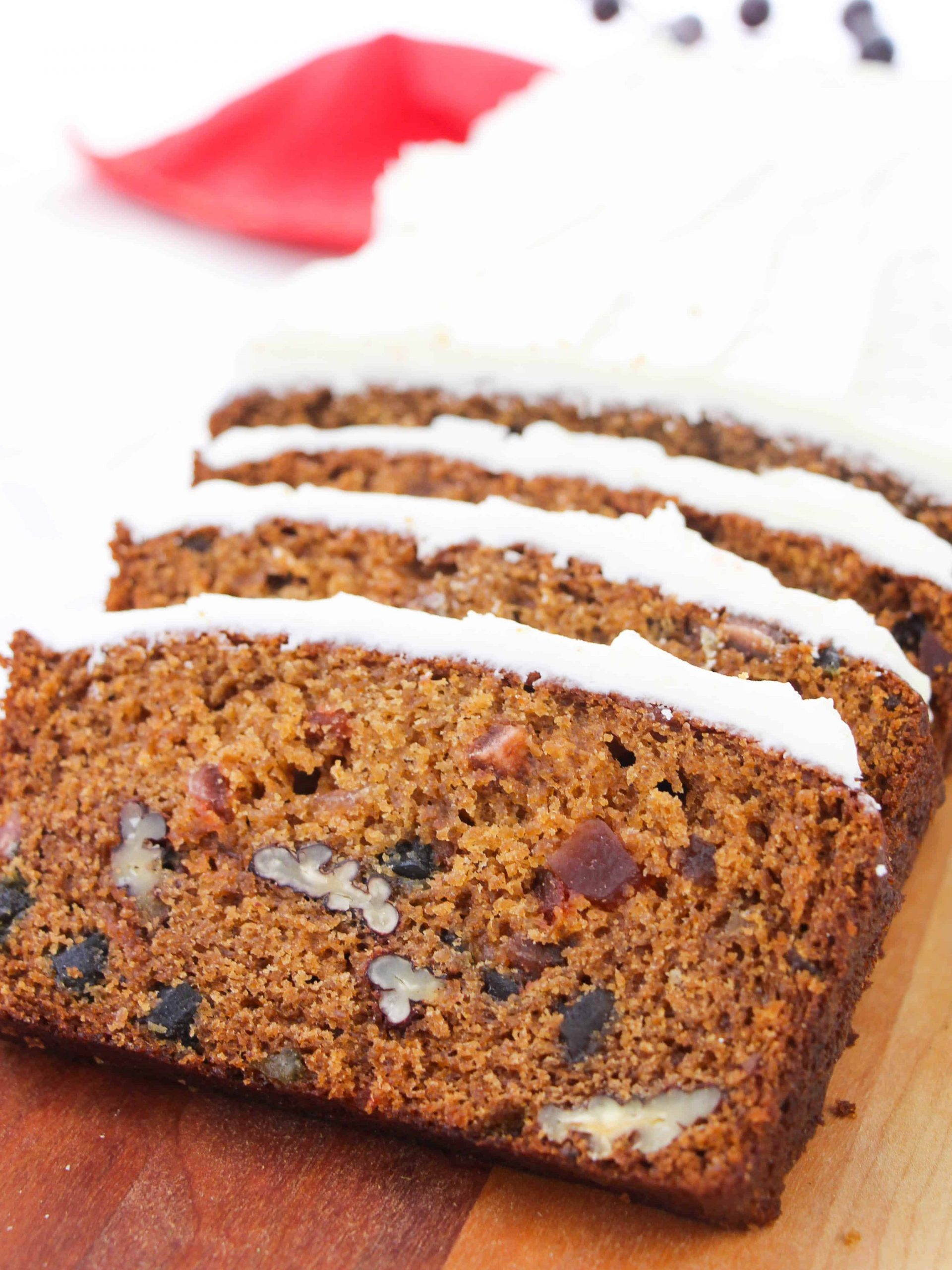 Ingredients:
Most of the ingredients you probably already have. Keep in mind the spices, nuts, and candied peel amounts can easily be adjusted to fit what you like. You can always add in more or not put in as much. Okay, let's get started!
All-purpose flour
Baking powder
Salt
Cinnamon
Ground cloves
Nutmeg
Ginger
Butter
Brown sugar
Warm water
Milk
Vanilla
Eggs
Candied peel, to taste
Chopped pecans or walnuts, to taste
For the frosting:
Cream cheese
Powdered icing sugar
Table cream, as needed
How to Make an Easy Fruit Cake Recipe
You don't have to put in tons of effort to get this amazing and beautiful fruit cake to turn out perfectly every time. It's so effortless, and you will love it.
First Step: Begin by preheating the oven to 350 degrees F.
Second Step: Use a 9″x4″ loaf pan and grease it. Line with parchment paper and set aside.
Third Step: Mix together the flour, baking powder, salt, nutmeg, cinnamon, cloves, and ginger in a small bowl, then set aside.
Fourth Step: Beat the room temperature butter and brown sugar together in a large bowl. It should be light and fluffy after around 2 minutes.
Fifth Step: Mix the warm water, milk, vanilla, and eggs together until they are thoroughly combined.
Sixth Step: Pour half the flour mixture into the milk mixture and blend until combined. Make sure not to overmix. Add in the remaining flour and mix some more.
Seventh Step: Fold in nuts and candied peel to taste.
Eighth Step: Pour in the fruit cake batter into the loaf pan — Bake for 40-50 minutes or until you can insert a toothpick and it comes out clean.
Ninth Step: Prepare the cream cheese frosting by mixing the cream cheese and powdered sugar together for 2 minutes until it's creamy, smooth, and light. You can thin the frosting by adding cream or thicken it by adding some more powdered sugar. Frost the fruit cake and serve!
Enjoy!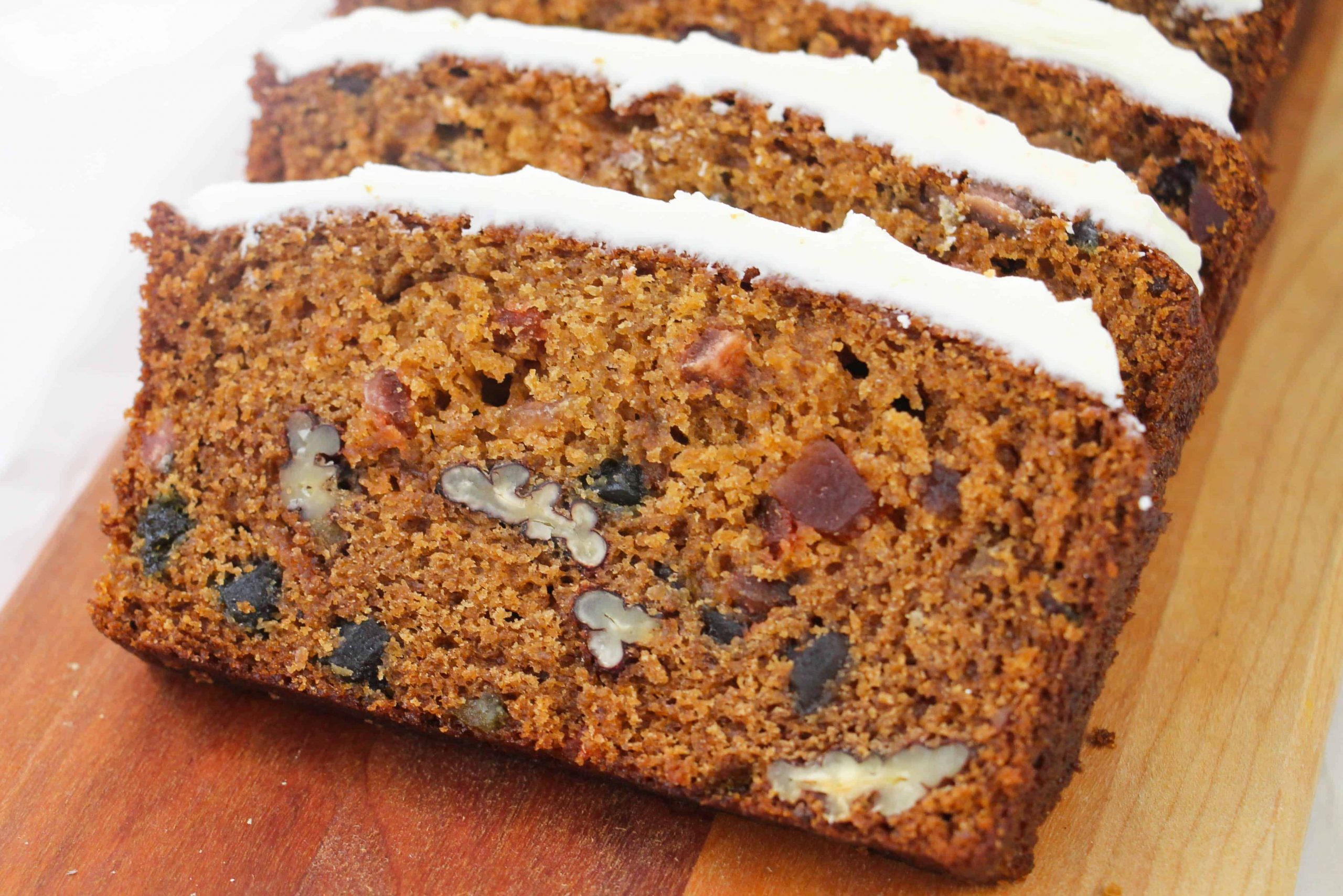 Pin this recipe now to remember it later
Easy Fruit Cake Recipe
This Easy Fruit Cake Recipe is just like what you grew up eating! It's filled with nuts, spices, and is topped with a flavorful cream cheese icing that's a show stopper.
Ingredients
1 1/2

cups

all-purpose flour

1/2

teaspoon

ground cloves

,

to taste

1/2

teaspoon

nutmeg

,

to taste

1/2

teaspoon

ginger

,

to taste

1/3

cup

butter

,

room temperature

1

cup

candied peel

,

to taste

1/2

cup

chopped pecans or walnuts

,

to taste
For the frosting:
1/2

package

,

4oz cream cheese

1 1/2 to 2

cups

powdered icing sugar

1-2

Tablespoons

table cream

,

as needed
Instructions
Preheat oven to 350F

Grease and line a 9″ x 4″ loaf pan. Set aside.

In a small bowl, combine the flour, baking powder, salt and spices. Set aside.

In a large bowl, combine the butter and brown sugar and beat until light and fluffy, 2 minutes.

Add the warm water, milk, vanilla and eggs. Beat until thoroughly combined.

Add half of the flour mixture, mix until combined, and then the remaining half. Do not overmix.

Add in the candied peel and nuts, to taste.

Fold the mixture into the prepared loaf pan and bake for 40-50 minutes until an inserted toothpick comes out clean.

For the frosting, combine the cream cheese and powdered icing sugar for 2 minutes until smooth and light. Adjust the consistency with more powdered sugar or cream.
Follow me on Pinterest for daily delicious recipes!
THANKS FOR PINING!

More delicious cake?
I'm sure you're going to love this fruit cake recipe so much! Check out some of my other delicious cake recipes that I think you will enjoy as well.
Decadent Eggless Chocolate Cake – If you've been craving chocolate like crazy, this cake will fix your cravings. You will love the intense chocolate flavor and texture!
Old Fashioned Cajun Cake Recipe – Every bite is filled with pecans, pineapple, and delicious coconut. Serve it after dinner or take it to a party; either way, everyone will devour every last crumb.
Easy Homemade Lemon Sheet Cake – Sheet cakes are fantastic because they are super simple to make, and you can feed a lot of people. Take this to your next event, and everyone will rave about the tangy lemon flavors.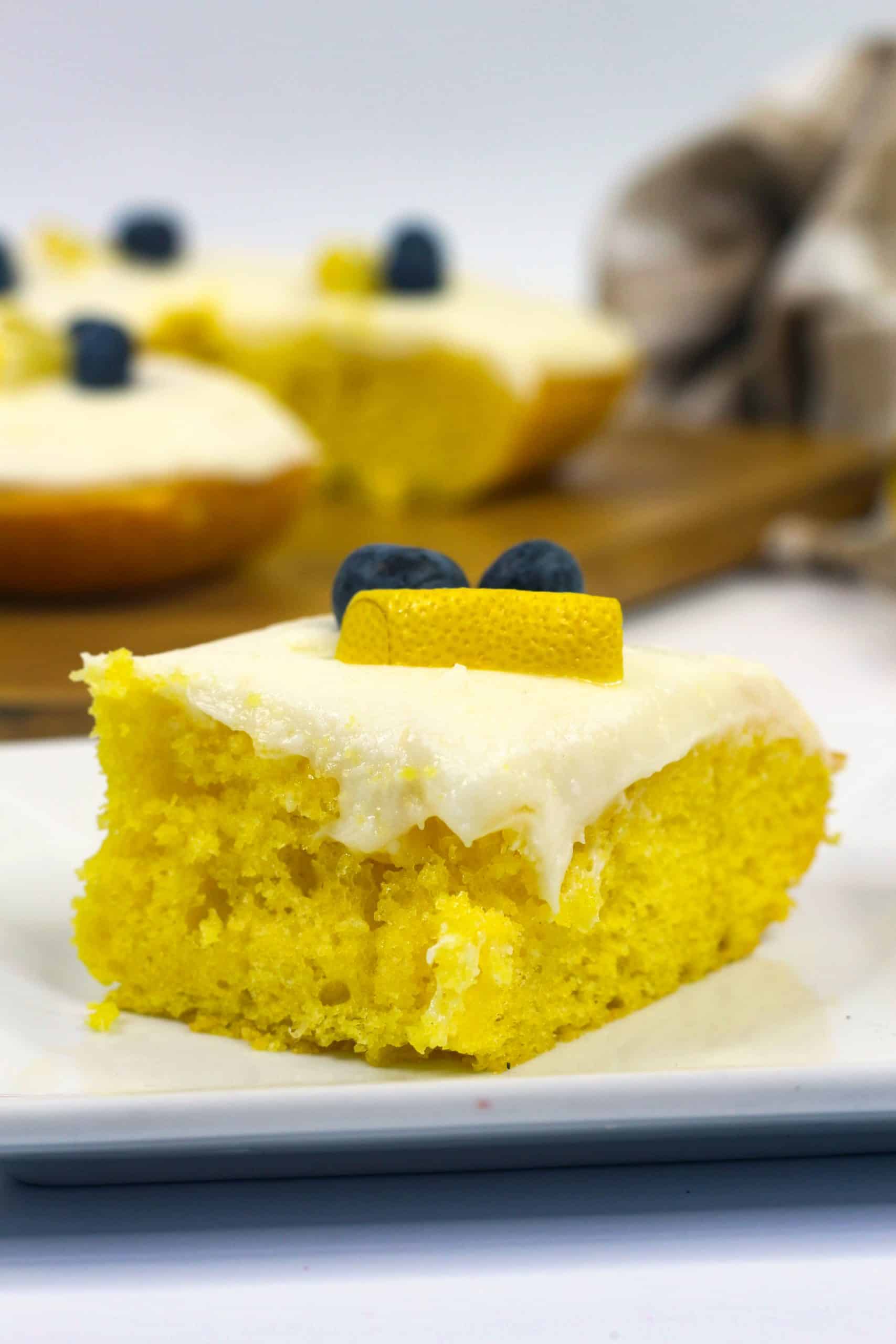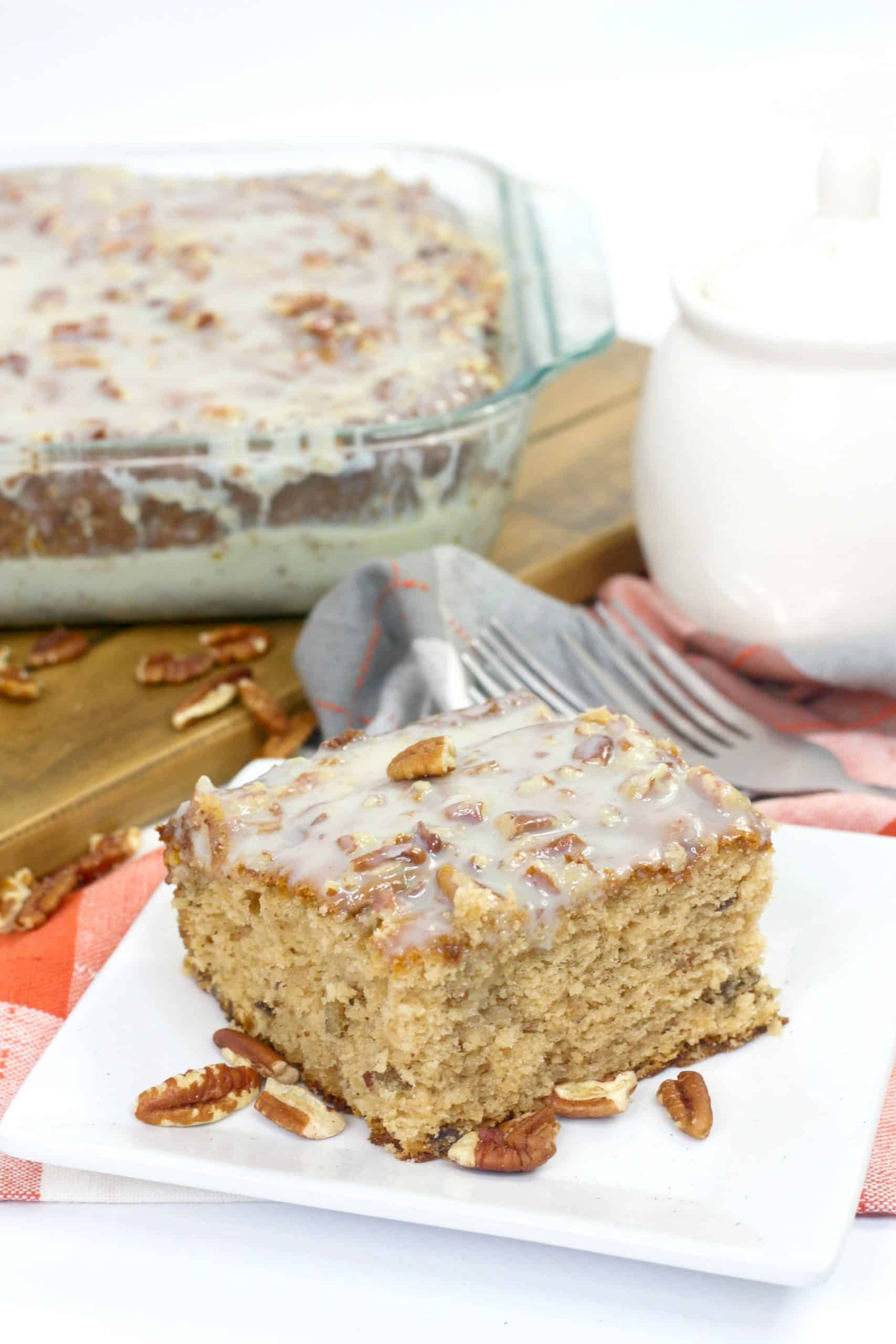 Get new recipes weekly plus our FREE ebook!