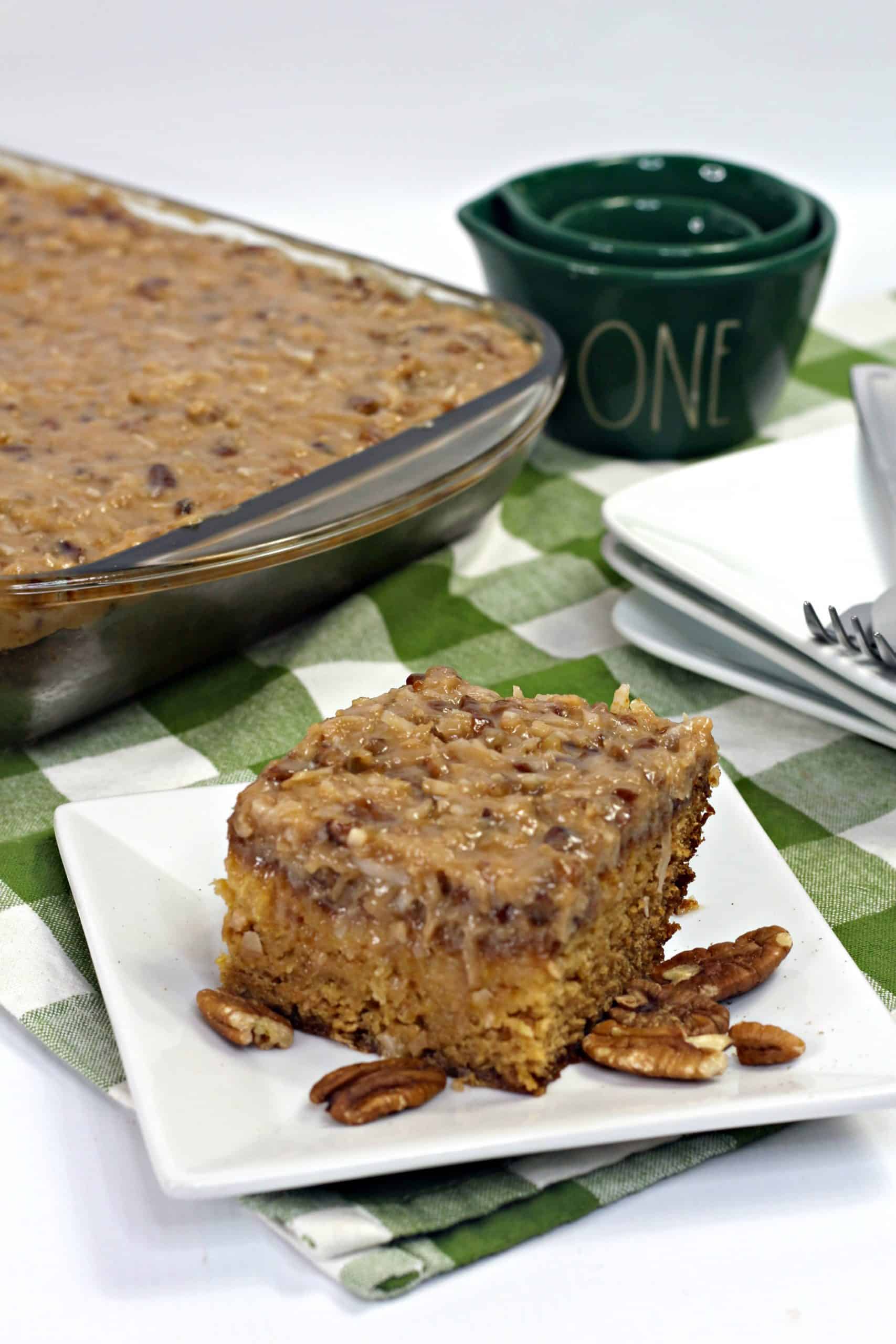 This southern cajun cake is scrumptious! Every crumb of this old fashioned cake is flavorful, moist, and filled with pineapple, pecans, and coconut. The tangy pineapple sets this cake apart from other cajun dessert recipes. You have to try it to understand how truly amazing it is.
Scroll to bottom for printable recipe card.
Old Fashioned Cajun Cake Recipe
Enjoying food from the south has always been a passion of mine. You'll see in many of my recipes; there is a southern spin on them. I can't help it! This crushed pineapple cake is a family favorite, and we've been eating it for years and years. I have enjoyed cajun cake for so long; I can't even tell you when I first tried it. Now that I'm an adult and can make it anytime I want, it's a staple in my house. There is just something so amazing about the flavors and textures that I honestly can't get enough of.
Crushed Pineapple Cake Ingredients
One thing this cake isn't lacking is flavor! You are going to be amazed by how incredible this cake is and the fact that you only need 10 ingredients to make this old fashioned cake. And it's so yummy you won't forget about it.
Cake Ingredients
All-purpose flour
Granulated sugar
Baking soda
Crushed pineapple
Eggs
Icing Ingredients
Unsalted butter
Granulated sugar
Milk
Vanilla
Shredded sweetened coconut
Chopped pecans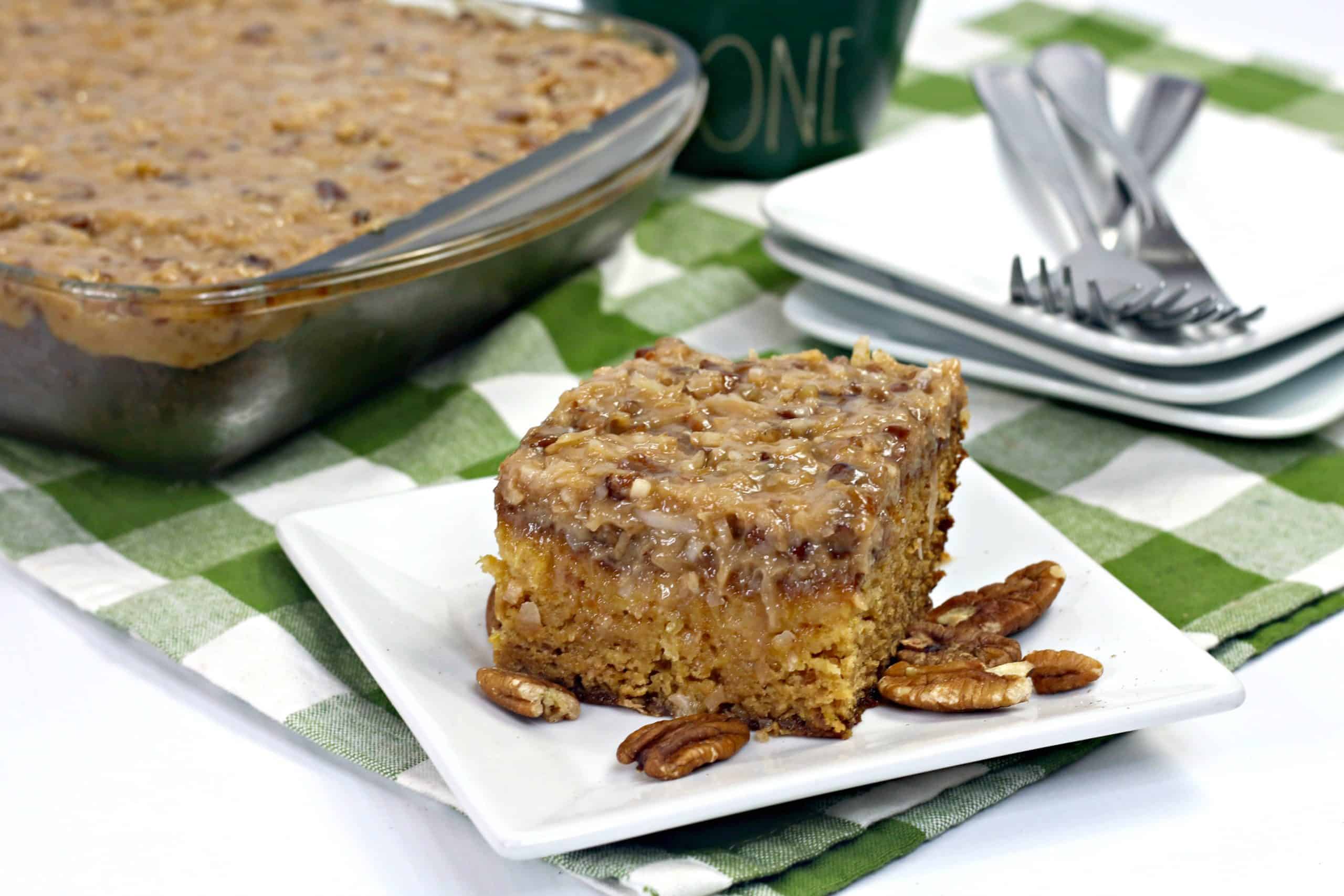 How To Make Cajun Cake
When it comes to making this cajun dessert, you don't have to worry about it taking forever! The hardest part is waiting for it to cool and set, but it's totally worth it. The aroma of the freshly baked crushed pineapple cake will leave you salivating. Let's get started so you can bake your own easy pineapple cake.
First Step: Begin by preheating the oven to 350 degrees F.
Second Step: Add the sifted flour, sugar, and baking soda to a large bowl and mix together.
Third Step: Add the crushed pineapple and eggs to the mixture and combine.
Fourth Step: Bake the cake for 30-35 minutes or until it's golden brown, and you can remove a toothpick, and it comes out clean.
Fifth Step: While the cake is in the oven, mix together the butter, sugar, and milk in a saucepan until it's boiling. Stir it frequently to prevent burning.
Sixth Step: Pour in the vanilla, then add the coconut and pecans and continue to boil for 2-3 minutes. Don't forget to stir to prevent sticking and burning.
Seventh Step: When the cake is done, cool it to room temperature then add the icing on top of the cake.
Eighth Step: Let the cake rest for 30 minutes up to 1 hour, so it sets up. Serve and enjoy!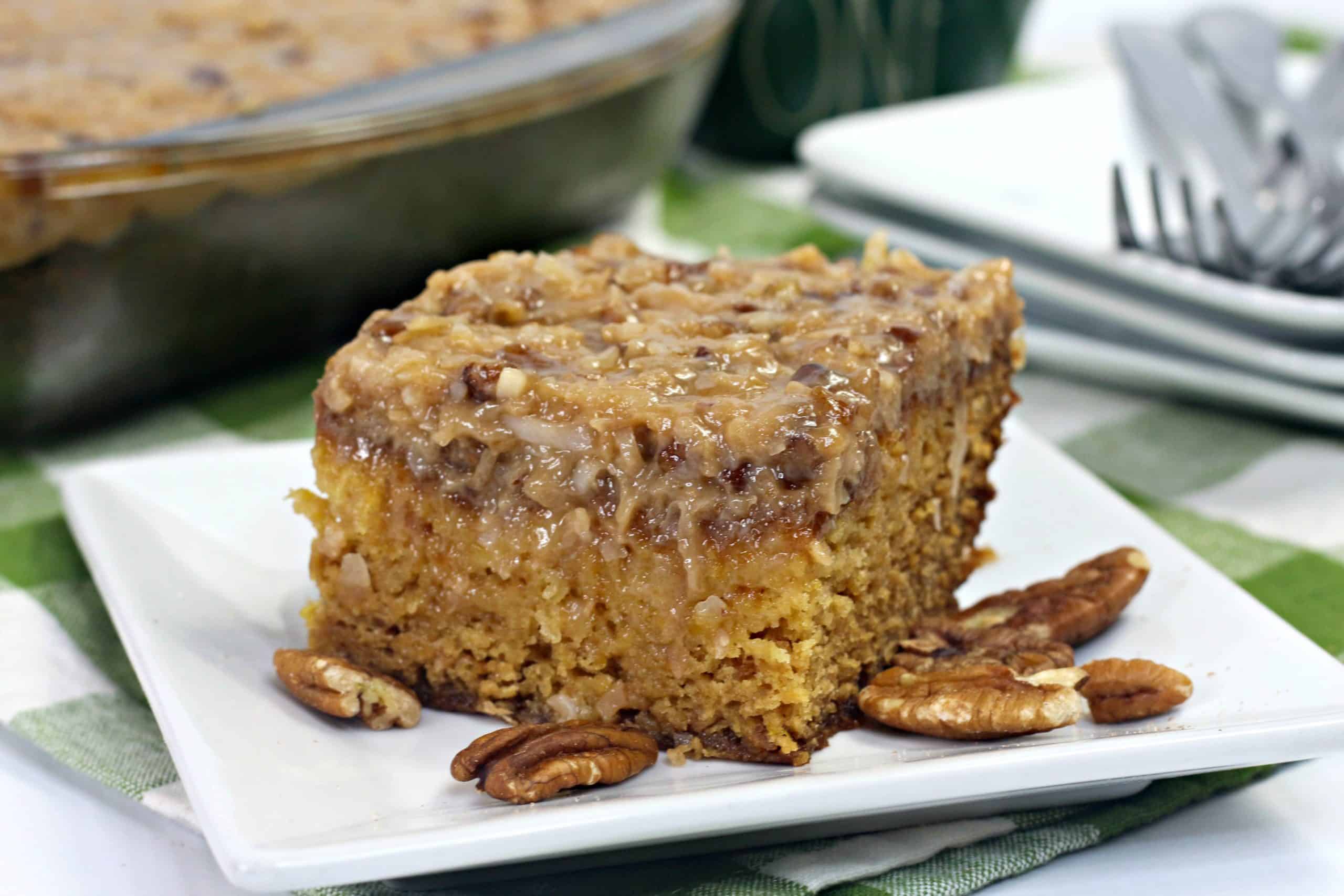 What Is Old Fashioned Cajun Cake?
Essentially an old fashioned cajun cake is a dessert that is well known in the south. It's packed with pineapples, coconut, and pecans. Then the cake is topped with an icing that seeps down into the cake to make it extra moist and rich. If you visit the south, you will find that this cake is often served for dessert, and you can even buy it when you are dining out.
Is Cajun Cake Spicy?
No, a cajun cake isn't spicy at all. I know it can be confusing because it has the word Cajun in it, and typically, that means that it has some heat to it. Surprisingly, there aren't any spices at all in this cake, not even cinnamon or nutmeg. It gets its name because it was made in the south, where there are many Cajun dishes and recipes.
How Do You Store Crushed Pineapple Cake?
This crushed pineapple cake can be stored in the refrigerator or on the countertop and will last 3-5 days. It's essential to keep the cake covered and protected from heat and air at all times. This cake recipe tastes as good cold as it does room temperature, so I recommend trying it both ways to see which way you prefer it.
How Do You Know If The Cajun Cake Has Gone Bad?
If the cajun cake has started to go bad, you may notice some obvious signs. First, it may have a strange odor that just doesn't smell right. Another clue is that the cake becomes super mushy and almost watery. And sometimes you will find instead of being mushy; it ends up being very dried out. Either way, it doesn't taste good at all when it reaches this point. Finally, you may notice mold growing, and that is a strong indicator that it's passed; it's prime and should be tossed. It's important never to eat cake or anything else if you think there is a chance it's not good anymore. Otherwise, you can become ill, and it's not worth it.
Can You Freeze Crushed Pineapple Cake?
Yes, you can freeze this crushed pineapple cake. You can opt to freeze the entire cake intact or cut it into individual serving sizes. Either way, the cake needs to be kept airtight in a freezer-safe container or freezer bag. The cake will last anywhere from 1-3 months in the freezer. To serve, just put it on the counter or in the fridge to let it thaw a little bit then enjoy. It's great for a quick dessert when you don't have time to bake a cake.
Now, time to save this recipe on Pinterest for later 🙂

Pin this recipe now to remember it later
Old Fashioned Cajun Cake Recipe
This cajun cake is so flavorful and EASY to make! This old fashioned cake is complete with crushed pineapple, toasted coconut, and pecans.
Ingredients
1 15

oz.

can crushed pineapple undrained
Icing:
1

stick of unsalted butter

1

C

shredded sweetened coconut
Want to save this recipe? Enter your email below and we'll send the recipe straight to your inbox!
NOTE: By saving this recipe, you agree to join our weekly recipes newsletter.
Instructions
Preheat oven to 350 degrees.

In a large bowl, stir flour, sugar and baking soda.

Mix in pineapple and eggs until combined.

Bake for 30-35 minutes.

Begin icing while the cake is baking, heat butter, sugar and milk to a boil stirring often.

Add in vanilla, coconut and pecans then boil for about 2-3 minutes while still stirring often.

Once cake is out of the oven and cooled to warm temp pour icing over the cake until completely covered.

Allow cake to set for about 30 minutes to maybe an hour.

Cut and enjoy!
Follow me on Pinterest for daily delicious recipes!
In the mood for more cake recipes? Take a look at some of these amazing cakes for inspiration:
Best Easy Red Velvet Poke Cake – Some of my favorite cakes are poke cakes. They are just simple to make, and the flavor is out of this world.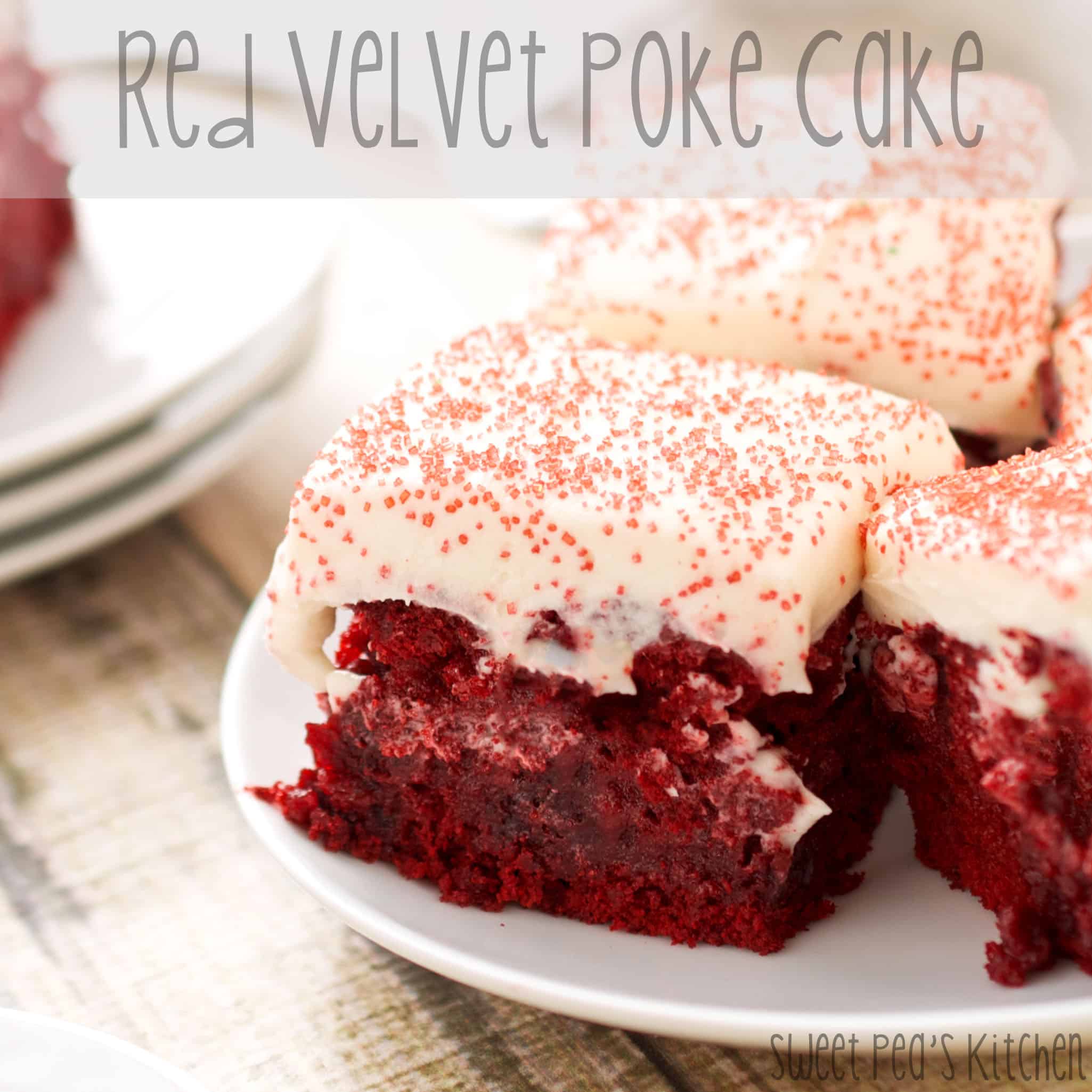 Pumpkin Apple Instant Pot Cake – Pumpkin and apples go so well together in this scrumptious pumpkin apple cake. Plus, you can make it in your pressure cooker, so clean-up is a dream.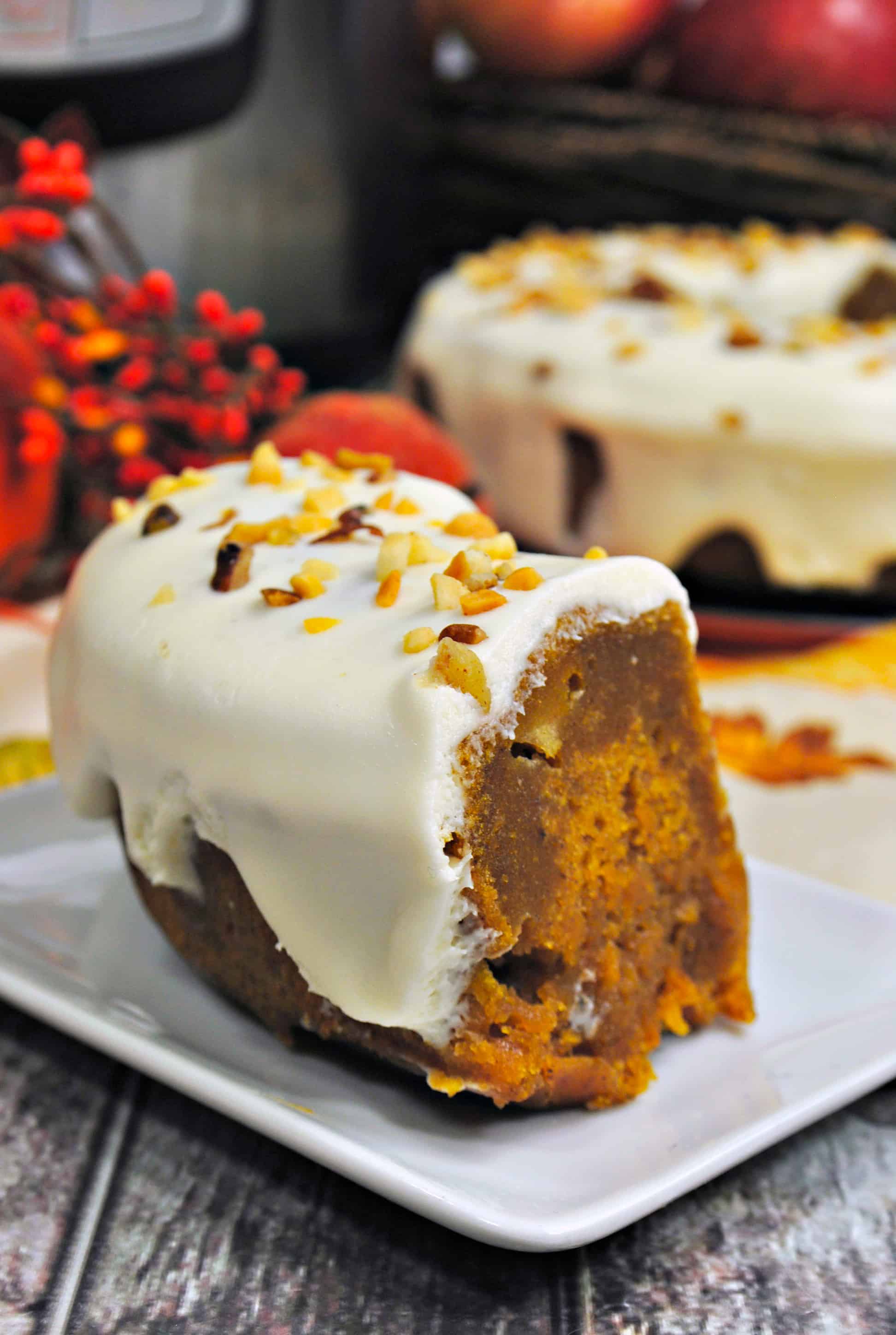 Caramel Cream Cheese Pumpkin Poke Cake – Oh my stars! This caramel cream cheesecake is one of the best I've ever tasted. It's so rich and creamy you can't help but fall in love.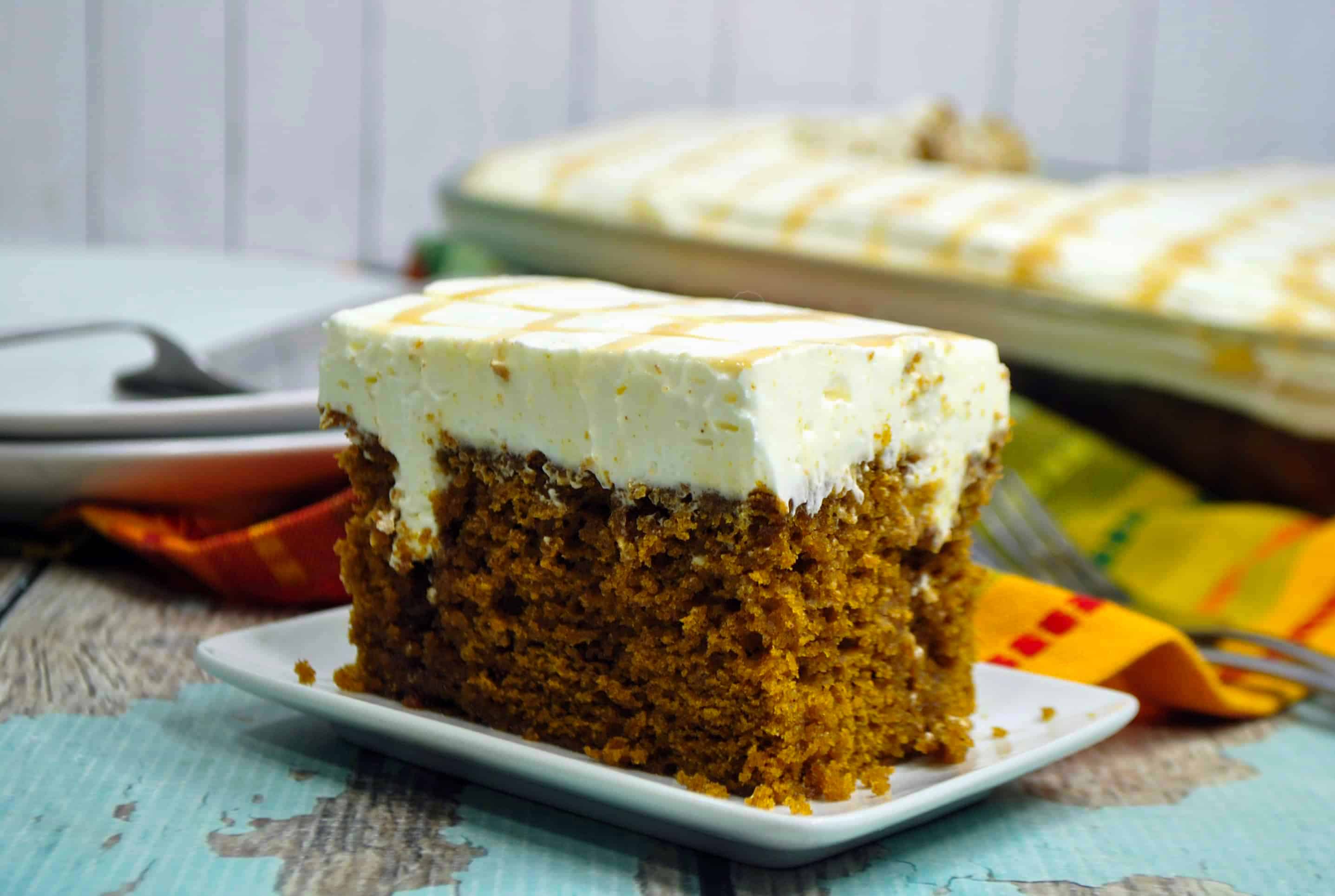 Three Layer Apple Spice Cake – Layered cakes are so much fun to make, and they look so elegant and charming. This apple spice cake is big on flavor too.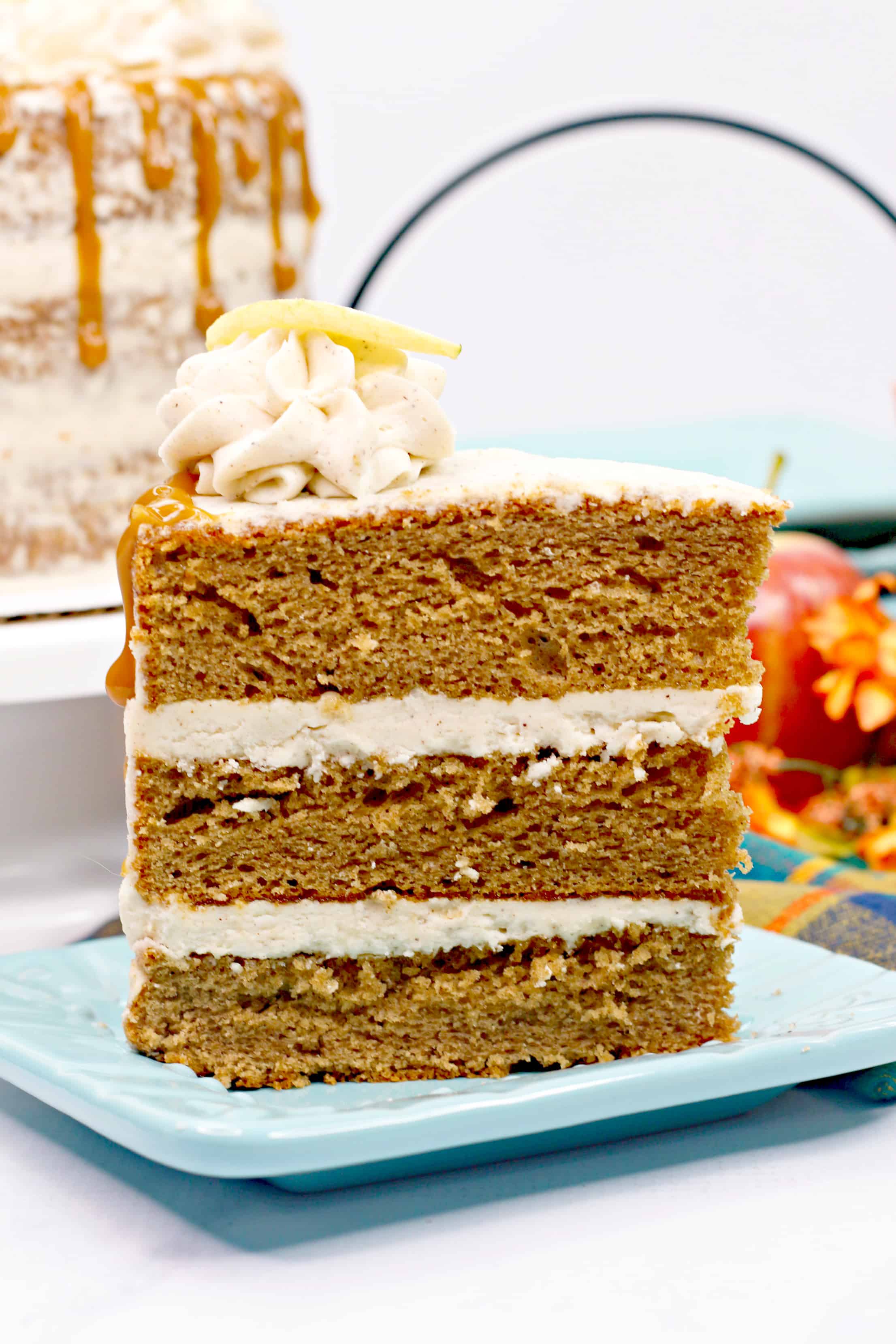 Get new recipes weekly plus our FREE ebook!