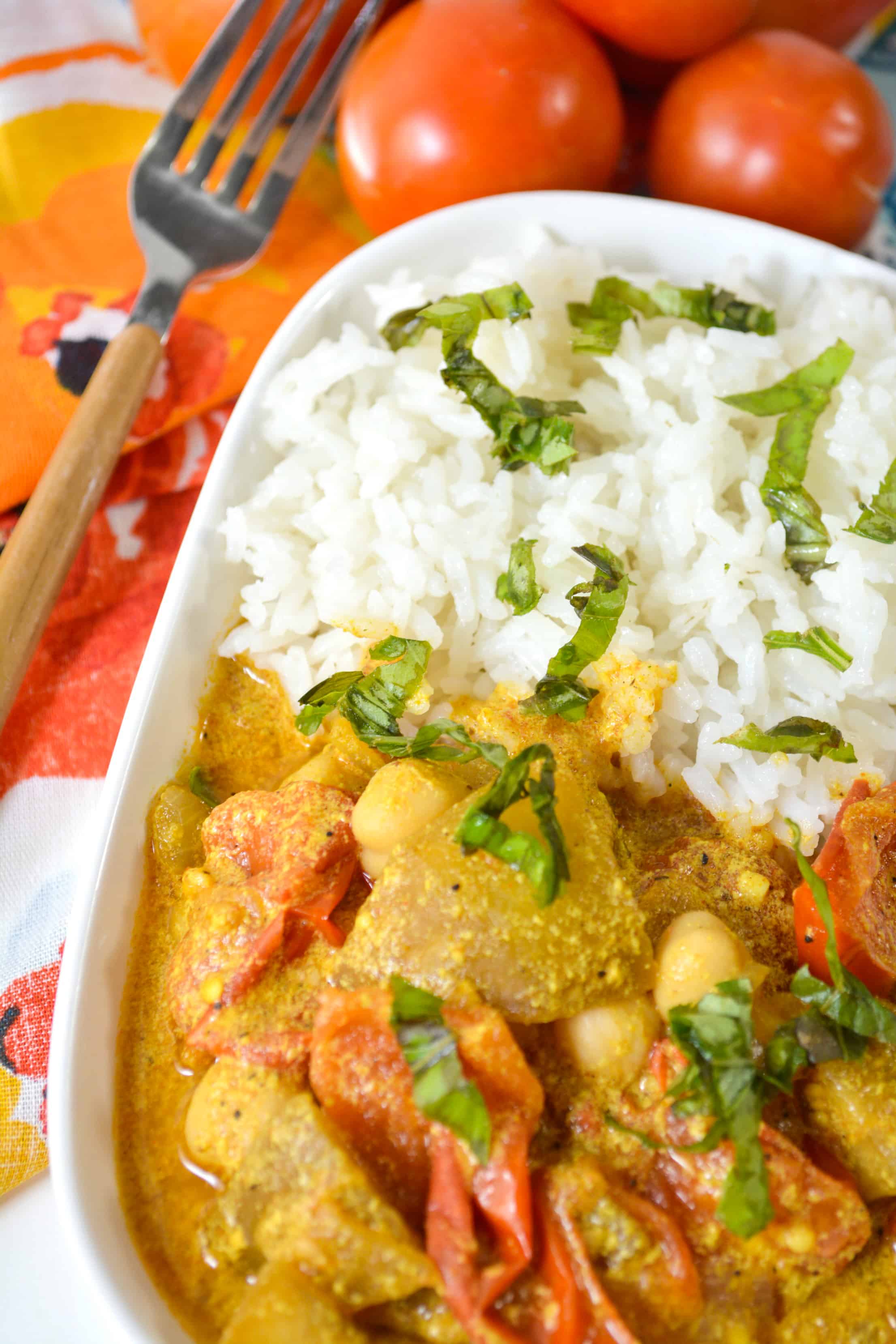 Love Indian food but think you can't make it at home? There is no need for that takeout tonight. This easy Eggplant Curry is going to make you able to make amazing Indian food in your own home. The dish is super flavorful and is so easy.
Indian foods are some of my very favorites. I love the spice and the kick that it gives in my mouth. If you landed on this page, I am sure that you feel the same way! There are so many dishes that I love but making them at home seems to be impossible. There are just some spices that I have to find that sometimes I can't. The ones featured in this recipe should be right in your local grocery.

If you don't have a lot of time on hand, you can always get an already made curry powder from your local grocery as well. I definitely won't judge you! I am all for shortcuts if life needs them. Besides, the curry powder from the store will taste just as good, just less customizable. This is also a one-pan meal which I really love. The less clean up for me the better. I want to enjoy my meal and then have the least amount of dishes to do afterward as possible.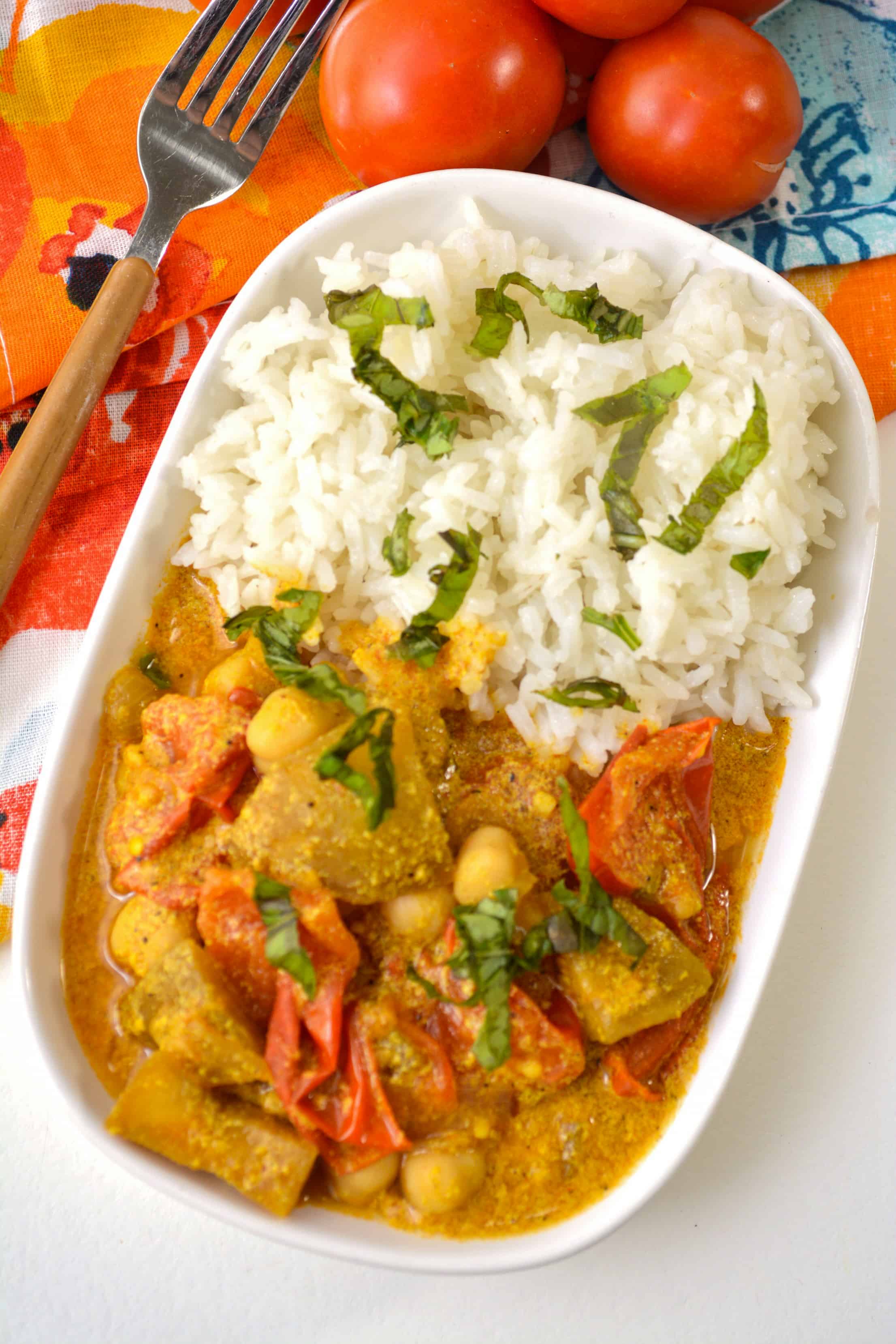 Scroll to bottom for printable recipe card.
More Recipe Take Out Ideas like

I love take out. I think everyone does. However, I don't always love the fat and calories that come with it, and I never like the price tag. Cooking at home lets me control what ingredients are in the recipe and it also lets me make a lot of food for less money. If you are like me and love take out recipes like this chickpea curry recipe, you are going to love these other take out ideas:

Variations to this Vegetable Curry Recipe
When it comes to this vegetable curry recipe, it is so easy to change. What I love about this vegetable curry recipe is that it is a basic curry. If this is your first time making a vegetable curry, you don't have to worry about changing the recipe. If you have had a variety of different curry recipes or you know you like certain things in your curry, you can change this recipe to include or eliminate whatever you like. That is the beauty of curry, it is easily customizable.
How to Cook Eggplant
There are many ways to cook eggplant. Eggplant can be fried, baked, sauteed, or roasted. For this eggplant recipe, you are going to sautee the eggplant together with the onions and the cherry tomatoes. As these vegetables cook together, the seasoning gets deep into the veggies and creates a fantastic flavor. Be sure to watch the time while you are cooking the eggplant. Overcooked eggplant turns to mush.
How to Store Indian Curry Recipes
If you are making a large batch of Indian Curry recipe, you might find that you have leftovers. When you are storing the leftovers of the Indian Curry recipes, you will want to store the leftovers in the refrigerator. Take the leftovers from the pan and put it in an airtight container. If your container does not have a lid, you will want to make sure to cover the bowl with plastic to protect it from the air and moisture in the refrigerator.
How Long Does Chickpea Curry Last
This chickpea curry recipe will last several days in the refrigerator. When stored properly, you can enjoy this chickpea curry for up to 4 days. When you are ready to reheat your leftovers, you can reheat it in a pan on the stovetop or you can reheat the eggplant curry in the microwave.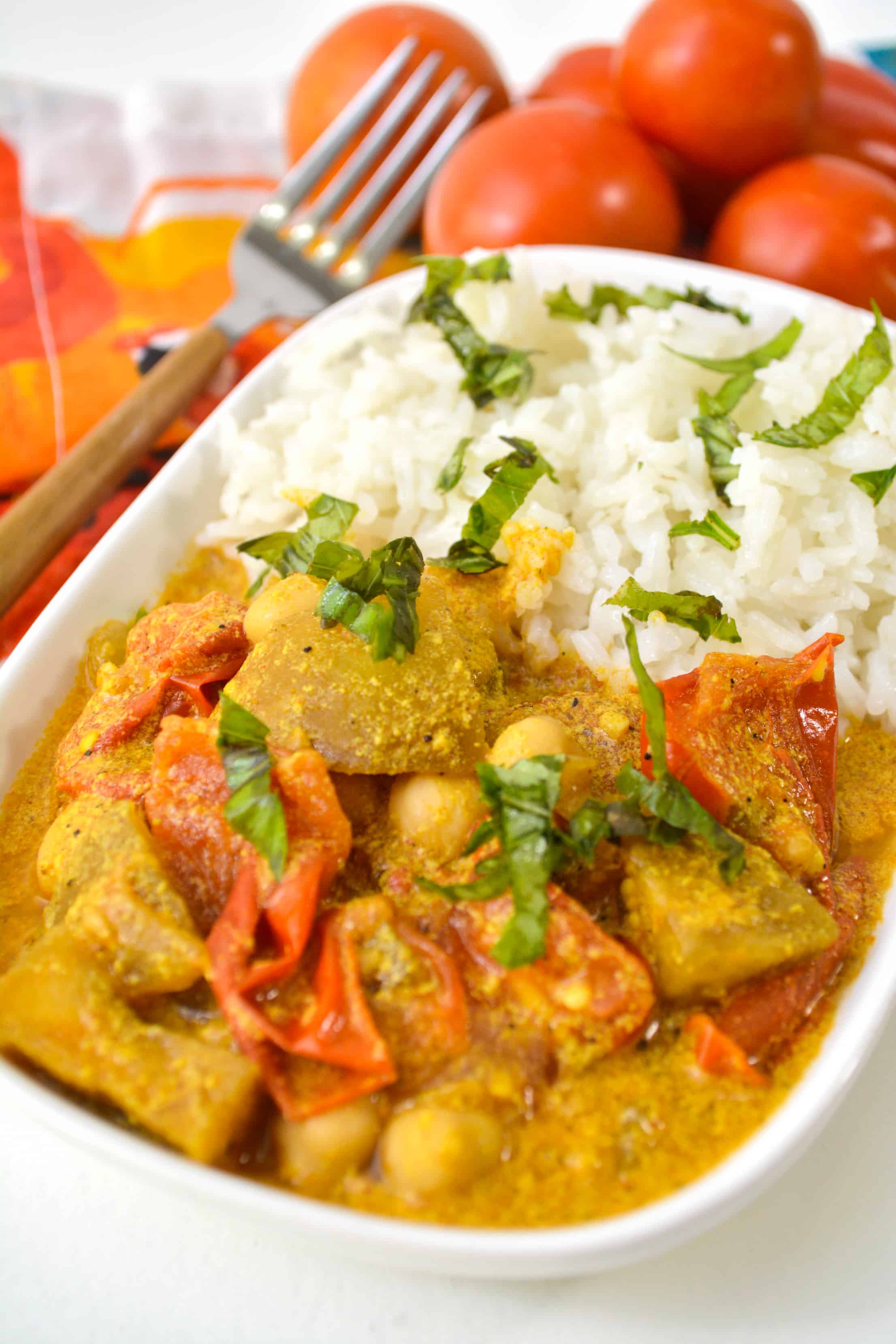 Ingredients in Eggplant Curry with Chickpeas
Cherry tomatoes
Eggplant
onion
Garlic
Olive oil
Curry powder
Garam Masala
Cumin
Turmeric
Paprika
Evaporated milk or coconut milk
Water
chickpeas
Salt and pepper
How To Make Eggplant Curry with Chickpeas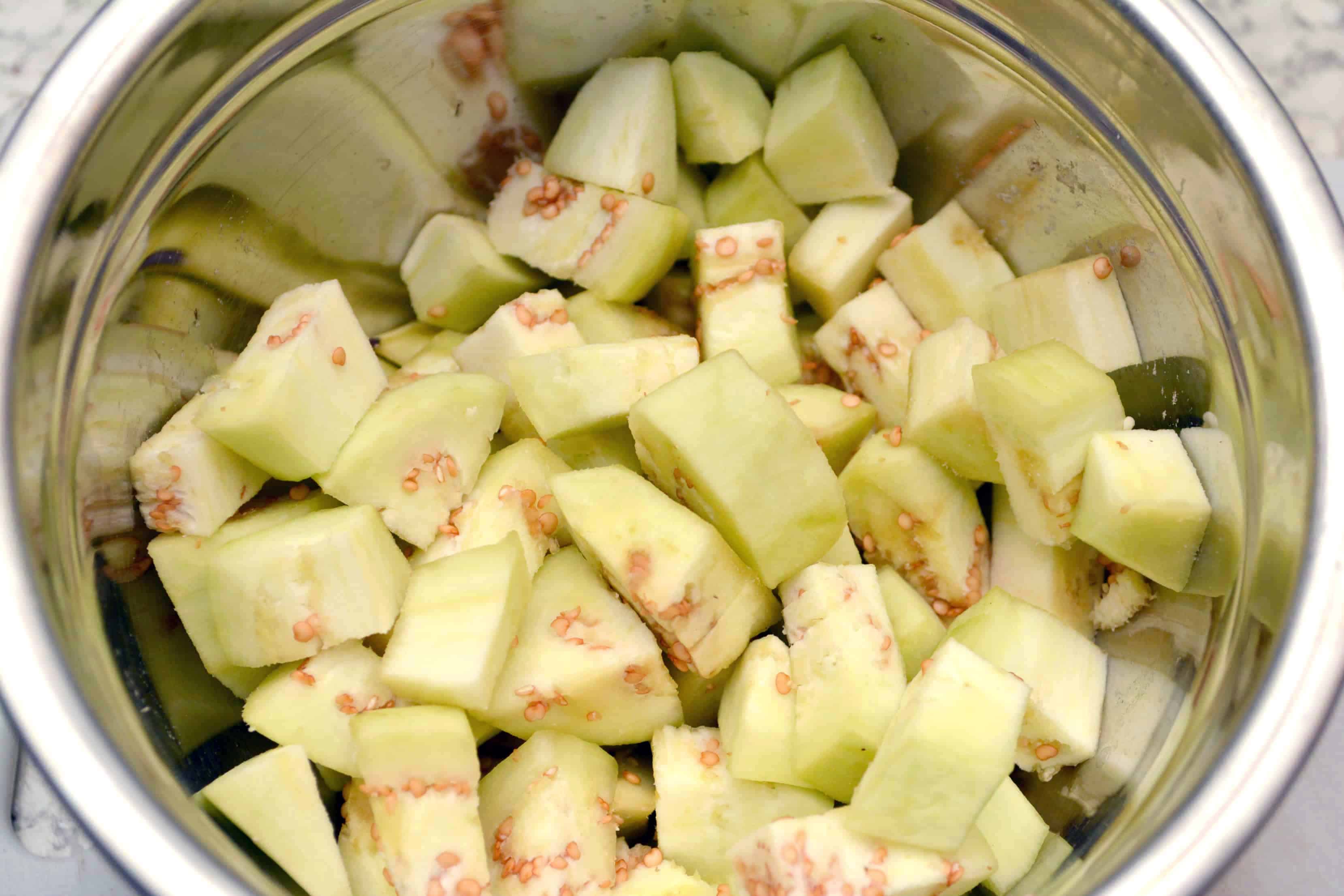 Peel and cut eggplant into bite-sized pieces.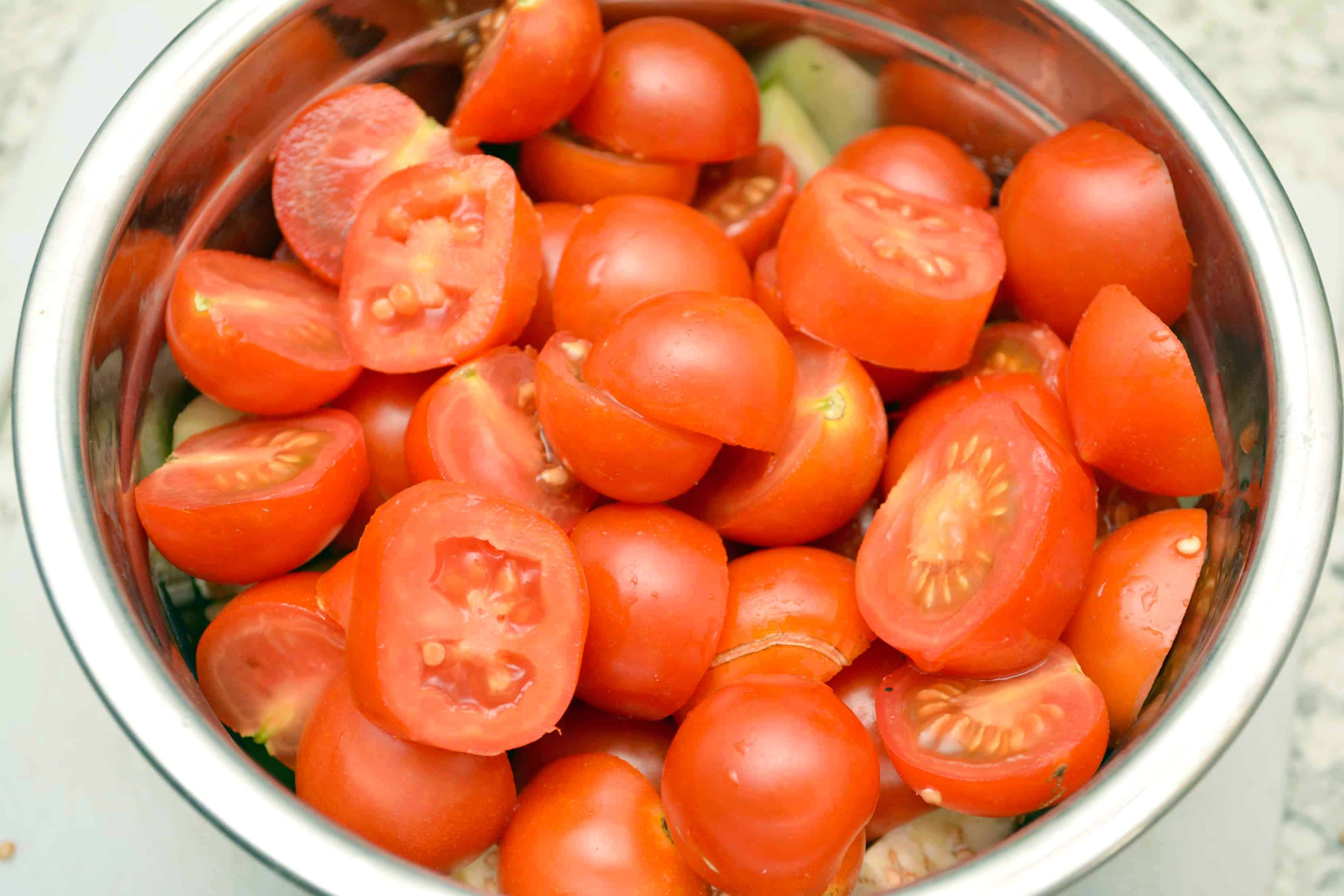 Halve a pint of cherry tomatoes.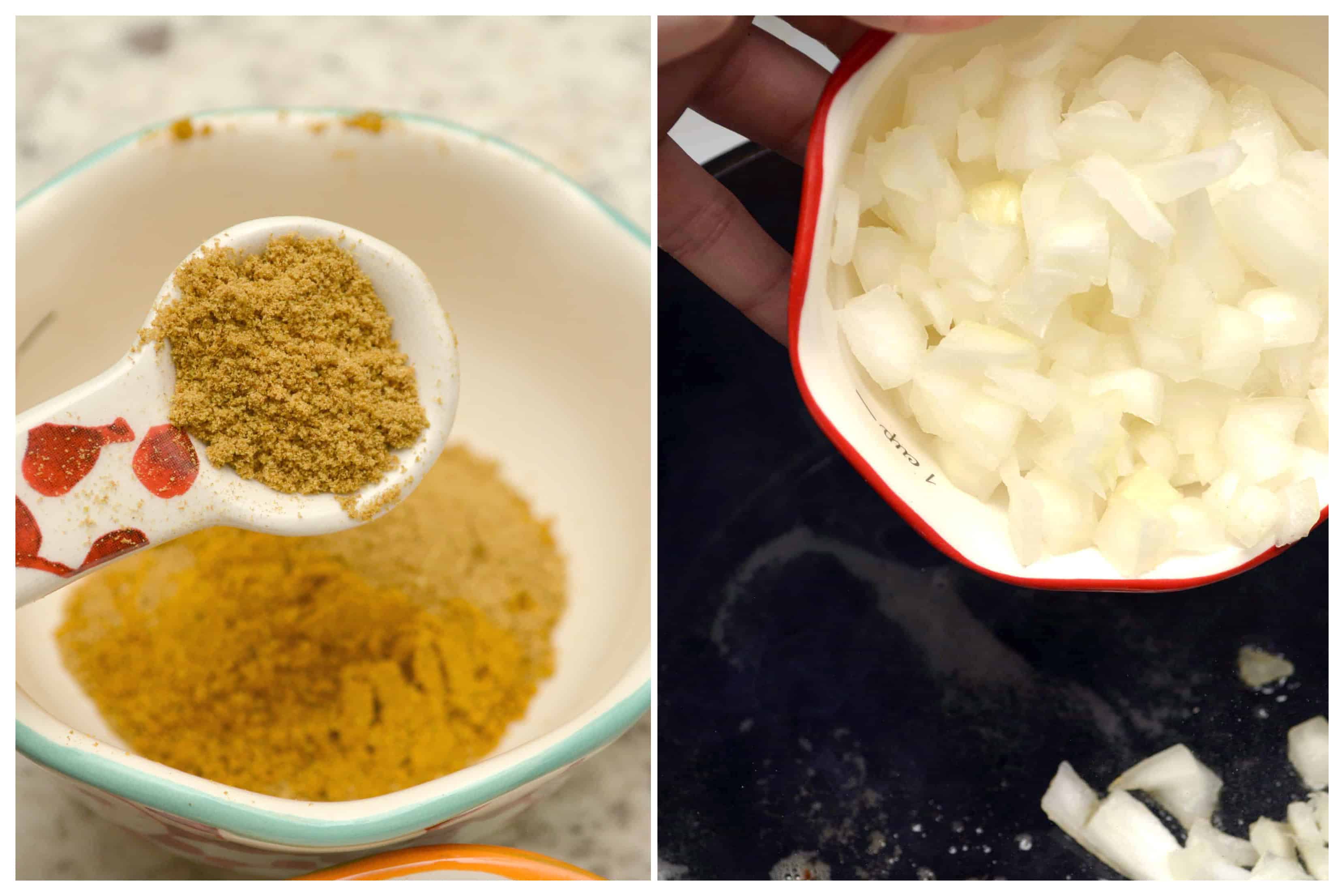 Heat oil in a pan. Add onions and cook until brown.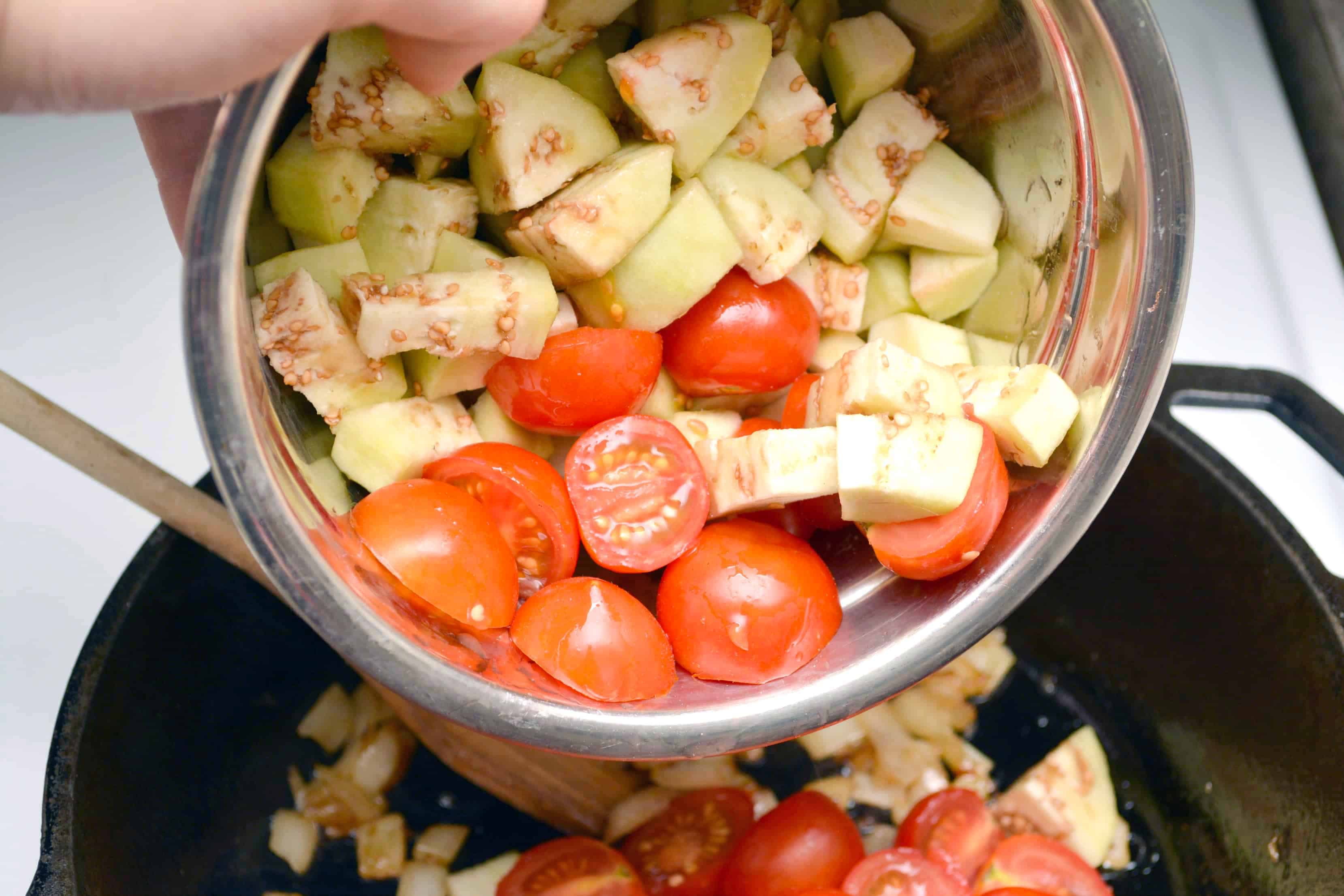 Add cherry tomatoes and eggplant to the pan.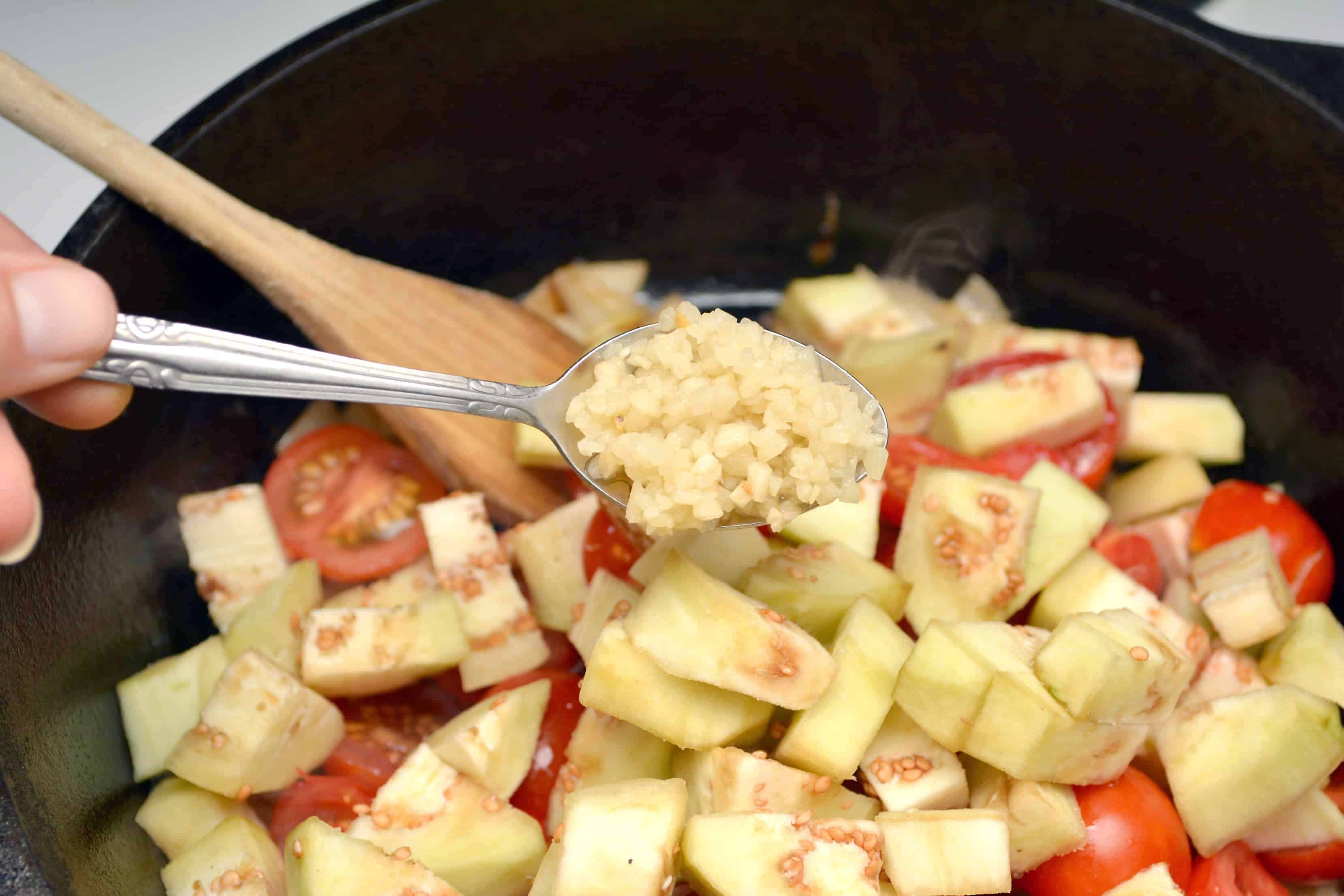 Then, add minced garlic.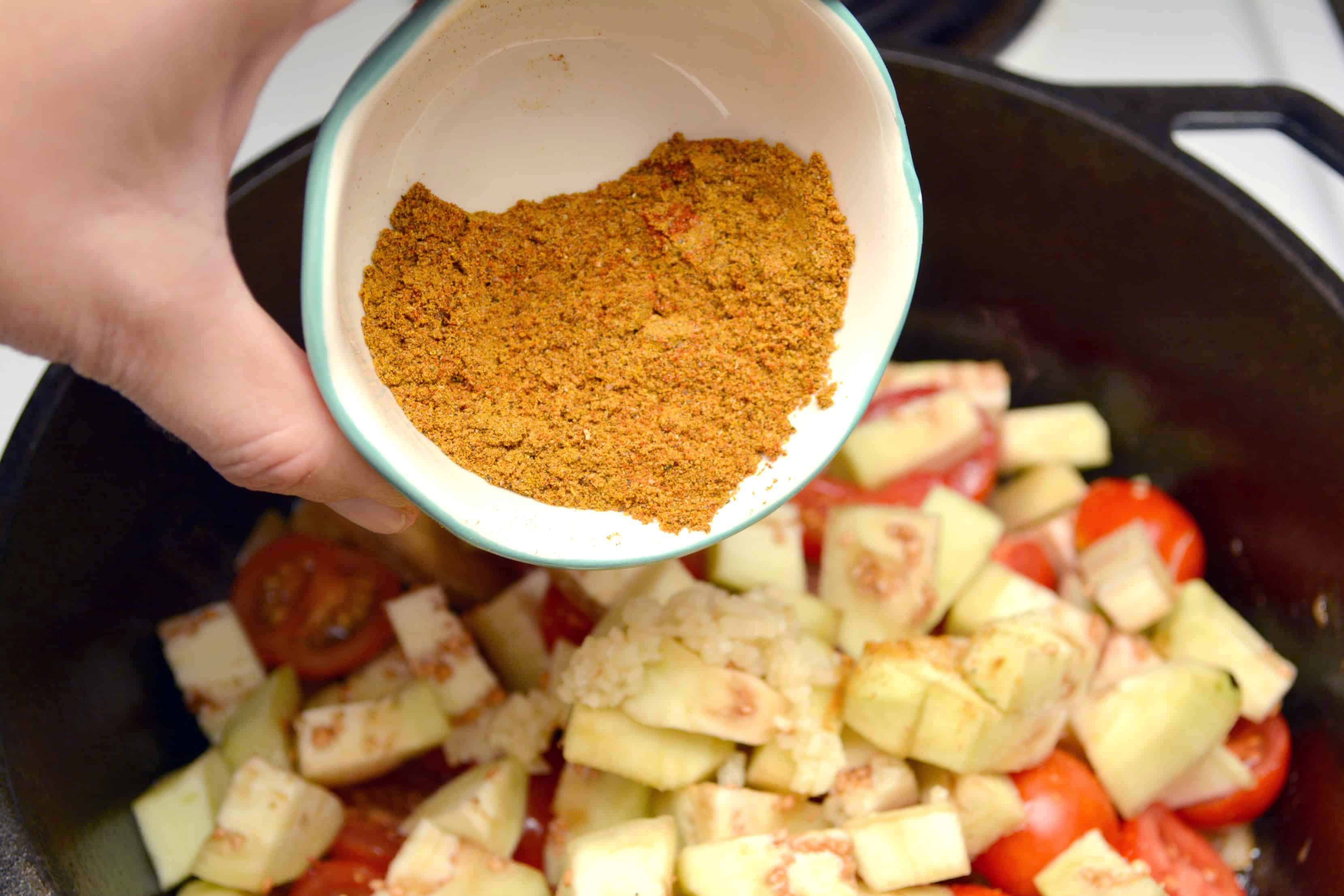 Next, add in curry powder and other seasonings. Stir well to combine.
Pour in the evaporated milk.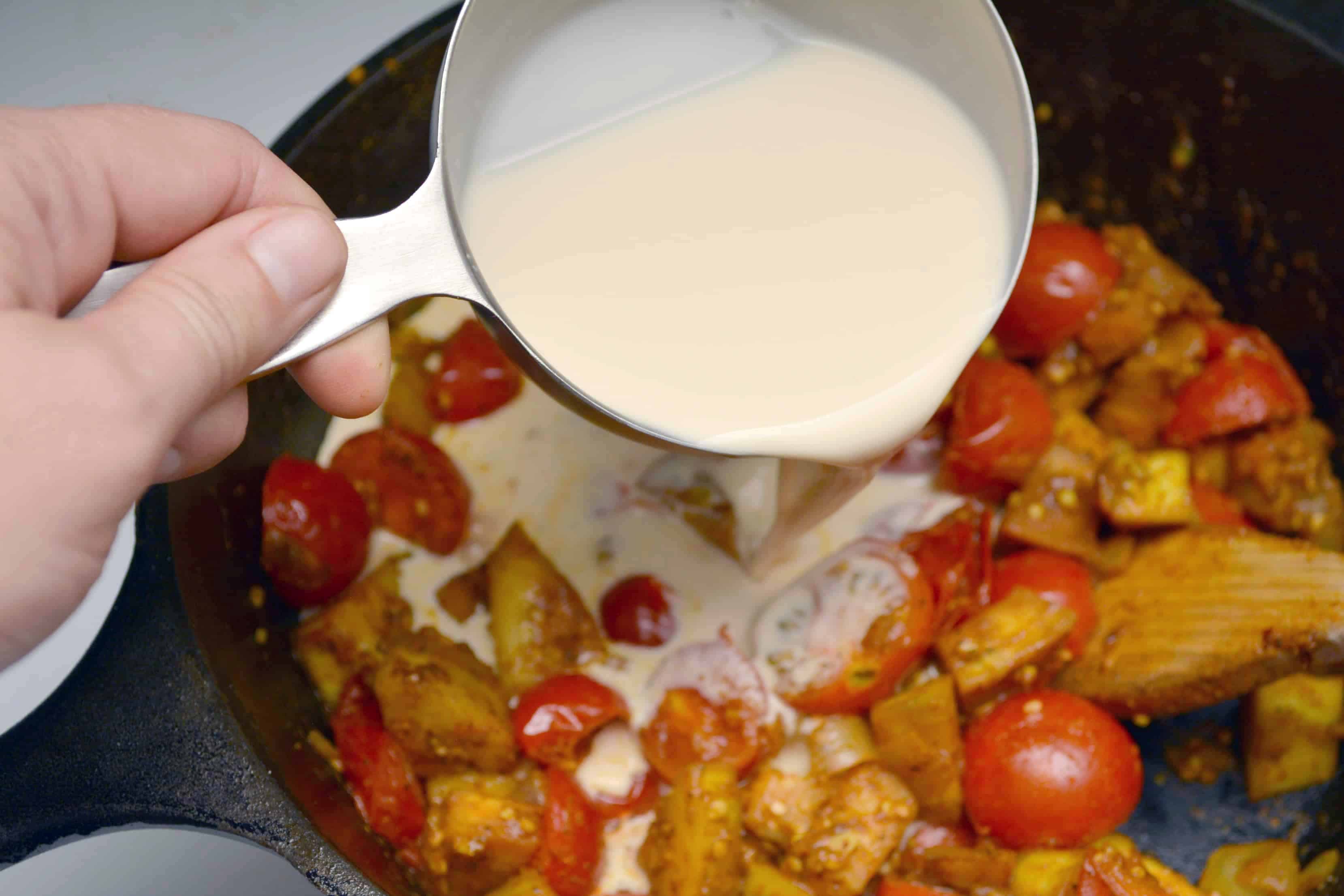 Add one cup of water. Simmer until eggplant is soft.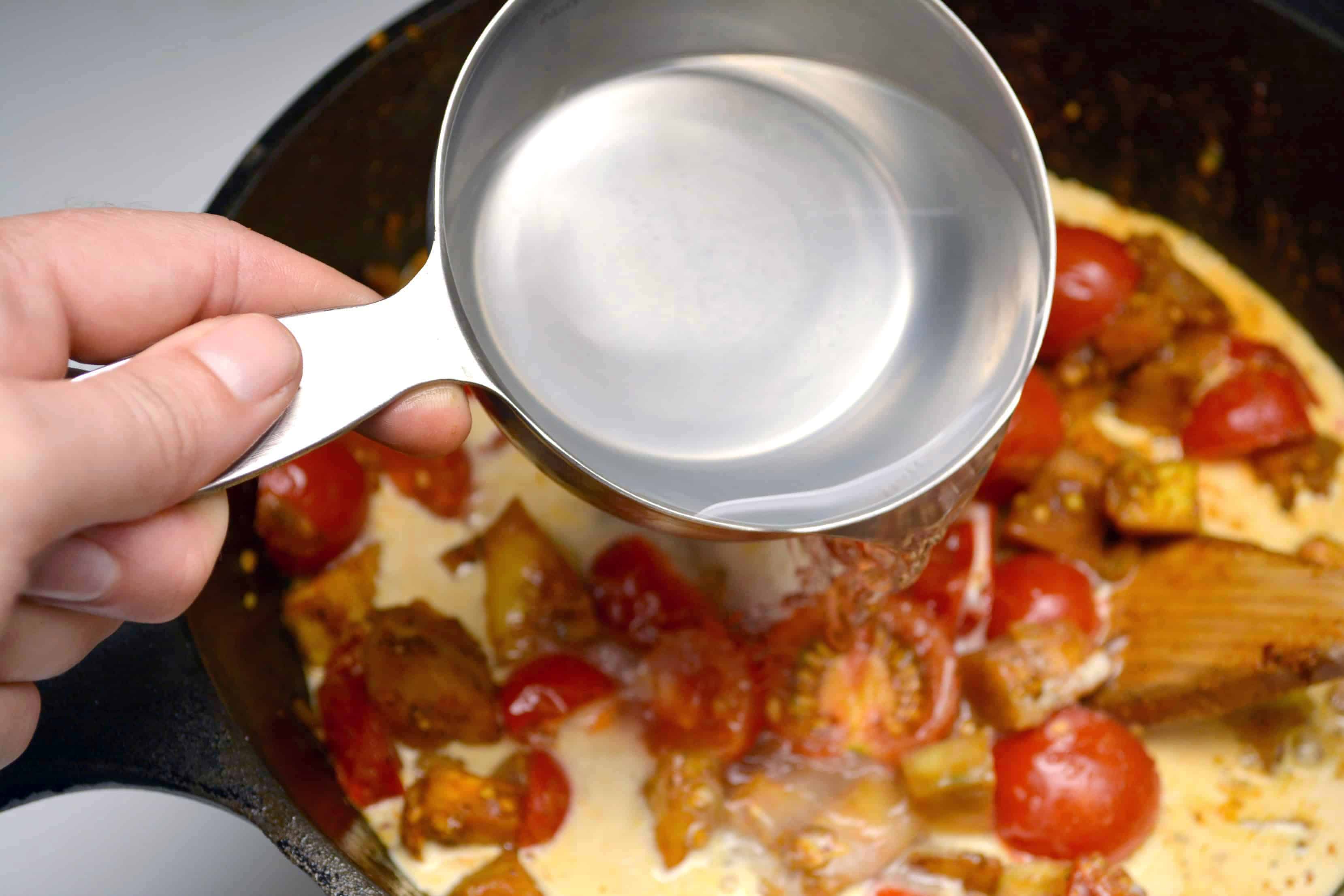 Next, you will add in a can of chickpeas, salt, and pepper and cook until chickpeas are warmed.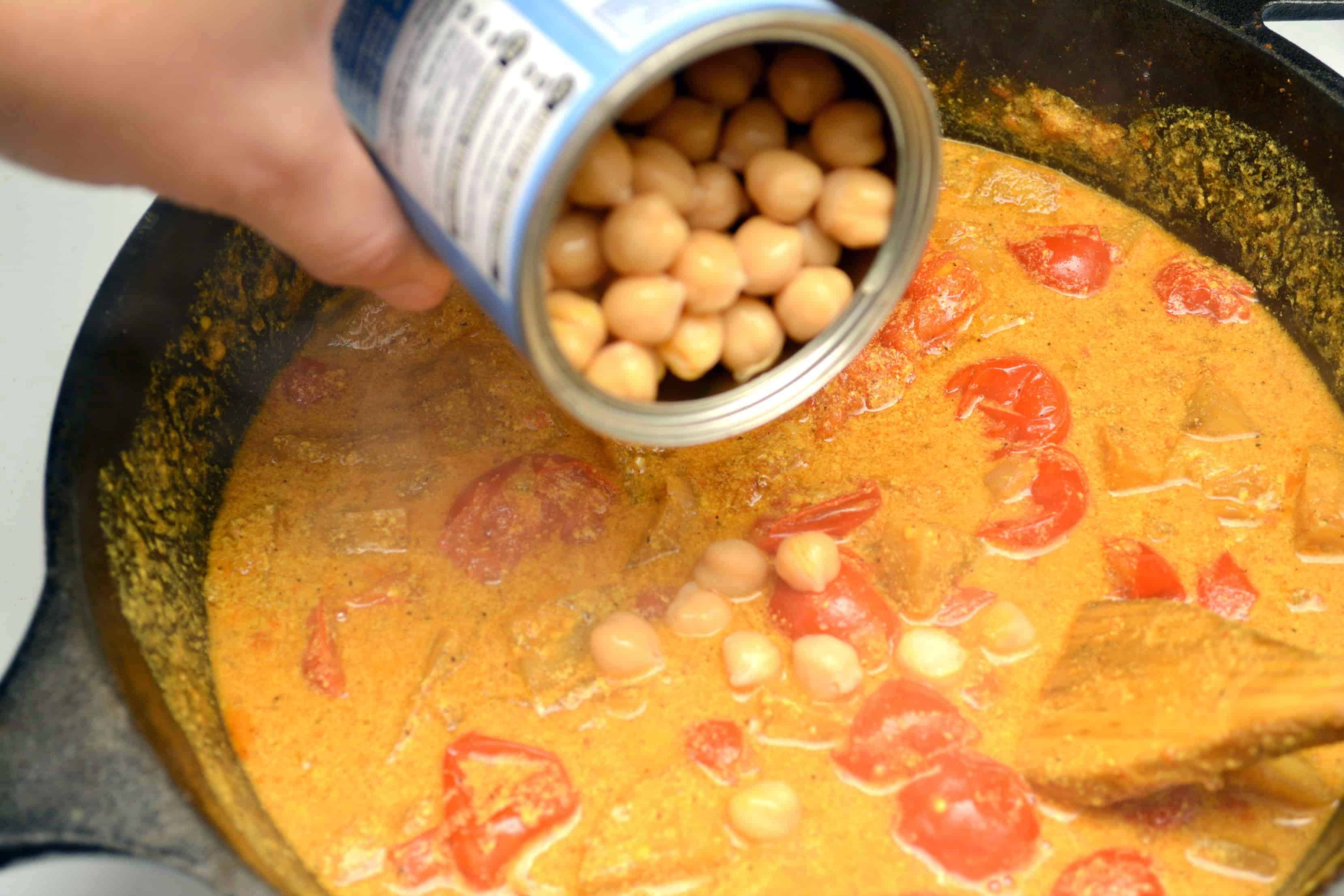 Enjoy!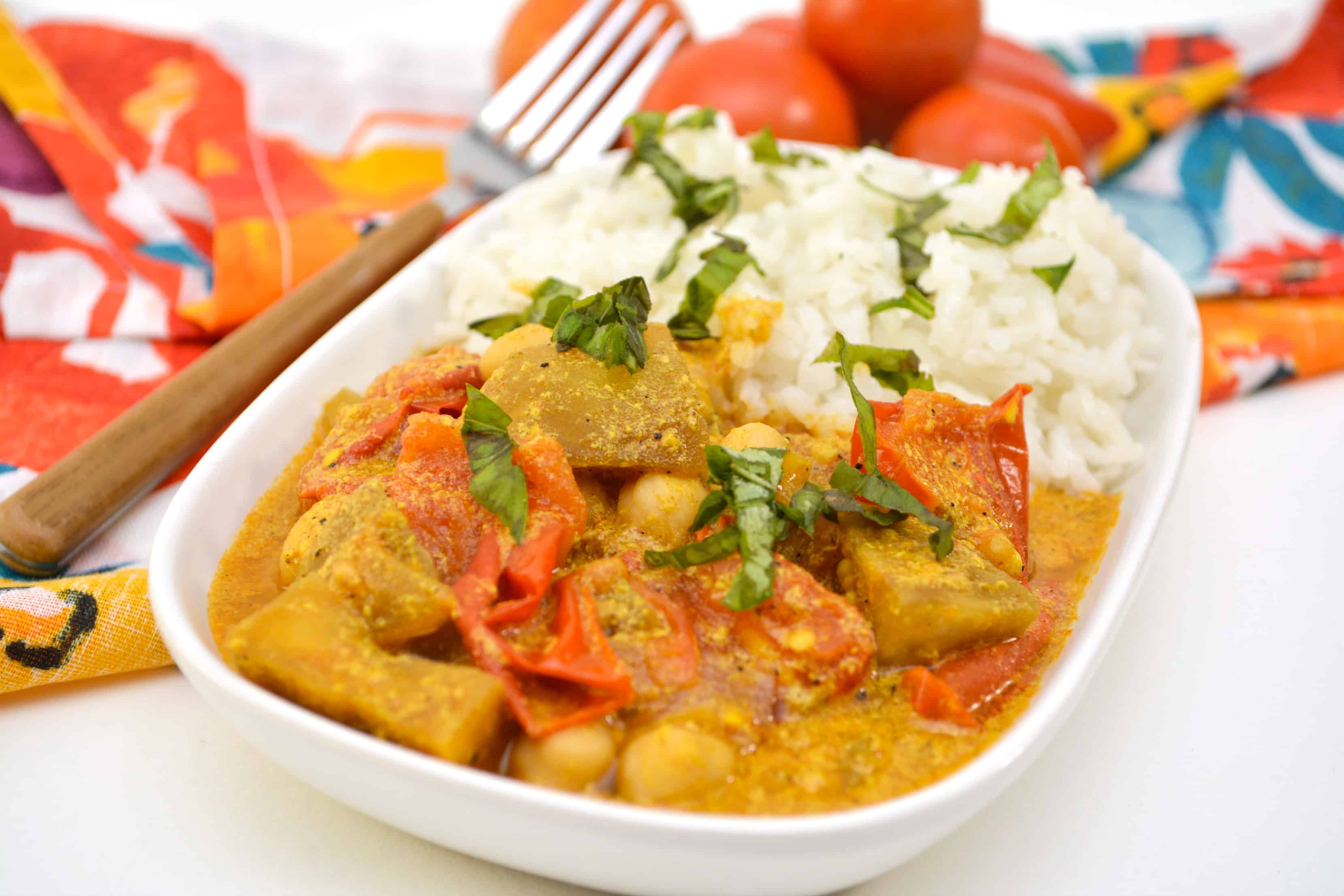 Pin this recipe now to remember it later
Eggplant Curry with Chickpeas
Love Indian food but think you can't make it at home? There is no need for that takeout tonight. This easy Eggplant Curry is going to make you able to make amazing Indian food in your own home. The dish is super flavorful and is so easy.
Ingredients
2

pints

Cherry tomatoes halved

1

lb.

Eggplant peeled and chopped into bite sized pieces

1

c.

Evaporated milk or coconut milk
Want to save this recipe? Enter your email below and we'll send the recipe straight to your inbox!
NOTE: By saving this recipe, you agree to join our weekly recipes newsletter.
Instructions
Add 1 tablespoon of olive oil to a pot over medium heat.

Toss the onions into the oil, and cook until they have begun to brown and soften.

Mix in 2 pints of cherry tomatoes that have been cut in half and 1 pound of eggplant that has been peeled and cut into bite sized pieces.

Add 1 teaspoon of garlic, the curry powder, garam masala, cumin, turmeric and paprika. Stir and cook the mixture for 2-3 minutes.

Slowly add in 1 cup of evaporated milk and 1 cup of water, mixing thoroughly.

Reduce the heat and simmer uncovered for 15-20 minutes until the eggplant has softened.

Mix in salt and pepper to taste as well as a can of drained chickpeas. Cook until the chickpeas are heated through, and serve the curry over a bed of rice
Follow me on Pinterest for daily delicious recipes!
Now, time to save this recipe on Pinterest for later 🙂
Get new recipes weekly plus our FREE ebook!