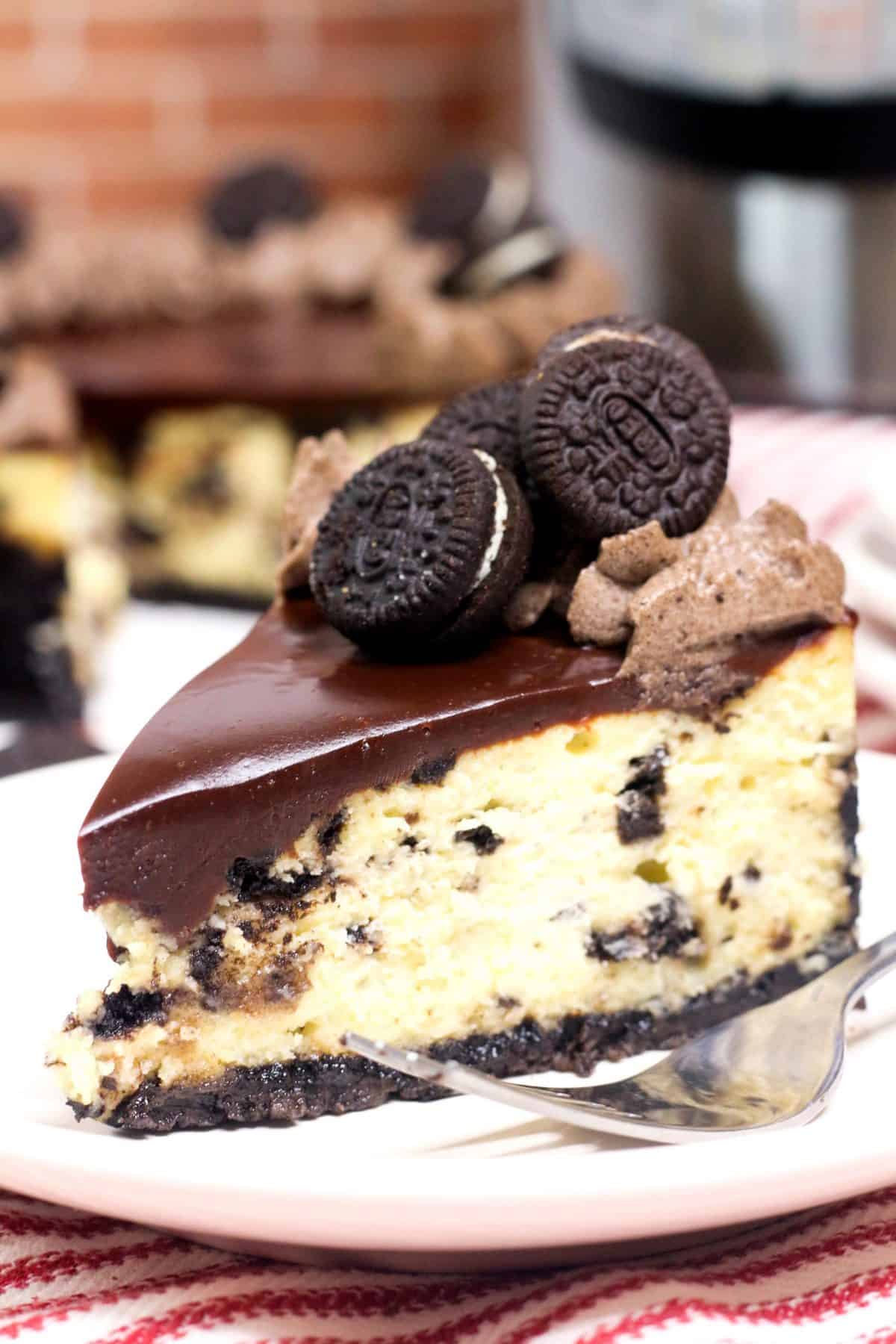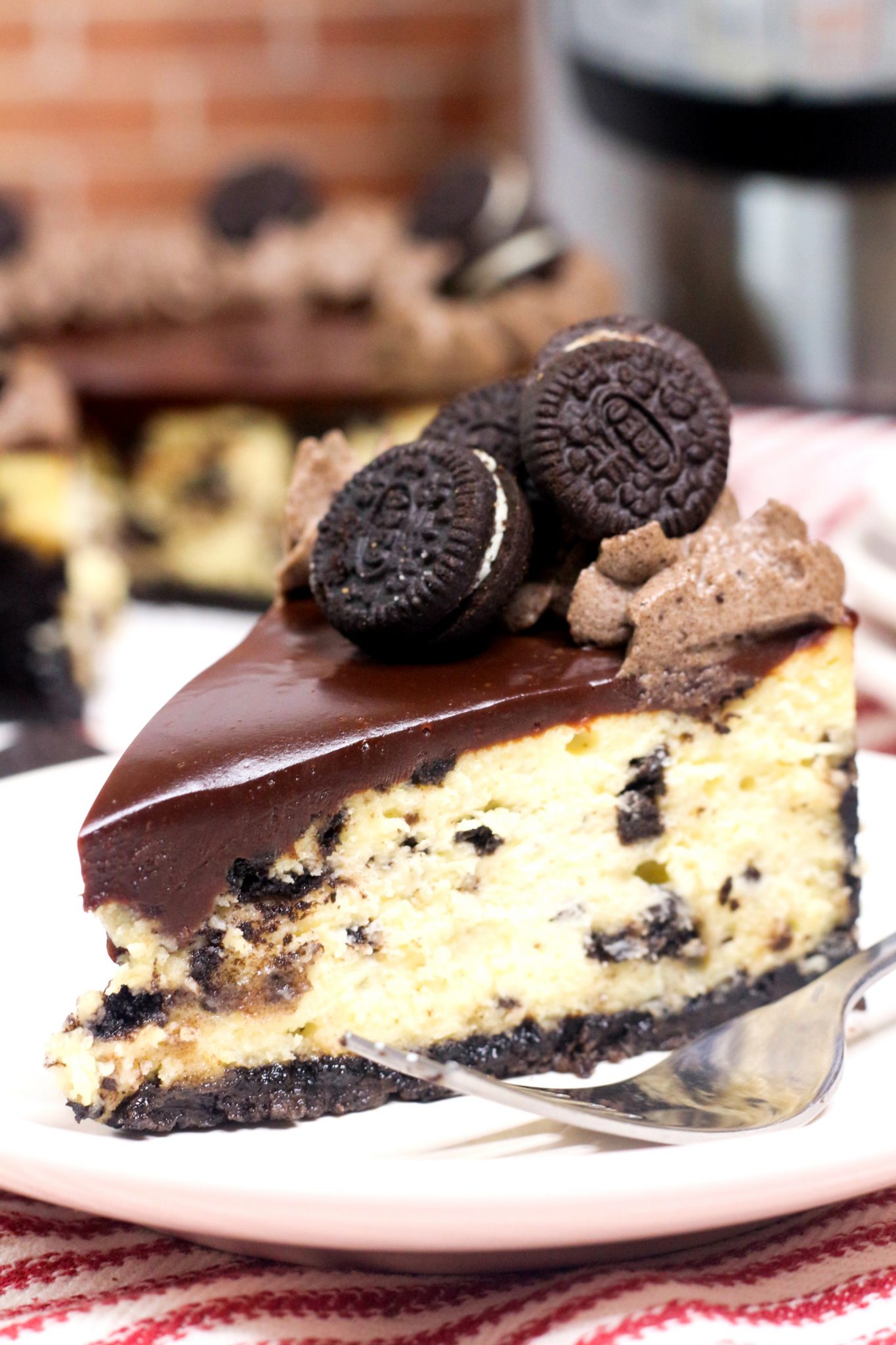 This Instant Pot Oreo Cheesecake Recipe is smooth, creamy, and absolute heaven. Every bite of this homemade Oreo cheesecake is mind-blowing good.
It's perfect if you are a chocoholic and are craving something sweet, or if you want something special to take to a family friend's house for dinner.
Scroll to bottom for printable recipe card.
Instant Pot Oreo Cheesecake Recipe
When you sink your teeth into this instant pot cheesecake recipe, I promise you're going to want to make this cheesecake all the time. With crushed Oreos as the crust, crushed Oreos in the cheesecake filling, and mini Oreos on top, how can you go wrong?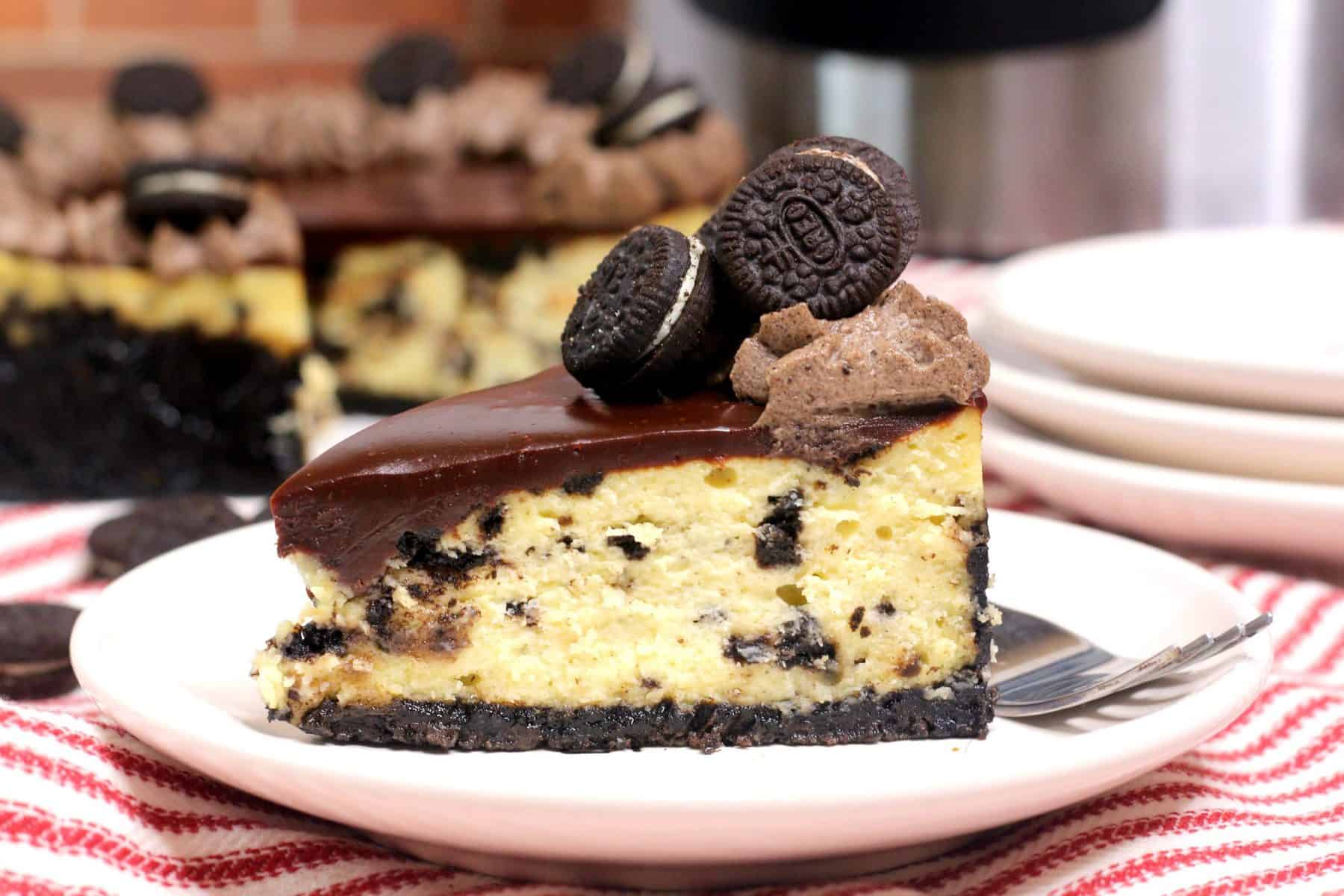 Take this instant pot cheesecake oreo recipe to your next family gathering. Everybody is going to be so pleased with such a delicious dessert they're going to rave about it and beg you for the recipe.
The last time I made this cake, everybody went back for seconds even though it's so super-rich they couldn't resist having one more piece.
What Is Chocolate Ganache
Ganache is a combination of heavy whipping cream and melted chocolate chips. If you want to add chocolate ganache to the top of this cheesecake, that is more than fine. You can whip up a batch of chocolate ganache very easily. Simply heat up the heavy cream in a pot on your stovetop until it is just barely warm, then add in some chocolate chips and stir with a whisk. Pour it over the top of the cake, and you will have homemade chocolate ganache ready to eat.
While I didn't use chocolate ganache for this particular recipe, I use it for many other cheesecakes that I make. I decided to go with more of a chocolate syrup because I like the flavor and wanted something a little bit different.
Both options would be fantastic for you, so try whichever one you want.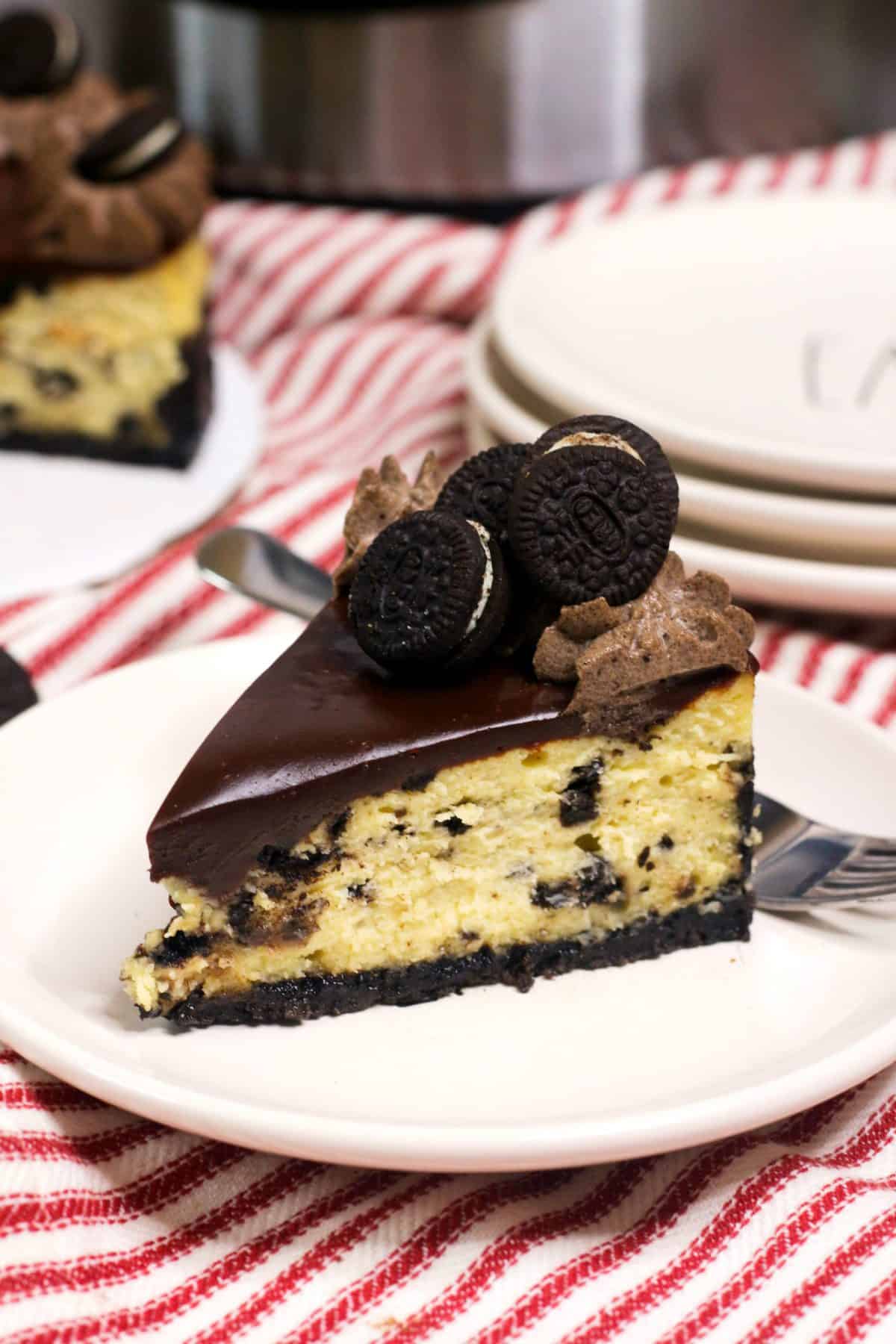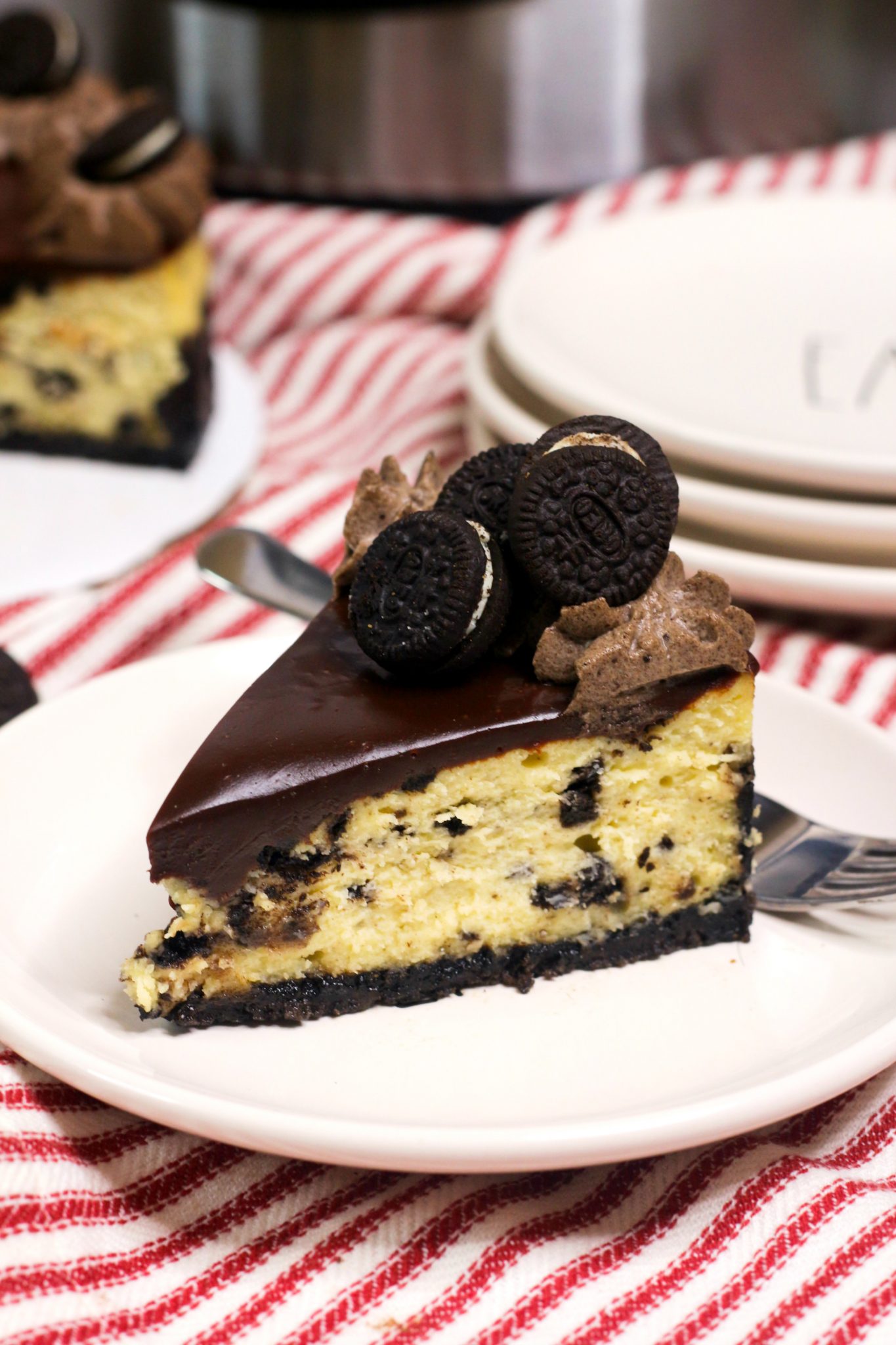 How Long Will It Take Cheesecake To Set Up
This Oreo cookie cheesecake will take about 5-12 hours to set up. You should keep it in the refrigerator overnight then serve it the next day. It's very and important you don't skip this step; otherwise, the cheesecake will fall apart as you try to cut it.
Storing Instant Pot Cheesecake
You should always keep the instant pot cheesecake in the refrigerator except for when you're serving it. You can only allow the cheesecake to sit out at room temperature for no more than 2 hours at a time. It's important to keep the cheesecake covered in an airtight container.
The cheesecake will last in the refrigerator for 5 days.
Can I Use A Different Flavor Oreo For This Cheesecake
Yes, you can absolutely use a different flavor of Oreos to make this cheesecake. Mint Oreos, peanut butter Oreos, or double stuffed Oreos would all be lovely options. I've tried mint Oreos, and they are seriously so amazing if you love chocolate and mint, that is a wonderful combination.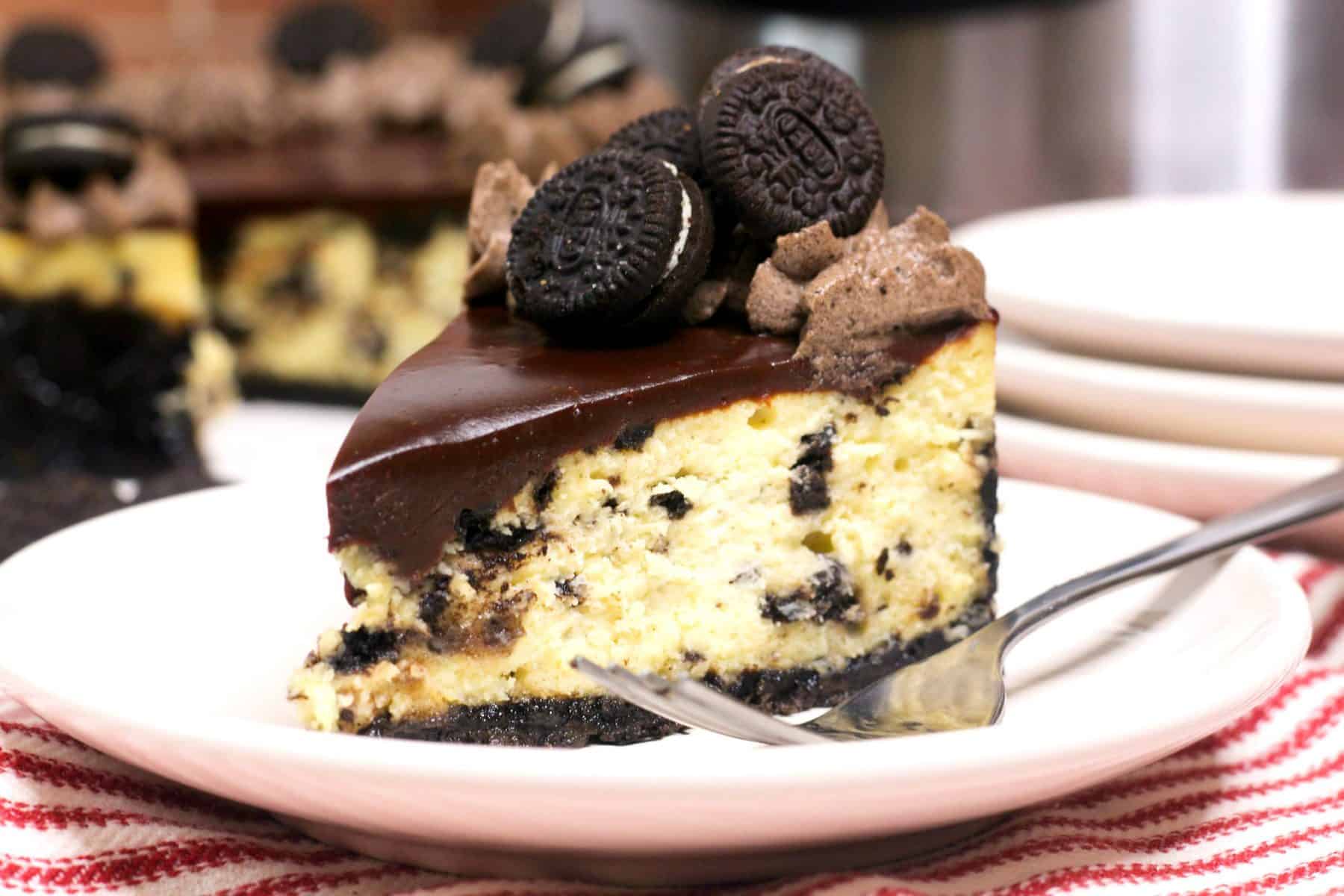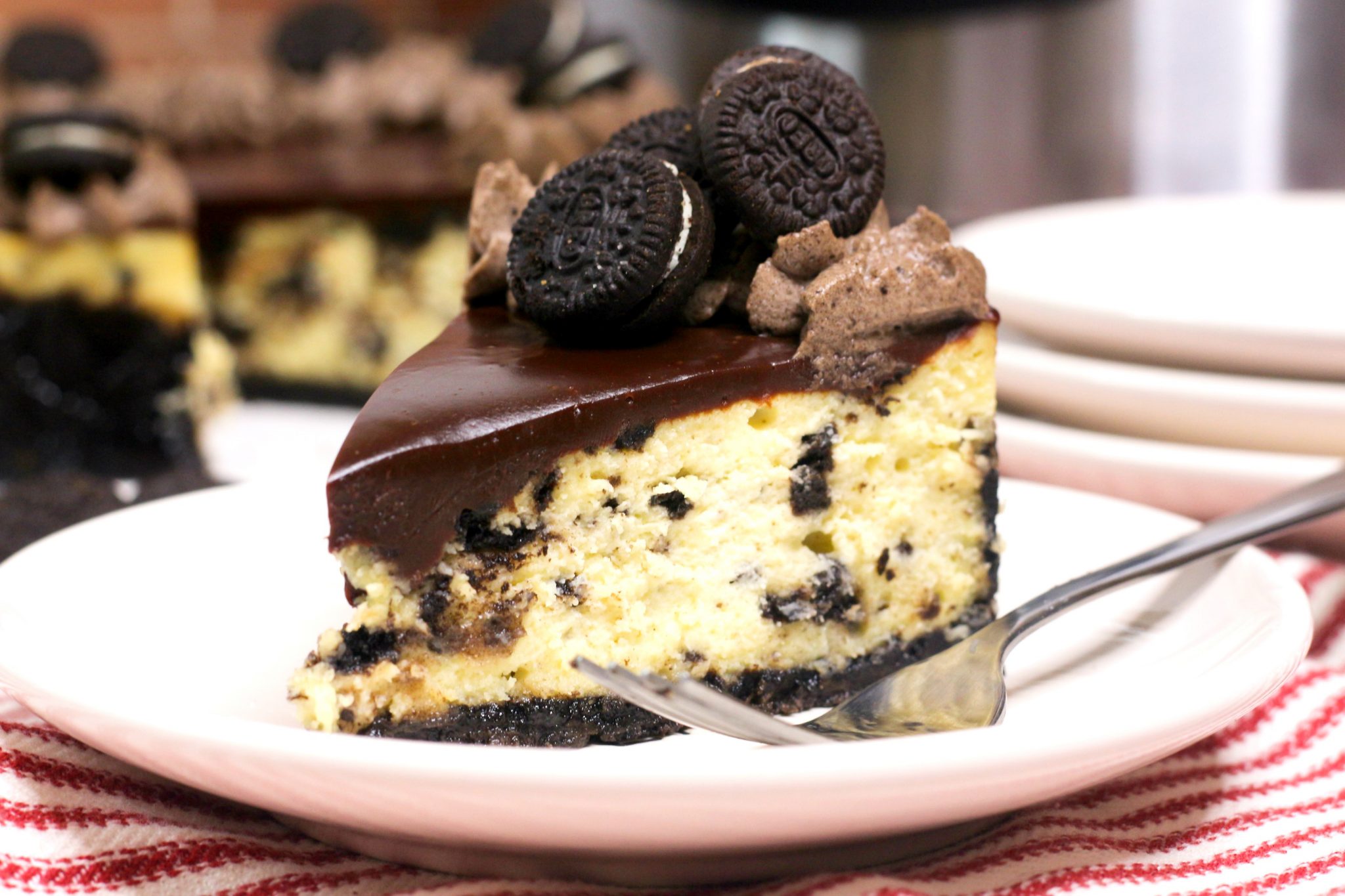 Can I Freeze Oreo Cheesecake
Yes, you can freeze this Oreo cheesecake recipe. After the cake has cooled and chill overnight, you can wrap it up with plastic wrap then place the cake inside of another container that is airtight.
It will last in the freezer for around three months. Before serving the cheesecake, you can thaw out in the refrigerator. Or you can eat it frozen if you'd rather.
Ingredients
You will combine two sets of ingredients for this cake: the crust and the filling. Let's take a closer look at what you need for this cheesecake recipe.
For the crust:
16 Oreos
3 Tbsp. Melted butter unsalted
Pinch of salt
For the filling:
16 oz. Cream cheese softened
¼ C. Brown sugar
½ C. Granulated sugar
2 Eggs
¼ C. Sour cream
Pinch salt
1 Tbsp. All purpose flour
1 tsp. Vanilla extract
10 Oreos
Whipping cream for topping
Crushed Oreos for topping
Chocolate syrup for topping
How to Make Oreo Cheesecake
After you learn how to make this Oreo cheesecake in your instant pot, you will have a new favorite method for making cheesecakes.
First Step: Place Oreo cookies and melted butter in a food processor. Blend until they are completely combined and smooth.
Second Step: Place the cookie crumbs in a well-greased springform pan. Push the crumbs into the bottom, so they form a solid crust. Put the crust into the freezer for at least 20 minutes.
Third Step: Combine the cream cheese, brown sugar, granulated sugar, eggs, sour cream, flour, and vanilla in a bowl until smooth and creamy.
Fourth Step: Take 10 Oreos and crush them up and add them to the cream cheese filling. Pour the cheesecake filling on top of the crust.
Fifth Step: Add a piece of aluminum foil on top of the cheesecake to protect it while it is cooking. Pour one cup of water into the instant pot and add the trivet to the pot.
Sixth Step: Add the lid to the instant pot and turn it on to the manual setting for 37 minutes. Complete a natural release for 10 minutes once the cheesecake is done cooking. Then finish with a quick release. Put the cheesecake on a wire rack to allow it to cool.
Seventh Step: Store the cheesecake in the refrigerator for a minimum of 5 hours. Twelve hours would be the best-case scenario.
Eighth Step: When you're ready to serve this cheesecake, add chocolate syrup, Oreos, and whipped cream on top.
Enjoy!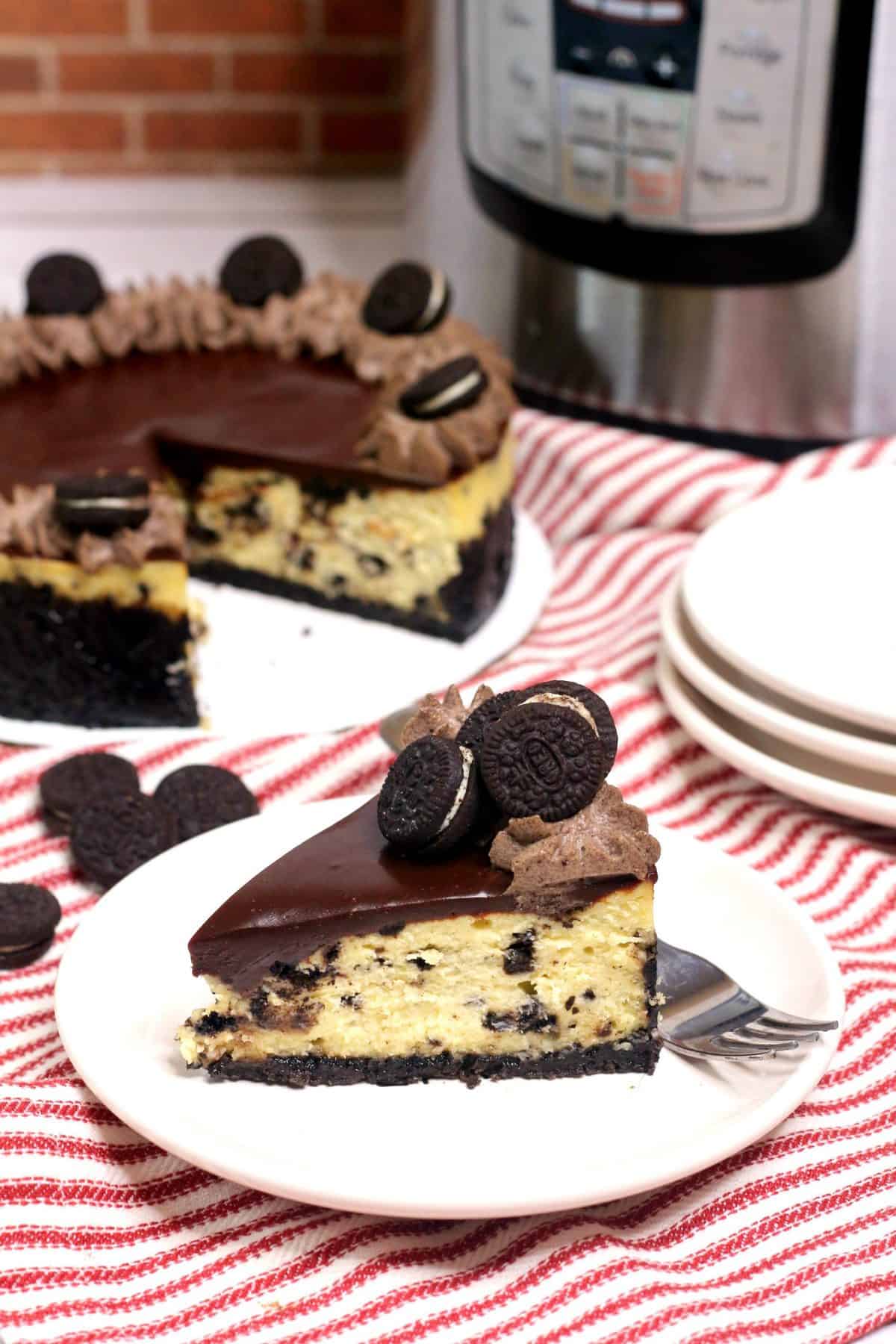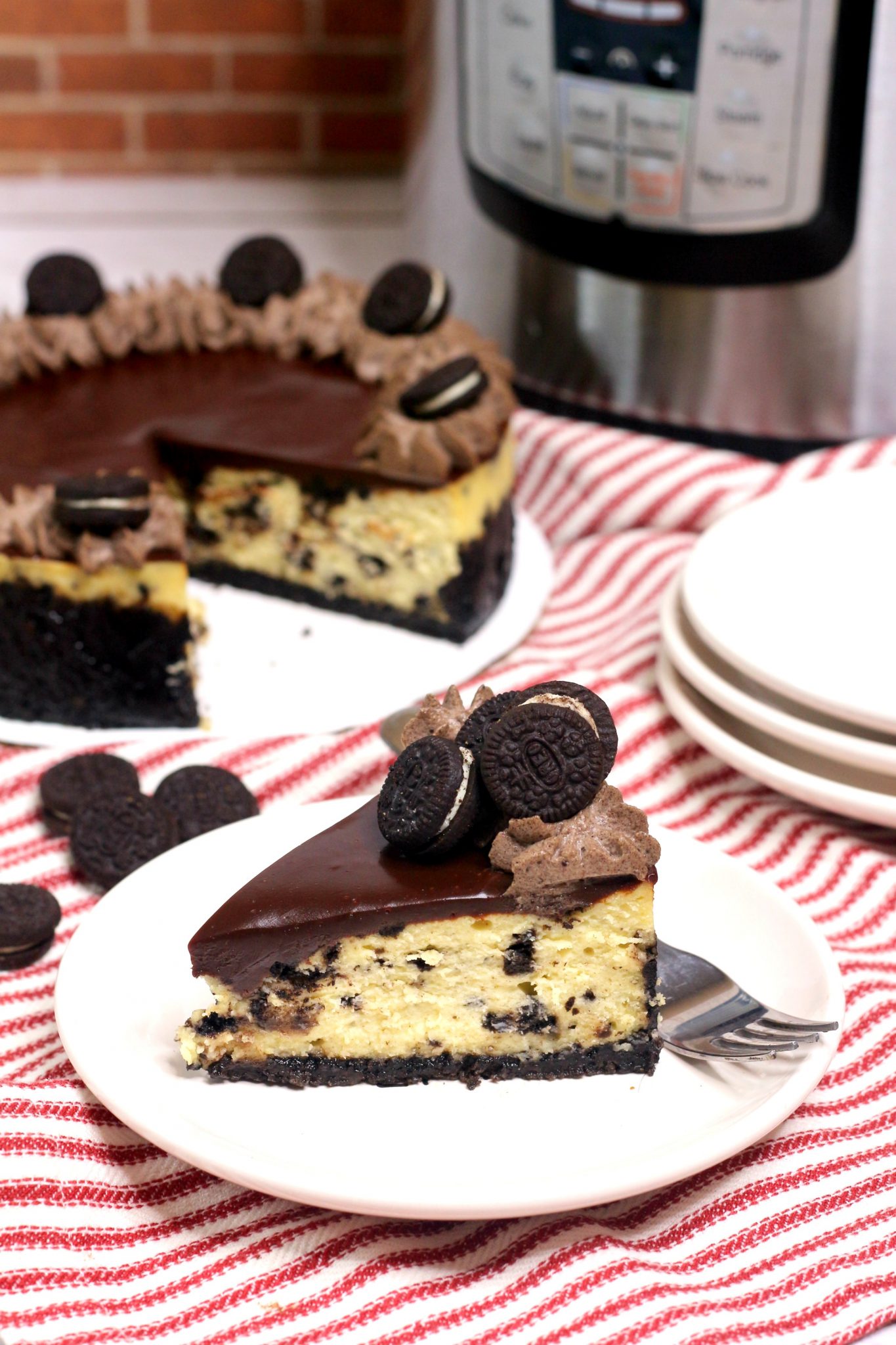 Now, remember to save this recipe on Pinterest for later 🙂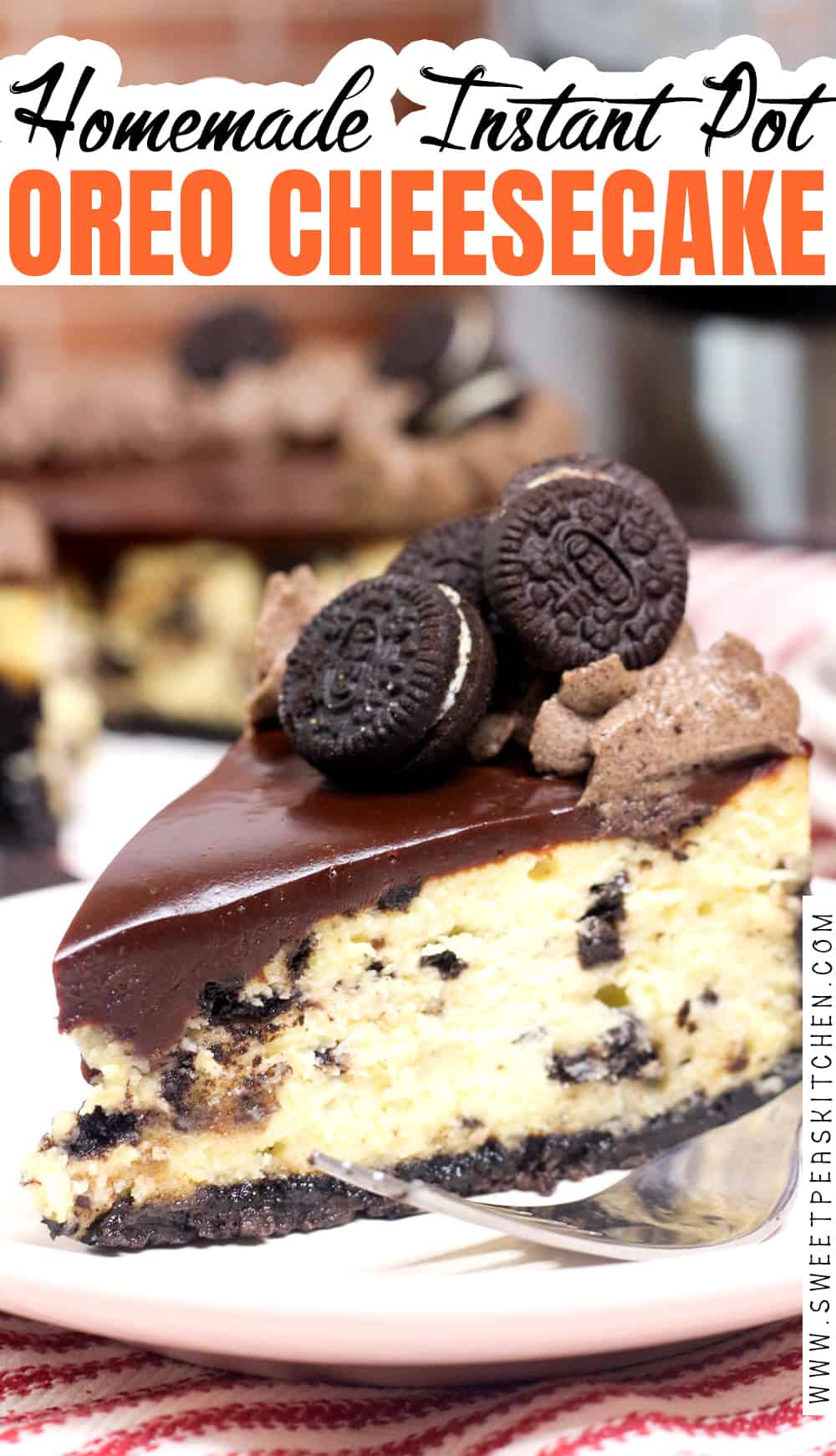 Pin this recipe now to remember it later
Homemade Instant Pot Oreo Cheesecake
You need this simple Homemade Oreo Cheesecake recipe. Sweet, creamy, with an Oreo crunch, this is the best Homemade Instant Pot Oreo Cheesecake ever!
Ingredients
Crust Ingredients:
3

TBSP

unsalted butter

,

melted
Batter Ingredients:
2

packages

,

8 oz each cream cheese (room temp)

1/2

C

heavy cream

,

room temp
Ganache Ingredients:
1/2

C

heavy whipping cream

1

disposable piping bag with star tip
Want to save this recipe? Enter your email below and we'll send the recipe straight to your inbox!
NOTE: By saving this recipe, you agree to join our weekly recipes newsletter.
Instructions
Prep springform pan with non-stick spray

Set aside

Crush cookies
Crust Directions:
Combine cookie crumbs and melted butter in a large bowl. Stir until both ingredients are well combined.

Transfer the mixture to the prepped pan. With a measuring cup press down on the mixture to make a crust. With this crush work to line the sides to about the middle of the pan.

Move to the refrigerator and chill for at least 20 minutes.
Cheesecake Directions:
(Before you start ensure that all of the ingredients are at room temp.)

Using an electric mixer, beat the cream cheese, sugar, and cornstarch on medium-low speed. Continue to beat until the mixture is light and fluffy. Scrape down the sides and bottom of the bowl.

Reduce the mixer speed to low. Add in the heavy cream. Beat until blended. Scrape the bottom and sides of the bowl. Add one egg at at a time beating after each addition until combined. Add the vanilla beating to to mix well.

Slowly begin to add in the chopped cookies. Stir to mix.

Transfer the crust from the refrigerator. Slowly begin to pour the cheesecake batter into the prepped pan.
Cooking Directions:
Put the metal trivet into the Instant Pot.

Add 1 1/2 cups of water. Gently place the cheesecake pan on top of the trivet. Cover the pan that has the cheesecake with foil.

Set on manual setting. Adjust the pressure to high. Cook for 30 minutes. (30 minutes will make the cheesecake creamy while 35 minutes will result in a denser cheesecake.)

When the IP beeps, release the pressure naturally for about 20-30 minutes.

Carefully open the IP. Gently move the cheesecake to a cooling rack.

Allow to cool for about 1 hour. Carefully run a paring knife around the edges of the cheesecake.

Transfer the cheesecake (still in the springform pan) to the refrigerator for at least 6 hours or overnight.
Ganache Directions:
Pour the heavy cream in a microwave safe bowl. Put the bowl in the microwave for 45 seconds. (Or until it begins to bubble.)

Put the chocolate chips into a bowl. Pour the hot heavy cream on top of the chocolate chips. Check to make sure all of the chips are covered with the heavy cream. Set the bowl aside for about 1 minute.

After the minute start to slowly stir the mixture until all is totally blended. (If not all of the chips are melted return the bowl for another 20 seconds.) Stir. Repeat these last 2 steps as necessary until the chips are melted and incorporated. (If the mixture is too thin add move chips, If the mixture is too thick add more cream. If added stir until all ingredients are blended.)

Move the serving plate close to the cheesecake. Remove the cheesecake from the pan. Set it on the serving plate.

Carefully pour the ganache over the cheesecake.
Oreo Whipped Cream
Using a hand beater, beat together all ingredients until combined and stiff with peaks

Scoop into a piping bag

Garnish with Oreo cookies.

Set the cheesecake aside allowing the ganache to harden before cutting and serving.

Return the leftover cheesecake to the refrigerator. Cover the cheesecake loosely with foil. It will last in the refrigerator for about 1 week.
Nutrition
Serving:
1
g
|
Calories:
801
kcal
|
Carbohydrates:
84
g
|
Protein:
9
g
|
Fat:
51
g
|
Saturated Fat:
26
g
|
Polyunsaturated Fat:
16
g
|
Trans Fat:
1
g
|
Cholesterol:
156
mg
|
Sodium:
370
mg
|
Fiber:
3
g
|
Sugar:
59
g
Follow me on Pinterest for daily delicious recipes!
I have several other instant pot dessert recipes that I'm excited to share with you.
Instant Pot red white and blue cheesecake – if you were hosting a patriotic event, you should definitely serve this instant Pot red white and blue cheesecake recipe.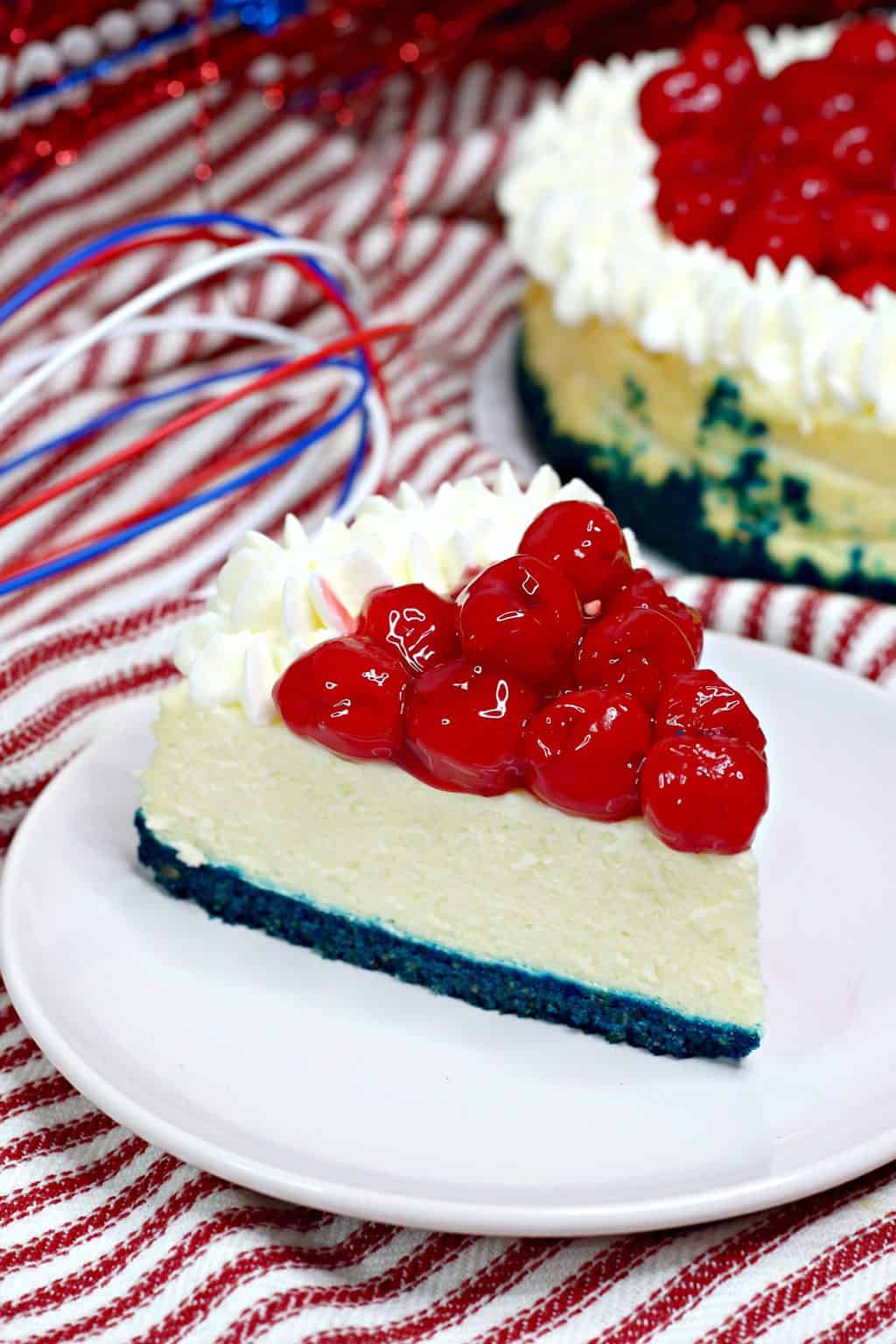 Instant pot apple pepper jelly – this jelly is so good it could be considered a dessert. Or you can serve it for breakfast or a special treat.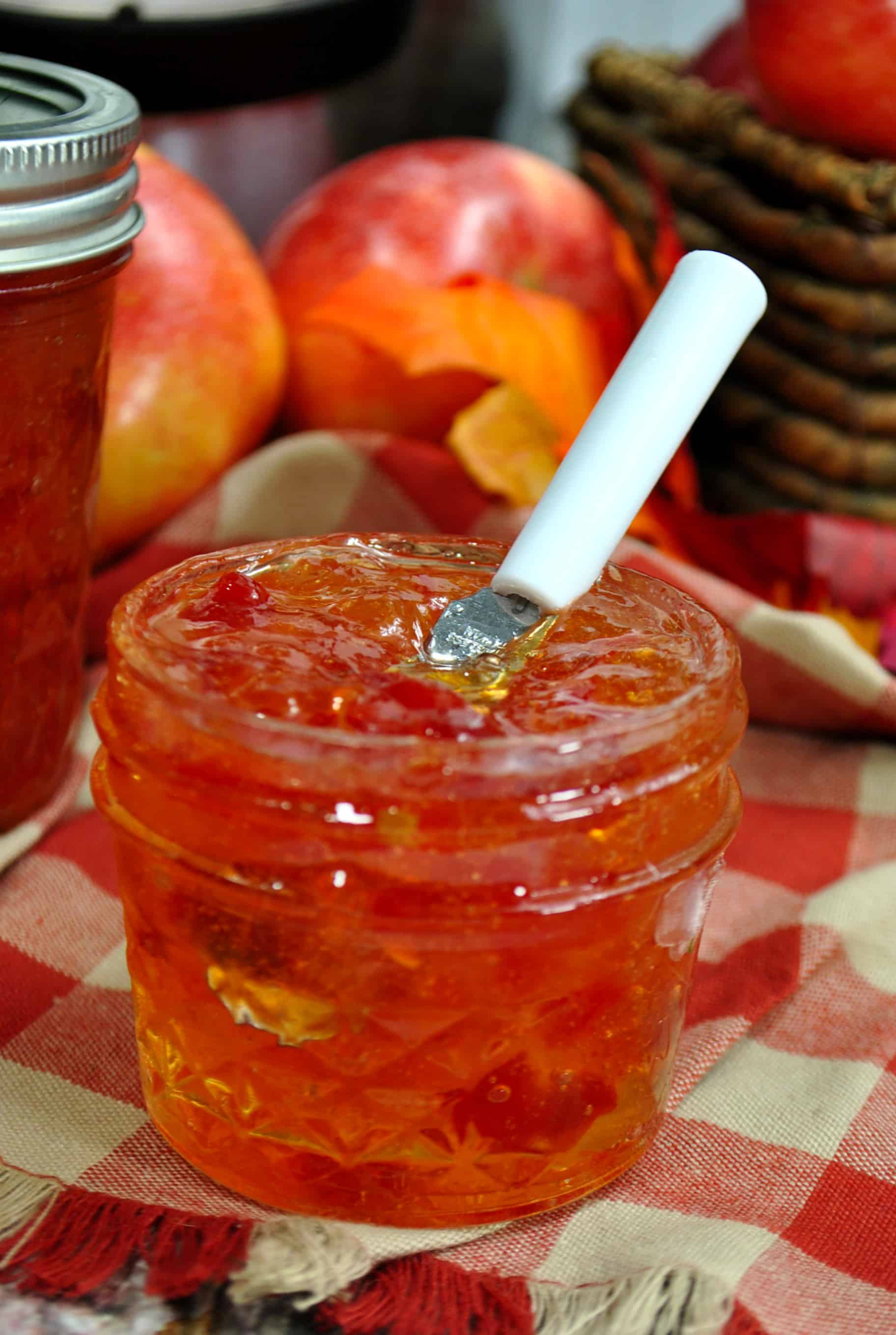 Instant pot white chocolate raspberry cheesecake – everything about this cheesecake will make you jump for joy because it is so amazing.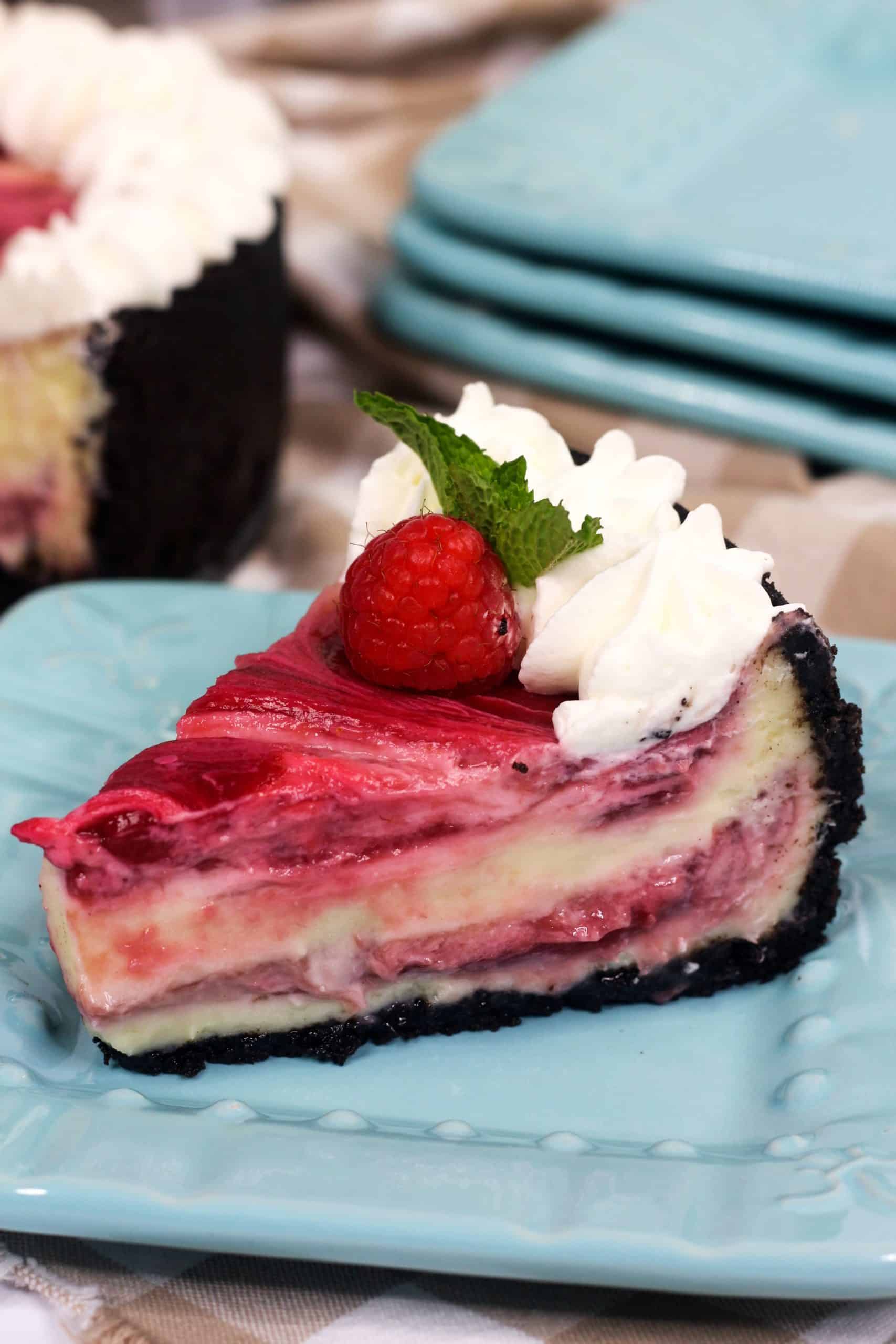 Instant pot black forest cheesecake – what if my favorite cheesecake recipes are this black forest cheesecake. It has everything you could ever want in a cake, and it is positively amazing.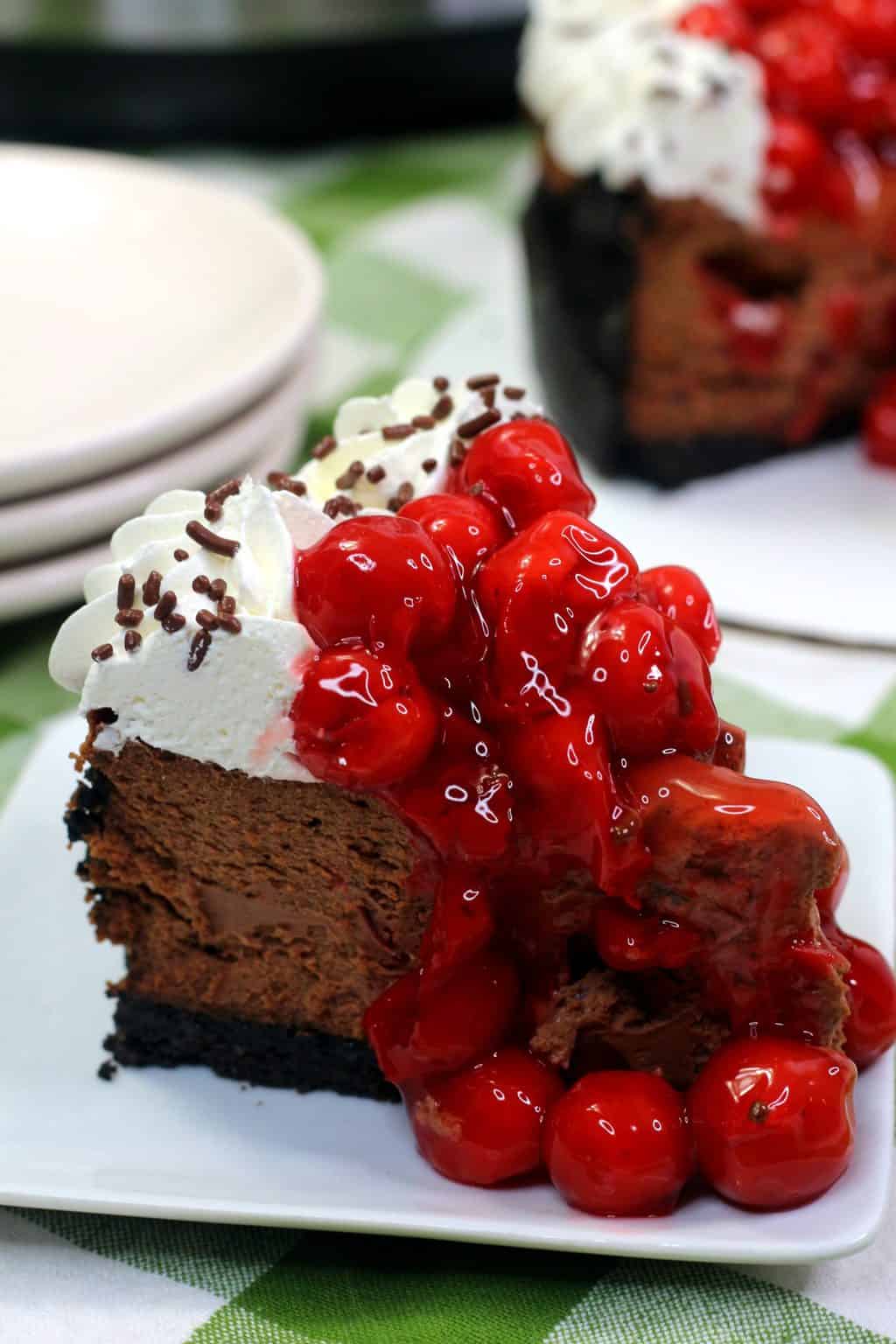 Get new recipes weekly plus our FREE ebook!