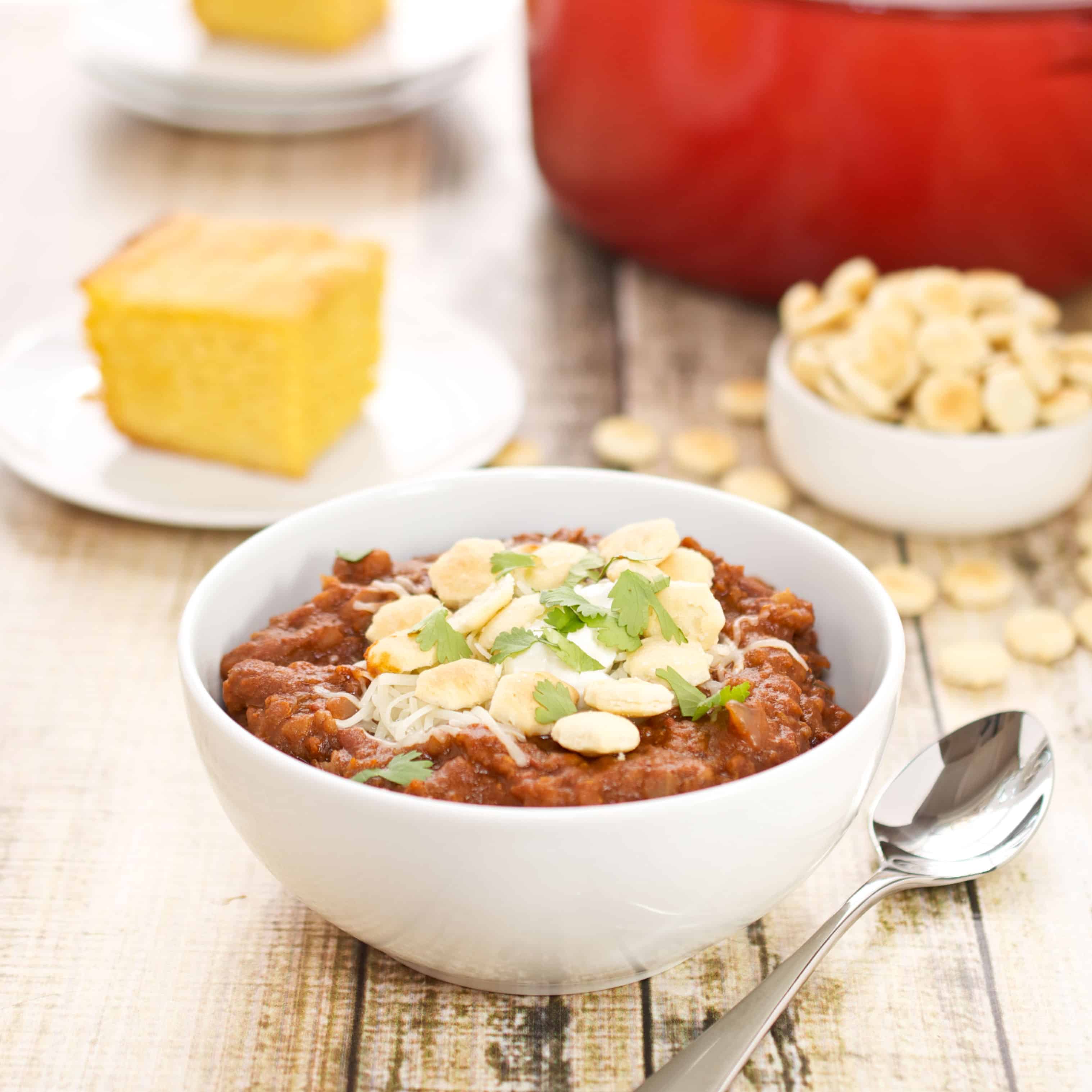 Delicious Homemade Vegetarian Chili that will keep you satisfied. It's filled with navy beans, red kidney beans, dried ancho chiles, New Mexican chiles, shiitake mushrooms, diced tomatoes, jalapeno chiles, and lots of spices and seasonings.
Scroll to bottom for printable recipe card.
Homemade Vegetarian Chili
It never fails; as soon as the first flake of snow falls from the sky, we start craving chili around here. There's something so satisfying about chili that makes everything better. Whether it's beef chili, chicken chili, turkey chili, or just bean chili-I love them all. So when Cooks Illustrated named their newest chili recipe, the Best Vegetarian Chili-I had to try it! Classic chili relies on meat for texture, savory flavor, and richness. This meatless chili has all three, with the help of some surprising add-ins.
Variations & Toppings to Recipe
There are several additions you can make with this filling and tasty meatless chili.
Cheddar Cheese – Sprinkle some shredded cheese on top of the chili before serving. So yummy.
Avocado Slices – Add a few pieces of sliced avocado before serving. It's a creamy addition to the vegetarian chili.
Salsa – Put 1-2 tablespoons of fresh or store-bought salsa or pico de gallo on top of the chili. It adds vibrant color and tastes great too.
Sour Cream – I love adding a little bit of sour cream to my homemade chili. It's so cool and creamy that it's hard to resist.
Tortilla Chips – Either dip the tortilla chips into the chili and eat it or add them to the bowl's top.
Carrots – Sprinkle in some shredded carrots and mix in with the chili. It will add a subtle sweetness and some additional nutrients too.
Meat – If you want to add meat to the veggie chili, that's more than fine. Shredded chicken, ground beef, or ground turkey would be lovely options as well.
Can I Double Recipe
Yes, you can easily double this bean chili. Each batch serves 6-8, so you can simply adjust the amount needed to have as much as you need. It's a great meal for meal prepping too.
How to Add Spice To Recipe
To add some extra heat to the vegetarian chili, sprinkle in some cayenne pepper or red pepper flakes to the chili. You could also chop up some additional jalapeno peppers and add them to the chili. Feel free to make it as spicy as you want.
Storing Leftovers
After the bean chili has cooled down all the way and then put it in a food container; make sure the lid is on tight, and it will last in the fridge for up to 5 days. Reheat in a saucepan with medium heat on the stovetop or microwave for 1-2 minutes until hot.
How To Freeze Chili
The chili will last in a freezer-safe container for up to 3 months—Thaw the leftover vegan chili in the fridge overnight. Then reheat and enjoy!
Ingredients
This veggie chili has a few ingredients, but nothing that is difficult to work with. It's pretty straightforward and can be easily adjusted if you want to add more flavors or textures.
Salt
Navy beans
Red Kidney beans
Dried ancho chiles
Dried New Mexican chiles
Shiitake mushrooms
Dried oregano
Toasted walnuts
Tomatoes
Tomato paste
Jalapeño chiles
Minced garlic cloves
Soy sauce
Vegetable oil
Onions
Ground cumin
Water
Medium-grind bulgur
Chopped fresh cilantro
How to Make Vegetarian Chili
This is a wonderful chili recipe that you are going to want to make over and over again. It's incredible, and you won't forget it!
First Step: Begin by heating a Dutch oven with high heat and place 4 quarts of water along with three tablespoons of salt. Place the beans in the pot and boil. Then remove the pan from the heat and let it rest for one hour. Drain off the beans and rinse well.
Second Step: Turn on the oven to 300 degrees F. Put the anchos and the New Mexican chiles on a baking sheet and cook for 8 minutes or until they are puffy and fragrant. Place the chilis on a plate and let them cool for 5 minutes. Remove the stems and seeds. Then work in batches and grind the chiles, mushrooms, and oregano until they are ground up fine.
Third Step: Add walnuts to the food processor for around 30 seconds. Then put them in a bowl and set aside. Add in the drained tomatoes, jalapenos, garlic, and soy sauce until they are all chopped fine. This usually takes around 45 seconds or so.
Fourth Step: Put the Dutch oven over medium-high heat and add in oil until it begins to shimmer. Then add in the onions and 1 1/4 teaspoons of salt. Cook frequently stirring until the onions are browned, which takes for 8-10 minutes. Turn down the heat to medium and add the ground chile mixture then the cumin to the Dutch oven. Stir constantly for 1 minute, then add in the beans and water. Bring them to a boil and cover, and cook for 45 minutes.
Fifth Step: Take the pot off of the heat and mix in the bulgur, walnuts, tomatoes, and reserved tomato juice. Place the lid on the pot and return it to the oven—Cook in the oven until the beans are soft and tender, usually taking around 2 hours.
Sixth Step: Take the Dutch oven out of the oven and stir well. Allow it to rest for 20 minutes uncovered. Mix in the cilantro and serve with your favorite toppings.
NOTE: It's best to use whole dried chilies when making this dish. However, you can swap it for chili powder. If you opt to use chili powder, use 1/4 cup of chili powder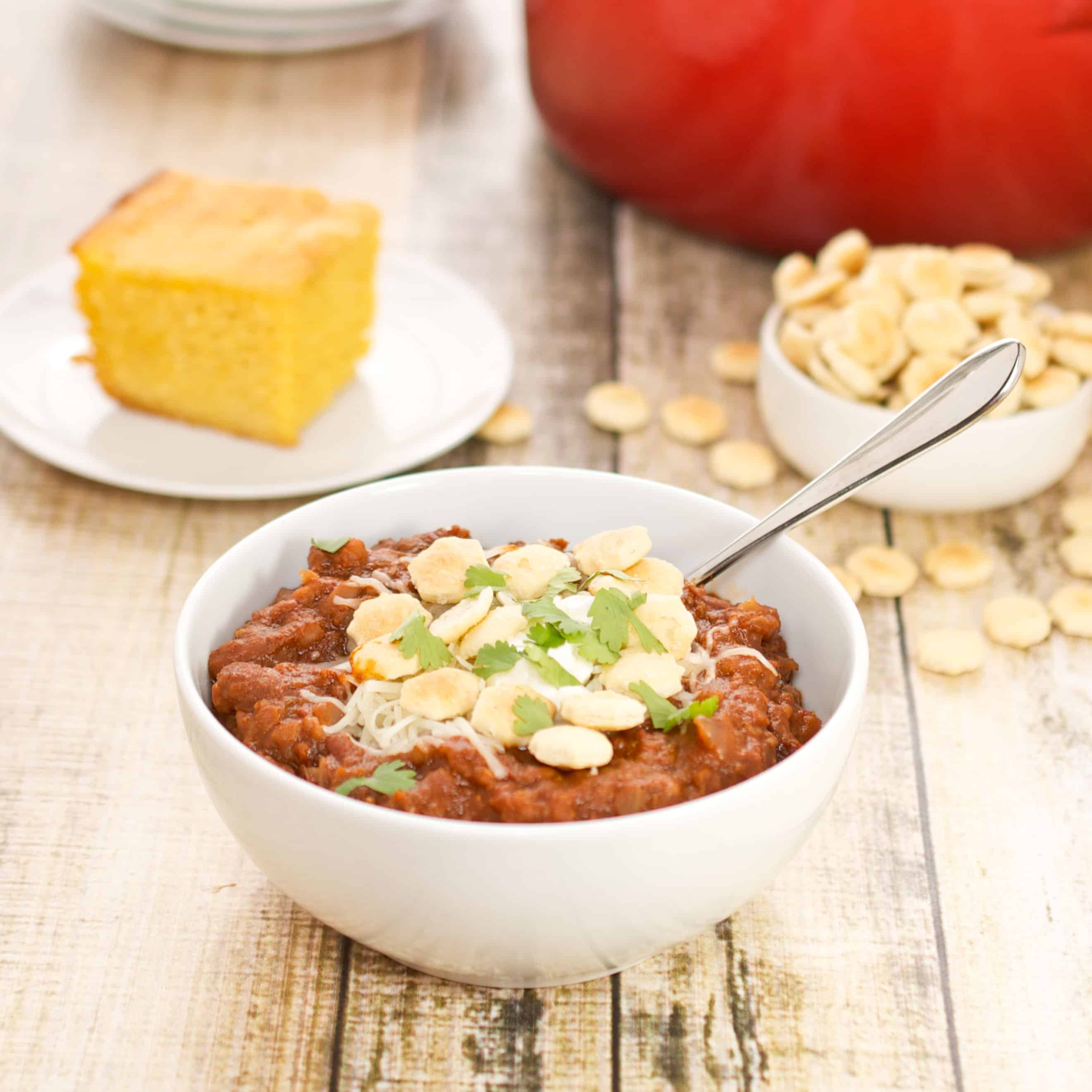 We have some of the most awesome chili's and soup recipes for you. Check these out:
Wendy's Copycat Chili – If you love eating Wendy's Chili, you will be thrilled that you can make a version of it at home.
Potato Soup – This creamy and filling potato soup is bound to be one of your favorites. Give it a try to see for yourself.
Low Carb Chicken Enchilada Soup – Filled with many Mexican flavors, it's an incredible soup you will want year-round. It's easy, delicious, and unforgettable.
Instant Pot Chicken Tortilla Soup – You aren't going to want to miss this soup. It can quickly be prepared in your pressure cooker!
Pin this recipe now to remember it later
Ingredients
1/2

pound

1 1/4 cups dried Navy beans, picked over and rinsed

1/2

pound

1 1/4 cups dried Red Kidney beans, picked over and rinsed

2

dried New Mexican chiles

1/2

ounce

dried shiitake mushrooms

,

chopped coarse

4

teaspoons

dried oregano

1

28-ounce can diced tomatoes, drained with juice reserved

3

tablespoons

tomato paste

1 - 2

jalapeño chiles

,

stemmed and coarsely chopped

2

pounds

onions

,

chopped fine

1

tablespoon

ground cumin

2/3

cup

medium-grind bulgur

1/4

cup

chopped fresh cilantro
Want to save this recipe? Enter your email below and we'll send the recipe straight to your inbox!
NOTE: By saving this recipe, you agree to join our weekly recipes newsletter.
Instructions
1. In a large Dutch oven over high heat, bring 4 quarts water, 3 tablespoons salt, and beans to a boil. Remove pot from heat, cover, and let stand for 1 hour. Drain beans and rinse well.

2. Heat oven to 300 degrees. Place anchos and New Mexican chiles on a rimmed baking sheet and toast until fragrant and puffed, about 8 minutes. Transfer to plate to let cool, about 5 minutes, before stemming and seeding chiles. Working in batches, grind chiles, mushrooms, and oregano in spice grinder (or with mortar and pestle) until finely ground.

3. In the bowl of a food processor process walnuts until finely ground, about 30 seconds. Transfer to bowl and set aside. In the food processor process drained tomatoes, tomato paste, jalapeño, garlic, and soy sauce until tomatoes are finely chopped, about 45 seconds.

4. In a Dutch oven over medium-high heat, heat oil until shimmering. Add onions and 1 1/4 teaspoons salt; cook, stirring occasionally, until onions begin to brown, 8 to 10 minutes. Lower heat to medium and add ground chile mixture and cumin; cook, stirring constantly, until fragrant, about 1 minute. Add rinsed beans and water and bring to boil. Cover pot, transfer to oven, and cook for 45 minutes.

5. Remove pot from oven. Stir in bulgur, ground walnuts, tomato mixture, and reserved tomato juice. Cover pot and return to oven. Cook until beans are fully tender, about 2 hours.

6. Remove pot from oven, stir well, and let stand, uncovered, for 20 minutes. Stir in cilantro and serve with lime wedges, sour cream, diced avocado, chopped red onion, and shredded Monterey Jack or cheddar cheese, if desired.

Recipe Note: Making this chili with whole dried chiles is best, but it can be prepared with chili powder. If using chili powder, grind the mushrooms and oregano and add them to the pot with 1⁄4 cup of chili powder in step 4.
Follow me on Pinterest for daily delicious recipes!
Get new recipes weekly plus our FREE ebook!