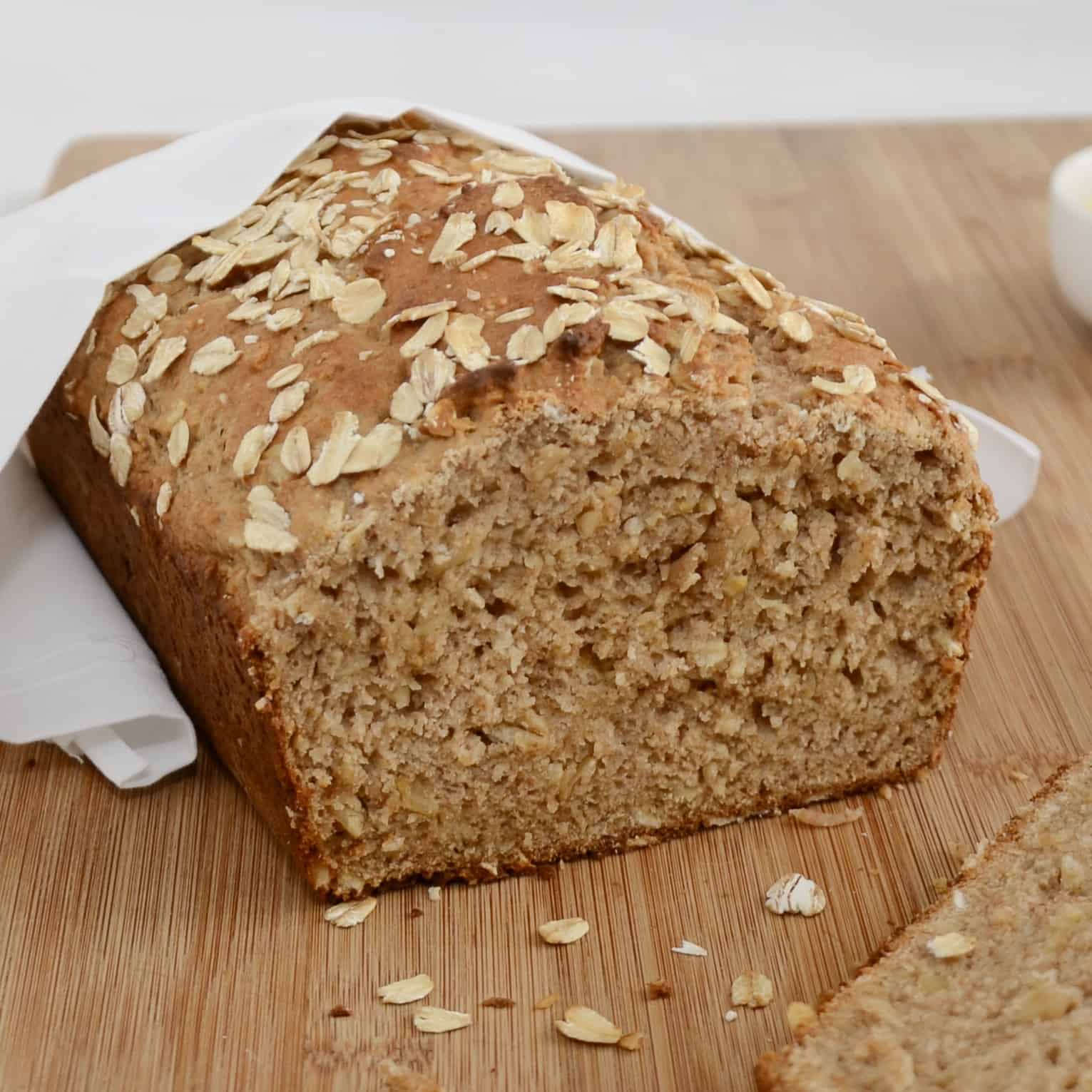 Delicious Honey Oat Quick Bread is so simple and tastes way better than anything you can pick up at the market. It's soft, flavorful, and perfect for anything. The oats give you some added nutrients, as well as a little bit of a crunch.
Make a hearty sandwich or top it with butter and jam. Either way, this bread recipe is a winner.
Honey Oat Quick Bread Recipe
Few things on Earth are better than the smell of homemade bread baking in the oven. The incredible smell wafting from the oven is enough to make one weak in the knees. Since there is no yeast involved or bread machine necessary, this super easy bread can be on your table in no time at all.
Packed with hearty oats and sweet honey, this bread is great for anything from toast to sandwiches! It tastes so great you won't even know it is healthy for you! 😀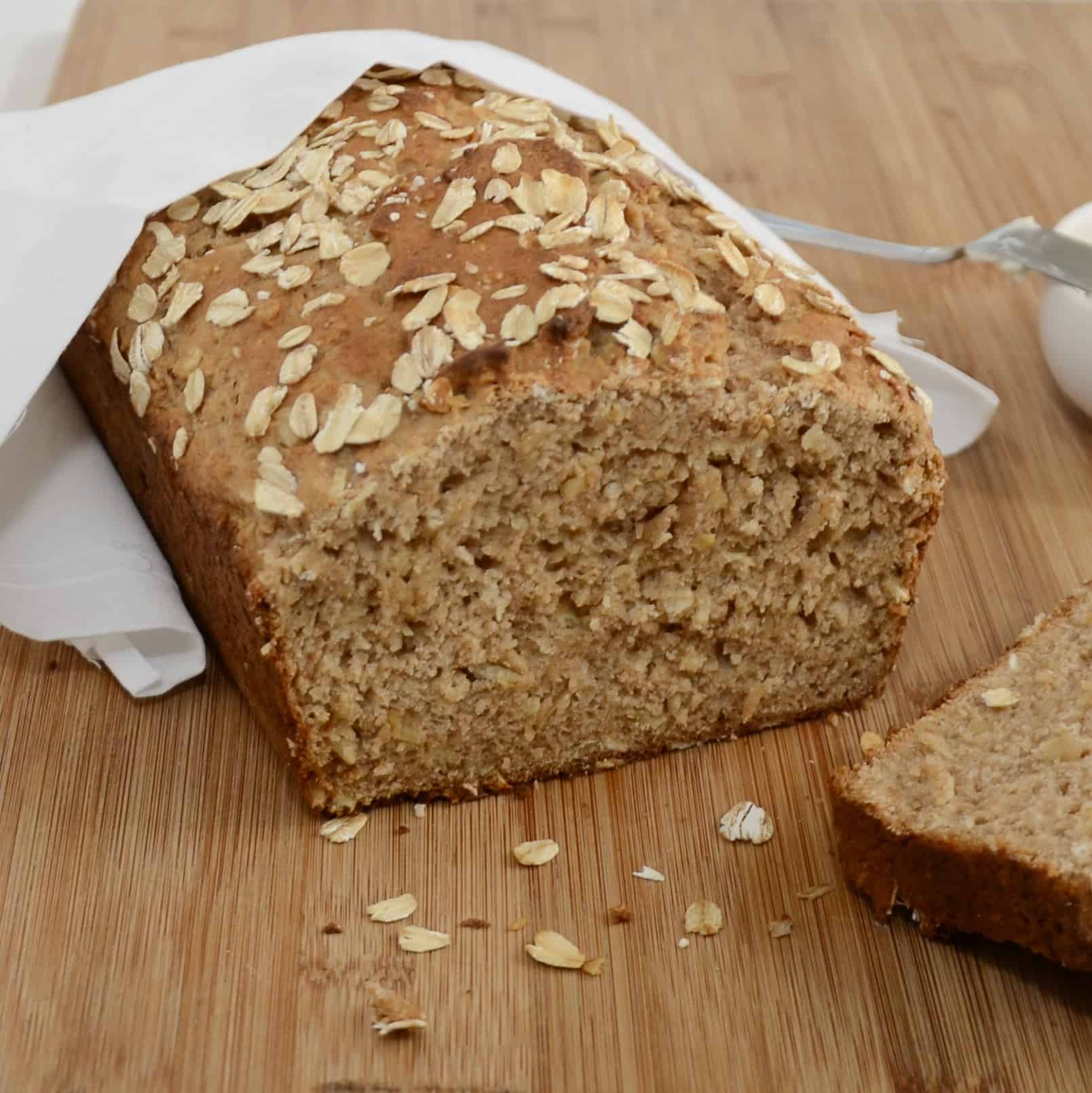 Can Honey Oat Bread be Made Vegan?
Yes, you can make this honey oat bread vegan! It's really simple, and you just need to make a few adjustments to have a delightful vegan bread recipe. First, you will need to replace the yogurt with a vegan option. Some ideas are coconut milk yogurt, oat milk yogurt, or flax milk yogurt.
Next, you will need to replace the egg with an egg substitute. Silken tofu, mashed banana, and flaxseed are all great options. Another thing you will need to swap out is the milk. You can use any vegan milk replacement like almond or coconut milk.
Lastly, you will need to use something instead of honey—a vegan alternative like maple syrup, coconut nectar, or agave nectar.
How Long is Homemade Bread Good?
Homemade bread should always be cooled all the way before stored. Then keep it in an airtight container. A bag or plastic container will work as long as it's airtight. This honey oat quick bread will last around 3-5 days if kept airtight. In some cases, it may even last up to a week.
It's essential to keep bread away from anything that is hot. If you have hot appliances like a toaster, dishwasher, or even your stove near the bread, it will dry it out. That would make it go bad much quicker than keeping the bread in a cooler place. Never put the bread in the sunlight, either.
Does This Oat Bread Have to Rise Before Baking?
No, there is no rising needed at all with this oat bread. How amazing is that? That is why I love making quick breads because that is a huge step you can skip and save yourself lots of time and energy.
When making this bread recipe, you can quickly and easily combine the ingredients and add them to the pan then bake. It's genuinely that simple!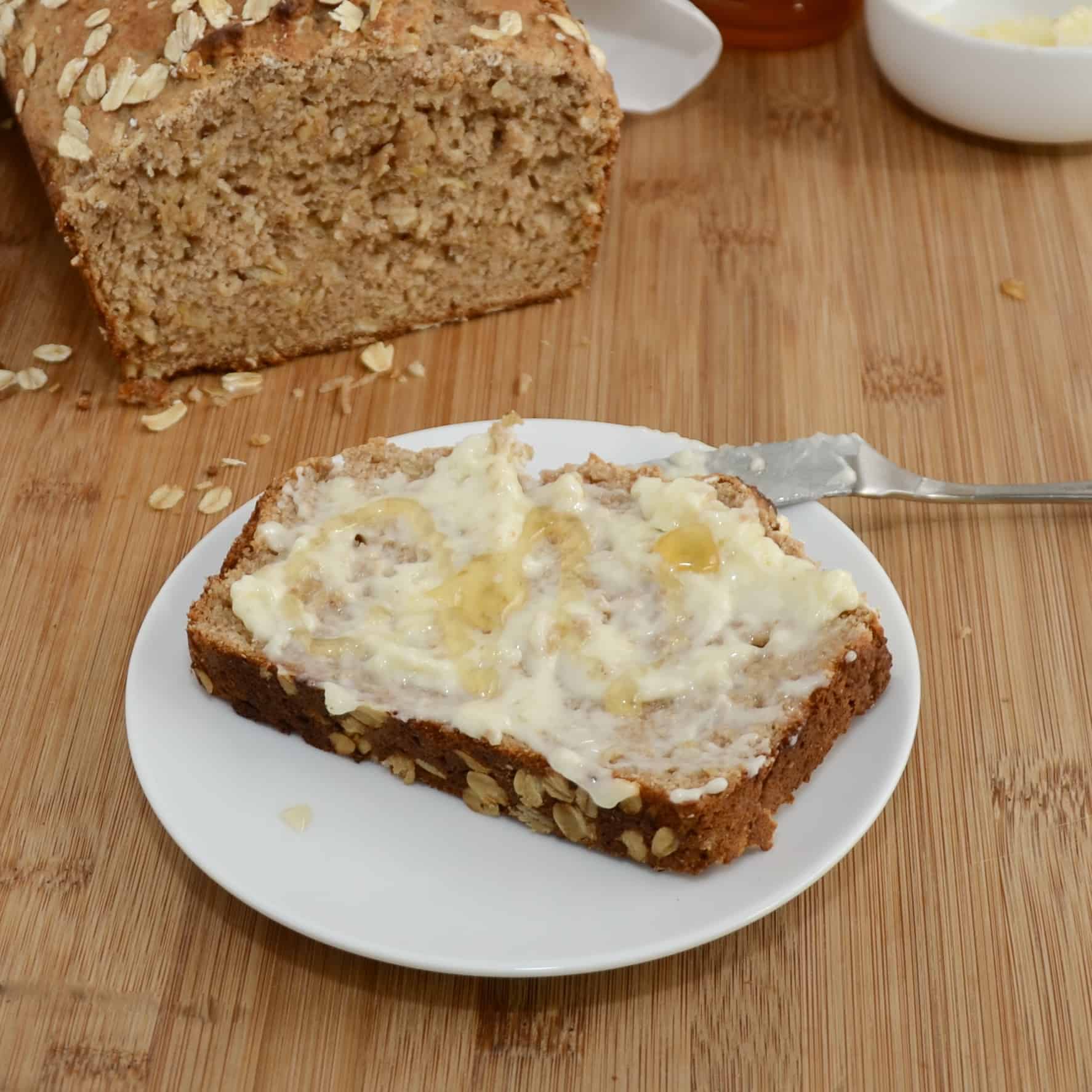 Ingredients
The only thing standing between you and biting into a bite of this amazing bread is 12 ingredients and a little bit of time. You won't believe how simple and amazing this recipe is. Let's get started!
How to Make Honey Oat Quick Bread
If you are anything like me, after you start making bread at home, it becomes an addiction. There is nothing better than homemade bread, and because it's so easy, it becomes second nature. I have a feeling once you try it, you are going to be satisfied and kiss store-bought bread goodbye.
First Step: Turn your oven on to 375 degrees F. Then coat a 9 x 5-inch loaf pan using cooking spray. Add in one tablespoon of oats into the bottom of the baking pan. Then tip it back and forth, so the bottom and sides are coated with the oats. Set aside for later.
Second Step: Place the whole wheat flour, all-purpose flour, baking powder, salt, baking soda, and cinnamon in a large bowl. Combine with a whisk and set aside.
Third Step: Beat together the one cup of oats, yogurt, egg, honey, and oil in a medium bowl using a fork. Pour in the milk. Then stir in the yogurt mixture into the bowl with the flour. Mix until everything is incorporated, but make sure not to overmix. Pour the batter into a baking pan and spread evenly. Add one tablespoon of oats on top.
Fourth Step: Bake the quick bread for 40-50 minutes or until it's brown on top and a toothpick comes out clean after being stuck in the center. Let the bread sit on a wire rack for 15 minutes to cool. Then take a butter knife and run around the edges to loosen it. Turn the bread onto the wire rack and let it continue cooling for 45 more minutes.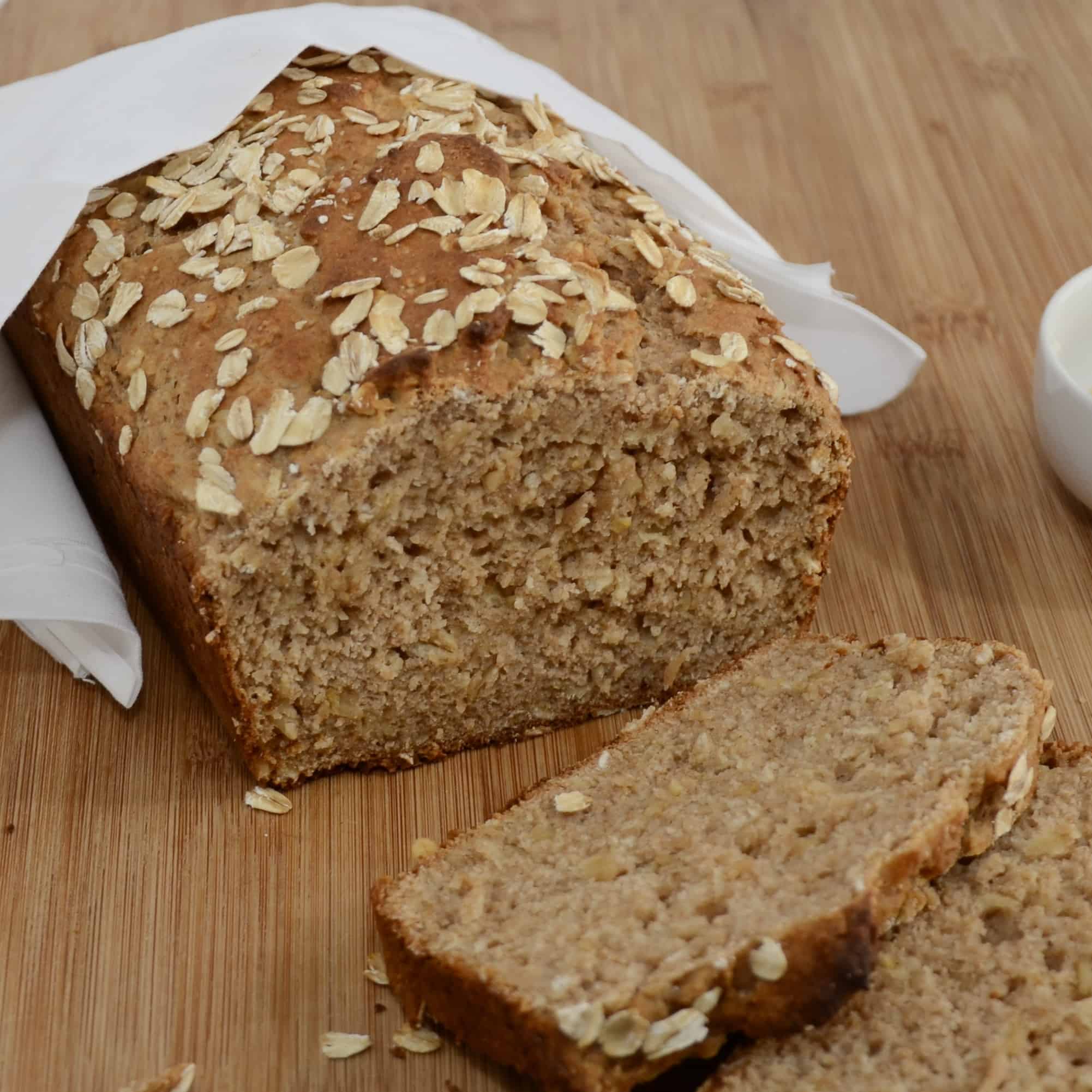 Now, remember to save this recipe on Pinterest for later 🙂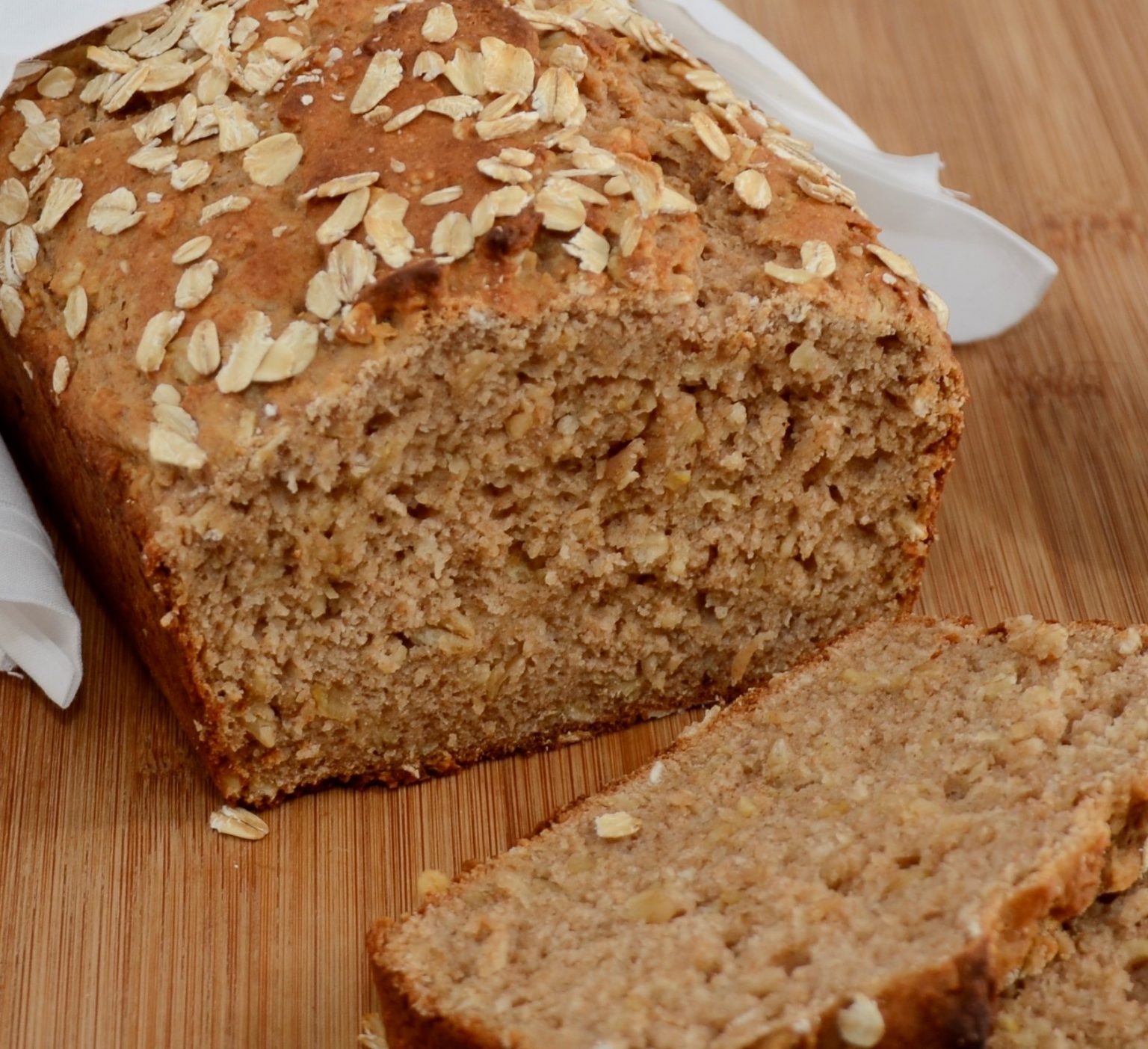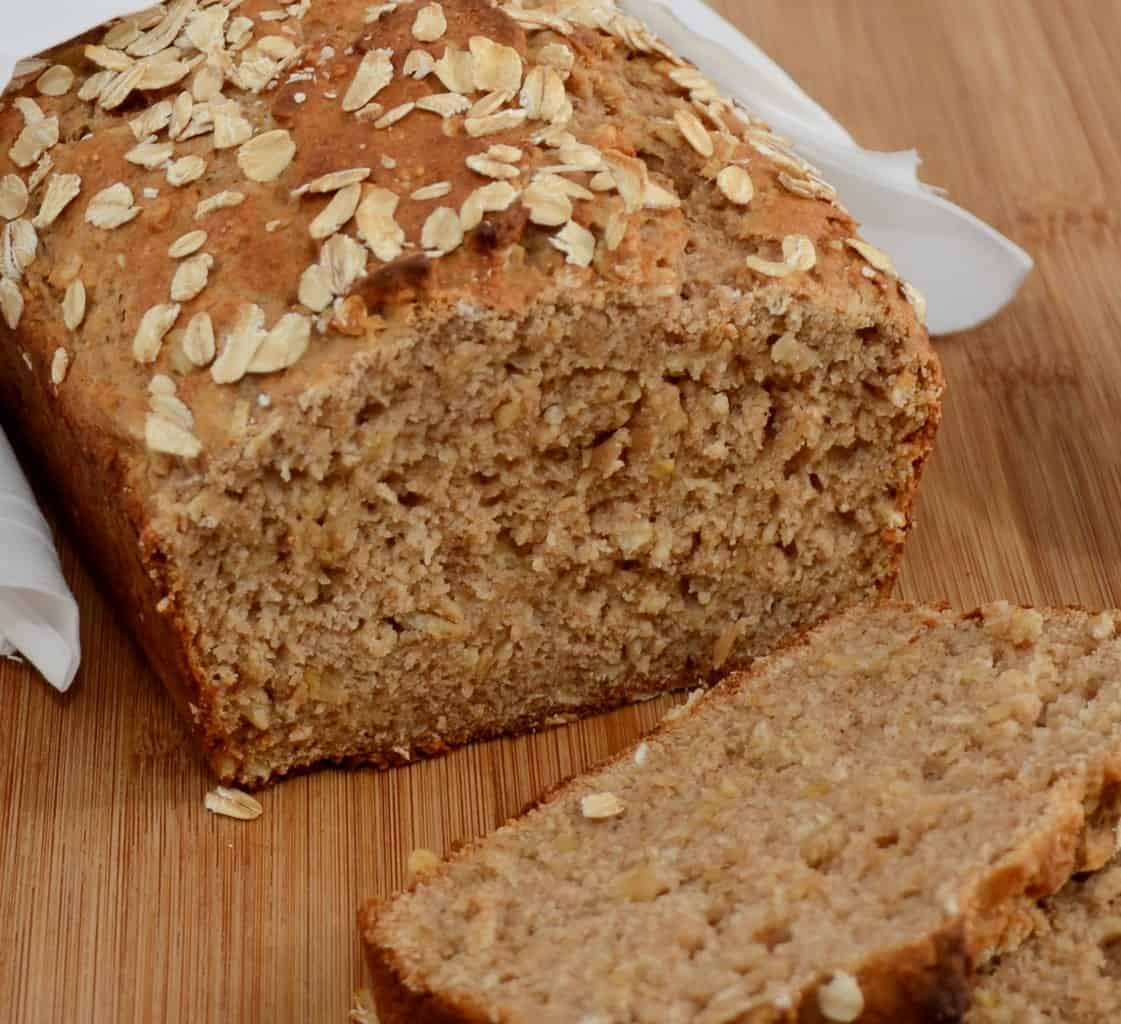 Honey Oat Quick Bread
Total Time:
1 hour
5 minutes
Delicious Honey Oat Quick Bread is so simple and tastes way better than anything you can pick up at the market. It's soft, flavorful, and perfect for anything.
Ingredients
2 tablespoons plus 1 cup old-fashioned rolled oats, or quick-cooking (not instant) oats, divided
1 1/3 cups whole-wheat flour
1 cup all-purpose flour
2 1/4 teaspoons baking powder
1/4 teaspoon baking soda
1 teaspoon salt
1 teaspoon cinnamon
1 cup nonfat or low-fat plain yogurt
1 large egg
1/4 cup canola oil
1/4 cup clover honey, or other mild honey
3/4 cup nonfat or low-fat milk

Instructions
Heat oven to 375°F. Generously coat a 9-by-5-inch loaf pan with cooking spray. Sprinkle 1 tablespoon oats in the pan. Tip the pan back and forth to coat the sides and bottom with oats; set aside.
In a large bowl, whisk together the whole-wheat flour, all-purpose flour, baking powder, baking soda, salt and cinnamon; set aside.
In a medium bowl, using a fork, beat 1 cup oats, yogurt, egg, oil and honey until well blended. Stir in milk. Gently stir the yogurt mixture into the flour mixture just until thoroughly incorporated but not overmixed. Scrape the batter into the pan, spreading evenly to the edges. Sprinkle the remaining 1 tablespoon oats over the top.
Bake until well browned on top and a toothpick inserted in the center comes out clean, 40 to 50 minutes. Let stand in the pan on a wire rack for 15 minutes. Run a table knife around and under the loaf to loosen it and turn it out onto the rack. Let cool until barely warm, about 45 minutes.
Nutrition Information:
Amount Per Serving:
Calories:

0
Total Fat:

0g
Saturated Fat:

0g
Trans Fat:

0g
Unsaturated Fat:

0g
Cholesterol:

0mg
Sodium:

0mg
Carbohydrates:

0g
Fiber:

0g
Sugar:

0g
Protein:

0g
I am excited to share some more finger-licking good bread recipes with you. Take a look