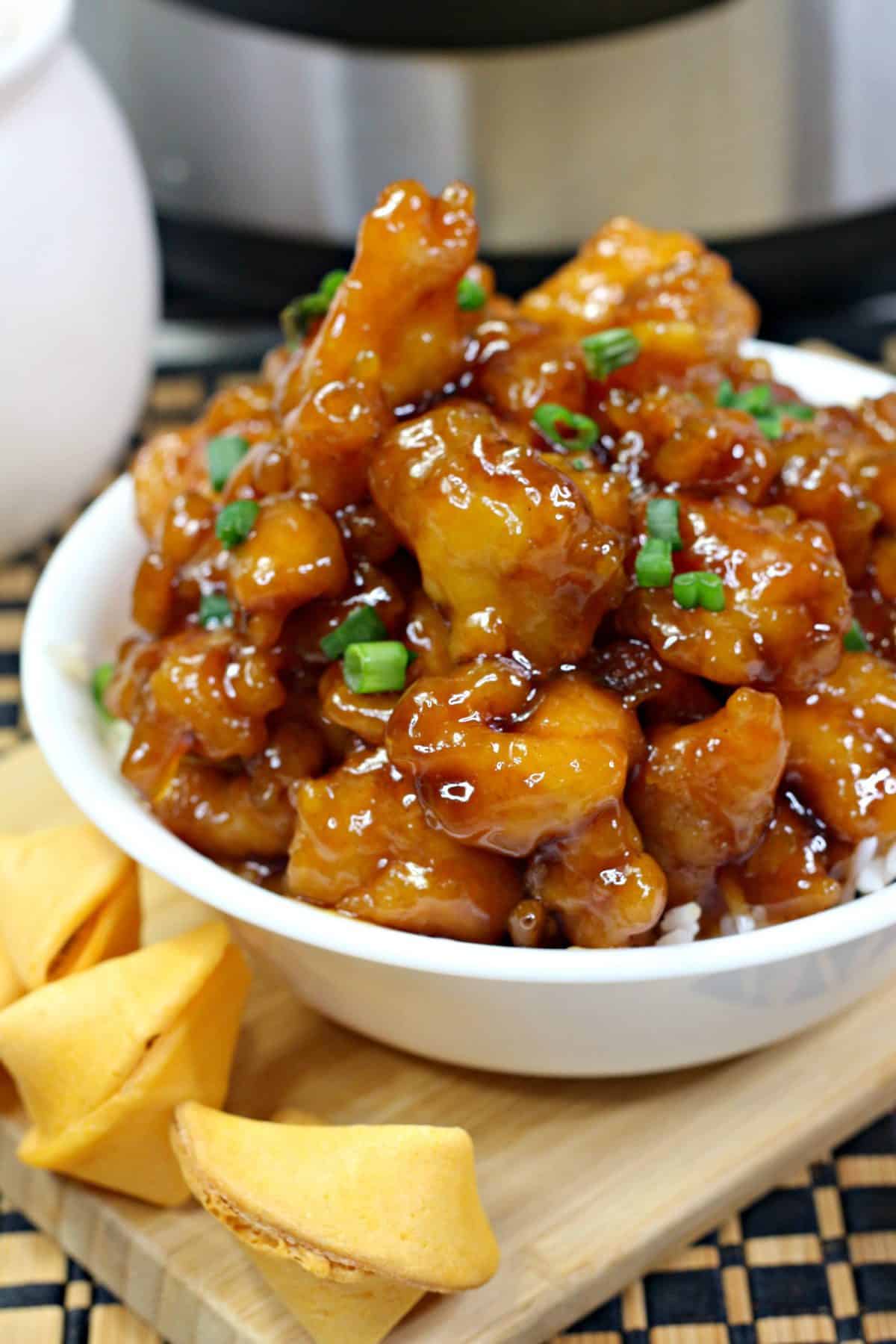 This Instant Pot Honey Chicken Recipe is way better than takeout! When you bite into this honey garlic chicken you'll be amazed by how sweet and savory it is. Making the best pressure cooker boneless chicken is actually so easy and creates a kid-friendly dish that the entire family is going to love.
When you sink your teeth into this boneless chicken instant pot recipe you are going to feel like you are in food heaven.
Scroll to bottom for printable recipe card.
Instant Pot Honey Chicken Recipe
You can almost bet money if you find me at my local Chinese restaurant I am always eating something that has a little bit of sweetness and a little bit of spiciness. I did some practicing in the kitchen and decided it was time to learn how to make some of my own honey garlic chicken.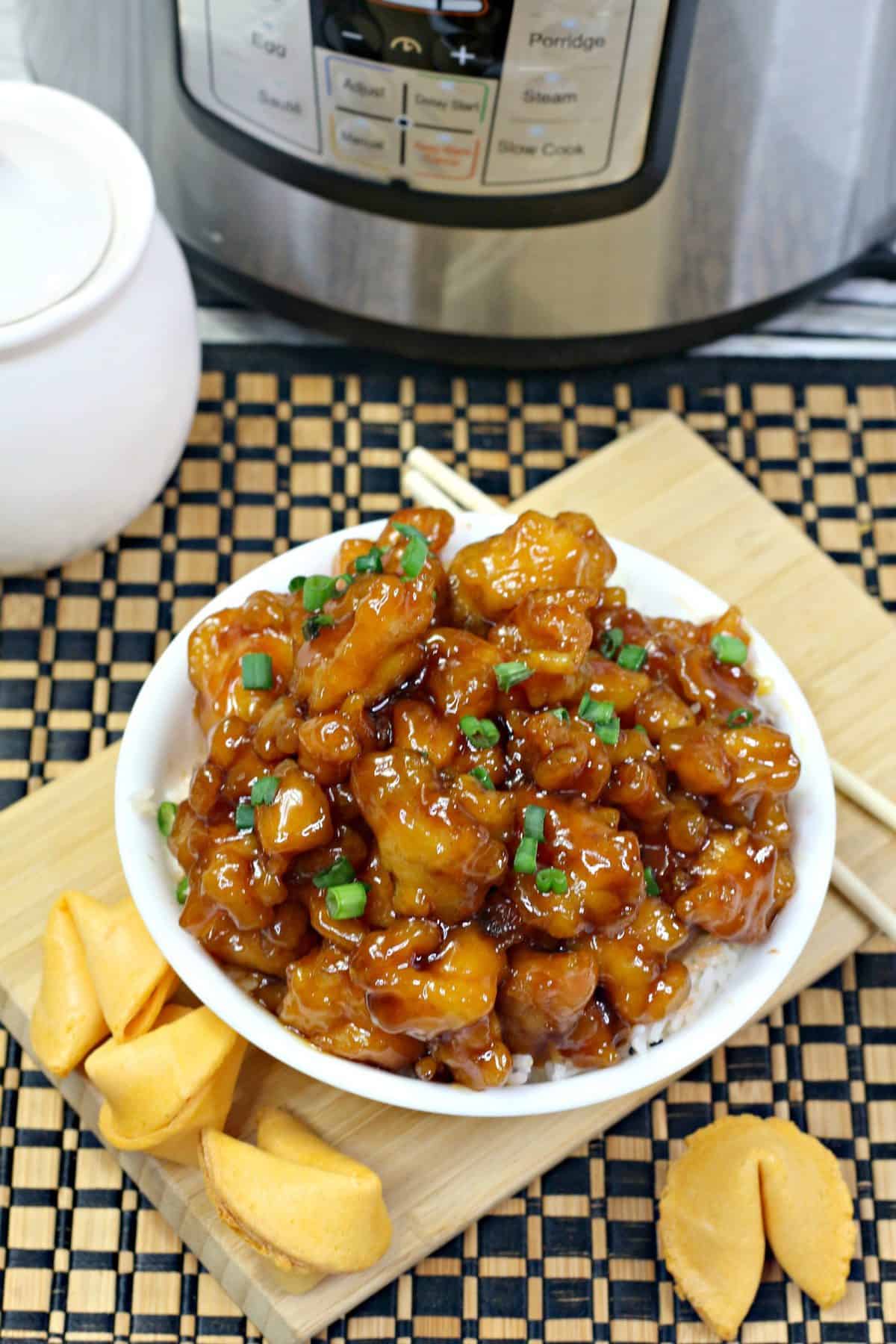 I am so excited with the results that I knew you guys would want to know exactly how I did it. So that is why I'm here showing you guys exactly what I did to make this honey chicken instant pot recipe.
We had some dinner guests over a while back and I had done a test run on this instant pot honey garlic chicken and they seriously loved every single bite of it.
Everybody went back for seconds and it was the perfect meal for our party. I did double the batch just to make sure I had enough to feed all of my guests and it turned out perfectly.
Storing Leftovers
If you end up with leftovers of this instant pot honey garlic chicken, you can absolutely save them and enjoy them for another meal. After the chicken has cooked you will need to let it set out and cool all the way down. After it has cooled then you can place it inside of individual serving containers. Or, you can add it to a large container and save it all at once.
The leftover honey garlic chicken will last in the refrigerator for up to 5 days.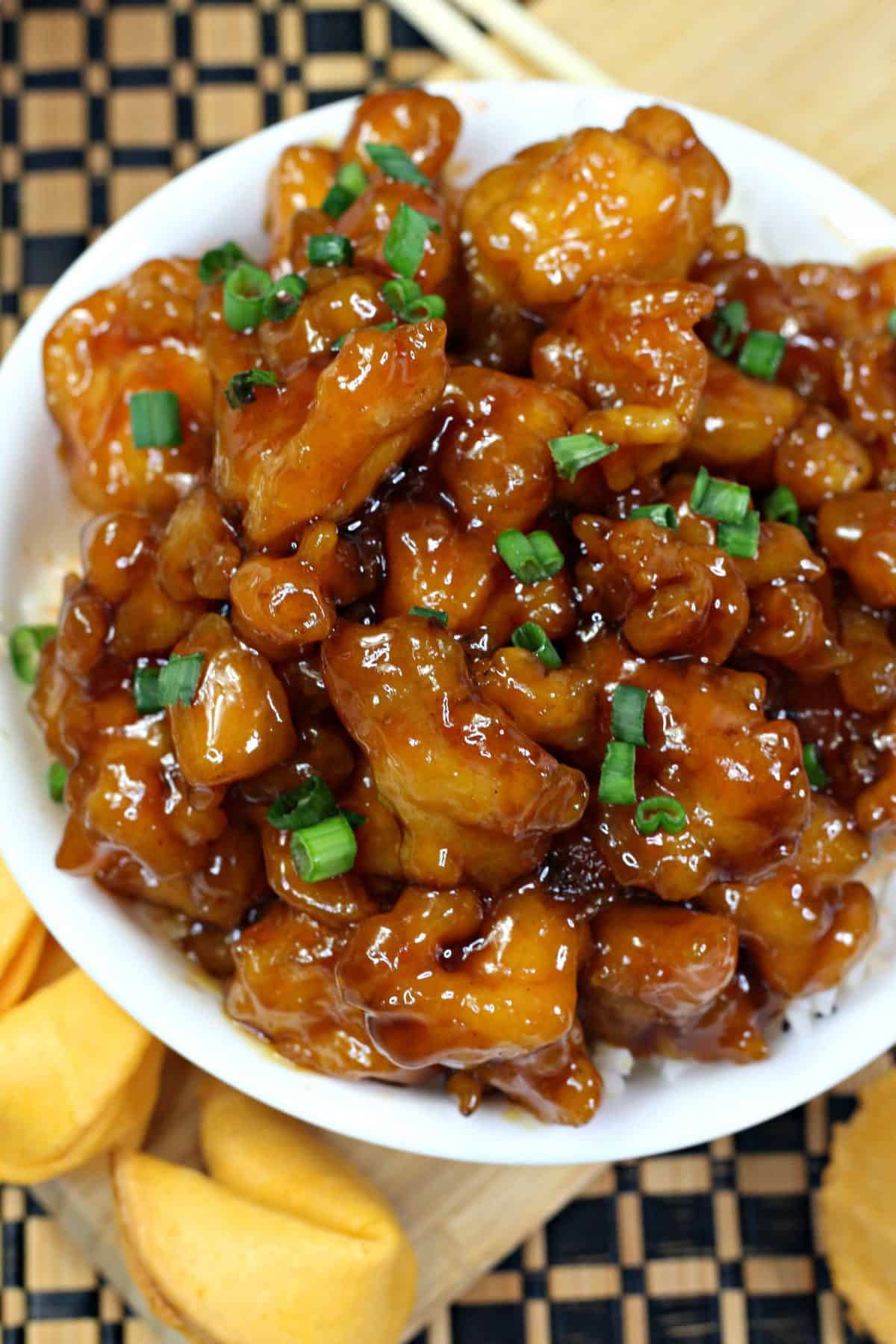 Can I Double Recipe
Yes, absolutely you can double this honey chicken instant pot meal. In order to keep it warm before you're ready to serve it, I recommend using a large crockpot to add all of the chicken to and keep it on the warm setting. Or refrigerate it and reheat it right before you're ready to serve. It is a great meal to feed to a hungry crowd because they go wild for the flavor. So if you want to feed a lot of people I recommend it everybody is going to love every single bite.
Will This Honey Chicken Freeze
Yes, you can freeze leftover honey chicken. You will need to let the chicken cool down all the way before you put it in the freezer. After the chicken has cooled place it in a freezer-safe container or ziplock bag. Then be sure to label the container and put it in the freezer. It will last in the freezer for up to three months.
To reheat the chicken you will need to let it thaw in the refrigerator the night before. After it's thawed you can reheat it in the microwave. Cover it with a paper towel and reheat for 1 to 2 minutes or until it's hot all the way through. You will probably need to stir it halfway through reheating.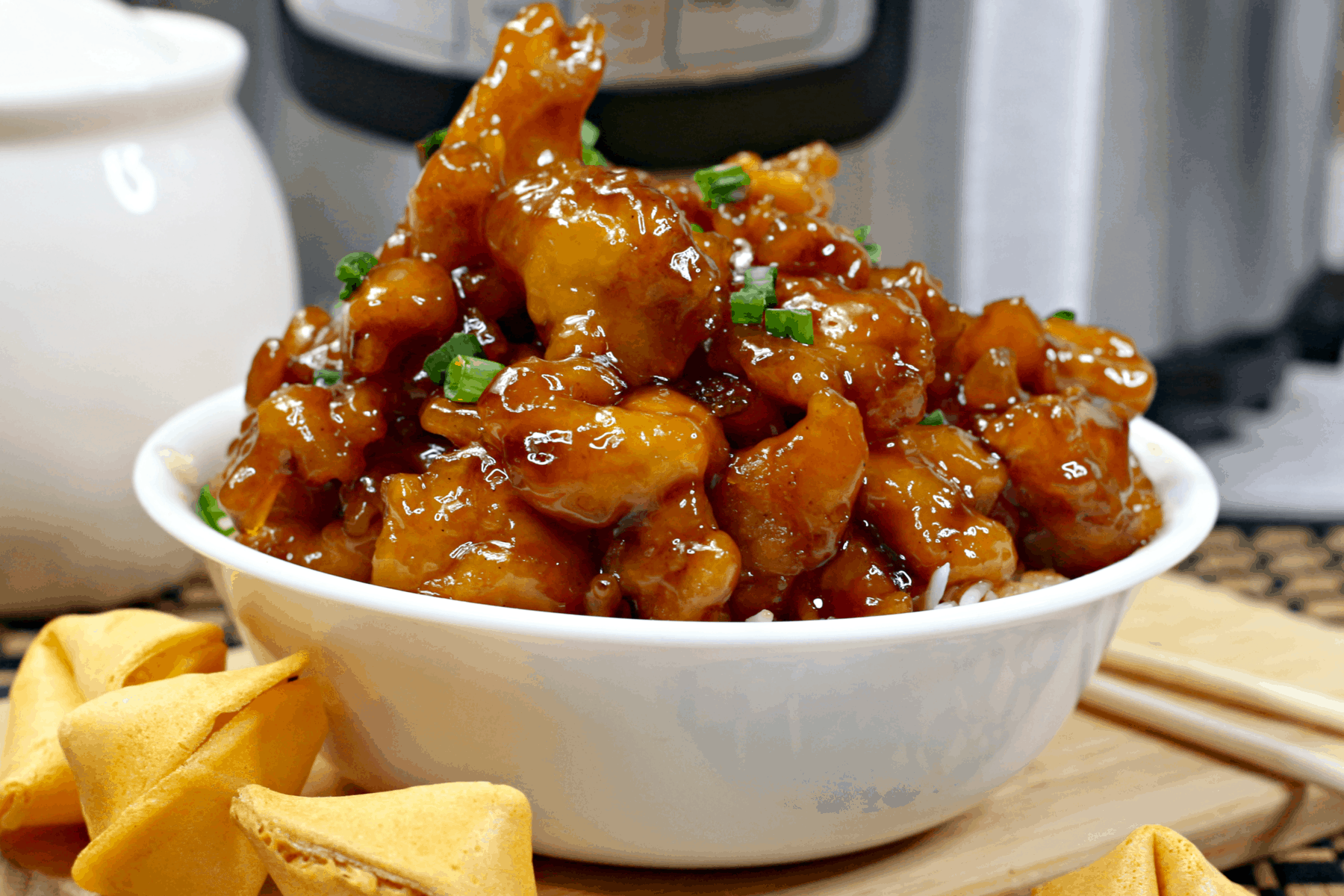 What to Serve With Chicken Recipe
There are many foods that go wonderfully with this pressure cooker boneless chicken recipe. We usually like to serve ours with some white rice. You could also serve it with some fried rice, egg rolls, or even some tasty wontons. There are no wrong answers when it comes to serving this Chinese dish. So include all of your favorites and everybody is bound to enjoy every last crumb.
Ingredients
The ingredients in this instant pot honey chicken recipe are pretty basic. You shouldn't have any problem working with them and getting the chicken to turn out perfectly. You'll love being able to cook it in your instant pot and have great results each time.
Chicken Breast tenders– 6-7 sliced
For Batter:
½ cup All Purpose Flour
½ cup Corn Flour
1 tsp. Baking Powder
¼ tsp. Salt
1 /4 cup Water
¼ Sesame oil
For Sauce:
½ cup Tomato Ketchup
2 tbsp. Sugar
3 tbsp. Honey
1 Tbsp. Soy sauce
2 tbsp. Water
How to Make Pressure Cooker Boneless Chicken
First Step: Begin by making sure that the chicken is dry and dice it into bite-size pieces. And to have the pieces to be fairly even in size so that way they cook evenly.
Second Step: Combine ingredients to make the sauce in a small bowl. Mix well and set aside.
Third Step: In a separate bowl add the ingredients to make the batter and stir with a whisk.
Fourth Step: Slowly pour in the water to the batter ingredients and mix. It will be a thick batter.
Fifth Step: Take each piece of chicken and dip it into the batter then lay it on a baking sheet that has been lined with parchment paper.
Sixth Step: Pour the oil into the instant pot and turn it on to the saute setting.
Seventh Step: Add the chicken to the oil in a single layer. Be sure to turn the chicken so it Cooks evenly. It is when it is done and golden brown all the way through you can remove the chicken and place it on a paper towel-lined plate.
a.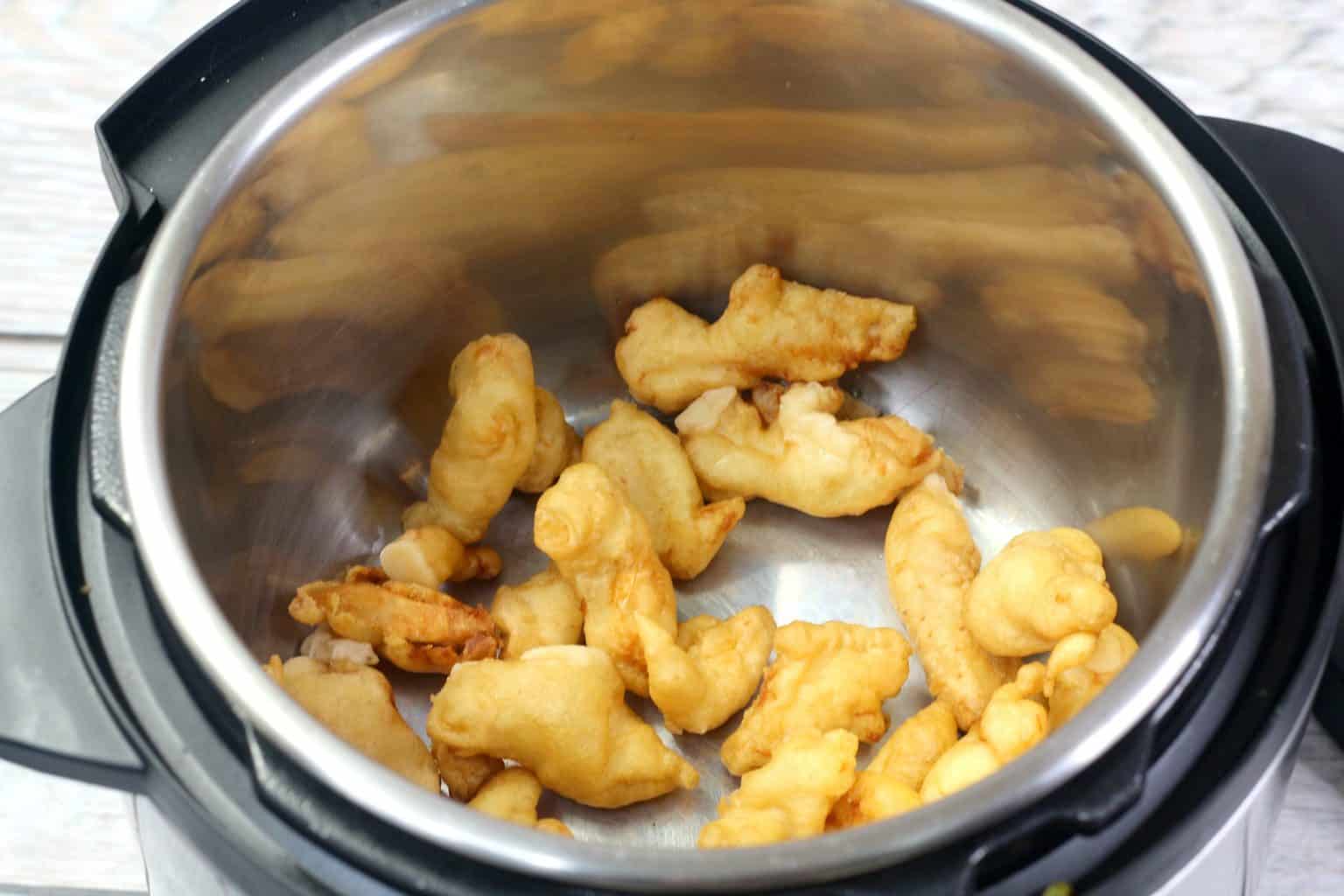 b.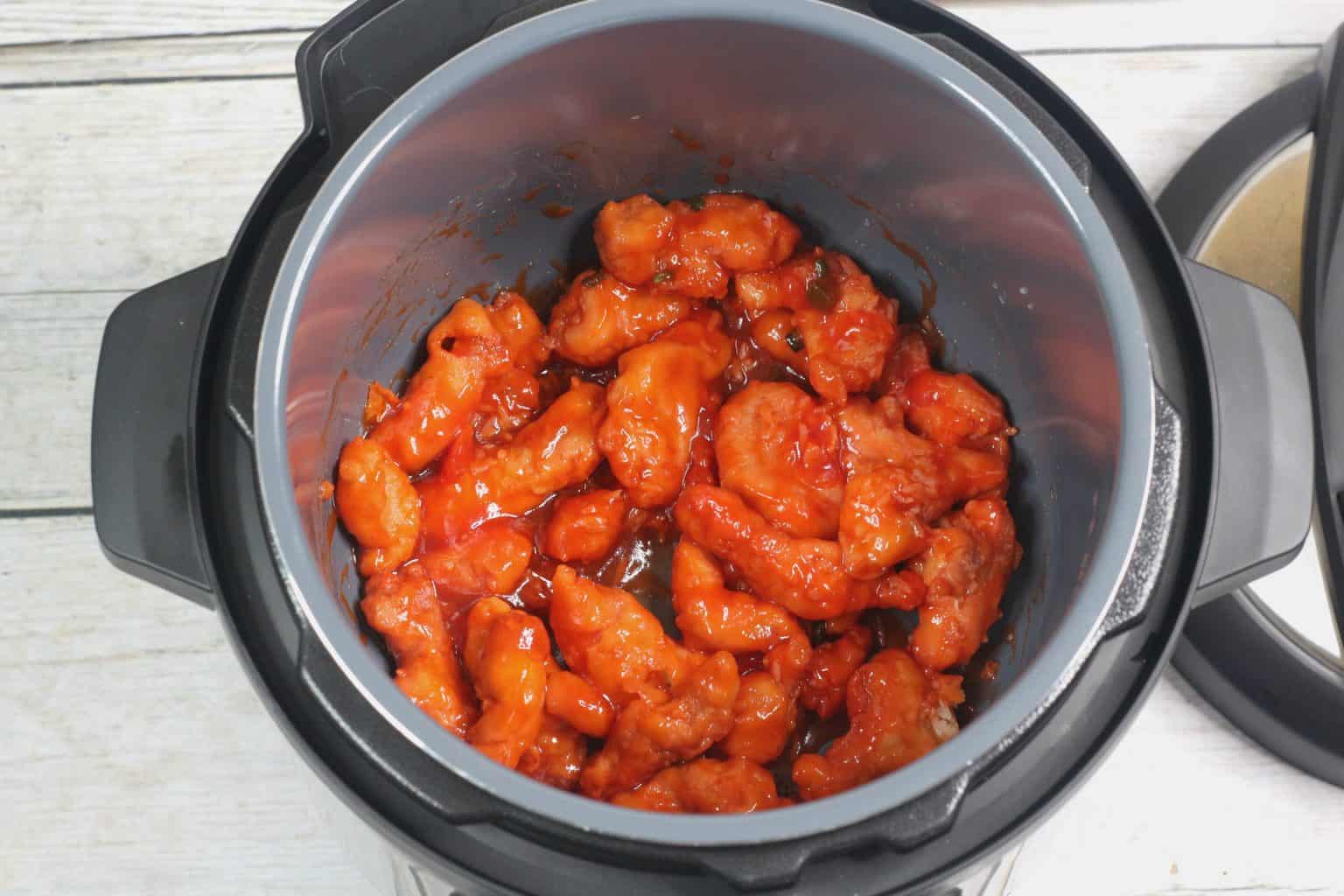 Eighth Step: Be sure to clean out the inside of the instant pot.pour in the size and add the chicken to the instant pot. Stir well, add the lid, and seal the valve. Cook on manual for 4 minutes. Stir well and serve!
Enjoy!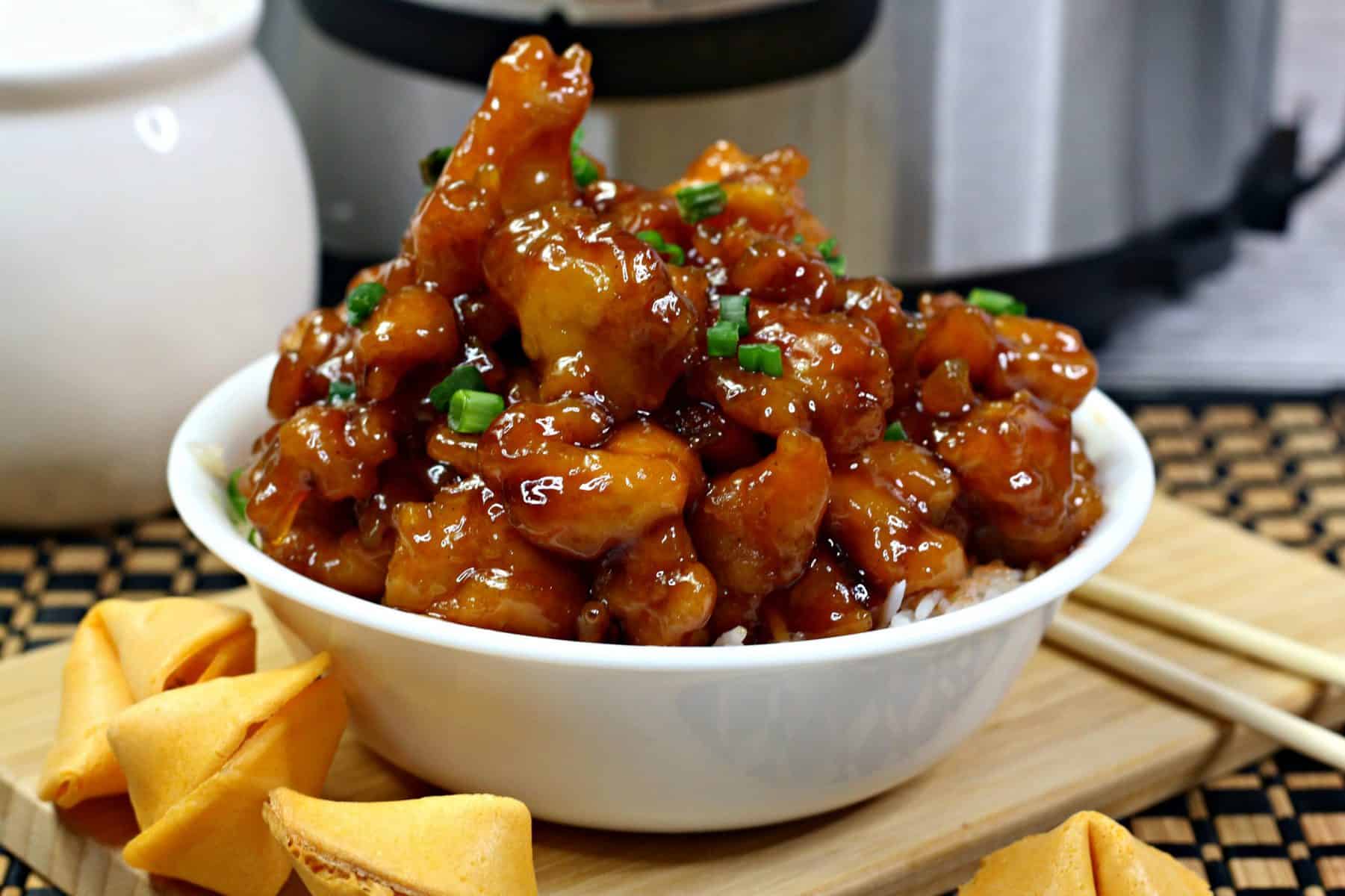 Now, remember to save this recipe on Pinterest for later 🙂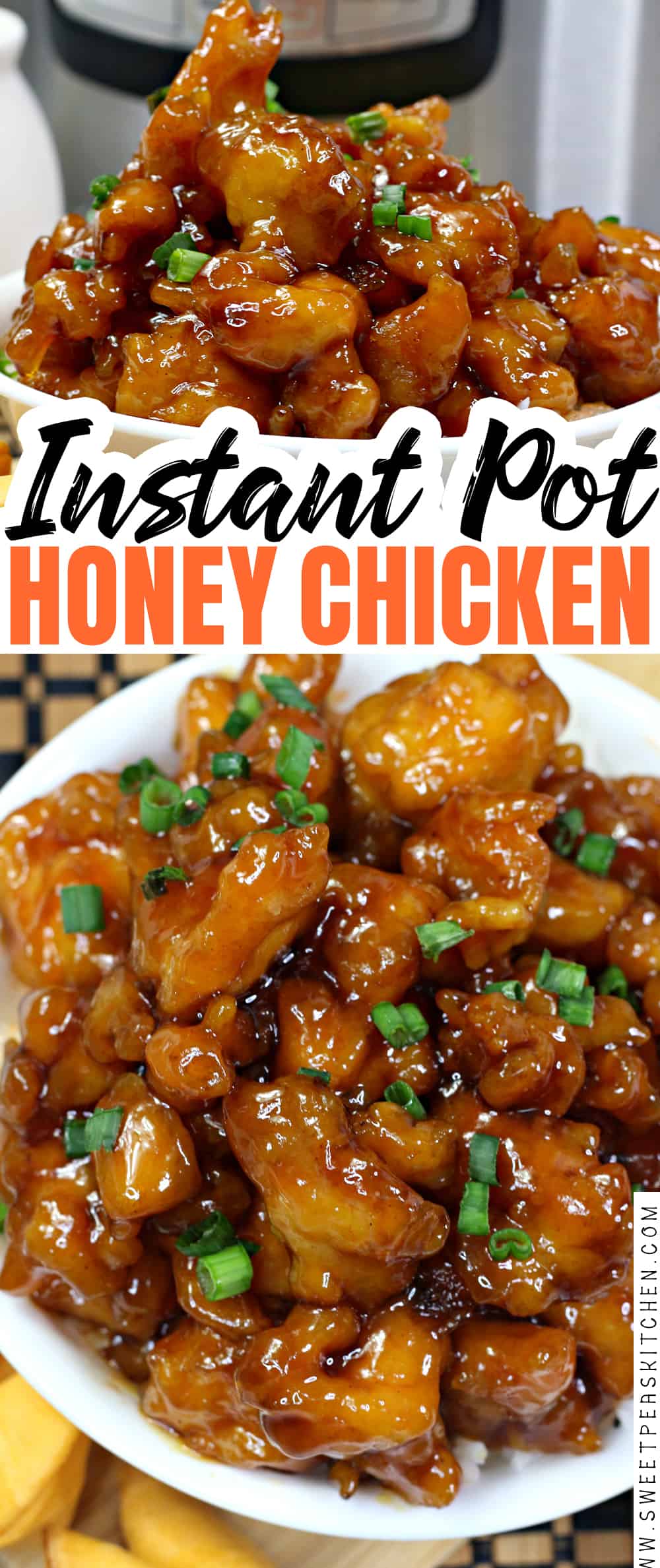 Pin this recipe now to remember it later
Instant Pot Honey Chicken
Instant Pot Honey Chicken is a sweet and savory boneless chicken recipe. Serve over a bed of rice, and dive into this honey garlic chicken.
Ingredients
Chicken Breast tenders– 6-7 sliced
Want to save this recipe? Enter your email below and we'll send the recipe straight to your inbox!
NOTE: By saving this recipe, you agree to join our weekly recipes newsletter.
Instructions
Pat dry your chicken, and dice into slices. Try to aim for even slices so it cooks evenly.

In a small bowl add all of the sauce ingredients, mix to combine. Set aside.

Add the batter ingredients in a bowl, whisk to combine.

Add the water slowly and make it into a semi thick batter.

Dip each chicken in batter and then place on a parchment lined baking sheet.

Place the oil in the Instant Pot and set to saute.

Place the chicken in the oil once bubbling hot.

Chicken has to be in a single layer.

Turn the chicken over to evenly cook. You will cook until your chicken becomes golden brown on all sides.

Remove the chicken and place onto a paper towel covered plate, and set aside.

Wipe clean the Instant Pot insert.

Add sauce into the Instant pot and add the chicken. ombine.

Close the lid and seal the valve.

Set to manual for 4 minutes.

Once the timer sounds open the valve. Stirl well and then serve!
Nutrition
Serving:
1
g
|
Calories:
390
kcal
|
Carbohydrates:
62
g
|
Protein:
14
g
|
Fat:
11
g
|
Saturated Fat:
2
g
|
Polyunsaturated Fat:
8
g
|
Cholesterol:
26
mg
|
Sodium:
1215
mg
|
Fiber:
2
g
|
Sugar:
26
g
Follow me on Pinterest for daily delicious recipes!
I have some awesome meal ideas that I want to share with you. Check them out!
Instant Pot Chinese beef – Another one of my favorite meals is this easy Chinese beef recipe.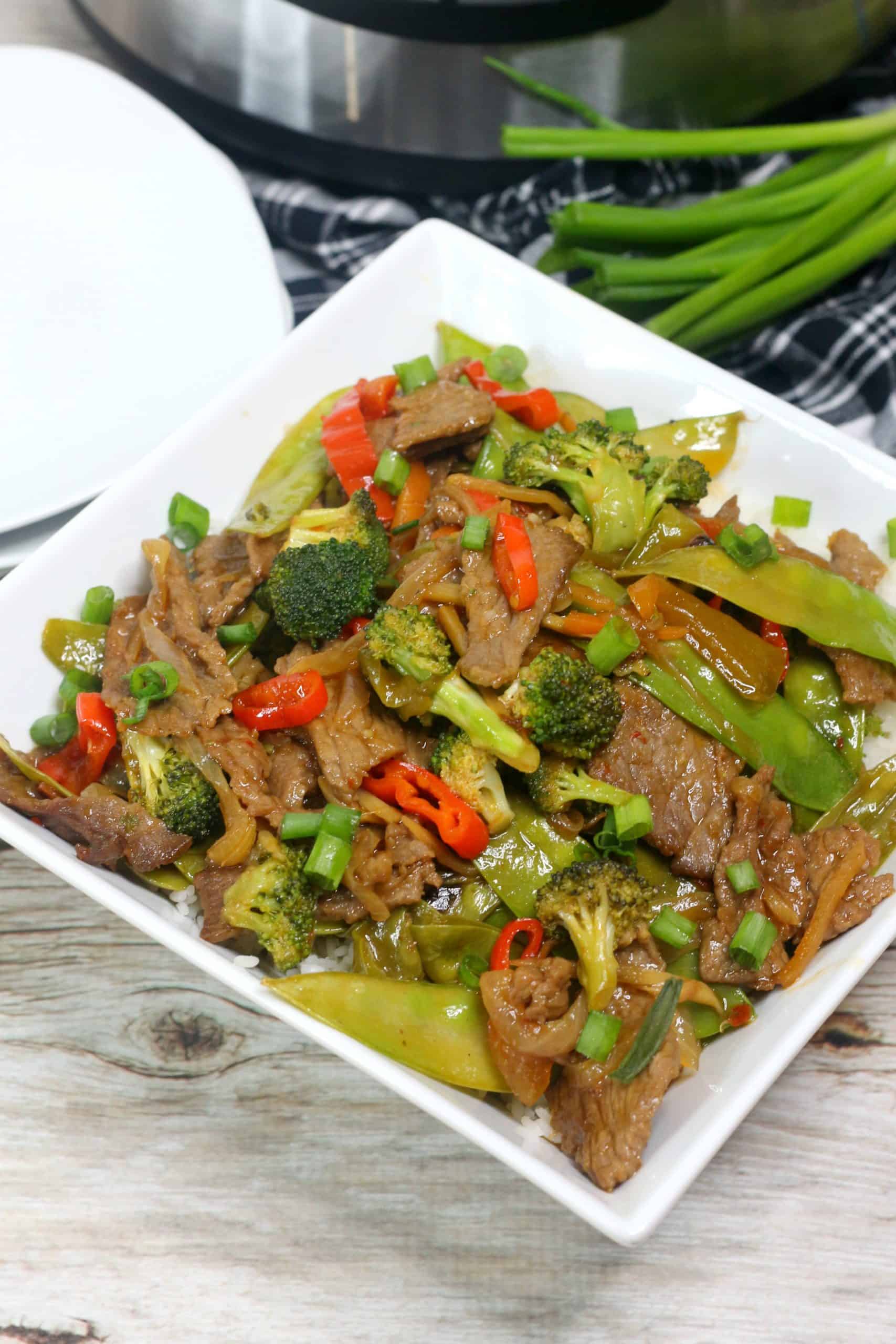 Instant pot cashew chicken – If you love cashew chicken you really need to try to make it in your instant pot. You'll love how the flavors can buy and so perfectly.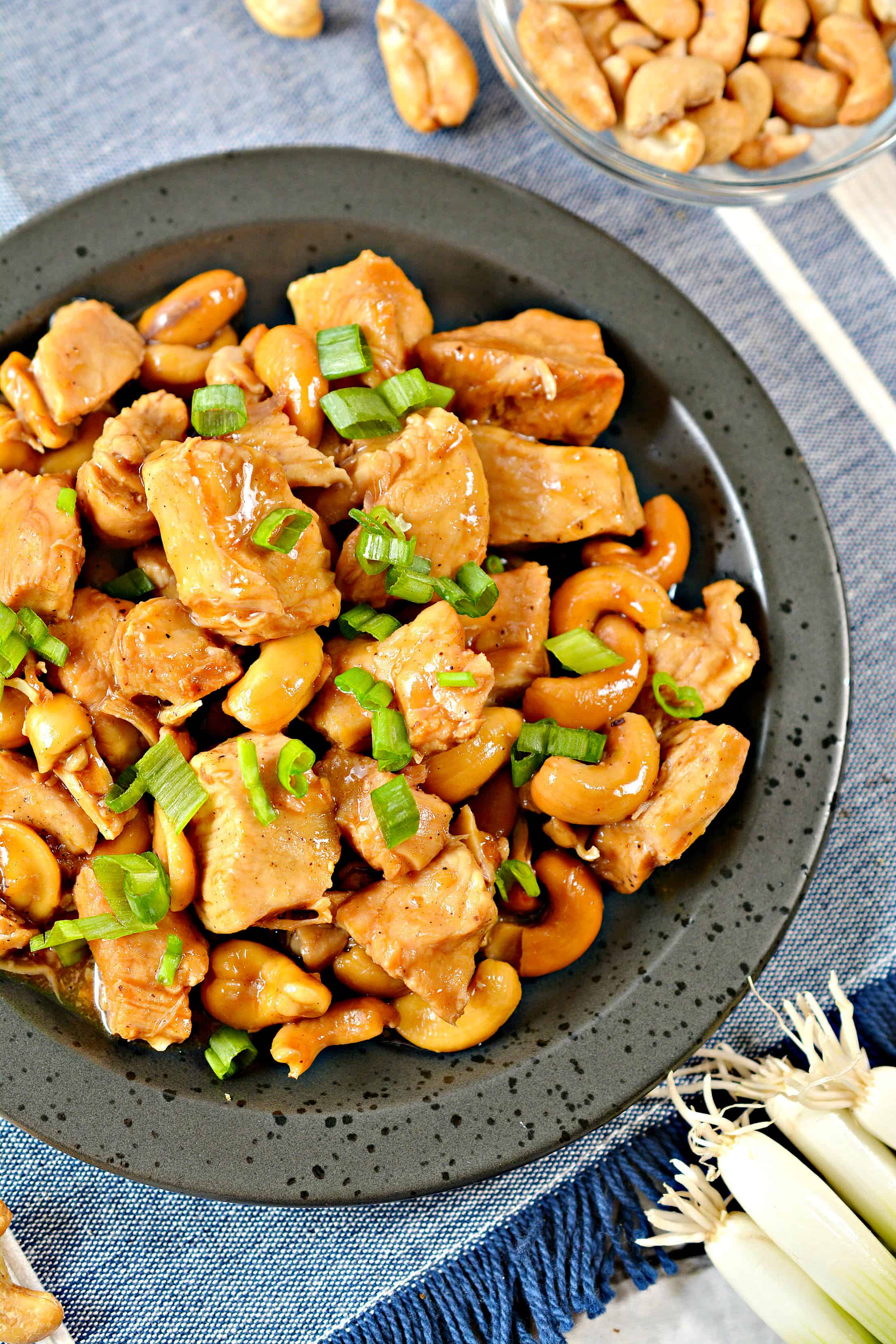 Instant pot orange chicken – This chicken is tangy, spicy, and sweet.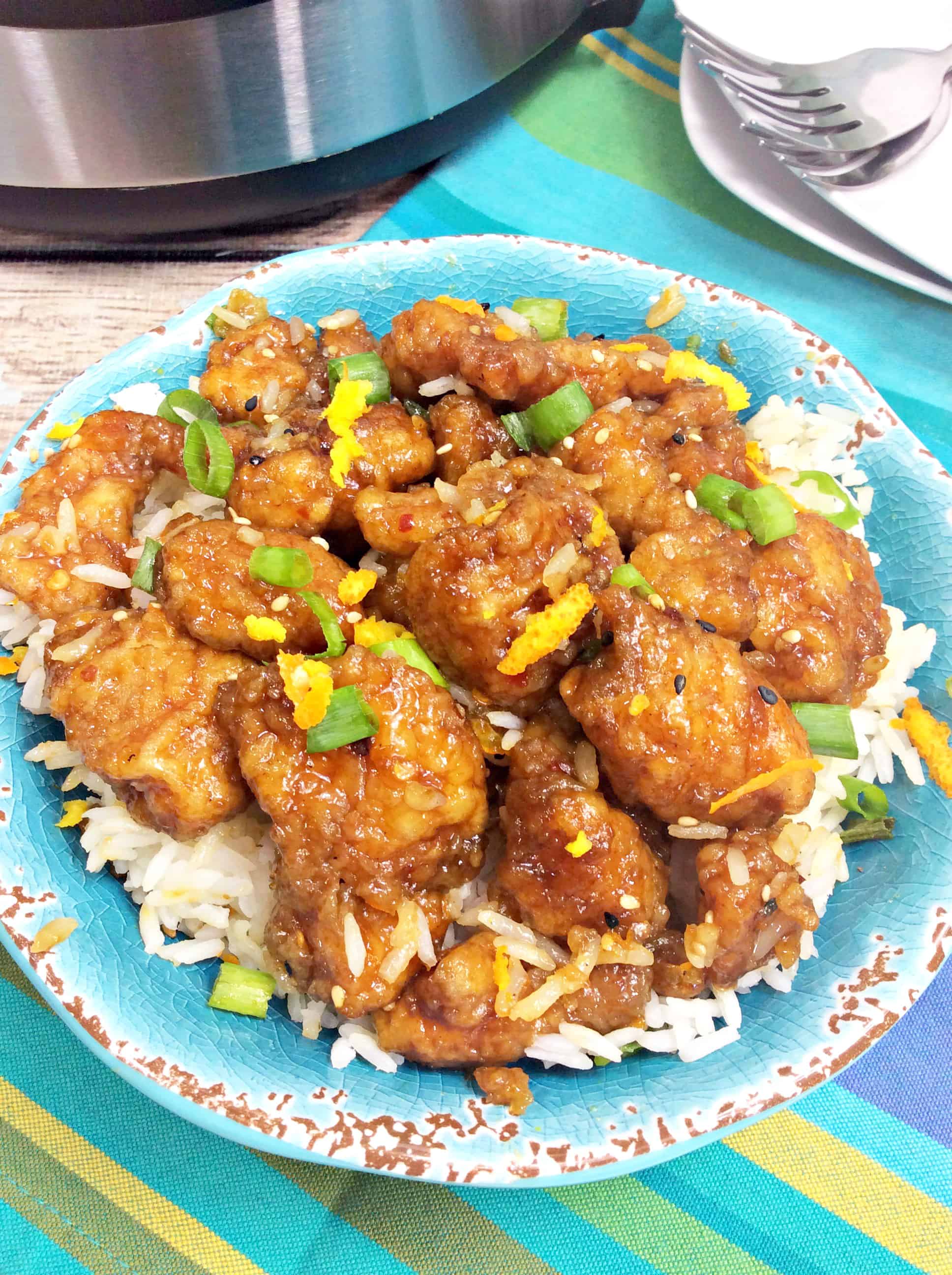 Instant pot sesame chicken – Another fabulous dish is this sesame chicken. If you love making Chinese food at home you really need to taste this.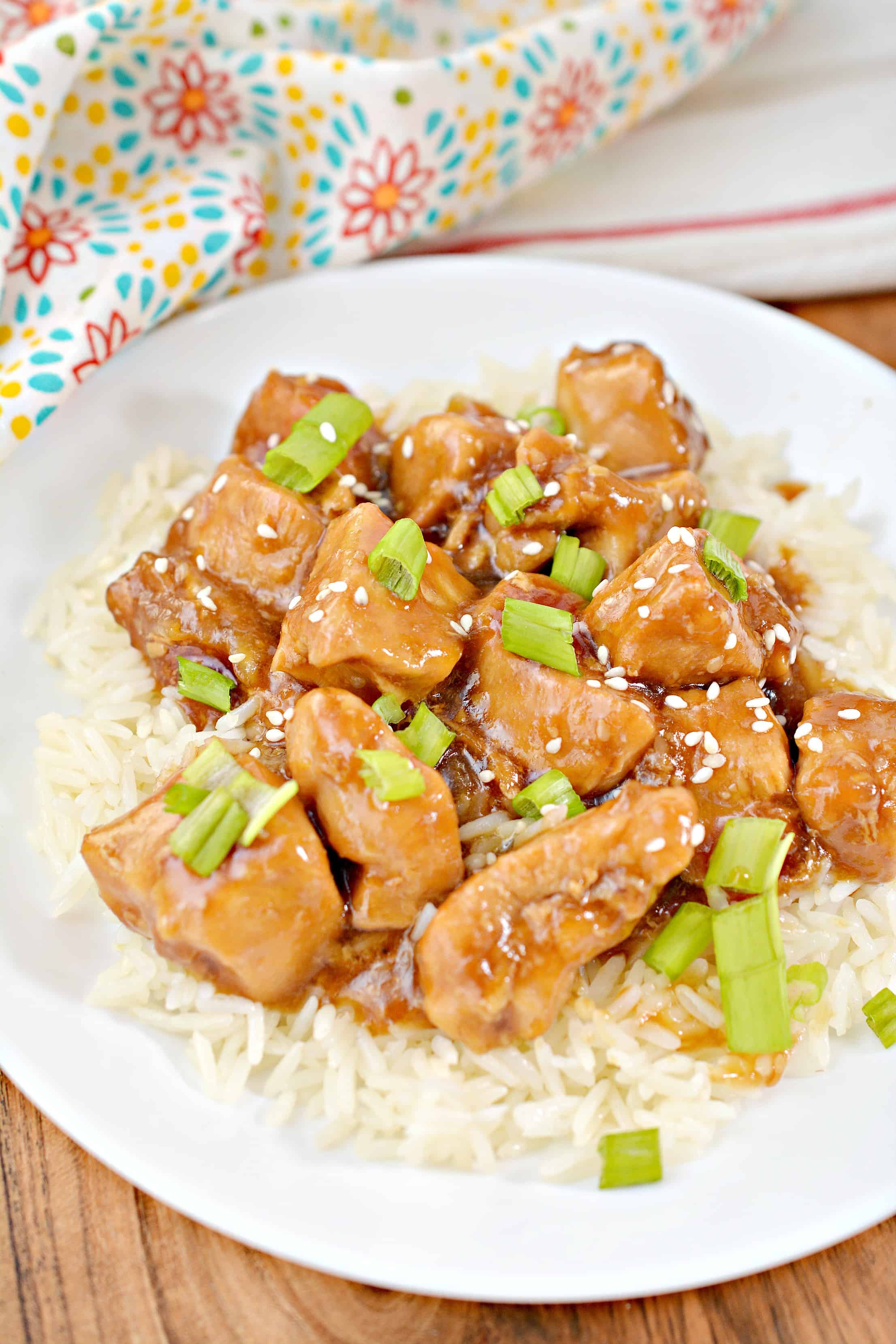 Get new recipes weekly plus our FREE ebook!