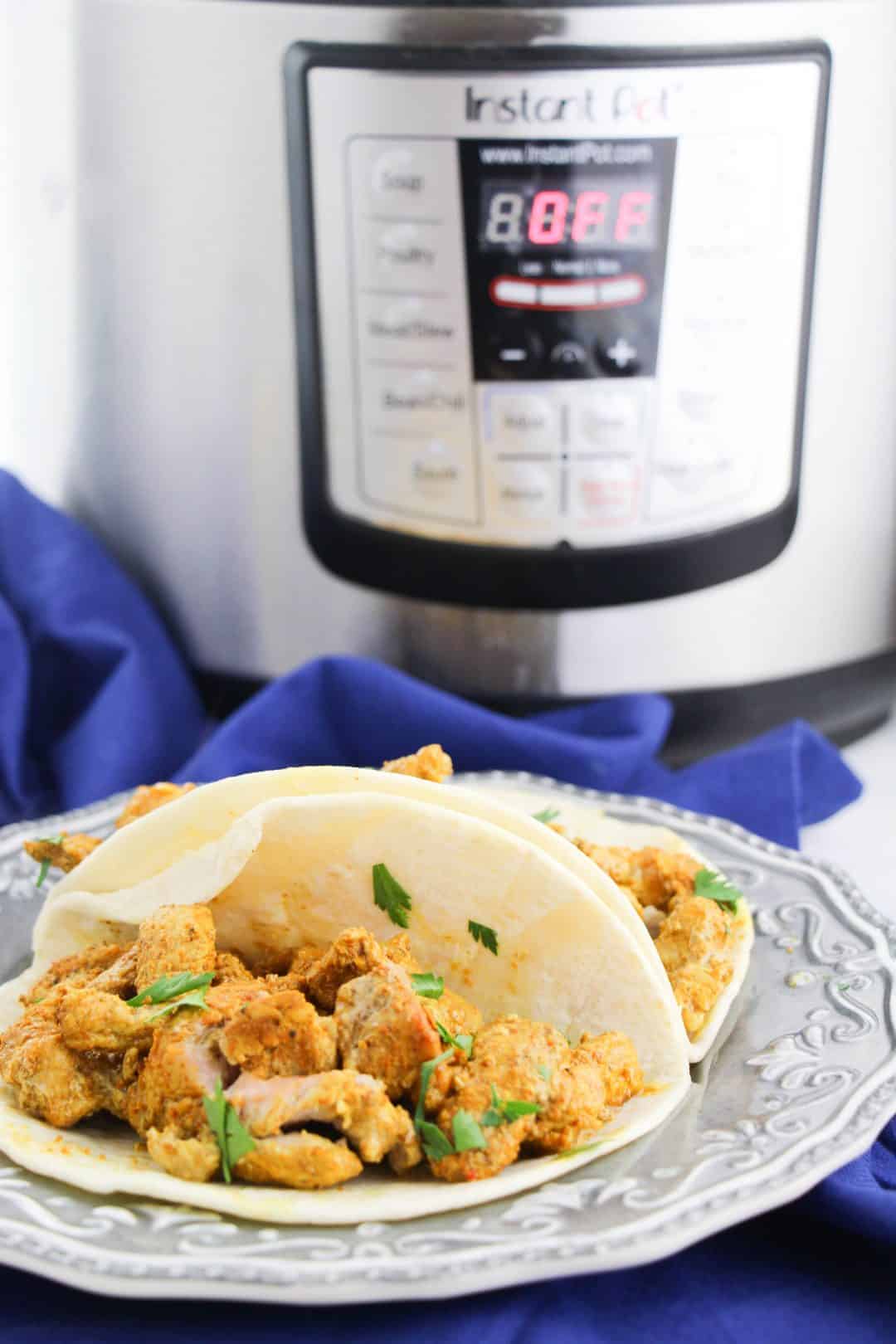 This scrumptious Instant Pot shawarma recipe tastes so amazing; you can't get enough.
When I think of pork shawarma, my mouth will literally begin to drool. The shawarma spices are tasty and pair perfectly with the pork. Part of the reason why I am head over heels in love with this Lebanese pork is that it's incredibly easy to make. I don't have to put a lot of time into it, and the result is a fantastic meal the entire family loves.
Food from all cultures makes me happy! The smells, flavors, and even the site will get my tummy grumbling and ready to chow down. So, if you haven't tried anything with shawarma spices, now is the time.
Scroll to bottom for printable recipe card.
What Is Shawarma?
Shawarma is super flavorful meat that originates in the Middle East. Traditionally, it was made from lamb, but there are tons of varieties now. You can make Instant Pot shawarma with chicken, beef, turkey, veal, and of course pork! Shawarma is so delicious it can be eaten plain, on a tortilla, in a pita, with tahini sauce, or with hummus.
No matter how you eat it, it's going to be amazing!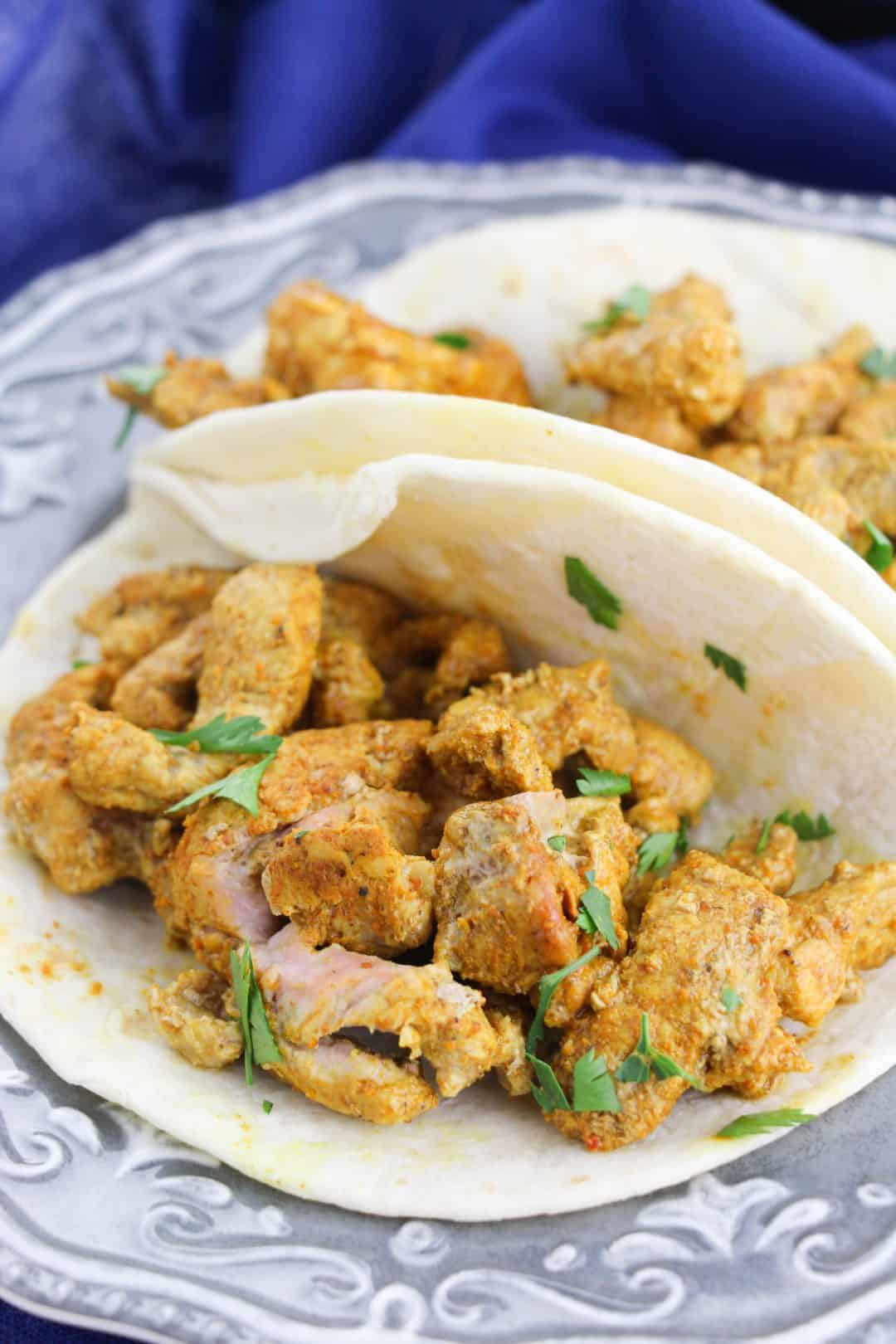 How To Make Shawarma
It's so easy to make this Instant Pot shawarma! I love to serve it for friends when we have dinner parties or take it to potlucks. Everyone goes wild for it.
Here are the easy steps to follow to make this shawarma recipe at home: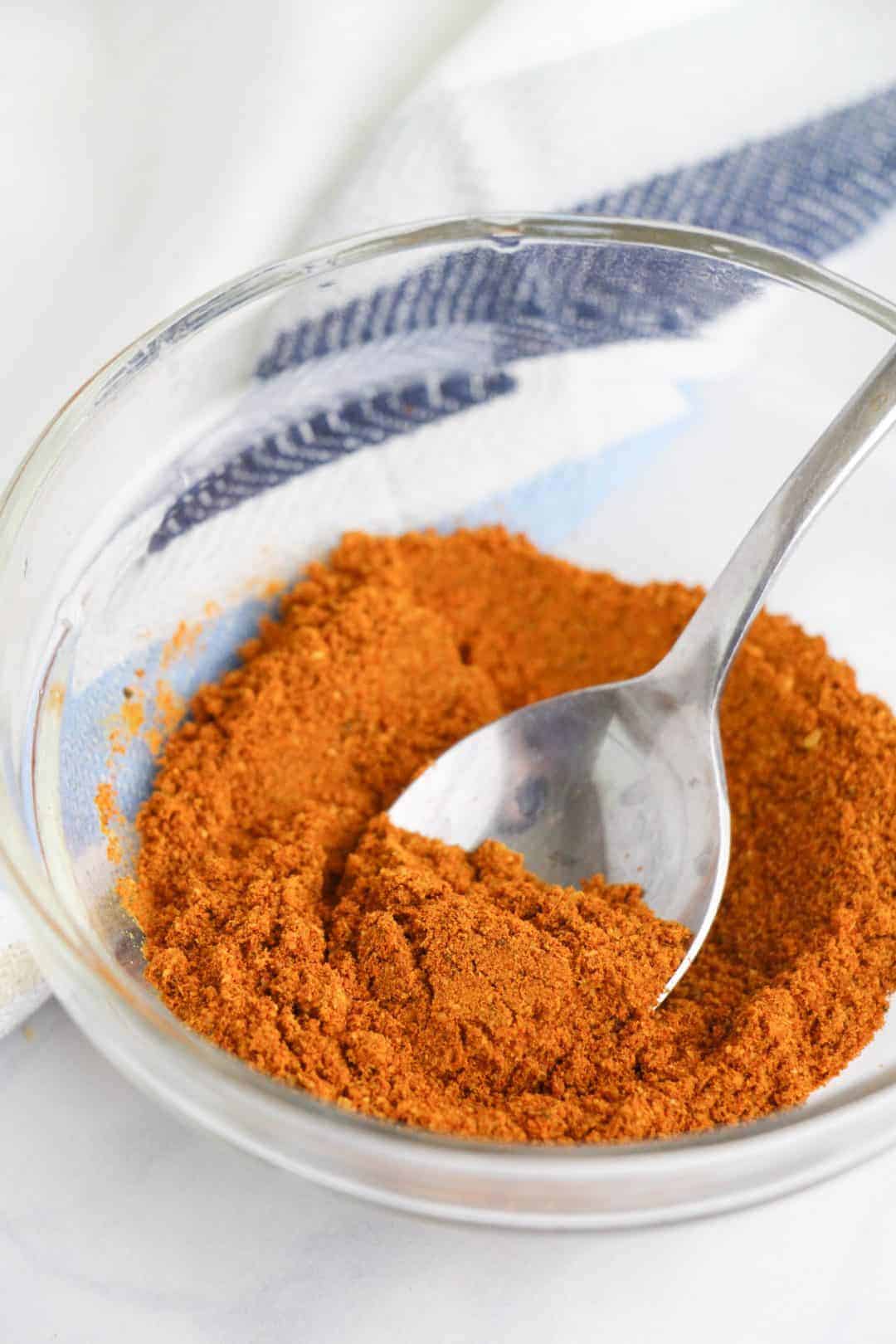 First Step: Begin by patting pork dry with a paper towel and cut it into 1/2 thick strips.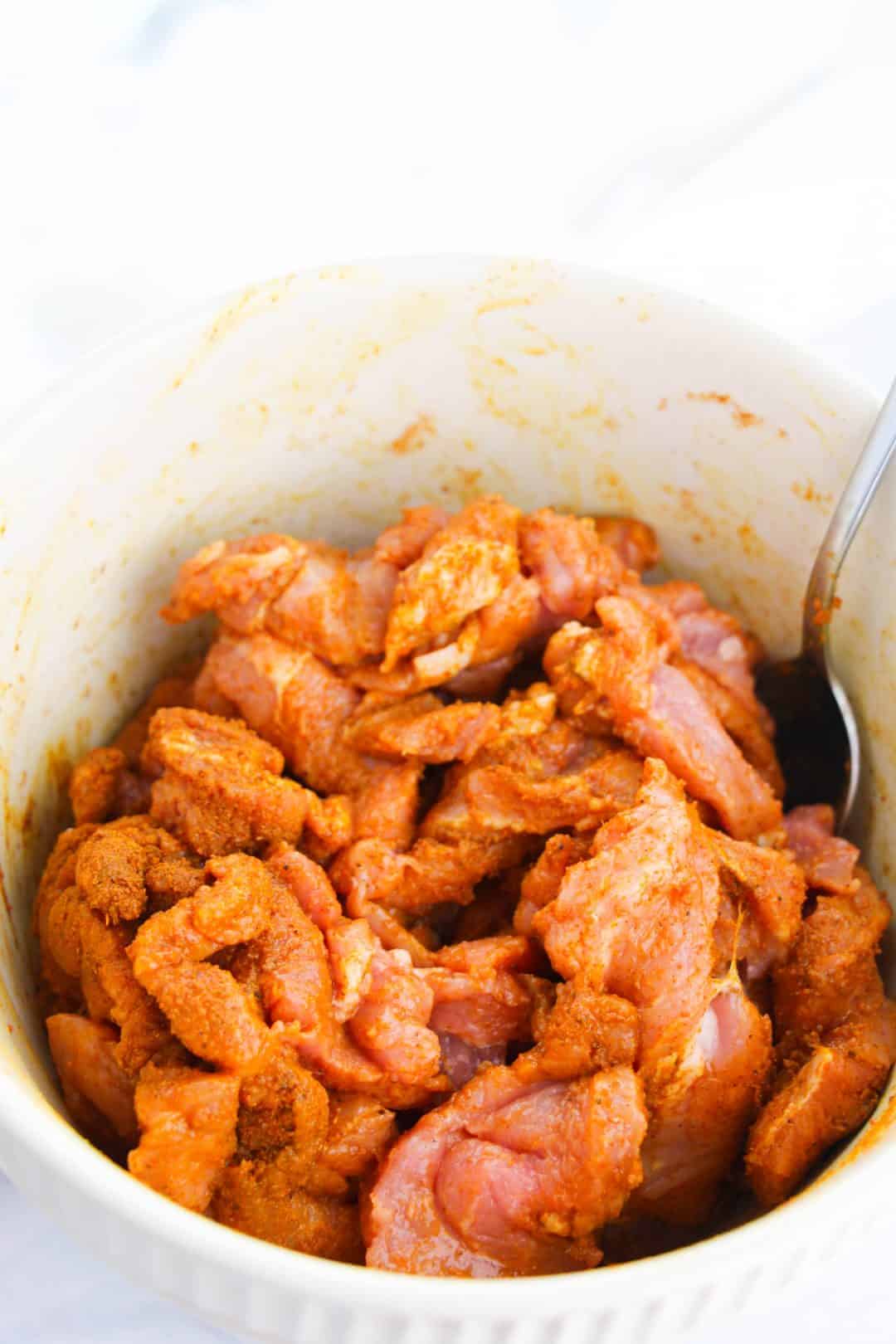 Second Step: Place all the cut pieces of pork into a medium-sized bowl.
Third Step: Turn on the Instant Pot to the saute setting and pour in the oil.
Fourth Step: Next, it's time to blend the shawarma spices. Add black pepper, allspice, garlic powder, ground cloves, cinnamon, nutmeg, cardamom, chili powder, dried oregano, and salt to a small bowl. Mix it well.
Fifth Step: Next, add two tablespoons of the seasoning mixture to the bowl with cut pork. Thoroughly coat the pork with the seasoning.
Sixth Step: Sear the meat in the Instant Pot for approximately 2 minutes. It doesn't need to cook all the way, just get a golden brown sear on it.
Seventh Step: Turn on the saute setting, pour in the broth (or water) and close lid. Place the Instant Pot on the meat setting for 10 minutes.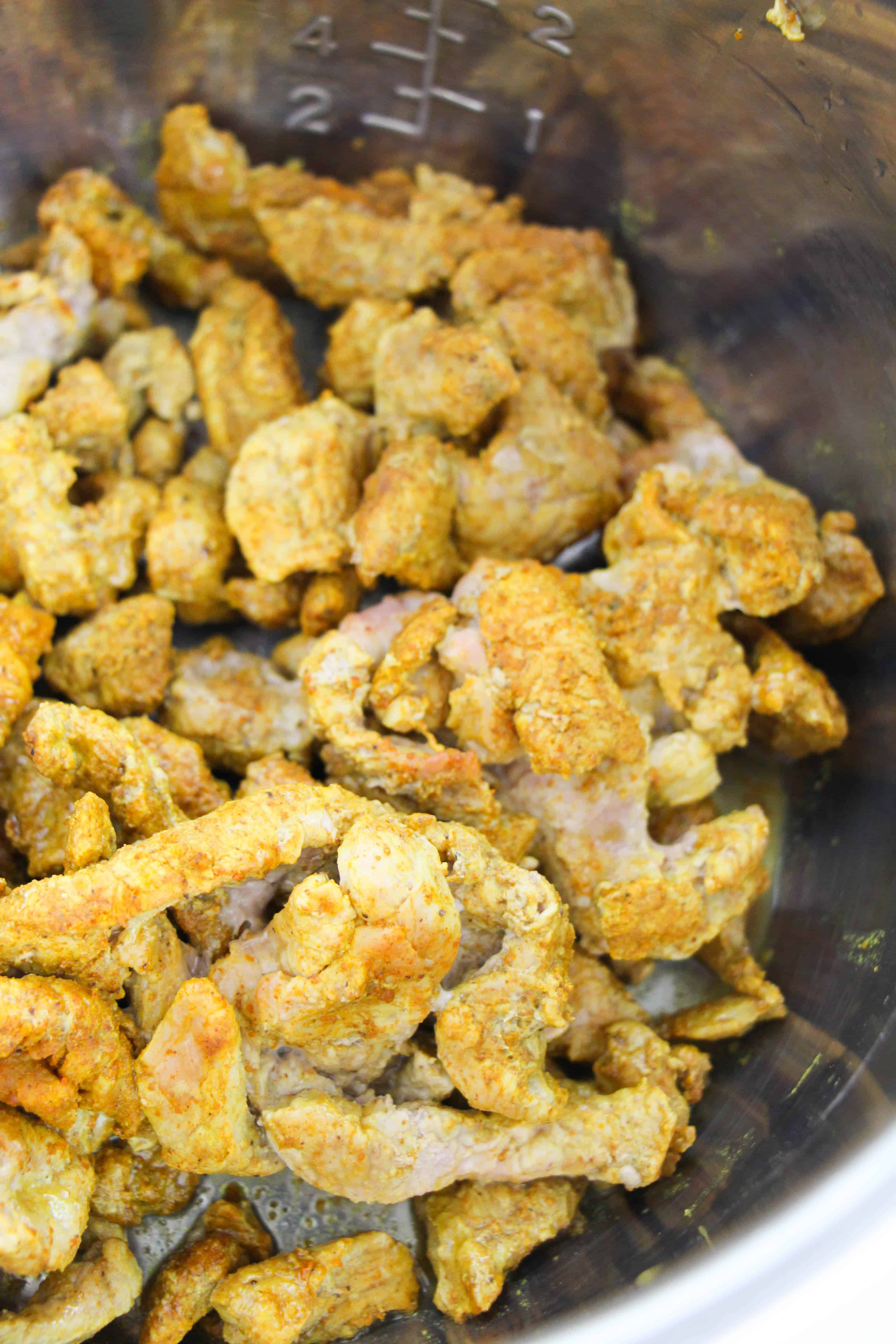 Eighth Step: Once the 10 minutes are up, you can do a natural release or a quick release.
How Do You Store Shawarma
Store any leftovers of this shawarma recipe in the refrigerator in an airtight container. I prefer to store it in glass containers because they are easier to clean and they stack so nicely. You can use any type of container you wish as long as it's airtight.
The Lebanese pork will last 4-5 days in the fridge, so it makes incredible leftovers.
I like to do meal planning when I have time, and this is always one of the meals that I make. So, if that is something you have been thinking about trying, you should add this shawarma recipe to your list.
Pretty sure you are going to love it just as much as I do!
Can You Freeze Lebanese Pork?
Yes, you can freeze the best shawarma recipe! Simply place leftovers in a freezer-safe bowl or bag and place in the freezer. It will last around 3-4 months. To thaw, place in the refrigerator the night before. You can also defrost it in the microwave if you are in a hurry as well.
How To Reheat Shawarma Meat
In order to reheat the shawarma meat, you just need to pick your method of choice and get to work warming it up. I prefer the stovetop method because I like the texture the best. To heat it in a skillet, just put a couple of tablespoons of chicken broth in a hot skillet. Add the lid and let simmer for 5-10 minutes until it's heated all the way through. Don't let it heat up too long because otherwise, the meat will dry out some. Another option is to place it in a microwave-safe bowl with a little bit of chicken broth and heat it up that way. Just do 1-minute intervals, so it doesn't warm too quickly.
Difference Between A Gyro And Shawarma
Both the gyro and shawarma are flavorful meats that are often served in a pita. The main difference is that a gyro is greek and shawarma is Lebanese. Another huge difference is the types of seasonings used for each one. Gyros are made with marjoram, oregano, rosemary, and thyme while shawarma is made with cinnamon, nutmeg, cardamom and more. While they look very similar and have similar toppings, each one has its own bold flavors. The way I see it, you should try them both!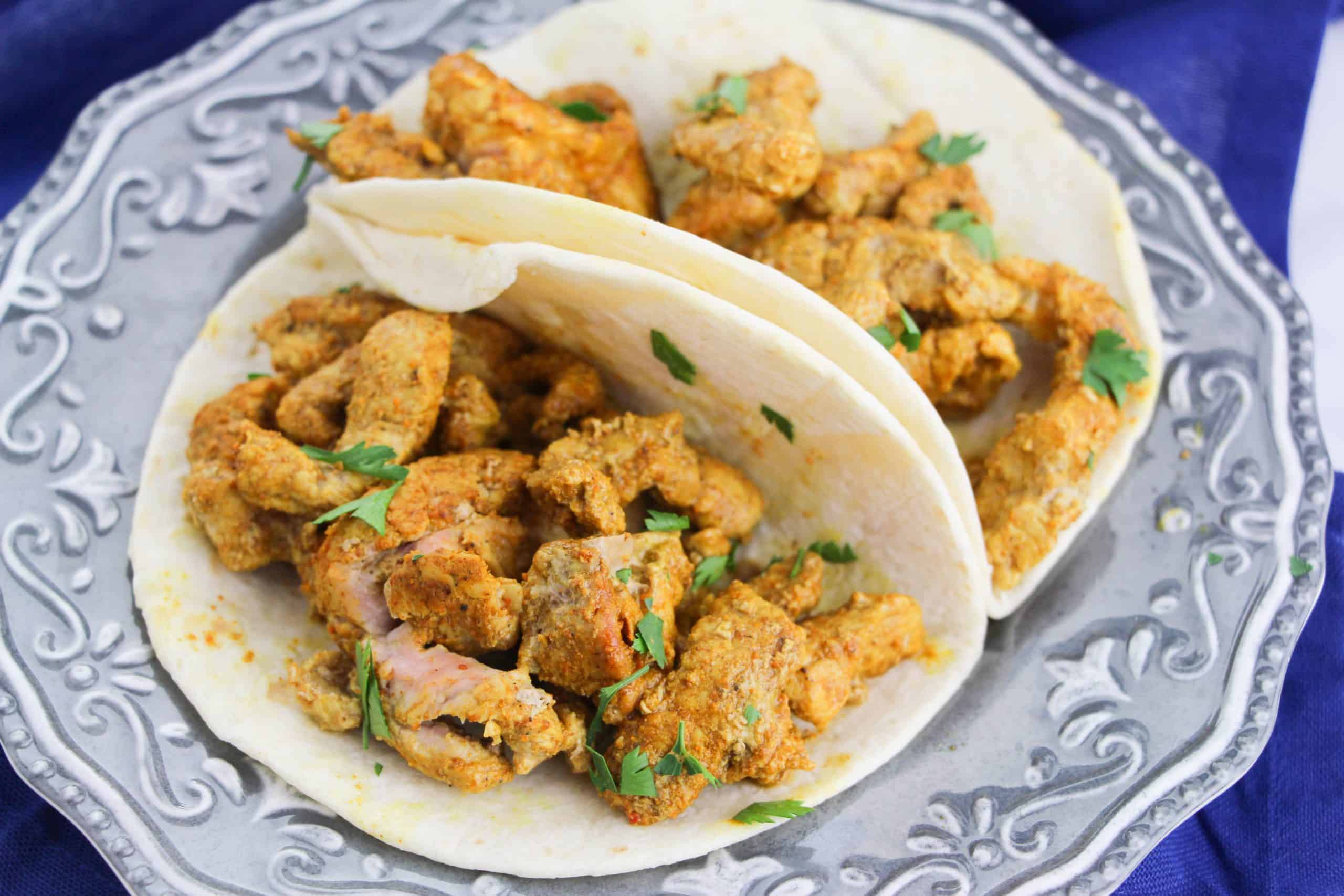 What To Serve With Instant Pot Shawarma
Not going to lie, I could eat this shawarma plain with a fork and nothing else. The meat is so rich and flavorful; it doesn't even need a sidekick! You might want to serve it with a few different options for toppings and side dishes though to go with the delectable shawarma spices. Here are some of my favorite go-to ideas:
Pita Pockets – Fill them up with the meat, and you will be in taste bud heaven.
Tortilla Shell – It's the perfect way to get this yummy Lebanese pork to your mouth!
Tomatoes – Dice up some tomatoes and add to the shawarma recipe.
Onions – Grill up a few onions, so they are transparent and toss them in the pita! So good and goes perfectly with the shawarma spices!
Tahini Sauce – Dipping the pork shawarma in tahini is life-changing. One of the best flavors I have ever tasted.
Hummus – Okay, I think that hummus goes with almost everything, but it's especially surprising with this Lebanese pork!
Enjoy!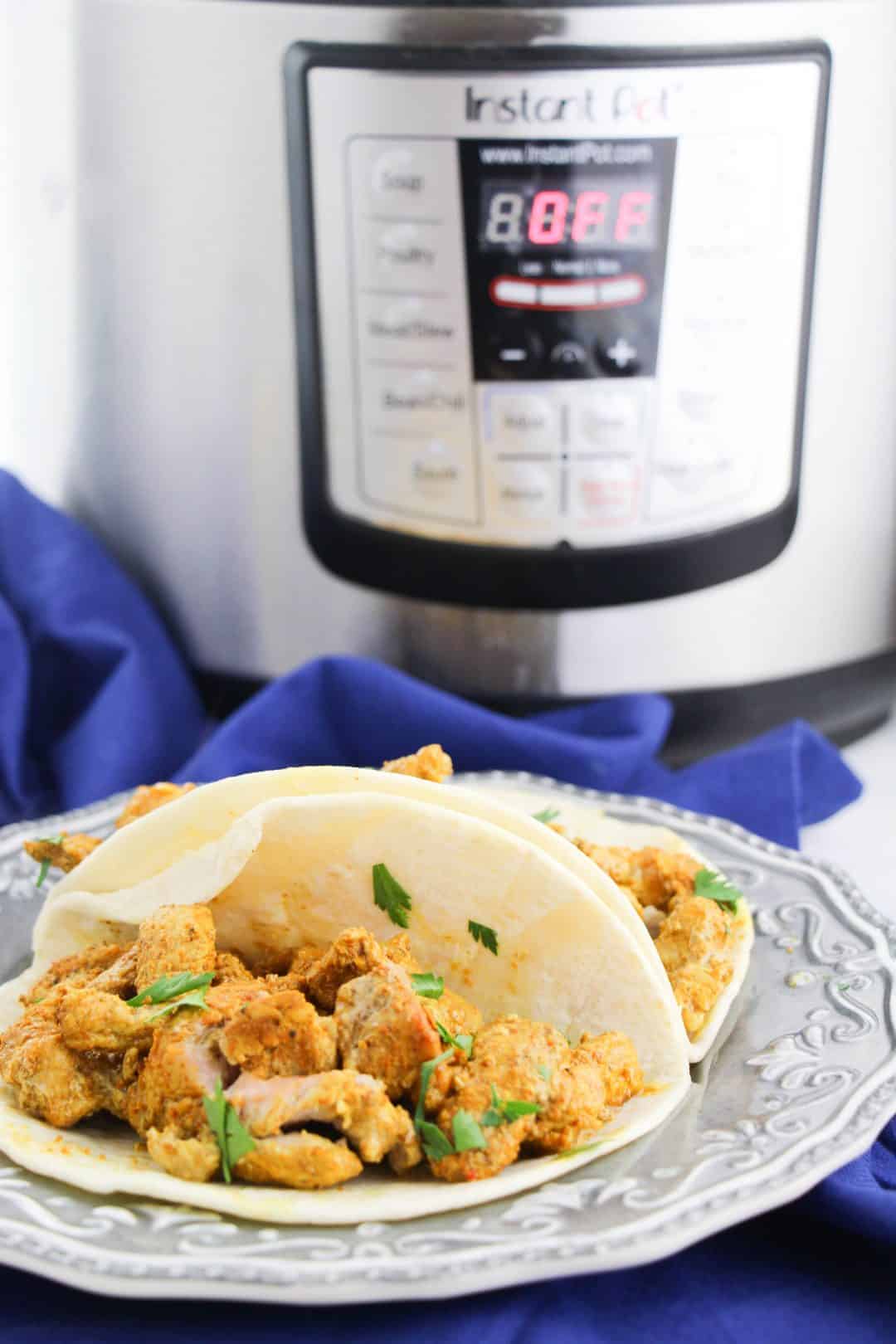 Now, save this recipe on Pinterest for later 🙂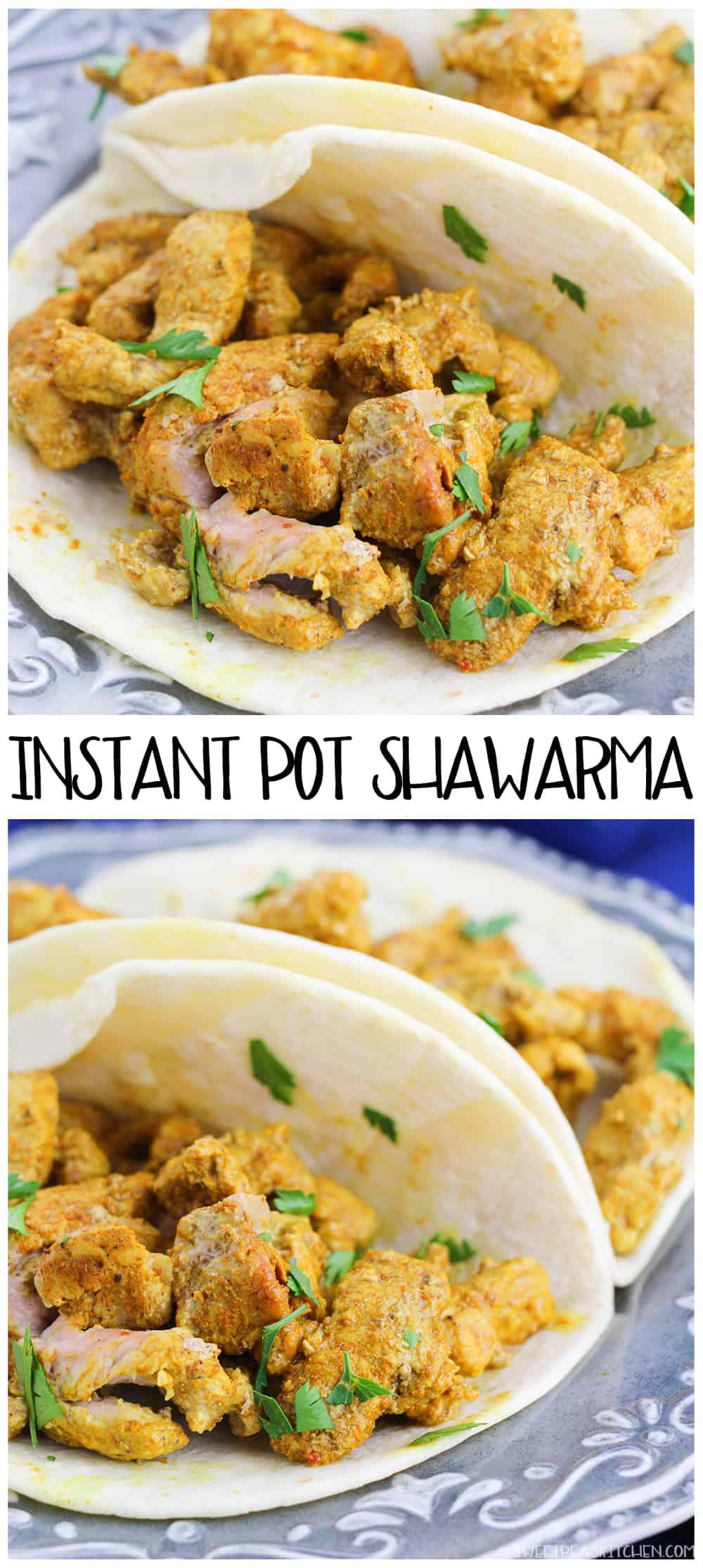 Pin this recipe now to remember it later
InstantPot Shawarma
This scrumptious Instant Pot shawarma recipe tastes so amazing; you can't get enough.
Ingredients
2

Tablespoons

shawarma seasoning

Parsley

,

optional garnish
Homemade Shawarma Seasoning:
1

Tablespoon

black pepper

1

Tablespoon

garlic powder

1/2

Tablespoon

ground cloves

1/2

Tablespoon

ground nutmeg

1/2

Tablespoon

ground cardamom

1

teaspoons

dried oregano
Want to save this recipe? Enter your email below and we'll send the recipe straight to your inbox!
NOTE: By saving this recipe, you agree to join our weekly recipes newsletter.
Instructions
Pat pork dry and cut into 1/2 thick strips. Place all cut pork in a bowl

Place oil in Instant Pot and select sautee setting.

Combine all shawarma seasonings together and add 2 Tablespoons to the cut up pork and toss to completely coat pork in seasoning.

Place pork in Instant Pot to sear, about 2 minutes.

Turn off sautee setting and add your broth or water.

Select meat setting for 10 minutes.

Natural or quick release.
Follow me on Pinterest for daily delicious recipes!
Take A Gander Of These Instant Pot Dinner Recipes:
Easy Instant Pot Roast – the Instant Pot pot roast is jam-packed with flavor, so it keeps your taste buds happy!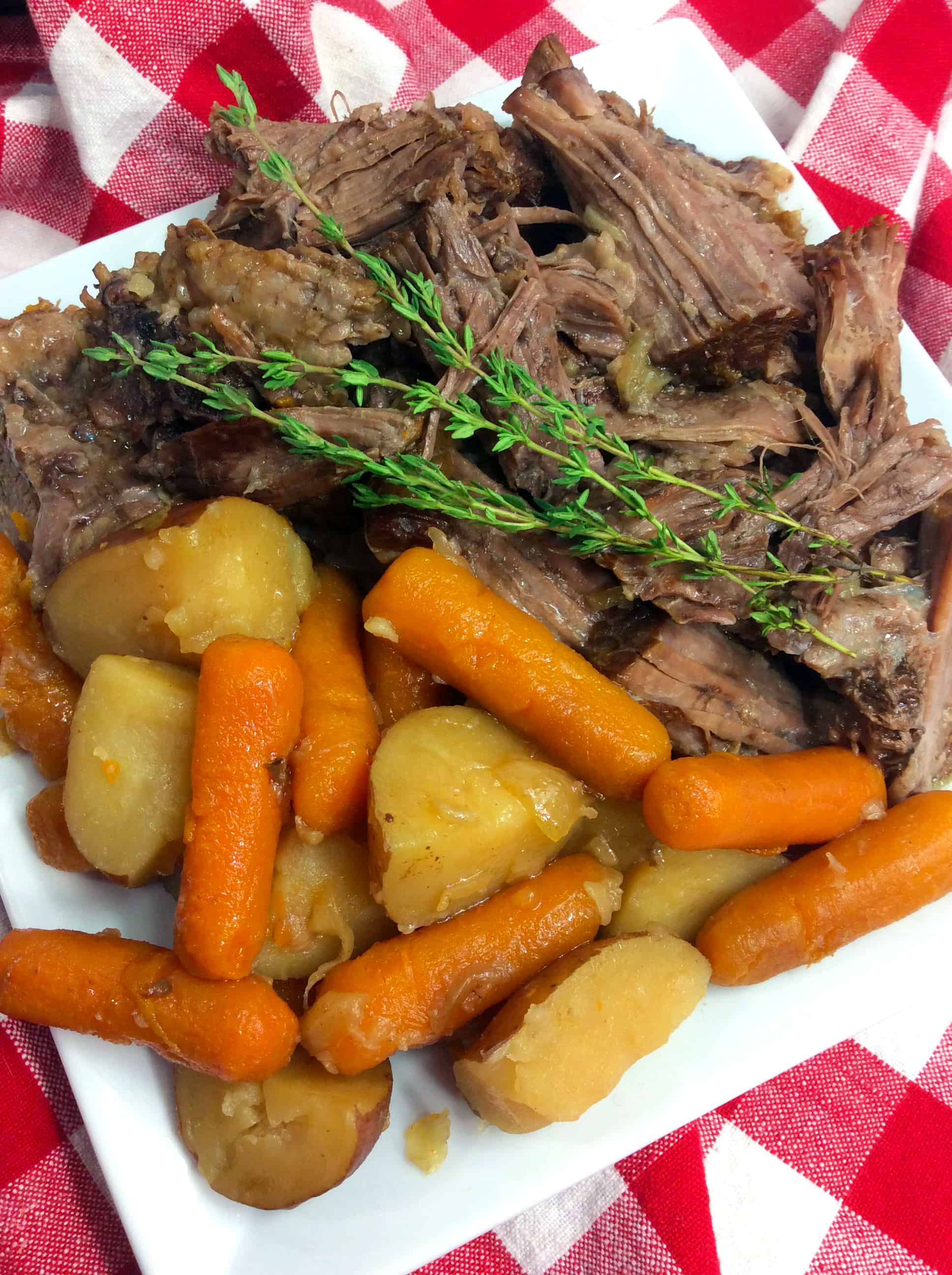 Instant Pot Southern Stuffing – Made with plenty of veggies, it's one of my go-to healthy pressure cooker recipes for a side dish.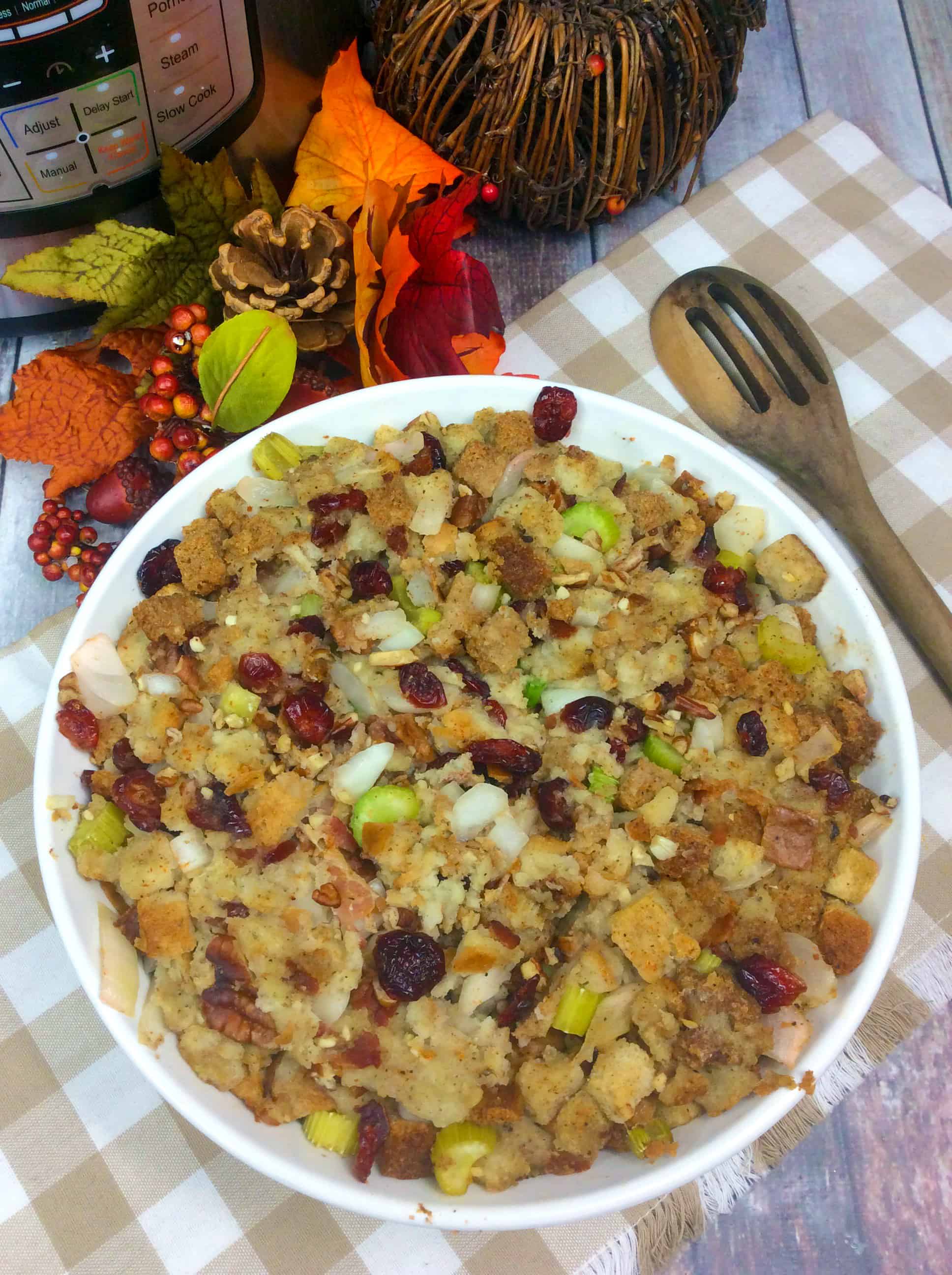 Homemade Chicken Noodle Soup Instant Pot – IP Chicken Noodle Soup is the easiest, most flavorful chicken noodle soup you'll ever make!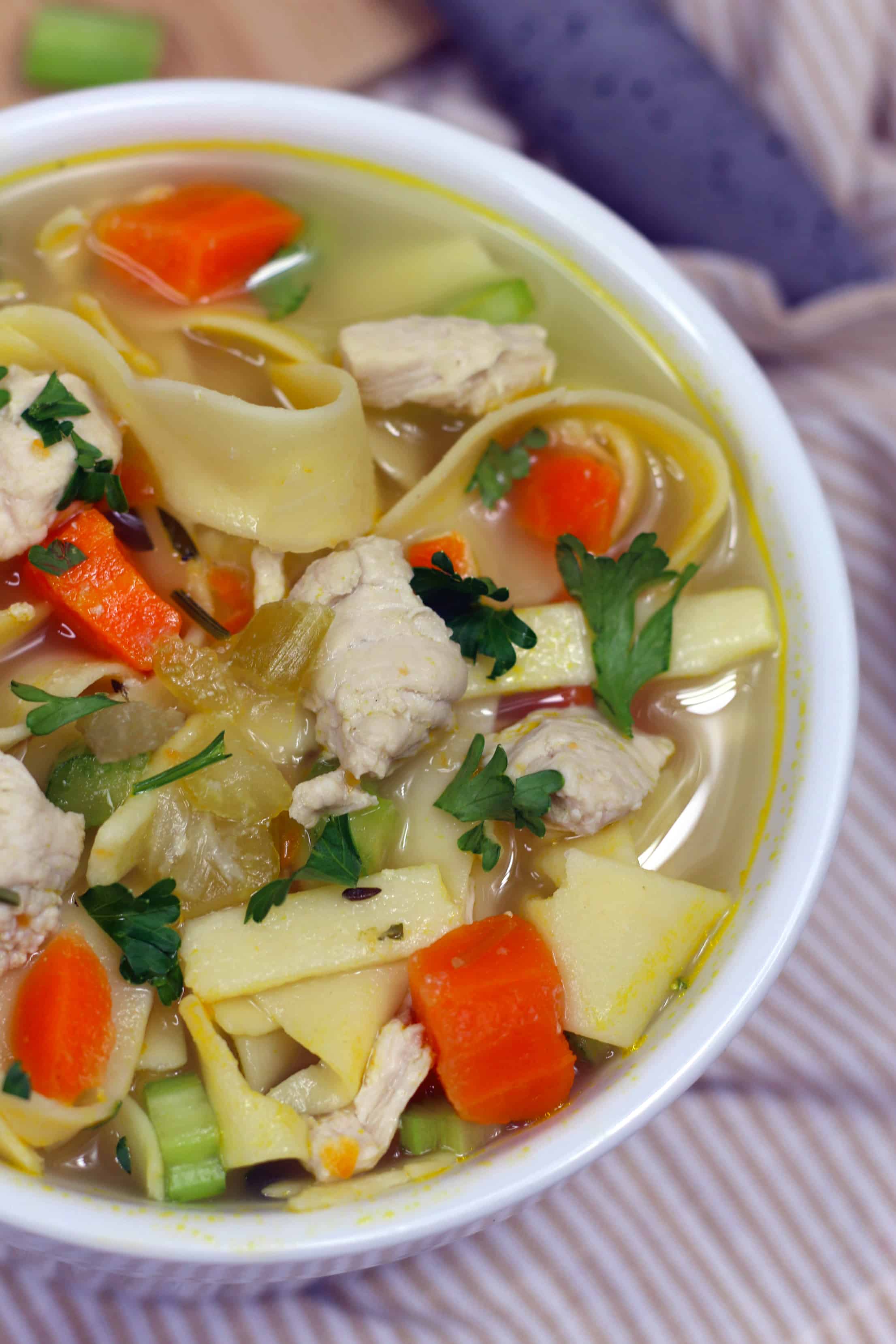 Get new recipes weekly plus our FREE ebook!