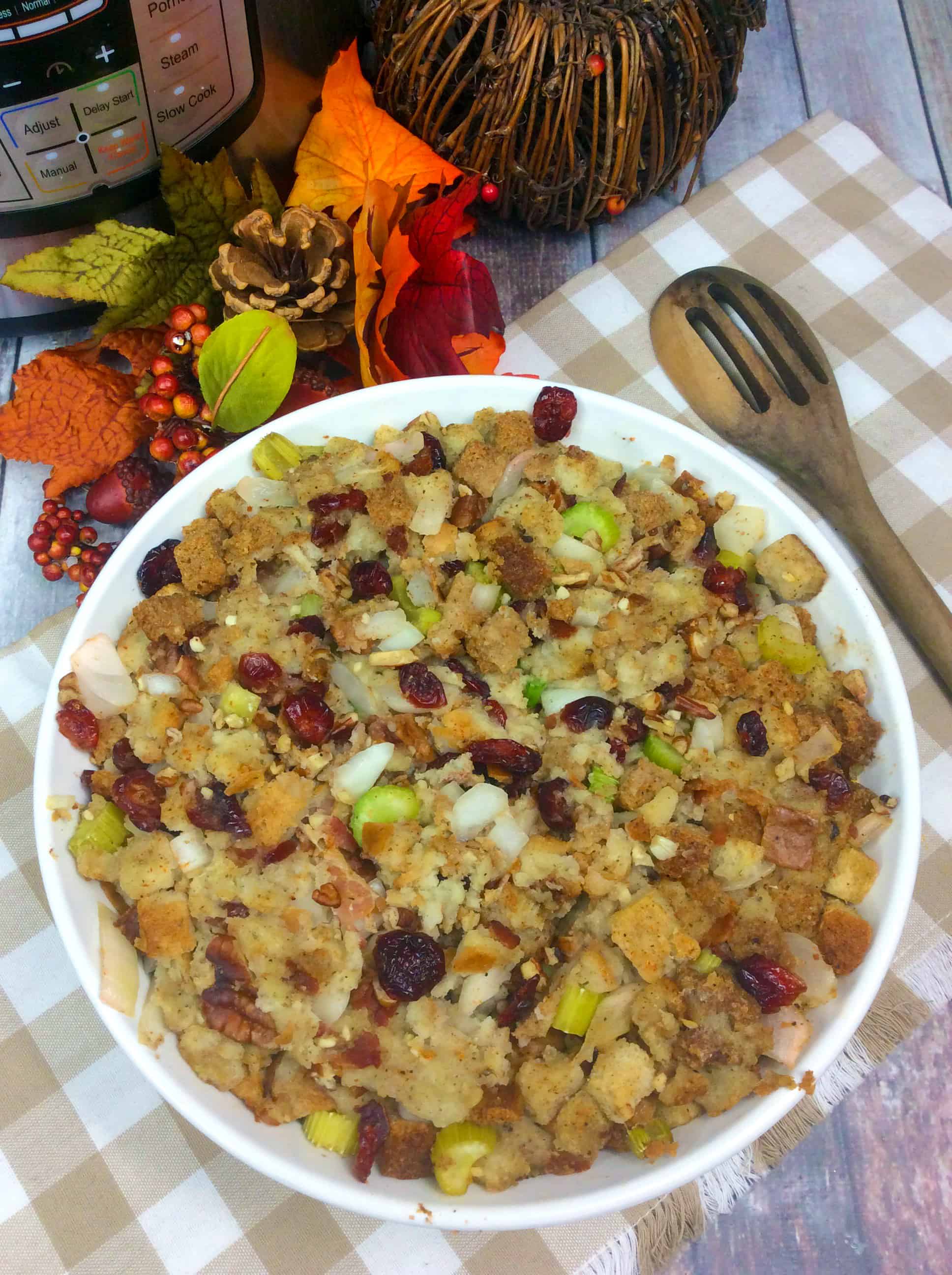 This Instant Pot Southern Stuffing is the best homemade stuffing recipe you'll ever make! Made with plenty of veggies, it's one of my go-to healthy pressure cooker recipes for a side dish. You'll definitely want to save this one for Thanksgiving or any other chicken or turkey dinner!
How is it possible that we're less than a month from Thanksgiving? With Christmas and the new year looming just another month in the future. It seems like the year just started! And here in California, we're not experiencing the fall weather most other places are, so sometimes I can forget just how close to the holidays we are.
Once I realized how close Thanksgiving was, I decided it was time to start prepping by testing out some new Thanksgiving recipes. Most Thanksgiving dinners consist of the same few dishes – mashed potatoes, turkey, stuffing, gravy, cranberry sauce and maybe a few casseroles, so I'm trying to make some of the traditional recipes made simpler and quicker, which is leading to a lot of utilization of my trusted Instant Pot.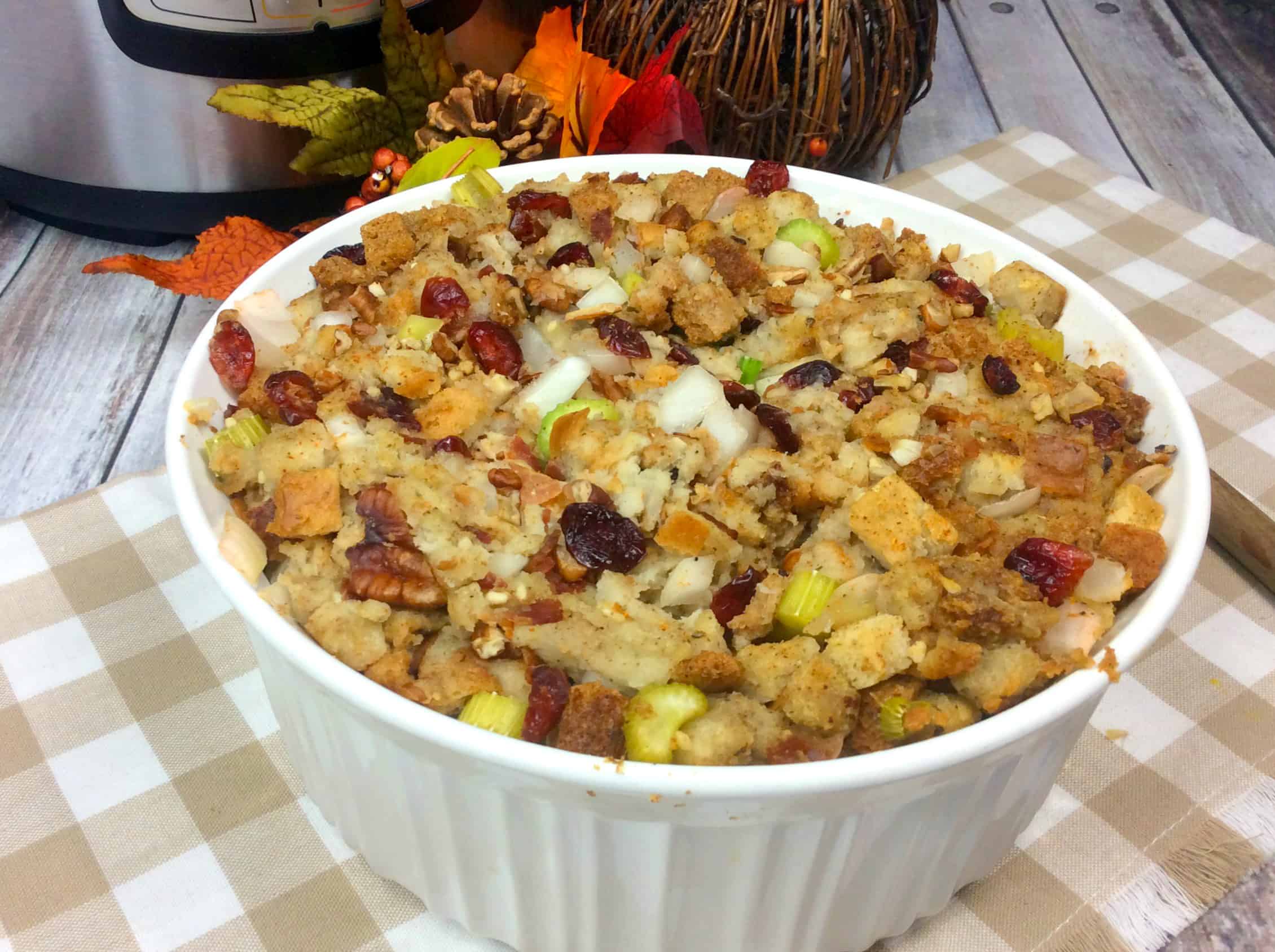 Instant Pot Southern Stuffing
I've tried out lots of pressure cooker recipes since buying my Instant Pot, but this homemade stuffing recipe may be my favorite recipe to date, also with this Instant Pot Mississippi Ranch Chicken recipe.
While I had Thanksgiving in my mind while making this Instant Pot Southern Stuffing, it's also perfect to go with some Instant Pot chicken and stuffing. Homemade stuffing is something I always make near the holidays, but it's also a great side dish for a chicken or turkey dinner any time of the year. Actually, turkey and gravy with stuffing are one of my favorite comfort food dinners!
Homemade Dressing
Homemade dressing or stuffing, however, you call it this recipe is dynamite. This Instant Pot Southern Stuffing uses all of the traditional homemade stuffing recipe ingredients with a few extra treats, like crispy bacon, cranberries, and pecans. The added ingredients add some texture and flavor. I mean, who doesn't love a little bacon on their plate? My mouth is watering just thinking about how good this stuffing is!
I like my homemade stuffing to be soft but if you'd like a little extra crunch to yours, just spread the dressing on a pan and bake it for a few moments after cooking it in the Instant Pot. Sometimes I'll heat leftover stuffing up in the oven to give it a little texture the second time around, but it's really all up to personal preference. The flavor is the same either way, and that's the important part!
If you're considering some pressure cooker recipes to make your holidays more manageable, I definitely recommend trying out this Instant Pot Southern Stuffing. And no, you don't have to be from the south to make it!
How To Make Stuffing
My mouth is watering as I think about eating this deliciously easy dressing recipe! Not only is it great for the holidays, but it's also perfect for enjoying on those days when you don't feel good. You are going to be impressed with how quickly it comes together too! Take a look at these simple steps to make this stuffing recipe:

Step 1: Toast bread in the oven for approximately 20 minutes. It should be pretty dry when you take it out of the oven. Then, cut it into cubes. Try to cut the cubes the same size, so it cooks more evenly.
Step 2: While the bread is toasting, you can cook the bacon in a skillet or in the oven too. Once it's done crumple it into small pieces.
Step 3: Chop up the celery, onion, cranberries, and pecans.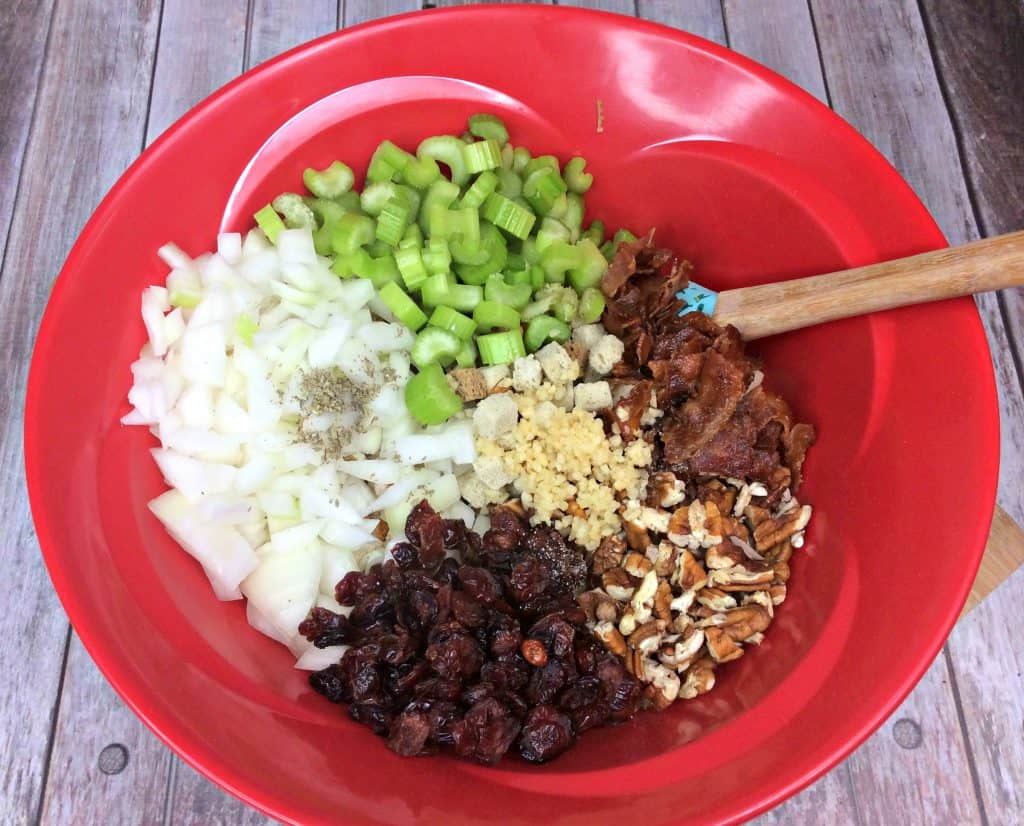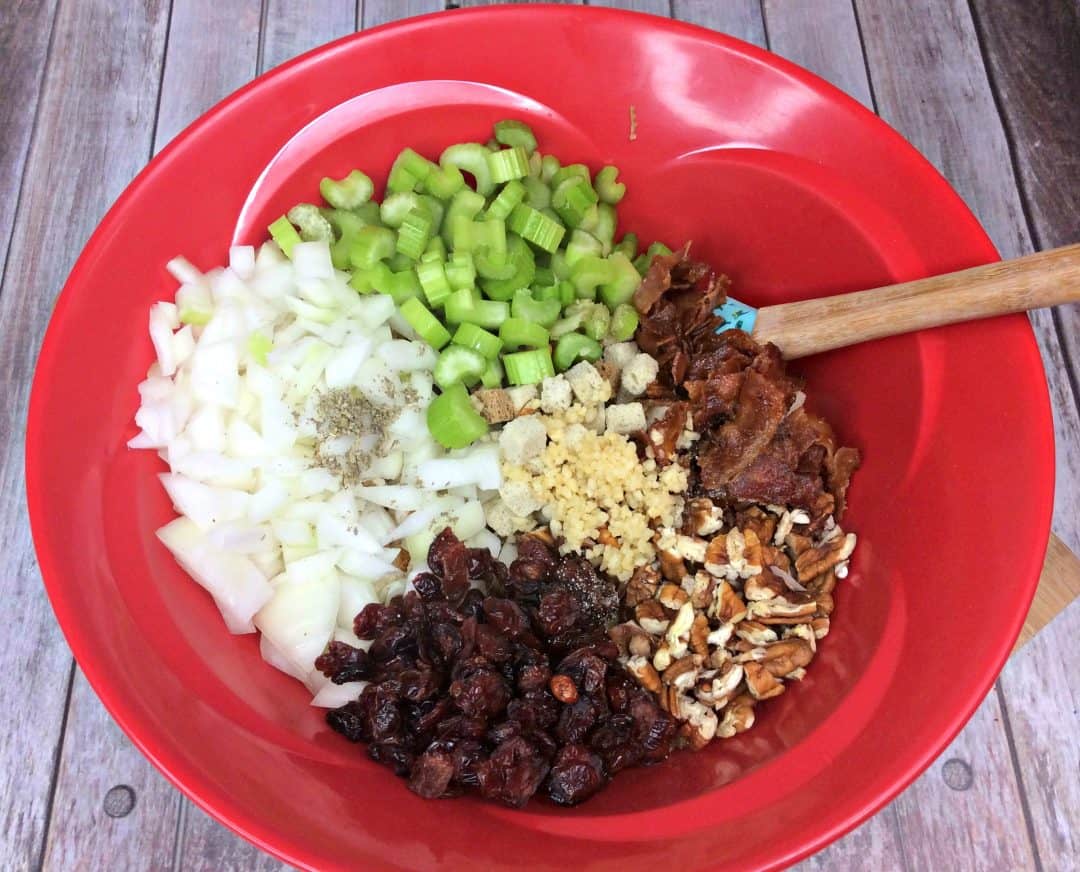 Step 4: Mix bread, vegetables, and cranberries together well.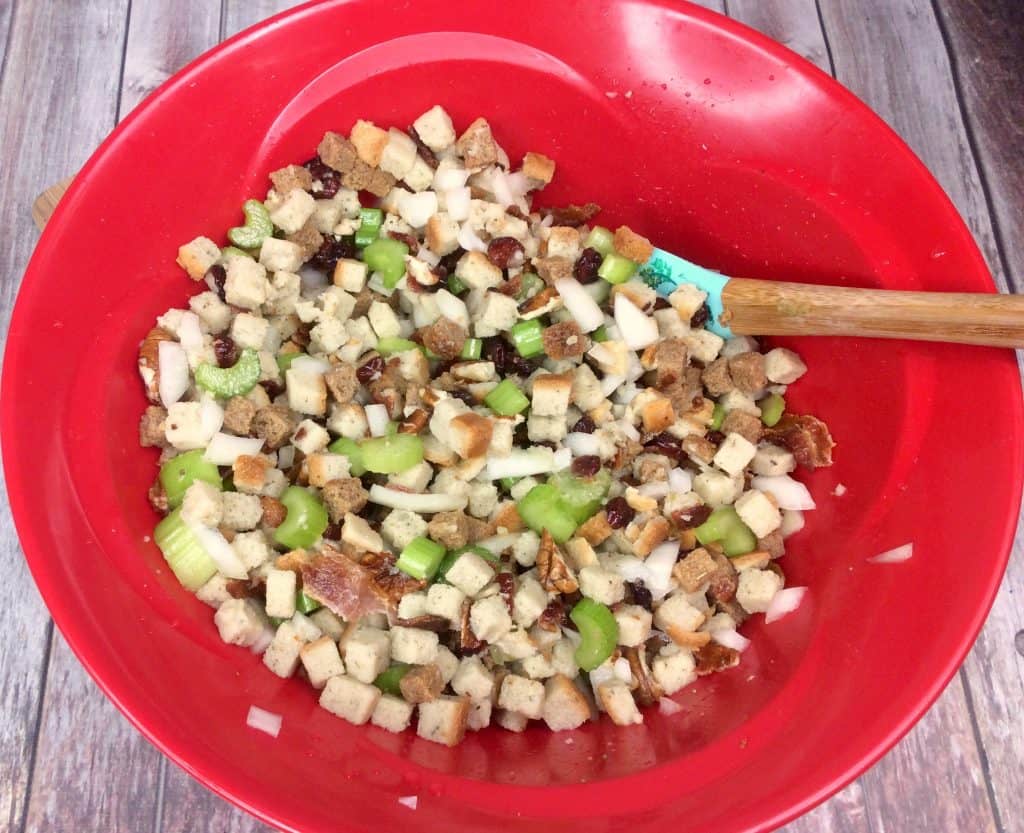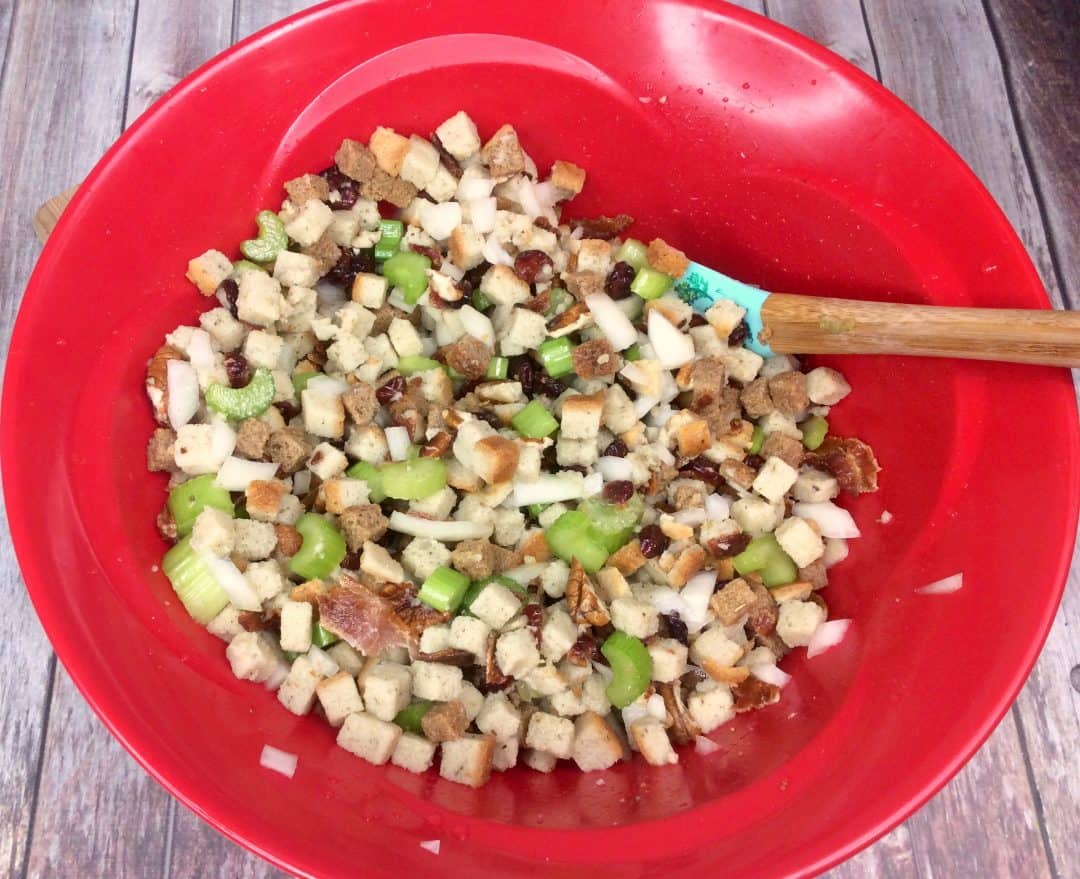 Step 5: Pour butter and spice mix over stuffing mixture.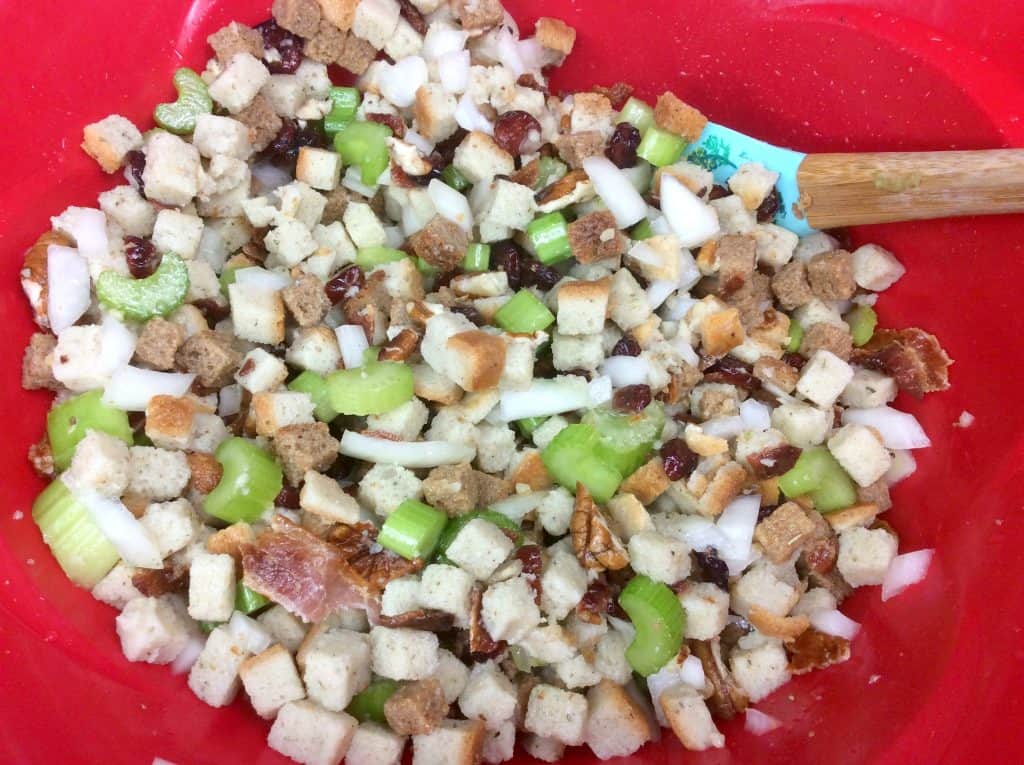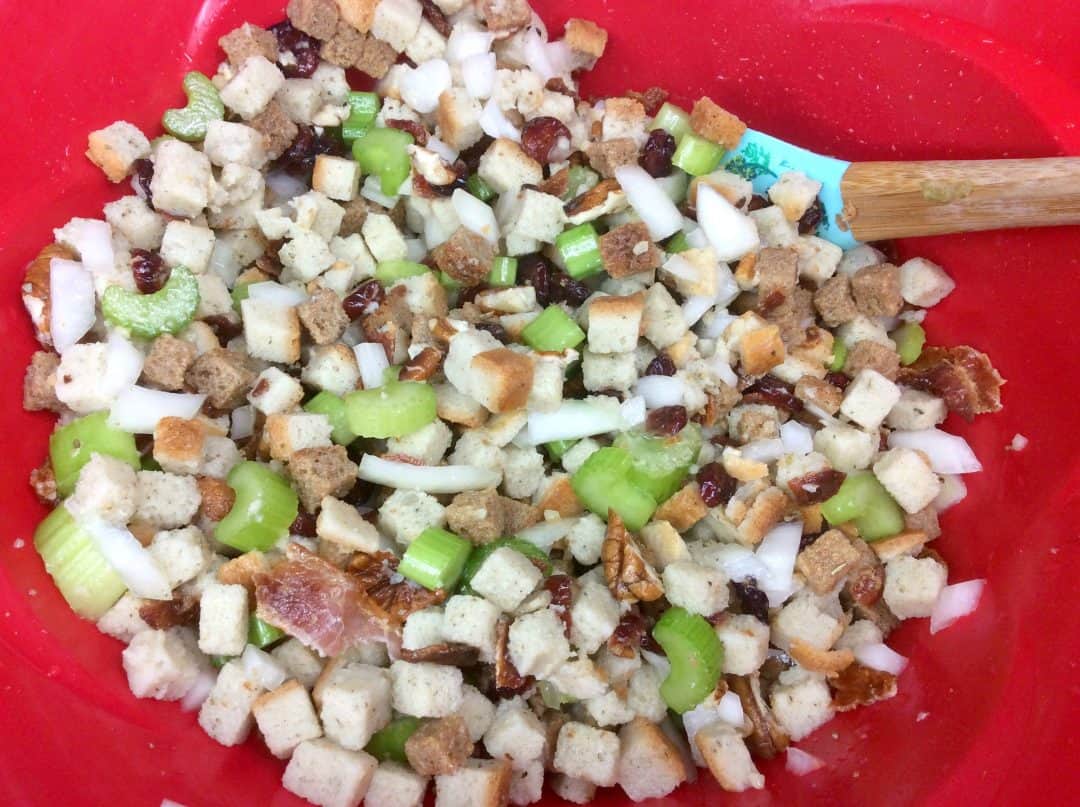 Step 6: Pour combined stuffing mixture into Cornwall baking dish. Place dish inside Instant Pot with two cups of water.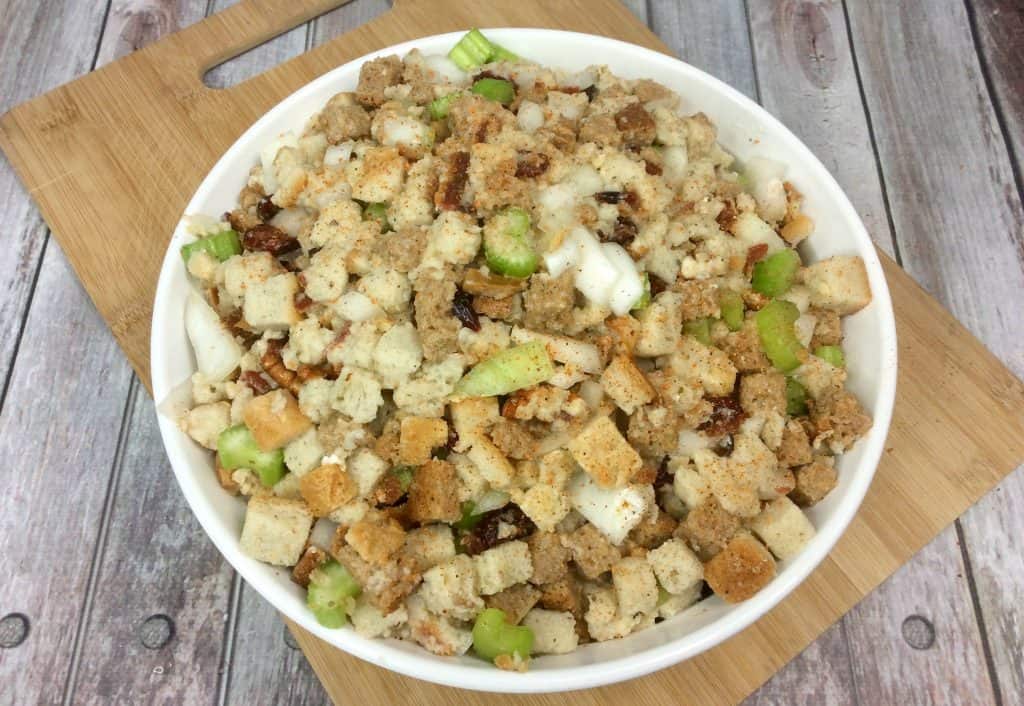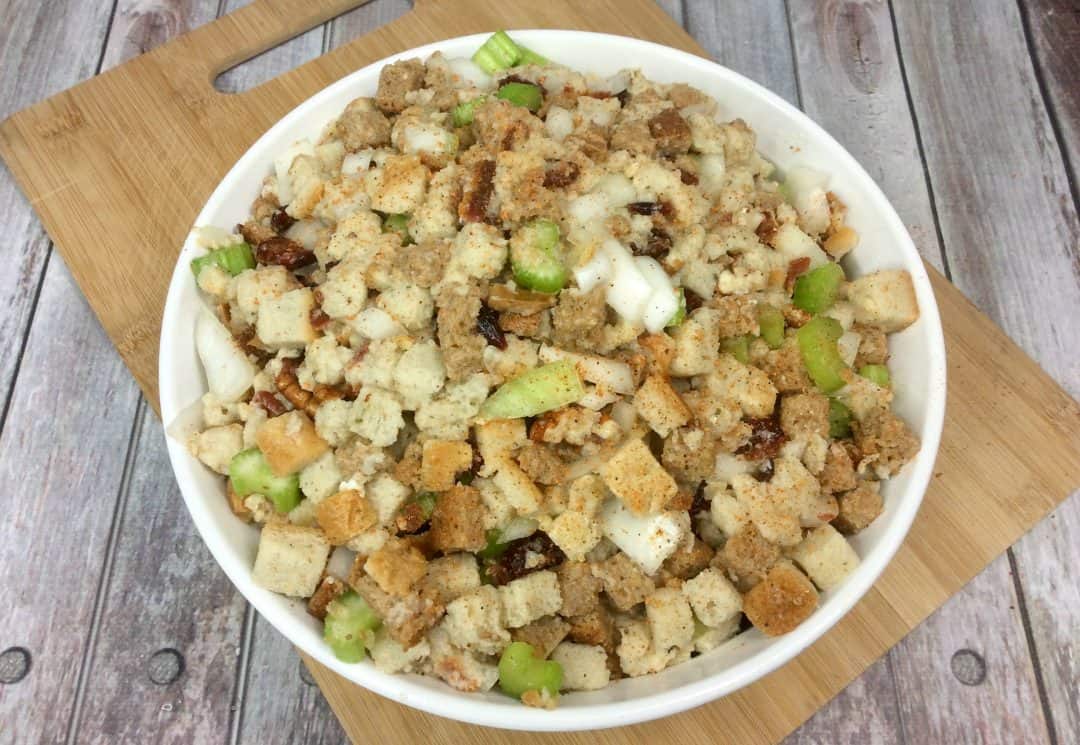 Step 7: Cover the baking dish with foil and cook in Instant Pot for 15 minutes. Once it's finished, do a quick release, so the stuffing doesn't get soggy.
Step 8: Get a big helping of this Instant Pot southern stuffing and devour every bite. Yummy!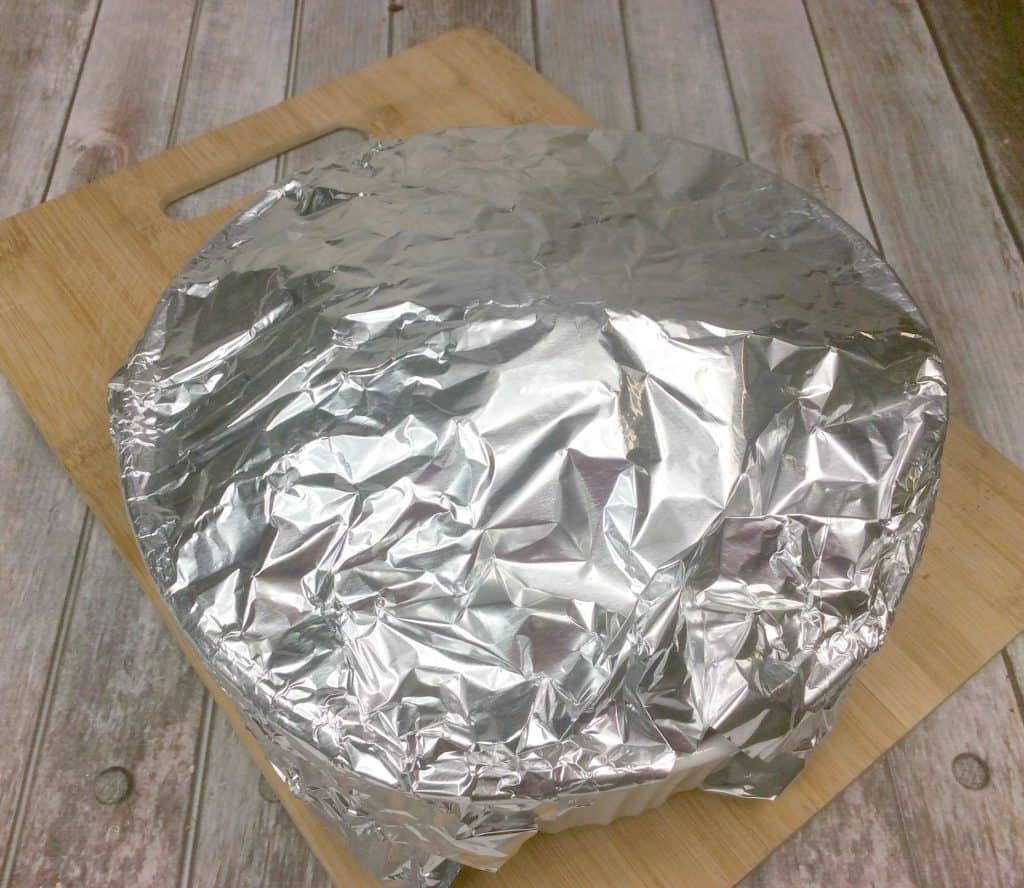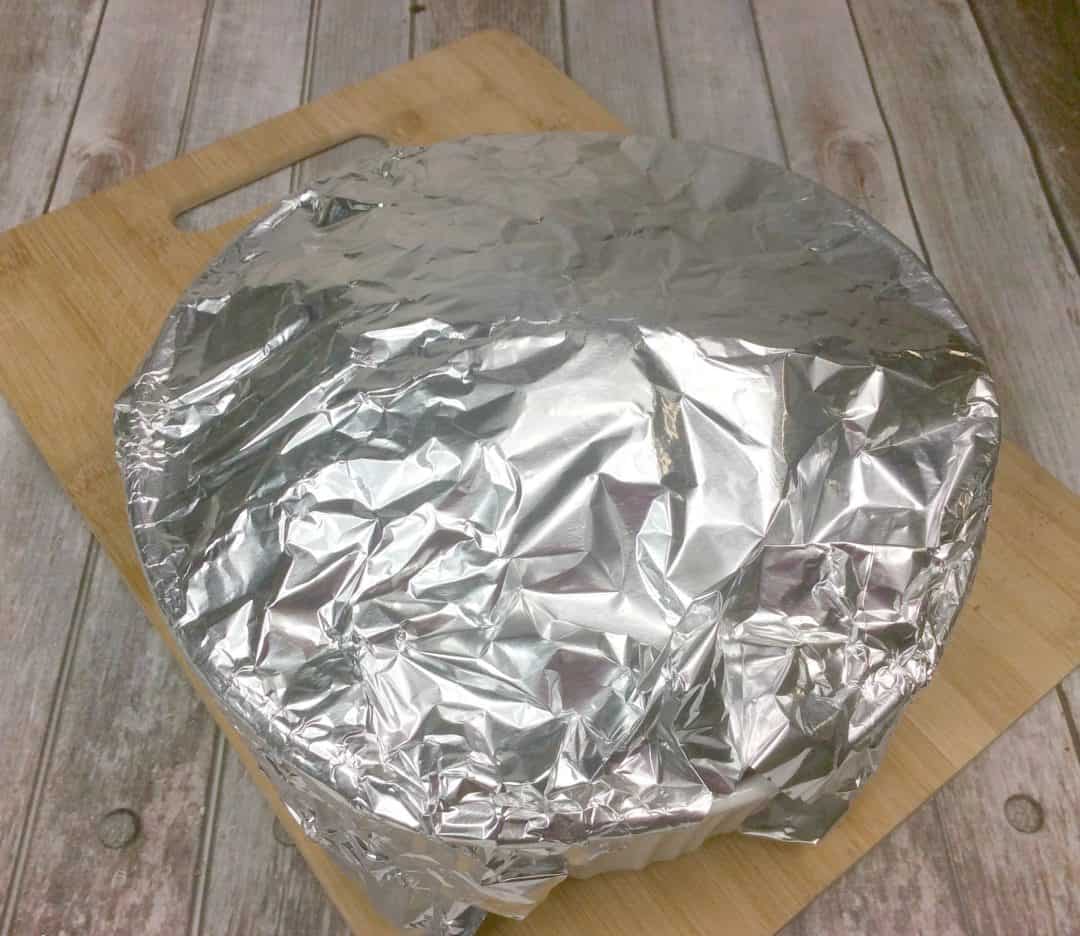 Instant Pot Stuffing Variations
You know how much I like to change things up from time to time. That is what I love about this southern stuffing recipe! You can add or omit ingredients based on what you have on hand and what you think will taste good that day. Here are some ideas to try:
Apples – You can use tart or sweet apples when making southern-style stuffing. Either way, you will end up with a perfect dish that pleases a crowd.
Pears – They add a subtle sweetness to this easy southern stuffing recipe, and you are going to love it!
Walnuts – Don't have pecans on hand? No problem, toss in a few walnuts instead. The earthy flavor is out of this world!
Fennel – If you are a fennel fanatic, then you will love replacing the celery with chopped fennel.
Mushrooms – Chop up a few mushrooms to add to the mix. The result takes this stuffing recipe to the next level.
Sausage – Brown your go-to sausage and add it to the dressing recipe. It's perfect if you are looking for a one pot meal.
What Kind Of Bread Is Used For Stuffing?
There are so many types of bread to choose from I can understand why it can be confusing. Plus, the bread is the star of the show when it comes to this Instant Pot stuffing recipe. You can use whatever bread you have on hand. Try them all because you will be surprised how much the flavor can change by switching out the type of bread. Here are some ideas to get you started:
White – Most of us typically have white bread sitting around that needs to be used up, so I use this most often.
Wheat – Another household favorite. The wheat goes terrific with the onions and celery.
French – The crunchy exterior makes the most amazing southern stuffing!
Sourdough – It adds a nice tangy flavor that marries nicely with the sweetness of the cranberries.
Pumpernickel – Oh, how I love the rich, bold flavor of pumpernickel. Such a pleasant surprise in this dressing recipe.
Rye – This is always a massive hit at my house because I don't make it with Rye very often. Just make sure it doesn't have any seeds on top before drying it out.
Italian – Unique and flavorful! I recommend giving some good old fashioned Italian bread a try.
Corn Bread – I know you wouldn't usually think of putting cornbread in stuffing, but trust me it's so good! You can even skip drying it out because it's already pretty dry.
Can You Make Stuffing Ahead Of Time Then Refrigerate?
The answer depends on what your intention is. If you want to get all the ingredients together and do the prep work, put it in the fridge and cook later, then the answer is a huge NO! The bread would look its crunchiness, and you would end up with a soggy, gross mess.
You can, however, add the ingredients together and toss all of it in the freezer uncooked. It will last anywhere from 2-4 months. When you are ready to serve, you can thaw for a short amount of time then bake. You don't want it to thaw overnight in the fridge as you do with most other foods. It will break down the bread and cause it to get wet and mushy. Your best bet is to bake it or tossing it into the Instant Pot shortly after removing it from the freezer.
If you are looking to meal plan, then you can cook this easy dressing recipe ahead then place it in the fridge or freezer. In the refrigerator, this dressing recipe will last up to 4 days or if up to 1 month in the freezer. To reheat Instant Pot stuffing, your best bet is to bake it in the oven for 30-35 minutes at 325 degrees. Check on it and serve when it gets to the desired temperature.
How Do You Fix Soggy Stuffing?
If you end up with soggy Instant Pot southern stuffing for some reason, don't worry we can fix it! Simply spread the stuffing out on a baking sheet and bake at 350 degrees until it has dried out some. Thankfully, the fix is pretty easy, and you don't have to waste all that yummy food.
What Goes With Stuffing?
When making this easy dressing recipe, you might be asking yourself what will it go with? The good news is that it will pair well with almost anything! Try it with these ideas:
Chicken – Bake or roast some plump, juicy chicken because it is the perfect flavor combination to go with this southern style stuffing.
Turkey – Turn holiday leftovers into a meal for any time of year! If I end up with leftover turkey, I toss it in the freezer then when I am looking for comfort food I can heat it up with a fresh batch of this stuffing recipe.
Pork Chops – Cook the pork chops any way you wish and add a helping of Instant Pot stuffing and your tummy will be thanking you.
Roast Beef – You may not traditionally hear of serving homemade stuffing with roast beef, but it actually tastes amazing together.
Enjoy!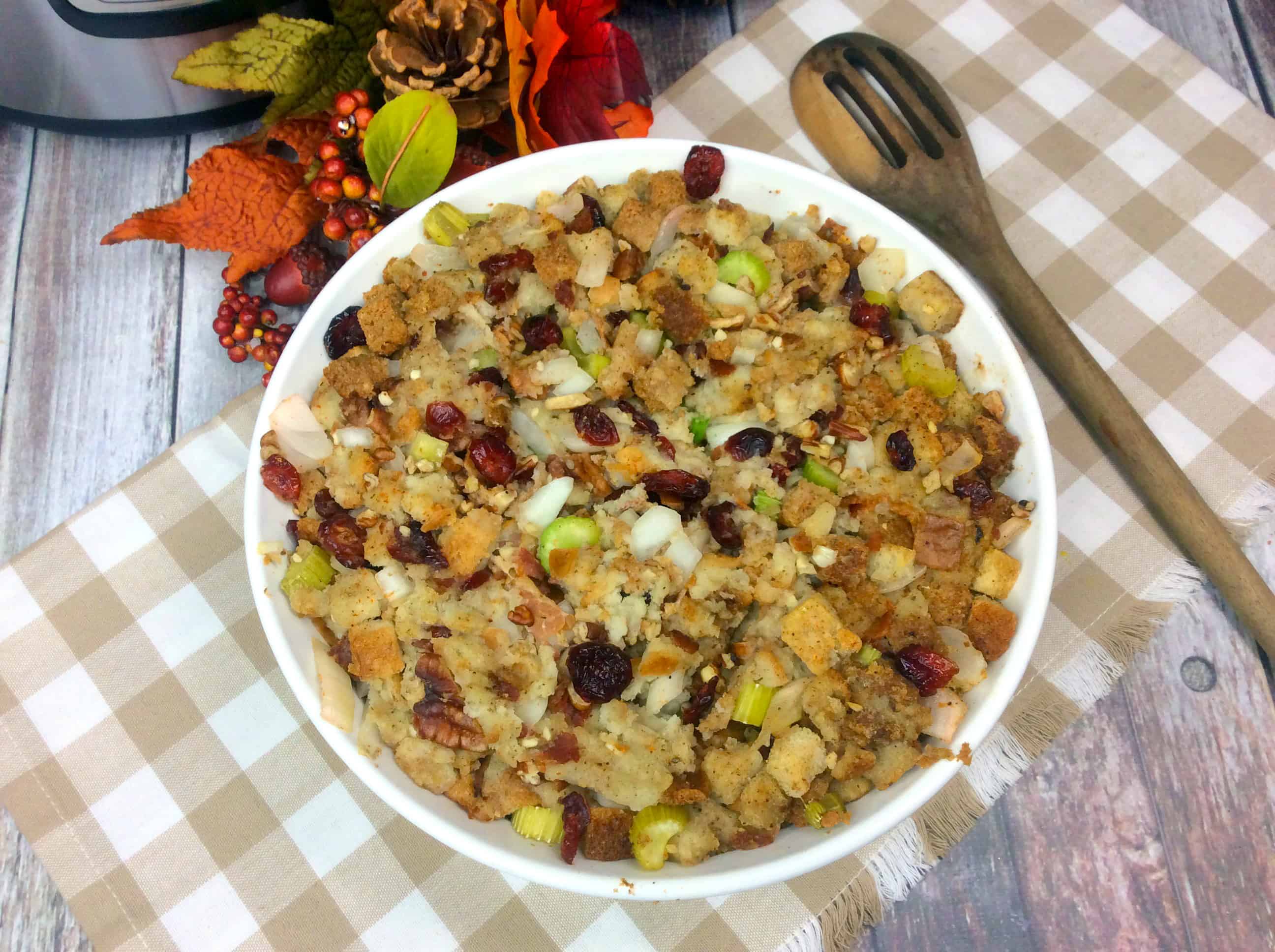 Now, time to save this recipe on Pinterest for later:

Pin this recipe now to remember it later
Instant Pot Southern Stuffing
This Instant Pot Southern Stuffing is the best homemade stuffing recipe you'll ever make! Made with plenty of veggies, it's one of my go-to healthy pressure cooker recipes for a side dish. You'll definitely want to save this one for Thanksgiving or any other chicken or turkey dinner!
Ingredients
1 1/4

C

broth.

,

turkey or chicken

1/2

C

crispy bacon

,

chopped

1

medium white onion

,

chopped

1

loaf bread

,

cubed and toasted
Instructions
Preheat oven to 350 degrees.

Spray a cookie sheet with baking spray.

Bake the bread in the 350 degrees oven for 20 minutes.

Allow the bread to cool completely before making the stuffing.

Combine butter, broth, celery, and onion in a pot simmering until tender. Add salt, sage, garlic, and pepper. Stir in the butter mixture. Put bread into a large bowl. Stir in the bacon, cranberries, and pecans in with the bread. Pour your butter/ spice mixture over the bread. Mix well.

Stuff into a corning ware baking dish. Cover with foil, poking a hole in the middle of the tin foil.


(Make a foil sling by taking an 18inch strip of foil, fold it lengthwise twice, for lifting the dish out of the pressure cooker.)

Pour 1 1/2 cups of water into the instant pot. Put the trivet in the bottom of the instant pot. Center the baking dish on the foil strip and lower it into the instant pot. Fold the foil strips down so that they do not interfere with closing the lid.

Lock the lid in place. Put it on High Pressure, setting the timer for 15 minutes. When beep sounds, turn off the instant pot then do a quick pressure release to release the pressure. When the valve drops carefully remove the lid.

Use the foil handles to remove the baking dish of stuffing.
Notes
If you prefer the stuffing as is then after removing the baking dish from the instant pot rewrap the foil on top. keeping it on until you are ready to serve it.
If you would prefer to have the stuffing a little crispy.
Simply take the stuffing out of the baking dish and transfer it on to a parchment lined baking tray sprayed with non-stick cooking spray. Put in preheated 350° oven for 5 – 10 minutes to crisp up the stuffing.
Follow me on Pinterest for daily delicious recipes!
More Incredible Recipes To Try:
Ham and Asparagus Casserole – Perfect for busy weeknights or even weekend brunch!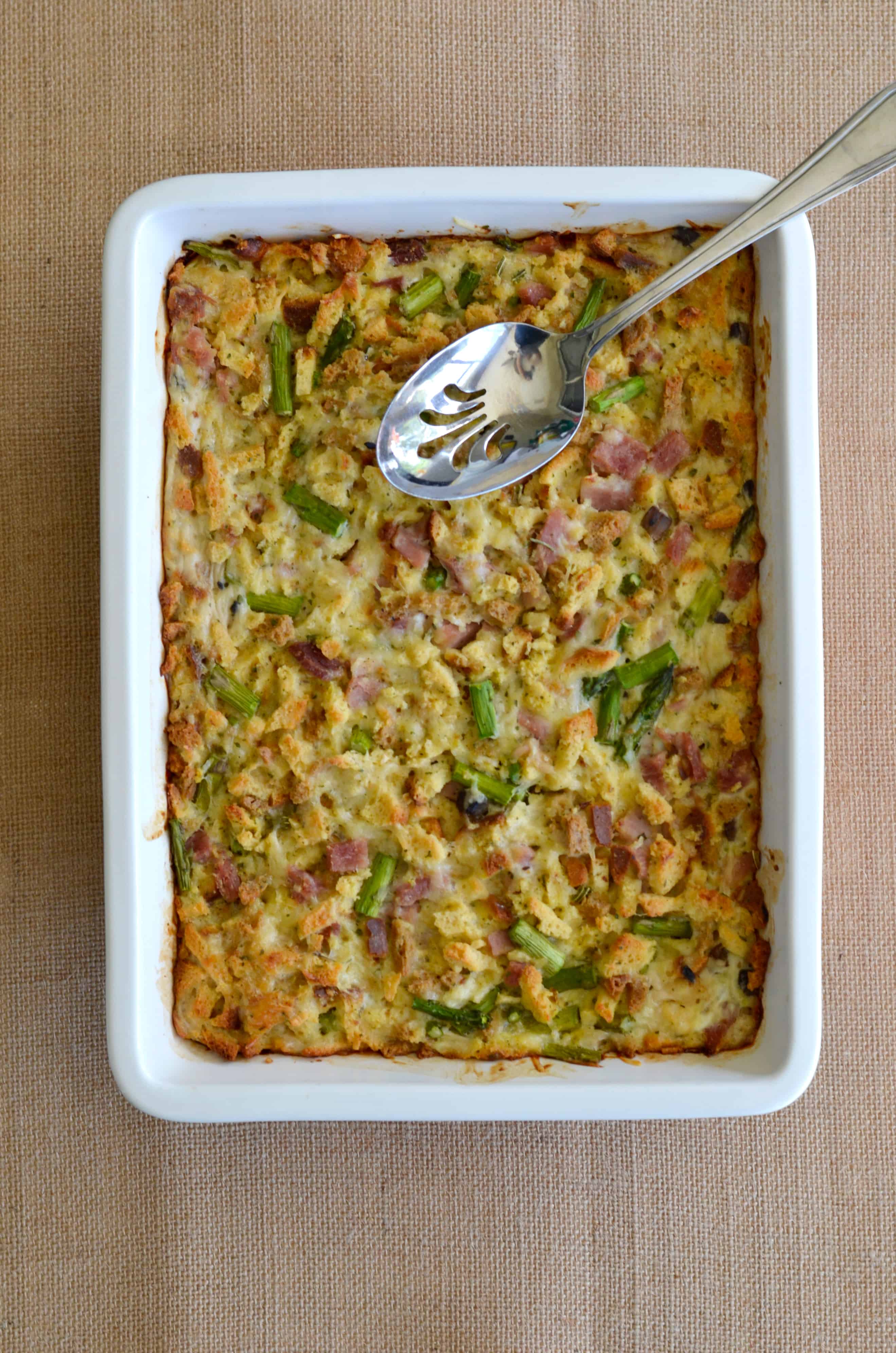 Potato Soup – It's loaded with cheese for a deliciously creamy and filling slow cooker baked potato soup.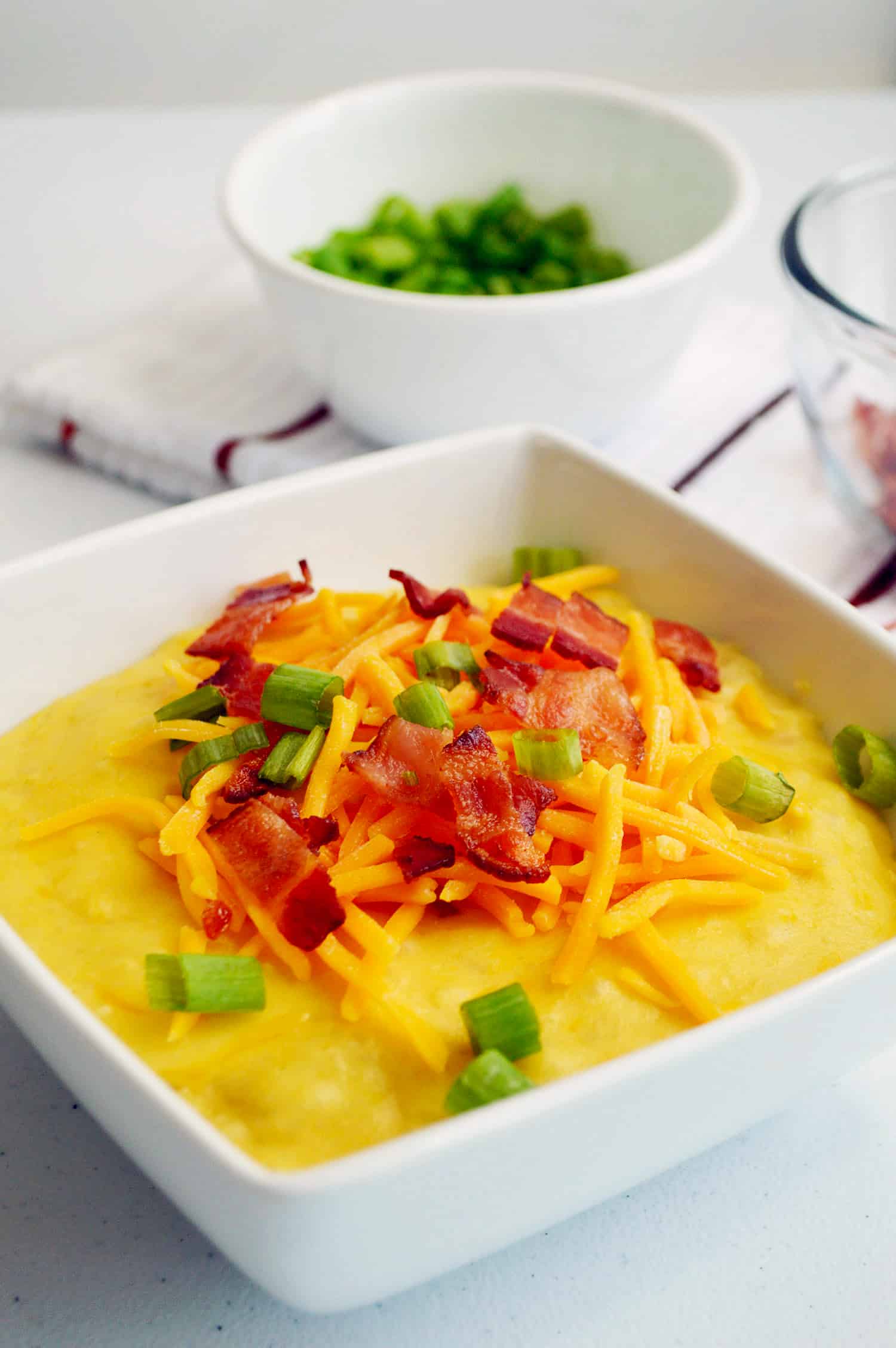 Pumpkin Bread with Maple Icing – This pumpkin bread recipe is an easy pumpkin bread that's great for sharing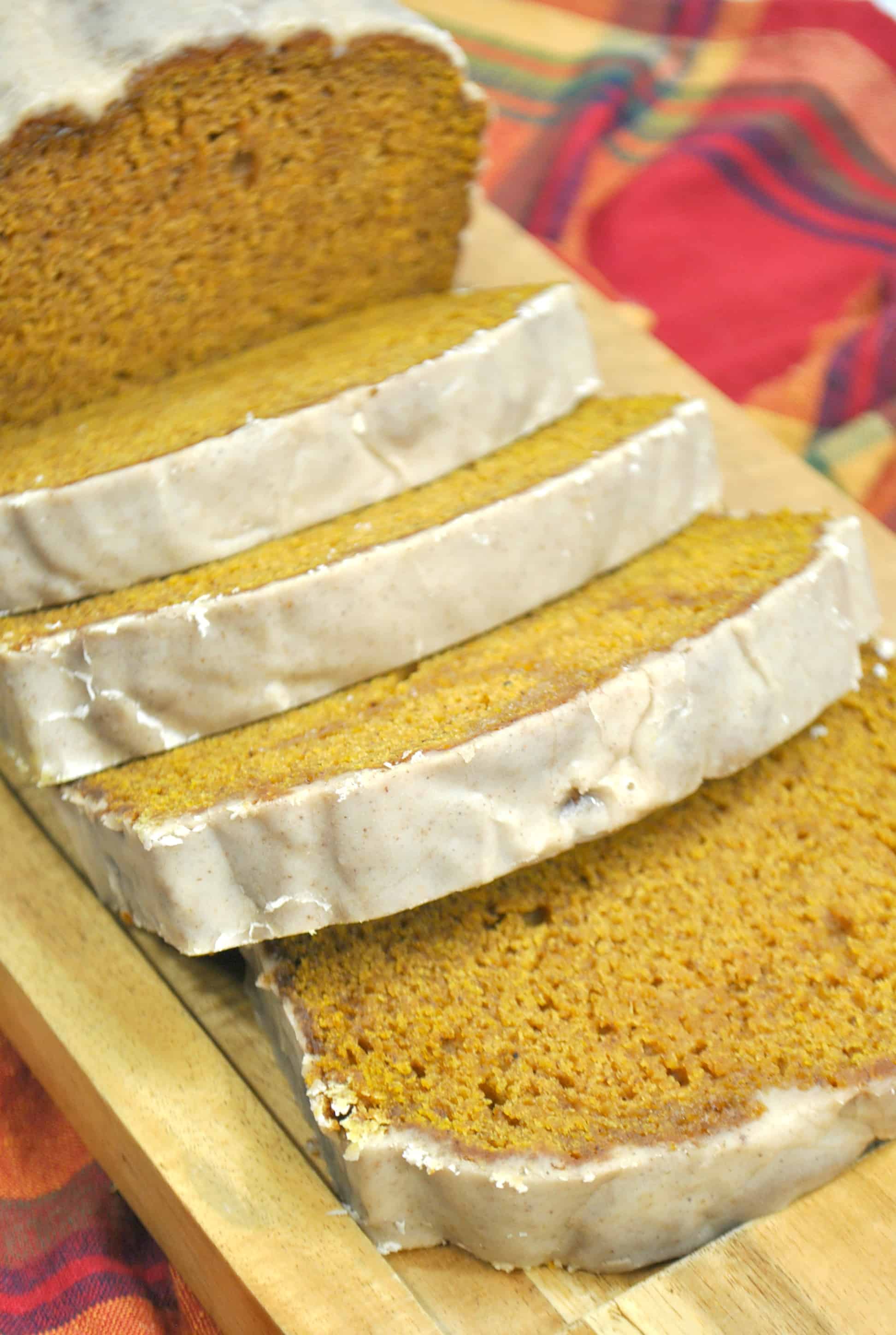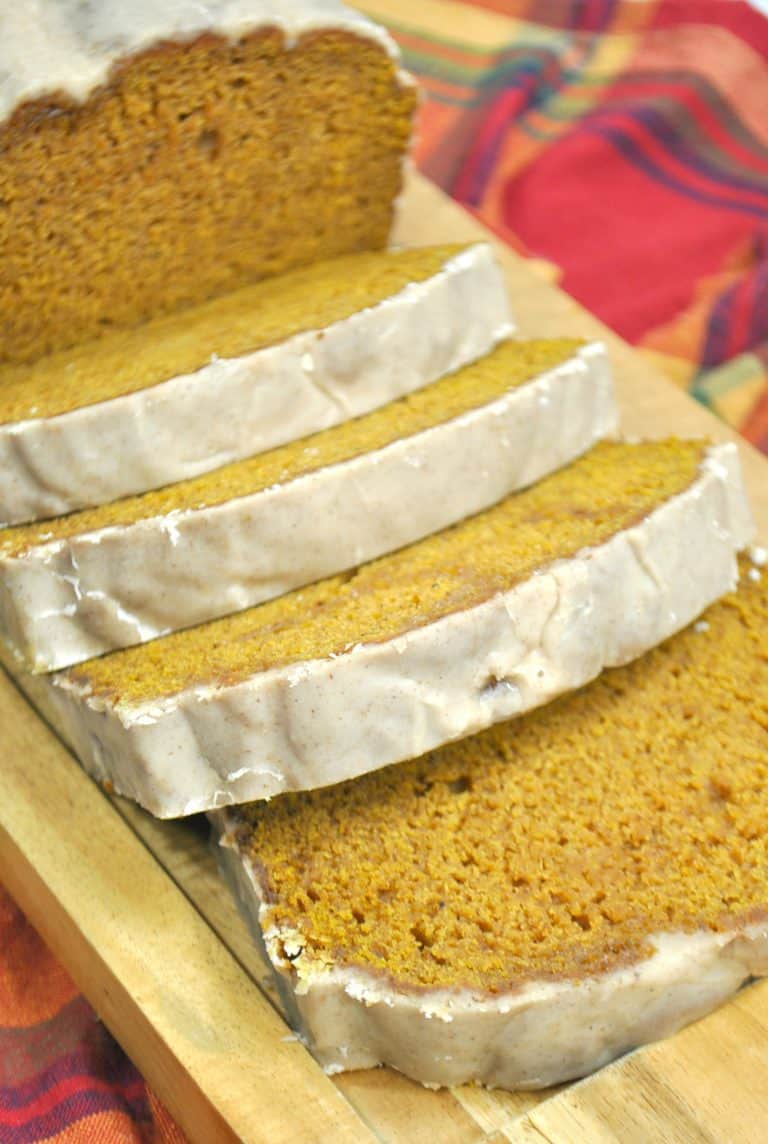 Get new recipes weekly plus our FREE ebook!