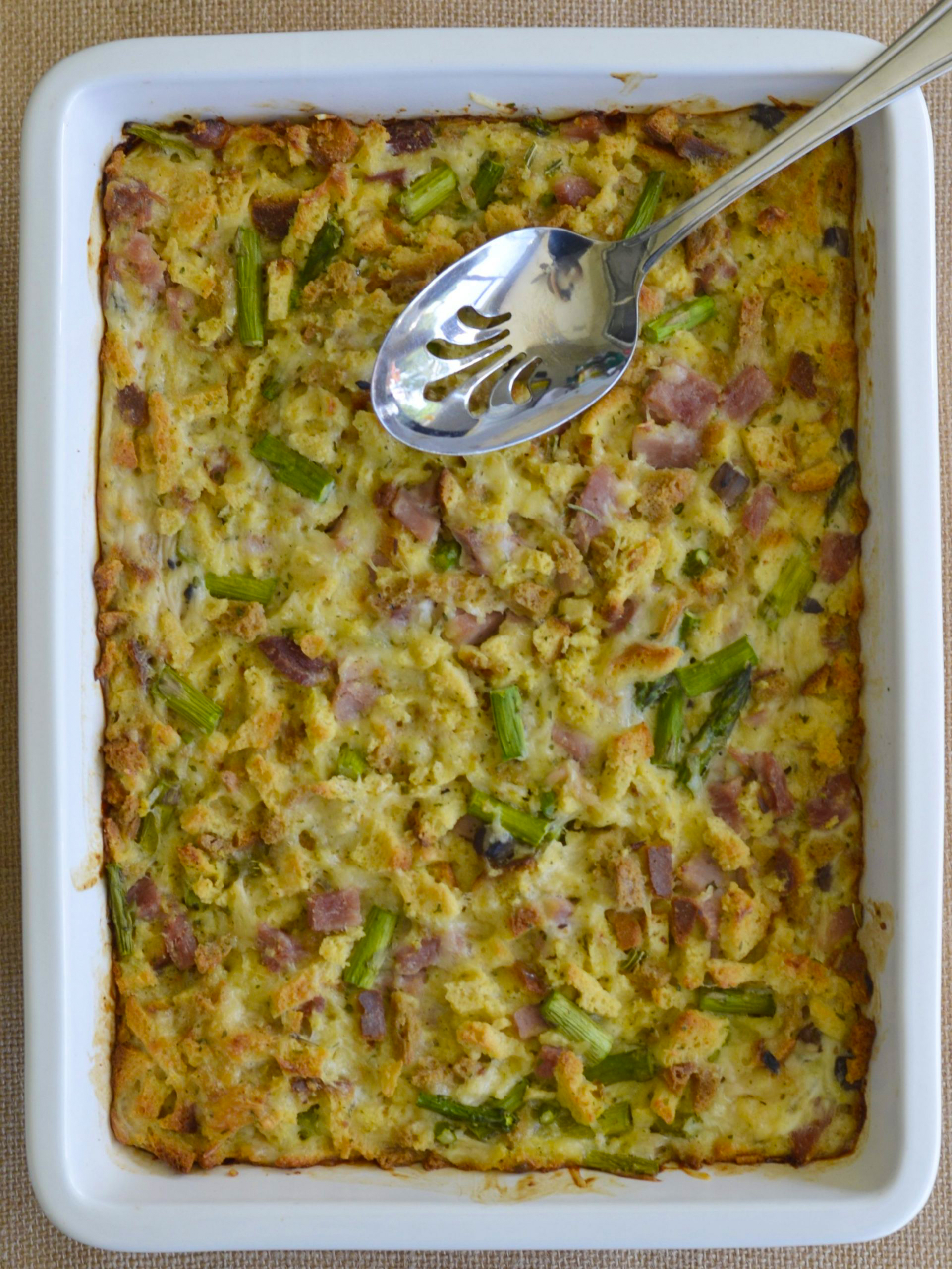 This ham and asparagus casserole is one of the best easy casserole recipes. With just a few ingredients, this cheesy ham casserole is ready in under an hour. Perfect for busy weeknights or even weekend brunch!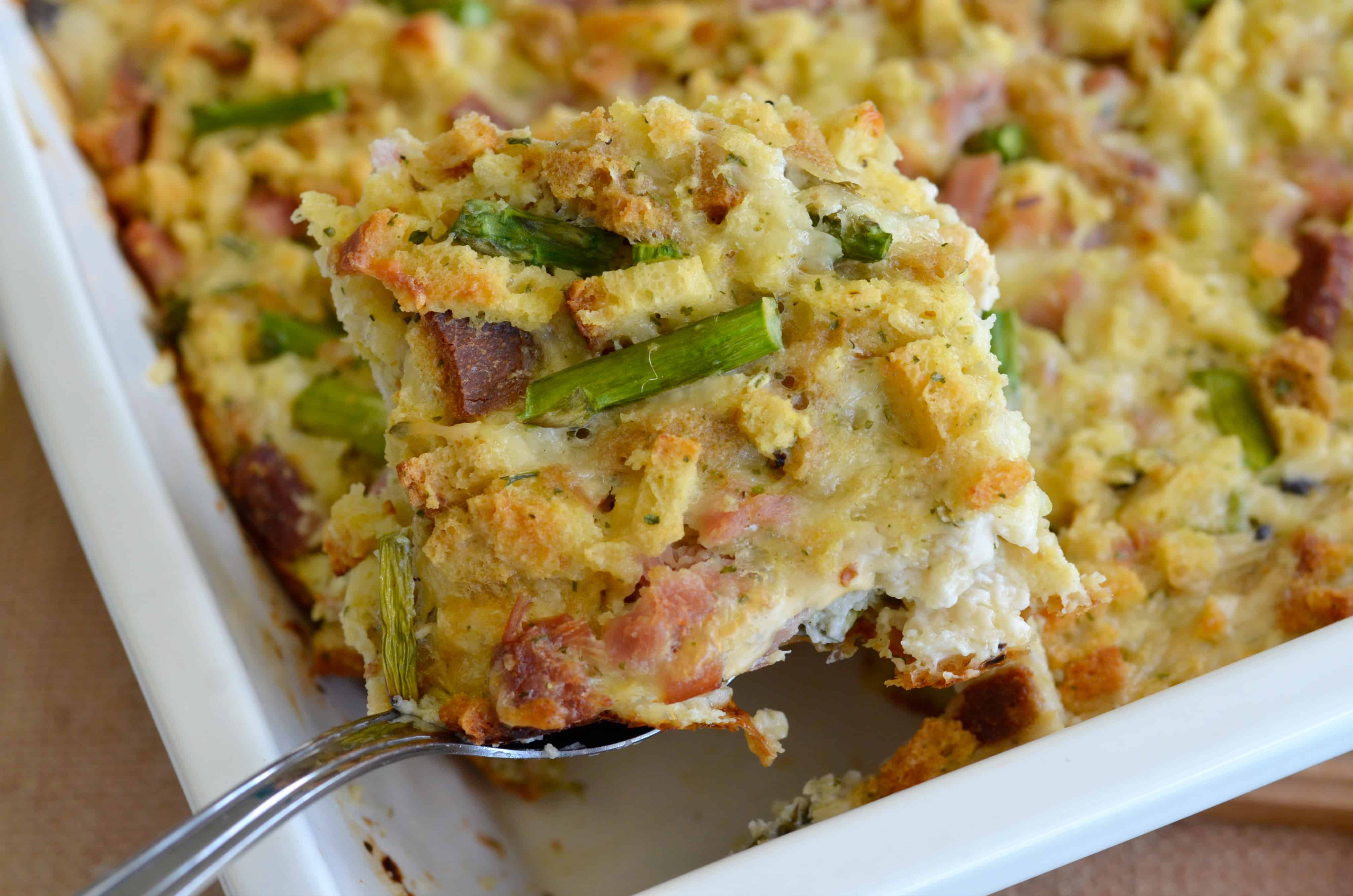 I hate wasting food after the holidays or anything else, so I wanted to come up with a tasty leftover ham recipe.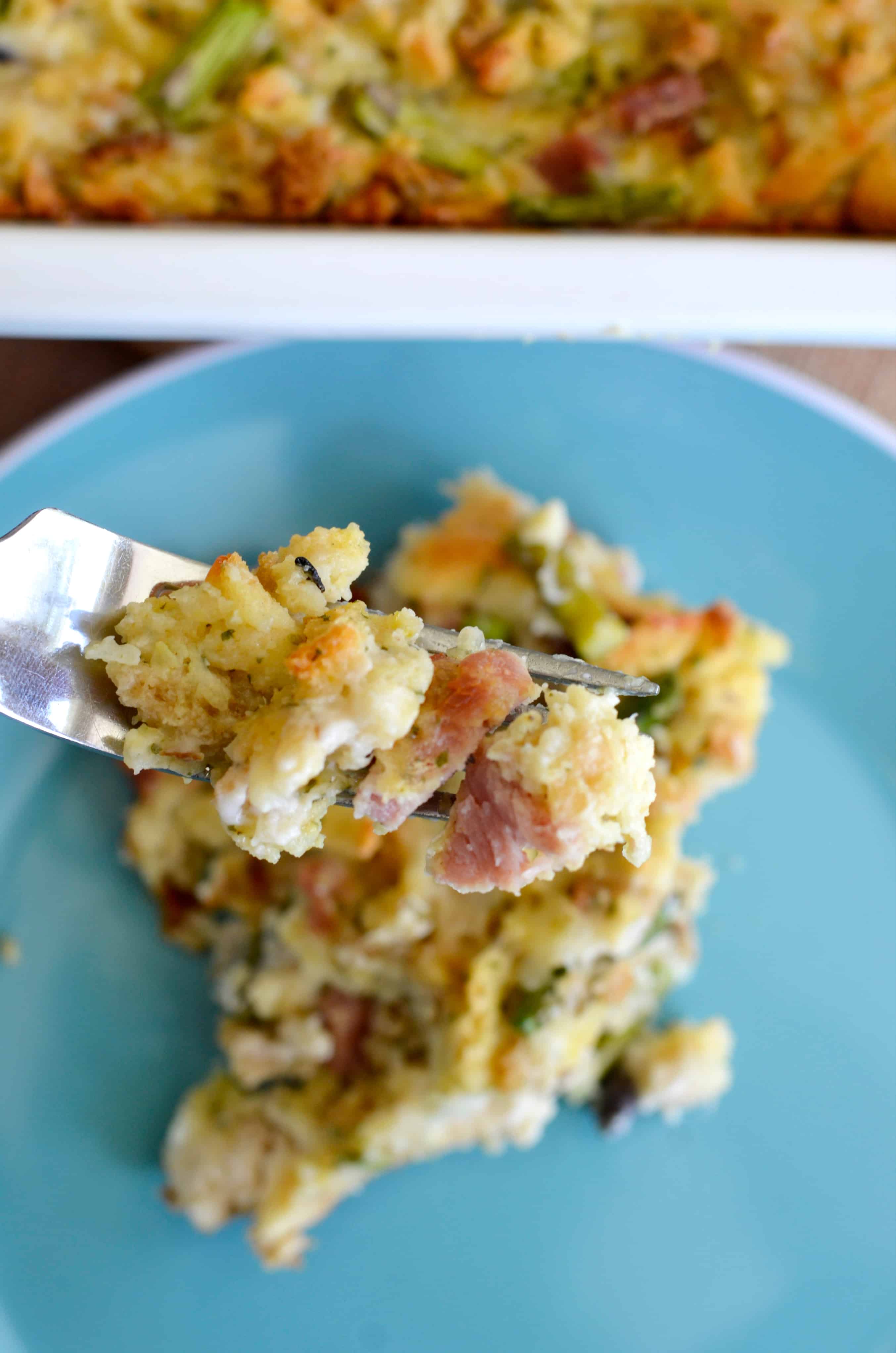 This ham casserole is a winner in so many ways! I used up leftover ham, made it fairly quickly, and my family gobbled up every bite in no time!
Easy casserole recipes are my jam if you don't know that by now, just look at my Turkey Zucchini Casserole, Beef Noodle Casserole or Spinach Chicken Casserole.
Want to save this recipe? Enter your email below and we'll send the recipe straight to your inbox!
NOTE: By saving this recipe, you agree to join our weekly recipes newsletter.
Ham And Asparagus Casserole Ingredients: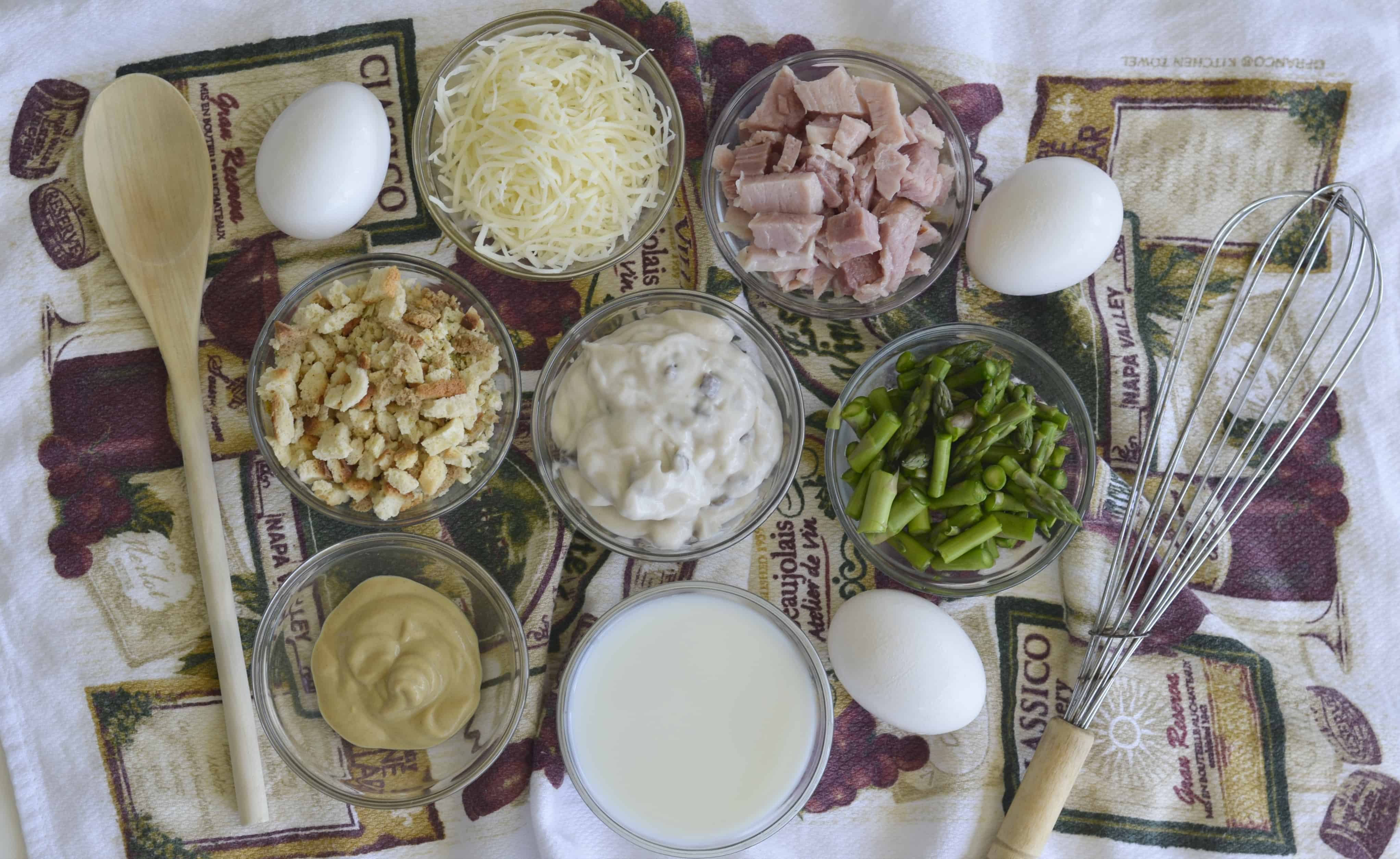 Dry stuffing mix
Swiss cheese
Fresh cut asparagus, uncooked
Cubed ham, cooked
Cream of Mushroom Soup
Milk
Eggs
Dijon mustard
How To Make Ham And Asparagus Casserole
Casseroles are some of my favorite recipes because you take several ingredients and transform them into the perfect comfort food. When you taste the combination of ham and asparagus in this dish, you are going to be hooked. Take a look at these super-simple steps.
First Step: Prepare and divide appropriate portions of all ingredients. It's not required to do this, but it will sure make your life easier when you are making the ham and stuffing casserole.
Second Step: In a medium-sized bowl, combine ham, asparagus, cheese, and stuffing mix.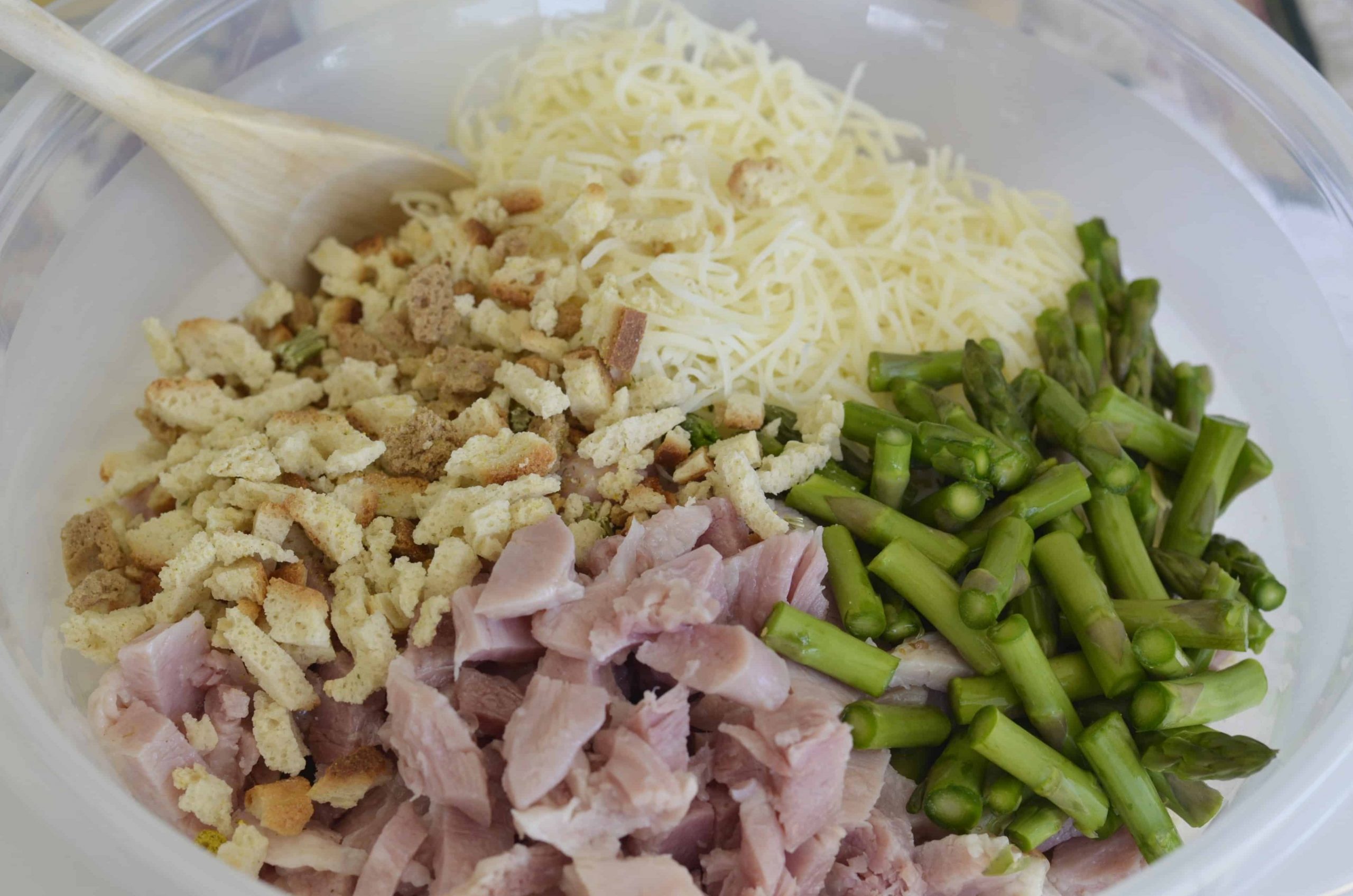 It's not even cooked yet, and it's already looking pretty tasty!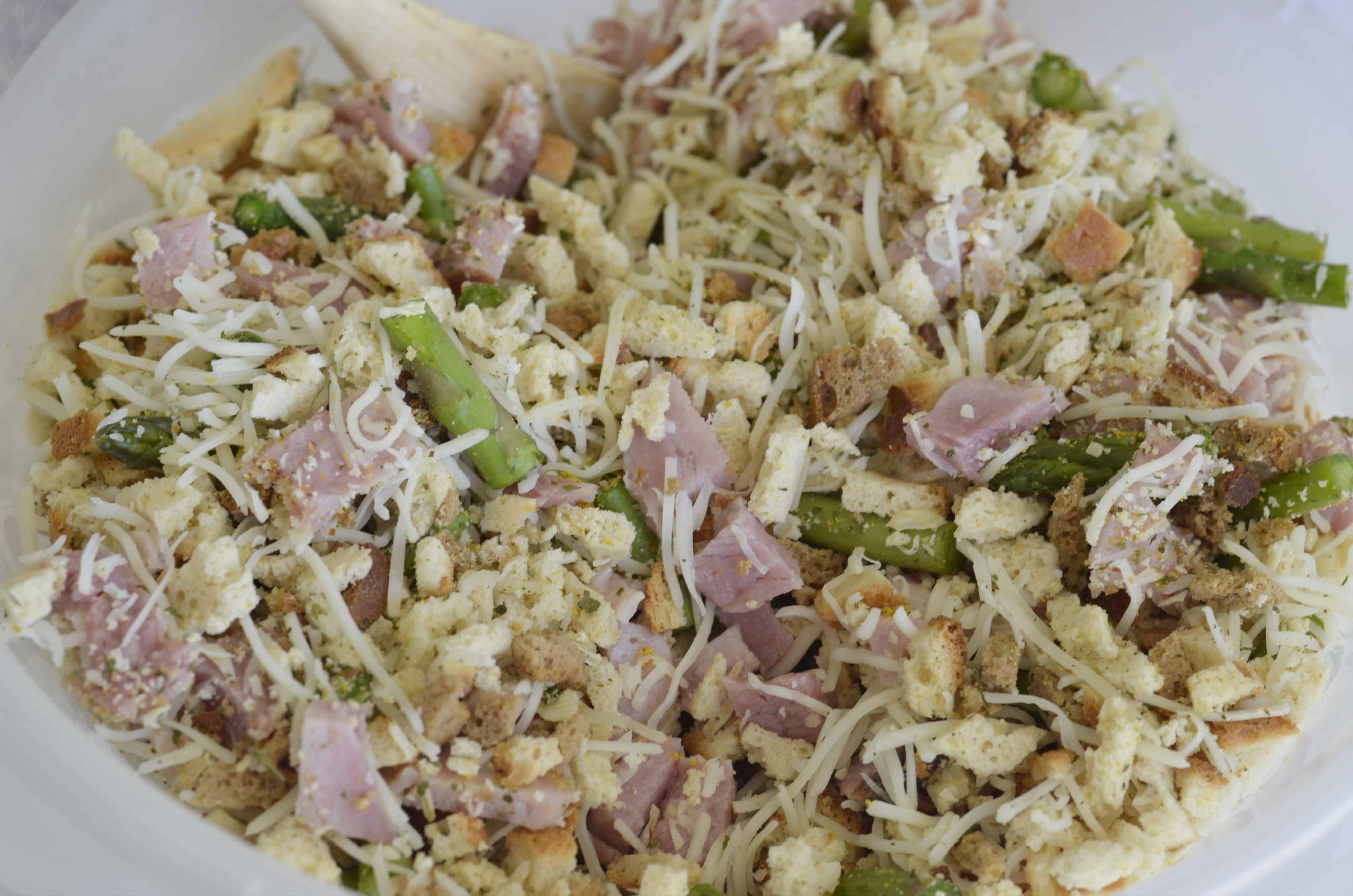 Third Step: In a separate bowl, mix together the cream of mushroom soup, Dijon mustard, eggs, and milk.
Fourth Step: Pour wet mixture over dry ingredients and stir together.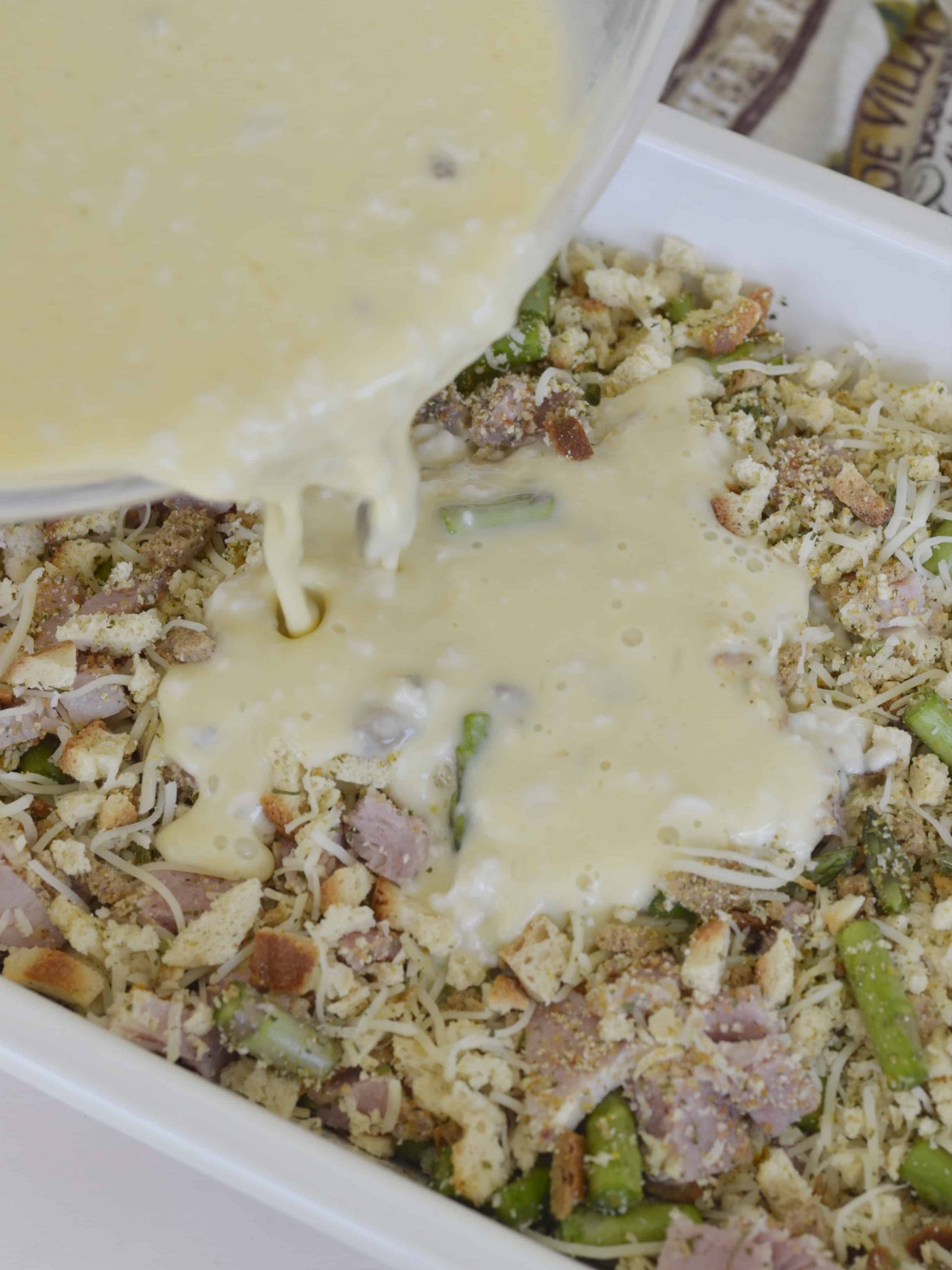 Fifth Step: Pour into a casserole pan.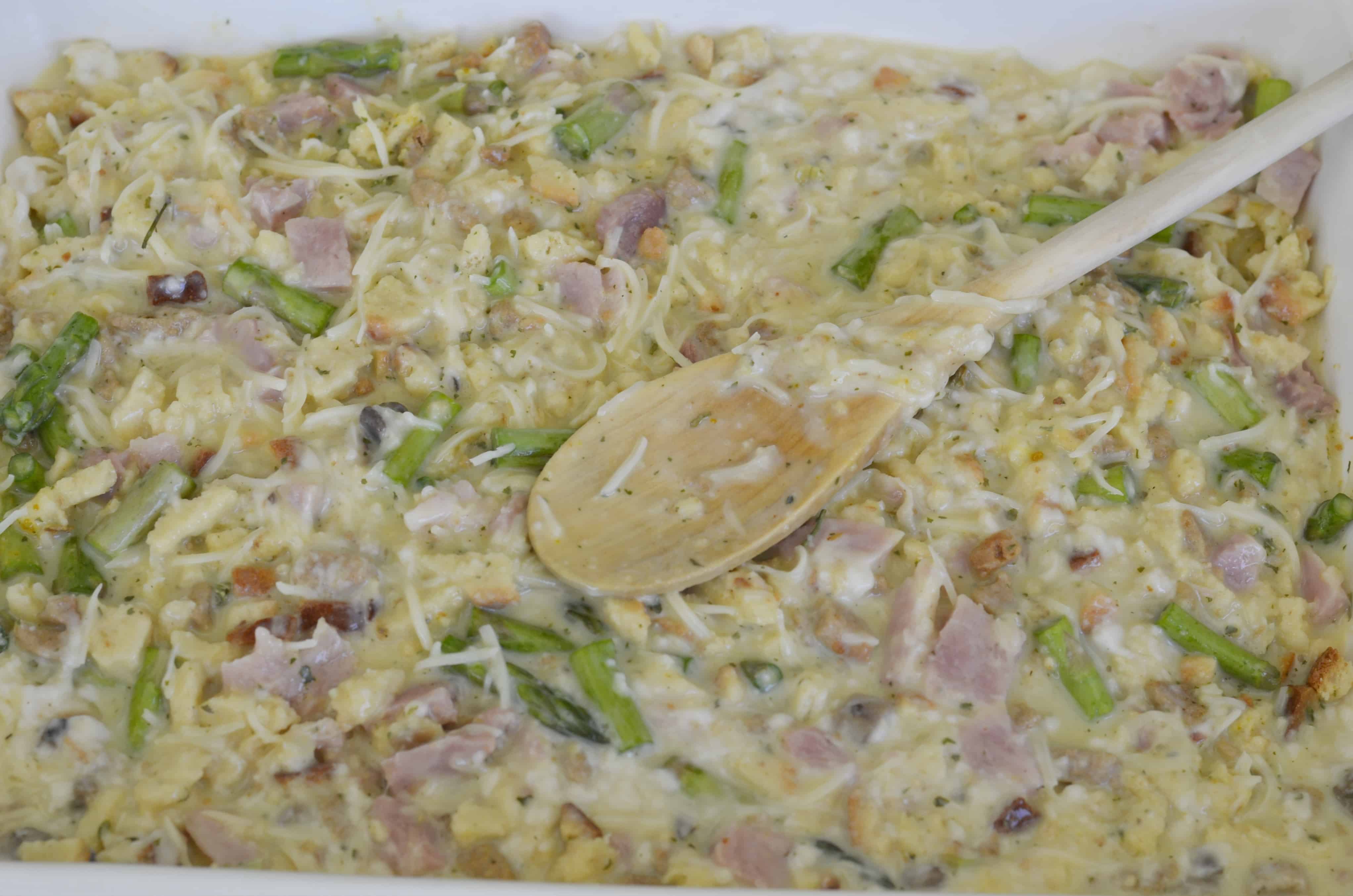 Sixth Step: Spread mixture evenly in baking dish.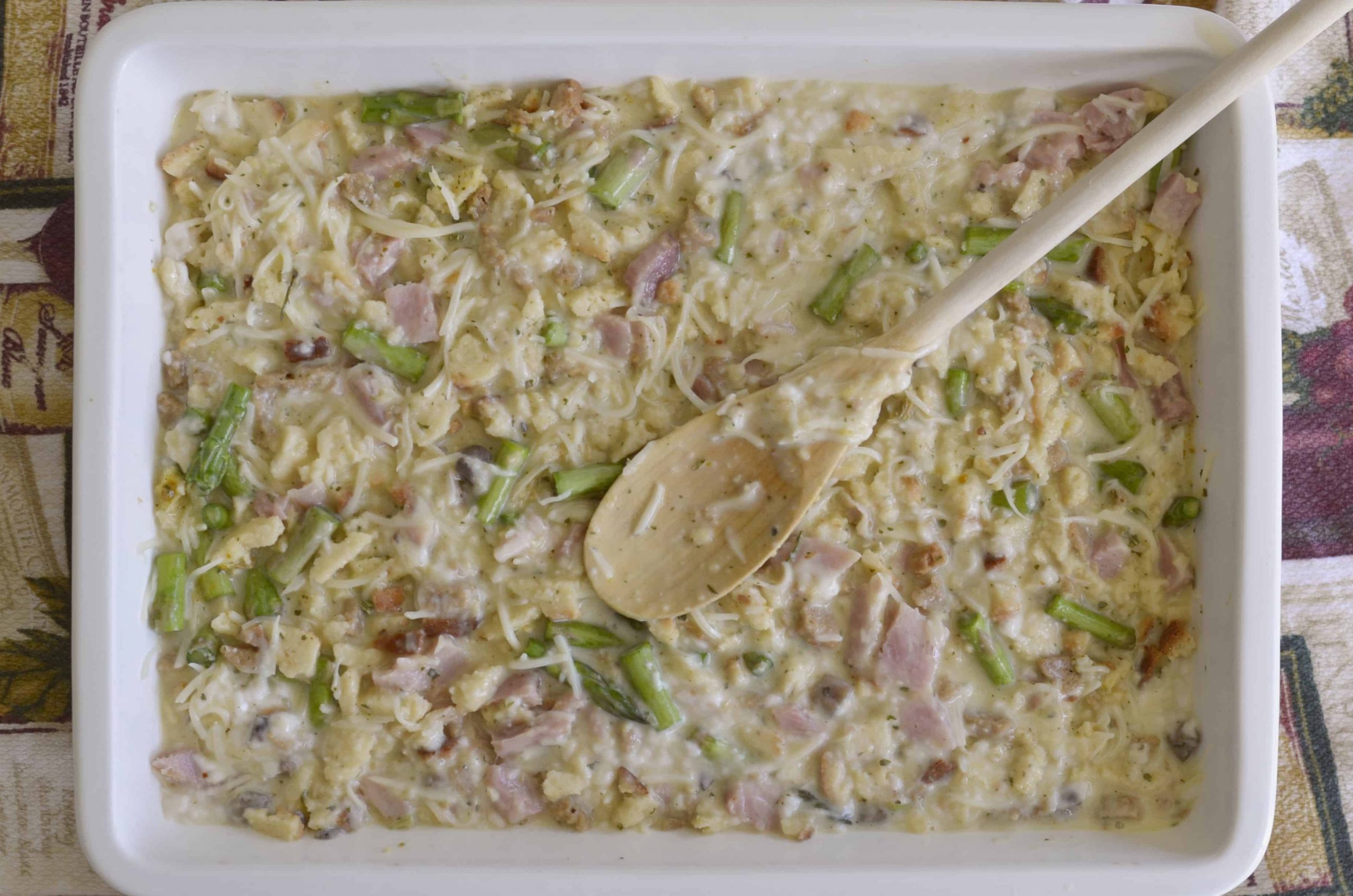 Seventh Step: Bake for 45 minutes at 350 degrees.
That is all you need to do to make this fantastic hame and asparagus casserole! It's packed with flavor and a real crowd-pleaser.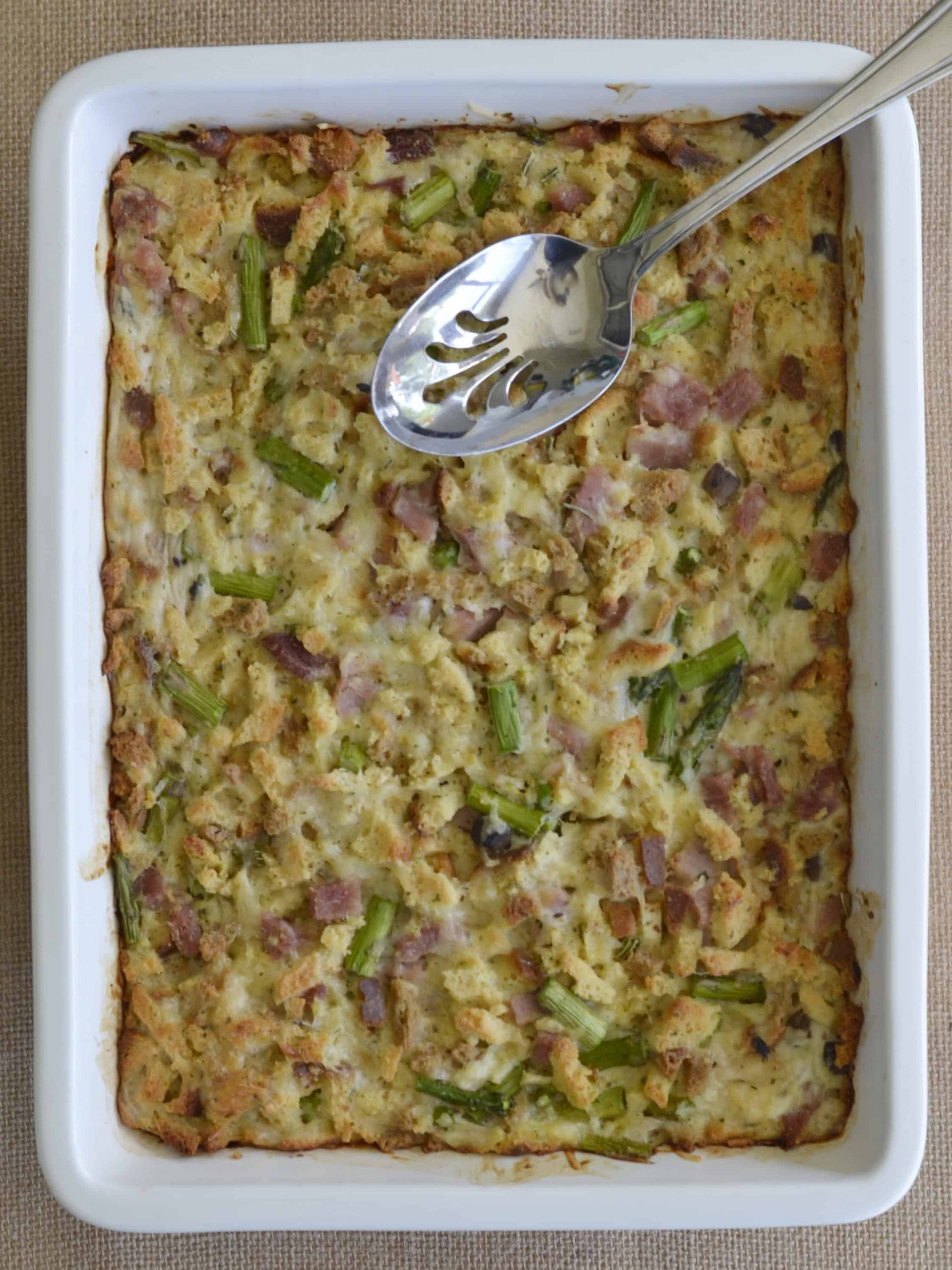 What Is Ham And Asparagus Casserole?
Ham and asparagus casserole is a delightful dish that can be served for dinner, lunch, or even brunch! It has a quiche-like texture, and it's the perfect comfort food. Transform it into a leftover ham recipe during the holidays or make it just because you are craving it. This ham and asparagus bake makes a lot of food so that you can feed a larger group without any trouble!
Ham And Stuffing Casserole Variation
Add in some new flavors, omit ones you don't care for! You can transform this meal to fit your family's likes and dislikes. Try any of these tasty ideas:
Broccoli – I love the flavor of asparagus and broccoli together. Makes this leftover ham recipe even more hearty.
Cauliflower – Add in some extra nutrients by throwing in some uncooked cauliflower. Cut it into smaller pieces, and you will be all set.
Peas – Is it possible to have a casserole without peas? No way! Toss in some frozen or canned peas for a sweet flavor.
Cheddar Cheese – Transform this ham and asparagus into an extra cheesy delightful dinner.
Bell Peppers – The peppers add a nice crunch and if you use red peppers a sweetness. Plus, they look gorgeous with the other ingredients too.
Oregano – Give this ham casserole a little bit of an Italian feel with some oregano! So good!
Mushrooms – The earthy and hearty mushrooms are a nice touch to this ham casserole recipe.
Cream of Chicken – Don't have the cream of mushroom on hand? No problem, exchange it for the cream of chicken for a nice flavor!
Can I Make Ham And Stuffing Casserole Ahead?
Yes, absolutely you can make ham and asparagus ahead of time! Casseroles are perfect for meal planning because they freeze well. You can either prepare the ham and asparagus casserole and bake it or put it directly in the freezer and bake it later. It is entirely up to you, depending on your preferences.
Another option is to bake the ham and stuffing casserole as the recipe directs, then place it in individual containers for a relaxed lunch idea. Just grab it and go!
How To Reheat Ham Casserole
There are a couple of easy ways to reheat this ham casserole recipe. I find the method I get the best results with is by baking it in the oven. It keeps the temperature more uniform throughout, and I don't have to keep an eye on it too much. Begin by preheating the oven to 325 degrees F. If it seems like the ham casserole is dried out some, you can add 1/4 – 1/2 cup of beef or chicken broth and stir it in. This will give the dish some more moisture and prevent it from further drying out.
Bake for 20-30 minutes and make sure it's covered. If you don't have a lid for the dish, use a piece of aluminum foil. It will be naturally vented to let some of the steam escape, which is excellent.
You can also heat the casserole in the microwave if you are wanting it done super fast or are heating it up in the breakroom at work. Heat it for 30 seconds – 1-minute intervals until it's steaming hot. Then enjoy!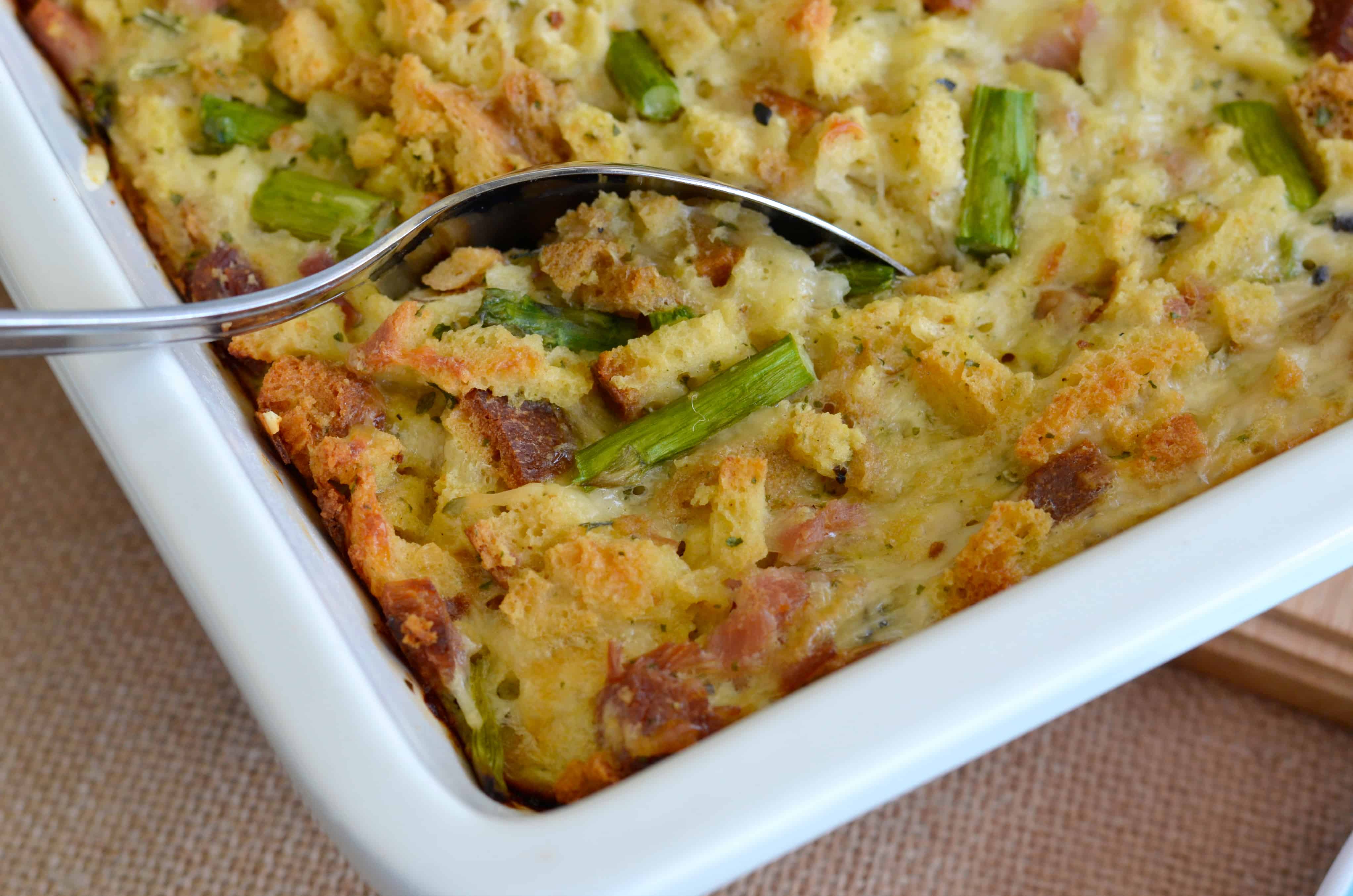 When To Serve This Ham And Stuffing Casserole
Naturally, you can serve this ham and asparagus at home for a scrumptious dinner or lunch. Additionally, you will find that this meal is ideal for all sorts of other occasions too. Here are some ideas:
New Baby Meal – If you know someone who just had a baby, this is a great idea to welcome them home! They will love not having to cook, and you don't have to work too hard.
Sick Friend Or Family Member – Have someone who is feeling under the weather or recovering from surgery? Casseroles are perfect for this type of thing because they give so much comfort to the person receiving it.
Potluck – Whether you are going to a work Christmas party or are just hanging out at a friends house for a potluck dinner, make this and watch everyone gobble it up!
Church Or Community Event – Whether you are hosting an event or doing a fundraiser, this ham casserole dish is an inexpensive meal that will feed a lot of people.
What To Serve With Ham Casserole
Pretty much everything you need is in this easy one-dish meal! However, it's nice to serve ham and asparagus with some other foods to round out the dinner table.
Dinner Rolls – Piping hot bread with melted butter is so amazing with this ham and stuffing casserole. Use it to dip up the sauce and its finger-licking good.
Salad – Start the meal with a nice fresh salad. I prefer something with a few veggies and a little bit (okay, a lot) of ranch dressing.
Vegetables – Sautee or roast your favorite veggies. They add more nutrients and help you complete the meal.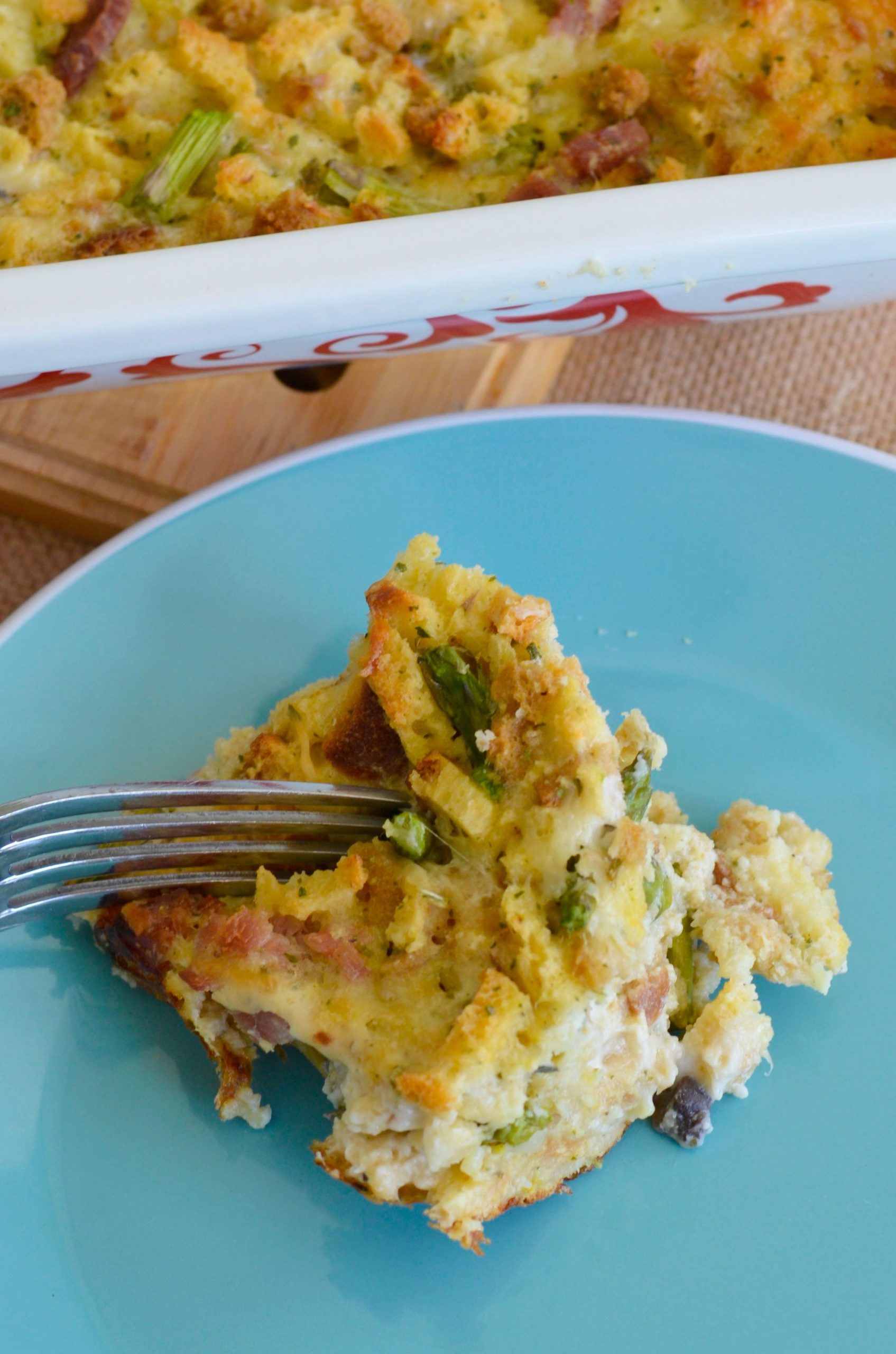 Want to save this recipe? Enter your email below and we'll send the recipe straight to your inbox!
NOTE: By saving this recipe, you agree to join our weekly recipes newsletter.
Pin this recipe now to remember it later
Ham & Asparagus Casserole
This Ham and Asparagus Casserole is one the best easy casserole recipes. With just a few ingredients, this cheesy ham casserole is ready in under an hour. Perfect for busy weeknights or even weekend brunch!
Ingredients
4

cups

of dry stuffing mix

2

cups

of fresh cut asparagus

,

uncooked

2

cups

of cubed ham

,

cooked

1

can of Cream of Mushroom Soup
Instructions
Preheat the oven to 350 degrees.

In a large mixing bowl, stir together the stuffing, cheese, asparagus, and ham.

In a second large bowl, whisk together the soup, milk, eggs, and mustard. Pour this over the dry ingredients and mix well.

Transfer the mixture to a greased baking dish and press it firmly into the dish.

Bake for 45 minutes and serve hot.
Nutrition
Serving:
8
-10
|
Calories:
326
kcal
Follow me on Pinterest for daily delicious recipes!
THANKS FOR PINING!!

More dinner recipes to try
Beef Stew – One of the easiest homemade beef stew recipe you'll find.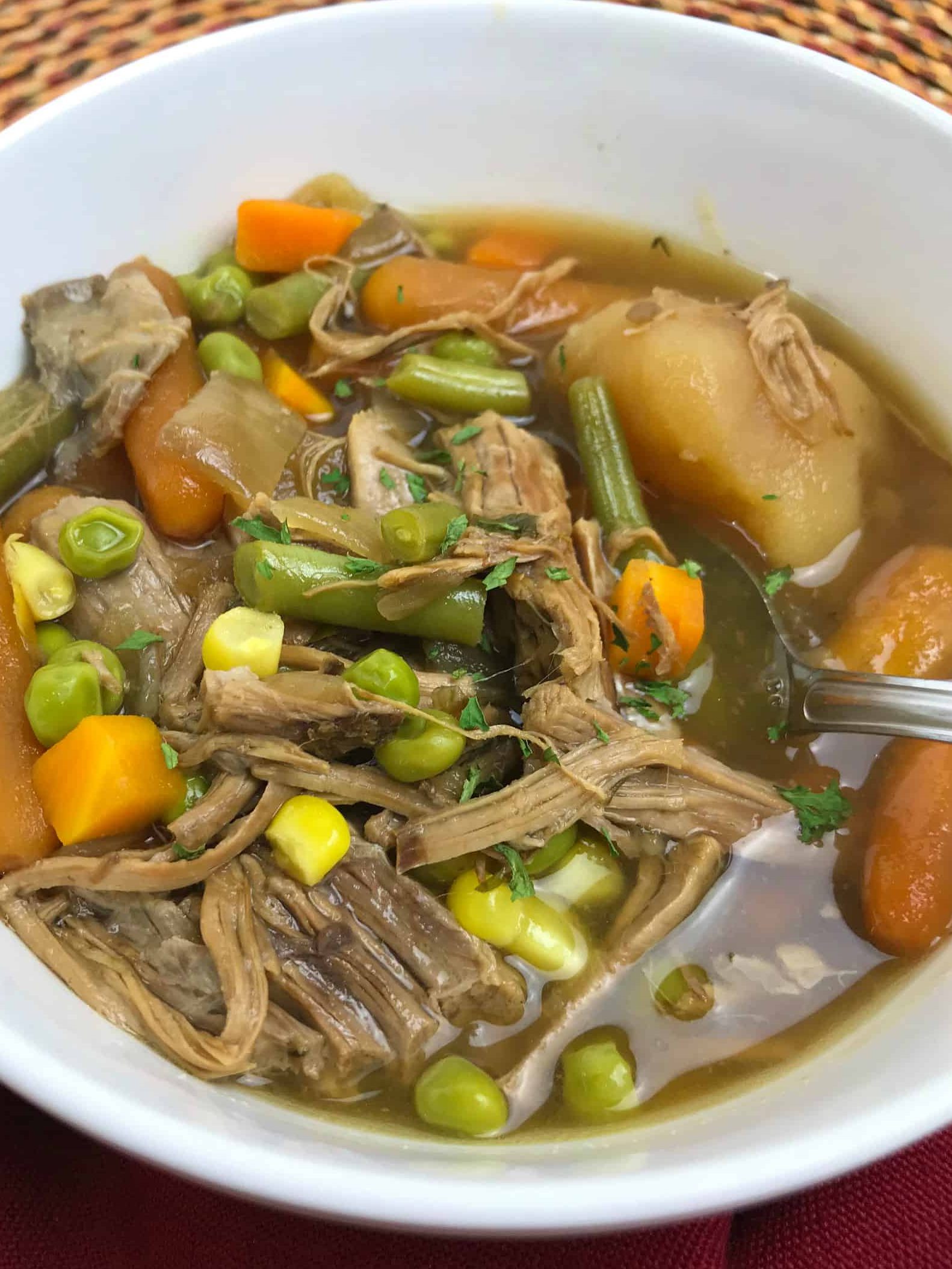 Lasagna Rolls – This recipe makes vegetarian lasagna rolls, perfect for your vegetarian friends!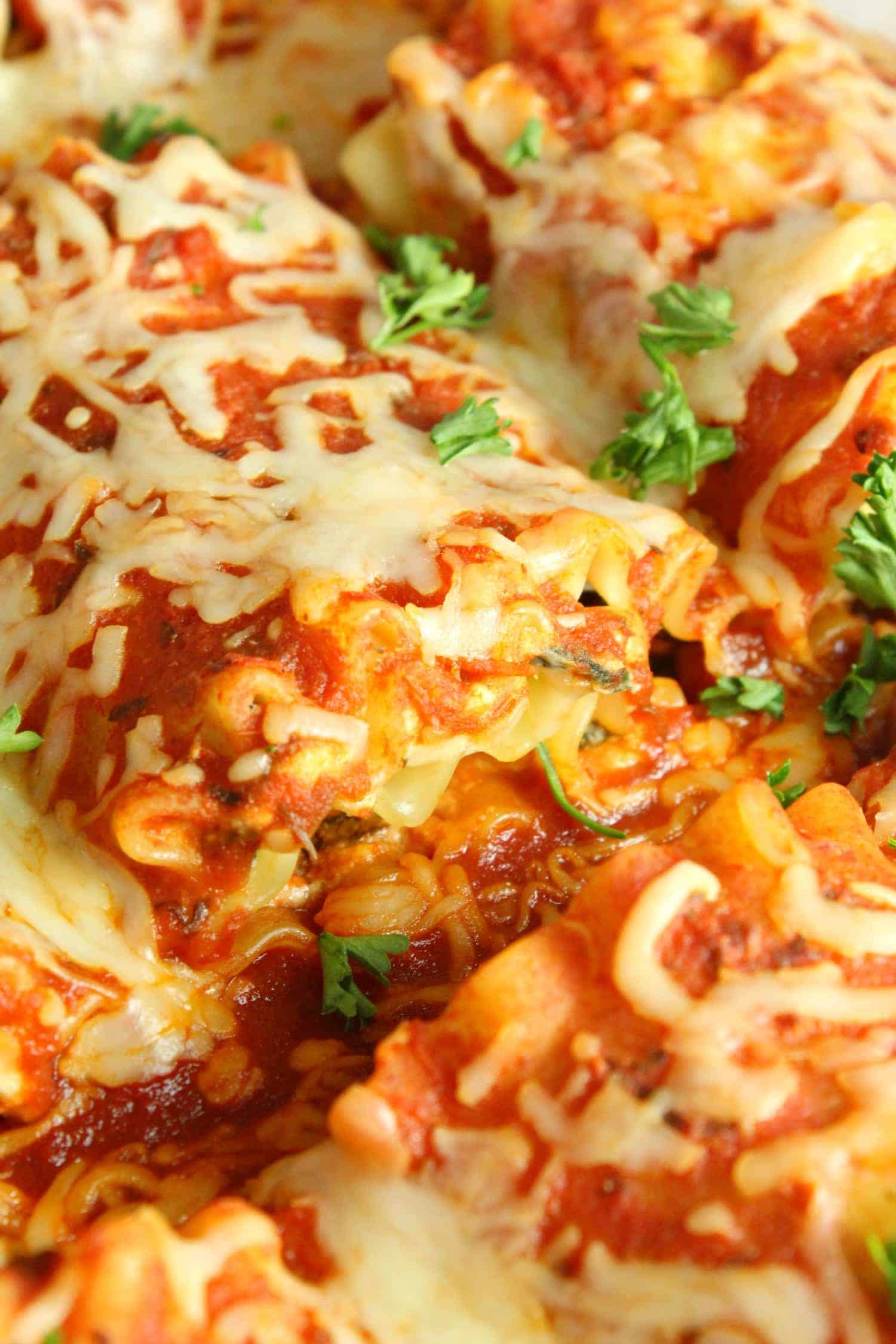 Meatball Potato Soup – go-to hearty soup recipes for chilly nights!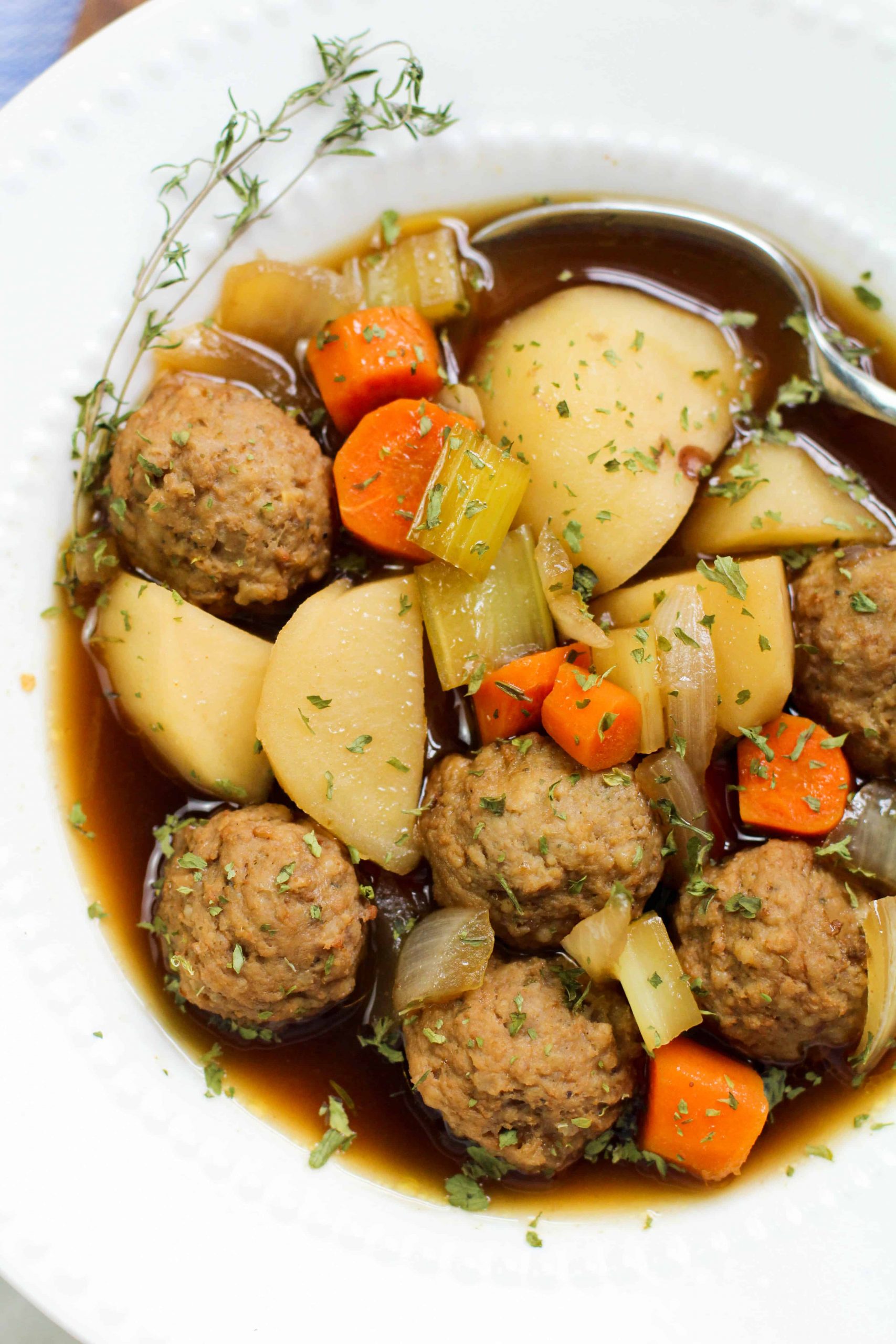 Get new recipes weekly plus our FREE ebook!