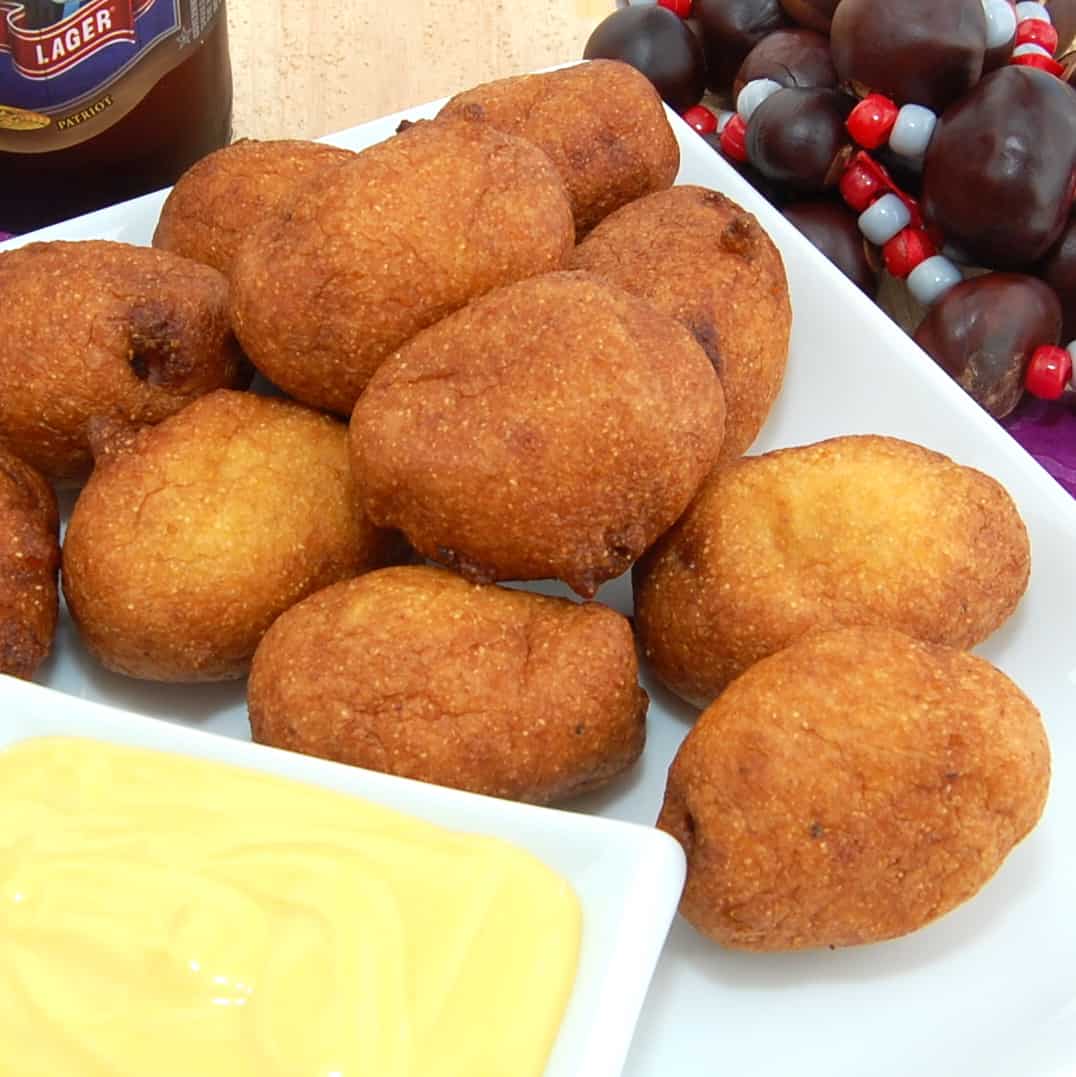 Bite-sized hot dogs dipped in cornbread batter and fried to golden perfection.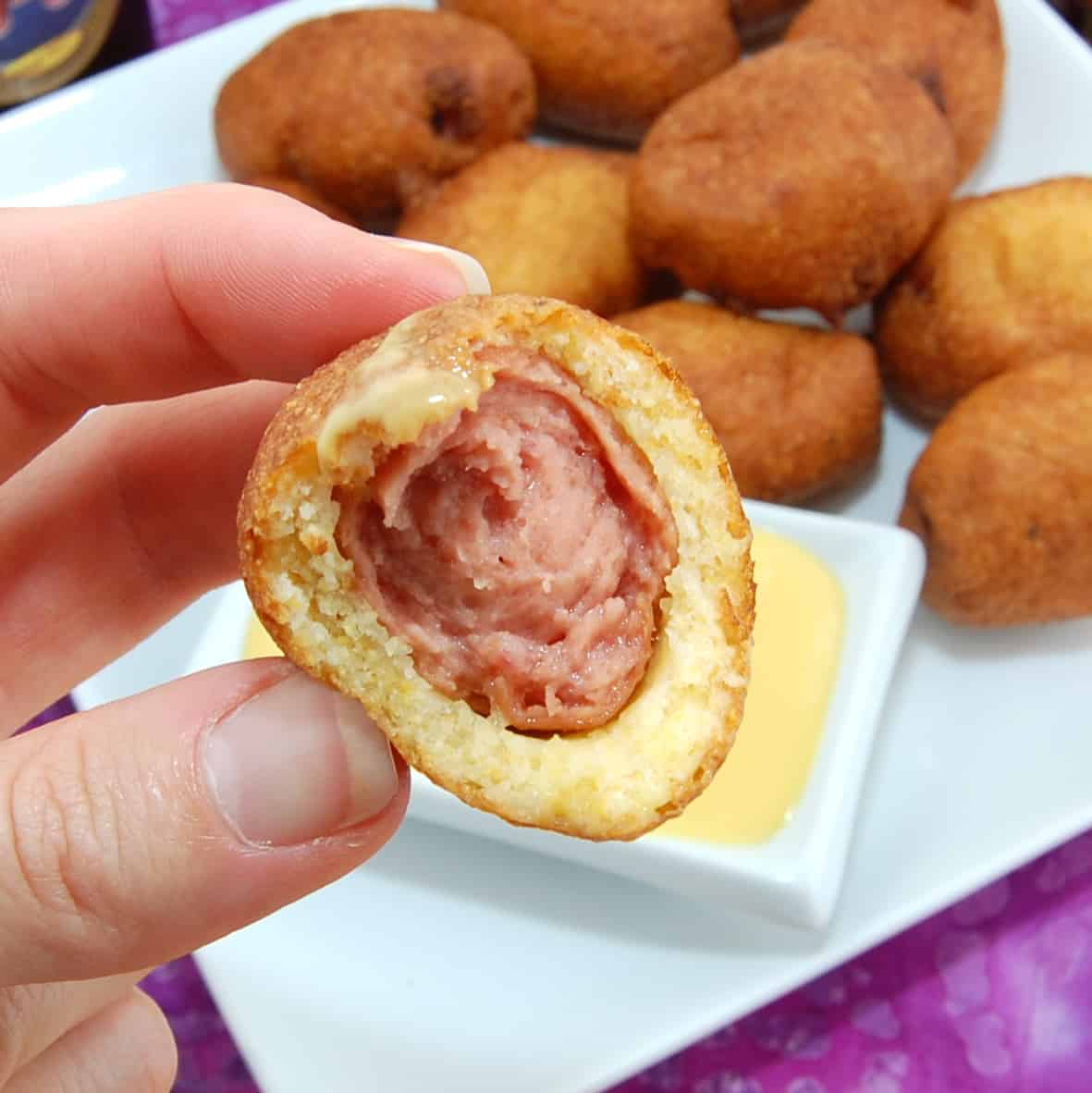 They are perfect for snacking, appetizers, parties and tailgating. We continue onto Week 3 of College Football which means another delicious Football bite! One of my favorite restaurants to go and watch college football is BW3, mostly for their mini corn dogs, cold refreshments and Hot Wings.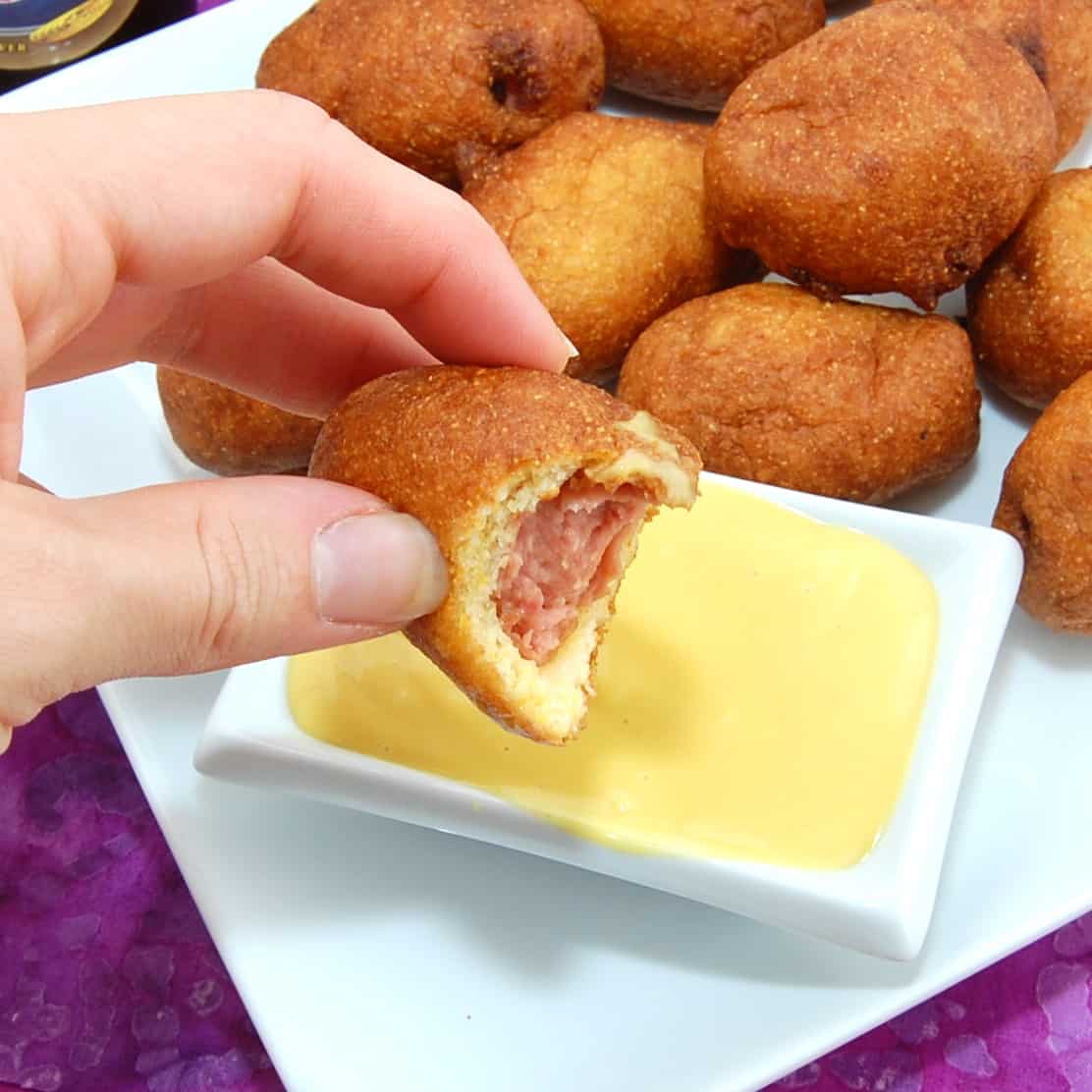 A few years ago we threw a huge tailgating party to watch the Buckeyes win and I made these mini corn dogs. They were a smashing success and since then, these mini corn dogs always make an appearance at our tailgating parties.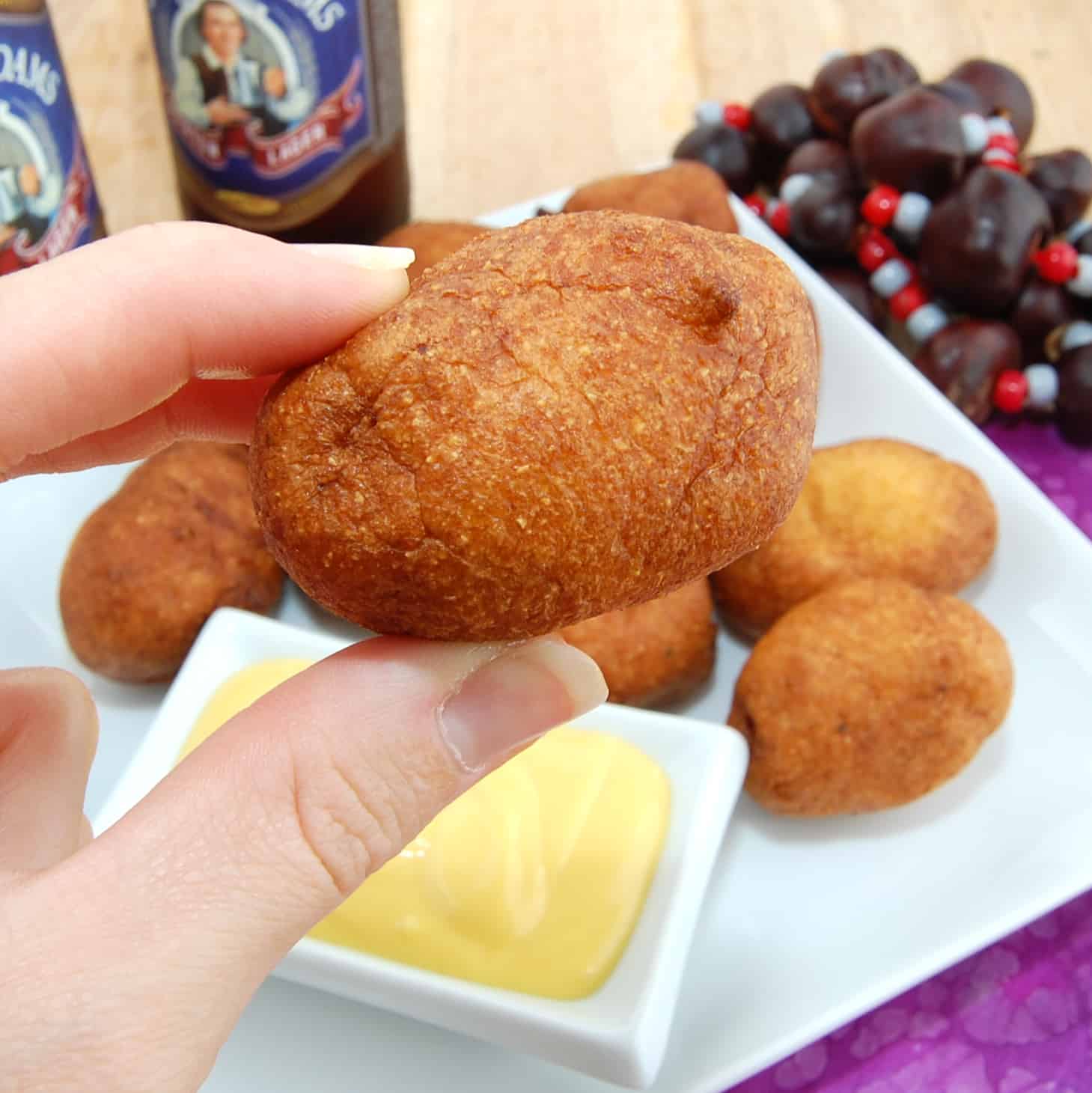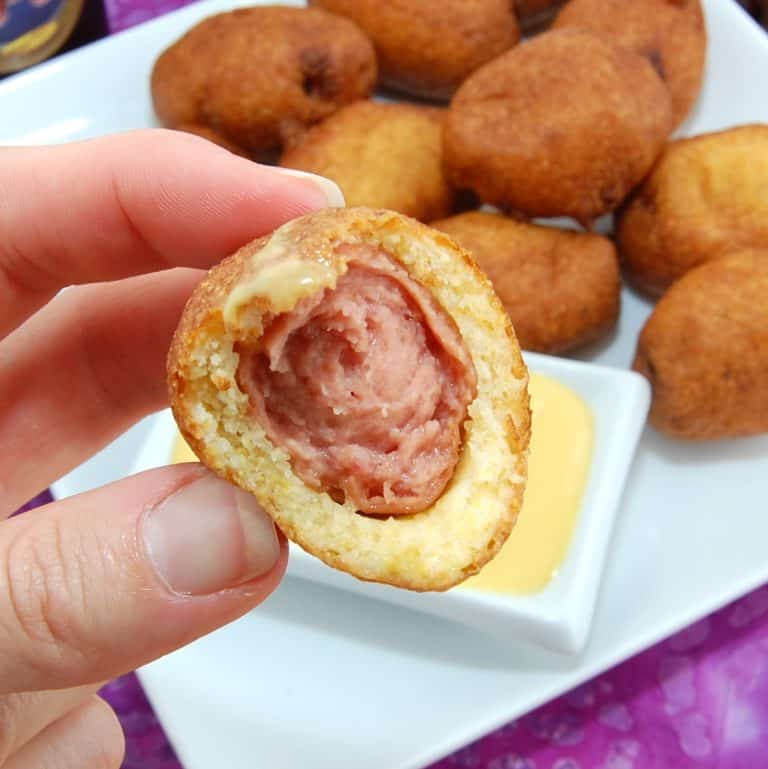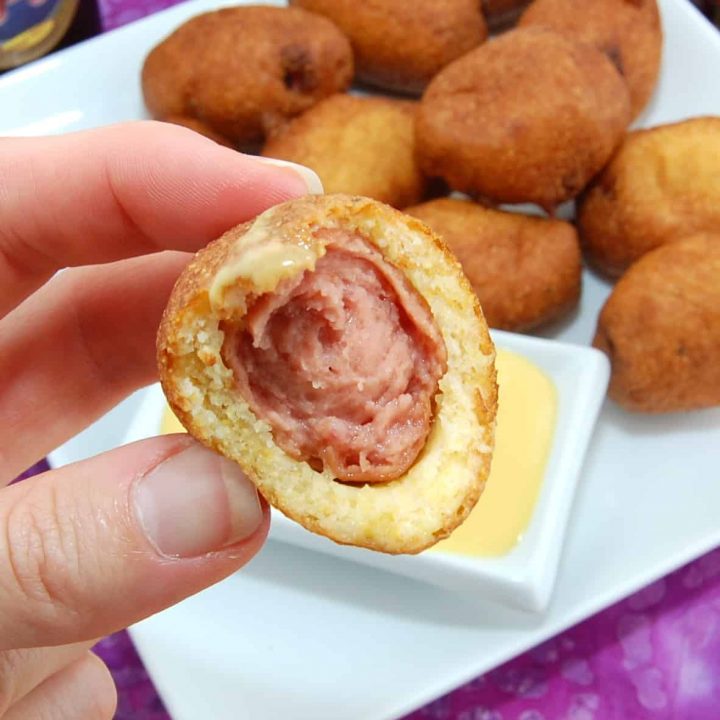 Mini Corn Dogs
Ingredients
For the Mini Corn Dogs:
1 cup yellow cornmeal
1 cup all-purpose flour
1/4 teaspoon salt
1/8 teaspoon black pepper
1/4 cup white sugar
4 teaspoons baking powder
1 egg
1 cup plus 2 tablespoons buttermilk
1 quart vegetable oil for frying
2 (16 ounce) packages beef hot dogs
Toothpicks
For the Honey Mustard:
1/4 cup mayonnaise
1 tablespoon prepared mustard
1 tablespoon honey
1/2 tablespoon lemon juice
Instructions
In a medium bowl, combine cornmeal, flour, salt, pepper, sugar and baking powder. Stir in eggs and milk. Add more milk to adjust consistency for dipping.
Preheat oil in a deep saucepan over medium heat to 365°.
Cut each hot dog into thirds. Pat hot dogs dry with a paper towel and insert toothpicks into cut hot dogs. Roll hot dogs in batter until well coated.
Fry 4 to 6 corn dogs at a time for 1-2 minutes, or until lightly browned. Drain on paper towels. Place in a 200 F oven to keep the corn dogs warm until all are fried.
To make the honey mustard, in a small bowl, whisk together the mayonnaise, mustard, honey, and lemon juice. Serve with mini corn dogs for dipping.
Source: corn dogs adapted from allrecipes.com, honey mustard adapted from allrecipes.com