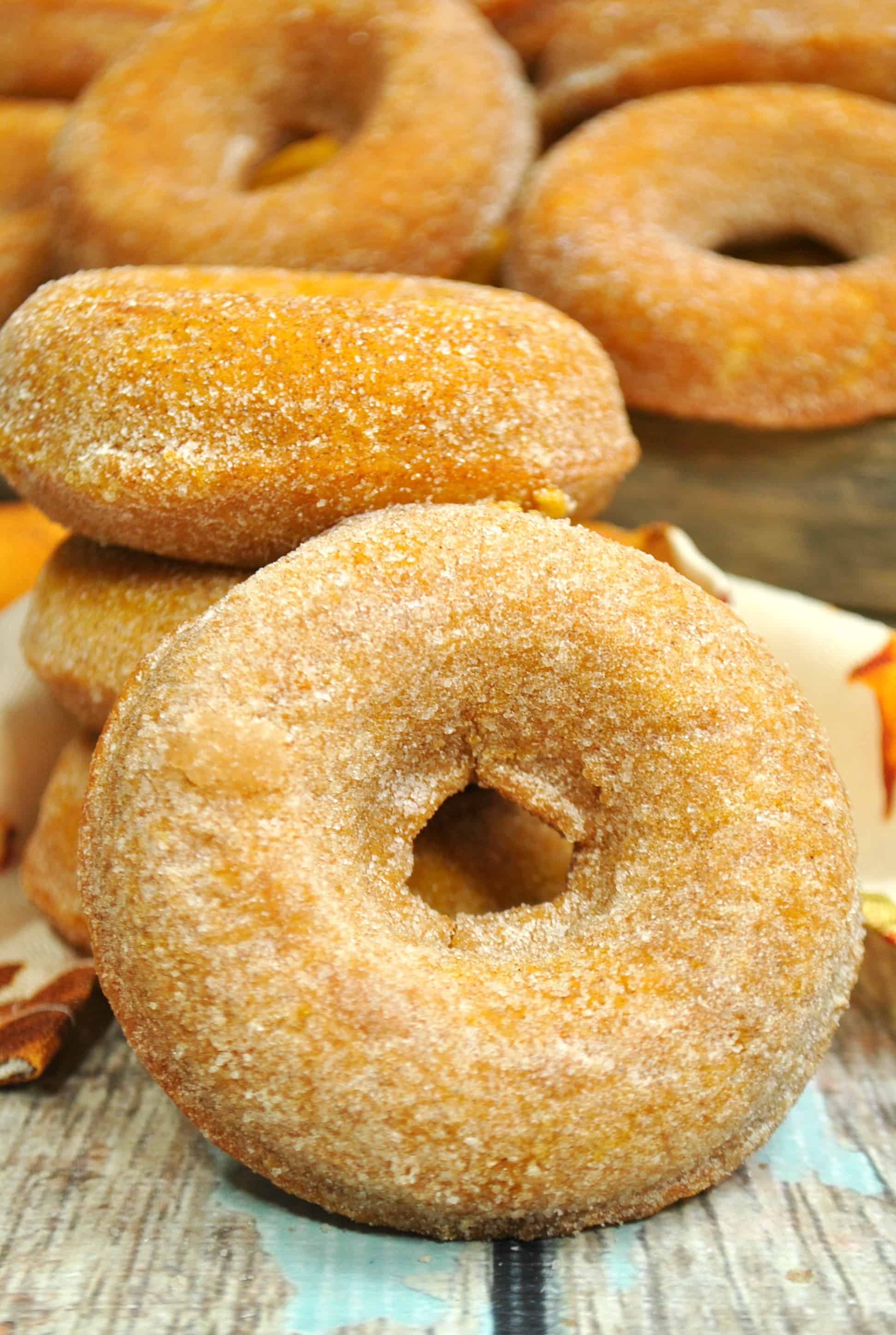 Pumpkin spice season is officially here! If you're a pumpkin spice lover like me, you absolutely MUST try these pumpkin spice doughnuts! They are so tasty and much easier to make than you may think! No frying required! Pumpkin donuts are easy to make for breakfast!
To me, pumpkin spice donuts are the ideal comfort food when the weather turns chilly. I love breaking out the warm clothes and cooking all things pumpkin!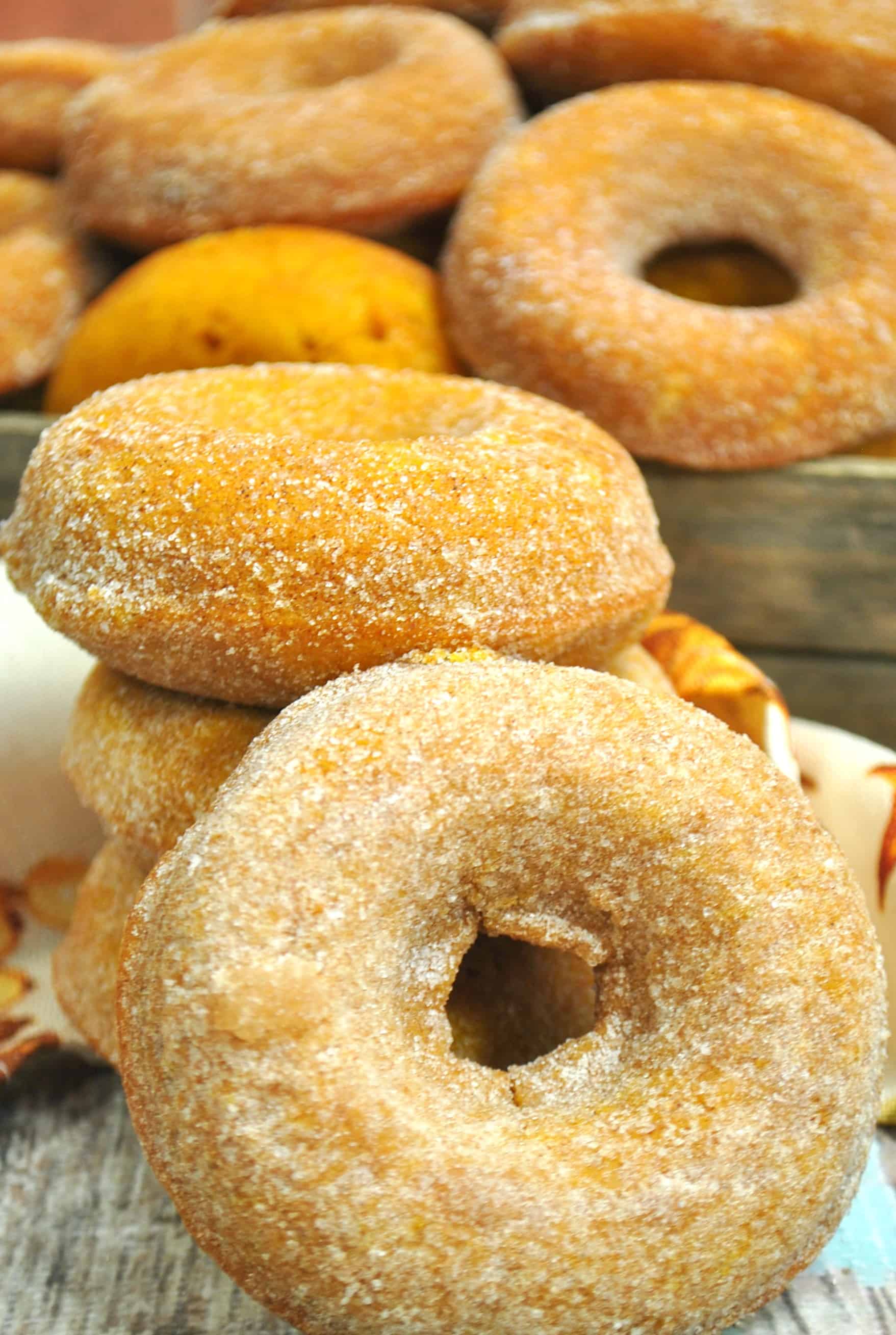 Scroll to bottom for printable recipe card.
How To Make Pumpkin Spice Doughnuts
Can you imagine biting in a moist pumpkin donut that is perfectly moist, fluffy, and baked instead of fried? Yes, it is very possible to make delicious donuts without getting out the oil and fryer. This pumpkin donut recipe is much healthier than that! Take a look at these super easy instructions:
First Step: Preheat the oven and lightly grease a donut pan. Then combine all of the wet ingredients together using a stand mixer, until smooth and well blended.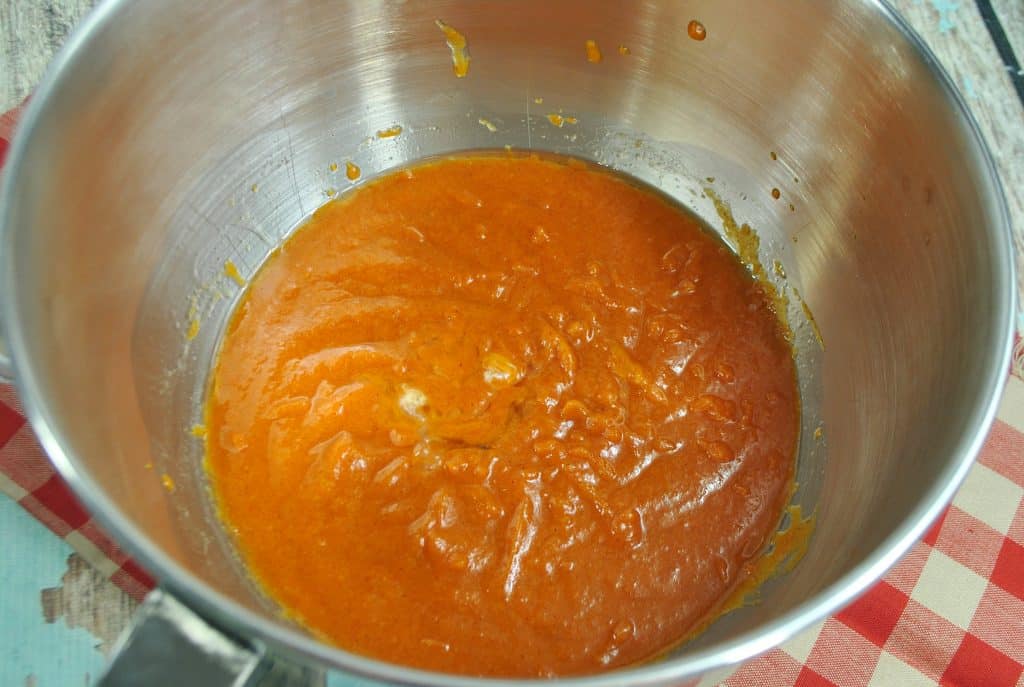 Second Step: Mix together all dry ingredients in a separate bowl.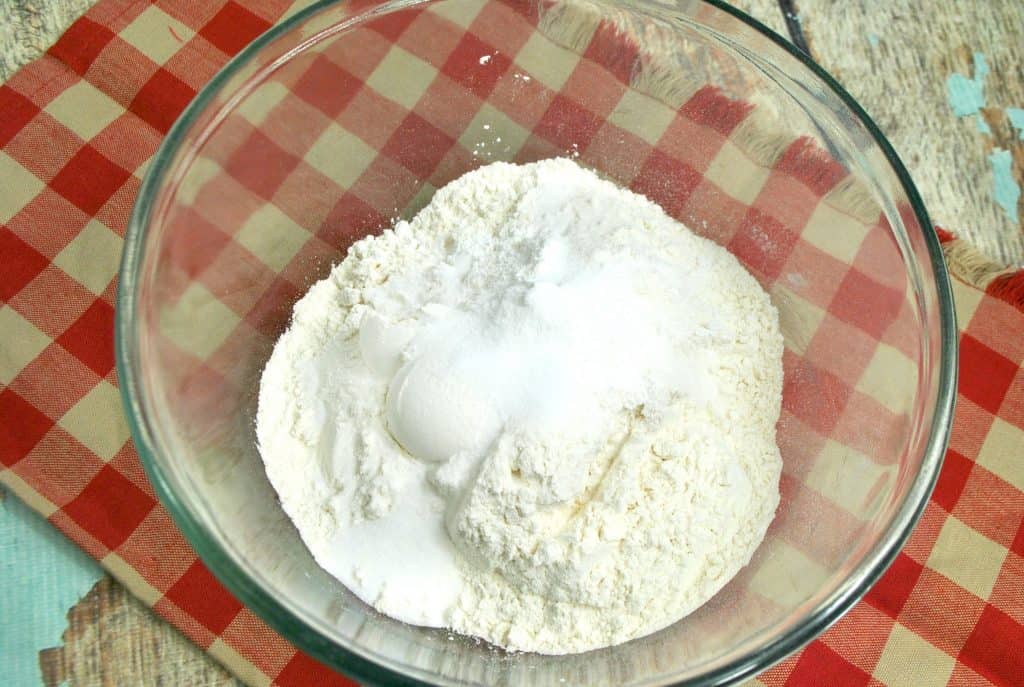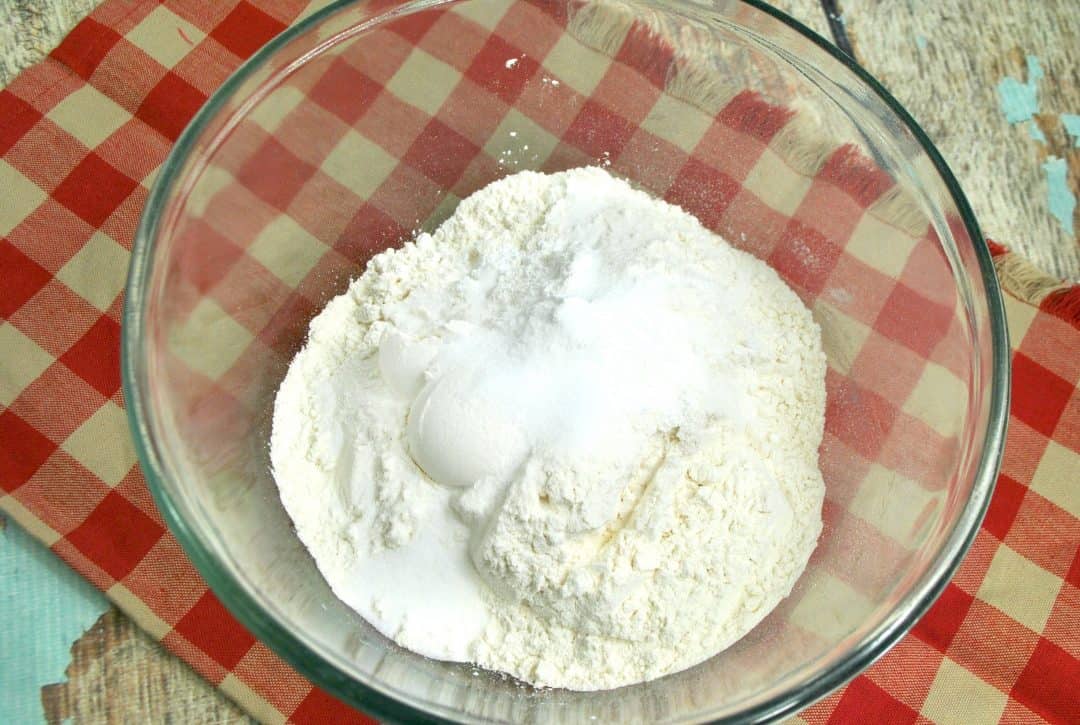 Third Step: Slowly and gradually combine the wet and dry ingredients together.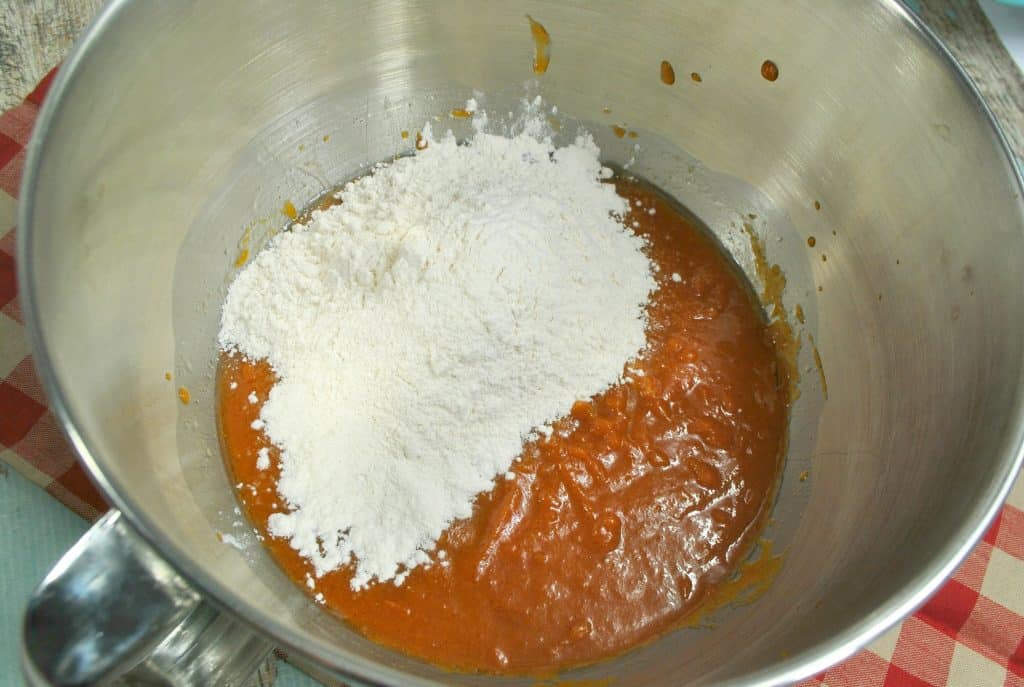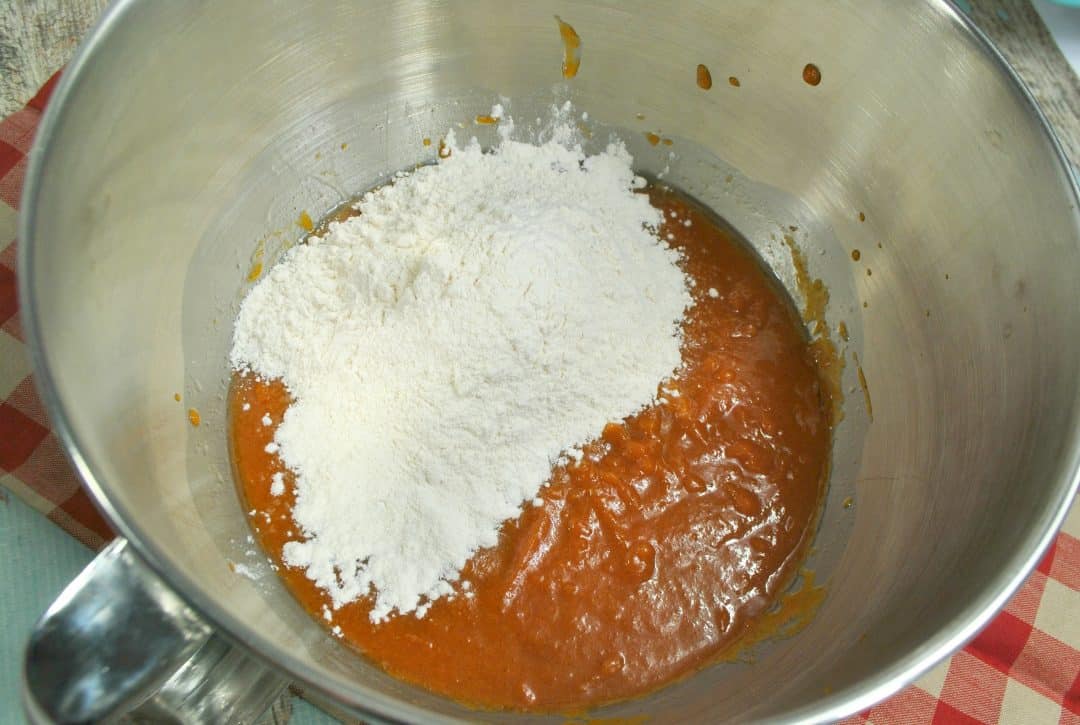 combine the wet and dry ingredients together.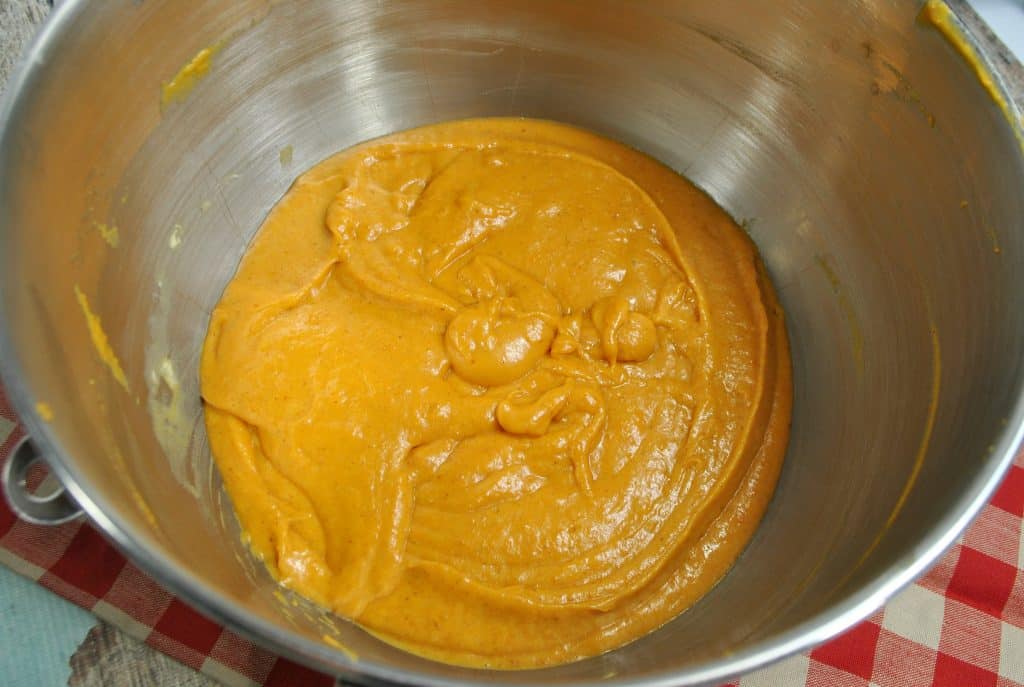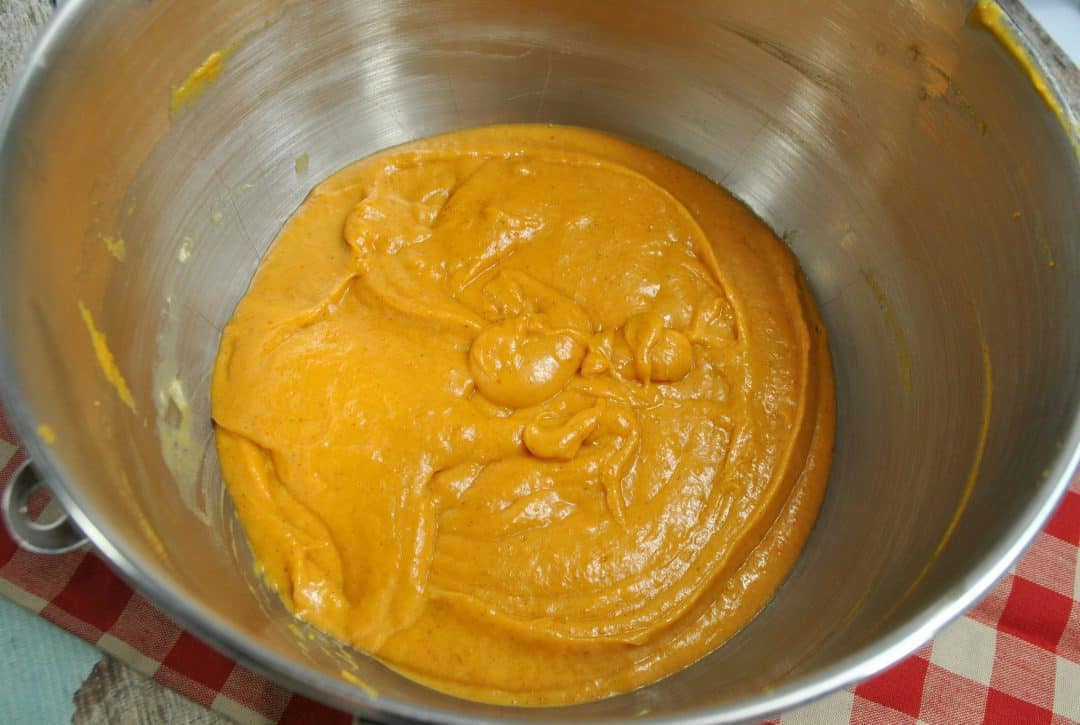 Fourth Step: Pour batter into the greased donut pan, filling each out 3/4 of the way full. Do not overfill because it will go over the pan and either result in donuts with no hole or a mess in the oven.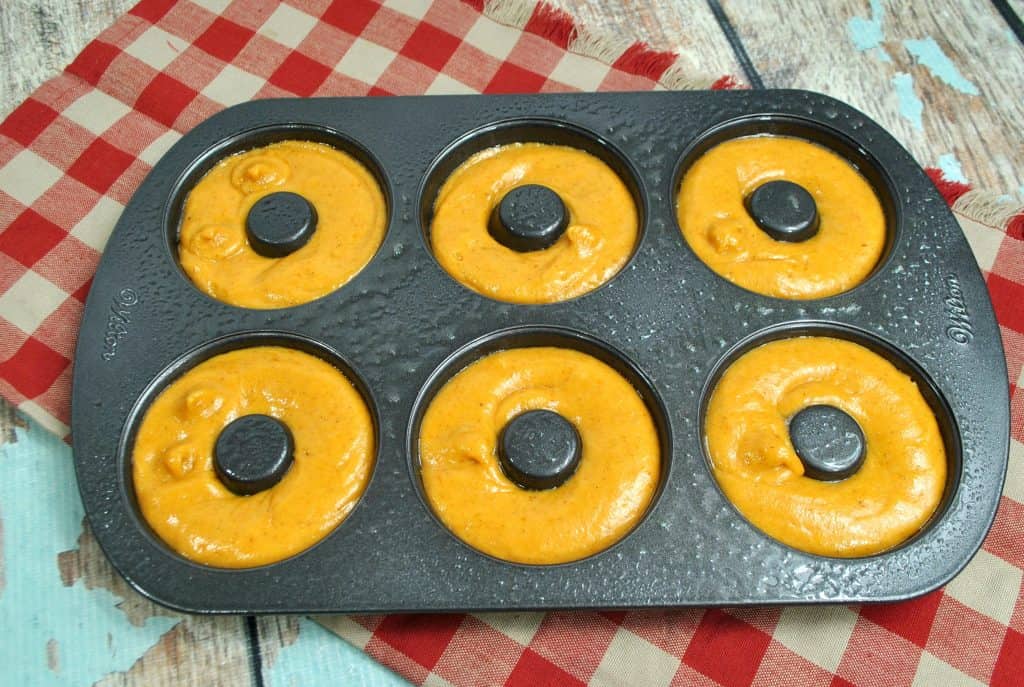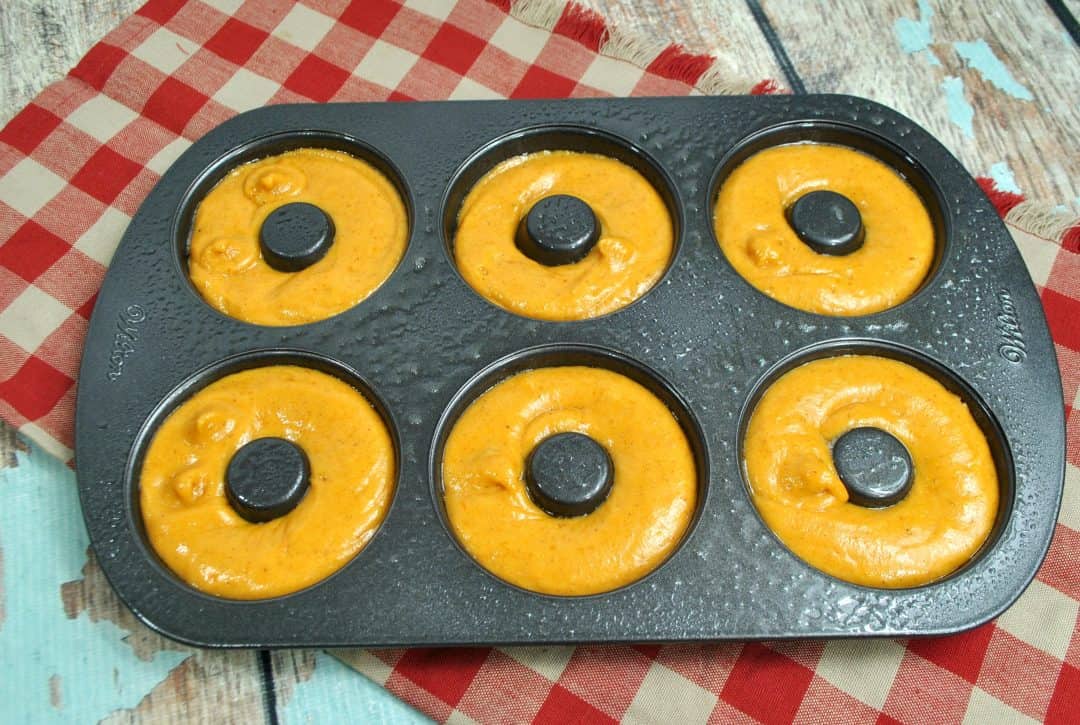 Fifth Step: While the sugar and spice donuts are baking, prepare a ziplock bag with cinnamon and sugar.
Sixth Step: When the pumpkin spice donuts have finished baking allow them to cool for 5 minutes or so. Then toss them in the cinnamon and sugar mixture to coat. Remove the pumpkin spice doughnuts from the bag and place them on a wire rack. Once they are cooled, they are ready to eat.
Isn't it amazing that you can make homemade pumpkin donuts and you don't even have to let them rise or anything? That is one of the reasons why these are my favorite pumpkin donuts. I can make them at home without taking all morning.
Why Mix Wet And Dry Ingredients Separately?
I know it can be tempting just to add all the ingredients into one bowl and go on your merry way. But, if you choose to do this, then odds are that your cinnamon sugar pumpkin donuts aren't going to turn out as well. The reason you need to do it separately is that the wet and dry ingredients cause a reaction and it can mess up the texture if you do this during the mixing stage. This extra step is worth it to have perfectly moist and fluffy doughnuts.
Pumpkin Spice Doughnuts Variations
When you make a batch or two of these delicious donuts, rest assured that you can change them up here and there. You don't have to follow the directions every single time! Go wild and try out some new flavors. Here are my top ideas to try:
Chocolate Chips – Sometimes I like to toss in some mini chocolate chips into the batter, right before I pour them into the donut pan. I can't get enough of chocolate and pumpkin combination.
Cream Cheese Icing – These sugar and spice donuts taste even more phenomenal with a little bit of cream cheese icing drizzled on them. Mix 4 ounces of cream cheese, 1 cup of powdered sugar and one teaspoon vanilla in a stand mixer until it's smooth. Place it in a zip lock bag and cut the corner. Drizzle over the pumpkin spice donuts for a special treat.
Powdered Sugar – Skip the cinnamon and sugar completely. Instead, sprinkle some powdered sugar on these yummy pumpkin spiced doughnuts!
Melted Chocolate – Place some of your favorite chocolate in the microwave and melt it. Then make fine lines on the delicious donut with the chocolate. Out of this world!
Nuts – You will want only to add nuts if you have also drizzled some icing or chocolate because otherwise, the nuts won't have anything to stick to. Try almonds, crushed pecans, or walnuts! Yum!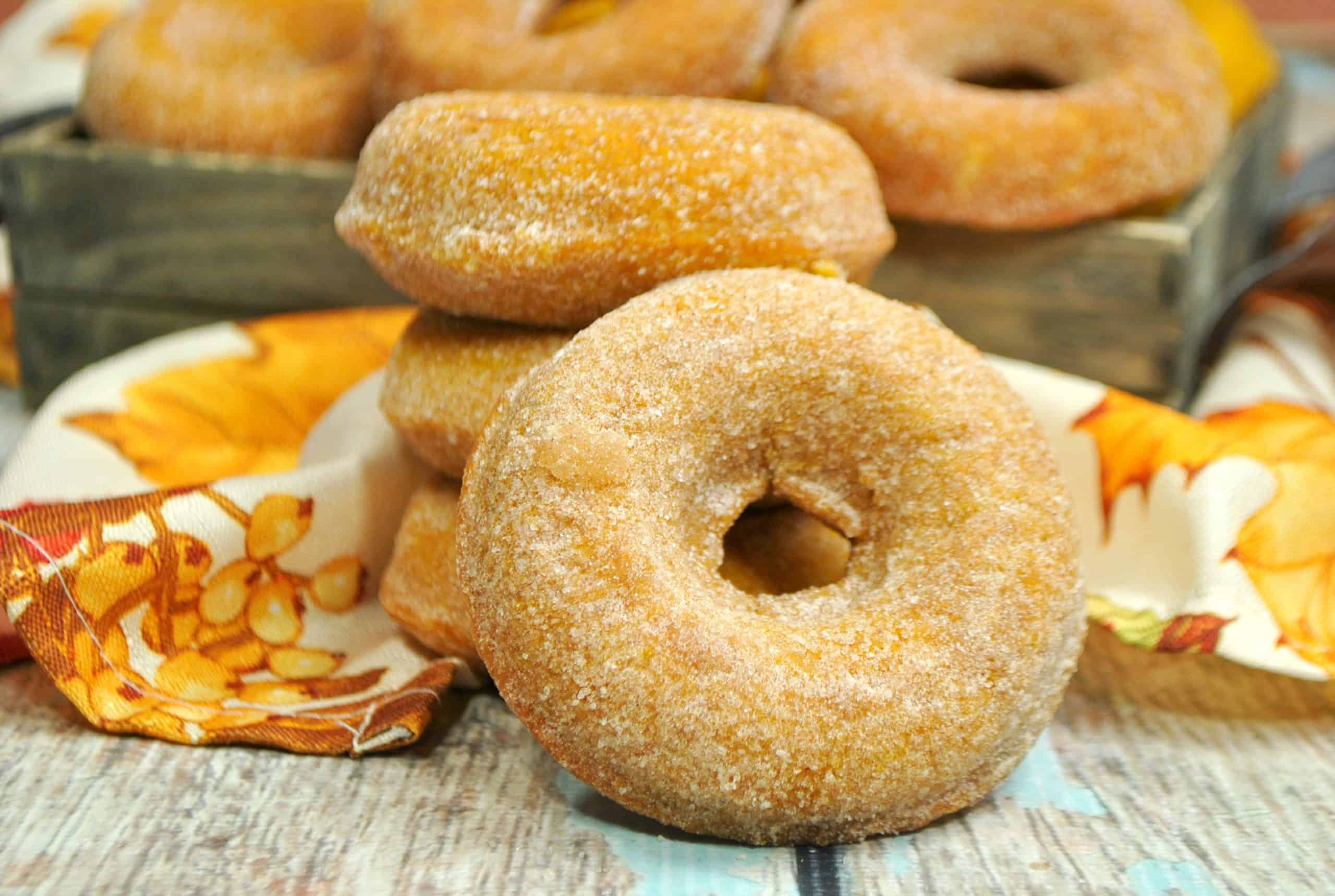 Why Are Donuts Round?
Have you ever wondered why these delicious donuts are round? I had been pretty curious, so I decided to figure it out. When donuts were first invented in 1847, they were made into more of a rectangle shape. Then as donut making evolved, they eventually were changed to circles with the centers poked out. The reason why the center of the donuts was removed is that they would fry up much more even than if they didn't have a hole in the center.
What Is The Difference Between Donut And Doughnut?
Other than the spelling, there is no difference between a donut and doughnut. Initially, they were spelled doughnut, but eventual people started calling them donuts for short. Spell it however you wish, because they are both right. Plus, these little circles of deliciousness are amazing no matter who you spell it!
How Long Will Donuts Last?
Pumpkin spice donuts will last around 1-2 days on the counter. I recommend keeping them in a plastic container with a lid or an airtight plastic bag. The good news is that you can make these pumpkin donuts ahead of time if you needed to, which is especially great if you have company coming.
Can I Freeze Sugar And Spice Donuts?
Yes, you can freeze these sugar and spice donuts. First, you should flash freeze them. If you have never flash frozen anything, don't worry, it's super easy! Just lay the pumpkin donuts on a baking sheet, so they aren't touching. Then place the entire pan in the freezer for 4-5 hours until they are frozen. Once they are frozen, place them in a freezer bag or another container with a lid. Now you can just grab out what you need. See why I love this pumpkin donut recipe? You can do anything with it!
The homemade pumpkin donuts will last approximately 3 months. Sometimes I love to make a huge batch, freeze them, and have a relaxed breakfast idea on the go. To eat them, just defrost on the counter or in the fridge. You can even warm them up in the microwave for 15 seconds or so.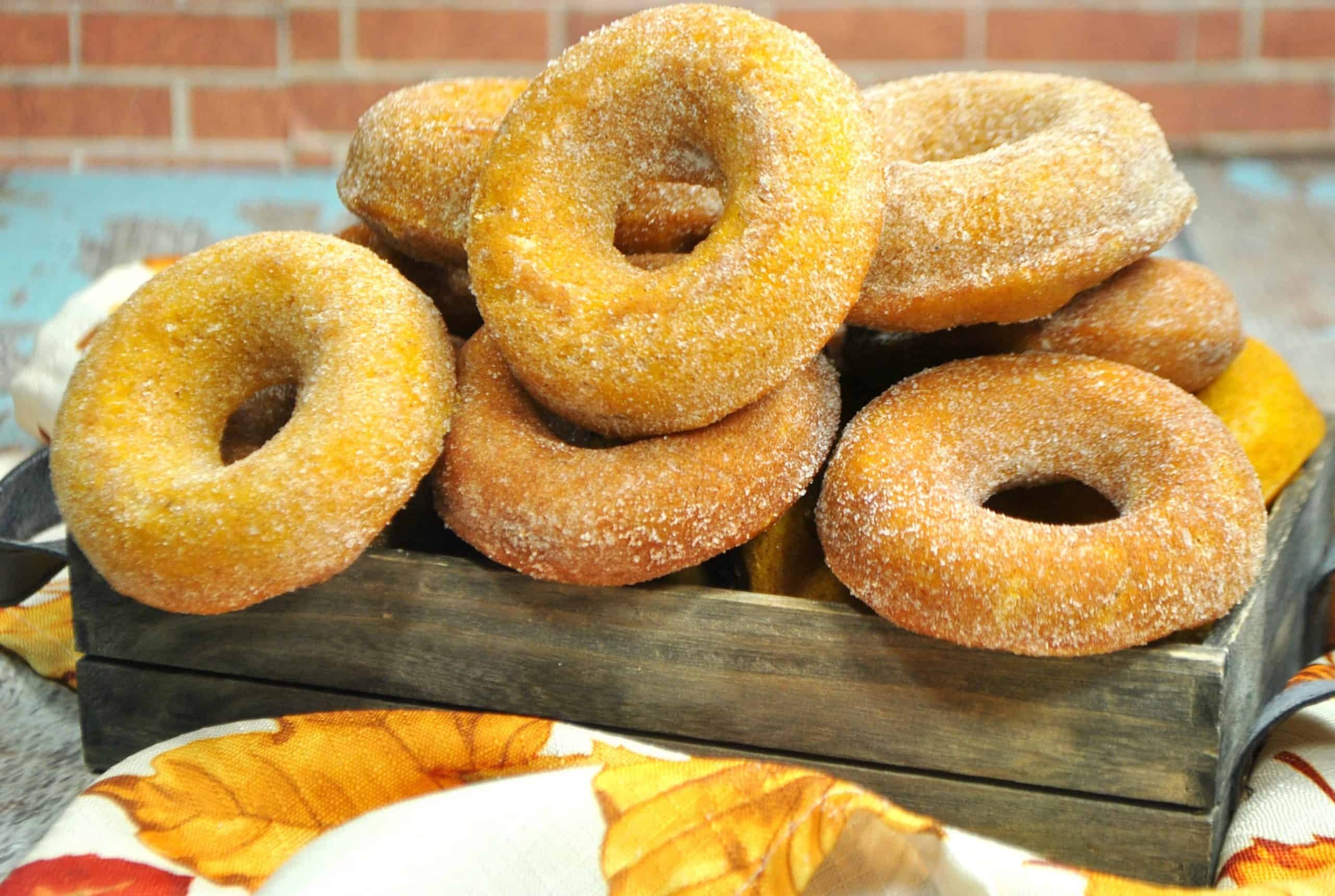 Are Baked Donuts As Good As Fried?
I know it would stand to reason that fried donuts would taste better than baked because almost anything tastes better after its fried. But this is false! Every bite of these delicious donuts is perfectly baked every time. You will get a slightly crispy exterior and a moist, fluffy interior. You can make a variety of flavors, and they are so much quicker than frying. So, I actually think baked donuts are better than fried. Don't take my word for it, try this pumpkin donut recipe yourself.
When Can I Serve This Pumpkin Donut Recipe?
Naturally, donuts are always a massive hit at breakfast, but these are so good they are perfect any time of day. Try serving them for any of these occasions, and your friends and family will go crazy:
Dessert At Dinner Party
Baby Shower
Community Event
Reunion
Brunch
Wedding Reception – Trust me, people rave about this idea!
Bridal Shower
Pin this Pumpkin Spice Doughnuts for later: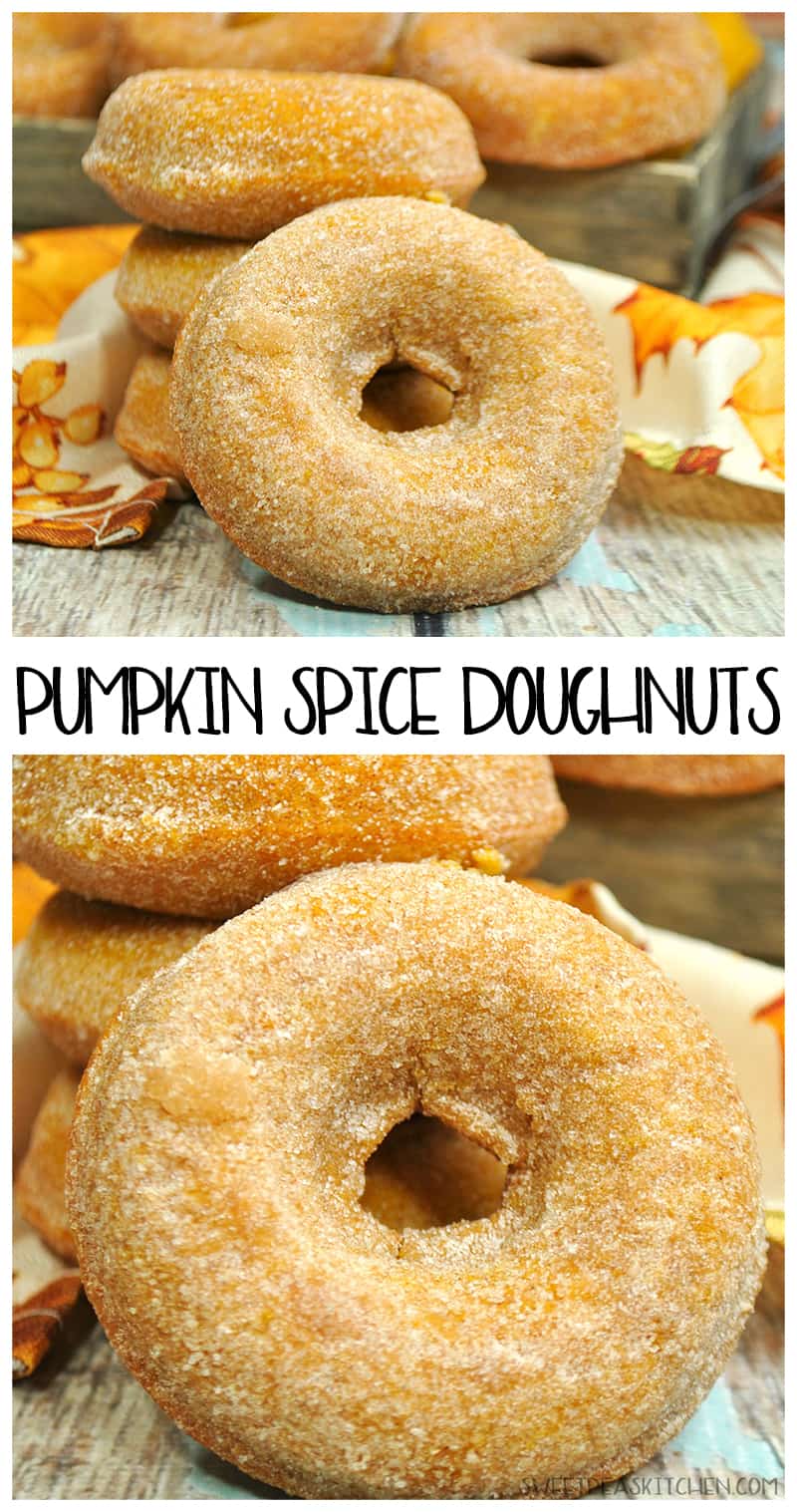 Pin this recipe now to remember it later
Pumpkin Spice Doughnuts
If you're a pumpkin spice lover like me, you absolutely MUST try these Pumpkin Spice Doughnuts!
Ingredients
1 3/4

C

plus 2 tbsp flour
Want to save this recipe? Enter your email below and we'll send the recipe straight to your inbox!
NOTE: By saving this recipe, you agree to join our weekly recipes newsletter.
Instructions
reheat oven to 350 degrees F and spray a doughnut pan with pam baking spray.

Using a standing mixer, beat the canola oil, eggs, pumpkin puree, and sugar until combined

In a medium bowl, combine the flour, cinnamon, nutmeg, ginger, salt, and baking powder until combined

Gradually mix in the dry ingredients into the wet

Pour batter into the doughnut pan about 3/4 way full

Bake in the oven for 24 minutes

Remove from oven and allow to cool for 5 minutes

Place 1 C of sugar and 1 tsp cinnamon into a large ziplock bag

Add a few doughnuts into the bag and shake until doughnuts are covered in sugar

Remove from bag and place onto a wire rack to cool some more

Enjoy!
Nutrition
Follow me on Pinterest for daily delicious recipes!
Craving More Pumpkin Recipes:
Get new recipes weekly plus our FREE ebook!