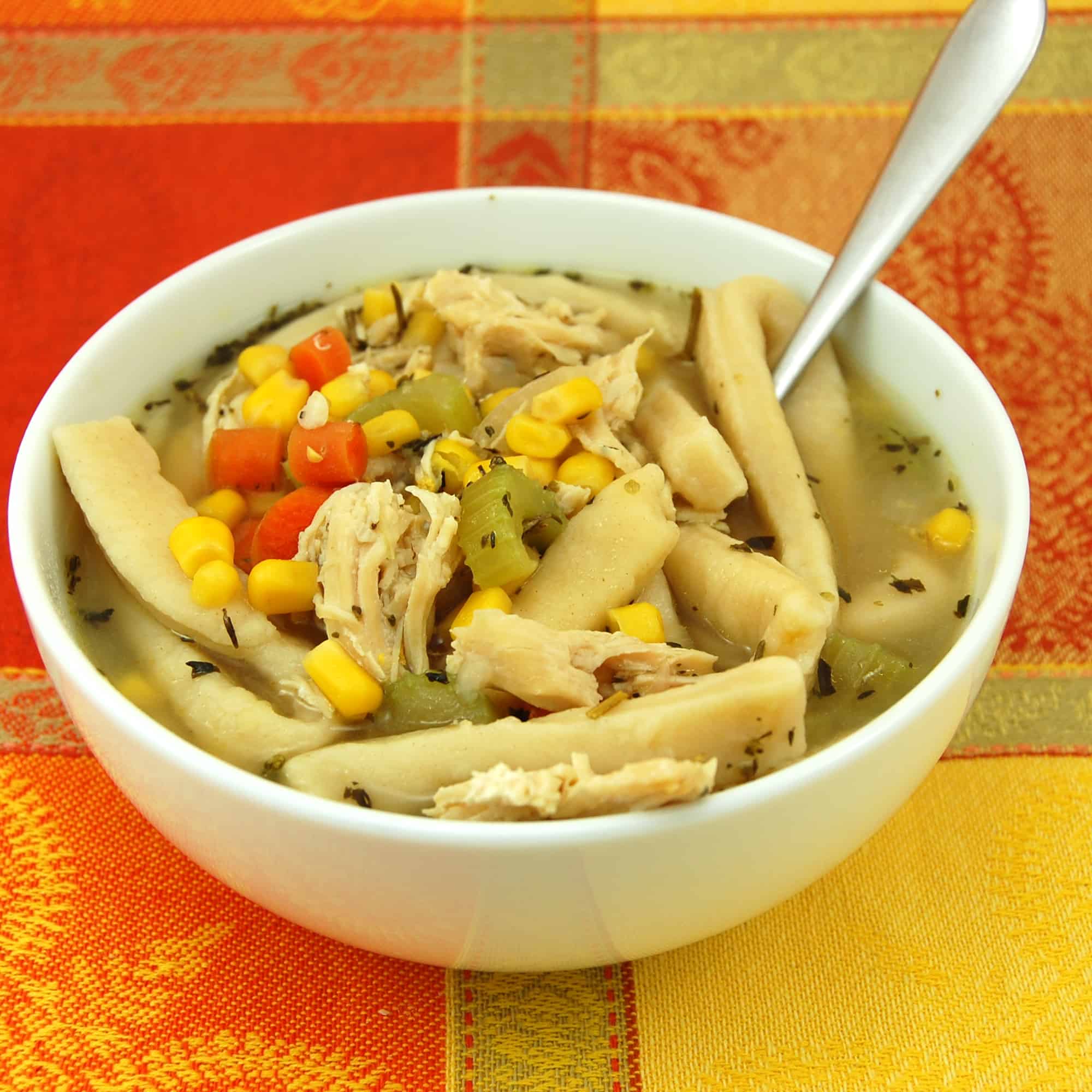 Quick and easy chicken noodle soup loaded with fresh vegetables, herbs, and homemade noodles. You won't believe how easy this soup is! I make some delicious homemade egg noodles to put into the soup.
I swear that it is better the next day, the egg noodles soak up some of the broth and taste incredible. More on the egg noodles later…let me tell you about this amazing soup! I can't think of anything more comforting and warming than a big bowl of homemade chicken noodle soup.
When the weather turns cold it is perfect to just snuggle up on the couch under a blanket with this soup. If you thought that a bowl of delicious homemade soup is only for a Sunday dinner, think again! You won't be spending your entire day making this soup! In fact, you can have this dinner ready in under an hour, perfect for a crazy weeknight meal.
This soup is the perfect answer for anyone that is feeling under the weather. Serve with a side of cornbread and I bet it will cure you of any sickness. 😉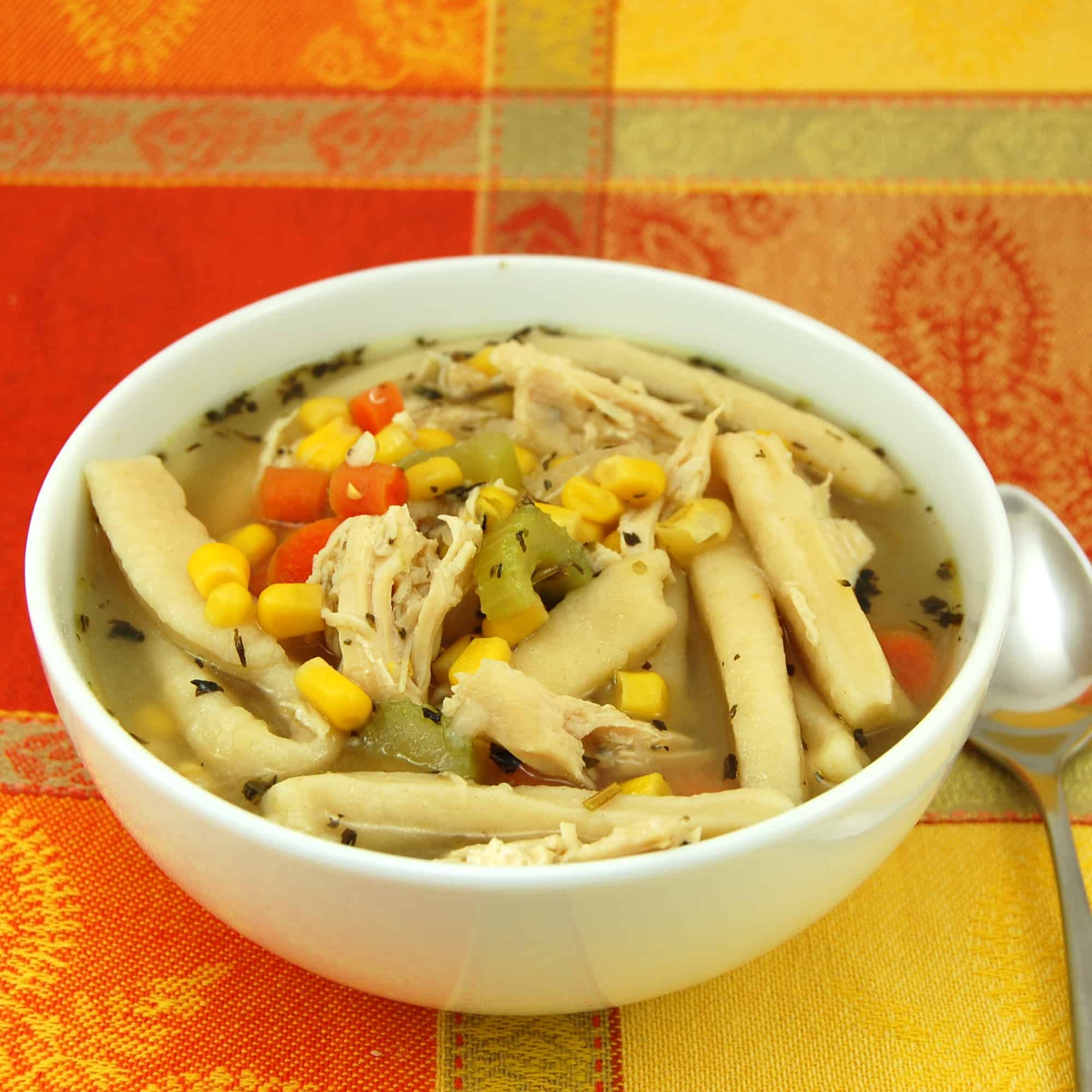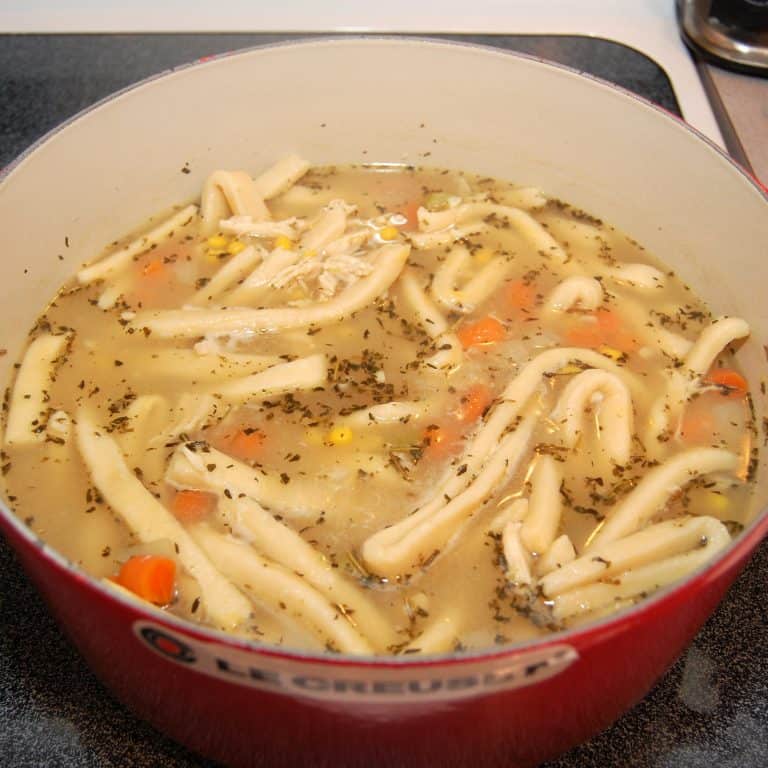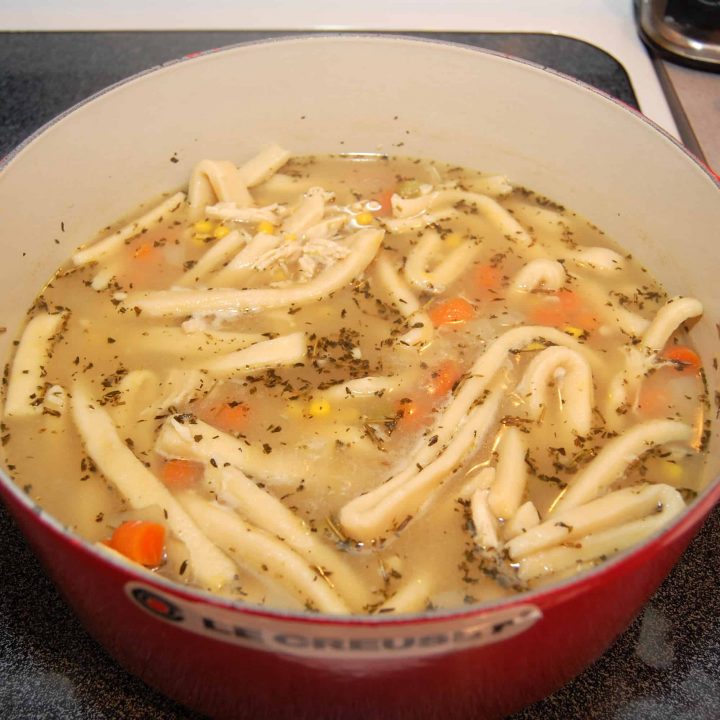 Quick and Easy Chicken Noodle Soup
Ingredients
1 tablespoon butter
1/2  cup chopped onion
1/2 cup chopped celery
4 cloves of garlic, minced
5 (14.5 ounce) cans chicken broth (nine cups)
1/2 pound chicken breast, uncooked
1 cup sliced carrots
1/2 teaspoon dried basil
1/2 teaspoon dried oregano
1/2 teaspoon rosemary
1/2 teaspoon thyme
2 bay leaves
salt and pepper to taste
1 (14.5 ounce) can whole kernel corn, drained
Instructions
In a large pot over medium heat, melt butter. Cook onion, garlic, and celery in butter until just tender, 5 minutes.
Pour in chicken broth and stir in uncooked chicken, carrots, basil, oregano, rosemary, thyme, bay leaves, salt and pepper.
Bring to a boil, then reduce heat and simmer 20 minutes. Remove chicken from pot and shred. Once chicken is shredded place back into pot with noodles and corn. Simmer until noodles are cooked.
Source:
adapted from
allrecipes.com