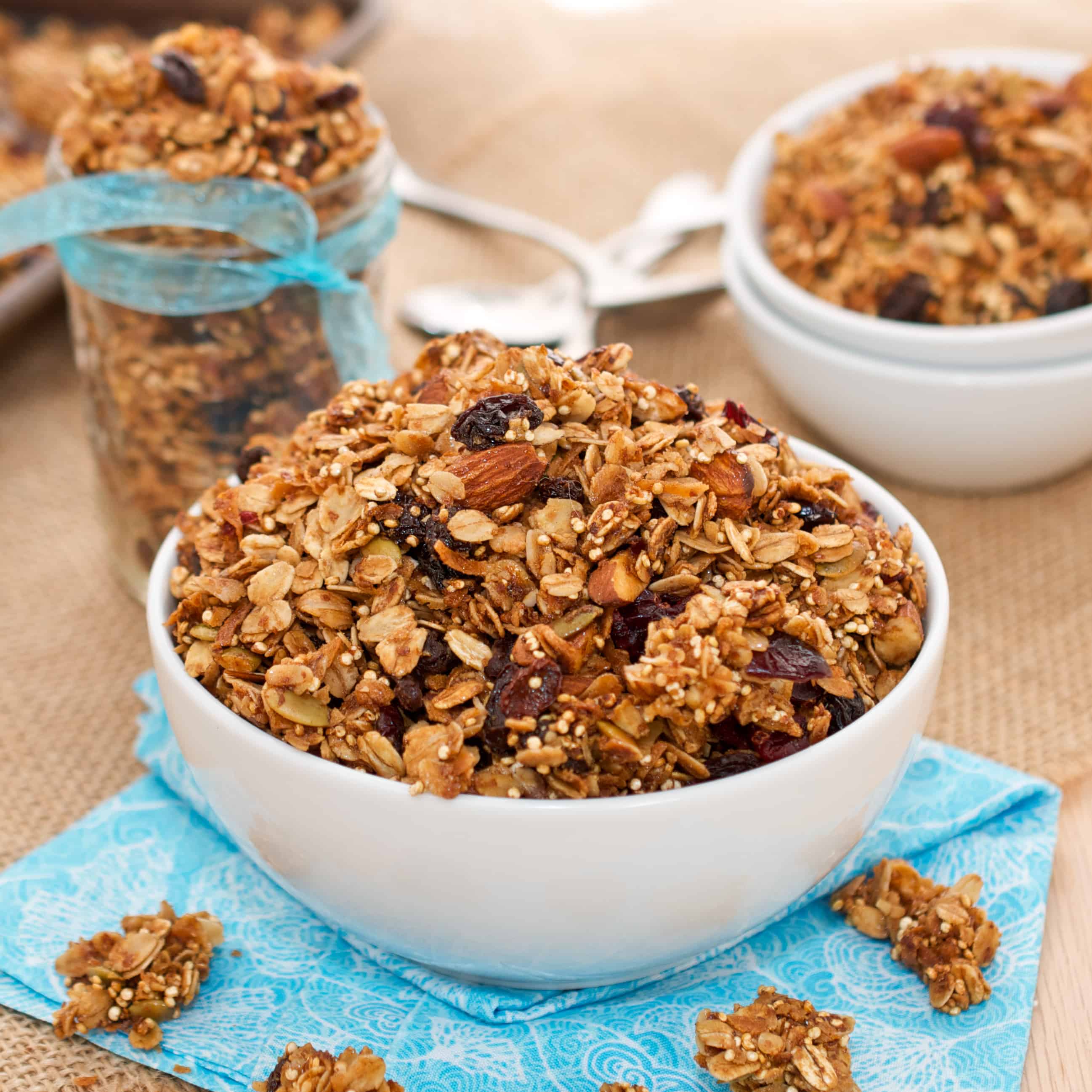 This Coconut Quinoa Granola is a healthy alternative to store-bought granola. It's made with delicious ingredients that you just can't get when you buy it pre-packaged. You will get the best simple quinoa recipe that is filled with old fashioned oats, quinoa, almonds, coconut, cinnamon, and it's sweetened with honey.
Scroll to bottom for printable recipe card.
Coconut Quinoa Granola
If you're looking for an easy and delicious recipe for homemade granola, look no further! This granola is perfect sprinkled over yogurt, eaten by the handful, or even with a splash of milk. Packed with healthy oats, toasted almonds, crunchy quinoa, coconut, and a medley of dried fruit.
Making your own granola endlessly customizable. You choose the type of nuts and dried fruit! Don't have coconut oil on hand? No problem, just substitute it for the same amount of canola oil. This recipe is so easy even your kids can join in. Everything is mixed together, dumped onto a baking sheet, and baked until golden brown and crunchy. Voilà, simple and delicious in a flash! 😀
Why Add Quinoa To Granola
There are many reasons why you should consider adding quinoa to your homemade granola recipe. First of all, it's so yummy, and I think you love the texture as well as the flavor.
The biggest reason, though, is that quinoa is so darn good for you. It's filled with protein to help keep you full. Plus, it has fiber to help regulate your digestion. Not to mention, there are TONS of vitamins and minerals in it too. You will get iron, zinc, potassium, folate, copper, magnesium, and manganese.
If you eat gluten-free, then quinoa is a must have. It's naturally gluten-free, so there aren't any worries about getting a bunch of gluten.
Mix-in Ingredients
There are lots of additional things you can add to this quinoa granola recipe. Here are a few ideas.
Sunflower Seeds – They will add some extra nutrients and taste great too. Add as little or as much as you want.
Chocolate Chips – Add some dark chocolate or any other variety you enjoy. I prefer chocolate chips, but you could also add chocolate pieces.
Pistachios – Mix in a few pieces of pistachios into the granola mixture.
Maple Syrup – We will swap out the honey once in a while for maple syrup instead. It tastes great and adds a lovely sweetness too.
Peanut Butter – I can never have too much peanut butter in my life. Add in some creamy peanut butter to the granola.
How to Store Homemade Quinoa
Keep the finished and cooled quinoa granola in any container that is airtight. It should be stored in a pantry or someplace that isn't in direct sunlight or near anything that is overly hot, or they will get mushy. It will last around two weeks in the container at room temperature.
Additionally, you can place the healthy granola in the freezer too. Keep it in a freezer bag or container, and it will last around 3 months. This is wonderful when you need some quick food on the go.
Do I Have To Add Wheat Germ?
No, you don't have to add wheat germ if you don't want to. Some people have a harder time finding it in your market, so you may have to order it online.
The reason why we like to include wheat germ in our granola is that it has lots of antioxidants. This is so important to help prevent the free radicals from forming in your body.
Another benefit of wheat germ is all the vitamin E! It's great for healthy skin and hair.
If you are gluten-free, you should for sure skip wheat germ because it does contain gluten.
Ingredients
While I do give you a list of ingredients, keep in mind that this recipe is totally versatile. You can easily omit some of the ingredients and replace them with others as you see fit. So, feel free to try out a variety of ideas.
Old Fashioned Oats
Wheat Germ
Pepitas
Chopped Almonds
Shredded Coconut
Packed Light Brown Sugar
Cinnamon
Kosher Salt
Honey
Coconut Oil
Vanilla Extract
Dried Fruit
How to Make Quinoa Granola
Now it's time to get to make your new healthy snack idea. I think you are going to love how easily it comes together and the ultimate flavor it has. The texture and the way it tastes are mind-blowing.
First Step: First, you need to line a baking sheet with parchment paper and turn on your oven to 300 degrees F. Set it aside for later.
Second Step: Run the quinoa under some cool water to rinse it. Drain it very well. Then place the quinoa, old fashioned oats, wheat germ, coconut, pepitas, almonds, cinnamon, and salt together. Mix well until everything is combined well.
Third Step: Combine the honey, coconut oil, and vanilla extract in a small bowl. Whisk until combined and pour it over the quinoa mixture. Stir really well, so it's all combined. Spread the mixture onto the prepared baking sheet.
Fourth Step: Bake for 30-40 minutes or until you notice the granola is golden brown in color. You will need to stir the mixture every 10 minutes with a spatula or wooden spoon.
Fifth Step: After it's been taken out of the oven, add in the dried fruit and allow it to cool all the way. Keep it in an airtight container for up to 2 weeks and enjoy it!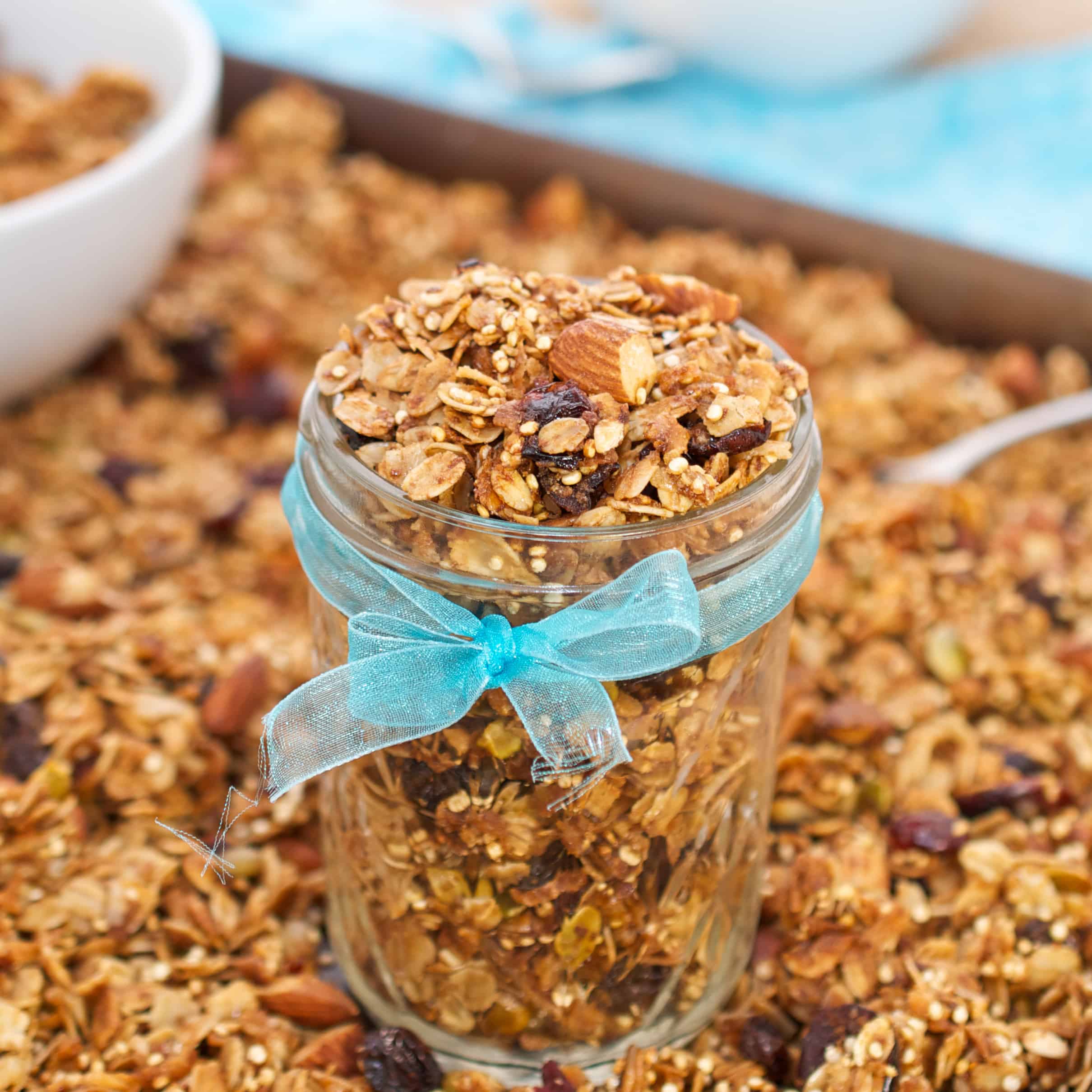 We always love eating some tasty snacks. I wanted to share some of our favorites as well as our reader's favorites with you. Take a look:
Pin this recipe now to remember it later
Ingredients
3

cups

old fashioned oats

1/2

cup

light brown sugar

,

packed

1/4

teaspoon

of kosher salt

1/3

cup

coconut oil

,

melted

1

teaspoon

vanilla extract
Want to save this recipe? Enter your email below and we'll send the recipe straight to your inbox!
NOTE: By saving this recipe, you agree to join our weekly recipes newsletter.
Instructions
Preheat the oven to 300 degrees F. Line a large baking sheet with parchment paper; set aside.


Rinse the quinoa under cold water and drain well. In a large bowl, combine oats, quinoa, wheat germ, pepitas, almonds, coconut, brown sugar, cinnamon and salt.


In a small bowl, whisk together honey, coconut oil and vanilla extract. Pour over the oat mixture; stir until well combined. Spread the mixture into a large rimmed baking sheet.


Bake for 30-40 minutes, or until granola is golden brown, stirring every 10 minutes.


Stir in the dried fruit. Let cool completely before storing. Store in an airtight container for up to 2 weeks.
Follow me on Pinterest for daily delicious recipes!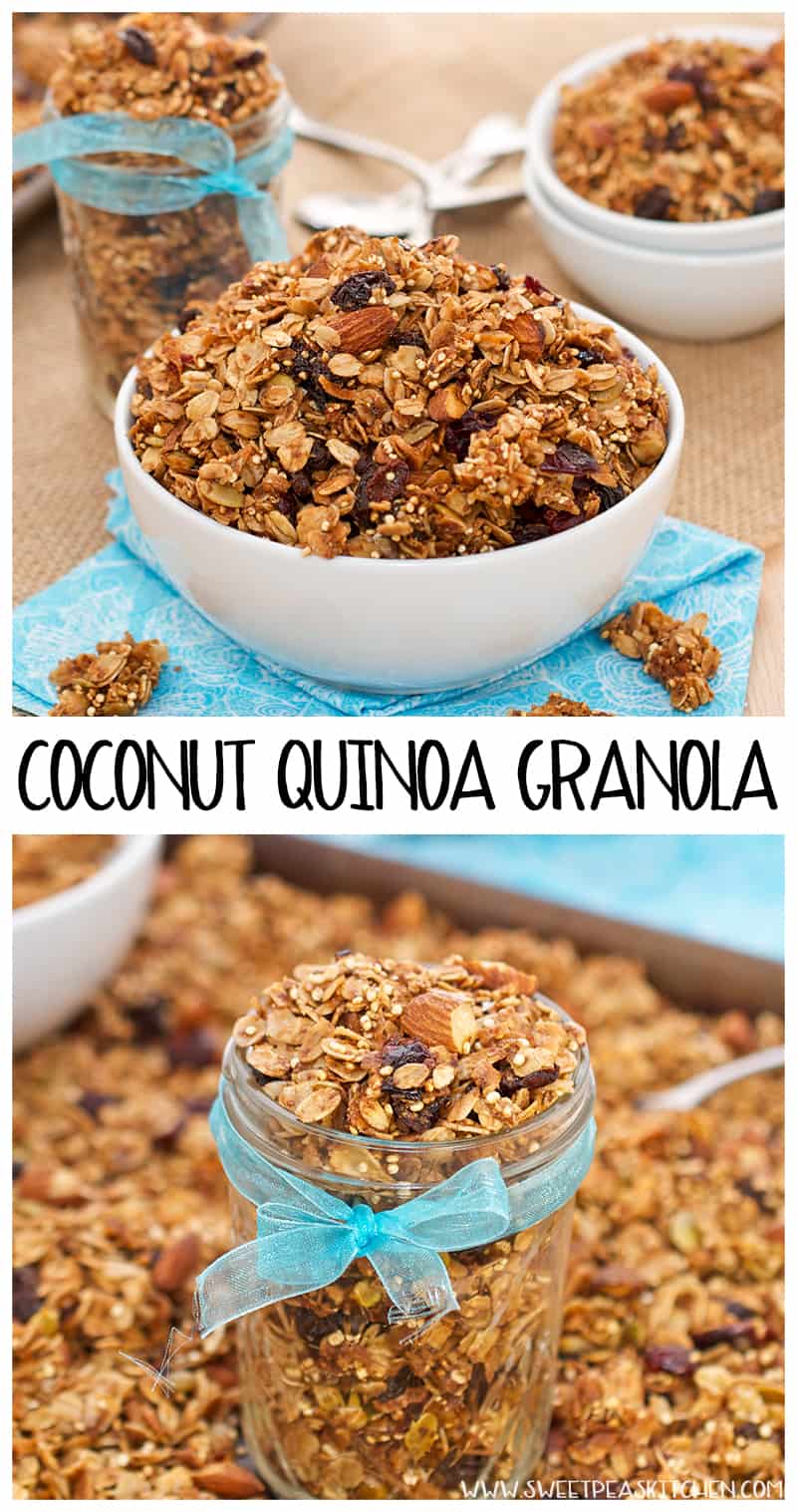 Get new recipes weekly plus our FREE ebook!