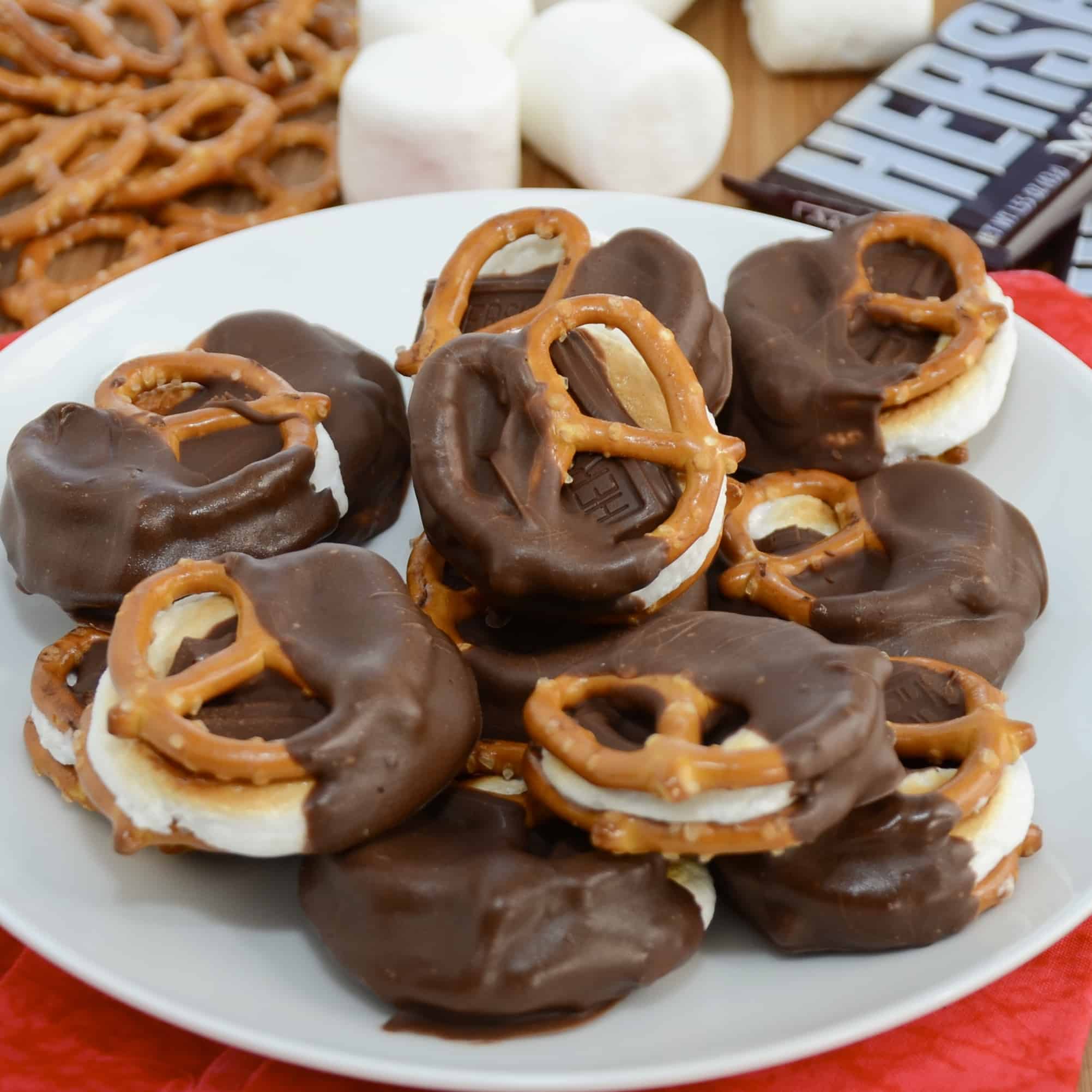 Pretzel S'mores Bites will quickly take over your dreams because they are so tasty. I think about their incredible flavor and texture often. Crispy pretzels combined with chewy marshmallows, and they are dipped in melted chocolate.
Any chocolate lovers' dream! These are the cutest little S' mores sandwiches ever.
Scroll to bottom for printable recipe card.
Pretzel S'Mores Bites
Looking for a fun dessert to serve at your Memorial Day gathering? These two-bite, no campfire needed, s'more pretzel bites are destined to be a hit! A gooey marshmallow and Hershey chocolate square are sandwiched between two pretzels and dipped in chocolate! The sweet and salty combination of these bite-sized snacks is incredible.
I can't think of a better dessert to serve for the unofficial start of summer! Whip up a batch of these for your next barbecue, picnic, or get together…they are sure to be a huge hit!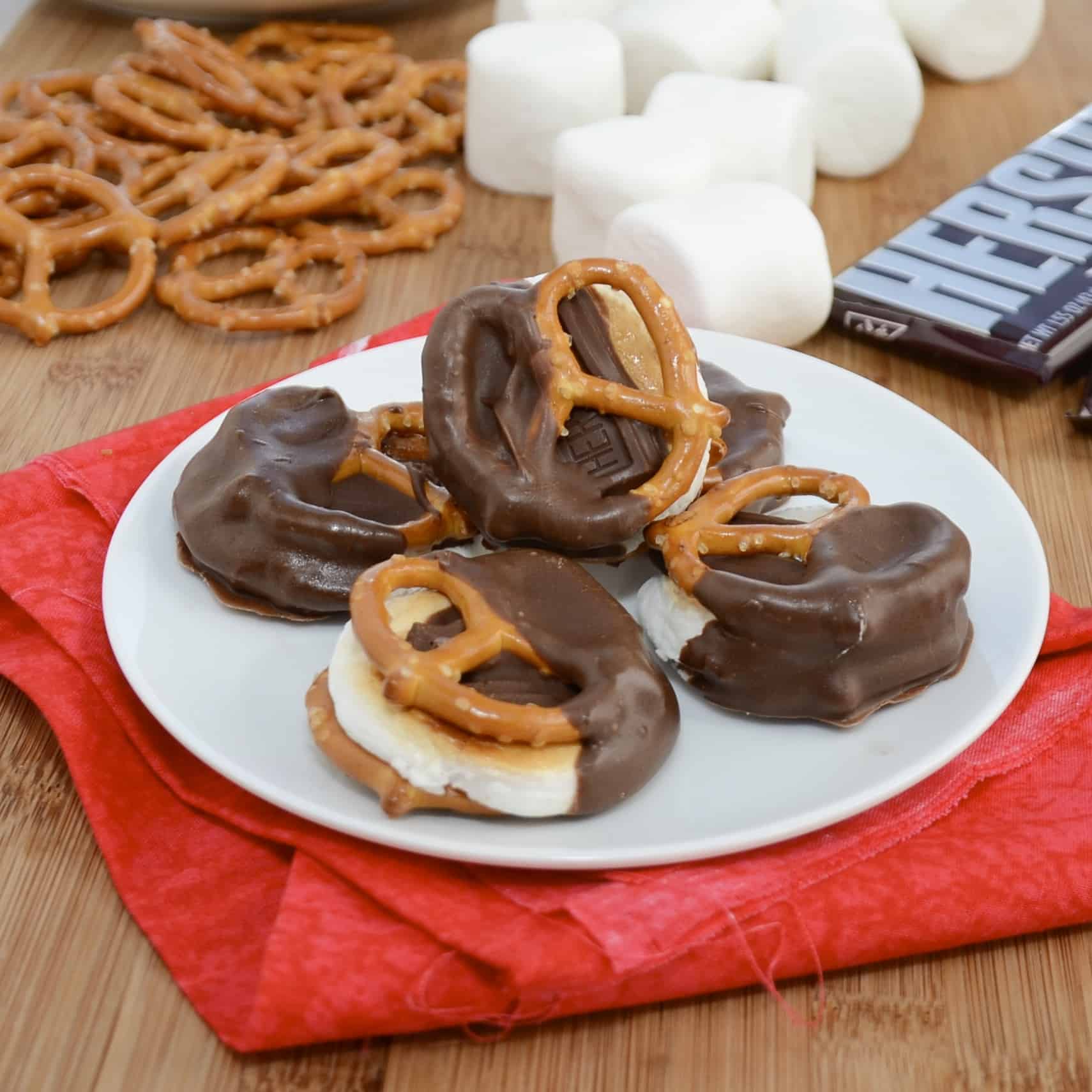 Whenever we head out the door to go to a gathering, I always feel like I should bring some kind of treat. While many times I will opt for a salad, I really love bringing desserts. They are so delicious and fun. Plus, what's better than watching everyone's faces light up when they take that first heavenly bite? I haven't made these pretzel s'mores when they weren't devoured in minutes.
It doesn't matter how many I make everyone seriously gobbles up every last crumb.
How do You Keep Melted Chocolate From Having White Discoloration?
If you have ever gone to make a tasty dessert and find that your chocolate has some white discoloration, you know disappointment. It's frustrating, especially when you don't know what caused it. Something that is very important when storing chocolate is to keep it out of the refrigerator. I know it's tempting, especially in those hot months, but refrigerating it will almost always result in chocolate that has white coloring. It's fine to eat but doesn't look very pretty when making desserts.
The humidity in the refrigerator is what causes the chocolate to change colors, so there isn't much you can do to prevent it if you keep it in there.
Store your chocolate in a dark space like a pantry or cabinet. It's important to make sure that the chocolate is kept airtight and should be in a cool, not cold spot. Following these tips will keep your chocolate in the best condition and give you the best results.
Should I Add Peanut Butter to Hold These Together for Dipping?
It's completely up to you if you want to add peanut butter to these s'mores bites. I find that the stickiness of the marshmallows is all that is needed to keep them together when I go to dip them. However, I am a HUGE fan of anything peanut butter flavored. So, adding a little bit of peanut butter will help hold the pieces together, but will also enhance the flavors too. Go wild and add some if you want, but you don't have to. Another fun option would be any other nut butter or even Nutella.
Do S'Mores Pretzel Bites Need To Be Refrigerated?
No, you don't have to refrigerate the pretzel bites. You can, if you want, but the marshmallows will become extra chewy and maybe even a little bit hard. They will last 4-5 days at room temperature without any issues. Just keep them in an airtight container, and you will be good to go!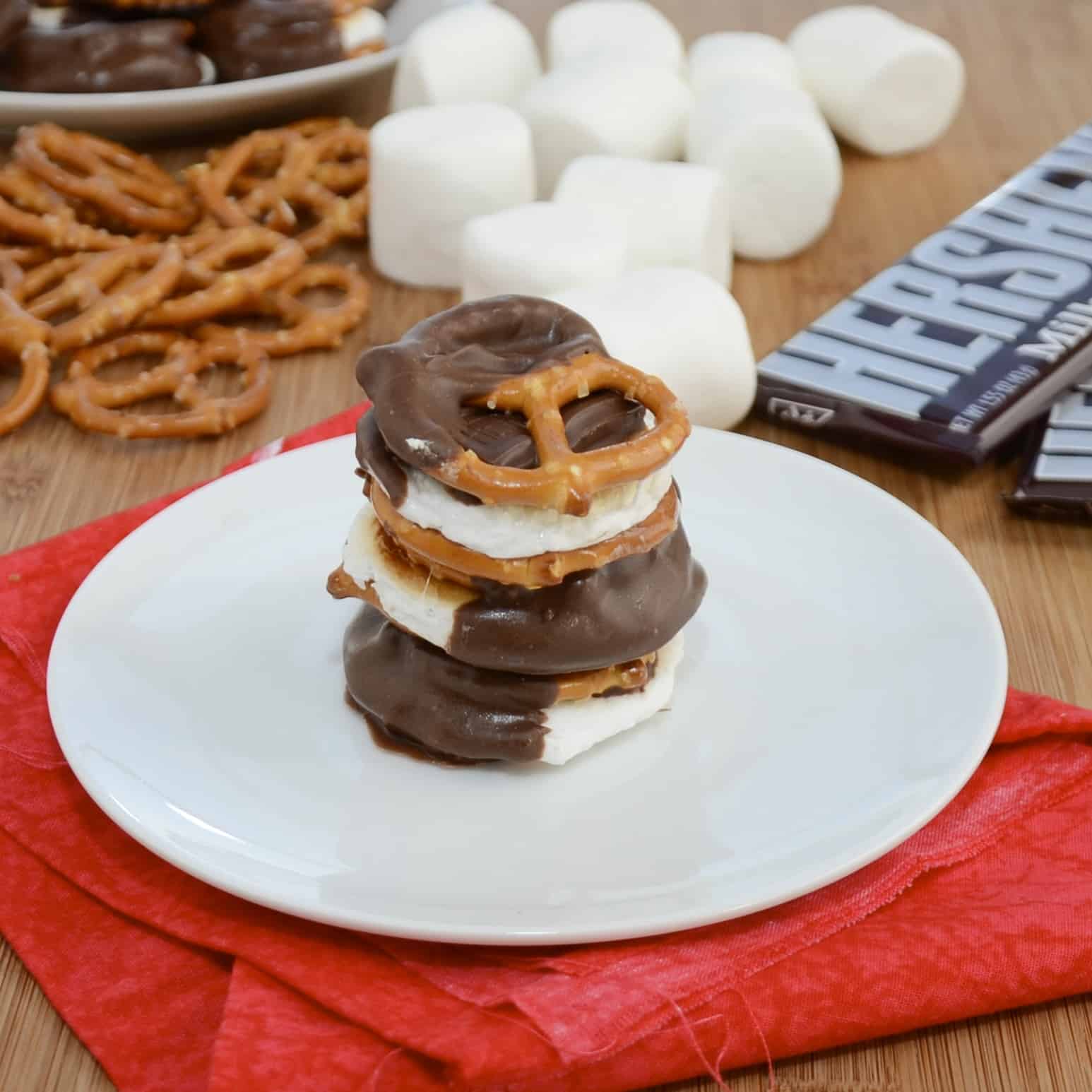 Ingredients
Yep, you guessed it! You only need 4 ingredients to make these amazing pretzel treats. Can you imagine making something so simple and delicious with barely any ingredients? Trust me; once you taste them, you are going to be very impressed with their incredible flavor.
Large marshmallows, cut in half
Twist pretzels
Hershey's Milk Chocolate Candy Bar
Semi-sweet chocolate chips
How to Make Pretzel S'Mores Bites
Yummy, these tasty pretzel s'mores bites are in your future! It doesn't' take much time, and then you can be munching on your own batch or two. They are great for feeding a crowd too. Each batch will make 46 treats. They are also lovely if you have a bunch of kiddos to feed too. They can't resist the incredible flavors either.
First Step: Using a baking sheet, line it with parchment paper. Then place 23 pretzels on the sheet so that they are evenly spaced apart. Add a piece of marshmallow to each pretzel. Then put one square of the Hershey's milk chocolate candy bar. Put the pan in the broiler for a minute or two or until the marshmallows have turned a light brown color, and the chocolate has melted some. Take the pan out of the oven and add another pretzel to each s'mores bite. Place them in the fridge so the chocolate can cool back down and set. This step is what keeps the pretzels together when you go to cover them in chocolate.
Second Step: While you are cooling the pretzels, melt the chocolate inside of a metal bowl that is set over a bowl or pan of simmering water. Stir it until the chocolate becomes creamy and smooth. Then take it off the heat. Take each pretzel sandwich and dip it halfway into the melted chocolate chips, then place them on the baking sheet. Place in the refrigerator until it's set. Then serve and enjoy!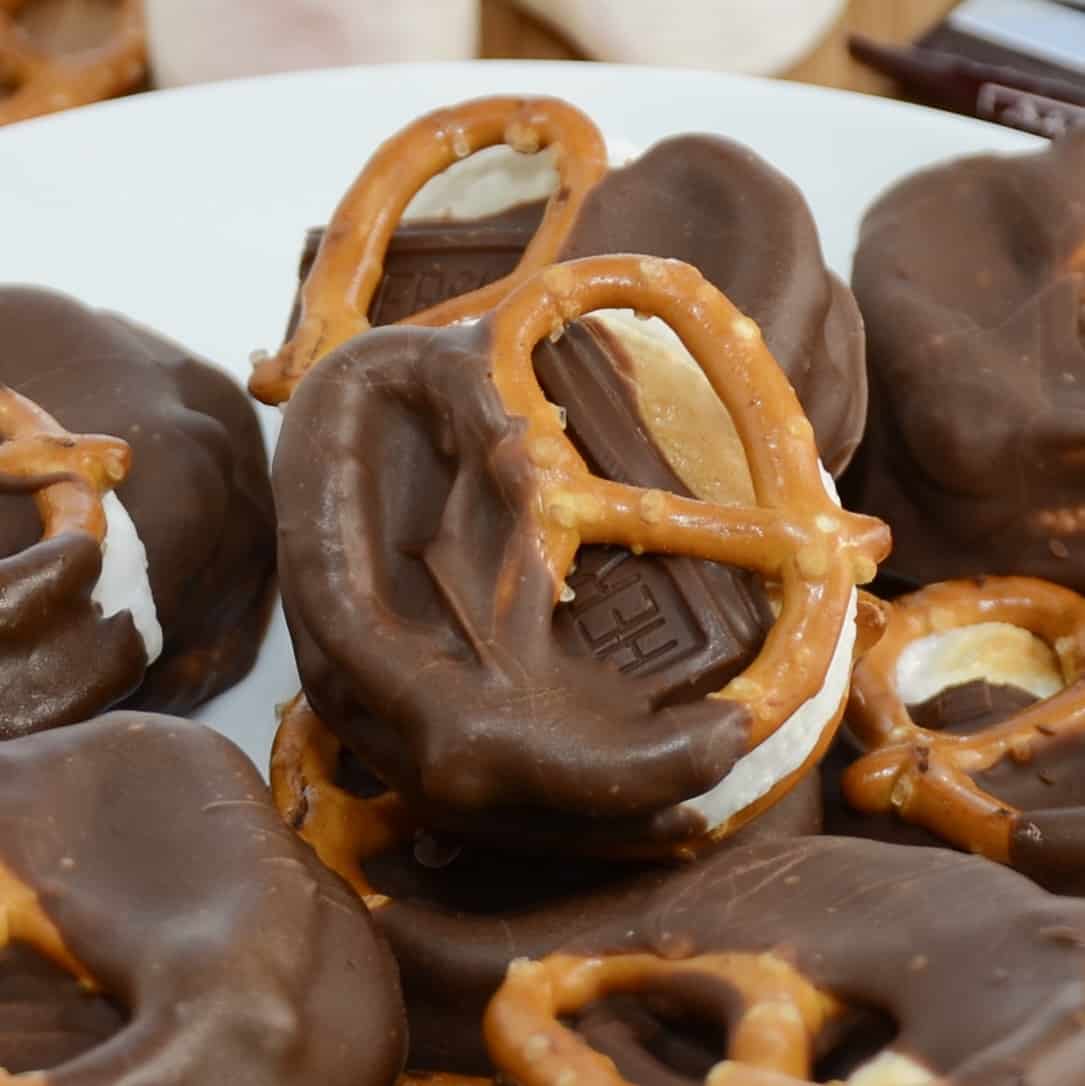 Now, remember to save this recipe on Pinterest for later 🙂

Pin this recipe now to remember it later
Pretzel S'Mores Bites
Pretzel S'mores Bites will quickly take over your dreams because they are so tasty. I think about their incredible flavor and texture often. Crispy pretzels combined with chewy marshmallows, and they are dipped in melted chocolate.
Ingredients
23

large marshmallows

,

cut in half

4

Hershey's Milk Chocolate Candy Bar

,

1.55oz

1

bag semi-sweet chocolate chips
Want to save this recipe? Enter your email below and we'll send the recipe straight to your inbox!
NOTE: By saving this recipe, you agree to join our weekly recipes newsletter.
Instructions
Line a baking sheet with parchment paper. Evenly space 23 pretzels on the baking sheet. Top each pretzel with a marshmallow and one square of Hershey's Milk Chocolate. Place in the oven under the broiler and heat until marshmallows are just beginning to brown and the chocolate is softened. Remove from oven and top each with a pretzel to form a sandwich. Chill in refrigerator until chocolate is set.

Melt the chocolate chips in a metal bowl over a pan of lightly simmering water. Stir occasionally until smooth, and remove from heat. Dip each pretzel bite halfway into the melted chocolate and place on the prepared baking sheet. Chill in refrigerator until chocolate is set.
Follow me on Pinterest for daily delicious recipes!
I know you are going to love everything about these amazing S'more Pretzel Bites! Take a look at a few other easy desserts while you are at it:
No Bake Coconut Date Balls Recipe – Dates are naturally sweet and go beautifully with coconut. They are so simple and give you a great boost of energy with every bite.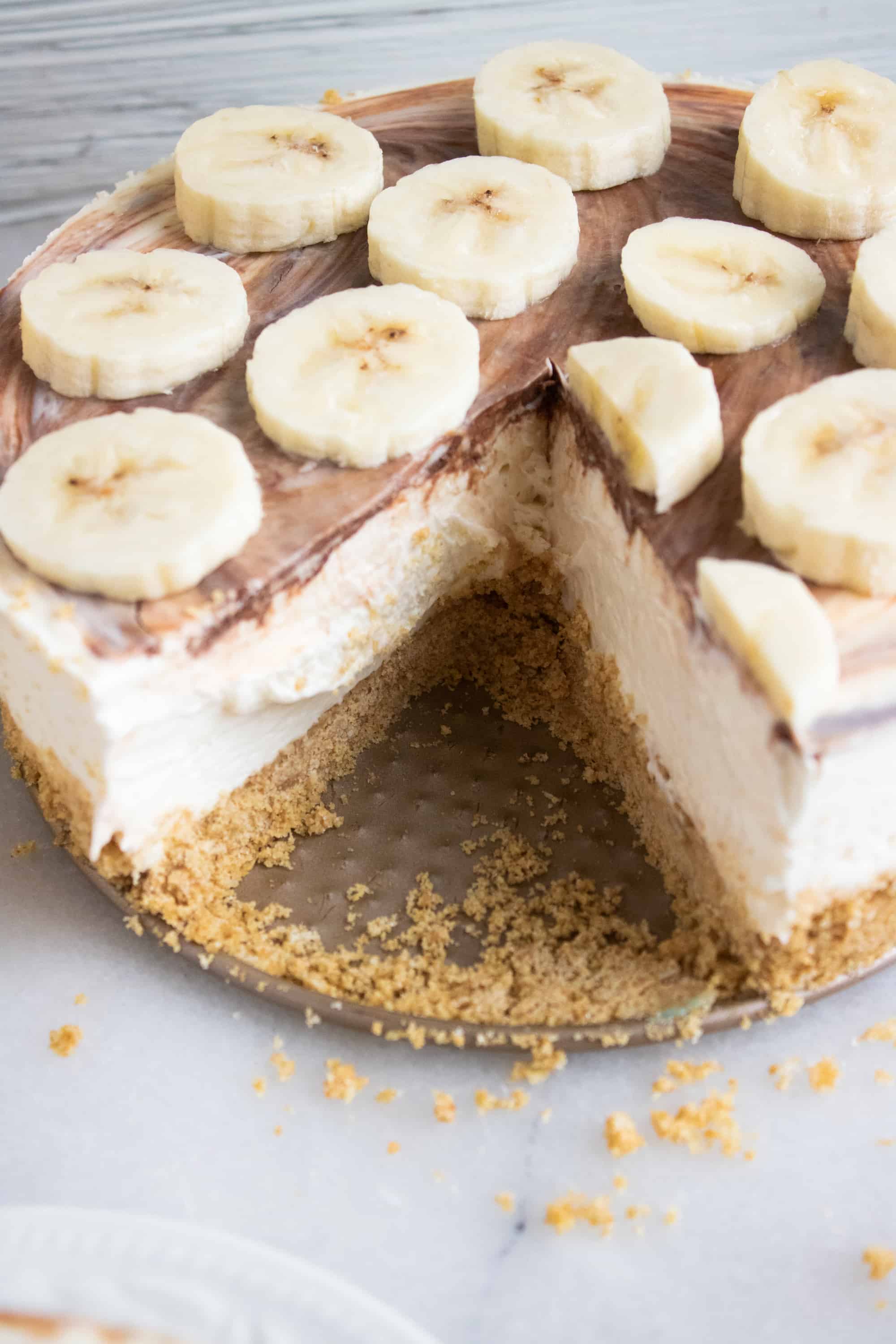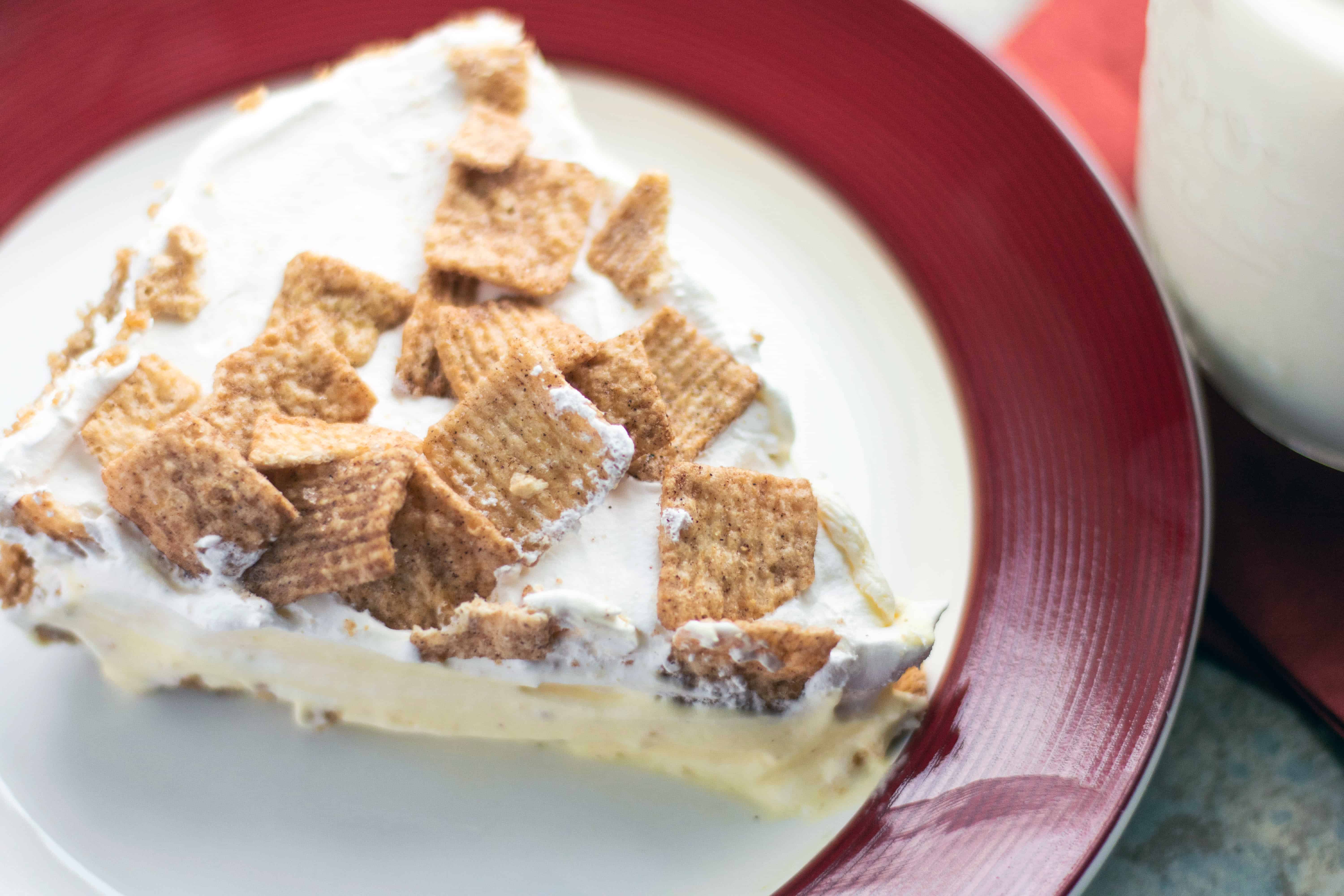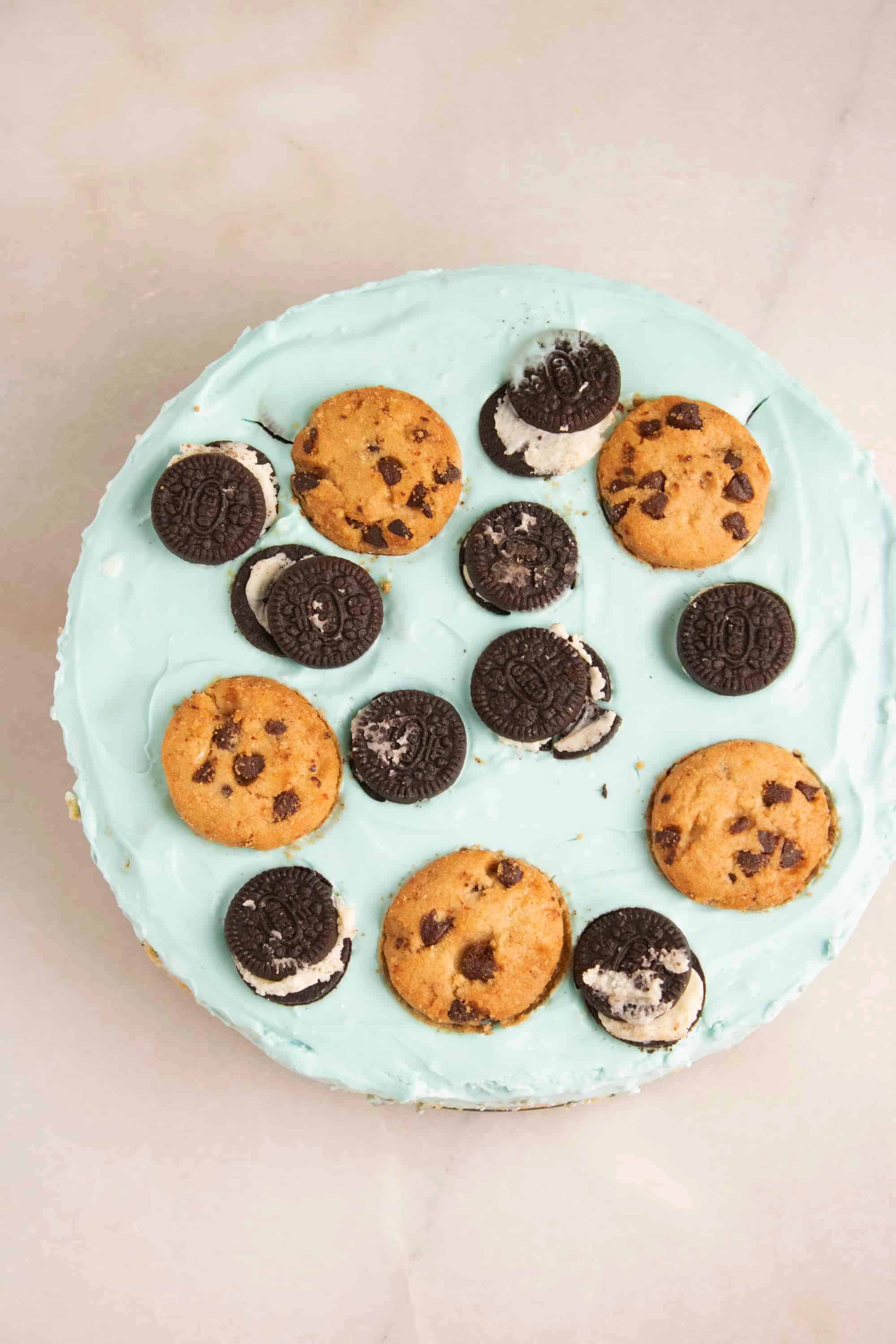 Get new recipes weekly plus our FREE ebook!