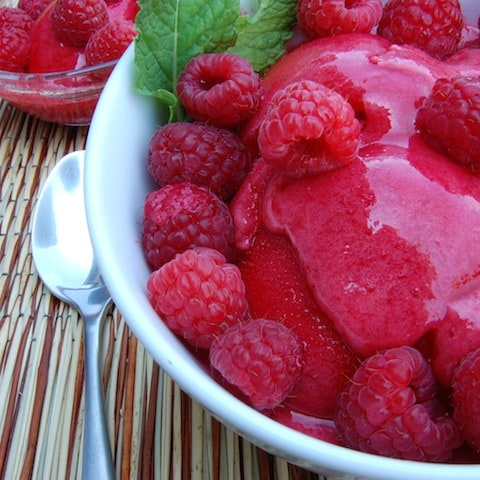 This week has been super hot here in Indiana! It was 96 degrees with a heat index of over 105! Too hot if you ask me! So what is the best thing to eat on a hot, muggy summer day? Ice cream of course! Well in this case, sorbet…ice cream's lower calorie friend. 🙂 Raspberries were on sale again this week at the grocery store so I stocked up knowing that I wanted to try this delectable summer treat. We just bought an ice cream maker last weekend so I was really excited to try it out! After I puréed the raspberries together I continued to read the recipes directions. I read the part that says "strain mixture through a fine mesh strainer to remove seeds"…oh crap! I don't have a fine mesh strainer!! So as I am looking frantically around the kitchen I spot my tea ball..hmmm…too small…my colander….too big…my flour sifter…just right. So here I am pouring this mixture through a flour sifter to remove the seeds! I have to say that it worked! The flour sifter removed every single seed in the sorbet. I have to admit, sometimes I just jump into a recipe without actually reading all the directions. I guess I just assume that I am going to have all the gadgets needed to make the dish. I think I have learned my lesson! It was worth it though, a perfect end to a light summer meal…cool, refreshing, and rich!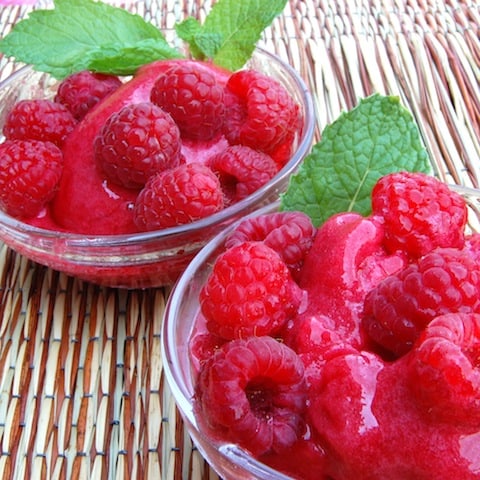 Pin this recipe now to remember it later
Ingredients
1 1/2

cups

granulated sugar

4

cups

of raspberries

,

fresh or frozen (thawed)
Instructions
In a medium saucepan over medium-low heat combine water and sugar. Cook mixture until the sugar is completely dissolved.

Place raspberries and salt into a blender. Pour sugar/water mixture over raspberries. Blend until mixture is smooth. Strain mixture through a fine mesh strainer to remove seeds. Cover and refrigerate 2 to 3 hours or overnight.

Pour mixture into ice cream maker and let mix until thickened, about 20 minutes. The sorbet will have a soft, creamy texture. If a firmer consistency is desired, transfer sorbet to an airtight container and place in freezer for 2 hours.
Follow me on Pinterest for daily delicious recipes!
Get new recipes weekly plus our FREE ebook!