Grab a cool, refreshing glass of this homemade Raspberry Lemonade! It's tangy, sweet, and one of the best fruit lemonade recipes you'll ever try. Great for backyard barbecues, cooling off on a hot summer day, or serving at your next fun family get-together.
Scroll to bottom for printable recipe card.
Raspberry Lemonade
The past three days have been insanely hot here in Central Illinois. We are under yet another heat advisory, with the heat index supposed to reach 105 degrees today. Now I am all about warm weather, but this is ridiculous! If I expect to get the dogs walked before it turns into an oven, I have to be out the door by 5:45 am. Otherwise, forget about it! And don't even get me started about trying to stay cool and hydrated in this heat when I am 21 weeks pregnant! I feel that all I do is drink, drink, drink. In the past few weeks, I have been living on Blueberry Lemonade and Diet 7up.
As with all the pregnancy cravings that I have had, a craving for raspberry lemonade hit me like a ton of bricks. I just had to have some! Luckily, I had everything I needed to make this refreshing drink. This lemonade does not require turning on the stove to make a simple syrup (which is a huge bonus when it feels like the surface of the sun outside!). Instead, everything is mashed together in a large bowl then poured through a fine mesh strainer before serving.
By mashing the sliced lemons with the sugar, the flavorful and aromatic oils from the peel are captured to create an even more lemony punch. If you are looking for a delicious and easy way to quench your thirst this summer, give this raspberry lemonade a try! 😀
How to Juice A Lemon
Juicing a lemon is actually pretty simple. The first thing you need to do is find a lemon that seems heavy and is slightly softer. You don't want it to be super squishy or anything like that.
Toss the lemon in the microwave for 20-30 seconds. This will help soften it up and will be a lot easier to squeeze.
Take the lemon and put it on a hard surface like your countertop. Roll it back and forth with your hand. This will break the lemon away from the lemon peel and makes juicing it so much simpler.
Cut the lemon in half. Then either squeeze the lemon with your hand or put it on a juicer and twist it. Either way, work; you just want to be sure not to include any seeds into the juice. If they fall in, go ahead and pull them out.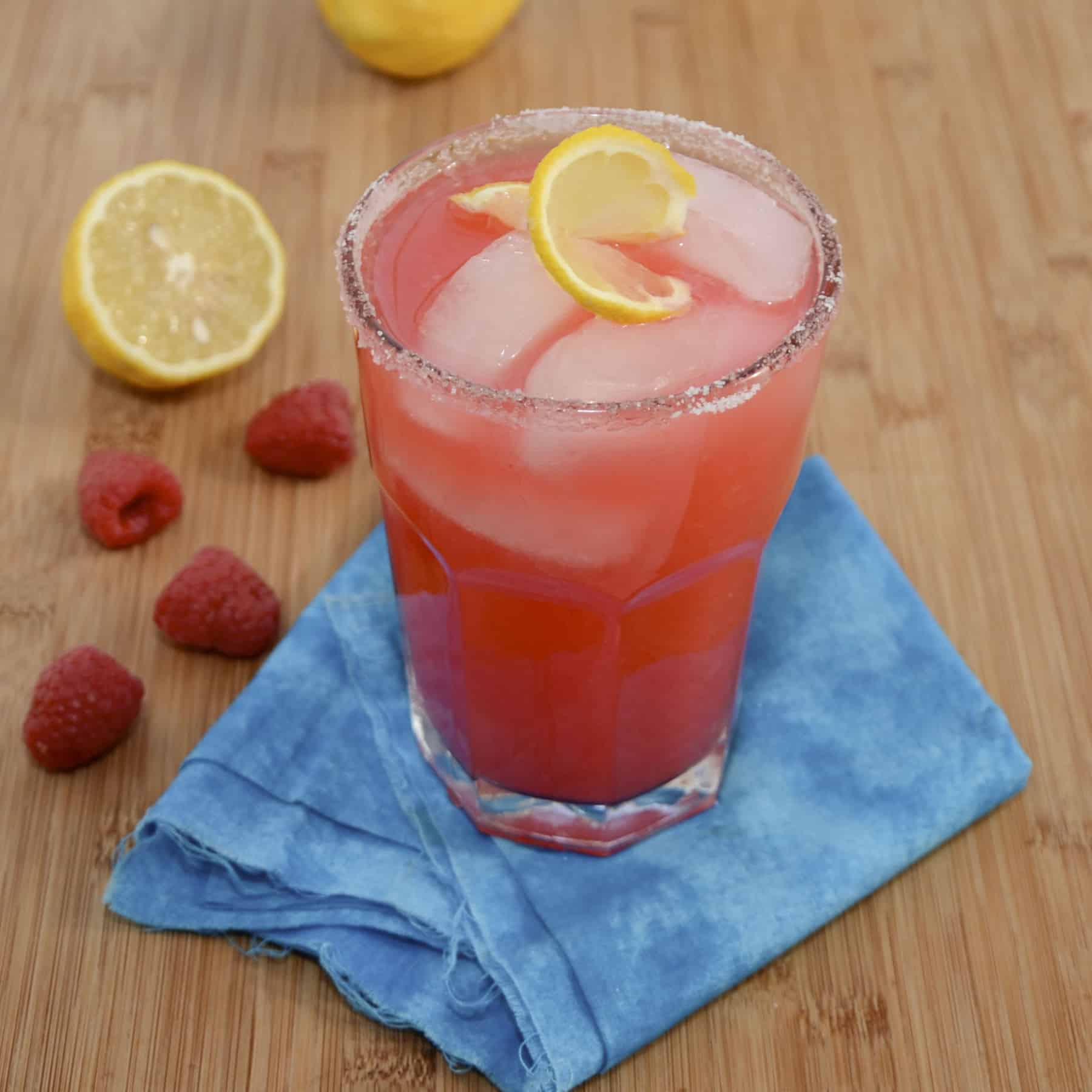 Can I Use Fresh or Frozen Raspberries In Juice
One versatile thing about this fresh-squeezed lemonade is that you can easily adjust it. We typically use fresh raspberries, but you can totally use frozen if you would rather. Both are great options and will make this lemonade taste super yummy.
How to Remove Raspberry Seeds From Lemonade
The only bad thing about raspberries is the seeds. I have the perfect solution to help you make this pink lemonade extra awesome without the seeds. You will need a mesh strainer and put all the raspberry mixture in it. Take a wooden spoon and press on the fruit. Get out all the juice and good stuff and leave the seeds in the mesh strainer. This is a game-changer, and you don't have to worry about seeds.
Can I Double This Recipe
Oh absolutely! This raspberry lemonade makes around 6 servings per recipe. You can easily make as much or as little as you want. Simply multiply the ingredients by how many people you will be serving. Store it in the fridge until you are ready to serve.
Ingredients
All you need is 5 ingredients to make this pink lemonade. It's so easy and tastes so delicious you are going to want to drink it all the time.
Medium lemons
Fresh raspberries
White granulated sugar
Pinch table salt
Cold water
How to Make Raspberry Lemonade
First Step: Get a deep bowl and mix together the lemons, sugar, salt, and raspberries together. Set them aside for 10 minutes to help pull the juices out of the mixture. Mash the raspberries using a potato masher until you notice the lemon slices have released the juice. The sugar should be dissolved, and you will notice that the juice becomes thicker and more like a syrup texture. This takes around 4 minutes.
Second Step: Add half of the lemon slices as well as the syrup mixture. Put them in a mesh strainer over a bowl. Use the back of a wooden spoon and press lightly on the fruit. The liquid should start releasing from the fruit. Repeat the process with the rest of the lemons. Add in the water and stir well. Chill in the fridge until cold. Rub one of the lemon rinds around the rims of the glass and put the top of the glass in the sugar. Serve the raspberry lemonade over ice and enjoy.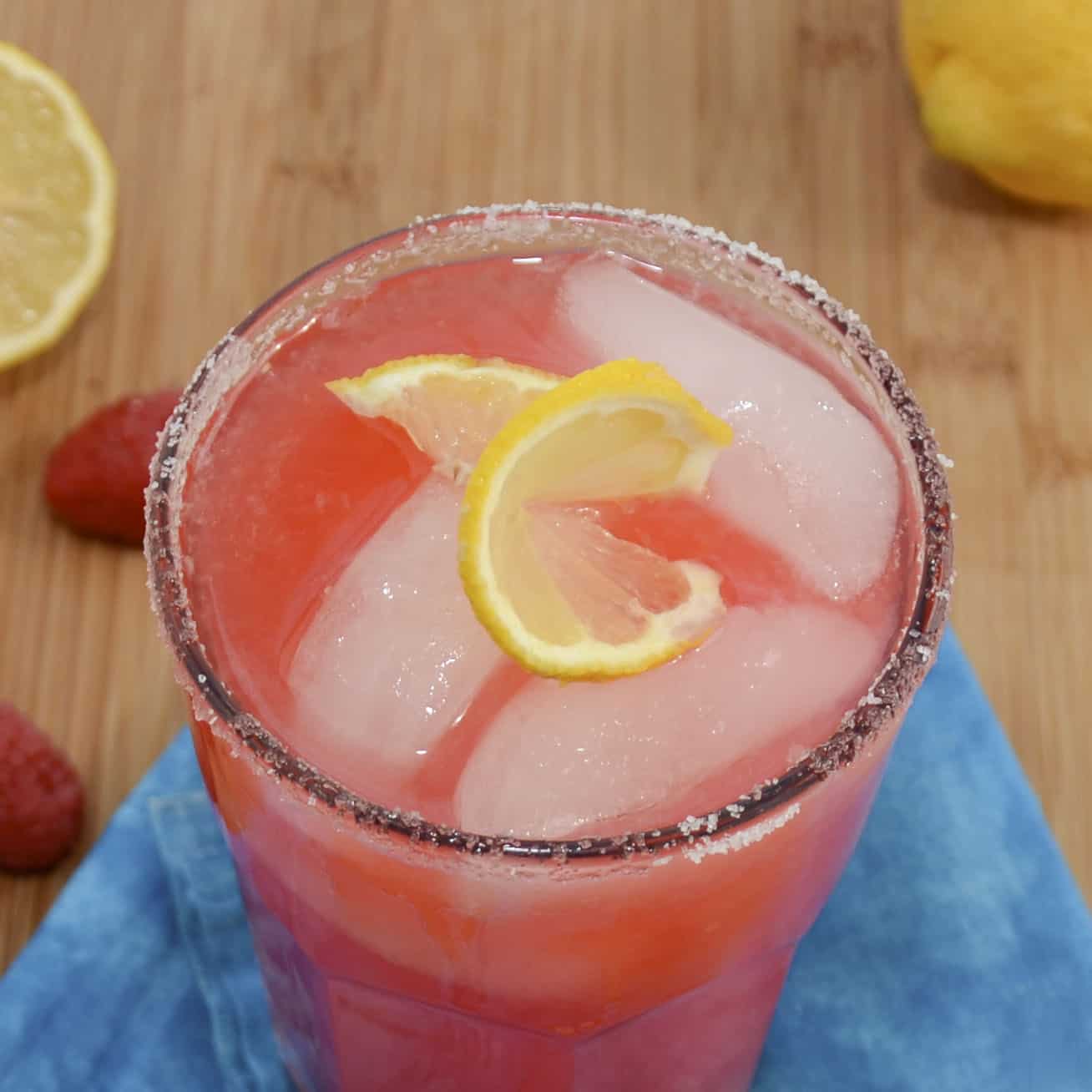 If you are in the mood for some tasty drinks, you are in luck. We have several drinks that are alcoholic and not. We enjoy sipping on drinks for so many occasions. Let's take a look so you can get busy making and sip on them.
Best M&M Boozy Milkshake – This delightful milkshake is delicious and the perfect dessert and cocktail all in one. Sip on one and relax after the day.
Sugar Free Peach Lemonade – You can make homemade lemonade recipes without including this one to your recipes. It's so sweet and tasty—the perfect drink for summer.
Triple Berry Cocktail – If you are in the mood for a cocktail, don't forget to try this triple berry cocktail. It's cool and packed with tons of yummy flavors.
Instant Pot Skittles Cocktail – Enjoy a cool drink for 4th of July this year. Using your instant pot is a game changer and enhances the flavors even more.
Pin this recipe now to remember it later
Ingredients
10

– 12 medium lemons

,

scrubbed well, halved pole to pole, all halves sliced thin

1 ½

cups

fresh raspberries

1 ¼

cups

granulated sugar
Want to save this recipe? Enter your email below and we'll send the recipe straight to your inbox!
NOTE: By saving this recipe, you agree to join our weekly recipes newsletter.
Instructions
In a large, deep bowl combine lemons, raspberries, sugar and salt; set aside for 10 minutes. Mash the mixture with a potato masher until lemon slices give up their juice, sugar is dissolved, and juice is thickened to syrup consistency, about 4 minutes.

Pour half the lemon slices and syrup through large mesh strainer set over a bowl. Press on solids with the back of a spoon to release as much liquid as possible. Discard solids; transfer liquid to serving pitcher. Repeat process with remaining lemon slices. Stir in water until blended. Chill well and stir to blend before serving. To serve: rub one of the used lemon rinds around the rims of the glasses and dip in sugar. Serve over ice.
Follow me on Pinterest for daily delicious recipes!
Get new recipes weekly plus our FREE ebook!