Red velvet gooey butter cookies are so EASY to make, and they taste like a million bucks. If you've never tasted a butter cookies recipe before, then you've been missing out for far too long. The best thing about these gooey butter cookies is that they practically melt in your mouth.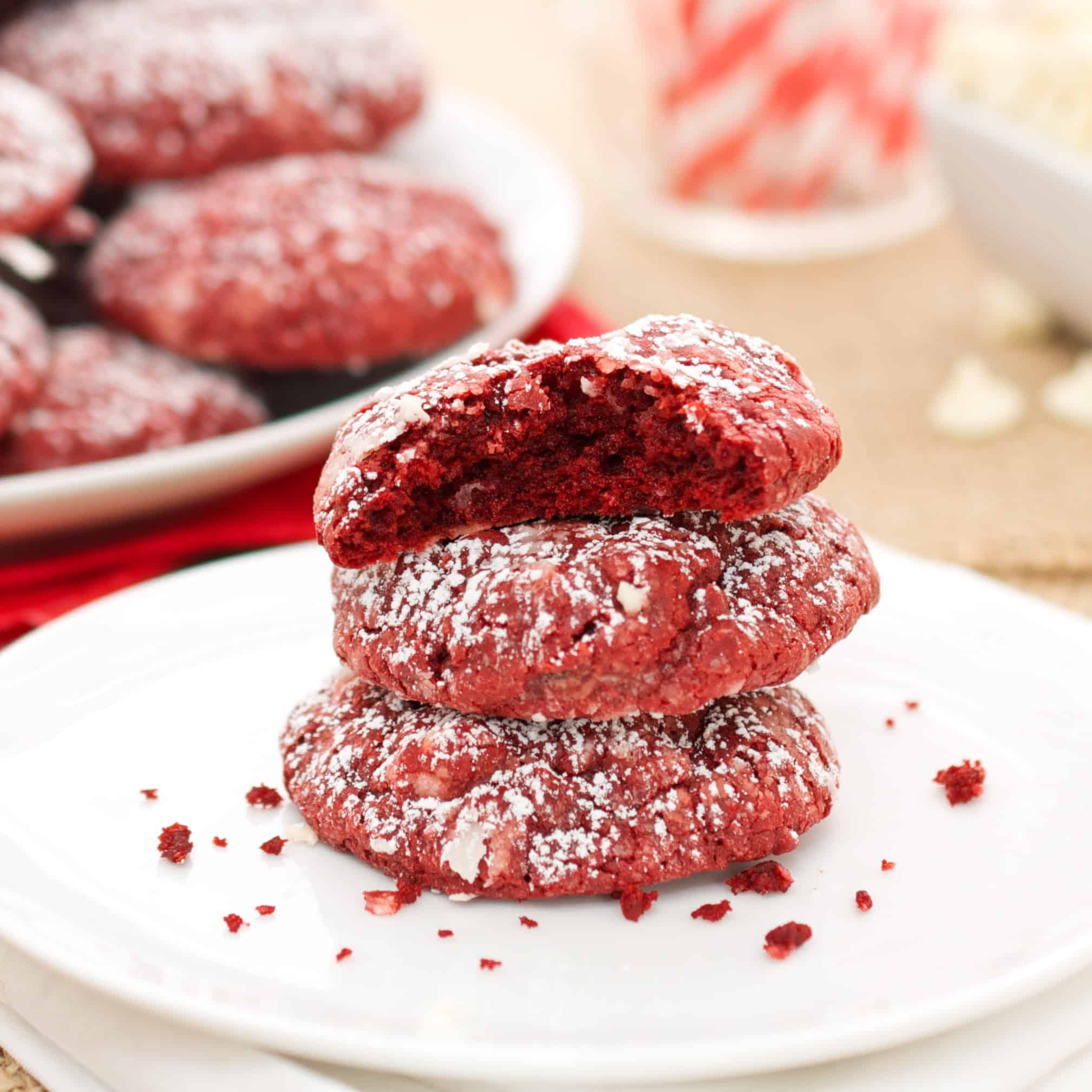 Scroll to bottom for printable recipe card.
Red Velvet Gooey Butter Cookies Recipe
You already know how much I love cookies and red velvet! They are indeed a fantastic combination that everyone should try. That's what inspired me to make these red velvet cake mix cookies, and oh my gosh…they are a HIT! This is the best butter cookies recipe I have had in a long time.
Red Velvet Gooey Butter Cookies Ingredients
I love making treats that require minimal ingredients! It gives us something special to munch on, and we don't have to spend lots of money or time making these easy homemade cookies.
Cream cheese – Use the cream cheese at room temperature, so it mixes properly. It makes these simple cookies even more delicious.
Unsalted butter – It gives the cookies the perfect butter flavor you've been waiting for.
Egg – Aim to use a room temperature egg whenever possible.
Vanilla extract – Using a little vanilla goes a long way in making these the best butter cookies ever.
Box red velvet cake mix – I like to use a cake mix for these cookies because it's easy and tastes so good.
White chocolate chips – You could always use regular chocolate chips if you wanted, but I can't get enough of the white chocolate.
Confectioner's sugar – You don't need a ton of confectioner's sugar, and it makes a lovely garnish.
How To Make Red Velvet Cake Mix Cookies
You can make this best butter cookies recipe for parties, family reunions, potlucks, barbecues, and just to have a sweet treat! I promise you'll never go wrong with making a batch of these red velvet cake mix cookies.
First Step: Beat the butter and cream cheese together in a stand mixer with the paddle attachment. It should be smooth and takes a couple of minutes. If needed, scrape down the sides of the bowl. Add the egg and vanilla and beat a little more. Mix in the cake mix and combine until it's incorporated. Carefully fold in the white chocolate chips.
Second Step: Place the red velvet gooey butter cookies batter in the refrigerator for 2 hours.
Third Step: Roll the batter into 1 1/2 inch balls and preheat the oven to 350 degrees F. Prepare 2 cookies sheets by adding parchment paper to them.
Fourth Step: Place some confectioner's sugar in a bowl and roll the cookie dough balls in the powdered sugar. Place the cookie on the baking sheet keeping the cookies 2 inches apart on the baking sheets.
Fifth Step: Bake the cookies for 11-12 minutes until they are set. Allow the red velvet gooey butter cookies to cool on the baking sheet for 5 minutes. Then transfer them to a wire rack to cool all the way. Sprinkle with a little bit of confectioners sugar and enjoy!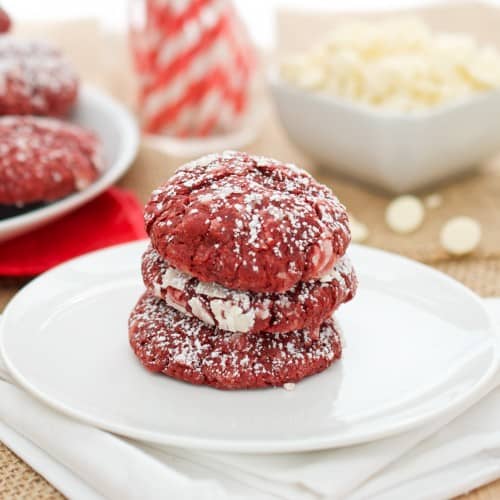 How Many Cookies Do You Get From One Batch?
This batch of cookies makes 2 dozen cookies. You want to make the cookies about 1 1/2 inches when rolling them, so you get 2 dozen. Often times I will double the batch if I want to feed a large group of people or save them for later.
What Is The Best Butter Substitute For Cookies?
Whenever possible, I try to use unsalted butter when baking. However, if you're trying to limit your butter intake or have an aversion to it, there are some alternatives. Take a look at these ideas to try:
Margarine – Replacing butter with margarine is probably the easiest substitute you can try. The cookies will have a slightly different texture and possibly flavor, but overall it's going to closely mimick the original recipe.
Applesauce – You can use 1/4 cup of applesauce instead of butter for this recipe. I prefer to use unsweetened applesauce. It will make them extra fluffy and cake-like.
Greek Yogurt – Using Greek yogurt adds some protein to the cookies and keeps them a similar texture as butter. Use 1/4 cup of Greek yogurt per stick of butter.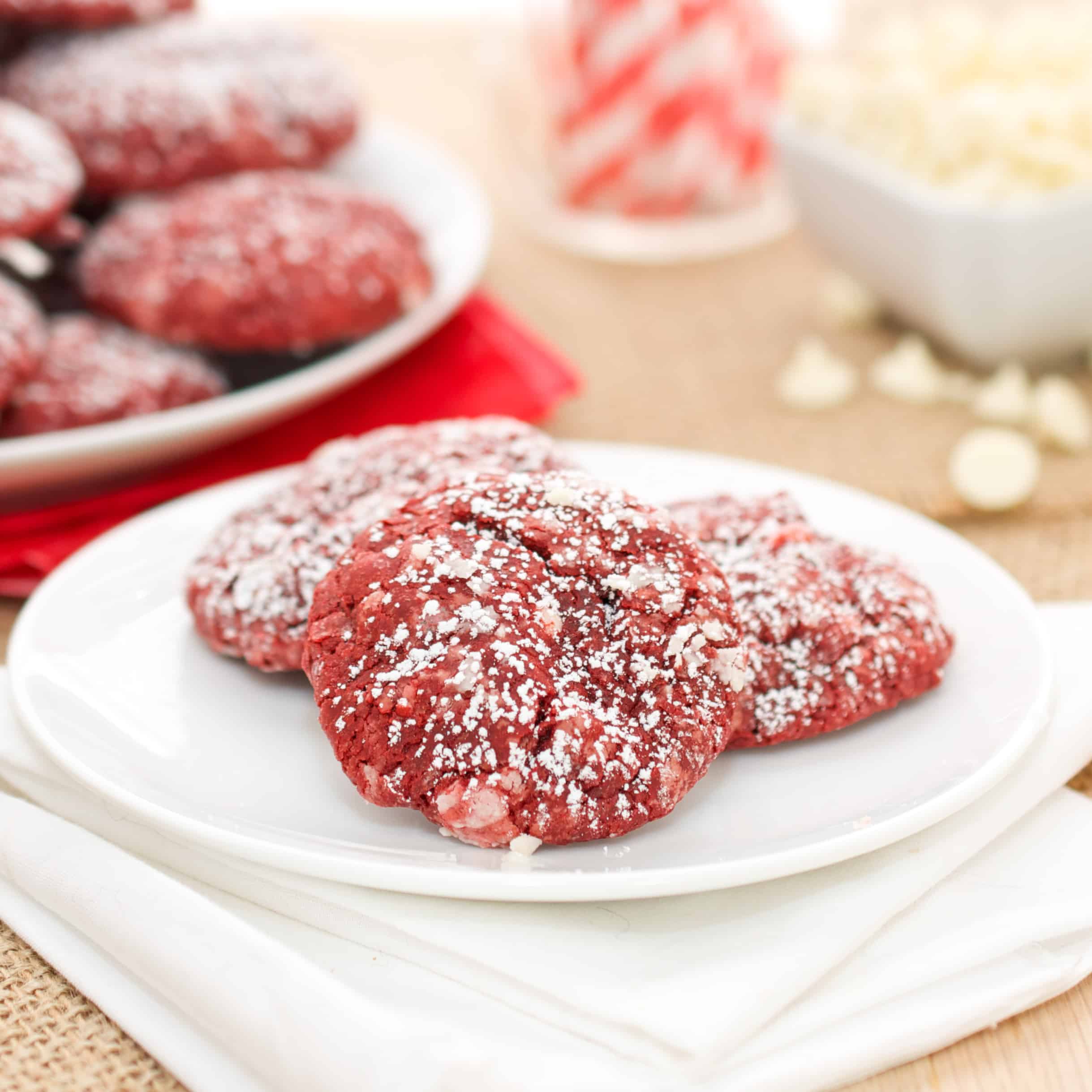 Why Are My Cookies Hard?
If your cookies turn out hard, it could be because they were overmixed. When you overmix the cookie batter, it can cause air bubbles to develop then when they pop from the heat of the oven; it causes the cookies to become hard. Another thing that could have caused hard cookies is that if you baked them too long.
If you take the cookies out of the oven when they still look a little undercooked and leave them on the baking sheet, they will finish cooking. This will prevent them from being hard or crunchy.
How Do You Store Red Velvet Gooey Butter Cookies?
Store the butter cookies in an airtight container or ziplock bag. Keep them in a cool, dry place in your pantry or on your counter and away from heat or steam. They will last 4-5 days on the counter and can also be refrigerated if you prefer them cold.
These butter cookies are great for making ahead of time so you can have them on hand. I love to give them to neighbors and friends as gifts too.
Can You Freeze This Butter Cookies Recipe?
Yes, you can freeze these homemade cookies. Just put them in a freezer bag or freezer container that is sealed airtight. They will last around 3 months in the freezer. They are great if you want to grab a couple for a snack. Plus, you can easily access them for a last-minute dessert with friends too. To defrost them, place the cookies on the counter until they have thawed, then enjoy!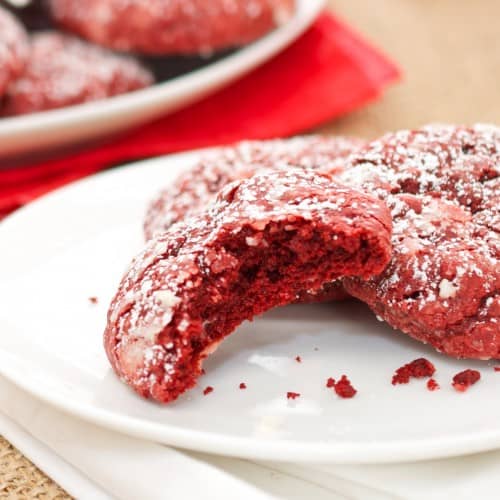 I like to keep a wide variety of cookie recipes handy for all my cravings. Take a look at some of my favorites:
Now, remember to save this recipe on Pinterest for later 🙂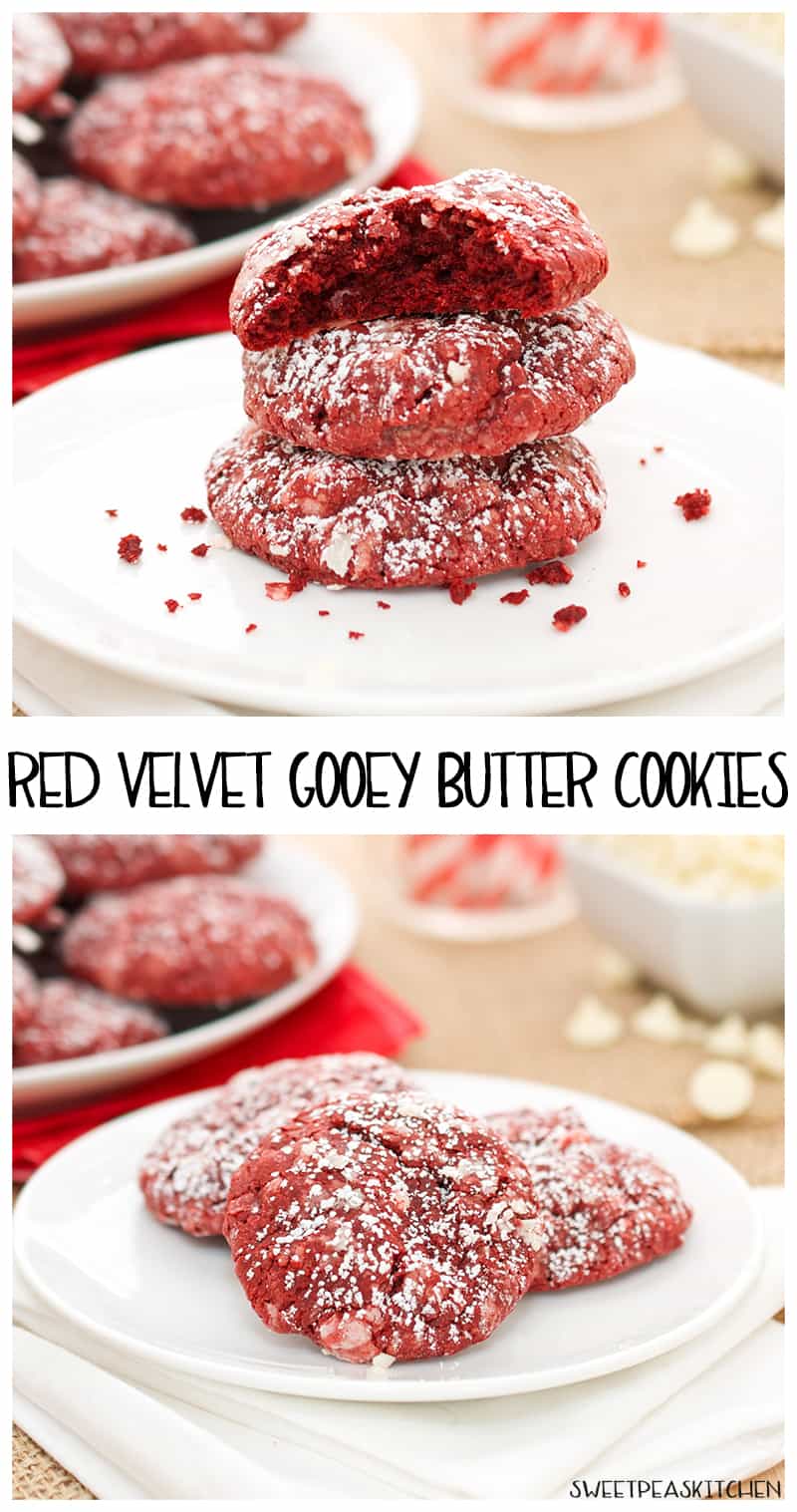 Pin this recipe now to remember it later
Red Velvet Gooey Butter Cookies Recipe
Servings:
2
dozen cookies
These red velvet gooey butter cookies are melt in your mouth delicious! You can make this easy butter cookies recipe with 7 ingredients and they're perfect!
Ingredients
1

8-ounce cream cheese, room temperature

8

tablespoons

1 stick unsalted butter, room temperature

1

teaspoon

vanilla extract

1

18 ounce box red velvet cake mix

1

cup

white chocolate chips

Confectioner's sugar

,

for rolling and dusting
Want to save this recipe? Enter your email below and we'll send the recipe straight to your inbox!
NOTE: By saving this recipe, you agree to join our weekly recipes newsletter.
Instructions
In the bowl of a stand mixer fitted with the paddle attachment, cream the cream cheese and butter on medium speed until smooth, about 2 minutes. Scrape down the sides of the bowl then add the egg and vanilla and beat until well combined. Add the cake mix and beat until incorporated. Fold in white chocolate chips.

Cover and refrigerate for 2 hours to firm up so that you can roll the batter into balls.

Preheat the oven to 350°F. Line 2 cookie sheets with parchment paper.

Add confectioner's sugar to a shallow bowl. Roll a heaping tablespoon of dough into a 1½-inch ball, roll the ball in the powdered sugar and place it on the prepared baking sheet. Repeat with the remaining dough, spacing the balls about 2 inches apart. Bake until set, about 11-12 minutes. Cool 5 minutes on baking sheet, then transfer to wire rack to cool completely. Sprinkle with more confectioners' sugar, if desired.
Follow me on Pinterest for daily delicious recipes!
Can't get enough of this homemade red velvet cake? All of these other tasty desserts have your name on them too. Take a look:
Samoas Cookies Cupcakes – Every bite of these cupcakes is decadent, delicious, and drool-worthy!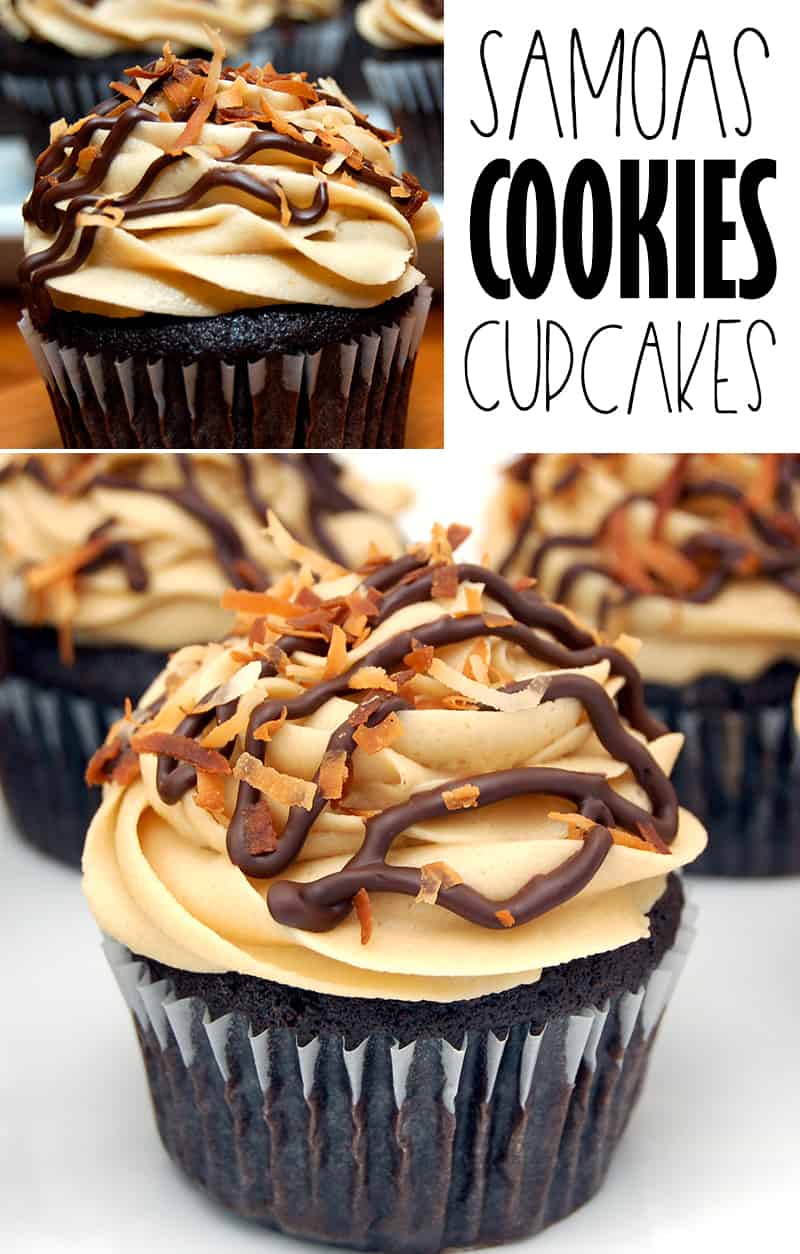 Truffle Peanut Butter Brownies – Cure your chocolate craving with these scrumptious brownies.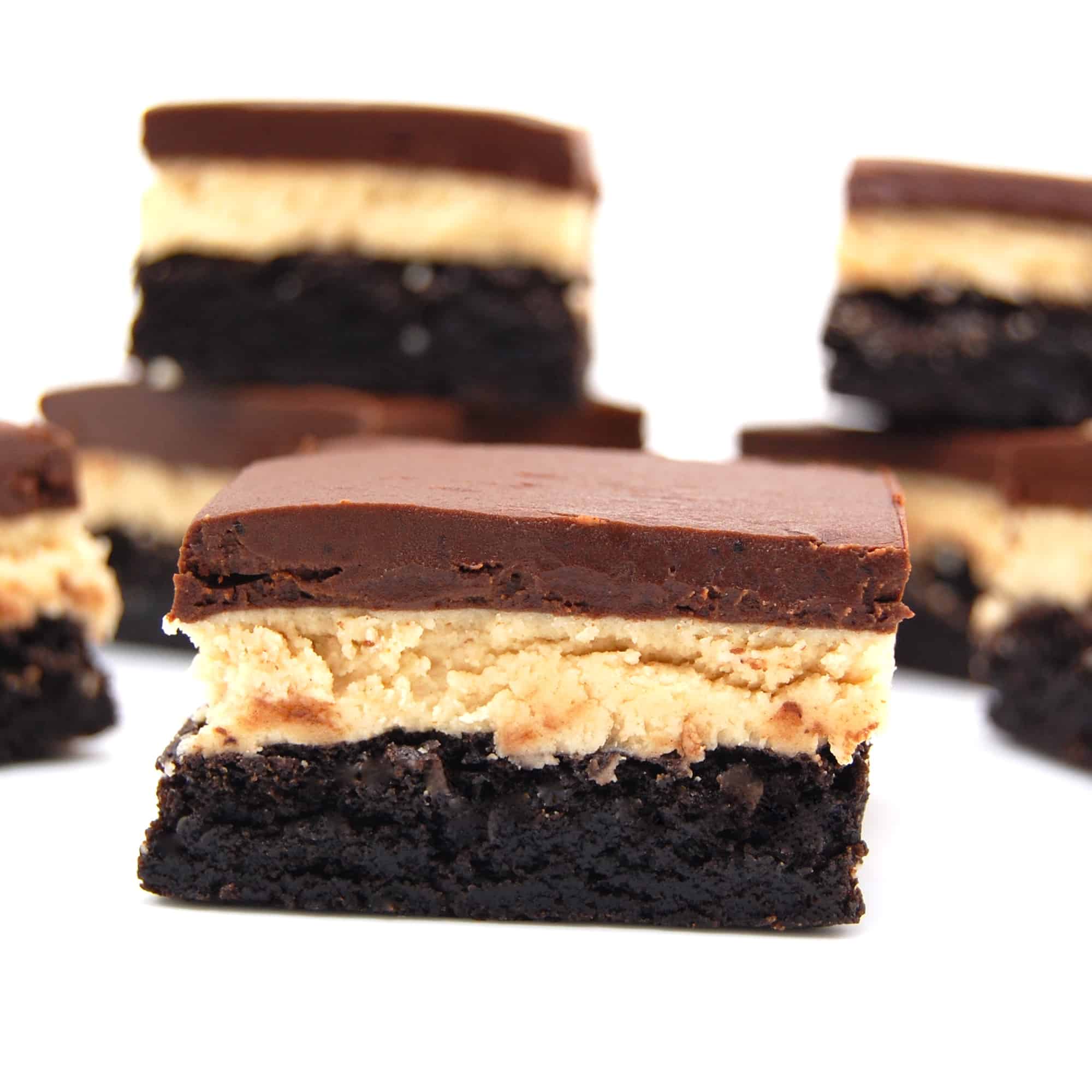 Yule Log Chocolate Roll Cake – Perfect for the holidays, and everyone goes wild for it.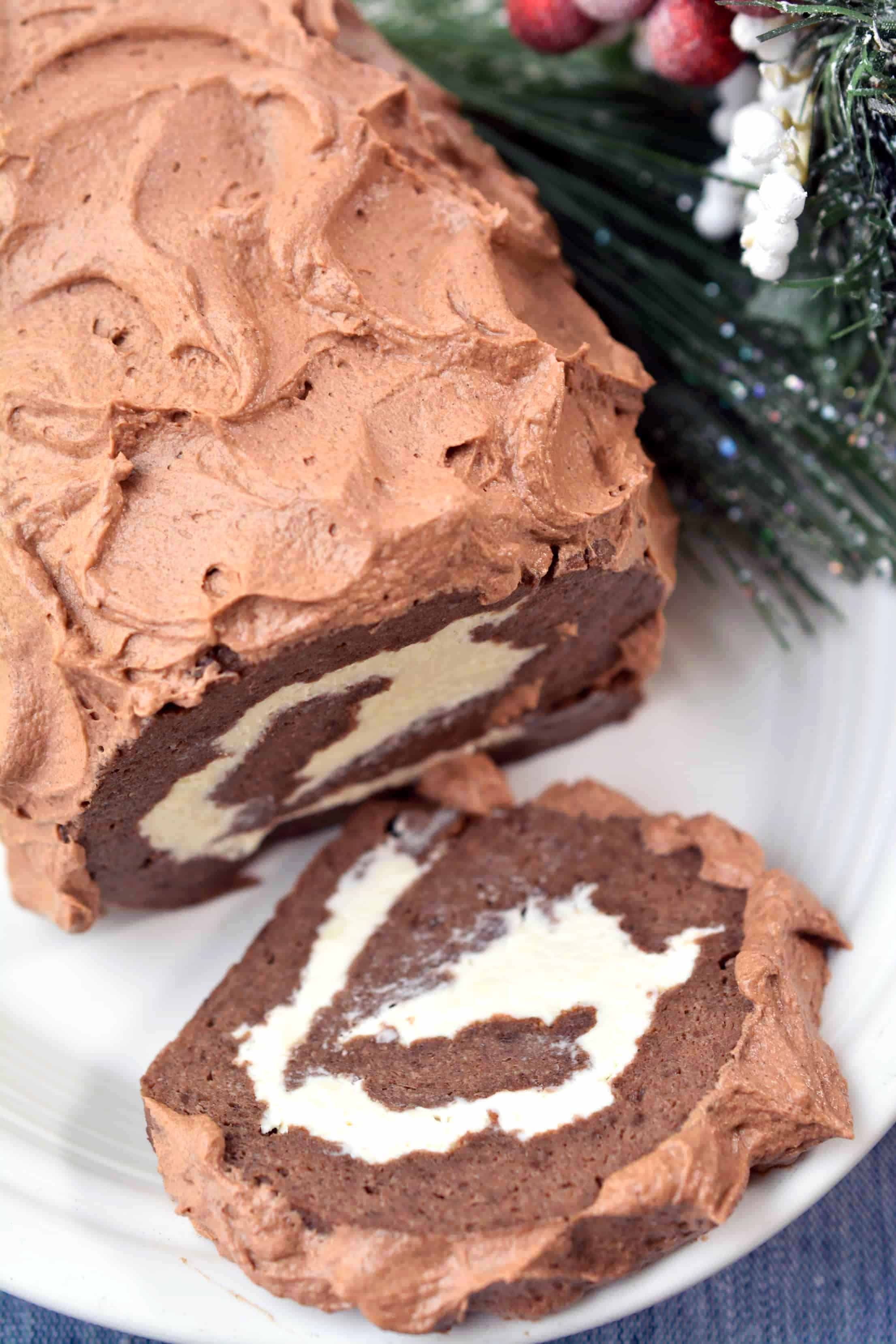 German Chocolate Layer Cake With Coconut Pecan Frosting – You've never had German Chocolate this good before!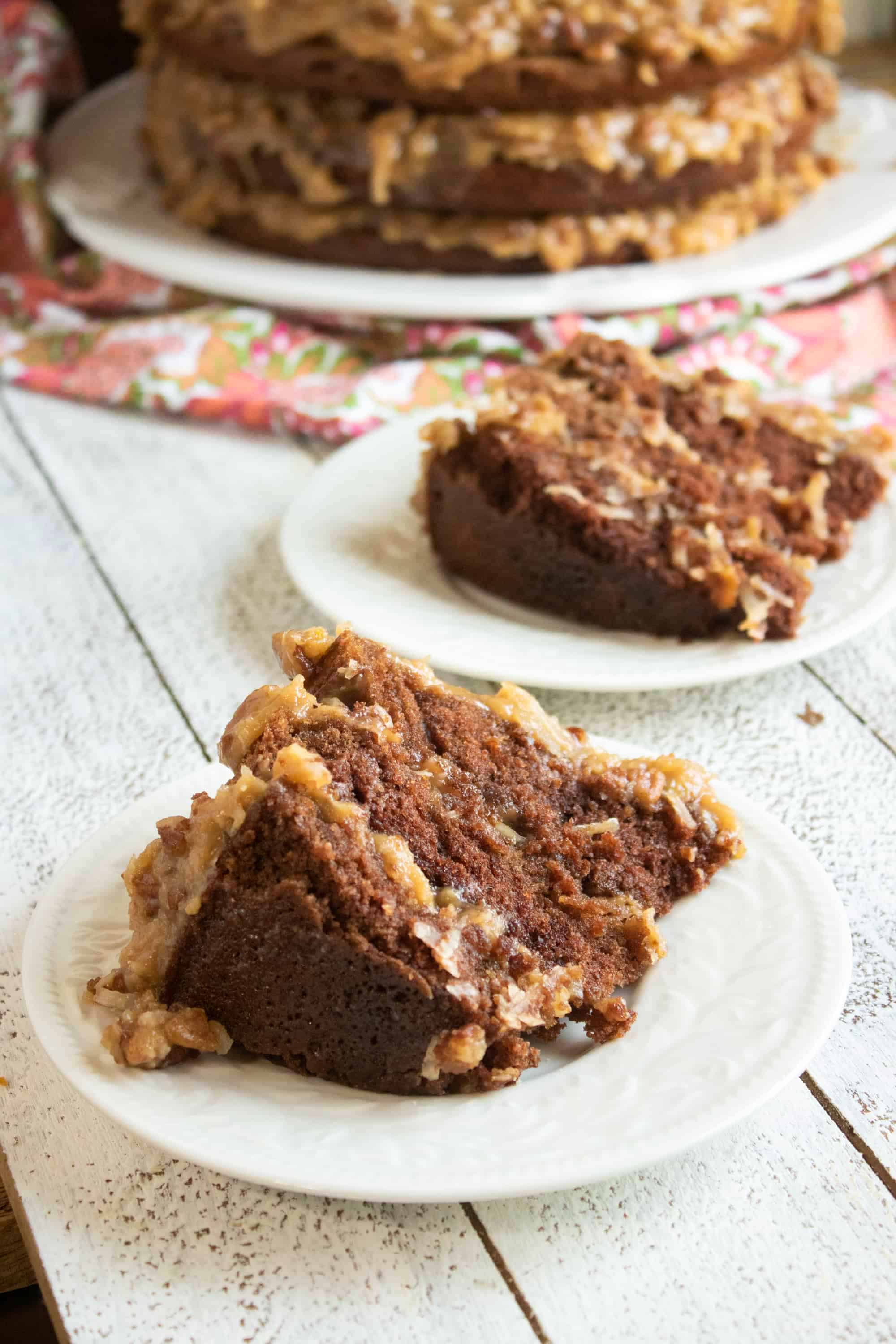 Get new recipes weekly plus our FREE ebook!