Scroll to bottom for printable recipe card.

Spiced Pumpkin Buttermilk Biscuits are what you need for all your fall get-togethers—soft, flaky biscuits with lots of pumpkin flavor in every bite. Pumpkin biscuits are so easy to make, and you've never had anything like them.
Spiced Pumpkin Buttermilk Biscuits
This past weekend when we went apple picking, along with the ten pounds of apples and apple cider that we purchased, I picked up a jar of pumpkin butter. I couldn't wait to smear some on a big slice of bread. But you know me and my obsession with anything pumpkin flavored; I wasn't satisfied spreading the pumpkin butter on a plain piece of toast. I thought back to the Sweet Potato Biscuits that I made last fall, and it finally hit me-pumpkin biscuits! 😀 I needed to make some pumpkin biscuits to go along with my pumpkin butter! One bite into these pumpkin biscuits, and I fell in love. Let me tell you; it took a lot of self-control to not eat more than one!
These tender, flaky Spiced Pumpkin Buttermilk Biscuits are wonderful for an autumn breakfast or even for Thanksgiving dinner! The pumpkin puree gives these biscuits a beautiful golden color and moist crumb, making them an amazing alternative to the boring dinner roll. Bet you can't eat just one! 😉
Is Pumpkin Puree and Pumpkin Pie Mix The Same Thing
Nope! You can't use pumpkin puree interchangeably with a pumpkin pie mix. They aren't the same thing and will not give you the same results. Most pumpkin pie mix doesn't even have pumpkin in it, and it's filled with spices. You really need to use actually pumpkin puree when you are making these fall biscuits. That's the only way they will turn out flaky and delicious as you want.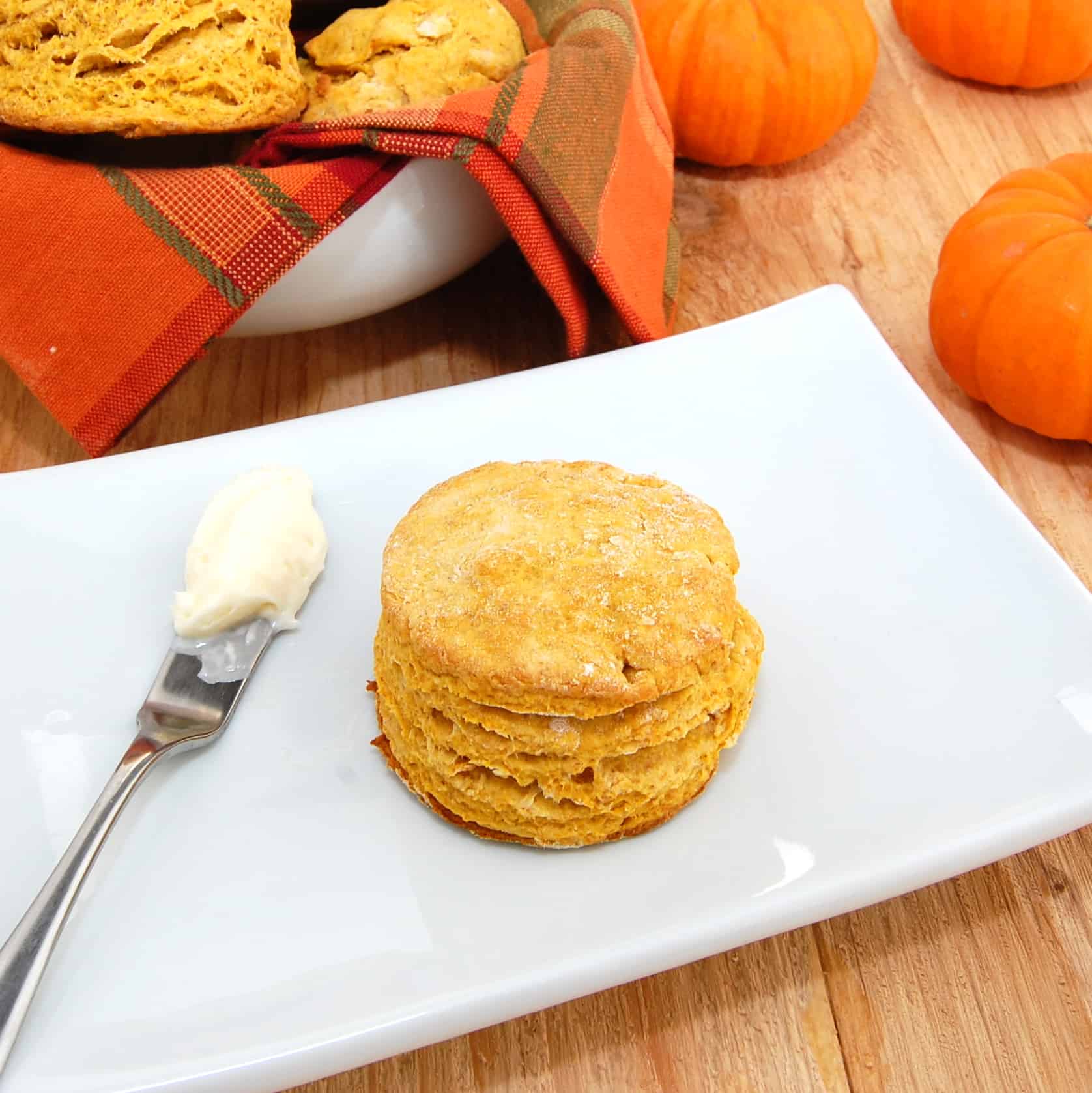 How to Make Homemade Buttermilk
It's pretty simple to make homemade buttermilk for these pumpkin spice biscuits or any of your other recipes. You will need to put one cup of milk in a bowl and add 1 tablespoon of apple cider vinegar, regular white vinegar, or fresh lemon juice. Let the buttermilk sit for 10-15 minutes so it can do its thing; then, you can add it to the pumpkin buttermilk biscuits recipe without any issues.
What If I Don't Have Round Cookie Cutter
No worries if you don't have a round cookie cutter. You can use a lid from a mason jar or another round shape to cut the biscuits. Or, if you are feeling playful, you can use any other shape that you do have on hand. You could even freehand circles when making the pumpkin biscuits if you wanted to. So, no need to stress if you can't find your favorite round cookie cutter. It will be okay.
How To Know When Biscuits Are Done
The spiced pumpkin buttermilk biscuits will be golden brown and set up when they are done. You should be able to insert a toothpick into the center of the biscuit, and it should come out clean. The biscuits won't seem doughy at all when they are done baking.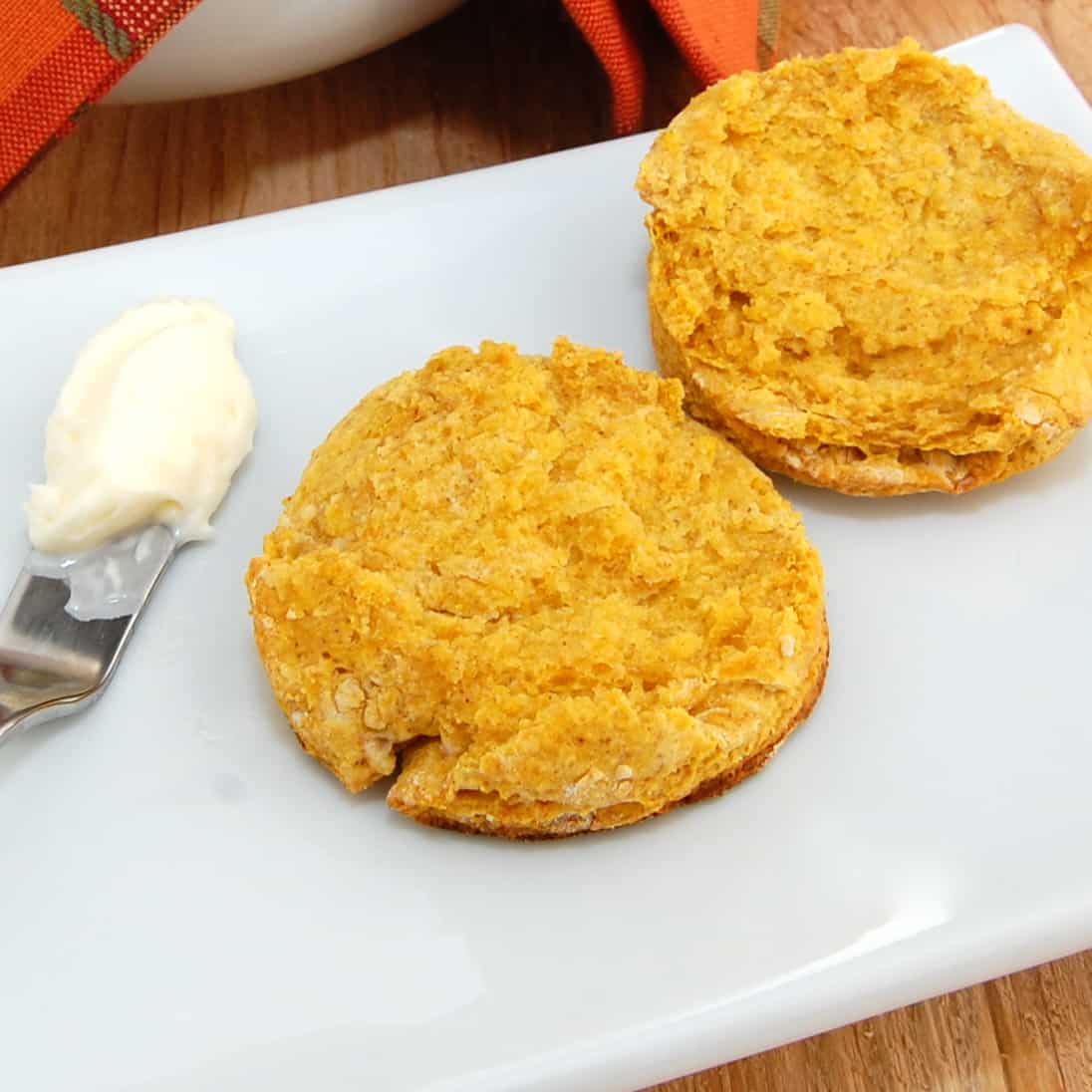 Storing Biscuits
Let the biscuits cool down on a wire rack. Then place them inside of a food container that has a lid that fits well. Keep them at room temperature or in the fridge for 2-3 days. They are best when you can eat them right away, but are still good leftover. You can warm them in the microwave by wrapping them with a paper towel and heating for 10-15 seconds or until hot.
Can You Freeze Leftover Biscuits
Yep! You can totally freeze these spiced pumpkin buttermilk biscuits. They are so wonderful to have on hand during the holiday season. I will often make a big batch in early September and enjoy them through the fall months. Keep them in a freezer safe container or bag, and they will last 1-2 months in the freezer.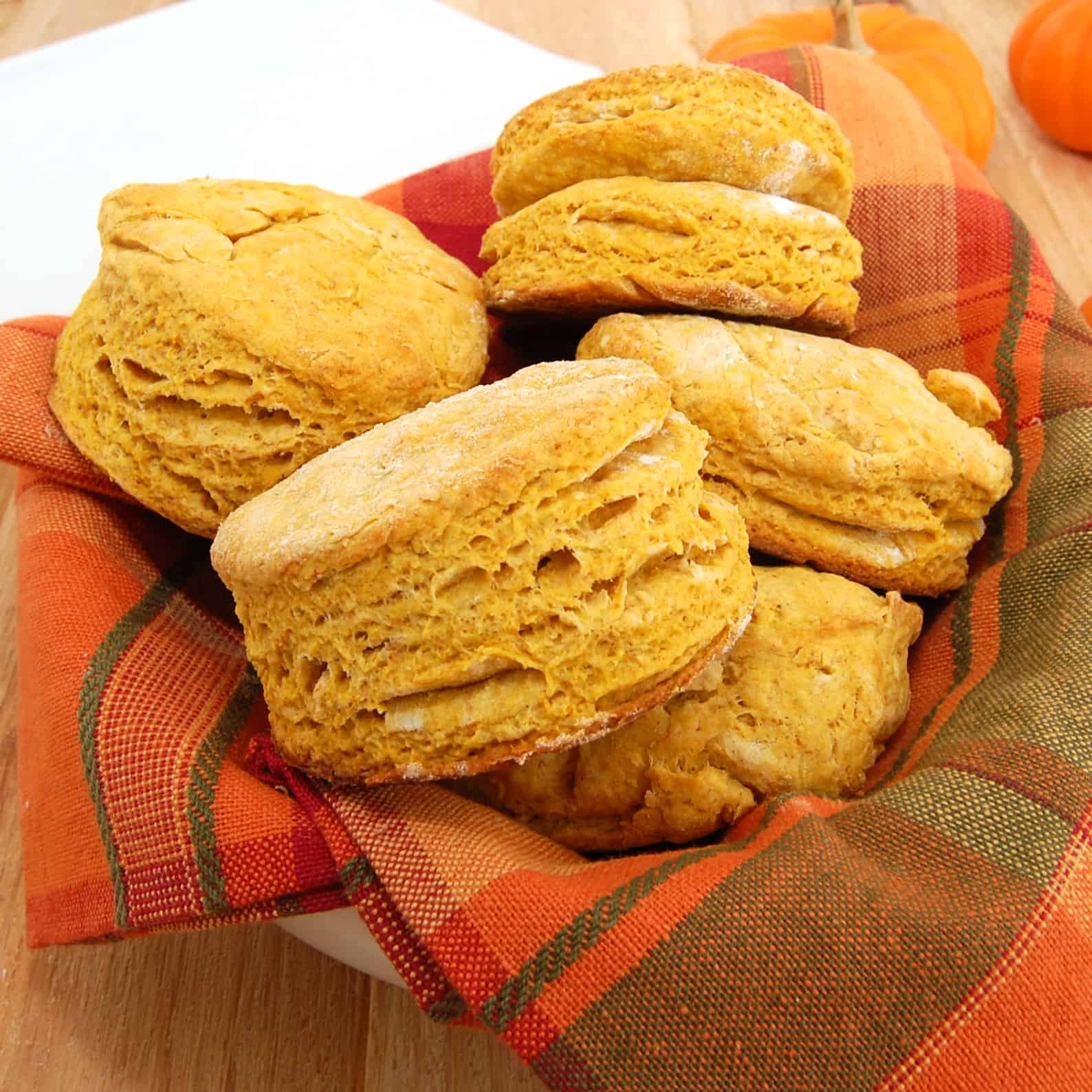 Ingredients
All-purpose flour
Sugar
Baking powder
Salt
Pumpkin pie spice
Chilled butter
Buttermilk
Pumpkin puree
Honey
How to Make Fall Biscuits
I think you are going to be loving these fall biscuits as much as I do. Let's get started.
First Step: Warm up your oven to 400 degrees F. Then line your baking sheet with a piece of parchment paper.
Second Step: Using a stand mixer, you will need to combine the flour, sugar, salt, pumpkin pie spice, and baking powder together. Then add in the chilled pieces of butter and use a fork to coat it with the flour mixture. Turn on the mixer to medium-low speed until you notice it looks like cornmeal. The butter shouldn't be any larger than the size of a pea. You will need to cover the mixture and chill in the fridge for 10 minutes or so.
Third Step: Combine the pumpkin puree, honey, and buttermilk with a whisk in a small bowl. Once blended, you will need to pour it into the flour mixture and combine until moist.
Fourth Step: Place the dough ball on a surface that has been coated lightly in flour. Then knead the dough for 3 or 4 times. If needed, sprinkle on a little more flour. Fold the dough over itself in three sections. You will need to start with the short end and fold it similar to how you would like a piece of paper. Repeat this process one more time.
Fifth Step: Press the dough until it's 3/4 inch thick and then begin cutting with a 3 inch round cutter. Put the biscuits one inch apart on your baking sheet.
Sixth Step: Bake the spiced pumpkin buttermilk biscuits for 13-15 minutes or until they are golden brown. Then take the biscuits off the pan and let them cool for two minutes before serving.
Enjoy!
Now, remember to save this recipe on Pinterest for later 🙂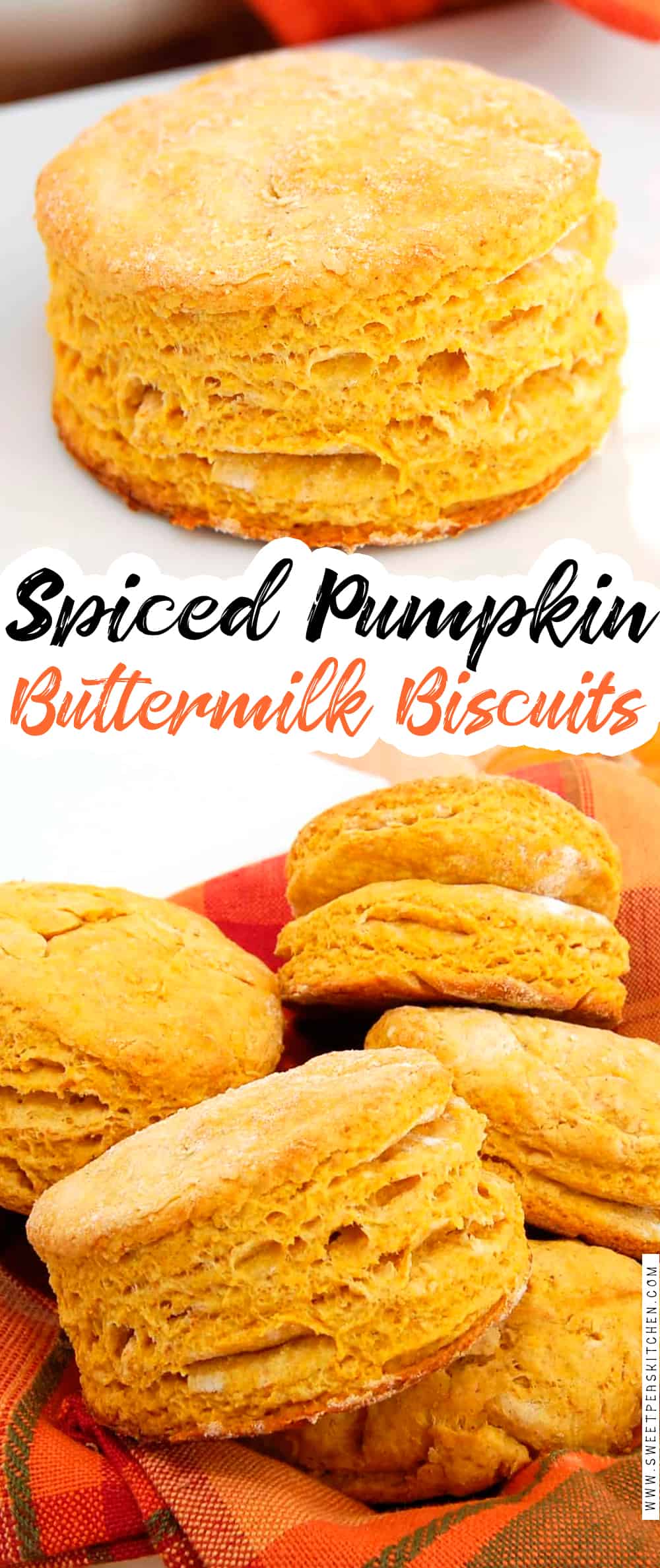 Pin this recipe now to remember it later
Spiced Pumpkin Buttermilk Biscuits
Spiced Pumpkin Buttermilk Biscuits are what you need for all your fall get-togethers—soft, flaky biscuits with lots of pumpkin flavor in every bite. Pumpkin biscuits are so easy to make, and you've never had anything like them.
Ingredients
2 1/2

teaspoons

baking powder

1 1/4

teaspoons

pumpkin pie spice

5

tablespoons

chilled butter

,

cut into small pieces
Want to save this recipe? Enter your email below and we'll send the recipe straight to your inbox!
NOTE: By saving this recipe, you agree to join our weekly recipes newsletter.
Instructions
Preheat oven to 400° F and line a baking sheet with parchment paper..

In the bowl of a stand mixer, fitted with the paddle attachment, mix together the flour, sugar, baking powder, salt and pumpkin pie spice. Add the butter and toss with a fork to coat with the flour mixture. Mix on medium-low speed until the texture resembles coarse cornmeal, with the butter pieces no larger than small peas. Cover and chill 10 minutes.

In a small bowl, whisk together the buttermilk, pumpkin and honey until well blended. Add buttermilk mixture to flour mixture stirring just until dry ingredients are moistened.

Turn dough out onto a lightly floured surface; knead 3 or 4 times, gradually adding additional flour as needed. With floured hands, press or pat dough into a 1/2-inch-thick 9 x 5 inch rectangle. Sprinkle top of dough with additional flour. Fold dough over onto itself in 3 sections, starting with 1 short end. (Fold dough rectangle as if folding a letter-size piece of paper.) Repeat entire process 1 more time, beginning with pressing into a 1/2-inch-thick 9 x 5 inch rectangle.

Press or pat dough to 3/4-inch thickness on a lightly floured surface; cut with a 3-inch round cutter. Place biscuits, 1 inch apart, on prepared baking sheet.

Bake at 400° for 13-15 minutes or until golden. Remove from baking sheet and cool 2 minutes on wire racks. Serve warm.
Nutrition
Serving:
1
g
|
Calories:
177
kcal
|
Carbohydrates:
28
g
|
Protein:
3
g
|
Fat:
6
g
|
Saturated Fat:
4
g
|
Polyunsaturated Fat:
2
g
|
Cholesterol:
16
mg
|
Sodium:
290
mg
|
Fiber:
1
g
|
Sugar:
8
g
Follow me on Pinterest for daily delicious recipes!
The bread and biscuits are often the best part of any meal. Be sure to try all of these recipes too.
Cheesy Quick Biscuits – These are awesome with a fat, juicy steak! Or you can eat them with seafood or just as a snack.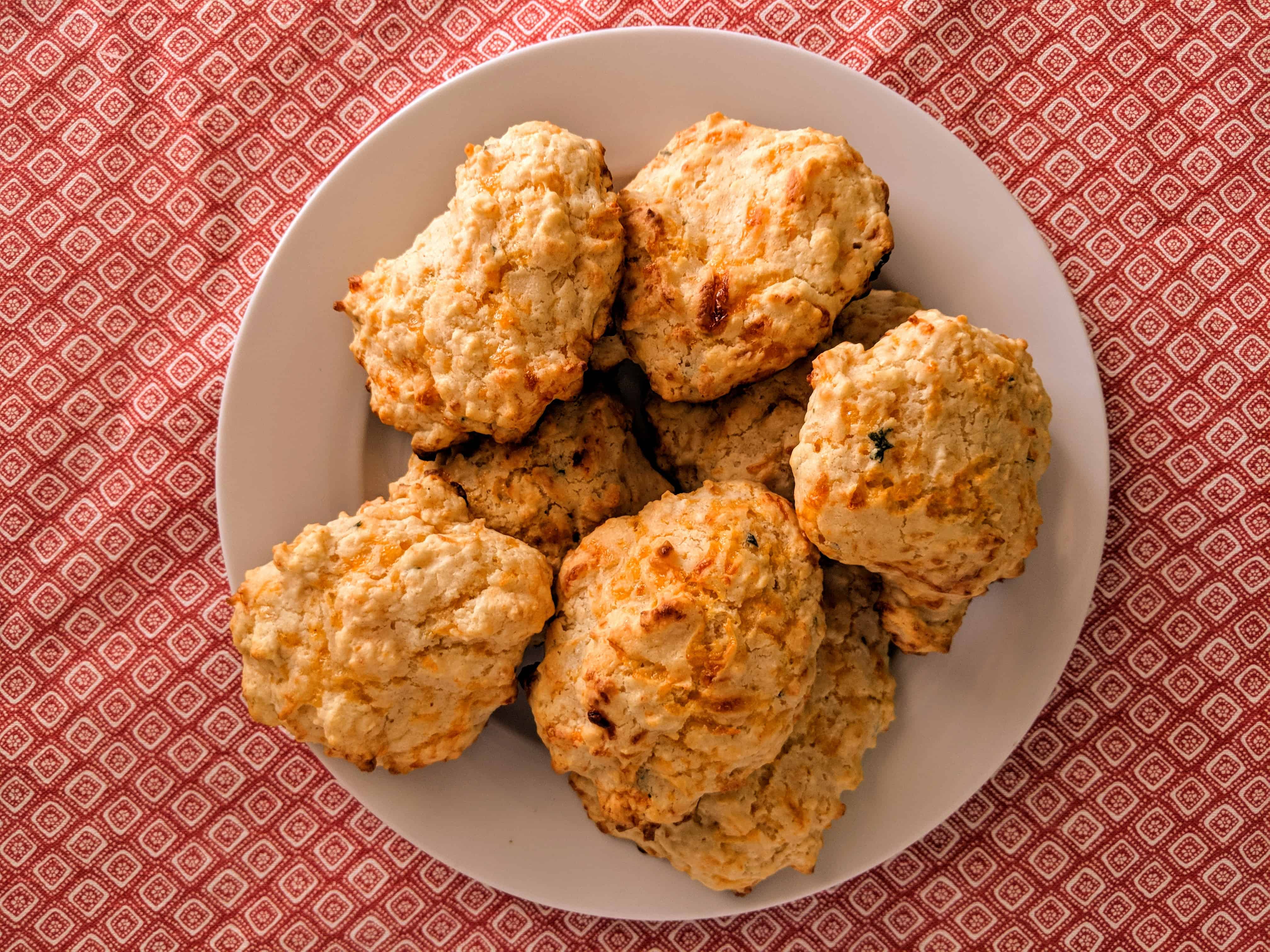 Easy Cream Biscuits – Enjoy a homemade soft and yummy cream biscuit. It's an unforgettable flavor and texture you will love.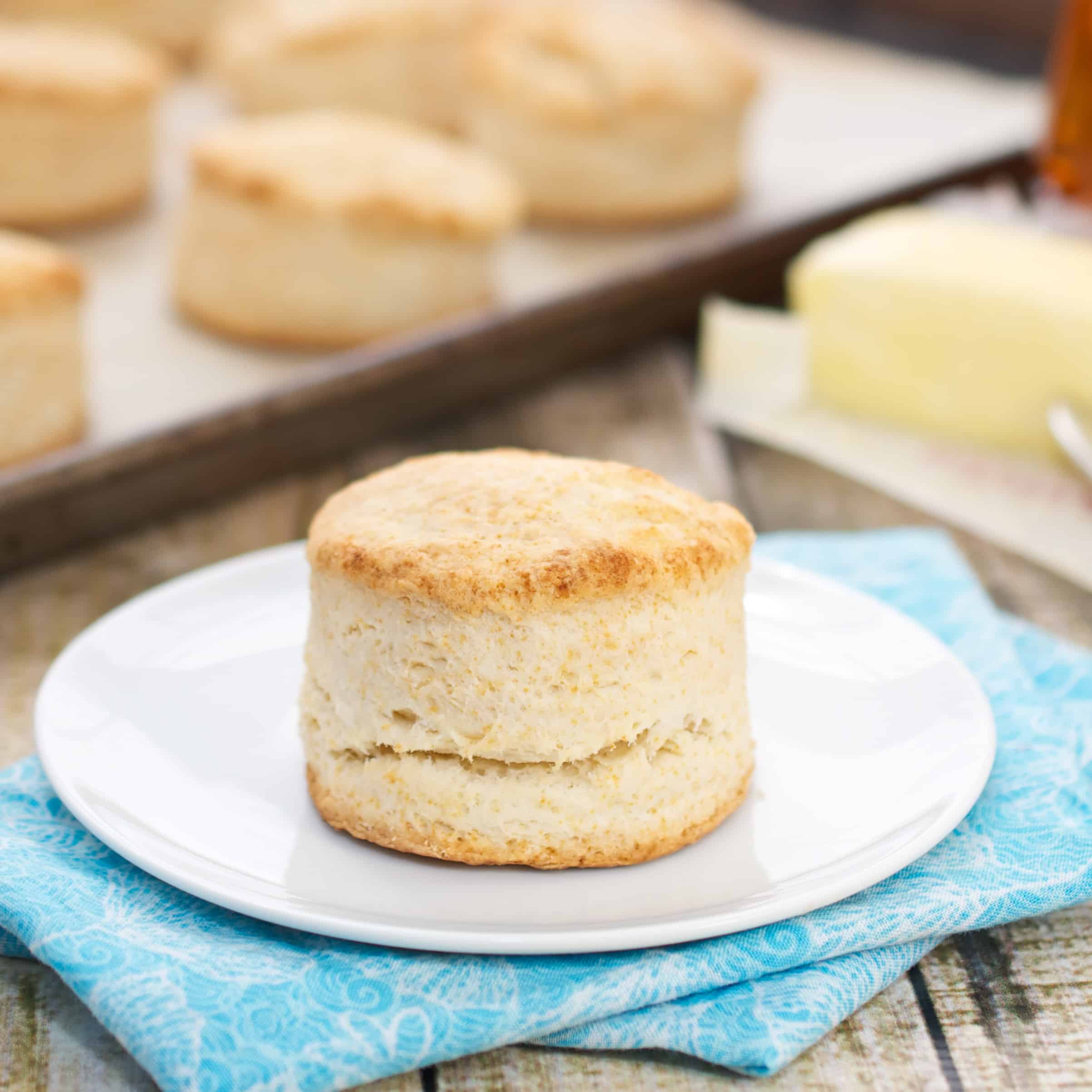 Homemade Cream Cheese Biscuits – Another biscuit recipe I love is this cream cheese biscuit recipe. It's incredible, and unlike anything I have had before.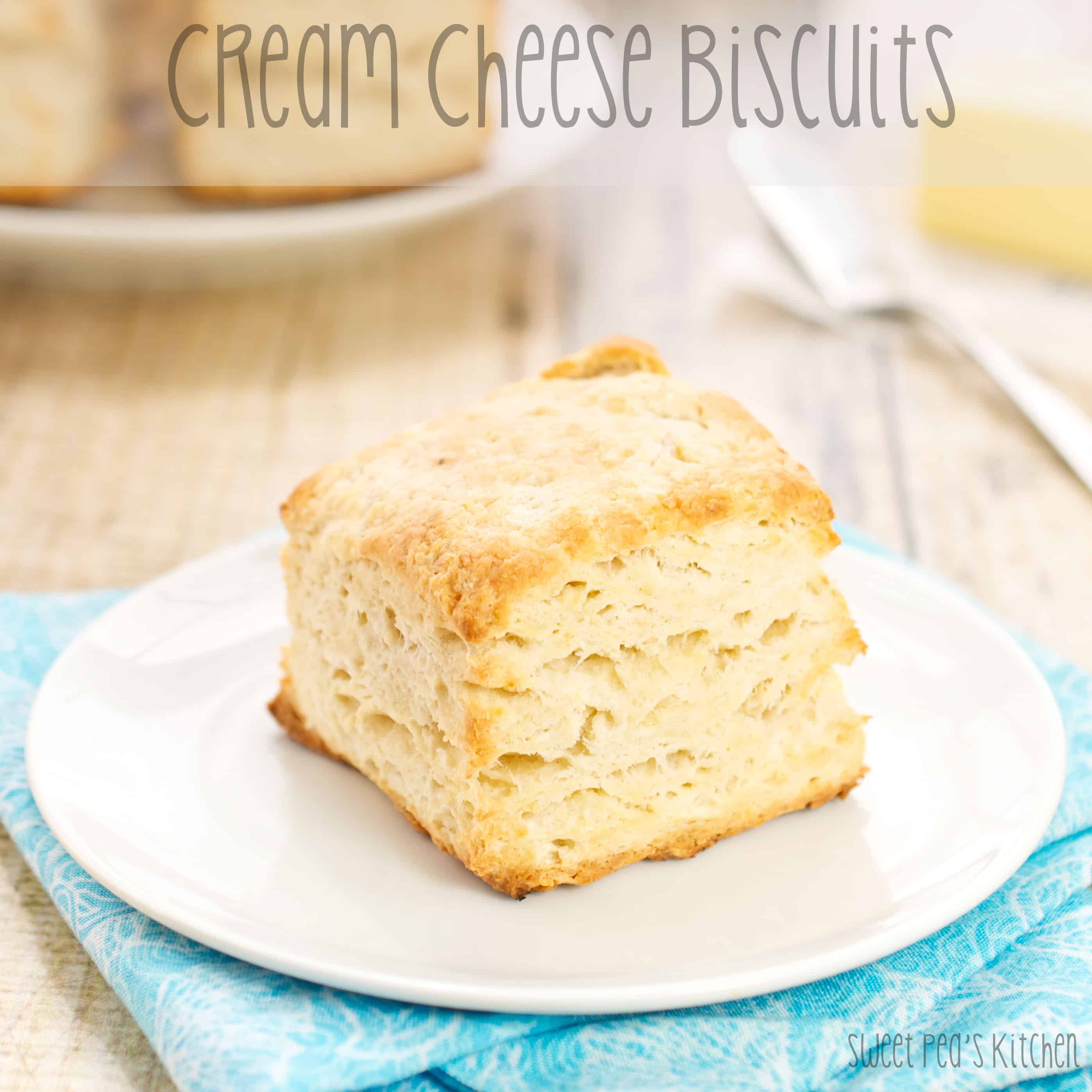 Brown Sugar Pecan Rolls Bread – Serve these next time you invite people over. They will love you for it. Every bite leaves you wanting the next.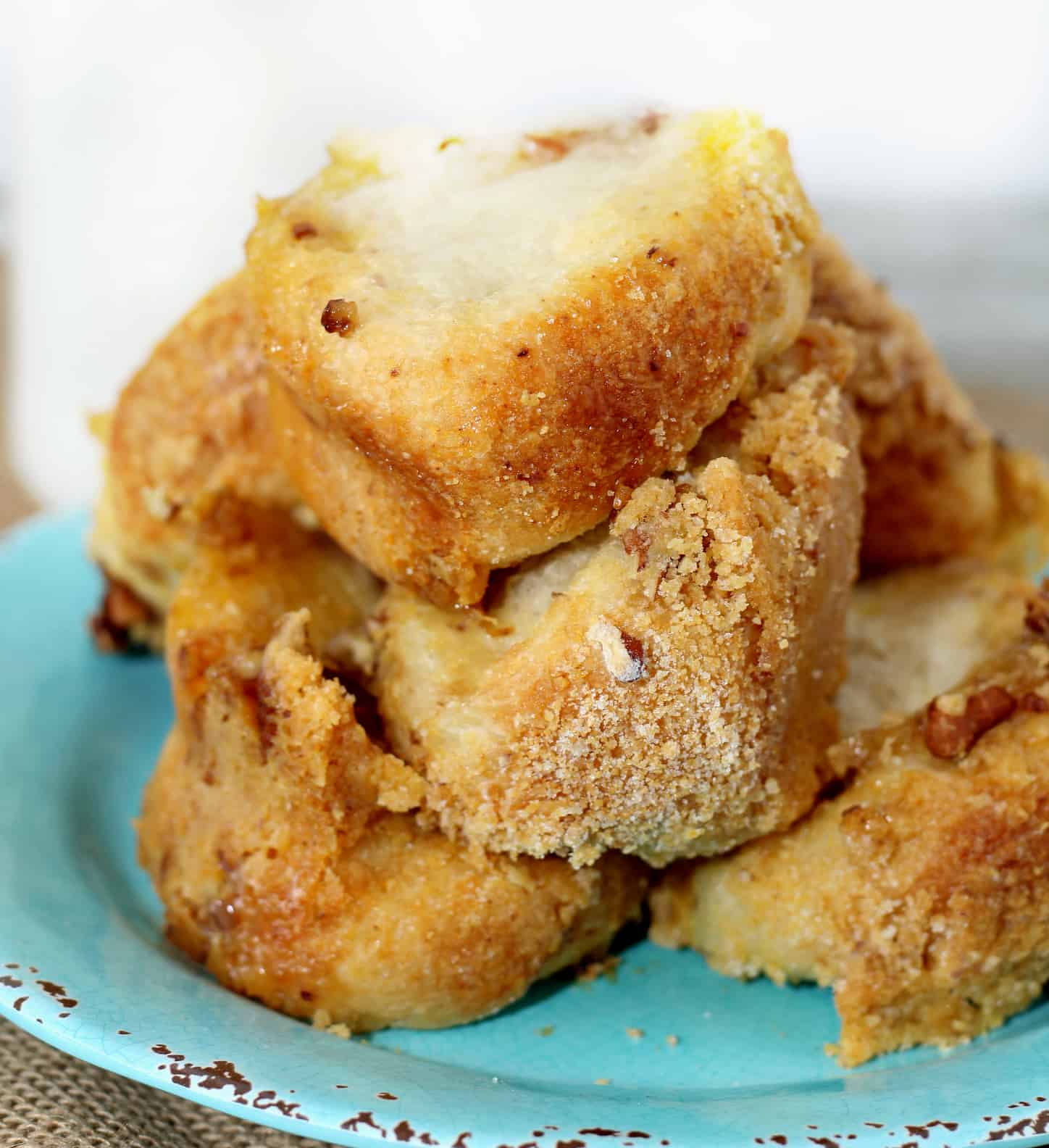 Get new recipes weekly plus our FREE ebook!