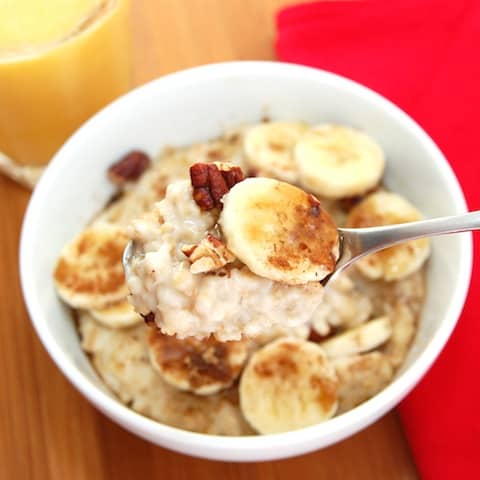 Steel Cut Oatmeal with bananas and toasted pecans are sure to help you jumpstart your day. I usually eat a bowl of oatmeal every morning for breakfast, the heart-healthy whole grains have a distinct heartiness that satisfies for hours. Packed with protein, antioxidants, fiber and complex carbohydrates, it is a healthy and delicious way to start your day. Steel cut oats, also known as pinhead oats or Irish oats, are 100% whole grain oats that are cut, rather than rolled, offering you a heartier texture and a rich, nutty taste. Steel cut oats take a bit longer than traditional rolled oatmeal to make, but it is worth the wait! The prepared oatmeal can be refrigerated for up to 1 week, so you can have steel cut oats even on your busiest mornings. Just warm in the microwave with a splash of milk and enjoy!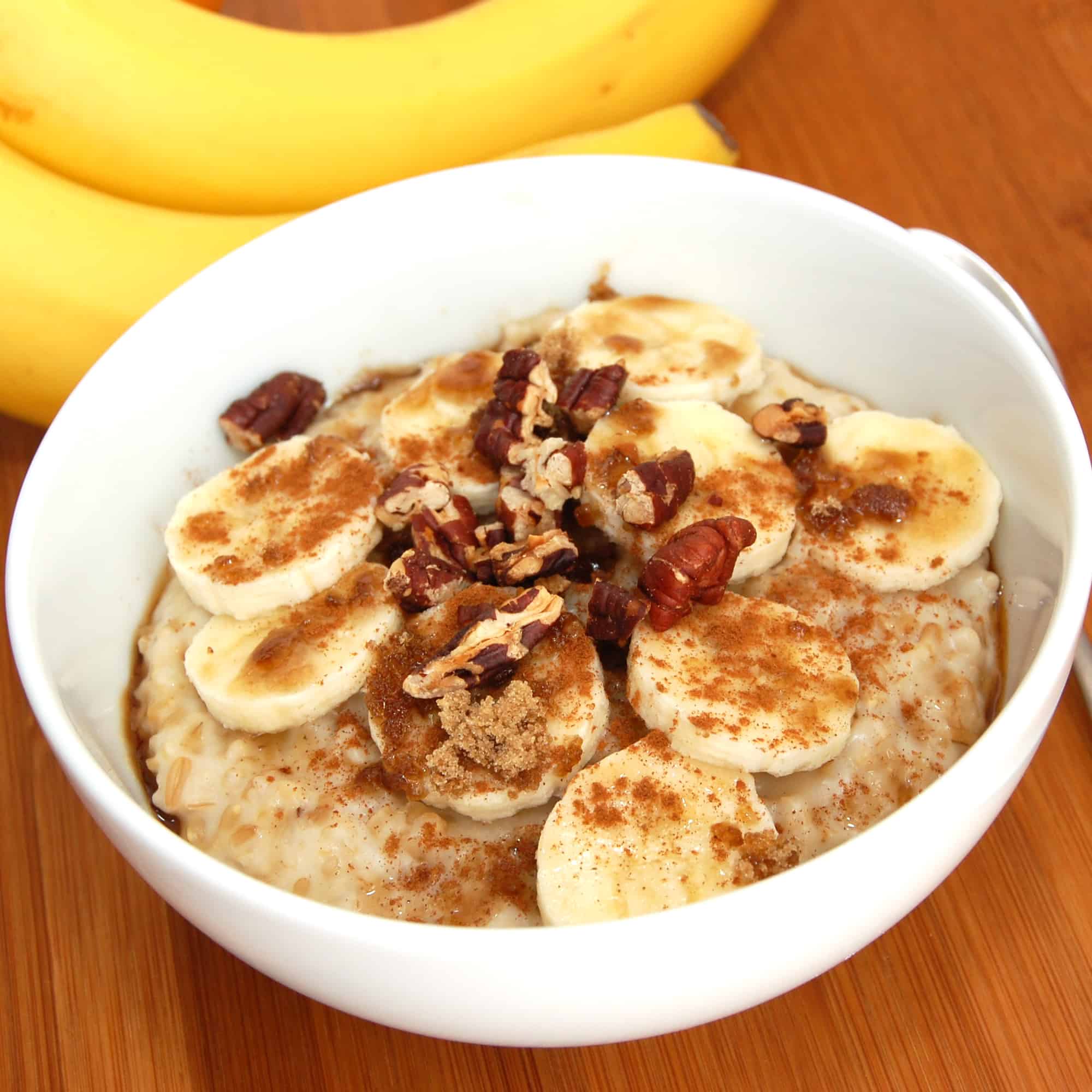 Pin this recipe now to remember it later
Ingredients
1/4

cup

toasted pecans

,

chopped

1

teaspoon

vanilla extract

1

tablespoon

and 1 teaspoon dark brown sugar
Instructions
Preheat over to 350 degrees F. Spread the pecans onto a baking sheet and place in preheated oven 7-10 minutes until fragrant. Shake the baking sheet halfway through baking so the nuts will toast evenly. Remove nuts from oven and set aside to cool completely.

In a large saucepan over medium heat, bring water and milk to a simmer.

In a large saucepot, melt the butter until it just begins to foam and then add the oats. Stir for 2 ½ minutes until golden and fragrant; set aside. Once the milk mixture is simmering, add the toasted oats and reduce heat to medium-low. Simmer uncovered without stirring until the mixture looks like gravy, about 20 minutes. Add salt and vanilla and stir lightly. Continue simmering, stirring occasionally, until almost all the liquid is absorbed and oatmeal is thick and creamy, 7 to 10 minutes. Turn off heat and let stand for 5 minutes.

Spoon into 4 bowls and top each serving with 1 teaspoon brown sugar, dash of cinnamon, 1 tablespoon chopped pecans, and half of a sliced banana.
Follow me on Pinterest for daily delicious recipes!
Source:
adapted from
The New Best Recipe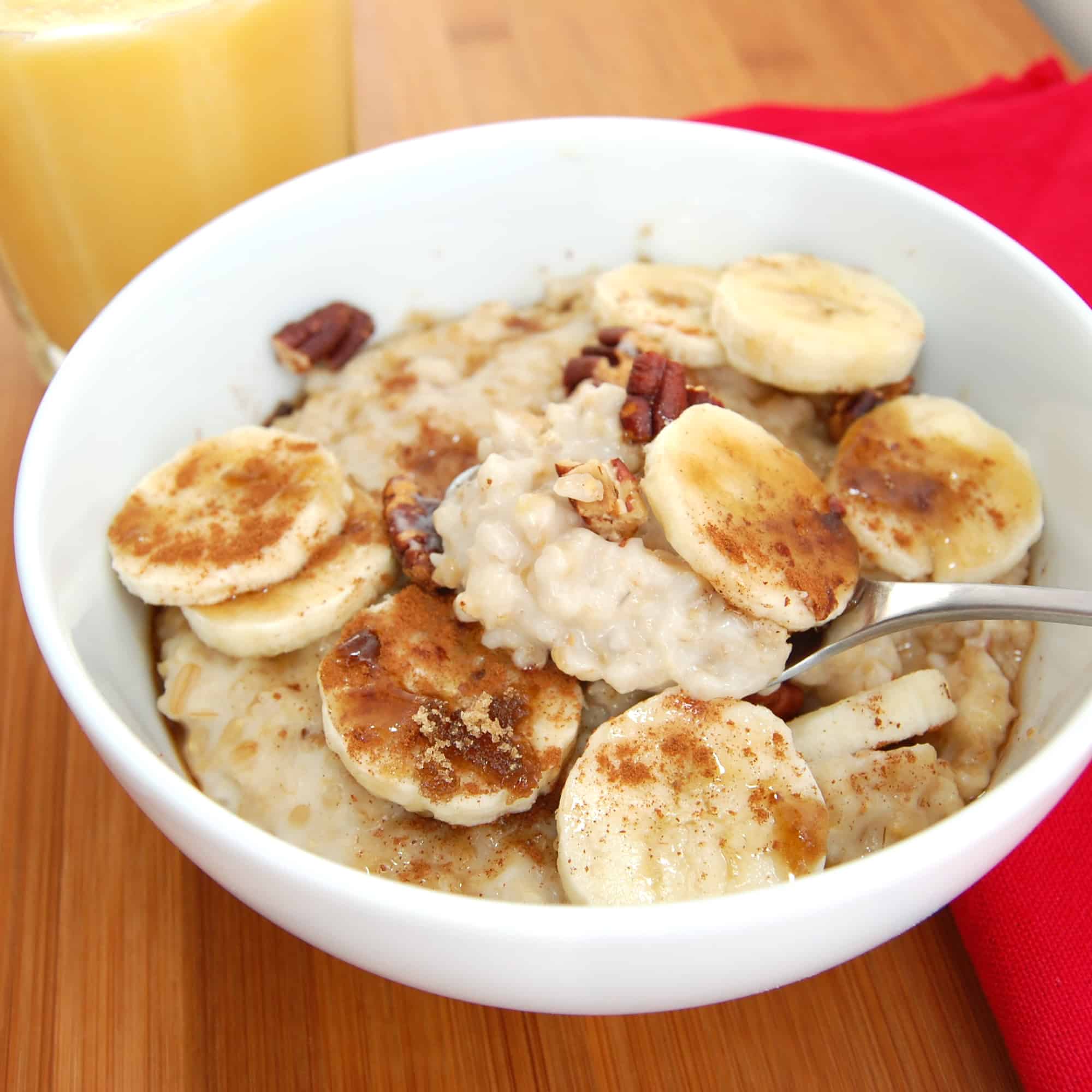 Get new recipes weekly plus our FREE ebook!