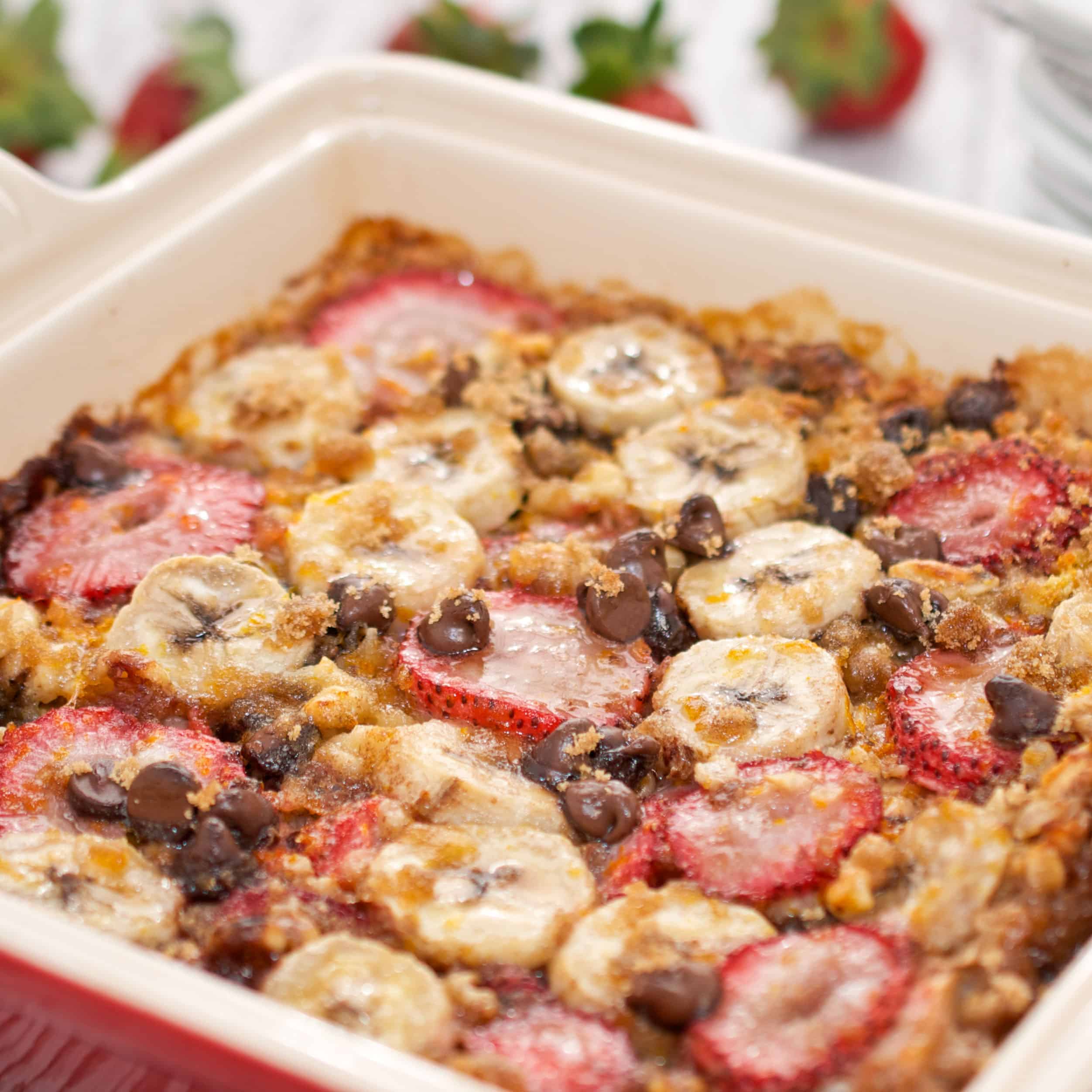 Forget boring oatmeal recipes! You can easily make this mouthwatering Strawberry Banana Baked Oatmeal Recipe instead. It's PACKED with lots of flavor,s and the texture is out of this world. This baked oatmeal is gorgeous and is the perfect dish to add charm and delight to your brunch or breakfast table.
Scroll to bottom for printable recipe card.
Strawberry Banana Baked Oatmeal Recipe
It's strawberry season, everyone! And you know what that means …it's time to get into that kitchen and put that bounty of incredibly delicious little berries to work! Baked oatmeal is a favorite in our house. In fact, my go-to fall breakfast is usually some Baked Apple Walnut Oatmeal. I love it so much that I make it at least once a week when apples are at their best. So when I spotted this recipe for a summertime baked oatmeal featuring one of my favorite fruits, I couldn't wait to give it a try. This simple yet delicious baked oatmeal is perfect for a lazy weekend morning.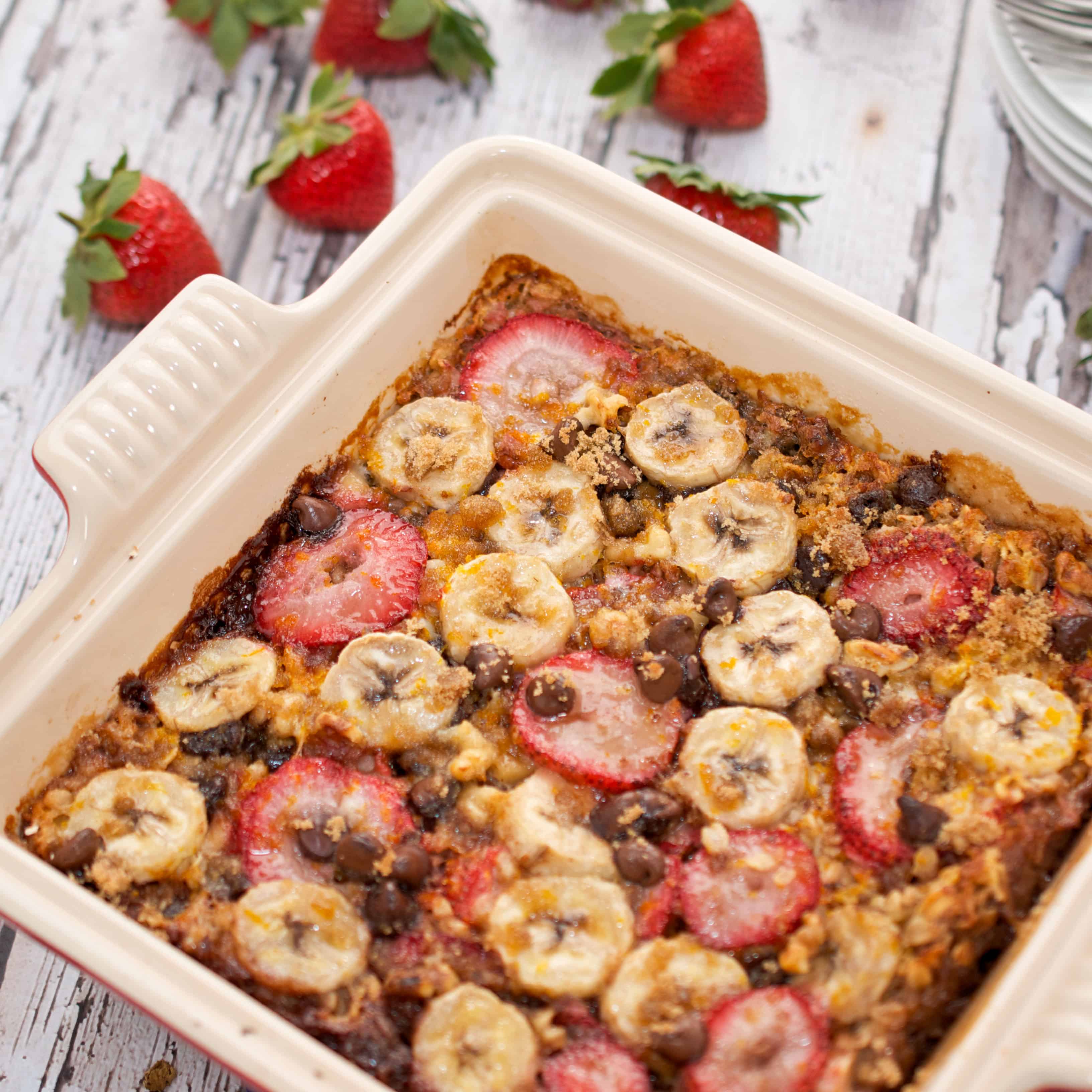 When the family is sleeping, they practically run out of bed when the aroma of this sweet and incredible baked oatmeal hits them. They pretty much beg me to make it on a regular basis, and who am I to turn that down? It's one of our favorite breakfasts of all time because it's just so darn good.
Can You Use Frozen Strawberries Instead?
Yes, if you would rather use frozen strawberries for this baked oatmeal, that is more than fine. The texture will be slightly different from frozen berries, but the flavor will still be amazing. Slice them while they are frozen if you can. If they thaw, they will get more slimy or mushy and won't slice near as well. So you are going to need a sharp knife to make sure they are sliced easily. You can skip rinsing them, but if they start to thaw, you should lightly dap them with a paper towel to ensure that the banana oatmeal bake doesn't get soggy.
Can I Use Steel Cut Oats in Baked Oatmeal?
Yes, you can use steel-cut oats for this baked oatmeal if you want to. Keep in mind if you do switch to steel-cut oats, they will definitely have a bit of a texture difference. This is completely fine and normal, but if you aren't used to eating steel-cut oats, I wanted to point it out. You will get lots of yummy nutrients, whether you use old-fashioned oats or steel-cut oats. The one thing you for sure don't want to do is exchange the old fashioned oats for minute oats. They will, for sure, be too soggy and not as palatable.
Do I Have to Add Chocolate to This Bake?
No, you can skip adding chocolate to this strawberry banana baked oatmeal recipe if you want. I love chocolate and find that I can never get enough, so it makes sense for me to add some in. You can actually adjust the ingredients if you want to. White chocolate chips are heavenly in this oatmeal bake, and so is butterscotch chips. Sometimes we will add in a handful of raisins or switch out the walnuts for pecans. It's very versatile, so don't feel like you can't make changes to it.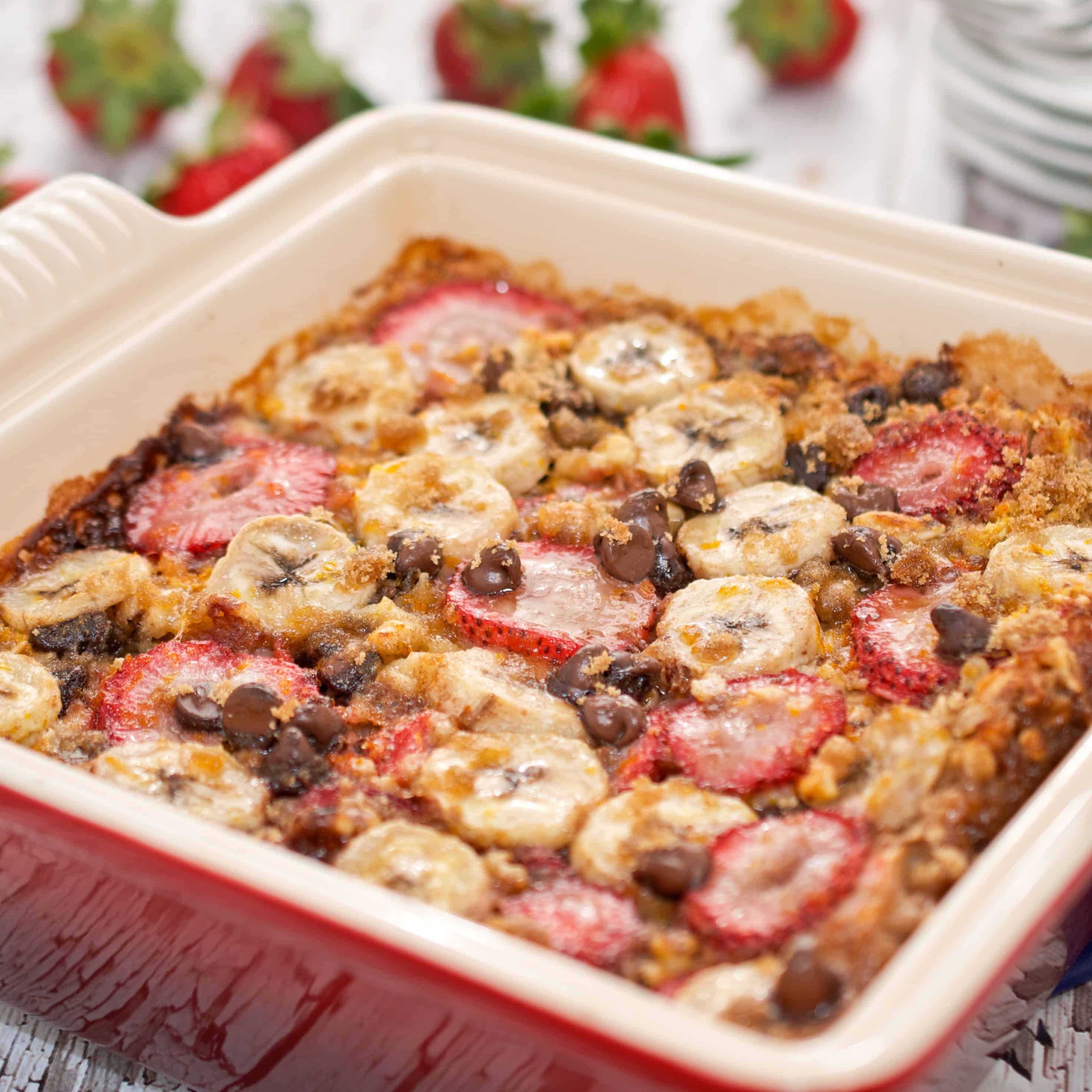 Ingredients
The ingredients in this strawberry oatmeal bake are out of this world. I am so thankful that we started making this because it's a go-to breakfast for pretty much all occasions. You don't have to worry about any weird or hard to find ingredients either. That is a game-changer if you ask me.
Old fashioned rolled oats
Salt
Packed light brown sugar
Cinnamon
Baking powder
Chopped walnuts
Fresh strawberries
Semi-sweet chocolate chips, divided
Milk
Pure vanilla extract
Grated orange zest
Unsalted butter, melted
Large egg
Medium banana, sliced thin
How to Make Baked Oatmeal
I love recipes that I have to put in little effort for. This baked oatmeal is just that! Practically effortless, but it tastes like it's been made in a gourmet kitchen. I can't wait to hear how much you love it too.
First Step: Start off by warming the oven to 375 degrees F. Then take an 8×8 inch baking dish and give it a spray of cooking spray to keep the oatmeal bake from sticking. Set aside for later.
Second Step: Mix together the old fashioned oats, salt, 1/3 cup of the brown sugar, cinnamon, baking powder, half the walnuts, half the chocolate chips, and half of the strawberry slices in a large bowl.
Third Step: Place the rest of the strawberries, walnuts, and semi-sweet chocolate chips on top of the oatmeal. Arrange the banana slices on top and set aside.
Fourth Step: Whisk together the milk, vanilla, orange zest, butter, and egg in a small bowl. Pour the mixture over the top of the oatmeal and strawberries. Give the baking dish a little bit of a shake so it can distribute throughout the oats and other ingredients.
Fifth Step: Bake the baking dish with the oatmeal mixture for 35-40 minutes or until the top is golden brown. Sprinkle 2 tablespoons of brown sugar on top and place back in the oven with the broiler on. Broil for around 1 or 2 minutes until the sugar has melted.
Serve warm and enjoy!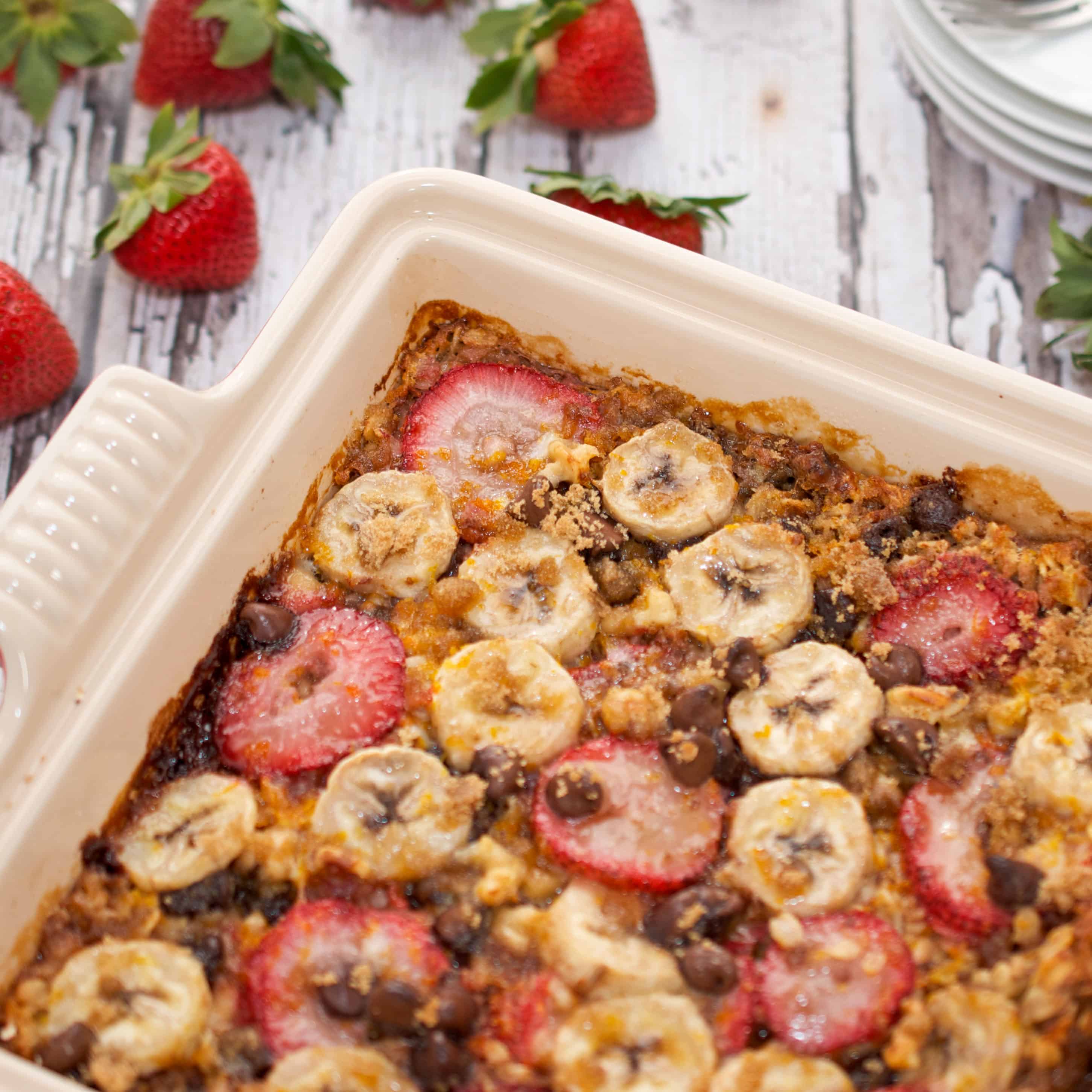 Now, remember to save this recipe on Pinterest for later 🙂

Pin this recipe now to remember it later
Strawberry Banana Baked Oatmeal
Forget boring oatmeal recipes! You can easily make this mouthwatering Strawberry Banana Baked Oatmeal Recipe instead. It's PACKED with lots of flavor,s and the texture is out of this world.
Ingredients
2

cups

old fashioned rolled oats

1/3

cup

plus 2 tablespoons packed light brown sugar

,

divided

1/2

cup

walnuts

,

chopped, divided

1

cup

fresh strawberries

,

gently rinsed and dried, hulled and sliced, divided

1/3

cup

semi-sweet chocolate chips

,

divided

2

teaspoons

vanilla extract

1

tablespoon

grated orange zest

3

tablespoons

unsalted butter

,

melted

1

medium banana

,

sliced thin
Want to save this recipe? Enter your email below and we'll send the recipe straight to your inbox!
NOTE: By saving this recipe, you agree to join our weekly recipes newsletter.
Instructions
Preheat oven to 375° F. Spray an 8×8-inch baking dish with nonstick cooking spray; set aside.


In a large bowl, combine oats, salt, 1/3 cup brown sugar, cinnamon, baking powder, half of the walnuts, half of chocolate chips and half of the strawberry slices. Arrange the remaining strawberries, walnuts and chocolate on top of the oats. Then, scatter the banana slices; set aside.


In a small bowl, whisk together the milk, vanilla, orange zest, butter, and egg. Pour over oat mixture. Gently shake the baking dish to help distribute the milk mixture go throughout the oats.

Bake until golden brown, about 35 to 40 minutes. Remove the oatmeal from the oven and sprinkle the remaining 2 tablespoons of brown sugar. Turn the broiler on and place the oatmeal back in the oven. Broil for 1 to 2 minutes, or until the brown sugar melts. Serve warm.
Follow me on Pinterest for daily delicious recipes!
If you are in the mood for even more outstanding breakfast and brunch recipes, we have lots for you to choose from. Here are some of the favorites of our readers. Enjoy!
Chocolate Peanut Butter Smoothie Recipe – Start the day off right with a delectable and incredible breakfast smoothie. It's like eating dessert, but for breakfast. It's packed with protein and has the best flavor ever.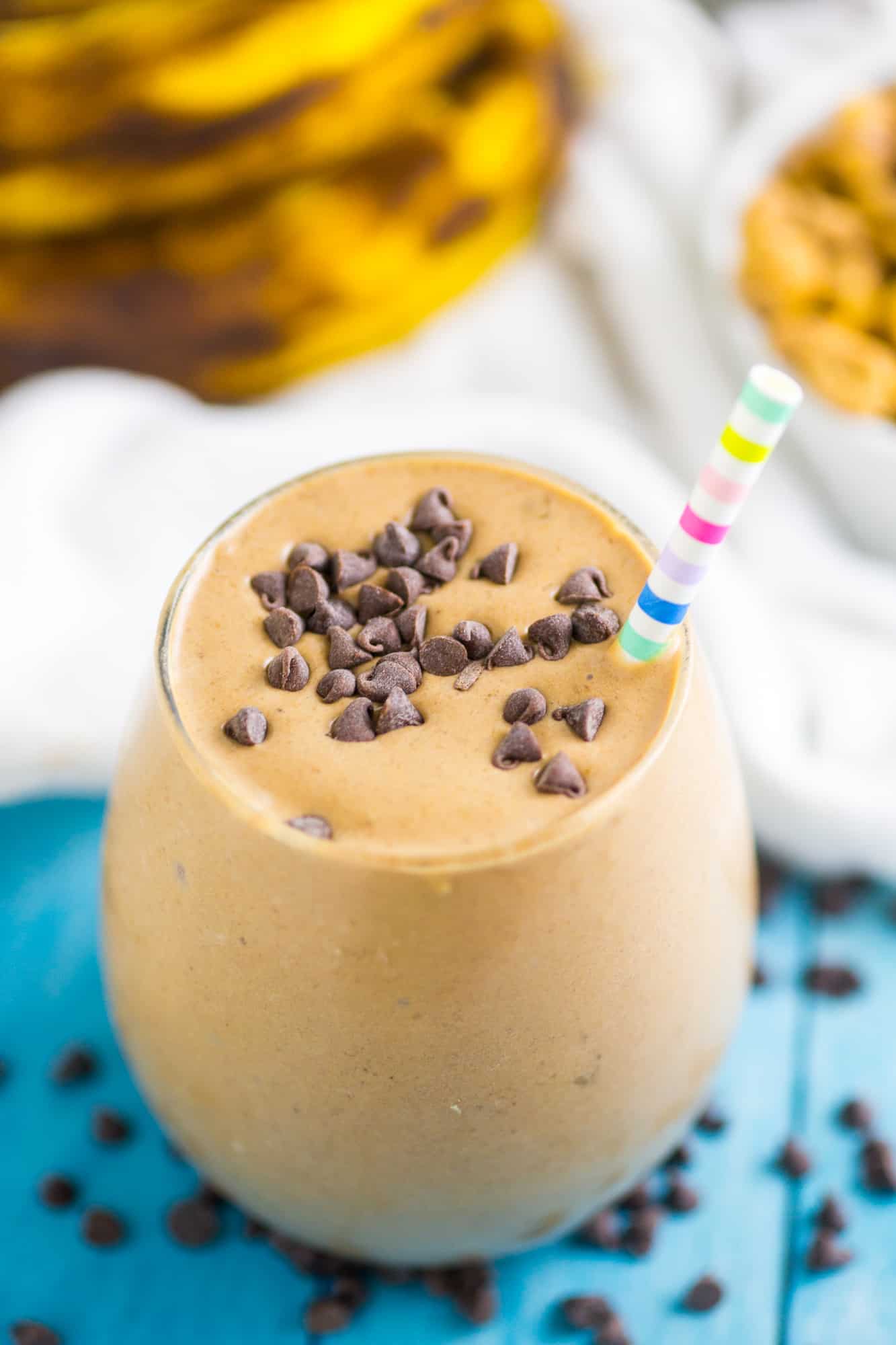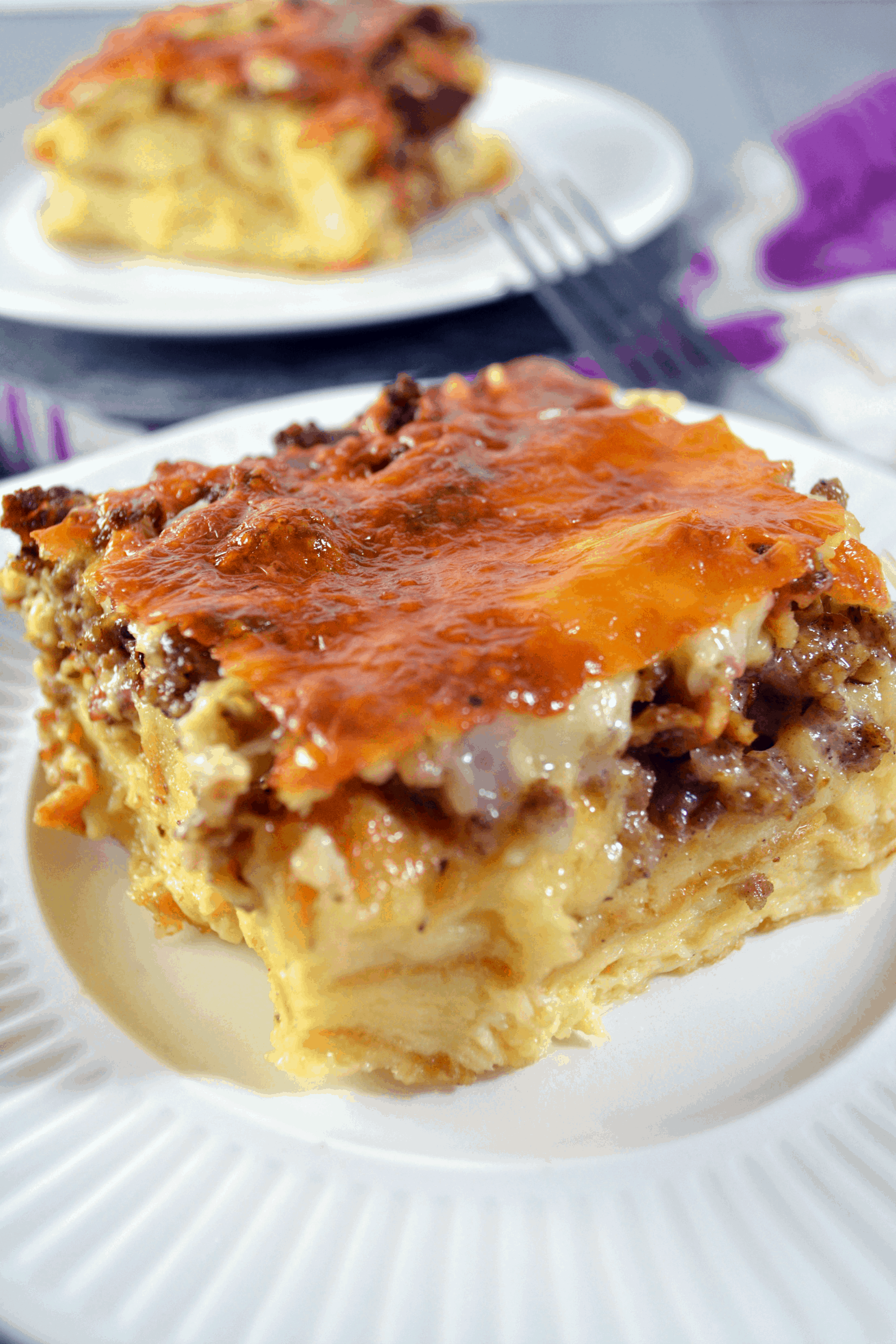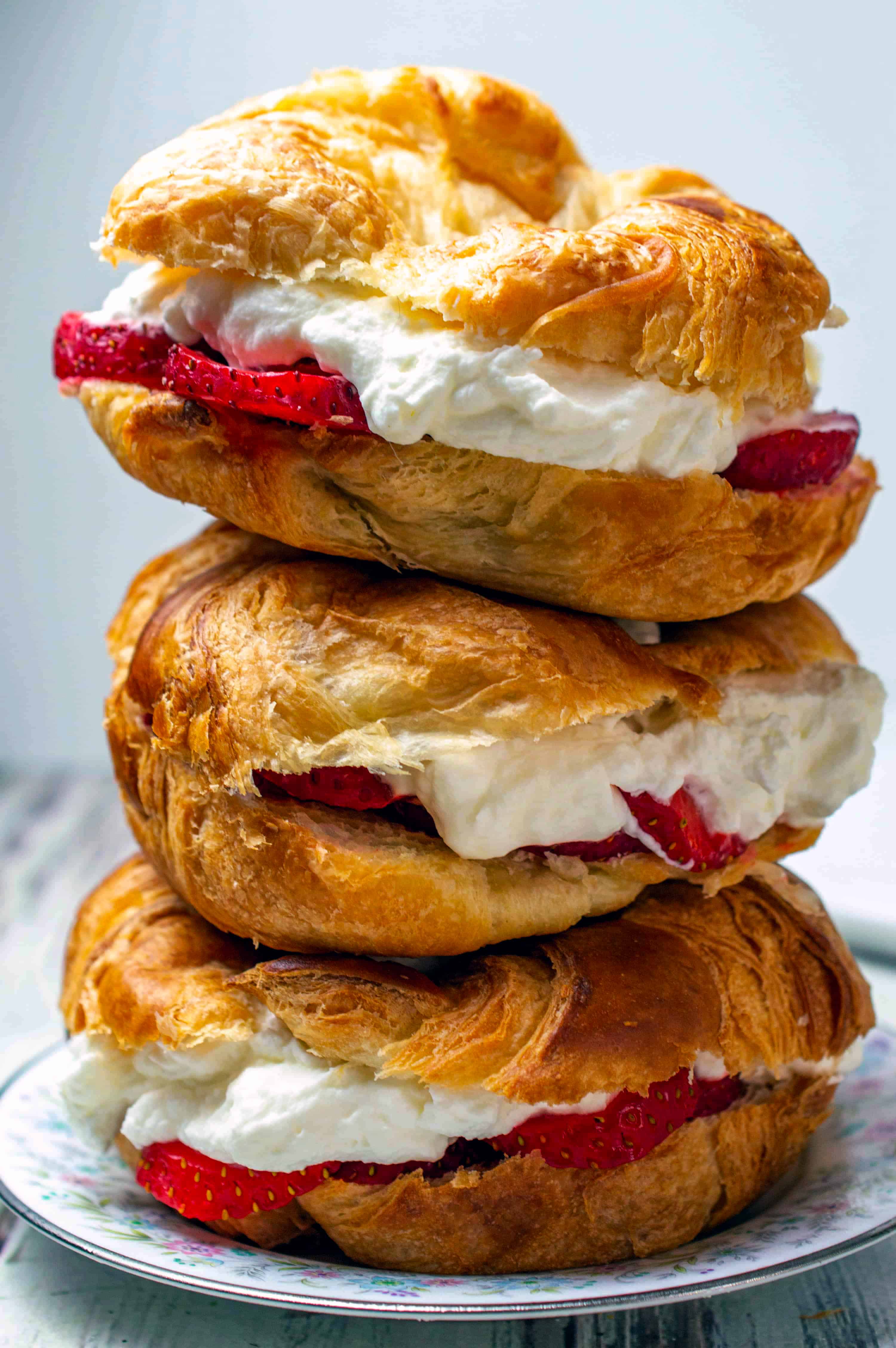 Simple Fresh Cranberry Scones – If you love scones, you really need to try these cranberry ones. They are so easy to make and are perfect during the holiday season or whenever you have a craving for cranberries.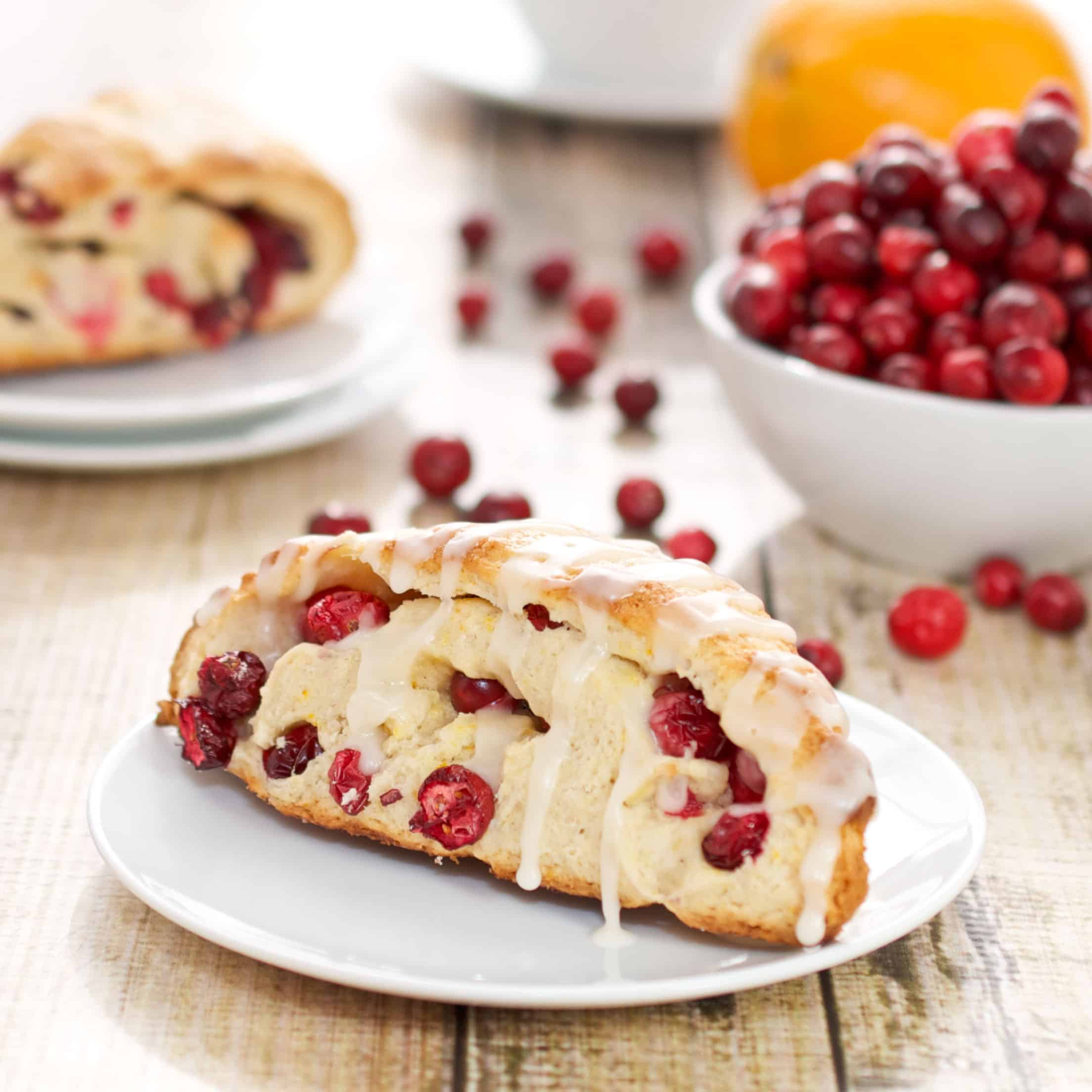 Get new recipes weekly plus our FREE ebook!