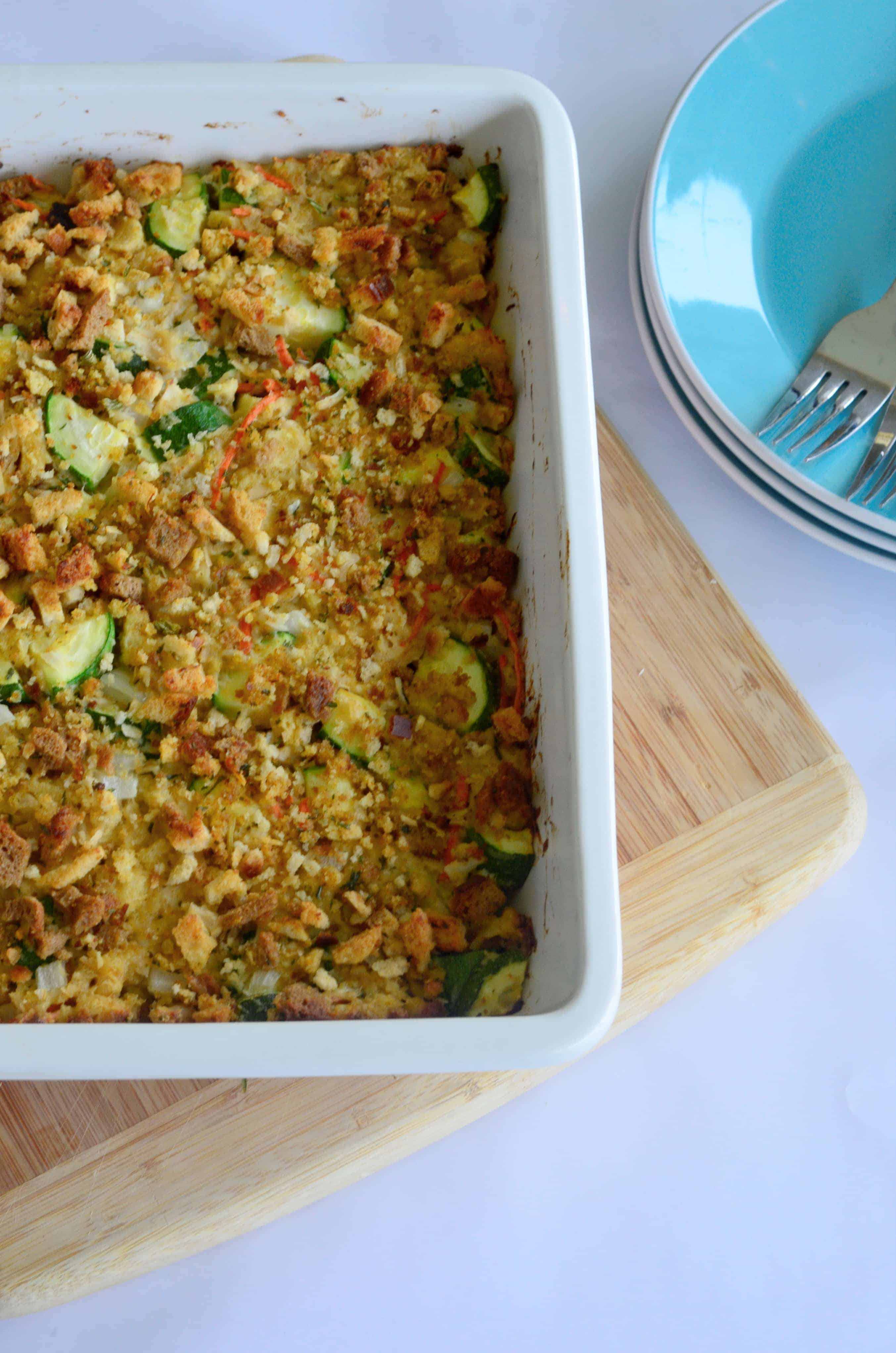 This Turkey Zucchini Casserole is a delicious and easy casserole recipe that will make the entire family happy. And you'll be pleased to, using up leftover in the fridge!
Have you ever looked in your fridge and found a few random ingredients but nothing you would typically put together into a meal?
Scroll to bottom for printable recipe card.
Turkey Zucchini Casserole
That's precisely how this Turkey Zucchini Casserole came to be. I had gone just a little too long without buying groceries and opened my fridge to find turkey, zucchini and not much else. You know, besides kid food and random condiments. Nothing that I could really put together as a meal…or at least not one I'd want to eat!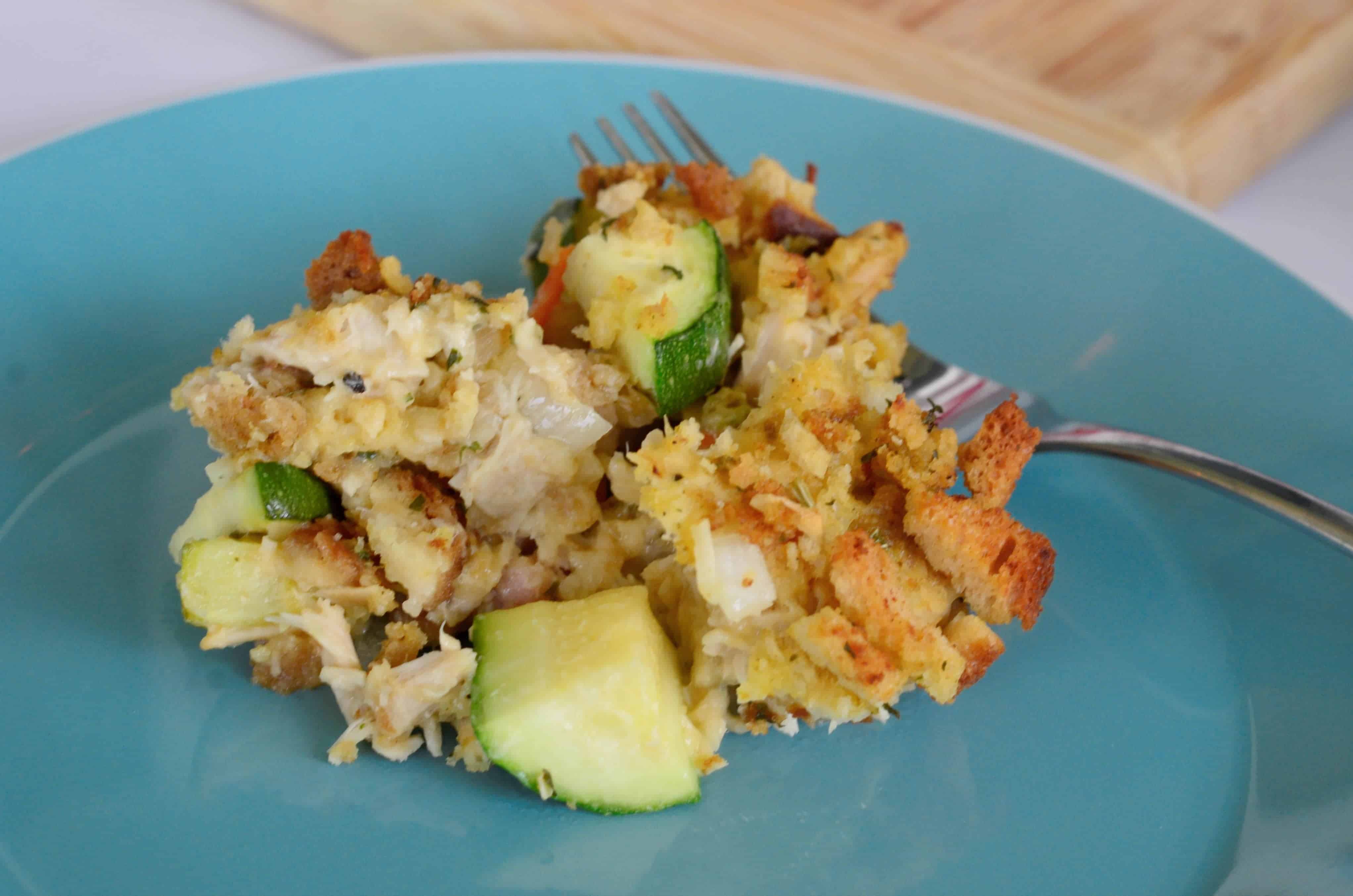 I suppose I could've made a turkey sandwich or cooked the two ingredients separately but I'm all about trying new things and y'all must know how I feel about easy casserole recipes by now. They're the ultimate food group – perfect for busy weeknights, perfect for potlucks, perfect for giving to friends in a time of need…every busy mom should have a few easy casserole recipes up her sleeve!
Leftover Turkey Casserole Recipe
An excellent leftover turkey casserole is one of my favorite ways to use up excess zucchini, which there always seems to be so much of during certain times of the year, and also an easy way to sneak vegetables into my kids. They love easy casserole recipes just as much as me, though for different reasons – I love them because they're easy, they love them because they're good.
This turkey casserole is no exception. With a base of stuffing, zucchini, and turkey, what's not to love? It's fluffy, creamy and still full of vegetables. As I mentioned, the kids don't usually even realize they're eating vegetables. Score.
Easy Casserole Recipe
Now that I've discovered this easy casserole recipe, I like to make it every time I have leftover turkey or turkey breast in the fridge. Just shred it or pull it apart and you're good to go!
Turkey Zucchini Casserole is actually a tremendous day-after-Thanksgiving recipe. You know, when you have a fridge overflowing with leftovers but the idea of filling your plate with the same foods, in the same way, makes your appetite disappear.
Many of the ingredients in this zucchini casserole are ones that we had on our Thanksgiving table – stuffing, turkey (duh), carrots, etc. I just had to shred the carrots and pull apart the turkey. So simple, so good!
Now that I've discovered this easy casserole recipe, I like to make it every time I have leftover turkey or turkey breast in the fridge.
It's easy, it cleans up the fridge, and the kids love it. What more could I ask from this turkey casserole with stuffing?
How To Make Turkey Zucchini Casserole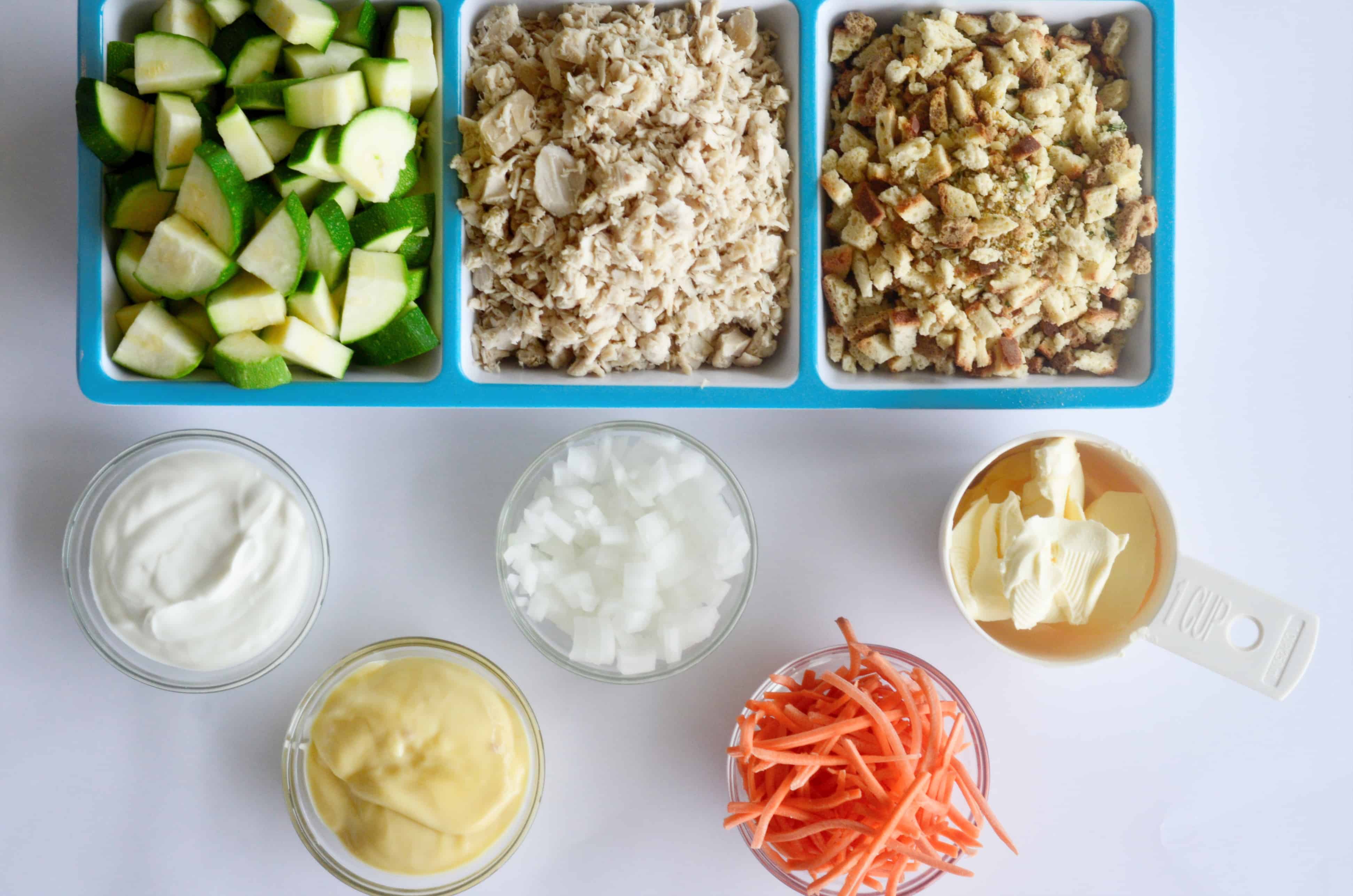 Begin by chopping zucchini, shredding the chicken, and preparing all other ingredients.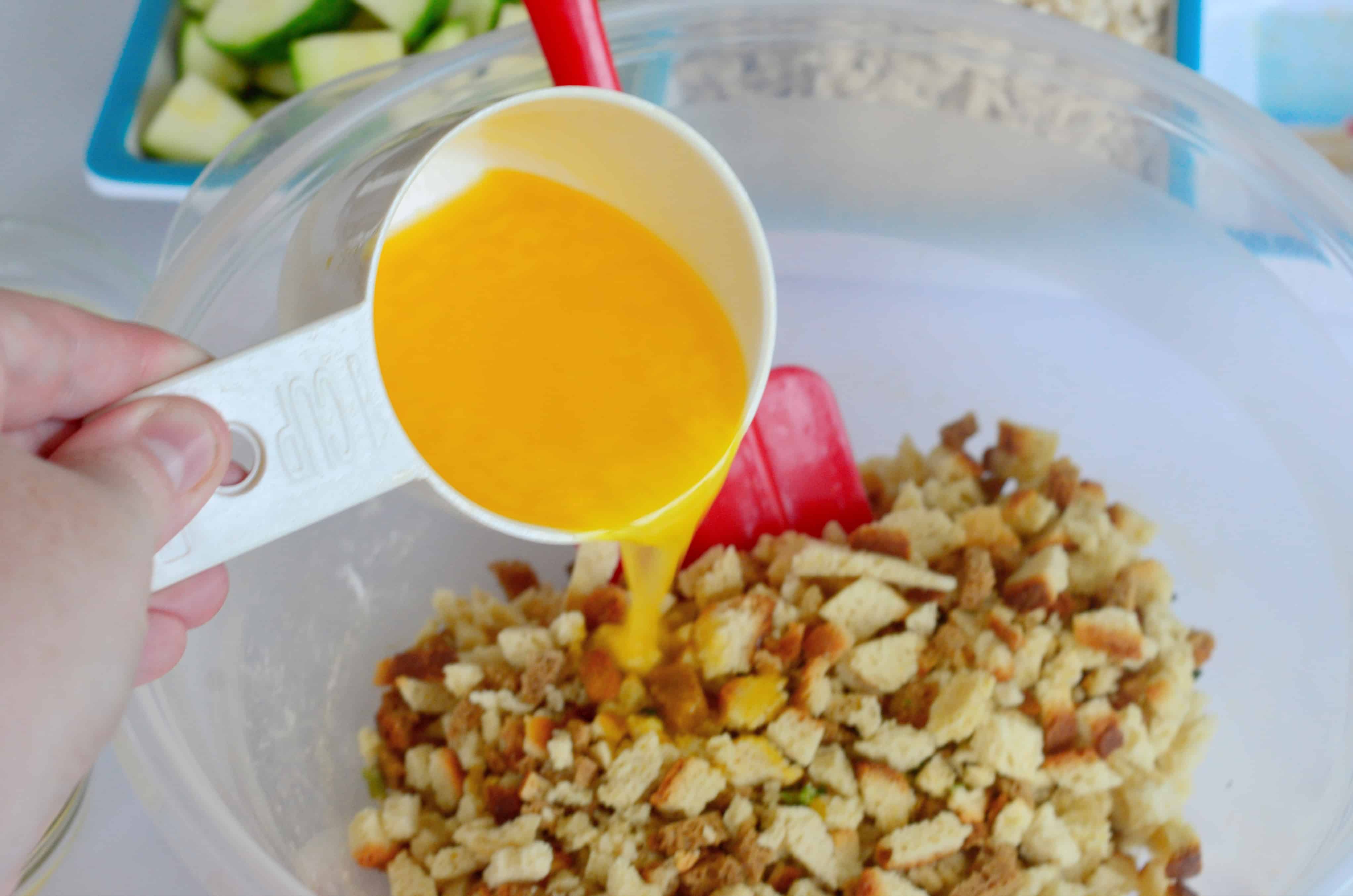 Pour hot melted butter overstuffed — separate 3/4 cup of mixture.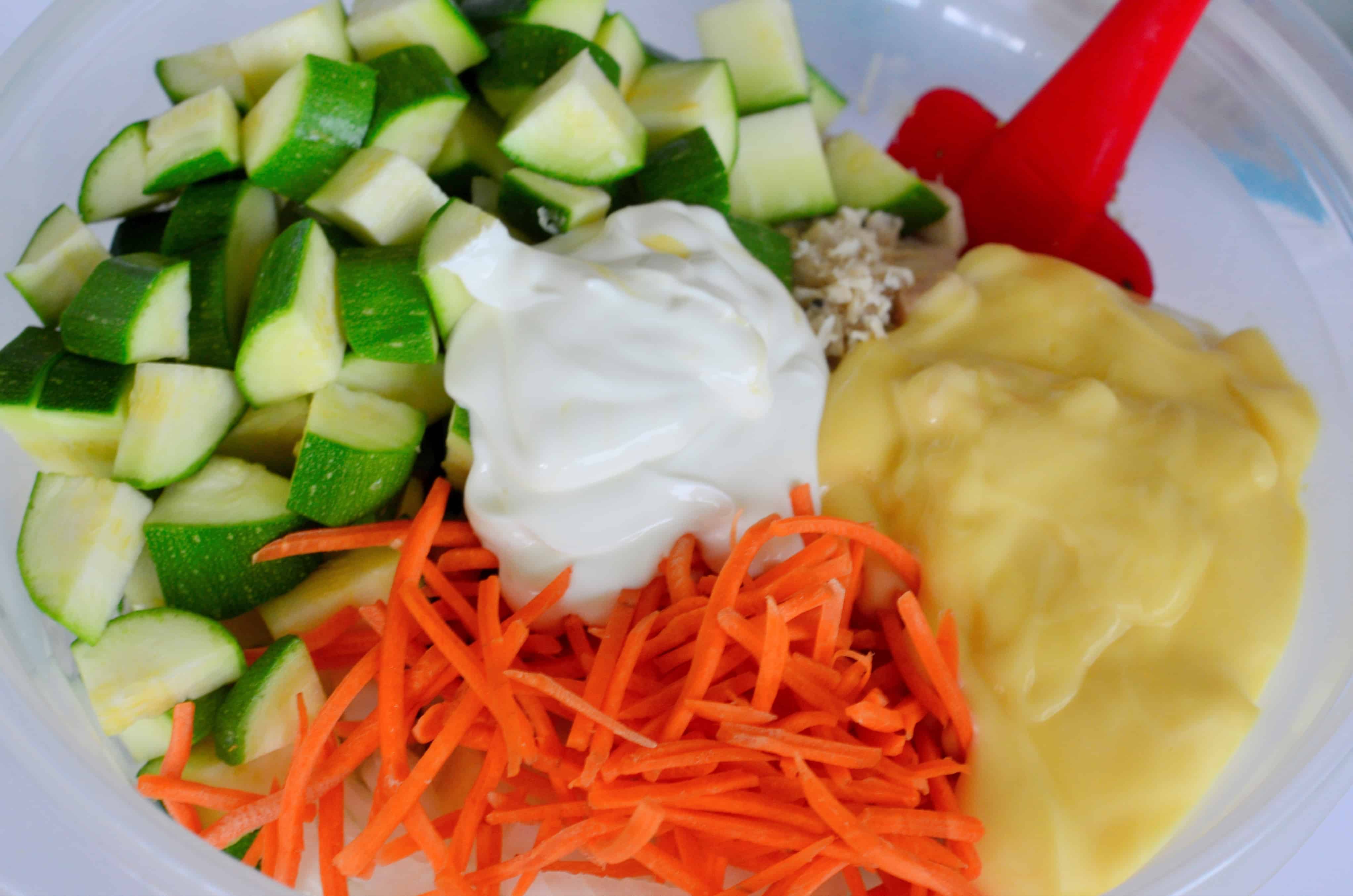 Add other ingredients (zucchini, carrots, turkey, cream of chicken soup, sour cream, etc.) to the same bowl.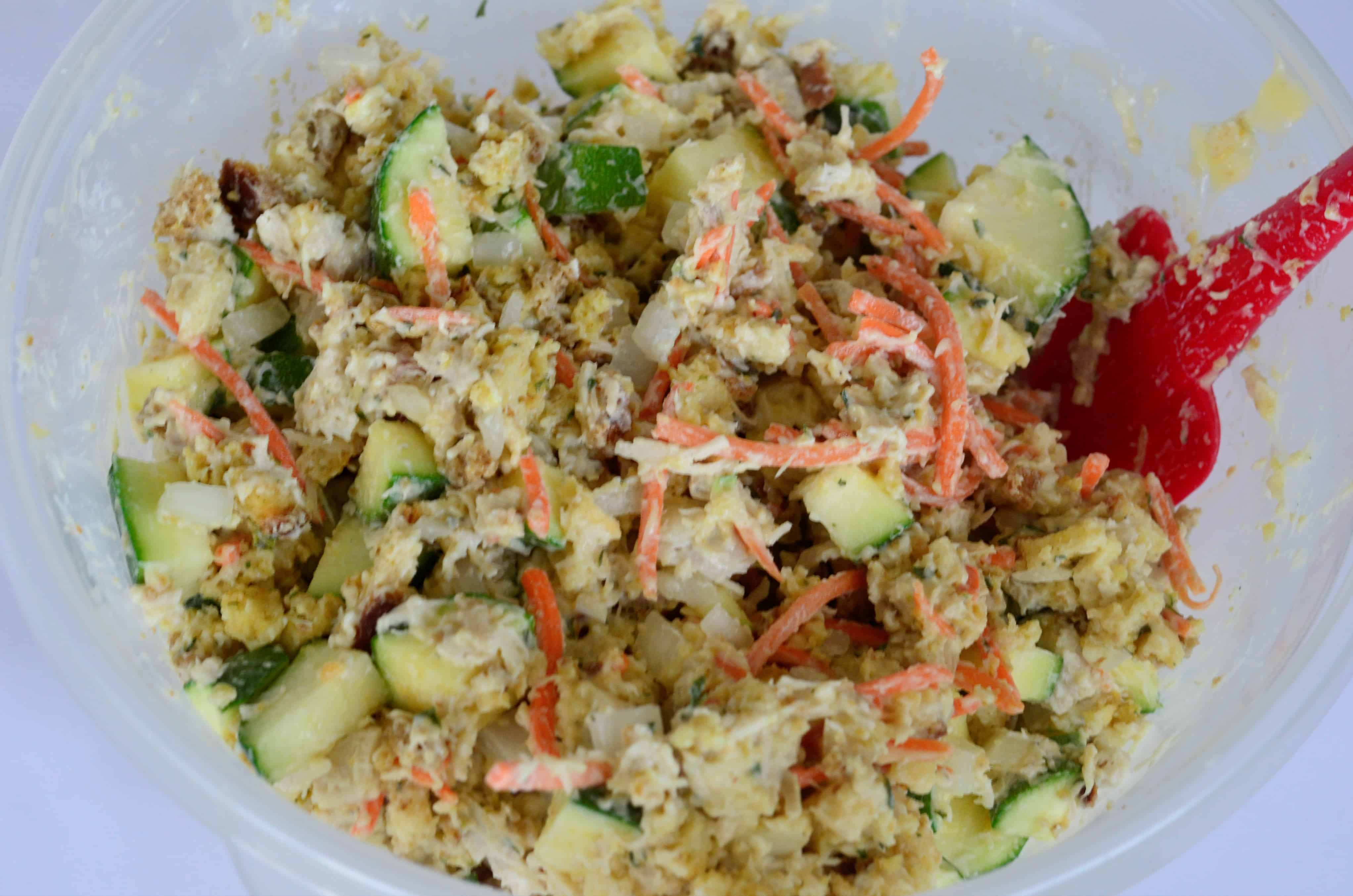 Combine all ingredients well.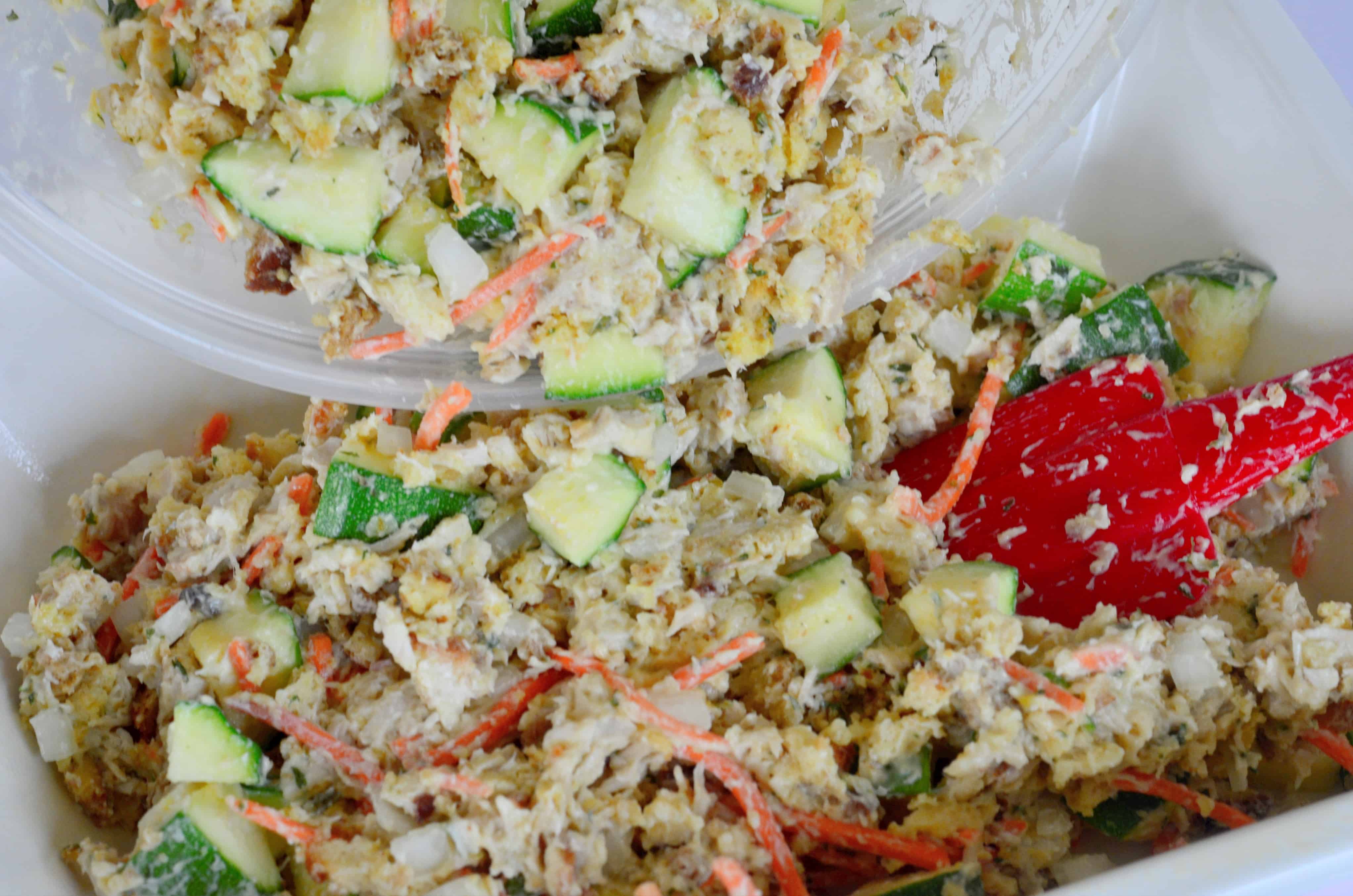 Pour mixture into a casserole pan.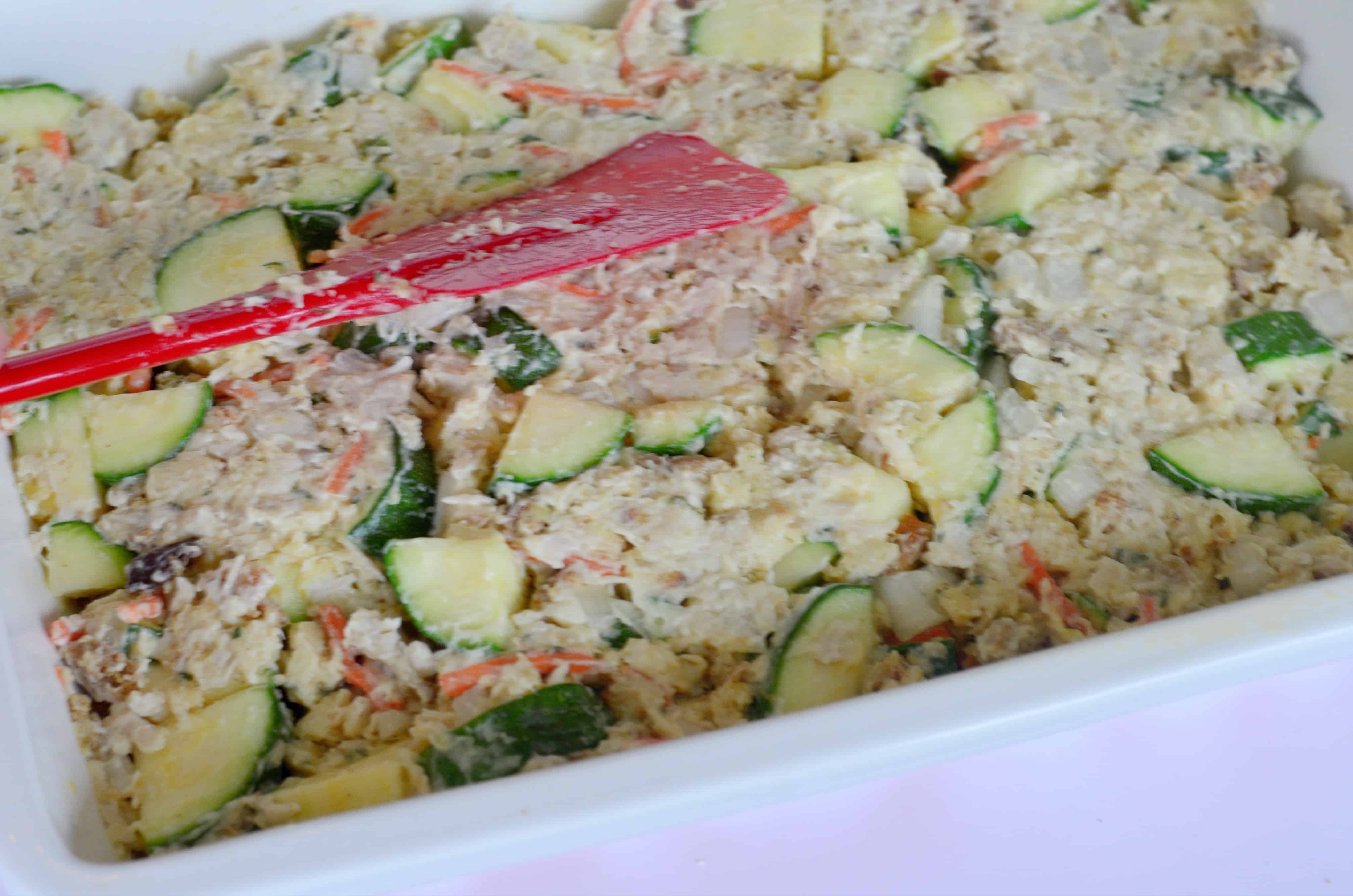 Top with remaining stuffing and butter mixture previously set aside.
Bake at 350 for 30 – 40 minutes. You will know when it's finished when the top is golden brown, and the house smells fantastic!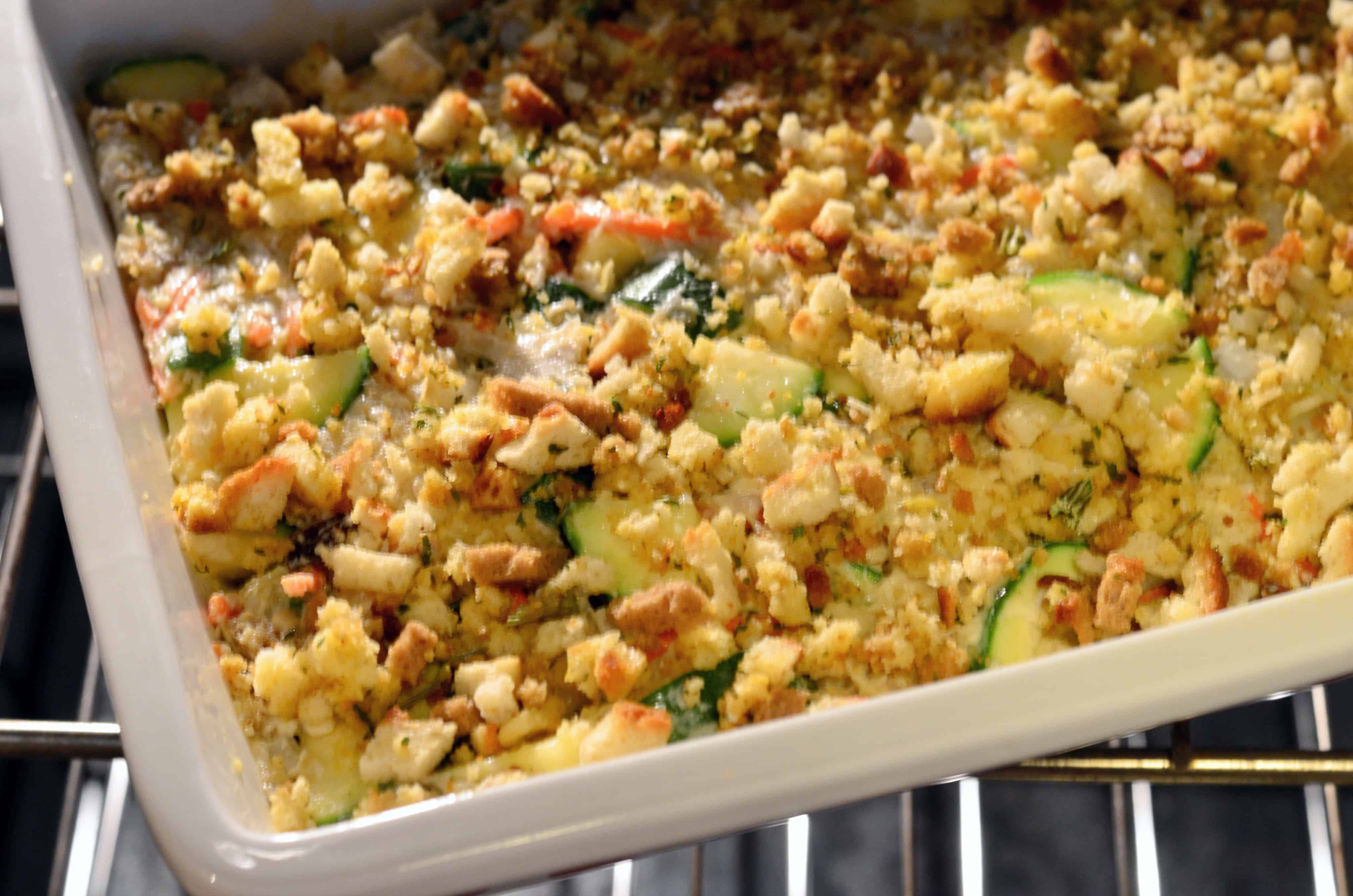 Enjoy hot with warm dinner rolls and a nice side salad.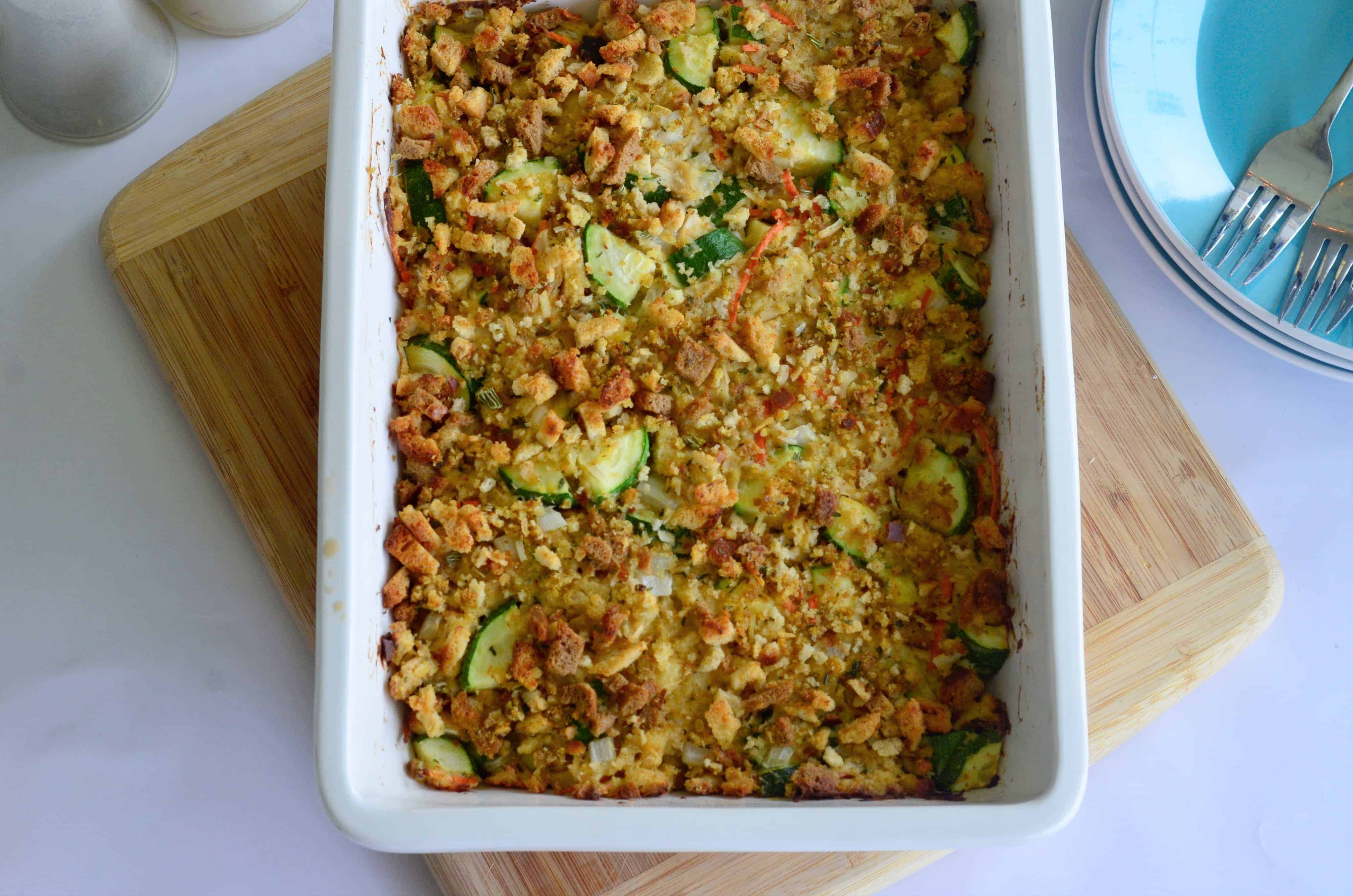 Should I Cook A Casserole Covered Or Uncovered?
Every casserole you make is going to have its own recipe. For this turkey stuffing recipe, you do not need to cover it when you bake (unless you are reheating). Part of what makes this turkey casserole so phenomenal is the crunchy golden brown stuffing on top. If you cover it, then you aren't going to get that effect. And trust me, you want to taste it like that.
Some recipes will cook too fast, and you would want to cover them like lasagna, or other pasta dishes. Sometimes, you will want to leave the casserole covered the first half and remove it the second half, so it cooks properly.
Turkey Casserole Optional Ideas
I hate wasting food in my house, so if I ingredients laying around that needs to be used up before they go bad, I will toss them my easy turkey casserole. Here are some examples of what we have tried:
Bacon – There is just something amazing about the flavor that bacon adds to this already delicious dish! It's salty, but not overwhelming and just so good
Peas – Nothing says zucchini casserole like adding in some peas! They are sweet and give the turkey casserole with stuffing a new and fun spin!
Rice – Add in your favorite white rice or whole wheat rice to make this hearty turkey casserole even more filling. Super yum!
Broccoli – Hey, if you are going to sneak nutrients in for the kiddos, you might as well go big! Besides, broccoli is delicious!
Can I Make Turkey Casserole Ahead Of Time?
Yes! I love making turkey casserole ahead of time, so I have a leisurely meal I can grab and reheat when I don't feel like cooking! You can refrigerate leftovers in an airtight container for 2-3 days. This turkey dressing casserole is always a hit when you are feeding a large group too.
I like to dish this leftover turkey casserole with stuffing into individual meal prep containers, slap a lid on them and put them in the freezer. Then you can warm them up and have lunch without the hassle.
You can also freeze the entire batch and place it in a freezer-safe airtight container for up to 2 months. To reheat, put in the fridge the night before and bake at 325 degrees F. until it is warm. Usually, about 15-20 minutes is all it takes to warm it up.
Why Did My Leftover Turkey Casserole Dry Out When I Reheated It?
There are a couple of things you can do to combat the issue of your easy turkey casserole of drying out. When you go to reheat it if you think it already looks dry.
I recommend adding 1/4 cup of chicken or vegetable broth. Stir it really good. This will add some extra moisture in case the stuffing has started to dry out. Also, put a piece of aluminum foil loosely over the top when you bake it. This will keep it moist, and you will want to gobble up every bite!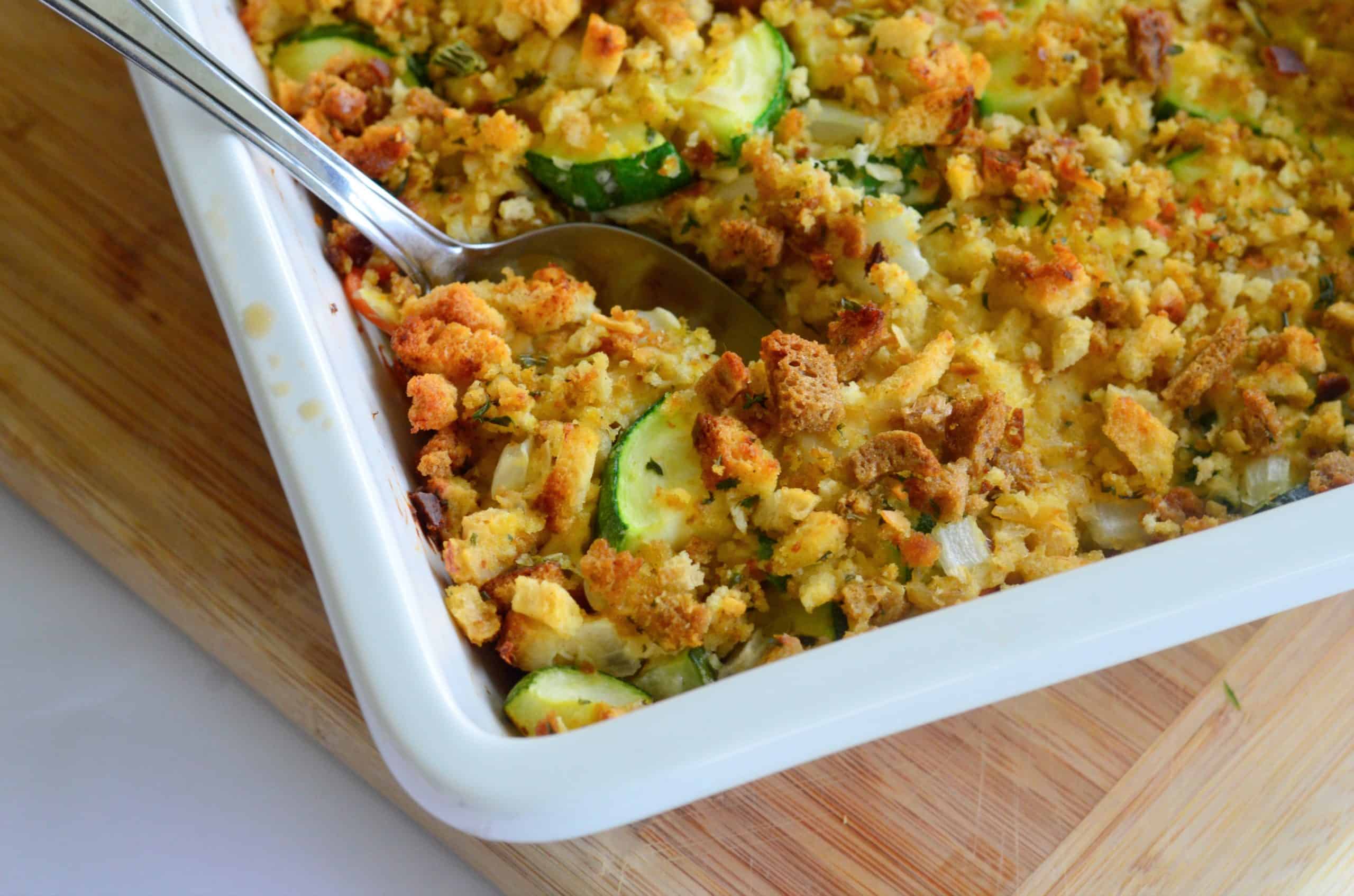 How Can I Tell If Turkey Stuffing Casserole Has Gone Bad?
There are several ways to tell if turkey stuffing casserole has gone bad and should be discarded. Here are some things to look for:
Discolored – If you notice that the stuffing casserole recipe has a dark brown, black or green color or another strange coloring, I would toss it out.
Odor – This is probably the most common way to check if a food is past it's prime. If you open the fridge and are hit with a whiff of stinky air, then it's time for goodbye.
Frost – If you froze the leftover turkey casserole and took it out only to find it is covered in a layer of white frost. There is a strong possibility it is freezer burnt. Technically, it doesn't hurt you to eat food that has been freezer burnt, but the flavor is going to be awful!
Slimy – Take a look at the turkey casserole, and if you notice it has a slimy or overly wet appearance then it is time to trash it. Bacteria has started to grow, and mold is the next step.
Mold – Sometimes you don't notice the mold right off the bat. Look over the food closely, and if it is fuzzy anywhere, then it has begun growing. Typically, mold is going to be black or green, but it can also be white which may not be as noticeable. Mold has a very distinct earthy smell, so be paying attention for that too.
What Should I Serve With Turkey Casserole?
Because turkey casserole is perfect comfort food, it can stand alone for meal time! You don't have to serve it with anything, but if you are like me, then you want some options. Here are my go-to ideas when I want to have a big meal or have guests over:
Bread – Serve with dinner rolls, croissants, sliced freshly baked bread or anything else that sounds good. It's heavenly when you dip warm bread into the sauce of the turkey casserole with stuffing.
Veggies – I know that this stuffing casserole recipe is loaded with vegetables, but I like to serve some extra ones. Roast some cauliflower, broccoli, carrots, green beans, or my favorite roasted turnips with parmesan cheese for some extra nutrients.
Salad – To me, there is something so good about a fresh garden salad loaded with tomatoes, croutons, and cheese to start my meal.
Fruit – No matter who you are serving dinner to is probably a fan of fruit. Toss together a fruit salad or try my tomato and watermelon salad for something different.
Dessert – I mean is it even a meal if it doesn't have at least some kind of dessert? Try some ice cream, cookies, or my tasty cherry almond bundt cake! (I promise you will fall head over heels in love!)
Let's pin this delish turkey zucchini casserole for later:

Pin this recipe now to remember it later
Turkey Zucchini Casserole
This Turkey Zucchini Casserole is a delicious and easy casserole recipe that will make the entire family happy. And you'll be happy to, using up leftover in the fridge!
Ingredients
1, 6

oz.

package of stuffing mix

2

cups

of turkey

,

shredded or diced

1

can of cream of chicken soup
Want to save this recipe? Enter your email below and we'll send the recipe straight to your inbox!
NOTE: By saving this recipe, you agree to join our weekly recipes newsletter.
Instructions
Preheat the oven to 350 degrees.

In a large bowl, combine the stuffing mix and melted butter. Set aside about ¾ cups of the mixture.

In the same bowl as the stuffing, add the remaining ingredients – zucchini, turkey, onion, soup, carrot, and sour cream. Incorporate well.

Pour the mixture into a greased 13" x 9" baking dish. Sprinkle the reserved stuffing/butter mixture over the top.

Bake 35-40 minutes or until the top is golden brown.

Enjoy!
Follow me on Pinterest for daily delicious recipes!
Craving More Dinner Recipes:

Pumpkin Breakfast Casserole – An easy breakfast casserole that's perfect for fall or any other time of the year. An ideal Thanksgiving breakfast or fall weekend brunch!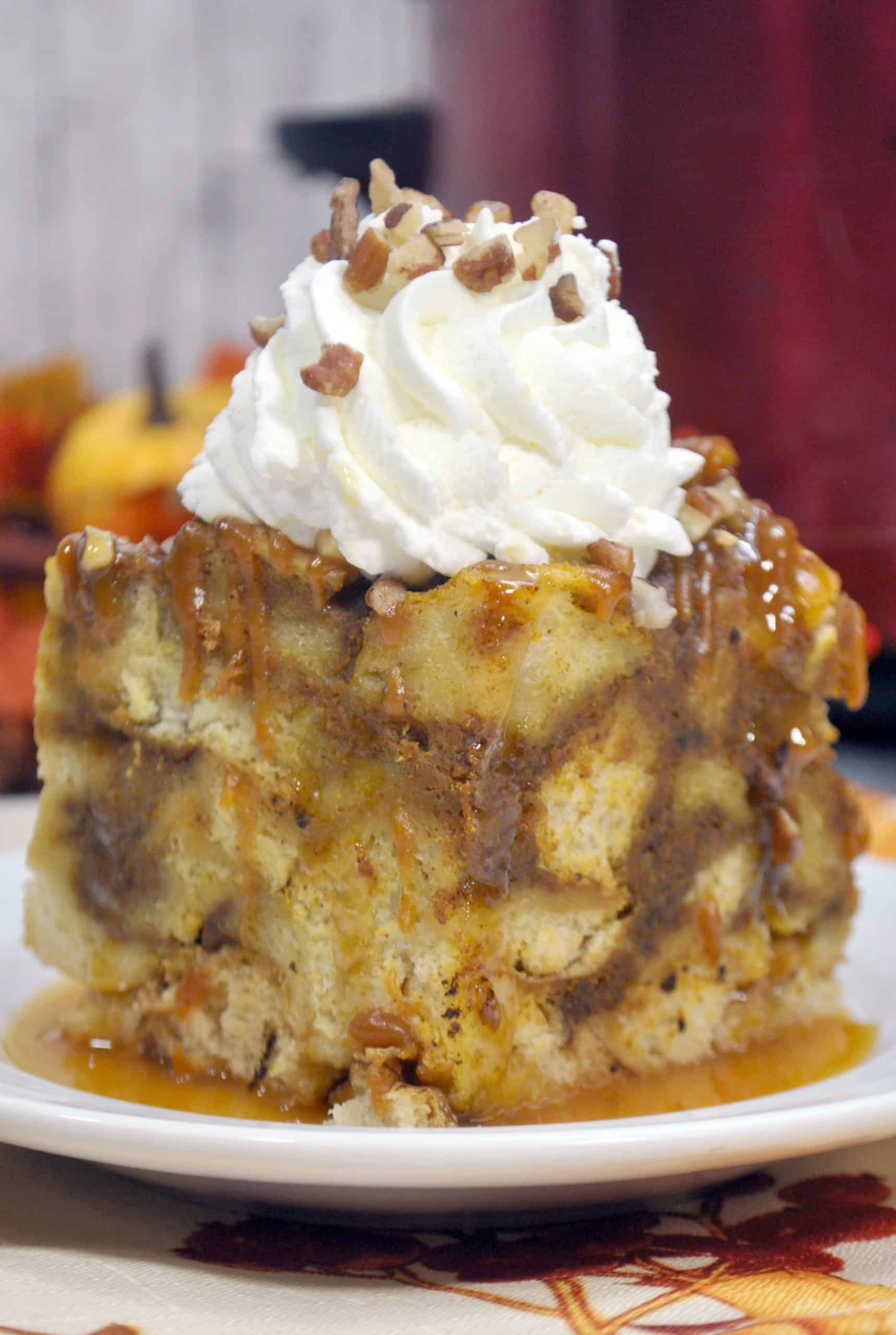 Garlic Butter Steak with Zucchini Noodles – Your favorite low-carb, easy "melt in your mouth" dinner recipe!
Instant Pot Creamy Garlic Chicken with Rice – This Instant Pot Creamy Garlic Chicken with Rice is a great tasting easy chicken dinner that is perfect for a fast weeknight dinner.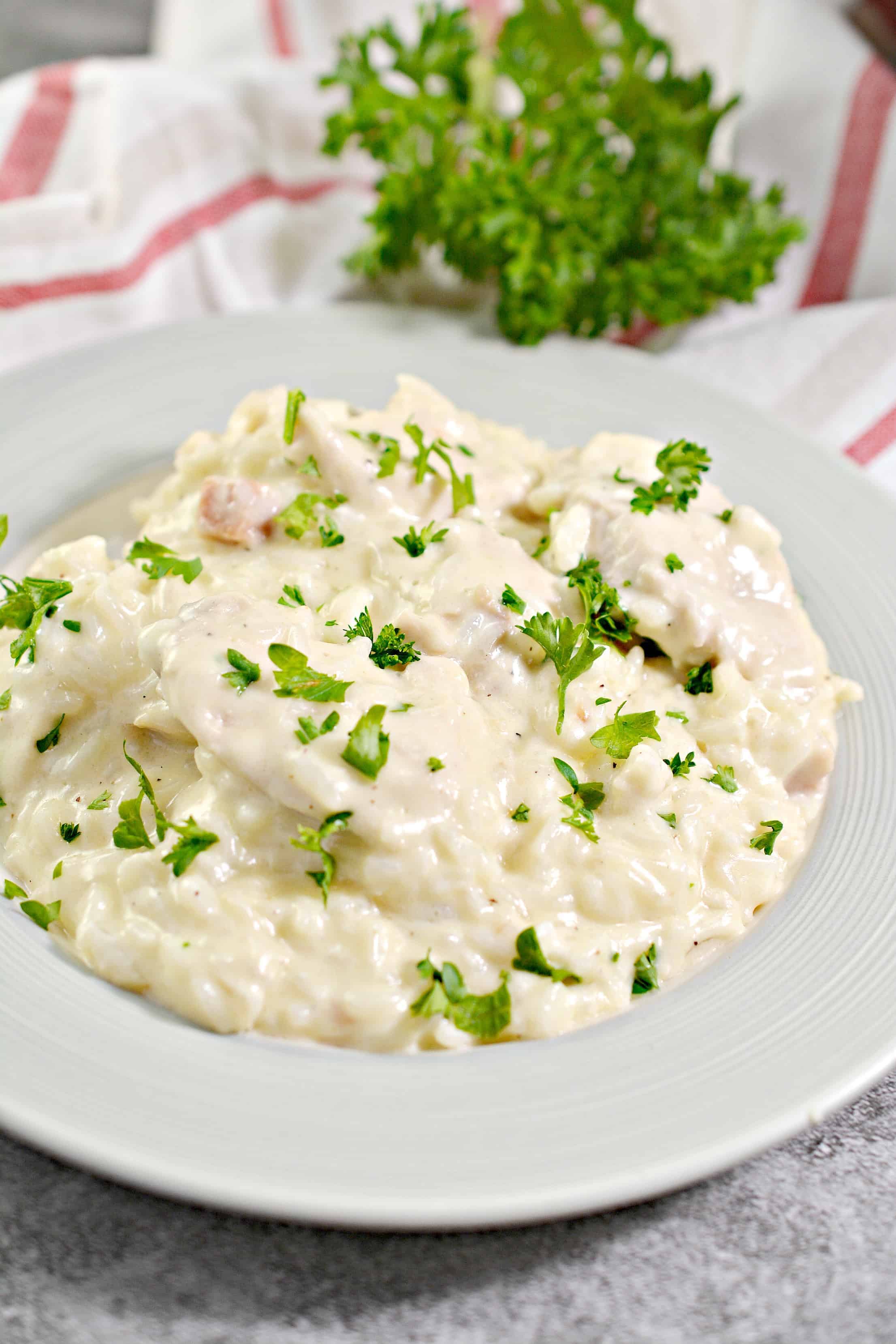 Do you think your family would enjoy this turkey zucchini casserole?
Get new recipes weekly plus our FREE ebook!