Do you love apple cinnamon bread? This is the best apple cinnamon bread recipe. It is incredibly easy to make and the taste is better than anything you can buy in a store.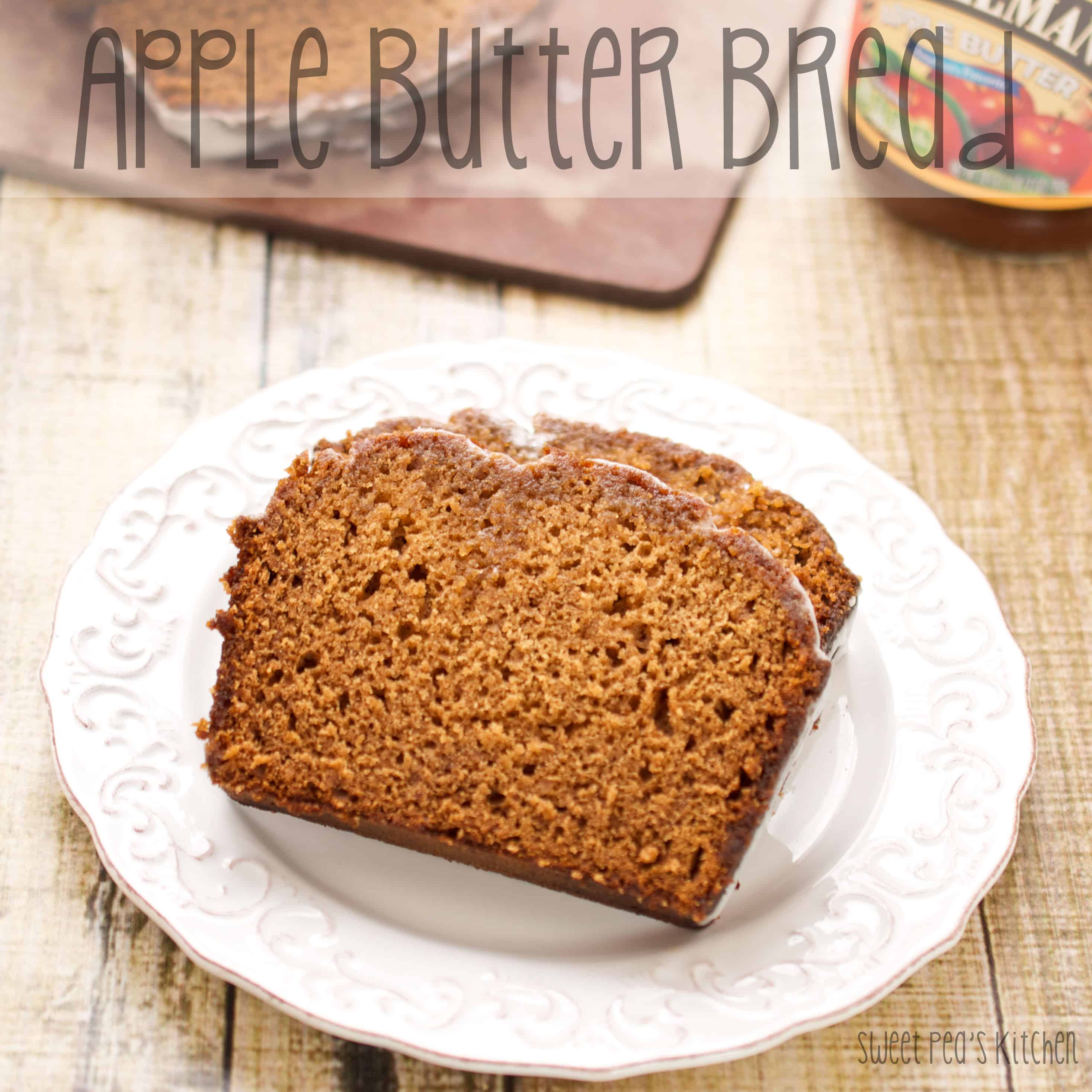 Apple Butter Apple Cinnamon Bread
I love apple cinnamon bread. It is perfect for eating for breakfast or even dessert. Use it as toast in the morning or for a simple lunch. If you like grilled bread, you can butter the apple cinnamon bread and then grill it like a grilled cheese. This gives a great tasting buttery crust that goes amazing with the sweet bread.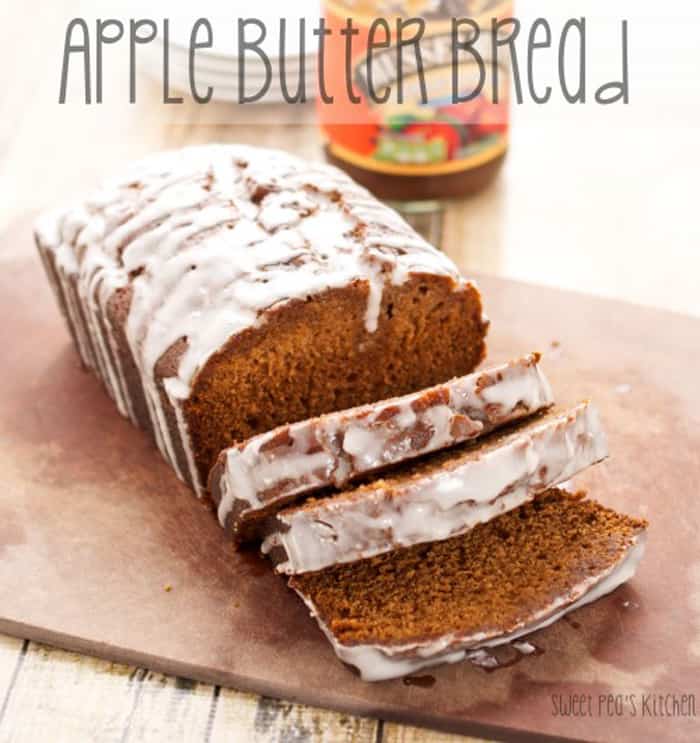 How to Store Apple Cinnamon Bread
Once you have made this apple cinnamon bread, you need to store it properly so that it does not spoil too soon. When storing the bread, you want to make sure it is in a plastic bag or an airtight container. If the bread is left exposed to the air, it will get stale. When stored properly the bread will last for about 3 days. If you can not finish the bread before it goes bad, consider freezing it.
Can I freeze this apple butter bread?
Making baked goods, like apple butter bread, can take time. I find that I like to make large batches. Of course, we can't eat all of it all at once. I like to freeze the apple butter bread. Whether I am freezing an additional loaf or even just pieces of the one loaf that we can not finish all at once, there are two ways that I freeze it. Sometimes, I cut the apple cinnamon bread into slices and freeze each of them by themselves and other times I will freeze the bread as a loaf. No matter which way you freeze it. After it is wrapped with plastic wrap, put it inside of a freezer bag.
When freezing the slices of bread, wrap each slice of bread in plastic wrap. The reason I wrap each one by itself is this way I can take out a slice or two at a time. This lets us have a few slices of bread and I don't have to worry about the whole loaf going bad.
Can I add diced apple to this breakfast bread recipe?
When making this breakfast bread recipe, you can certainly add diced apples to the bread. When adding apples, remove the skin of the apple first. Then dice it into small pieces. You want to make sure that you are dicing the apples so that they are small enough to fit into a bit of bread, but not too small that you don't get the nice bite of apple. Make sure you are using a good baking apple. Granny smith and honey crips are great for a tart apple or use gala or fuji apples for a sweeter taste. The most important thing when choosing apples for this breakfast bread is to make sure you are using apples that are good for baking.
Ingredients for apple butter sweet bread
all-purpose flour
baking soda
salt
cinnamon
apple pie spice
apple butter
light brown sugar
whole milk
canola or vegetable oil
vanilla extract
eggs
apple cider or apple juice
sugar
confectioners' sugar
How to make apple cinnamon bread
Preheat the oven to 350 degrees F. Grease bottom and sides of one 9 x 5-inch loaf pans; dust with flour, tapping out excess.
In a medium bowl, sift together flour, baking soda, salt, cinnamon and apple pie spice; set aside.
In a large bowl, whisk together the apple butter, brown sugar, milk, oil, vanilla, and eggs (one at a time). Slowly whisk the dry ingredients into the wet ingredients until just combined.
Pour the batter into the prepared pan and bake 65 to 75 minutes, or until a toothpick inserted in the center of the loaf comes out clean. Let cool in the pans for 10 minutes before removing loaf to a wire rack on top of a baking sheet.
While the loaf is cooling, make the syrup in a small saucepan over medium heat. Stir together the apple cider or apple juice and sugar until the sugar is completely dissolved. Once dissolved, continue to cook for 3 more minutes. Remove from the heat; set aside.
Use a toothpick to poke holes in the tops and sides of the warm loaf. Brush the top and sides of the loaf with the syrup. Let the syrup soak into the bread and brush again. Let the bread cool completely.
To make the glaze, in a small bowl, whisk together the confectioners' sugar and 2-3 tablespoons of the apple cider or apple juice. The mixture should be thick but pourable. Add up to another tablespoon of apple cider or apple juice if the mixture is too stiff. Pour the glaze over the top of the loaf and let it drip down the sides. Let the glaze harden, about 15 minutes, before serving.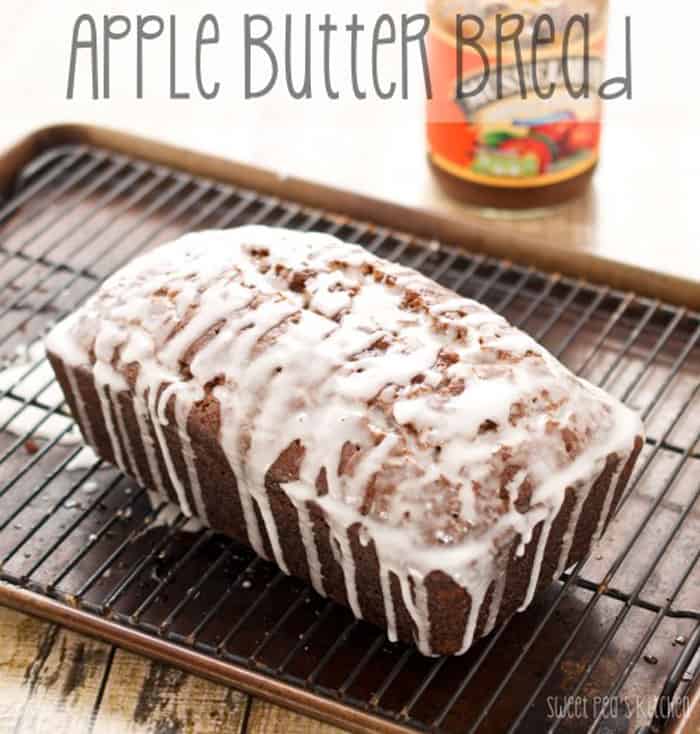 More Sweet Bread Recipes
If you love making sweet bread recipes, you are going to love these other sweet bread recipes.
Print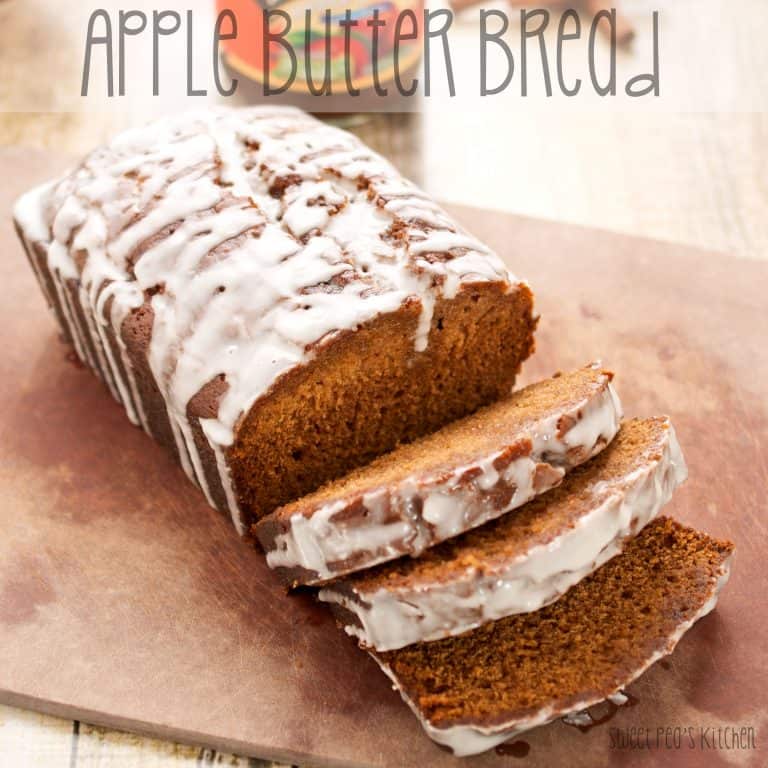 Apple Butter Snickerdoodles
---
Author:

Prep Time:

10 minutes

Cook Time:

75 minutes

Total Time:

1 hour 25 minutes

Yield:

1

9x5-inch loaf

1

x
Description
Tender and moist apple butter bread brushed with an apple syrup and drizzled with an apple cider glaze…perfect for fall!
---
Scale
Ingredients
For the Bread:
1 3/4 cups all-purpose flour
1 teaspoon baking soda
3/4 teaspoon salt
1 1/2 teaspoons cinnamon
1 teaspoon apple pie spice (see note below)
3/4 cup apple butter
1 1/4 cups light brown sugar
1/2 cup whole milk
1/2 cup canola or vegetable oil
1 teaspoon vanilla extract
2 large eggs, room temperature
For the Syrup:
1/3 cup freshly apple cider or apple juice
1/3 cup sugar
For the Glaze:
1 cups confectioners' sugar, sifted
2 to 3 tablespoons apple cider or apple juice
---
Instructions
Preheat the oven to 350 degrees F. Grease bottom and sides of one 9 x 5-inch loaf pans; dust with flour, tapping out excess.
In a medium bowl, sift together flour, baking soda, salt, cinnamon and apple pie spice; set aside.
In a large bowl, whisk together the apple butter, brown sugar, milk, oil, vanilla, and eggs (one at a time). Slowly whisk the dry ingredients into the wet ingredients until just combined.
Pour the batter into the prepared pan and bake 65 to 75 minutes, or until a toothpick inserted in the center of the loaf comes out clean. Let cool in the pans for 10 minutes before removing loaf to a wire rack on top of a baking sheet.
While the loaf is cooling, make the syrup in a small saucepan over medium heat. Stir together the apple cider or apple juice and sugar until the sugar is completely dissolved. Once dissolved, continue to cook for 3 more minutes. Remove from the heat; set aside.
Use a toothpick to poke holes in the tops and sides of the warm loaf. Brush the top and sides of the loaf with the syrup. Let the syrup soak into the bread and brush again. Let the bread cool completely.
To make the glaze, in a small bowl, whisk together the confectioners' sugar and 2-3 tablespoons of the apple cider or apple juice. The mixture should be thick but pourable. Add up to another tablespoon of apple cider or apple juice if the mixture is too stiff. Pour the glaze over the top of the loaf and let it drip down the sides. Let the glaze harden, about 15 minutes, before serving.
Recipe Notes:
To substitute Apple Pie Spice use 1/2 teaspoon cinnamon plus 1/4 teaspoon nutmeg, 1/8 teaspoon allspice, and dash cloves or ginger
Add 1/2 cup chopped pecans or walnuts if desired
---
Category:

breakfast

Method:

oven

Cuisine:

american
Keywords: apple cinnamon bread
Niw, time to save this recipe on Pinterest for later: